MOTOCROSS ACTION MID-WEEK REPORT
#WHIPITWEDNESDAY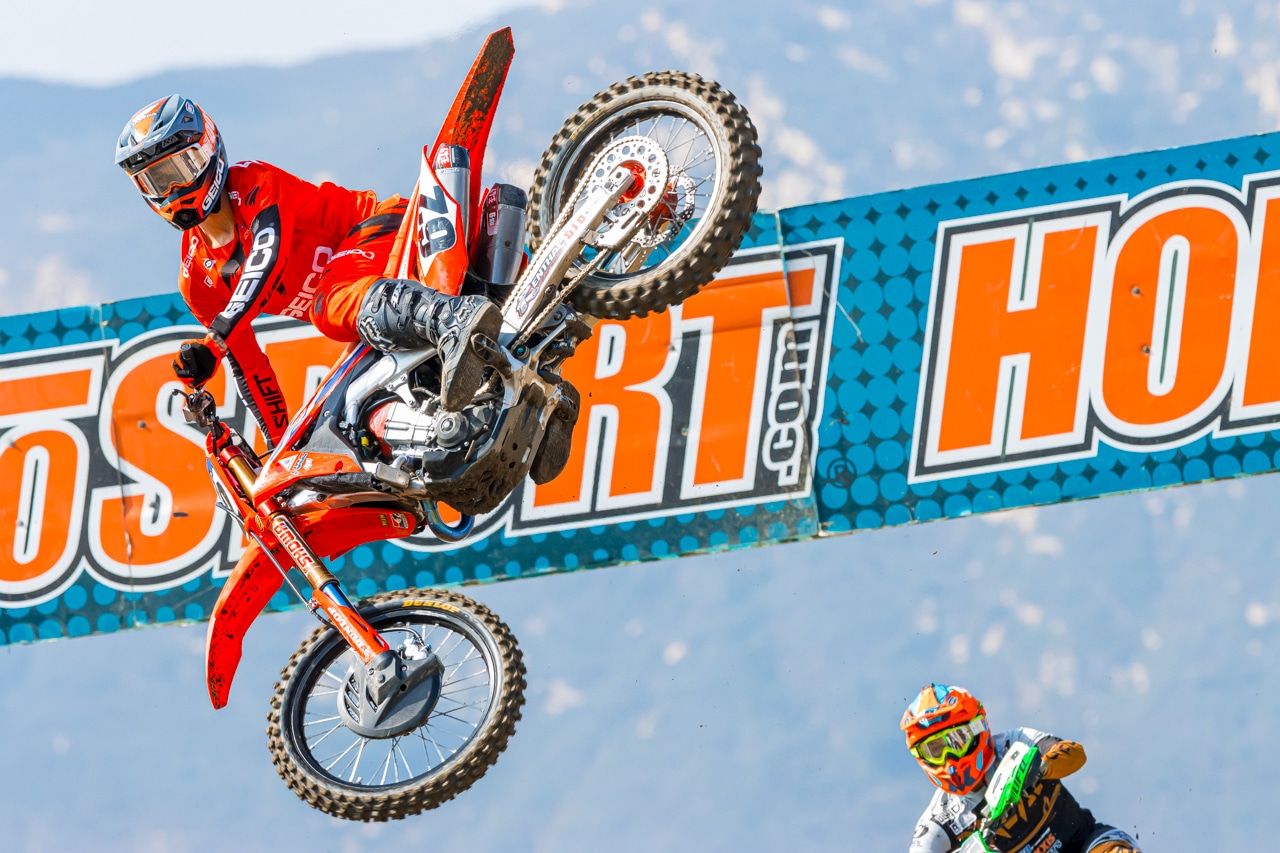 Rider: Christian Craig
Location: Fox Raceway
Date: October 10, 2020
Photographer: Trevor Nelson
TWO-STROKE SPOTLIGHT: ADAM PILPISHEN'S 2001 HONDA CR500
The finished result of the Honda CR500 build. 
"This is my 2001 CR500 I just built. I live in the middle of nowhere Canada and needed a rugged manly bike so I only had one choice saying that ATK doesn't make the Intimidator 700 and it's next to impossible to get the Maico 700 when you live in the middle of nowhere." –Adam Pilipishen.
The bike got stripped down to the frame and started from scratch.
Editors Note: Please keep those submissions coming. If you would like your bike to be featured in the "Two-Stroke Spotlight," please email me at [email protected]. All I ask is that you give a breakdown of your bike and a detailed description of the build. Please also send a few photos of your steed. By submitting your bike for the "Two-Stroke Spotlight," you agree to release all ownership rights to the images and copy to MXA.
2020 PRO NATIONAL CHAMPIONSHIP | SEASON IN REVIEW | by Ben Bridges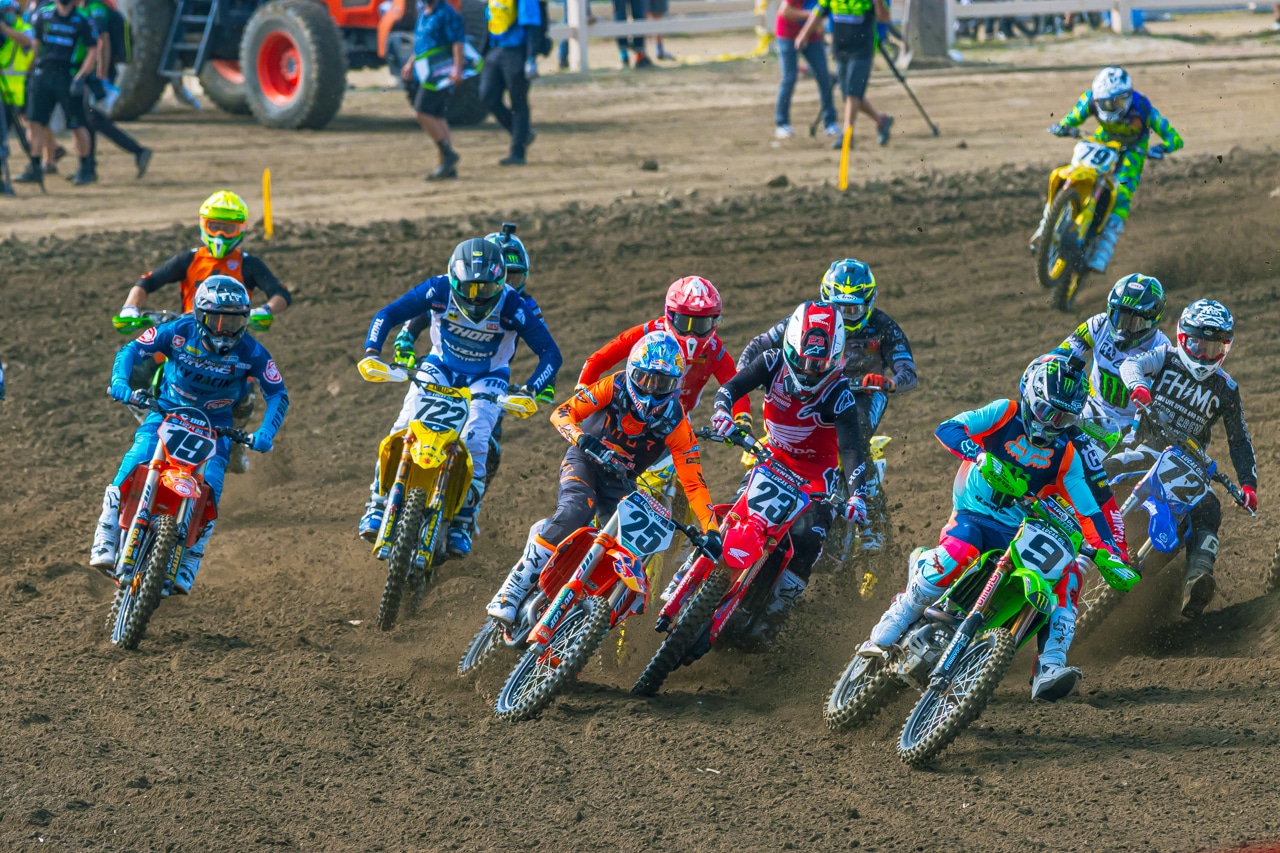 The 2020 Pro National season was completed at Fox Raceway over the weekend. 
Dylan Ferrandis became the first French rider to win the 250 MX championship.

French rider Christophe Pourcel was 2nd in the points standings in 2009.  French Rider Marvin Musquin was also 2nd in 2015.

Ferrandis is the 8th rider to finish runner-up in the pts standings and then win the 250 MX title the next season. 

Yamaha now has ten 250MX titles. Yamaha has won the last 5 out of 7 seasons of 250 MX titles.

Yamaha now has 33 total MX/SX titles.

Yamaha had 3 different riders finish in the top 5 in 2020.

The 250 MX class had 5 different winners in 9 rounds.  That was the 11th time that has happened.

There were 7 different moto winners in the 250 MX class.

The 250 class had 3 different brands to win this season.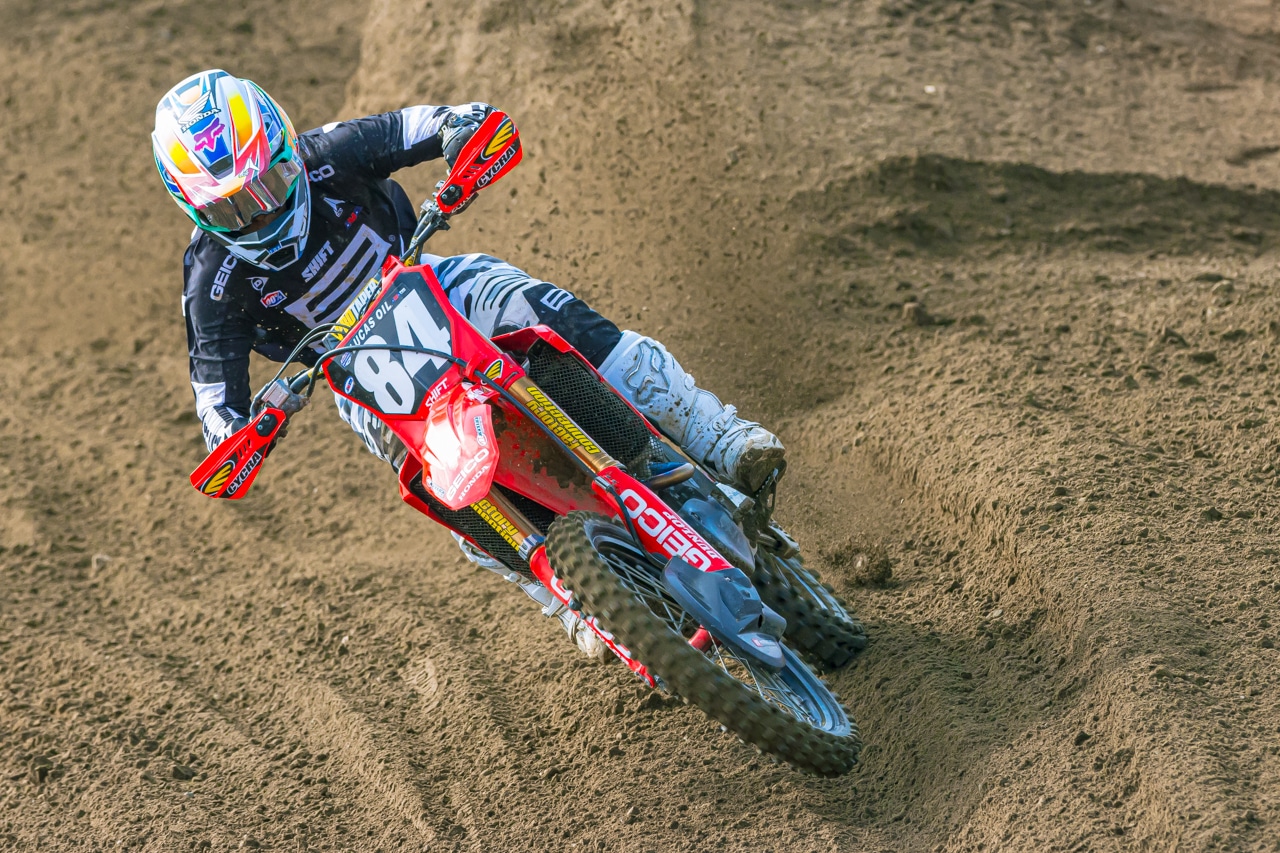 Jett Lawrence was the only 1st-time winner this season.

For only the 3rd time since 2000, Kawasaki didn't win an overall.

For the 6th time in seven seasons, a Martin brother was 1st or 2nd in points.  In 2014 and 2015 Jeremy Martin won the title.  In 2016  and 2018 Alex Martin was runner-up.  In 2017 and 2020 Jeremy Martin was runner-up. 

For the 11th time, Honda was runner-up in the final pts standings.

At Fox Raceway in Pala, California there were two 1st time winners on a Honda on the same day.  Jett Lawrence on a 250 Honda and Chase Sexton on a 450 Honda.  Both had their first-ever MX win.

It was Honda's 1st MX sweep since 9/4/2010, when Canard and Windham did it at Steel City.
Not since Kent Howerton in 1976, when he won the 500 MX title, or in 2017 when Osborne won the 250 MX title, has Husky won the MX championship.  Osborne delivers the 450 MX title to Husky.

Osborne is the 1st Husky rider to win 250/450 MX titles.

Osborne becomes the 12th different rider to win 250/450 MX championships.

Eli Tomac's win streak stopped at 3 consecutive MX titles.

Gary Jones and Tony DiStefano and Eli Tomac all won 3 consecutive 450 MX championships.
Ricky Carmichael won 7 consecutive 450MX championships on 3 different brands.

Husky now has 4 MX/SX championships.  Jason Anderson also won the 2018 SX championship on a Husky.

There were 4 different overall MX winners this season and 7 different riders won motos.

It was the 7th time Kawasaki was runner-up in points.

KTM did not win an overall this year, snapping their 8th-year win streak. 

Rookies in the 450 class would both finish in the top 5, Chase Sexton was 5th and Adam Cianciarulo was 2nd.
WE BUILD A ZACH OSBORNE 2004 KTM 85SX REPLICA
NON-MOTO NEWS | MAJOR CHANGE IN US REGULATIONS: E-BIKES NO LONGER DEFINED AS MOTOR VEHICLES
Press Release: The US e-bike sales is expected to boost now the Department of the Interior released final rules for electric bicycle use on public lands. This new regulation more clearly defines electric bicycles and no longer describes them as motor vehicles. This gives local land managers the authority to permit their use on non-motorized trails.
"We are very pleased that this new regulation from the U.S. Department of Interior", said Larry Pizzi, e-bike subcommittee chairman of PeopleForBikes and CCO Alta Cycling Group. "It more clearly defines electric bicycles and gives local land managers the authority to permit their use on non-motorized trails. This new rule applies to federal public lands managed by the Bureau of Land Management, National Park Service, Fish and Wildlife Service and Bureau of Reclamation."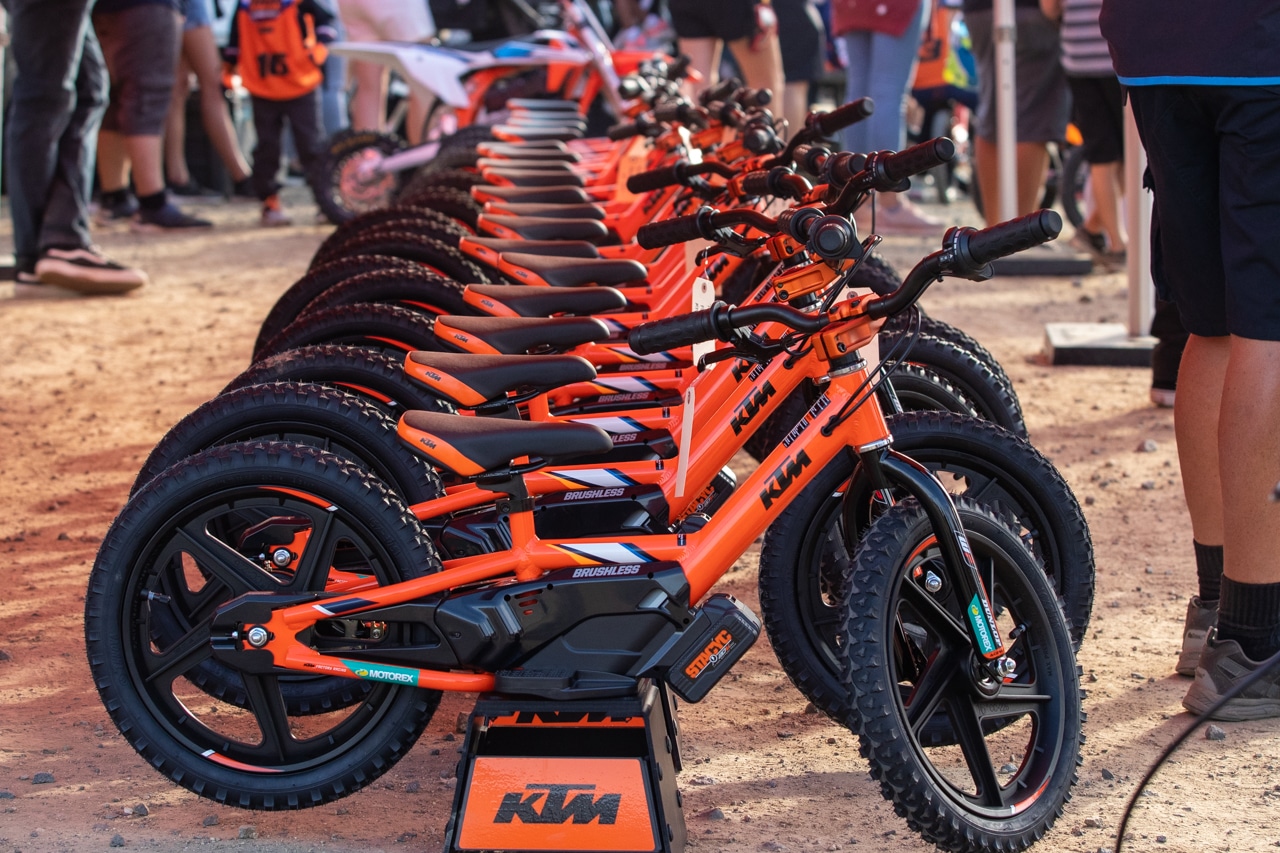 Generally speaking, these rules mean that:
Electric bicycles are no longer defined as motor vehicles or off-road vehicles, but are properly defined within three classes.
Electric bicycle riders have similar rights, privileges and duties as traditional bicycle riders.
Local land managers can authorize some or all classes of electric bicycles on roads, paths and trails where bicycles are allowed.
Local land managers maintain significant control, in partnership with the public, to make access decisions.
According to the U.S. Department of Interior, the final rules in large part adopt the existing federal definition of e-bikes as a two- or three-wheeled cycle with fully operable pedals and an electric motor of not more than 750 watts. The rules look to the classification system developed by a majority of states to differentiate between different types of e-bikes. These new regulations clarify the authority of the National Park Service, the Bureau of Land Management, the Fish and Wildlife Service and the Bureau of Reclamation to increase recreational opportunities with e-bikes. The regulations make clear the agencies can allow e-bikes on roads and trails that are open to traditional bicycles through the issuance of site-specific decisions.
For the terms of use, the US uses a 3-class system.
Class 1: pedal assist only; maximum assisted speed 20 mph.
Class2: throttle assist only; maximum motor-powered speed 20 mph.
Class 1 and 2 are regulated like bicycles.
Class 3: pedal assist only; maximum assisted speed 28 mph.
GEICO HONDA TEAM SHUTTING ITS DOORS | FOR NOW
Since 1998 the Factory Connection Honda team has been running strong. Unfortunately, due to the title sponsor Geico pulling out so late in the season and without a Supercross schedule yet, it has made it extremely difficult to find a title sponsor for the coming season. However, this may not be the end of the road for the Factory Connection team. They are not giving up. They hope to find a title sponsor sometime in the future. It may not be for the 2021 season, but we hope they will be back in the paddock in 2022. Saying that we don't think Honda will go without having some form of 250 team on the track in 2021.  There are rumors that factory Honda will bring on a 250 effort for 2021. the question is what riders will be drafted over to the factory 250 team? We feel Jett Lawrence is a shoe-in with his young age a sheer talent.
LOST BUT NOT FORGOTTEN: 

TRAVIS PASTRANA'S 2003 FACTORY SUZUKI RM250
MXA'S FIRST RIDE OF THE 2021 KAWASAKI KX250
THE MYKTM APP & CONNECTIVITY UNIT KIT OFFER FACTORY BIKE SETUP AT THE TOUCH OF A BUTTON

Press Release: Placing added control in the hands of KTM SX-F riders, the myKTM app allows for quick and easy bike setup with key tuning tools and helpful advice from the comfort of your smartphone device. With the software now downloadable for both iOS and Android, the KTM PowerParts Connectivity Unit kit will be available to purchase in North America this December with initial availability in limited numbers.
Thousands of hours and testing have gone into the creation of KTM's advanced myKTM app that for 2021 graces the complete line up of KTM SX-F 4-stroke bikes. This innovative tool places simple and concise adjustability of engine mapping and performance, along with precise recommendations for suspension settings using well-presented and intuitive menu screens.

The myKTM app functions through a straightforward Bluetooth connection to the Connectivity Unit located in the handlebar pad. Once synced, the bike will be added into your virtual GARAGE and will immediately become available for a range of tuning options and recommendations described in the respective ENGINE and SUSPENSION sections.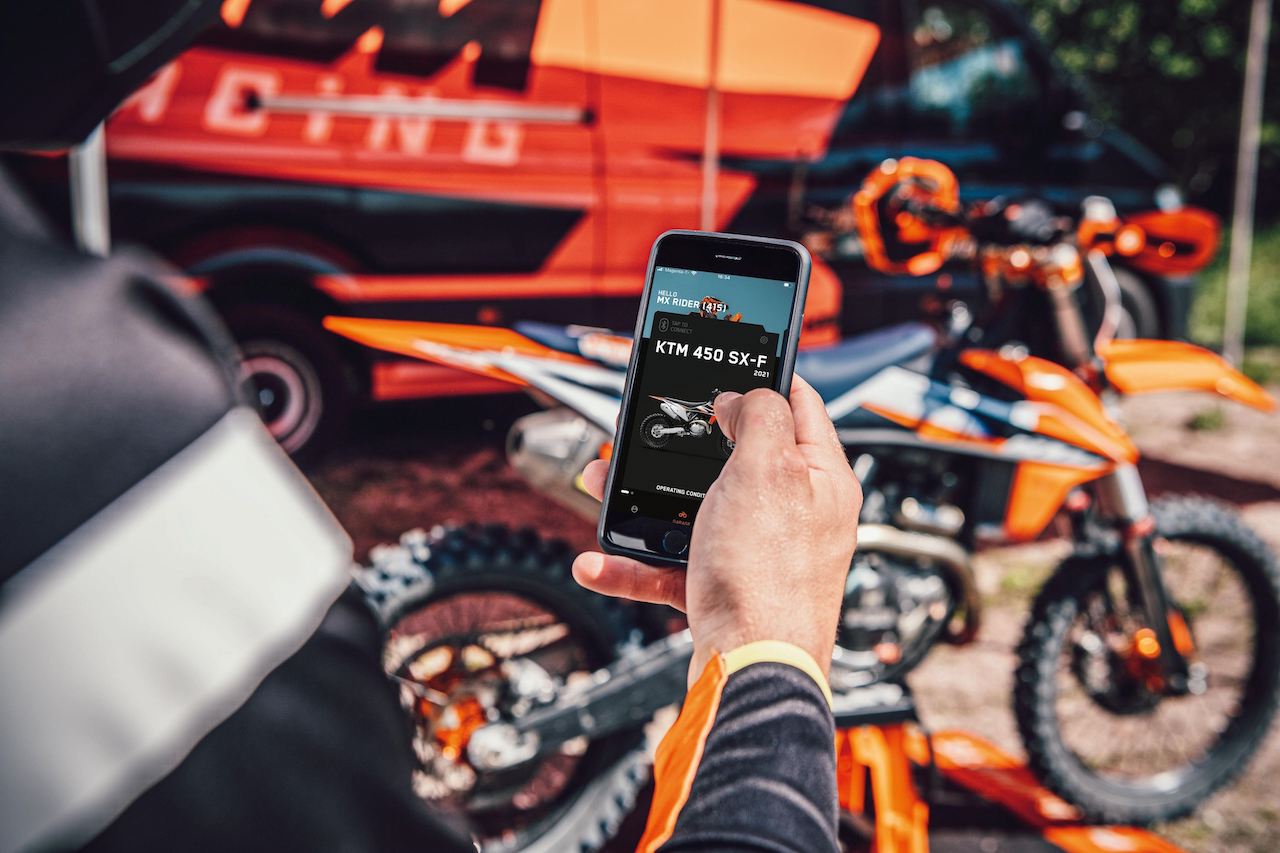 Entering ENGINE allows riders to customize parameters of the engine to their taste or to suit the terrain and conditions they are about to face. It involves a basic 'sliding scale' approach, with several pre-sets allowing modifications of vital parameters such as ENGINE BRAKING, THROTTLE RESPONSE, TRACTION CONTROL and LAUNCH CONTROL. The changes made through the app are tangible, effective and very noticeable from the first moments of a new lap.
Selecting SUSPENSION means that riders can make their KTM SX-Fs even more specialized in terms of handling. It removes some of the settings guesswork to deal with hard-pack, muddy or sandy tracks thanks to the SAG ASSISTANT and the SUSPENSION SETTING recommendation. The recommendations are helpful for new tuners and experienced riders and racers alike.
For more information on pricing and availability of the KTM PowerParts Connectivity Unit kit, please contact your local authorized KTM dealer.
MXA ARCHIVES: SHAE BENTLEY 2001 SUPERCROSS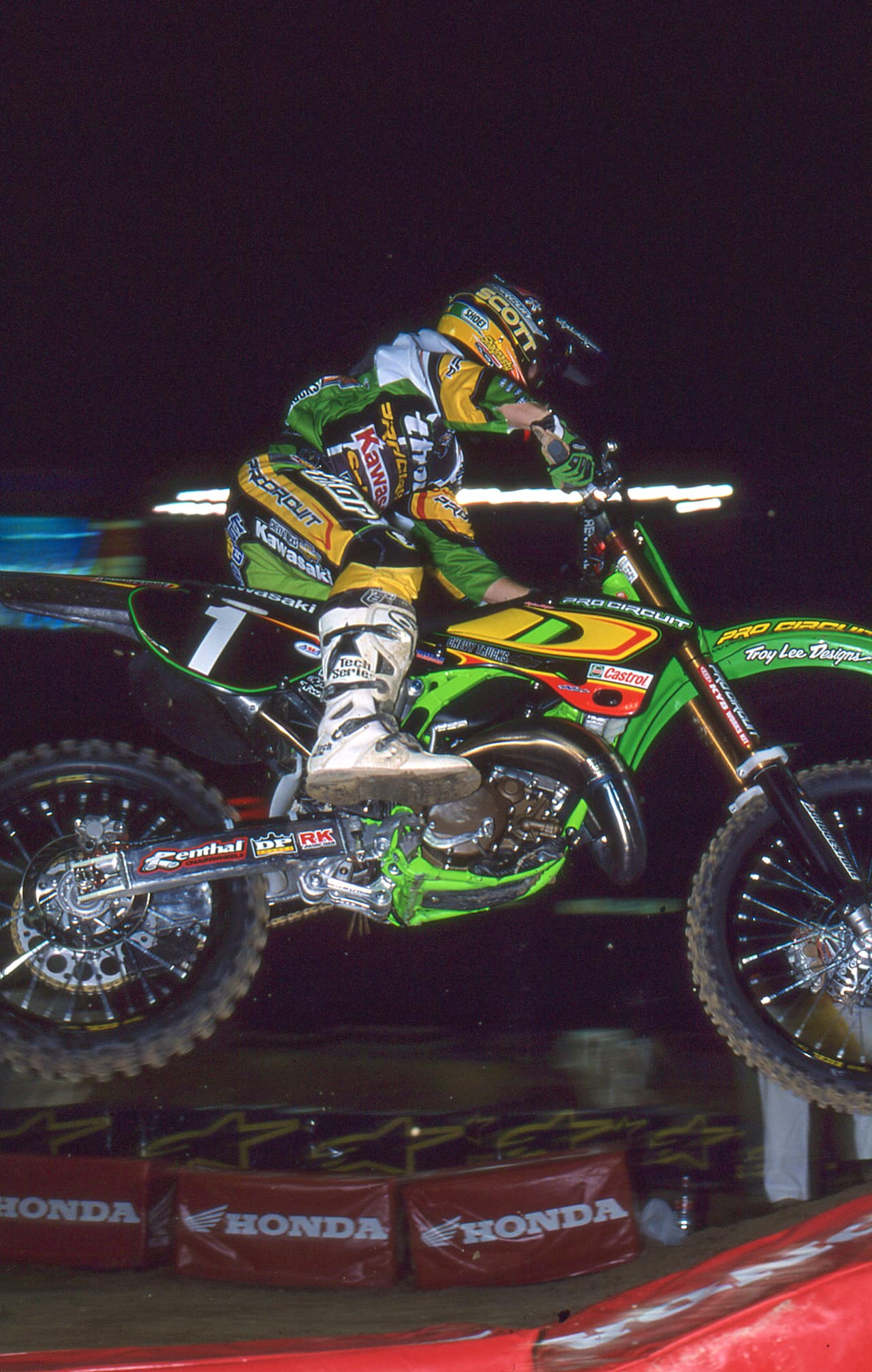 Shae won the 2000 West coast Supercross title for the Pro Circuit Kawi team on a KX125. Those 2001 PC bikes are probably the coolest looking bikes to date.