MOTOCROSS ACTION MID-WEEK REPORT
#WHIPITWEDNESDAY

Rider: Christian Craig
Photographer: Daryl Ecklund
Location: Washougal National
Lens: Fixed f/4 300mm
F Stop: f/6.3
ISO: 800
Shutter speed: 1/1600
TWO-STROKE SPOTLIGHT: ERIC CASAS' HONDA CR125
We didn't receive any details on this Honda CR125, but it looks look a 1990 replica RC125. 
EDITORS NOTE: Please keep those submissions coming. If you would like your bike to be featured in the "Two-Stroke Spotlight," please email me at [email protected]. All I ask is that you give a breakdown of your bike and a detailed description of the build. Please also send a few photos of your steed. By submitting your bike for the "Two-Stroke Spotlight," you agree to release all ownership rights to the images and copy to MXA. Please don't email me spam or try selling me Taylor Swift concert tickets or email me spam. I already celebrate T-Swizzle's entire collective, and there will be "bad blood" if you send me junk mail. See what I did there? Happy submitting your smoker.
MXA MOTO | TRIVIA
Name the rider and year. Answer at bottom of page.
MXA TEST VIDEO | THE ALL-NEW 2021 KAWSAKI KX250
WHAT DOES HORSEPOWER MEASURE & WHAT DOES A HORSE HAVE TO DO WITH IT?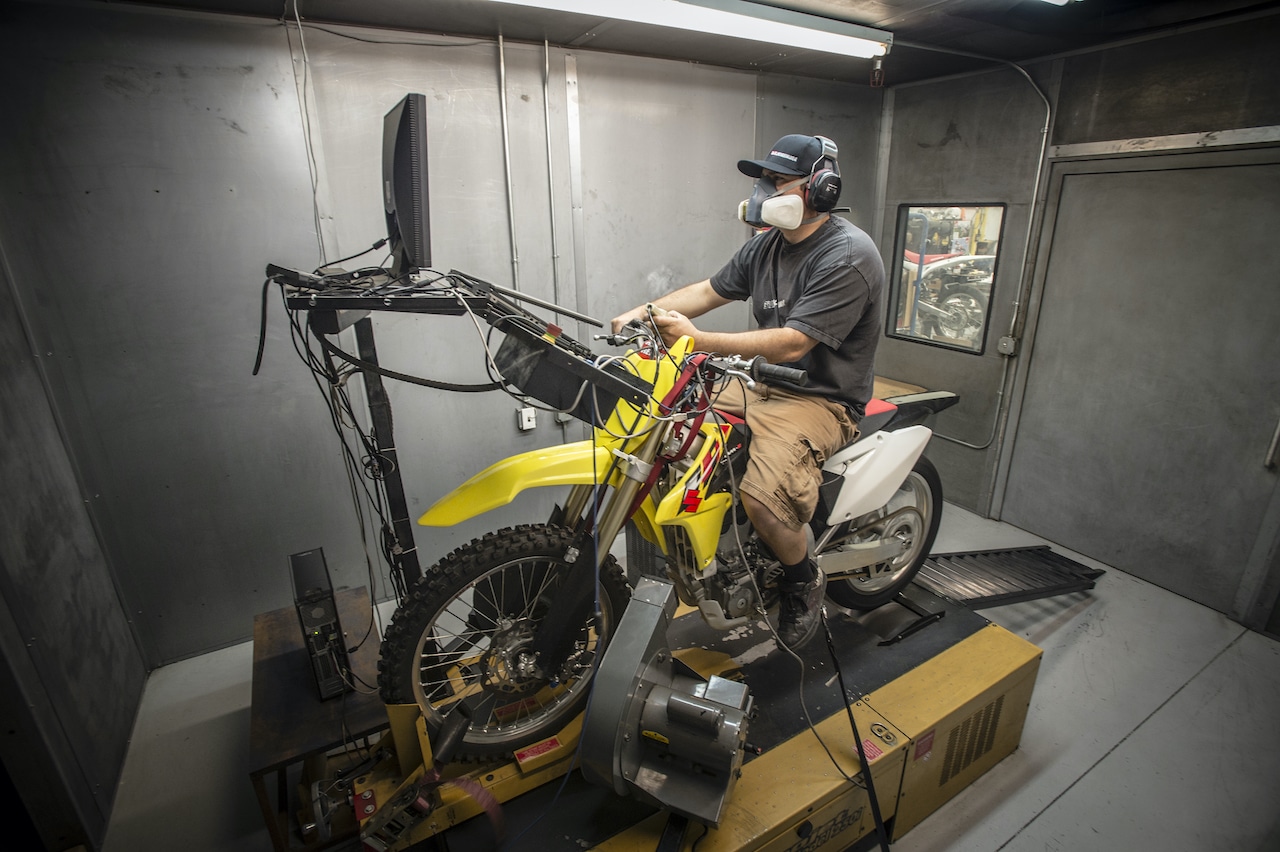 Every motorcycle racer wants a measurement that explains how powerful his bike is. Horsepower is an easy reference number that everyone can relate to. Perhaps in the future, scientists will come up with a more precise measurement of how fast a motorcycle engine is, but whether they choose kilowatts, cheval-vapeur or joules, it won't matter if you can't get the public to go along. Horsepower has a long tradition, and it will not go gentle into that good night. People won't want to change from 50 horsepower to 37,285 watts.
We mention watts because horsepower as a measure of power was coined by James Watts, who wanted to market his industrial steam engines to replace horses in 1782. Watts determined that a horse could turn a standard 12-foot radius grain mill wheel 144 times in an hour (or 2.4 times per minute). He then extrapolated a horse's effort to the performance of his steam engine to be able to rate it by "horse power."

The ultimate calculation was that 1 horsepower was equal to 550 foot-pounds per second (or, in simpler terms, that a horse could raise 550 pounds of weight 1 foot in one second). These numbers could be converted easily to other units of measurement. Thus, one horsepower also equals 33,000 foot-pounds per second, 745 watts, 0.645 kilowatts or 745 joule per second.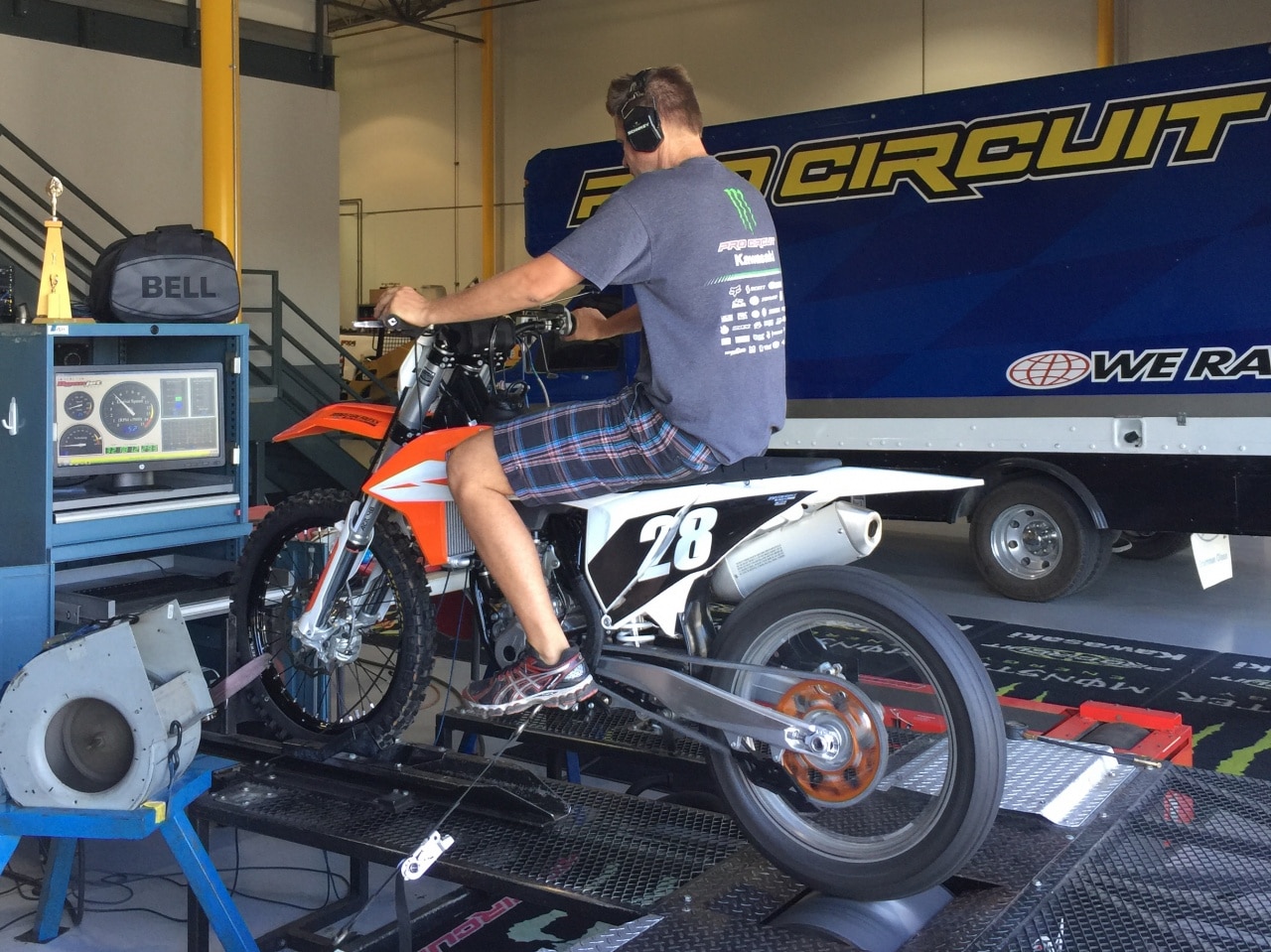 The point isn't about what unit of power we use but whether that unit can be used in science and industry as a reliable measurement of how powerful a machine is. It is a given that 1 horsepower equals 550 foot-pounds per second. The importance of the "per second" part of the equation is that it changes horsepower from a measurement to a calculation. The time factor means that you don't actually measure horsepower, you measure the force exerted over a distance during the duration of a given time. The resulting number is called horsepower, but the force that is being measured is torque.
How do you apply all of this? Motorcycle tuners use a dynamometer to determine the power an engine produces. They do this by applying a load to the engine output shaft by means of a water brake, a generator, an eddy-current absorber or any other controllable device capable of absorbing power. The dynamometer control system causes the absorber to exactly match the amount of torque the engine is producing at that instant, then measures that torque and the rpm of the engine shaft. From those two measurements, it calculates observed power. What the dynamometer is really doing, however, is measuring the torque output of the engine. In a vehicle, torque is measured at various engine speeds, or revolutions per minute (rpm). These two numbers are fed into a formula—torque times rpm divided by 5252—to arrive at horsepower.
What is more important, torque or horsepower? Most motorcycle companies advertise the horsepower and torque that their engines produce. It seems, as usual, the bigger the numbers, the better. Torque is the base number for work, and horsepower is the rate of doing more work. Thus, one can't exist, or even have meaning, without the other.
LOST BUT NOT FORGOTTEN | MIKE KIEDROWSKI'S 1995 FACTORY KX250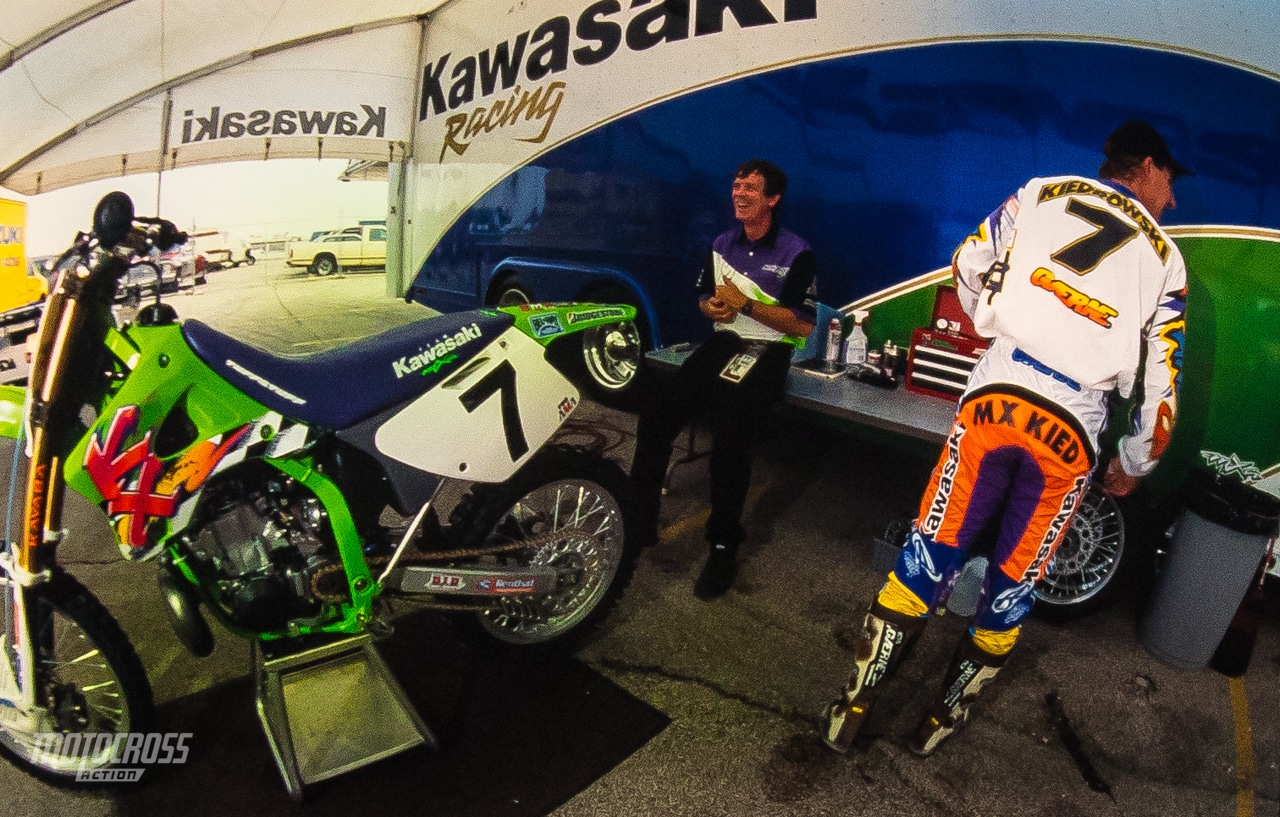 Mike and his Factory 1995 KX250.
Mike racing his Factory KX250. 
MXA GOES TRIAL RIDING ON ITS GASGAS TXT 250
MXA has been testing and riding this 2020 GasGas TXT 250 for the last six months. Why? Because it is fun!
Hey Motocross Action readers! Test rider Josh Fout here with a little something off the MXA beaten path.  With the excitement of new bikes and all-new GasGas MX and off-road line up, we decided to try something different. We took the 2020 GasGas TXT 250 to the rocks of Johnson Valley and tried our hand in trials.
Plonkers Trials club and SoCal Trials puts on the Hannonball run event twice a year in Cougar Buttes. I arrived Saturday to get some time on the bike with the Plonkers Adventure Ride. The Adventure Ride was a National Trials loop in the 90s and is for no slouch. This was a perfect ride for me to get a feel of the soft suspended, missing seat, and awkward ergos of the trials bike. With some tips from 10-time National Trials Champion Geoff Aaron and local winning pro Brad Hannon I felt ready to go.
The Plonkers riders meeting in Couger Buttes. 
Never competing in a trials event, I was lucky we had Jared Malmquist, who is a multi-time winner and right-hand man to Geoff Aaron at GasGas, to test with and get a base setting on the bike. The GasGas 250 was a very popular bike in the pits and a great platform for all skill levels. I rode the Open class which enabled me to ride any line I chose in case one line was too easy. All In all the trails community is very close and friendly and the GasGas trials bike has us excited for more off-road riding.
I ended up placing 1st in Open class, as I rode the Intermediate and Clubman lines. The Open class allows you to ride any line you want. There were 10 sections which you ride 3-times and lines range from Beginner to Pro.
Jared Malmquist helped dial in Josh Fout's bike.
The most fun part of the day was the learning experience and how it can transfer to all riding types to make us a better rider. I will say the Adventure Ride was probably more fun than the competition itself because it was much more difficult.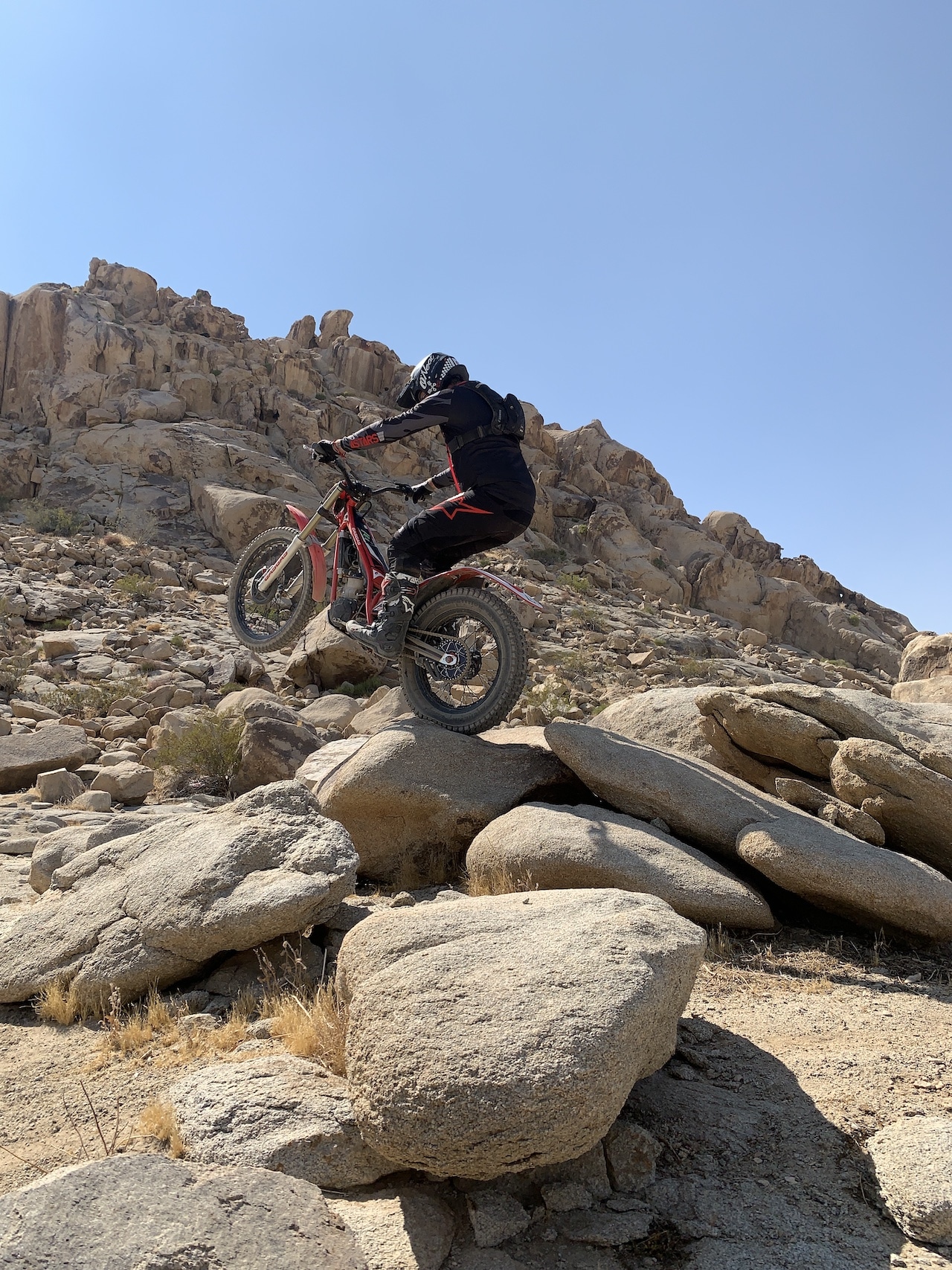 Josh started to get the hang of trials riding. 
The Adventure Ride was an open invitation to anyone feeling that they could handle a difficult ride, and a bit of a memorial to some passed away Plonkers Trial members. The Adventure Ride trail was created in the 90s when they used to hold the national trials event there in Johnson Valley.
MXA TEAM TESTED: GAERNE SG-10 BOOTS
WHAT IS IT? The Gaerne SG-10 boot has been a rider favorite for many years. It's been updated and restyled for better performance and looks.
WHAT'S IT COST? $499.99.
CONTACT? Contact your local motorcycle dealer or visit www.gaerneusa.com.
WHAT STANDS OUT? Here's a list of things that stand out with the Gaerne SG-10 boots.
(1) Fit. The Gaerne SG-10 boot has an inner liner made out of comfortable memory cell foam. That foam has a wicking membrane to keep feet cool and dry. Another favored design is the boot's low-profile toe box for easy shifting. Our smaller test riders felt there was a little more room than needed around the ankle and heel area. For these smaller riders, adding a shoe insert raised their feet in the boot, making for a snug fit and helped reduce heel lift. Our test riders with bigger calves or larger ankles had no issues and were pleased with the adjustable buckles, especially if they wore bulky knee braces. The boot size is spot-on. If you are a size 10 normally, you will be a size 10.
(2) Appearance. The Gaerne SG-10 boots have an all-new sleek look with a larger grip guard, similar to the SG-12. The fine detail in craftsmanship adds a functional look to the boot and is available in white, black, red/white, blue and black/flo yellow.
(3) Sole. The Gaerne SG-10 boot sole is made of a tough dual-composite material. After spending several hours testing these boots in the dry California conditions, the soles still looked as if they had just come out of the box. This gave the MXA wrecking crew concerns that the sole of the boot may be too hard for muddy conditions and have a slippery feel on the footpegs. After letting one of our test riders put them through the paces in a mud race, we had no concerns that the sole's dual-composite material was too hard to find prime traction on the peg. Out of the group of test riders that tried the latest generation SG-10, every rider complimented the boot. After a long day of testing, the stiff sole provided a more stable fit and less foot soreness.
(4) Durability. Over the years Gaerne boots have gained a well deserved reputation for their long-lasting durability. The Italian craftsmanship on the SG-10 cuts no corners. Over the last decade, our most extreme test riders are always amazed after countless hours of testing that they have not destroyed the sole or the exterior of the boot. With the new SG-10, the durability is still tried and true.
WHAT'S THE SQUAWK? The only issue we had was with smaller riders. They noticed a little heel lift during break-in. Adding a sole inset cured all ailments.
MXA RATING: The Gaerne SG10 is a boot that has the looks, grit and functionality for any serious rider or racer. It is a boot you can count on.
FIRST RIDE ON THE 2021 KTM 250SXF
MXA HAS T-SHIRTS FOR YOU ! CHECK OUT THE MXA STORE
It has been a while has we released T-Shirts to the public. Well no more! We are adding more designs each week. So make sure you check them out by clicking here.
450 SHOOTOUT BETWEEN THE 2021 KX450 & YZ450F
MXA YOUTUBE CHANNEL | HIT THAT SUBSCRIBE BUTTON

The MXA wrecking crew is everything moto related. Check out our MXA YouTube channel for bike reviews, Supercross coverage, rider interviews and much more. And don't forget to hit that subscribe button. 
CLASSIC MXA PHOTO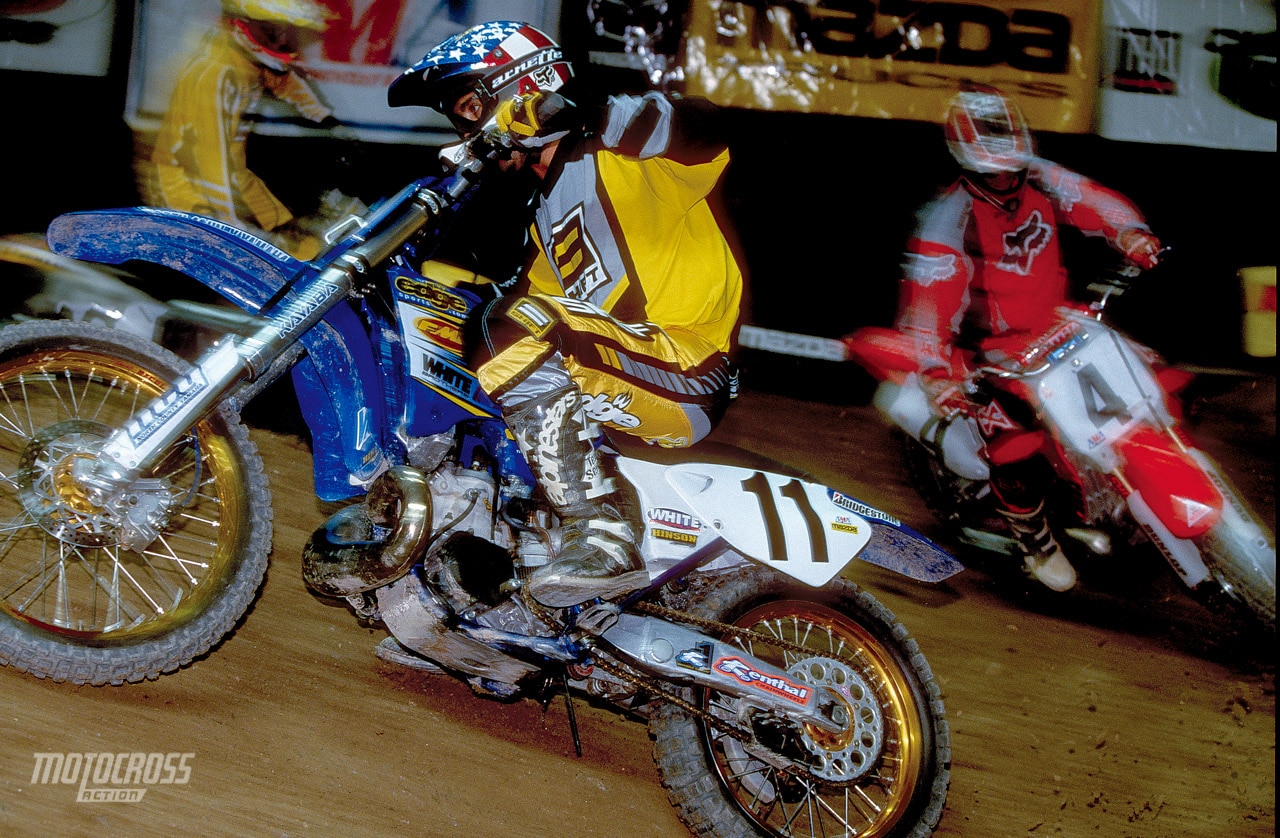 Jeff Emig in 1999 aboard a privateer Edge Racing Yamaha YZ250 at the U.S Open. Jeff went on to win that night as well as the $100,000.
Moto Trivia answer: Two-time 125 World Champion Alessi Chiodi racing in Anaheim Stadium back in 1999 where he placed 5th in the 125cc class. He raced three Supercross races that year with two of those placing inside the top five.