MOTOCROSS ACTION MID-WEEK REPORT
#WHIPITWEDNESDAY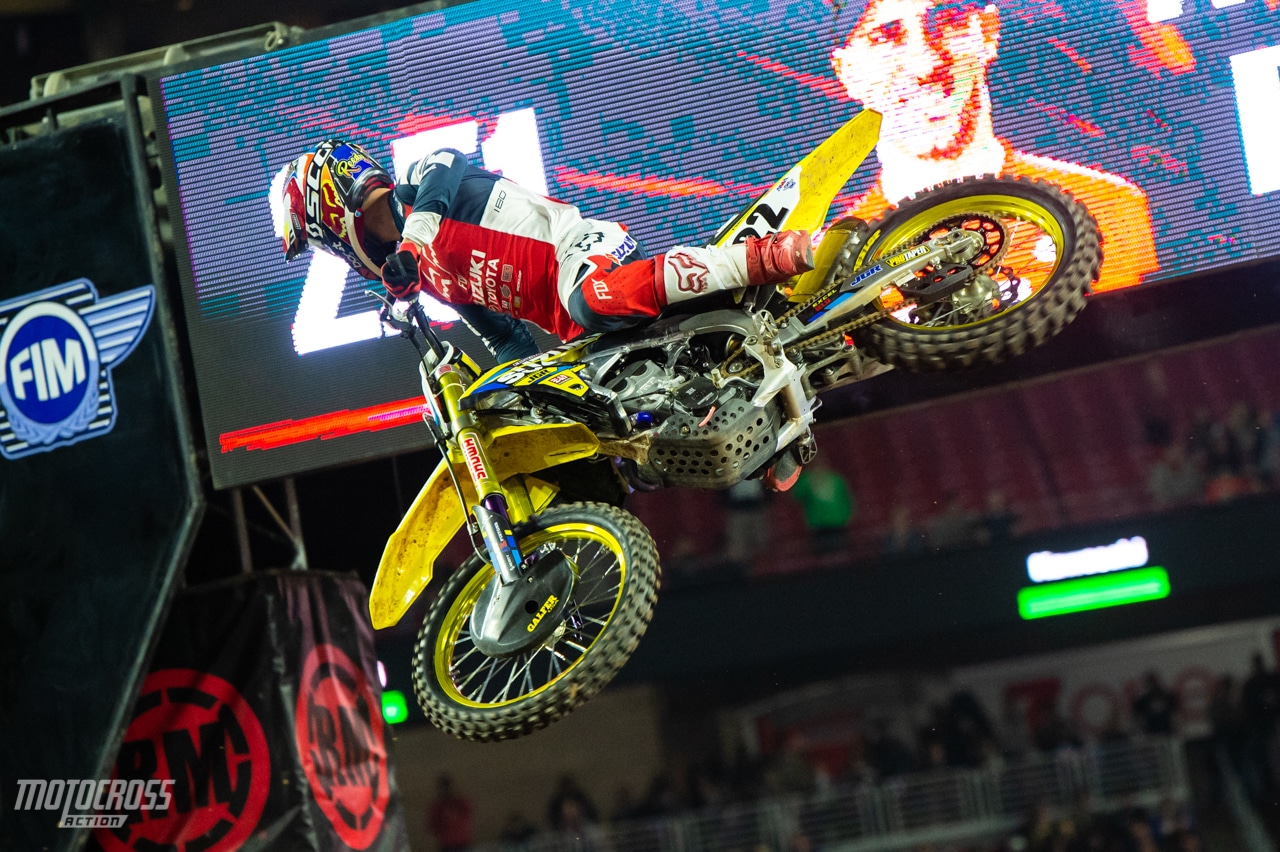 Rider: Chad Reed
Bike: 2019 Suzuki RM-Z450
Location: State Farm Stadium
Event: Round 2 of the 2019 Supercross series in Glendale, Arizona
Lens: 70-200mm
Focal length: 200mm
Exposure: 1/1250sec
F-stop: f/4
ISO: 3200
Photographer: Brian Converse
TWO-STROKE SPOTLIGHT | GARY PHILLIPS 2011 YAMAHA YZ144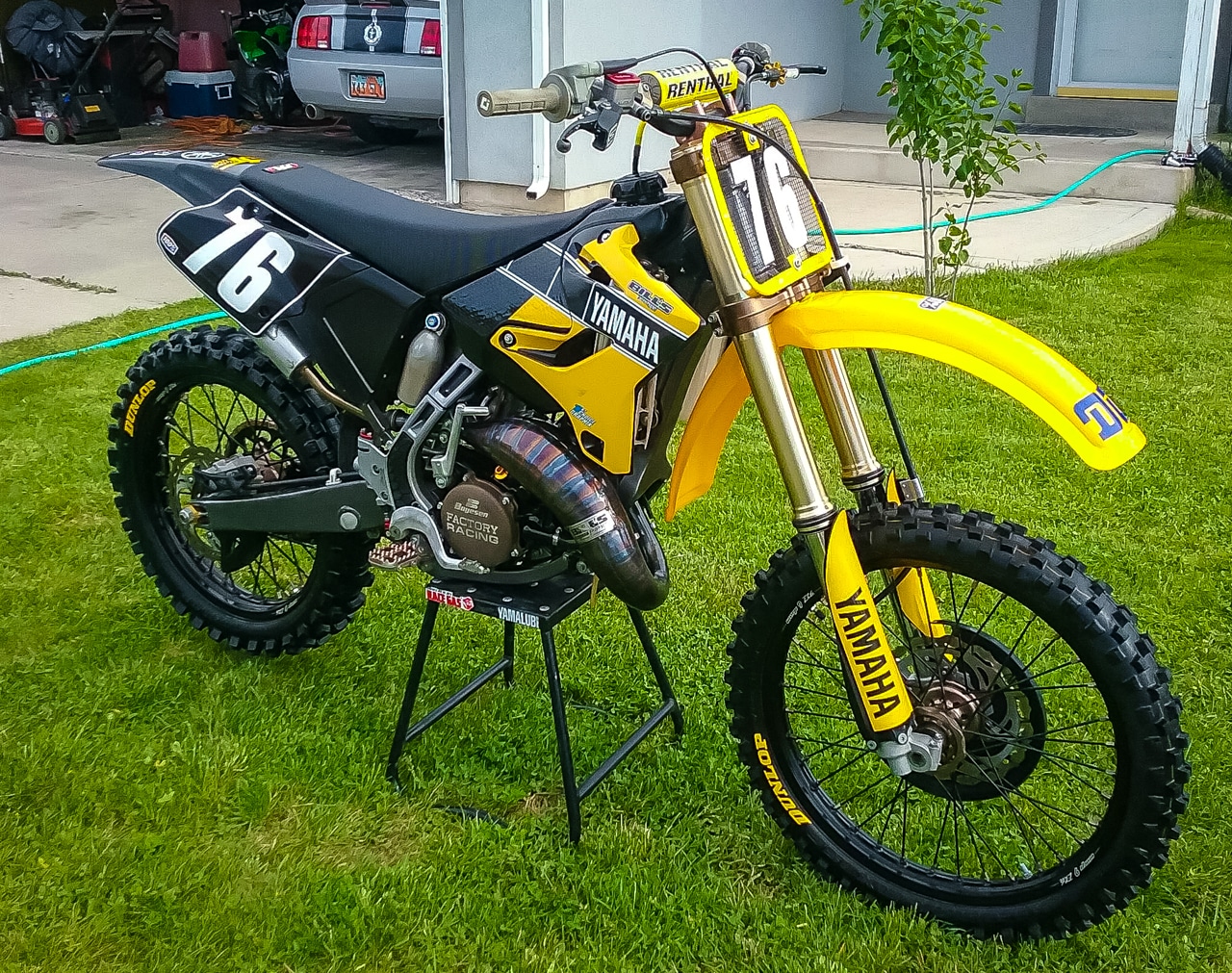 "This is my 2011 YZ144. I has an updated feels with a retro touch. A restyled kit was used but I made the front fender, graphics and front number plate based off a 1984 YZ125. I striped the bike to the frame and replaced and rebuilt every seal, bearing, gasket to wheels." –Gary Phillips.
Check out the retro number plate.  
EDITORS NOTE: Please keep those submissions coming. If you would like your bike to be featured in the "Two-Stroke or Four-Stroke Spotlight," please email me at [email protected]. All I ask is that you give a breakdown of your bike and a detailed description of the build. Please also send a few photos of your steed. By submitting your bike, you agree to release all ownership rights to the images and copy to MXA.
MXA VIDEO: JEREMY MARTIN, MICHAEL MOSIMAN, DEAN WILSON & CAMERON MCADOO
LOST BUT NOT FORGOTTEN | JEREMY MCGRATH'S 1992 TEAM PEAK/PRO CIRCUIT/HONDA CR125
MXA TRIES THEIR HAND AT ENDUROCROSS AT GLEN HELEN

By Josh Fout
What's up Motocross Action! Test rider Josh Fout here with some more off-road talk. Being that we live and breathe all things Glen Helen, we decided it would only be fitting to ride the Endurocross series that took place. I took MXA's 2020 YZ250X off-road bike equipped with NueTech Nitro Mousse bibs, Dunlop gummy tires, low gearing and put it to the test.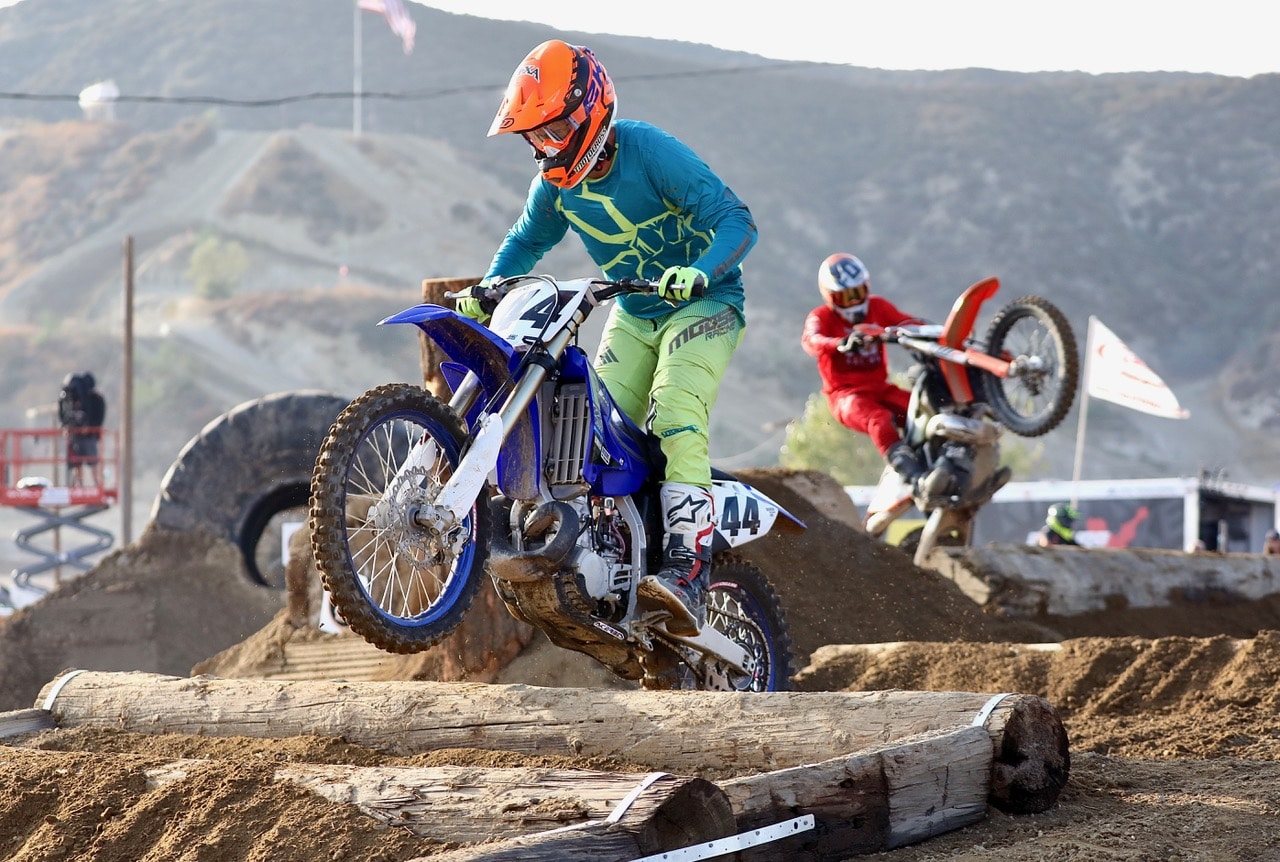 I used the first round of the series as my feeler to get used to jumping logs, rocks and the tires on the perfectly groomed stadium cross track. After practice and qualifying, I was pleasantly surprised with the YZ250X and it's soft valved suspension and explosive torque, which made it very easy to ride the technical obstacles. After learning day and getting what I considered a base setting, I was ready for the future rounds.
In rounds 2 and 3 I was ready to push my abilities after taking some mental notes from seasoned Pros such as Cooper Abbot, Cody Webb and Colton Haaker. The track was a combination of very technical obstacles mixed with an arena cross jump line. Thinking I would feel right at home hitting the big doubles, I was humbly mistaken by the log and tire faces and landings of those doubles.
Coming into Round 4, I was comfortable and had good bike settings with accomplishments in the past rounds with a qualifying win and a 1st place overall at the night show. Little did I know that local Californian Intermediate rider Tyler Smith, Hawaii's Ryan Gouveia and women's Pro Shelby Turner would make me earn my rookie status. With 4 Rounds done and with 4-2-1-1 finishes in each, I can say that I had so much fun and that I am really looking forward to the next 2 Rounds and years to come!
Josh hit a few rocks along the way denting the pipe pretty bad. He used his own ingenuity to remove the majority of the dent. See the before and after pictures.
MY 2020 YZ250X SETTING I USED FOR ENDROCROSS
-Dunlop AT81 front, Dunlop AT81EX (gummy) rear with Nitromousse Platinums
– Stock Valving: Fork compression 14 out, rebound 12 out, 5mm in the clamps. Shock compression 12 out, rebound 12out, high-speed compression 1.5 turns out, 110mm sag( to get it to squat for the hard hits)
-Gearing:  14-52  (ideally 13-50 or 51 with an 11oz flywheel weight I'm going to try for the next two rounds)
RYAN VILLOPOTO SPEC PRO CIRCUIT YZ125 PIPE & SILENCER
Press Release:  Pro Circuit is excited to release a pipe and silencer package that Yamaha YZ125riders will appreciate. Introducing the Ryan Villopoto spec Works Pipe and Ti-2 Carbon Kevlar Titanium Silencer, a
setup fitted for a multi-time champion that can now be bolted onto your YZ125. The RV Works Pipe is available for
2005-2021 YZ125 models and is designed to be stronger on the bottom to the middle part of the power band. This is extremely beneficial off the start or on tighter, softer tracks where acceleration out of corners is key. The RV Ti-2
silencer is available for 2002-2021 YZ125 models and offers a professional look and a factory sound. When compared to a stock silencer, the RV Ti-2 version increases power on the bottom-end.
It's not every day riders get to bolt on a professional setup like this, so if you're in the market for an exhaust that will
help pull you out of corners a little quicker or if you're a professional looking for a better jump out of the gate, then look no further. The RV Works Pipe and Ti-2 silencer is the perfect option for YZ125 riders looking to increase performance.
MXA MOTO | TRIVIA 
Who are the two riders and what year was it taken?
FORKS NEED BREAK-IN ALSO
Dear MXA,
I bought a 2020 KTM 350SXF, took it straight to my local track and hated the WP air forks. They were very stiff, rode high and didn't follow the ground. The guy parked next to me had an almost identical KTM 350SXF with eight hours on it, and he let me ride his. It was much better than mine. I took his air pressure and clicker settings and put them in my forks, but it was still too hard. Did I get a lemon?
No. The difference between your forks and the forks of the guy who was nice enough to let you ride his bike was the eight hours that he had on his forks. New forks are always stiff because of the stiction of the tight fork seals, bushings, internal piston bands, non-viscous fork oil and the grease that the forks are put together with. Any fork needs at least two hours of riding time to break in. During this break-in period, the grease that clogs the AER's air bypass dent dissolves. The fork oil goes through several heat cycles and gets thinner. The interface parts (seals, bushings and band) free up. Suddenly, after a couple hours of break-in, the forks transform themselves into better forks.
Lots of racers send their forks and shocks out to get them re-valved after the first ride. This is wrong. Never send your forks to get them re-valved until after they have been broken in. There are two reasons for this: (1) Once they are broken in, you may find that your forks (Showa, Kayaba or WP) are much better than you thought. (2) Before re-valving your forks, you should get an accurate read on what they feel like, because re-valved forks aren't always better than the stockers. It's in your best interest to know what the stockers feel like for comparison.
What you may not realize is that the same break-in regimen applies to your new bike's rear shock.
GASGAS AND MOTOCONCEPT TEAMS ANNOUNCED 
The 2021 three riders GasGas team with be Pierce Brown (left), Justin Barcia (middle) and Michael Mosiman (right). 
Up close to the 2021 GasGas MC 250F of Michael Mosiman. 
The 2021 MCR Racing team of Shane McElrath (left) Benny Bloss (center) and Vince Friese. Missing in the picture is Justin Hill.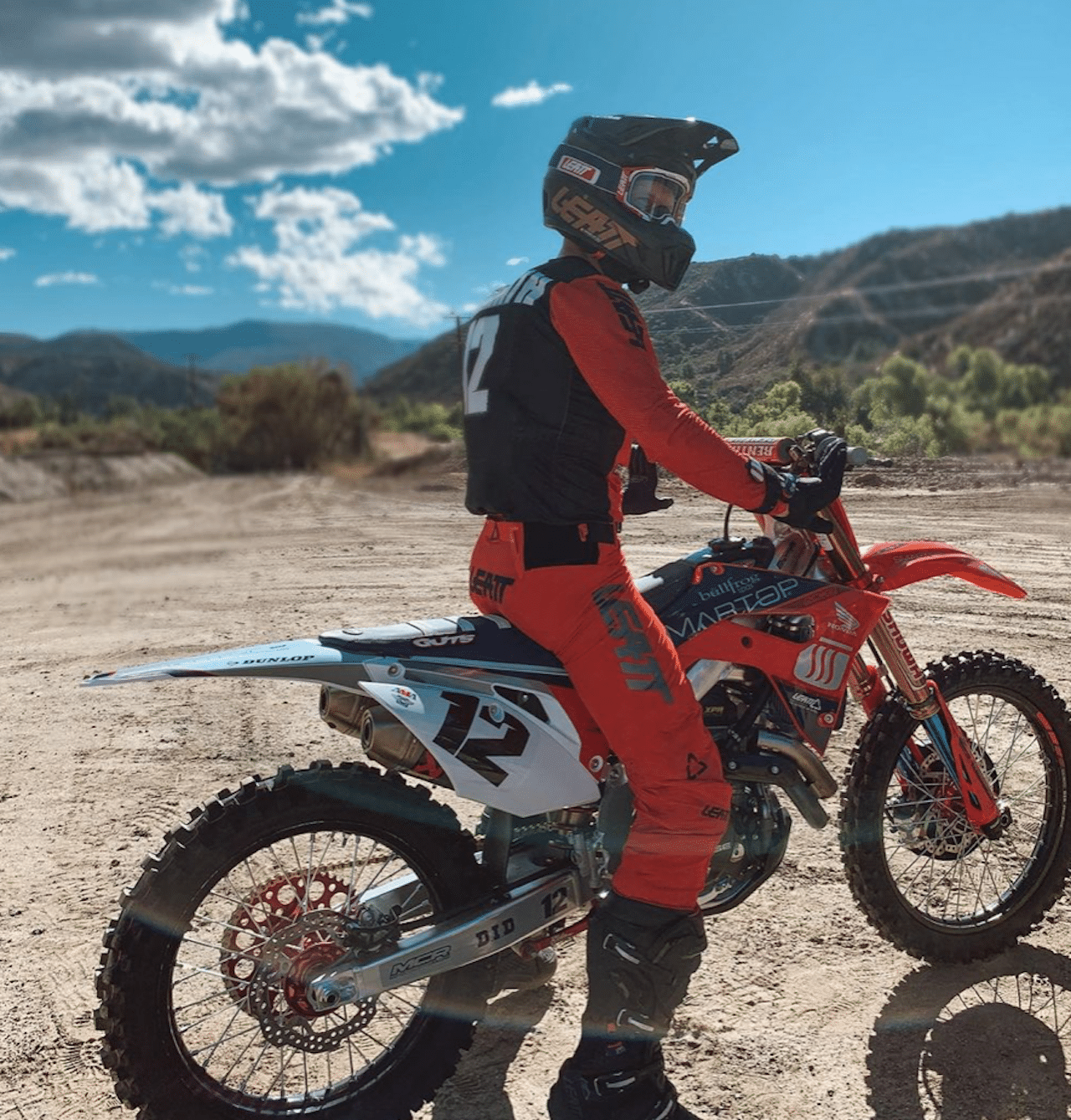 Shane McElrath posted on his Instagram page riding the Motoconcepts 2020 CRF450. 
Benny Bloss on his new red steed. 
MOOSE RACING MR-1 COLORED ALUMINUM CHAIN GUIDE
Press Release: Moose's new MR-1 Colored Aluminum Chain Guides. Durability and strength have met their match in this new chain guide. Constructed from a high quality T6 aluminum for added strength and durability. The chain block is made from high density TPU materials for guaranteed high wear abrasion and impact resistance. A unique 3D design helps prevent mud and debris from building up and causing chain derailment. Durability and strength are not all, a high-quality anodization is coated to prevent any fading and gives you the choice of five colorways. All mounting hardware is included. MSRP is listed at $56.95. Head on over to your local dealership or to www.mooseracing.com or www.mooseutility.com to check out the MR-1 colored chain guides.
WHICH SOUNDS BETTER…KTM 250SX TWO-STROKE OR $2,000,0000 HELICOPTER?
MXA YOUTUBE CHANNEL | HIT THAT SUBSCRIBE BUTTON


The MXA wrecking crew is everything moto related. Check out our MXA YouTube channel for bike reviews, Supercross coverage, rider interviews and much more. And don't forgot to hit that subscribe button.
MXA CLASSIC PHOTO
Jeff Emig back in 1999.  
---
Moto Trivia answer: Mark Barnett (2) and Alan King (10) back in 1984.