MOTOCROSS ACTION MID-WEEK REPORT
#WHIPITWEDNESDAY
Rider: Josh Grant
Bike: 2008 Honda CRF250
Lens: Fixed 300mm
Range: 300mm
F Stop: f/10
ISO: 400
Sutter speed: 1/1600
TWO-STROKE SPOTLIGHT: YZ85 TRANSFORMED INTO A BIKE FOR A ZOMBIE MOVIE
"This jewel isn't mine yet as I'm saving up recycling money to score it. Clean YZ80 with I few mods done for Zombie hunting. The ad says it was used in a Zombie movie so I'm guessing a big name movie star rode it in a blockbuster Zombie hunting/killing movie. As you can see a few mods are a RC51 radiator, oversized KLR fuel tank that'll send this little screamer into 2025 before the next fill up and a big comfy seat. It's a movie bike so the $700 is probably a smart investment. See you at the track after a few more trips to the recycling center." –Ben. San Juan Capistrano.
EDITORS NOTE: Please keep those submissions coming. If you would like your bike to be featured in the "Two-Stroke or Four-Stroke Spotlight," please email me at [email protected]. All I ask is that you give a breakdown of your bike and a detailed description of the build. Please also send a few photos of your steed. By submitting your bike, you agree to release all ownership rights to the images and copy to MXA. Please don't email me spam or try selling me Taylor Swift concert tickets or email me spam. I already celebrate T-Swizzle's entire collective, and there will be "bad blood" if you send me junk mail. See what I did there? Happy submitting your smoker.
MXA | MOTO | TRIVIA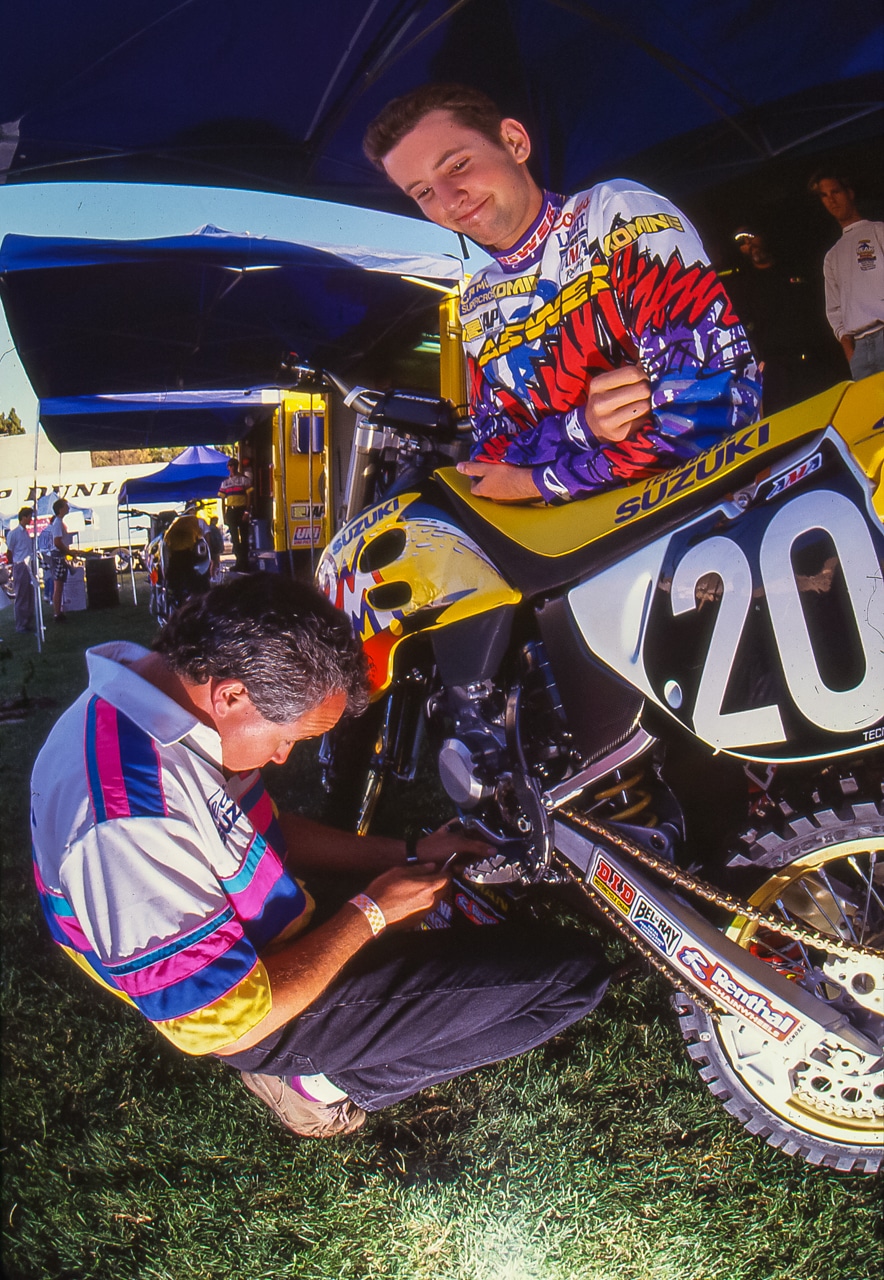 Who is this rider and what year? Answer at the bottom of the page.
PRO-VUE PRESCRIPTION LENS SYSTEM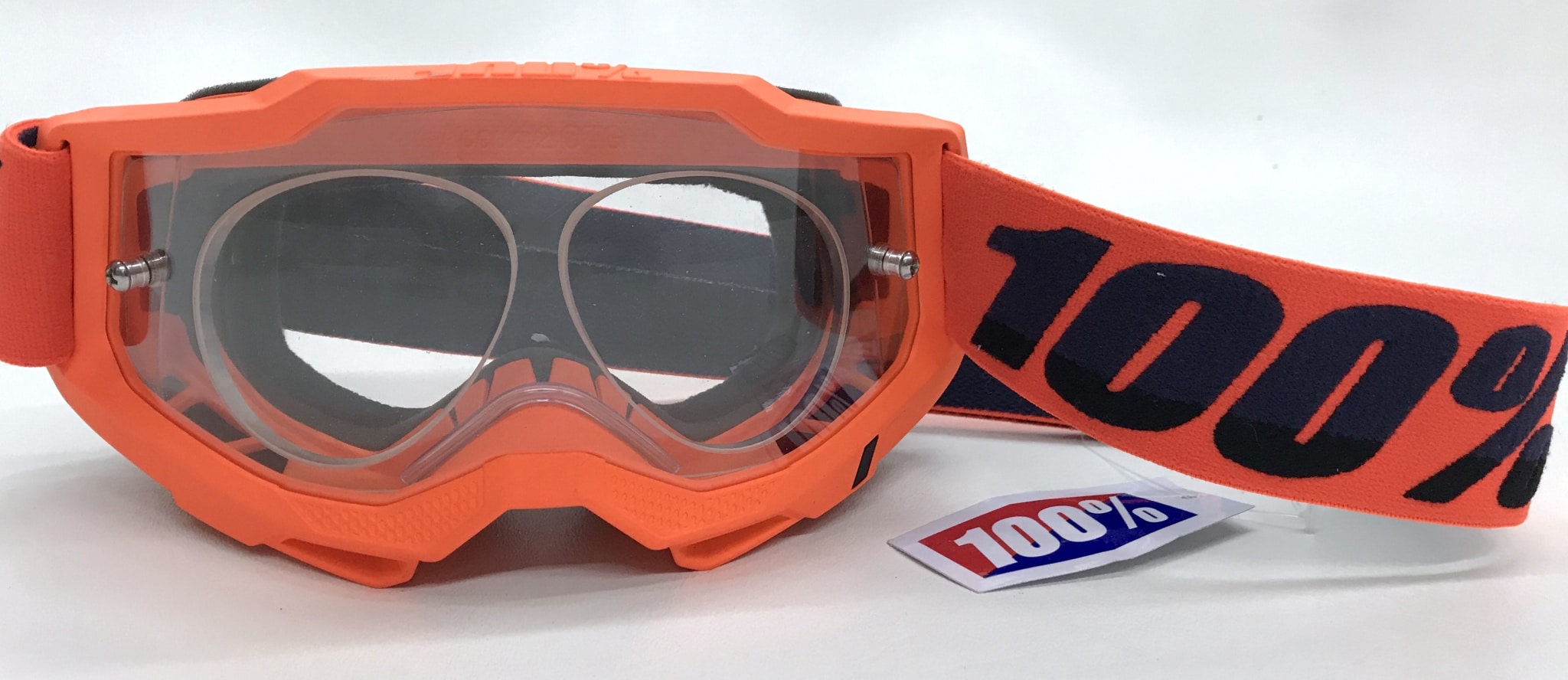 Pro-Vue has their prescription lens system available in the new 100% Accuri Gen 2 OTG goggle, and it is the best yet. Available in a half a dozen frame colors including this cool neon orange, and about a dozen different lens tints. Contact Pro-Vue at 507-534-1247 or at
pro-vue.com
MXA YOUTUBE CHANNEL | HIT THAT SUBSCRIBE BUTTON


The MXA wrecking crew is everything moto related. Check out our MXA YouTube channel for bike reviews, Supercross coverage, rider interviews and much more. And don't forget to hit that subscribe button.
JARRYD McNEIL | THE AMERICAN DREAM
FIRST LOOK! 2021 KTM OFF-ROAD 690 MODELS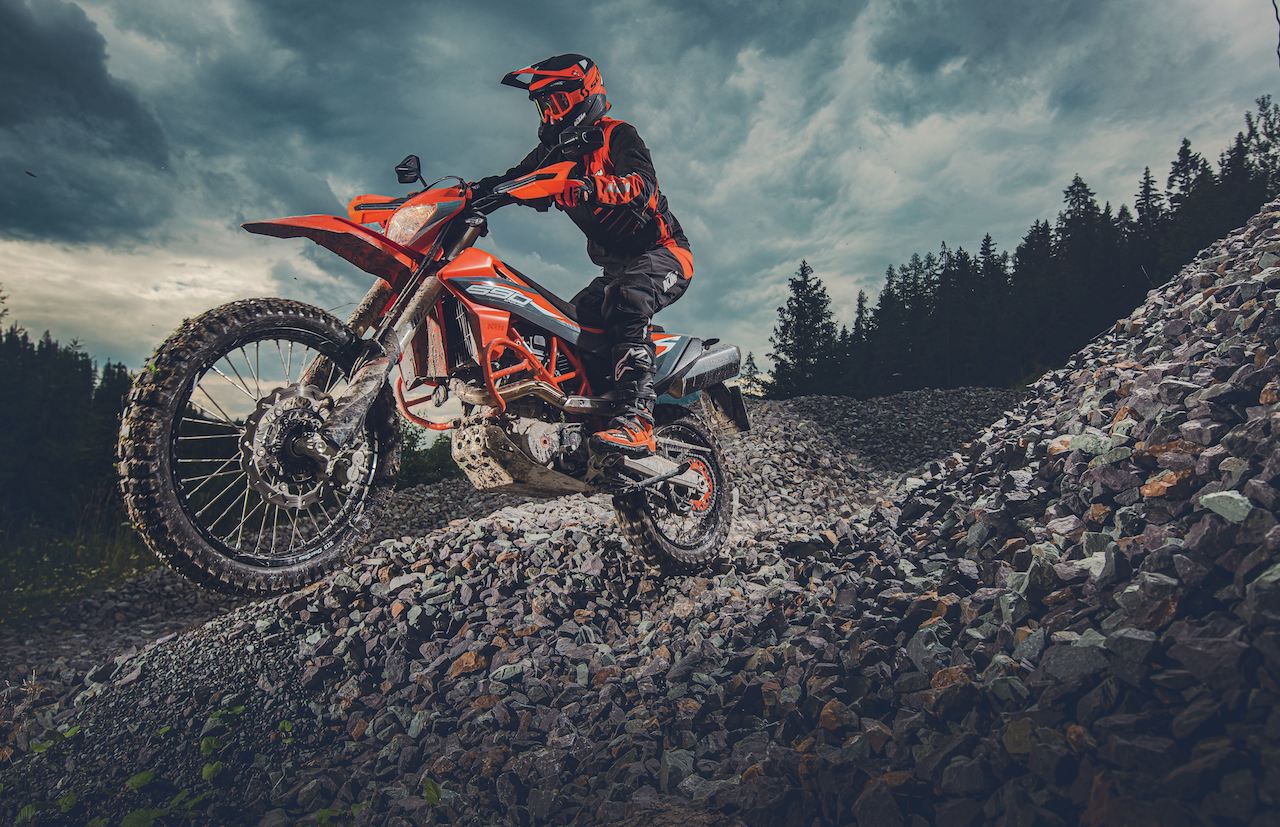 KTM North America Inc. is pleased to announce that the updated 2021 KTM 690 SMC R and KTM 690 ENDURO R are set to arrive at Authorized KTM Dealers this December, with the hardest choice being which of these cutting-edge single-cylinder machines to take and where to point it.

With updated aesthetics for the new year, the corner-carving KTM 690 SMC R offers an addictive torque-filled punch with every turn of the throttle. New looks are also offered with the return of the KTM 690 ENDURO R machine, which is always ready to connect the tarmac with trails with its flexibility to perform excitably on and offroad.
Similar in many aspects but completely different in their execution, both models take full advantage of an intensive development program. The advanced LC4 single-cylinder engine is housed in a lightweight, dynamic frame dripping with top specification chassis components and the very latest electronic rider aids to give an exceptional riding experience.
Both bikes are armed with the most powerful production single-cylinder available – smooth and as sophisticated as they come. Efficient and brimming with engineering excellence, the compact LC4 is a totally modern interpretation of a big single-cylinder engine. Two balancer shafts aligned to a dual-spark cylinder head and Ride by Wire technology leave only good vibrations. The 690 cc engine offers a devastating punch with an incredibly wide delivery of performance at the ready with standard Quickshifter+ for clutchless up and down shifting.
Electronic rider aids include clever ride mode technology and lean angle sensitive ABS and traction control systems to get the most from these potent packages in all situations.
KTM 690 SMC R

All fun and no frown; the unique riding appeal of a Supermoto is something KTM has wildly celebrated over the years and leading the pack is the KTM 690 SMC R. Pure, extreme and high performance – this is a very focused motorcycle that embodies the READY TO RACE approach and takes advantage of refined and unrivaled LC4 drive with advanced electronics in a truly unique package.
The sharp bodywork with fresh graphics and colorway is not just for looks; next-level ergonomics deliver incredible feel and control between rider and machine to get the most from this Supermoto superhero. Adjustable APEX suspension from the experts at WP also helps deliver a charismatic machine capable of conquering the tightest curves and cutting through congested commutes.
Getting the most from the KTM 690 SMC R's performance in all situations is a suite of rider assistance systems. Two ride modes – Street and Sport – cornering ABS, lean angle-sensitive Motorcycle Traction Control and Quickshifter+ are all standard, with the optional Supermoto ABS mode aiding rear slides with front-end confidence. The KTM 690 SMC R is fitted with Bridgestone S21 tires for maximum performance on the street and plenty of grip for race track usage.
KTM 690 ENDURO R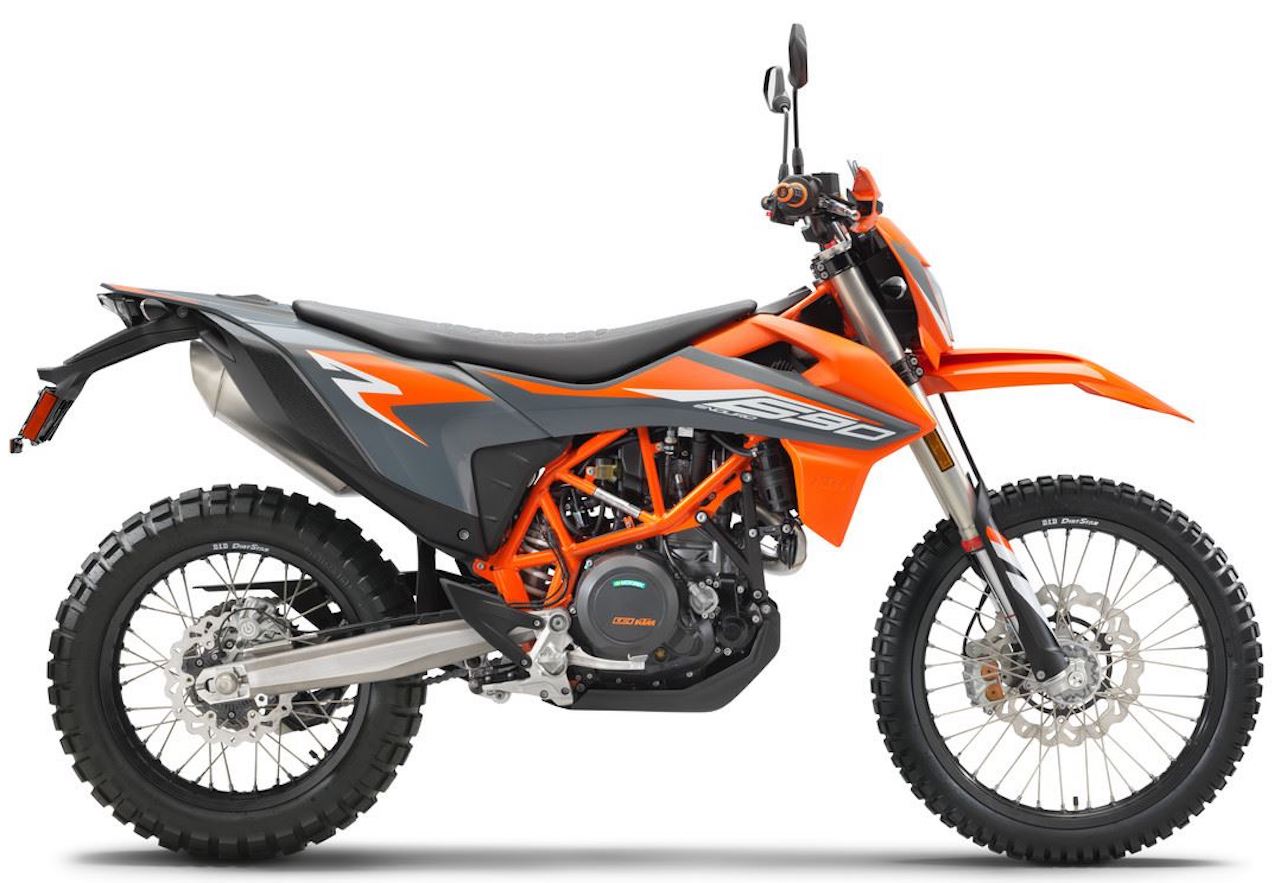 Making the impassable possible, the KTM 690 ENDURO R unites asphalt and trails. The unmatched KTM LC4 single-cylinder has two balancer shafts for reduced vibrations, Ride by Wire to allow changeable ride modes and traction control, more than enough power to pull clear of the steepest climbs and is still efficient and manageable for trails and daily use.
Sharp and slim, the bodywork with redesigned, eye-catching graphics, enhances aesthetics while the ergonomics provide small-bike feel with large-bike comfort. Underneath, a lightweight and agile chassis coupled with fully-adjustable damping control on the WP XPLOR suspension provide a competent package for experienced riders yet confidence-inspiring for those new to dirt. Better still, the KTM 690 ENDURO R remains sure-footed for street riding – increasing its versatility as a trust-worthy daily ride.
The electronic systems on the KTM 690 ENDURO R get the most from this dynamic machine in all situations. Two ride modes – Offroad and Street – produce different characteristics of the throttle response and Motorcycle Traction Control (MTC), while cornering sensitivity for the ABS with optional Offroad ABS harnesses this offroad weapon when necessary. The KTM 690 ENDURO R is fitted with Continental TKC80s for great performance both in the dirt and on the road.
MXA TEAM TESTED: WORKS CONNECTION ELITE THROTTLE TUBE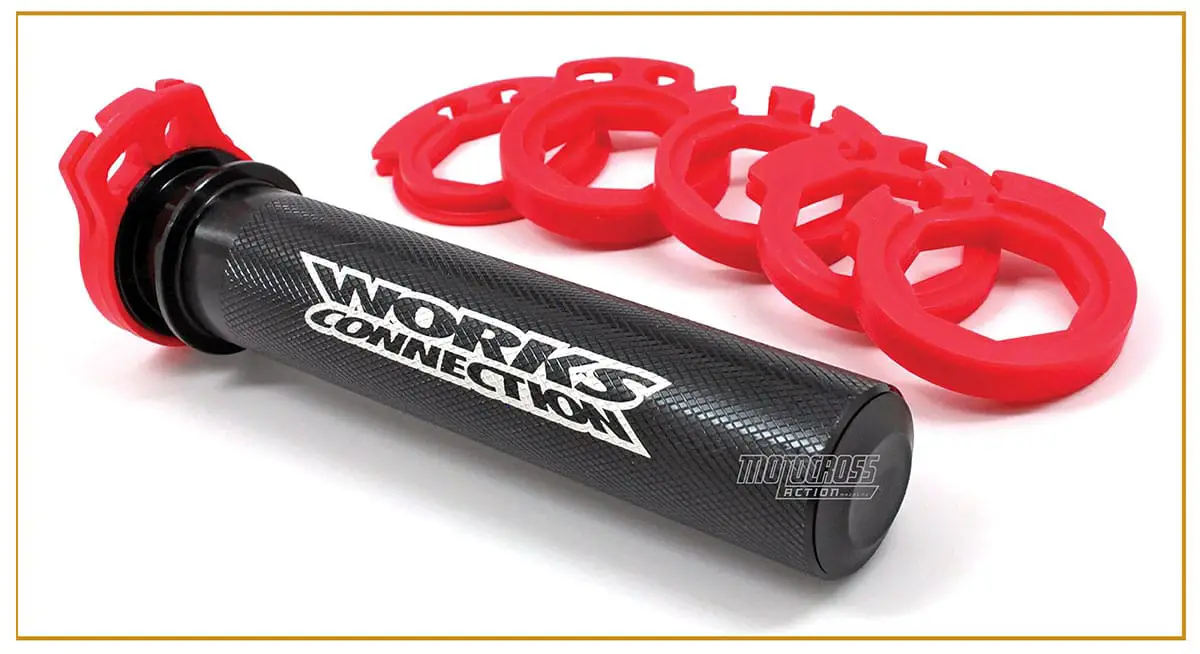 WHAT IS IT? Works Connection's Elite throttle tube incorporates all the current throttle technology to produce a frictionless feel when you twist the throttle.
WHAT'S IT COST? $69.95.
CONTACT? www.worksconnection.com or (530) 642-9488.
WHAT STANDS OUT? Here's a list of things that stand out with the Works Connection Elite throttle tube.
(1) Concept. Works Connection combined the best ideas about throttle tube design into one package. First, there is nothing unique about a CNC-machined 6061-T6 aluminum throttle tube. Every factory bike or high-end project bike uses an aluminum tube for durability. Second, the trend over the last few years is to use one throttle tube combined with an assortment of interchangeable cam pulleys to allow a single aluminum tube to be used on many different machines. This lowers manufacturing costs and is the hallmark of clamp-on grips from ODI, A'ME, Pro Taper, KTM, Moose and Torc1. Third, the Elite throttle tube has a ball bearing mounted internally to lessen drag. Works Connection was able to combine all these existing technologies into a single throttle tube.
(2) Interchangeable cams. The snap-on pulley cams allow the Works Connection Elite throttle tube to work on all modern four-strokes. Each cam has a letter molded in it that signifies which model of bike it fits. As a bonus, the system can be moved to your new bike when you sell the old one.
(3) Bearing. Installing bearings in a throttle tube to reduce drag is nothing new. Here is an incomplete list of aftermarket throttle tubes with ball-bearing inserts: Oberg (2001), Wirtz Twister (2005), Nue-Tec A.P.E. (2007), Zap Technix (2010) and Pro Taper Twister (2010). The Works Connection Elite throttle tube rides on a sealed, ABEC-1+ rated, radial ball bearing and an internal polymer bushing. The combination of the bearing and bushing allows the throttle tube to ride above the handlebars to create a frictionless feel. Less contact between the two translates into less drag.
(4) Installation. The Works Connection throttle tube installs like a traditional throttle tube, but there are a few tricks. If you have handlebars with a larger than normal inner diameter, like Renthal TwinWalls, you need to install the two supplied O-rings to take up the slack. Pay attention to which way the pulley cam snaps on to the throttle housing. It will go on backwards. Make sure that you feel the bearing plug into the end of the handlebars. Don't misplace the steel end cap on the throttle tube. It keeps grit out of the bearing, but, most important, it stops grip glue from gumming up the bearing.
(5) Performance. Hallelujah! It is smoother, turns easier, especially at small incremental movements, snaps back with authority and works with all brands of grips.
WHAT'S THE SQUAWK? No issues. Be sure to take time to read the instructions, because making a mistake with your throttle has bigger consequences than putting your underwear on backwards.
MXA RATING: We absolutely love the Works Connection Elite throttle tube, thanks to its 6061 tube, radial bearing, Delrin cams and smooth feel.
LOST BUT NOT FORGOTTEN | CASEY LYTLE'S 1999 YAMAHA OF TROY YZ125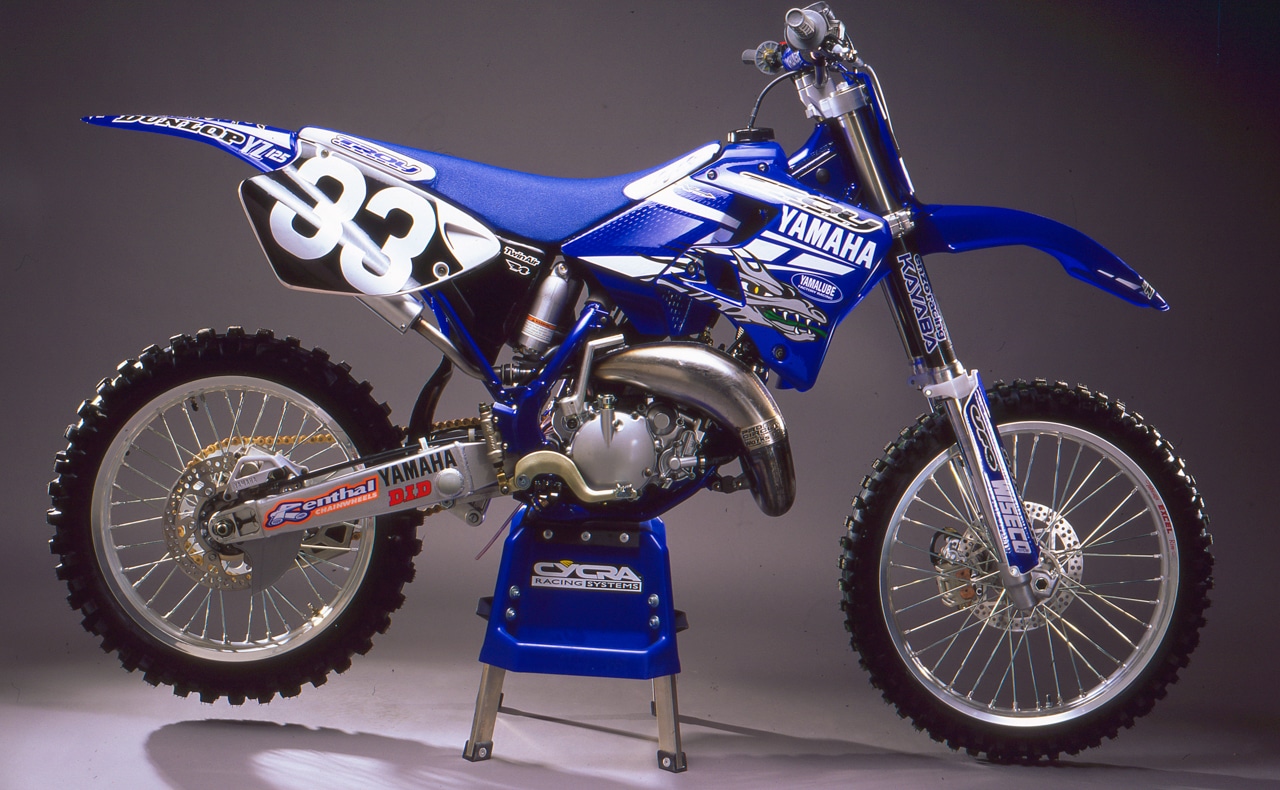 PRO CIRCUIT POLO SHIRT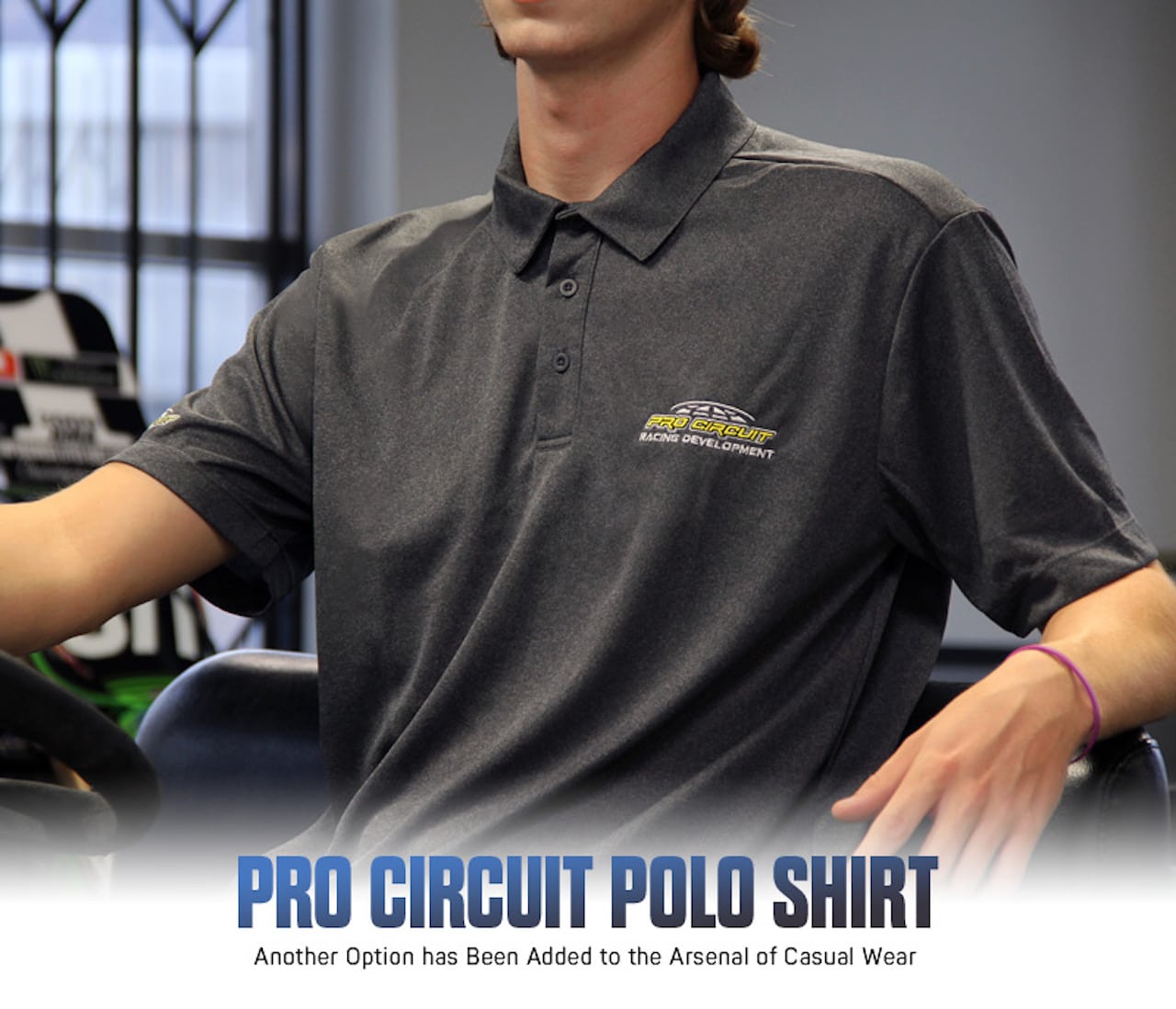 Press Release: A newly released apparel item from Pro Circuit, the popular polo shirt has recently undergone a change in its color and a new graphic has been embroidered onto the front left chest and right sleeve. Simple and stylish, our comfortable polyester polo is just right for breathing new life into your office look or your race track attire. Grab a polo shirt and show your support for one of the legendary brands in the motocross world. Go to www.procircuit.com for more information.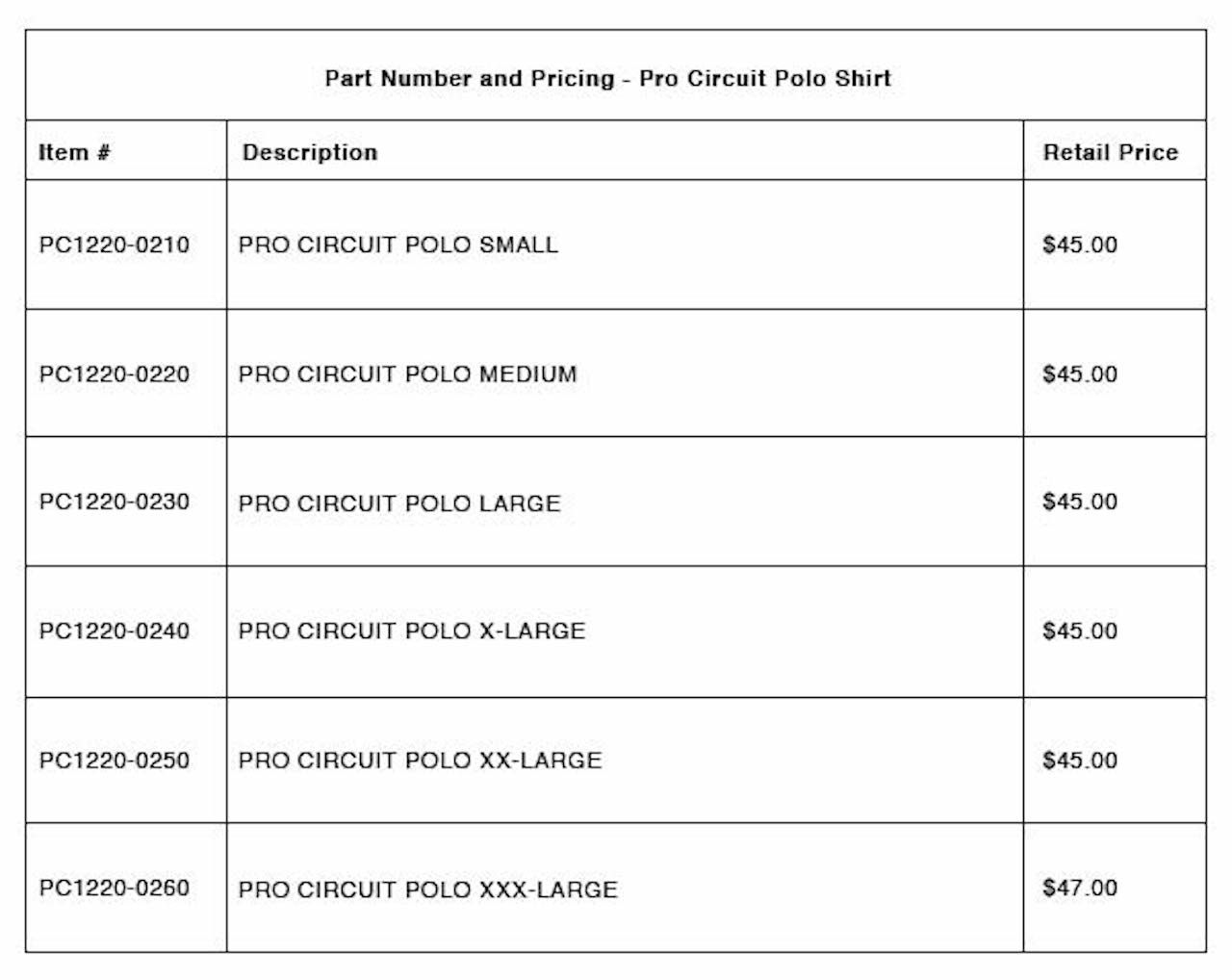 REX STATEN RECEIVES EDISON DYE LIFETIME ACHIEVEMENT AWARD
WHAT IS THE DIFFERENCE BETWEEN RACE SAG & FREE SAG?
Dear MXA,
       I know very little about setting up the suspension. I tend to just ride my bike and live with whatever happens. But, as of late I've started to read MXA and realize that stupidity is not a positive attribute. I want to start with the basics and learn more about making my bike better. What do I need to know about setting the sag? And what is the difference between race sag and free sag?
Setting sag is the one thing that every rider thinks he can do but normally does wrong. You would think that making two measurements and subtracting one from the other would be simple. Not so! Here are some tips.
(1) Do not measure the sag with the rider standing up. (2) Bounce on the suspension before measuring. (3) Sit where you actually ride, not some dream position. (4) Measure from the exact same location every time.

How do you measure sag? Put your bike on a stand with the rear wheel off the ground, and measure from the rear fender to the rear axle. Write that number on your buddy's forehead. Next, remove the bike from the stand and climb on board. Once you are positioned on the bike, have your buddy make the same measurement again. Subtract the new number from the one written on his forehead. The result should be 4 inches or 100mm, whichever comes first. Some bikes, most notably KTM work best with 105mm, but you can choose your own race number number by experimenting.

What should you do if it isn't 100mm? Loosen the shock's preload ring and turn the collar in the proper direction to make the spring stiffer or softer. Then, measure again and again until you get the desired number.
When to check sag? We know this sounds like a broken record, but that is better than a broken bone, check your sag before each race! It changes. One caveat: do not check the sag when the shock is hot — and it gets hot very quickly. If you've just ridden your bike in the first practice and think that you should check the sag before the second practice, save yourself the trouble. The hot shock will not give you an accurate measurement. Wait until the shock cools down. You can use sag as a tuning tool. Jeremy McGrath liked to set his sag at more than 100mm. Why? He wanted the rear shock to feel dead in the whoops. On the other hand, setting the sag at less than 100mm can make your bike handle quicker in the turns, because it raises the rear of the bike, which steepens the head angle. As a rule of thumb, every MXA test rider stays between 100mm and 105mm.
What is free sag? Free sag is a measurement of how much the bike sags under its own weight (without you on it). Free sag can only be checked after race sag is set.
How do you check free sag? Once you have the preload set at 100mm, or your favorite number, for your weight, position the bike on level ground, grab the bike under the rear fender and lift up—like you are going to pick the bike up off the ground. Did you feel the shock move? How far could you lift the rear fender up before the rear wheel tried to leave the ground? Was it 25mm? Was it 3mm? The amount of slop in the rear end is called "free sag."
How much free sag should there be? Free sag should be between 30mm and 40mm. If you have more than 40mm of free sag, your shock spring is too stiff. Less than 30mm and your spring is too soft. This is so important and so basic that you need to repeat after us: if you have excess free sag, your shock spring is too stiff. Now ask yourself, why? That's simple; you haven't been eating enough. Gain weight and you will have to preload the shock spring more, which will take up the excess free sag. If you don't want to pork up, you should consider a lighter shock spring.
If you have very little free sag (less than 30mm), your shock spring is too soft. Why? Because to hold your body up, the shock spring has to be preloaded way down into its stroke. It is overstressed, so overstressed that it is working overtime to hold up the bike; thus it has no jangle left in the rear end. The solution? Buy a stiffer shock spring (or go on a diet).
What if you have less than 30mm of free sag? Many times a rider will set the race sag at 100mm and find out that he has no static sag at all, but he wants to race the bike anyway. What should he do? Back the race sag off until there is at least 10mm of static sag. Free sag trumps race sag in this extreme condition.
CLASSIC PHOTO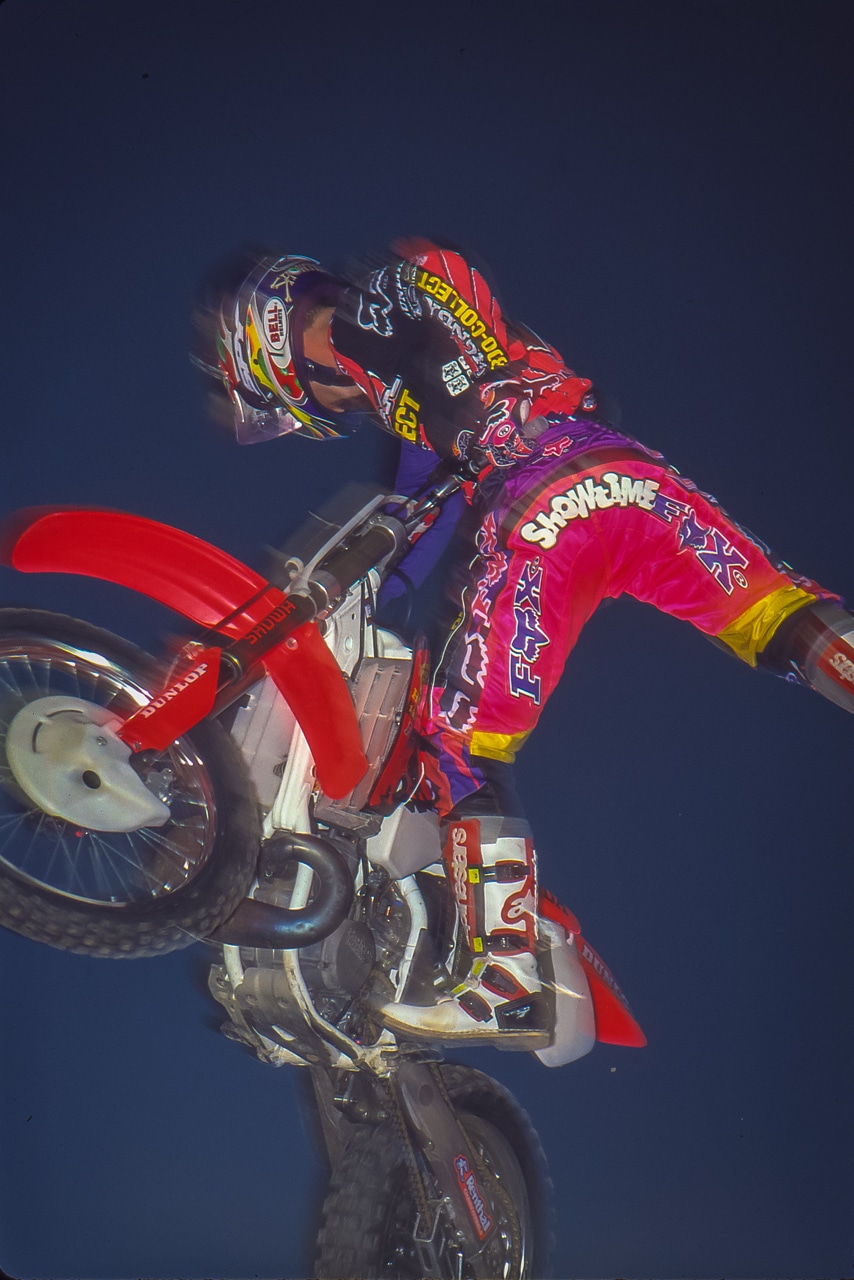 Jeremy McGrath in 1995 doing his signature Nac-Nac on his factory Honda CR250 two-stroke.
---
Moto Trivia answer: Damon Huffman back in 1994.