MOTOCROSS ACTION MID-WEEK REPORT
#WHIPITWEDNESDAY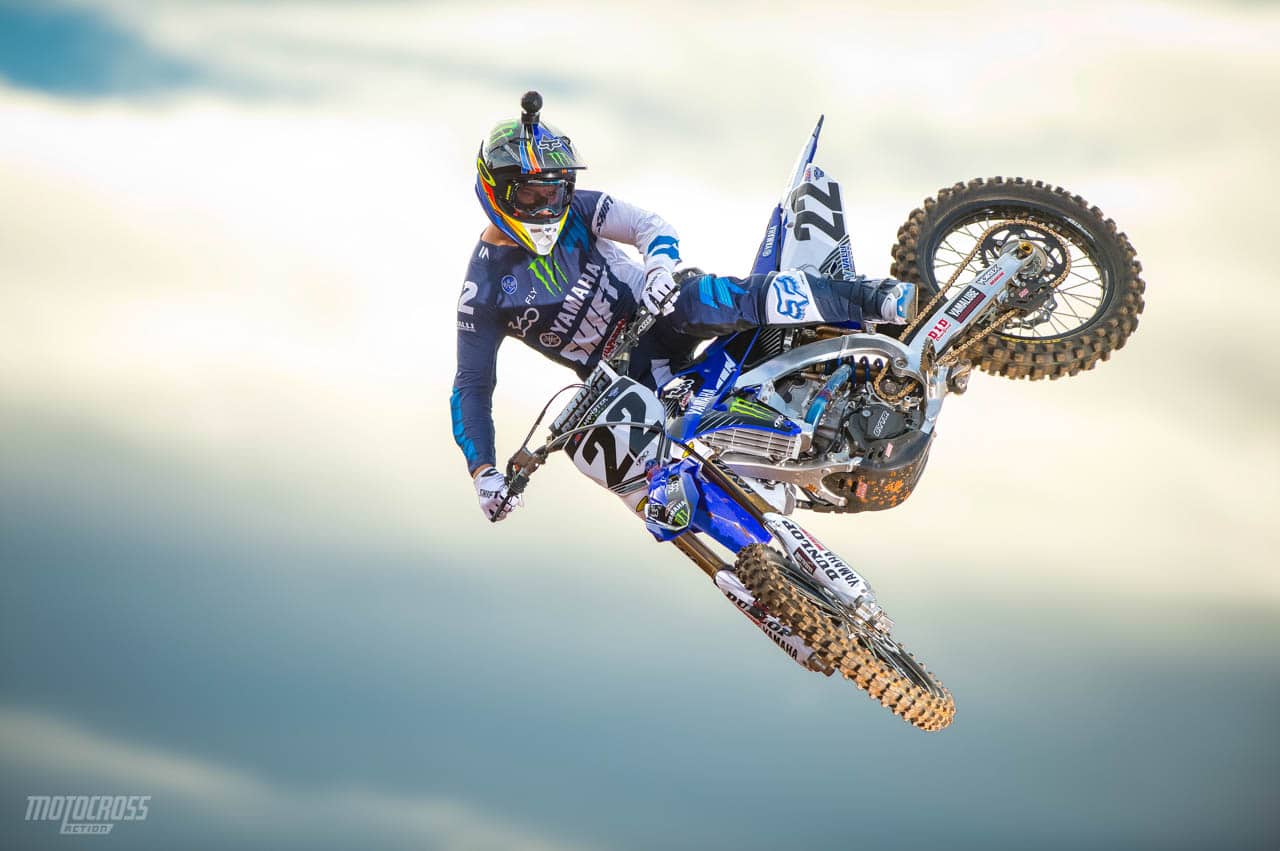 Rider: Chad Reed
Year: 2016
Bike: Factory Yamaha YZ450F
TWO-STROKE SPOTLIGHT: VANESSA SMALE'S 2016 YAMAHA YZ125
"Here's a mod list and lot's of pics of my 2016 Yamaha YZ125👍. I did a complete frame up nut and bolt rebuild/deep clean/semi-polished frame/engine, fully serviced/greased linkage/rear shock/swingarm/steering/bearings/axles and engine mounts with 50/50 grease and copperslip mix, all fastener's torqued to specs as per the manual etc.
Brand New ex-team-Samsung-Yamaha Gold Talon wheels with carbon fiber hubs/stainless bulldog spokes/black spline drive nipples/new Pirelli Scorpion tires/brake discs and inner-tubes which I bought direct from team owner Roy Emberson.
New X-trig rocs triple clamps with phds bar mounts
Suspension work: Kashima coatings on upper fork tubes and shock body/black DLC coating on lower tubes and shock shaft/hard anodizing on axle lugs/shock caps/adjusters/clickers/shock rod end/new Zeta quick adjust fork caps/new Zeta aluminum fork pistons/new Zeta bottom fork protectors/standard ti rear spring/standard fork springs/SKF fork seals with standard dust seals/valving set for 13 stone.
New carbon fibre 6.5 liter fuel tank. Note: this tank uses 2010-2013 YZ250F radiator shrouds.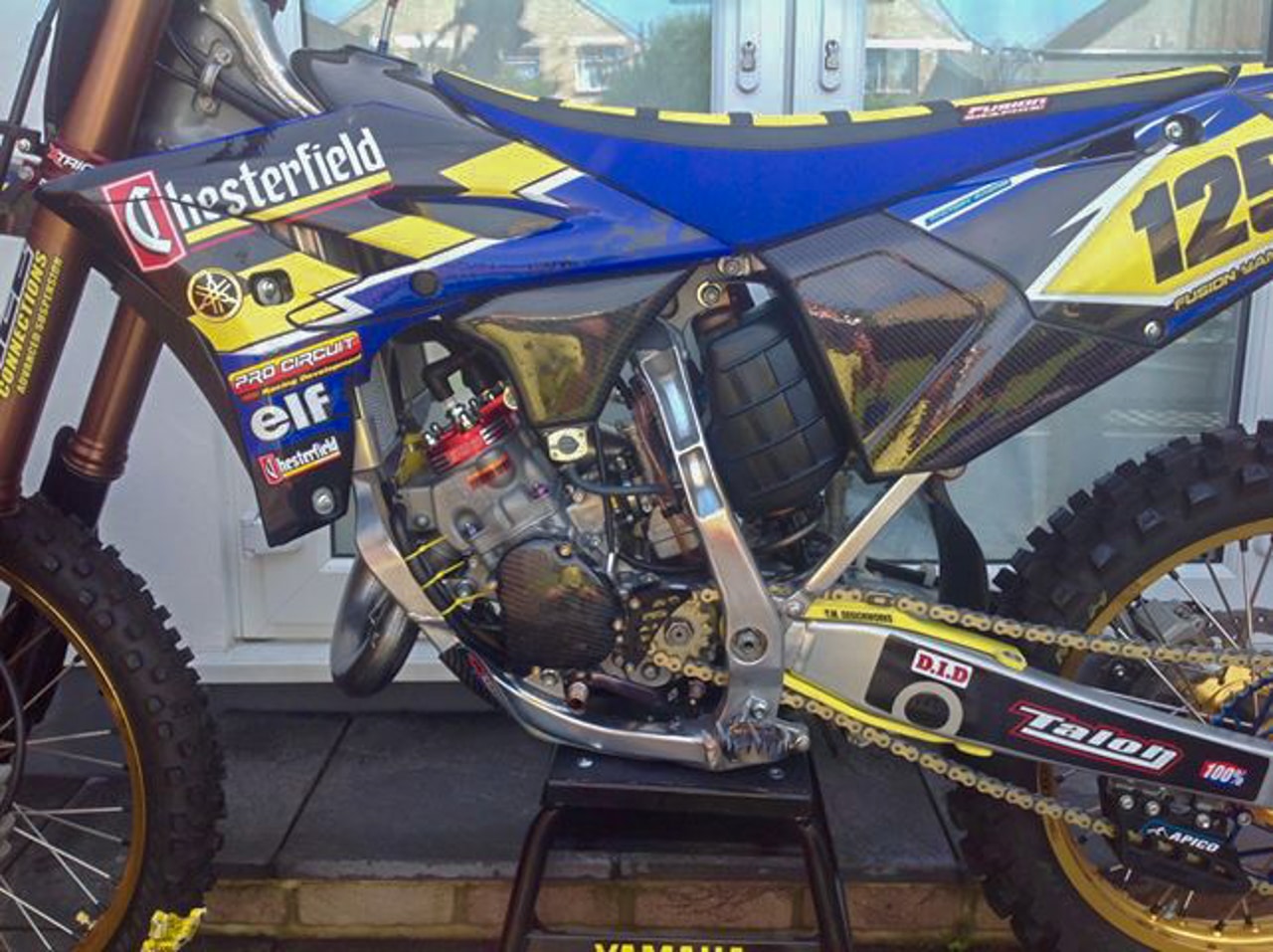 Renthal 997 Twinwall bars
New Carbon ignition cover
New Pro Carbon front numberplate
New front/rear brake pads
New Vertex piston kit
New V-force 3
New HGS pipe/silencer
New BUD racing cylinder head
New Genuine Yamaha airbox
New plastics and graphics
New Bolt fastener kit
New Fusion USA seatcover
New Sunline gear lever
New Works Connection rear brake return spring

New titanium Pro footpegs
VGC GYTR clutch cover
New Renthal R3 o-ring chain
New Dirt Tricks Zirconium Chromium 49t rear sprocket
New GYTR talon groovelite 13t front sprocket
New Acerbis carbon look chain guide
New TM Designworks swingarm chain slider
New billet chain adjuster blocks
New Titanium chain adjuster nuts/bolts
New titanium barrel/ignition cover/clutch cover/case saver/water pump cover/cylinder head mount/top/bottom shock mount fasteners
New titanium rear axle nut
New Pro Carbon bashplate
New Pro Carbon rear disc cover
New carbon shock mudflap
New Pentek billet front sprocket guard/case saver
New fastec racing billet rear brake caliper guard
New Apico billet brake/clutch lever's
EDITORS NOTE: Please keep those submissions coming. If you would like your bike to be featured in the "Two-Stroke Spotlight," please email me at [email protected]. All I ask is that you give a breakdown of your bike and a detailed description of the build. Please also send a few photos of your steed. By submitting your bike for the "Two-Stroke Spotlight," you agree to release all ownership rights to the images and copy to MXA. Please don't email me spam or try selling me Taylor Swift concert tickets or email me spam. I already celebrate T-Swizzle's entire collective, and there will be "bad blood" if you send me junk mail. See what I did there? Happy submitting your smoker.
17-YEAR OLD MAX VOLHAND ON FACTORY KTM FOR 2021
MXA | MOTO | TRIVIA
Name the rider. Answer at the bottom of the page.
RIDE ENGINEERING 2020 HOLIDAY SALE
MXA MINI VIEW WITH MX2 WORLD CHAMP TOM VIALLE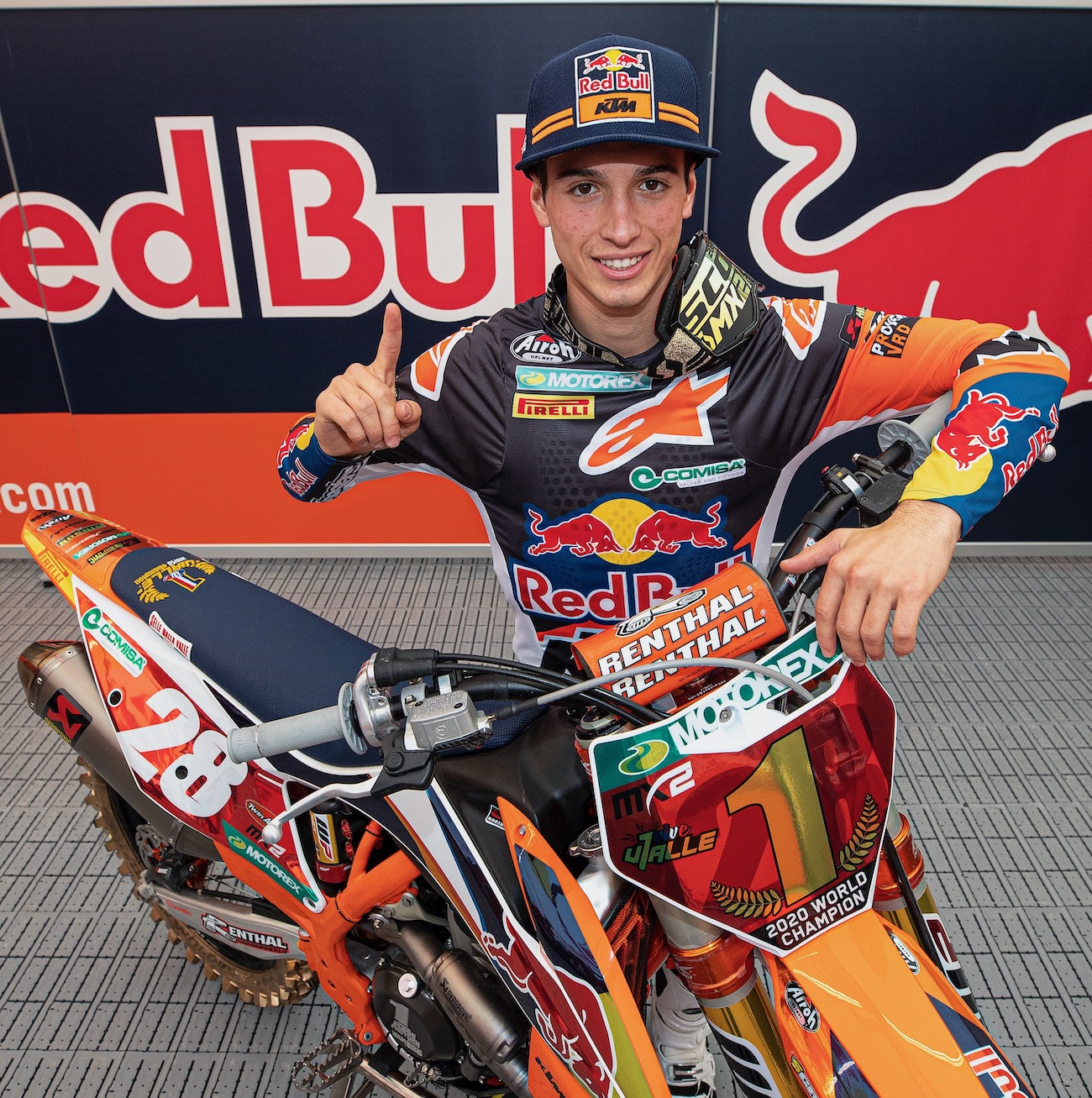 When french rider Tom Vialle won the 2020 World Motocross MX2 Championship, it got me thinking. Except for 2015 (Tim Gajser, Honda), KTM has won every MX2 world championship since 2008 with South African rider Tyla Rattray. Noteworthy is the fact that Vialle won the MX2 title in only his second season in the class. Certainly, KTM has a great program going on in Europe. Looking further at Tom's career, you will learn that his father Frederic also raced, winning twelve motocross GP's, and finishing third in the 1996 125 World Motocross Championships. Finally, Tom also grew up in the same city (Avignon) in France as 2020 250 Supercross and motocross champion Dylan Ferrandis. Now after the World Motocross Championship has ended in Italy, we caught up with Red Bull KTM's new MX2 champ.
TOM, A WORLD CHAMPIONSHIP IN JUST YOUR SECOND YEAR IN MX2… DID YOU EXPECT THIS? Honestly, I didn't expect to become World Champion in just two years of racing MX2. Everything went really fast, and already in my first year racing the World Championship (2019) I managed to finish fourth in points. The goal was to finish in the top ten, so as you can imagine I was very happy. When I started racing this year, I knew I could fight for the title.

AS YOU MENTIONED, YOUR FIRST YEAR IN 2019 WAS AMAZING; PODIUMS, A WIN IN SWEDEN, AND FOURTH ON CHAMPIONSHIP. TELL US ABOUT THAT FIRST YEAR.
Yes, my first year was amazing for me. I really didn't know what to expect at all. Of course, I had raced in the EMX series in 2018, but MX2 was much deeper competition. I didn't expect to be on the podium so many times, and even be able to win a GP. So, it was definitely a fantastic year.
LET'S HEAR A BIT ABOUT 2018 WHEN YOU RACED EMX.
I was riding for a private family team with some other sponsors who helped me. Since I'm small, it was not an easy year. But I had some good results and managed to be on the podium a few times. I was riding pretty good with a standard bike. I was very grateful when Red Bull KTM approached me about 2019.

IT'S VERY INTERESTING ABOUT YOUR FATHER FREDERIC RACING WORLD MOTOCROSS GP'S! DID HE GET YOU FIRST INTERESTED IN DIRT BIKES? I ASSUME THAT HE HELPED YOU A LOT IN YOUR EARLY DAYS; DOES HE STILL? I first started practicing motocross because of my dad. He helped me a lot since I first started competition. He has been helping and guiding me for every race for the last ten years. He knows me really well, so of course, he is still at every race with me.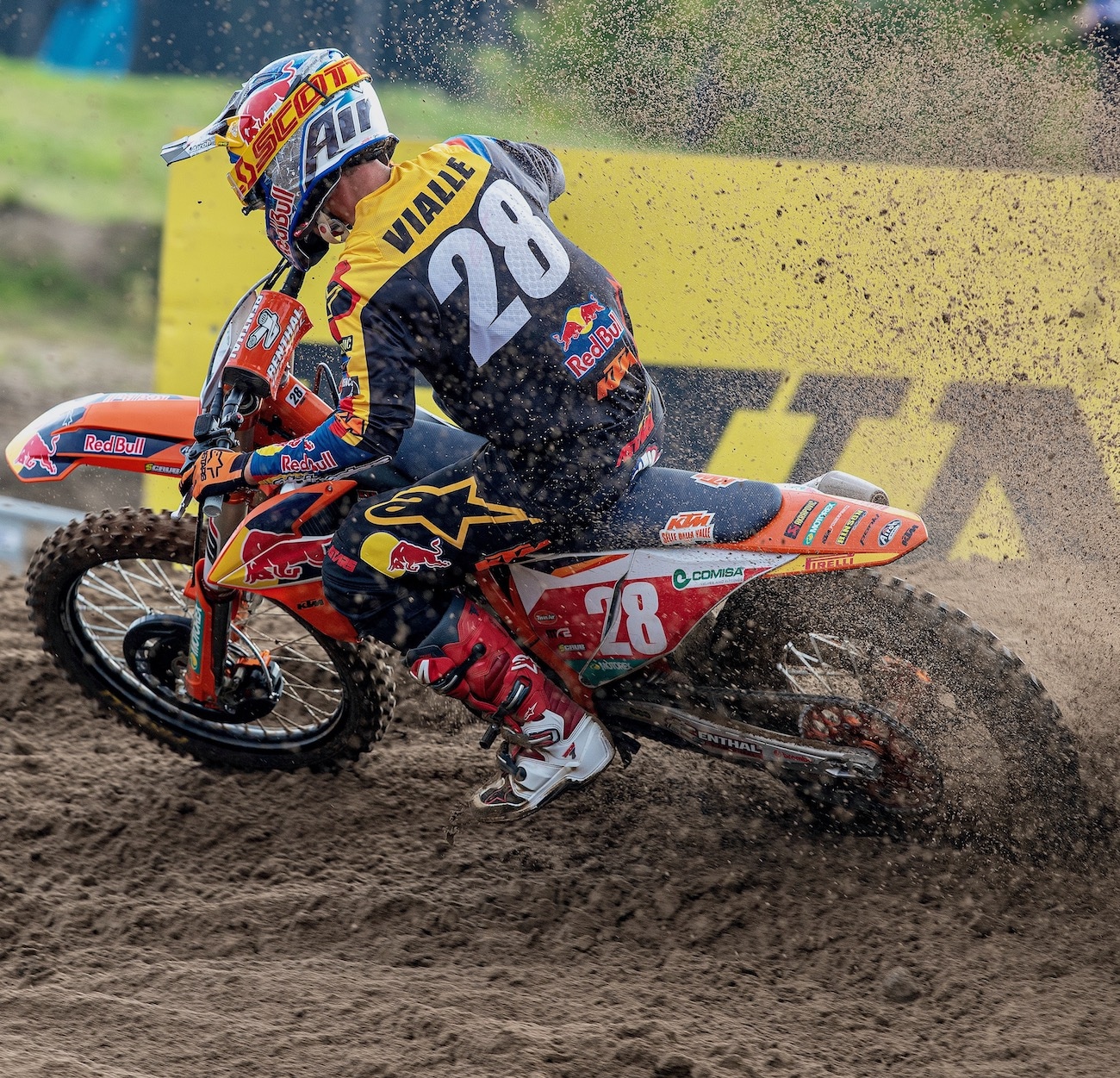 YOUR TEAM MANAGER IS THE LEGEND JOEL SMETS. WHAT ROLE DOES HE PLAY WITH YOUR RACING? RIDING COACH? PHYSICAL COACH, MENTAL TRAINER? I met Joel when I signed with Red Bull KTM in winter 2018, and since then I have worked all this time with Joel. He has been helping me the entire time, with on the bike training, physical training, and helping me mentally. Joel has been really important to me, he helped me to make a lot of progress, so he was a big part of the victory.

HOW DOES IT WORK WITH JOEL, AND THEN YOUR FATHER? They have a really good relationship; this is really important. My dad knows me really well and can help Joel with some things. Right now, I follow the program of Joel 100%, and now my dad can stay a bit more in the back. My family has been supporting me my whole life, so it's really important for me that they come to the races.

IT SEEMS LIKE THE 250 GP CLASS IS VERY ALIVE AND WELL WITH GUYS LIKE YOURSELF AND JAGO GEERTS. BUT ALSO SEEMS LIKE MANY NEW UP AND COMING RIDERS. WHAT IS YOUR OPINION ON THE MX2 CLASS? This year was a little bit strange. I feel like I was fighting most of the time with Jago, we were a bit faster than the other riders. Next season will be more interesting with all the new riders coming up from EMX250. With the Covid-19 situation, it is difficult to have relationships with other riders outside of the team, but I respect Jago a lot. As you mention, there are many fast new guys moving up into the MX2 class, so 2021 should be exciting.

DO YOU HAVE MUCH INTERACTION WITH INJURED JEFFREY HERLINGS, AND THEN TONY AND JORGE?  OR DOES THE DECARLI TEAM OPERATE MUCH SEPARATELY? The team is separated, so I spend more time with Jeffrey (Herlings) and Rene (Hofer) than with Jorge (Prado) and Tony (Cairoli), because they are all the time in Italy, and we are in Belgium. As I mentioned, with Covid-19 we don't interact with others so much as we did in the past.
WILL YOU COME TO AMERICA LIKE DYLAN FERRANDIS? Right now, nothing is sure, but my plan is to stay in Europe. We were born in the same city (Avignon). I know Dylan a little bit and he is a good guy. I saw that he was working hard the last few years in the USA, and I'm happy about his success.
WHEN DO YOU FEEL YOU WILL MOVE UP TO MXGP/450 CLASS? I would like to do one more year in 250, and after that move up to 450.
WHAT IS IT ABOUT FRANCE THAT PRODUCES SO MANY GREAT RIDERS? This is a difficult question, but I think we have some good tracks especially in the south of France. This helps a lot to train when we are young.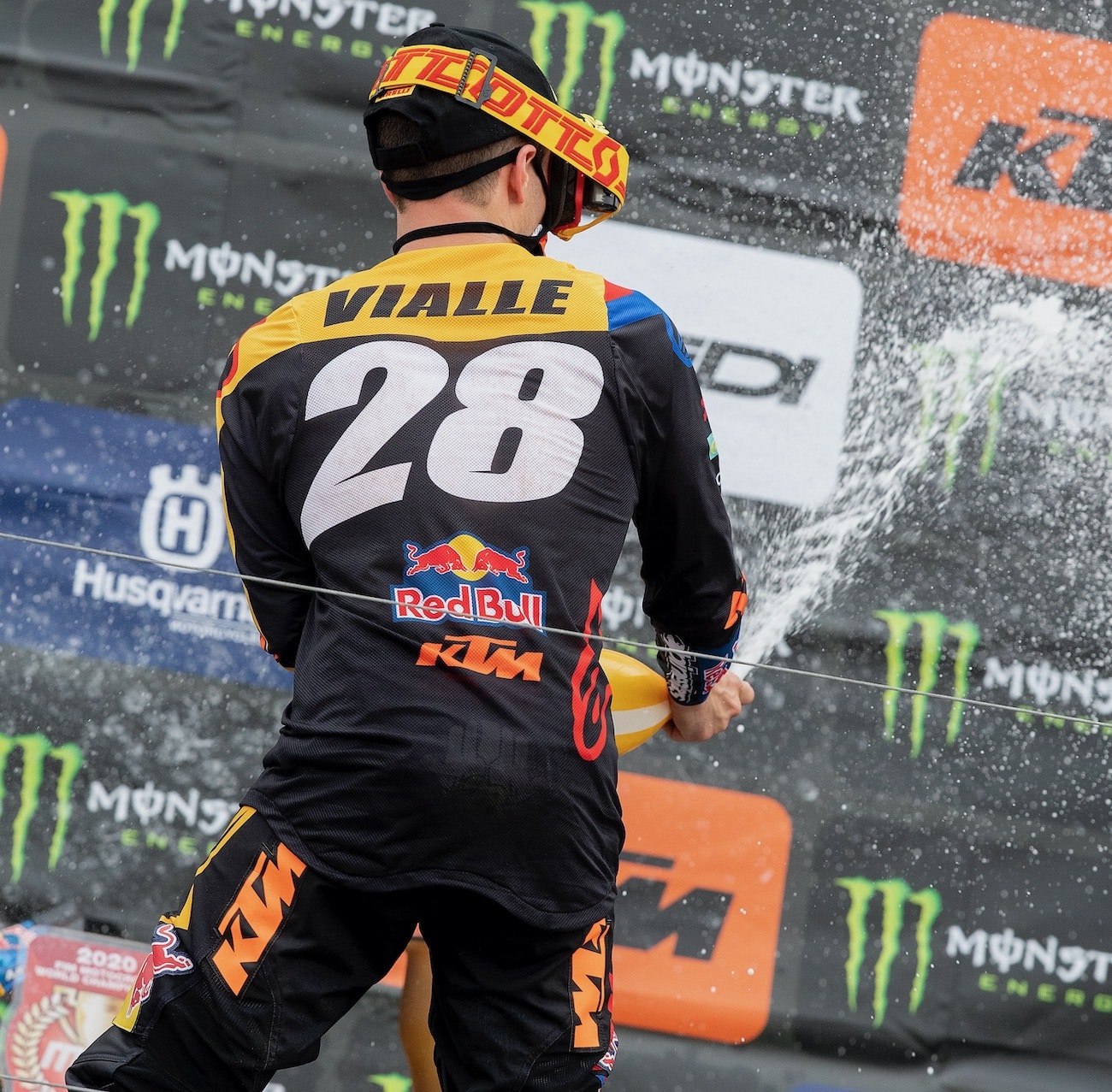 THOUGHTS ABOUT YOUR AWESOME 250 GP YEARS IN BOTH 2019 AND 2020?
They were really good years. If I look back, I don't have too much to regret as far as my decisions while racing, and this is really important. I'm really proud of this season and that I could accomplish my dream.

TOM, WHAT ELSE CAN YOU SAY ABOUT YOURSELF AND THE FUTURE? I'm really motivated to train hard this winter to be able to fight again for the title next season.
JOIN MXA'S FLIPBOARD PAGE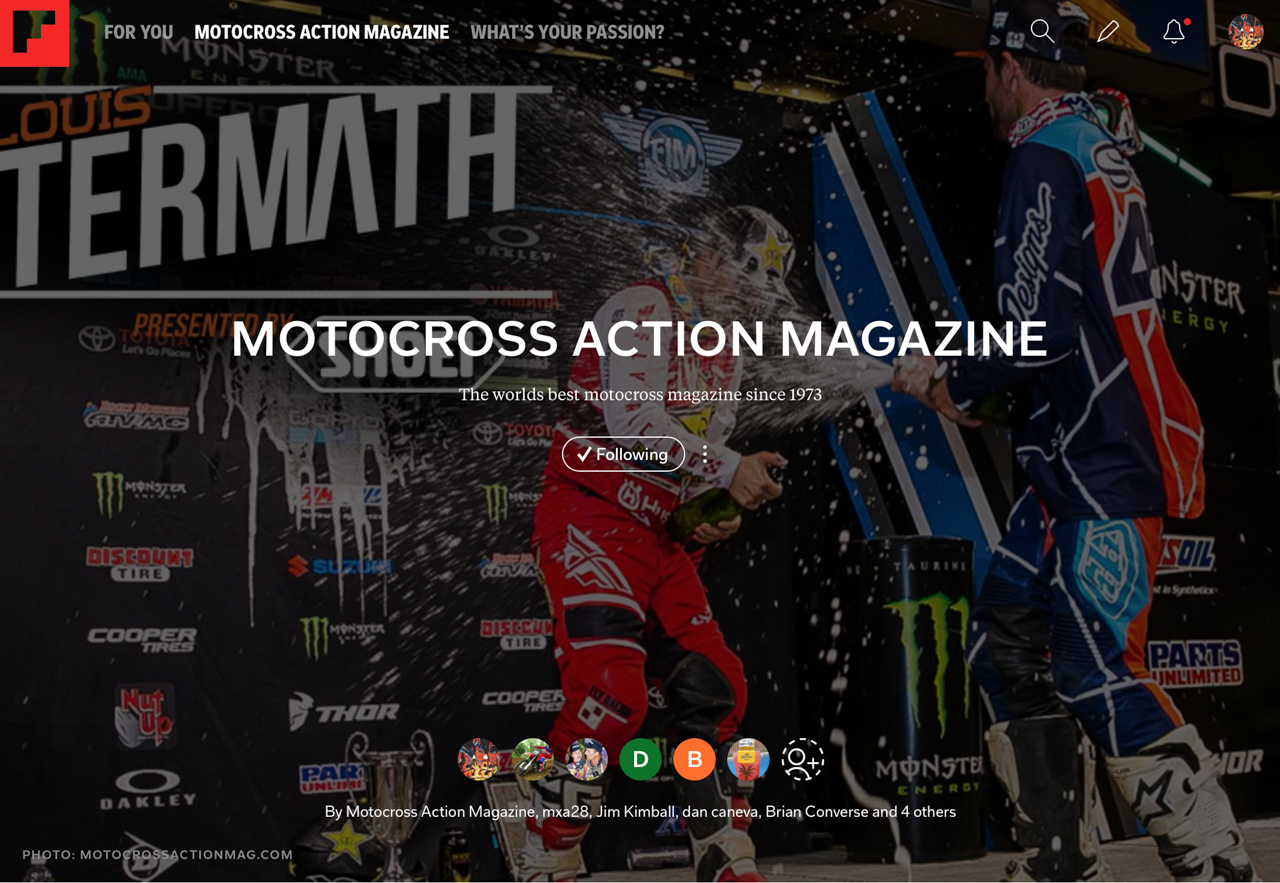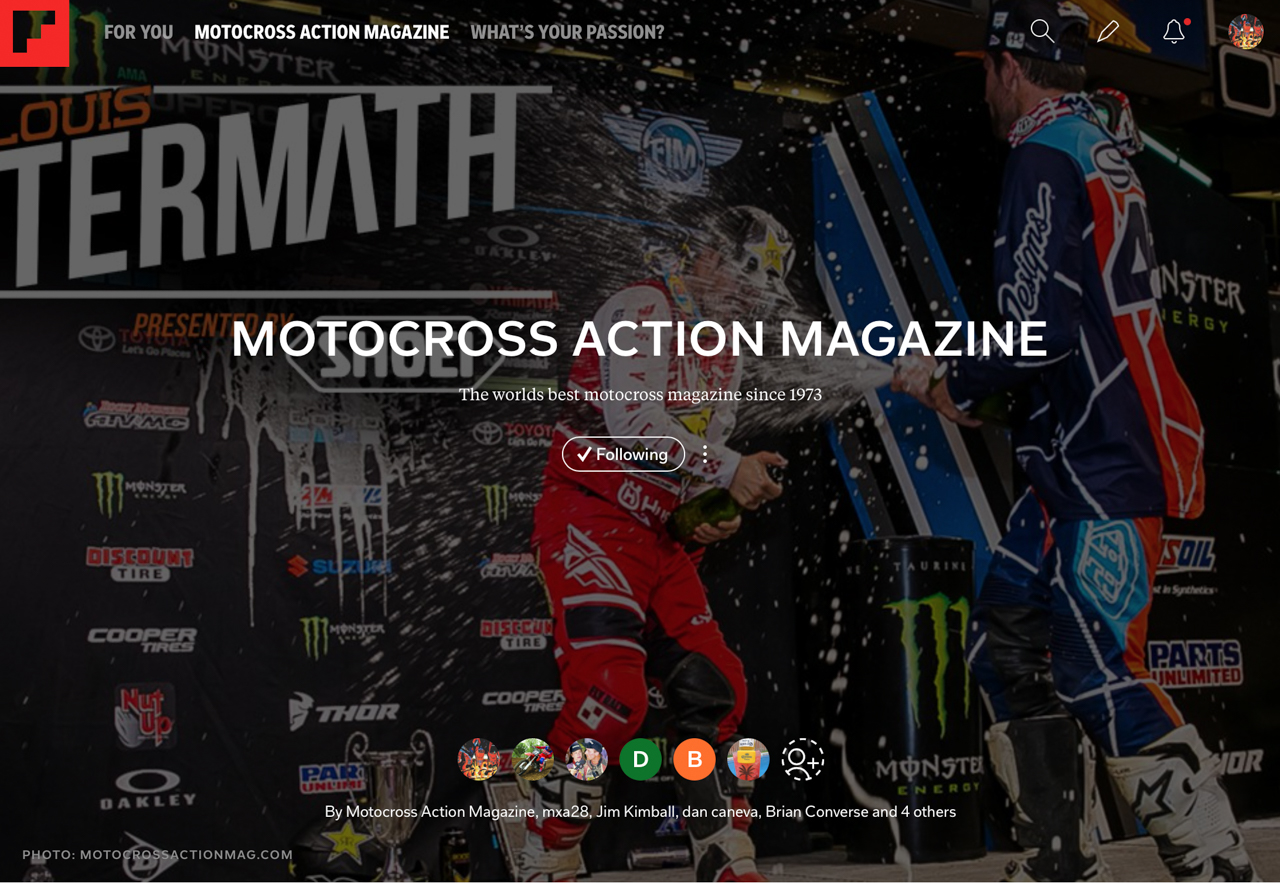 If you use Flipboard make sure to subscribe to the Motocross Action page for all the updates on our website. Click HERE to check out the page.
LOST BUT NOT FORGOTTEN | PROTOTYPE ALUMINUM FRAME YZ125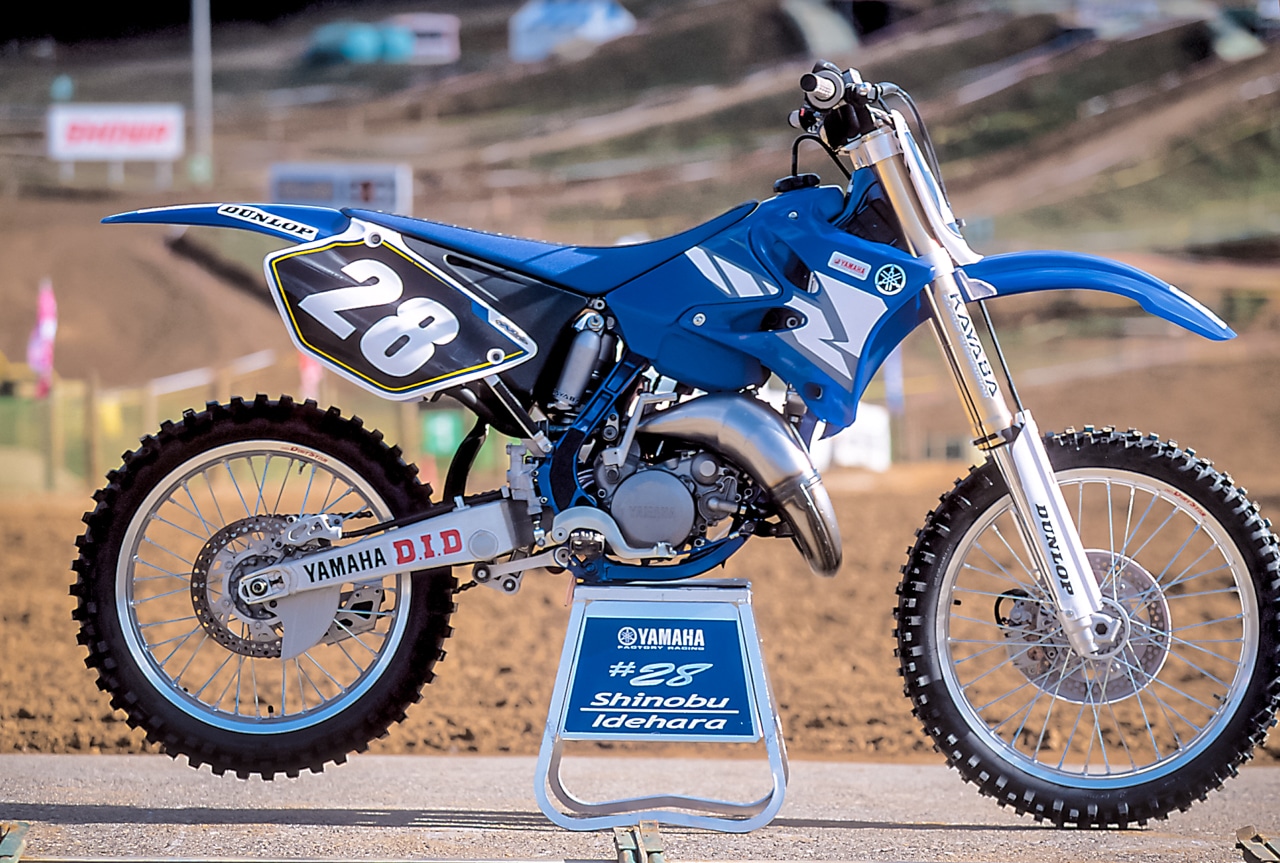 The Japanese were trying to hide the updated aluminum frame by painting it blue so no-one would notice. 
THROUGH THE LENS OF THE 24 HOUR WINNING PRO CIRCUIT MXA TEAM | photos by Trevor Nelson
MXA YOUTUBE CHANNEL | HIT THAT SUBSCRIBE BUTTON


The MXA wrecking crew is everything moto related. Check out our MXA YouTube channel for bike reviews, Supercross coverage, rider interviews and much more. And don't forget to hit that subscribe button.
TALK MOTO WITH MOTO MINDED PEOPLE. JOIN MXA'S FACEBOOK GROUP CHAT

We love everything moto and want to bring all moto junkies together into one place to share their two cents, ideas, photos, bike fixes, bike problems and much more. To check it out first you must need to or already have a Facebook account. If you don't, it isn't much work and you could even have an alias so nobody knows it is you. To join click HERE. After you request to join we will accept your request shortly after.
MAN OF STEEL & RING OF ALUMINUM
Dear MXA,
My bike eats rear sprockets for breakfast. I ride in the sand, and it destroys my sprockets in no time. Would I be stupid to switch to a steel rear sprocket? I know that it will be heavier. What steel sprocket do you recommend?
MXA has on occasion run steel sprockets on our project bikes. We have experience with three excellent choices. If you want to run an all-steel sprocket, we swear by the Dirt Tricks Ironman sprocket. Ironman sprockets (www.dirttricks.com) run from $109.00 to $119.00. The two most popular steel sprockets are the ones that feature aluminum carriers (with a ring of steel teeth attached).
The Renthal Twin Ring sprocket retails for $99.95 at www.renthal.com. The Supersprox aluminum/steel Stealth sprocket retails for $89.13 at www.supersproxusa.com. As a rule of thumb, steel sprockets last three times longer than 7075 aluminum sprockets and allow your chain to last longer also. They are heavier, but the three listed above are only a 1/2 pound more than a 7075 aluminum sprocket and half the weight of the typical steel sprocket.
CLASSIC PHOTO
Nick Wey back in 1999 aboard a Pro Circuit KX125. 
---
Moto Trivia answer: Jeff Ward.