MOTOCROSS ACTION MID-WEEK REPORT
#WHIPITWEDNESDAY
Rider: Carson Brown
Focal length: 300
Exposure: 1/1600 sec
F-stop: f/6.3
ISO: 400
Photographer: Daryl Ecklund
TWO-STROKE SPOTLIGHT | 1997 KAWASAKI KX125
"I purchased the bike locally. Most of the top end was in a box along with a lot of other miscellaneous parts. Believe it or not, the previous owner painted the radiator's baby blue and parts of the engine tan.
"I spent four months on this bike restoring it back to an original 94 look. I went back with the original Kawasaki green frame, all new plastics and replica 1994 graphics. I chose to go with a little bit of a different seat cover. I wanted that blue seat cover to remind me of the late 80s and early 90s look! On this build that turned out great. I sent the cylinder to Millennium Technologies to get it back to top shape. Unfortunately, I had to split the cases on this bike to make several repairs. However, after it was all done the engine came out great. There are a lot of parts that were very hard to find for this build. I replaced both the front and the rear wheel with perfect OEM replacements. Those were then fitted with new Bridgestone tires. In the end, was an almost perfect 1994 KX125. The bike is outfitted with a lot of new OEM and aftermarket parts." —Jimmy Kiser
MXA | MOTO | TRIVIA
Who is this rider and what year was it? Answer at the bottom of the page.
THE CREAM RISES TO THE TOP AT THE 49TH THOR MINI O'S PRESENTED BY PRO CIRCUIT

Casey Cochran won two of the special awards: The Thor Bronze Boot Award and the Pro Circuit Platinum Pipe Award, after winning six titles on a privateer GasGas. Photo by Cole Beach
Press Release: The Thor Mini O's presented by Pro Circuit completed a week full of racing this past Sunday, going one day longer than usual, as a record crowd showed up to celebrate the 49th running of the event. Held the same week as Thanksgiving, the event is unique among the major amateur national events in that riders are crowned in supercross, motocross and the two combined formats.
After the racing was completed, a ceremony was held where special awards were given the top-performing riders. This year, Casey Cochran, riding a privateer GasGas, won two of the special awards: The Thor Bronze Boot Award and the Pro Circuit Platinum Pipe Award. The Thor Bronze Boot Award is given to the rider in the 65cc, 85cc, Mini Sr., Supermini and Schoolboy classes that accumulates the highest number of points in the Supercross main and Motocross overall combined; and the Pro Circuit Platinum Pipe Award is given to the rider who accumulates the highest number of points in the Supercross main and Motocross overall combined.
In total, Cochran took six championships: Supermini 1 (12-15) SX; Supermini 2 (13-16) SX; Mini Sr 1 (12-14) SX; Mini SR 2 (13-15) SX; Mini Sr 1 (12-14) MX; and Mini Sr 2 (13-15) MX classes. He was second in the Supermini 1 (12-15) MX and Supermini 2 (13-16) MX.
"It's awesome to get those awards because of all the people that have gotten them before me, great riders," said Cochran. "It means a lot to get those special awards that only a few people can say they've ever gotten."
The Dunlop Silver Tire Award, awarded to the rider in the Pro and A classes that accumulate the highest number of points in the Supercross main and Motocross overall combined, was won by Levi Kitchen. Like Cochran, the Rock River Yamaha rider also won six titles, with Nate Thrasher playing the foil, keeping Kitchen from winning eight titles. Kitchen took supercross titles in 250 A, 450 A, 450 Pro Sport and 250 Pro Sport classes, and motocross titles in the 250 Pro Sport and 450 Pro Sport classes.
The Scott Golden Goggle Award, which goes to the rider in the 250 and 450, B and C classes who accumulates the highest number of points in the Supercross main and Motocross overall combined, went to Rock River Yamaha's Gage Linville. Lineville won supercross titles in the 250 B, 450 B Limited, and a motocross title in the 250 B Limited class.
Rockstar Energy Husqvarna's Evan Ferry won the VP Ironman Award after taking wins in the 125 (12-17) B/C class and Schoolboy 1 (12-17) classes in Supercross and the 125 (12-17) B/C and Schoolboy 1 (12-17) class in motocross. Photo by Cole Beach

Other special award winners included the Diamond Award, which was won by Jayden Clough; the VP Ironman Award, won by Evan Ferry; the Oakley Over-The-Top Award, given to Henry Karvasaek; the Nihilo Prodigy Award, which was won by Eiden Steinbrecher; the Mini E Olympiad KTM STACYC Award, which was given to Gavin McCoy and the Renthal Mechanic of the Year Award, given to Miles Atkinson.
One of the most spectacular races involving Casey Cochran was the Supermini 2 (13-16) supercross race. Cochran consistently ran lap times that were clearly faster than his nearest competitors, as the Florida rider pulled away out front. Meanwhile, as fellow KTM riders Collin Allen and Jude Smerlick were fighting over second, KTM Orange Brigade's Haiden Deegan had managed to gain ground and now had the two riders in his sights. A lap later, Deegan passed both Allen and Smerlick for second and set his sights on Cochran. With two laps to go, Deegan made a run at Cochran for the lead when Cochran lost his rear brakes.
"When I lost my brakes, I couldn't push as hard as I wanted to, so Haiden caught me and then he passed me on the last lap," said Cochran. "We went back and forth for a second and then I went under him in the last corner and won the race."
The final order at the finish was Cochran, Deegan, Smerlick and Allen. Nate Freehill was fifth on a Husqvarna.
During the motocross races, Cochran had another impressive performance in the Mini SR 2 final, totally running away with it.
Cochran jumped out early in the final in the Mini SR 2 final, leading KTM riders Thomas Wood and Agustin Bareneche into the first lap. Cochran rode a mistake-free race to take the win and the overall. Meanwhile, Wood finished second for second overall (2-2) and Bareneche finished third in the final and third overall with a 5-3 score.
Deegan managed to take two races from Cochran, the only rider to do so. In the Supermini 2 (13-16) MX final, Collin Allen jumped out front, with Deegan on his heels. Deegan took the lead on lap two with a slick pass on Allen. Once in front, Deegan opened up the lead during the final few laps to take the win over Cochran, who passed Allen with two laps to go.
Deegan also won the Supermini 1 (12-15) MX overall ahead of Cochran with Team Green Kawasaki's Krystain Janik in third.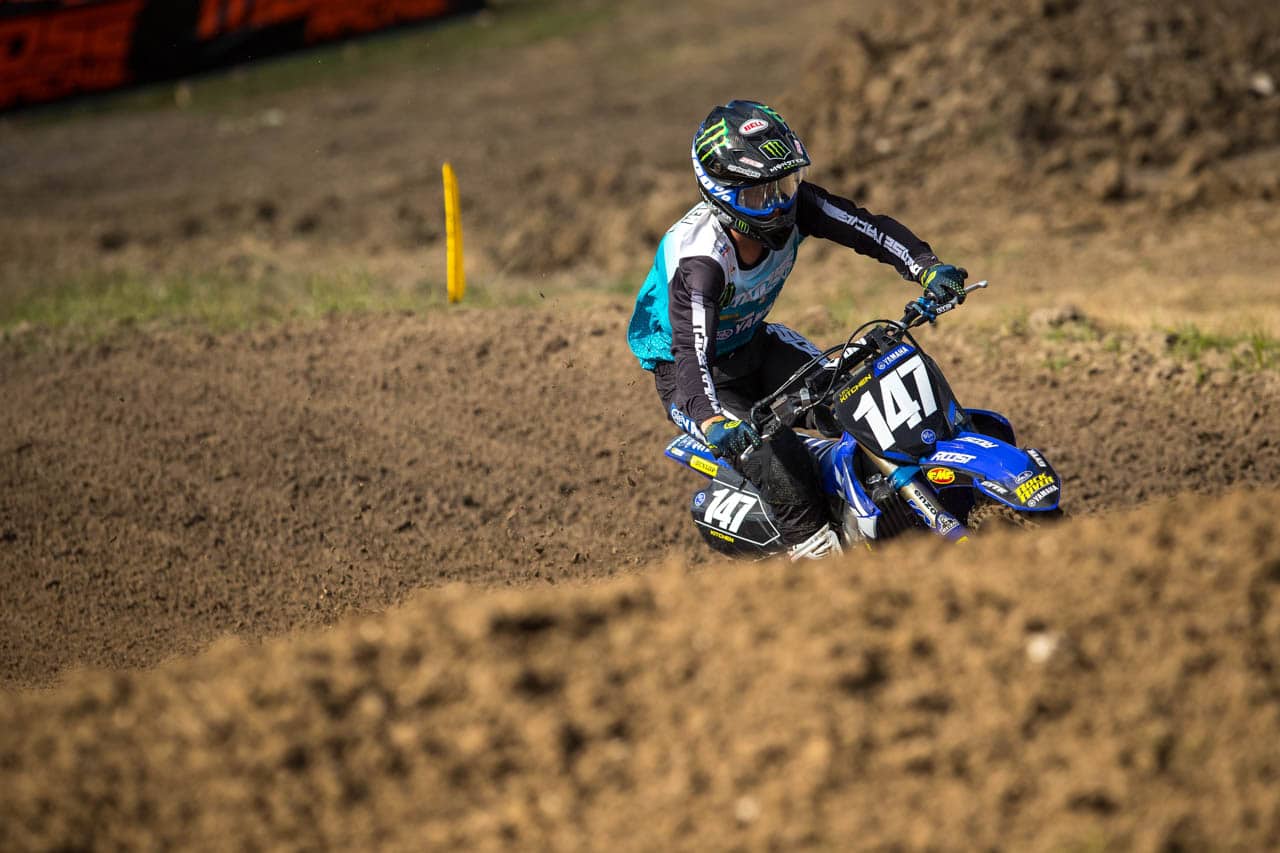 Rock River Yamaha's Levi Kitchen won the Dunlop Silver Tire Award, which awarded to the rider in the Pro and A classes that accumulate the highest number of points in the Supercross main and Motocross overall combined. Photo by Cole Beach
Rock River Yamaha's Levi Kitchen was spectacular in the A and Pro classes. After finishing 11th in the qualifier, Kitchen jumped up to an impressive lead in the 450 Pro Sport SX race and never looked back, as he and fellow Yamaha rider Kaeden Amerine checked out on the rest of the pack after the start of the 12-lap main event.
The big battle in the class was the one for third, with Honda riders Kobe Heffner and Cullin Park, Brandon Scharer and Matt LaBlanc, both on Yamaha's, battling for the position. Midway into the race, Heffner ran off the course, handing third to Park, with Scharer closing. On lap eight, Scharer moved ahead of Park for third and the die was cast. At the finish, the order was Kitchen, Amerine, and Scharer.
In the 250 Pro Sport MX class, Kitchen came into the final race with a win in his heat race, while Rock River Yamaha's Nate Thrasher came into the final with a third. It was Thrasher, however, with the holeshot to start the 10-lap final moto, with Kitchen and KTM's Brandon Scharer in tow.
Knowing he would still need some help to win the overall even if he finished first in the final moto, Thrasher put his head down and pushed as hard as he could. On the other hand, Kitchen knew a second in the moto was all he needed to with the title, so the Washington-native was content to maintain a safe second to Thrasher. Midway into the race, Matthew LeBlanc started a run through the pack and on lap five he passed Scharer for third.
With the order set for the moto, Thrasher took the win in race two, with Kitchen in second and LeBlanc third, giving Kitchen the overall with a 1-2 moto finish. Thrasher was second overall at 3-1, while LeBlanc was third overall at 3-3.
Luke Kalaitzian grabbed the holeshot at the start of the 450 A final moto and led a talented entry into the opening lap, with Monster Energy Star Racing Yamaha's Nate Thrasher and Matt LeBlanc running second and third. LeBlanc went down midway into the opening lap, bumping Cullin Park up to third, while up front Thrasher made a move to take the lead away from Kalaitzian.
Park moved to within striking distance of Kalaitzain on lap three. On lap four, he made the move, dropping Kalaitzain to third. Meanwhile, Thrasher held a seven-second lead out front.
Counting his heat race win, Thrasher's moto win was good enough for the overall, with Park getting second overall with a 4-2 performance. Christian Fernandez went 3-3 for third overall.
"I got off to a good start and just rode my own race," said Thrasher. "I put some good laps together at the start of the race and just tried to square it away and just cruised to the finish."
Nate Thrasher and Levi Kitchen locked horns in the second moto of the 250 A motcross division, with Thrasher taking the early lead ahead of Kitchen with Cullin Park in third. Slade Smith was fourth with Matt LeBlanc, hoping to redeem himself from his mishap in the 450 A class running fifth. Unfortunately, the "Rajun' Cajun'" went down again on lap three and dropped out of the top 20.
With on lap to go, Kitchen moved to within striking distance on Thrasher, but Thrasher was able to hold on for the moto win and the overall with a 1-1 moto score. Kitchen was second overall with a 1-2, while Park was third overall at 3-3.
"Me and Levi had a good battle out there, we were pushing it to the limits," said Thrasher. "I made a couple of mistakes out there and it closed it up on me, but I managed to hold on for the win. We both were rippin' out there."
Monster Energy Star Racing's Nate Thrasher won six of his eight motos in motocross.
Though he didn't get any wins in supercross, Nate Thrasher won six of his eight motos in motocross. "I rode good on motocross," said Thrasher. "Of the two motocross motos I didn't win, I went down while leading one and I crashed just after the start of the other and worked my way back to third. I felt good all week, and I had good lap times, I just needed to put it all together."
In the B classes, Rock River Yamaha's Gage Linville, Team Green Kawasaki's Jayden Clough and Monster Energy Star Racing's Nick Romano dominated. As mentioned earlier, Linville won supercross titles in the 250 B, 450 B Limited, and a motocross title in the 250 B Limited class. Meanwhile, Romano took titles in the 450 B SX and 250 B MX divisions. Clough claimed titles in the
In the 450 B Supercross final, Eddie Norred (Kaw) grabbed the holeshot, but Monster Energy Star Racing Yamaha's Nick Romano got out front early, with Yamaha's Benjamin Garib and Rockstar Energy Husqvarna's Talon Hawkins pushing the two front-runner. Romano turned in a couple of blistering lap times to establish a safe lead and then cruised the remainder of the race.
With Romano leading by nearly five seconds, Hawkins passed Garib for second place on lap four. One lap later, it was Team Green Kawasaki's Luca Marsalisi dropping Garib to fourth, as Romano continued to dominate out front.
Romano got a big jump at the start of the Schoolboy 2 (12-17) B/C MX, leading Hawkins and Linville into the opening lap. Both Romano and Linville came into the race with heat race wins, while Hawkins finished fourth in his heat.
By lap four, Romano had pulled out to a safe lead, while Linville started pushing Hawkins for second. A lap later, Linville made a move on Hawkins to take over the runner-up slot. At the finish it was Romano, Linville and Hawkins, which is how the overall results panned out as well.
8TH ANNUAL KURT CASELLI RIDE DAY ON SATURDAY, DEC. 5 AT PALA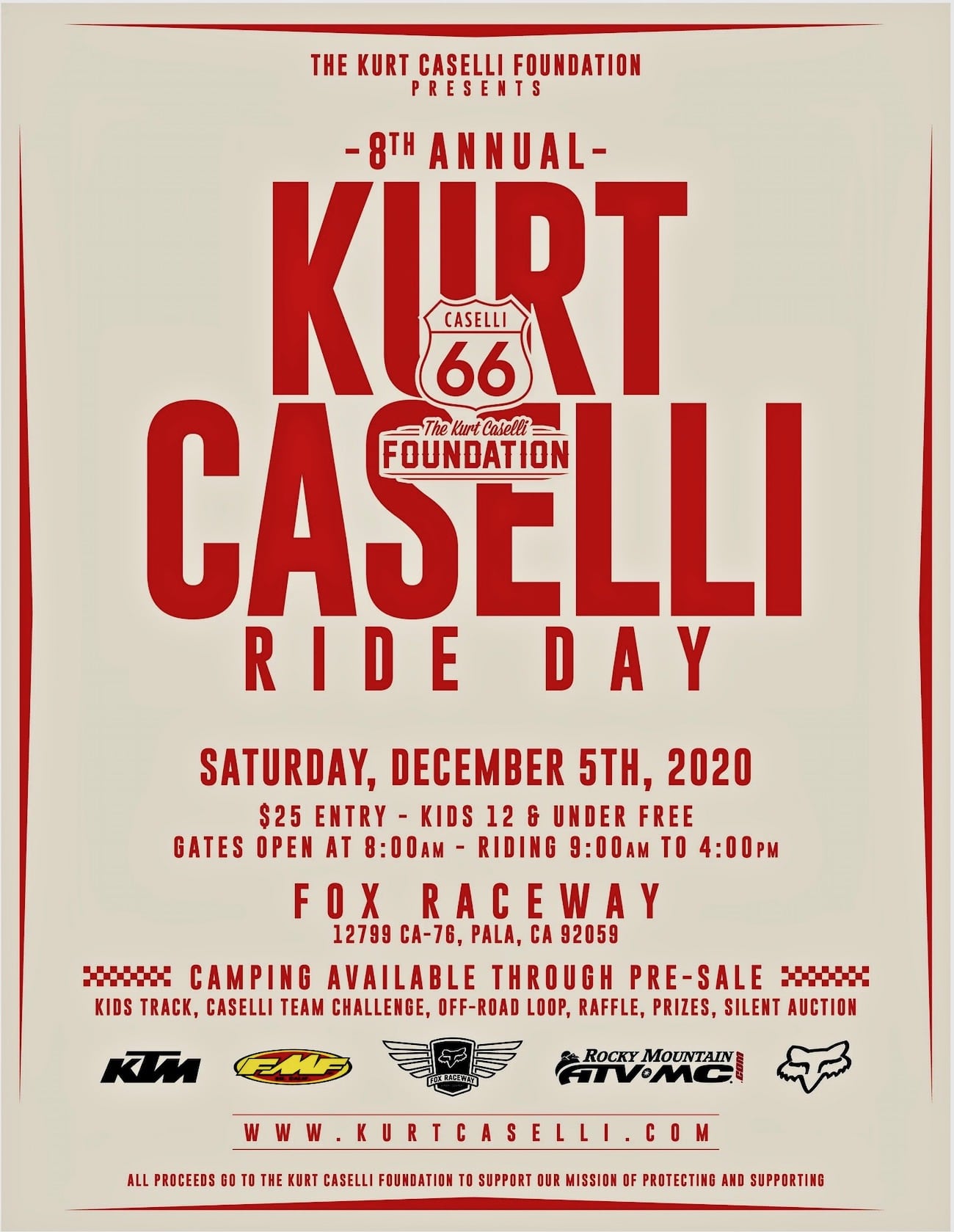 For more information go to www.kurtcaselli.com.
LOST BUT NOT FORGOTTEN | BBR YZ80 CHASSIS WITH XR100 ENGINE
BBR YZ80 with a XR100 engine.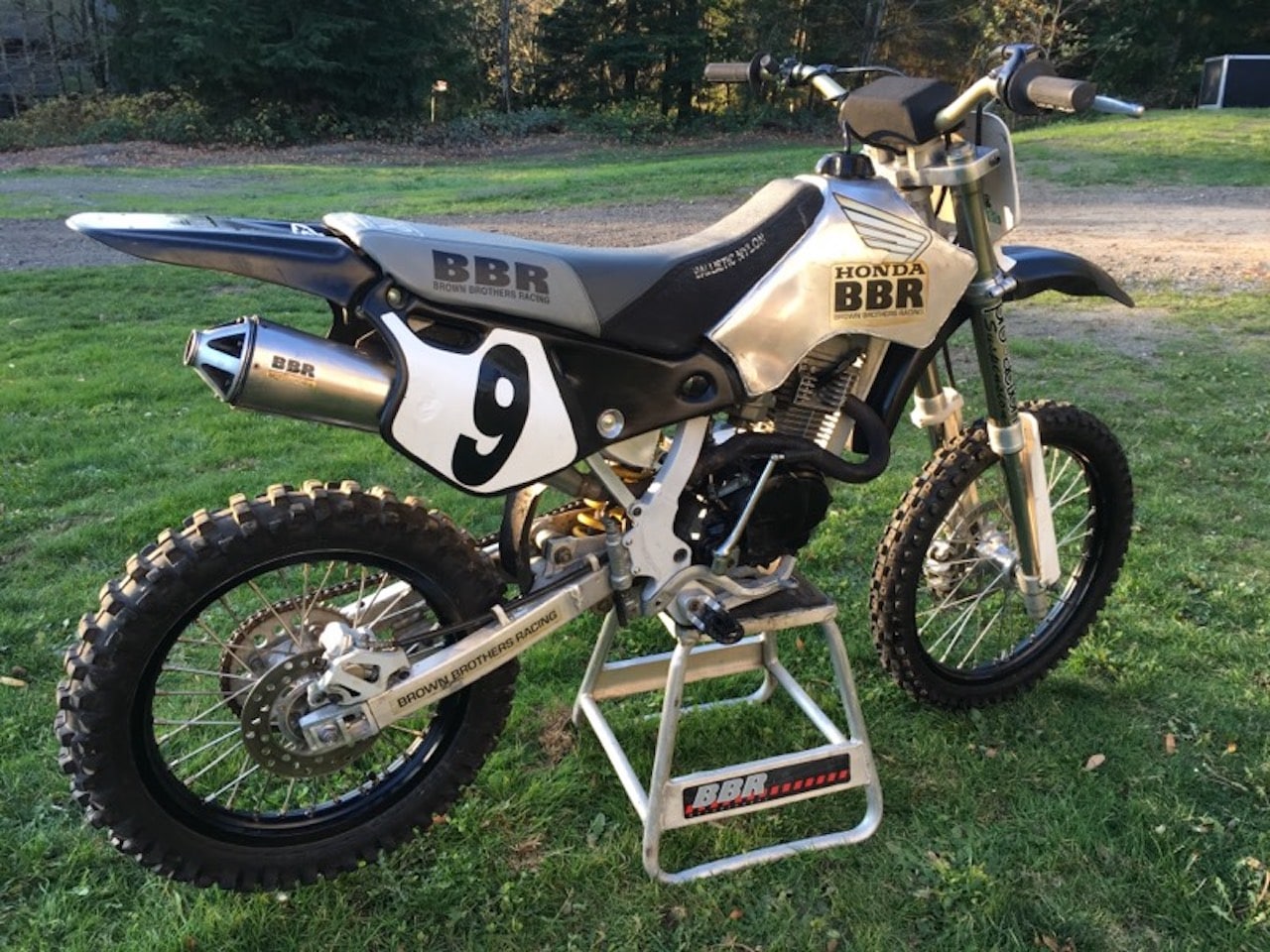 This BBR Motosports  build was built in 1994-/95. It is based on a YZ80. It used an XR100 engine. BBR custom built the frame, tank, air box, hubs, clamps, pegs, etc. And all on a manual mill and lathe. It was featured in the April 1996 Dirt Bike issue and the August 1996 issue of  MXA along with BBR's 250 and 400. Still, 25 years later the OEMs can't build a good play bike for the backyard as well as BBR. BBR is still building trick one-off bikes.
LACR OTHG CHRISTMAS MOTOCROSS RACE DECEMBER 6TH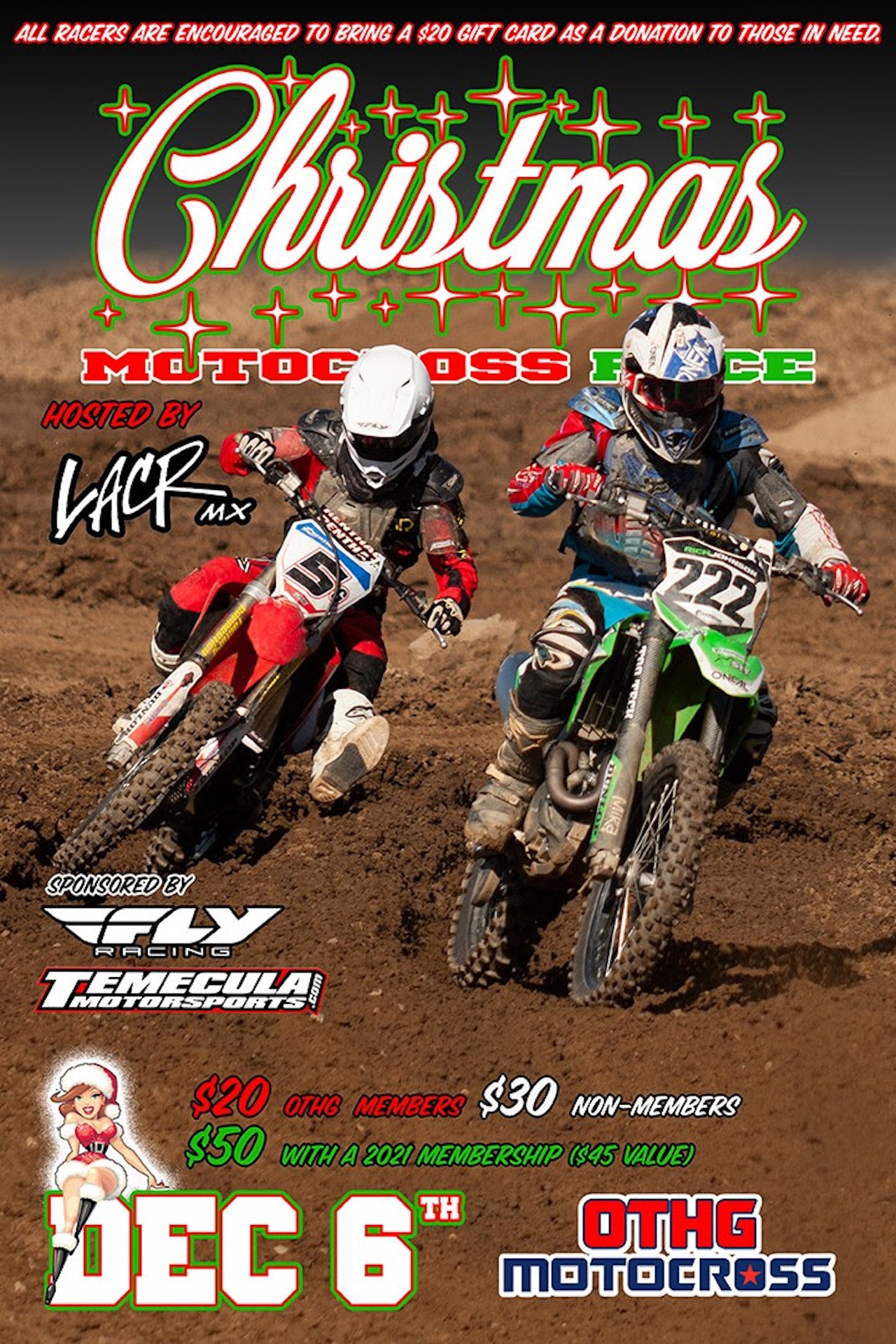 TALK MOTO WITH MOTO MINDED PEOPLE. JOIN MXA'S FACEBOOK GROUP CHAT

We love everything moto and want to bring all moto junkies together into one place to share their two cents, ideas, photos, bike fixes, bike problems and much more. To check it out first you must need to or already have a Facebook account. If you don't, it isn't much work and you could even have an alias so nobody knows it is you. To join click HERE. After you request to join we will accept your request shortly after.
WHY ARE THERE WEIGHT LIMITS IN MOTOCROSS?
Dear MXA,
   Why is there a weight limit in motocross? It seems like production bikes would get lighter if they let the factory teams build ultra-light machinery?
Rules, to the chagrin of those who write them, rarely work when their main reason for existence is social engineering. Racing, whether cars, bikes, boats or planes is resplendent with social rules. By social engineering we are not talking about what color clothes you're allowed to wear (although for years the AMA had rules requiring white pants in the pits and banning solid black leathers) or affirmative action at the AMA. No, social rules are those designed to bring more equality among competitors (even if they aren't equal). NASCAR is the most famous for this, they give a 1/4 of air dam and take a 1/4 of spoiler to try and make all brands equal on the track. Even in horse racing, jockeys have to wear weights to guarantee that every horse carries the same load.
Motocross has experimented with social rules for years. Perhaps the most famous of all the equality attempts was the claiming rule. The claiming rule was written to keep a racer, team or manufacturer from spending too much time, money or effort in building a world-beater bike — because if they did, any competitor (in the same race) could lay down $3500 and buy the bike. It's a very esoteric concept of equality — the belief that the bikes will remain fairly equal because they could change hands at the end of the day. It is great in theory, but the first time a privateer claimed a factory Honda CR250 (and drove away with it) all the factories threatened to pull out of racing. Seven days after John Roeder claimed Marty Tripes 1978 Honda, the claiming rule no longer existed. It's no surprise that spineless officiating does little to encourage equality.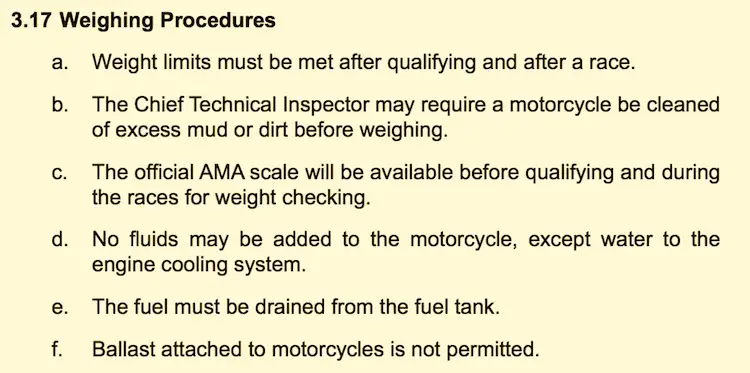 You might think that the weight limit was established to keep the factory bikes from being so much lighter than production bikes that it would be unfair for the privateers. Not true. Well, as an excuse it is true — but it wasn't privateers that they were trying to help with the weight limits. It was someone else. Here is the true story.
Perhaps the best social engineering in motocross was done in 1973 to keep Suzuki from driving the European manufacturers out of the sport. A short time after entering Grand Prix racing, Suzuki was fielding 187-pound 250's and 202-pound 500's that demolished the competition in the hands of Joel Robert and Roger DeCoster. Cubic dollars, which the Japanese had from the early 70s street bike boom, and Husqvarna, Maico, CZ, Bultaco and CCM didn't have (they didn't make street bikes), were calling the shots. The Euro manufacturers whined that they couldn't compete, so the FIM instituted the weight rule. Rather than wait for the European bikes to get their weight down, the FIM decided to bring the weight of the works Suzuki's up.
Sometimes they cut it a little close on Joel Robert's works Suzuki.
Starting in 1973, 250cc bikes had to weigh more than 198 pounds and 500s could weigh no less than 200 pounds. The effect was immediate. Suzuki didn't have time to develop all-new bikes for the 1973 season, so they poured molten lead into the frames of Robert's RH250 and DeCoster's RN370 to bring them up to the new weight limit. Joel Robert, claiming that the lead ruined the handling of his featherweight Suzuki, lost the 250 World Championship (after winning it for five straight years). Roger DeCoster fared better, he edged out Maico-mounted Willi Bauer for the third of his five World Titles. "It seriously affected the handling of our bikes," said DeCoster. "The bike had already been built when the weight limit came down. The factory had no choice but to add weight wherever they could."


Almost 42 years later the weight limit is still in effect (although Team Honda and Ricky Johnson dodged the scales twice with bikes that were underweight without incurring any penalty). Under 2016 AMA rules the minimum weight for 2020 are: 125cc two-strokes 194 pounds; 250cc two- or four-strokes 212 pounds; 450 four-strokes 220 pounds. The bikes can be weighed after a race at the AMA's discretion. For weighing, the gas tank must be empty (although the radiators can be full). Ballast of any kind (like the lead that Suzuki poured in it frames in 73) is illegal.
It should be noted that no matter how light works bikes got, production bikes did not come down in weight. In fact, production bike weights only got lower after the AMA instituted the production rule that banned full-on works bikes. Why did production bikes get lighter after works bikes were banned? Because the factory teams had to start with a production bike instead of a blank sheet of paper — thus the production bikes got lighter to get closer to the weight limit.
Historically, the only championships that could claim to have been affected by the FIM/AMA weight limits were those inaugural ones in 1973. Joel Robert might have been a seven-time 250 World Champion except for social engineering to save the European motorcycle manufacturer's pride. Did the weight limits save the European manufacturers? No. All of the major Euro players from 1973 are out of business today (save for thrice sold Husqvarna).
WHAT'S INSIDE THE DECEMBER 2020 ISSUE OF MXA?
What's in the newest issue of MXA? How about full tests on the 2021 KTM 350SXF, 2021 Honda CRF250, 2021 Kawasaki versus 2021 Yamaha YZ450F shootout, Josh Mosiman's  World Two-Stroke Championship KTM 300SX and  our 1994 CR125 restoration disaster (not only did it blow up a couple times, but it might be the ugliest project bike we ever built).
HOW TO SUBSCRIBE TO MXA SO THAT YOU NEVER MISS ANOTHER ISSUE, PLUS GET A $25 ROCKY MOUNTAIN GIFT CARD TO COVER YOUR COSTS
If you subscribe to MXA you can get the mag on your iPhone, iPad, Kindle or Android by going to the Apple Store, Amazon or Google Play or in a digital version. Even better you can subscribe to Motocross Action and get the awesome print edition delivered to your house by a uniformed employee of the U.S. Government. Did we mention the $25 gift card for any part you want from Rocky Mountain ATV/MX? You can call (800) 767-0345 or Click Here (or on the box at the bottom of this page) to subscribe.
CLASSIC PHOTO | JAMES STEWART'S LAST YEAR ON A KX125 BACK IN 2004 | PHOTO BLAST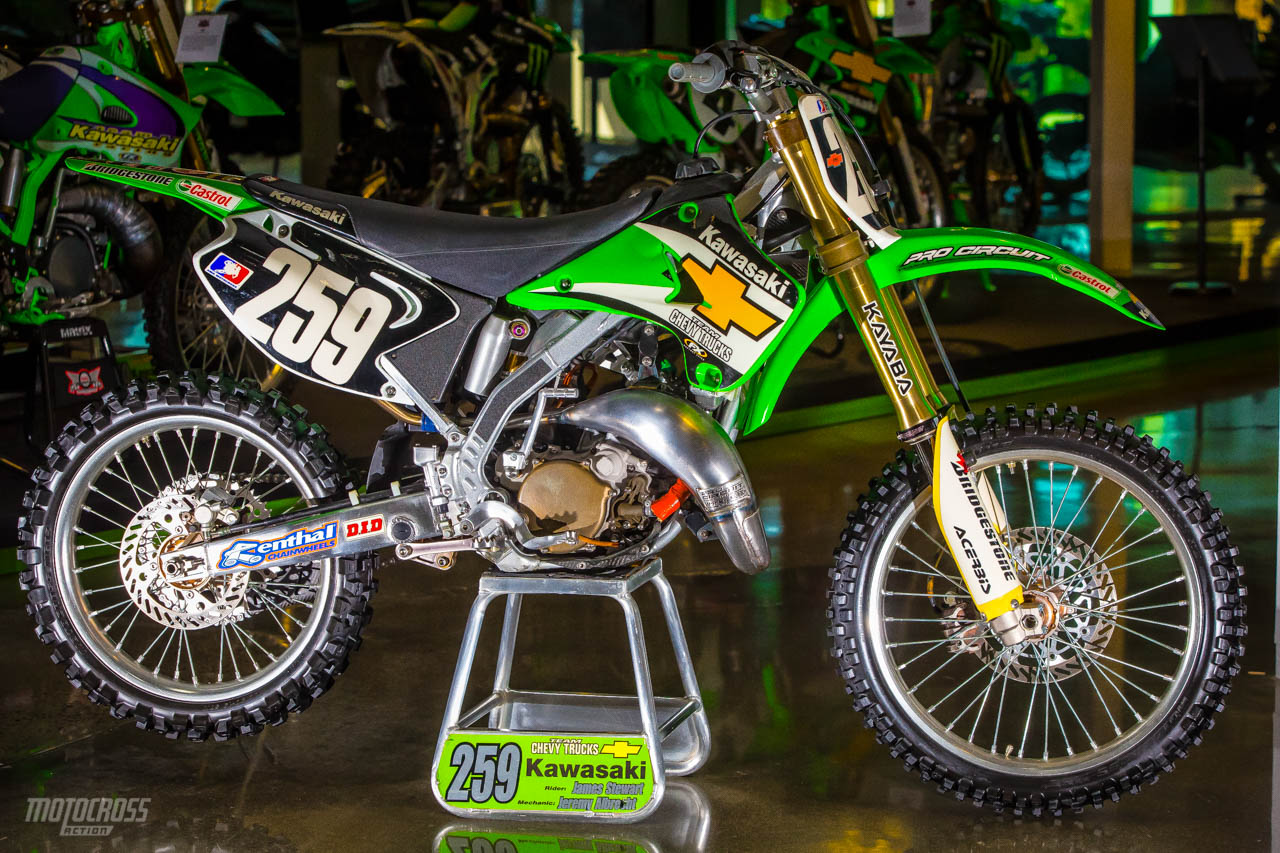 James Stewart's 2004 factory KX125 is stored at the Kawsaki headquarters in Irvine, CA where Travis Fant shot this photo.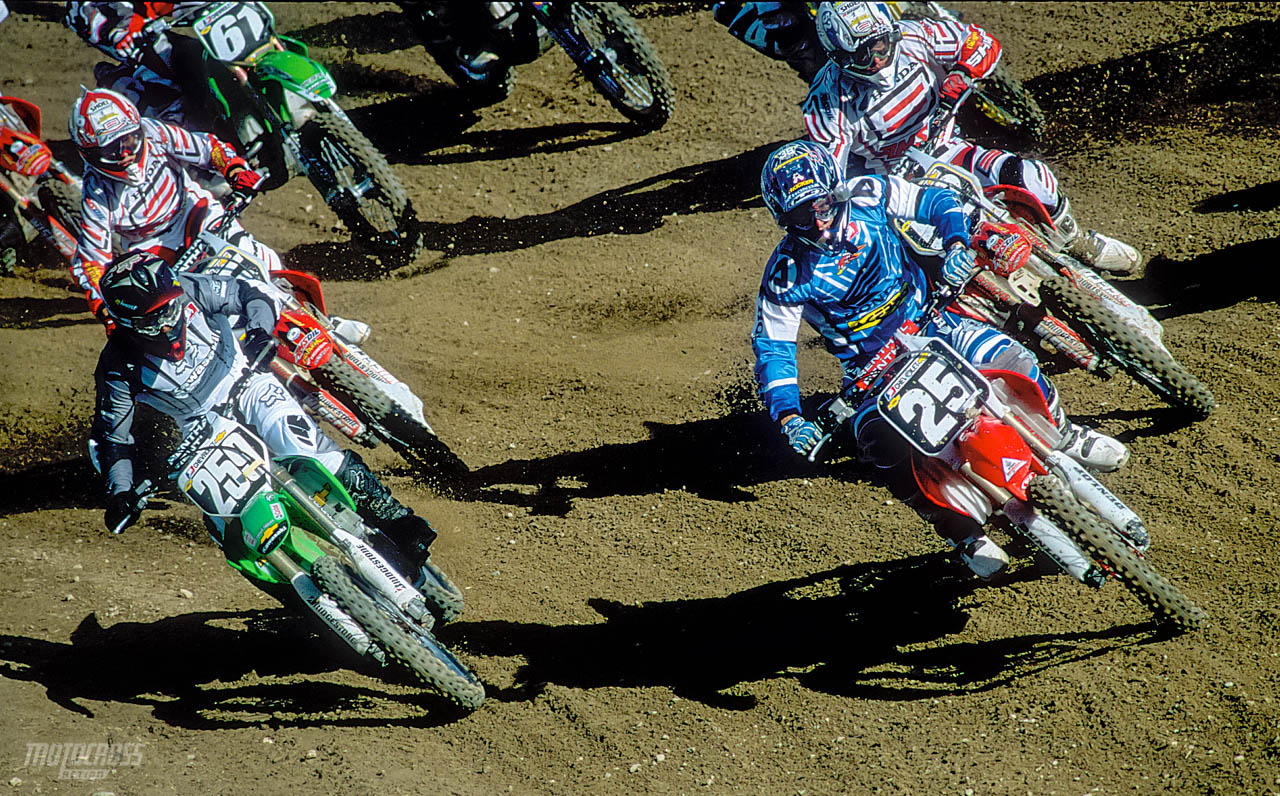 At the last round of the 2004 National series, James raced a 250F at Glen Helen. He won.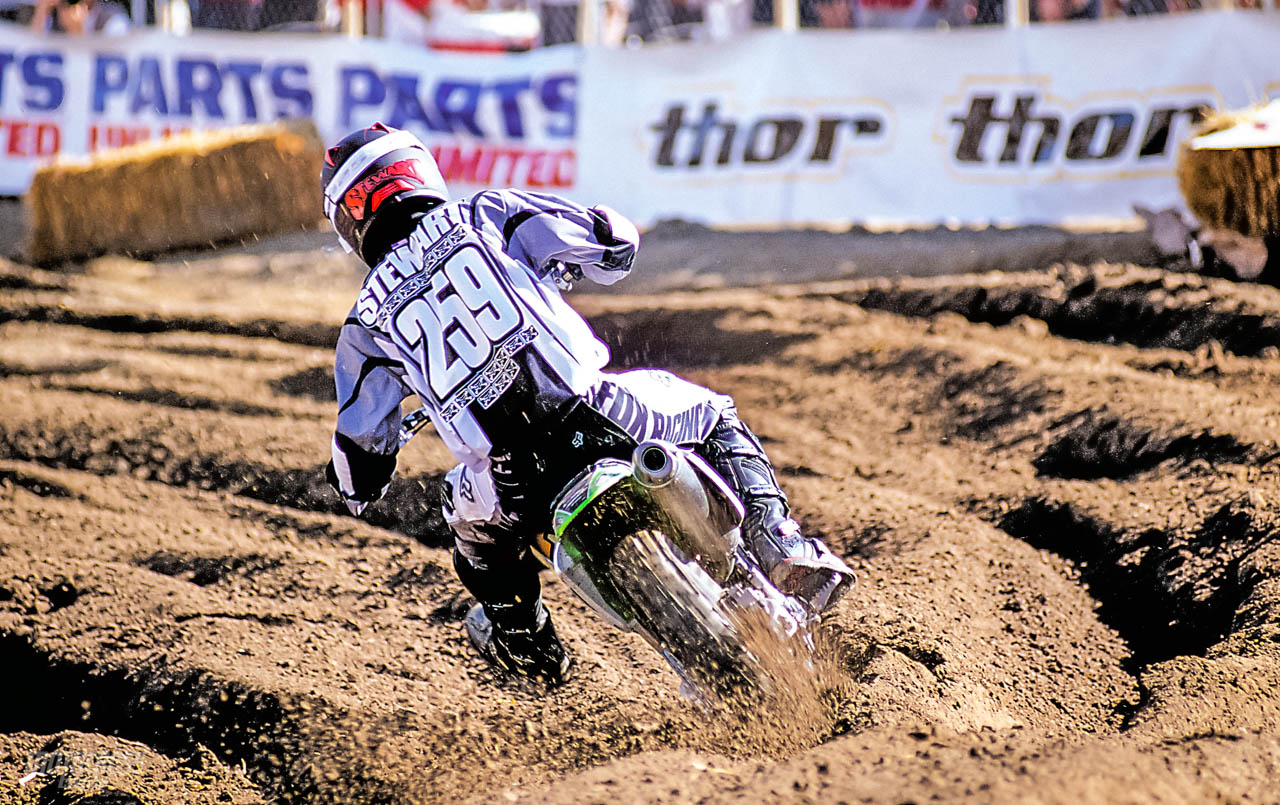 James' only round he raced a 250F at Glen Helen. 
---
Moto Trivia answer: Greg Schnell from 2000.