MOTOCROSS ACTION MID-WEEK REPORT

#WHIPITWEDNESDAY

Rider: Martin Davalos
Bike: Pro Circuit Kawasaki KX250F
Photographer: Krystyn Slack
Location: 2018 St. Louis Supercross
TWO-STROKE SPOTLIGHT: TRAVIS KERNOSKY'S 2006 YAMAHA YZ125
Travis went all-out with his 2006 Yamaha YZ125 build. 
"This my 2006 YZ125 Craigslist find. Bike was pretty beat up from a distance, but when I got close to it I found out it had the original tires,chain and sprockets. The sprockets were still in great shape. Picked it up for a steal and immediately went to work. Framed the bike, cleaned everything up to get a little shine, split the cases for inspection, port matched the cases and opened the cylinder up a bit. Used a Vertex piston, V-Force reed cage, Pro Circuit Works pipe with a 304 Shorty.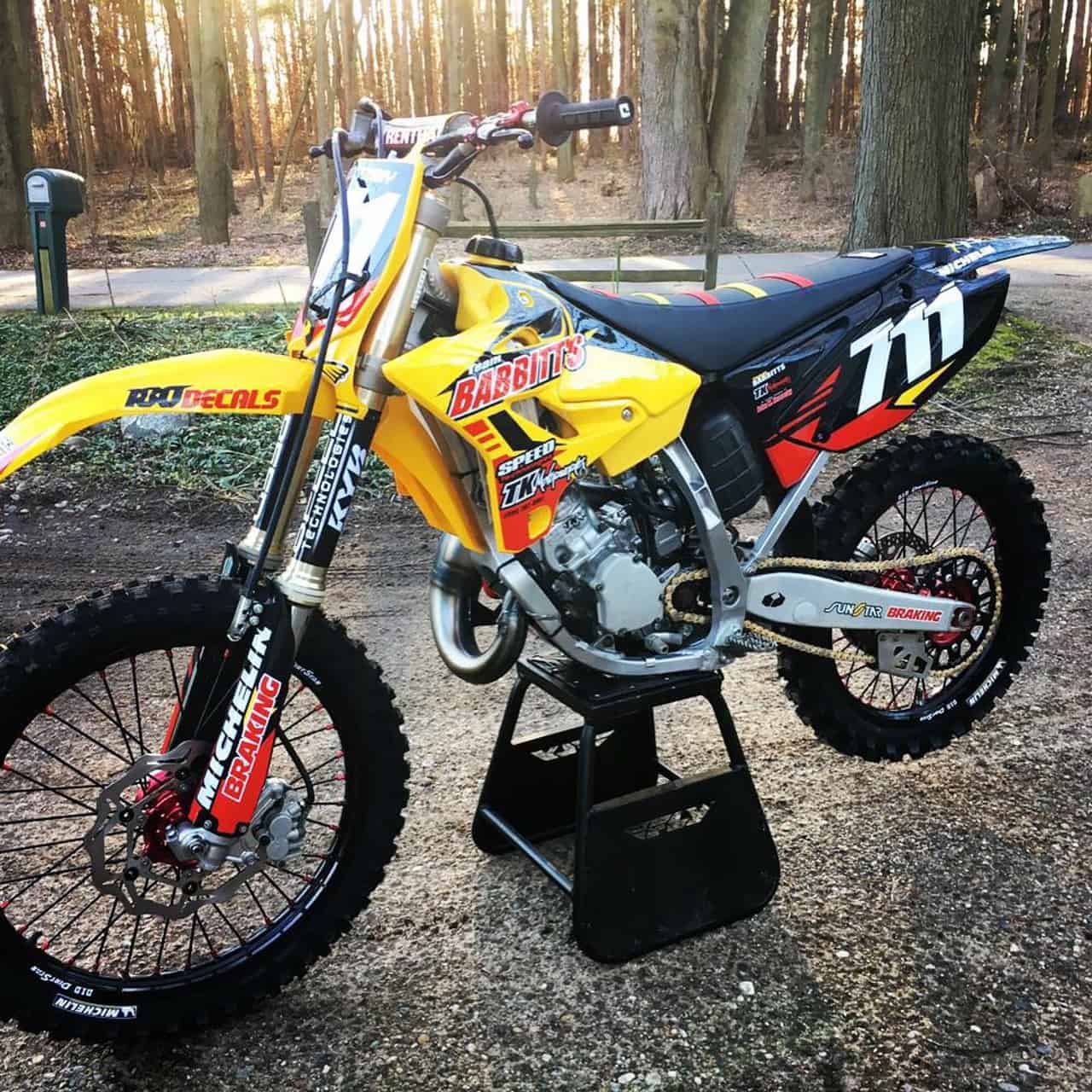 We couldn't leave her looking like every other YZ out there so I got with Cycra for some updated yellow plastic to go with the Clarke tank. Bryar at 180 decals continued to be the best in the business with the decals. Dubya USA supplied the wheel components and I laced them up and covered them in some new Michelin's. Speed technologies took care of the valving and springs in the suspension and we topped everything off with some Renthal Twinwalls, ODI grips, Works Connection perch, Braking 270mm rotor kit and Sunstar chain and sprockets. Thanks for shinning a light on the two-strokes." –Travis Kernosky.
Editors Note: Please keep those submissions coming. If you would like your bike to be featured in the "Two-Stroke Spotlight," please email me at [email protected]. All I ask is that you give a breakdown of your bike and a detailed description of the build. Please also send a few photos of your steed. By submitting your bike for the "Two-Stroke Spotlight," you agree to release all ownership rights to the images and copy to MXA. Please don't email me spam or try selling me Taylor Swift concert tickets or email me spam. I already celebrate T-Swizzle's entire collective, and there will be "bad blood" if you send me junk mail. See what I did there? Happy submitting your smoker.
MOTO | TRIVIA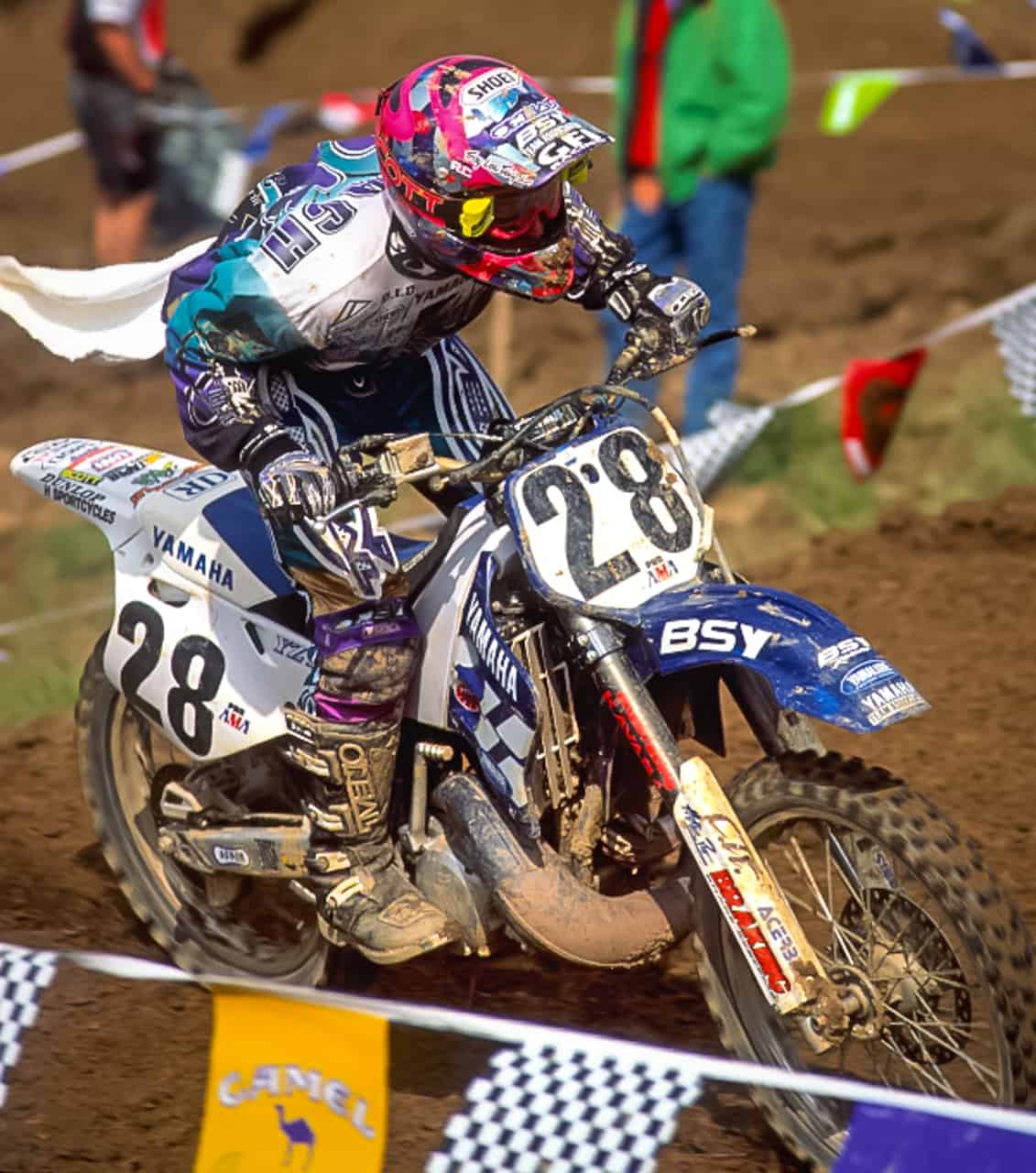 Name the rider. Answer at bottom of page.
TAG METALS & RYAN VILLOPOTO FORM STRATEGIC ALLIANCE
Ryan Villopoto aboard his new steed his 2018 Yamaha YZ450F. 
Press Release: Tag Metals a brand division of Group 6 USA, LLC is pleased to announce a new Strategic Alliance with SX and MX legend Ryan Villopoto.
Ryan will play a active advisory role working with the Tag Metals product development team and brand management marketing group.
After 10 AMA Championships, Ryan retired from professional racing in 2015. Ryan is now actively riding and testing for a select number of high profile brands of which Tag Metals is honored to be a part of.
Tag Metals has been absent from the marketplace for a few years, Group 6 USA has now acquired Tag Metals and has relaunch the brand. The Tag Metals has redesigned the product line from the ground up and has relaunched the iconic brand with a new line of Handlebars, Sprockets, Chains and Grips.
Ryan stated, "I am excited to be part of the "NEW" Tag Metals team and the Group 6 USA family. It's a great fit as I have long term working relationship with Eddie Cole and his team going way back to my amateur career. I'm also involved in many of the Group 6 USA brands already including Matrix Concepts, and Atlas Brace. I'm looking forward to this new project and being part of the new Tag Metals journey".
Ryan also included, "I wanted to take this time to give a special mention and thank you to the Renthal brand for all the past years of support. They were a huge part of my racing career and I wanted to sincerely thank them for the support and friendship".

Tag Metals Managing Director Eddie Cole adds…. "Having Ryan join our effort is very exciting for us, we are so fortunate to have a resource and talent like Ryan join the Tag Metals team. Ryan's endorsement, product knowledge and product feedback will be invaluable to Tag Metals internal team going forward".
Tag Metals is now accepting 2018 USA team/rider resumes:
http://www.mxsponsor.com/companies/tag-metals
About Tag Metals: Tag Metals was born from a passion for performance and innovative. Fueled and relaunched this year with that same commitment, the new Tag Metals offers a complete range of hi performance racing off road motorcycle handlebars, grips, sprockets, chains and accessories. Now part of the Group 6 USA family of brands that now include Matrix Concepts, Atlas Braces USA & Tag Metals; Based in Valencia, California. Our products are used and developed by the top MX/Off-Road/Cycling race teams in the world. For more Tag Metals information please contact us at [email protected] or telephone (661) 253-1592. Visit us at: www.tagmetalsracing.com
JOIN MXA'S FLIPBOARD PAGE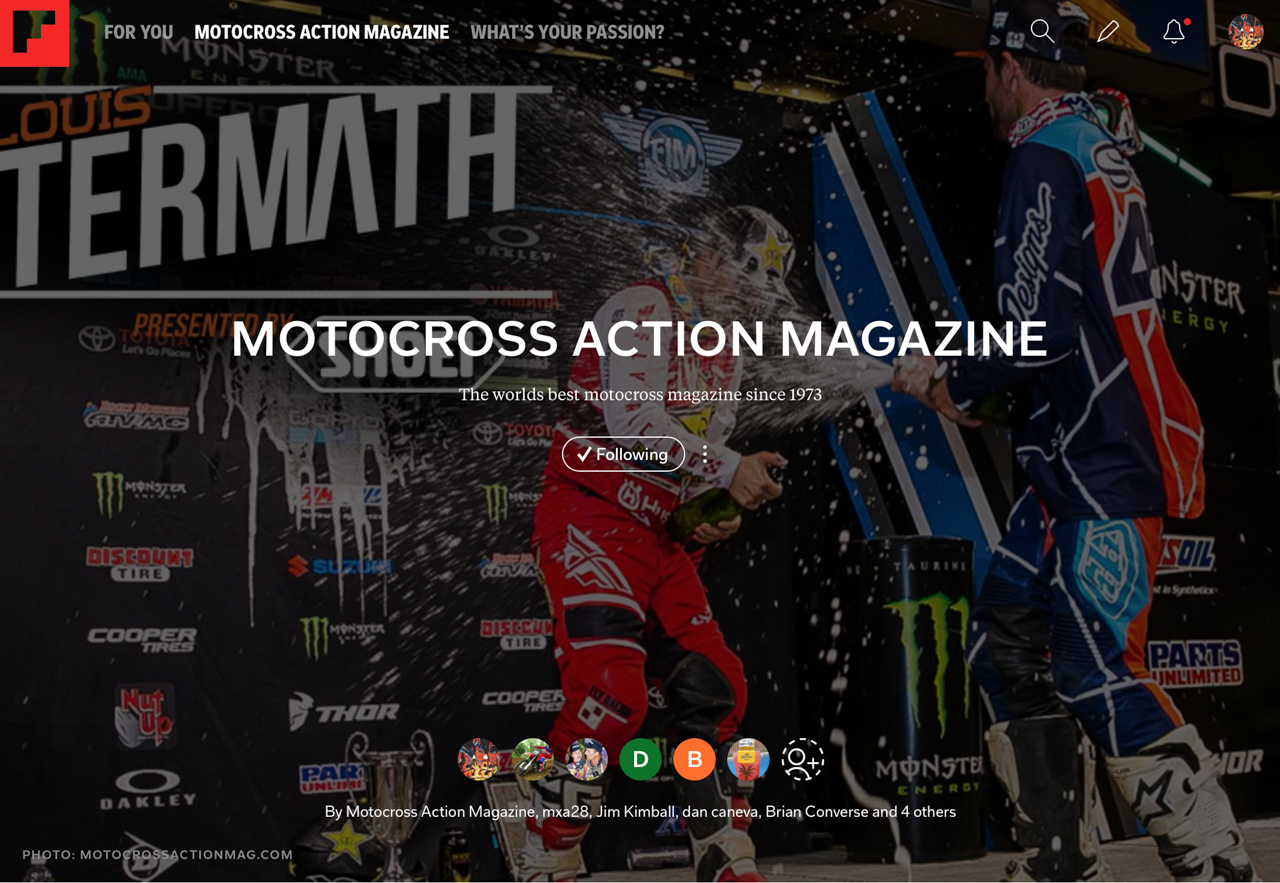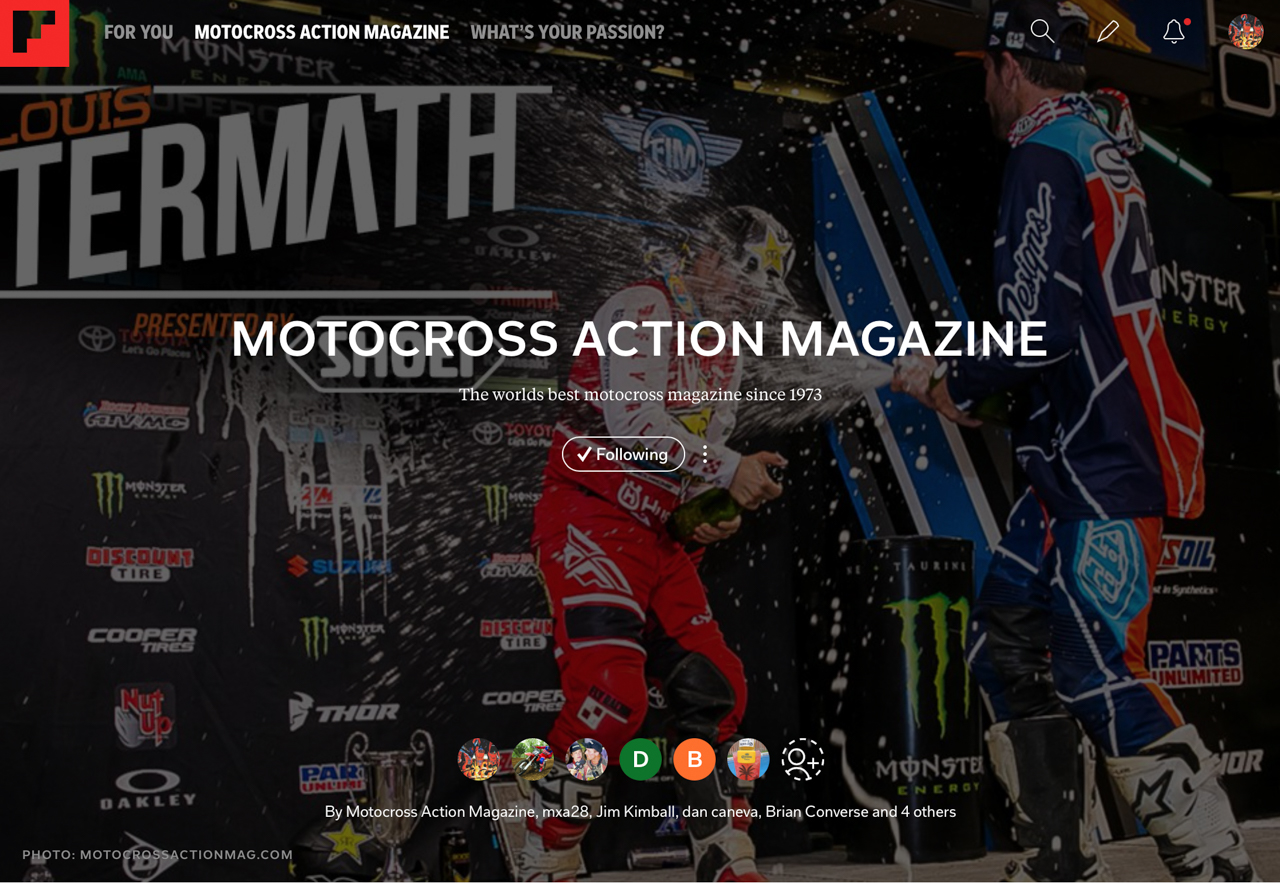 If you use Flipboard make sure to subscribe to the Motocross Action page for all the updates on our website. Click HERE to check out the page.

MXA'S REPLICA CHAD REED HUSQVARNA FC450
MXA's Chad Reed Replica.
We built a replica Chad Reed Husqvarna FC450—and not just any replica, but an almost exact replica of the bike he was riding for the first third of the 2018 AMA Supercross series. We could have simply asked Chad to let us test his race bike, but we felt that it was best to build a bike so close to his that he could borrow it from us. We built the bike, ot because Chad's is tearing up the Supercross Championship on, but to honor his long career.
We met with mechanic Mike Gosselaar and had his show us everything that Chad used on his bike. It included a couple fairly exotic parts, including a KTM works cam and special ignition mapping that Goose didn't think we could get—but we did. Luckily, we are good friends with the guys who built Chad's engine (Mitch Payton) and suspension techs (Technical Touch) and were able to duplicate everything inside Chad's engine and his Kayaba works suspension.
The hard part was collecting every tiny little piece that went into building an exact replica. That included Chad's titanium Nihilo footpegs, high pressure radiator cap, 270mm Braking rotor, 48 tooth Sunstar sprocket, Akrapovic skid plate, No-Toil air filter, Factory Effex Replica graphics, XTrig triple clamps, Hinson inner hub/pressure plate//clutch cover (with his logo engraved on it), Dunlop tires, Chad's custom ignition cover and ODI bars and grips,
Pro Circuit built the engine using every piece that Chad had in his engine, Husqvarna helped us with the setup, Technical Touch did the suspension valving and we toiled to get it all together. Guess what? FedEx never shows when you looking for the truck in the driveway. Obviously, it is possible that Chad might have changed a few things since we ordered all the parts, but we had to freeze the project at some point in time.
Now that's done, the MXA test riders get to hammer on it starting on Wednesday—and probably for most of 2018. Be on the loolout for Chad's look-a-like bike this week at a track near you.  
THEY SAID IT: INDY SUPERCROSS
Malcolm Stewart: "I'm getting better every week. I still have to improve my fitness, but I am happy to finish the night in sixth place. It was my best career 450 result so far, so I'll take the positives from that. I feel like I'm heading in the right direction. There are five more Supercross races to go, and I'm going to make the most of them."
Weston Peick: "The day was tough. I struggled, because the track was super tacky and rutted. I was trying to find comfort. We went into the heat race with a major change, and the track was very rutted. Then we went back to how we were in practice. I rode well in the main, but was making a lot of mistakes. I had a couple of close calls. I was hitting this quad in the center of the track, and one lap I hit it from the opposite side. The face was a bit smaller, and I came up short on the landing and went into an endo. I got pretty banged up, and that was my night. I'm sore, but I have some time off to get ready for Seattle."
Copper Webb: "Indy was a good weekend for me, it was nice to be back at the races again. I was happy with seventh in qualifying, it was a decent result after not riding for two weeks. The heat race wasn't so great, I was in third and got taken out unfortunately. In the Main, I had a good start going into the first turn and ended up getting hit from behind and had a crash that had me stuck under my bike. It took me a while to get back going but I put my head down and was able to charge back to seventh, which I was happy with. I wanted a better result, for sure, and I felt like with a good start I could have been on the podium again. I was happy with my riding and we get a weekend off to be ready for Seattle."
Luke Renzland: "I really wasn't expecting this [to be on the podium] at this one. With the east and west combined, this is obviously the most stacked the field has been all year for us. So honestly all I've been working on during the week is just doing start after start – it's been my Achilles heel this year. Finally, I executed what we've been working on from the far outside gate and got out in front and made one quick pass early and really tried to ride my own race."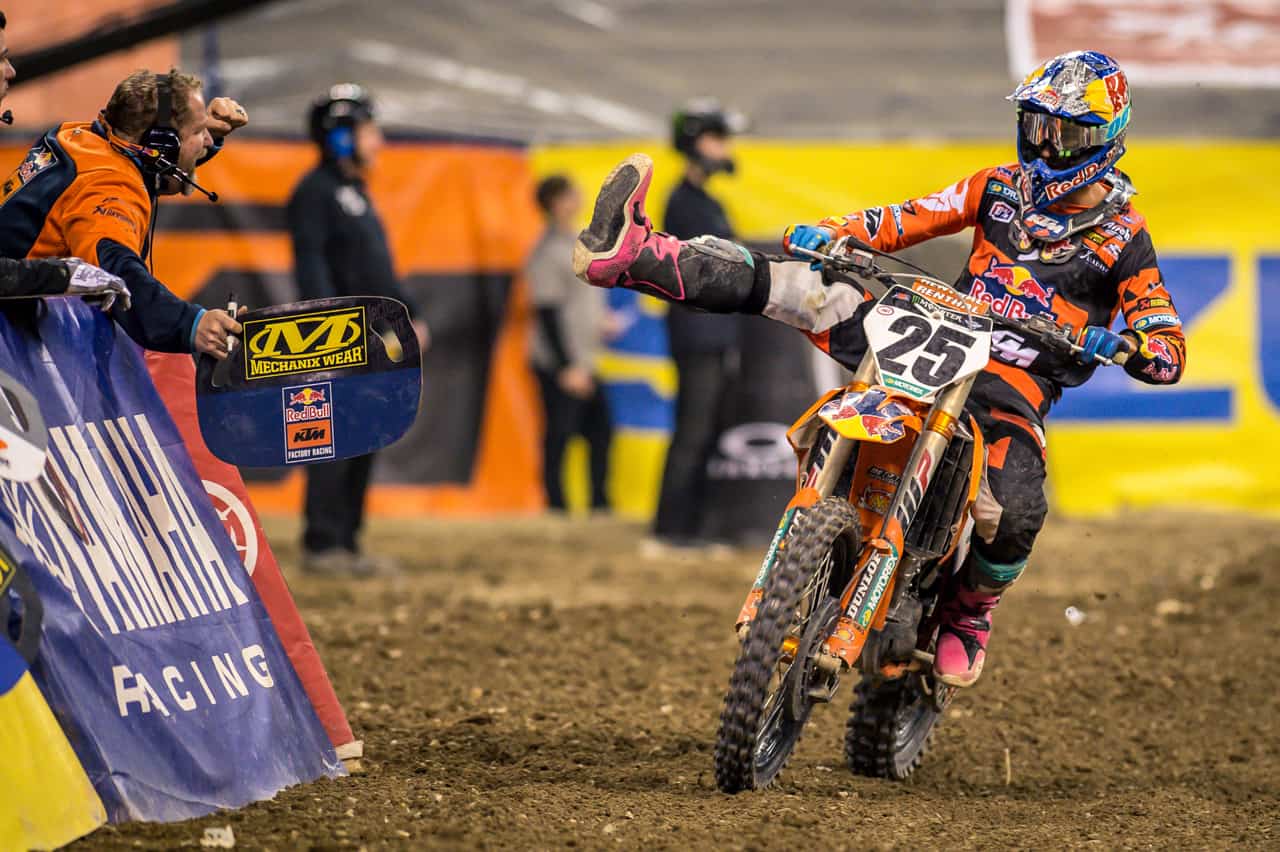 Marvin Musquin: "To be honest, I've been waiting for that win for a long time. The last win was at Anaheim I and I felt like I was riding better and better after I got used to the dislocated shoulder. I feel like I'm definitely capable of winning but you have to put everything together, and that's not easy, but today it was good. We got the bike better this weekend and in the last practice I was riding really smooth and I was the fastest, so I was really happy. I knew I needed a good start and to race my own race and I was able to do that tonight, it's good to be back on top."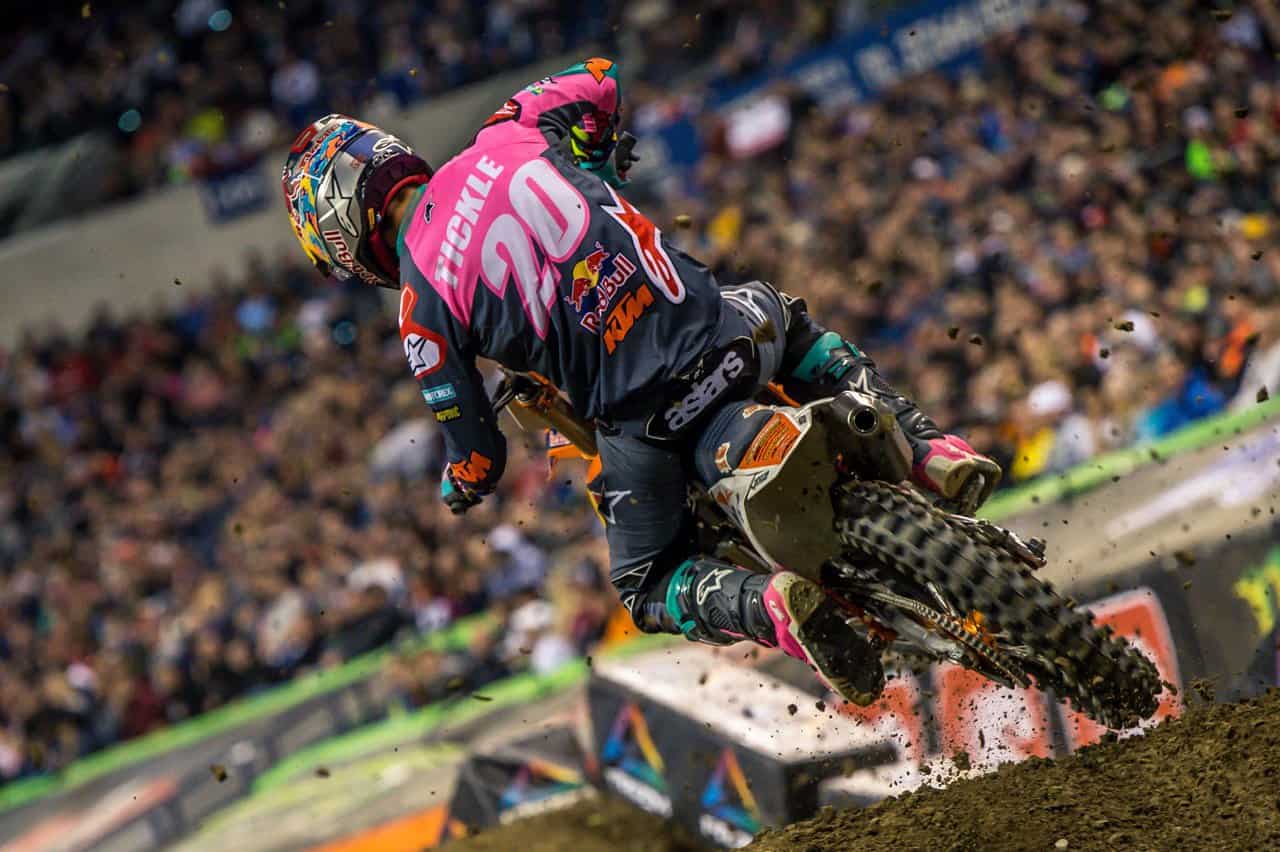 Broc Tickle: "I'm really happy with my riding tonight. I felt like I had 2nd wrapped up but I crashed by myself and put myself into a situation where I got into it with another rider and ended up going back to 6th. Overall, I'm really happy with the progress and I'm building confidence in the right direction to end the season strong. I'm looking forward to these last five rounds to snag some podiums."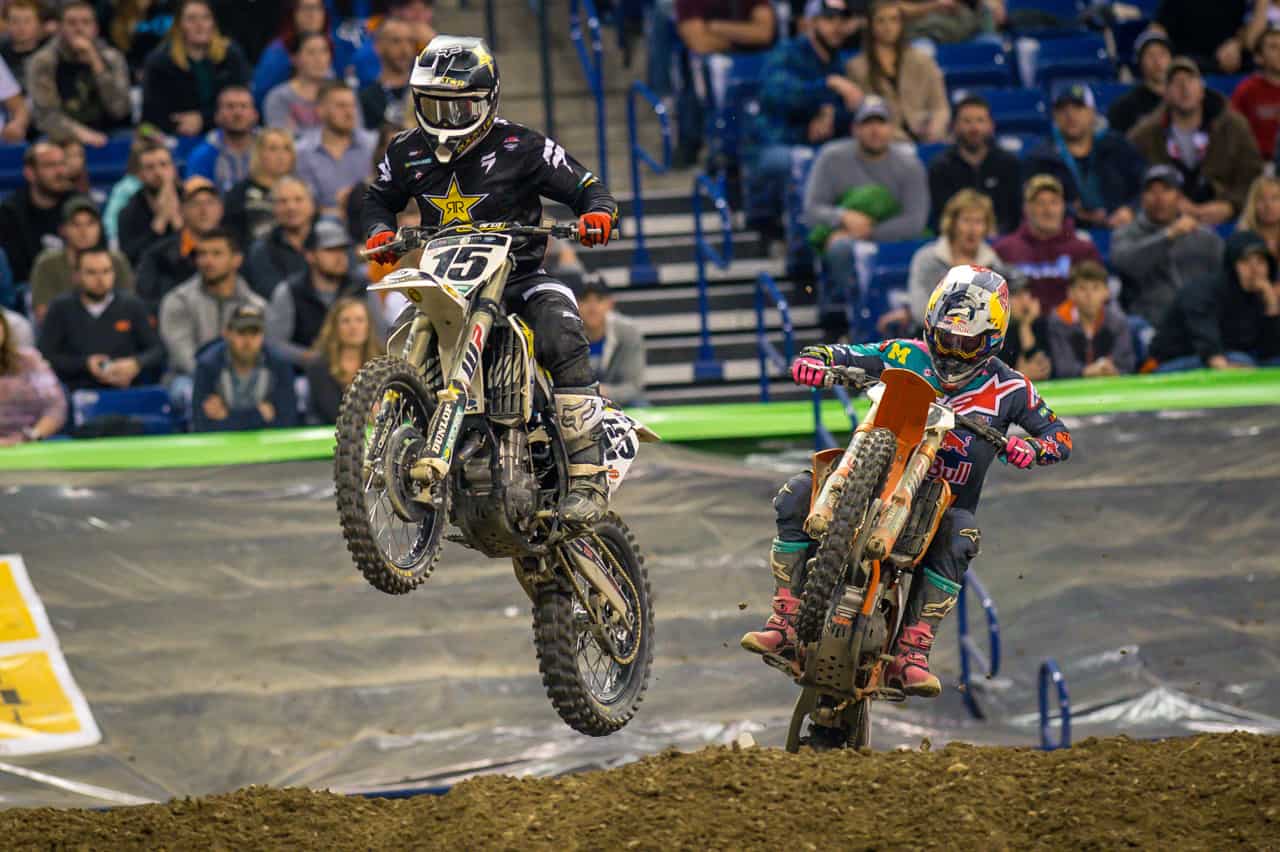 Dean Wilson: "The Main result was awesome today. Qualifying went well, but I came into the heat race and got a bad start and ended up eighth. I got a good start in the Main then made quick passes. The middle to the end of the race was tough but it's awesome to get a second. I'm stoked."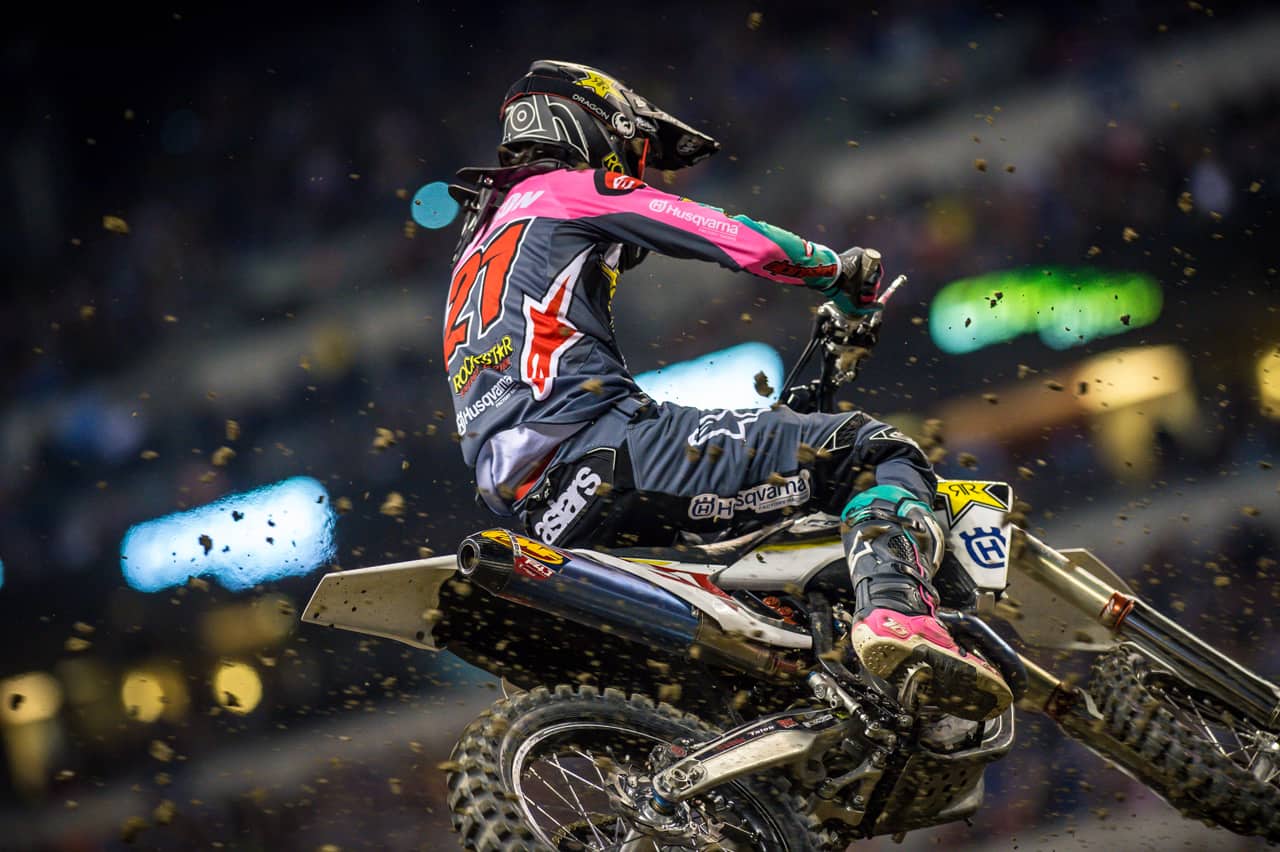 Jason Anderson: "My weekend turned out to be good. I went into the pileup in the first turn in the Main Event, but I worked as hard as I could to make it to fourth. It was good."
Kyle Chisholm: "I was really excited to get back on the 250. I felt good all day and was pumped to put in a Top 10 practice time. I had that transfer in the Heat, but ended up getting taken out which was kind of a bummer. My body got pretty beat up but I was still able to get it done in the LCQ. That was my first 250 LCQ win and it's awesome to get that done for the team. I was consistent in the Main and held it down with a bunch of the factory boys. Overall, I'm pretty satisfied and excited to keep moving forward."
Christian Craig: "I'm really disappointed in how tonight went. I just didn't ride like myself at all and it's so frustrating because I've been working so hard, both physically and mentally. I got a terrible start, which put me in a bad position from the beginning, then I crashed twice. This is not the result that I wanted for myself or the team, so I'm going to learn from today, try to stay positive, and go into Seattle with a clear mind."
Adam Cianciarulo: "Everyone was bringing up my string of crashes in practice and I just looked at it as something in the past. It's something I have to learn from and be able to put out of my mind as we go into the night race. I won the heat and pushed really hard in the main event to get that second place. I have a great team of people behind me, always helping me see failure – like the crashes – as something that can motivate me to do better. I can't wait to be back in a few weeks."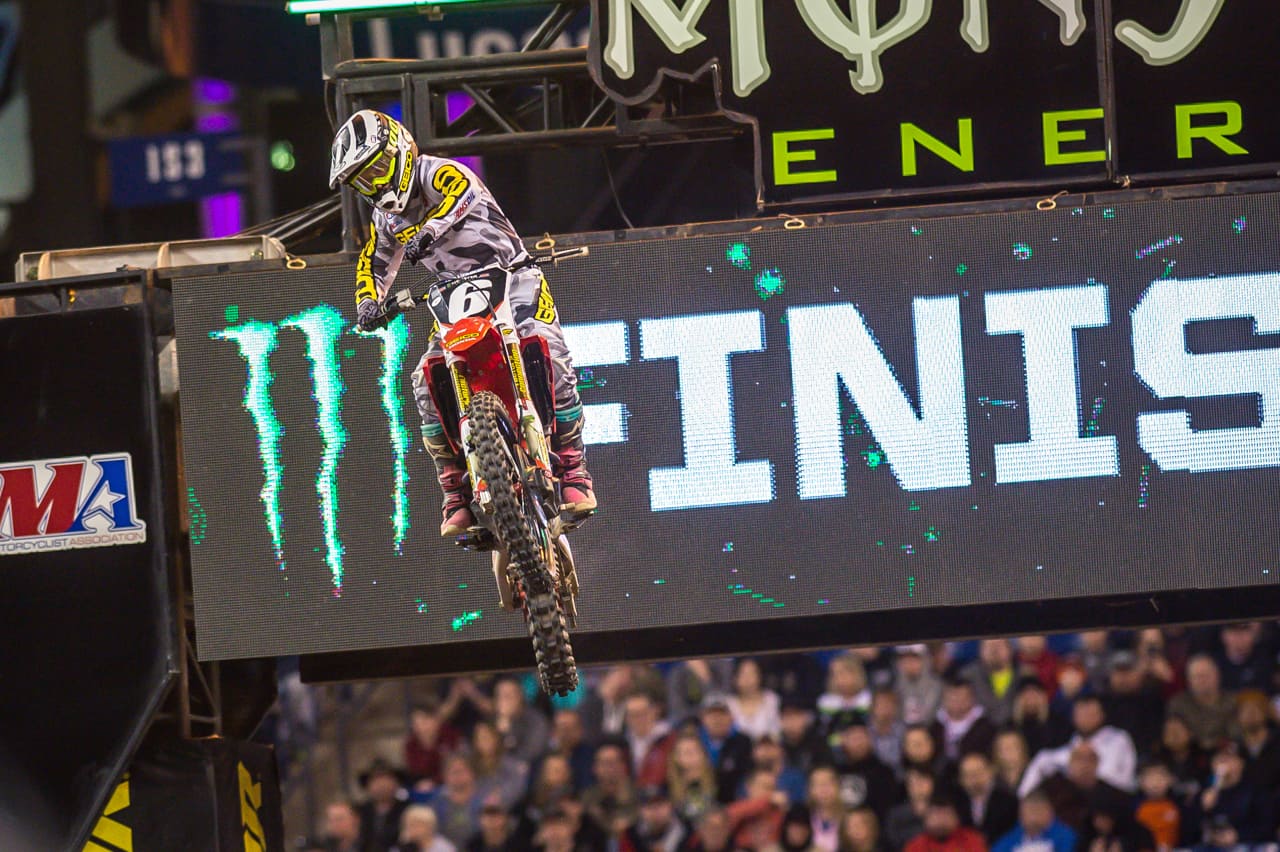 Jeremy Martin: "This is just a blessing to be able to be out here so I've got to give it up to the man up above, and I'm doing what I love to do and I've got a dream team. It was a great race. I got the holeshot, and then I just rode my own race and raced the track … That's why we put in the time during the week and suffer."

INSIDE THE PRO'S BIKES: BLAKE BAGGETT'S KTM 450SXF
JOIN MXA'S SNAP CHAT FEED
If you are a Snap Chat user then add us to your stories. Get sneak peaks of everything moto. Our Snap Chat name is motocrossaction. Or just take a Snap of the picture above and it will add MXA automatically to your feed.
SOMETHING YOU DON'T SEE EVERYDAY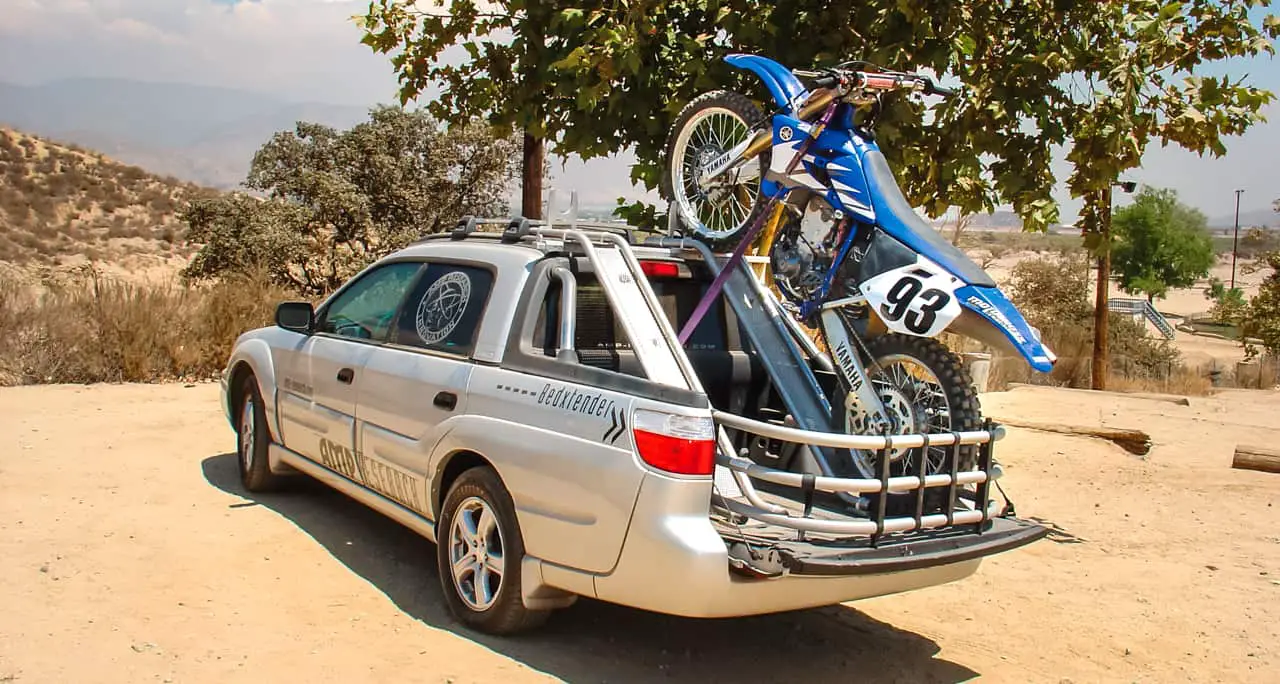 Is it a truck or a car? This is a Subaru Baja that was made to haul dirt bikes thanks to special ramps designed to carry bikes in the mini bed. Would you drive it? Can you guess who built it? Answer at the bottom of the page.

TALK MOTO WITH MOTO MINDED PEOPLE. JOIN MXA'S FACEBOOK GROUP CHAT


We love everything moto and want to bring all moto junkies together into one place to share their two cents, ideas, photos, bike fixes, bike problems and much more. To check it out first you must need to or already have a Facebook account. If you don't, it isn't much work and you could even have an alias so nobody knows it is you. To join click HERE. After you request to join we will accept your request shortly after.
CLASSIC MXA PHOTO
Ryan Villopoto at Glen Helen after winning his first 250 outdoor National title in 2006.
Moto Trivia answer: Doug Dubach.
Something you don't see everyday answer: Jody Weisel.