MOTOCROSS ACTION MID-WEEK REPORT
#WHIPITWEDNESDAY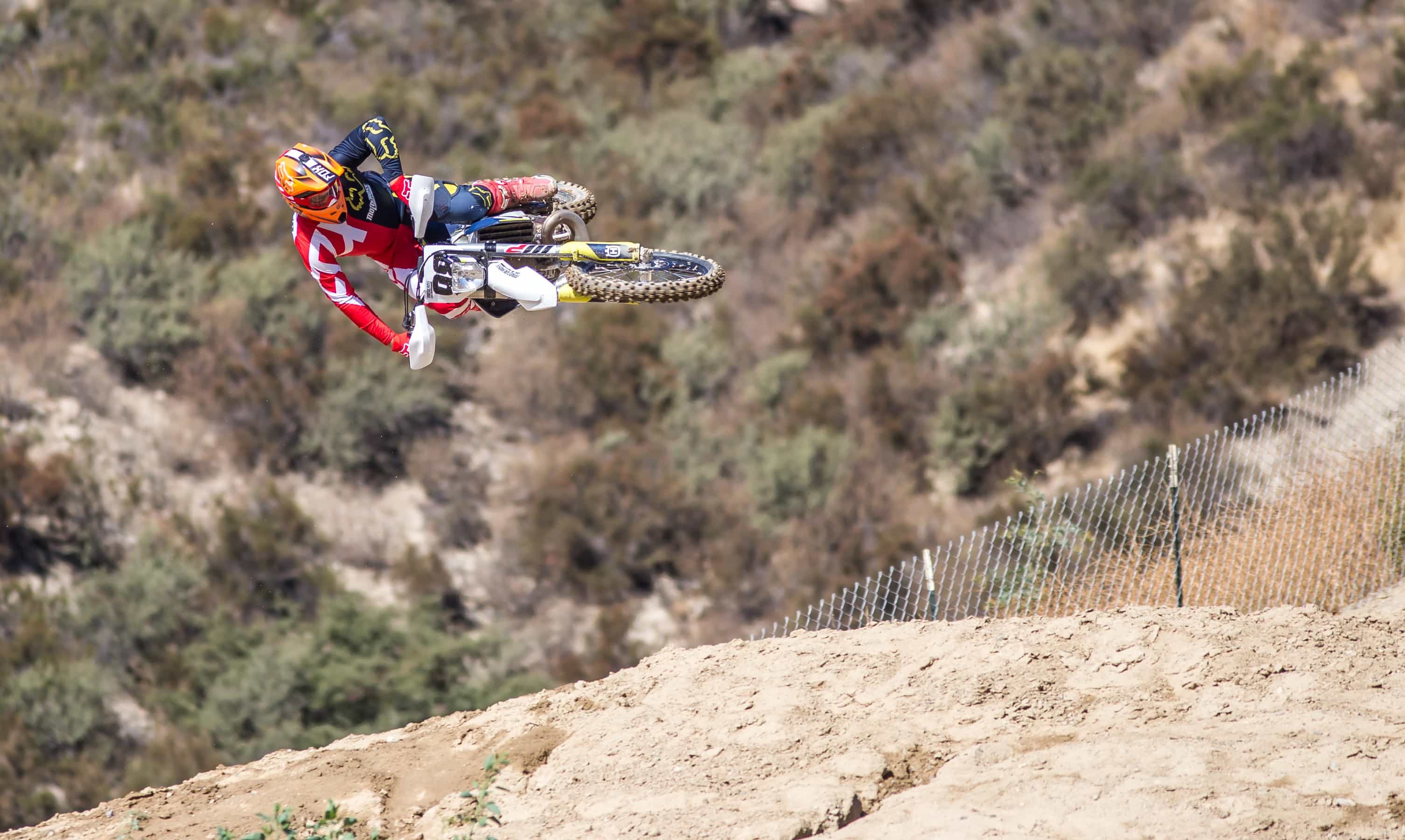 Rider: Daryl Ecklund
Bike: 2018 Husqvarna TE250i TPI
Location: Glen Helen
Date: July 27, 2018
Photographer: Travis Fant
Lens: 300mm
Focal length: 300mm
Exposure: 1/1600
F-stop: 4
ISO: 160
TWO-STROKE SPOTLIGHT: GILLES LAFON'S AF SUZUKI RM250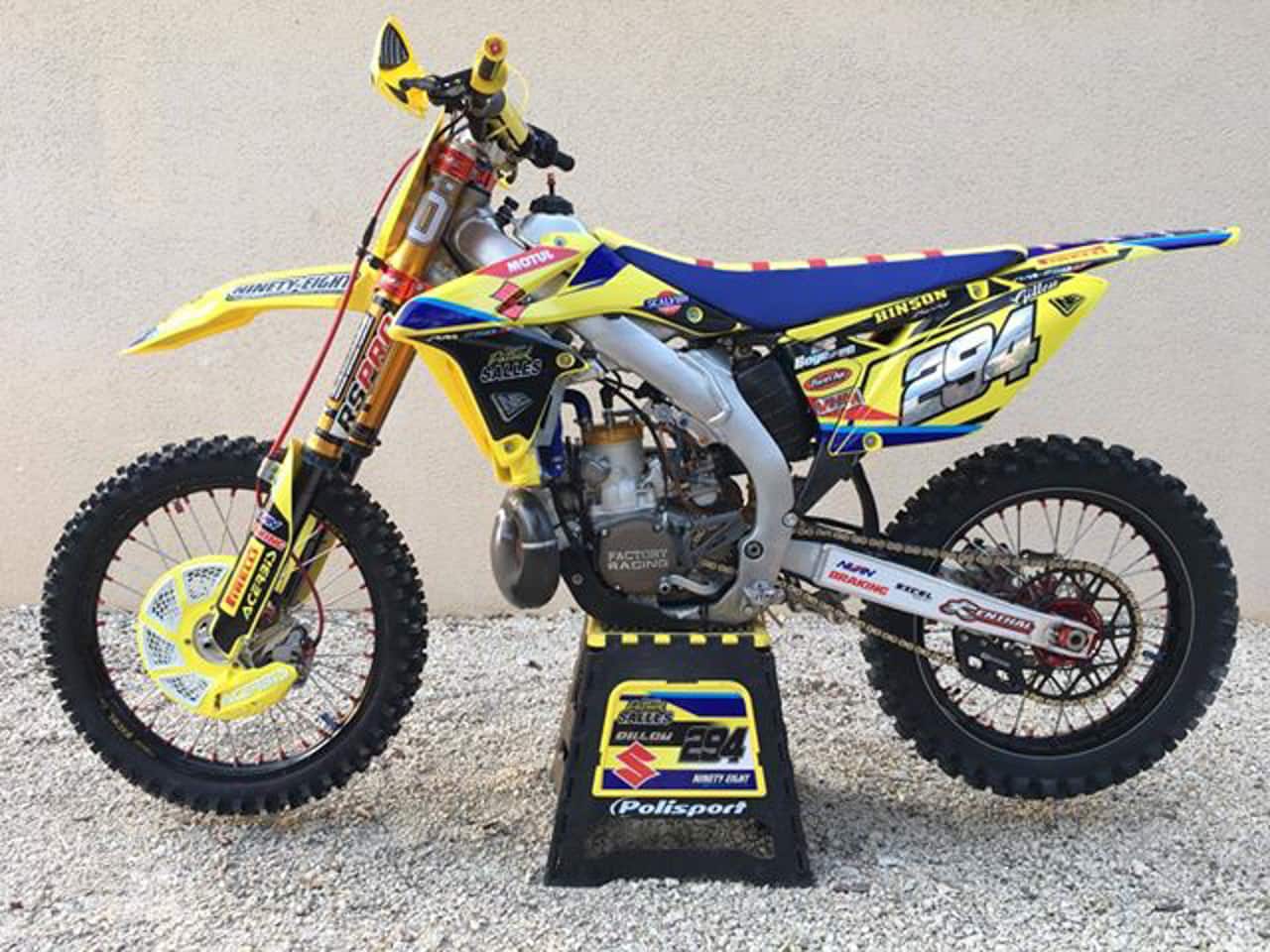 Gilles didn't give us any details on the build, but it sure looks like a work of art. The chassis is a 2008 to 2017 RM-Z450 and the engine looks like the latest generation RM250 power plant.
Ohlins suspension replaces the Showa components front and rear.
The bike is littered with trick parts like the Scalvini pipe, Neken clamps and Boyesen clutch cover. 
Editors Note: Please keep those submissions coming. If you would like your bike to be featured in the "Two-Stroke Spotlight," please email me at [email protected]. All I ask is that you give a breakdown of your bike and a detailed description of the build. Please also send a few photos of your steed. By submitting your bike for the "Two-Stroke Spotlight," you agree to release all ownership rights to the images and copy to MXA.
MXA TEST RIDER FILES #2 | 2021 GASGAS MODELS
MXA PRODUCT SPOTLIGHT: EXCEL ONE – WEEKEND WARRIOR RIMS
Excel One rims were developed for enthusiasts and weekend warriors looking for a good value for their money! Best for OEM Replacement. Excel's new Excel One rims are a great economical alternative to our Premium Takasago and Excel A60 rims that dominate the Podium Worldwide.
Excel Japan's engineers designed a new extrusion profile with an economical aluminum alloy to give Excel One the performance that Excel rims represents.

Excel One rims can be laced to stock hubs and certain aftermarket hubs.

Excel One rims are offered in sizes: 21 x 1.60, 19 x 1.85, 19 x 2.15 and 18 x 2.15 fitting most popular models.

Excel One rims are offered in Black anodized finishes.

Excel One rims are made in Japan!
Excel recommends Excel Takasago Rim or Excel A60 rims for professional racers/riders
MSRP: Starting at $118.76
FORGOTTEN BIKES | JAMES STEWART'S 2006 FACTORY KAWASAKI KX450F
2006 was the first year James rode a four-stroke and finished the Supercross series 2nd behind Ricky Carmichael. For MXA's full test on the 2006 KX450F click HERE.
2021 SUPERCROSS SCHEDULE UPDATE

WILL DIRT BIKE MANUFACTURERS EVER MAKE CARBON FIBER FRAMES?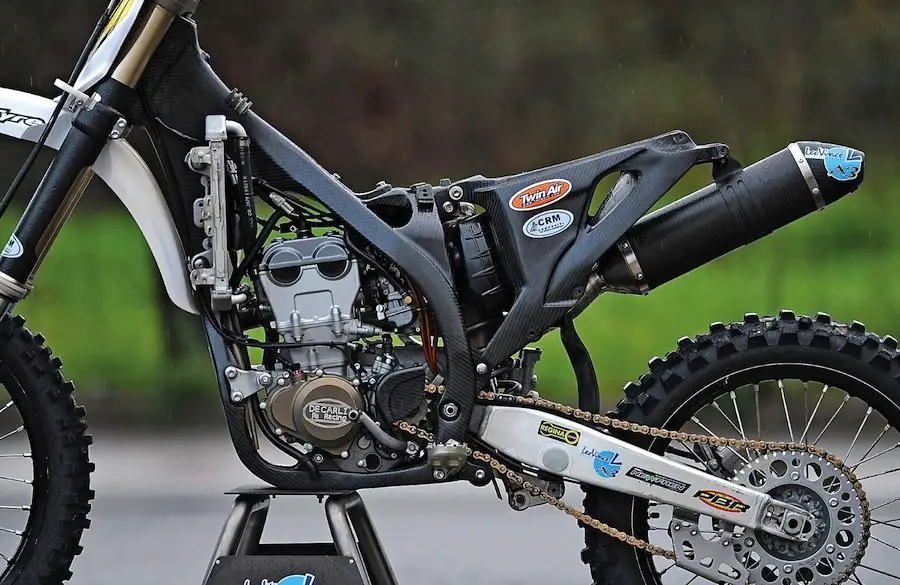 Dear MXA,
    Bicycles once came with steel frames, then aluminum and now carbon fiber. And Formula 1 used to have steel frames, then aluminum monocoques and now carbon fiber tubes. It seems obvious to me that motocross bikes will soon be switching to carbon fiber also. Am I right?
It depends on how much you hanker for a $20,000 production bike. As exciting as exotic materials may look on the sales brochure, motocross chassis' are about feel, not materials. One of the reasons that KTM has made so much progress against the Japanese brands has to be attributed to the chromoly steel frame. Chromoly steel offers both tensile strength and the ability to flex in the right direction. It's the flex of a steel frame that makes a KTM a very good all-around handling machine. Steel may seem old-fashioned, but for motocross frames, it is really a very high-tech solution. And, if you had the wherewithal to build a one-off race bike,  steel would be the place to start. The Japanese factory teams cannot race with steel frames without making their production bikes look suspect. Don't forget, Jeremy McGrath left Team Honda over this exact issue back in 1997.
Don't get too misty about aluminum frames. They have endured a very rocky history to get where they are today, largely because aluminum does not flex and, if it does, it tends to crack its large-grain composition. Starting with the original 1997 Honda Delta Box frame, aluminum produced frames so stiff that they lost feel and placed 100 percent of the suspension burden on the forks and shock. Over the last 18 years, Japanese manufacturers have been tapering the aluminum extrusions, thinning the wall thicknesses and relying on the motor mounts and head stays to soften up the feel.
Aluminum, much like air forks, became the cause celebre in the factory accounting departments because it was cheaper to manufacture and didn't require any cutting, bending, mitering or gussetting. An aluminum frame is made up of eight casts, extruded or forged parts that plug together.
There are companies experimenting with molded carbon fiber frames. These builders tout carbon fiber's lightweight and controllable stiffness. But, in a production frame, no manufacturer would take full advantage of carbon fiber's lightweight for fear of a frame failure. Thus, they would lay the carbon fiber up well beyond the fail-safe level, and that would result in not only a heavier frame, but a stiffer one. Yes, it is possible to lay the carbon sheets up to get more flex, but with a risk level that the corporate lawyers would never sign off on. Think about carbon fiber handlebars. They first surfaced on mountain bikes back in 1986, but when racer Aaron Cox's carbon bars broke at a Big Bear race the same year, carbon fiber bars suffered a setback that they have never recovered from. The same risk applies to motorcycle frames, which do break, regardless of what they are made from, but a broken carbon fiber frame would be a death knell to carbon fiber's future in motocross.
Plus, motocross is not held on a pool-table-smooth F1 track or on a mildly bumpy Tour de France road. It is a gritty sport complete with shotgun blasts of roost, hard crashes and mechanically inept owners. A scratch could lead to carbon fiber failure. Spraying the wrong chemical on the carbon fiber could delaminate the cloth. The abrasion of a boot can eat through the welds on an aluminum frame; imagine what it would do to carbon fiber.
Carbon fiber may well be the brave new world of chassis design in boats, planes, bicycles and race cars, but the high cost of production and high premiums for liability insurance pretty well nix it for anything more exotic than skid plates, subframes and mufflers in motocross.
MXA MOTO TRIVIA
What year was the photo was taken and who are the riders? Answer at the bottom of the page.
MXA TEAM TESTED: DUBYA CERAKOTE KTM WHEELSET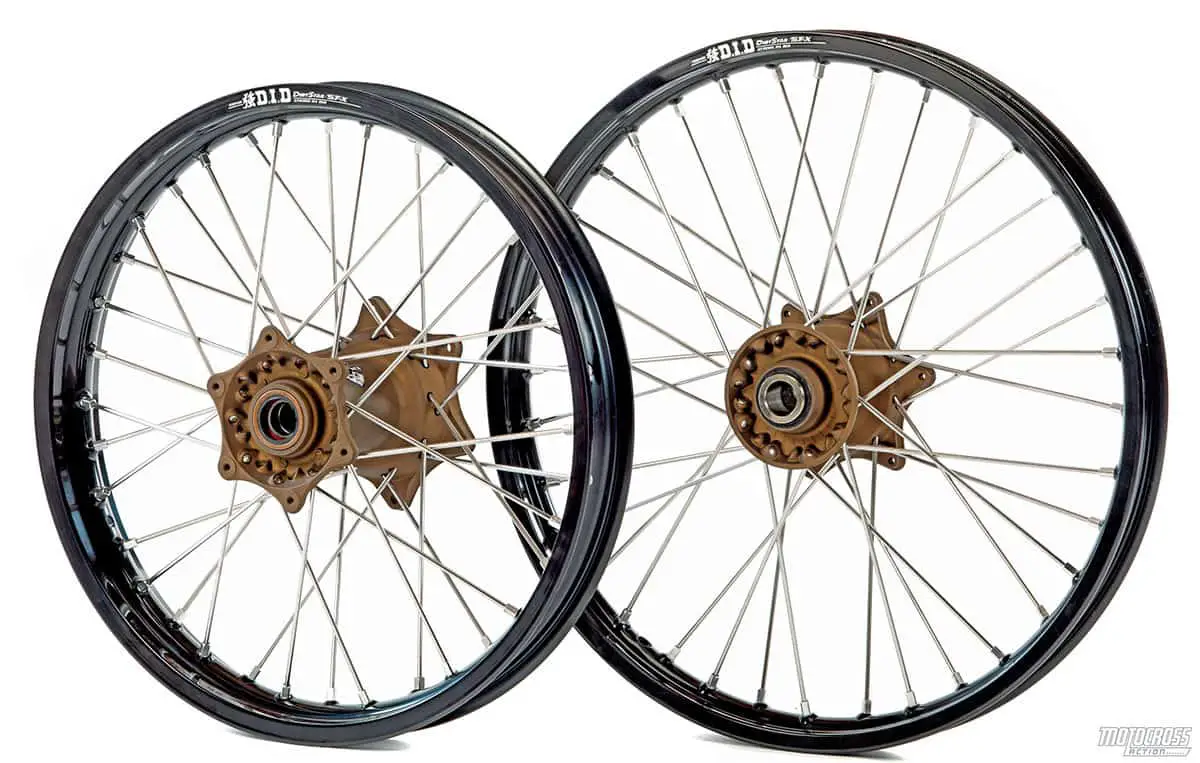 WHAT IS IT? It is a way to make your bike's hubs stand out from the crowd via a durable, corrosion-resistant coating that comes in four colors. Dubya USA can Cerakote your bike's hubs to suit your particular tastes or needs. Cerakote offers some of the visual effects of anodizing without the .002 build-up of material.
WHAT'S IT COST? $200.00 (Cerakote two hubs), $428.00 (two D.I.D. ST-X rims), $99.00/$95.00 (silver Bulldog spokes with spline drive or OEM aluminum nipples), $80.00 (lacing and truing).
CONTACT? www.dubyausa.com or (714) 279-0200.
WHAT STANDS OUT? Here's a list of things that stand out with Dubya USA's Cerakote wheelsets.
(1) Cerakote. What is Cerakote? Cerakote is a polymer-ceramic composite coating that can be applied to metals, plastics, polymers and wood. The coating enhances abrasion resistance, corrosion resistance, chemical resistance, impact strength and hardness. It is a spray-on compound that is applied in a sterile environment and baked in an oven between 250 and 300 degrees. There are two types of Cerakoting—H-grade and C-grade. Dubya uses H-grade, which is the most popular coating for firearms, knives, and other such items that require hardness and corrosion resistance. C-grade is generally used for high-heat applications. Cerakote creates a thinner layer than anodizing or powdercoating, which means that it doesn't change the tolerances of the bearing pockets; however, Dubya bead-blasts the hubs, removes the bearings and seals, and tapes off the hub's interior surfaces before applying the Cerakote. Additionally, unlike anodizing, which produces mixed results on cast aluminum compared to billet aluminum, Cerakote delivers a clean finish on cast hubs. It should be noted that Cerakote doesn't have the bright-dip look of shiny anodizing. The colors are more muted.
(2) Colors. Dubya can take your stock hubs and Cerakote them in magnesium, white, charcoal, titanium or desert sand colors. There are actually 90 different Cerakote color options, but Dubya specializes in the four that most racers request.
(3) Rims. Dubya USA offers Takasago Excel rims in black, silver, blue, yellow and gold, or D.I.D rims in black or silver. The MXA wrecking crew selected D.I.D ST-X rims in black. This is D.I.D's strongest rim. Dubya can build up your wheels in whatever combination of spokes, rims and nipples you choose. The Cerakoting is a service that is applied to your stock or aftermarket hubs to change their color.
(4) Spokes. MXA selected Bulldog spokes and traditional box-style nipples, but spline-drive nipples are available for the same price (although colored nipples do have an upcharge). Dubya USA uses full-length spokes that allow the threads to get a full purchase on the nipple. This reduces the odds of a nipple snapping at the stress riser caused by a short spoke.
(5) Performance. We would love to say that having our hubs Cerakoted added 2 horsepower and dropped our lap times by a full second, but that isn't what Cerakoting does. Although there are corrosion, abrasion, chemical and UV-light advantages to Cerakoting your hubs, there are no pragmatic reasons for doing it. The primary motive is that it makes them look more "factory."
WHAT'S THE SQUAWK? Every garage-queen project bike is outfitted with black rims. They look mean and aggressive, but they are really a very poor choice for a race bike. Why? Black rims are easily scratched by tire irons, salt-and-peppered by roost and look beat when silver rims still look new. So, why did we spec black rims? That's the only color that the D.I.D ST-X rims come in. As for the Cerakote hub? No complaints.
MXA RATING: Cerakoting your front and rear hubs is several hundred dollars cheaper than buying Talon or Kite hubs, but when you are done getting your hubs coated, rimmed, laced and spoked, what you have in the end is a fancy stock hub.
THIS WEEK IN MXA #1 | ELECTRIC YAMAHA, SUPERCROSS NEWS AND MORE
TALK MOTO WITH MOTO MINDED PEOPLE. JOIN MXA'S FACEBOOK GROUP CHAT

We love everything moto and want to bring all moto junkies together into one place to share their two cents, ideas, photos, bike fixes, bike problems and much more. To check it out first you must need to or already have a Facebook account. If you don't, it isn't much work and you could even have an alias so nobody knows it is you. To join click HERE. After you request to join we will accept your request shortly after.
CLASSIC PHOTO
Mike LaRocco holding a Gaerne SG10 back in 2005 at Anaheim 1 Supercross.
---
MOTO TRIVIA ANSWER: The shot was taken in 1990 and the riders from left to right are Johnny O'Mara (9), Damon Bradshaw (8), Jeff Stanton (1), Doug Dubach (7) and Ray Sommo (34).