MOTOCROSS ACTION MID-WEEK REPORT
#WHIPITWEDNESDAY
Ivan "Hot Sauce" Tedesco throws one over in Red Bud in 2003.
TWO-STROKE SPOTLIGHT: THOMAS EGGER'S 1989 HONDA CR250 PROJECT
Restored 1989 Honda CR250.
Hello MXA!
Here are some pictures of one of my many project bikes. This is my 1989 Honda CR250R. –Thomas Egger.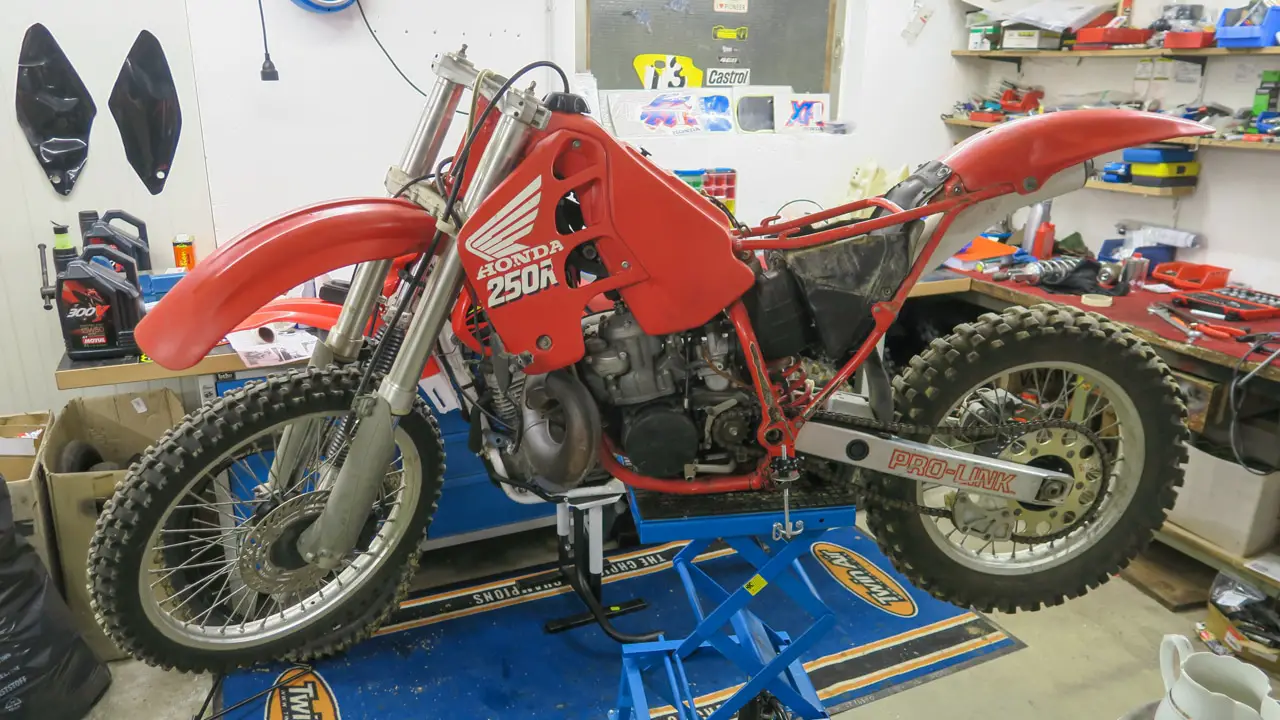 EDITORS NOTE: Please keep those submissions coming. If you would like your bike to be featured in the "Two-Stroke Spotlight," please email me at [email protected]. All I ask is that you give a breakdown of your bike and a detailed description of the build. Please also send a few photos of your steed. By submitting your bike for the "Two-Stroke Spotlight," you agree to release all ownership rights to the images and copy to MXA.
MXA TEAM TESTED: FMF PIPE & SILENCER FOR YZ125

WHAT IS IT? The FMF Factory Fatty pipe has been a staple of FMF's two-stroke line for many years, and FMF has pipes and silencers that fit 2005 to 2021 YZ125s. The Powercore 2.1 silencer has joined the ever-popular and compact Shorty Powercore 2 silencer. We test both.
WHAT'S IT COST? $254.99  (Fatty pipe), $399.99 (titanium Powercore 2.1 silencer), $141.99 (Powercore 2 silencer).
CONTACT? www.fmfracing.com or (310) 631-4363.
WHAT STANDS OUT? Here's a list of things that stand out with FMF Factory Fatty pipes and silencers for the 2005-2016 Yamaha YZ125s.
(1) Installation. O-rings do not stand the test of time. The last thing you want to deal with when buying an aftermarket pipe is discovering that the O-rings on the old one are damaged. We applaud FMF for including fresh O-rings with our Yamaha YZ125 pipe. So, before you mount the new Factory Fatty pipe, don't forget to install the new O-rings (even if your old O-rings look fine, we still recommend installing the new ones). The FMF pipe mounted with ease, as did the silencer, but make sure to leave all the brackets and bolts loose until you get everything in place. Since the silencers only use the bottom mount, don't forget to put a bolt back in or the fender will not be secured. We replaced the long bolt with a shorter one so it doesn't stick out like a sore thumb.
(2) Stock trim. For over a decade the YZ125 engine has remained the same. It was once the best production 125cc engine the world has ever seen; however, in recent years that has changed. Husqvarna's and KTM's latest 125cc engines can blow the measly 34 horsepower of the YZ powerplant out of the water. On the track, the YZ125 suffers the most from the bottom to the midrange. The clutch has to be abused to get the YZ125 into the meat of its powerband. To allow it to compete with the two Austrian brands, the YZ engine needs help. One of the best performance upgrades you can buy for a YZ125 is a good-performing aftermarket pipe. Exhaust pipes are relatively cheap power, and they do not directly affect the durability of the engine. We tested the FMF Fatty pipe with both the FMF Powercore 2.1 silencer and the Powercore 2 silencer.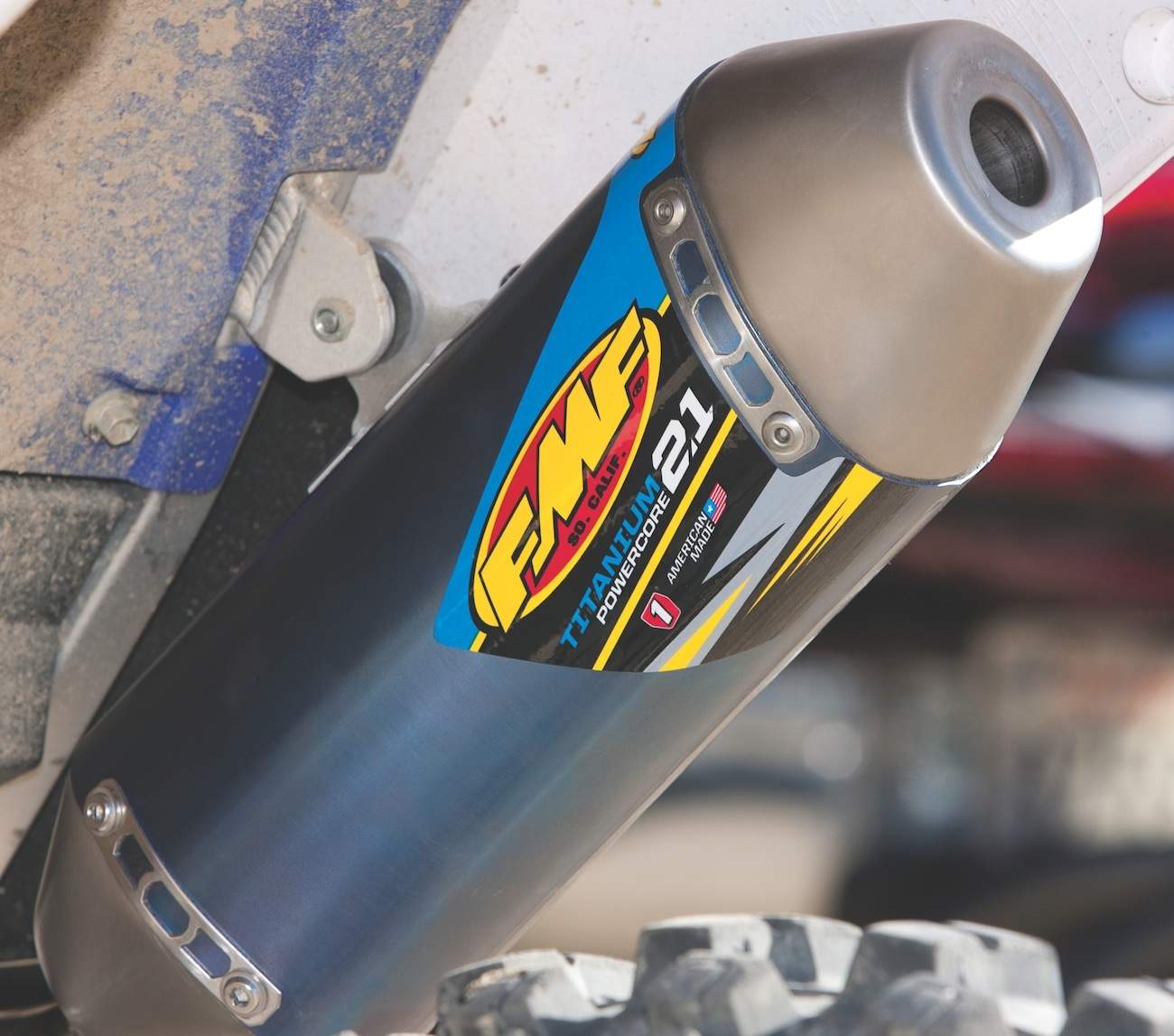 (3) Powercore 2.1. FMF gave us two $399.99 Powercore 2.1 silencers to test to see which one would be better for them to put into production. The only difference between the two was 2-1/2 inches in length. First, we bolted on the longer one. The Factory Fatty pipe and long 2.1 silencer livened up the power across the board, but test riders found it hard to keep the power in the meat of the pocket. It still suffered down low, but perked up once we hit the sweet spot from the mid to the top. The shorter 2.1 silencer, however, made more power across the board. It was quick to respond with a power curve that never dipped throughout the range. This combination worked best.

(4) Powercore 2. We know from experience that a shorter silencer will usually produce more bottom-end power, but it has the potential to take away from the top end. The $141.99 Powercore 2 silencer has a compact design that makes it an ounce lighter than the shorter FMF 2.1 titanium package. As for performance, the bottom end produced a strong hit like the 2.1, but gave up just a little from there on up. Although we liked both silencers much better than the stock YZ125 unit, all our test riders picked the short Powercore 2.1. But when we asked our test riders if they would pay an extra $200 for the 2.1, about half the riders changed their minds.
WHAT'S THE SQUAWK? Two quibbles. (1) The price is steep for the titanium Powercore 2.1 silencer. (2) Both silencers are too short to mount with the top bracket that bolts onto the rear fender. This leaves the bolt sticking out like a sore thumb. It would be awesome if FMF included a shorter bolt with the silencer for a cleaner look.
MXA RATING: The Fatty pipe was awesome with both the Powercore 2 and 2.1 silencers. We liked the Powercore 2 for its price and the 2.1 for its potent power.
MXA | MOTO | TRIVIA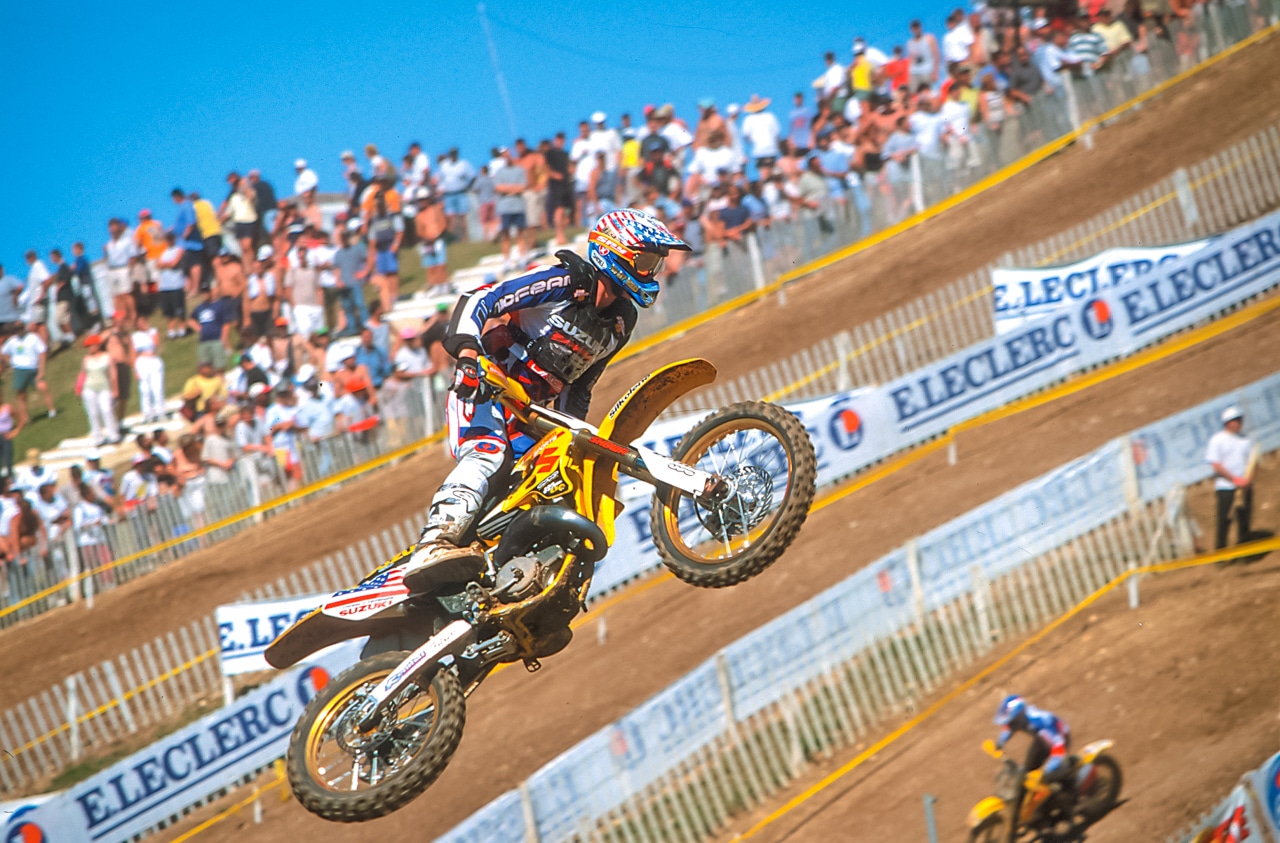 Name the rider and year. Answer at the bottom of the page.
10 STEPS TO WASHING YOUR BIKE | By Brian Medeiros
Step 1: To make your job easier, before you leave the track you want to scrape off any packed up dirt and mud off your engine cases and under your fenders (doing this will help speed up the process).
Step 2: Once you get home and get unloaded you want to remove your seat and air filter. Carefully wipe away any dirt out of your airbox and insert your airbox wash cover. The reason for removing your seat is not only to wash your airbox but to prevent getting your seat wet and breaking down your seat foam.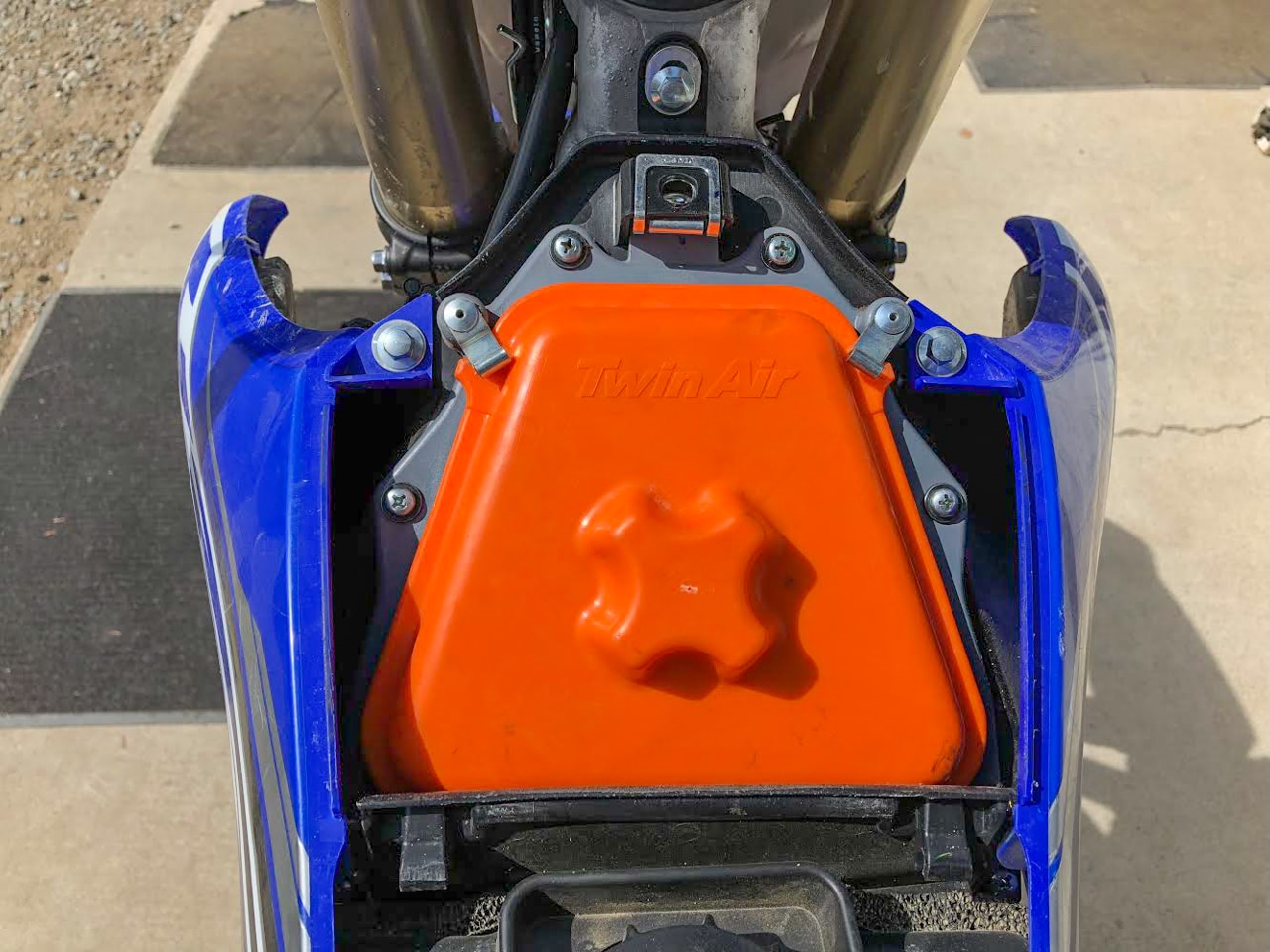 Step 3: Wheel your bike over to your wash area and use your stand to prop it up on its side. Using your pressure washer spray off any dirt and grime that is on the underside of your motorcycle. Avoid any direct contact with your pressure washer to any electrical connection's and pivot point's of your motorcycle
Step 4: Once you have the underneath of your motorcycle clean proceed to put it up on your stand, continue to spray off all the loose dirt.
Step 5: At this point, you want to get your spray bottle filled with the soap of your choice (in this case Mr. Clean) and soak your bike in soap.
Step 6: Once you have your bike all soaped up, take your green Scotch Brite pad and scrub your frame, always remember to scrub parallel to your frame to avoid leaving scratch marks. (KTM & Husky owners skip this step).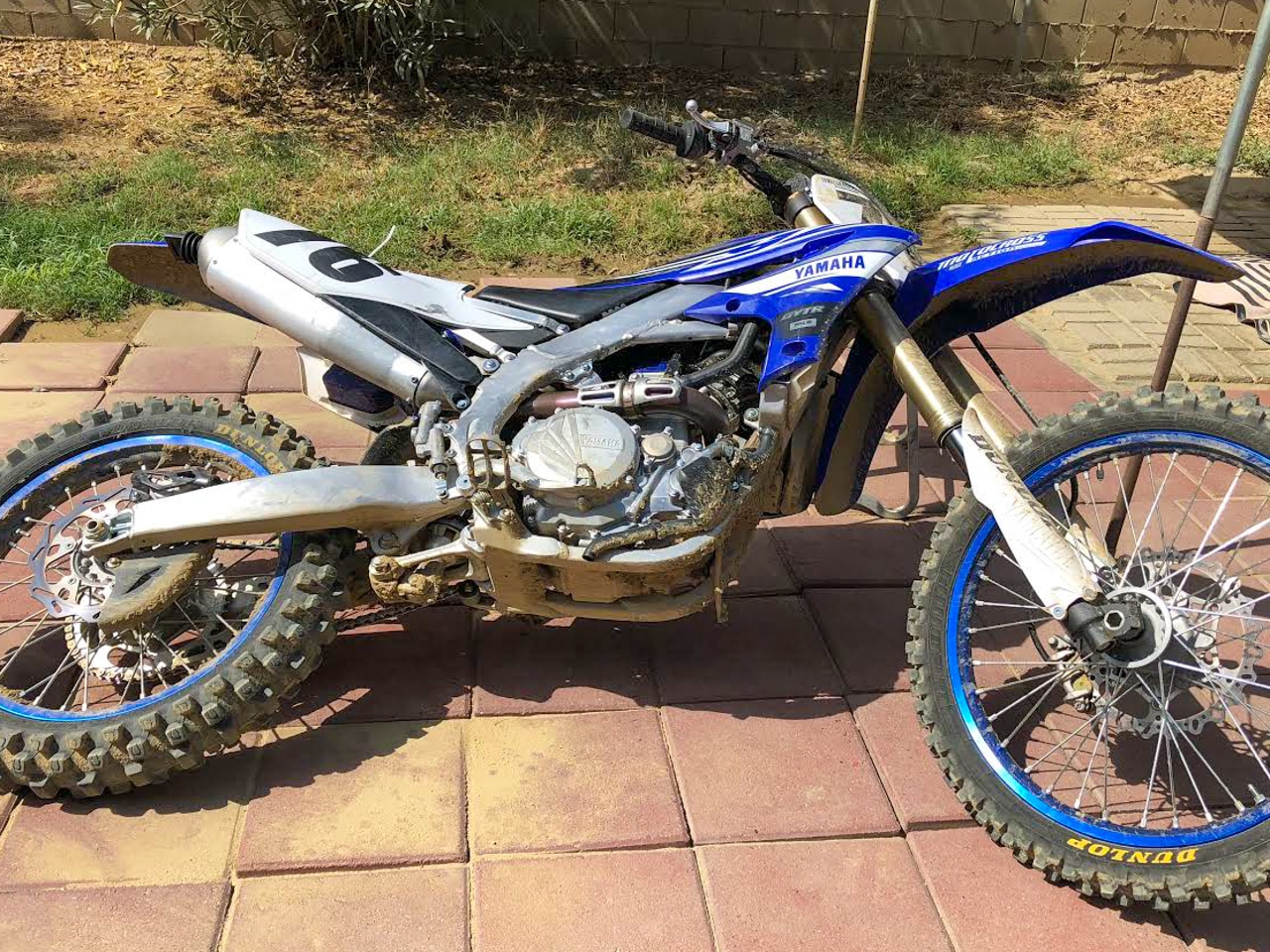 Step 7: Spray off all soap and remaining dirt that is on your motorcycle continuing to avoid direct contact with electrical connections and pivot points.
Step 8: Now that you have your motorcycle all clean, wipe it down with a clean towel, or if you have a compressor blow off any access water, again avoiding direct contact with your electrical connections and pivot points.
Step 9: Remove your air box wash cover and wipe away any water that may still be in your air box and install your new air filter. Install your seat and spray it with Windex and wipe it down with a clean towel
Step 10: Start your motorcycle and let it run for a few minutes, this will help evaporate any water that may still be sitting on your motorcycle. If it is time for an oil change this will be a good time to do it since the engine oil will be nice and warm. Also take some chain lube and make sure your chain is properly lubricated to prevent corrosion.
Notes: Washing your motorcycle is never as fun as riding it, but it is an important role in making sure your bike is clean and ready for another day of riding with your buddies. When washing your bike always remember to inspect all wear parts to see if it's time for them to be replaced (chain, sprockets, chain guide, sliders, brake pads, etc.) We hope that this information will help you keep your motorcycle in tip-top shape.
LOST BUT NOT FORGOTTEN | 1983 HONDA CR250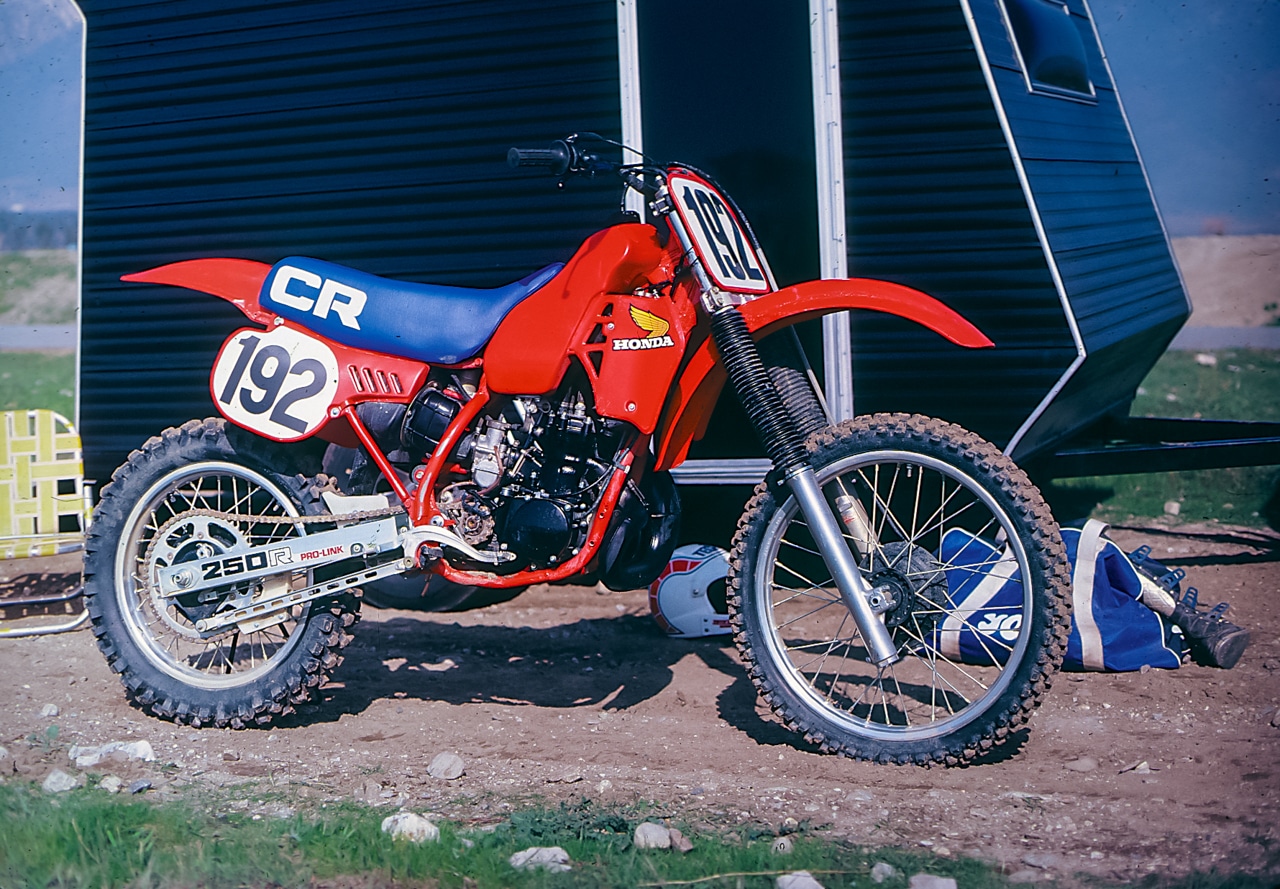 ENZO/DRC FORK CAP SPINNER
– ENZO DRC Collaboration tool.
– The tool allows you to easily loosen up a fork top cap on the cylinder with two hands so that there won't damages on your new front fork cap.
– Two hands to loosen up the top cap.
– The leveraging force helps it rotate.
– The rod stopper is convenient for disassembly.
– Made of aluminum.
– Length is about 300 mm.
MSRP : $31.95
Contact: ENZO RACING (
www.enzoracing.com
) or local dealers.
TALK MOTO WITH MOTO MINDED PEOPLE. JOIN MXA'S FACEBOOK GROUP CHAT


We love everything moto and want to bring all moto junkies together into one place to share their two cents, ideas, photos, bike fixes, bike problems and much more. To check it out first you must need to or already have a Facebook account. If you don't, it isn't much work and you could even have an alias so nobody knows it is you. To join click HERE. After you request to join we will accept your request shortly after.
MXA INTERVIEW WITH BRAZIL'S ENZO LOPES
Enzo will be riding for the Phoenix Honda team for 2021. 
Even with dislocating his shoulder in Salt Lake City, and missing a race, Brazil's Enzo lopes finished fifth in the 2020 250 East Coast Supercross Championship – and did it on a privateer team! And while he may have missed out on a fill-in rider with Monster Energy Pro Circuit Kawasaki for the motocross series, he was able to recover from surgery at home in Brazil. Returning to the United States, Lopes recently signed with the Phoenix Racing Honda team for 2021. We recently rang up the 21-year-old at his residence in North Carolina, and he gave us his thoughts on his new team, past JGR Suzuki team, life in general.
BY JIM KIMBALL
ENZO, LET'S HEAR ABOUT YOU JOINING PHOENIX HONDA FOR 2021. It is funny because I actually talked to David Eller the Phoenix Team owner back in July before I went back to Brazil to have surgery on my shoulder. So, we had this in the works for a while. Not many people really talked about it since I am not one of the big names, like Jett Lawrence, or someone like that. They don't really talk about what is going on for me as a privateer rider, so nobody really knew about it. I am super grateful for the opportunity. I literally just got back to the United States, and they had the announcement. It was a mess getting back here with this whole Corona situation. No one from Brazil can fly to America right now. I had to get an exception from the AMA to be able to come here. Even though I got the exception, I had to initially go to Mexico for a while and stay there in order to get here. So, it has been an eventful summer, I would say. I am glad to be back and glad for the opportunity with the team. It is a great group of guys and I am super happy. We will see what 2021 has in store for us.
ARE YOU IN A SIMILAR PRIVATEER SITUATION LIKE WHEN YOU RACED FOR CLUB MX THIS PAST YEAR? Well, with Geico not having a team anymore, we will get bigger support from Honda for the next two seasons, which is really awesome. David also hired some of the old JGR staff, like Dean Baker to do engines, so our bikes should be really, really good too. It is a privateer team, but we have a big rig. We have a really big shop, lots of bikes, and lots of parts. It is a privateer team, but not really. It is pretty awesome. When I first went to the shop in North Carolina, it was pretty amazing, because I was not expecting that – I am super stoked.
Enzo dislocated his shoulder in Salt Lake City. 
THAT HAS TO BE NICE FOR YOU AS YOU HAVE BEEN LIVING IN NORTH CAROLINA FOR A WHILE NOW. I live thirty minutes from the shop, so it is pretty close, and usually, I go there once or twice a week. We ride four times a week, so it is pretty cool.
WHILE YOU ARE HOME IN BRAZIL YOU MUST HAVE HEARD THE GEICO HONDA AND JGR SUZUKI NEWS. Oh yes, for sure. It was definitely crazy, and especially difficult for me to hear about JGR. They were my first professional team, and I had a really, really good relationship with all the guys. I was really bummed for everyone there. I called Jeremy Albrecht this week to talk to him a little bit. I feel like they are all finding their way, with some of the guys working at Phoenix with us. I am happy about that, but it is definitely a bummer for the sport, losing two great teams. Hopefully, in the near future we can have both teams back, and ideally get some more teams in our sport.
GOING BACK TO SUPERCROSS IN 2020, DO YOU FEEL OVERALL IT WENT PRETTY GOOD? It was a really good season for me. 2019 was my first season in Supercross. I did not know what to expect, and I was really scared at times.  It did not go very well, but this past season was awesome. I had a lot more experience and I knew what to expect. I ended up fifth in points which were great, even though in one of the races I crashed and hurt my shoulder. It was good to mix it up with some of the factory guys, and the goal for next year is to fight for podiums. I know now what it takes and I know what I am capable of, so we will see what happens, but I really feel like I can make it happen.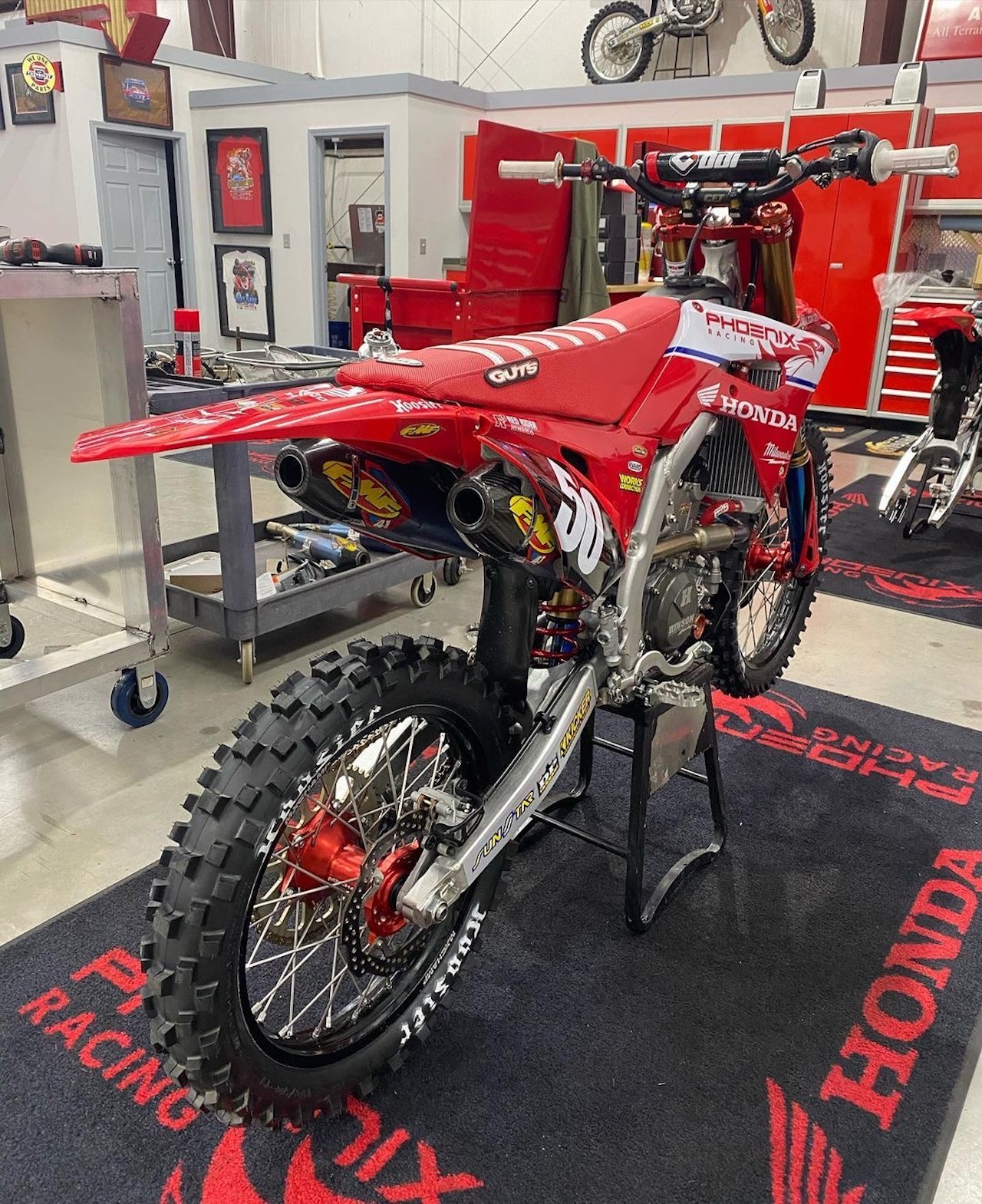 Enzo's new ride. 
YOU SAID INJURED YOUR SHOULDER, BUT ACTUALLY, YOU DISLOCATED IT RIGHT?  Yes, that's true. I saw the pictures of that Salt Lake City round recently, and it is crazy. I dislocated my shoulder on Sunday, and then raced again on Wednesday. When I think back now, it was a big thing just to even race, and then to get the eighth place in a muddy race with the bad shoulder was awesome. I am really glad that I had the time to get the surgery done, and no more dislocated shoulders.
BEFORE YOU DECIDED TO RETURN TO BRAZIL, DIDN'T YOU ACTUALLY TEST A PRO CIRCUIT KAWASAKI TO MAYBE RACE AS A FILL IN FOR 2020 OUTDOORS? Yes, actually before going back to Brazil, I flew to California and I got a deal to do a test with me, Darian Sanayei, and Mitchell Harrison. So, I did the test but at that time, you know, I was not training because of my shoulder. I was trying to rehab it a little bit when I got the call. I was just sitting at home and working on my shoulder. It was a really good opportunity, and I am thankful that I got the chance to ride the bike.
Just to be there and know that they are testing with me was a dream for me. It was pretty awesome, but the fill-in ride ended up not happening. It is funny because one of the first things that Mitch Payton asked me when I got to the track was, "Oh, is your shoulder okay?"  After that did not work out, I decided to go back home and get my shoulder fixed. I am glad that I had the time to do it and now I am fully focused on 2021.
I AM SURE YOU WOULD HAVE LIKED TO HAVE GOTTEN THAT PRO CIRCUIT RIDE FOR THE OUTDOORS, BUT THEN AGAIN MAYBE YOU COULD HAVE HURT OR DISLOCATED YOUR SHOULDER AGAIN AND MADE IT WORSE. Like they say, 'everything happens for a reason and it was not meant to be.'  Maybe I could have gotten in one race, and then I could crash, and dislocate again. Then the season would be over, and my time with the team would be done. I would not have had time to get surgery in time for Supercross, and I would have not met David from Phoenix. I feel like everything worked out. I am just trying to prove myself again.
IT SEEMS LIKE THE TIME OFF HELPED YOU. For sure, it was the biggest surgery I ever had. I actually only had two surgeries throughout my Pro career. It was a really quick recovery with me. After only 57 days, I rode my dirt bike. It was very quick for a shoulder surgery like mine. It gave time to go back home and enjoy my family. It also gave me some time for my body to rest a little bit and get ready for the next season. I also did a lot of blood testing to know what I need to work on, so everything is ready for next season.
ENZO, ARE YOU ONE OF THOSE GUYS THAT SET A SPECIFIC GOAL FOR YOURSELF, AS FAR AS FINISHING IN SUPERCROSS? Well, I try not to put any set goal, but at the same time, with having a season like I did this past year, you know where you hope you are going to be. I don't' know really how to say what I'm feeling in English, but I want to really be close to God's word.
It is really easy for me to talk about it in Portuguese; I want to win through God's eyes. It does not need to be winning a race, but winning through his eyes, means just doing the best that I can. This past season, I met this spiritual psychologist that has been helping me a lot and is just a different perspective in racing and my career and life in general.
Enzo when he was on the JGR Suzuki team. 
HOW DO YOU FEEL ABOUT THE NEW SUPERCROSS SERIES SCHEDULE? I actually really enjoyed Salt Lake City when we had to race one race on Sunday, one on Wednesday, and then Saturday or Sunday again. I know I am ready, and it is going to be a strange season again because I feel like it will take more time for this COVID thing to go away.  We will see.  I am just grateful we are going racing and that Feld was able to put this racing schedule together.
ENZO, IS THERE ANYTHING YOU WANT TO SAY OR I MISSED? I just want to thank you for the time for this interview. Like I have said before in our interviews, I don't really get much time with some of the other American Motocross web sites. It is cool to tell a little bit of my story. I just want to thank the whole Phoenix Honda Racing Team for the opportunity.
JOIN MXA'S FLIPBOARD PAGE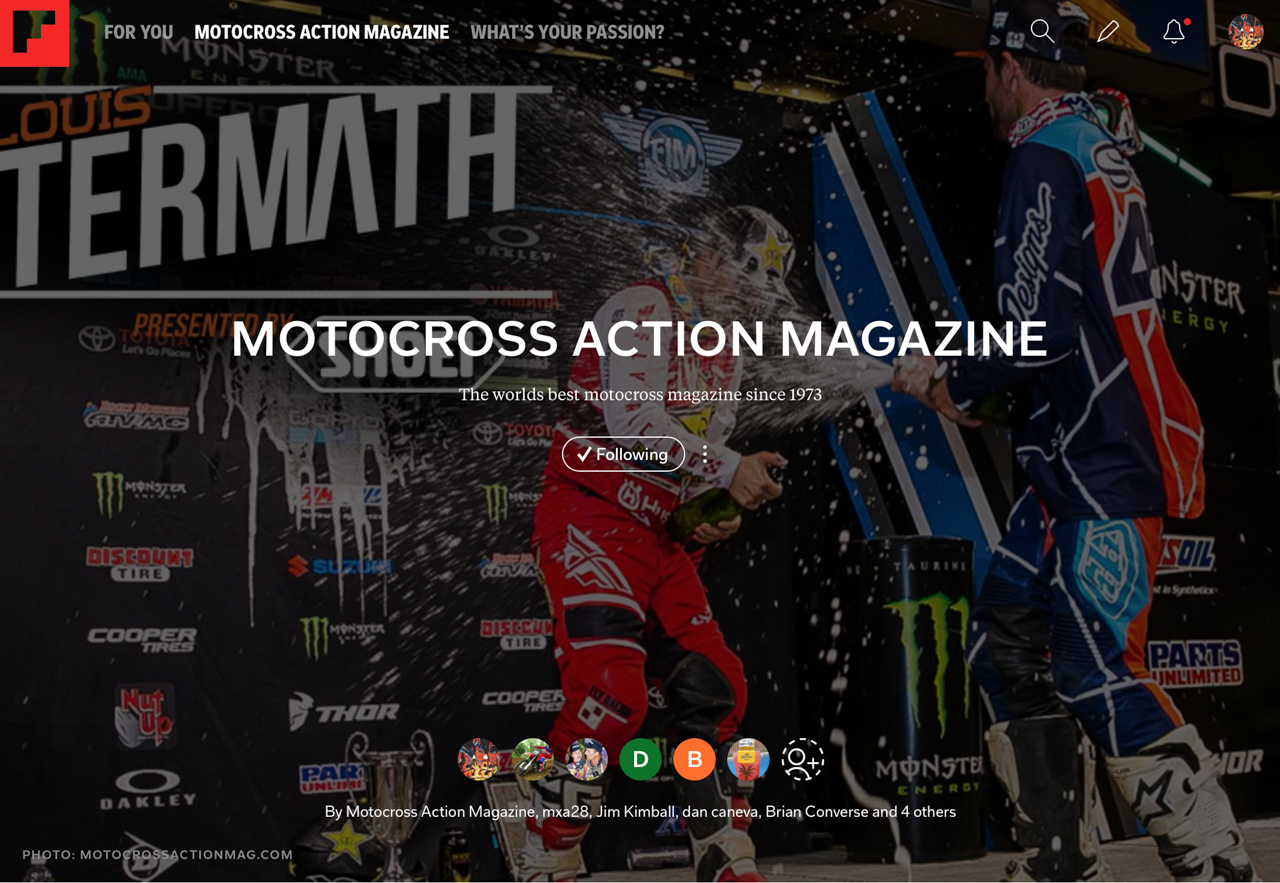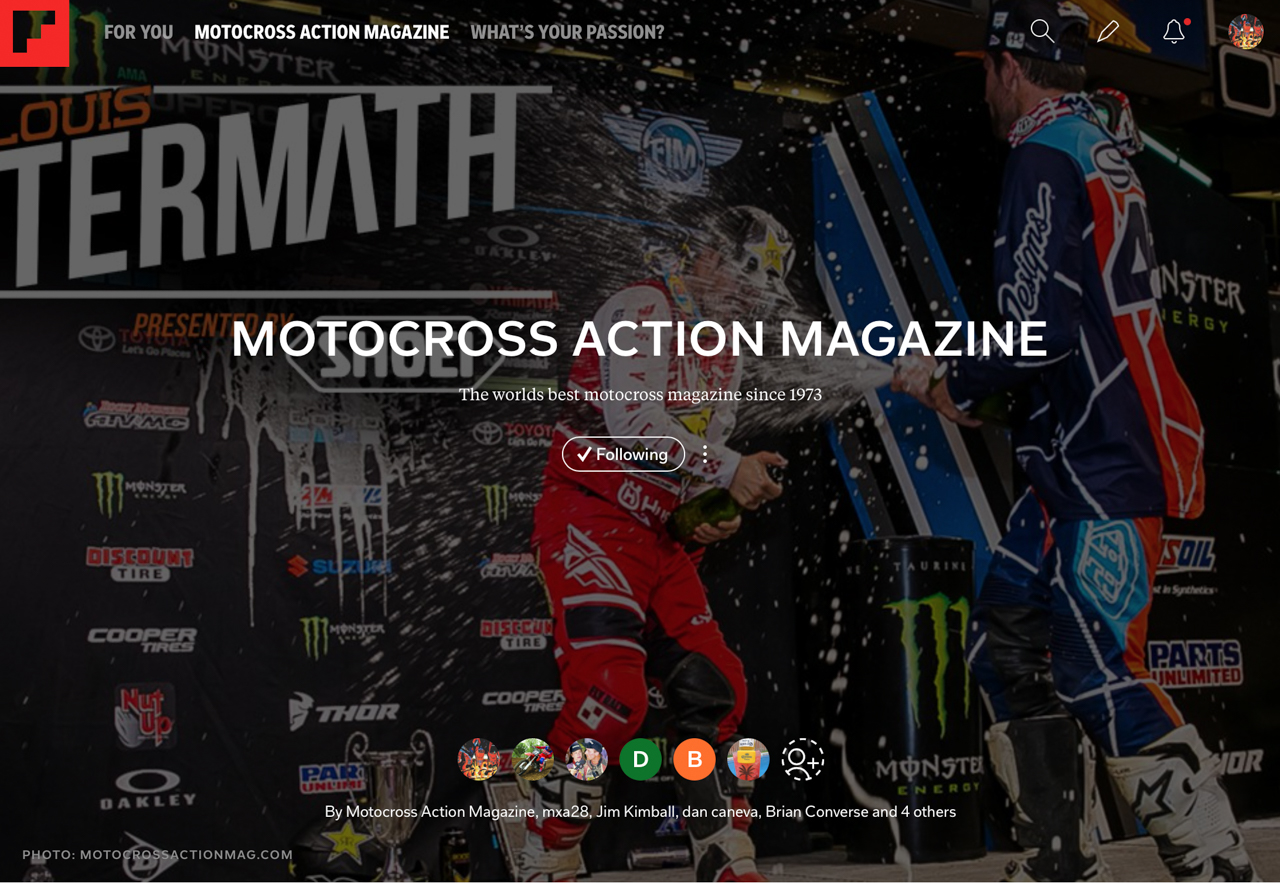 If you use Flipboard make sure to subscribe to the Motocross Action page for all the updates on our website. Click HERE to check out the page.
CLASSIC PHOTO
Costa Rica's Ernesto Fonseca back in 2001 on the Yamaha of Troy team. He went on to win the 125 West Coast title that year.
---
Moto Trivia answer:  Travis Pastrana racing a Suzuki RM125 at the 2000 MXDN with teammates Ricky Carmichael and Ryan Hughes in Saint-Jean-d'Angély where they went on to win.