MOTOCROSS ACTION MID-WEEK REPORT
#WHIPITWEDNESDAY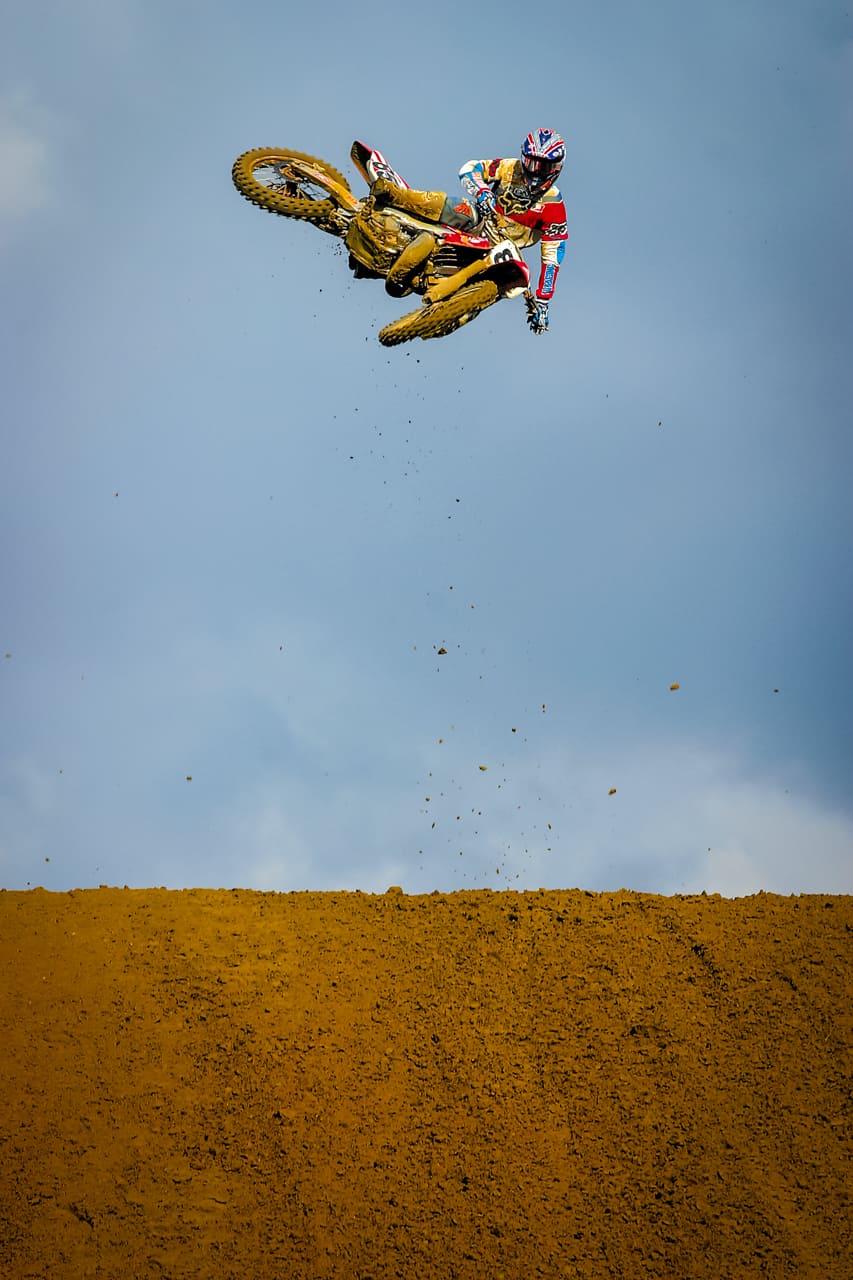 Rider: Ricky Carmichael
Bike: 2003 Honda CR250
Event: 2003 MXDN in Holland
Lens: 70-200mm f/2.8
Focal length: 200mm
Exposure: 1/750sec
F-stop: f/9.5
ISO: 200
TWO-STROKE SPOTLIGHT: BRANDON BLADEN'S 2003 HONDA CR250
Dear MXA,
In 2014 I bought a clean 2003 Honda CR250 for $2000. I rode the bike for about a year and put a couple things on it and sold it to a young teenager for $2300. Fast forward three years and I'm riding a 2016 YZ450F (after owning a 2016 RM-Z450 that I hated the forks so bad, I ditched it and went with the YZ-F–thanks to you guys) I ride desert with my little brother and just like to have fun. My brother had a 2013 YZ450F and hated it. I didn't care much for it either compared to my 2016 Yamaha. So, my brother started talking about getting a newer YZ like mine.
Knowing that he had never ridden a 250 two-stroke, I recommended he give it a shot. He didn't think much of it due to the lack of fuel injection. Somehow I managed to get him on a 2016 YZ250X that a friend of mine owned. He rode it, and bought it shortly after and loves it. I then rode the two-stroke. I grew up on two-strokes, and all my hero's made smokers look so sweet (RC, McGrath, bubba etc) I will admit, the lack of engine braking takes getting used to for about 15-20 minutes, but then it's all "smiles per gallon" from there.
I heard that my old 2003 Honda CR250 was ridden hard and put away wet for two years and had been sitting for another year. I called the kid and asked if he'd sell it. He text me back and said he would. I went and looked at the bike. It was beat. The pipe and silencer were destroyed. All the plastics were shot. Save for the shrouds which I desperately tried to clean up since I put the Woody Woodpecker graphics on them being the Carmichael fan that I am.
Oddly enough the seat cover was in mint condition though. More carnage was found. Bent radiator, bad chain and sprockets, rear shock was blown, levers off of who knows what, float set all bent up, rear wheel cracked and front bent. Anyway, I loved that bike and since it was my old bike from years past, I had to get it back. I told the kid all that was wrong with it and I offered him $750. He initially wanted $1500. To my surprise he was super cool and gladly sold it to me for $750. I about crapped my pants. I bought it and went to work. Rocky Mountain had my name memorized in the weeks after that. I ordered tons of stuff: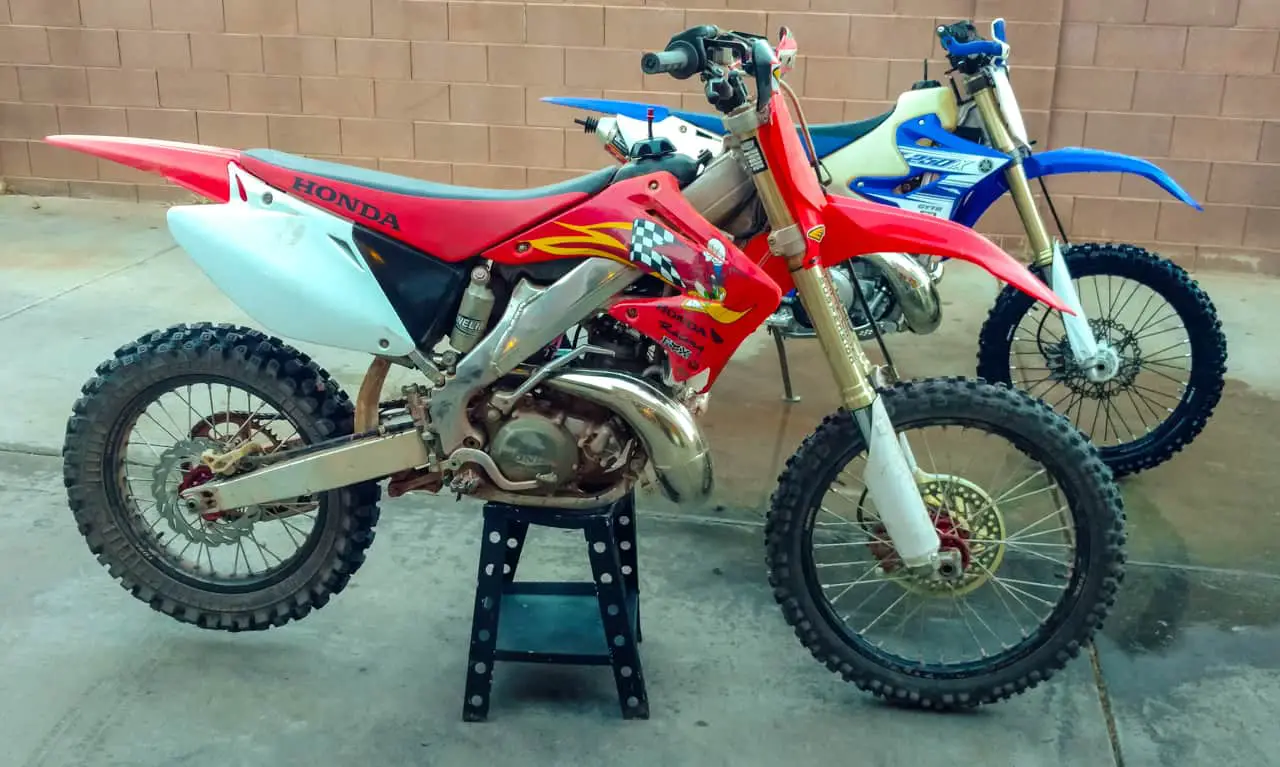 -Tusk wheel set with an 18″ rear wheel
-Tusk clutch plates and springs
-new brake pads and rear disk
– FMF gnarly/shorty combo
–Cycra plastics
-Cycra handguards
–Bridgestone Battle Cross X40 front and rear
-Primary Drive chain and sprockets
–ODi lock on grips
-Pro Taper oversized clamps
-Pro Taper CR high bend bars
–ICW repaired my radiator
-Fineline suspension rebuilt the rear shock.
-Carb rebuild with stock Honda float set
Plenty to get done. But Im glad to report that with all that being said, the bike had great compression and once I got the carb to quit puking fuel out of the over flow she started first kick and ran great. What's better is that I'm into it $2100 total. Runs great! Updated the front end to a 2016 and it's super fun. I love two-strokes. I love four-strokes. But mostly I just love dirt bikes. We'll see how long I can keep both my YZ450F and the CR. But it's been fun to build it, and it's great that I got a bike back that I thought I'd never see again. Thanks MXA for all the great articles and info. You're the best!! I hope you enjoy my long story. I have enjoyed every second. –Brandon Bladen
Editors Note: Please keep those submissions coming. If you would like your bike to be featured in the "Two-Stroke Spotlight," please email me at [email protected]. All I ask is that you give a breakdown of your bike and a detailed description of the build. Please also send a few photos of your steed. By submitting your bike for the "Two-Stroke Spotlight," you agree to release all ownership rights to the images and copy to MXA.
THE 8TH ANNUAL KURT CASELLI RIDE DAY RAISED $63K
Press Release:  The 8th Annual Kurt Caselli Ride Day presented by Rocky Mountain ATV/MC took place Saturday, December 5th, 2020 at Fox Raceway in Pala, California. Over 800 supporters attended and enjoyed a day of fun outdoors. The event raised $63,000 for The Kurt Caselli Foundation's mission of Protecting and Supporting the Lives of Off-Road Riders. The proceeds will fund various safety initiatives and scholastic scholarships in 2021 and beyond.
This year's ride day held at the renowned Fox Raceway had a wide range of entertainment for the entire off-road community. In addition to their several motocross tracks for all ages and abilities, there was an exclusive Caselli off-road loop, the loop was a six-mile marked course with optional easy and hard routes.
Announcer Kenny Bell did a great job keeping attendees informed with event updates and happenings. Announcements were broadcasted over loudspeakers and on 101.7 FM radio frequency to allow for social distancing. The vendor row featured 28 of the industry's top motorcycle manufacturers, gear, hard parts, and accessory companies including our event sponsors KTM USA, FMF Racing, and Fox Racing.

Afternoon activities kicked off with the Caselli Team Challenge where attendees lined the fence of the vet track and watched the fun unfold. The event is a lemans race-style 20-minute moto where each off-road and motocross celebrity rider is randomly paired up with a registered participant. The duo of Pro rider Johnny Girroir and participant Christian Campos came out on top as the winning team and will have their names engraved on the coveted, perpetual Team Challenge trophy. Following the Team Challenge, all riders were invited to participate in the Legend Memorial lap to show respect in remembrance of Kurt Caselli.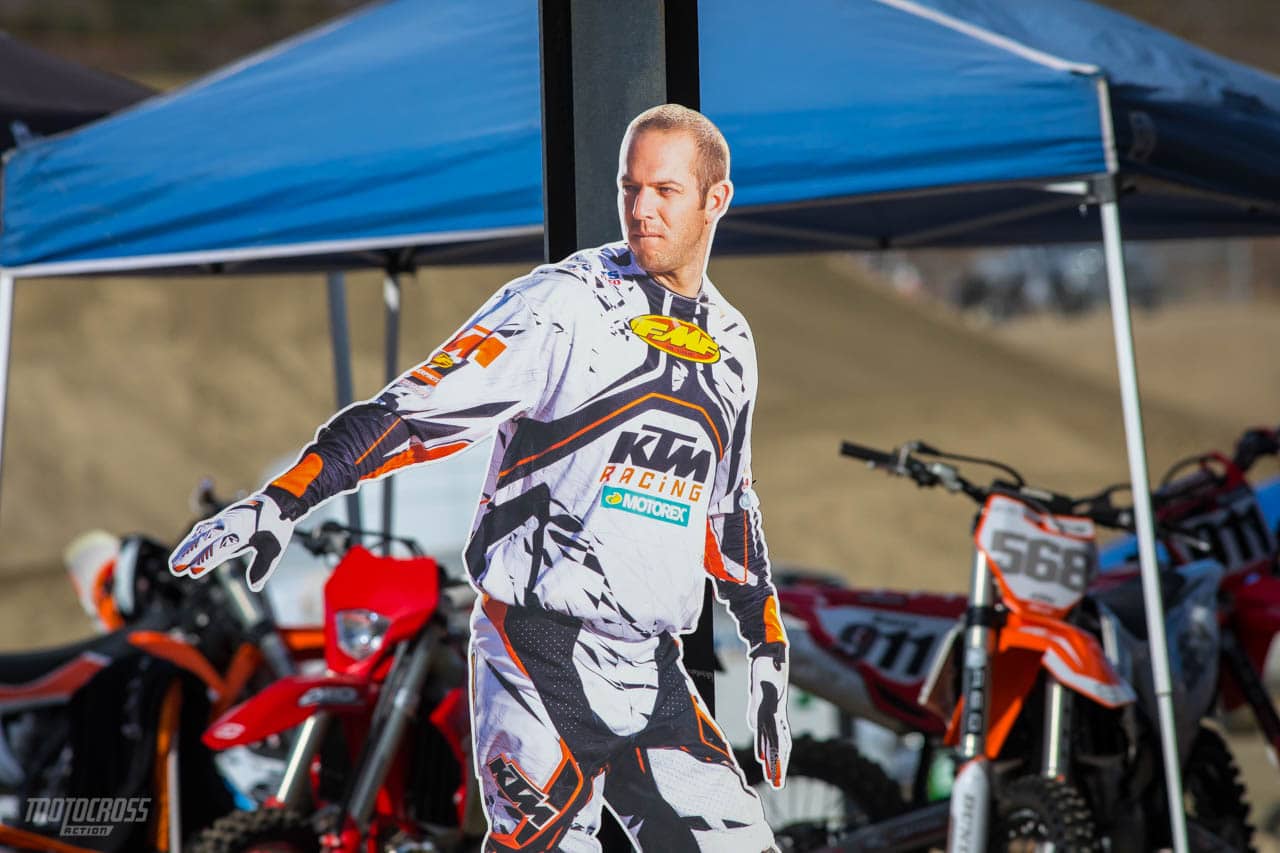 During The Kurt Caselli Foundation presentation, Fox Racing & FMF Racing presented The Kurt Caselli Foundation with a check for $13,849, a portion of the proceeds from the 2021 Fox FMF Legion collab limited edition gear. Jon Knake of Andrew, Texas was selected as the INTENSE Tazer MX eBike winner, which had been donated by Parts Unlimited and INTENSE. The eBike raised over $10,000 for the Foundation. Five recipients were awarded the Spring 2021 Scholarship: Jonathan Fitzgerald of Apopka, FL, Justin Waters of Pearland, TX, Luc Santos of Kamas, UT, Brooke Olivas of Oak Hills, CA, and Timothy Steiner of Van Etten, NY. Fall 2020 Scholarship recipients were also recognized during the presentation. Each recipient received $2,500 which will be directly applied to their tuition. The Scholarship application for the Fall 2021 semester is now open at KurtCaselli.com/scholarship.
MOTO | TRIVIA

Who is the rider? Answer at bottom of the page.
JAMES STEWART'S CHAMPIONSHIP KX125 TWO-STROKE
WHAT IS MXA UP TO?
We are still working through our seven bike 450 shootout, but we are on the tail end on wrapping it up. The video should be out within the next three to four weeks with the full article appearing in the April issue of MXA.
The Italian motorcycle company Beta developed their first motocross bike in decades for 2021. It is called the Beta 300RX. It is an electric start two-stroke with many cool features such as a Brembo hydraulic clutch, push-button seat removal and map switch. We still have a lot of testing to do to shake this Beta down, however, thus far we are enjoying the ride.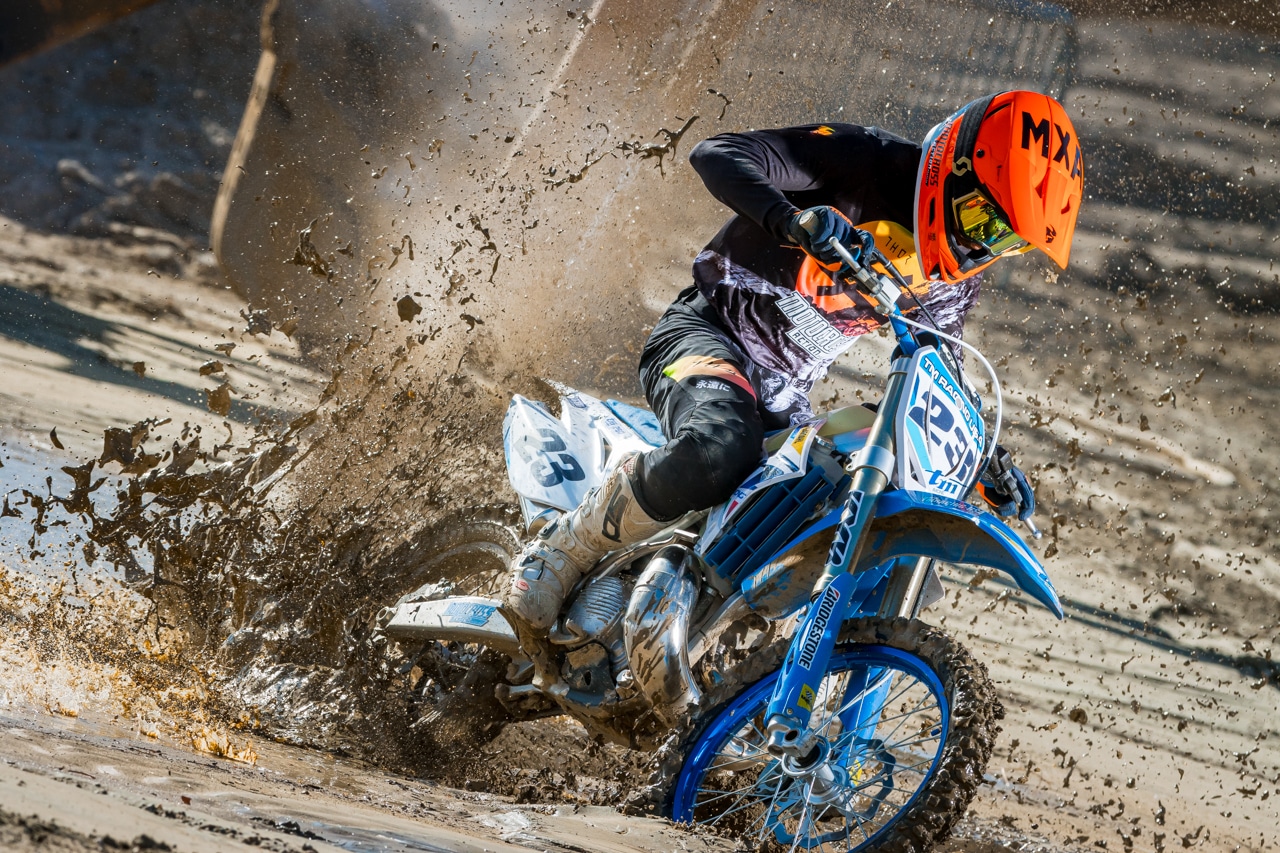 Every so often you will catch us riding offroad bikes. Why? First off we enjoy switching up the track for trails every once in a while and, most the offroad bikes are fairly close to motocross models. This TM 250EN two-stroke is basically the same bike as their MX model save for a six-speed gearbox, softer suspension settings, bigger tank, different ECU, 18-inch rear wheel, kickstand and different cylinder. 
We are still in the works of laying down laps on the 2021 GasGas MC 250F. Every time we hit the track we are learning something new about the bike. The full review of the 2021 MC 250F will be in the April issue of MXA.
MXA TEAM TESTED: ALPINESTARS SUPERTECH M8 HELMET
WHAT IS IT? When Alpinestars initiated its advanced helmet design project, it introduced two models—the top-of-the-line $649.95 Supertech M10 and the $499.95 Supertech M8 helmet. The Supertech M8 has a price point $170 below the premier M10 model but with almost all of the high-tech features.
WHAT'S IT COST? $479.95 (solid white or black), $499.95 (colors).
CONTACT? www.alpinestars.com or your local dealer.
WHAT STANDS OUT? Here's a list of things that stand out with the Alpinestars Supertech M8 helmet.
(1) Function. The Alpinestars Supertech M8's helmet shell is molded using a combination of uni-directional carbon composite materials laced with an Aramid layer. When this combination of layers is bonded together with epoxy resin, the strength increases while outer-shell deflection is reduced. The price difference between the Alpinestars M10 and M8 is found in the shell design. The more expensive M10 uses a 3K carbon fiber outer layer combined with an Aramid composite layer. What is 3K carbon fiber? The carbon fiber used in the M10 helmet is made up of carbon fiber filaments bundled together into strands. Think of these strands in the same way that you think of thread count on high-end bed sheets. In 3K carbon fiber, there are 3000 filaments per strand. Carbon fiber comes in 1K, 2K, 3K, all the way up to 24K, but 3K is the workhorse of carbon fiber. It's light, relatively stiff, work-ready and, unfortunately for consumers, expensive.
(2) Safety features. The M8 shell features collarbone cutouts with rubber padding, MIPS (Multi-Directional Impact Protection System), emergency release cheek pads, Hats Off compatibility and ECE and DOT certification. The M8 weighs 1360 grams or 2.99 pounds in the medium size.
(3) Performance. At first the M8 helmet didn't fit well. There was a gap where the helmet made contact with our foreheads. We fixed this by moving the helmet liner to the first of its three optional positions. Once we got the helmet to sit right, we hit the track. The M8 stayed in place while we were riding and did not move around. It had a light feel and a wide eyeport. The ventilation was well-positioned to provide adequate cooling. The M8 is available in six shell sizes that cover extra small, small, medium, large, extra large and double extra large.
WHAT'S THE SQUAWK? The visor is in a fixed position; there is no way to move it up or down.
MXA RATING: If you're in the market for a modern-looking, high-tech helmet that will keep you safe while looking good, the Alpinestars M8 helmet should be on your short list.
MXA RIDES MIKE ALESSI'S WORLD TWO-STROKE WINNING YZ325 TWO-STROKE
FUNNELWEB FILTERS NOW ACCEPTING RESUME'S/APPLICATIONS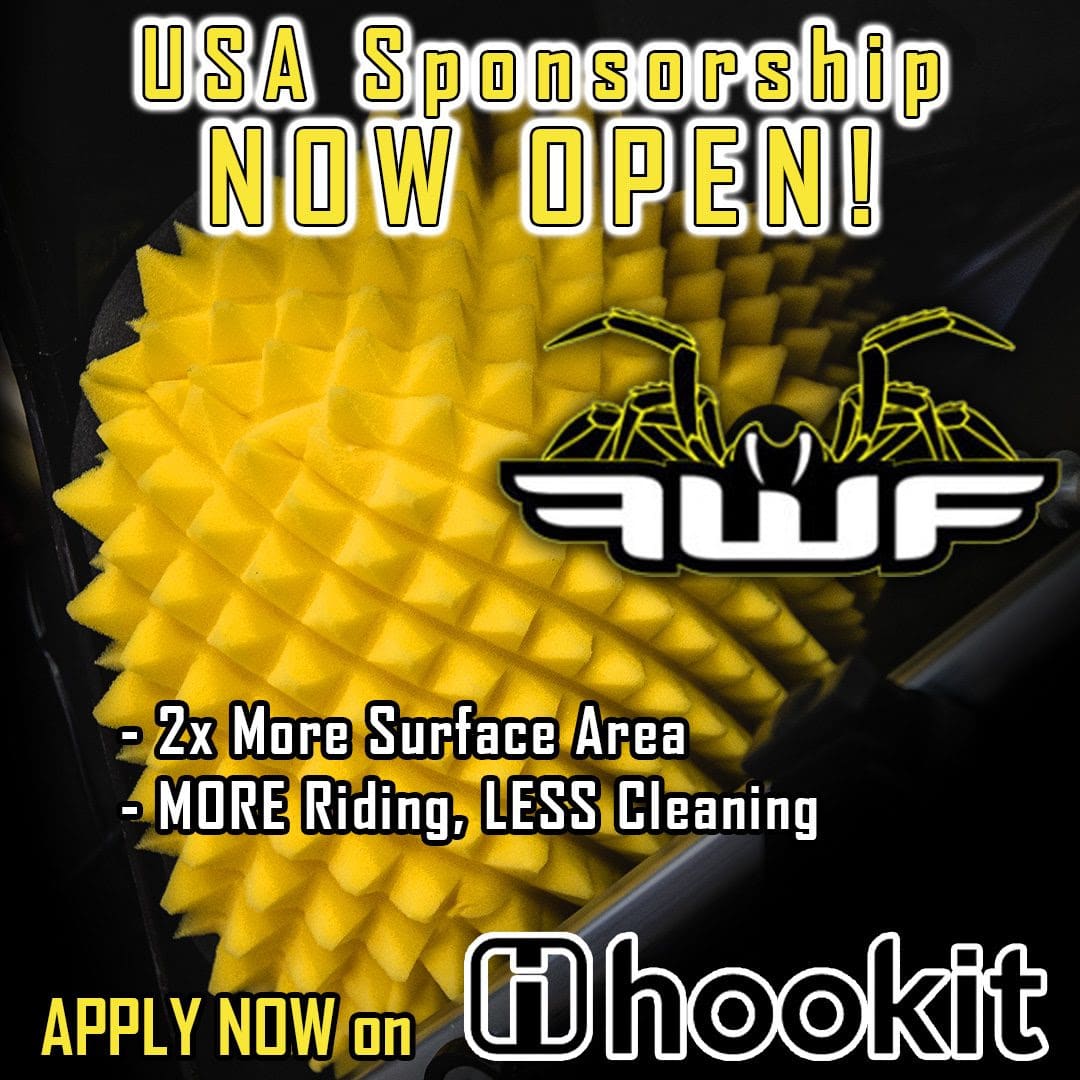 Click the image above to apply to be sponsored by Funnelweb filters. 
HAVE YOU SEEN THE JANUARY 2021 ISSUE OF MXA YET?

What's in the newest issue of MXA? How about full tests on the 2021 Husqvarna FC250, 2021 Honda CRF450,  2021 Yamaha YZ125, 2021 Kawasaki KX250 and Mike Alessi's World Two-Stroke Championship winning ESR Yamaha YZ325.
HOW TO SUBSCRIBE TO MXA SO THAT YOU NEVER MISS ANOTHER ISSUE, PLUS GET A $25 ROCKY MOUNTAIN GIFT CARD TO COVER YOUR COSTS
If you subscribe to MXA you can get the mag on your iPhone, iPad, Kindle or Android by going to the Apple Store, Amazon or Google Play or in a digital version. Even better you can subscribe to Motocross Action and get the awesome print edition delivered to your house by a uniformed employee of the U.S. Government. Did we mention the $25 gift card for any part you want from Rocky Mountain ATV/MC? You can call (800) 767-0345 or Click Here (or on the box at the bottom of this page) to subscribe.
MXA PRODUCT SPOTLIGHT: EZ-CHOCKS & NICERACK FOR TRUCKS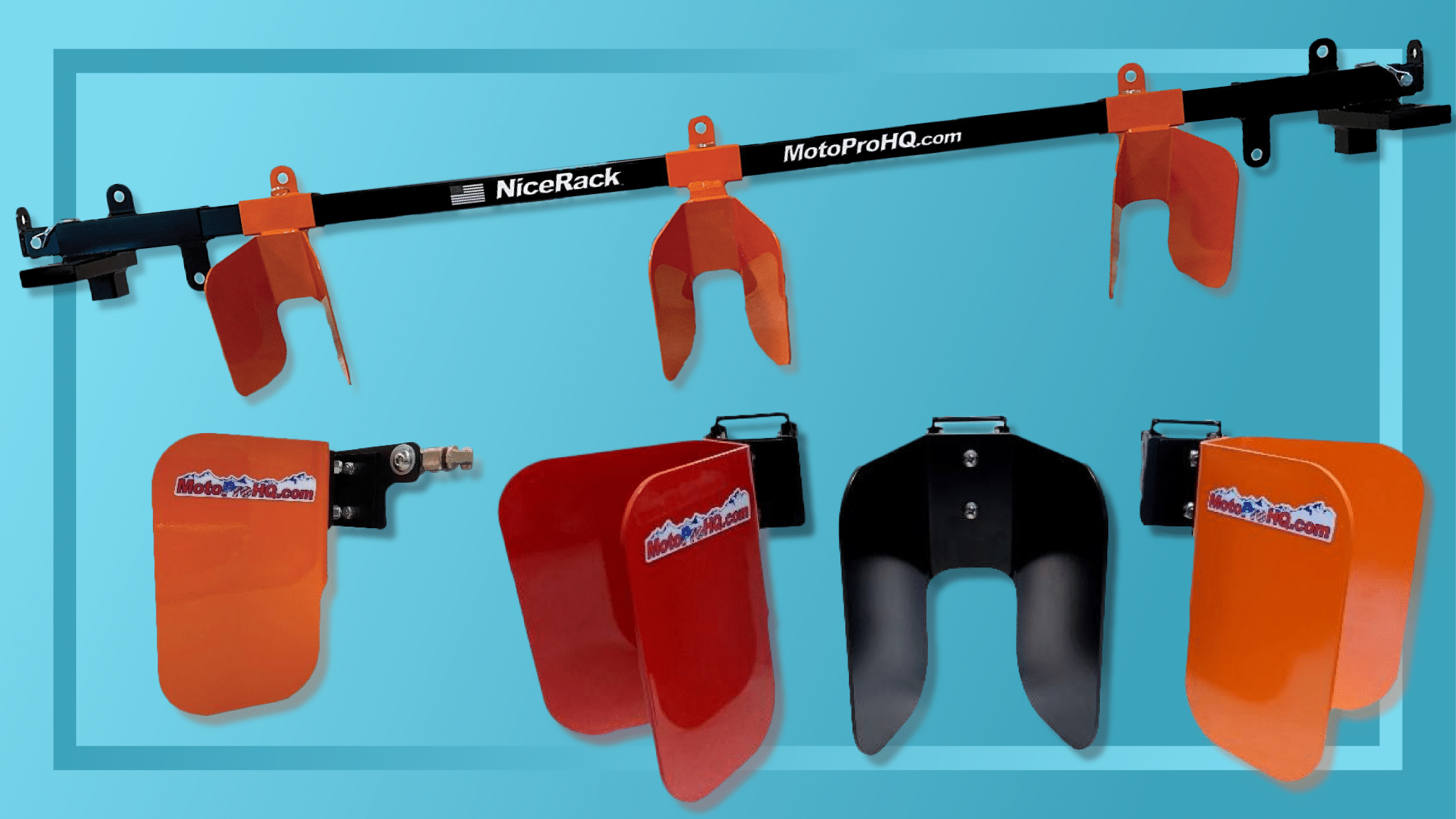 MotoProHQ a newer company in the Moto Scene has developed some cool new wheel chocks that enable users to pack more bikes in less space.  Released in May of 2019, the first-ever wall-mounted E-track and L-track motorcycle chock system. The revolutionary hauling system is one of the easiest, fastest, slickest way to load bikes into a trailer, toy hauler or van. These Chocks mount in seconds. Riders rant about the angle mount…Loading bikes at an angle allows more room for gear and more bikes. 
The EZ CHOCK is offered in two wall mounting styles for E-track and L-track (Airline) Type Track
Modular kit – allows you to set up at 90°, 45° left, or 45° right

Black powder coat is standard with Orange and Red available for a small additional price.

System includes: chock, track clip assembly, angle bracket, hardware, and two tie-down rings

Made in the U.S.A.
MSRP: E- TRACK SYSTEM ($59.95) | L-TRACK SYSTEM ($69.95)
---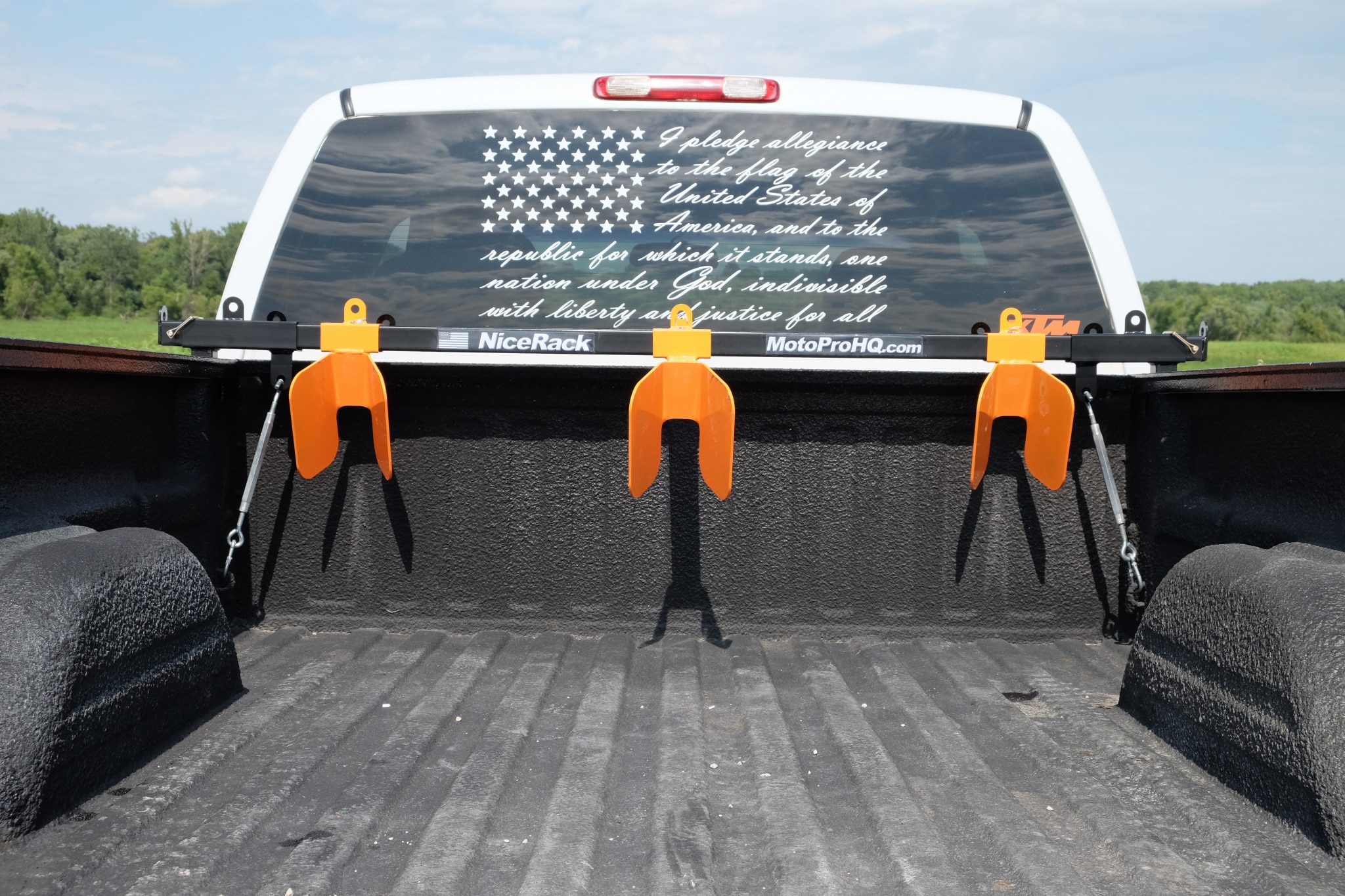 Designed to make loading bikes faster, easier and more secure than ever eliminating side to side sway, front wheel movement and eliminate un-necessary fork seal pressure.  The NO DRILL MOUNTING system is easily removed with no permanent bolts or fixtures left in your truck. Just assemble, insert it into the truck's stake pockets and anchor it to the bed of the truck with the provided turnbuckles. So slick you'll never want to load & go without your 'NiceRack' again.
Easily –

load 3 full size bikes with the center extended chock which securely offsets the handlebars for an easy load

FAST

– Load 3 bikes solo in under 2 minutes!! As seen on MotoProHQ.com

SECURE

 – 7 anchor points. No more awkward bending, tie-down twister or weaving straps through spokes

Revolutionary

telescoping arms

 provide an ideal 45 degree strap angle saving fork seals and eliminating bike sway.

Standard all Black powder coated, Chock For additional charge; Chock colors available in Orange (pictured) and Red.

Made in the U.S.A.
The NiceRack Systems are available for: 
Full-size trucks

Toyota Tacoma

Compact trucks

Utility trailers

Enclosed trailers

Toy Haulers
MSRP: NICERACK SYSTEM (STARTING AT $379.00)

Customers can purchase direct at: www.motoprohq.com
U.S.A. Contact: [email protected]
Candian Distributor: [email protected]
FORGOTTEN BIKES: VOR 503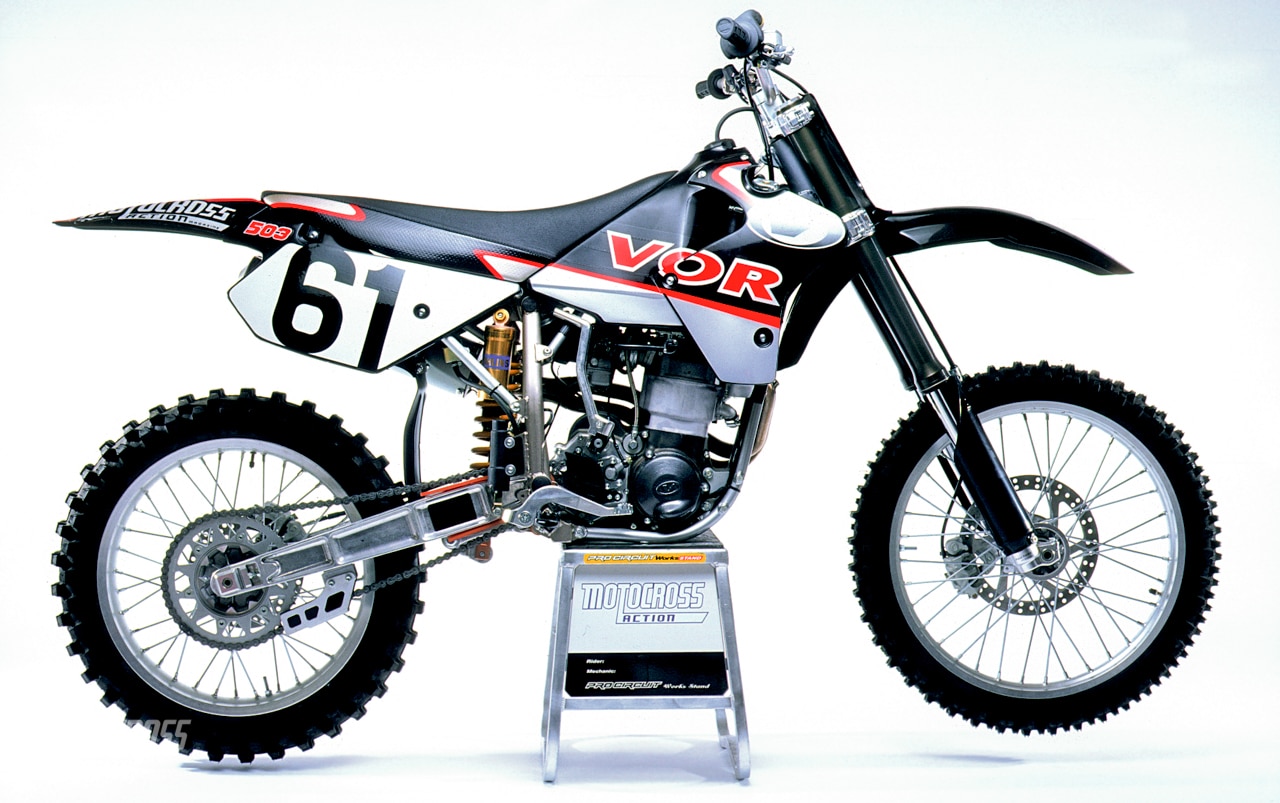 TALK MOTO WITH MOTO MINDED PEOPLE. JOIN MXA'S FACEBOOK GROUP CHAT


We love everything moto and want to bring all moto junkies together into one place to share their two cents, ideas, photos, bike fixes, bike problems and much more. To check it out first you must need to or already have a Facebook account. If you don't, it isn't much work and you could even have an alias so nobody knows it is you. To join click HERE. After you request to join we will accept your request shortly after.
WHAT YOU NEED TO KNOW ABOUT THE 2021 SUPERCROSS SERIES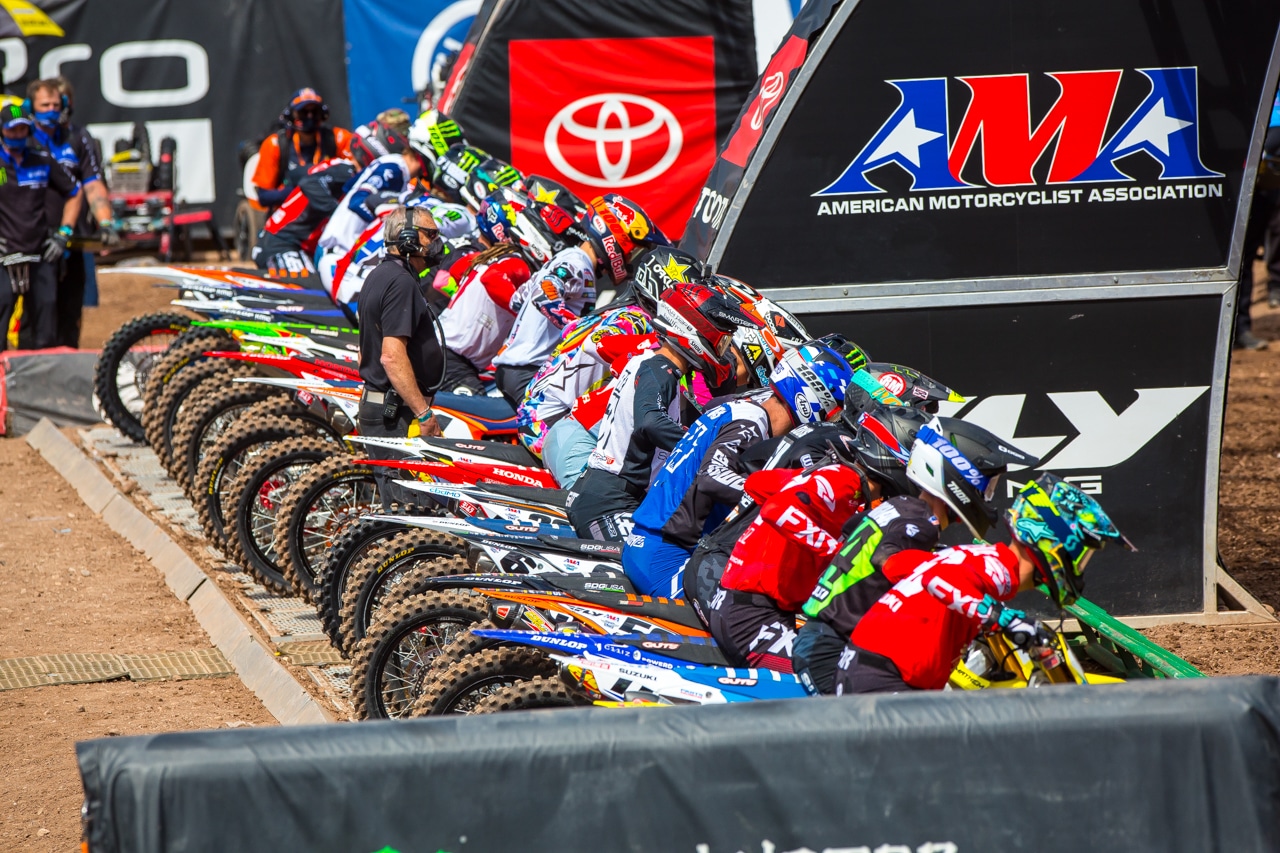 The original 2021 Monster Energy Supercross schedule was released back in October and it forecast a 17-round season, but it didn't include the dates or locations for rounds 13 through 16. Now, the original schedule has been changed and the empty dates have been filled in. In 2021, Supercross will complete a full 17-round season in five different states and seven different venues. The series will stop in Texas, Indiana, Florida, Georgia and Utah. Texas and Florida will both host rounds at two different venues. Florida will feature one stop in Daytona and two stops at in Orlando and Texas will host races in Houston and Arlington. See below for the official schedule and for more information about the 2021 Supercross season.
---
2021 SUPERCROSS SERIES SCHEDULE
The 2021 season will feature double-headers, triple-headers and races on Tuesdays and Saturdays.
ROUND 1

– Saturday, January 16
Houston, TX (W) | NRG Stadium

ROUND 2

– Tuesday, January 19
Houston, TX (W) | NRG Stadium

ROUND 3

– Saturday, January 23
Houston, TX (W) | NRG Stadium

ROUND 4

– Saturday, January 30
Indianapolis, IN (W) | Lucas Oil Stadium

ROUND 5

– Tuesday, February 2
Indianapolis, IN (W) | Lucas Oil Stadium

ROUND 6

– Saturday, February 6
Indianapolis, IN (W) | Lucas Oil Stadium

ROUND 7

– Saturday, February 13
Orlando, FL (E) | Camping World Stadium

ROUND 8

– Saturday, February 20
Orlando, FL (E) | Camping World Stadium

ROUND 9

– Saturday, March 6
Daytona Beach, FL (E) | Daytona International Speedway

ROUND 10

– Saturday, March 13
Arlington, TX (E) | AT&T Stadium

ROUND 11

– Tuesday, March 16
Arlington, TX (E) | AT&T Stadium

ROUND 12

– Saturday, March 20
Arlington, TX (E) | AT&T Stadium

ROUND 13

– Saturday, April 10
Atlanta, GA (E) | Atlanta Motor Speedway

ROUND 14

– Tuesday, April 13
Atlanta, GA (E) | Atlanta Motor Speedway

ROUND 15

– Saturday, April 17
Atlanta, GA (W) | Atlanta Motor Speedway

ROUND 16

– Saturday, April 24
Salt Lake City, UT (W) | Rice-Eccles Stadium

ROUND 17

– Saturday, May 1
Salt Lake City, UT (E/W) | Rice-Eccles Stadium
The 2021 Supercross season is set to be a good one. 
ARE FANS ALLOWED?
Yes, fans will be allowed at a reduced capacity. Supercross has implemented enhanced health measures to help ensure the highest standards of wellness when it comes to today's live experience. Seating capacity will be reduced at each stadium with a Pod Seating structure, which will allow family and friends to safely enjoy all the action while social distancing from other groups in attendance. More information about each stadium's safety protocols can be found on their individual websites – NRG Stadium, Lucas Oil Stadium, AT&T Stadium.
Supercross was the first sport to complete its season and championship in a bubble environment in 2020 due to the pandemic. Bubbles are now widely popular and being used by the NBA, NHL, WNBA, and MLB to great success. The NFL was one of the first sports to welcome fans back to stadiums and Supercross is excited to follow their lead while also using some of their own bubble-environment tactics in the 2021 season by hosting multiple races in a single location.
ARE MASKS REQUIRED?
Yes. Unless otherwise exempted by law, guests age 2 and older must wear a face covering except when actively eating and drinking – local venue rules also apply. More information about Monster Energy Supercross' Fan Wellness can be found here.
SUPER TUESDAY MID-WEEK RACING
One of the unexpected surprises of racing in the bubble in Salt Lake City was the creation of mid-week races due to the condensed nature of the schedule. Racing every Wednesday during the three-week stretch became a fan-favorite while also boosting television ratings in an otherwise non-traditional broadcast window for Supercross. With that in mind, Supercross will host four Super Tuesday races, one in each of the host cities – Houston, Indianapolis, Glendale, and Arlington, a first in the sport's 48-year history.
TRACK CHANGES AT DOUBLE & TRIPLE HEADERS
Talking to Dave Prater of Feld Entertainment, we were able to confirm that extensive track changes will be made to adjust the tracks in between rounds at the double and triple header events. They said that they've gotten comfortable with changing the tracks over just a few short days and they plan to change the track even more drastically than they did at Salt Lake City during the 2020 season.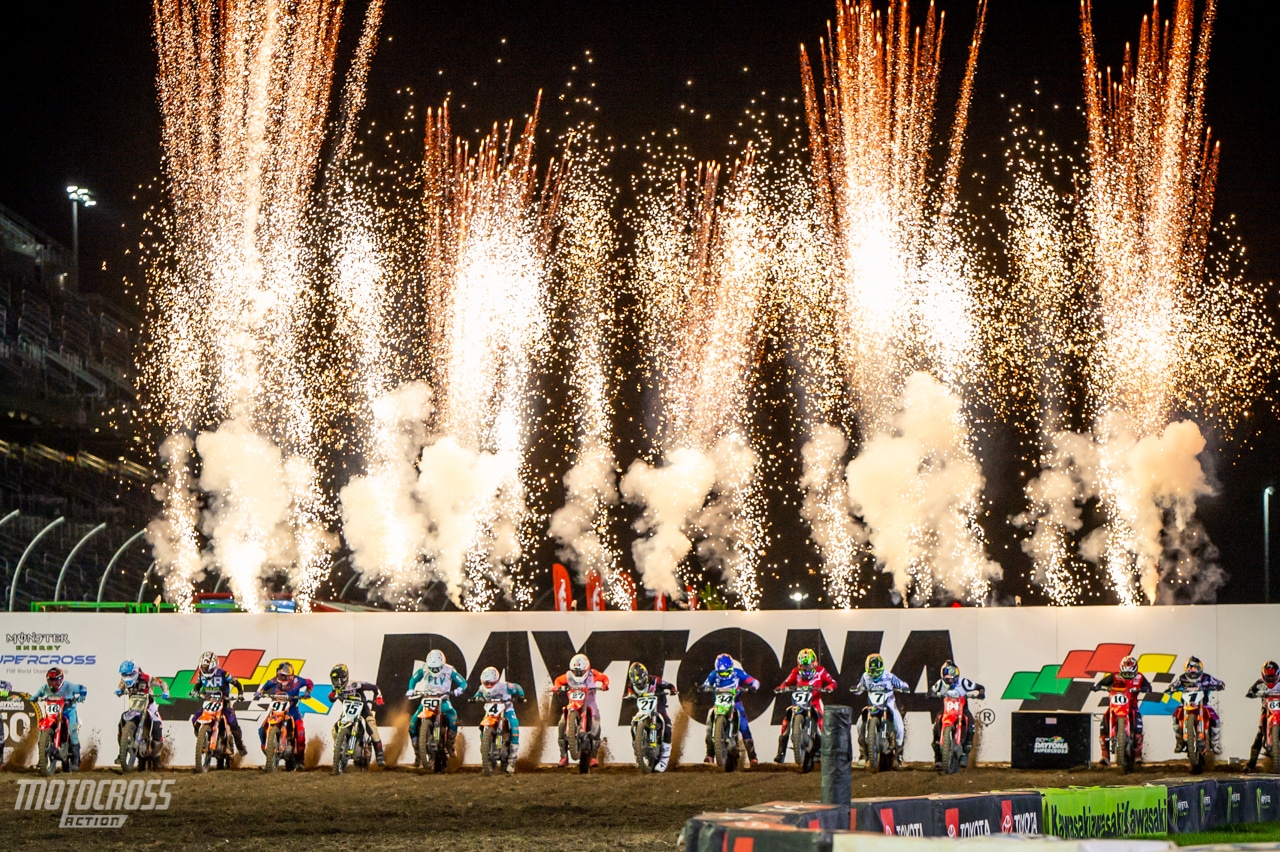 Daytona is back for 2021 and, so far, it is the only race that will not be a double or tripleheader.
MILLENNIUM TECH M-SPEC CYLINDERS & BIG BORE KITS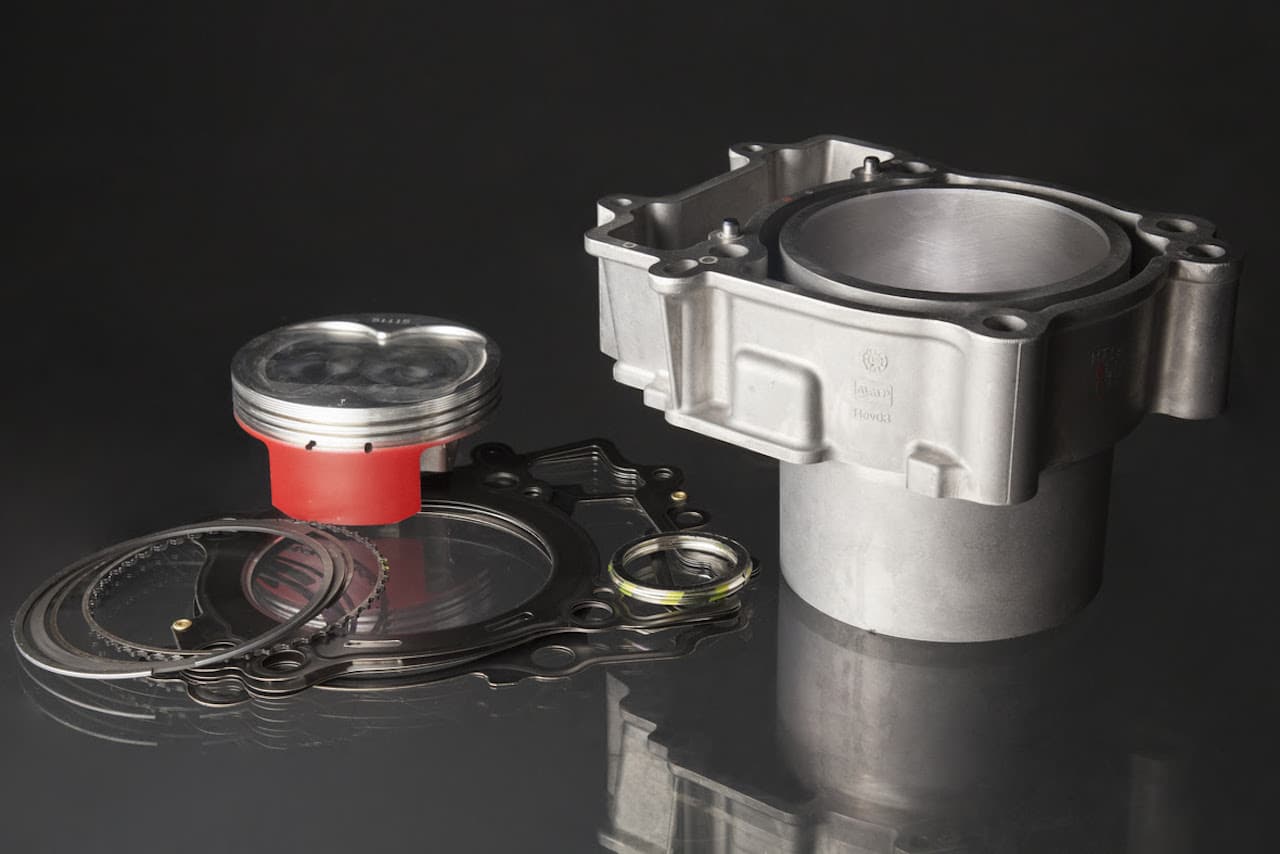 Press Release: Millennium Technologies has new M-Spec Cylinder and Cylinder Kits in stock! For over 20 years, Millennium Technologies has been the leader in servicing OEM cylinders with our proprietary Nickel Silicon Carbide Plating process and associated repair and overbore cylinder services. Now we can offer our customers and dealers a new cylinder option for most popular Off-Road, MX, ATV, and UTV applications. The new M-Spec Cylinders are available as standard bore OEM replacement cylinder or as a cylinder kit. The cylinder kits are available in standard bore and big bore sizes. Each kit comes with a perfectly matched, high performance forged piston kit and gasket kit.
Custom kits, Service Kits based on your OEM Cylinder, Remanufactured Cylinders, and M-Spec CNC Head Porting and Cylinder Head Services are also available.
New Cylinders and Cylinder Kits are available for many models. Click here to see if they make one for your bike.
MXA YOUTUBE CHANNEL | HIT THAT SUBSCRIBE BUTTON


The MXA wrecking crew is everything moto related. Check out our MXA YouTube channel for bike reviews, Supercross coverage, rider interviews and much more. And don't forgot to hit that subscribe button. 
CLASSIC PHOTO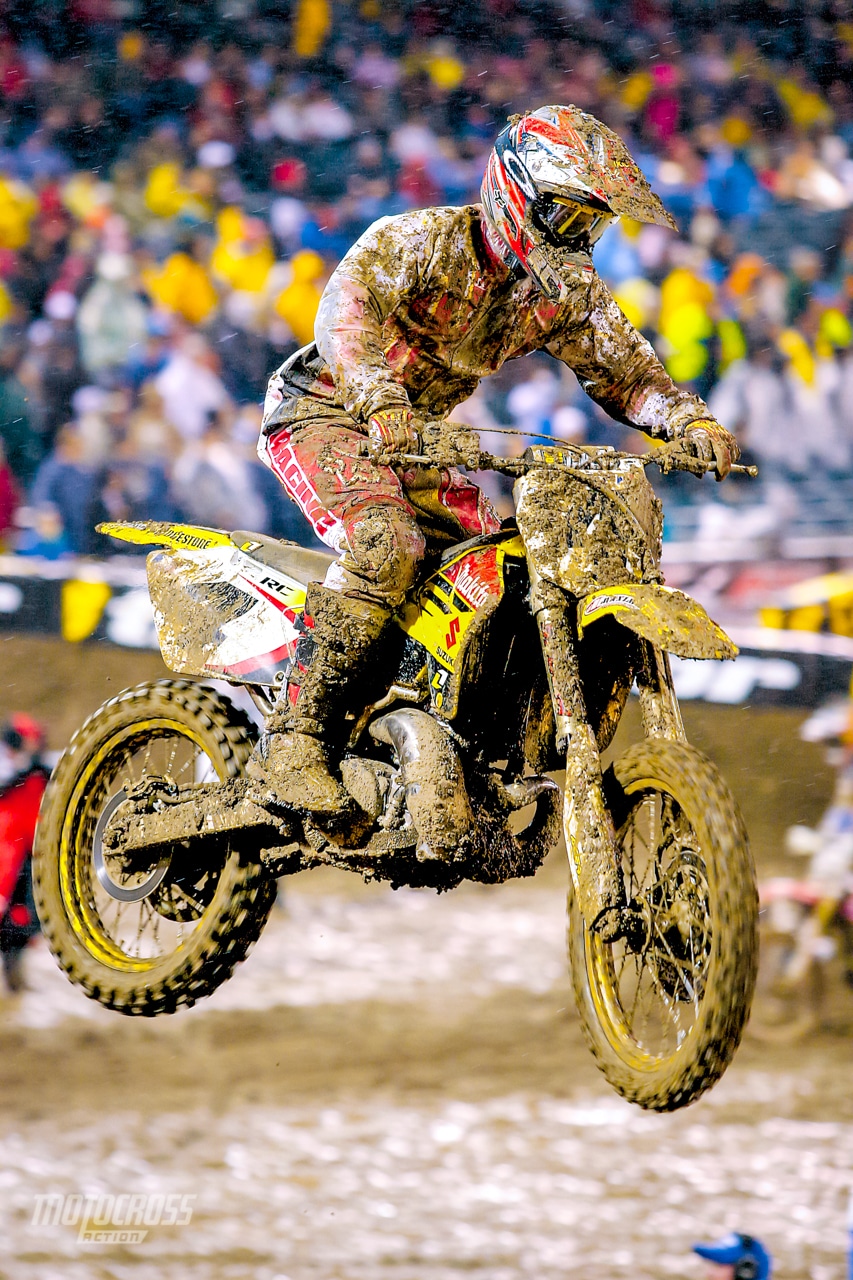 Ricky Carmichael back in 2005 during the Anaheim 1 Supercross mud race. Ricky finished 3rd and Kevin Windham won.
---
Moto Trivia answer: Sebastien Tortelli.