MOTOCROSS ACTION MID-WEEK REPORT
#WHIPITWEDNESDAY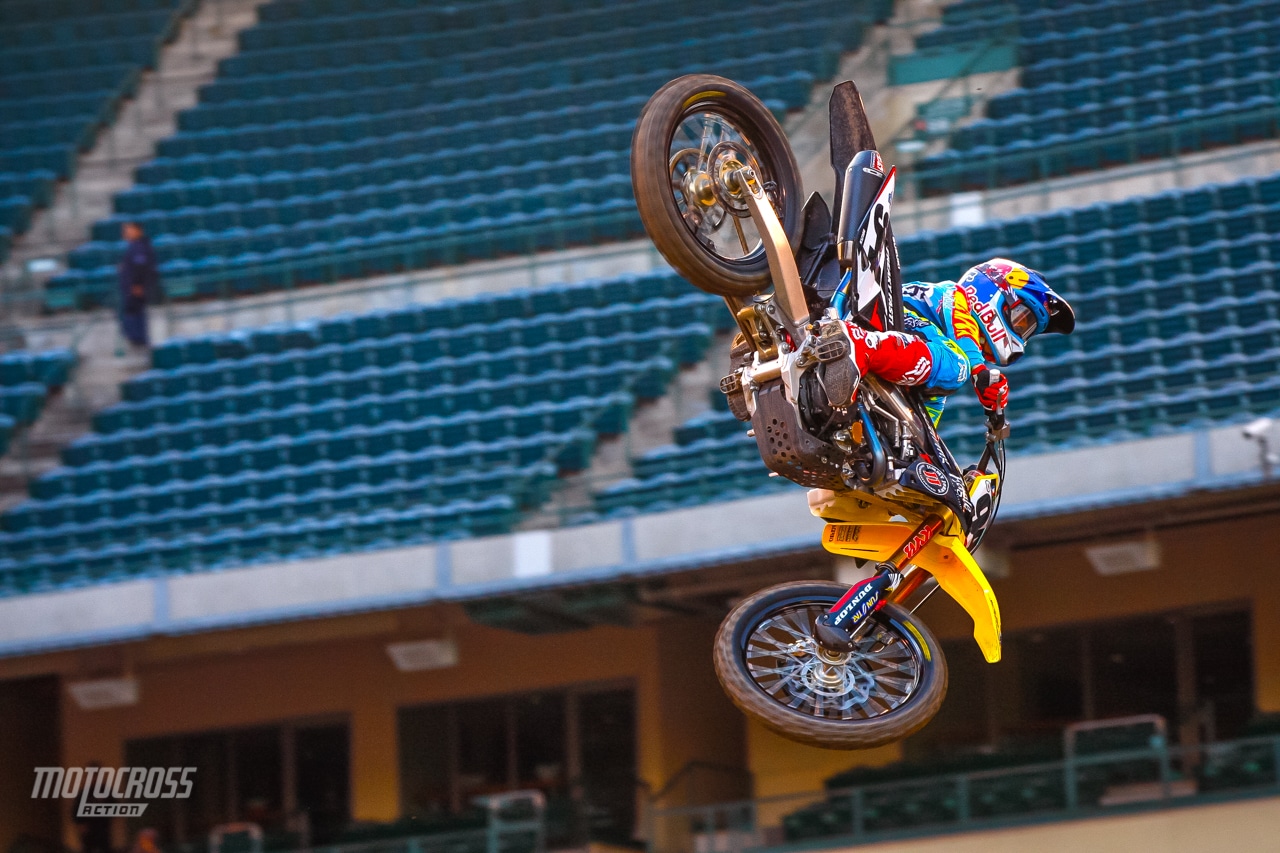 Rider: Ken Roczen
Focal length: 300
Exposure: 1/320 sec
F-stop: f/4.5
ISO: 640
Photographer: John Basher
TWO-STROKE SPOTLIGHT: 1995 HONDA CR125 
Before. 
"I'm way to big for this 1995 Honda CR125. I am 6 foot 2 inches 200 pounds and 62 years old, but these sure are fun to race in the vintage MX races. Below is a list of what I did to restore it."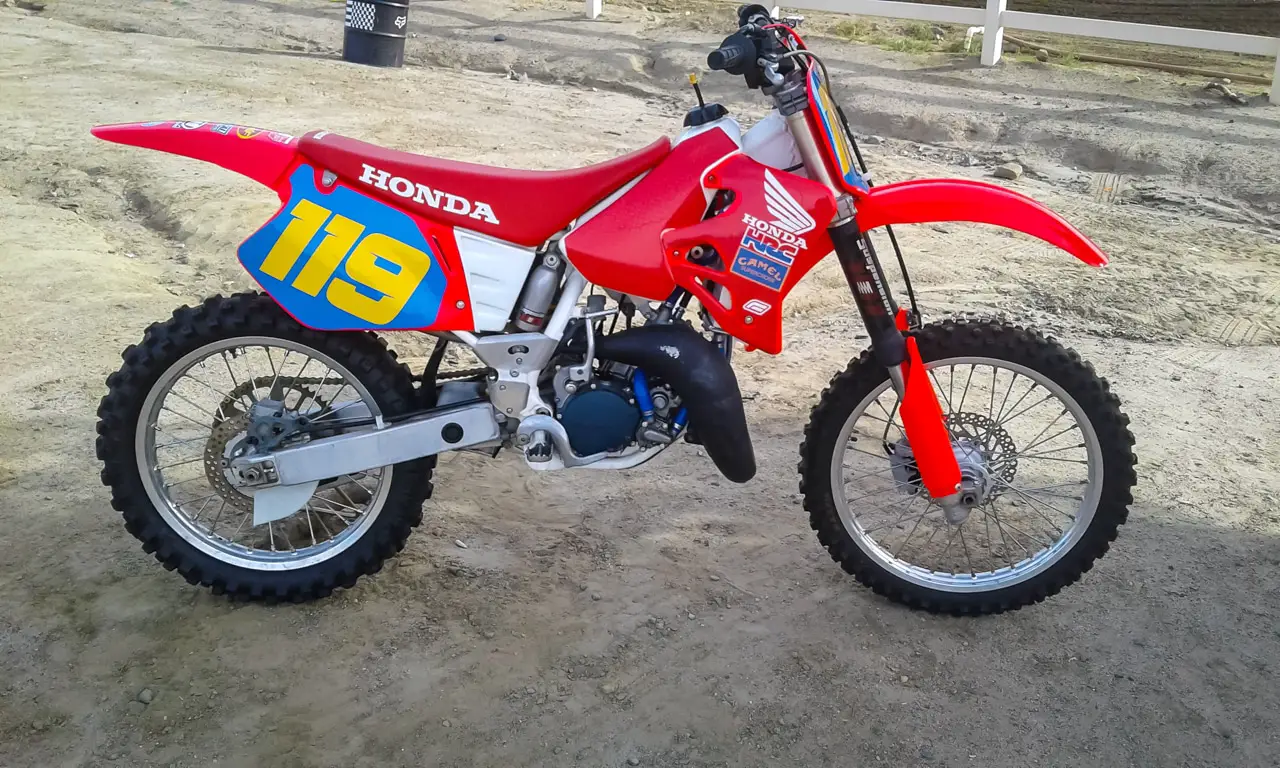 After the restoration.
Frame: The frame was powdercoated by San Diego powder coating,
Suspension: Suspension 101 in Alpine Ca.
Plastic: Maier for the gas tank, UFO for the plastic in the correct nuclear red.
Graphics: Fastlane MX and DeCal MX.
Seat cover: EBAY, installed, Jims upholstery in San Diego.
Engine: Piston, Namura, Reed block, Vforce. Barnett clutch plates and springs.
Bearings and gaskets: All Balls and Athena.
Cylinder re plated: Millenium Technologies.
Pipe: FMF Fatty w PC 304 shorty silencer.
Drivetrain: Vortex chain and sprockets.
Braided steel brake lines: Clairemont cycle.
Hardware: Specbolt or replated
Wheels: Stock wheels and hubs with new bearings.
Misc: Pro taper bars, MSR controls, Honda cables and Tusk pegs.
Oils: Maxima
Thanks,
Mike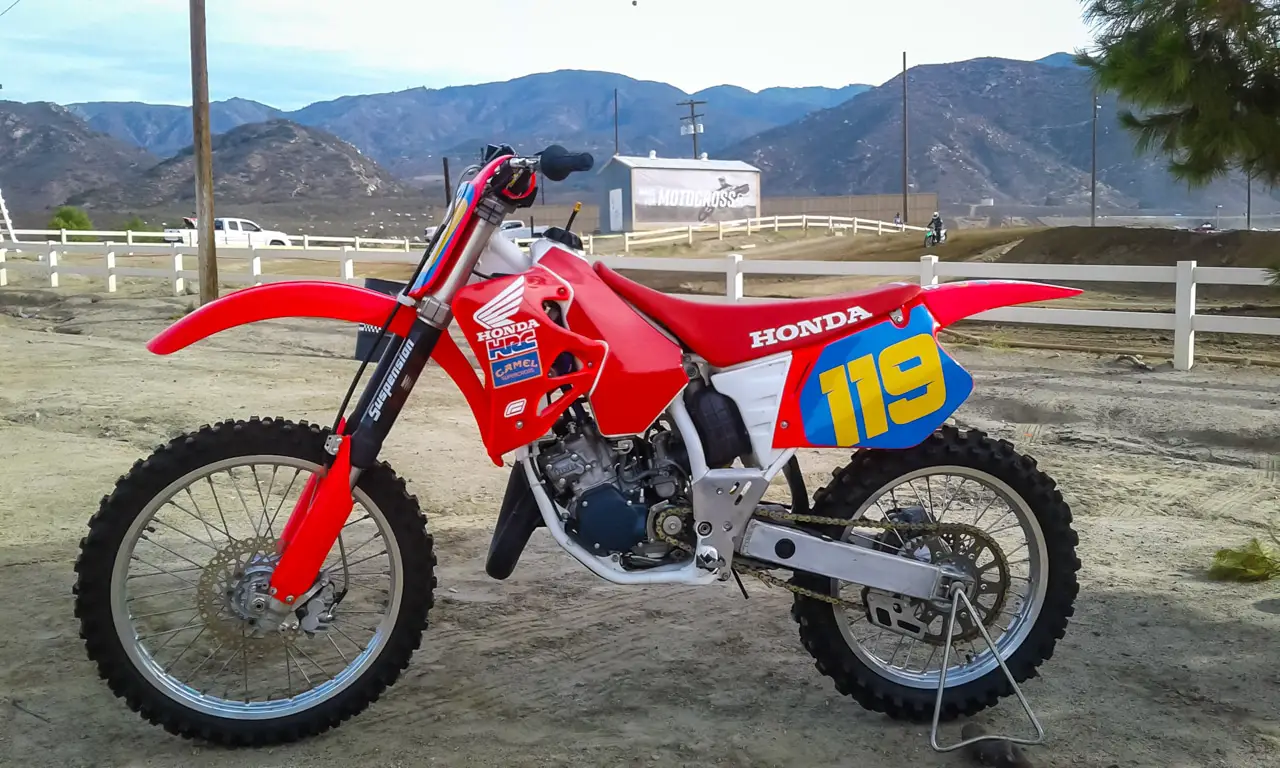 EDITORS NOTE: Please keep those submissions coming. If you would like your bike to be featured in the "Two-Stroke Spotlight," please email me at [email protected]. All I ask is that you give a breakdown of your bike and a detailed description of the build. Please also send a few photos of your steed. By submitting your bike for the "Two-Stroke Spotlight," you agree to release all ownership rights to the images and copy to MXA. Please don't email me spam or try selling me Taylor Swift concert tickets or email me spam. I already celebrate T-Swizzle's entire collective, and there will be "bad blood" if you send me junk mail. See what I did there? Happy submitting your smoker.
MXA TEAM TESTED: HUSQVARNA TC150 BIG-BORE ENGINE KIT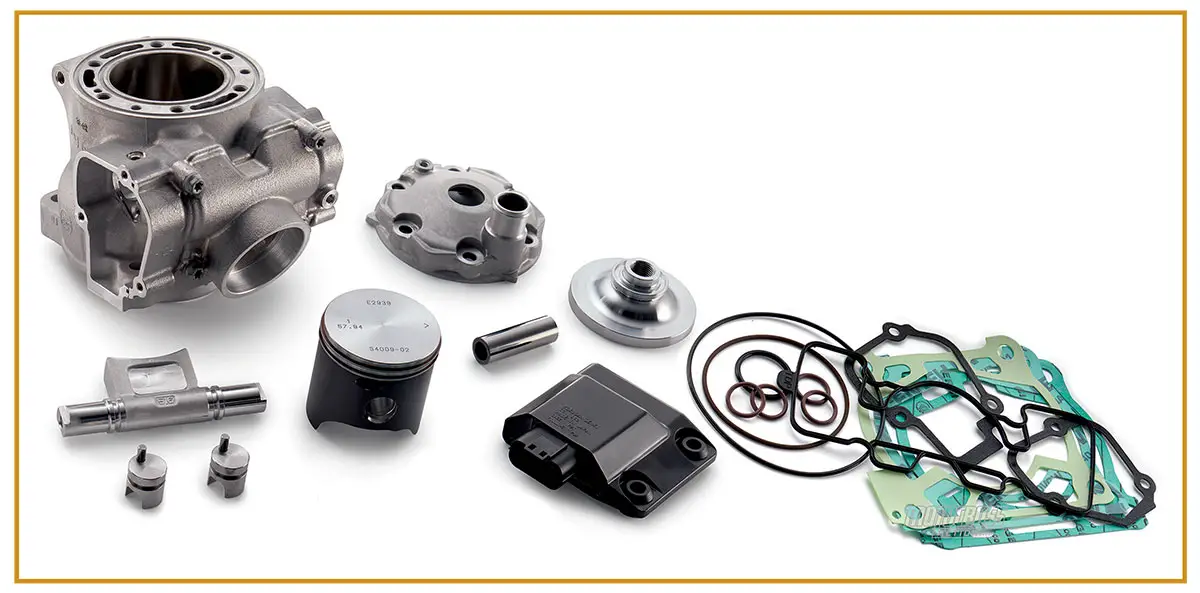 WHAT IS IT? If you are looking for a little more oomph from your Husqvarna TC125, there is a simple bolt-on big-bore kit that will give it to you.
WHAT'S IT COST? $799.99 (head, cylinder, piston, rings, gaskets, ECU, wrist pin and power valve)
CONTACT? Your local Husqvarna dealer.
WHAT STANDS OUT? Here's a list of things that stand out with the Husqvarna TC150 big-bore engine kit.
(1) Problem. Husqvarna doesn't offer a 150cc two-stroke, just a 125. This fact, and this fact alone, made the MXA wrecking crew want a Husqvarna TC150. You always want what you can't have.
(2) The job. How do you make your own TC150? Husqvarna offers a $799.99 big-bore kit. All we had to do was order the kit and spend an evening in the garage swapping top ends. Since the stroke remained the same and only the bore was increased, the cases could be left alone. The transition was no tougher than changing a piston and rings.

There were a few tricks to installing the Husqvarna TC150 engine kit. First, we had to swap out the black box for the new one supplied in the kit. Second, the jetting had to be watched closely on the first ride. Surprisingly we had to go one main leaner; you will have to fine-tune it for your altitude, temperature and riding style. Third, the only part we had to steal from the TC125 engine was the power-valve linkage. We didn't want to do this, so we ordered all-new power-valve links to install in our TC150 top end. Since we left the TC125 cylinder intact, we could set it on the shelf as a complete race-ready 125cc top end (head, cylinder, piston, rings and power valve) for an emergency.
(3) Price. For today's day and age, the price is not outrageous for a bolt-on item. You would spend more at your local hop-up shop.
(4) Performance. The TC150 has a heavy throttle feel, as the bike tends to rev slower than the TC125. It was even noticeable that it revved slower than the almost-identical KTM 150SX. Third gear under a load was a little harder to shift compared to the TC125 because of the added torque. There was no doubt that the 150cc big-bore engine was more powerful than the TC125 engine. It could easily clear jumps that the smaller engine struggled over. However, it wasn't as fluid from gear to gear, and most MXA test riders felt that they could turn faster lap times on the 125cc engine than on the 150. Race gas really brought the TC150 to life, as the big-bore head has more compression. A 50/50 mix of C12/pump gas was an easy fix. If you want to run the more exotic VP MRXO2, you will need jetting changes.
(5) Buyer. Overall, Novices, Vets and play riders preferred the TC150 over the TC125. Intermediates to Pros picked the TC125.
WHAT'S THE SQUAWK? We don't know why Husqvarna doesn't offer a production TC150, but because they don't, not every Husky dealer is in tune with Husqvarna's accessory division, which means you might be searching for parts at your KTM dealer. For example, the 300cc Power Parts upgrade kit for the 2019 TC250 and KTM 250SX isn't available yet, but you can order the cylinder, head, black box, piston, rings and power valve parts from the KTM 300XC to build a do-it-yourself 300cc Husky or KTM.
MXA RATING: There is a ready-made audience for a big-bore-anything—and the same thing is true for the Husqvarna TC150. It is the perfect way to make your 125 have more power while keeping your 125 options alive.
MXA | MOTO | TRIVIA

Who is this rider and what year is it. Answer at the bottom of the page.
MXA'S FIRST RIDE OF THE 2021 HUSKY FC350
FMF RACING INTRODUCES ALL-NEW GOGGLE LINE JUST IN TIME FOR 2021 HOUSTON SUPERCROSS 1
Just in time for the 2021 Houston Supercross #1, FMF Racing introduces their all-new goggle line dubbed, FMF Vision. FMF Racing and 100% Goggles have joined forces. 100% Goggles will be manufacturing and distributing the goggles while FMF Racing will collaborate with them on marketing efforts to promote their new line. Unfortunately for FMF and 100%, this wasn't such a well-kept secret. The Rockstar Husqvarna team released images from their 2021 Team photoshoot with Osborne in the goggles and Zach himself posted photos with his goggle straps "blacked out" in a not-so discreet fashion—this stirred up the rumors and made them even louder as well. Still, it's cool to see FMF expand their marketing efforts into a whole new realm of the motocross industry and they'll have the 2020 AMA National 450 Champion, Zach Osborne to lead the way for FMF Vision in Supercross and motocross.
Introducing FMF VISION Press Release: In this sport, the heart of a racer beats within every innovation.  In 1973 Don Emler created FMF from a desire to go faster.  For nearly 50 years FMF has been leading in the pursuit of precision, power and speed.  Now our mission expands. This is FMF VISION!
This unique, stand-alone partnership between two of the most iconic brands in the sport of Motocross, FMF Racing and 100% have joined forces to create FMF VISION.  Visionary Power is the pursuit of the passion these two brands share for the sport we love.  FMF Vision launches with a full roster of athletes, led by 2020 MX National Champion Zach Osborne, FMF/KTM Factory Off-road Champion Dante Oliveira and 2020 National Enduro Champion Grant Baylor to name a few. Utilizing 100%'s championship-proven performance, FMF Vision launches into the new year equipped with top-of-the-line quality that racers can trust.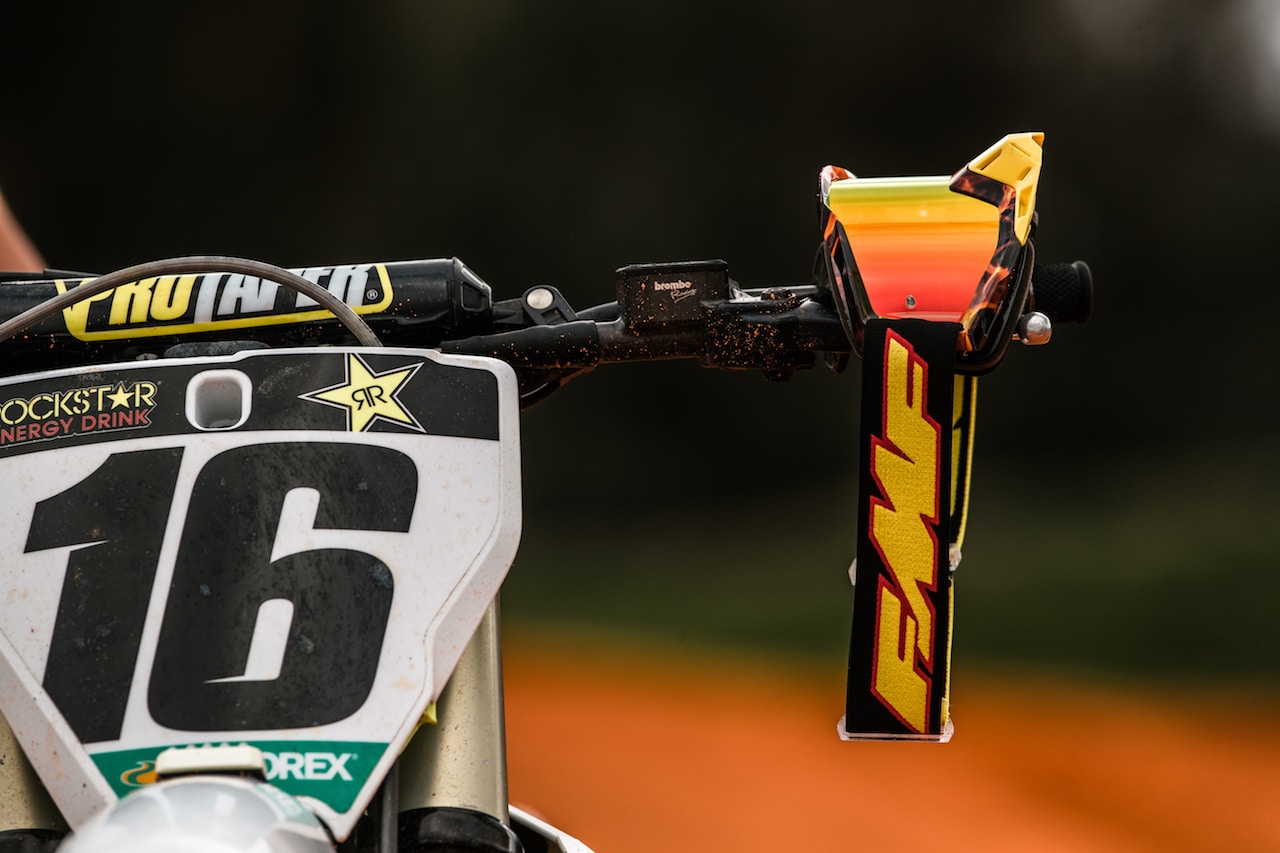 "We have established 100% as the #1 goggle brand in the world and FMF has done the same for exhaust.  After working with FMF and the Emler family on multiple projects, it's exciting to bring together two iconic motocross brands to introduce FMF VISION – a true partnership of Motocross Americana.  We will be manufacturing the goggles and organizing distribution globally, while collaborating on marketing efforts to bring the brand to life.  Together we will be able to support the industry and sport even more with the addition of the new FMF VISION brand," offered Ludo Boinnard, 100% CEO and Co-Founder.
"FMF Racing was built around passion for Dirt Bikes and performance products.  We enjoy giving back to the sport that has made our iconic brand so successful and teaming up with a company like 100% to bring this new vision to life is a remarkable situation.    Powering global championship athletes to the podium, we look forward to this new segment for FMF Racing and sharing our VISIONARY Performance with the world."  Donny Emler Jr, FMF Racing Marketing and Brand DirectorLOW
The initial collection offers over fifty different goggles across two goggle platforms; The PowerCore and The PowerBomb.  Complete with Youth and Adult sizes, film systems, over-the-glasses models, and a full range of goggle accessories, FMF Vision is set to bring a new VISION to athletes around the world.
Key Products:
PowerCore Goggles: From  $22.50
PowerBomb Youth Goggles: From $32.50
PowerBomb Adult Goggles: From $42.50                                      
OFFICIAL FMF VISION VIDEO
MORE ZACH OSBORNE/FMF VISION PHOTOS
TALK MOTO WITH MOTO MINDED PEOPLE. JOIN MXA'S FACEBOOK GROUP CHAT

We love everything moto and want to bring all moto junkies together into one place to share their two cents, ideas, photos, bike fixes, bike problems and much more. To check it out first you must need to or already have a Facebook account. If you don't, it isn't much work and you could even have an alias so nobody knows it is you. To join click HERE. After you request to join we will accept your request shortly after.
JUSTIN BARCIA AND MICHAEL MOSIMAN SUPERCROSS PRACTICE ON THEIR FACTORY GASGAS MACHINES
2021 PRO MOTOCROSS SCHEDULE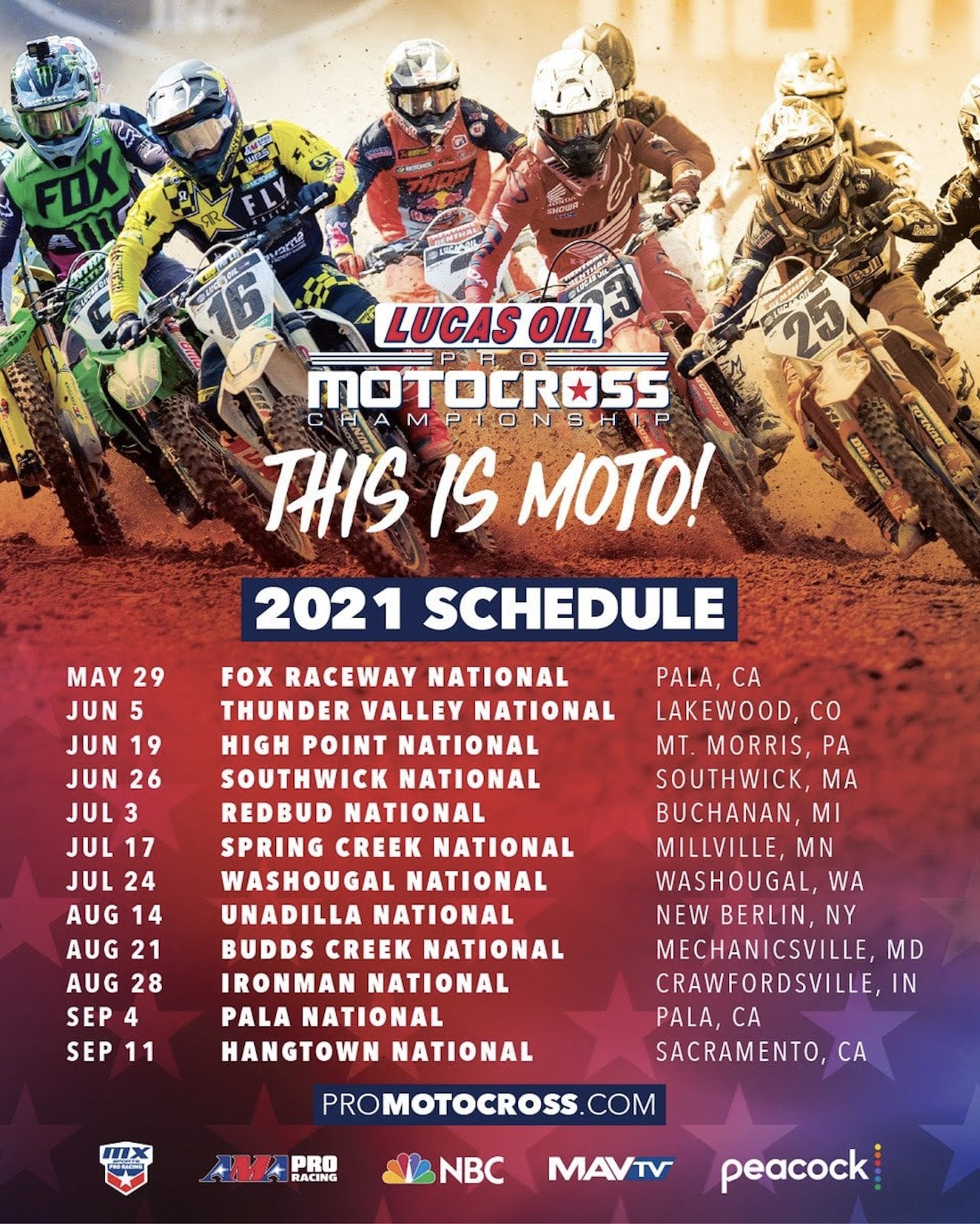 LOST BUT NOT FORGOTTEN | 1991 KAWASAKI KX125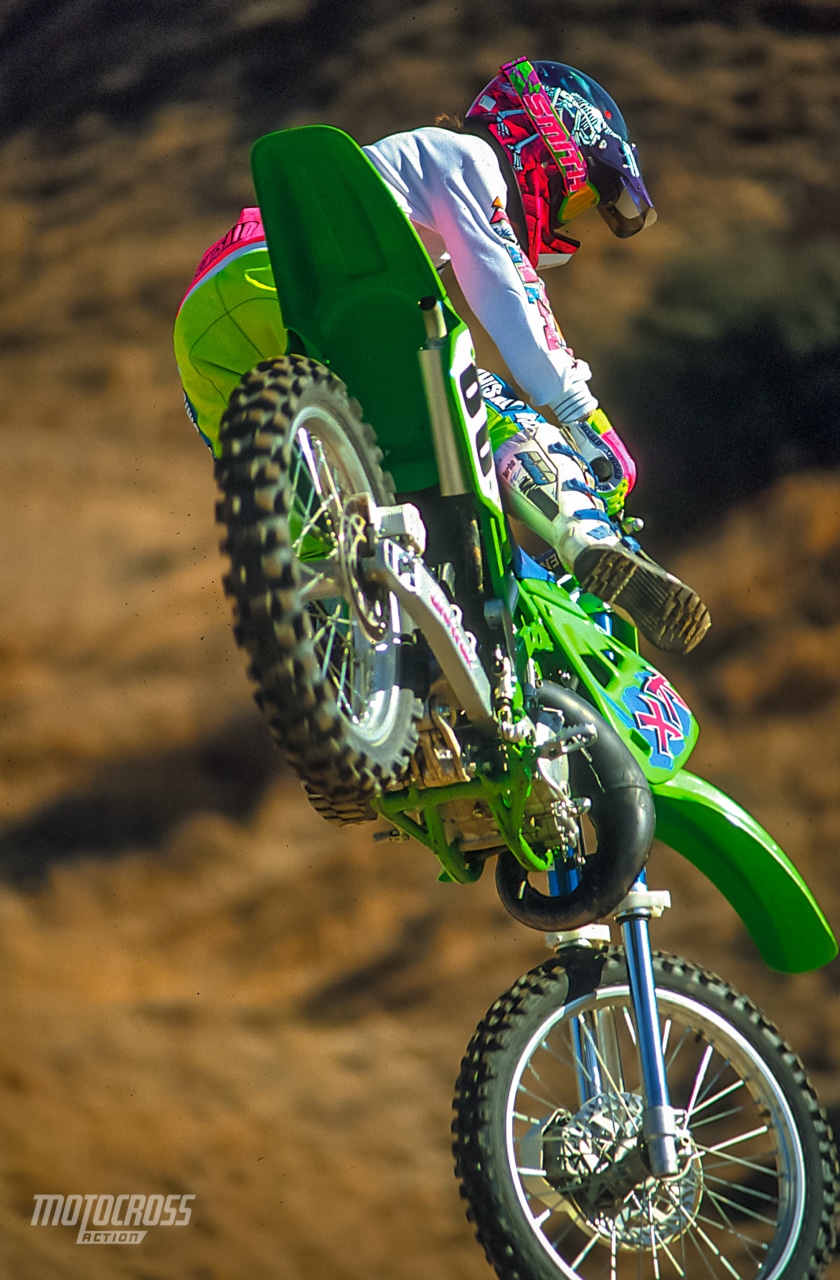 ASK THE MXPERTS: BACKYARD ENGINEERING FOR SHORT PEOPLE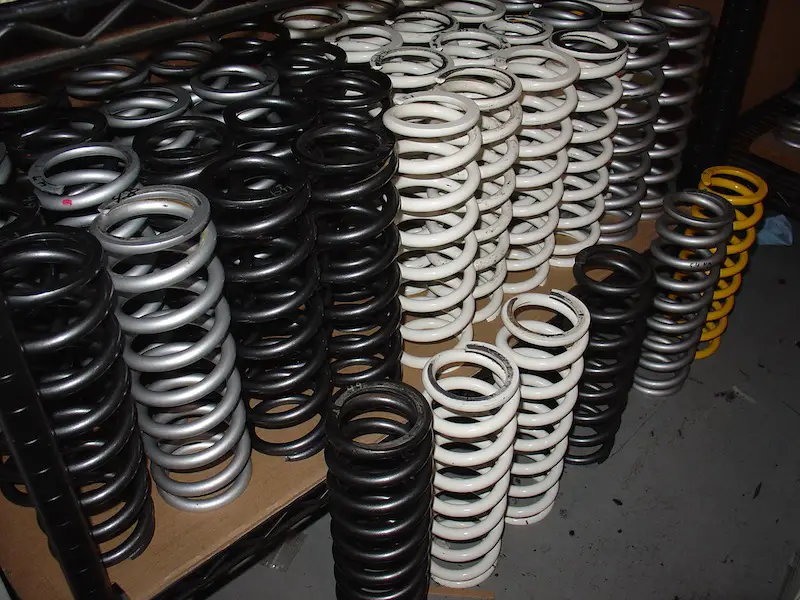 Dear MXA,
    I am on the short side, very short, and want to make my bike lower. I tried cutting the seat foam, but that was very uncomfortable. Now I am thinking of cutting the shock spring. How much do I cut off to lower the bike by two inches?
Whatever you do, do not cut your shock spring in an attempt to lower your bike. Cutting the spring might well let the shock sag down further, but the spring rate will get so stiff that you will hate it more than your uncomfortable seat. If you cut a 250 psi spring in half you turn it into a 500 psi spring. We are pretty sure that you will not be happy with a very stiff spring. Plus,the spring will coil bind and make the experience much worse. Your cheapest options are to slide the forks up in the clamps 15mm and run the shock's race sag at 110mm. If you are willing to spend money, any suspension company can shorten your shock (with an internal spacer).
CLASSIC PHOTO

Kevin Windham ripping up a factory Honda CR250 two-stroke.
---
Moto Trivia answer: Nathan Ramsey from 2000.