MOTOCROSS ACTION MID-WEEK REPORT
#WHIPITWEDNESDAY
Rider: Ken Roczen
Event: Houston 1 Supercross
Photographer: Brian Converse
MXA TWO-STROKE SPOTLIGHT | DOUG STOUT'S 2001 SUZUKI RM125 RETRO MOD
"This is my 2001 Suzuki RM 125. It has 1992 retro graphics on modern Polisport plastics.  I call her the "RETRO MOD".   Suzuki RM = "R"etro "M"od. Get it.  The bike was torn completely down.  Frame, sub frame and swing arm was powder coated.  I went on to powder coat the brake calipers, spring, swingarm linkage, and brake slave and masters.  This bike has "ALL NEW" everything except the bottom end.  All new bearings everywhere, new brake master and slave kits ect. The suspension is all rebuilt and fresh, front and rear.
"I worked with Made graphics in Sweden to do the custom touches on the graphics.  I designed the "Retro Mod" logo and had them put them on the graphics. Notice how the "R" and the "M" in the retro mod logo matches the RM on the shroud decals.  Sweet! Like I said, my design.  I also designed the radiator louver decals and had them custom made by Made graphics.  Tone of gold aluminum aftermarket parts round off this beauty.  I even put "AN" fittings on the water hoses. Nobody does that!!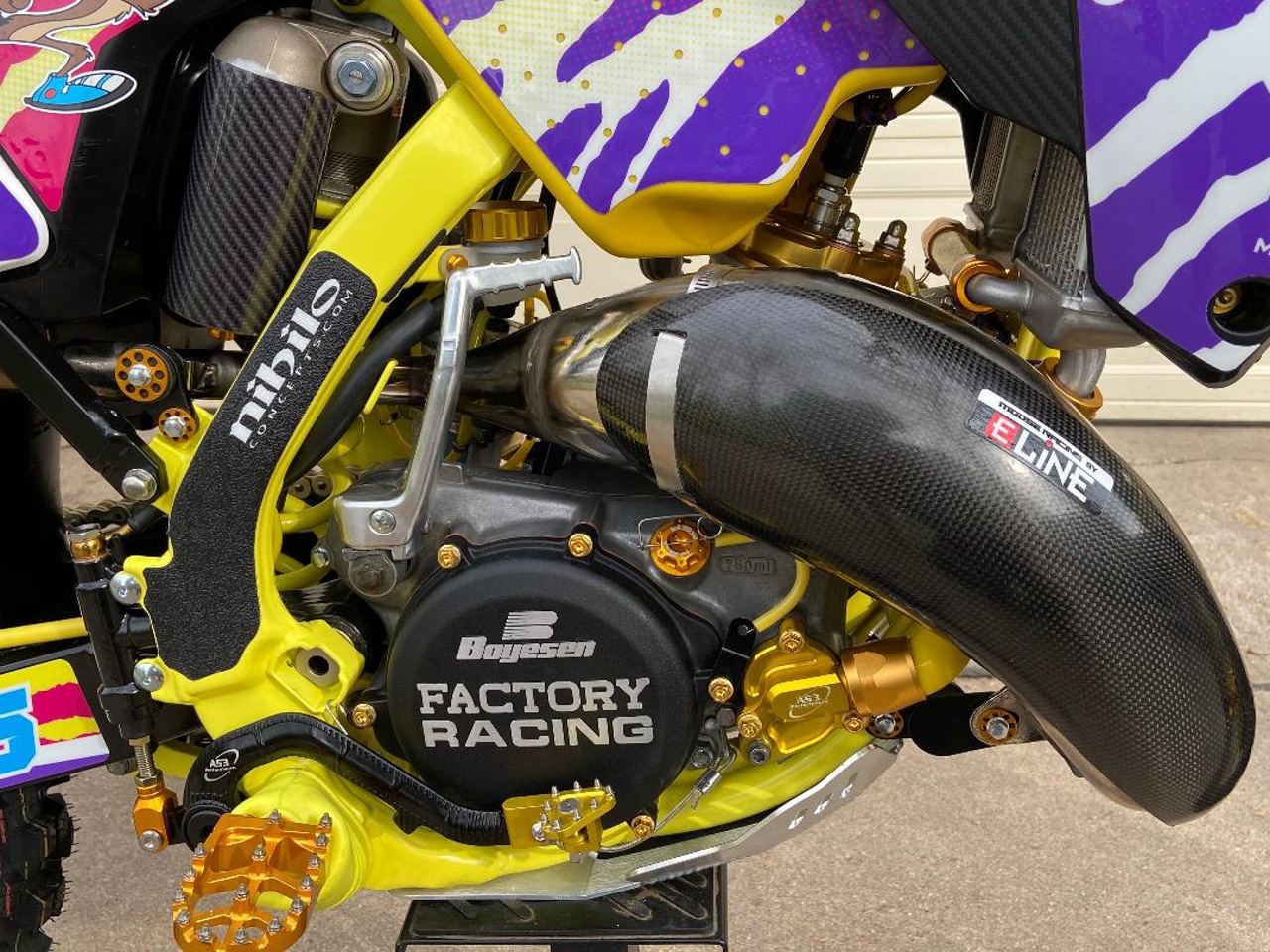 If you reference the poster board I sent, it says the major components that went into this build.  I held back nothing, down to the yellow hoses with purple wire ties. I even put the wiring in yellow wire loom. Nobody does that!  Dumped a ton of cash into this build. I started it at the beginning of the Covid quarantine for something to do while trapped at home. It kind of got away from me. It turned into "dirt bike enters art form".  Well enjoy the pics. I know you will.
EDITORS NOTE: Please keep those submissions coming. If you would like your bike to be featured in the "Two-Stroke Spotlight," please email me at [email protected]. All I ask is that you give a breakdown of your bike and a detailed description of the build. Please also send a few photos of your steed. By submitting your bike for the "Two-Stroke Spotlight," you agree to release all ownership rights to the images and copy to MXA. Please don't email me spam or try selling me Taylor Swift concert tickets or email me spam. I already celebrate T-Swizzle's entire collective, and there will be "bad blood" if you send me junk mail. See what I did there? Happy submitting your smoker.
CHECK OUT "THIS WEEK IN MXA" | LOTS OF GOOD INFORMATION
YAMAHA MOTOR EUROPE & FANTIC CLOSE ON DEAL
Fantic Motor and Yamaha Motor Europe communicate the closing of the deal on the intended decision to reinforce their strategic partnership, based on the acquisition by Fantic Motor of the 100% of the shares in Motori Minarelli.
Since the date of the announcement of the intended decision, the consultation of the European Works Council of Yamaha Motor Europe and the information of the Local Works Council of Motori Minarelli have been completed positively. During this phase the discussions have been carried out with positive mind and spirit by all the parties, all aware of the opportunities created by this partnership for the future of Motori Minarelli activities and the "Made in Italy".
The operation is going to provide a strengthening of the existing Yamaha Motor Europe and Fantic Motor synergy to move the collaboration between the two companies to the next level in the fields of Motorcycle and e-mobility.

"The strengthening of the partnership with Yamaha Motor Europe and the acquisition of Motori Minarelli represent for Fantic Motor an important step to further reinforce our position as a technological leader in the production of motorcycles, e-bikes and e-mobility products in Italy ", stated Mariano Roman, CEO at Fantic Motor. "We will work together to further increase Motori Minarelli's know how on engines and e-powertrain, widen the production range, to offer to Motori Minarelli's customers competitive, cutting edge technology powertrains, while safeguarding the current employment levels".
"We are particularly satisfied by the finalization of this important partnership", commented Eric de Seynes, President of Yamaha Motor Europe. "The long-term partnership between Yamaha Motor Europe and Fantic Motor will create the conditions for a smooth transition to the new business plan and will allow Motori Minarelli to continue in its mission while maintaining its identity. The deal will also create a strong future for Motori Minarelli within the Italian industry, allowing the company to be perfectly positioned to implement new business activities and to expand its operation and supply range".
This partnership –based on the common key values of honesty, consistency, innovation, and product excellence – is creating stronger synergies between the Fantic Motor deep market knowledge, creativity and proactivity, and the Yamaha Motor reputation, state of the art quality and strong manufacturing expertise.
THEY SAID IT | HOUSTON SUPERCROSS ROUND 1
Jett Lawrence: "The first race day wasn't too bad. There were a few mistakes that I wasn't happy about, but I walked away without too much damage to my body. Practice ended up going really well; in the first qualifier I put a really good lap time down for P1, and then the second one I put another consistent one down, getting second behind [Christian] Craig. In the heat race I had a few small mistakes. I was excited for the first race and a little too energetic, but I ended up getting third. In the main event I was kind of playing it too safe and backed off too early and gave away what should've been a holeshot. I spent too much time behind another rider in the first half and had some other people pass me. I ended up finding a pretty good flow at the end and was fourth after RJ [Hampshire] went down. I tried to make another pass with a lot of charging, but that didn't go as planned, as too much front brake and a wrong line in the turn ended up flicking me. I got up fairly quick, but then someone came and hit me again, knocking me back down. I ended up getting sixth, which isn't terrible, but not what I wanted but I'm still fairly happy with it."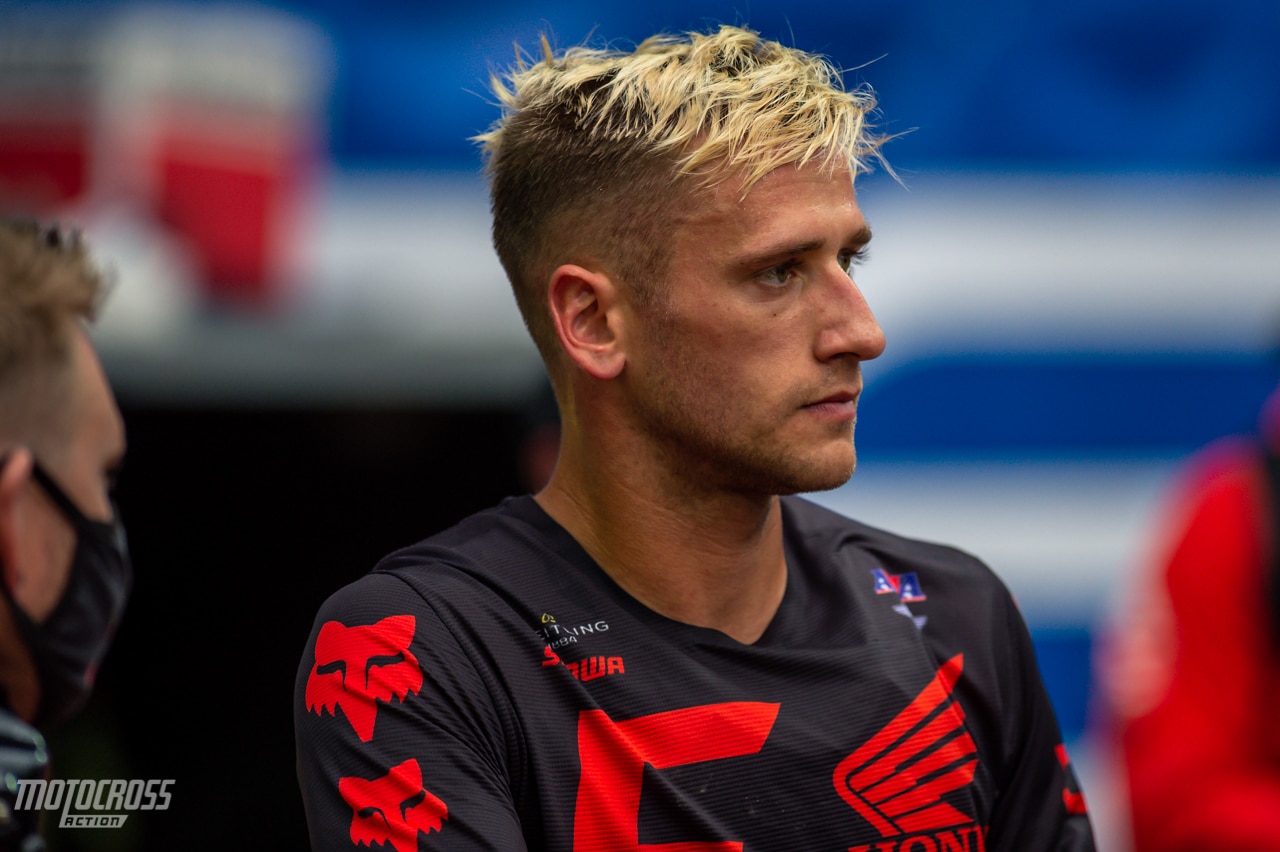 Ken Roczen: "It was a really good night for me and the HRC team. We got second in the heat race and in the main event after a hard fight with Justin Barcia. He rode really well, but I never let loose and was right there until the very end. I think there was a lot of madness going on behind us. The track was brutal; a lot of it was really basic, but half was pretty technical, and it got super rutted and bumpy. We had a really good night. We hung in there and got away with a second place, which is good for the first race. We're in the hunt this season and it's super long. Right now we're just going to focus on recovery and getting back here on Tuesday for round 2."
Chase Sexton: "Things started off okay; I qualified fastest in practice, which was good for me. Then I went to the heat race and got a pretty bad start. I came from ninth to fourth and caught the lead group but just ran out of time. The main event was pretty much a disaster. I started off ninth or 10th and ended up getting together with Martin Davalos. From there it just kind of went downhill and I made a few more mistakes. It was just kind of a rough main event overall, but I'm looking forward to going racing again Tuesday. That's one of the positives about being here in Houston. We have three races in a week, so hopefully I can redeem myself and get on the box."
Justin Barcia: "Kenny [Roczen] honestly pressured me so hard the whole race but I held it together, it was really awesome. I can't thank the whole Troy Lee Designs/Red Bull/GASGAS Factory Racing team enough, that was an insane race! I'm glad I did the three-peat, that wasn't the goal, but this is the first one of hopefully many more and I just want to be in the fight all year and not just a one-hit wonder."
Michael Mosiman: "Tonight wasn't the results that I was hoping for but I learned a lot and I know what I need to improve on moving forward. Lucky for me, we are racing again on Tuesday and I'm excited to show everyone what I can do on my MC 250F this season!"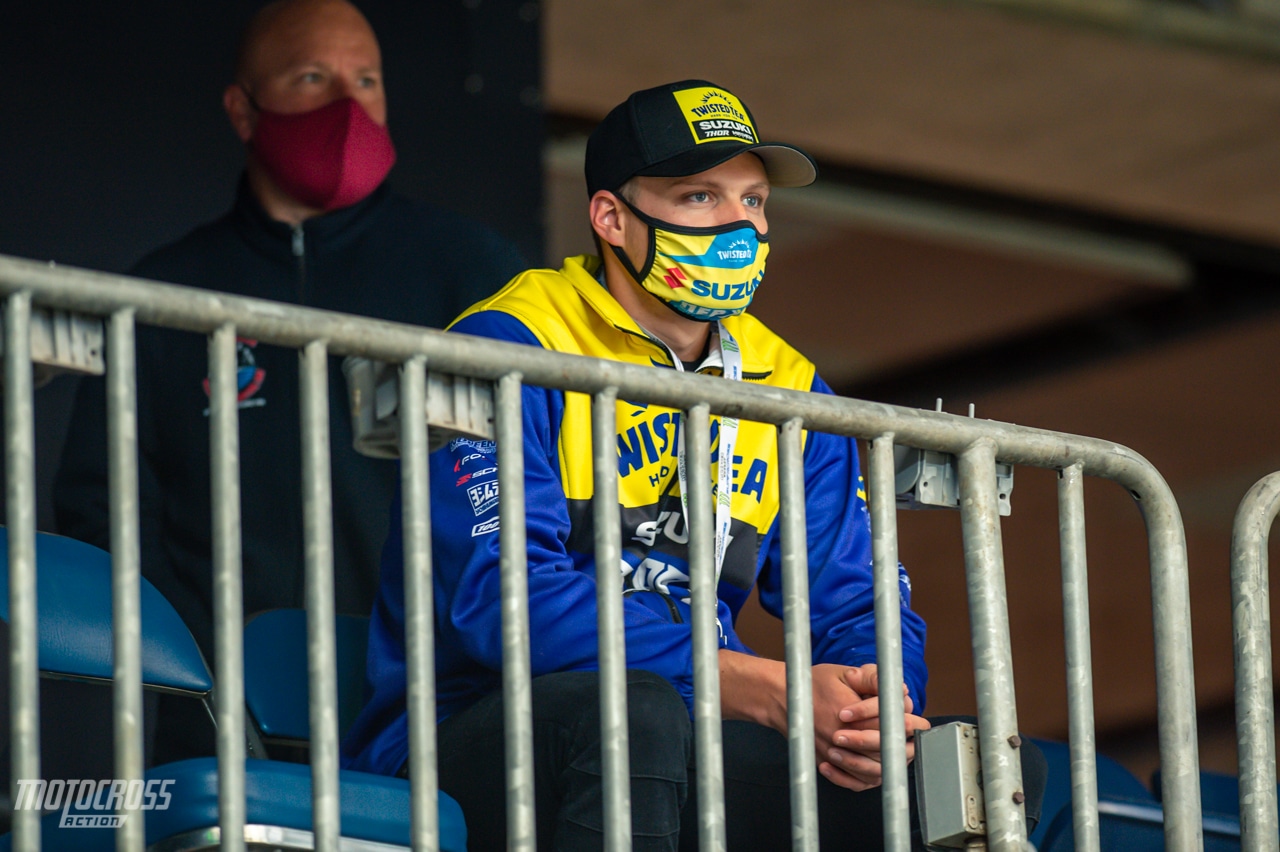 Brandon Hartranft: "I'm happy to get my first 450 race out of the way, said Hartranft. "I felt solid all day and felt awesome in the main event, but got taken out shortly into it. I never gave up, though, and put in some solid laps. I definitely have a lot more to show so I'm looking forward to Tuesday."
Austin Forkner: "It's amazing how great I feel for getting second," said Forkner. "I overcame a lot this past year with my injury and letting a championship slip away. It was exciting to come back to a brand new bike and put in the work off the bike. My start wasn't what I was hoping for, but my goal was a podium. To work my way up to second, I had to make some solid passes and ride consistently, so all in all, I'm really happy with how the race went."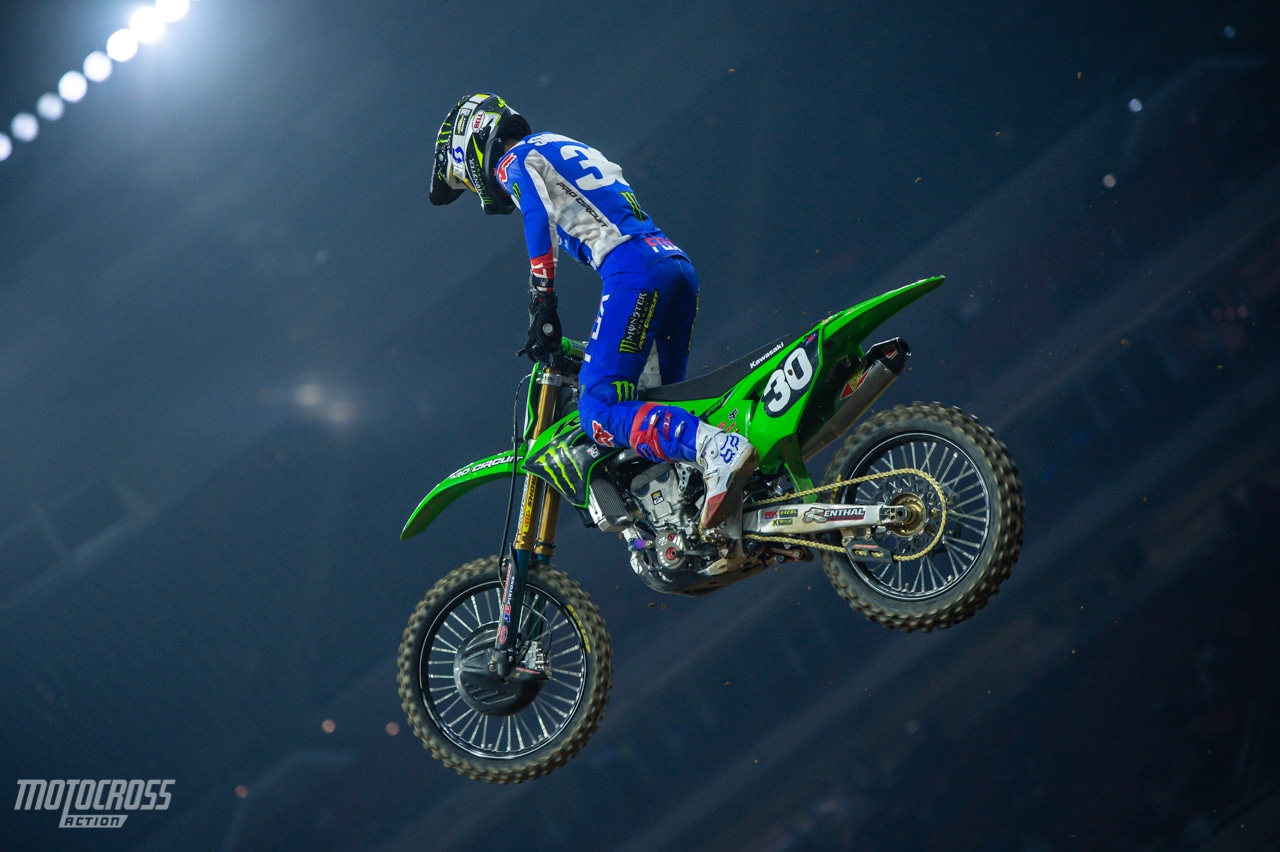 Jo Shimoda: "The race started out pretty good and I ended up being really nervous for the first five laps or so, which cost me a few spots," said Shimoda. "Once I got looser and looser as the race went on, I put in solid laps and was able to get past some guys who were making mistakes in front of me. In the end, fourth is nice considering it was a tough start. Now that we have one race under our belts, I see Tuesday being even better."
Malcolm Stewart: "I'm not going to lie, I was a little nervous at the beginning of the day. A new team, new bike, new year, it was just the typical jitters. We went to the Main Event and I finally got the jitters out. I didn't get the best start. I think I looked at the gate just a little too quick when the 30-second card went sideways. It's about five to seven seconds typically when it drops. I was probably staring at that thing for seven seconds. I made a few mistakes in the beginning and got around some guys but just kind of gapped myself. I knew that it was going to be a long race, and it was. We did 28 laps. Third and fourth were right there. I did everything I could to try to get them. I was sitting in fifth and I felt like I was just kind of riding by myself in my own little zone, but I stayed charging. Adam Cianciarulo was dangling the carrot in front of me and it just kept me motivated. Honestly, going into this race, the first race, getting a top-five, and a top 10 for the whole Star Racing Yamaha team is awesome. I'm very happy with the team and the progress that everybody's made. We had a pretty crazy off-season with this whole COVID thing but we made it work. The only thing we can do from here is to keep building. I'm very proud of the whole team."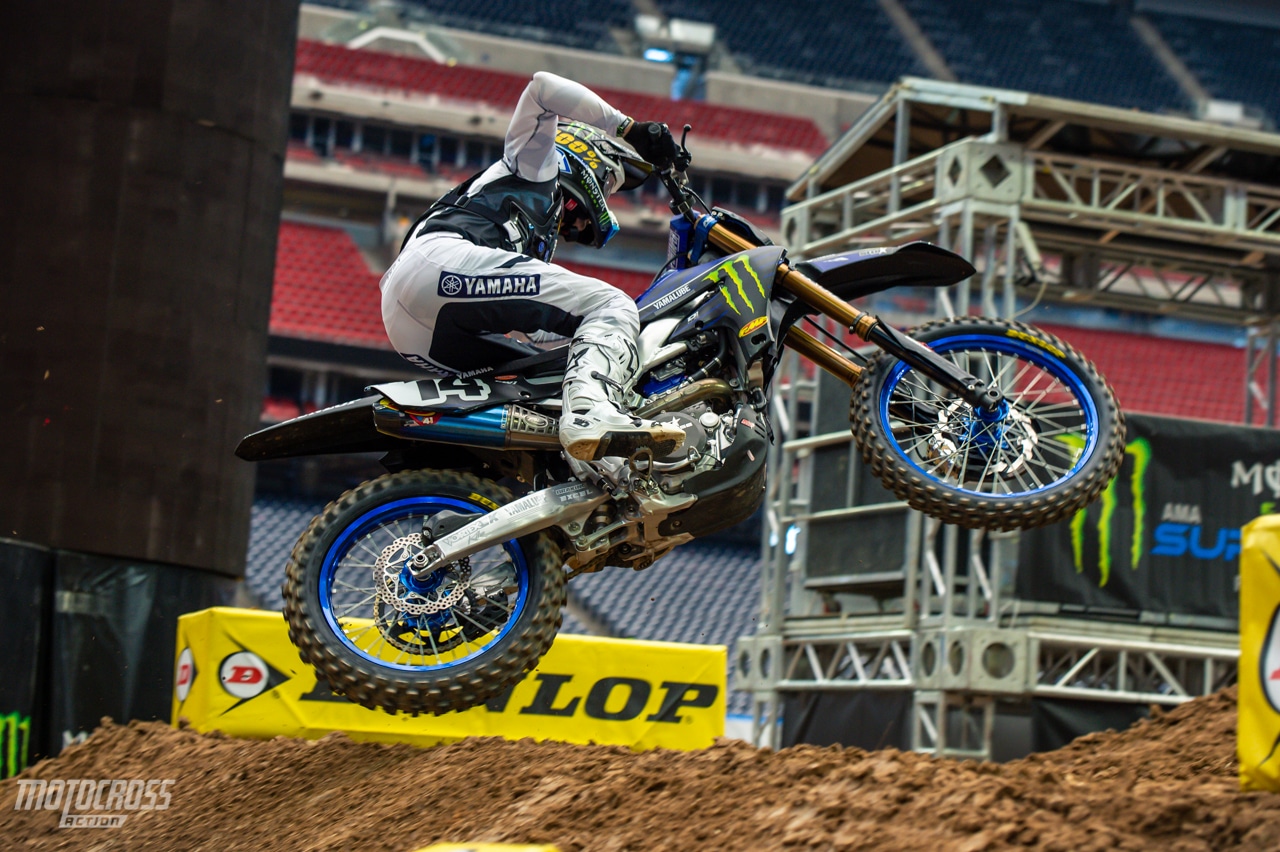 Dylan Ferrandis: "My first 450 race was really, really difficult. It was what I expected though. When you're on the gate with all the top guys and champions, it's hard to find your place. The first few practices were really bad. I was struggling mentally to get the rhythm, and also with the bike a little bit in race conditions. But we just stayed focused with the team. We changed some stuff on the bike, really small things, and just tried to improve practice after practice. I had a so-so start in the Main Event, but I just gave everything I had and it paid off. I think seventh in my first 450 race is good and for sure, after having a small winter season and a small injury also. I'm really happy. I did the job and I'm really proud and happy to give that result to my team that works really hard."
Aaron Plessinger: "Today started off kind of rough. I wasn't really gelling with the bike. Went out in the first and second practice and I qualified really, really bad. I just needed to calm down and let my nerves just ease up a little bit. That's what I did in the Heat race. I got off to a great start right behind Coop (Cooper Webb), and unfortunately, I made a few mistakes. I think without those mistakes I could have possibly had the win. I took that with me to the Main. I didn't really get a good start, but I made the best of it. I just took it stride by stride. I was right there with (Justin) Brayton for a while and tried to push it in on him. Then I tightened up and Dylan ended up getting me at the end. Overall, it was a good day. Eighth place for the first race of the year. We'll come back on Tuesday and rip it again."
Marvin Musquin: "It's good to be back. I had a great start in the Main Event, they were a little more aggressive than me right away, it's been a long time since I've raced supercross, but we did everything we could to be ready for the first round. I knew the starts were going to be important and I'm super happy I made that happen and put myself in a good position to fight for a podium. I'm happy with the changes on the bike and I feel like the fitness will only get better and better with racing."
Cooper Webb: "The heat race went pretty good for me, I got the holeshot and led a majority of it and got second. In the Main Event, I got a really bad start and just struggled to come through. The track was really hard to gain time on tonight and I made a few passes but I struggled. We'll look to get a lot better for Tuesday."
Rj Hampshire: "We felt good in the beginning and it just got worse as the day went on. In the Main Event, I ripped a start and just did not ride very well at all. I lost my front with a couple laps to go and then jumped off the track on the last lap. I'll regroup and recover over the next couple of days and be better on Tuesday."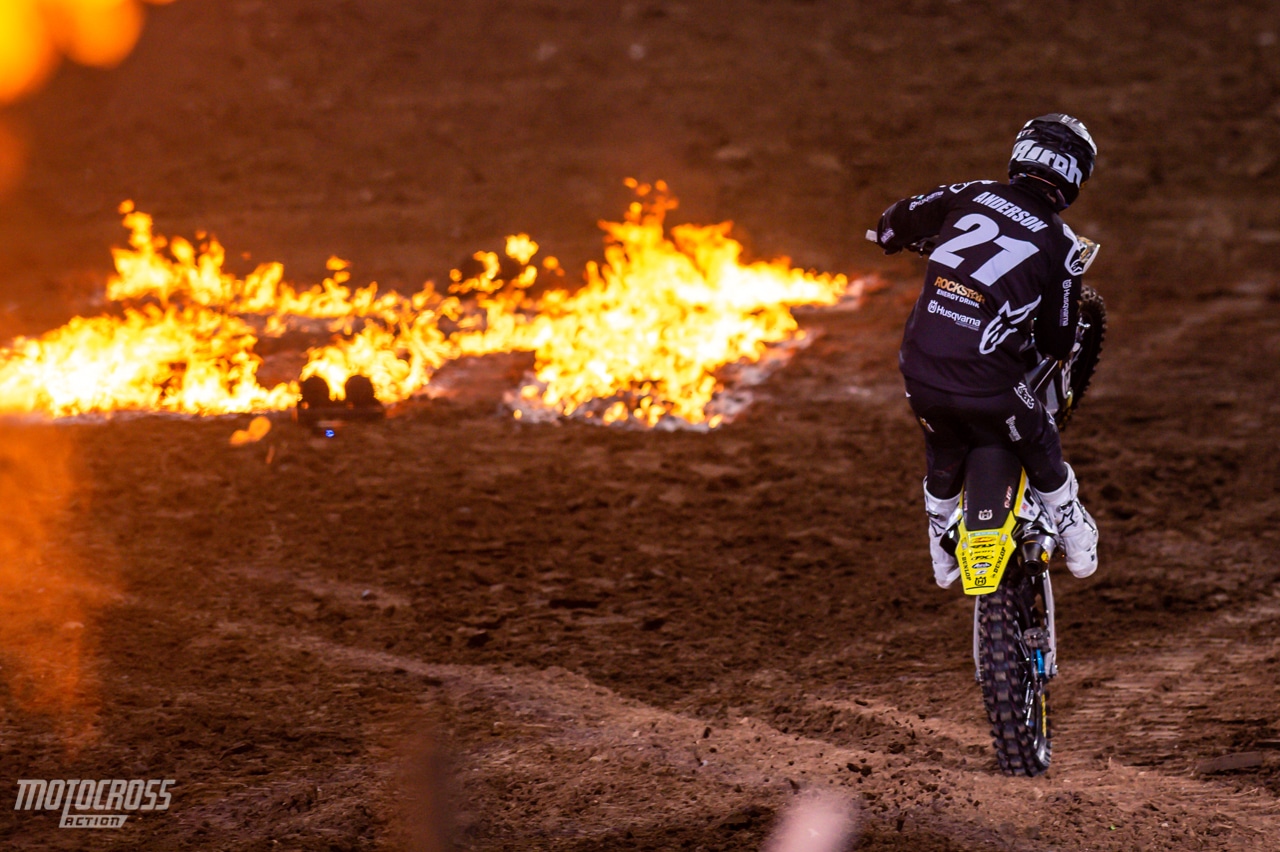 Jason Anderson: "My night was not that good but we're going into the next round and going to stay positive about it.  I was up to seventh and then I got arm pump and kind of went backwards but all-in-all, we started the season and I'm happy to be back racing so let's go from there."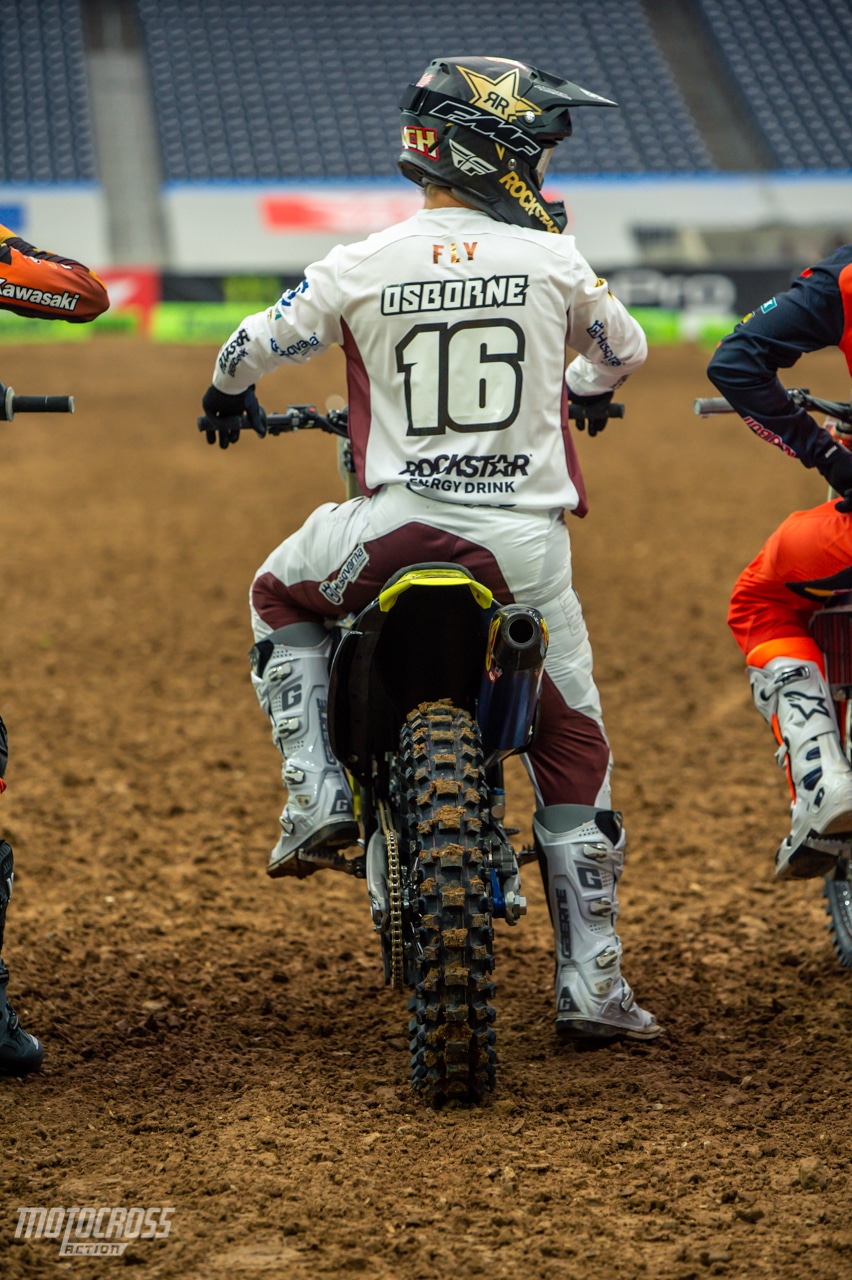 Zach Osborne: "We had an unfortunate incident yesterday and I am really lucky to be riding today, so I was happy to start to feel like myself again in qualifying, get a heat win and have a decent Main Event. I would have obviously liked to have been a little better than 10th but to be down in the first turn, come back to 10th and get some valuable points is a positive takeaway for me after yesterday."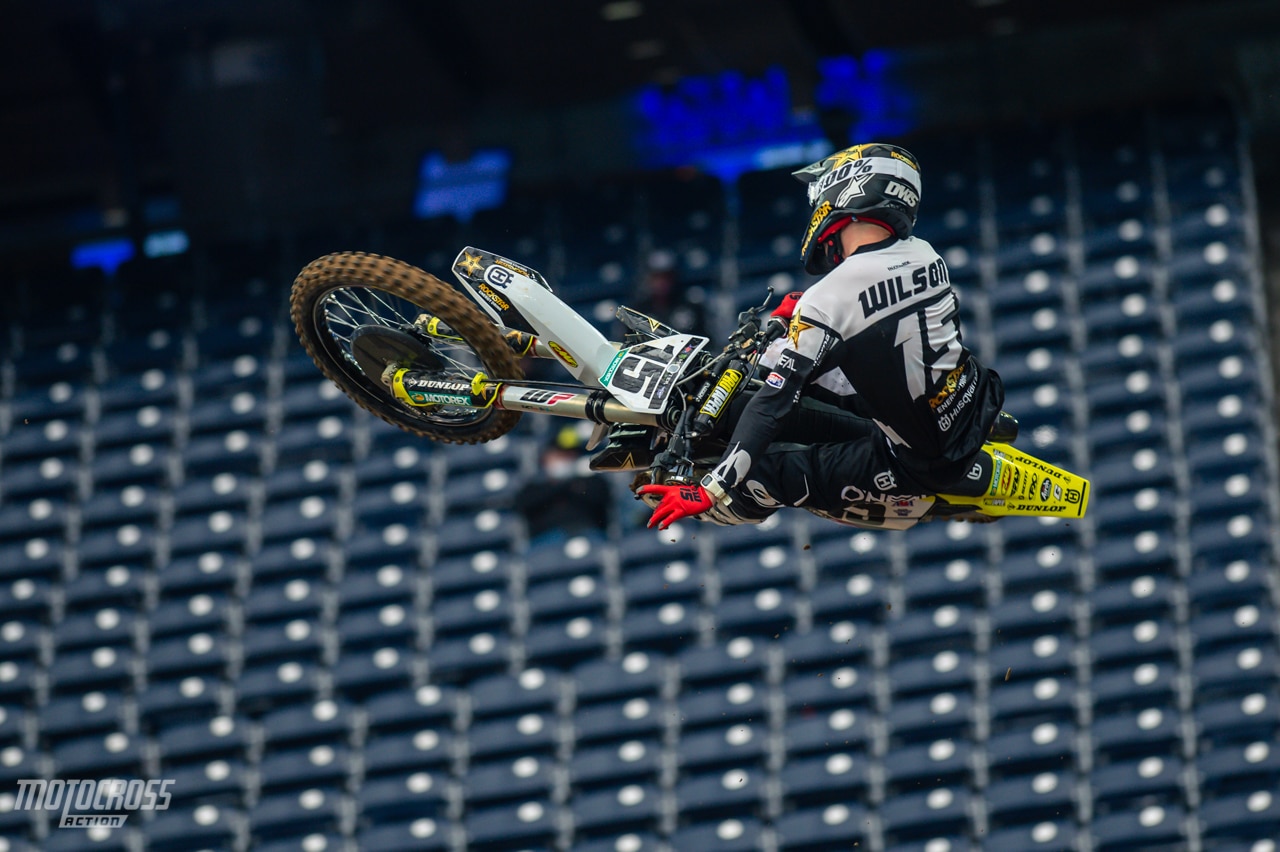 Dean Wilson: "My starts in both the heat and Main Event weren't that great tonight but I feel like if I can get a good start, I can definitely be up there. I got a little bit of arm pump and I was maintaining, instead of pushing forward, which was disappointing. We're healthy and we've got another chance to try on Tuesday, so we're going to keep positive."
Adam Cianciarulo: "There is a lot of good takeaways from today, one being that we are just back racing and in front of fans. There is no better feeling than coming out to see them during opening ceremonies or hearing them cheer during the races. I would be lying if I said that today I was really feeling it, but to come away with a fourth place is something I can live with. I am a student of the game and I know that even on your bad days, you still have to be good. I'll spend the next couple of days with my trainer Nick (Wey) and the Monster Energy Kawasaki team going over some film and working on fine-tuning the areas I can improve on so that we can get back on that podium on Tuesday night."
Eli Tomac: "Man, the first race of the season is always an interesting one. To be honest, I had a really great offseason with my entire Kawasaki team, and have just been loving riding my KX450 lately, but today was just not my day. I had a good flow throughout the qualifying sessions today, but in the heat race and main event tonight I got decent starts but got shuffled back in the first turn. With the way the track broke down tonight it became very one-lined and difficult to make passes. The competition this year is deeper than ever and what we learned last year is that you have to be consistent every race to be in the hunt at the end. The good thing about this new schedule is that we get to line up again in a few days, so we will regroup and come out swinging at Round 2 on Tuesday." 
RAW | CARSON BROWN RIPS HIS 190CC HUSKY PIT BIKE
2005 MUD RACE OPENER AT ANAHEIM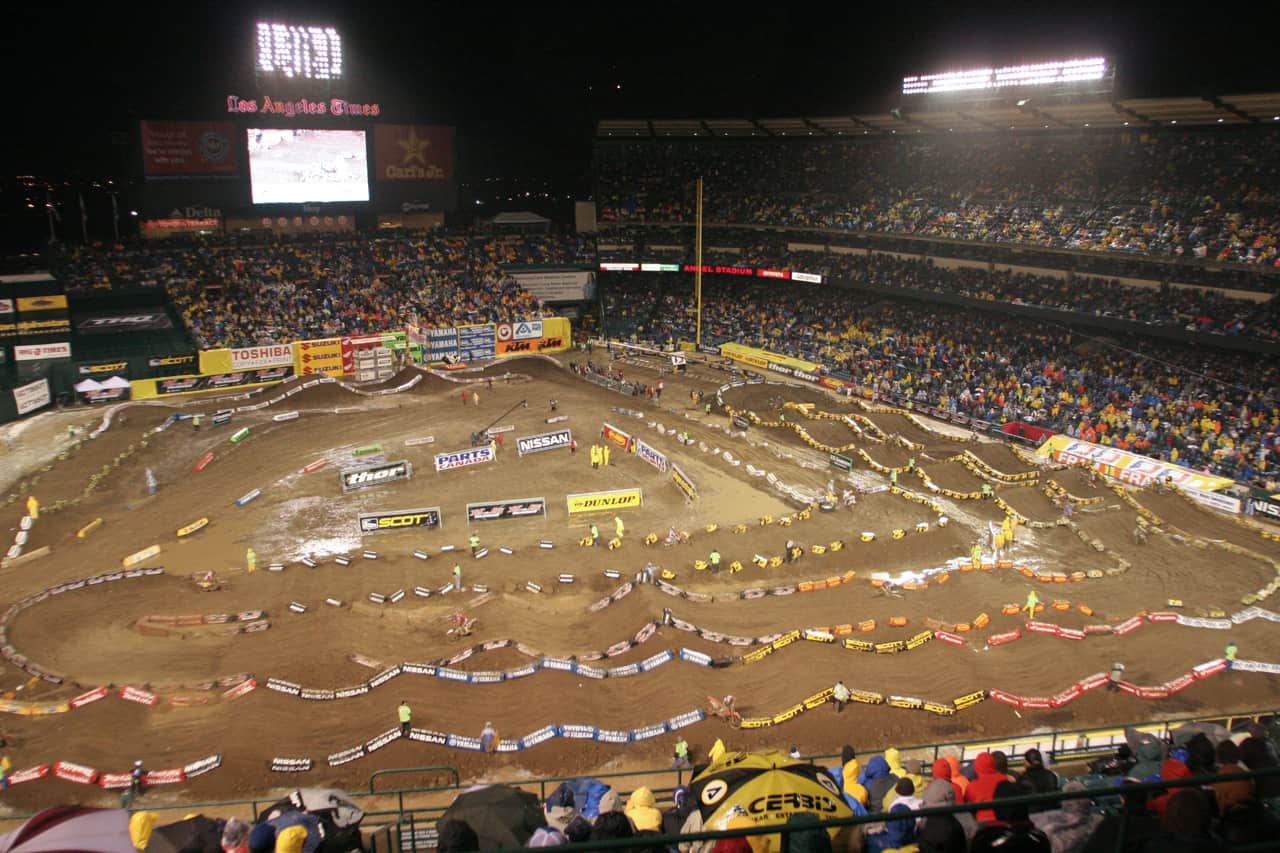 From up in the stands the track didn't look to bad.
Do you remember the opening round of the 2005 Supercross series at Anaheim? It was James Stewart debut in the 450 class on a Factory Kawasaki KX250. It was one of the muddiest races ever seen. Ricky Carmichael went down numerous times. Kevin Windham won the race while teammate Mike LaRocco finished 2nd. Chad Reed's bike overheated and Jeremy McGrath finished last. What a crazy race for a season opener. Here are a few photo to refresh your memory of the epic event.
Coming into the first corner off the start it was Kevin Windham, Ricky Carmichael and James Stewart in a powerslide leading the charge.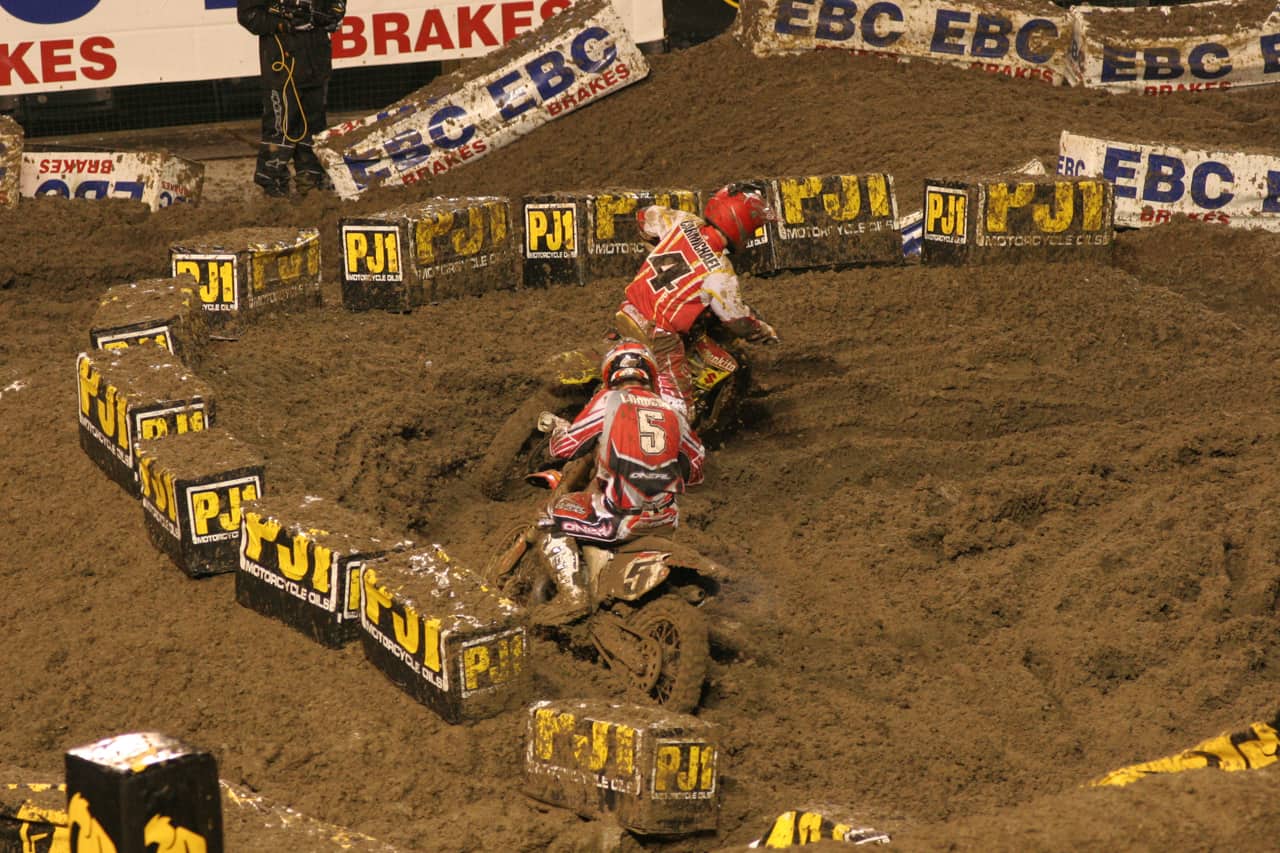 Ricky Carmichael lead, but guys like Mike LaRocco took advantage when Ricky was on the ground. 
Ricky down the first time while in the lead. 
What a mess. Carmichael leads Windham and Stewart on opening lap. 
James Stewart down in front of the mechanics area. 
Chad Reed picks up his overheated Yamaha YZ250. 
Which way is the right way?
Travis Pastrana trying to get going.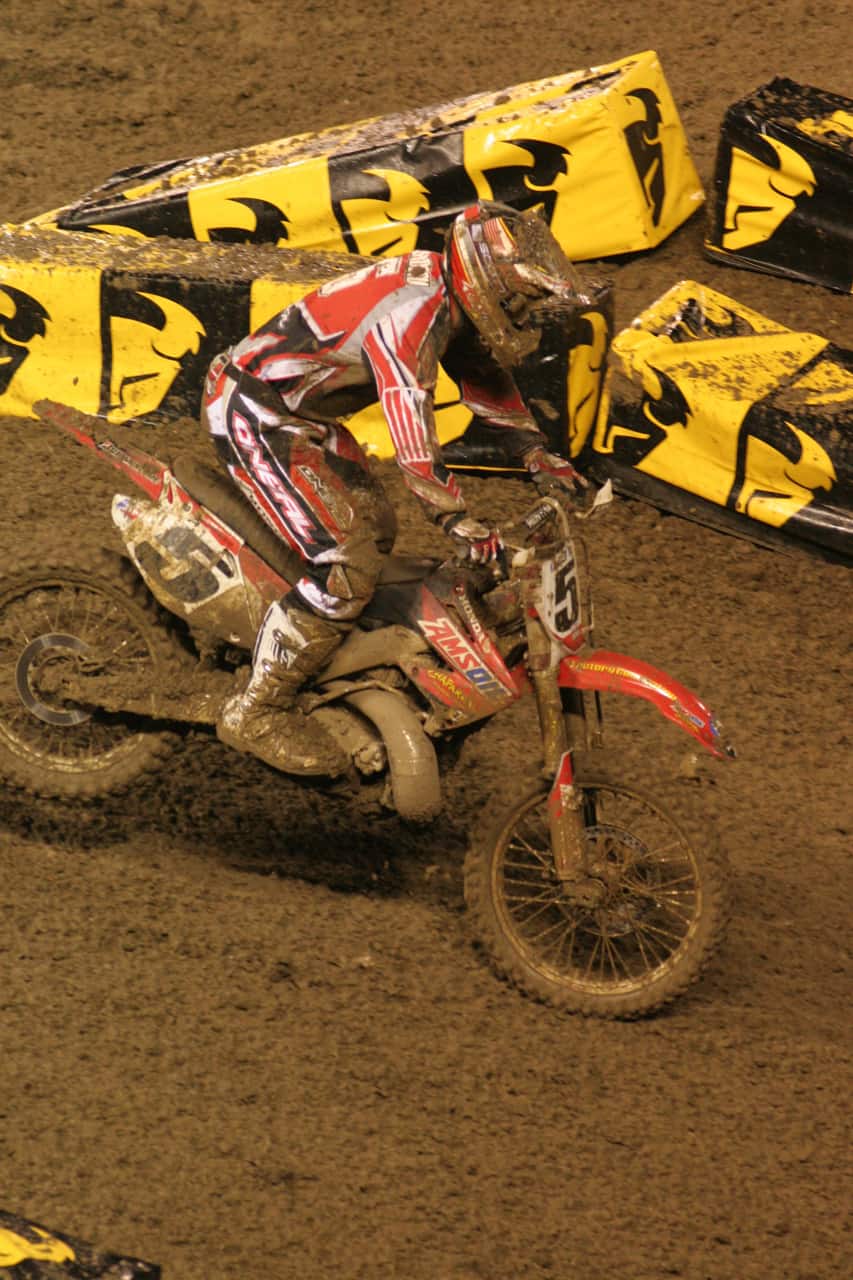 Mike LaRocco just stayed on two wheels to get on the podium. 
 Carmichael (1st), Windham (2nd), Reed (3rd) and Stewart (who is on the ground).

Kevin Windham was the winner that night by just staying consistent. 
2005 A1 450 MAIN EVENT RESULTS
1. Kevin Windham
2. Mike LaRocco
3. Ricky Carmichael
4. Sebastien Tortelli
5. James Stewart
6. Nick Wey
7. David Vuillemin
8. Jeff Gibson
9. Ernesto Fonseca
10. Travis Pastrana
11. Heath Voss
12. Tyler Evans
13. Michael Byrne
14. Joe Oehlhof
15. Damon Huffman
16. Chad Reed
17. Antonio Balbi
18. Kyle Lewis
19. Robbie Reynard
20. Jeremy McGrath
TALK MOTO WITH MOTO MINDED PEOPLE. JOIN MXA'S FACEBOOK GROUP CHAT

We love everything moto and want to bring all moto junkies together into one place to share their two cents, ideas, photos, bike fixes, bike problems and much more. To check it out first you must need to or already have a Facebook account. If you don't, it isn't much work and you could even have an alias so nobody knows it is you. To join click the Facebook link. After you request to join we will accept your request shortly after.
PHOTO BLAST FROM TRAVIS FANT AT THE LAKE ELSINORE SX TRACK
Austin Forkner the week before the first SX round.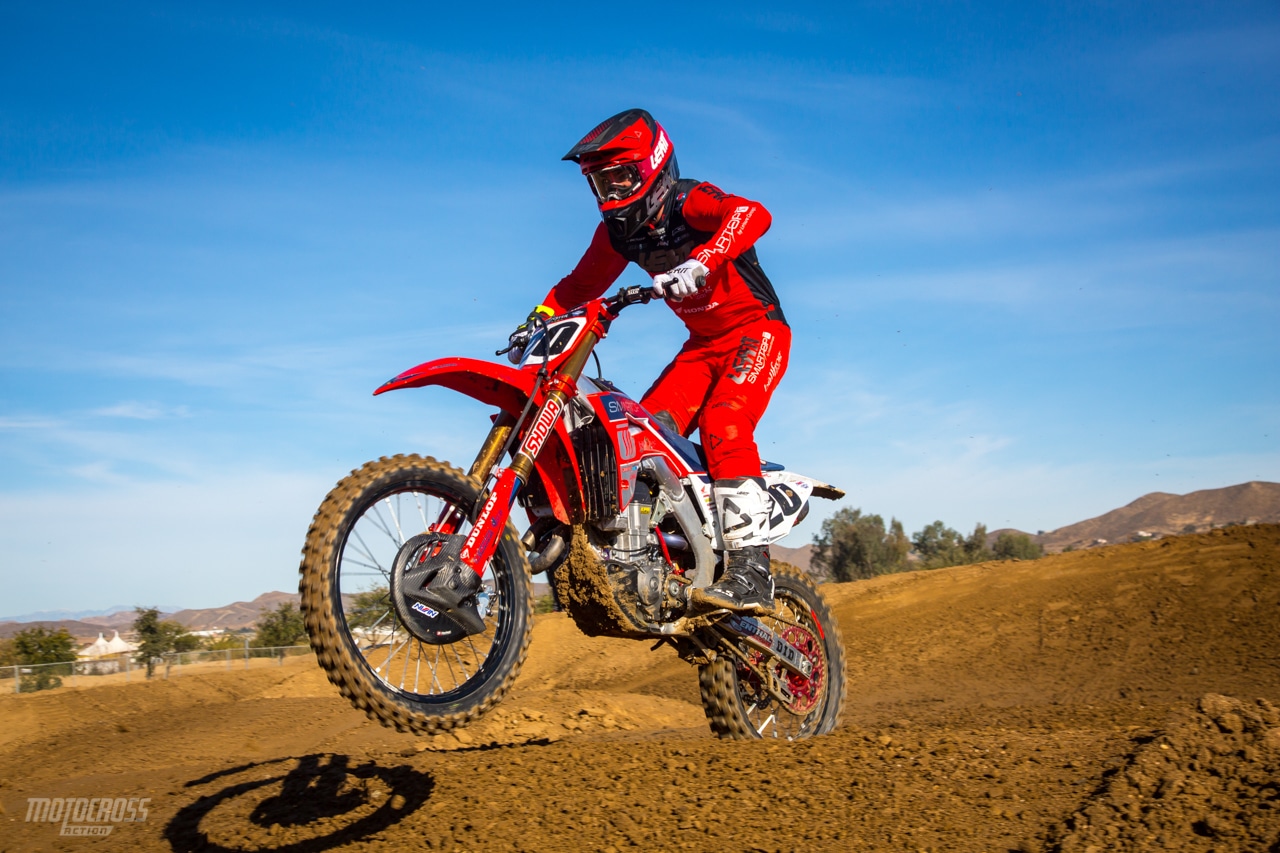 Broc Tickle.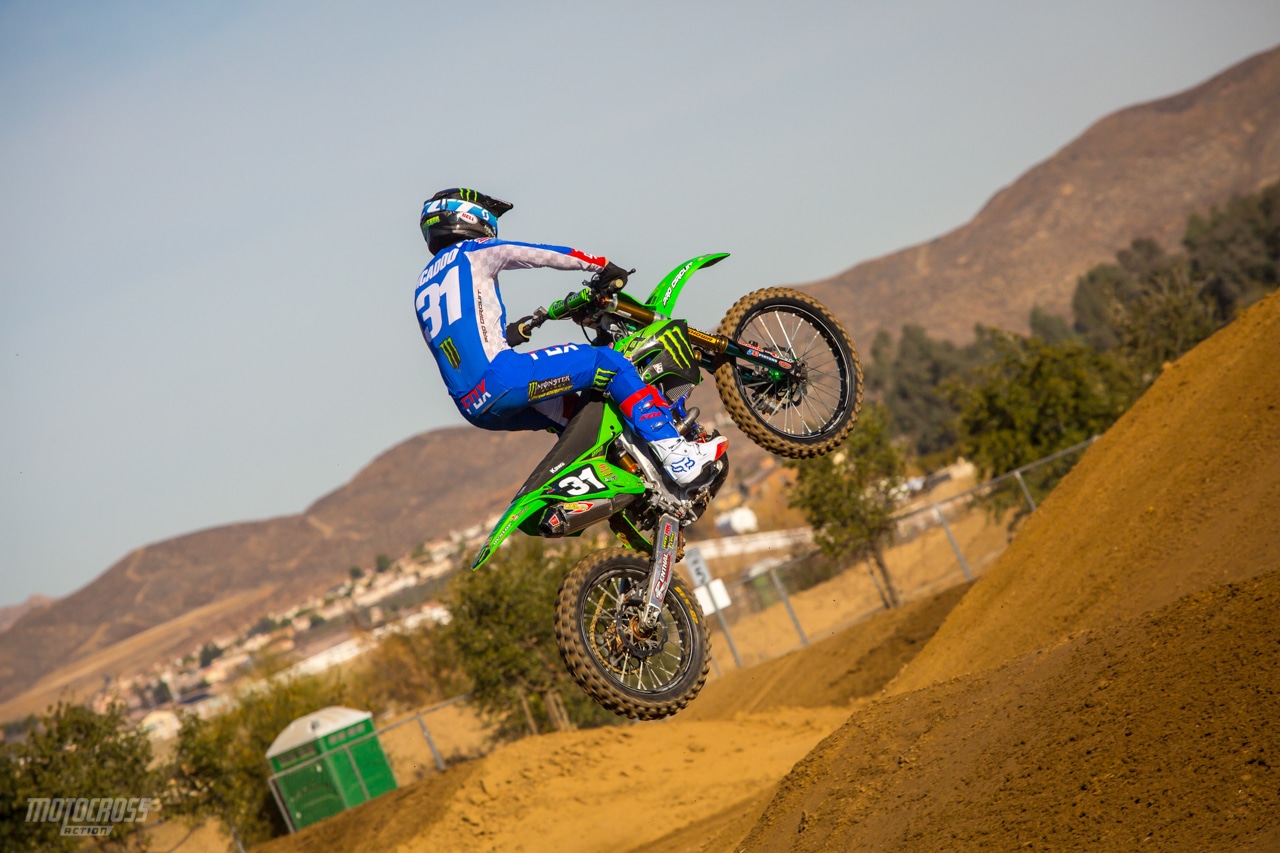 Cameron Mcadoo. 
Benny Bloss.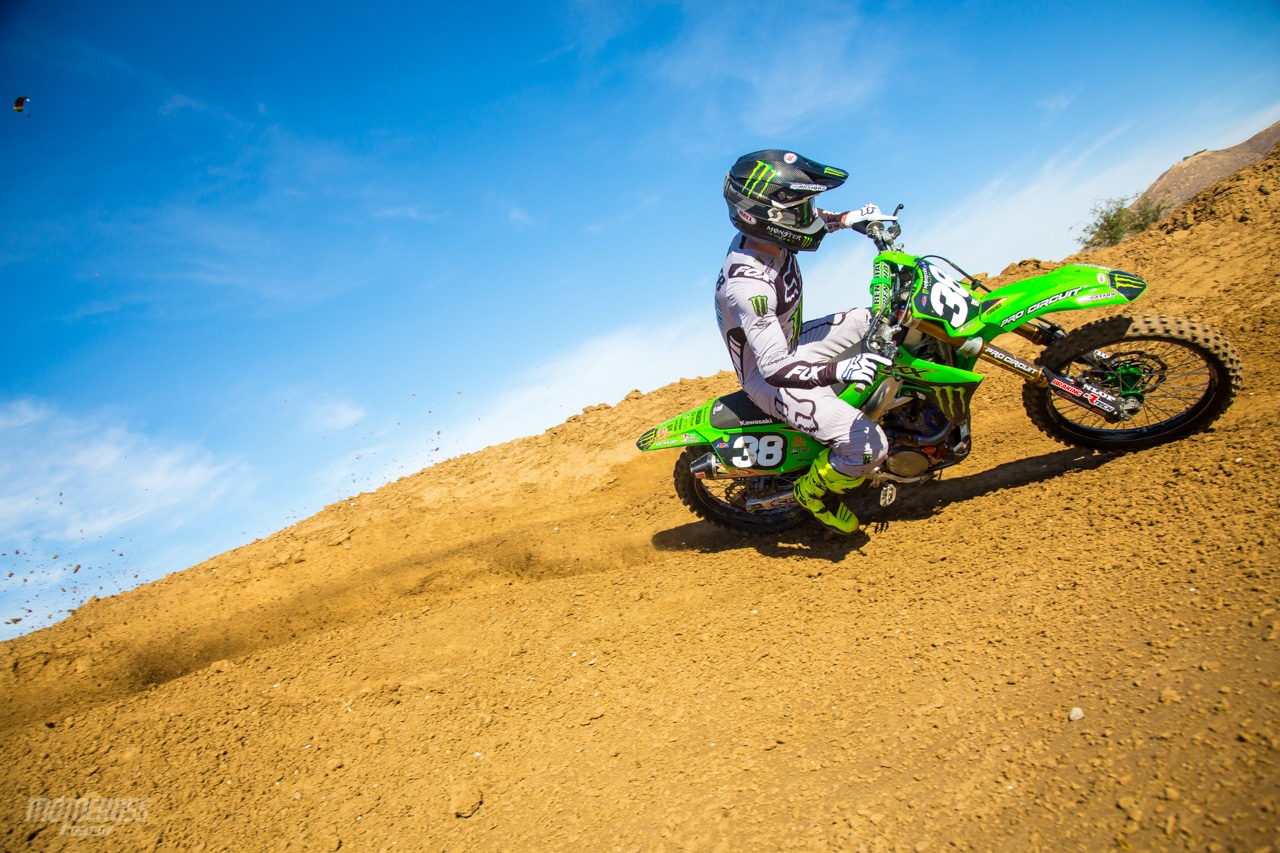 Forkner.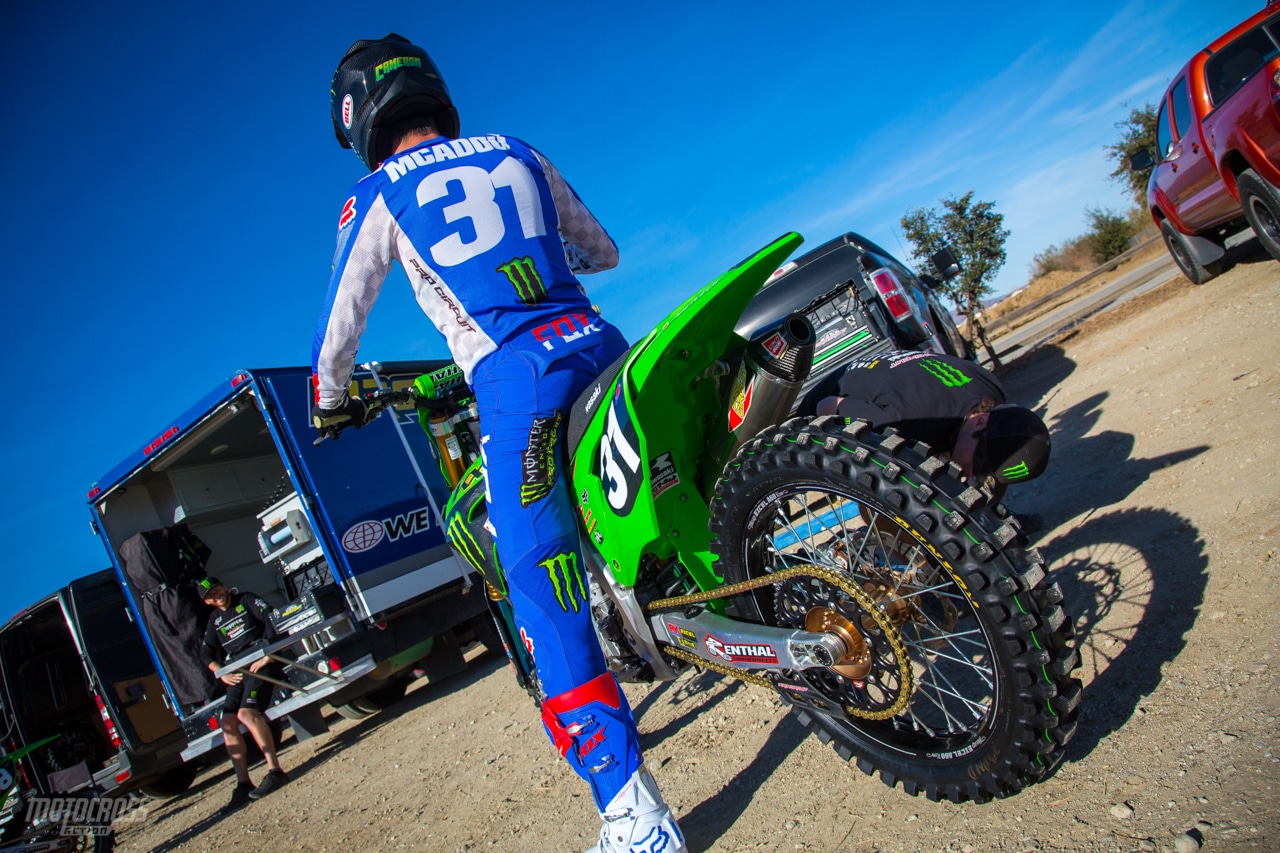 McAdoo.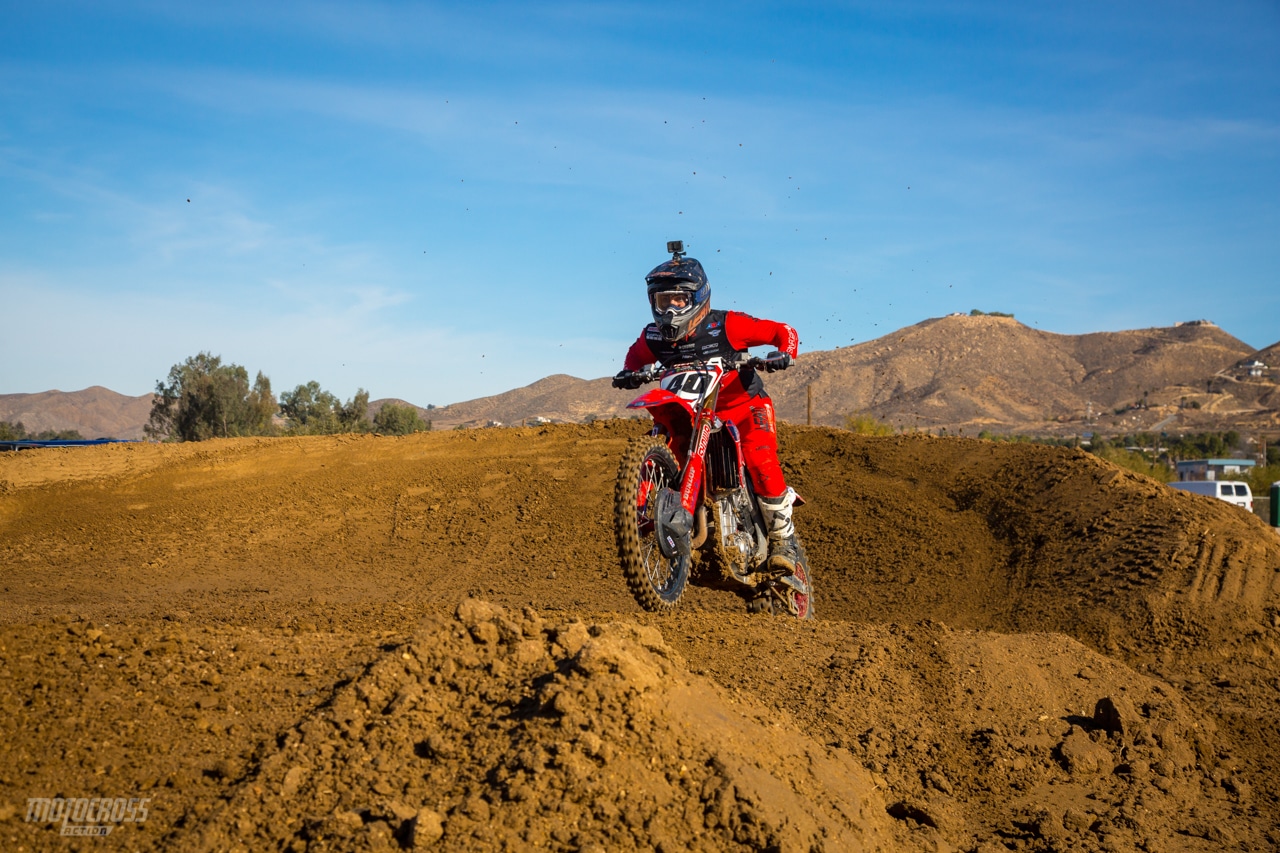 Vince Friese. 
CLASSIC PHOTO: IVAN TEDESCO'S 2005 PRO CIRCUIT KX250F