MOTOCROSS ACTION MID-WEEK REPORT
#WHIPITWEDNESDAY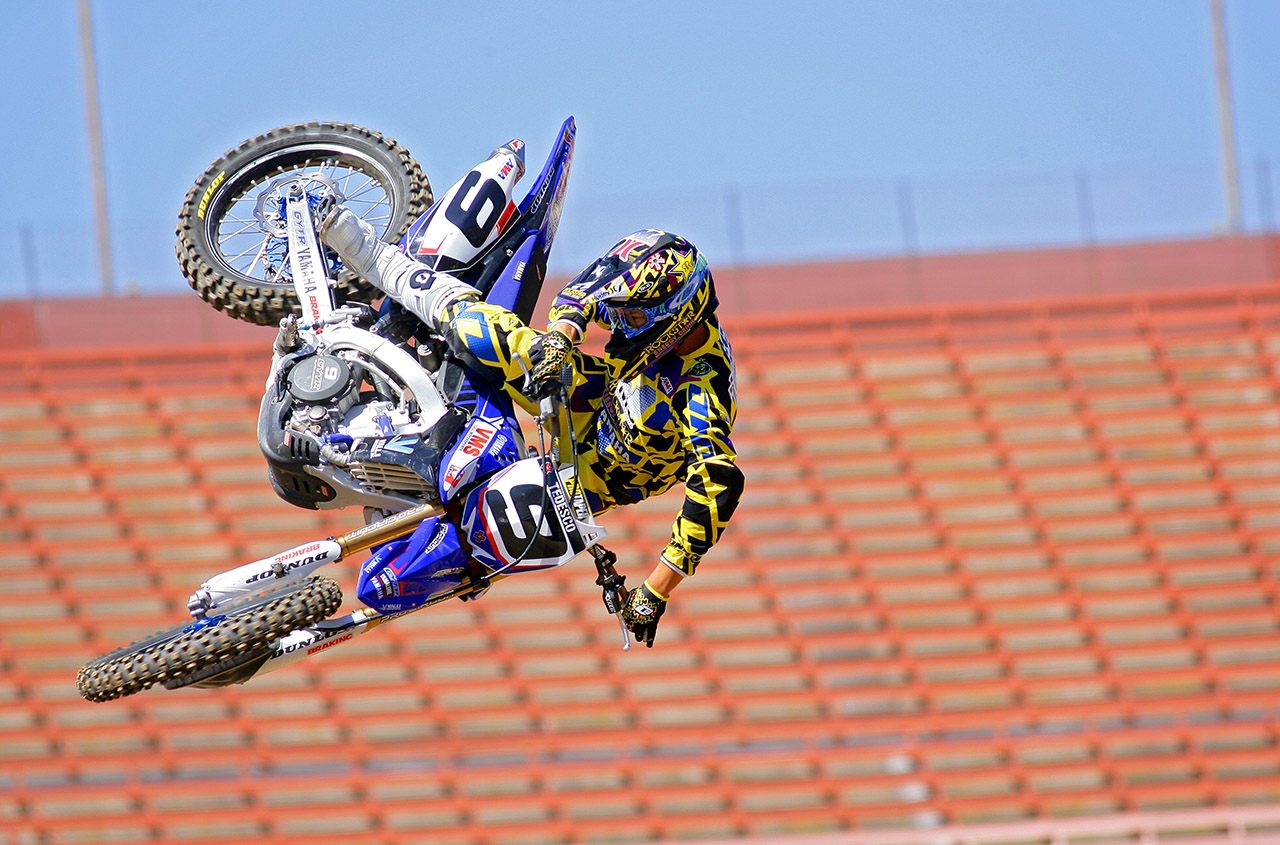 Rider: Ivan Tedesco
Location: Los Angeles Coliseum
Date: July 30, 2010
Photographer: John Basher
Camera: Canon 1DS Mark II
Lens: 300mm f/2.8
Exposure: 1/1250 sec.
F-stop: 5.0
ISO: 250
TWO-STROKE SPOTLIGHT: ERIK EBERSOLE'S 1975 KAWASAKI KX400
Erik Ebersole with his prized 1975 Kawasaki KX400.
There has been quite the disparity between two-stroke submissions as of late, with guys either showing off their almost-new smokers or decades-old machines. Any two-stroke is worthy of this space, but it takes a certain bike to capture my attention. Erik Ebersole's Brad Lackey KX400 copy did just that. Having spoken with Lackey before, I like the brash former 500 World Champion from Northern California. Apparently, Ebersole does, too. Or maybe he just liked how Lackey's KX400 works bike looked. Regardless, Erik hit it out of the park with this build. Below is Erik's explanation for the classic iron.
"Please take a look at my 1975 Kawasaki KX400 Brad Lackey inspired bike. I race both modern and vintage bikes. I have a few vintage bikes and have been invited to display them at the Legends and Heroes set up at the Atlanta Supercross for a few years now. I race KX400s and have a 1975 with a green tank. I had enough parts to build another, so I decided to go after the Brad Lackey look.
"I have always liked the black look, and I built the bike myself. It was displayed at the 2016 Atlanta Supercross, along with a few of my other bikes. I will race it in some vintage races later this year. Details are below:
Frame was modified to accept a steel Husqvarna tank.
Seat mounts were moved forward to adjust the seat gap.
The motor was assembled using many NOS parts. A Wiseco piston was installed into a Millennium Technologies plated cylinder.
Plastic was bought from Knightmare Racing.
Forks have Race Tech springs.
Rear shocks are from Ohlins.
Rear swingarm is handmade by KLP Racing.
Rear sprocket is custom cut by Rebel Gear.
One-off billet custom triple clamps were made by Techsmith.
Rims and spokes by Buchanan.
Seat cover, with gripper seat material, was handmade in Thailand.
Levers and perches by Works Connection.
Throttle assembly and cable by Terry Cable.
New 36mm Mikuni round slide carb from Carb Parts.
"Thanks for including this bike in your 'Two-Stroke Spotlight.' It has been a fun project, and I think it came out nicely."
Editors Note: Please keep those submissions coming. If you would like your bike to be featured in the "Two-Stroke Spotlight," please email me at [email protected]. All I ask is that you give a breakdown of your bike and a detailed description of the build. Please also send a few photos of your steed. By submitting your bike for the "Two-Stroke Spotlight," you agree to release all ownership rights to the images and copy to MXA.
MXPERTS | SEEKING THE ULTIMATE BIKE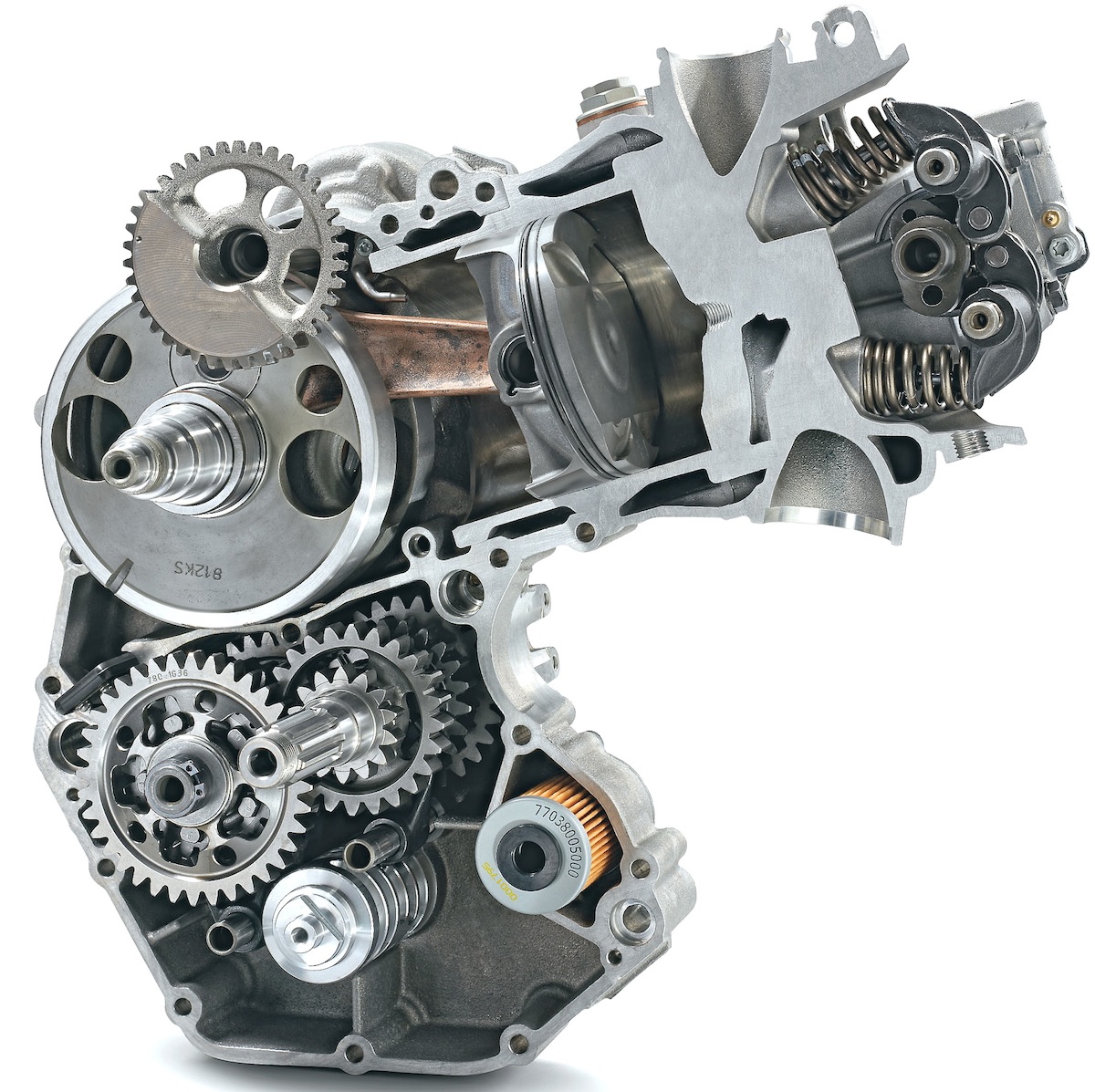 This was where progress stopped. The Jens Elmwall upsidedown Husaberg engine pushed the limits of theory and technology. But, it wasn't all that powerful, weighed too much and was hard to work on. No one ever went this far again.

Dear MXA,
It seems like everyone but KTM has stopped chasing new technology. Forks have gone back to the coil springs that were passé a few years ago. Centralization of mass just gets lip service today, and fuel injection is still in the port-injection mode of a 1960s automobile. Manufacturers seem to be trying to build the heaviest bike. What's going on in the motorcycle industry?
There was a time when the promise of aluminum frames, die-cast engines, spool-style hubs, reduced oil capacity, mass centralization, fuel injection and hydraulic clutches made consumers believe that we were on the verge of a quantum leap in motorcycle design. Sadly, the opposite was true.
Weight. When first introduced, aluminum frames were lighter than old-school steel frames; but, now they are heavier than KTM's chromoly steel frame. KTM was the first to successfully put electric starting on its bikes, but it took many years to get the weight down on KTM's push-button-equipped bikes. Now, the Japanese brands are installing electric starters but are ignoring the lesson they should have learned from KTM's struggle. Electric starting adds 5 pounds, which means you have to lose 5 pounds somewhere else on the bike to stay where you are.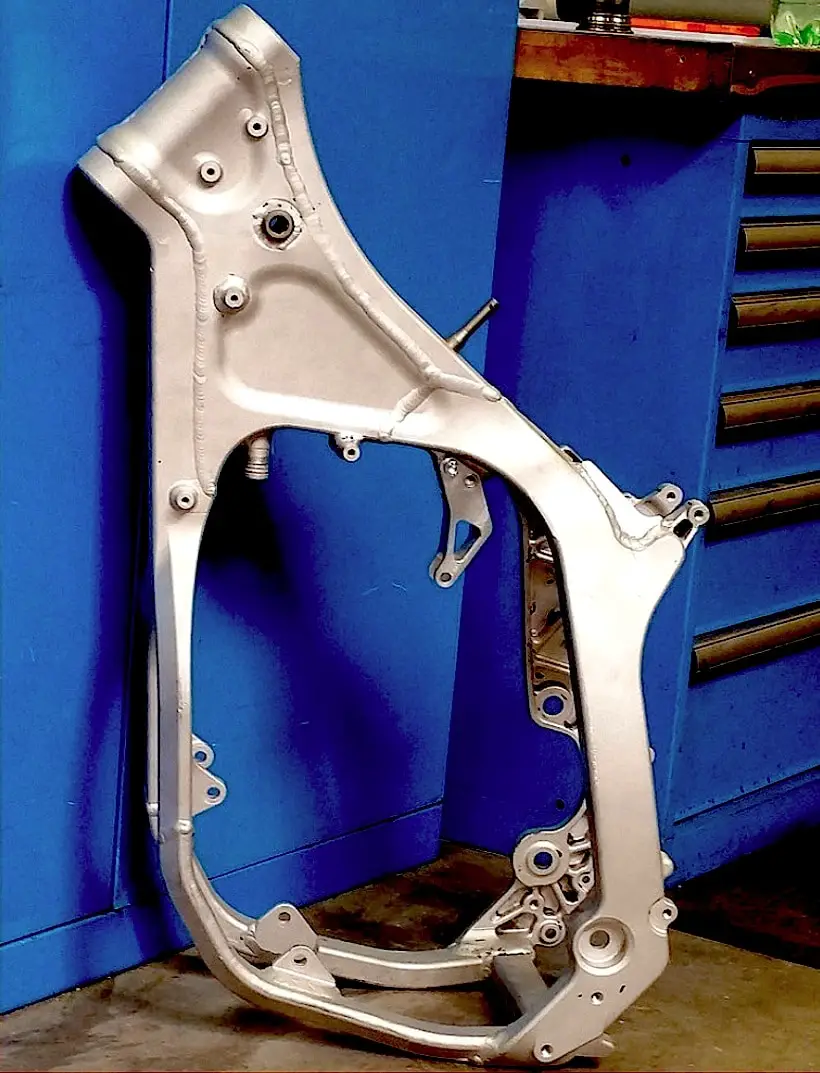 Even KTM tested with aluminum frames but decided chromoly was better. 
Suspension travel. There was a time in American motocross when the most important number on a spec sheet was how much travel a bike had. Manufacturers boasted that they had 10 inches of travel, then 11 inches, then 12 inches, and finally they worked their way close to 13 inches. Today, no one cares how much suspension travel a bike has because they have been distracted by the double whammy of the advent of air forks and the retreat from air forks.

Centralization of mass. The centralization of mass concept was started by an engineer named Peter Dill, who built Honda a concept bike with the majority of the weight centered in the chassis. Honda didn't move on Dill's idea, but, decades later, the idea of putting not only the weight but also the rotating mass of the cams, valves and piston close to the center of gravity became of prime importance. The ultimate expressions of this were the slant-engine Husaberg and the backward-engine Yamaha YZ450F. Today, no one is designing upside-down engines. Husaberg is gone, and Yamaha has been incrementally moving its cylinder forward.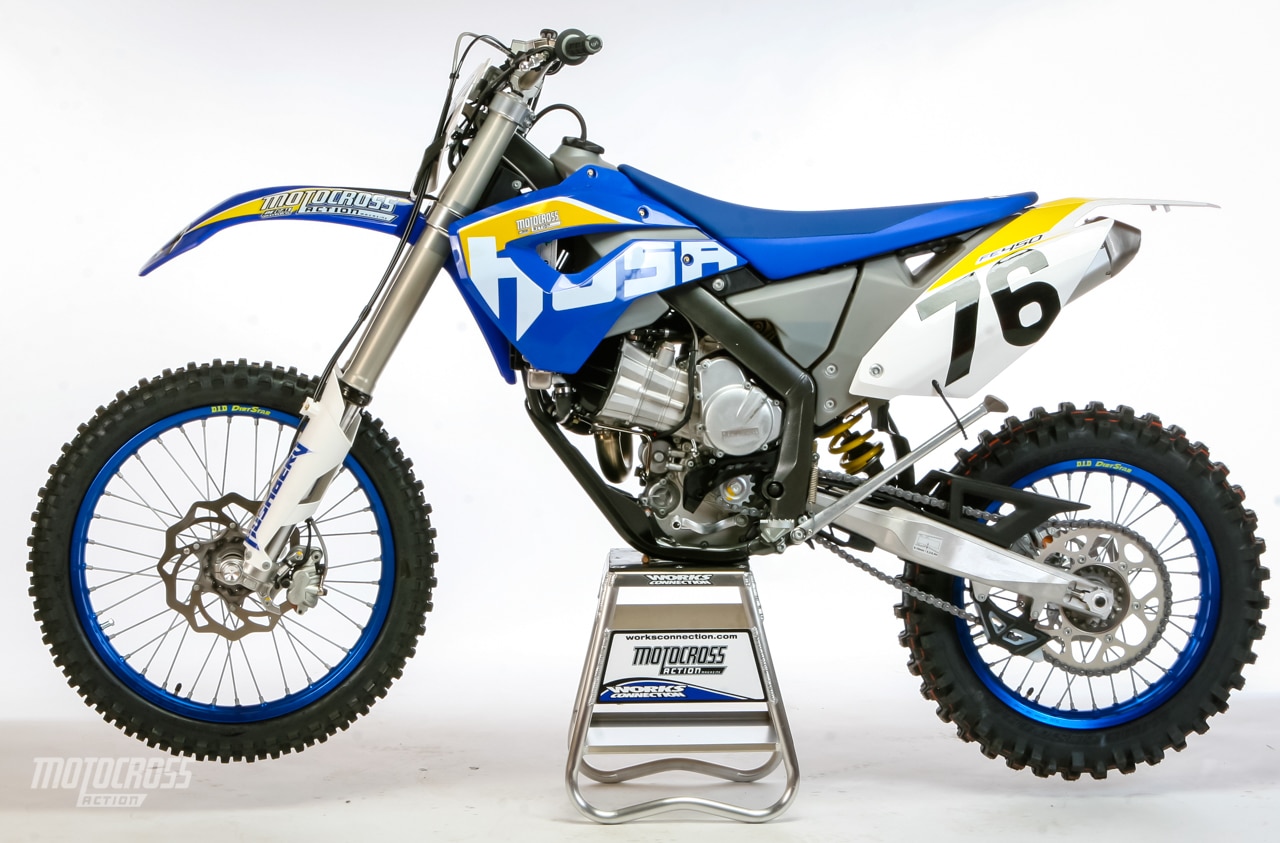 A look at the slant engine Husqberg FE450. 
Fuel injection. ATK fuel-injected its bikes as far back as 1990, but no one followed suit. And when they did (starting in 2008), the first generation of fuel-injected bikes made less horsepower than their carbureted brethren. It is true that motocross fuel injection is a relic of the 1960s, but the complexity of direct injection is more than what a dirt bike really needs. Today, you can only find carburetors on play bikes and mini bikes. Fuel injection is here to stay, but with it came thicker gas tanks, bulbous fuel pumps, heavier magnetos and bulkier electronics. The weight difference between a fuel-injected bike and a carbureted one is 5 pounds.
To answer your question, when the motorcycle manufacturers were selling one million offroad bikes a year (in the 1970s), the sky was the limit when it came to R&D budgets. Today, dirt bike sales are a fraction of their peak. With the decline in sales, the R&D budgets have shrunk, corporate interest has waned and Japanese manufacturers don't want to spend the millions that it would cost to build a 220-pound KTM fighter.
If you have a question for us send an email to [email protected]
ONE QUESTION WITH 36-YEAR-OLD JUSTIN BRAYTON: IS AGE IS JUST A NUMBER?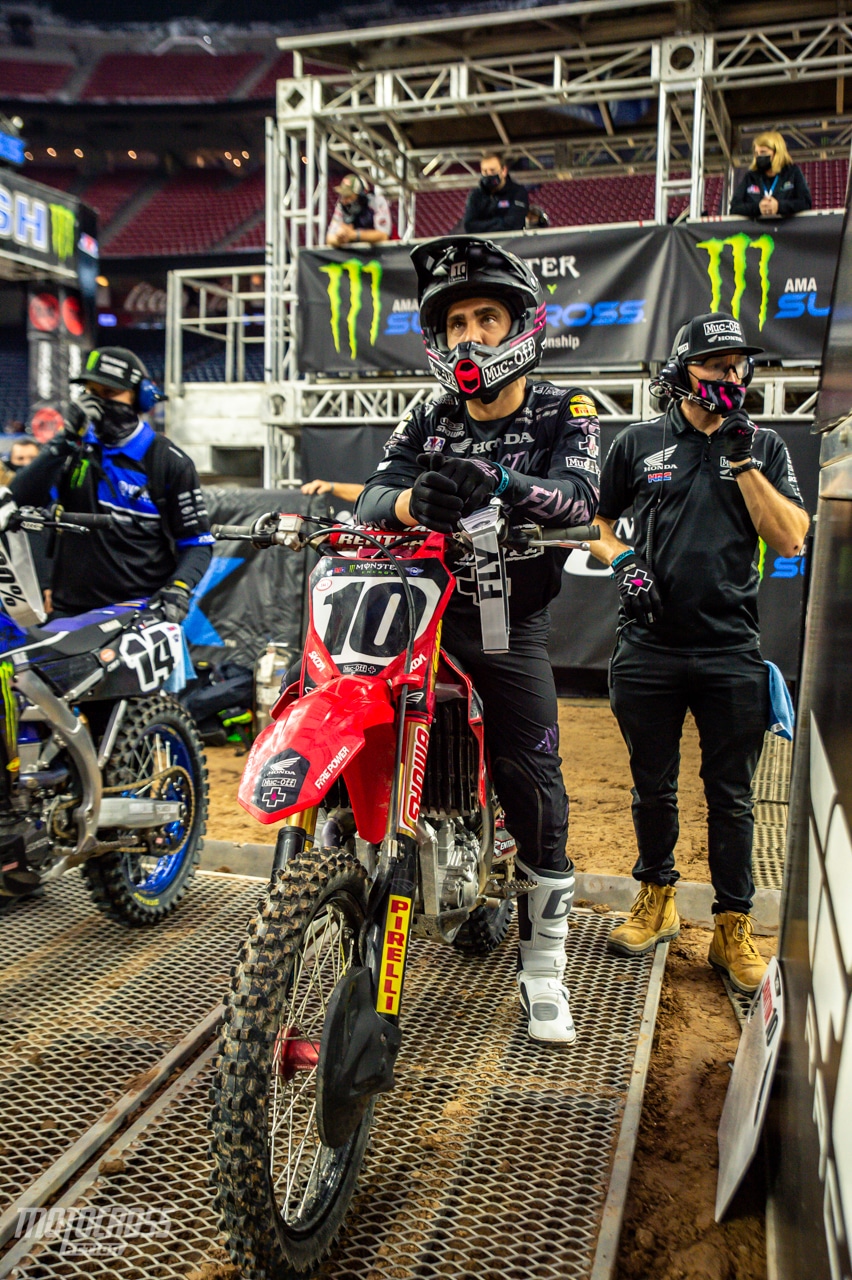 "Eli Tomac is in his late 20's now. I just don't even think about my age really that much. People talk about it more than I even think about it. The biggest thing is that this is what I want to do every day. My favorite thing to do every day is to ride motorcycles and compete at a high level. If I think I can still do that and mentally I still want to do that, then I am in. Things are changing with the nutrition, and you have things to keep you young and keep your body performing. As you said, age is truly just a number. Whether or not mentally you want to do it or not is the biggest thing. You could still race into your lower 40's if a guy truly wanted to and had done all the right things for his body. Most of the time people start a family, and then other things start to take precedent in your life. I have a 6-year-old and a 3-year-old and another one on the way, I just feel like it is so many great experiences that we have had with them. My daughter was at the race the other night, which was a late one, so my son had to go back to the house and go to bed. She was there and got to see her Dad get a podium and get a trophy. She was not very happy with me after round one when I did not get a trophy and Ken did, so we had to go to Ken's bus at the end of the night to see his trophy. She sees me every day working hard and every day going to the track and she asks all the time about all of it, like why I have to do that so much and there is just so many life lessons in there." —Justin Brayton
2021 HONDA CRF450 VS. HUSKY FC450 MXA SHOOTOUT 
HAVE YOU SEEN THE FEBRUARY 2021 ISSUE OF MXA YET? SPECIAL SUBSCRIPTION OFFER BELOW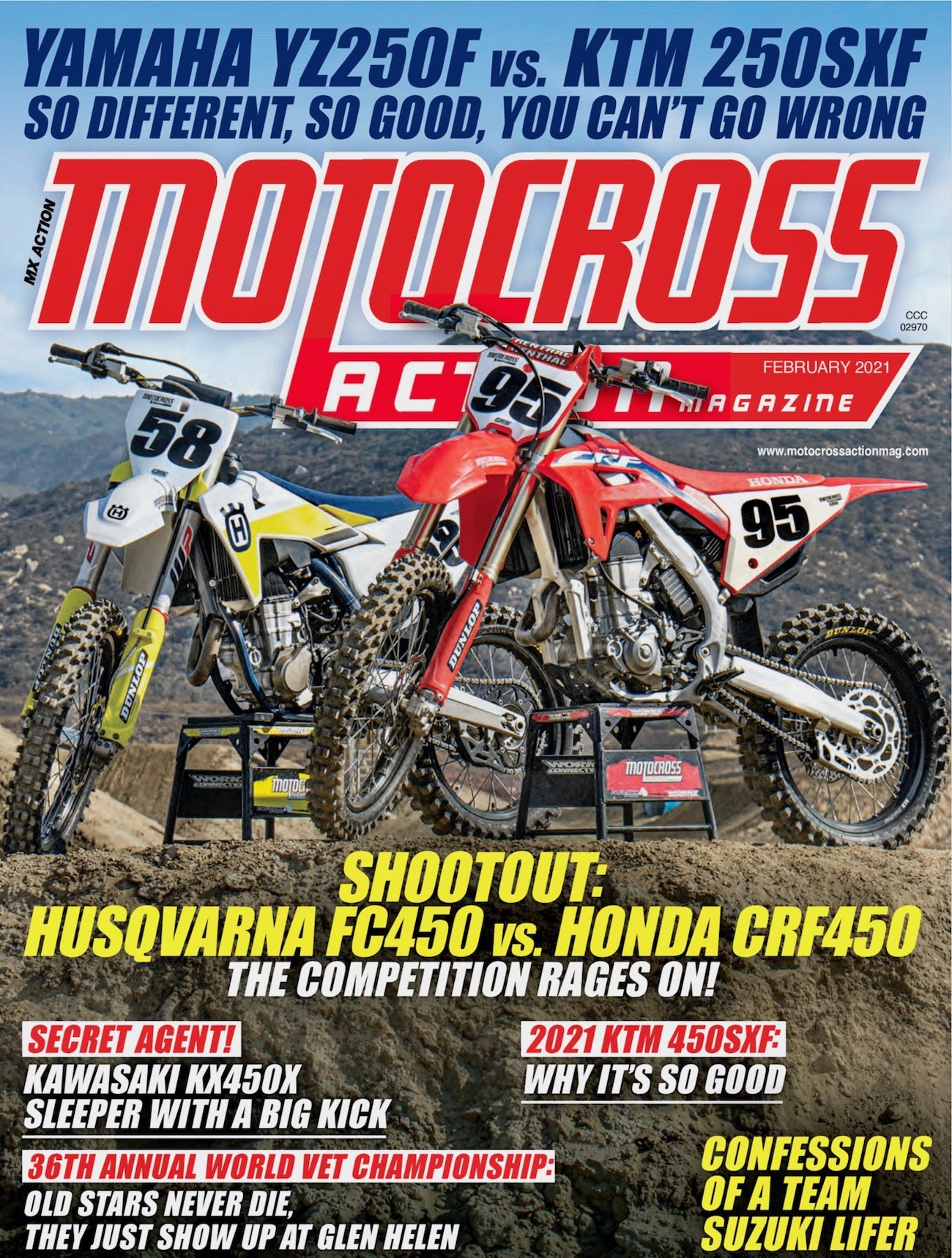 What's in the newest issue of MXA? How about a Shootout between the 2021 Honda CRF450 and the 2021 Husqvarna FC450—go ahead and guess which one won, you have a 50/50 chance of being right. Or how about complete and thorough tests of the 2021 KTM 450SXF, 2021 Yamaha YZ250F, 2021 Kawasaki KX450F cross-country, 2021 KTM 250SXF and Carson Brown's BBR Honda 190.
We wanted to take a little confusion out of what is the most confusing shootout season ever by doing shootouts against worthy contenders—this month it was the 2021 Honda CRF450 against the 2021 Husqvarna FC450.
Why is MXA testing the 2021 Kawasaki KX450X cross-country bike? That's simple, we race cross-country races, SRA GPs, WORCS races and endurance races all the time. And since the KX450X is just a KX450 motocross model with a few off-road concession, we felt right at home on it.
The 2021 KTM 250SXF is a high-rpm rocket ship that just happens to be blessed with a strong midrange and usable low-end. This is the magic formula for success in the 250 class.
The 2021 Yamaha YZ250F has the perfect low-to-mid powerband for the average racer or play rider. It doesn't have the high rpm power of the KTM, Husky, GasGas and Kawasaki, but it gets out of tight corners better.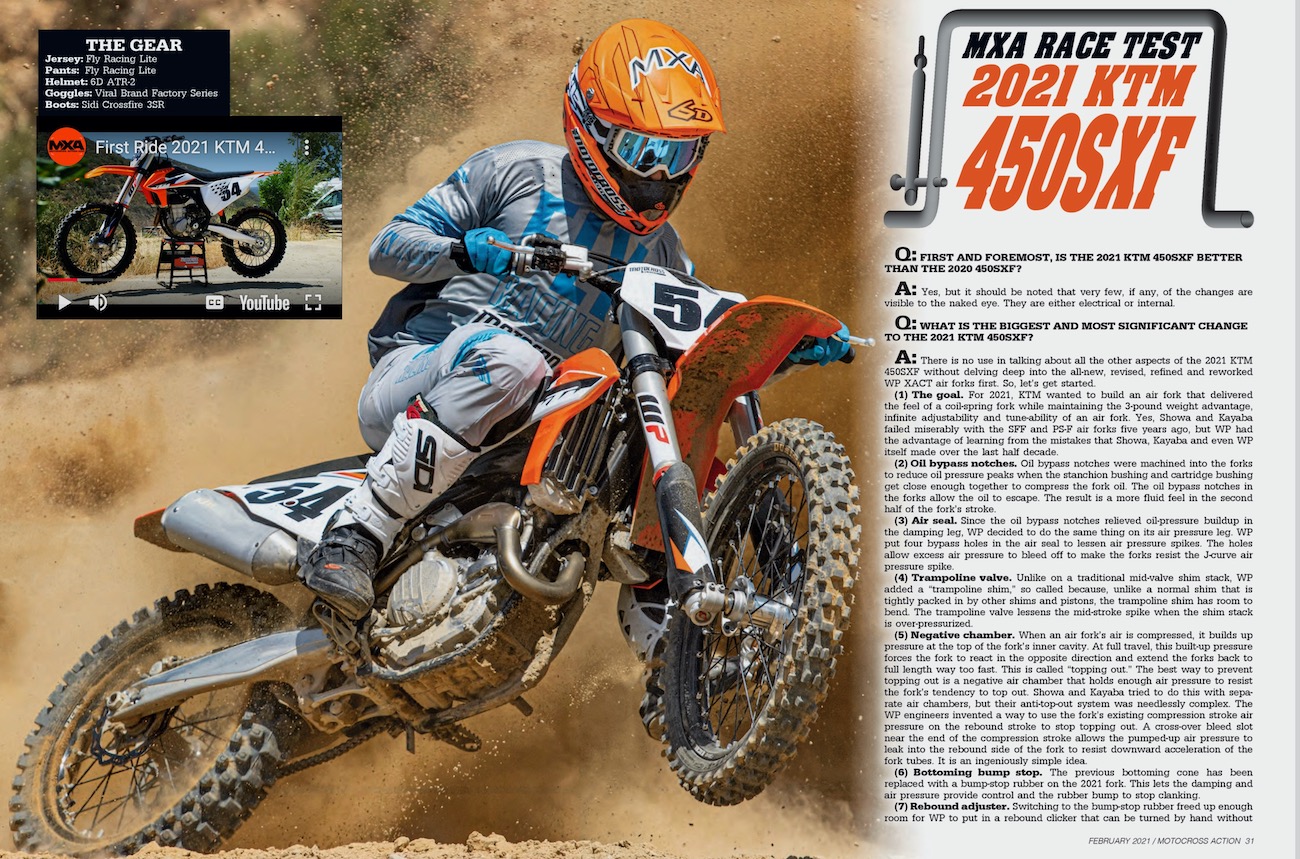 In the hierarchy of Austrian motocross bikes the 2021 KTM, 2021 Husqvarna FC450 and 2021 GasGas MC450F managed to use the same shared package three different ways. If you asked KTM what the 450SXF was designed for, they would tell you that it was "Ready to Race." We concur.
HOW TO SUBSCRIBE TO MXA SO THAT YOU NEVER MISS ANOTHER ISSUE, PLUS GET A $25 ROCKY MOUNTAIN GIFT CARD TO COVER YOUR COSTS
If you subscribe to MXA you can get the mag on your iPhone, iPad, Kindle or Android by going to the Apple Store, Amazon or Google Play or in a digital version. Even better you can subscribe to Motocross Action and get the awesome print edition delivered to your house by a uniformed employee of the U.S. Government. Did we mention the $25 gift card for any part you want from Rocky Mountain ATV/MX? You can call (800) 767-0345 or Click Here (or on the box at the bottom of this page) to subscribe.
2021 250 FOUR-STROKE SHOOTOUT TIME IS HERE…FINALLY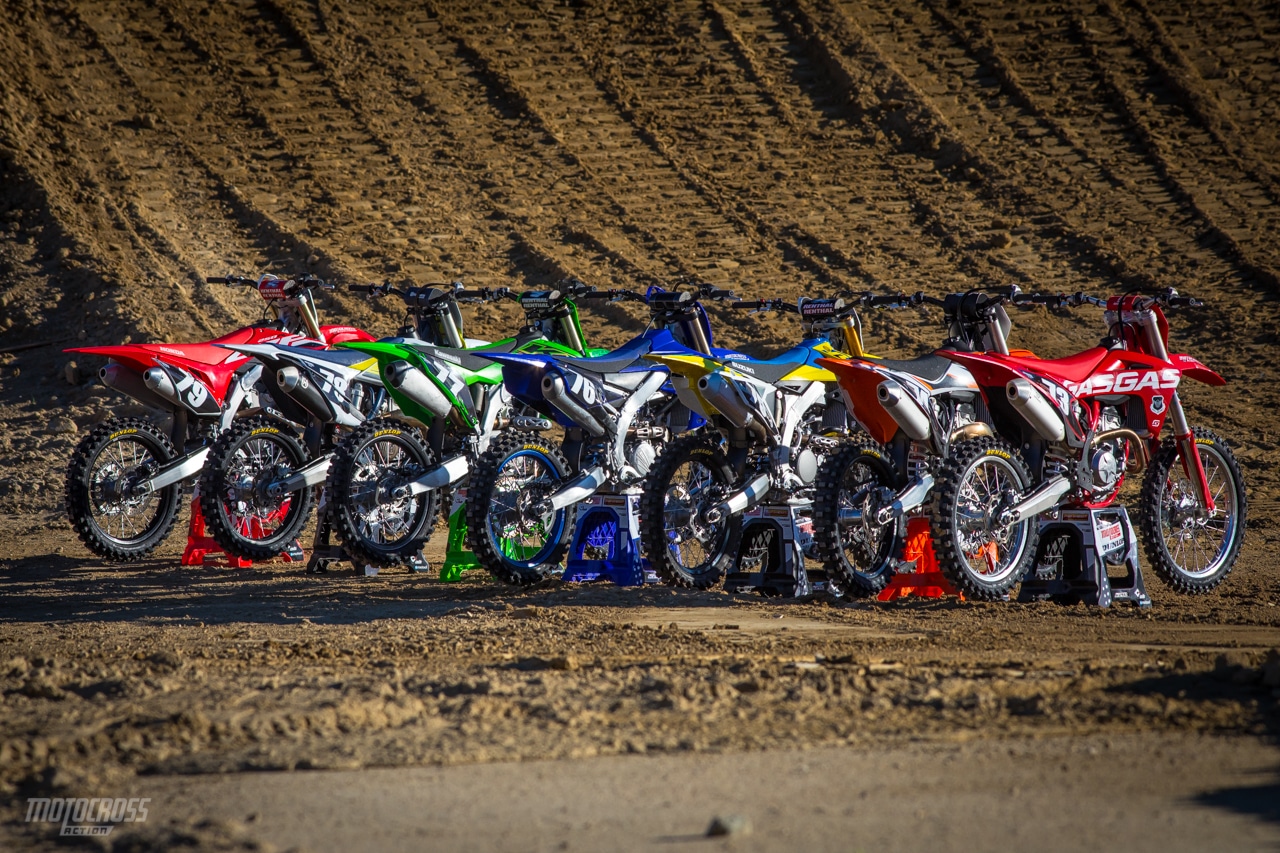 Our 250 Shootout has been coming along nicely. We are still gathering data on the seven bikes, but we are getting close. Which bike is your favorite? 
The 2021 KTM 250SXF. 
The 2021 Kawasaki KX250. 
The 2021 Suzuki RM-Z250.
The 2021 Husqvarna FC250.
The 2021 GasGas MC 250F. 
The 2021 Yamaha YZ250F.
The 2021 Honda CRF250. 
JOIN MXA'S FLIPBOARD PAGE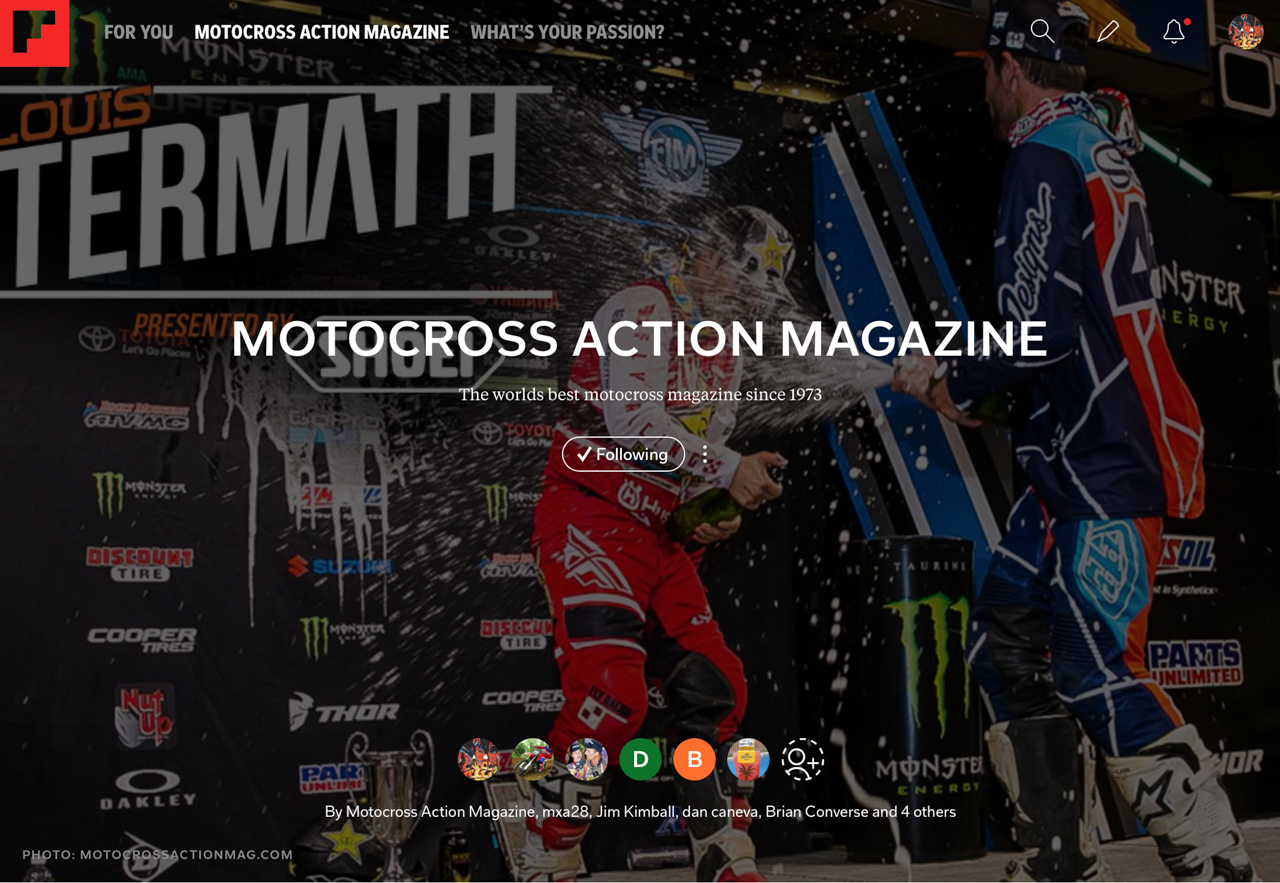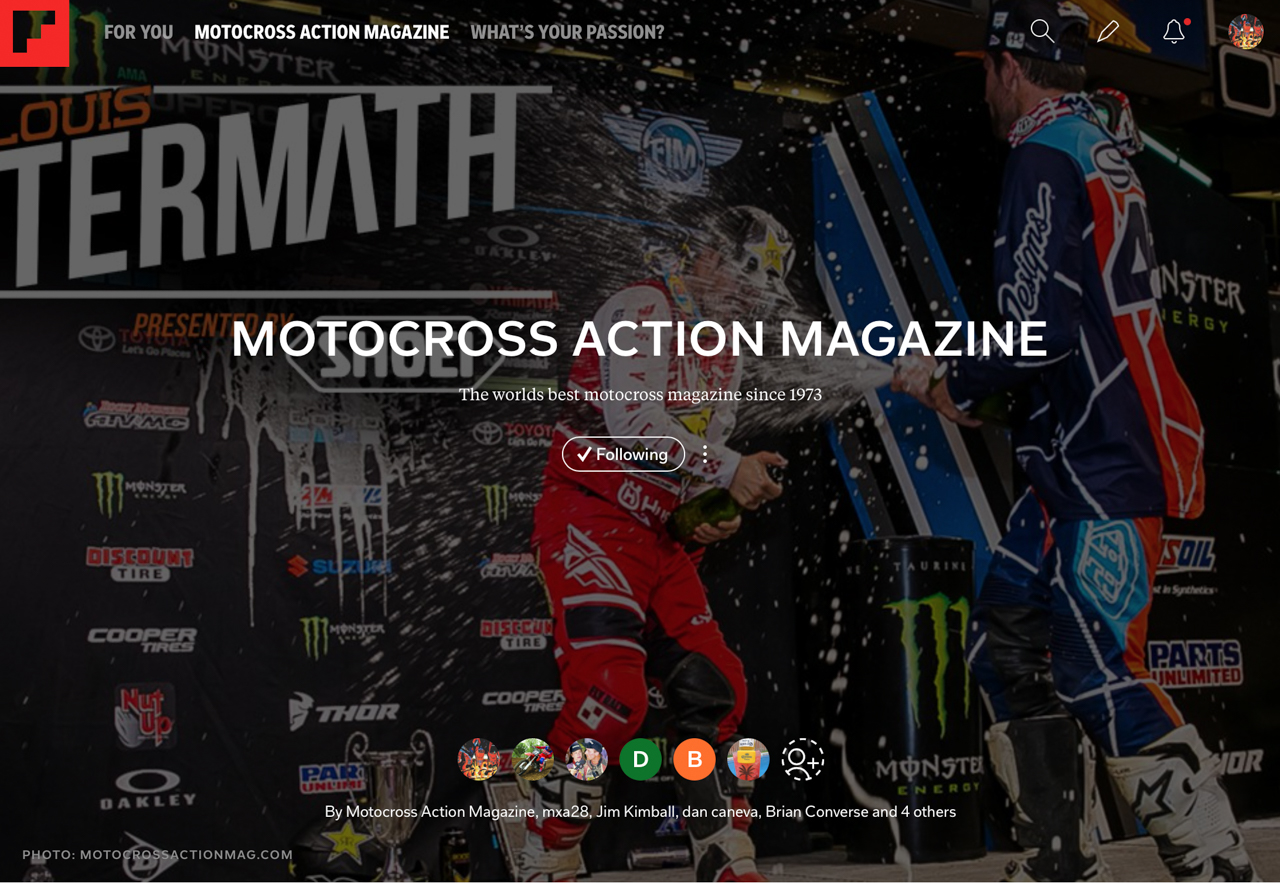 If you use Flipboard make sure to subscribe to the Motocross Action page for all the updates on our website. Click HERE to check out the page.
RAW VIDEO OF A TRICKED OUT 2002 HONDA CR250