MOTOCROSS ACTION MID-WEEK REPORT
#WHIPITWEDNESDAY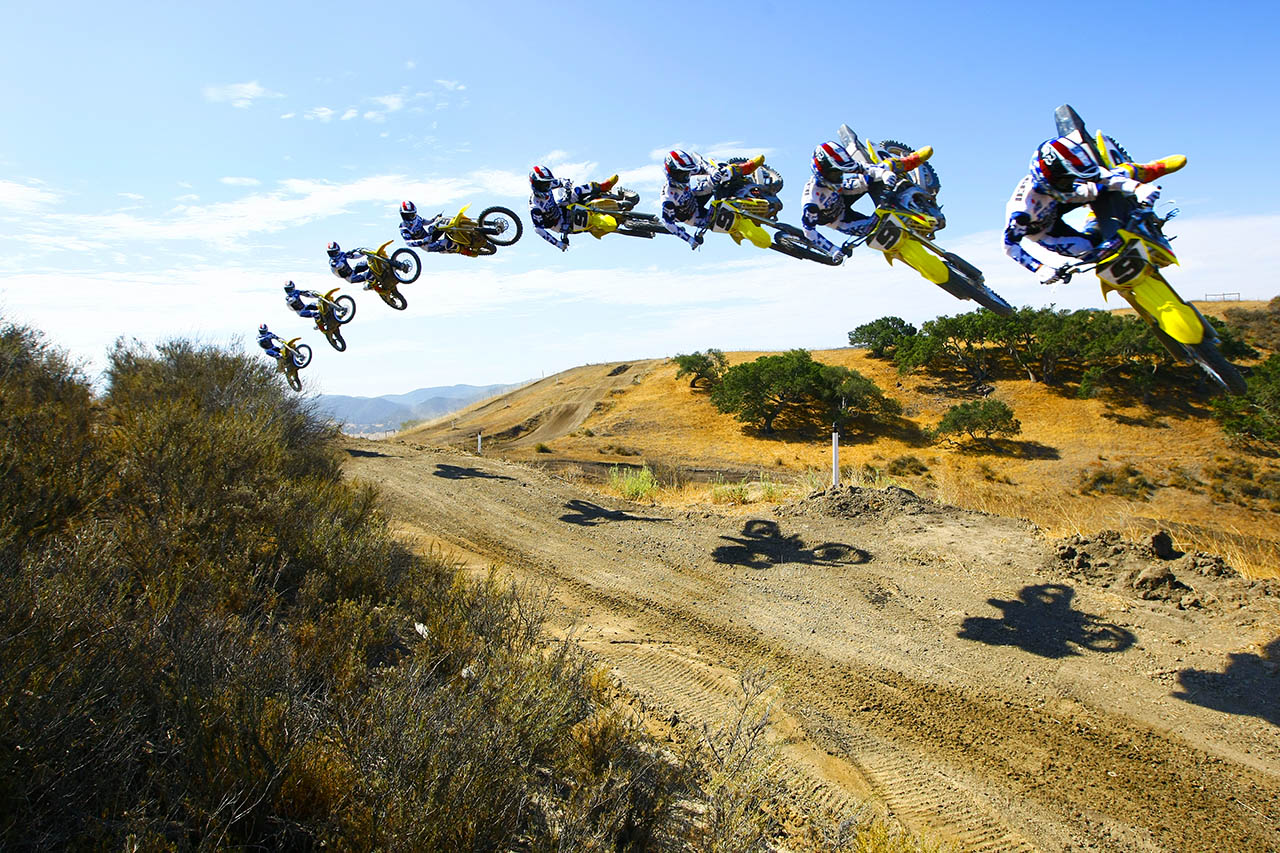 Rider: Ivan Tedesco
Location: Castillo Ranch
Focal length: 16mm
Exposure: 1/1000sec
F-stop: f/5
ISO: 250
Photographer: MXA Archives
TWO-STROKE SPOTLIGHT: MICHAEL KOLAR'S 2003 HONDA CR125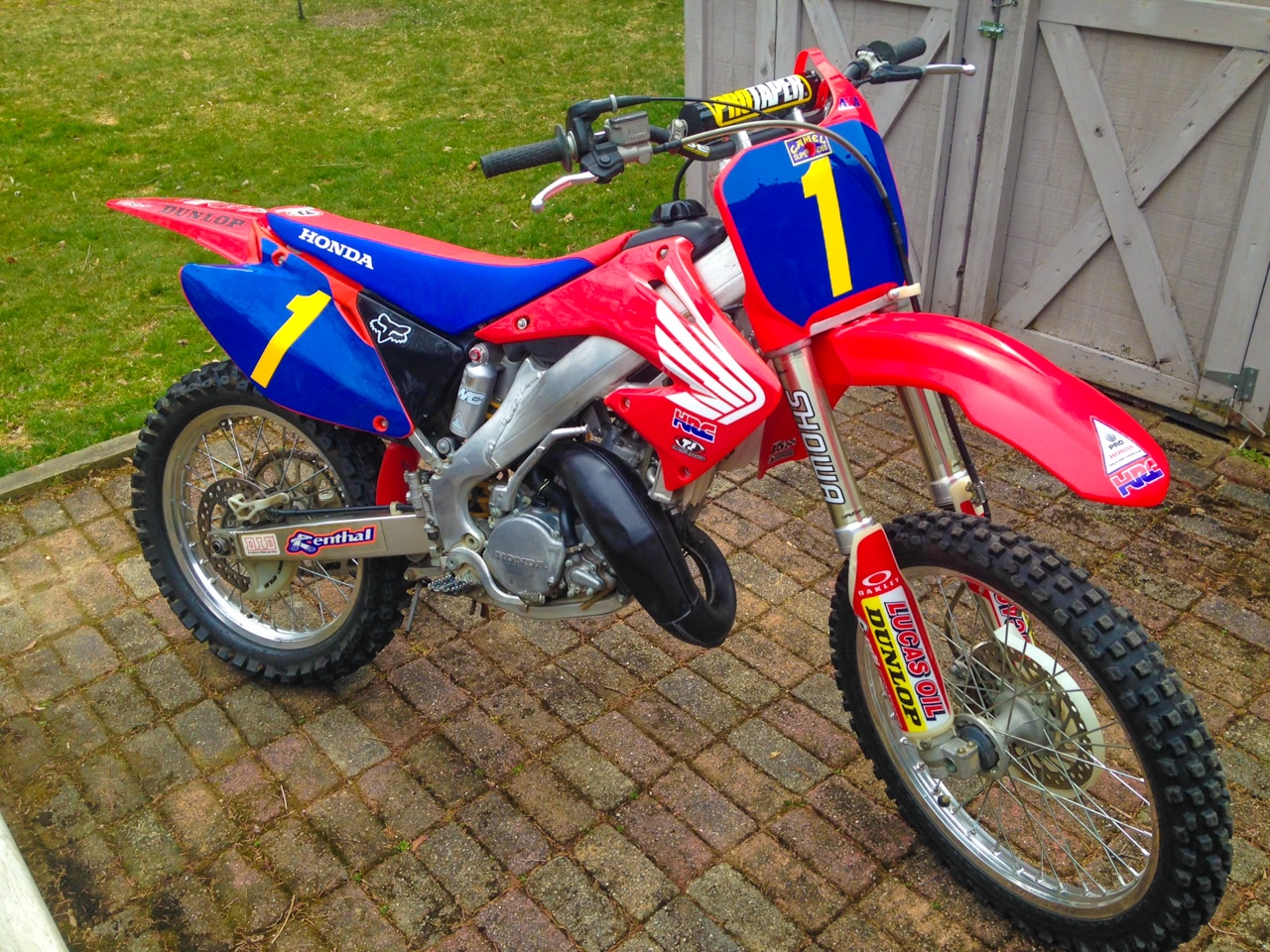 "It's a 2003 Honda CR125, but I am a big fan of the grand national Honda bikes of Bailey, Stanton, Bayle, and McGrath. It's a stock bike with the exception of the plastics, custom graphics and hand made number plate backgrounds." –Mike Kolar
EDITORS NOTE: Please keep those submissions coming. If you would like your bike to be featured in the "Two-Stroke Spotlight," please email me at [email protected]. All I ask is that you give a breakdown of your bike and a detailed description of the build. Please also send a few photos of your steed. By submitting your bike for the "Two-Stroke Spotlight," you agree to release all ownership rights to the images and copy to MXA.
MXA | MOTO | TRIVIA
MXA 125cc SHOOTOUT CONTENDERS
2021 TM 125MX.
2021 Yamaha YZ125.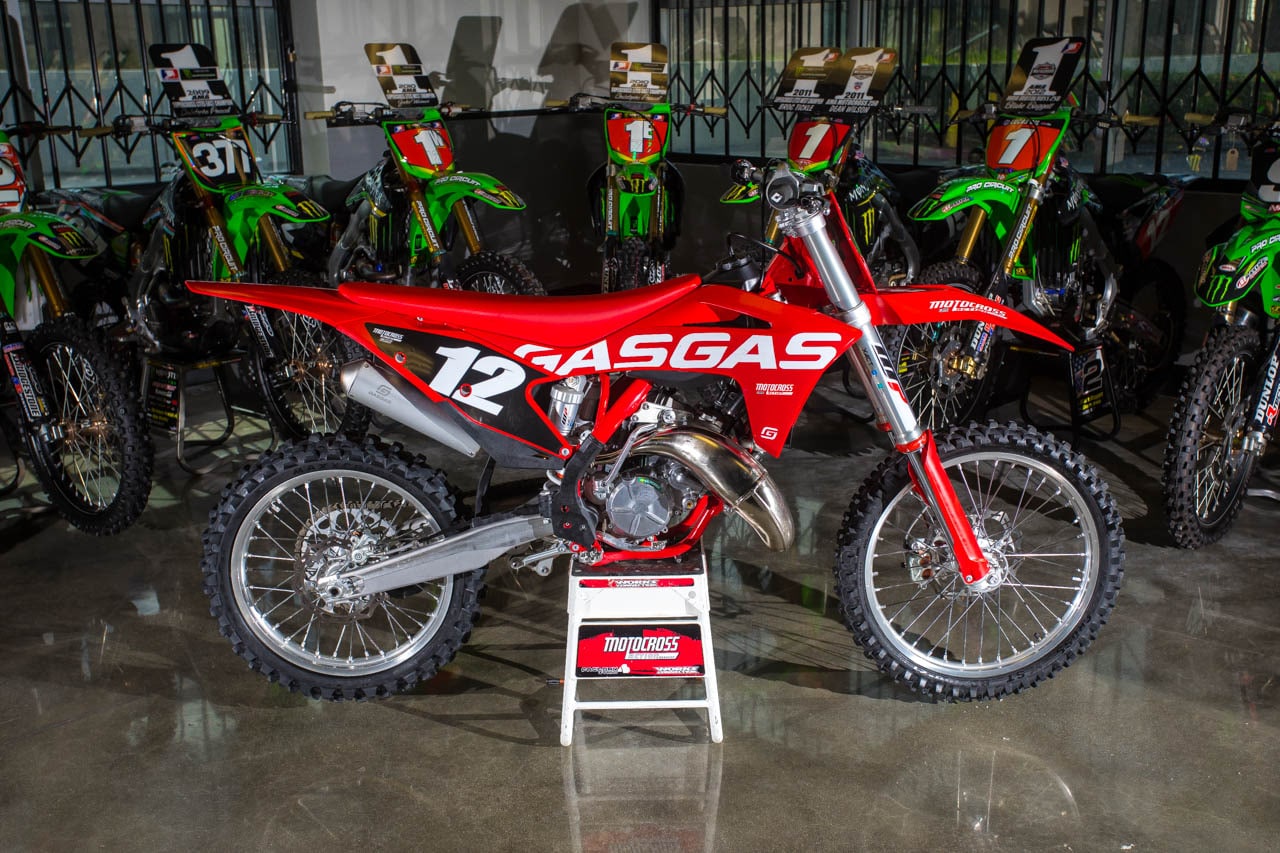 2021 GasGas MC 125.
2021 KTM 125SX. 
2021 Husky TC125. 
2-STROKE WORLD CHAMPIONSHIPS | APRIL 3 | GLEN HELEN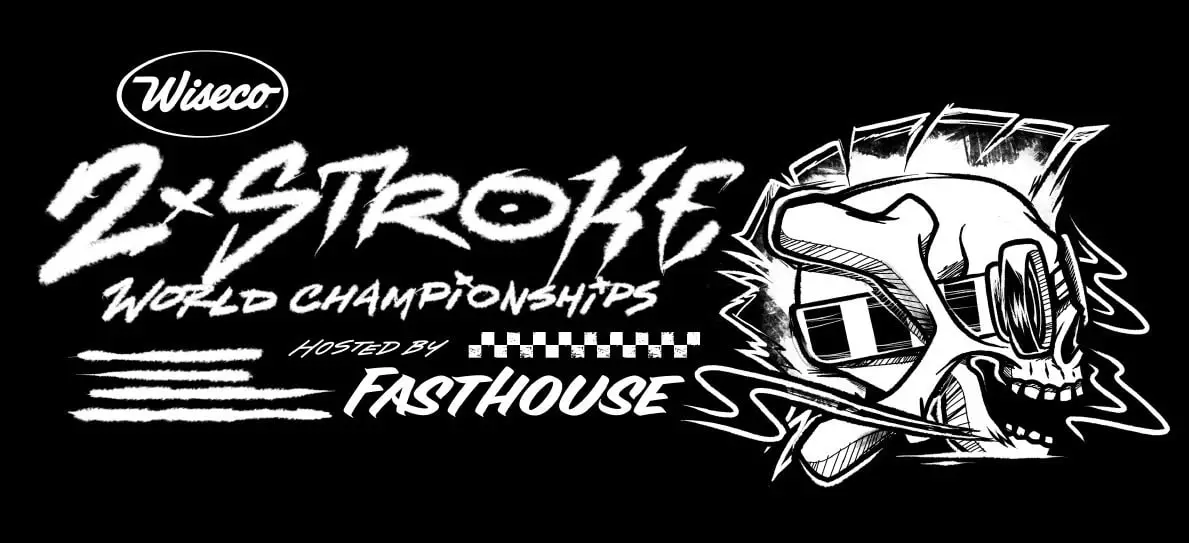 Hopefully your two-stroke isn't still sitting in the garage dirty, because it is almost that time again for the Wiseco World Two-Stroke Motocross Championships hosted by Fasthouse. Six short months after the 2020 event, premix will fill the air yet again at Glen Helen Raceway in San Bernardino, CA on Saturday, April 3, 2021. The World Two-Stroke Motocross Championships have been an annual fan and competitor favorite at Glen Helen for years, with people traveling from different cities, states, and even countries to get their two-stroke motocross fix. This year will mark the 12th event. While normally held in early April, last year's event was postponed to October due to Covid-19, cutting the time between events in half.
Mike Alessi celebrates his 2020 World Two-Stroke Championship. He won it back in 2016, but had bad luck since then. In 2020, Mike avoided the gremlins and took home $30,000 in purse and bonus money. Photo: Debbie Tamietti
This year also marks Wiseco's 80th anniversary with roots in two-stroke racing and performance dating back to 1941. This is the third consecutive year Wiseco is supporting the World Two-Stroke Motocross Championships with the help of Fasthouse, and as an industry leader in manufacturing and innovating two-stroke performance components, from forged pistons to crankshafts to clutches, this is a perfect fit for the true heritage of the Wiseco brand.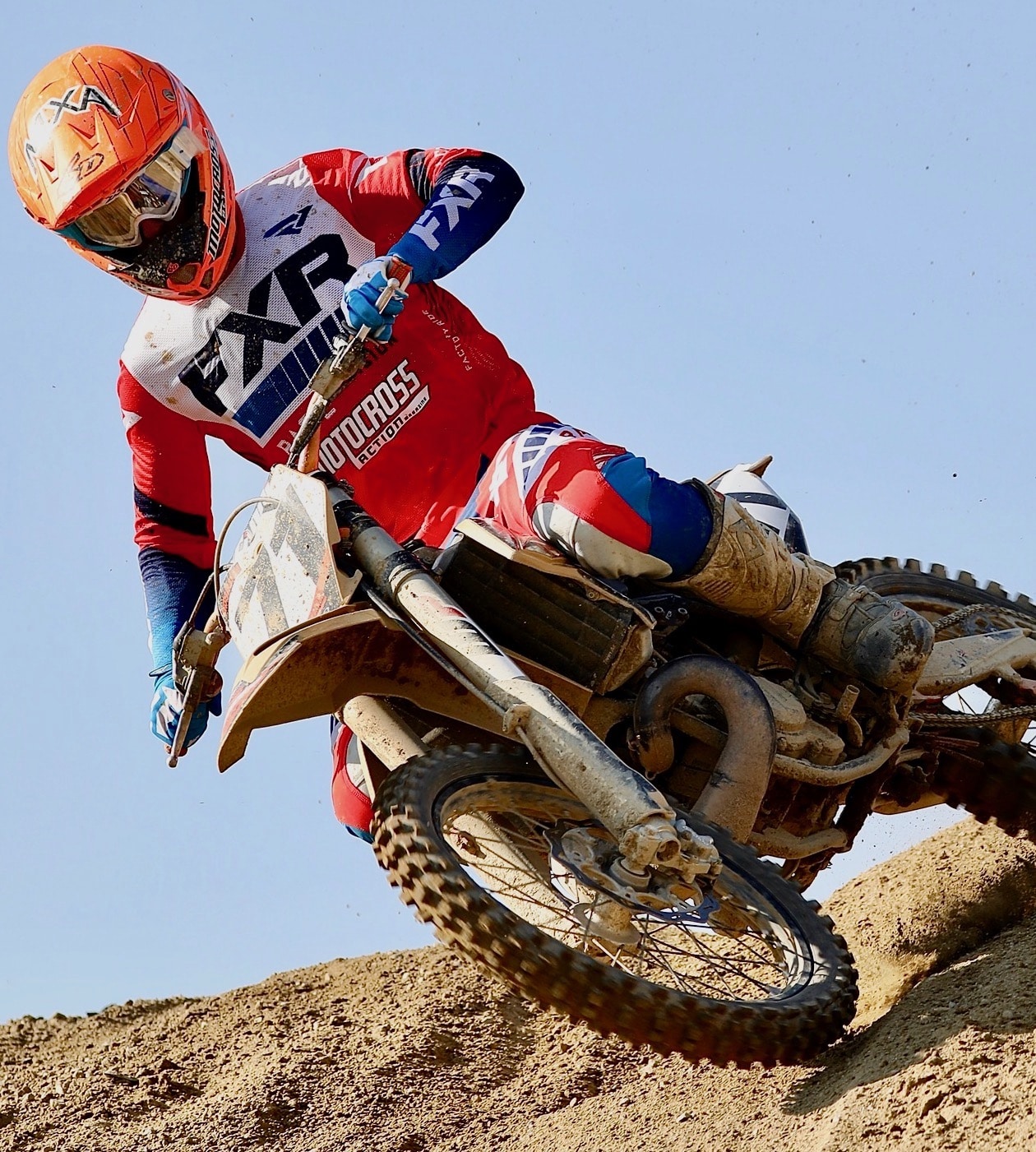 MXA's Josh Mosiman used last year's World Two-Stroke Championship as a test session on MXA's 2020 KTM 300SX project bike. Josh was one of the few guys who passed Mike Alessi at last year's race, but his time in the lead only lasted for one lap. Photo: Debbie Tamietti
"Wiseco was founded by grassroots racers with a passion for two-stroke competition and performance 80 years ago and has been developing and racing two-strokes of all disciplines ever since," said Scott Highland, Director of Powersports for Wiseco. "We are all avid racers and share a passion for the sport, so we're thrilled to have the opportunity to continue our support of the iconic World Two-Stroke Motocross Championships at Glen Helen. Long live the Ring-Ding-Ding!"
"Glen Helen is honored to have Wiseco on board as the title sponsor of the Wiseco World Two-Stroke Motocross Championships," said Glen Helen's Lori Wilson. "The event has grown every year, and with Wiseco's support for 2021, the event will be the largest ever."
Mike Alessi (800), Josh Mosiman (71) and Deegan Vonlossberg (427) lead the 2020 charge to Talladega. This year the Pasha 125 Pro class will have a $6000 purse (with first place paying $3000, second place $2000 and third place $1000). In the Over-30 125 Pro and Over-50 125 Pro classes, there will be a $2000 purse. (paying $1000 for first, $600 to second and $400 to third). Photo: Debbie Tamietti
2021 WORLD TWO-STROKE RACE SCHEDULE
Friday, April 2: Two-Stroke only practice
Saturday, April 3: Gates open 6:00 a.m.
Post sign-up/check in: 6:30 a.m.
Practice: 8:00 a.m.
Rules:
• Every pre-entered rider must check in at tower.
• Minors must have a parent come to sign-up.
• If you don't have your own transponder, you will be issued one, but must leave your driver license at sign-up until you return it.
• Gate pick for the first moto will be by order of pre-entry and then post entry.
• Second moto gate pick will be based on first moto finishing order.
• Most races will have wave starts with multiple classes (if you leave with the wrong gate you will be penalized).
• No tools can be used in front of the starting gate—just feet.
• Passing or jumping on a yellow flag will lead of a penalty.
• Trophies will be handed out to first through fifth for all classes in the museum.
• 50 and 65cc classes get 100% trophies.
• For more info go to www.glenhelen.com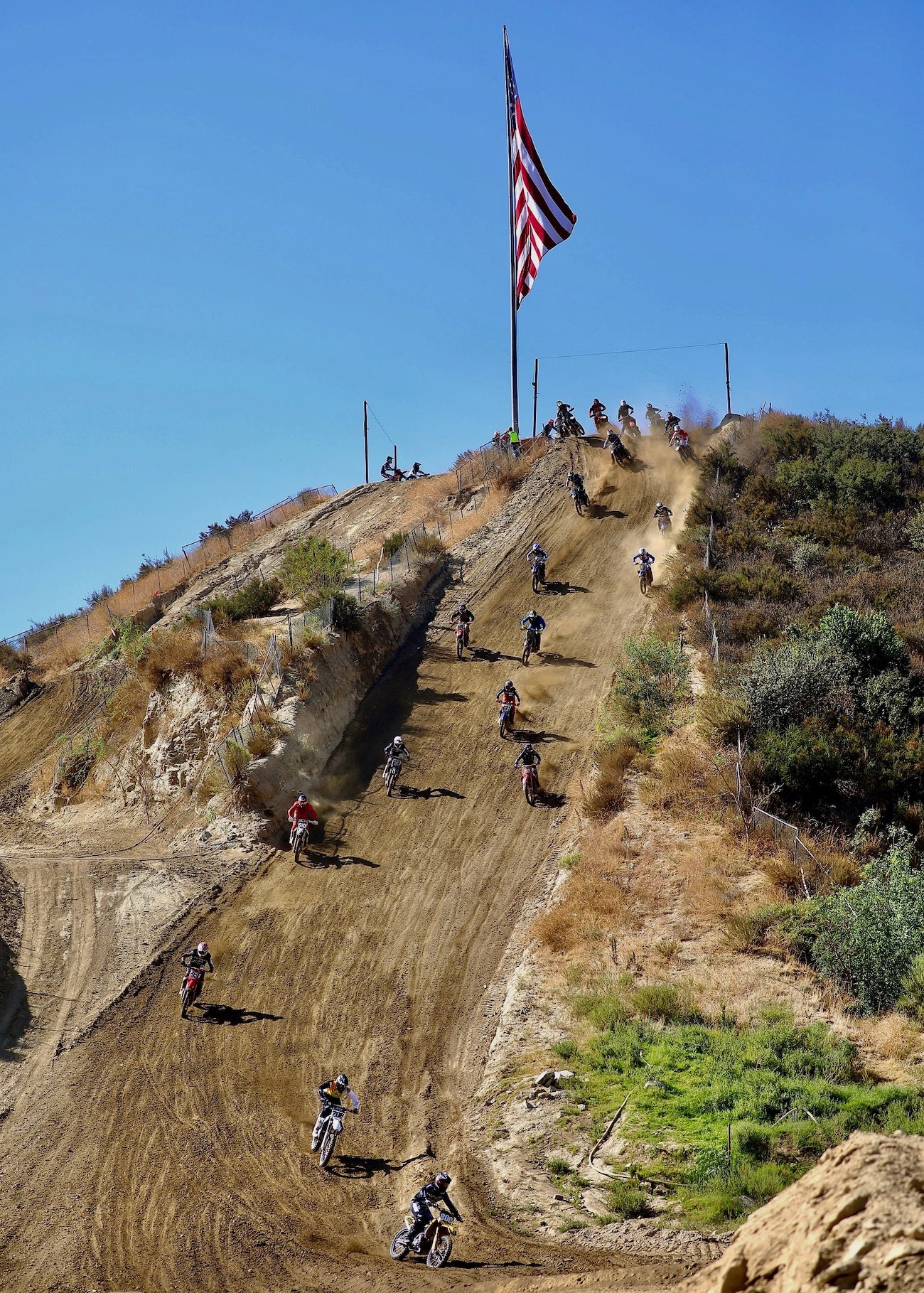 It doesn't look very steep in photographs, but this 22-story downhill will pucker every orifice in your body by the time you get to the bottom. Photo: Debbie Tamietti
2021 WORLD TWO-STROKE CHAMPIONSHIPS CLASSES
TWO-STROKE ADULT CLASSES
Open Pro…122cc-Open ($8000 purse)
Pasha 125 Pro…122cc-150cc ($6000 purse)
Pasha Over-30 125 Pro…122cc-150cc ($2000 purse)
Pasha Over-50 125 Pro…122cc-150cc ($2000 purse)
250 Beg, Nov, Int, Exp…201cc-250cc
125cc Beg, Nov, Int…122cc-150cc
Open Beg, Nov, Int 122cc-Open
Over-25 Nov, Int, Exp…122cc-Open
Over-30 Nov, Int, Exp…122cc-Open
Over-40 Nov, Int, Exp…122cc-Open
Over-50 Nov, Int, Exp…122cc-Open
Over-60 Nov, Int, Exp…122cc-Open
Over-70 All Skills…122cc-Open
Vintage all skills…98cc-Open
Women All Skill…122cc-Open
TWO-STROKE YOUTH CLASSES
85 14-16 yrs…85cc
85 12-13 yrs…85cc
85 9-11 yrs…85cc
85 first timer…85cc
Supermini…85cc-112cc
65 9-11 yrs…65cc
65 6-8 yrs…65cc
65 First timer…65cc
50 4-6 yrs…50cc
50 7-8 yrs…50cc
50 first timers..50cc
PLUS, WORLD TWO-STROKE WARM-UP RACE AT GLEN HELEN ON SATURDAY, MARCH 20

There will be a two-stroke warm-up race on March 20 on the Glen Helen National track, held in conjunction with all the regular REM Motocross classes. The three 125 classes will be 125 Pro, Over-30 125 Pro and Over-50 125 Pro. The 125 Pro class will pay a 100% payback purse to the top 30% of the riders. REM will host all of its normal classes  (there will only be three Pasha 125 classes). This is the last opportunity to test your two-stroke and your body before the World Championship two weeks later. For more info go to www.glenhelen.com or www.remsatmx.com.
INSIDE THE SHOP | PRO CIRCUIT | photos by Trevor Nelson 
130 LB. PROSPECTIVE: 2021 RM-Z 250 | 

Brian Medeiros

 
On this edition of the "130 lb. Prospective" we dive into the 2021 Suzuki RM-Z 250. We don't see a lot of RM-Z 250's at the local tracks here in Southern California but we know there are die-hard Suzuki fans out there looking for answers. Note that these setting will work on 2019 through 2021 RM-Z 250's because they haven't changed.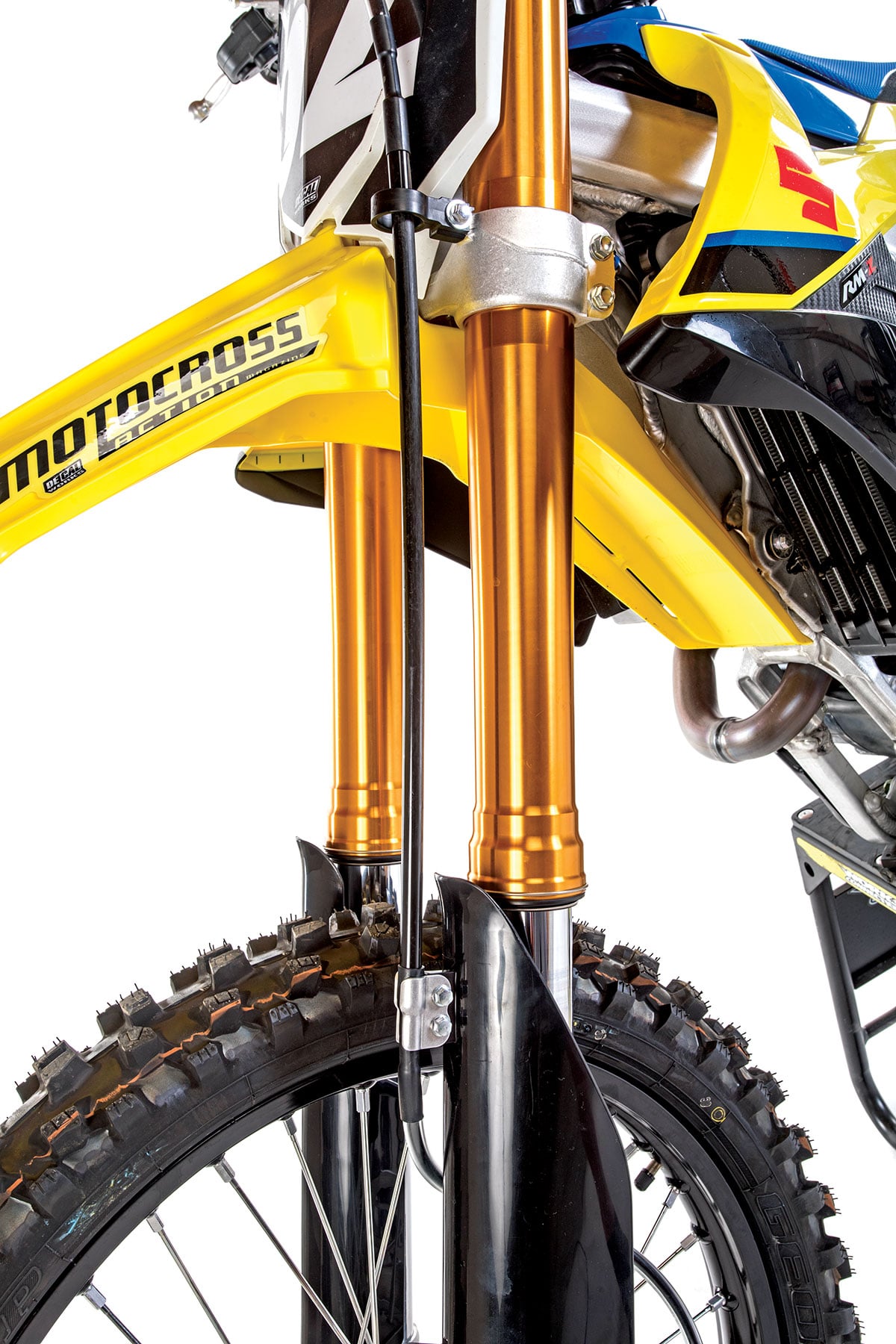 Forks. The RM-Z 250 comes with KYB SSS fork. Before you get too excited though, they are way over sprung for the average 250 rider. They come with 5.0 N/mm fork springs. I started off with compression and rebound set at 12 clicks out. This did not work. As soon as I went down Glen Helen's Mount Saint Helen for the first time, I immediately rode back to the truck with my tail between my legs. The forks didn't move! After that experience, I made a drastic change to see if we were even in the ballpark in stock form. I went to 20 clicks out on compression and 16 clicks out on rebound. This helped but was nowhere near where I needed it to be comfortable. I still had two inches of travel left on the forks. I went back and swapped out the stock 5.0 N/mm springs for 4.4 N/mm spring and this made a world of difference. I was able to get the forks to absorb the braking bumps, while still maintaining good hold-up on slap-down landings. The light fork springs gave me the KYB SSS feel that I was looking for. I ended the day with my compression set at 14 clicks out and my rebound set at 14 clicks out.
Shock. Like the forks, the shock was also over sprung. With the stock 5.6 N/mm spring almost completely loose I was only able to get 90mm of sag. The shock would ride high on all parts of the track, which made it hard for me to get the rear-wheel traction I was looking for. I dropped to a 5.0 N/mm shock spring and was able to get 105mm of rider sag with 38mm of static sag. By dropping the spring rate and running my high-speed compression (Blue) at 14, low-speed compression (Silver) at 14, high-speed rebound (bottom of shock) at 16, and low-speed rebound (Red) at 14 I was able to get a planted feel on corner entry and better rear wheel traction on the exits. It also gave me a more consistent feel when trying to stay low on jumps that had imperfections on the faces.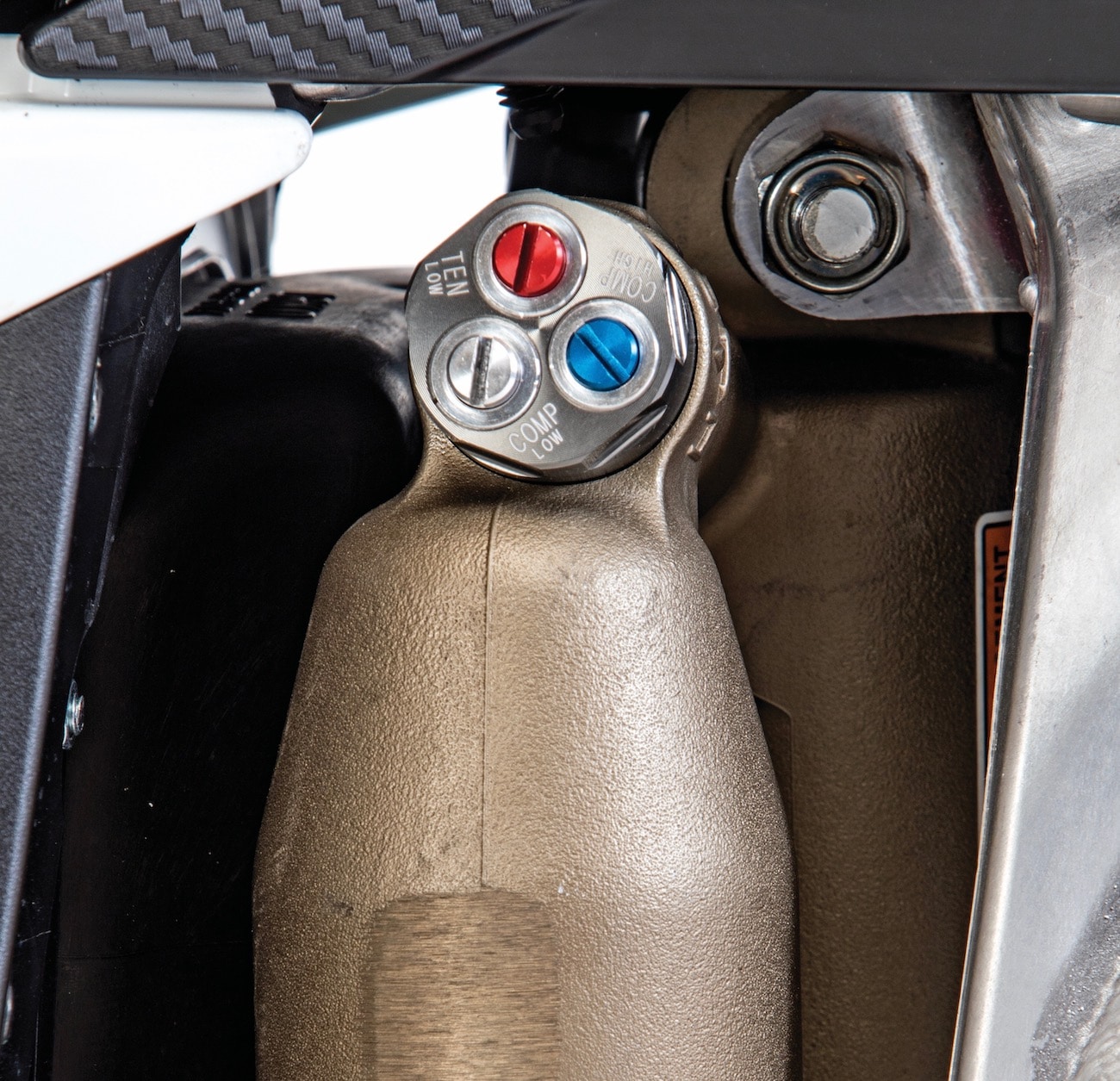 The 2021 RM-Z 250 is not a bad motorcycle. It has an exciting low to mid-range powerband which makes it easy and fun to ride, especially if you are a weekend warrior, a kid just moving up to the big bikes, or even a Vet rider. However, if you are under 200 pounds you will need softer springs. I recommend trying the stock valving with the correct spring rates for your weight because it does bring out the characteristics of the RM-Z 250 that everyone can appreciate.      
PRO CIRCUIT NEW ERA HATS
Three brand new snapback hats were recently added to our line of headwear that will be sure to hook up one's image with a little bit of flashiness and style. The Diamond, Java and Treadmark are hand assembled by New Era and feature some different fabrics this time around like corduroy and herringbone to add a little variety to our caps. Top it off with custom Pro Circuit logos, superior stitching quality and rear snap closures for a perfect fit and you have hats that are ready to turn some heads the next time you hit up the local track, supercross race or out to dinner.
 Diamond Snapback: This New Era 9FIFTY snapback carries contrasting black and white corduroy fabrics as well as a custom debossed leather patch on the front and adjustable plastic snap closure in the back for the perfect fit.
Java Snapback: Going the simpler route, the Java Snapback includes a single tan color in corduroy throughout with embroidered Pro Circuit logos on the front and wearer's right side. This New Era 9FIFTY design also has an adjustable plastic snap closure for a sure fit.
Treadmark Snapback: This is a New Era 9FIFTY snapback with embroidered Pro Circuit logos on the front and wearer's right side. Herringbone fabric on the crown and tan faux leather on the visor are also included as well as an adjustable plastic snap closure in the back for the perfect fit.
LOST BUT NOT FORGOTTEN | VERTEMATI MX500
CLASSIC PHOTO

Chad Reed and his 2005 Yamaha YZ450F.