MOTOCROSS ACTION MID-WEEK REPORT
TWO-STROKE SPOTLIGHT: CHRISTER NILSSON'S 2004 KAWASAKI KX250
To find a 2004 KX250 in 2018 with only 18 hours on it is like finding a piston circlip in a haystack.
"Hello from Sweden. My name is Christer Nilsson and I am 46 years old. I have been riding for most of my life. I am a two-stroke guy at heart. I am sending you my 2004 Kawasaki KX250 that I bought last winter. It had been sitting since late 2004 with only 18 hours on it. I took it apart, changed the things that needed to be fixed, such as the suspension and shock. Put a Doma pipe and silencer on it with a V-Force reed cage. A new Prox piston was also installed. The plastic and the graphics are original. So far I put about three hours on it and it runs fantastic. Hope you would put this up on MXA's Two-Stroke Spotlight. It would be so cool to see my bike on the site. Thanks for a fantastic magazine." –Best regards Christer from Sweden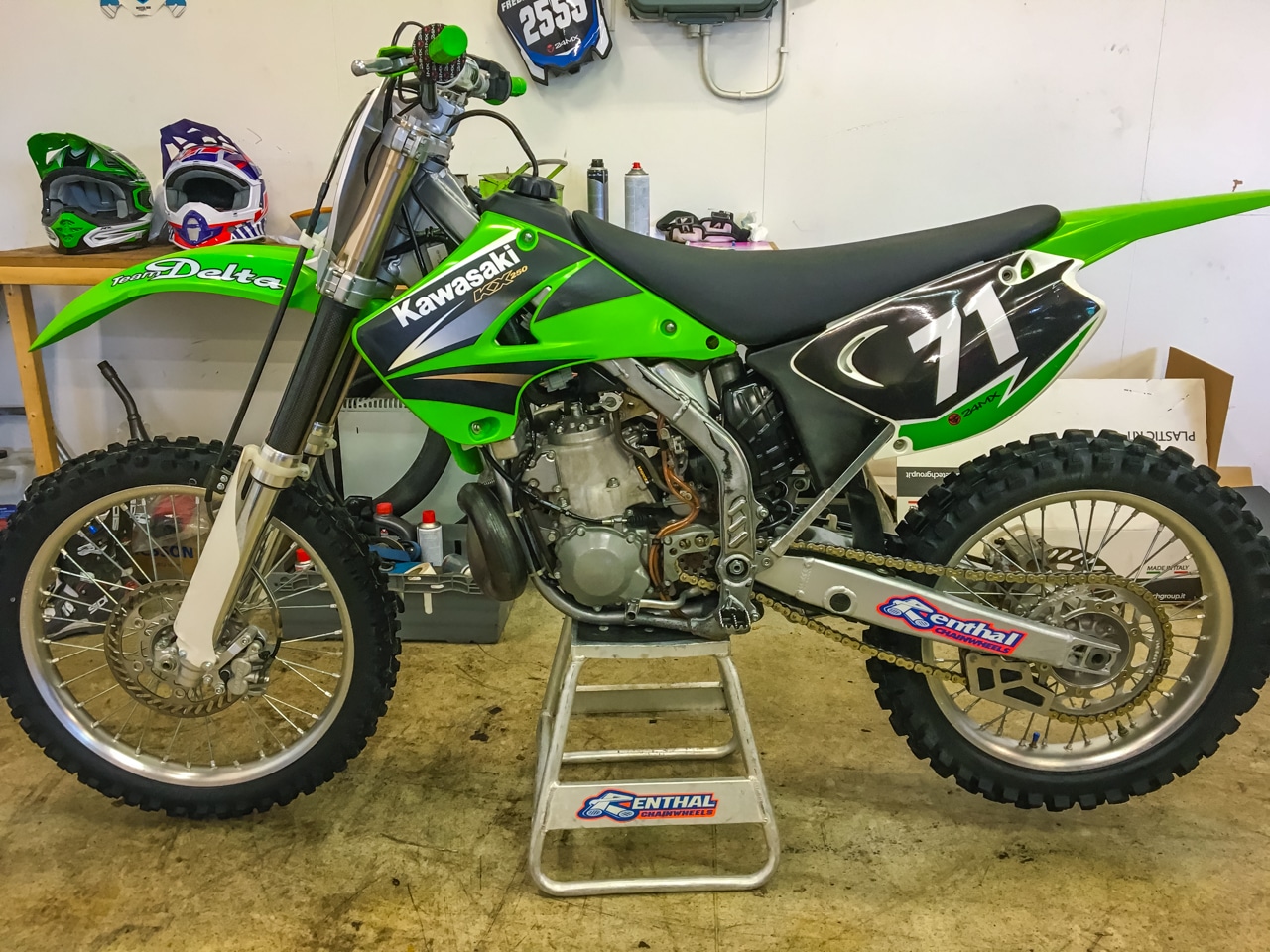 Editors Note: Please keep those submissions coming. If you would like your bike to be featured in the "Two-Stroke Spotlight," please email me at [email protected] All I ask is that you give a breakdown of your bike and a detailed description of the build. Please also send a few photos of your steed. By submitting your bike for the "Two-Stroke Spotlight," you agree to release all ownership rights to the images and copy to MXA. Please don't email me spam or try selling me Taylor Swift concert tickets or email me spam. Happy submitting your smoker.
MOOSE RACING 50SX TWO-STROKE REPLACEMENT CYLINDER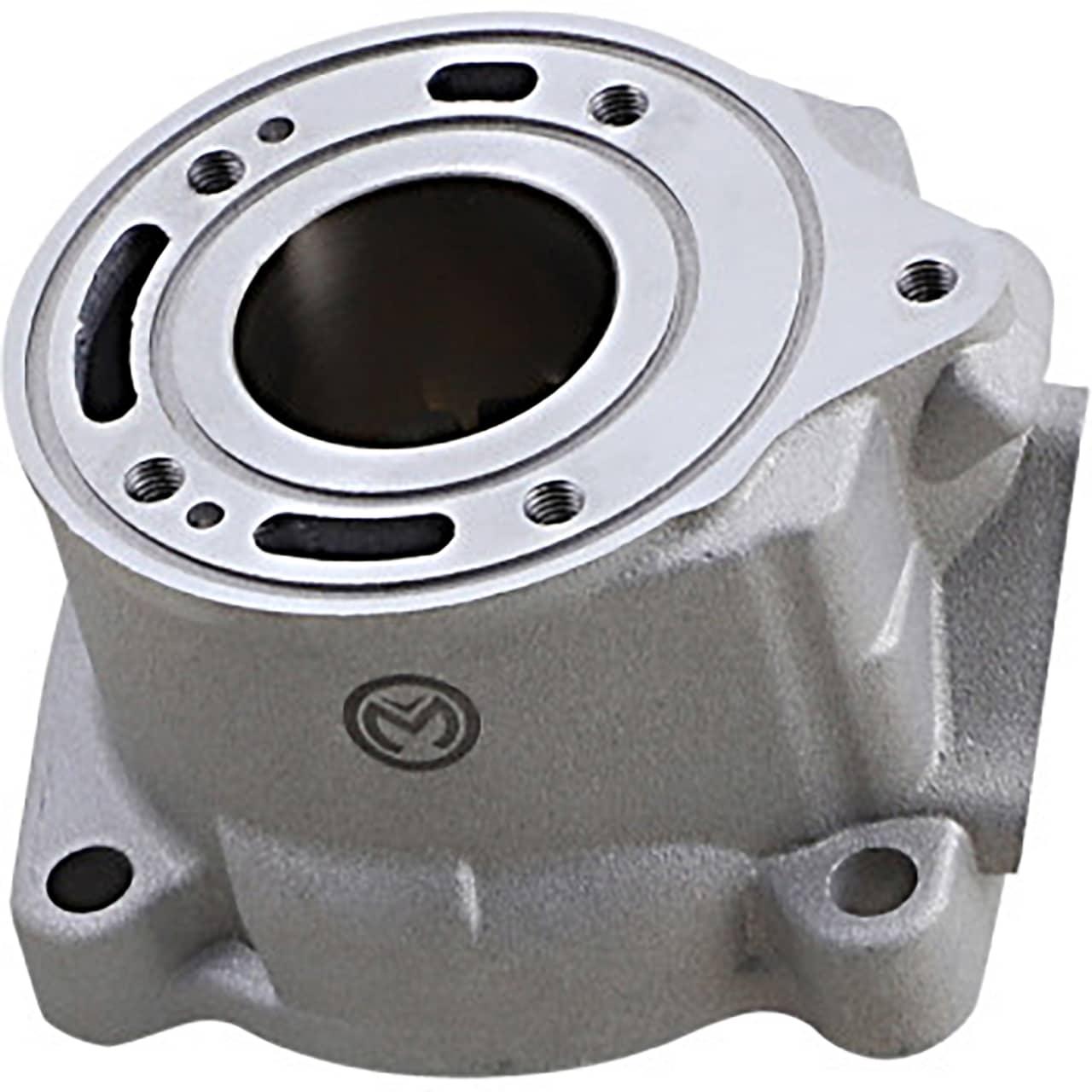 Moose Racing introduces the 50 SX Mini 2 stroke cylinder. This replacement cylinder is an easy and cost-effective way to replace your damaged or worn OEM cylinder. Made from cast aluminum; nickel silicon carbide plated and is precision-machined and honed to match OEM stock bore sizes. The replacement also features an extremely durable low-friction bore surface which allows for greater heat dissipation. Made in the USA. MSRP is listed at $289.95. Head on over to your local dealer or to www.mooseracing.com. to check this out!
JASON ANDERSON | RACING ON HIS OWN TERMS
MXA TEAM TESTED: POLISPORT PERFORMANCE RACING SEAT
WHAT IS IT? The Polisport seat comes with the gray-colored plastic base, high-density foam and the pyramid seat cover all in one ready-to-race package.
WHAT'S IT COST? $164.99.
CONTACT? www.polisport.com or your local dealer.
WHAT STANDS OUT? Here's a list of things that stand out with the Polisport Performance Racing seat.
(1) Concept. The typical motocross saddle is constructed from three major pieces—a plastic base, a foam plug and a fabric seat cover. The three pieces are sandwiched together and stapled to form to the seat. Polisport isn't trying to reinvent the wheel; instead, it wants to address the complaints motocross racers have about their stock seats.
(2) Grip. The Performance Racing seat's cover features small pyramid diamonds that work in unison with the rubbery feel of the cover to ensure that the rider stays put, but not so much that his pants get pulled down when he slides back like with so many pleated seat covers.
(3) Durability. Knee braces are especially brutal to fabric seat covers, especially with riders who hook their hinges against the lower edge of the seat. The Performance Racing seat cover, while not bulletproof, withstood the rigors of MXA's knee brace-equipped test riders. We credit this to the rubbery feel of the seat cover.

(4) Shape. On our test 2018 KTM 350SXF, the stock seat has so little foam in the rear quarter that it isn't uncommon to feel the subframe when landing from jumps. The Polisport seat uses much stiffer foam—stiff enough that most test riders felt it needed time to break in. The seat foam is thicker in the tail to help lessen the subframe-induced bruising. Plus, the corners of the seat are more rounded, which allows for easier body positioning at race speeds. Polisport's overall design mimics the 2019 KTM seat, which features firmer foam, rounded edges and more padding on the tail end.
(5) Colors. The Polisport Performance Racing seat is available for Honda, Yamaha, Kawasaki, KTM and Husqvarna bikes in their corporate colors, plus black.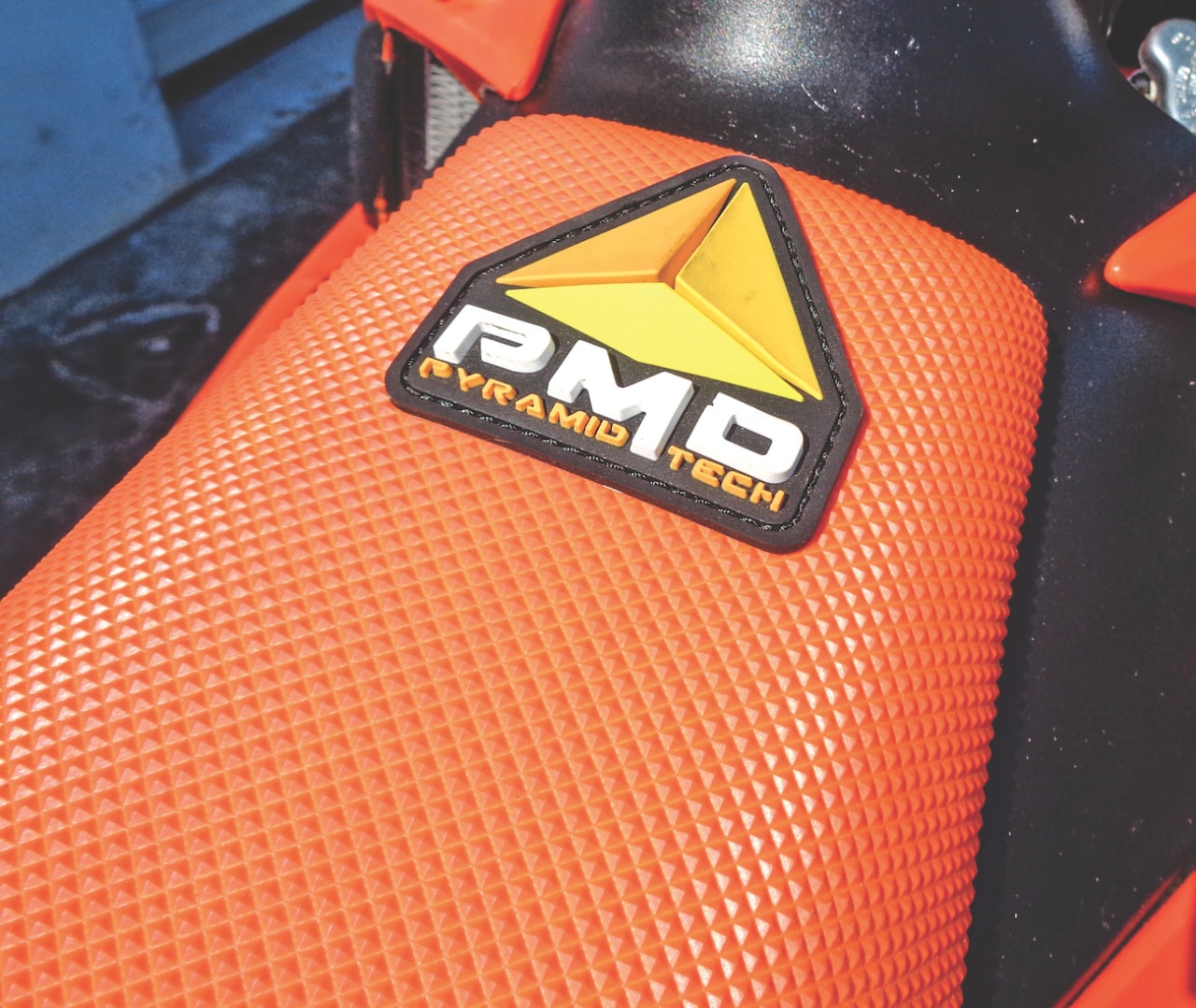 WHAT'S THE SQUAWK? Price. At $164.99, the Polisport seat is expensive, but this is not a seat cover or a block of foam. It is a complete seat with the foam, cover, and plastic base fully assembled and ready to mount. The seat cover and foam are also available as spare parts.
MXA RATING: The Performance Racing seat is a clean design with a one-stop-shopping advantage. No staple gun required.
MOTO | TRIVIA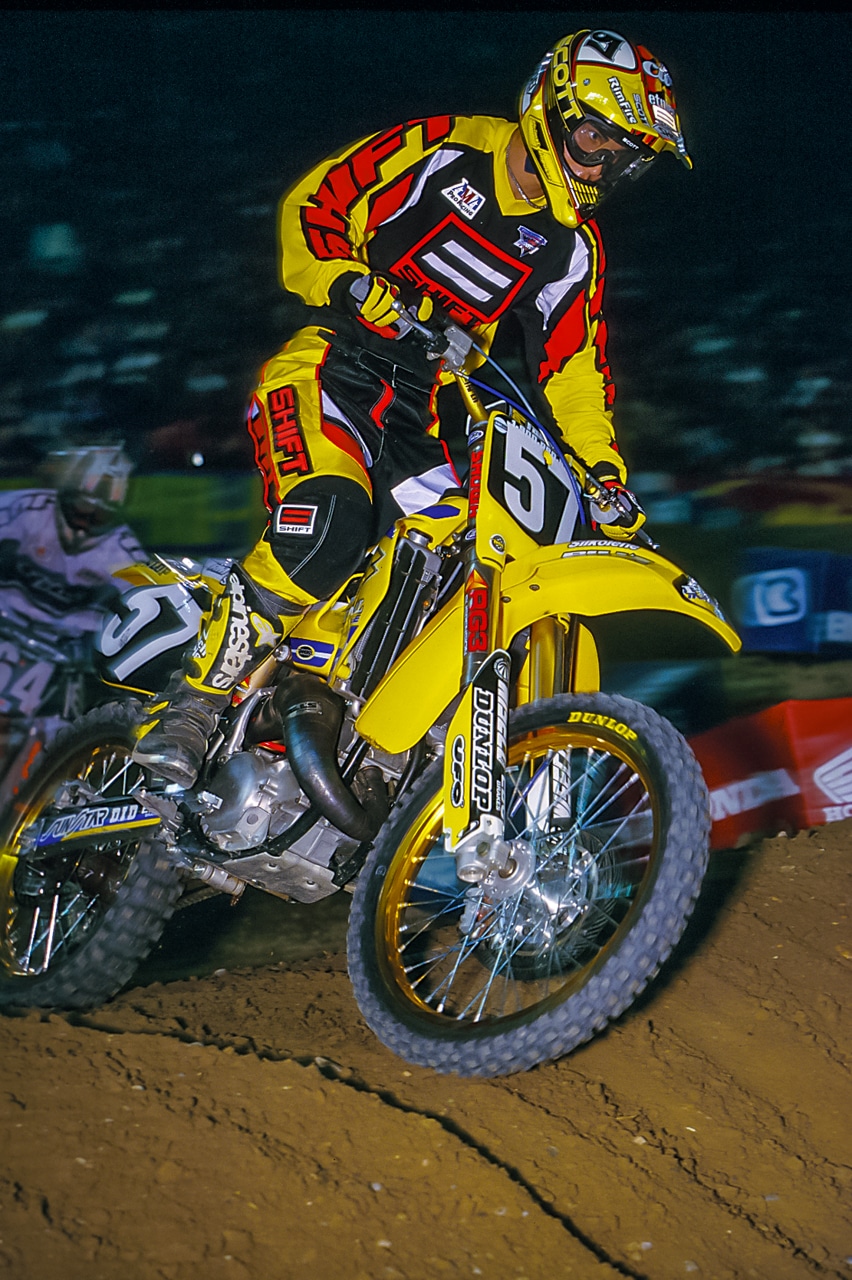 Name the rider and year. Answer at bottom of page.
THEY SAID IT | ARLINGTON 3 SUPERCROSS
Malcolm Stewart:"We rode well all day. We didn't get the best start in the Main Event, but we made it work and made a few passes during the first couple of laps. The track was pretty intense just because of all these big jumps. It's been a while since we've had some big jumps, so it's always fun to bring that back. Even though there wasn't that much sand, it was actually really tough. I will say, Arlington kicked my butt. Man, the first two rounds were pretty rough. Usually, I go really well at this track, but I was hitting the ground left and right. I'm happy that we rebounded with a sixth-place finish and left here on a better note than what we started with. I'm looking forward to this three-week break, and hopefully, we will start riding a little bit of outdoors. Before you know it, we'll be right back at it and getting ready for Atlanta."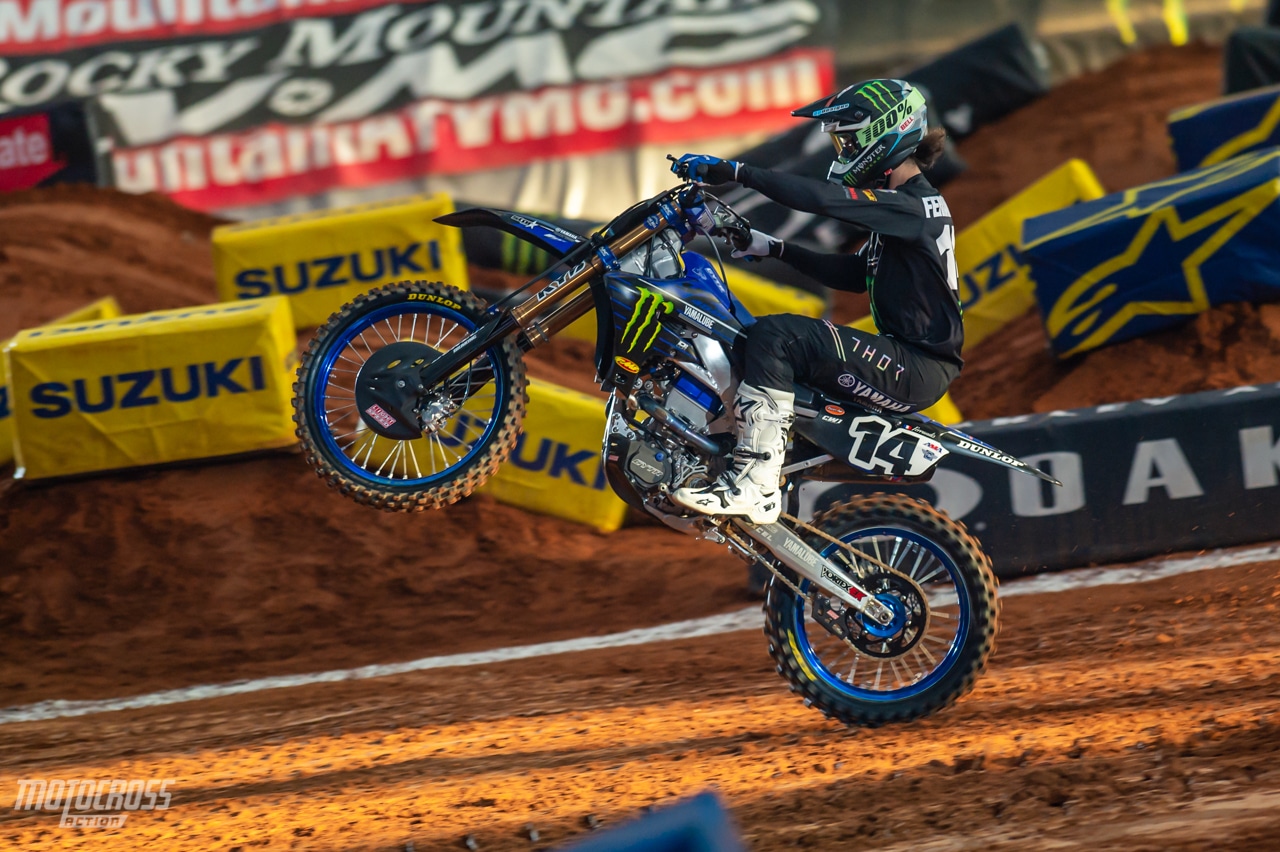 Dylan Ferrandis: "We made some improvements today. The team did a good job on the bike, and they made it a little better for me. I keep learning and keep trying to do better, but today I was honestly really tired all day. Physically it was just not a good day. I tried the best I could and finished seventh in the Main Event. It's not too bad, but not what I'm looking for. I think we made a good step in the right direction with the team on the bike, so now I need to work on myself and try to get back in shape. The last few weeks, I've been up and down with a lot of crashes and some small injuries that I've had to deal with, so now I need to heal up and get back to work and try to be more fit for the last five rounds."
Aaron Plessinger: "I kind of struggled all day from the first practice on. We had an issue, and I didn't really get to do the free practice. Then I went back out and tried to learn the track quickly, but I wasn't really gelling with the bike that well. Even in the heat races, it was just a tick off. In the main, I got it to where I liked it, but I was too aggressive and gave myself arm pump about halfway through and it kind of deteriorated after that. The track broke down a lot. The whoops got really slick, the sand was gnarly, and there were a lot of ruts jumping in there. If you didn't gel with this track, it beat you up, so it was definitely a tough one. I'm going to go back and do my homework and come out swinging for Atlanta. We have another three races in a NASCAR stadium, so I'm ready for it!"
Justin Cooper: "It was a great night. It kind of gave me flashbacks to the first round in Orlando. I was first in every practice, won the heat race, and won the main. It was nice to get two holeshots tonight. We've been working to get back to that. It's been a tough road this season with being on the ground and working my way from last in the main. I've had to fight for every position, so this was the kind of race I've been looking for. You can take it for granted when it comes so easy. I definitely showed myself what can happen at these last couple of races, so it was really good to have some clean air again, and it was nice to click off laps like I was at the practice track. I had a good flow and was just managing the gap the whole race. It feels good to be back on top and to leave with the red plate. I'm looking forward to the Atlanta rounds."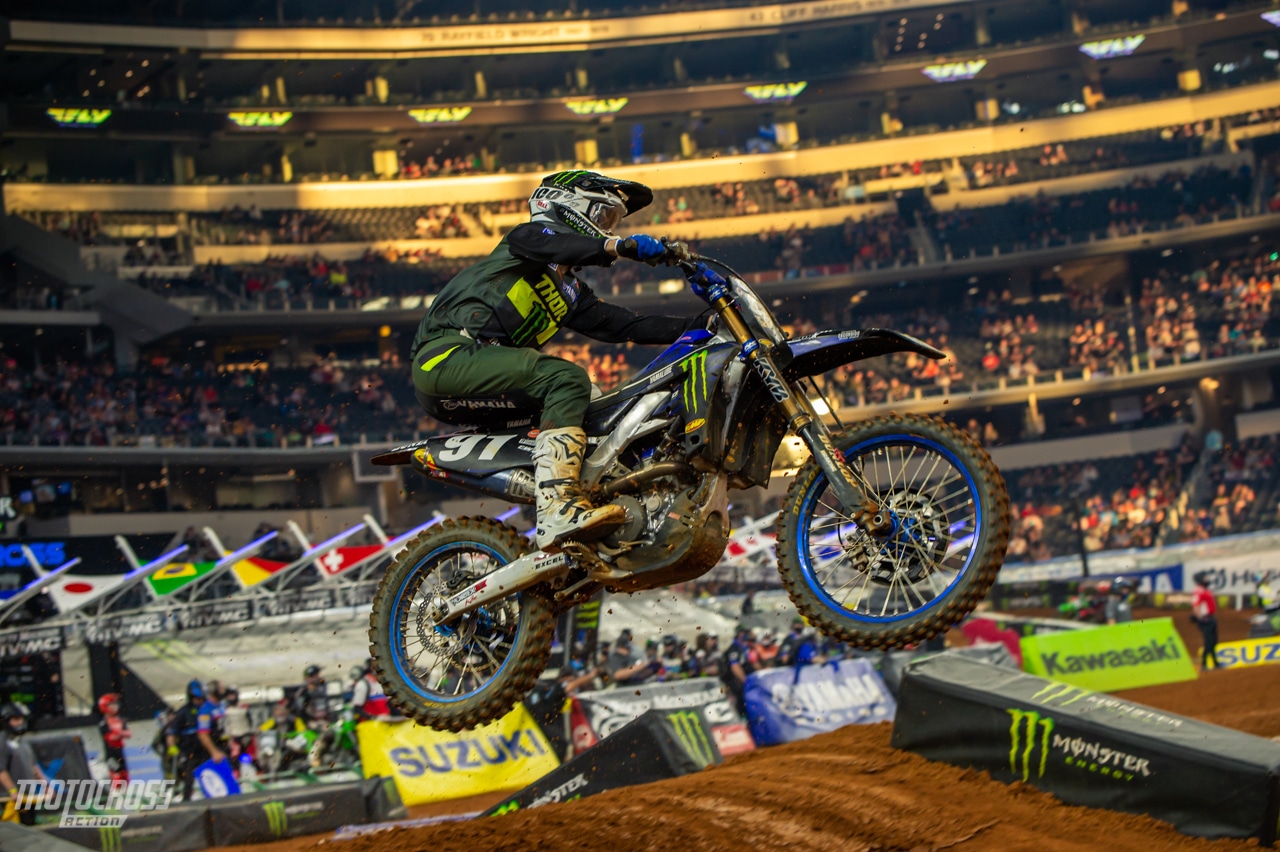 Nate Thrasher: "It was a good night at Arlington 3 after a tough start to the day. In the first timed qualifying, I had a pretty big crash and hit my jaw pretty good. I thought I broke it. I finished up the session and just pushed through it to end up seventh. I missed the second qualifying and went to go get an x-ray at the hospital. We got back here probably 30 minutes before I had to go out. So we got dressed, got ready, took a little medicine, and then we went out and rode the best we could. Ninth was the best we had tonight, but we had the speed to be up there in the top five for sure. We have got to keep pushing and keep getting a little bit better on the weekend. We've got a three-week break, so the plan is to just get healthy and come back in Atlanta."
Jarrett Frye: "Arlington 3 was a better day for me. I qualified 10th and pulled the holeshot in the heat race. It was pretty cool to lead a lap and then finish second after some tough races. In the main, I didn't get the start I needed. On the second lap, I had a big moment and almost went down, so I just tried to finish the best I could. I ended up 10th, which is not what I'm looking for, but it was a better day, so we're going to go back to work and get ready for Atlanta."
Cooper Webb:
"I was just focusing on being consistent. I rode terrible in that heat race and didn't like being put on the ground – that fired me up and got me going for the Main Event. To ride with Kenny that whole race and make a late charge was awesome, I felt really good out there. It's incredible to get three here in Dallas, it's unheard of for me. I'm pumped!"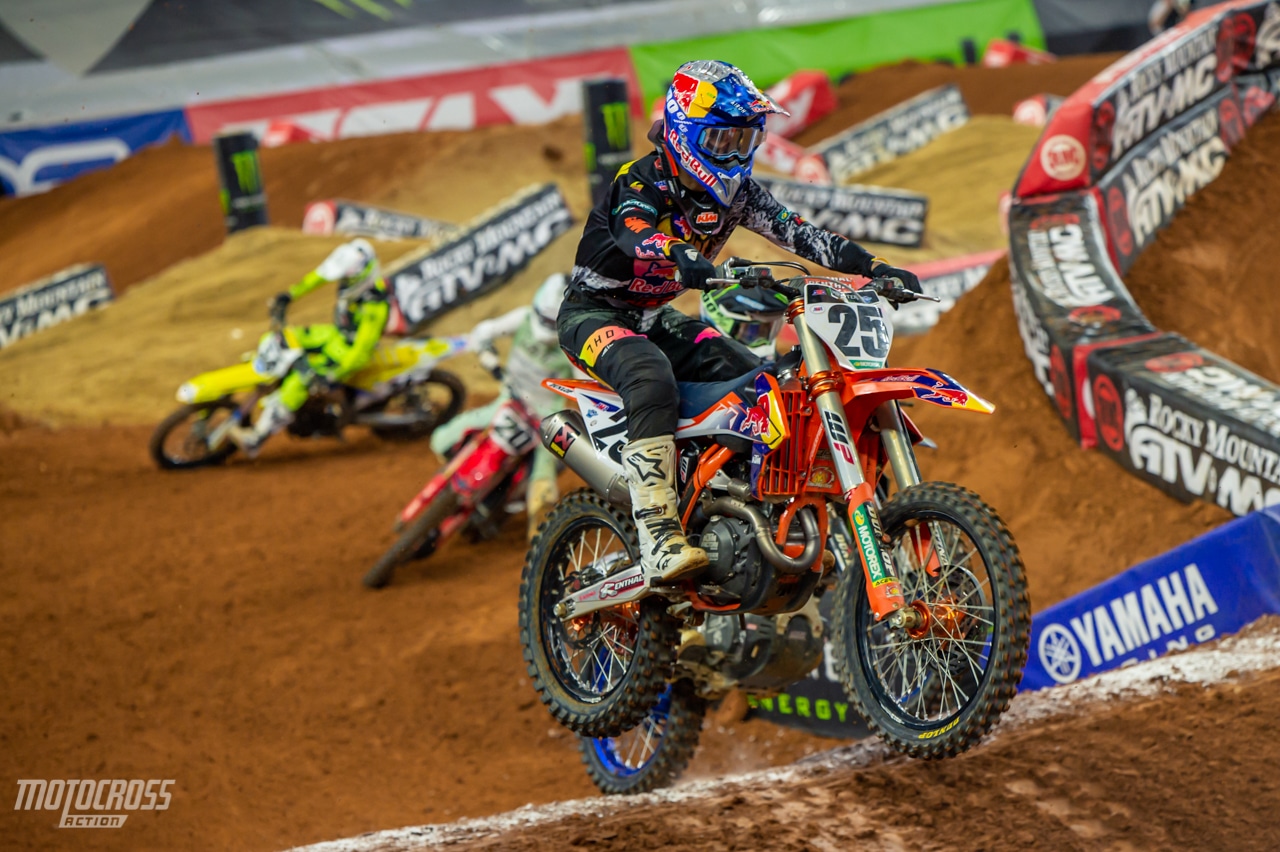 Marvin Musquin: "Going through the sand section, I made a mistake and another rider behind me jumped and landed right behind me, hit me and I went down. I landed wrong on my hand and tweaked my wrist. With the pain and having no strength, I couldn't keep going. I wanted to gain more riding out of it, considering I didn't race Tuesday and even Saturday, but now we are going into a break so we'll do our best to recover and get better for Atlanta."
Max Anstie: "We had a good three races here in Arlington," Max said shortly after the race. "Today, we had our best heat race. I had a really good start and ended up seventh. I battled with some really good guys. And then in the main I was strong. I kept pushing and I probably had some of the best rhythm section technique that I've had for a while… We made progress, I learned a lot in these last three races and I'm looking forward to going back and doing some work for the next three weeks and getting ready for Atlanta."
Brandon Hartranft: "I had a fun day and definitely felt [more] like myself a little bit." Hartranft was pleased with his tenacity, "I was kind of messing up in the whoops a little bit, I was trying to jump 'em in the LCQ, but then I figured it out so we got a solid race there… I had a good start in the main, I think I was around 14th for a few laps and then I endoed in the sand, and then, it was my fault, but Bowers had nowhere to go and he jumped on me. It definitely hurt, but I got up and didn't quit; I want to take as much advantage as I can in these mains and learn from them."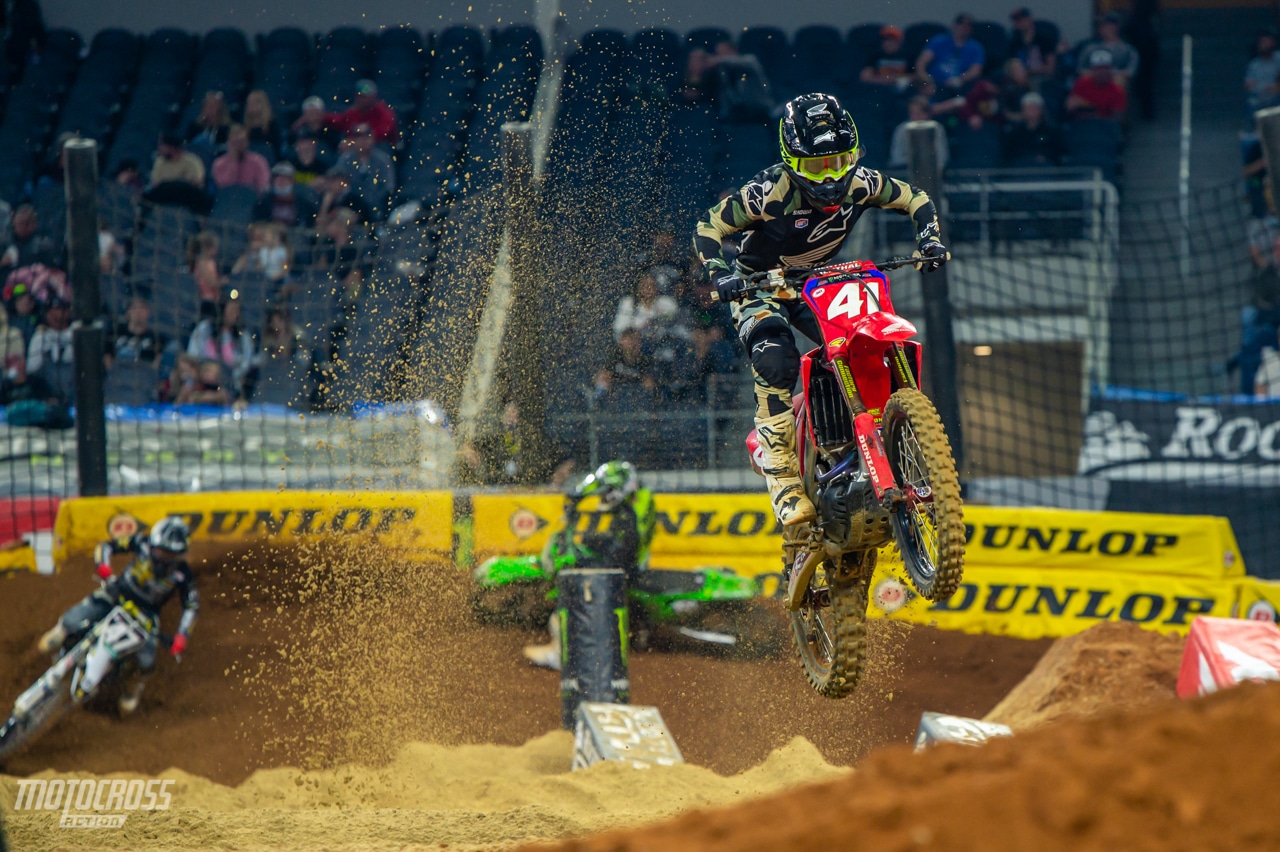 Hunter Lawrence: "I had a bittersweet ending here in Dallas. It was a pretty good weekend, getting second in the heat race, but a bit of an unfortunate ending in the main. I was riding well in third, pushing and pushing, but I kept getting caught up with lappers. I felt like I was catching the guys just inch by inch, and I pushed myself but made a mistake. I landed on the far right hand side of the berm, where they built a little lip into it. It was a pretty harsh landing, as I'm sure the videos show, with me ending up in the net. I'm so thankful that the nets were there to save me and the bike so we could finish and bring it home in fifth. It was good considering what it could have been with the crash. Coming into Arlington, we were in fourth and 16 points down, but now we're only six points behind. Having the red plate and then passing it on is a bit of a bummer, but we're still in it. I'm looking forward to two weeks off now to regroup and come back swinging in Atlanta. I can't thank the team and everyone enough!"
Chase Sexton: "I felt so good on the bike all day. It was nice to finally see me getting my speed back, qualifying first. My heat was a solid race; I started out slow and got passed by Ken [Roczen], but managed to find a flow mid-race. During the last lap made an aggressive move on Cooper Webb, but by no means did I mean to take him out—that's not how I ride and I have a lot of respect for him. I got a good start in the main event and was riding okay until a good crash in the sand ended my night. Overall I feel okay—just looks like I got in a UFC fight! See y'all in Atlanta!"
Ken Roczen: "We had a really good practice and I felt comfortable on the track. There were a lot of big rhythms and overall it was a much better supercross track. My heat race went well; I started in third and worked my way up to first, giving me a good gate pick. In the main event I got the holeshot, felt really good and led for most of the race, with most of the fast guys behind me. I'm guessing they were studying me, and Cooper made the pass happen. I tried to keep on his wheel all the way until the end, which is what I did, and we ended up in second. This finish was a lot better. The dream is still alive, and we have five races to go. I've been getting better and better, and I'm not going to give up. We'll take a couple of weekends off and come back to Atlanta with hopes of continuing to improve through the end of the season."
Jason Anderson: "It was kind of a mediocre night for me, nothing too crazy. I feel like today was my 'slower' day on the track, so I'm hoping that we can get a little bit better so we can be on the podium."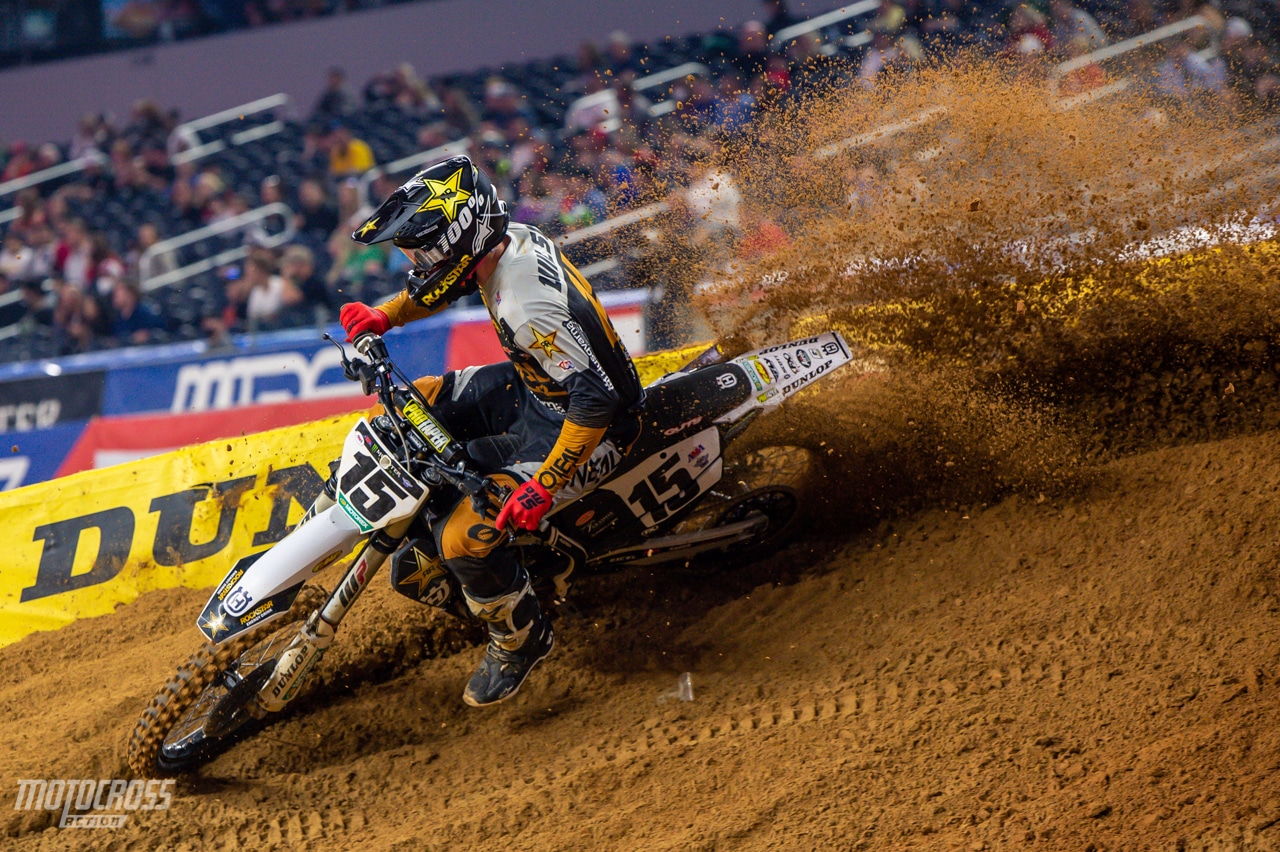 Dean Wilson: "My qualifier was pretty good and I felt really good on the bike. My end result is a little disappointing because I feel like I rode good earlier in the day but I just need to have better race craft. We'll try again at Atlanta and just keep pushing to be better."

Jalek Swoll: "I felt like the riding was good but the lapped riders didn't play out in my favor tonight. I'm looking forward to the two-week break and we'll come out swinging in Atlanta."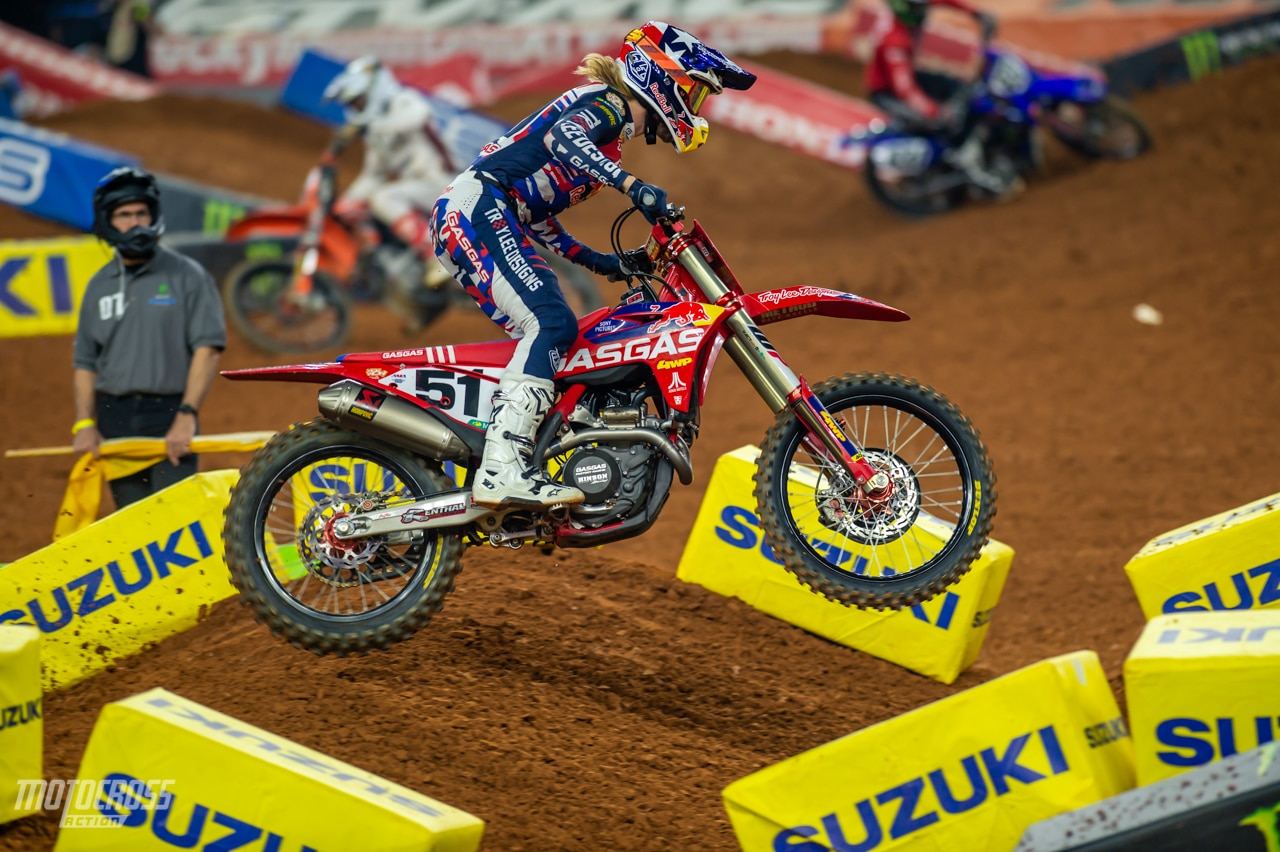 Justin Barcia: "This was one of the hardest fourth-place finishes I've ever gotten. I charged so hard and was so close to the podium, it was a little bit frustrating. It was definitely one of the more intense races I've ever had and with such an aggressive track, the top four of us were just on top of each other the whole race trying as hard as we could. All-in-all, it was a great race but I definitely wanted to be on the box. We're going to be working hard going into Atlanta, wanting more – to be on the podium, up front and getting wins."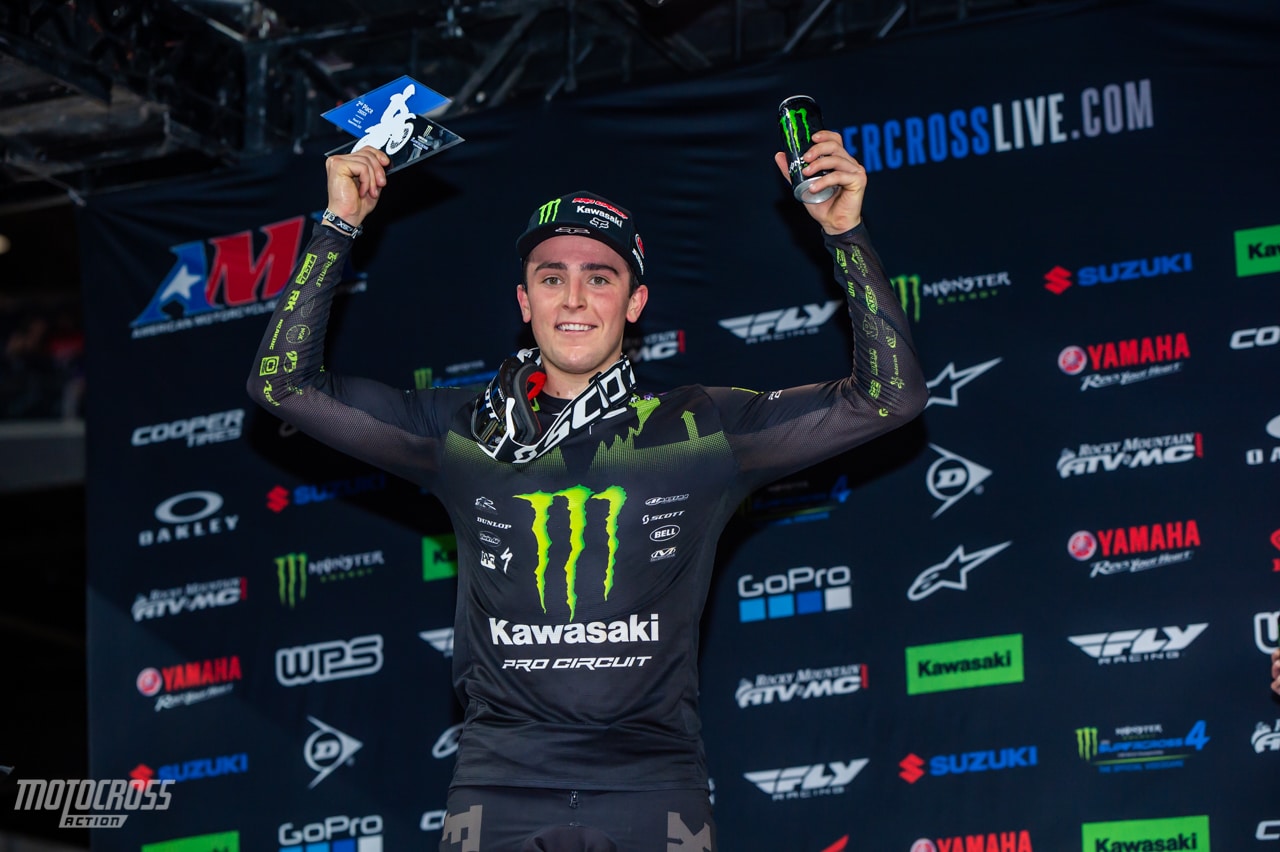 Cameron McAdoo: "This podium feels good, but obviously we fell short of the goal and that was to win. My KX250 was a rocket out of the gate and helped me move into second place at the end of Turn 2. Justin (Cooper) rode solid tonight, I kept trying to put in as many clean laps as possible to try and show him a wheel, but I just didn't have enough time to make a pass stick. We've got the next two weeks off, so we will take some time to regroup and make sure we come out swinging in Atlanta. We are only down by two points and I want that red plate back, so we've got to make these races in Atlanta count."
Seth Hammaker: "Today was pretty good overall. I think my goals have somewhat shifted now that we are halfway through our races, and for me being on the podium or at the very least a top-5 finish is all that I expect from myself. I am happy with my performance and glad we were able to get onto the podium tonight. At the beginning of the race, I actually made a mistake and the rider behind me smashed into the back of my bike and mangled it up pretty good, so I was just pumped to finish the way I did.  Every time we line up it's a learning experience for me, so I just want to keep learning and pushing to be up front running the pace of these guys like Cameron (McAdoo) and Justin (Cooper)."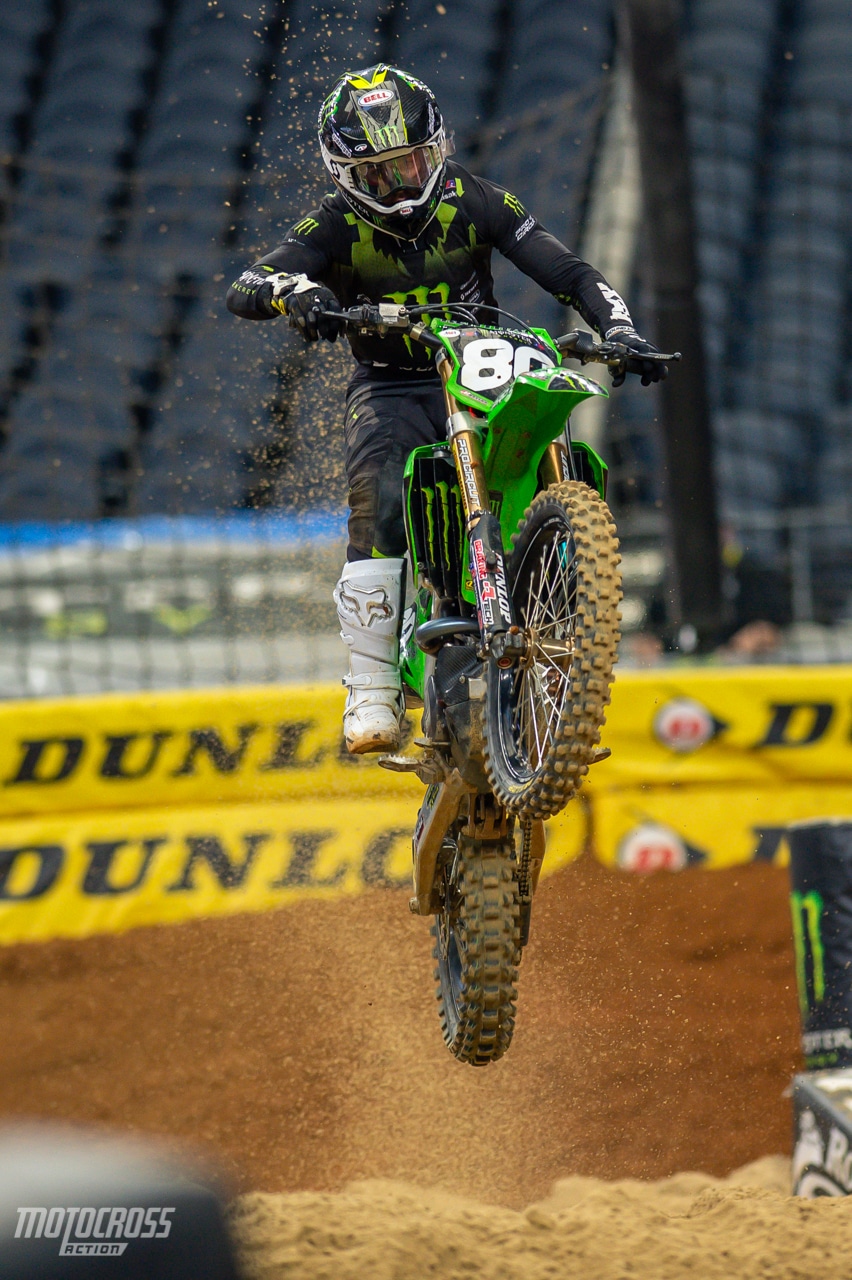 Jordan Smith: "I felt really good on the bike today and was pumped on how I was feeling going into the night show. When we came around that first corner, the guy next to me squeezed me as we took off on the jump and it made me cross jump and that's when I collided with the other rider. I am going to get everything checked out and come up with the best game plan with the team for my return to racing. We've got two weeks off, so I am going to do all the rehabbing I can do to get back out there with my Monster Energy/Pro Circuit/Kawasaki team."
Eli Tomac: "My KX450 was hooking up great all day. I know my speed is there and the bike is working great, I just need to work on cleaning up a few little things and making some passes stick earlier on in the race. I kept getting close to Cooper Webb)s rear wheel and just needed to make something happen. I am looking forward to having this two week break and get ready for Atlanta's three races."
FIRST RIDE | 2021 HONDA CRF450 WORKS EDITION
ASK THE MXPERTS | THE PERFECT FORK ALIGNMENT TECHNIQUE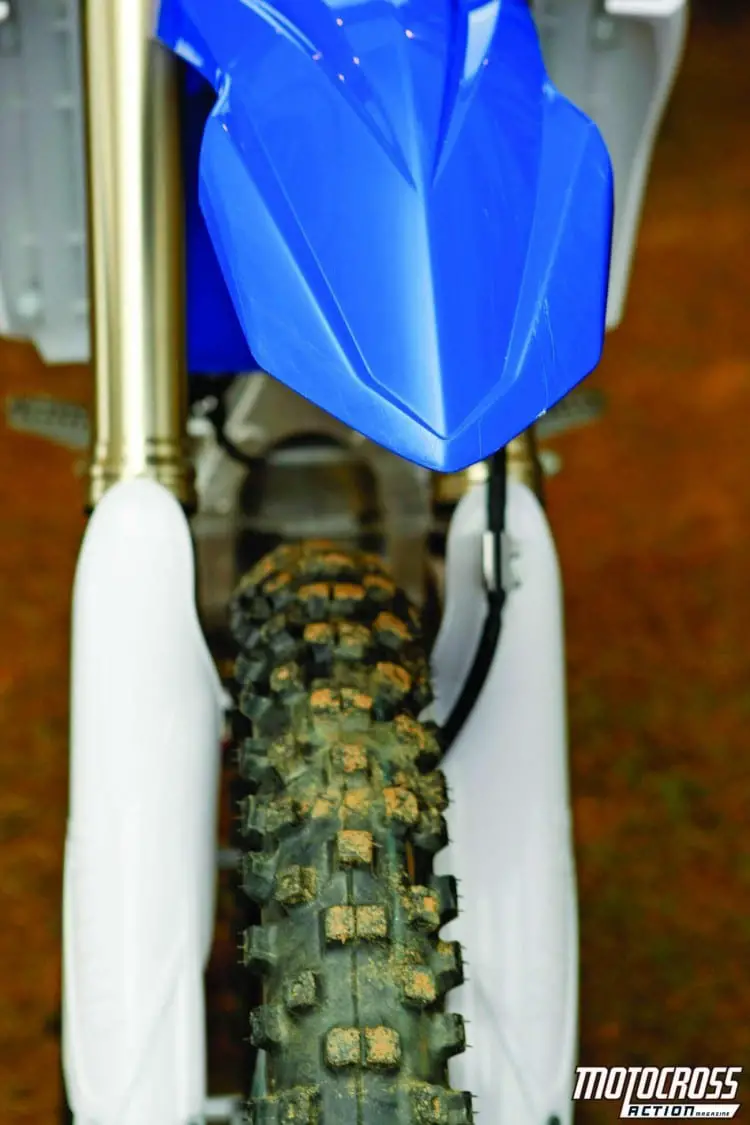 Dear MXA,
    I've heard a hundred ways to get the front end of a bike realigned after a crash. It is sometimes contradictory advice. How does MXA do it?
STEP 1
Inspect the front of your bike for damage. If the front wheel isn't aligned with the front fender, then it's necessary to straighten the front end. Start by removing the front number plate with an 8mm T-handle wrench. Then loosen the bottom triple clamp pinch bolts with a 10mm wrench until they are finger-tight.

STEP 2
Position yourself in front of the bike and straddle the front wheel between your legs. Squeeze the wheel with your legs while grabbing the handlebars. Turn the handlebars in the direction needed to straighten the front wheel. Periodically check your progress by lining the middle of the front tire up to the tip of the front fender. Stop the process once the front end has been realigned.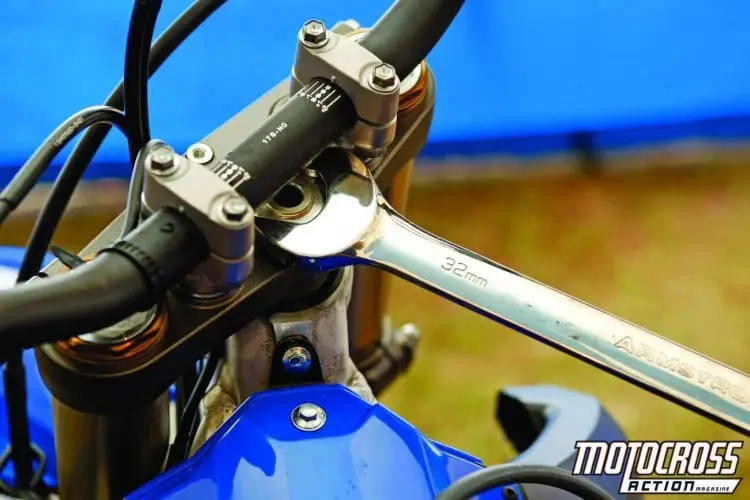 STEP 3
If the front end is still out of alignment, then it's necessary to loosen the steering-stem nut with a 32mm wrench. Doing this will free up the front end even more. Tighten the lower triple clamp pinch bolts with a 10mm socket and torque wrench (check your owner's manual for the proper torque setting). Reinstall the front number plate and tighten the steering-stem nut.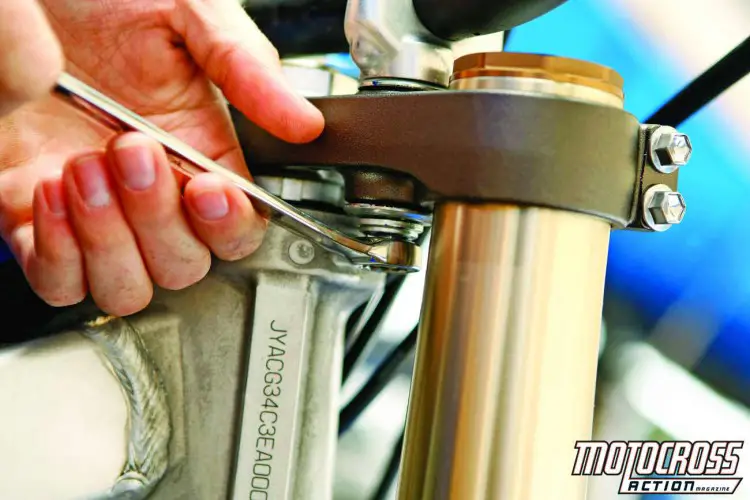 STEP 4
If these tips don't straighten your bike's front end, then it's important to check the bar mounts, as they might be bent. Remove the bar-mount nuts located under the top triple clamp using the appropriate open-end wrench. Also, remove the handlebar pad.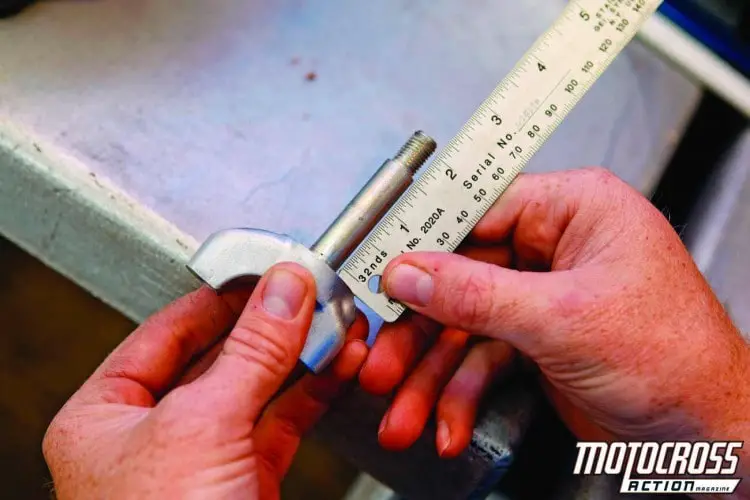 STEP 5
Remove and inspect the bar mounts. It might be difficult to determine whether the mounts are bent. We recommend using a straightedge as a point of reference. If the mounts are straight, then reassemble the rubber or metal cones and bar mounts; otherwise, you will have to purchase new bar mounts. Often the rubber cones become disfigured after a hard impact to the bars, but resetting the cones usually does the trick.

STEP 6
It's entirely possible that your handlebars are bent, especially if they sustained the brunt of an impact. Remove the controls, throttle housing and kill switch from the handlebars. Use the appropriate wrench to remove the bar clamps so that the handlebars are free. Lay the handlebars on a flat surface and rotate them while inspecting to see if the ends of both sides of the bars touch evenly. If they don't, then your handlebars are bent and it's time to visit your local dealer. Next time, don't crash.
NECESSARY ITEMS:
• 10mm socket
• Torque wrench
• Necessary wrenches
TIME TO COMPLETE:
• 5–30 minutes
CLASSIC PHOTO
Before the gate drops for the 250 Supercross riders in 1999 at the Pontiac Silverdome. Riders pictured are Ryan Terlecki (40), Tyler Evans (66), Takeshi Koikeda (30), Sebastien Tortelli (44), Mike LaRocco (5), Ricky Carmichael (9), Ezra Lusk (4).
---
Moto Trivia answer: Jiri Dostal in 1999 on an Impulse Suzuki RM125