MOTOCROSS ACTION MID-WEEK REPORT
#WHIPITWEDNESDAY
Rider: Kevin Windham
Location: Perris, CA
Date: December 15, 2009
Photographer: John Basher
Camera: Canon 1DS Mark II
Lens: 70-200mm f/2.8
Focal length: 70mm
Exposure: 1/1000 sec.
F-stop: 6.3
ISO: 200
TWO-STROKE SPOTLIGHT: KELLY SKEEN'S 1980 YAMAHA YZ125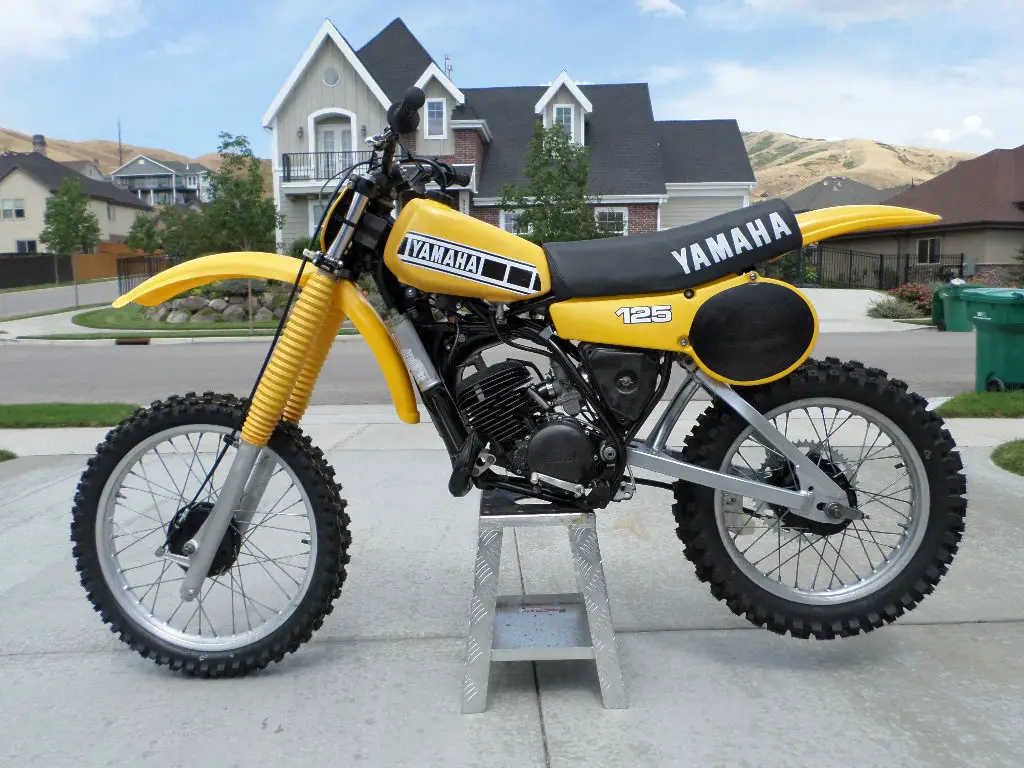 This week I'm going way back to 1980. Thanks to Kelly Skeen and his 1980 Yamaha YZ125 rebuild, which was done to near perfect replication, old two-strokes can look like they just rolled off the showroom floor. That's exactly what Skeen had in mind. Lo and behold, he sold the bike to a good friend to MXA–Eric Phipps from Works Connection. Read about what went into the 1980 YZ125 restoration from Kelly:
"I thought you might like seeing this. I like to spend time buying old bikes and bringing them back to life. It can be a painfully expensive and time-consuming job, but it is great therapy and keeps history front and center. I raced YZ125s back in 1980, so this bike had meaning to me.
"I found this bike in a local ad and in really rough shape. It did not run and the more I dug into it, the more I found it needed lots of work. I replaced the crank and top end. Someone along the way had sleeved it down to 100cc and I took it back to 125cc. I also replaced the tires, chain and sprockets, seat, plastics, levers, CDI, airbox, filter, bars, wiring and cables. I also had to replace the gas tank, because it actually had a hole in it! I also powder coated the frame. Everything was gone through and the bike was a ground-up restoration. 
"I spent a fortune on the bike, not to mention time, and sold the bike to Eric Phipps, the owner of Works Connection. It sits on display in their shop today. The bike turned out great and keeps a piece of history alive."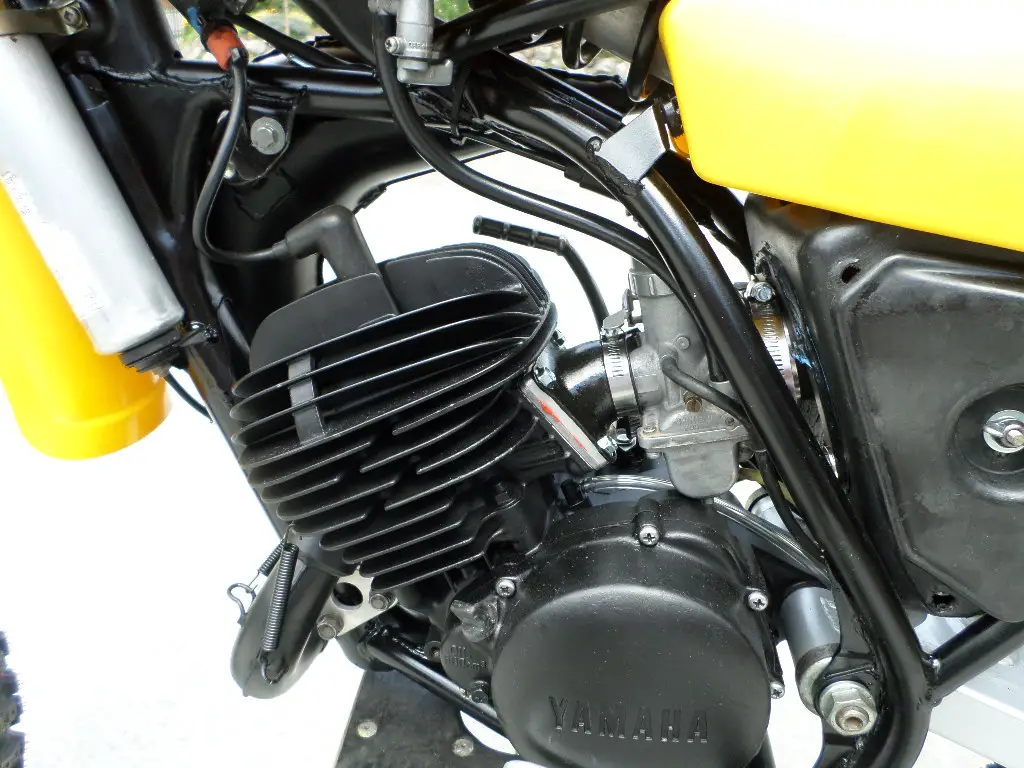 If you would like your bike to be featured in the "Two-Stroke Spotlight," please email me at [email protected]. All I ask is that you give a breakdown of your bike and a detailed description of the thing. Please also send a few photos of your steed. By submitting your bike for the "Two-Stroke Spotlight," you agree to release all ownership rights to the images and copy to MXA.
LEATT HERITAGE | EPISODE 4
LOST BUT NOT FORGOTTEN | CR250 THROUGH THE YEARS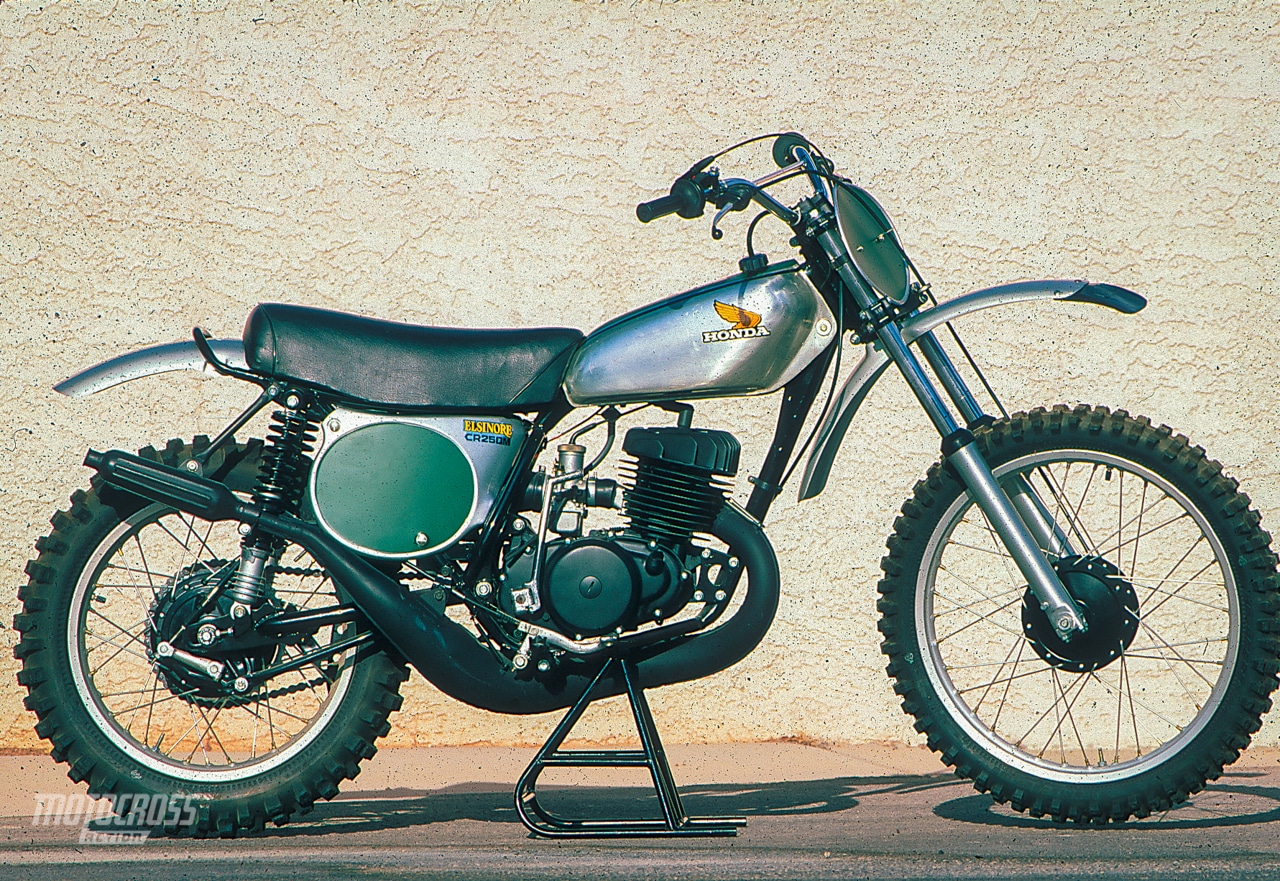 1974 Honda Elsinore CR250M.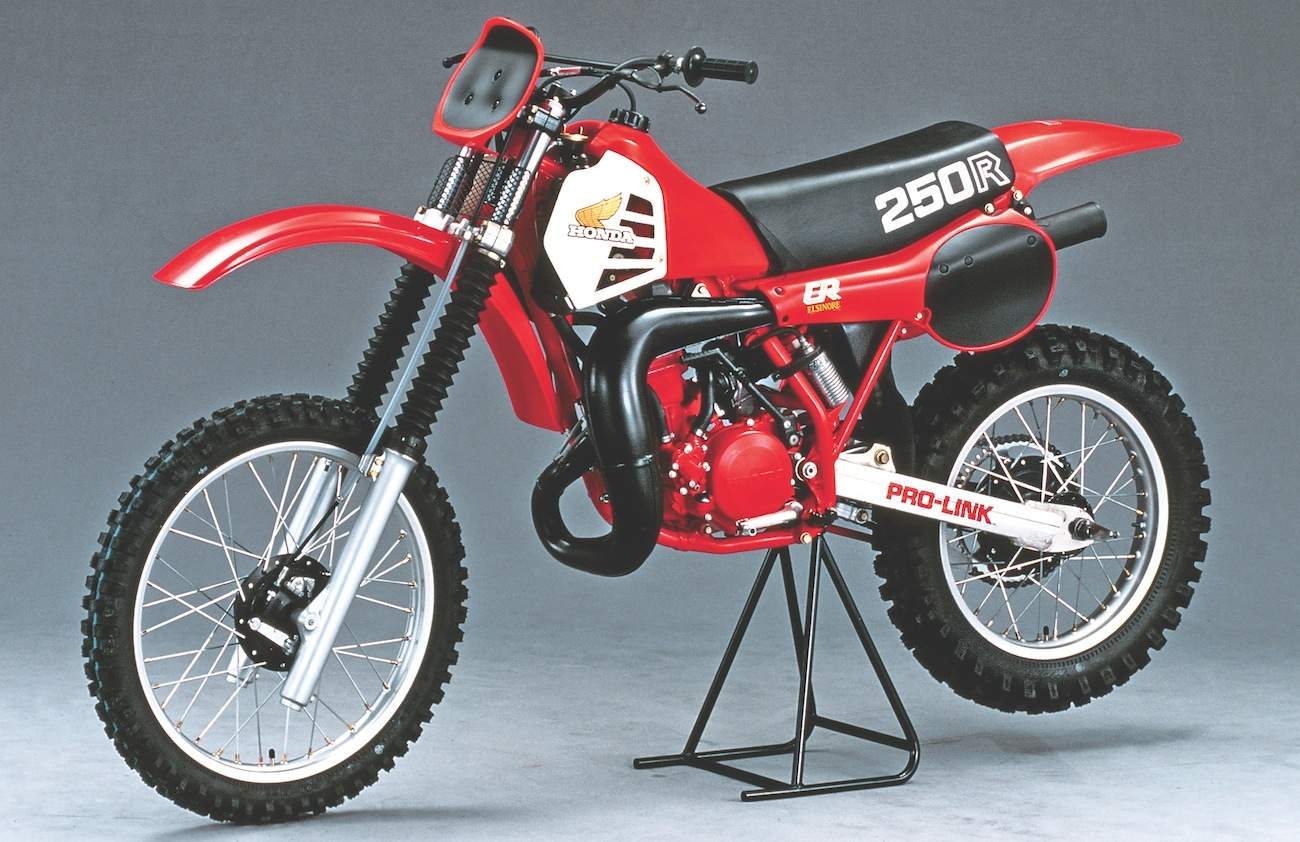 1981 CR250. 
1983 CR250.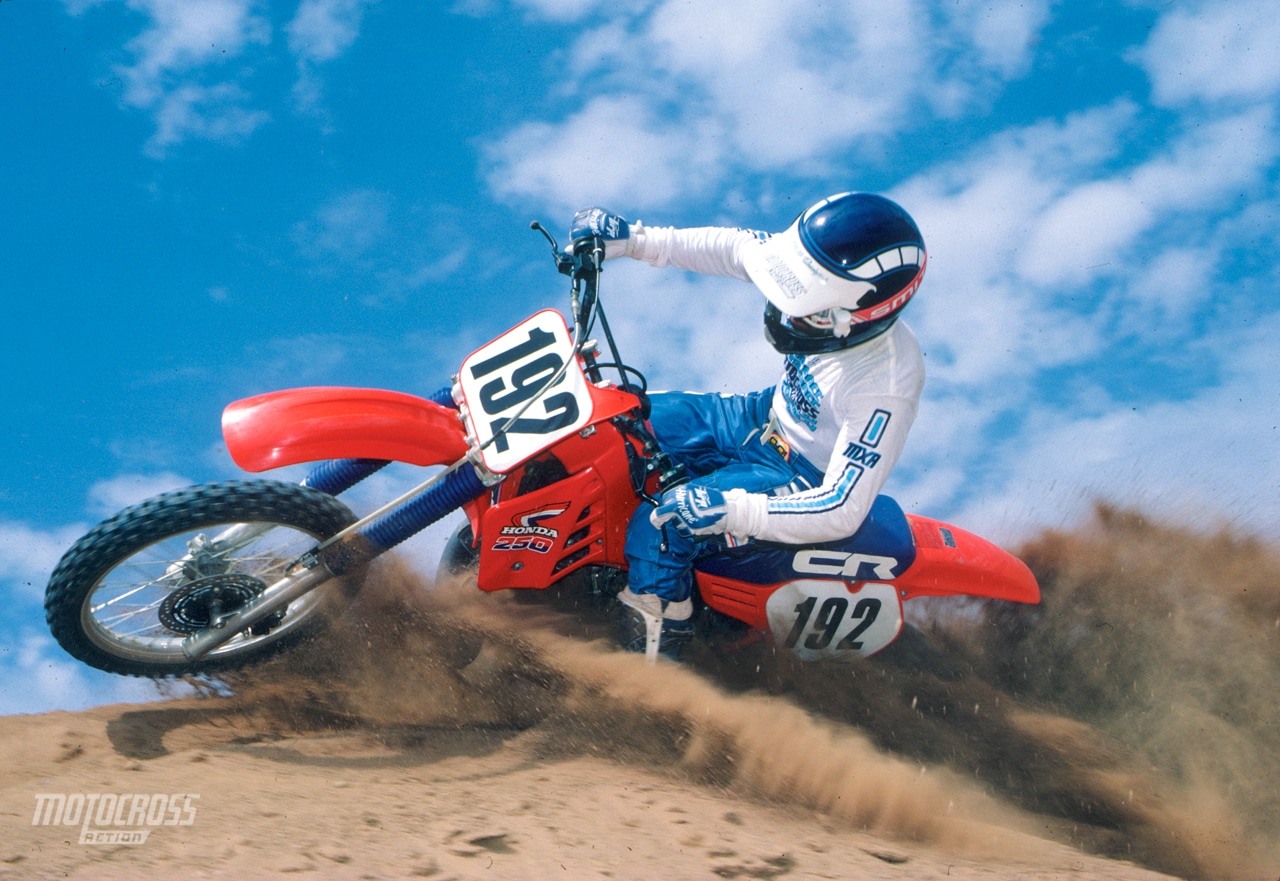 1985 CR250.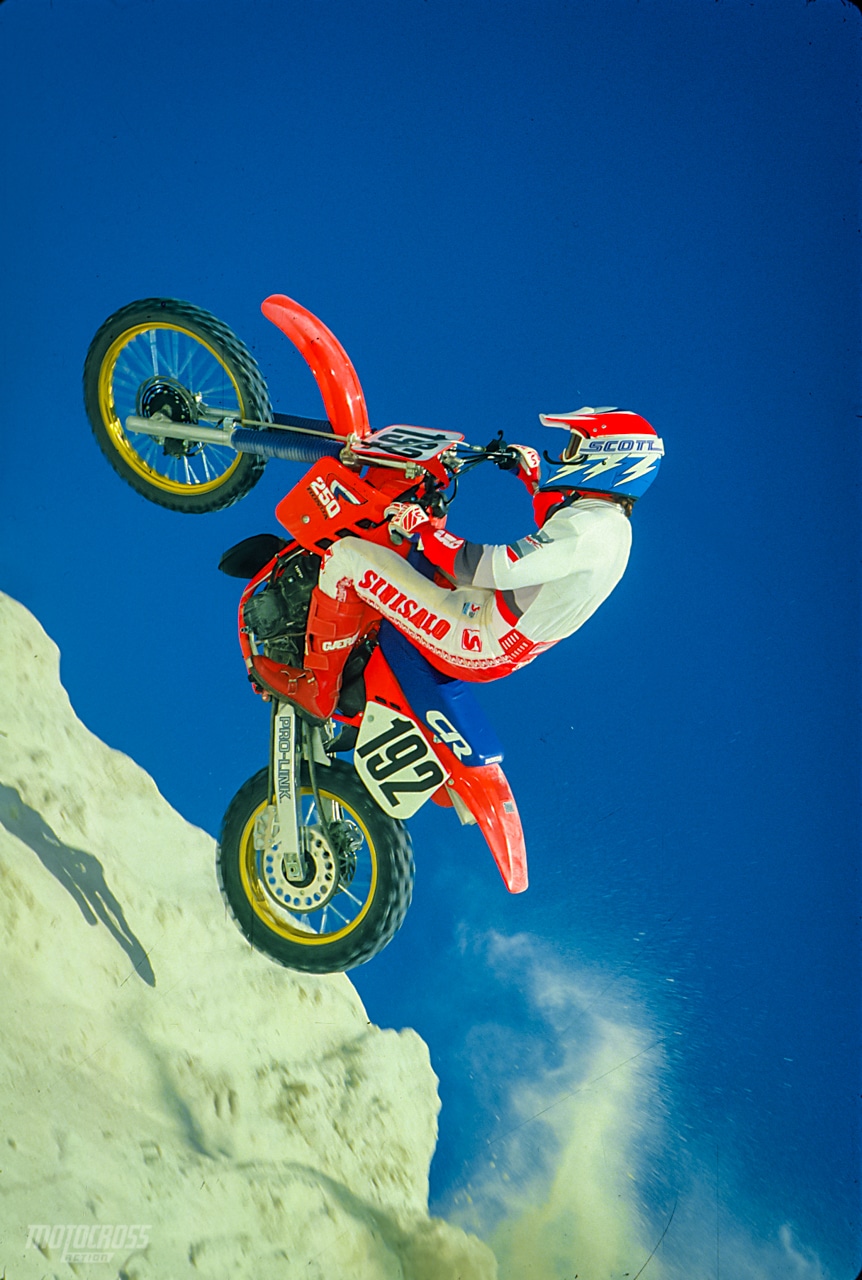 1987 CR250. 
1989 CR250.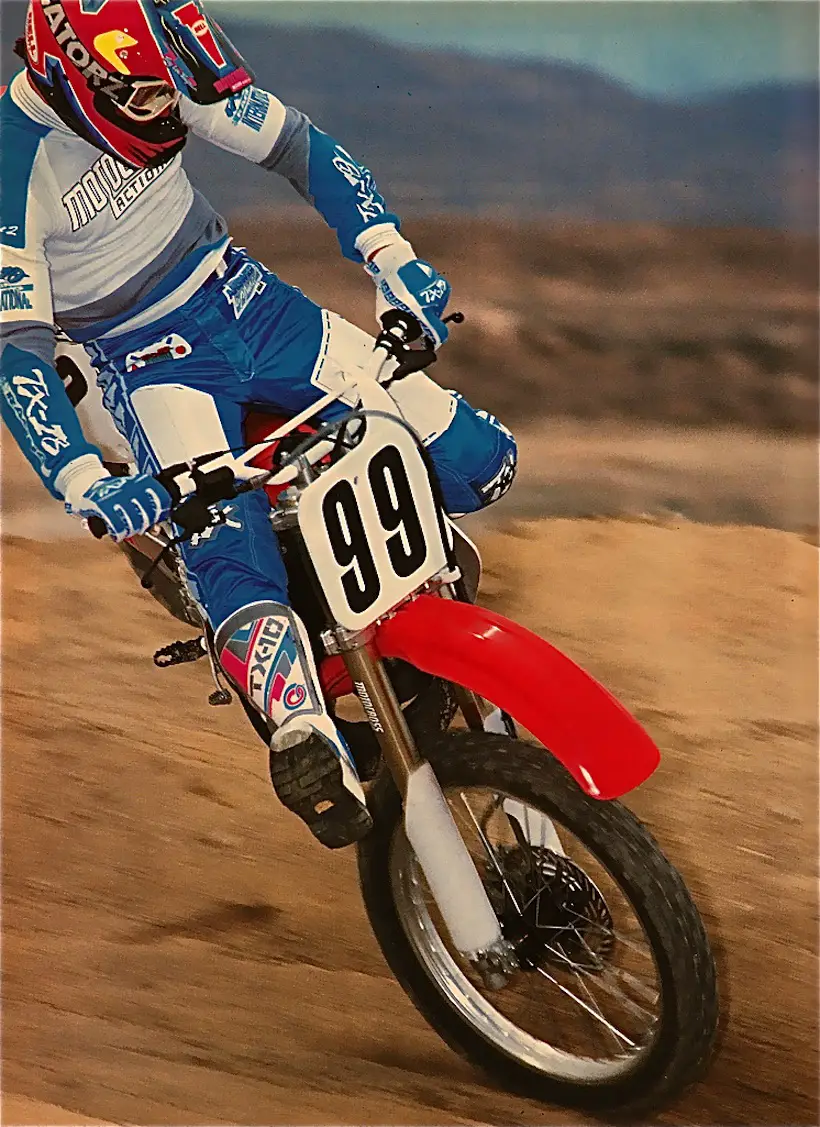 1991 CR250. 
1995 CR125 next to its brother the CR250.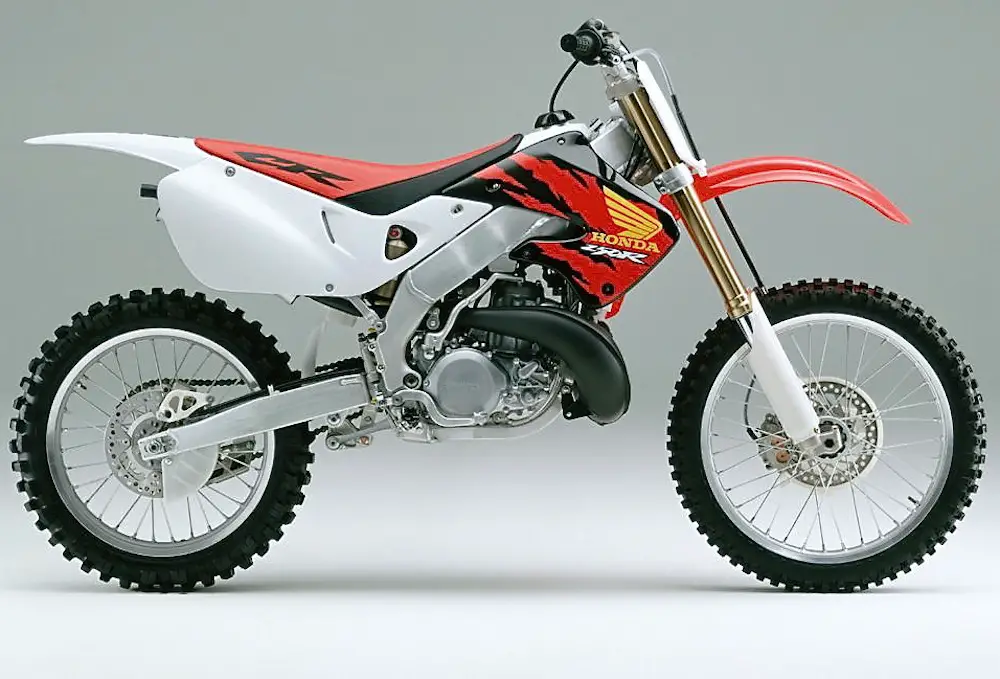 1997 CR250.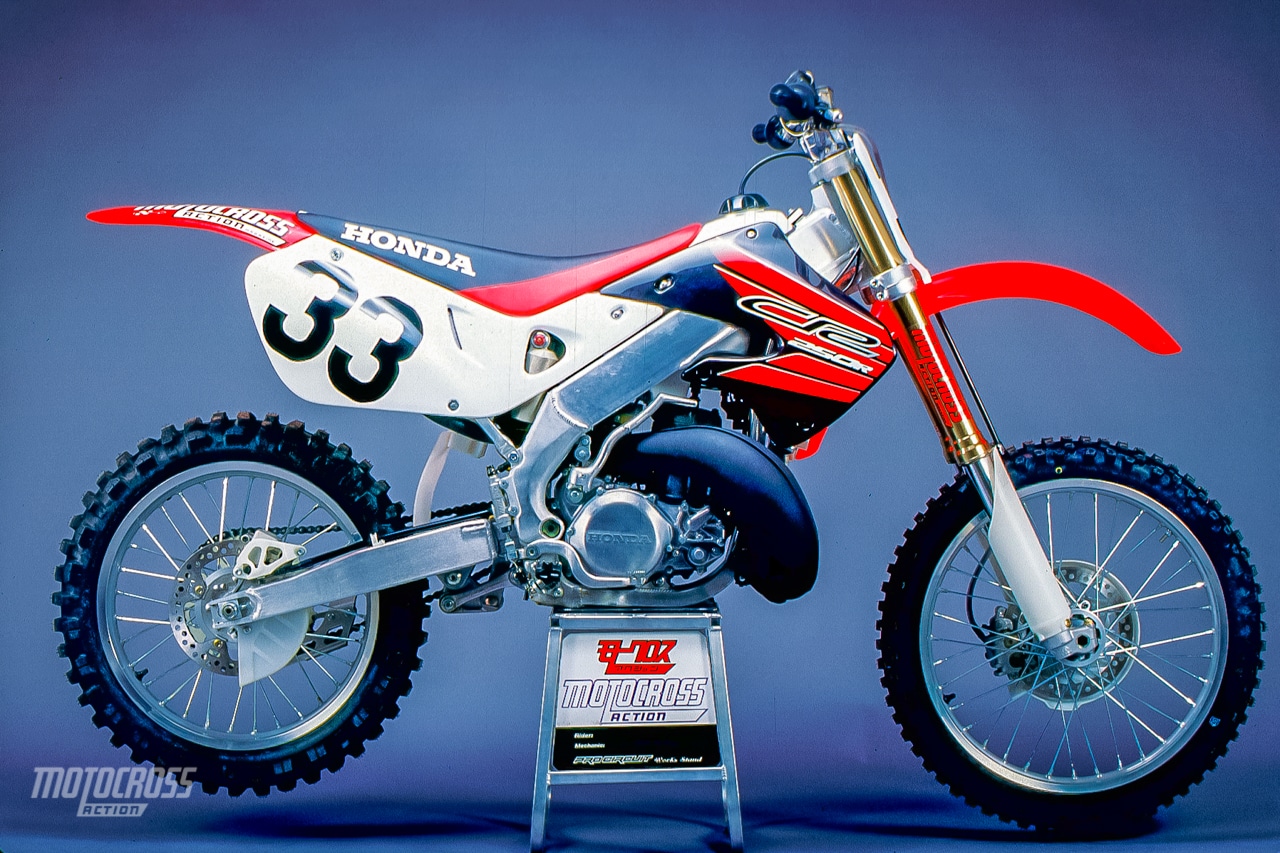 1999 CR250.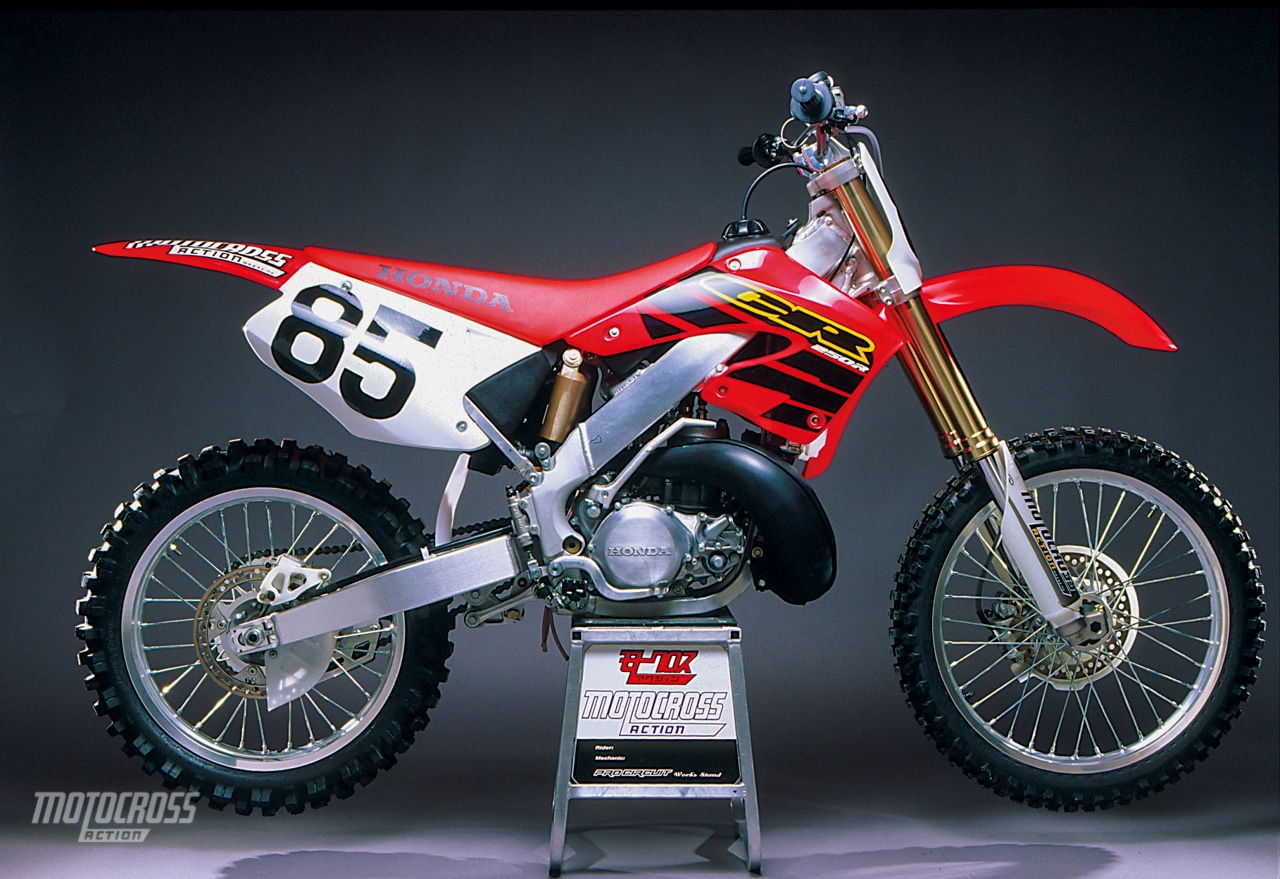 2000 CR250.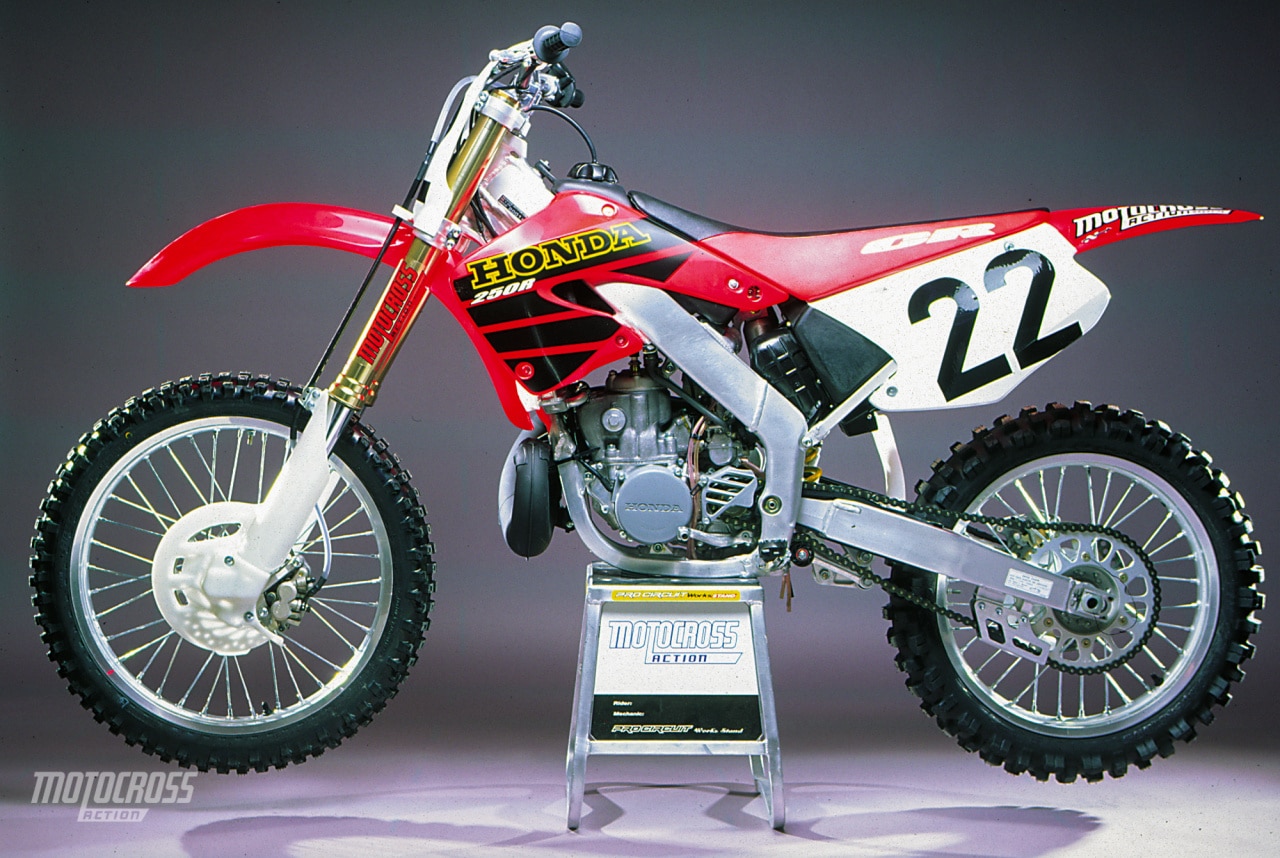 2001 CR250.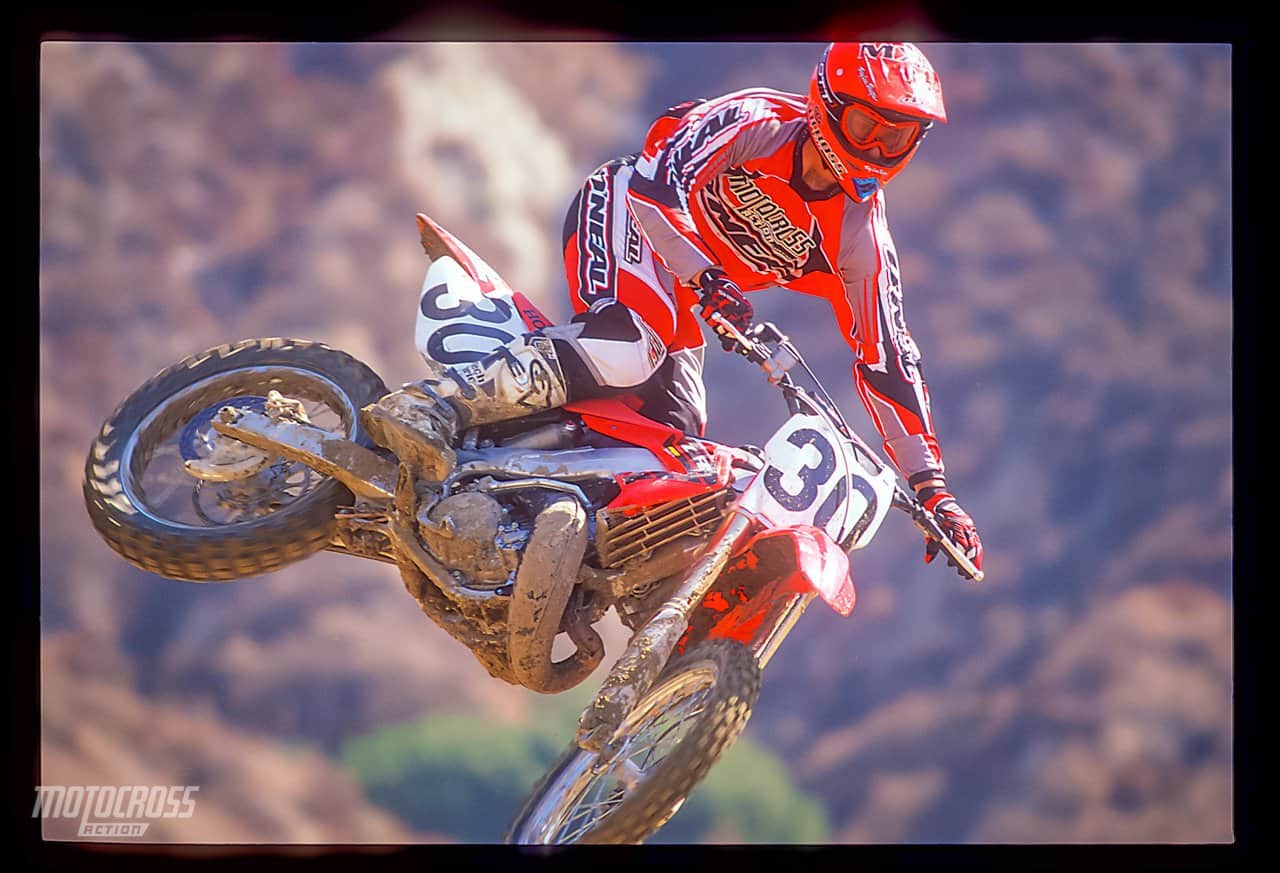 2004 CR250.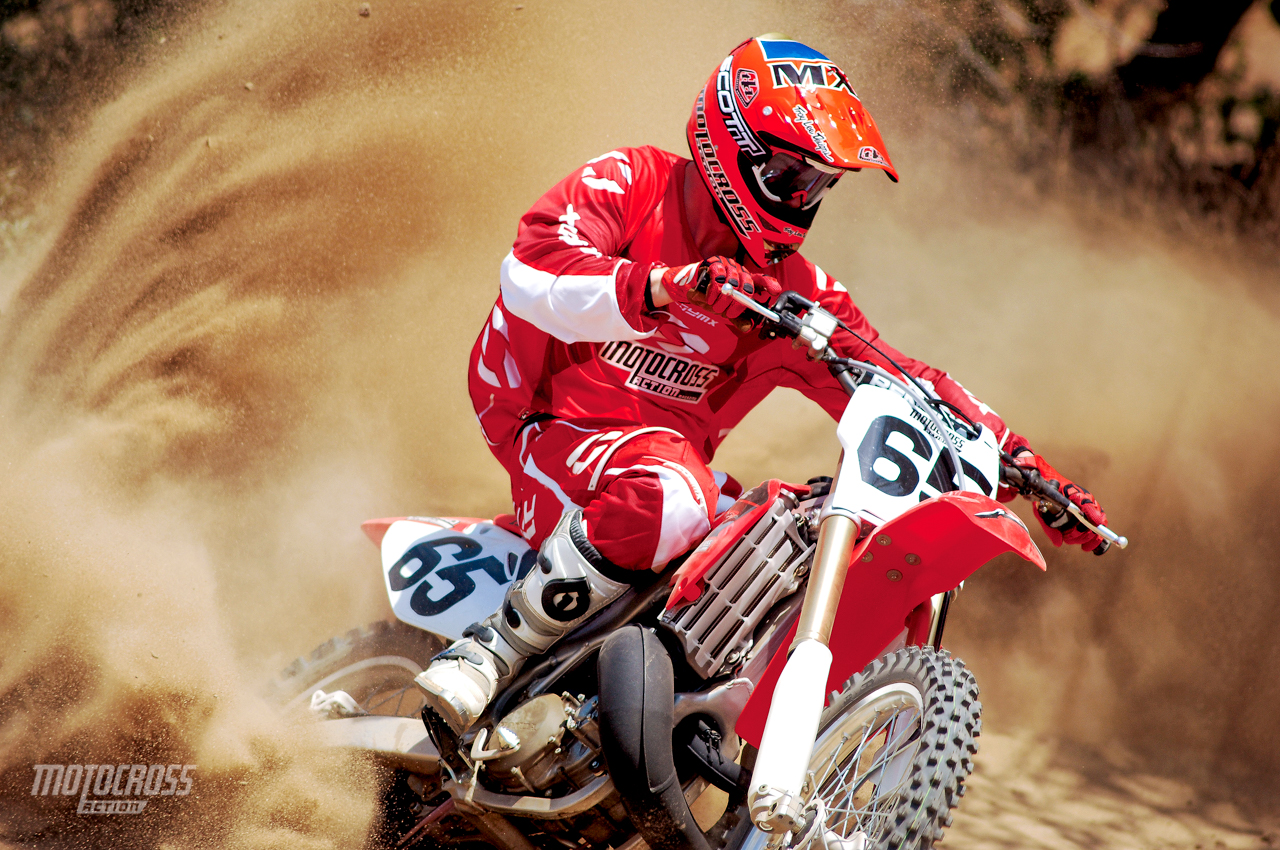 2006 CR250. 
2007 CR250.
BE AT GLEN HELEN THIS WEEKEND FOR THE WORLD TWO-STROKE CHAMPIONSHIP | WE ARE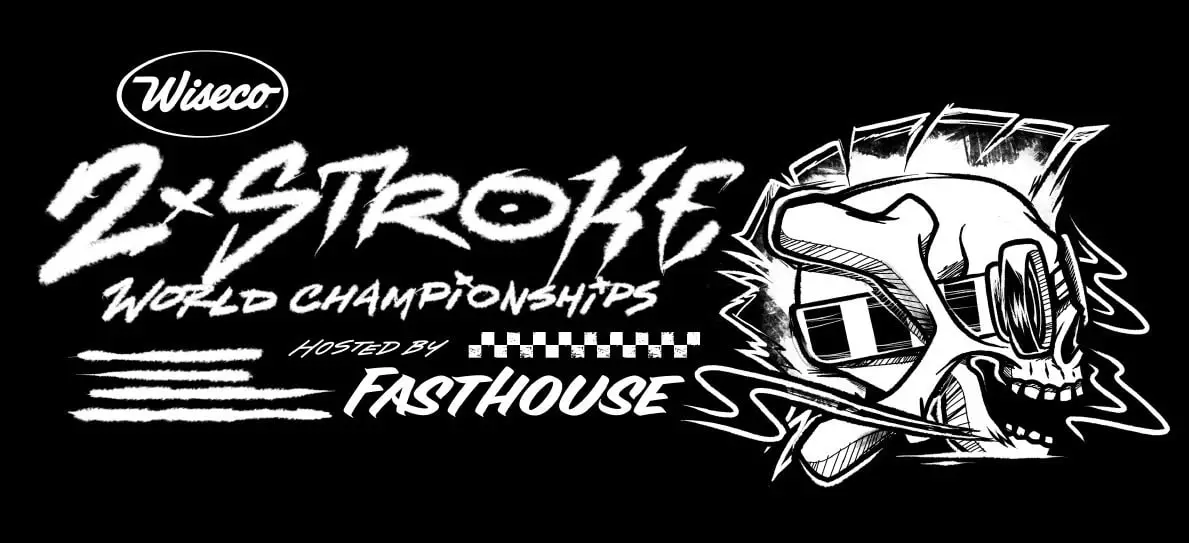 Hopefully your two-stroke isn't still sitting in the garage dirty, because it is almost that time again for the Wiseco World Two-Stroke Motocross Championships hosted by Fasthouse. Six short months after the 2020 event, premix will fill the air yet again at Glen Helen Raceway in San Bernardino, CA on Saturday, April 3, 2021. The World Two-Stroke Motocross Championships have been an annual fan and competitor favorite at Glen Helen for years, with people traveling from different cities, states, and even countries to get their two-stroke motocross fix. This year will mark the 12th event. While normally held in early April, last year's event was postponed to October due to Covid-19, cutting the time between events in half.
This year also marks Wiseco's 80th anniversary with roots in two-stroke racing and performance dating back to 1941. This is the third consecutive year Wiseco is supporting the World Two-Stroke Motocross Championships with the help of Fasthouse, and as an industry leader in manufacturing and innovating two-stroke performance components, from forged pistons to crankshafts to clutches, this is a perfect fit for the true heritage of the Wiseco brand.
Mike Alessi (800), Josh Mosiman (71) and Deegan Vonlossberg (427) lead the 2020 charge to Talladega. This year the Pasha 125 Pro class will have a $6000 purse (with first place paying $3000, second place $2000 and third place $1000). In the Over-30 125 Pro and Over-50 125 Pro classes, there will be a $2000 purse. (paying $1000 for first, $600 to second and $400 to third). Photo: Debbie Tamietti
2021 WORLD TWO-STROKE RACE SCHEDULE
Friday, April 2: Two-Stroke only practice
Saturday, April 3: Gates open 6:00 a.m.
Post sign-up/check in: 6:30 a.m.
Practice: 8:00 a.m.
Rules:
• Every pre-entered rider must check-in at the tower.
• Minors must have a parent come to sign-up.
• If you don't have your own transponder, you will be issued one, but must leave your driver's license at sign-up until you return it.
• Gate pick for the first moto will be by order of pre-entry and then post entry.
• Second moto gate pick will be based on first moto finishing order.
• Most races will have wave starts with multiple classes (if you leave with the wrong gate you will be penalized).
• No tools can be used in front of the starting gate—just feet.
• Passing or jumping on a yellow flag will lead of a penalty.
• Trophies will be handed out to first through fifth for all classes in the museum.
• 50 and 65cc classes get 100% trophies.
• For more info go to www.glenhelen.com
2021 WORLD TWO-STROKE CHAMPIONSHIPS CLASSES
TWO-STROKE ADULT CLASSES
Open Pro…122cc-Open ($8000 purse)
Pasha 125 Pro…122cc-150cc ($6000 purse)
Pasha Over-30 125 Pro…122cc-150cc ($2000 purse)
Pasha Over-50 125 Pro…122cc-150cc ($2000 purse)
250 Beg, Nov, Int, Exp…201cc-250cc
125cc Beg, Nov, Int…122cc-150cc
Open Beg, Nov, Int 122cc-Open
Over-25 Nov, Int, Exp…122cc-Open
Over-30 Nov, Int, Exp…122cc-Open
Over-40 Nov, Int, Exp…122cc-Open
Over-50 Nov, Int, Exp…122cc-Open
Over-60 Nov, Int, Exp…122cc-Open
Over-70 All Skills…122cc-Open
Vintage all skills…98cc-Open
Women All Skill…122cc-Open
TWO-STROKE YOUTH CLASSES
85 14-16 yrs…85cc
85 12-13 yrs…85cc
85 9-11 yrs…85cc
85 first-timer…85cc
Supermini…85cc-112cc
65 9-11 yrs…65cc
65 6-8 yrs…65cc
65 First timer…65cc
50 4-6 yrs…50cc
50 7-8 yrs…50cc
50 first-timers..50cc
THE 2021 MXA 450 SHOOTOUT VIDEO IS HERE! WHICH WILL YOU CHOOSE?
CLASSIC PHOTO | JEFF EMIG THROUGH THE YEARS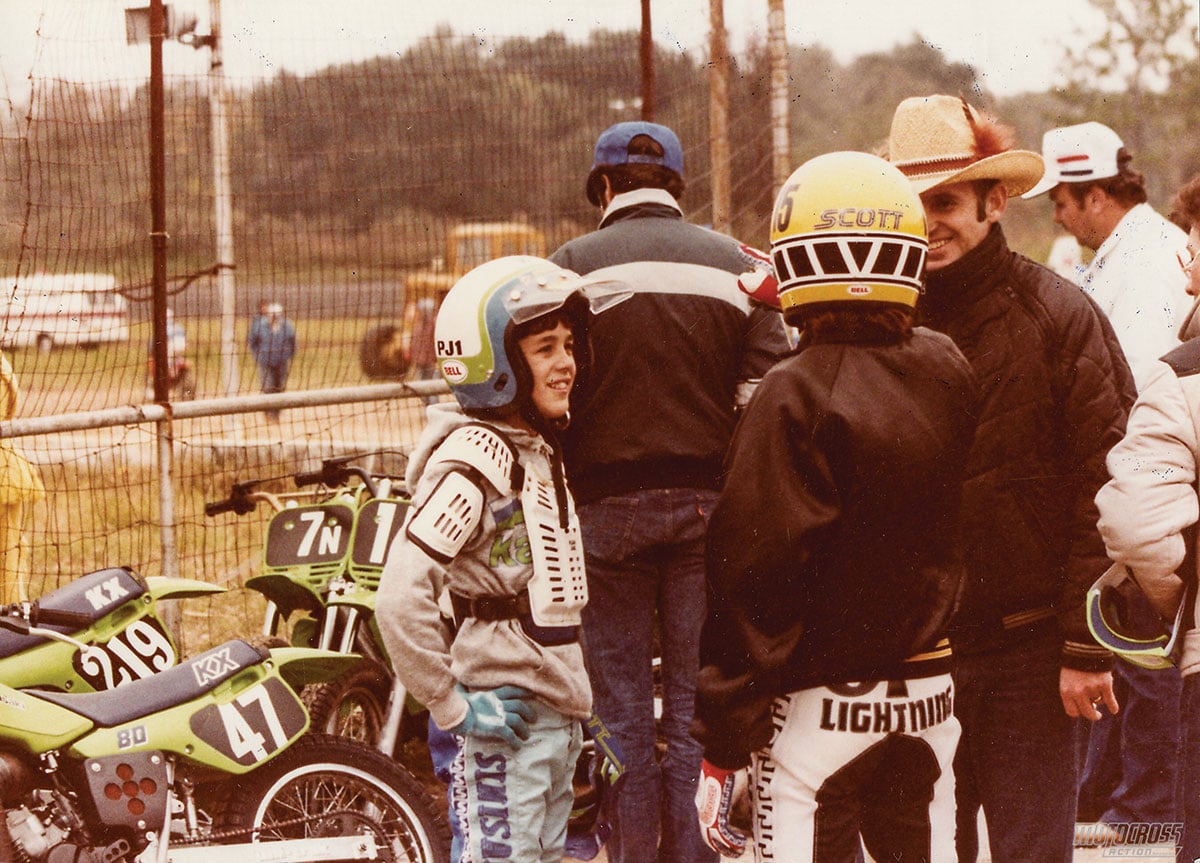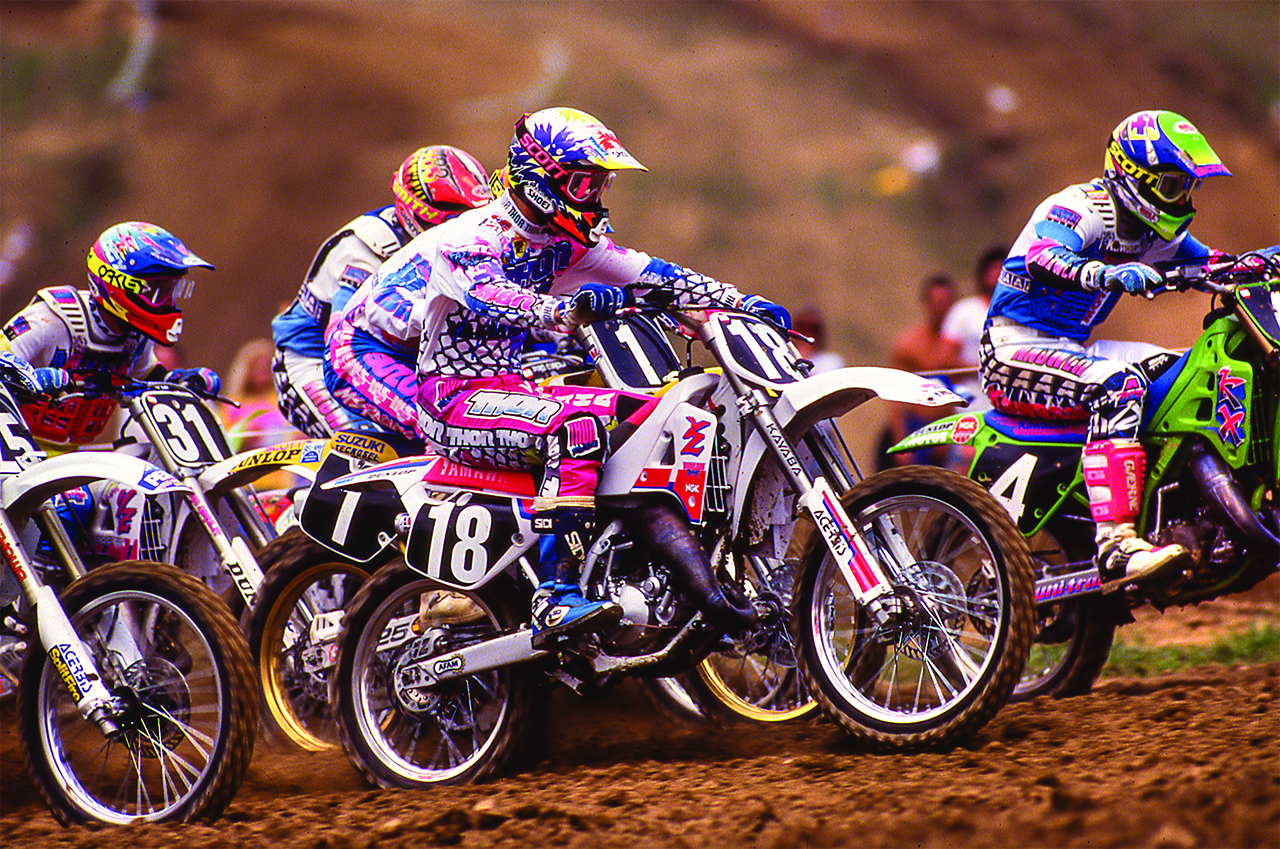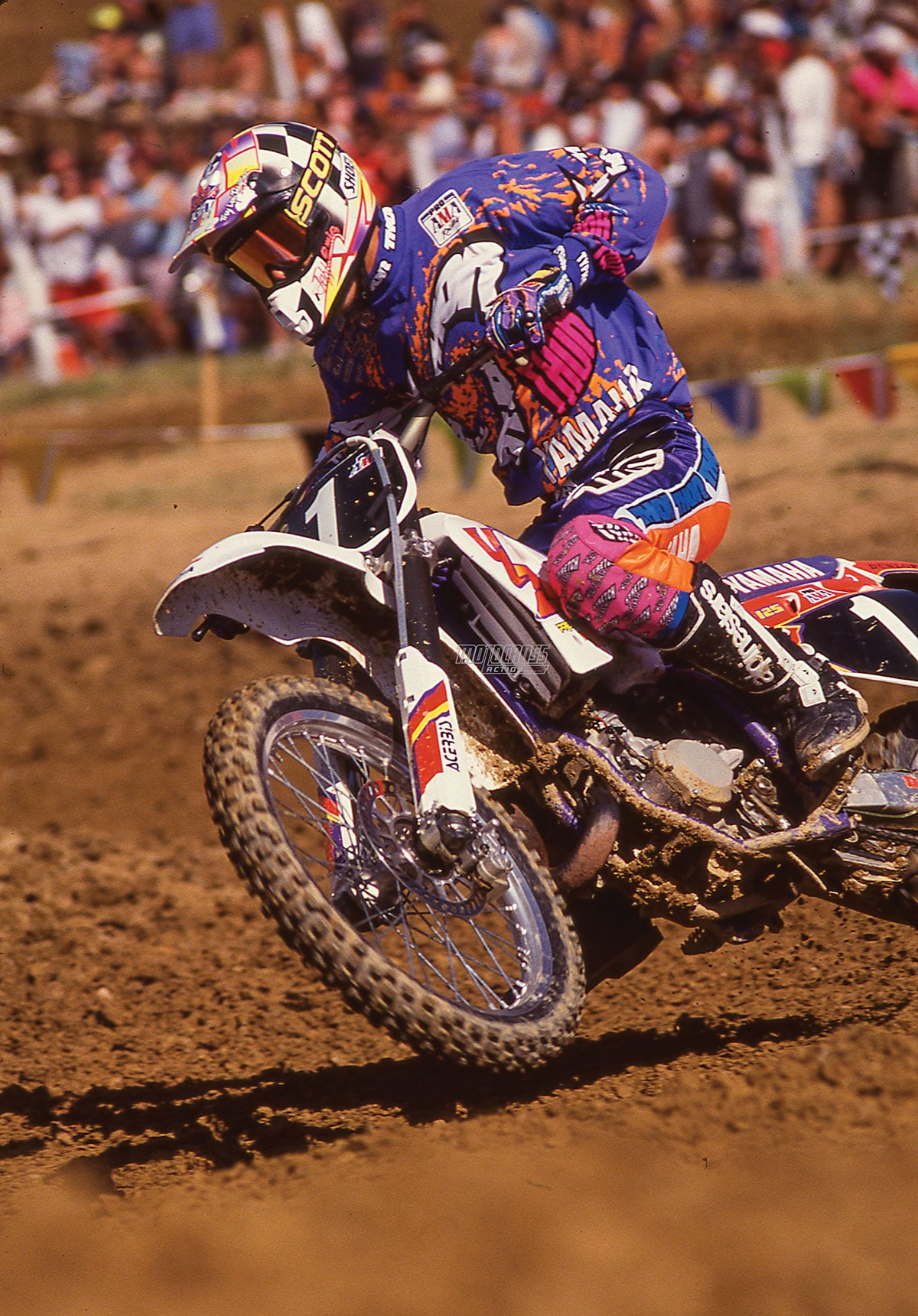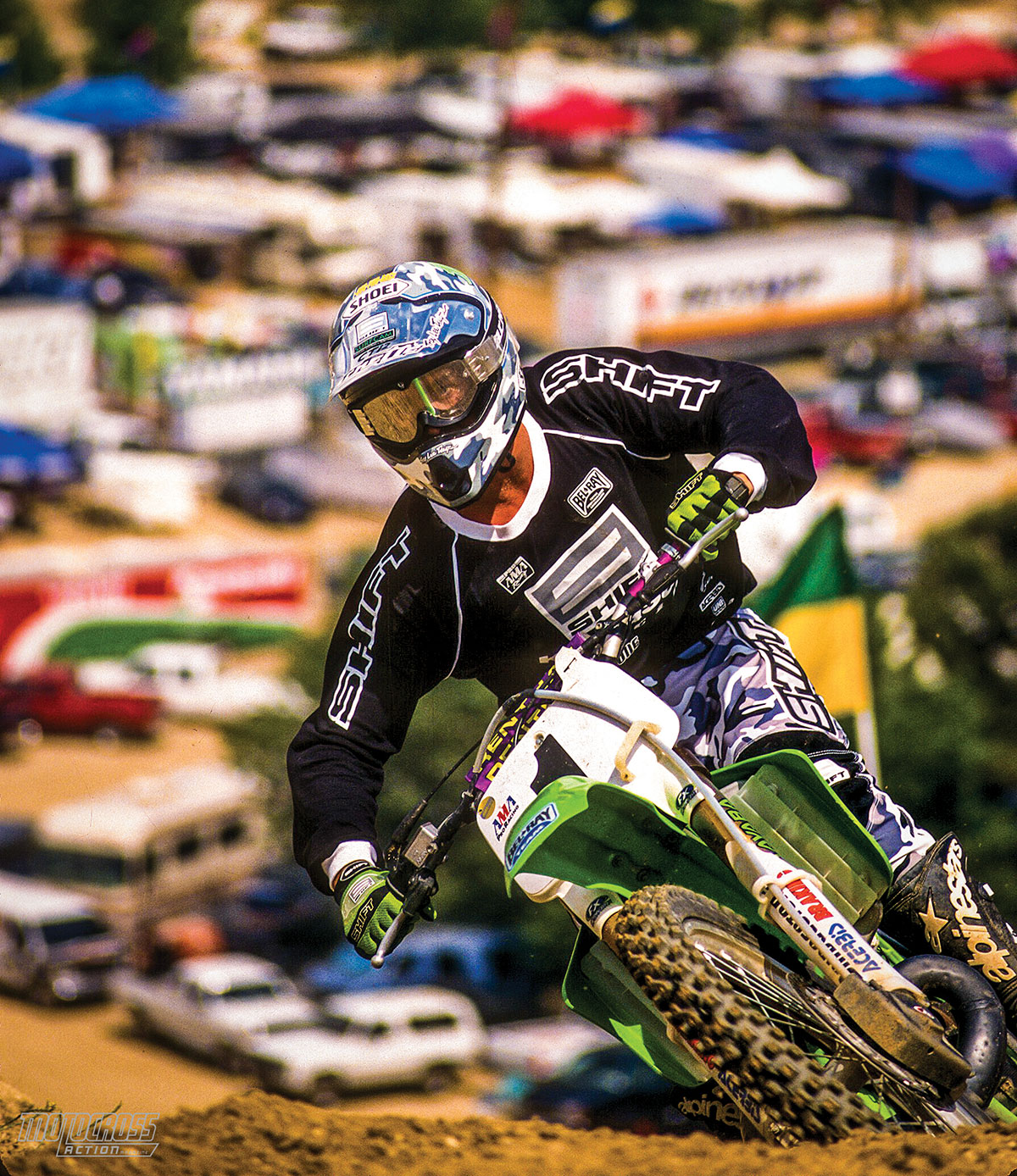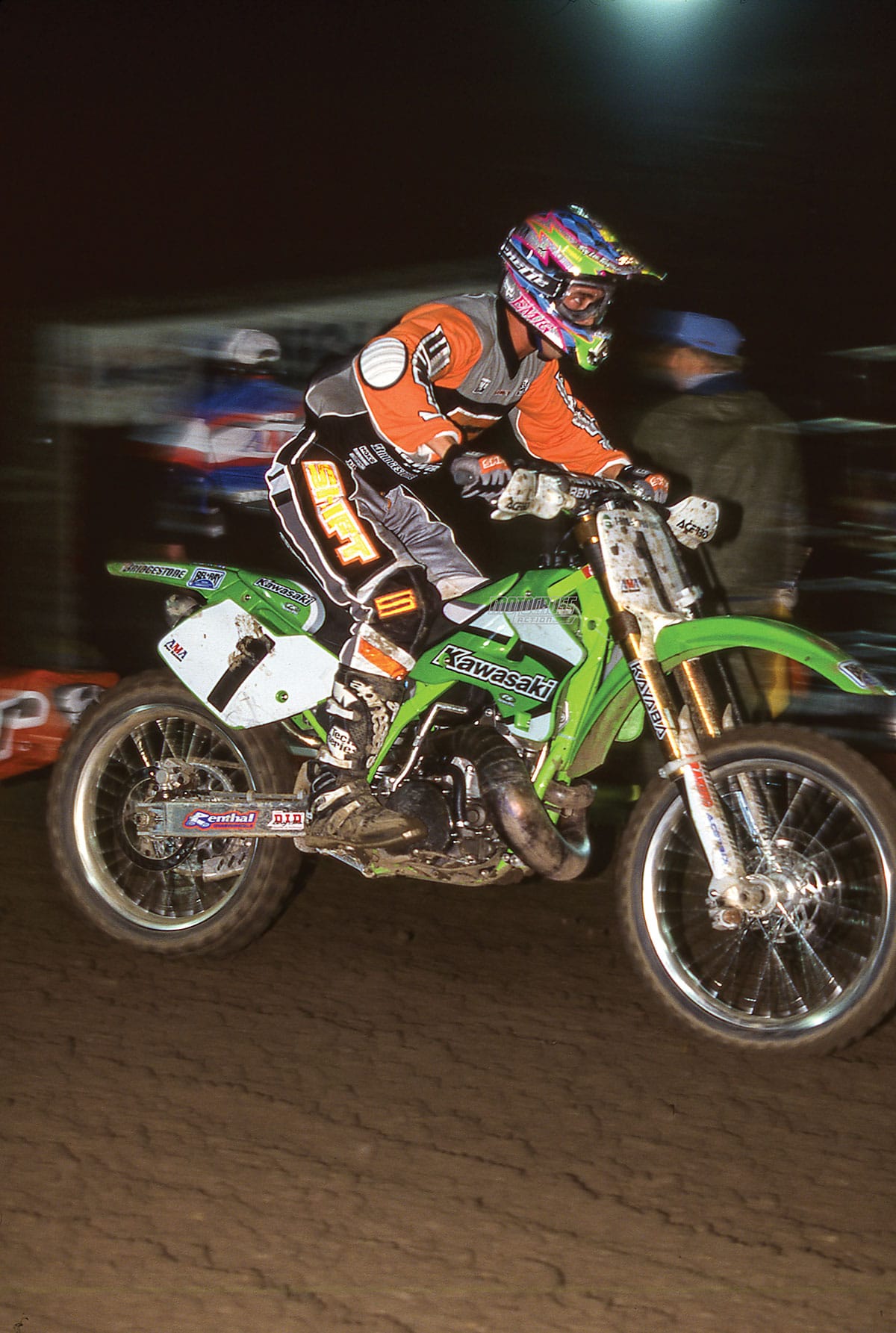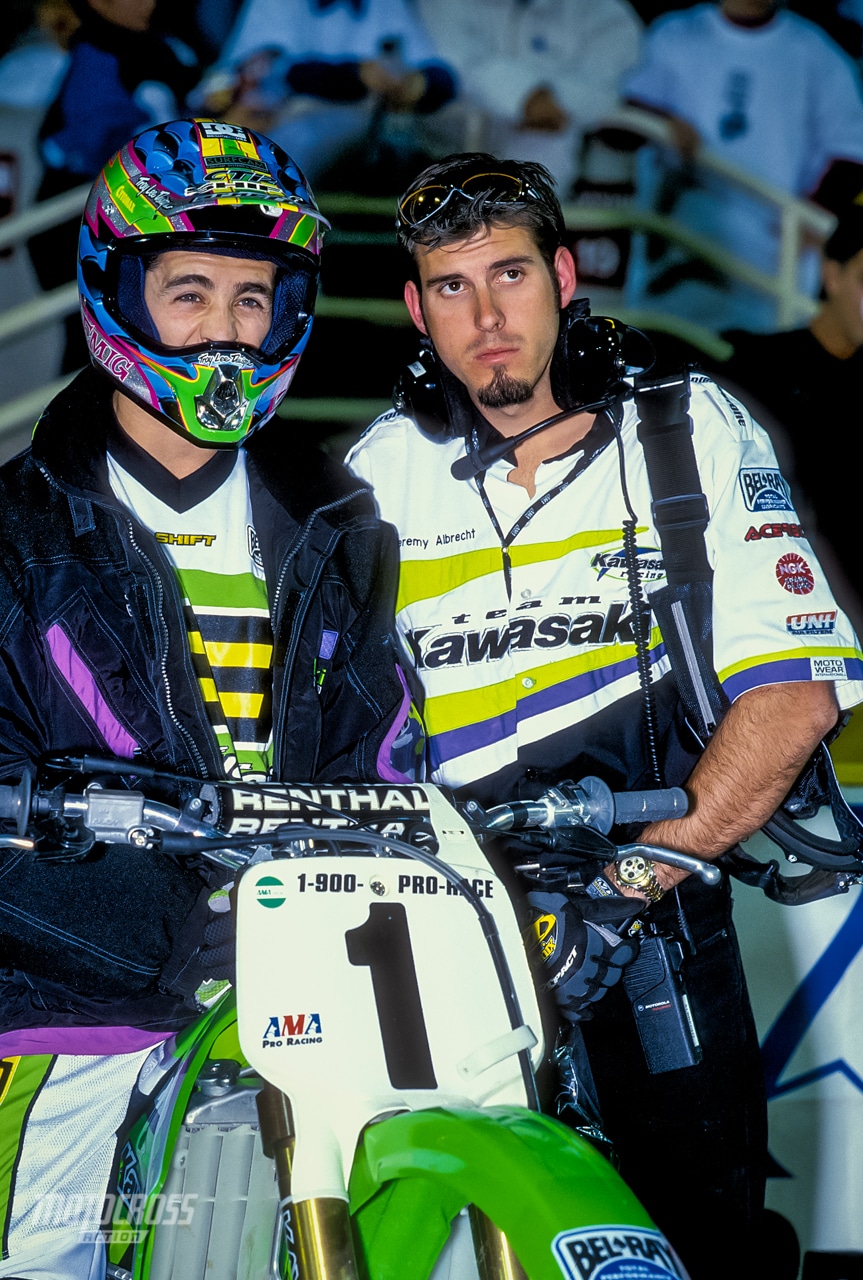 TEN THINGS YOU NEED TO KNOW ABOUT HEAT BUILDUP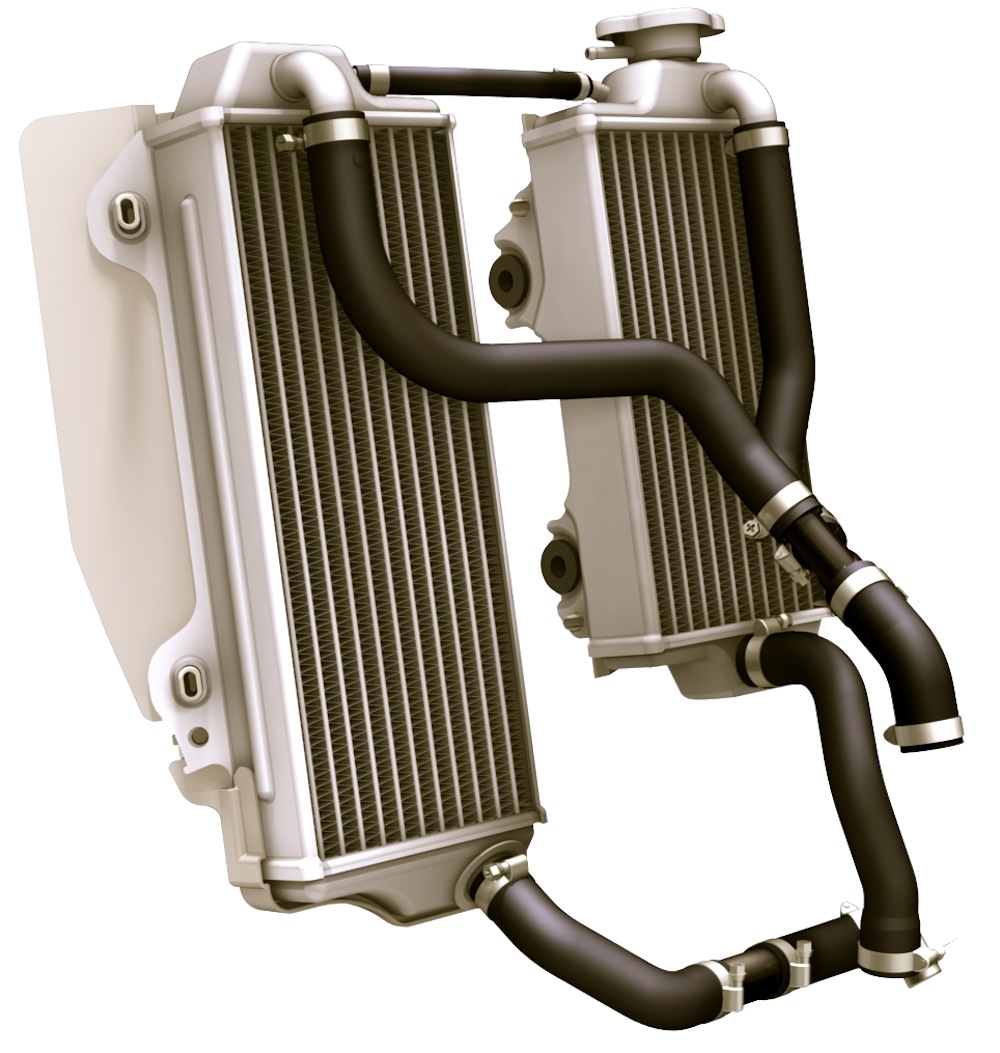 (1) Heat. Most guys focus on reducing weight, increasing horsepower and tuning their suspension when they want to go faster. But factory teams know that controlling heat can make a motocross bike significantly faster, perform better and make components last a lot longer. The byproduct of speed is heat. Heat in the engine, radiators, tires, suspension components, brakes, oil and fuel?you gotta get rid of the heat to make more speed.
(2) Radiators. To get the most out of your radiators, be sure that air entering the radiators isn't obstructed by dirt, bent fins or damaged louvers. Check that air doesn't have an easier path around the radiators, but instead is forced through them. Finally, for air to blow through the radiators, it needs an unobstructed path to evacuate after exiting the radiators. Aftermarket radiators from companies like Myler's and Fluidyne increase cooling performance by increasing the surface areas of heat-transferring components (between the water, cores and cooling fins), as well as using thinner materials with better heat properties. Plastic companies like Cycra make radiator wings, number plates and front fenders that seek to get more air through the radiators with vents and ducting.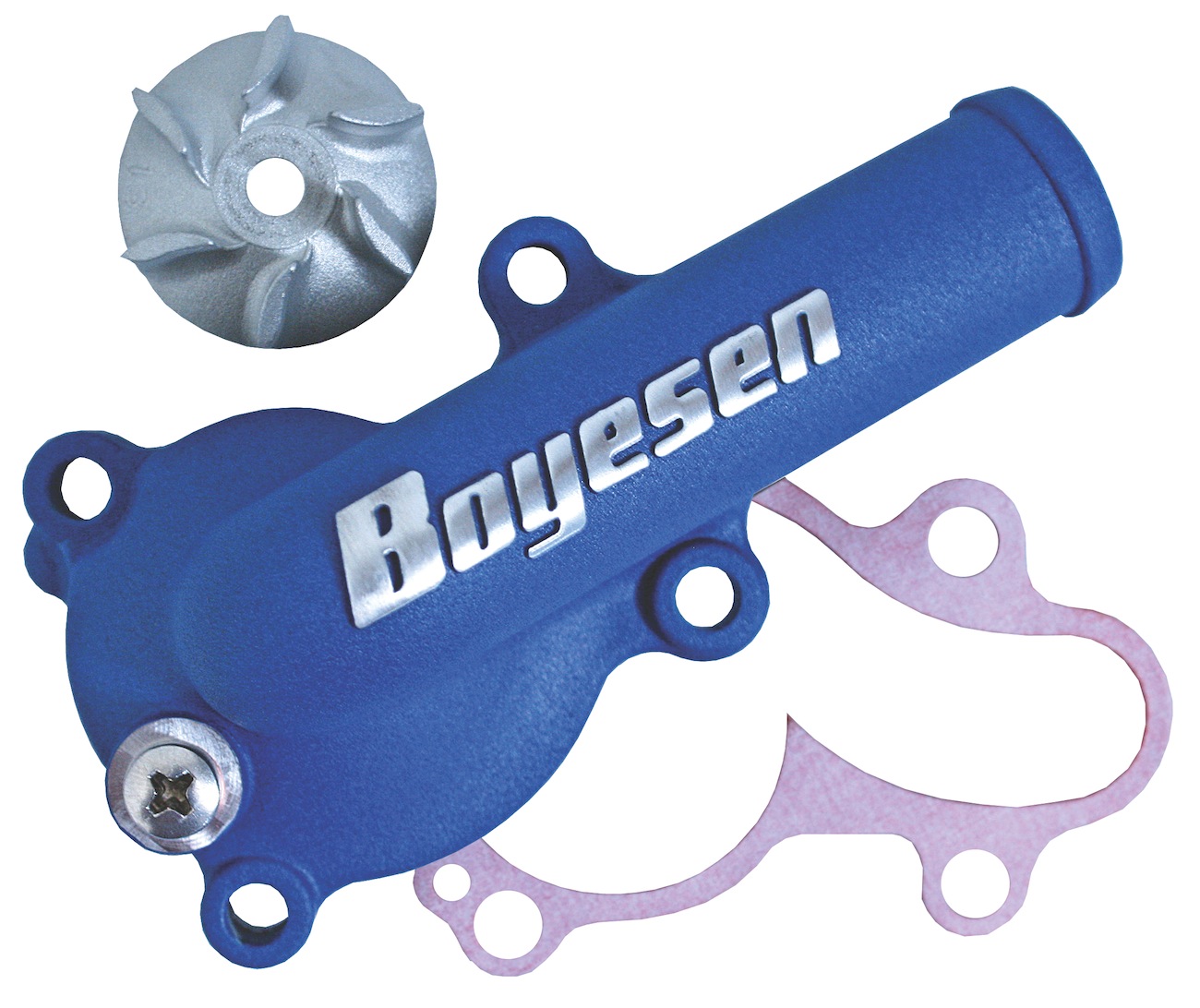 (3) Liquid. An aftermarket water-pump cover and impeller measurably reduce temperatures. Pro Circuit and Boyesen offer covers that improve circulation with better ducting and a more efficient impeller.
(4) Hoses. Increasing the radius of any sharp bends in the plumbing with a hose kit helps the liquid flow through the system, as does eliminating the bolt-on Y-junctions, which slows down water velocity. Some engine tuners get really tricky and increase the surface area between the water jacket and cylinder head. As for coolants and additives, they often make exaggerated claims, but special coolants do a good job.
(5) Combustion. A lean air/fuel mixture can make a bike run strong and crisp, but there will be a correspondingly high-exhaust gas temperature and high-cylinder head temperature. Using too low of a fuel octane rating can cause an uneven combustion burn, leading to hotspots in the cylinder and detonation. A lower-compression piston can reduce combustion chamber temperature, but if the engine has to work harder to produce the same amount of power in a given situation, it will have to run hotter to achieve that desired output. Boosting performance with a high-compression piston is fine, as long as you run appropriate octane fuel.
(6) Suspension. Compared to the forks, rear shocks are prone to overheating. Since the volume of oil in a shock is very small when the oil gets hot, its viscosity gets thinner, resulting in major shock fade.
(7) Fuel. Boiling fuel can cause vapor lock, which deprives the engine of the amount of fuel it needs, causing it to burble or stumble. All brands can suffer from this, but Suzukis are more prone to this than other brands. Many pros wrap their fuel lines with insulation and cover the underside of their fuel tank with a CV4 cover. SRS Performance makes a suitcase-sized fuel cooler that utilizes dry ice and an electric pump to circulate fuel through the tank or a gas can to get it cold before a race. Even placing a fuel can in a bucket of ice works for a short time.
(8) Tires. A spinning rear tire on hard terrain can produce so much heat during a moto that its air pressure can increase by up to 4 pounds. Friction between the inner tube and tire can exacerbate that heat buildup, so it's important to make sure the tube and tire stay completely clean and dry during installation. It's equally important that it stays clean and dry by not letting contaminents in through the rim-lock and valve-stem holes. A pressure washer can even blast water through nipple holes. The factory-team solution to heat-induced tire-pressure gains is nitrogen.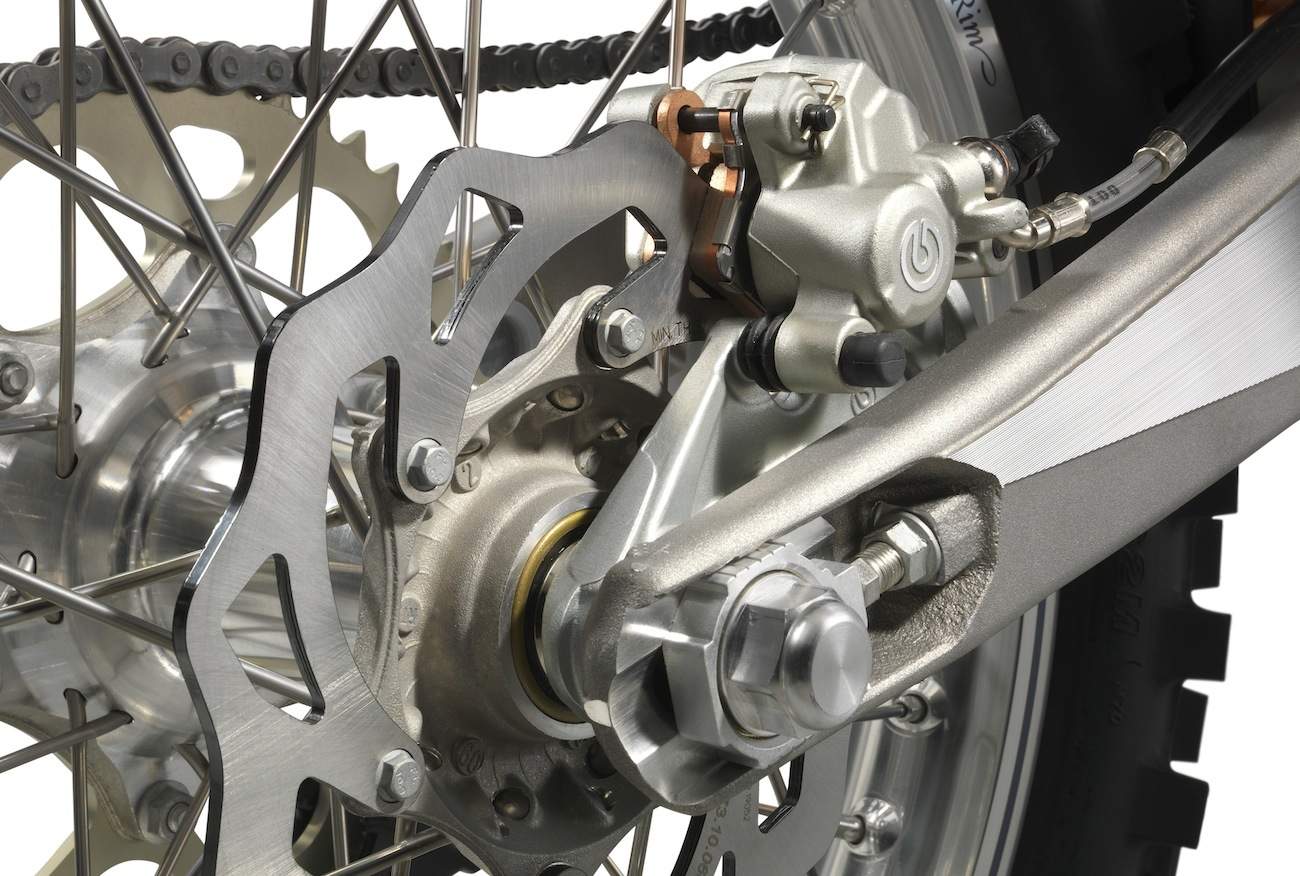 (9) Brakes. Brakes are heat factories. On a fast track with heavy braking, front- and rear-brake rotor guards can block cooling air and cause overheating. LightSpeed offers a carbon fiber part that ducts air into the rear caliper. Good calipers are designed with insulated interfaces between brake pads and pistons. With larger rotors, brake systems don't have to work as hard and don't produce as much heat. High-quality brake fluid is offered with higher boiling points. For the most part, master-cylinder extenders that advertise resistance to brake fade are less than effective because of their distance from the heat source.
(10)  Oil. Oil coolers are commonplace on factory bikes in the outdoor series because they really work. The factories often have unobtainable stuff, but Twin Air and Fluidyne offer good oil coolers for sale that the MXA wrecking crew has had success with on our test bikes. They simply route oil through metal heat sinks. It cools the oil via air flow, while increasing its volume. As for the oil itself, not all oil is created equal. Expensive full-synthetic engine oils, like Maxima's Ultra4, work better at higher temperatures than old-fashioned petroleum oil. But while they slightly reduce friction in the engine, they also slightly reduce friction in the clutch (unless the tranny oil is separate — as on 2009-2016 CRF450s). Maxima's Premium4 petroleum-based oil is preferable to clutch abusers. It still has some high-performance additives and is half the price of the Ultra4. Making sure the engine has the correct amount of oil is important. Low height makes the remaining oil work harder, get hotter and perform worse.