MOTOCROSS ACTION MID-WEEK REPORT
#WHIPITWEDNESDAY
Rider: Chad Reed
Bike: 2019 JGR Factory Suzuki RM-Z450
Location: Indianpolis, Indiana Supercross
Photographer: Brian Converse
TWO-STROKE SPOTLIGHT: MATT WELLER'S 1997 HONDA CR125 PROJECT BIKE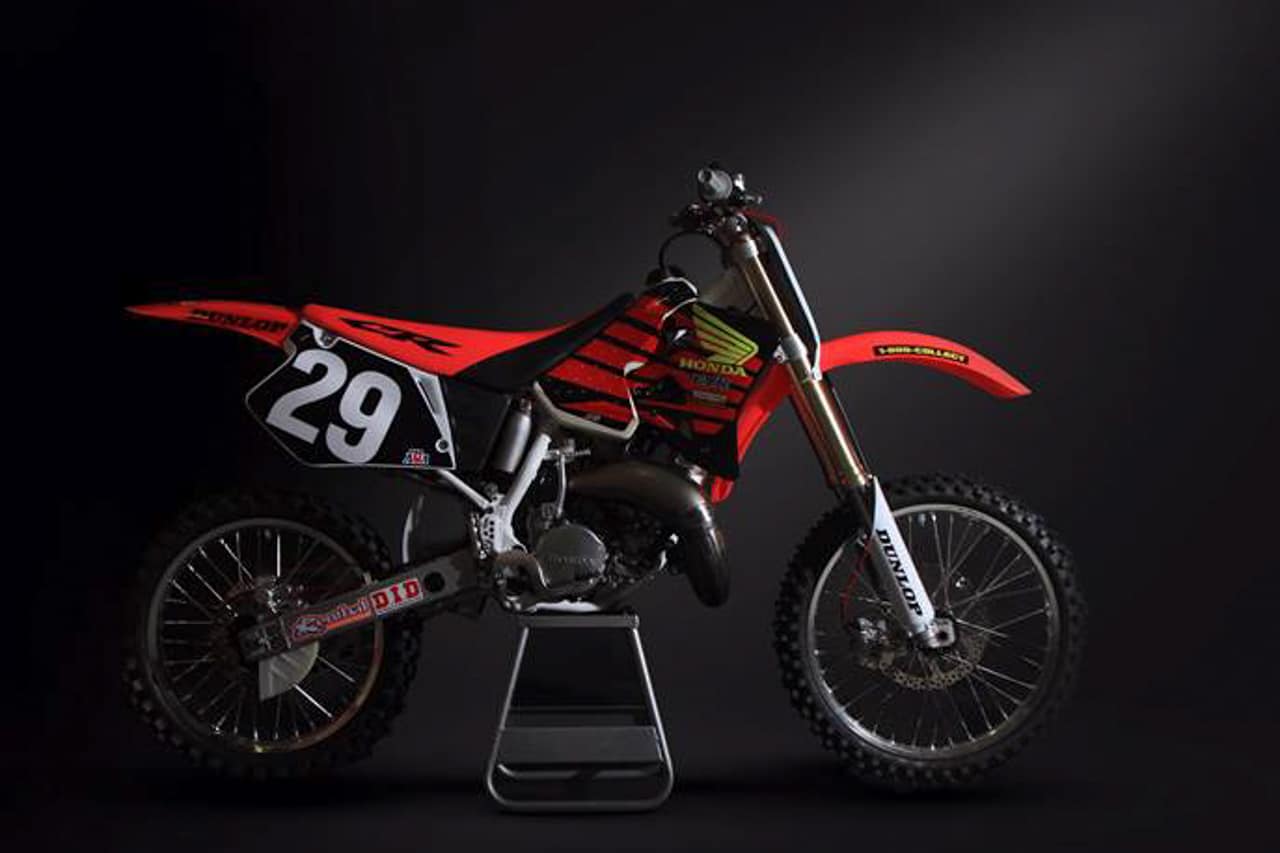 I wanted to pass along another one of my project bikes. (he also has a 1994 RM250 and a 1992 Bradshaw replica YZ250) This one is a 1997 Honda CR125 modeled after Scott Sheak's factory Honda. When I purchased the bike it had been completely disassembled and was also missing the engine. A few phone calls later I had an engine ordered and the build was on. The frame and hubs were sent to Curry Custom Coatings to be sandblasted and powder coated, and all other metal components were sent to KE3 Restoration to be Vapor Blasted before being assembled. Unbounded Designs was able to create the custom graphics from a couple of pictures I found out of an old MXA mag. I think the before and after pictures speak for themselves.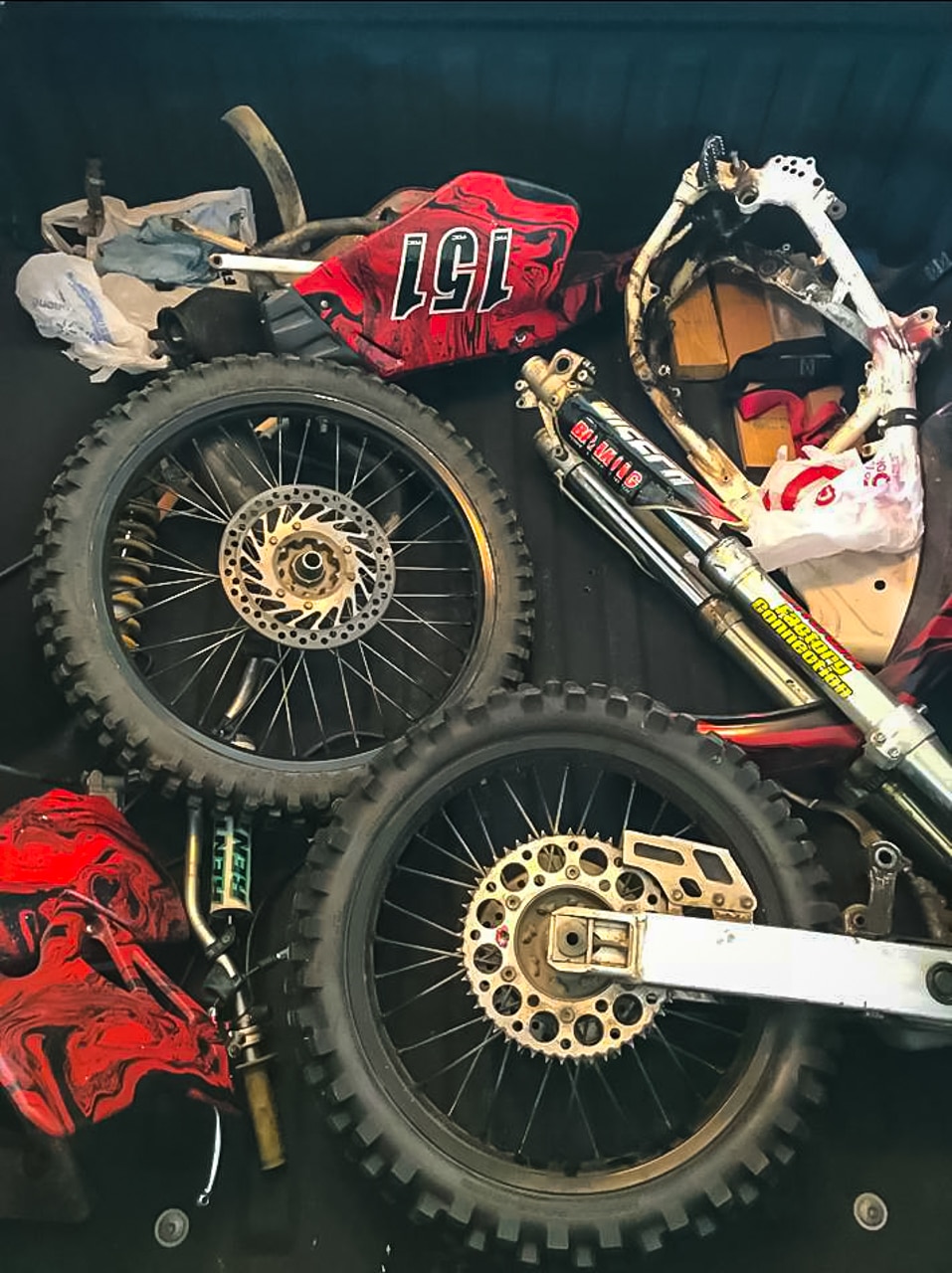 Before the restoration. 
This build can be seen from start to finish on Instagram @mweller572 using #projectironsheak
Photo Credit- Micah Thompson @gr82kr8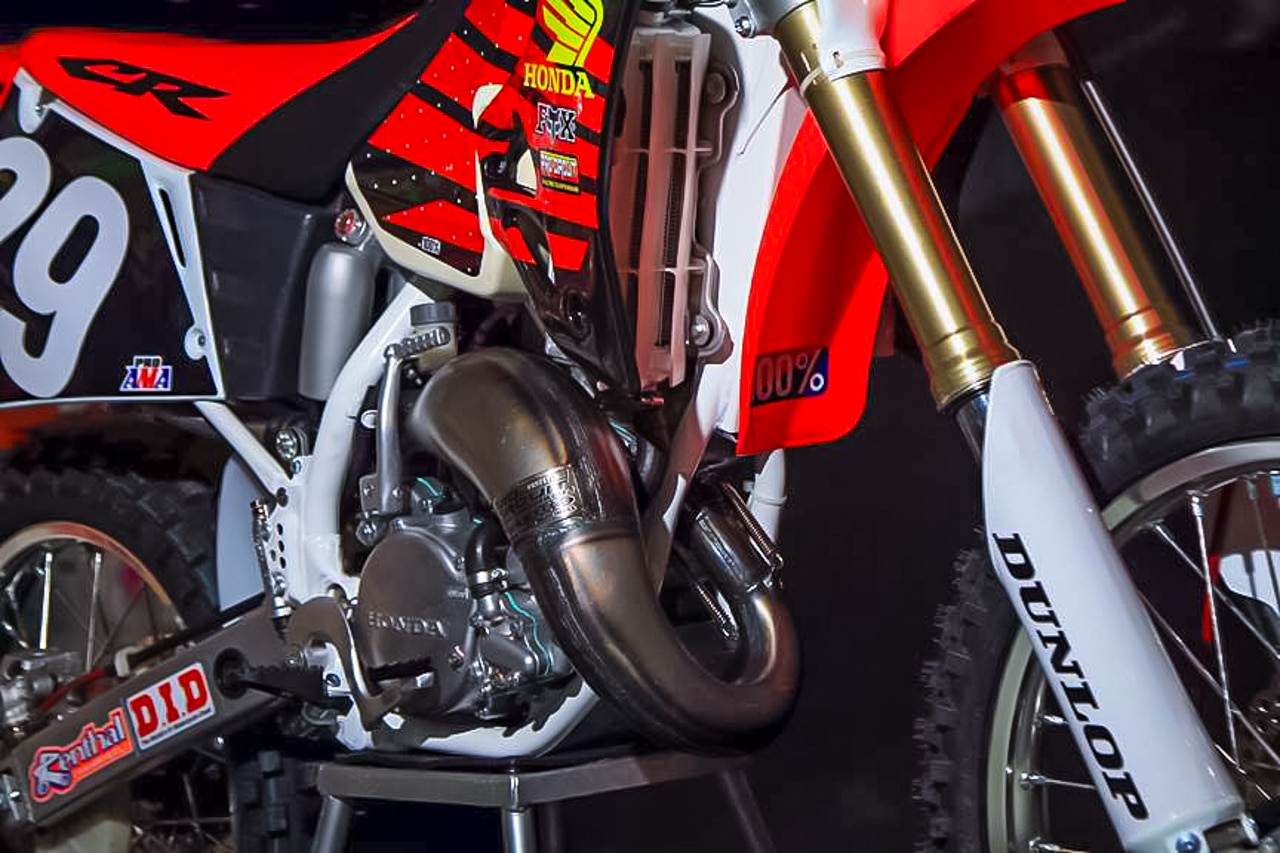 This build would not have been possible without the help from some amazing companies.
All Balls Racing
All chassis bearings, seals & cables
Curry Custom Coatings
Powder Coating and Cerakoting
KE3 Restoration
Vapor Blasting
Garvis Honda
OEM Parts
Moto Tassinari
V Force Reed Cage
Pro Circuit
Pipe and Silencer
Pro Wheel Racing
Rims/Spokes
Race Pace Performance
Fork and shock service
Rocky Mountain MC
Misc hardparts,
Renthal
Chain, Bars, Grips
UFO Plastic USA
Plastic
Unbounded Designs
Graphics
Vertex Pistons
Piston
Thanks,
Matt Weller
Editors Note: Please keep those submissions coming. If you would like your bike to be featured in the "Two-Stroke Spotlight," please email me at [email protected]. All I ask is that you give a breakdown of your bike and a detailed description of the build. Please also send a few photos of your steed. By submitting your bike for the "Two-Stroke Spotlight," you agree to release all ownership rights to the images and copy to MXA. 
DYLAN FERRANDIS ROOKIE 450 SEASON
MOTO | TRIVIA
Who is this rider? Answer at the bottom of the page.
MILLENNIUM TECH M-SPEC CYLINDERS & BIG BORE KITS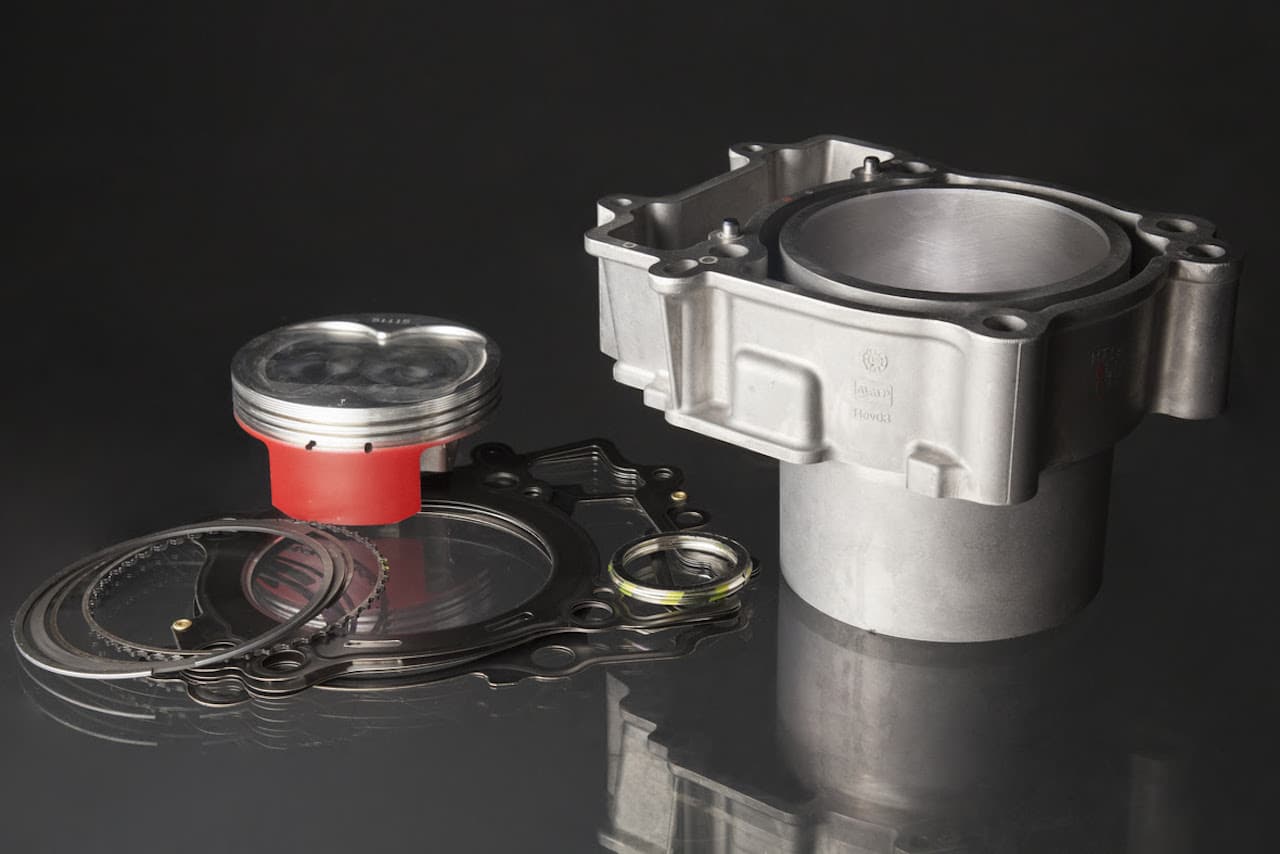 Press Release: Millennium Technologies has new M-Spec Cylinder and Cylinder Kits in stock! For over 20 years, Millennium Technologies has been the leader in servicing OEM cylinders with our proprietary Nickel Silicon Carbide Plating process and associated repair and overbore cylinder services. Now we can offer our customers and dealers a new cylinder option for most popular Off-Road, MX, ATV, and UTV applications.
The new M-Spec Cylinders are available as standard bore OEM replacement cylinder or as a cylinder kit. The cylinder kits are available in standard bore and big bore sizes. Each kit comes with a perfectly matched, high performance forged piston kit and gasket kit.

Custom kits, Service Kits based on your OEM Cylinder, Remanufactured Cylinders, and M-Spec CNC Head Porting and Cylinder Head Services are also available.
New Cylinders and Cylinder Kits are available for many models. Click here to see if they make one for your bike.
WHAT IS A RESONANCE CHAMBER AND WHAT DOES IT DO?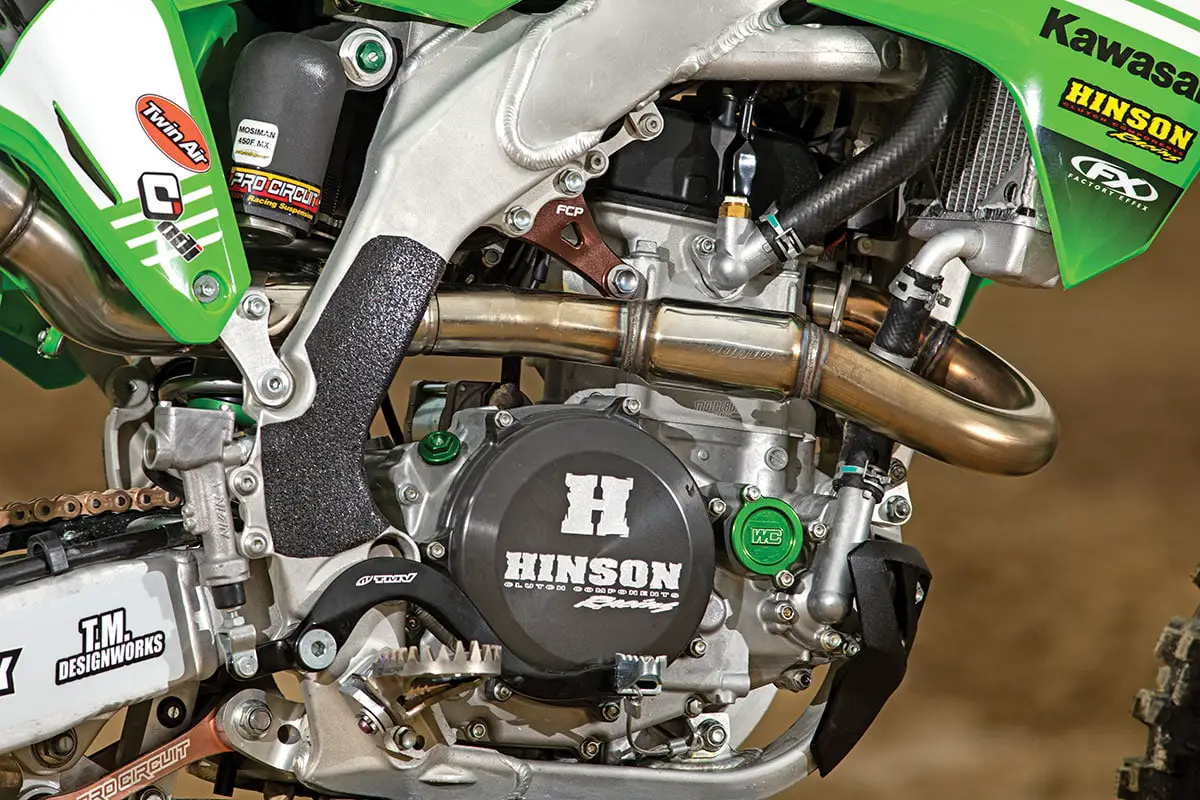 (1) Exhaust is very similar to alternating current. A high-pressure exhaust note is followed immediately by an opposing low-pressure note. With AC current, positive and negative cycles of voltage combine to provide a steady 120-plus volts of electricity. On a bike, the consistent cycles of positive and negative exhaust waves combine to give the engine a ridable powerband.
(2) A sinusoid is a function that occurs when exhaust is sent out a pipe (or electricity is sent to a house). The power represents periodic oscillations in which the amplitude, shape and timing of the positive displacement is proportional to the negative displacement on the other end of the scale.
(3) The high- and low-sinusoid pressures of the exhaust note travel in opposite directions. The low-pressure wave creates the reflective pulse that is better known as back pressure. Back pressure is used to silence the bike as well as to control the delivery of power
(4) During the engine's final cycle (the fourth stroke) there is an overlap when both the intake and exhaust valve are open at the same time. During that event, a properly tuned exhaust pipe minimizes the reflective exhaust pressure pulse. If the exhaust waves are managed correctly, the incoming fuel/air charge dances right into the cylinder and makes the most possible power. Excessive exhaust back pressure at the moment that both valves are open impedes intake and slows the engine down.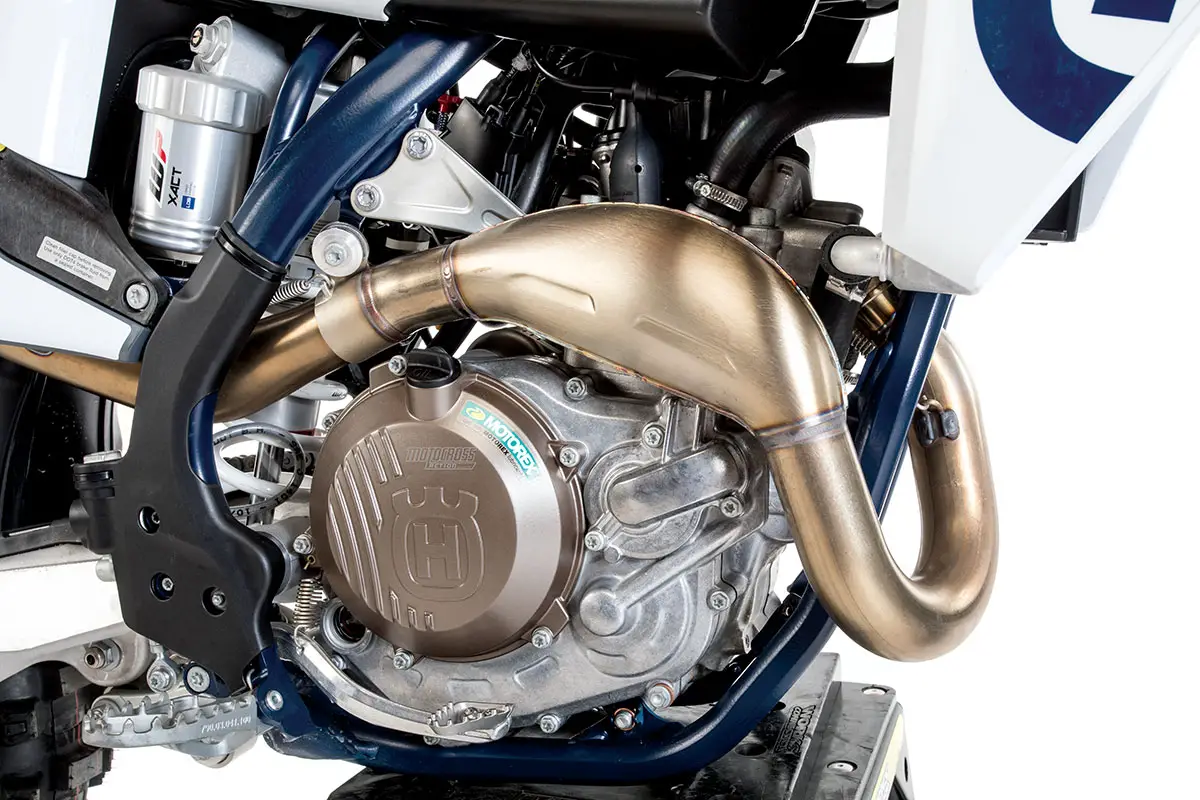 (5) A resonating chamber is nothing more than an empty box. In function, it is a muffler that uses dead air space instead of packing. The exhaust note gets into the resonating chamber through one or more small bleed holes. The resonating chamber creates an interference in exhaust flow and uses the positive and negative sound waves to cancel each other out. A chamber also gives the tuner more options for minimizing back pressure at the crucial moment of valve overlap.
(6) What the pipe tuner searches for is the ultimate combination of muffler, resonator, tuned length, tubing diameter, pipe volume and shape. He has to make more power, reduce the weight over the stock pipe and meet the AMA's new 115dB two-meter-max sound limit. A tuner who uses a resonating chamber properly can find an additional one decibel reduction in sound with absolutely no effect on performance; it's even  possible to gain performance.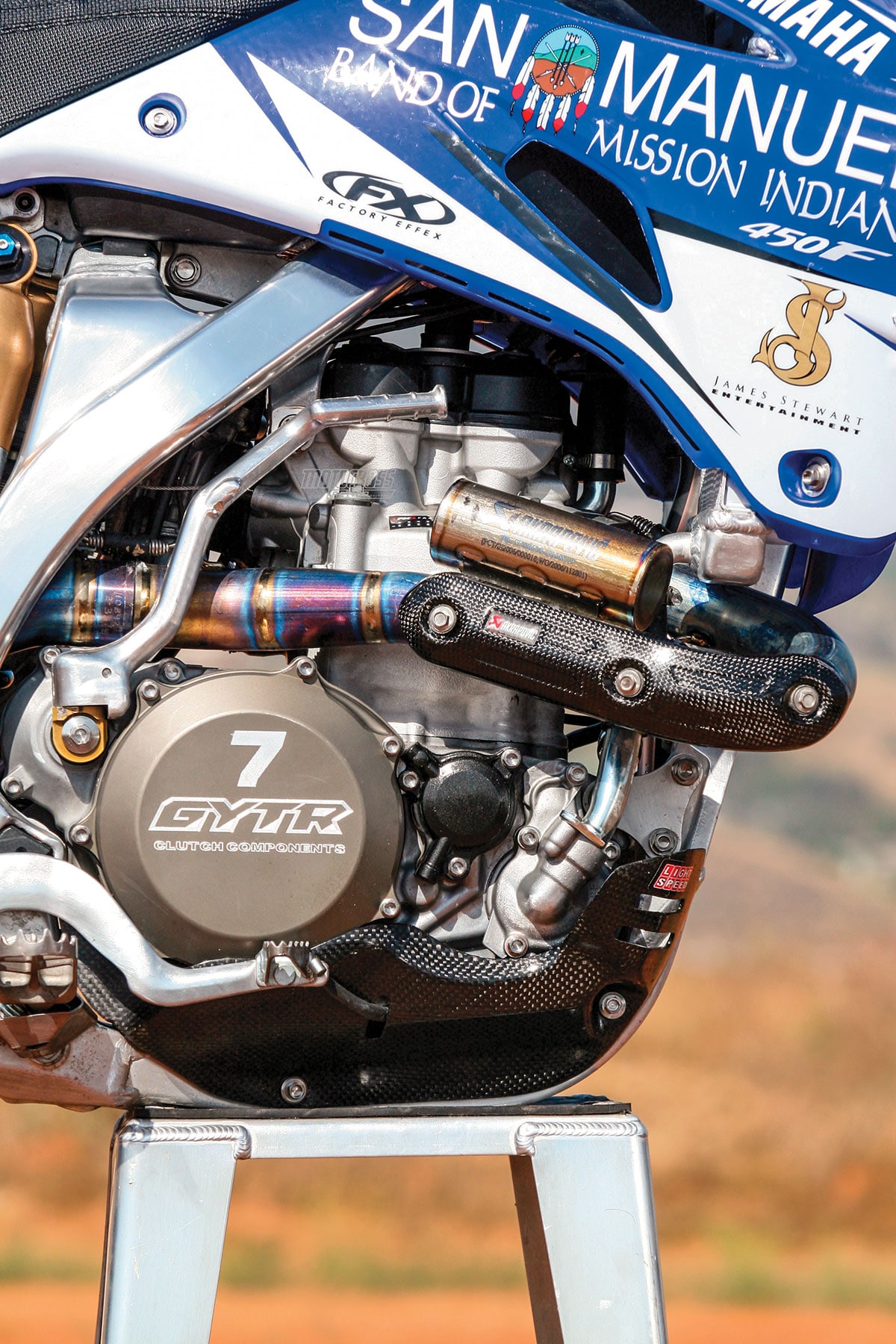 (7) The typical resonating chamber is 1-1/2 inches in diameter and seven-inches long. The chamber volume is generally bigger on a 450 than a 250. A bigger chamber with the proper-sized bleed hole has a greater effect on sound and power than a small chamber with a small hole.
(8) In a pipe, exhaust wall pressure is highest at low emission velocities. It is at this moment that the resonating chamber provides the most sound and power benefits. At higher rpm, the exhaust emission velocity is too great (and the wall pressure is low). This is where a poorly designed resonating chamber can hurt power by disrupting smooth exhaust flow either with too much volume, too many bleed holes, or holes that are too large.
(9) Resonating chambers that use a sharp step in diameter have a greater effect on minimizing the reflective pulse. A resonating chamber like this is best used to tune low rpm power. A more tapered chamber size shifts the resonating effect higher up in the rpm range.
(10) A resonating chamber typically adds two to five ounces to the weight of a pipe. It looks like it would weigh more, but it is largely air. Resonance chambers can be good and they can be bad. The trick is to tune the volume to create the perfect cancellation between the positive and negative pressure waves. This is an equation that requires lots of trial and error.
ALPINESTARS PRESENTS:THE LIMITED EDITION 'MANTRA'  SUPERTECH GEAR
Alpinestars launched the Limited Edition 'Mantra' Supertech gearsets to coincide with the 2021 Monster Energy AMA Supercross Championship heading to the final rounds in Salt Lake City, Utah. The Limited Edition 'Mantra' is unique as it is the racewear we have created for superstar riders Jason Anderson, Chase Sexton, Hunter Lawrence and Jett Lawrence.  The gear is developed with Alpinestars' Supertech racewear for professional riders, the innovative Motocross apparel line designed for superior riding performance.  The Mantra gearset features Alpinestars' distinctive spiral logo in large and small renditions on both the jersey and the pants.  The spiral represents the racing of the past and the riding of the future as Alpinestars continues to build upon our history of premium protection products.
Jett Lawrence wearing the Mantra gear in SLC. 
Available in two colorways, hot pink and true blue, both gearsets include a cool color fading graphic treatment that are designed to make the MX rider stand out. The unique and disruptive style of the gear inspires confidence on the track and brings a unique addition to any rider's gear bag. It's almost guaranteed that you'll be the only person on the track with this limited release. Our proven Supertech apparel line is the preferred gear setup of our professional MX riders around the world, featuring an athletic fit and ultimate durability and built to handle the highest speeds and most demanding movements on a bike.
Jason Anderson sporting the new line of LE gear. 
Produced in very limited quantities, the Limited Edition 'Mantra' will only be available for purchase on www.alpinestars.com in the United States and distributed through select dealers internationally. This weekend, we'll all have a chance to see the 'Mantra' gear in action on Jason Anderson, Chase Sexton and Jett Lawrence as they sport the ultra-limited collection and breakaway from the rest of the field both in speed and in style.  Round 17 will see Hunter Lawrence in the Limited Edition 'Mantra.' For those fans who want to wear the custom gear made for racers, the opportunity has finally arrived.
Chase Sexton was wearing the Mantra blue colorway in SLC last weekend. 
MXA TEAM TESTED: 2019-2021 TM DESIGNWORKS FE #2 KX450 CHAINGUIDE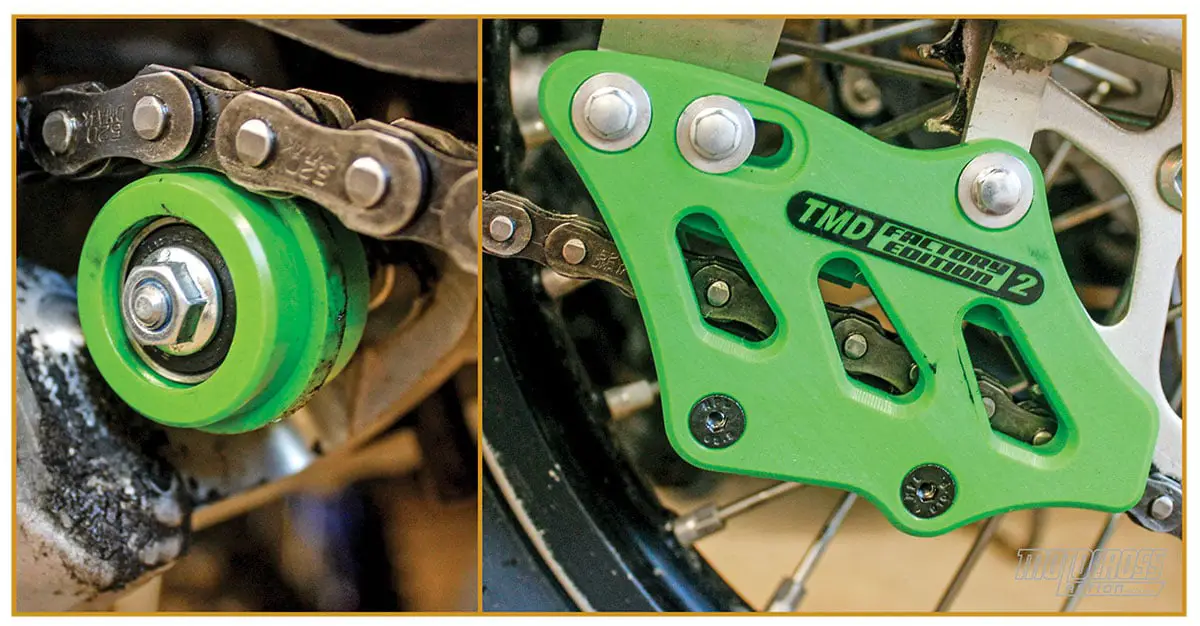 WHAT IS IT? The stock 2019-2021 Kawasaki KX450 chainguide has its mounting tabs in different locations from previous KX450 models. For long-time KX450 owners who used to move their TM Designworks chainguides from their old bikes to their new ones, those days are over. Thankfully, TM Designworks has made an all-new KX450 chainguide to work with the 2019 KX450 spacing (and, as a bonus, it will fit on most late-model Kawasaki KX450s).
WHAT'S IT COST? $97.95 (Chainguide), $26.95 (Powerlip roller), $29.95 (replacement wear pads).
CONTACT? (541) 772-4161 or www.tmdesignworks.com.
WHAT STANDS OUT? Here's a list of things that stand out with the TM Designworks Factory Edition SX rear chainguide.
(1) Adjustable bolt holes. To make the 2019-2021 Kawasaki KX450 Factory Edition #2 chainguide more versatile (and to make it fit the KX450), TM Designworks molded a special chainguide shell with an oval hole in the middle of the three bolt holes. By sliding a bushing back and forth in the oval hole, the Factory Edition #2 chainguide will fit on the 2019-2021 KX450 and on most previous KX450 models.
(2) KX450 chain guide. Over the years KX450 chainguides have had the lifespan of a gypsy moth. The chain not only eats through the stock chain-wear pad but through the aluminum shell as well. It wasn't uncommon to see a KX450 with the chain hanging out under the chain guide. Serious riders knew to order a TM Designworks chainguide before rolling their new green machine off the showroom floor. Over the years, TM Designworks has perfected a plastic compound that is infused with an oil additive to reduce friction. Additionally, the plastic has impact return memory. If it hits something on the track or in a crash, it returns to its original shape. The Kawasaki KX450 Factory Edition #2 chainguide comes with a replaceable wear pad so that you can use it year after year, as long as the bolt holes don't move again. There are two different styles of wear pads—one for motocross and one for heavy-duty off-road use. The Factory Edition #2 will accept up to a 51-tooth sprocket and regular or O-ring chains.
(3) Lower chain roller. MXA has had excellent luck with the stock  KX450 chainguide. It has lasted longer than any previous KX chain guide, but what hasn't lasted is the lower chain roller (up by the swingarm pivot). The weirdly configured, sawtooth-shaped stock roller disintegrated in a couple hours of riding. TM Designworks' Powerlip chain roller has sealed bearings in the roller that are matched to a set of plate washers that help seal out grit. The roller itself is made from a low-friction material that has a raised lip that keeps the chain centered on the roller. It wears like iron. There is a one-year free bearing warranty.
(4) Installation. If you are replacing a worn-out stock chainguide, you should note that the chain tension will get tighter when you install a new chainguide because of the thicker wear pad. Installing the Factory Edition #2 chainguide is simple because the wear pad is removable which allows the guide to slide into place. There's no need to break the chain.
(5) Colors. For the KX450, the Factory Edition #2 chainguide is only available in green or black.
WHAT'S THE SQUAWK? No complaints.
MXA RATING: We trust TM Designworks because we have dealt with them as far back as when they were known as Crotch Rocket Factory (CRF), making hot-rod CR125 cone pipes in Goleta, California. Their chainguides are the best in the business.
FORGOTTEN BIKES: VOR 503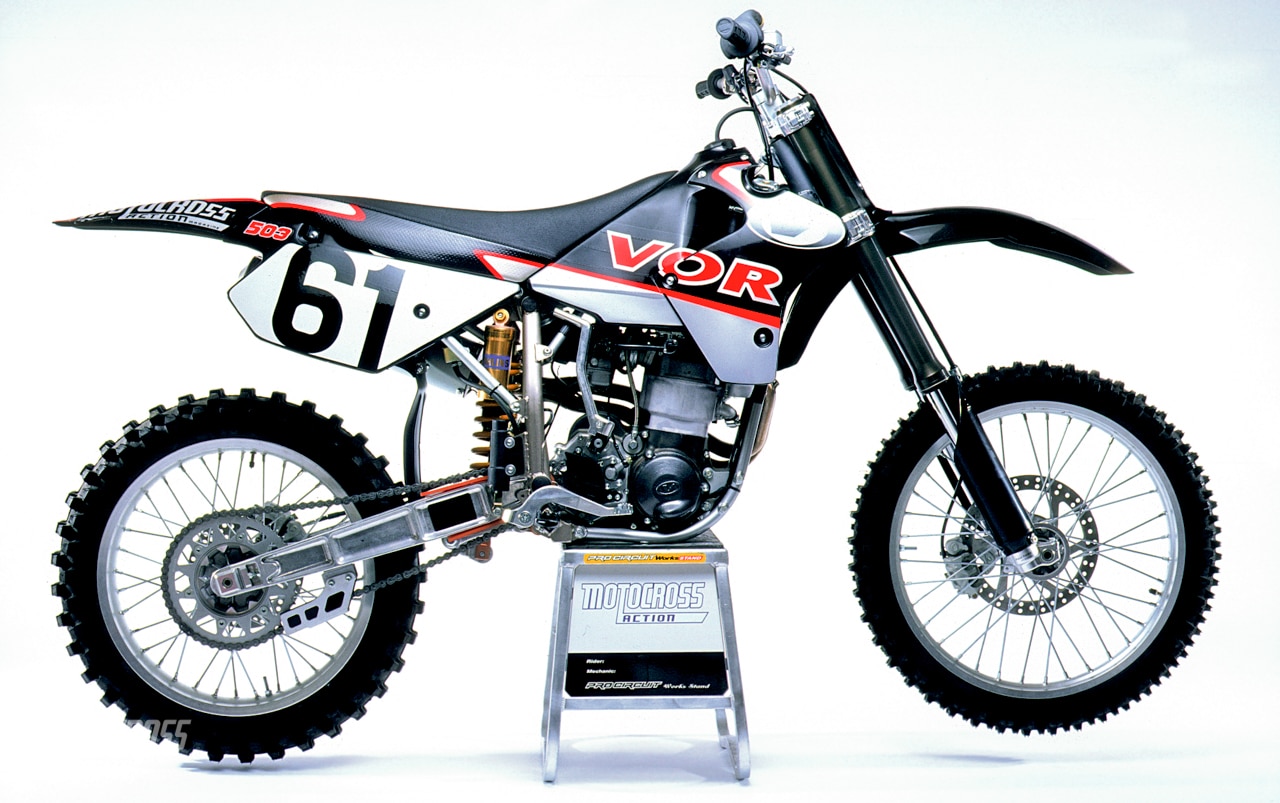 PRODUCT SPOTLIGHT: BOYESEN WORKS BILLET FACTORY RACING CLUTCH COVERS

Boyesen WORKS BILLET Factory Racing Clutch Covers
Retail Price: $189.95 USD.
Availability: www.boyesen.com
THE BOYESEN ADVANTAGE
» Gives your bike the modern Factory Racing Works look.
» Precision machined from billet T-6 aircraft quality aluminum to aerospace tolerances.
» Super-tough, proprietary hard coat for extreme boot-wear resistance and scratch proof surface durability.
» Seals perfectly to keep out dirt and moisture.
RETAIL PRICE:
The manufacturer's suggested retail price of Boyesen's new WORKS BILLET Factory Racing Clutch Covers starts at $189.95 (USD).
MXA FIRST RIDE OF THE 2021 YAMAHA YZ125
ARAI VX-PRO4 NEW COLORWAY
CLASSIC MXA PHOTO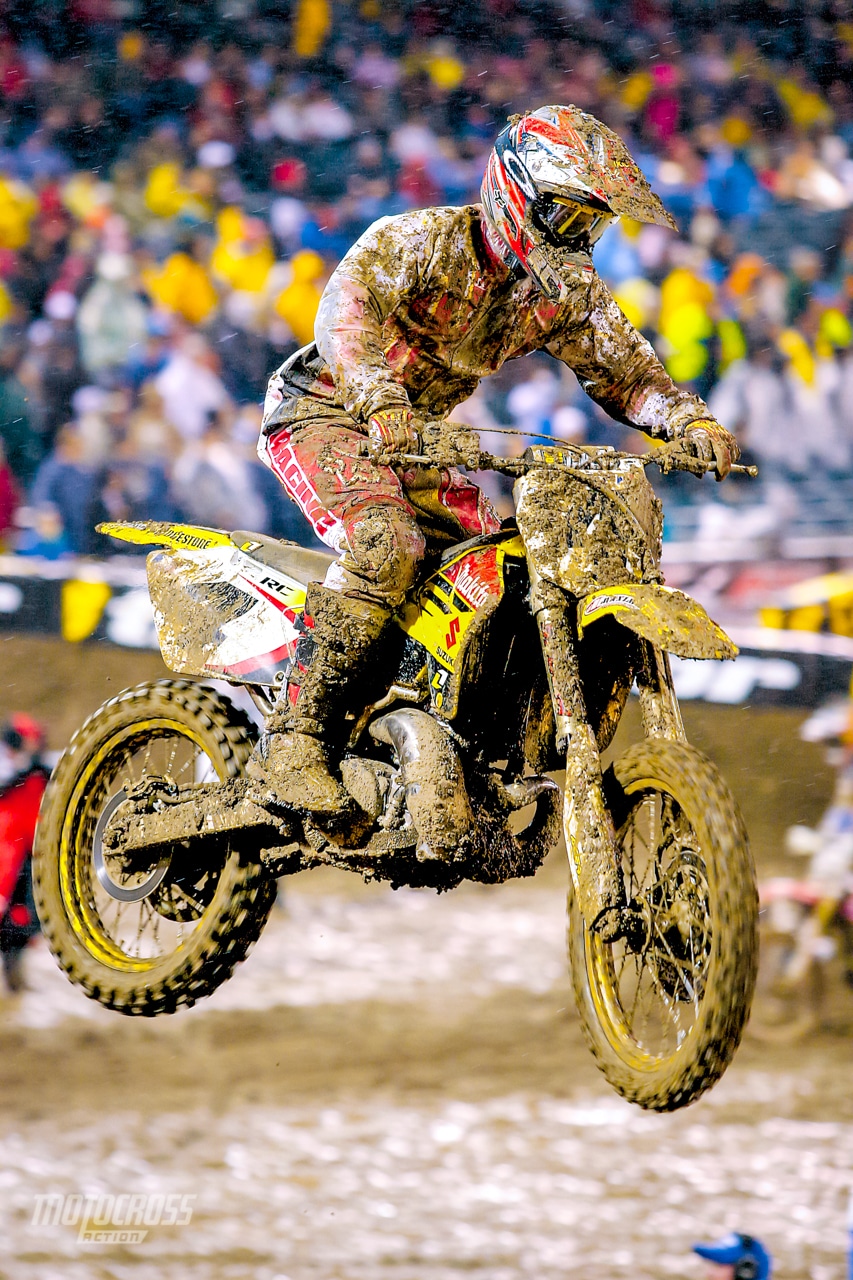 Ricky Carmichael back in 2005 during the Anaheim 1 Supercross mud race. Ricky finished 3rd and Kevin Windham won.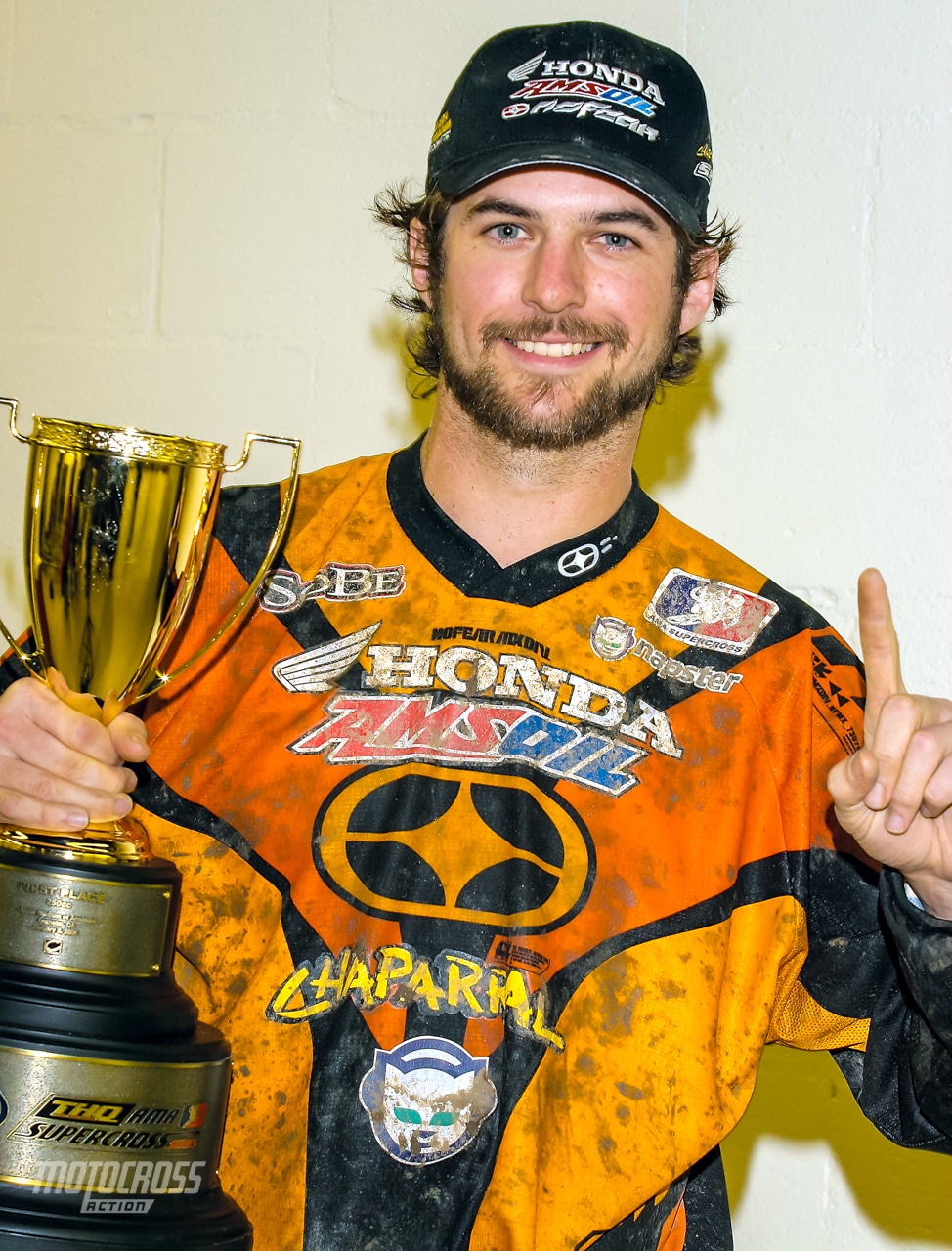 Windham with the hardware after his win on that muddy night in 2005. 
---
Moto Trivia answer: Sean Hamblin.