MOTOCROSS ACTION MID-WEEK REPORT

#WHIPITWEDNESDAY
Rider: Marvin Musquin
Bike: 2018 KTM 450SXF Factory Edition
Event: 2018 Minneapolis Supercross
Photographer: Brian Converse
Lens: 300mm f/2.8
Focal length: 300mm
Exposure: 1/1250sec
F-stop: f/4
ISO: 1250
TWO-STROKE SPOTLIGHT: SAUL RUIZ 2007 SUZUKI RM250
Hey MXA, I just got done with a two-stroke build for the MTA Two-Stroke National. It's a 2007 Suzuki RM250. We called it Project Wrekt. The bike has Raptor foot pegs, Hammerhead shifter and brake pedal, Hinson clutch, custom N-style graphics, Showa forks (Michael Byrne's diamond kit from one of his practice bike RG3 suspension), Applied triple clamps with updated front end and Excel rims with Talon hubs.
Editors Note: Please keep those submissions coming. If you would like your bike to be featured in the "Two-Stroke Spotlight," please email me at [email protected]. All I ask is that you give a breakdown of your bike and a detailed description of the build. Please also send a few photos of your steed. By submitting your bike for the "Two-Stroke Spotlight," you agree to release all ownership rights to the images and copy to MXA. Please don't email me spam or try selling me Taylor Swift concert tickets or email me spam. Happy submitting your smoker.
MOTO | TRIVIA
Name the rider. Answer at bottom of page.
MOOSE RACING FUEL PETCOCK REBUILD KITS
The kit Includes components to rebuild one Fuel Petcock
Kits includes all necessary face screws, tank bolts, face gasket, tank gasket, diaphragm, orings, wave washer, and misc components
Non re-buildable riveted Honda specifi c Kits include special drill and self-taping screws along with instructions for easy and inexpensive rebuild
Rebuild kits from 1980's to current model years

$11.95 – $24.95
WHAT THE MXA WRECKING CREW IS UP TO
We got the 2019 TM MX250Fi out on the track. We still have a lot of testing to do on the bike, but things seem to keep getting better each year on these Italian machines. 
This Husky FC250 that was pumped out to a 270cc was a blast to ride on the track. It had a good powerband without the big bore feel.
The 2018 TM MX300 project bike we are testing.
We got Zach Bell's Two-Stroke championship Husky TC250 in the studio. We are doing a full write up in the magazine about what he did and didn't do to it.
Monday we went out to Competitive Edge MX park to test the 2018 Yamaha YZ65. They have an embargo until Friday for any photos to be released from the event. Look out for an MXA video all about the bike here soon. Until then, here is all that we know.
ALL-NEW ENGINE
The 2018 YZ65 utilizes a new 64.8cc liquid-cooled, two-stroke engine that features a case reed-valve intake and a mechanical Yamaha Power Valve System (YPVS). Designed for performance and ease of use, the new YZ's engine also provides confidence to go the distance thanks to Yamaha's unparalleled durability and reliability.

ALL-NEW CHASSIS AND OPTIMIZED ERGONOMICS
The newly-designed semi-double-cradle steel frame, removable aluminum subframe and aluminum swing-arm of the YZ65 provide a nimble feel and confident handling. The ergonomics feature a flat, comfortable seat and four-position adjustable aluminum tapered handlebars to provide comfort and ease of movement for a wide range of young rider sizes.
EASILY TUNED KYB COIL SPRING SUSPENSION
The all-new YZ65 features a race-proven, fully adjustable 36mm KYB coil spring fork design, which provides exceptional handling, bump absorption and ease of set-up for race-winning performance. The KYB shock utilizes specially designed damping characteristics to match the new chassis.
PRICE, COLOR AND AVAILABILITY
The all-new 2018 YZ65 will be available in Team Yamaha Blue and arrive at Yamaha dealers starting in April 2018, making it eligible for this year's Loretta Lynn's Amateur Motocross National Championship, with a MSRP of $4599.
TAKE MXA'S READER SURVEY FOR A CHANCE TO WIN FREE GEAR 
Click HERE to take the survey. 

THEY SAID IT | 2018 MINNEAPOLIS SUPERCROSS
Justin Barcia: "It was my first race back from my injury and I feel like I made good progress all day. I was a little stiff in the morning, the intensity was pretty high off the bat like it always is but that's why I felt like I needed to come back because it's hard to get that type of intensity at home. The track changed a lot during practice and I struggled a little but I kept my head screwed on straight and we made a few changes to the bike but it was awesome all day. The second Main was the toughest for me, I got pretty tight from using the muscles that I haven't used in a while so I ended up getting a little arm pump but we were able to come back in the last Main and finish strong with fourth. It was a mentally tough day, it was super challenging and my body was tired for sure but we ended up finishing out on a positive note. I think it was great that I came back at this race in Minneapolis and I really look forward to next weekend in Foxborough."
Cooper Webb: "I'm extremely bummed about the outcome in Minneapolis, especially after the momentum we had coming into the weekend. Right off the start of the first Main Event I was involved with some carnage in the rhythm section and I ended up getting landed on. As of right now, it looks like a fractured tibia but I have an appointment with an orthopedic specialist on Monday to see the final word. Thank you to my sponsors and everyone in my corner, I'll be back soon."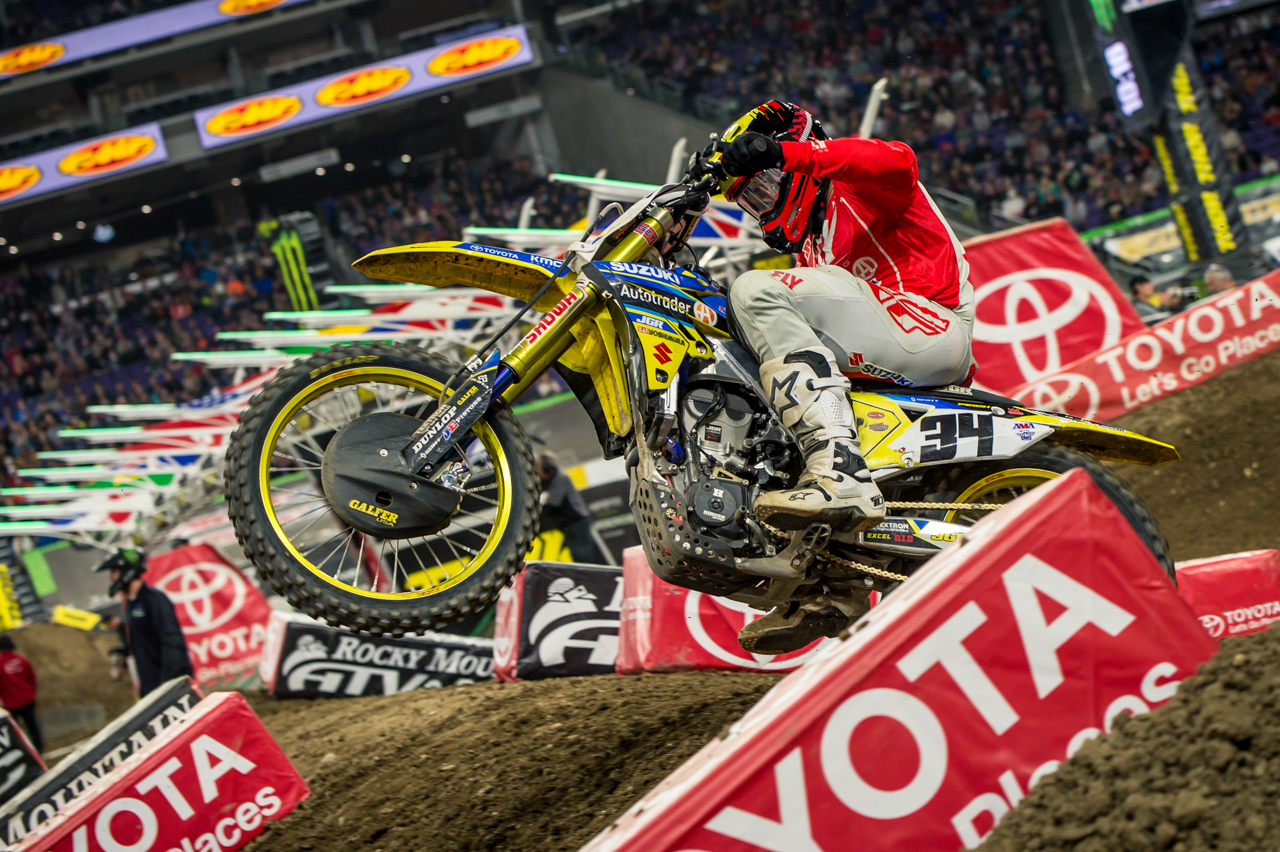 Weston Peick: "I had an awesome night going in Minneapolis for the final Triple Crown round of the series. I went 5-3-11 for sixth overall. I was running third in the final main, but had an unfortunate crash that put me back. I'm looking forward to some more fun battles next weekend in Foxborough. Special thanks to my team. I want to finish off the series strong."
Malcolm Stewart: "The bright spot was qualifying second fastest. Unfortunately, things went downhill from there. I felt flat when the night show came around. I had several crashes and didn't help myself any. There are three rounds to go, and I'm excited to move forward and make a big impact in this series."
Zach Osborne: "All in all it was a pretty good night. I was fastest in all three sessions and came into the night show feeling really good. I got a bad start in the first main event, but turned it around in the second main event with a win. I got off to a good start in the last main event, went back to fourth, then had to work my way up. I gained some points, and I'm really happy with the way I'm riding."
Jason Anderson: "This was kind of a crazy day," said Anderson. I was able to come away with a second today, despite a small mistake in the second main event. I still extended my points lead so I can't complain. I'll try and keep the ball rolling and get some podiums from here on out."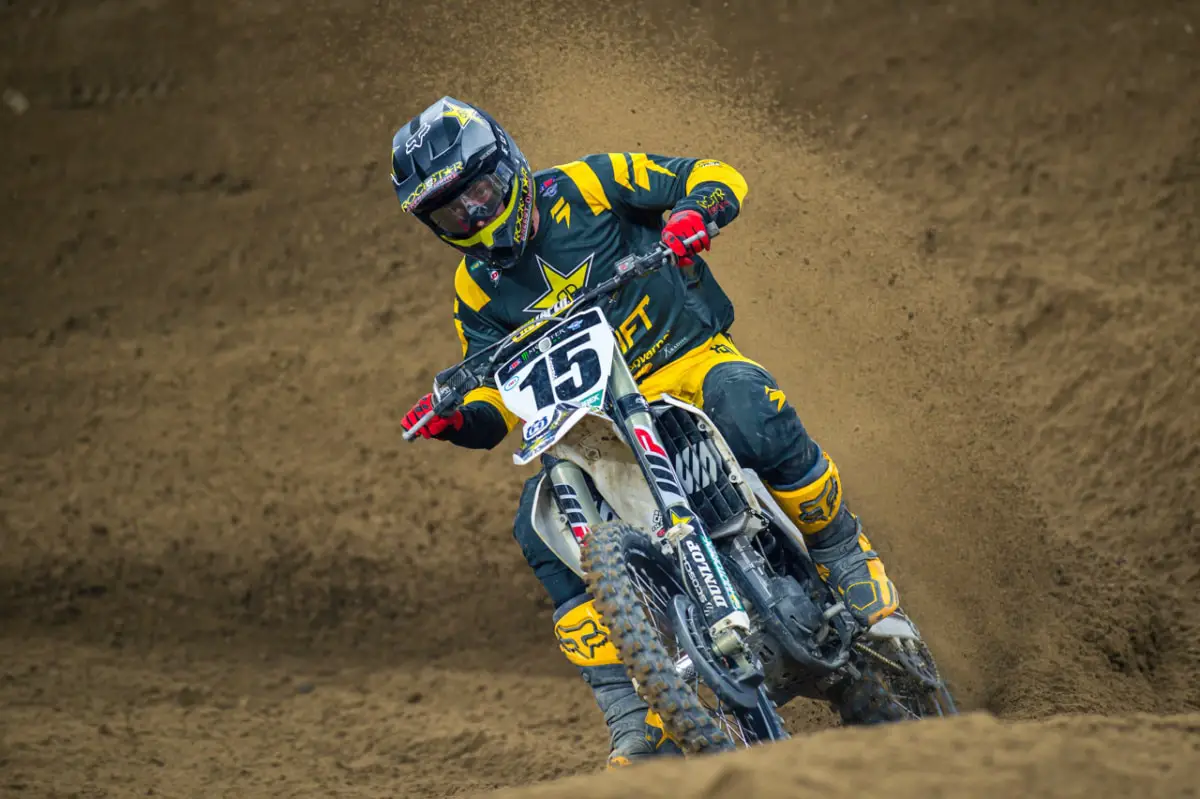 Dean Wilson: "The triple crown is tricky. I had a decent start in the third moto and was riding sixth, but got connected with another rider and went down. I worked my way back up and ended up 10th overall on the night. I'm going to keep charging."
Christian Craig: "Tonight was tough, honestly. All day I struggled with my breathing and I'm not sure why because this hasn't happened to me before. I was able to put a fast time down for practice, qualifying fourth. In the main events, I struggled and kept having to remind myself to breath, which was spiking my heart rate. I almost felt like my body was shutting down. The first race was the worst after my crash. I got better with it through the night, luckily, but still nowhere near happy. I was able to push through my own battles and finish ninth overall. It's been a hard couple weekends but I'll get through it. I'm going to focus on a lot of things this week and come back fresh next weekend in Foxboro."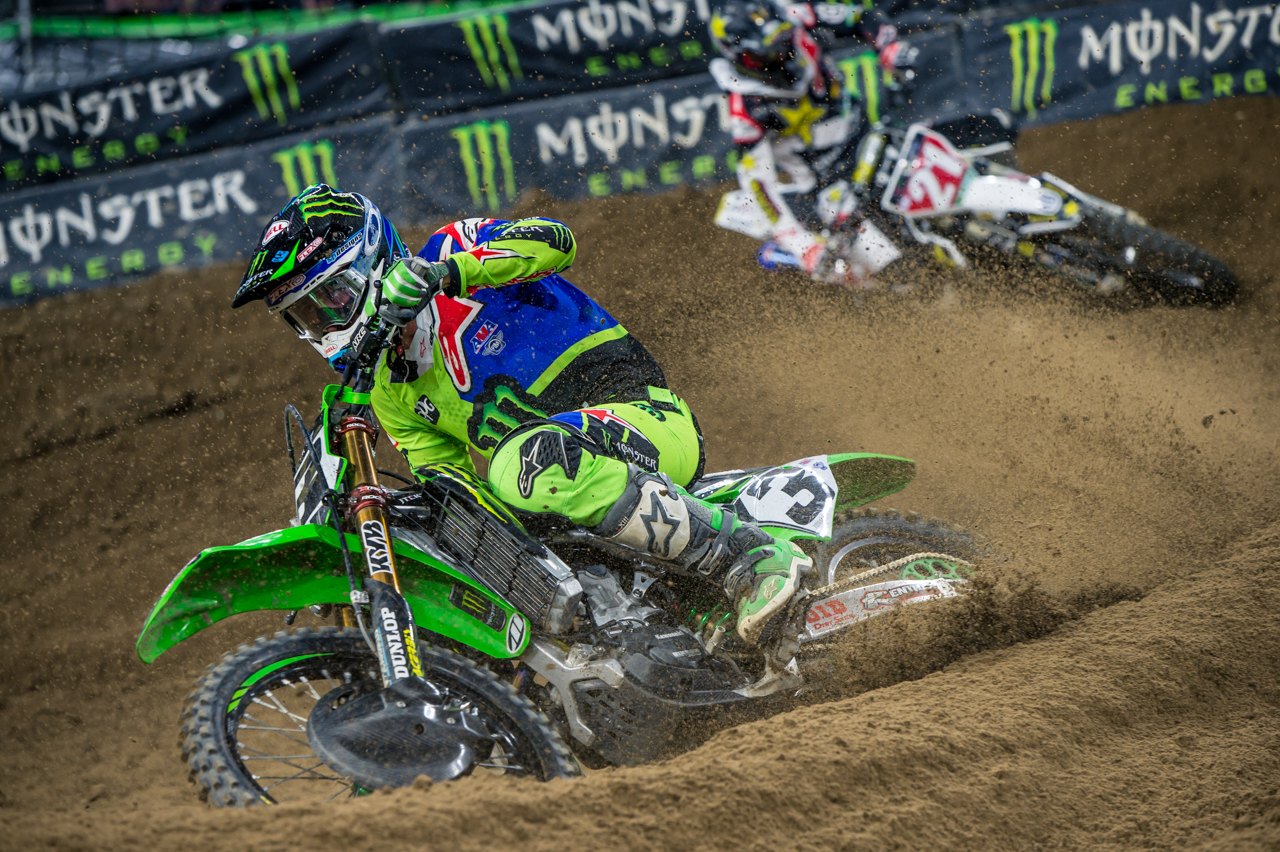 Eli Tomac: "We're out here to win and that's what we did. We got it done tonight … It's been a long, hard day and everyone worked their butt off when we got here. Just a great way to cap off the night."
Marvin Musquin: "That was a tough one to start the night off with seventh place in the first Main Event. I wasn't feeling good out there and not riding like myself but we got a lot better for the second Main. I proved that I was better because of the riding – I had a lot more intensity and I was able to get a win on the second one, so that was amazing and good for everybody. Going into the third, I wanted to do the same but unfortunately the start wasn't there. I was able to make up a lot of ground and come back to second place, which is good. I'm really happy with the riding and getting on the podium considering my first terrible main."
JOIN MXA'S SNAP CHAT FEED
If you are a Snap Chat user then add us to your stories. Get sneak peaks of everything moto. Our Snap Chat name is motocrossaction. Or just take a Snap of the picture above and it will add MXA automatically to your feed.
INSIDE RYAN HUGHES' SPILTFIRE PRO CIRCUIT KX125 FROM 1994
TALK MOTO WITH MOTO MINDED PEOPLE. JOIN MXA'S FACEBOOK GROUP CHAT

We love everything moto and want to bring all moto junkies together into one place to share their two cents, ideas, photos, bike fixes, bike problems and much more. To check it out first you must need to or already have a Facebook account. If you don't, it isn't much work and you could even have an alias so nobody knows it is you. To join click HERE. After you request to join we will accept your request shortly after.
CLASSIC PHOTO
The coolest Caddy you will ever see.
Moto Trivia answer: Eric Sorby.