MOTOCROSS ACTION MID-WEEK REPORT
TWO-STROKE SPOTLIGHT: RAY BARROW'S 1978 SUZUKI RM125C
Here is an updated 1978 Suzuki RM125C
"The last bike my dad bought me to race brand new was a 1978 RM125, so when my buddy's asked me to come back racing AHRMA Post Vintage Motocross after 30 years away, it was the bike I wanted to ride one more time, but with modern safety and durability mixed in. I am a professional stuntman and my schedule doesn't allow a lot of maintenance time so I wanted the bike to be as durable and comfortable as I could get it, so Renthal Fatbars went on top of the triples first thing. Being very lucky to have relatives in suspension, I called my cousin Clark Jones at Noleen J6 and had a set of his vintage shocks custom-made for the bike and front fork settings to balance the bike out at my weight and speed. Next ARC levers custom built me a set of offset levers for the bike that made the clutch pull lighter for my old fingers and with a lifetime warranty, fit right into the durability part of the project.
The engine had light porting with Boyesen Reeds. The old school RM exhaust mod done to the stock pipe (shortened 6mm out of the center belly) and since the bike can sit for periods of time while I'm away, runs on VP C12 race fuel to keep everything clean and ready to go without gumming the carb up like our ethanol fuel will. Then a call to DirtTricks for a custom sprocket set at the gearing I decided on. Finally, the wheels were sent off to Dubya for new rims and spline spoke nipples (race bike not period rebuild remember) to save unsprung weight on the wheel set over the stock steel nipples. RCM built many of the custom lightweight parts, including the brake stay which is longer to correct the brake plate geometry, and for those who haven't done this to a drum bike with floating brake stays, do it and say goodbye to wheel hop under hard braking on these old bikes. Everyone who rides the bike says it's a confused modern bike it rides so well and has never let me down when my race days do come around. HPI ignition, Michelin StarCross 5 tires, MXGurl Graphics, and a host of great companies who got involved to make an old bike like a new one to enjoy again. She may not be the prettiest one on the block, but she's safe, fast, starts every time and rides like a modern bike.
Thanks for taking the time and letting two-strokes have a place to shine and be appreciated in this day of the four-strokes. Like everyone, I've been reading MXA since I was a kid, well, a younger kid than I am now at 55. Your hard work is appreciated every month!" –Ray Barrow.
Editors Note: Please keep those submissions coming. If you would like your bike to be featured in the "Two-Stroke Spotlight," please email me at [email protected] All I ask is that you give a breakdown of your bike and a detailed description of the build. Please also send a few photos of your steed. By submitting your bike for the "Two-Stroke Spotlight," you agree to release all ownership rights to the images and copy to MXA. Please don't email me spam or try selling me Taylor Swift concert tickets or email me spam. Happy submitting your smoker.
#WHIPITWEDNESDAY
Rider: James Stewart
Bike: Factory 2004 Kawasaki KX125
Event: 2004 Millville AMA outdoor National
Photographer: MXA Archives
MOTO | TRIVIA
Name the rider and year. Answer at bottom of page.
BOB HANNAH JOINS TAG METALS AS TECHNICAL ADVISOR
Bob Hannah and Ryan Villopoto.
Press Release: Tag Metals relaunched earlier this month as part of the Group 6 USA, LLC family of brands and we are pleased to announce that 7 – Time Champ Bob "Hurricane" Hannah has joined the Tag Metals product development team as a technical advisor.
After retiring from professional SX/MX racing Bob continued to race airplanes for several years, now as a pilot and competitive bicycle rider Bob's attention to detail and his technical knowledge makes Bob the prefect addition to our product team.
Eddie Cole, Group 6 USA CEO said….."Bob has worked with us on previous brands, first as a factory racer and as a technical advisor. Bob has been instrumental in helping us with Tag and we are really fortunate to have Bob involved with us".
Bob commented……"Well to be honest, l can't seem to get rid of these guys, so, I'm involved in another project! Actually, we put together a great product line and the team has several new products already planned for phase 2".
See the complete Tag Metals line of factory replica Handlebars, Grips, Chain, Sprockets & Accessories at; www.tagmetalsracing.com


THEY SAID IT | 2018 FOXBOROUGH SUPERCROSS
Christian Craig: "The day started off pretty good. I qualified first in the free practice, and while that obviously doesn't matter, it just shows that I was comfortable right away. I went into the rest of the day happy with my bike. I didn't have that good of a gate pick going into the main, so I ended up picking the first gate on the inside, but was confident in it because the rut was prime. I got the holeshot, which I haven't done in a while, so that felt good. I led for about half a lap before making a dumb mistake on my part—I cross-rutted off a double and landed on some Tuff Blox. Once I got going I was in dead-last, so I just put my head down, focused, and tried to push forward the best I could all the way to the end. I probably could've ridden better toward the end and made up a few more positions, but it could've been worse. I'm happy with my start and am going to take what I learned into these last two races."
Kyle Peters: "I'm speechless! I can't believe how the day ended considering how much pain I was in on Saturday morning. During track walk I knew there were some rhythm sections that I wouldn't be able to do, because my left knee obviously isn't strong. I struggled in practice and qualifying. After the final session, we put more tape on my knee in order to stabilize it. I was very tentative in the heat race, as I was worried about my knee. The goal was to put as little time on the bike as possible, but I didn't qualify through the heat race. I won the LCQ, which loosened me up and provide the confidence I needed. I got a really good start on my Suzuki RM-Z250 from the outside and was sitting in fourth for a while. I told myself that I was going to crash out before I would settle for fourth place, because I had nothing to lose. I made it happen. I cannot thank the Autotrader/Yoshimura/Suzuki Factory Racing Team enough for their support and hard work. They gave me the best opportunities to run up front and reach my potential. It has been a long five years since I last visited the podium, so I'm glad to finish third this weekend."
Weston Peick: "It was an early day in Foxborough, with a lot different feel in showing up for track walk at 6:30 am. The whole experience was interesting, because it was an open stadium and the sun was in my eyes quite a bit. That made it challenging to hit some of the obstacles on the track. I qualified very well in comparison to how I normally do, and that set the mood for the main event. I got caught up in traffic in the heat race and finished fourth. For some reason, I was super delayed coming off the line when the gate dropped for the main event, so I was basically playing catch up. The track was very soft in spots, with pebble rocks everywhere. I made my way up to sixth place, which was good considering where I was after the first lap."
Justin Barcia: "Ninth place is disappointing to me. I feel like I should have been way more up front and I felt like I could have been on the podium tonight, which is where I want to be and where I belong. Going into Salt Lake City, I'm feeling positive. I've been making steps since I've come back from my injury with fifth overall last week and winning a heat race this weekend, so I feel like I'm heading in the right direction. The team and I are going to go work on a few things this week, do a little outdoor testing as well, and be ready to be on the podium again in Salt Lake City."
Marvin Musuqin: "After Eli got past me, I knew I had to do something – it's for the win. I led so many laps and I was bummed, but I felt like I was riding really good so I knew I could charge. I was going into the main rut the whole Main Event and he cut really tight, I definitely didn't expect it. Obviously, the outcome was pretty brutal and I'm sorry about what happened with the crash but it could have been bad for me too. It was for a 450 Main Event win, sometimes you have to try your hardest and I know I did that."
Zach Osborne: "What a great day in Foxborough. I was able to win both my heat and the Main Event. I figured something out with my starts, and I pulled two holeshots. It was just a really good night. I'm happy and I'll take a 15 point lead into the finals."
Jason Anderson: "It was a pretty consistent day. I had good qualifying sessions, then as the night went on I got a heat race win then a third place in the Main. I earned some more points. I'm just trying to move forward and I'm excited to get the Championship wrapped up."
GNCC RACING DEBUTS THE KURT CASELLI FOUNDATION  SAFETY VEHICLE
Press Release: Racer Productions, producer of the AMSOIL Grand National Cross Country Series (GNCC), an AMA National Championship, is proud to announce The Kurt Caselli Foundation GNCC Safety Vehicle, which made its debut at the FMF Steele Creek GNCC. The Kurt Caselli Foundation partnered with GNCC Racing to build a safety vehicle that will travel to every round of GNCC Racing for local medical teams to use around the facility and racecourse.
Kurt Caselli is among the most decorated off-road motorcyclist in history; his career highlights include three AMA National Hare and Hound National Championships, three championships in the World Off Road Championship Series (WORCS), AMA Sportsman of the year in 2007, and multiple International Six Days Enduro medals. After Kurt's death in 2013, The Kurt Caselli Foundation was established in his memory with the mission of Protecting and Supporting the Lives of Off-road Riders.
"The emergency medical transport unit is one of the best additions to the GNCC equipment list," said Tim Cotter, Racer Productions Event Direction. "Our racers and their families now have the comfort to know that at every GNCC there is a well equipped off-road vehicle to help riders in need."
This is the foundation's first donation and partnership with a racing series on the east coast. Also helping in the partnership for the GNCC Safety Vehicle are FMF Racing, Westfield Powersports, Kawasaki, PCI Race Radios and Baja Designs. With the help from these partners, the GNCC Safety Vehicle is fully equipped with a medical backboard and other medical necessities to help racers in the event of an injury. The safety vehicle and all of the accessories have a value of over $18,000.
The Kurt Caselli Foundation has a three-part mission that covers safety precautions for riders before, during and after a racing career. Listed below are the three missions they strive to complete for the riders:
Before racing, we are committed to encouraging, developing, and standardizing safety precautions that will help minimize risk outside of the rider's control.
During racing, we are committed to developing, establishing, and encouraging the use of safety equipment and policies to increase the safety of the riders.
THE LIMITED EDITION 'VISION' TECH 10 BOOT
The Limited Edition 'Vision' Tech 10 boot will be available while supplies last.
ELI TOMAC CALLS OUT MARVIN MUSQUIN IN THE POST RACE PRESS CONFERENCE
Would you be upset if you were winning a race and got taking out on the last lap? Of course, but rubbing is racing. Was the way Marvin passed Eli a violation of the AMA rulebook? What a grey area that is, but the AMA probably wouldn't do anything about it if there was an applicable rule. Maybe if someone complained about it enough a position may be docked. But you can look at it two ways. Marvin didn't think Eli was going to cut to the inside line of the corner, or Marvin knew he was going to hit him. Eli is of course mad that he didn't win. But what he was probably thinking about more is what could have happened. The way Marvin hit Eli, hey body-slammed each other. Marvin and Eli were lucky neither one of them was injuried. Any way you look at it, it wasn't a safe move on Marvin's part, but it did win the race.

JOIN MXA'S SNAP CHAT FEED
If you are a Snap Chat user then add us to your stories. Get sneak peaks of everything moto. Our Snap Chat name is motocrossaction. Or just take a Snap of the picture above and it will add MXA automatically to your feed.
MXA EXCLUSIVE VIDEO | WE TEST THE 2018 KTM 85SX
TALK MOTO WITH MOTO MINDED PEOPLE. JOIN MXA'S FACEBOOK GROUP CHAT

We love everything moto and want to bring all moto junkies together into one place to share their two cents, ideas, photos, bike fixes, bike problems and much more. To check it out first you must need to or already have a Facebook account. If you don't, it isn't much work and you could even have an alias so nobody knows it is you. To join click HERE. After you request to join we will accept your request shortly after.
JOIN MXA'S FLIPBOARD PAGE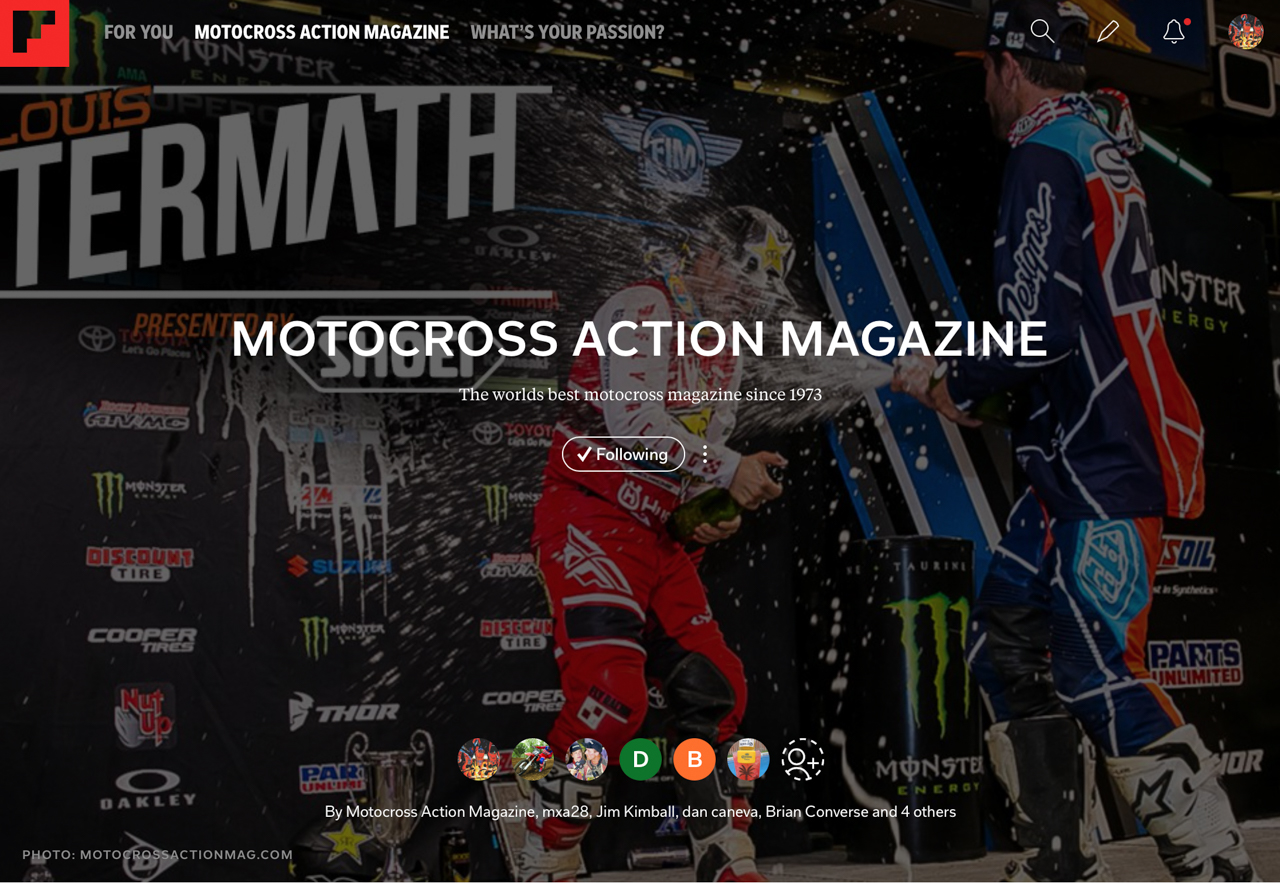 If you use Flipboard make sure to subscribe to the Motocross Action page for all the updates on our website. Click HERE to check out the page.
CLASSIC PHOTO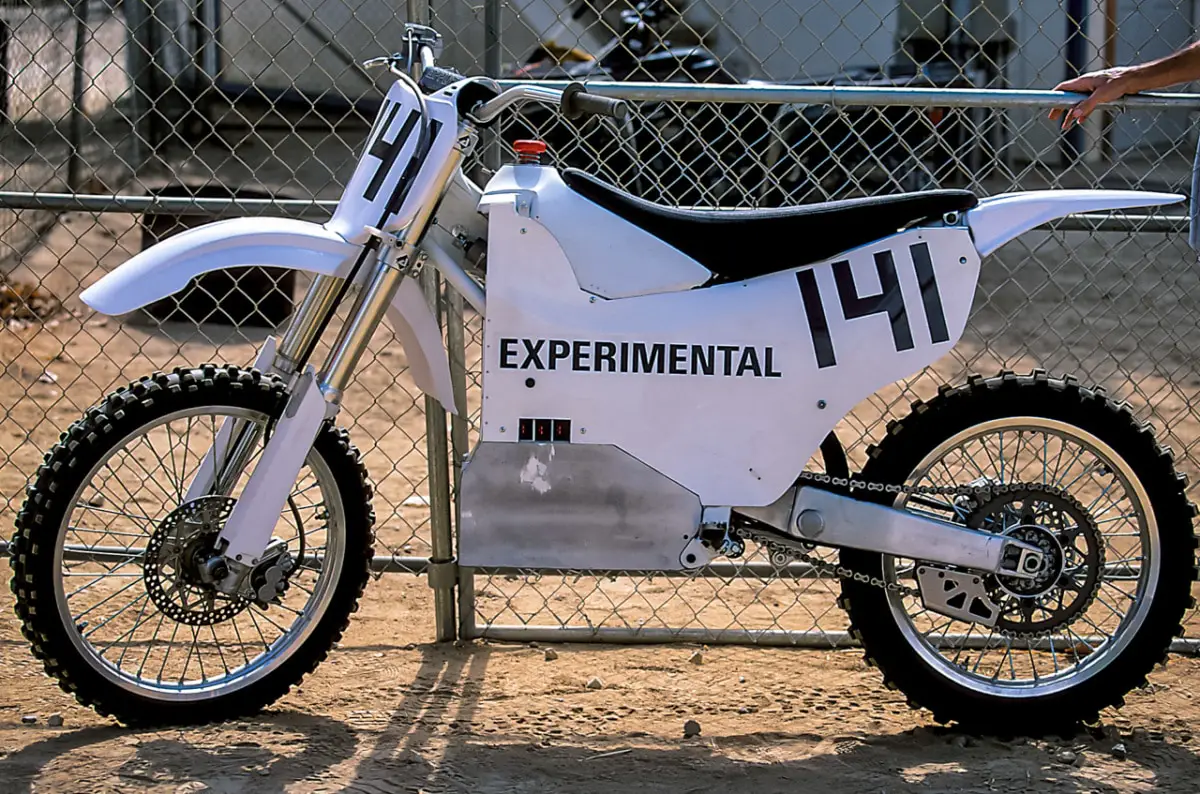 Before there was Alta, there was still electricity. This is an experimental home-made electric bike made back in 2004.
Moto Trivia answer: Greg Schnell 2004 at Millville.