MOTOCROSS ACTION MID-WEEK REPORT
#WHIPITWEDNESDAY
Rider: Davi Millsaps
Bike: 2008 Factory Honda CRF450
TWO-STROKE SPOTLIGHT: JAMIE CHAPMAN'S 1991 SUZUKI RM125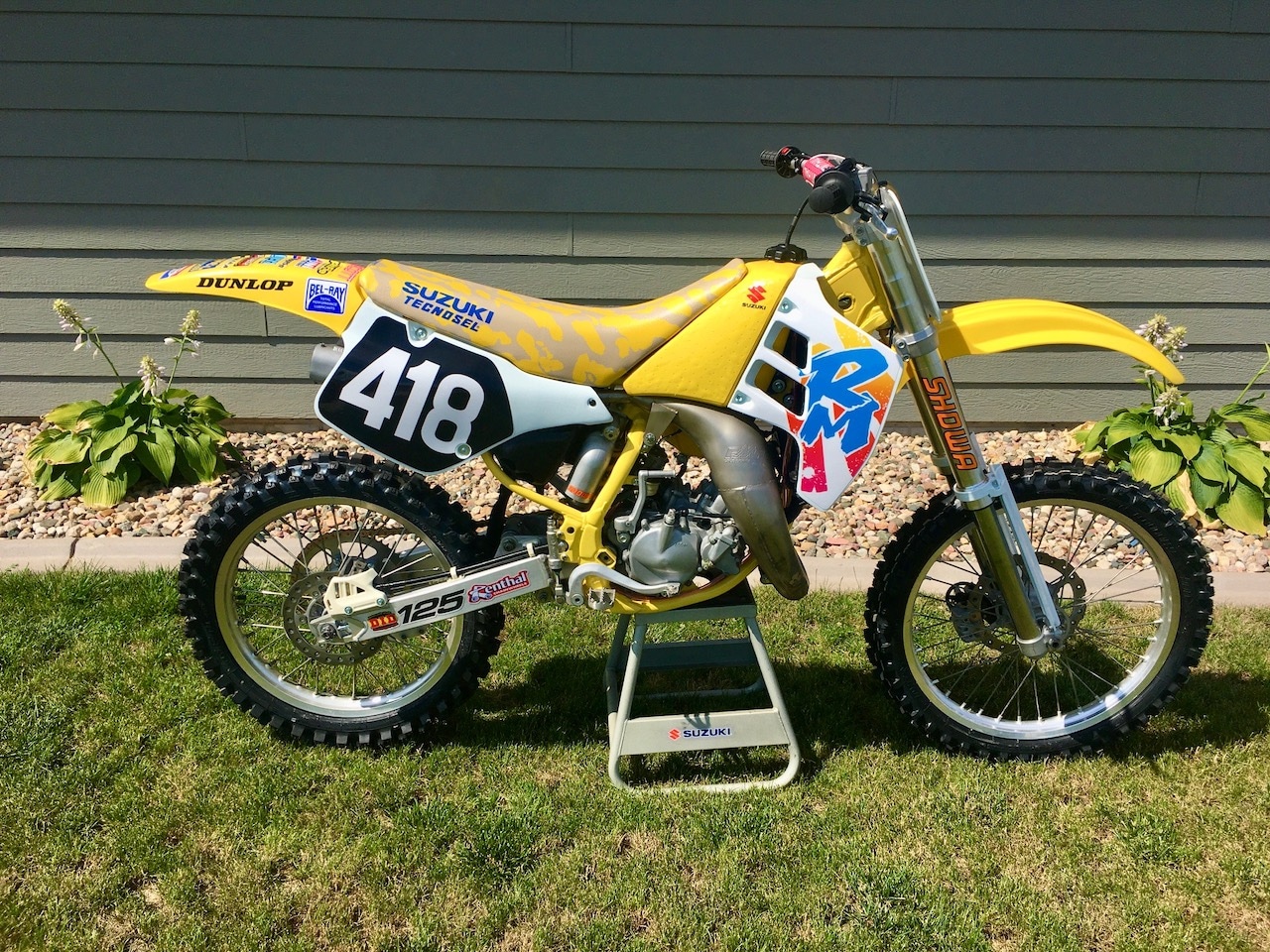 "I found this 1991 Suzuki RM125 in storage and I was able to buy it. The engine was rebuilt with a Vesrah crank, EBC clutch, and ProX top end. Found a NOS Technosel seat cover and a Rental pink bar pad from Mike Kiedrowski's KX500. I got a new chain and sprockets from Primary Drive and sled cleaning brake rotors from JT Racing. Evo MX supplied the graphics and plastic was from UFO. Tires are Dunlop MX33s. The frame was powder coated dark grey by the previous owner but I stripped it and brought it back to the original yellow look. Finally got it all finished up and ready to try my hand at some vintage racing! Thanks for your time MXA." —Jamie Chapman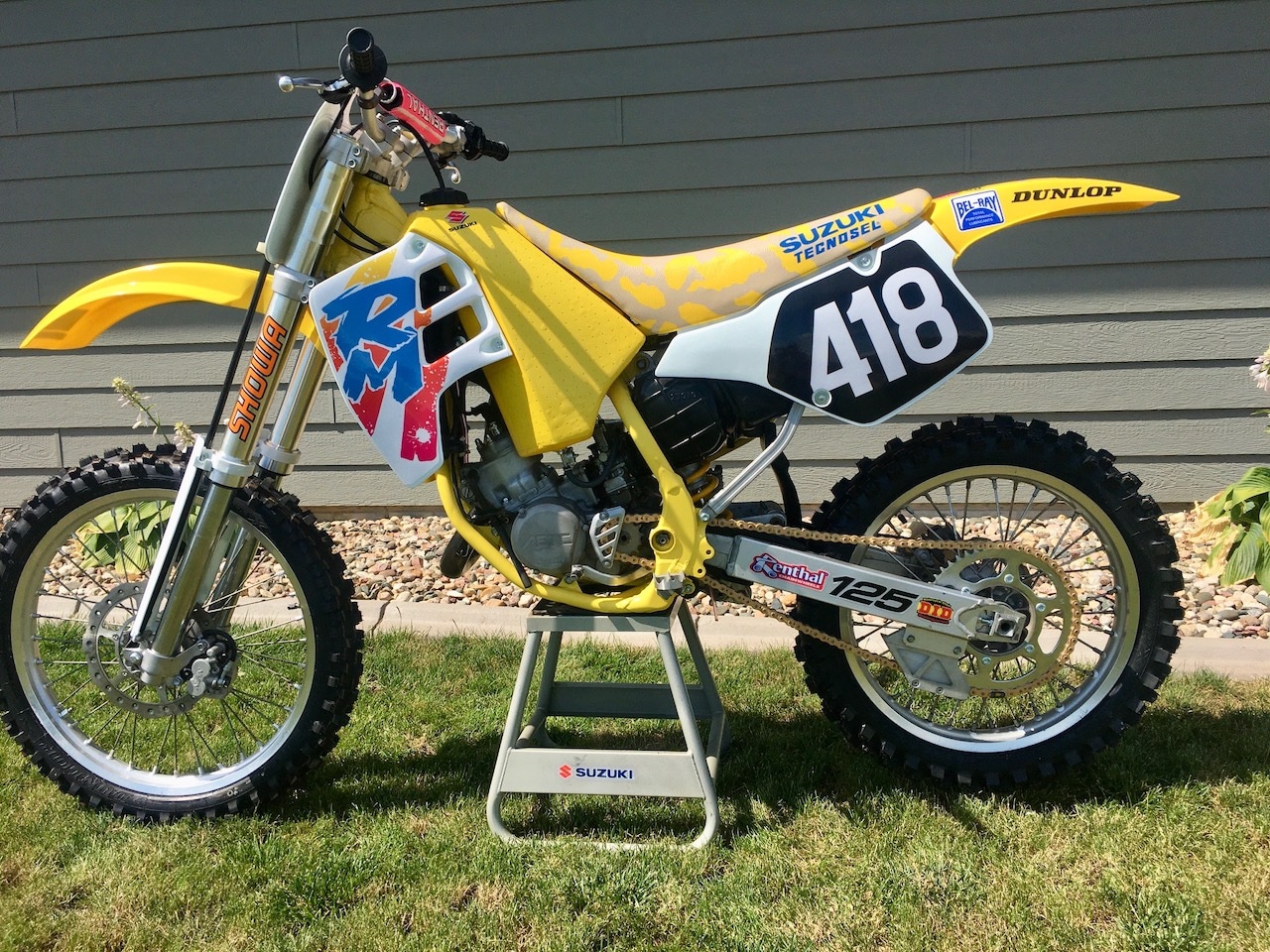 Editor's note: Please keep those submissions coming. If you would like your bike to be featured in the "Two-Stroke Spotlight," please email me at [email protected]. All I ask is that you give a breakdown of your bike and a detailed description of the build. Please also send a few photos of your steed. By submitting your bike for the "Two-Stroke Spotlight," you agree to release all ownership rights to the images and copy to MXA. 
ROUND 5 SOUTHWICK NATIONAL RECAP | By Ben Bridges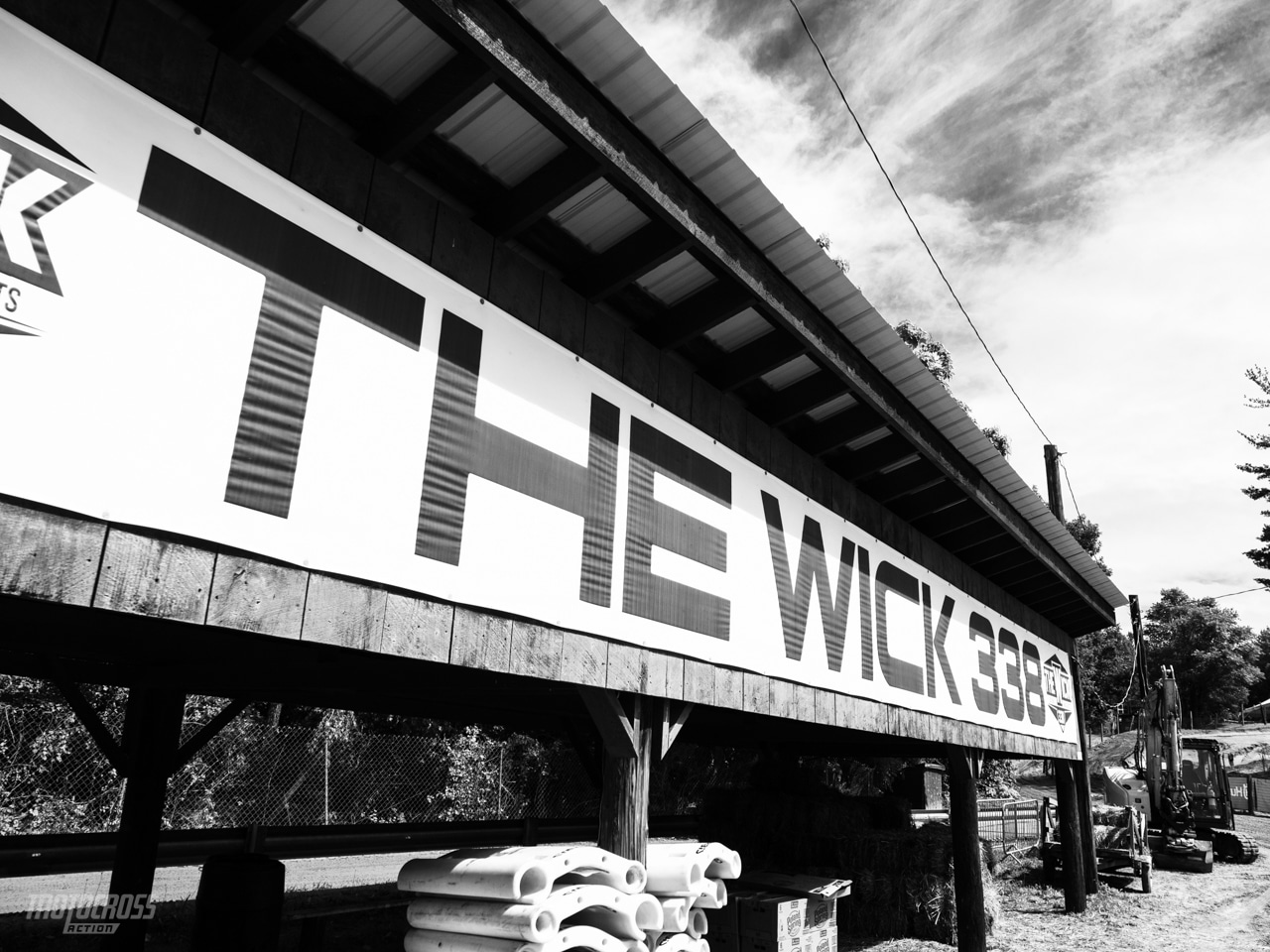 The "Wick."
Photo by Chad Murray.
Ferrandis wicks it up at Southwick.

Ferrandis goes 1-3 for his 3rd consecutive win and 4th win of the season.  He now has 13 total MX wins.
Dylan Ferrandis. Photo by Chad Murray.
Ferrandis now has 5 starts, 5 podiums, 4 wins and a 19 point lead over Ken Roczen.

Ken Roczen goes 4-2 for 2nd overall for his 3rd podium of the season.  Roczen now has 45 career MX podiums.

GasGas and Bam-Bam get their first 450MX podium of the season.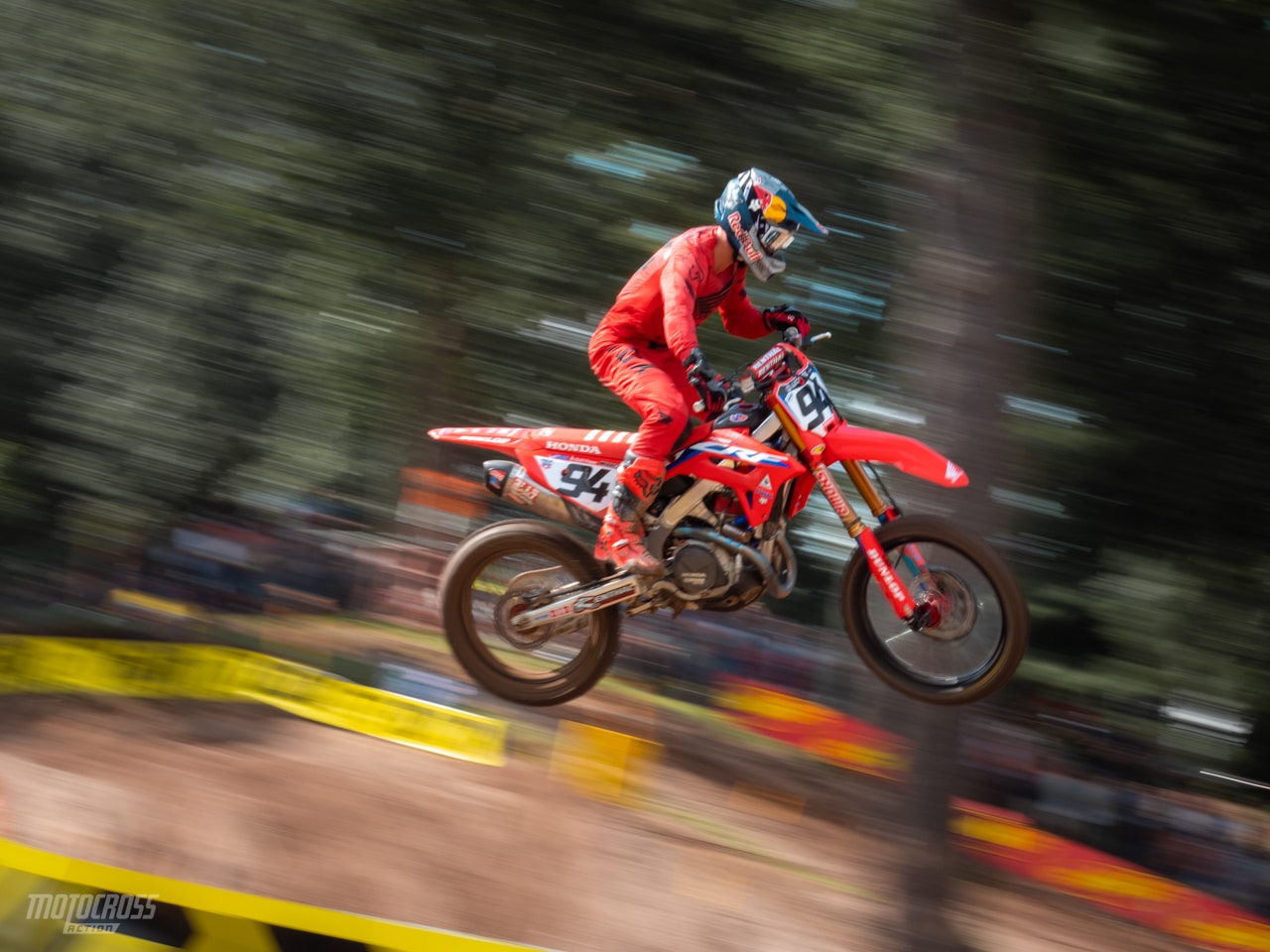 Ken Roczen.
Photo by Chad Murray.
Tomac gets his 3rd moto win of the season, for the 3rd consecutive race he wins Moto 2 and takes over 3rd in the points.

Average finish through 5 rounds – Ferrandis, 1.9, Roczen 2.9, Tomac 5.9.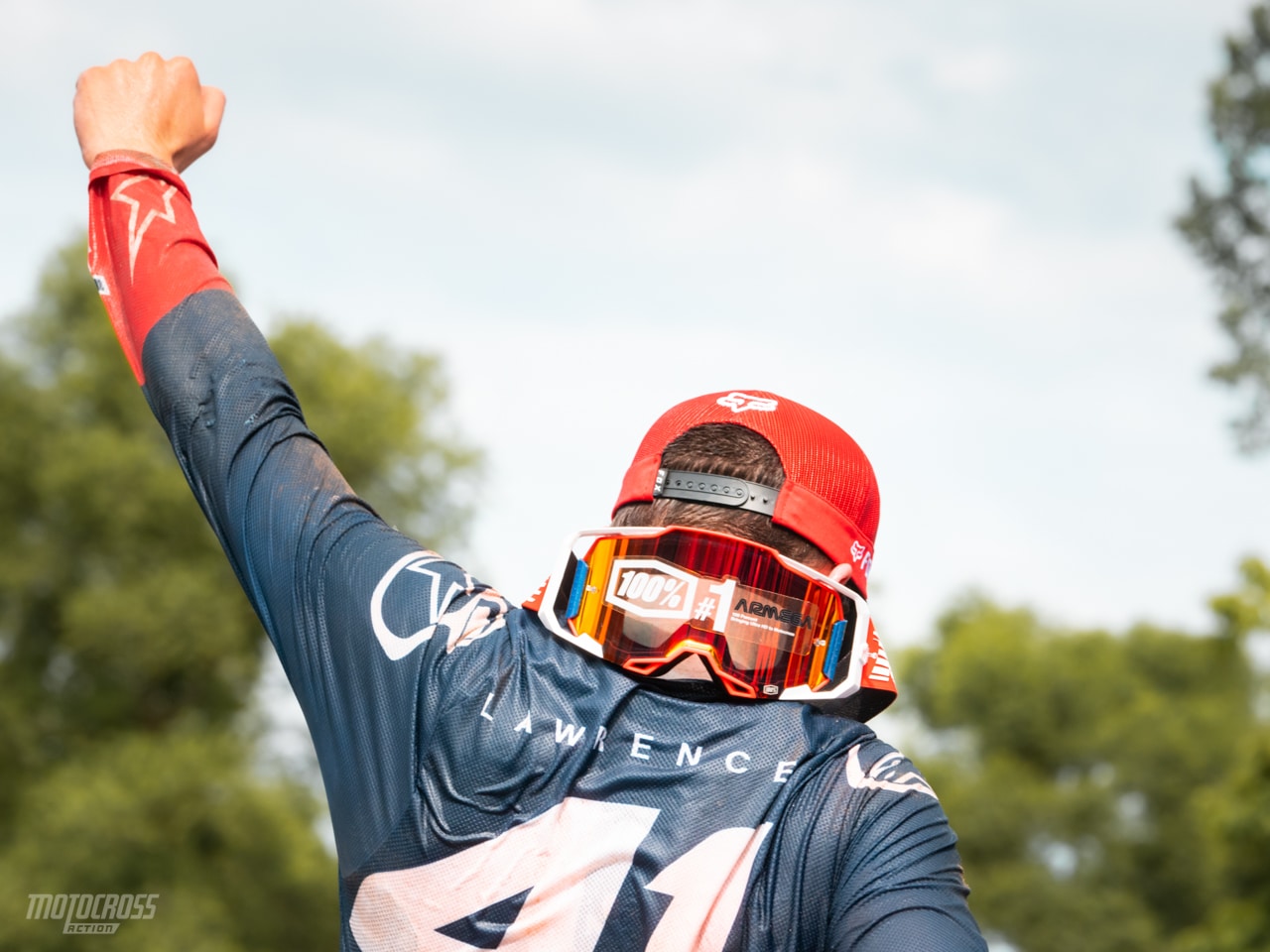 Hunter Lawrence gets his first win of the season.
Photo by Chad Murray.

250 RECAP

Lawrence Brothers make history.

It was round #520 for the 250MX class and it was a good one.

Hunter Lawrence gets his first career win and moves up to 3rd in the points.  He gives Honda their 540th total SX/MX win.

Since 1974 when the series started,  it was the first time two brothers would win an overall in the same season.  Hunter Lawrence would win Southwick and Jett Lawrence would win Fox Raceway.

Six times the 250 class would start out with four different winners, but for the first time in series history, there are 5 different winners in the first 5 rounds.
Jo Shimoda. Photo by Chad Murray.
Jo Shimoda, the young rider from Japan, gets his first MX podium of his career.

It was the first podium for the Kawasaki Pro-Circuit team in 13 rounds.

Justin Cooper goes 6-2 for 3rd overall.  He is the only rider this season to be on the podium all 5 rounds.
Jett Lawrence now has a 3 point lead over Justin Cooper.

Average finish through 5 rounds – Jett Lawrence 3.2, Justin Cooper 3.1 and Hunter Lawrence is 4.7.
FORGOTTEN BIKES: JEFF WARD'S 1984 125 NATIONAL MOTOCROSS TITLE WINNING KAWASAKI SR125
THE AUGUST 2021 ISSUE OF MXA IS HERE NOW! SUBSCRIBE! IT IS THE BEST DEAL IN THE SPORT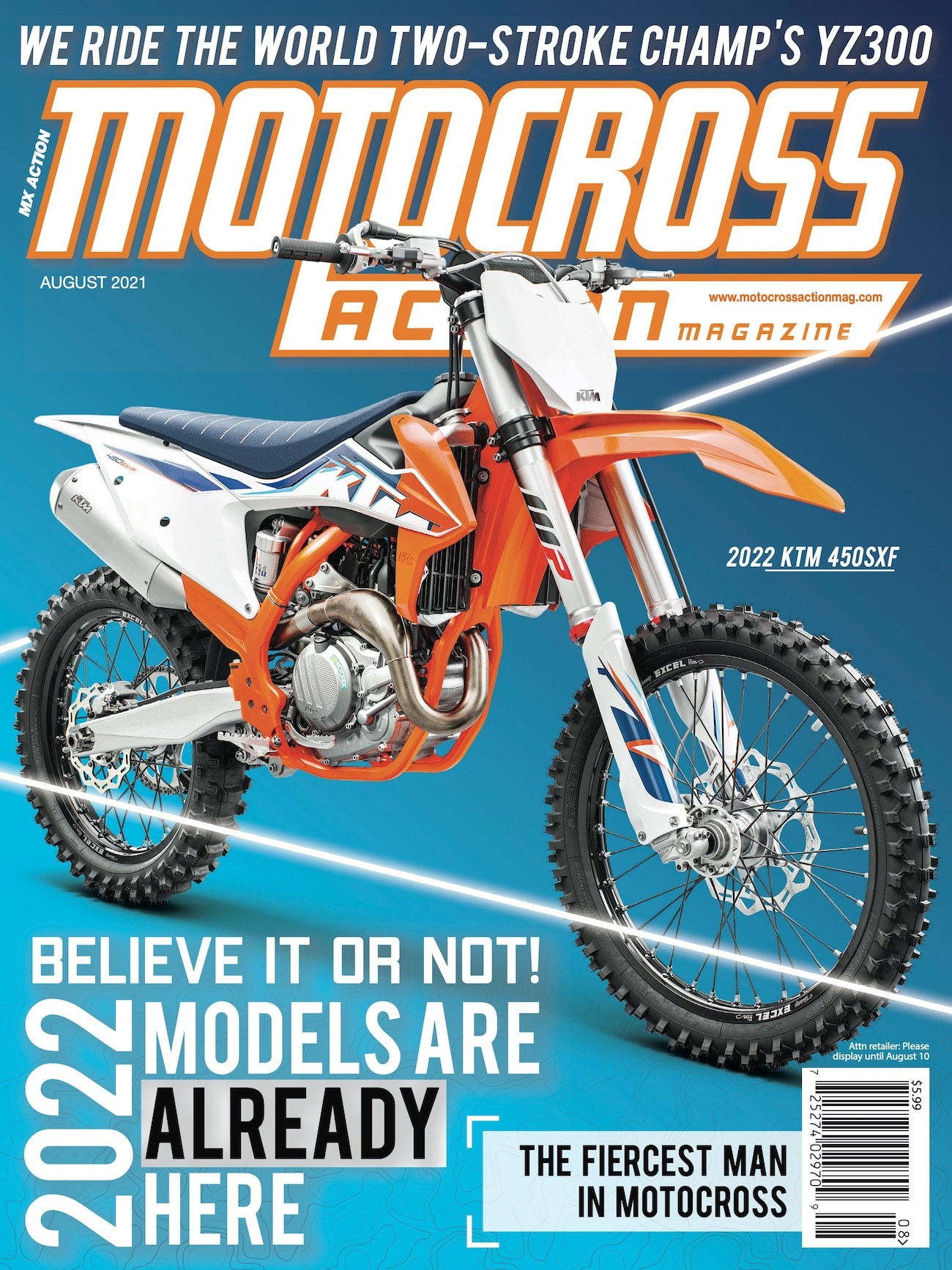 What's in the August issue of MXA? There are close-up photos and details on the 2022 Hondas, KTMs and Husqvarnas. Plus , we ride the 2021 World Two-Stroke Championship winning Yamaha YZ300 from Twisted Development to see what's under the hood. In an effort to get out of town and up in the mountains, we tested a 2021 Yamaha YZ250FX cross-country bike. We sat down with two distinctly different people for this issues. Craig Shoemaker filled us in on how Fly/WPS survived the Covid pandemic and what the aftereffects will be on the 2021 riding year. Then, we interviewed the "fiercest man in motocross." Heikki Mikkola couldn't have been nicer to MXA. He answered all of our questions and told us some amazing facts about his Grand Prix career. And, as the ultimate kicker, we had Jamie Ellis build us a full-race, no holds barred KTM 450SXF. It was so fast that even the Pros ran it on the mellow map!
HOW TO SUBSCRIBE TO MXA SO THAT YOU NEVER MISS ANOTHER ISSUE, PLUS GET A $25 ROCKY MOUNTAIN GIFT CREDIT TO COVER YOUR COSTS
If you subscribe to MXA you can get the mag on your iPhone, iPad, Kindle or Android by going to the Apple Store, Amazon or Google Play or in a digital version. Even better you can subscribe to Motocross Action and get the awesome print edition delivered to your house by a uniformed employee of the U.S. Government. Did we mention the $25 gift card for any part you want from Rocky Mountain ATV/MX? You can call (800) 767-0345 or Click Here (or on the box at the bottom of this page) to subscribe.
MXA INTERVIEW | PIERCE BROWN

Back in 2019, at the WW Ranch Pro motocross in Florida, Utah native Pierce Brown made his pro debut. Although he ultimately finished twelfth, the rookie rode upfront for a while and had everyone asking who number 363 was. Signed by the TLD Red Bull KTM 250 squad for 2020, Brown had varying degrees of success, followed by injury. Now in 2021, Brown is starting to pull things together with the help of the transformed TLD team (now on GasGas), 450 teammate Justin Barcia, and new trainer Wil Hahn. Just out of the top ten in 250 championship points, pierce is proving he belongs near the front.
BY JIM KIMBALL
PIERCE, YOU HAVE BEEN STEPPING IT UP THESE LAST COUPLE OF ROUNDS, LET'S TALK ABOUT RED BUD. Red Bud was more than decent. I am really stoked to have a day where I had a good first moto and then followed up with another good second moto. Each moto was in the battle which is everything that I have been wanting all season. I went 7-7 on the day. Honestly, I could not be happier with that. I know 7th does not sound that great but I felt good on the bike, and it is a good building block for where we started out the season. Southwick wasn't quite as good, but I still finished top ten. Everything is falling into place and hopefully, we can keep this momentum going throughout the rest of the series.
YOU WERE MAKING FORWARD PROGRESS LATE IN THE MOTOS. I feel like I have always been fit but I just get too excited early in the moto's, and I do something stupid and fall. Then that ruins my moto, so I just had to tell myself to stay in it all moto. After halfway, people started falling and getting tired and I was making moves. I feel like that is my strong point after 15 minutes. If I am there in the battle at that moment, I feel like I will be there to pounce at the end.
OBVIOUSLY, YOU WERE ON THE TLD TEAM LAST YEAR ON KTM. NOW RIDING GASGAS, HAS MANY OF THE DYNAMICS CHANGED? It honestly feels like a completely new team. We just hired Wil Hahn as our trainer, and he is awesome. The team just feels like a family, and everyone wants the best for me, Michael (Mosiman) and Justin (Barcia), so that is nice to have everyone all in.  It just makes it all that easier to put everything I have in for them. Getting back to the KTM to GasGas change, there is not too much different on the team, besides a few new employees, and then we now have Wil and the new bike, obviously. The new bike is great.  It is not too much different than our bike last year, but it is cool that we have the whole GasGas brand to ourselves. We have everything on deck whenever we need it, and I did not feel like we had all those resources at KTM. I know they are all like sister brands, and I can't put a name on what it is, but the new team this year is good. I love it!
I HAVE SEEN YOU HANGING AROUND WITH JUSTIN BARCIA. HAS JUSTIN BEEN ABLE TO HELP YOU? He helps me a lot for sure. Right now, we are training partners, so we are doing everything together. We are doing our bike rides, our runs, gym, training on the track, practice track, everything is with Barcia. I use him as a little something to feed off and a little something to chase after because most of the time he is faster than me but every day, I feel like I am closing the gap. With him on the team, he just brings a good vibe, and it makes the whole atmosphere a lot better. Everything about having him on the team is great and as you said, he has a ton of experience and can help me with anything I am struggling with, nerves, or a section on the track that I am not sure of.  He is there to basically tell me that he has been through it all. It is cool to have him on the team.
I HAVE TO BELIEVE STARTS ARE CRITICAL IN MOTOCROSS RIGHT NOW. Starts are everything, and we have been working hard on starts. I felt like I had them down. I had two good starts at High Point, but High Point was just a disaster. I went into it, and I just could not ride there; I was just depleted. I was hoping to bring those starts over to the weekends. A poor start makes it that much harder to get through the pack.  Just like everybody in that top five group, those first four laps, they are gone. It is hard to get to them if you don't start with them. My dad taught me to never give up, and that is what I have always known, to never give up.
IS THERE ANYTHING SPECIFICALLY THAT YOU FEEL THAT YOU NEED TO WORK ON? It is everything. But really, it's the starts and the first five laps. What I have learned is just to get up to that front group, the top, hard group and to start with them. Then after that, you just must sprint the first five laps to stay with them.  Once they settle into that pace, it is a long moto, and anything can happen. That is what I am learning right now. I can't dwell on the start of the moto too much but at the same time, I must make it count. I need to keep learning these tracks, they are completely different than anything that I ever raced before. I did a couple races last year, but I got hurt.
This year has been tough just getting that good qualifying time with the track being so deep, and tracks being so rough. It is hard to get used to, but I feel like I am getting used to it.
AS YOU SAID, YOU WERE INJURED LAST YEAR AND WERE OUT FOR A LONG TIME. I DON'T KNOW ANYWAY THAT YOU CAN TRULY REPLICATE RACING, WITHOUT ACTUALLY RACING. Exactly. You could do a million laps at Pala or Glen Helen, but none of those tracks really relate to what an Outdoor National is. I think it is just taking time on the race days and get that experience is what I need.
MXA YOUTUBE CHANNEL | HIT THAT SUBSCRIBE BUTTON
The MXA wrecking crew is everything moto-related. Check out our MXA YouTube channel for bike reviews, Supercross coverage, rider interviews and much more. And don't forget to hit that subscribe button.
TALK MOTO WITH MOTO MINDED PEOPLE. JOIN MXA'S FACEBOOK GROUP CHAT

We love everything moto and want to bring all moto junkies together into one place to share their two cents, ideas, photos, bike fixes, bike problems and much more. To check it out first you must need to or already have a Facebook account. If you don't, it isn't much work and you could even have an alias so nobody knows it is you. To join click HERE. After you request to join we will accept your request shortly after.
CLASSIC PHOTO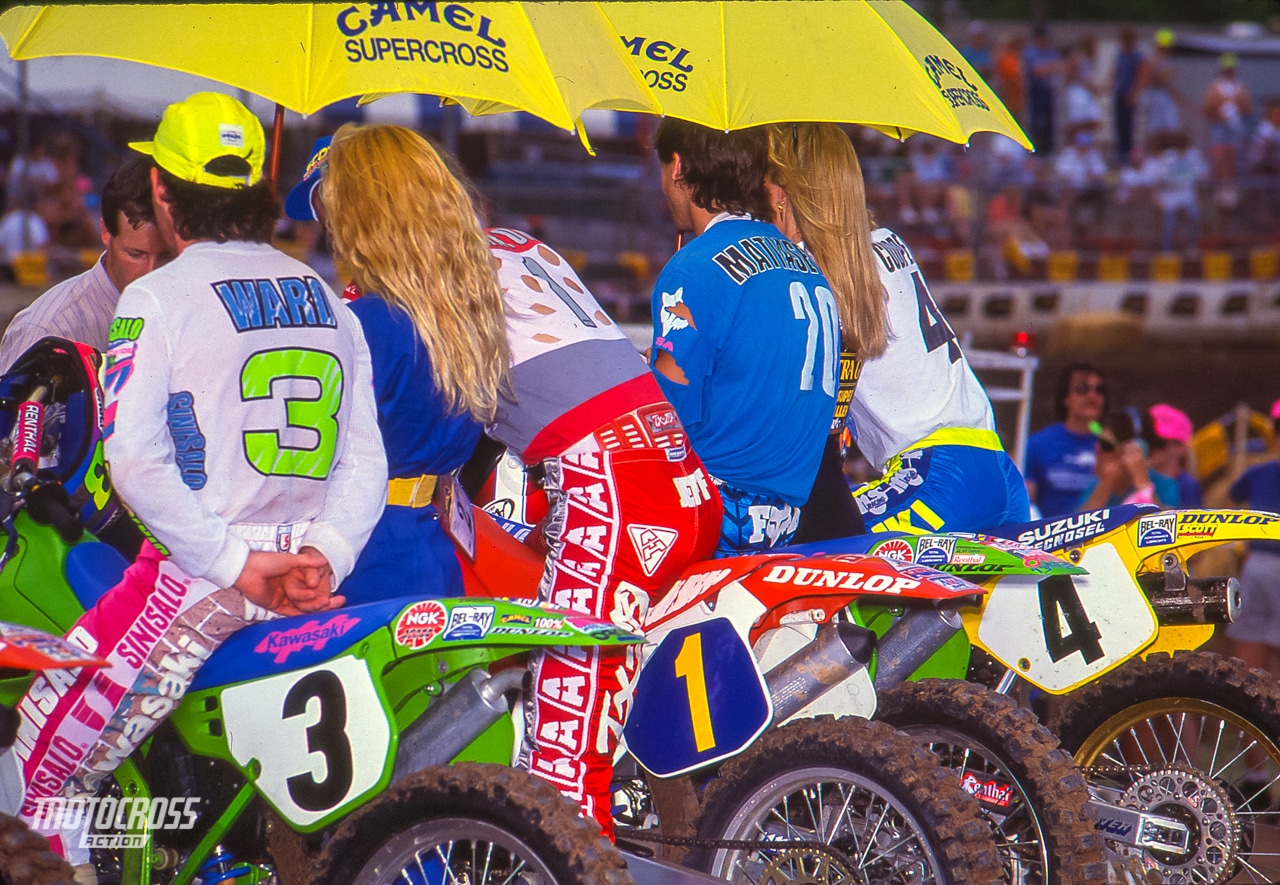 Jeff Ward (3), Jeff Stanton (1), Jeff Matiasevich (20), and Guy Cooper (4) back in 1990.