MOTOCROSS ACTION MID-WEEK REPORT

#WHIPITWEDNESDAY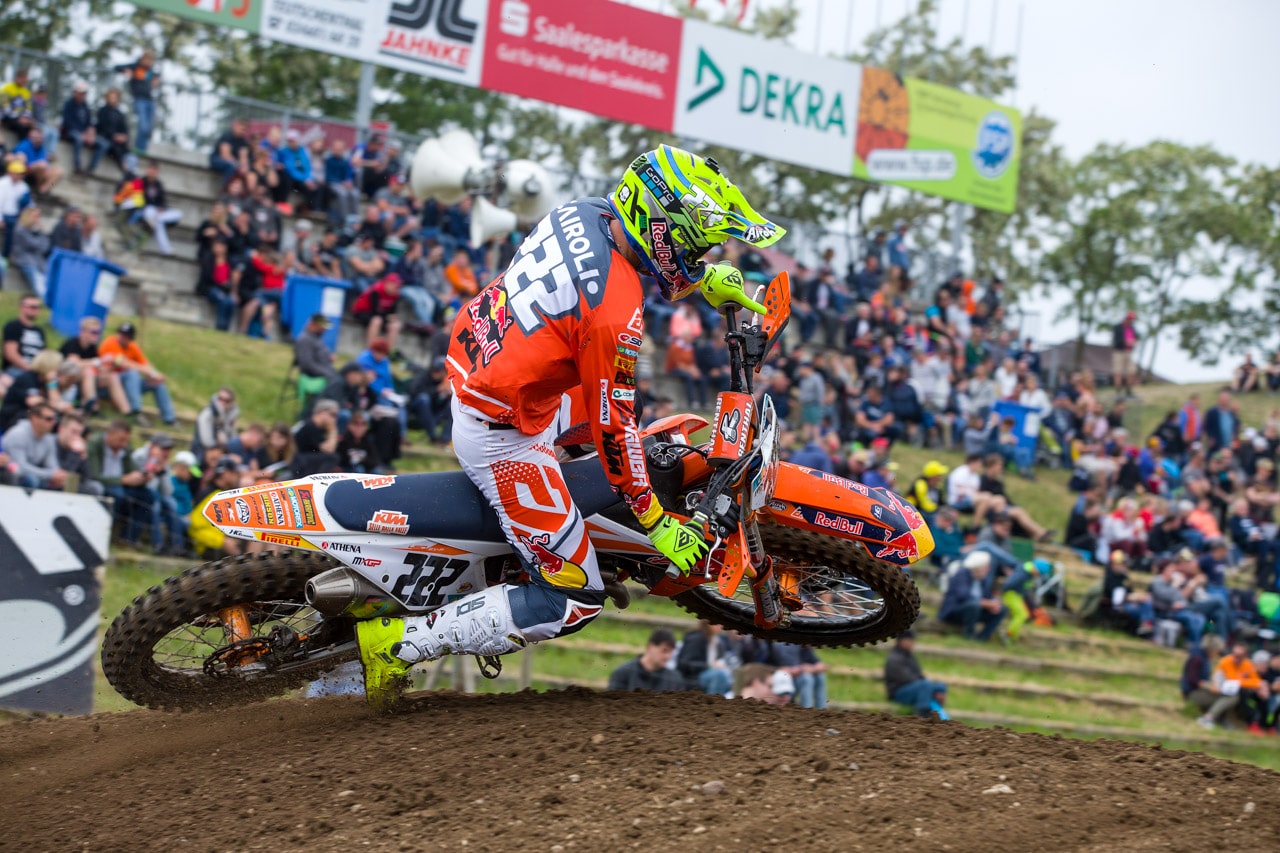 Rider: Tony Cairoli
Bike: 2018 KTM 450SXF Factory Edition
Location: Germany
Event: 2018 Germany MXGP
Photographer: Ray Archer
Lens: 70-200mm f/2.8
Focal length: 120mm
Exposure: 1/1000sec
F-stop: f/5
ISO: 320
TWO-STROKE SPOTLIGHT: CHRISTIAN LØVENFELDT'S 1981 MUGEN 125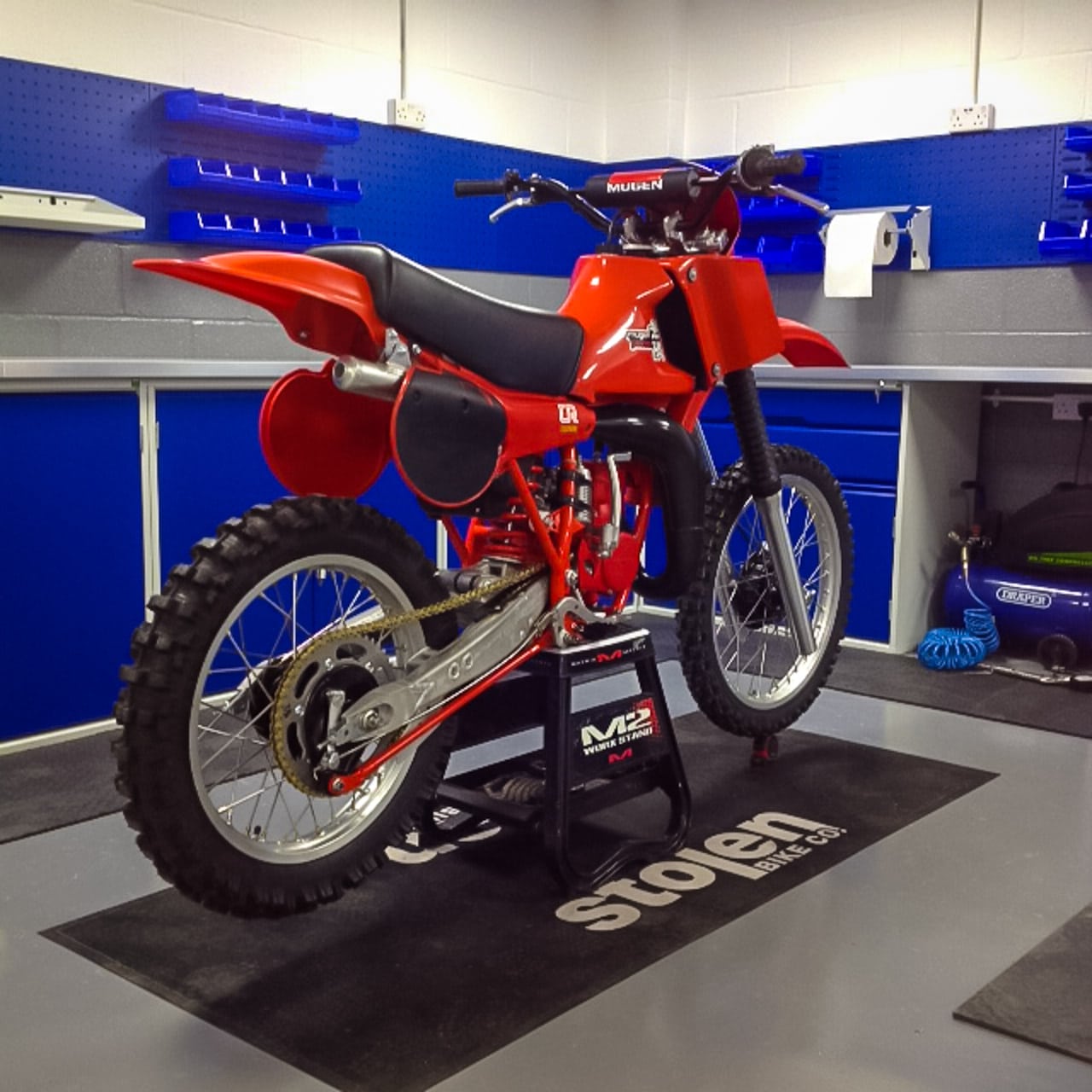 An original 1981 Mugen 125cc.
"So after over 10 years of restoration, it is finally done. This is my 1981 Mugen 125 that I bought from Dave Turk in pieces and with lots of parts missing more than 10 years ago. This is not the kit bike that most riders were using back then, but the full factory Mugen bike from Japan. Which includes Mugen`s own frame, swingarm, gas tank, radiators, 43mm Showa/Mugen factory front fork, Showa/Mugen factory rear shock and of course the Honda/Mugen engine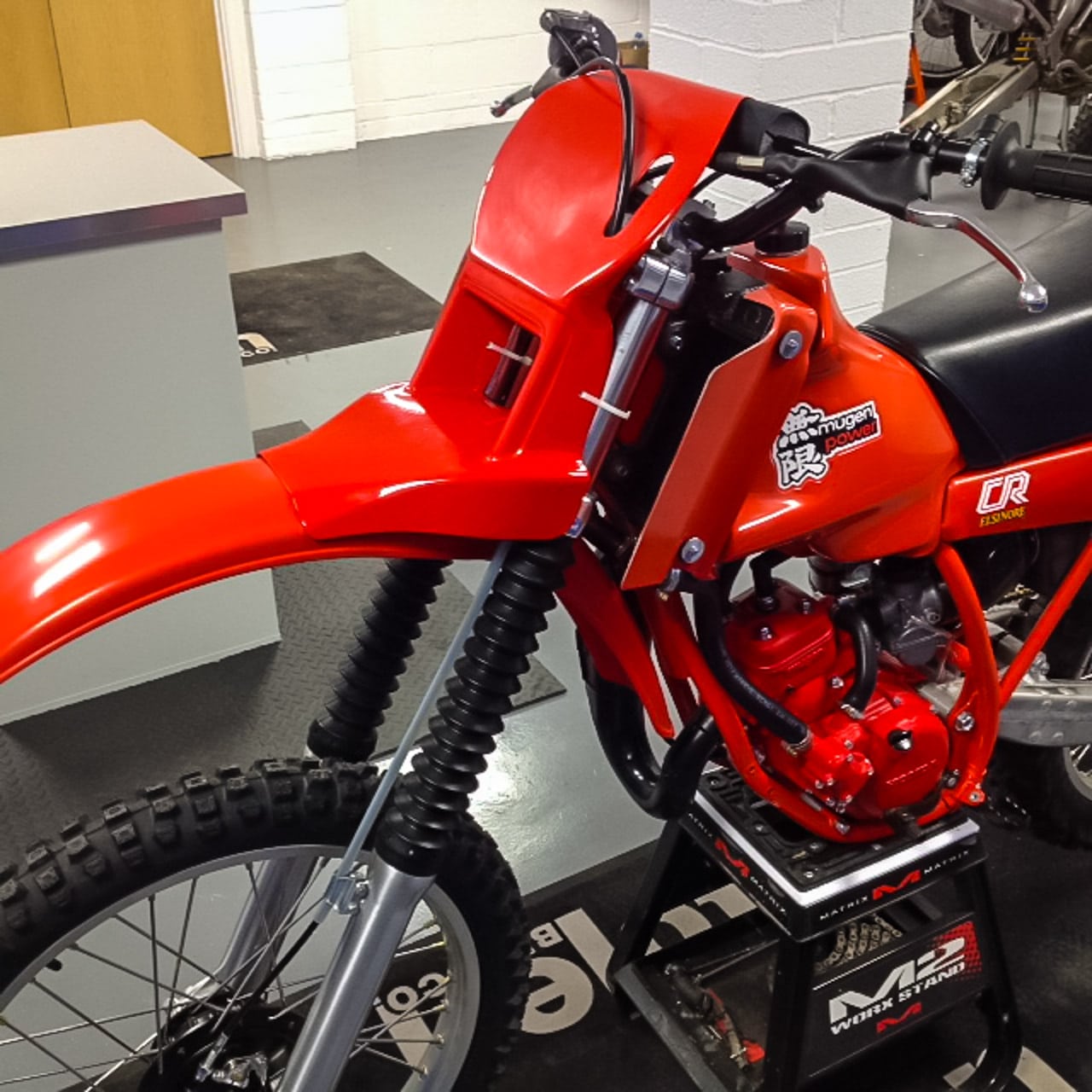 "In the end, I had to ask my friend Richard Wareham to pick up a few of my bikes and finish them since I was just too busy and he has done a fantastic job, thanks Richard." –Denmark's Christian Løvenfeldt
Editors Note: Please keep those submissions coming. If you would like your bike to be featured in the "Two-Stroke Spotlight," please email me at [email protected]. All I ask is that you give a breakdown of your bike and a detailed description of the build. Please also send a few photos of your steed. By submitting your bike for the "Two-Stroke Spotlight," you agree to release all ownership rights to the images and copy to MXA. Please don't email me spam or try selling me Taylor Swift concert tickets or email me spam. I already celebrate T-Swizzle's entire collective, and there will be "bad blood" if you send me junk mail. See what I did there? Happy submitting your smoker.
FIRST LOOK AT TRAVIS PASTRANA'S "ACTION FIGURES 2"

THEY SAID IT | HANGTOWN NATIONAL
Christian Craig: "I'm happy to get out of Hangtown healthy and to start building from here. The first race of the season is always nice to get out of the way. I felt pretty good all day, qualifying fourth in practice. I pulled the holeshot in the first moto and led some laps before getting passed by a couple guys, then crashing. I got up but was in ninth, then passed for eighth. In the second moto, [Blake] Baggett and I got together out of the gate so it ruined my start. I started mid-pack and worked my way up. I ended up going off the track and tipping over in that one. It was kind of a mess, but luckily I was able to make my way up to eighth again and get out of there inside the top 10 overall. I know where I stand in that class so I'm happy with my speed and fitness; I just need to stop making little mistakes."
Ken Roczen: "I knew this weekend was going to be kind of crazy. We haven't had a lot of time to prepare for the race, but I wanted to start the season off. We need seat time so there's no better practice than racing. We knew we were going to show up and have to just wing it to see what we could do. I got the clearance to ride a few weeks ago, though it's been very hard for me, with my thumb, to get a lot riding time in. We knew that we shouldn't have high expectations because of the lack of preparation that I was able to get on the bike, but I've done everything I can and left nothing on the table in terms of what I can do to prepare my body. In the first moto I ended up sixth, which we were pretty happy with considering where we're at. I knew the second moto was going to be tough. I'm incredibly fit, but my race fitness and bike fitness are just not there yet. I know each and every weekend, I'm going to be making big steps forward, which is important. We were also searching a little bit on the suspension side, just because I've only had a couple days of testing prior to this race. We still have a little more work to do to optimize everything. We made a little change from the first to the second moto; sometimes you have it in your mind, 'What if there's something better?' Unfortunately, we went the wrong direction. Overall, I gave it my all and we came away healthy, which is important. I'm definitely going to do some work this week on both myself and the bike and show up at Glen Helen in a good mood and ready to rock."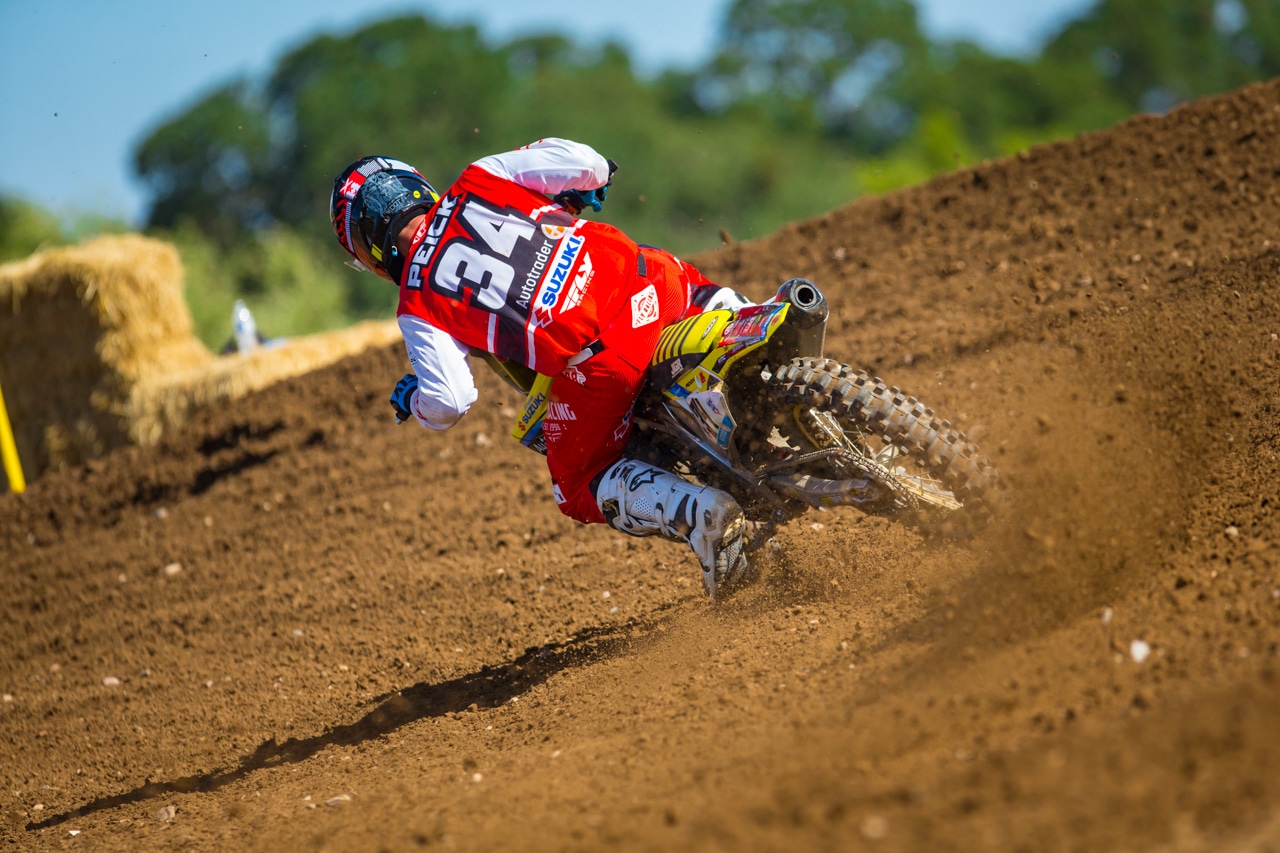 Weston Peick: "Hangtown wasn't ripped as deep as it usually is, but it still got rough. It was hard pack in some areas. I felt really good in the first moto. I got off to a slow start, but found a good flow and passed up to fifth place. I've been dealing with a hand issue, and it really bothered me. At one point my hand was going numb. I went into the second moto dealing with a lot of pain, but I stuck it out and did what I could. My hand started bothering me again at about the 15 minute mark, but I fought through it. We made a suspension change after the first moto to get the fork to hold up, but we went a bit too extreme, and that resulted in the forks being too stiff. That was okay, though, because we figured out what works and what doesn't. I'm looking forward to Glen Helen."
Enzo Lopes: "My first National was a really cool experience. The way I look at is that we still have plenty of motos to go. I rode pretty tight in the first timed practice, because of nerves. I felt better in the second timed practice and ended up 11th fastest, which was pretty good. I had a decent start in the first moto and battled with some established riders. That moto I ended up 13th, which was good. I had a better start in the second moto and was running in 11th place, but I crashed and fell back to 17th. That crash slowed me up, and I was only able to get back to 15th place. I am happy to get my first National out of the way, and I can't wait for Glen Helen!"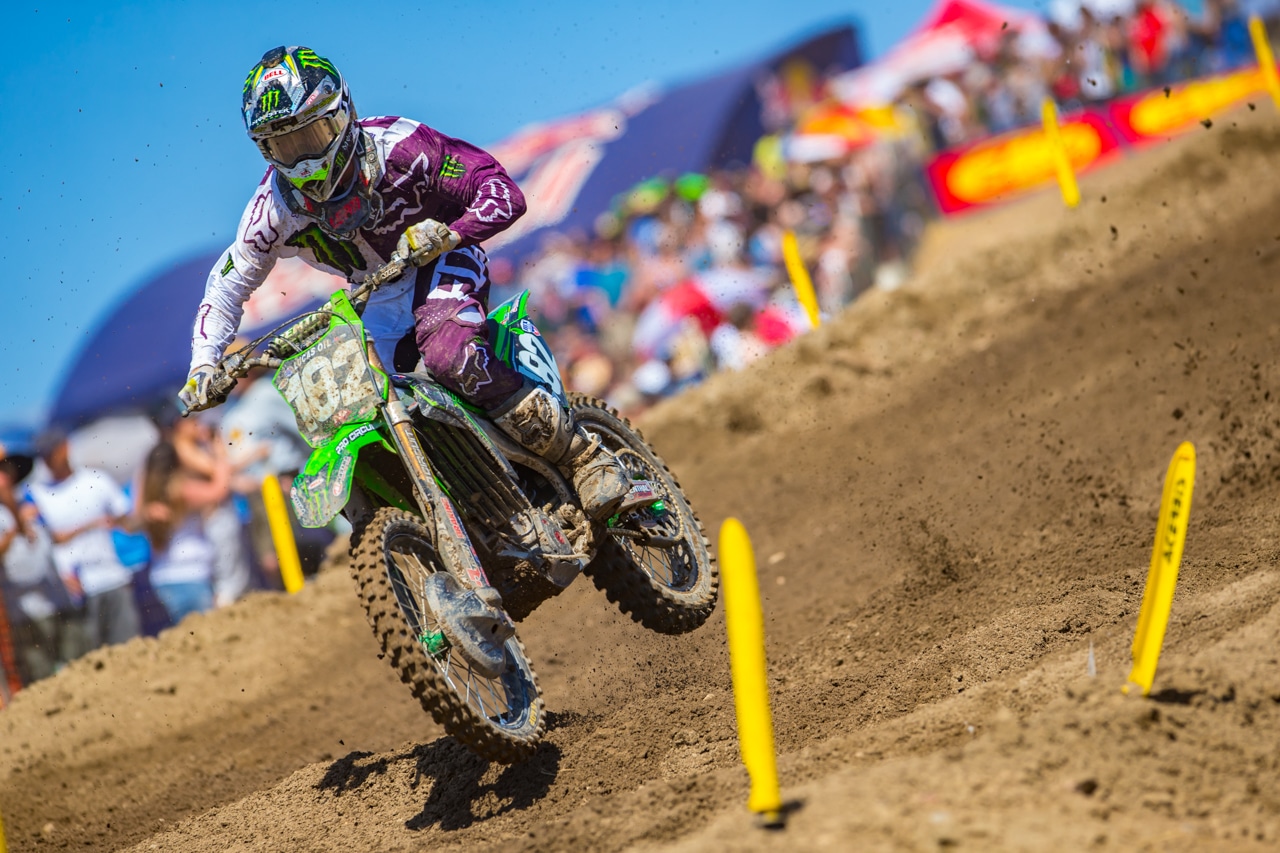 Garrett Marchbanks: "I am really happy that I was able to make improvements in the second moto. I'm pumped to finish 10th. I didn't know what to expect other than I felt good coming into the race. We've got some work to do and I am really looking forward to Glen Helen."
Austin Forkner: "We had a good battle going in that first moto and I really wanted to get back up on the podium in the second moto. Unfortunately I hit my chest and with the track being so brutal, I couldn't keep going. It's a bummer. We'll get everything checked out and I'm looking forward to having fun with the boys at Glen Helen."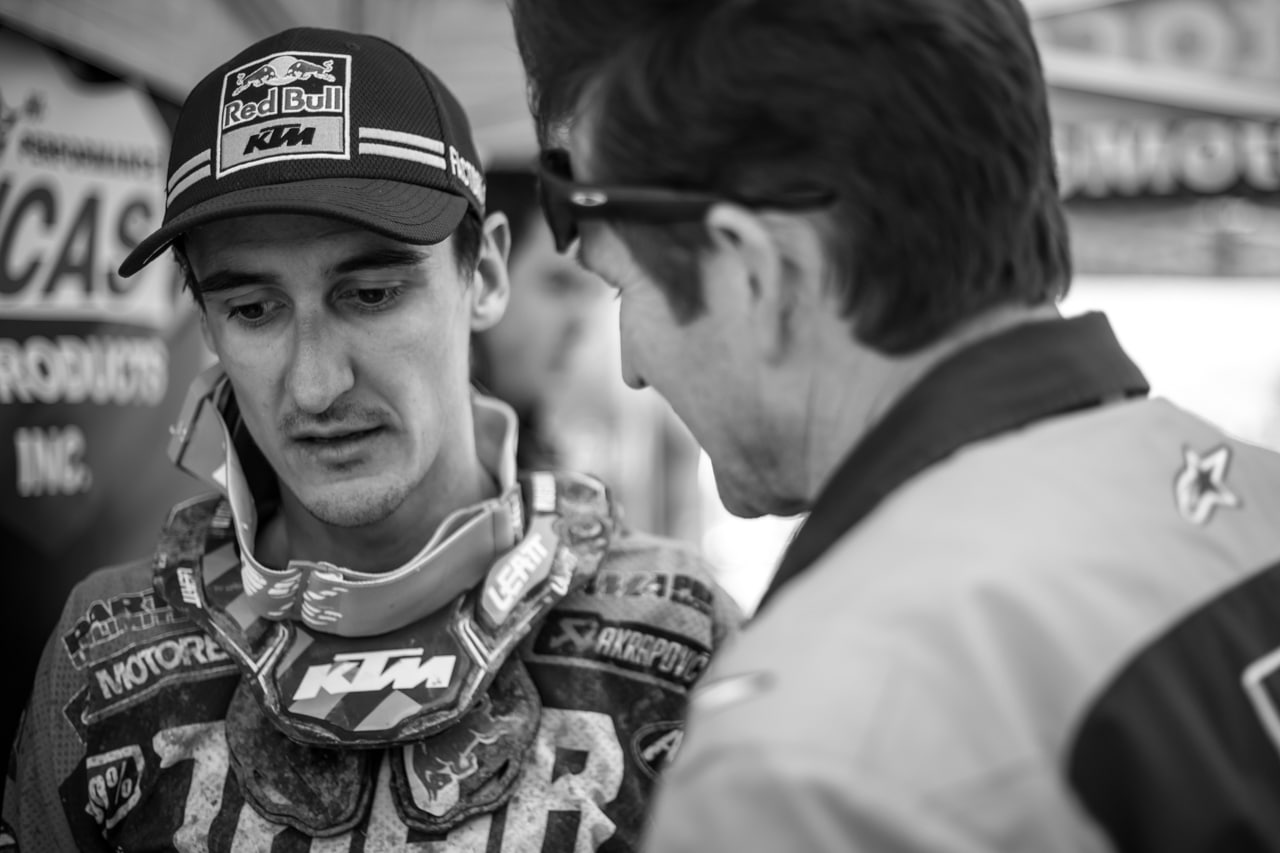 Marvin Musquin: "The first round, to get a second-place is a good start. The second moto I got squeezed off the start, Eli and I were a little in the back, and I thought it was going to be a tough one but I was able to come back to the lead, which is awesome. I'm really happy about my riding today. It's the first race with a new bike setup and we're not too far off of being 100 percent, so I'm looking forward to next weekend and I'm glad I started the year off right, I would say. We'll try to get better next weekend."
Jason Anderson: "I went 4-6 for fourth. I rode hard and think it was a good start. I'm looking forward to improving throughout the remainder of the season."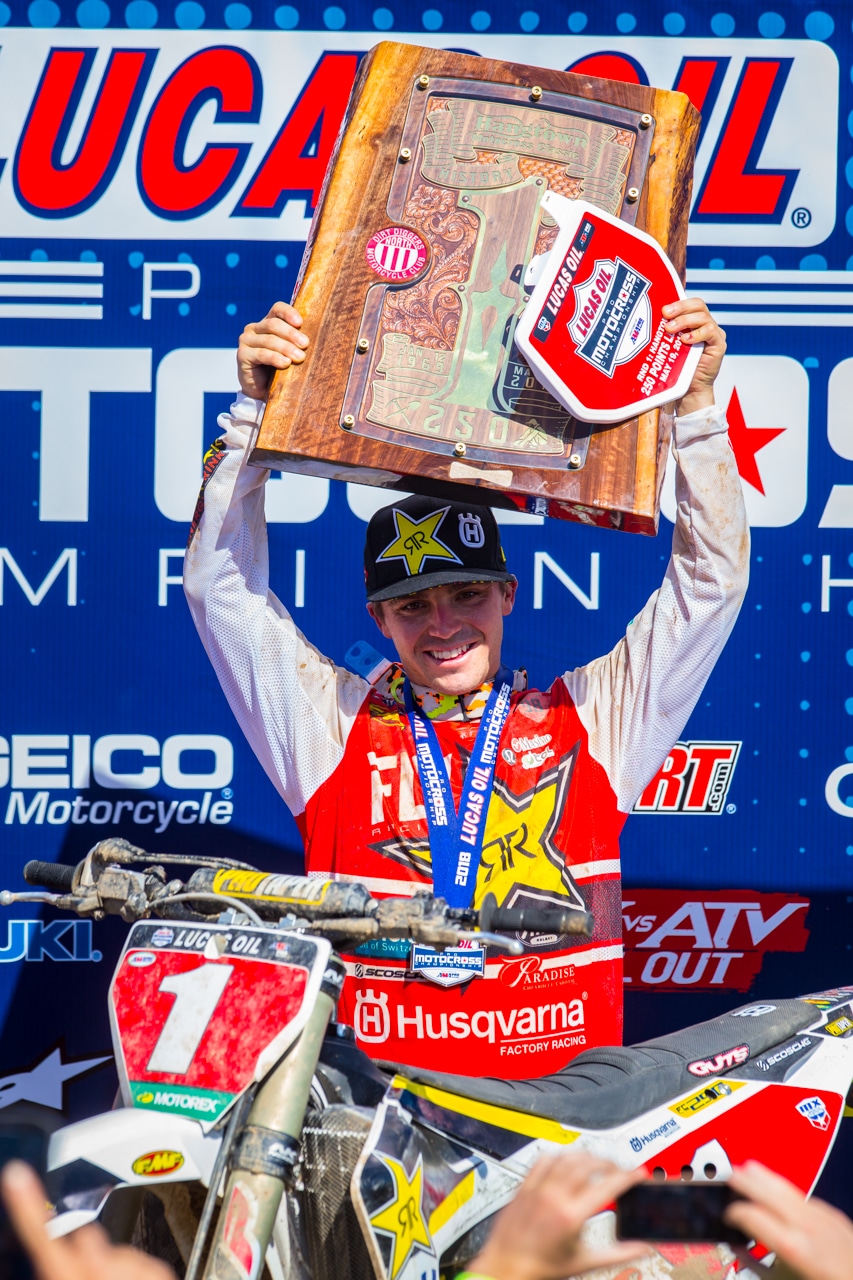 Zach Osborne: "It was an awesome day. To go 1-1 and start off with 50 points is huge for the chase. It's nice to have a good pace and be where we need to be right of the bat. I'm happy with it and hope to carry the momentum into Glen Helen."
2018 HANGTOWN OUTDOOR NATIONAL HIGHLIGHTS
PRO CIRCUIT KTM/HUSQVARNA FACTORY EDITION MODEL EXHAUST
Press Release: Here at Pro Circuit, we're excited to release our T-6 and Ti-6 line of exhaust systems for the new 2018 KTM 450 SX-F Factory Edition and 2018 Husqvarna FC450 Rockstar Edition models. Every Pro Circuit exhaust system is proudly designed and manufactured in the USA and is the perfect choice for KTM and Husqvarna riders everywhere looking for. Check out www.procircuit.com for more info.
MOTO | TRIVIA
Name the rider and year. Answer at bottom of page.

AME MINICROSS SERIES COMES TO MILESTONE MX PARK
Press Release: The AME Minicross series comes to Milestone Mx park this month of May starting on the 26th.
All new minicross track construction begins on May 4th and will be complete by May 18th.
Minicross Race dates are:
May 26th
June 9th
June 16th
June 23th
Jun 30th
July 14th
Minicross will be promoting mini Supercross Racing events. The racing and track will be a junior Supercross race program with the jumps whoops and 90 degree turns scaled down so that small bikes 50s, 65s, and 85s can do the obstacles. This is the future of dirt bike racing to get your mini stars prepared at a young age for quick fast Supercross style racing.
Tony Alessi and son Jeff Alessi with one of the mini riders. 
We have plenty of goodies from our sponsors that are all very excited about this new type of So Cal racing.
Race Tech is sponsoring the Mini Marvel Award with a special trophy going to a special rider each week and a full factory sponsorship for the series end. Fly bucks will be awarded at every race and Pro Circuit will have gift certificates. Dunlop has provided us with stacks of tires and sponsorship cards. We are handing out product from Motoconcepts and moto graphics at each race along with Honda contingency at each race.
Special Thanks to Acerbis for course markers and gift cards and other product support sponsors including but not limited to Maxima Pro Filters, EKS Brand goggles, DSC construction, Pax racing, Guts Racing, Shoei, Yoshimura, Total Performs, RJR Motorsports, PDA Jerky and Justified Casual clothing will all be supporting AME Minicross.
Each event we will present minicross trophies and or medals for the top 30% of the classes and series end trophies for the top 3 in each class that has raced in at least 4 events.
Events schedule for each round:
Gates open at 1pm
Track walk 2pm
Riders meeting 2:30 pm
Practice. 3:00 pm
Racing 4 -8 pm
Visit the web site: www.ameminicross.com
Call: (904) 610-0197
MOTOCROSS ACTION READER SURVEY: LET US KNOW WHO YOUR ARE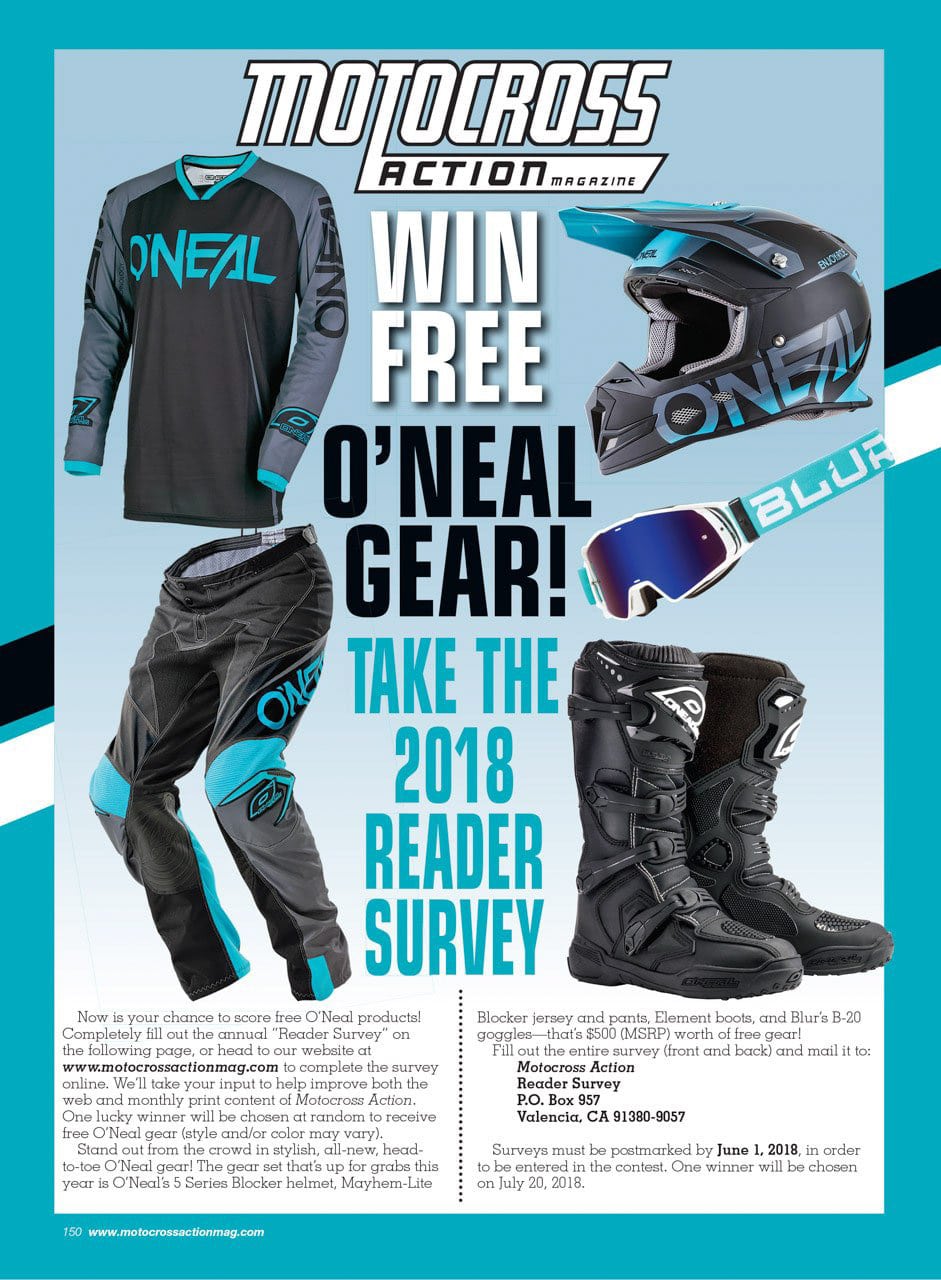 Make sure to take our detailed MXA Reader Survey so we can accommodate to you better.
PRIVATEER PROJECT PRO CIRCUIT YAMAHA YZ250F
CLASSIC MXA PHOTO
Ezra Lusk during the 1999 Supercross season. He placed second in the championship that year behind Jeremy McGrath.
Moto Trivia answer: Nick Wey in 1999 at the Millville National.