MOTOCROSS ACTION MID-WEEK REPORT
TWO-STROKE SPOTLIGHT: 1995 KAWASAKI KX125, BEFORE AND AFTER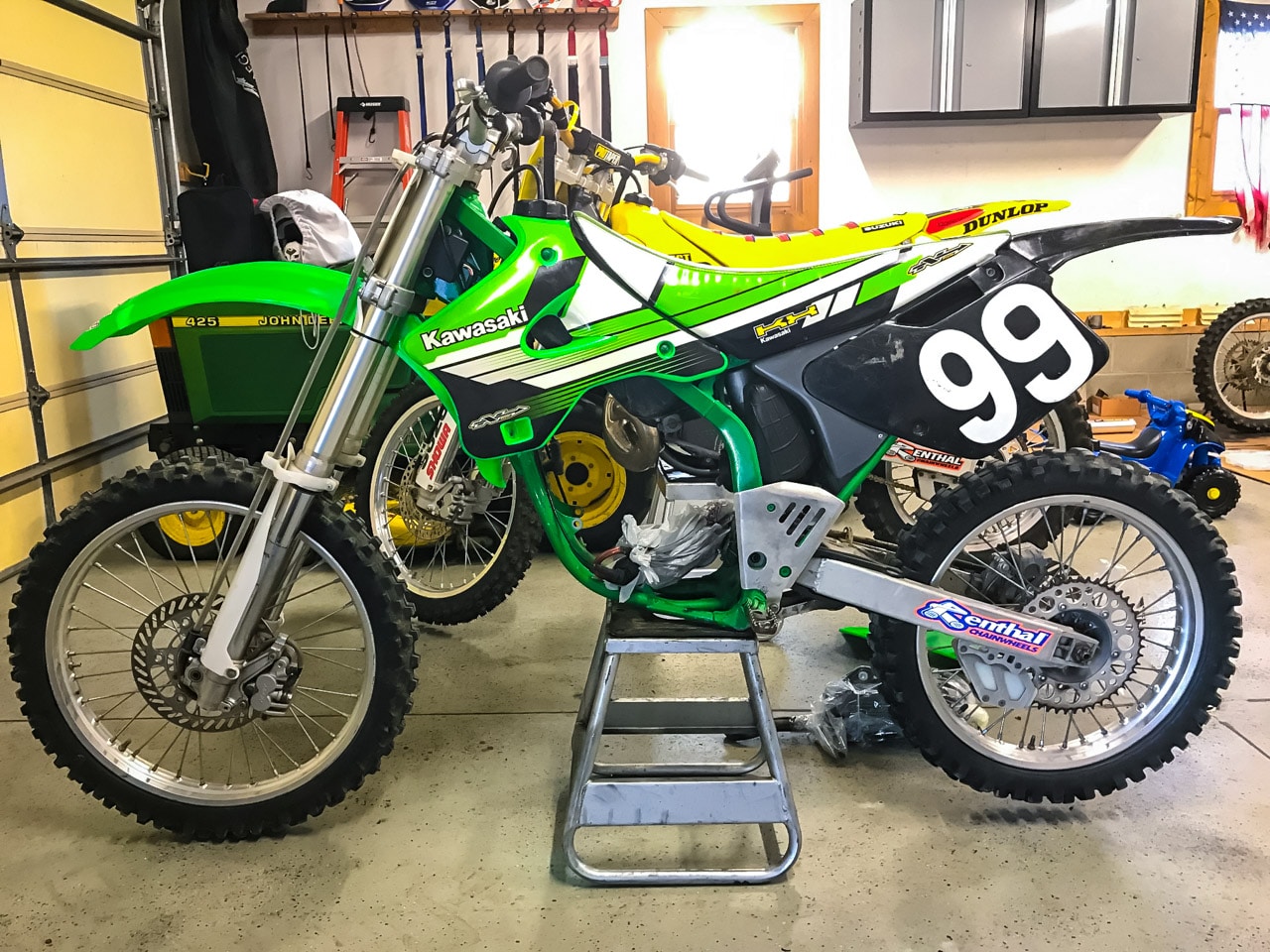 The before photo of Matt's 1995 KX125.
"It has been awhile since I have shared any of my project bikes with MXA. Here is my most recent build, a 1995 KX125 built after one of my childhood hero's–Robbie Reynard. As you can see the original platform was in pretty good shape which made things easy. I started by sending the frame out to Curry Custom Coatings for a fresh coat of Kawasaki Green powder.
"The engine came in a box, the cases and cylinder were sent to Eric Gorr Racing to get the cylinder repaired, as well as a Team Green spec port job and case matching. The engine was assembled with all new bearings, seals and gaskets from Hot Rods, Winderosa, and a Vertex piston.
The after photo of the 1995 KX125 beauty. 
"The engine cases, swing arm, frame guards, brake calipers and master cylinders were sent to KE3 Restoration to be Vapor blasted, to bring back that show room finish. The clutch cover and housing were also sent to Curry Custom Coatings to be Cerakoted for the factory magnesium look. I also sent all of the OEM hardware out to be re-zinc plated.
"When everything was back in my possession, I began assembling the chassis where I used All Balls Racing bearing and seals, the forks and shock were rebuilt by Dan Elings at Race Pace Performance where he also used All Balls components as well as Race Tech Gold Valves. The stock hubs were Powder Coated to resemble the factory look and were laced using Pro Wheel Racing spokes and hoops.
The engine side. 
"I was able to source an original Braking 270 oversized from brake rotor and coupled with a Tusk Racing Honda style stainless brake hose to insure that it stops on a dime.
"This build would not have been possible without the help from the following."
All Balls Racing
Curry Custom Coatings
KE3 Restoration
Pro Circuit
Pro Wheel Racing
Race Pace Performance
Rocky Mountain MC
Tusk Racing
Renthal
UFO Plastic USA
Vertex Pistons
Editors Note: Please keep those submissions coming. If you would like your bike to be featured in the "Two-Stroke Spotlight," please email me at [email protected]. All I ask is that you give a breakdown of your bike and a detailed description of the build. Please also send a few photos of your steed. By submitting your bike for the "Two-Stroke Spotlight," you agree to release all ownership rights to the images and copy to MXA. Please don't email me spam or try selling me Taylor Swift concert tickets or email me spam. I already celebrate T-Swizzle's entire collective, and there will be "bad blood" if you send me junk mail. See what I did there? Happy submitting your smoker.

#WHIPITWEDNESDAY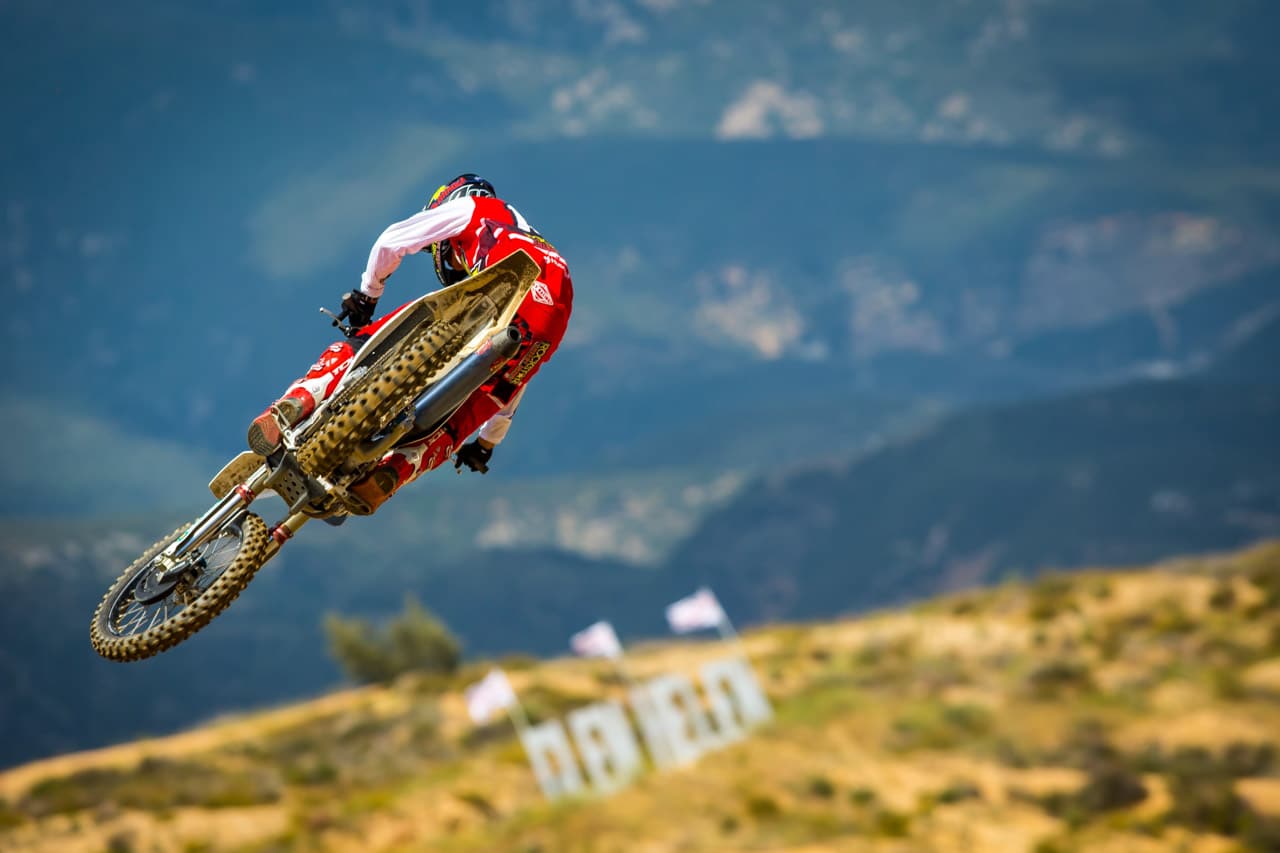 Rider: Jordan Bailey
Bike: 2018 Husqvarna FC250
Location: Glen Helen
Event: 2018 Glen Helen Outdoor National

MOTO | TRIVIA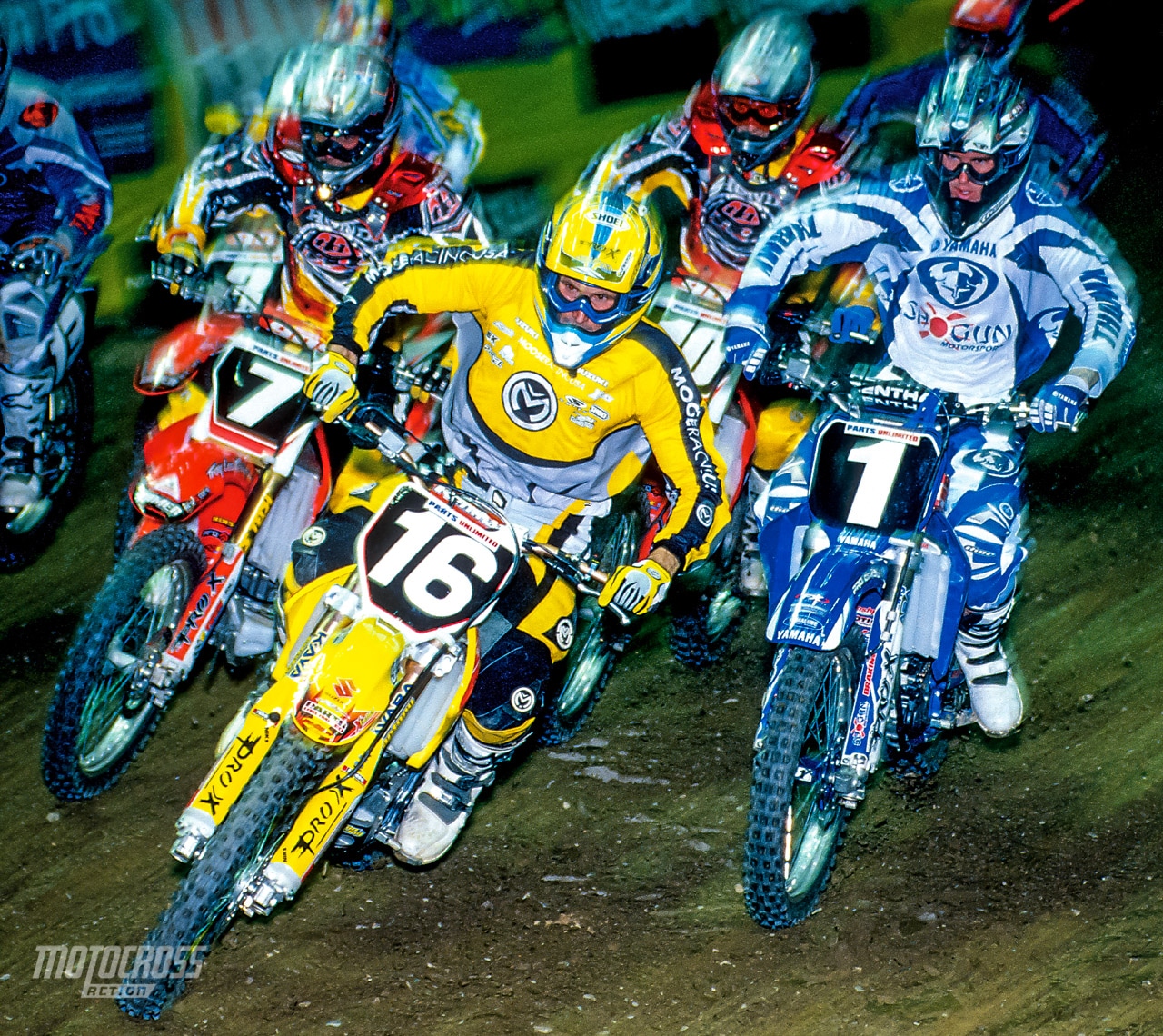 Name the riders with the number 16 and 1. Answer at bottom of page.
AMATUER CHAPARRAL MOTORSPORTS TEAM QUALIFY FOR THE LORETTA LYNN NATIONAL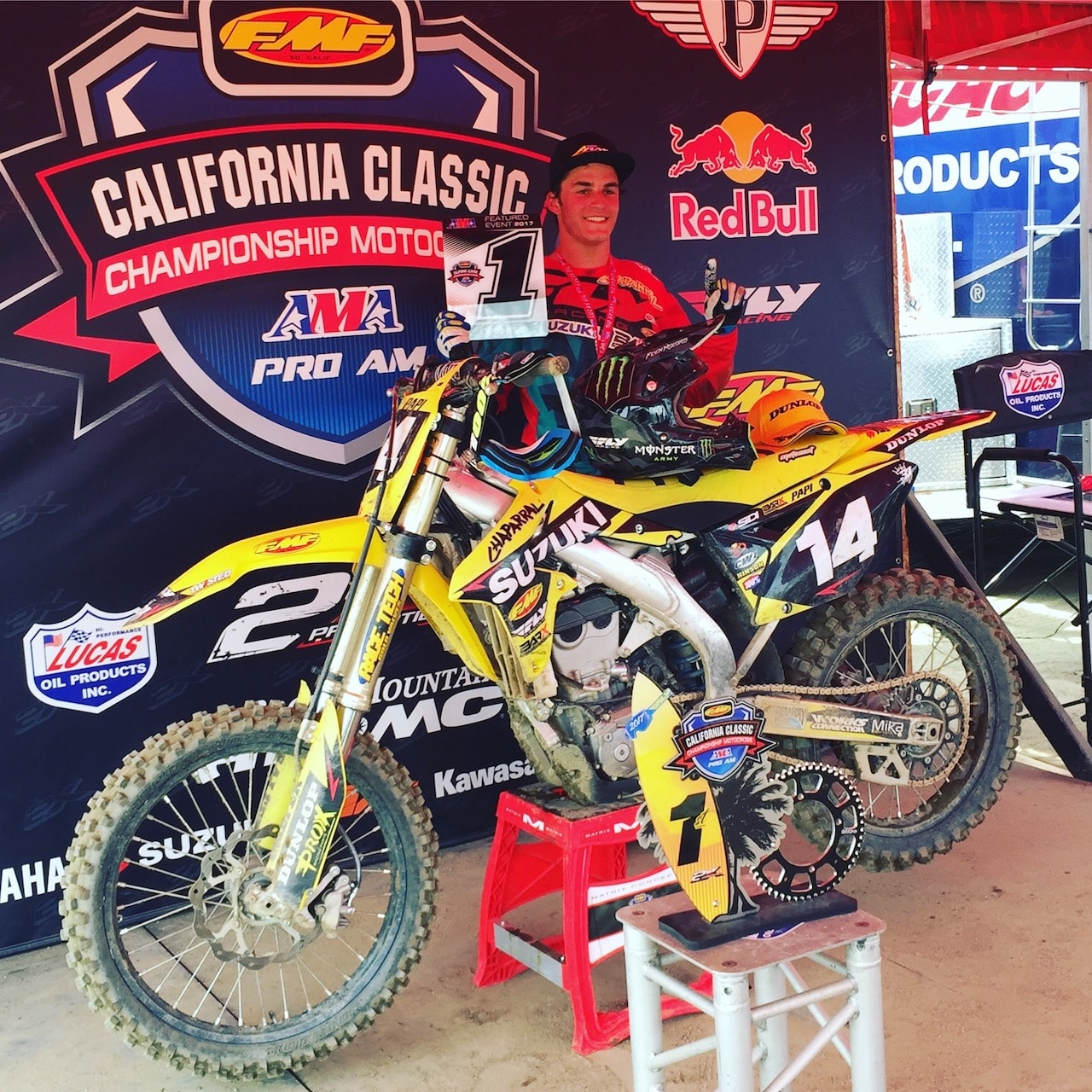 Chaparral Motorsports/Bar X Motorsports/Suzuki Amateur MX team members race their way to 2018 AMA Amateur National Motocross Championship.  
Press Release: Chaparral Motorsports is proud to announce that every member of the Chaparral Motorsports/Bar X Motorsports/Suzuki Amateur Race Team: Cole Barbieri, McClellan Hile, Brock Bennett, and Brock Papi have all earned guaranteed spots to the 2018 AMA Amateur National Motocross Championship. Two weeks ago Barbieri, McClellan, and Hile got their tickets punched for the Nationals while racing the Northwest Regional Qualifier at Washougal and a week later Papi scored his pass racing the Mid-West Regional at Hangtown.
Cole Barbieri (#972) from Ukiah, California, has had a great series racing an RM-Z450 in the Open Pro Sport class and a RM-Z250 in the 250A class. Barbieri secured spots for the Nationals in both the Open Pro Sport and 250A classes at the Washougal Regional event. In the Open Pro Sport he went 3-2 for a second place overall finish and then followed up with another 3-2 and second place in the 250A Class.
McClellan Hile (#505) from Atascadero, California, has also been riding the Suzuki RM-Z450 and RM-Z250. At the beginning of April he placed 7th in the 450B class at the Southwest Region Area Qualifier held at Glen Helen. Then at the Washougal Regional he went 3-6 for a fourth place overall finish in the 250B Class and placed second overall by going 3-3 in the Schoolboy 2 (12-17) B/C Class.
Brock Bennett (#211) from Bakersfield, California, has been racing remarkably on his Suzuki RM85. He nearly had a clean sweep at the Northwest Region Area Qualifier held at Albany MX Park, where he took first place in 85cc (9-12), Mini Sr 1 (12-13) and Mini Sr 2 (12-14), and then grabbed third in the Supermini 1 (12-15). At the Washougal Regional, Bennett scored guaranteed spots for the Nationals aboard his RM85 in the 85cc (9-12) and Mini Sr 2 (12-14) classes by finishing in third place and second place overall respectively.
Brock Bennett.
Brock Papi (#14) from Clermont, Florida, has also been pulling double duty aboard an RM-Z250 and a RM-Z450. At the Mid-West Regional held at Hangtown, Papi raced his way to three guaranteed spots for Nationals by taking third overall in the 250B class and first overall in both the 450B and Schoolboy 2 (12-17) classes. In the 250B Class he went 2-3 and then followed that up with spectacular 1-1 finish in the 450B Class and a 3-1 in the Schoolboy 2 (12-17) Class.
The AMA National Motocross Championship is the premiere event in amateur motocross racing and has been held annually at the ranch of famed country music star Loretta Lynn in Hurricane Mills, Tennessee, since 1982. With 55 Area Qualifiers held all throughout the country and 13 Regional Championships, the program to the Nationals provides riders across the country stepping stones to the big dance at Loretta's. After qualifying for the Regionals from an Area Qualifier, riders need to place either 4th or better or 6th or better (depending on the region) in order to get a guaranteed slot for the Nationals. More than 20,000 racers compete for one of 1,482 spots in the 38 classes at the Nationals, making the event a great opportunity to get noticed by potential sponsors and race teams. The 2017 AMA Amateur National Motocross Championship will take place Monday, July 31 through Saturday, August 5.
In preparation for the National Championship, all four Chaparral Motorsports/ Bar X Motorsports/Suzuki team members along with team manager, industry veteran, Larry Brooks, will be heading to Mammoth Lakes for the Monster Energy Mammoth Motocross June 17th-25th. This year marks the 50th Anniversary of the Mammoth Motocross, the oldest continuously running motocross event in the USA. Almost as popular as the AMA Amateur National Motocross Championship, the Mammoth Motocross has become another prime event for amateur racers to break out amongst the ranks. Barbieri, Hile, Bennett, and Papi are all looking forward to the Mammoth series where they hope to continue their great success and continue to make names for themselves.
ABOUT CHAPARRAL MOTORSPORTS
Chaparral Motorsports started as a family motorcycle parts business in 1980 and now encompasses a 160,000 square-foot footprint in San Bernardino, California. Recognized as one of the largest motorcycle dealerships in the country, Chaparral Motorsports offers a great selection of parts, accessories, riding gear, motorcycle tires for dirt bikes street bikes, ATVs and UTVs. Over its 37 years in business, Chaparral Motorsports has developed into a multi-line motorcycle, ATV and UTV superstore, offering vehicles from Honda, Yamaha, Kawasaki, KTM, Suzuki, Can-Am, Victory, Polaris, and Kymco. For more information on Chaparral Motorsports, visit www.chaparral-racing.com.
THEY SAID IT | GLEN HELEN NATIONAL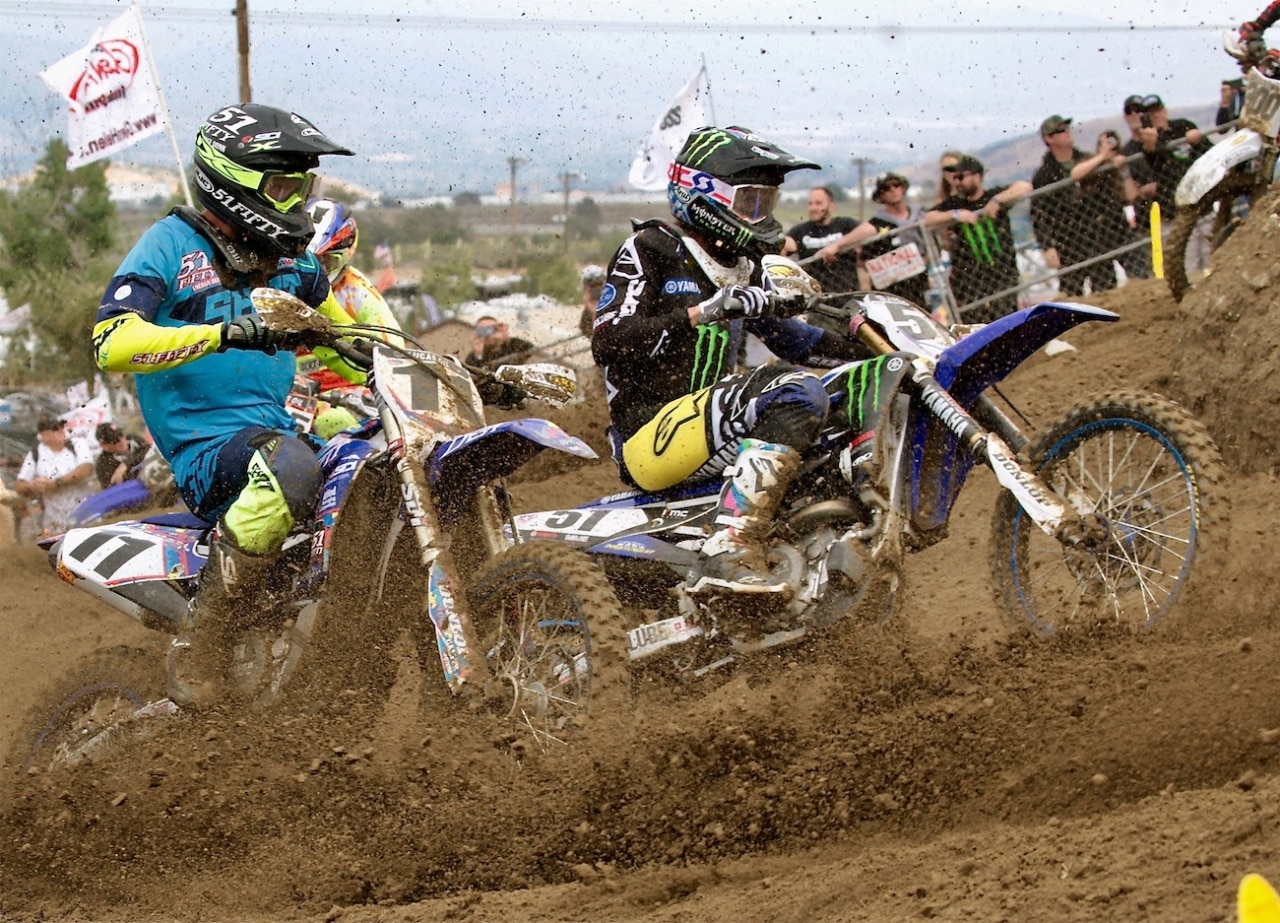 Kyle Chisholm: "I definitely had to work for this one, but a Top 10 overall feels great. First moto was good, just settled into a pace and was able to click off consistent laps. Second moto was a little tougher with my poor start, having to ride over Ken Roczen's bike and taking a huge rock to my knee. I think I just rode looser and was having fun despite the rough track conditions. The bike worked really well today and I'm super happy to be making improvements at the second round. I want to be closer to the front but satisfied with 9th at this point."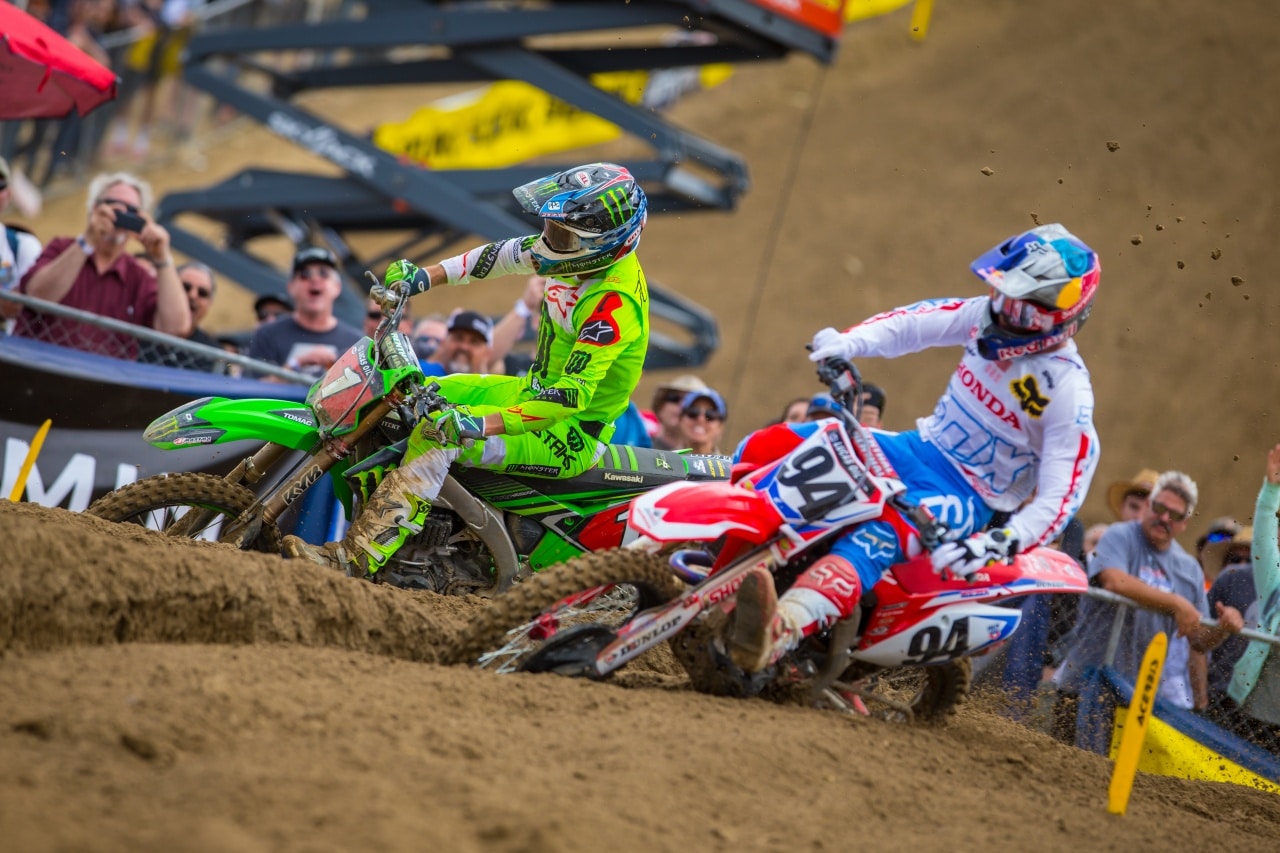 Ken Roczen: "The result is one thing, but there are always certain things that are out of your hands, which is what happened in the second moto. Still, leading for over 20 minutes in the first moto was good, especially for only our third moto back. I tried not to be like 'Oh my god, I'm leading'; I just tried to keep a steady and calm mood. Unfortunately, I wasn't able to hold Eli [Tomac] off, then Marvin [Musquin] got by me too. I tried to make a last-minute attack but got messed up by lappers, so I really just settled into third, which we were all happy with. The second moto, I got another good start but heard a noise and wasn't ready to just send it over any of the big jumps when there might be a problem, so I went into the pit lane. It ended up that there was a rock in my front sprocket area, but better safe than sorry. After that I just went out and wanted to use this as good practice, and I kept telling myself, 'Don't quit.' We made it all the way up to eighth place, which is pretty sweet. We've been working really hard, and it's unfortunate because I think today we could've been on the podium. We have a lot of motos to go, so it's coming. I've got to just keep building and I think we'll get there."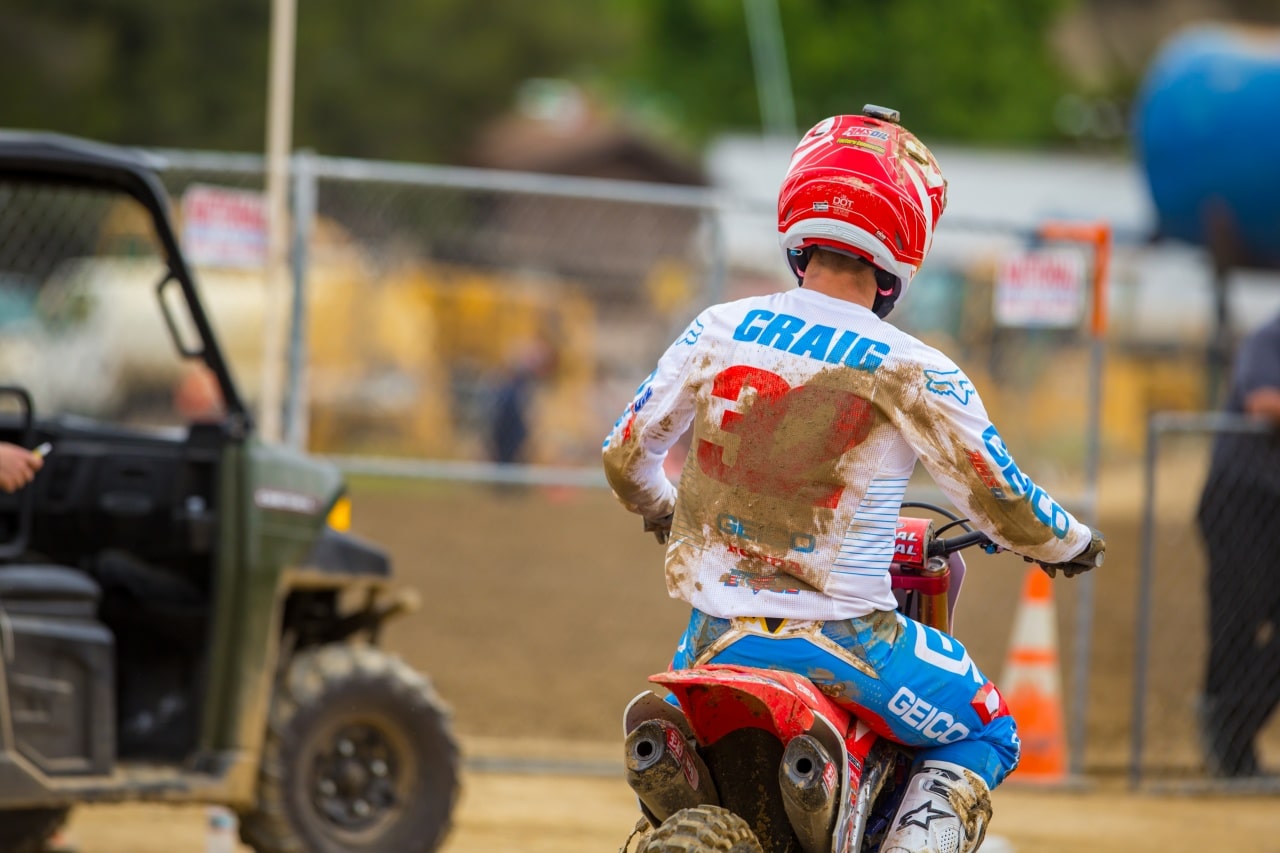 Christian Craig: "It didn't go at all how I had hoped, obviously. I felt pretty good all day, qualifying sixth and getting the holeshot in the first moto. Halfway through the first lap, I went down pretty hard and instantly knew my knee was hurt. I'm just so bummed because this is the third year in a row that I've gotten hurt here and it's frustrating. Rather than feel sorry for myself, I'm going to work on coming back stronger. Thank you to everyone for expressing concern, and huge thanks to the team for the opportunity this year!"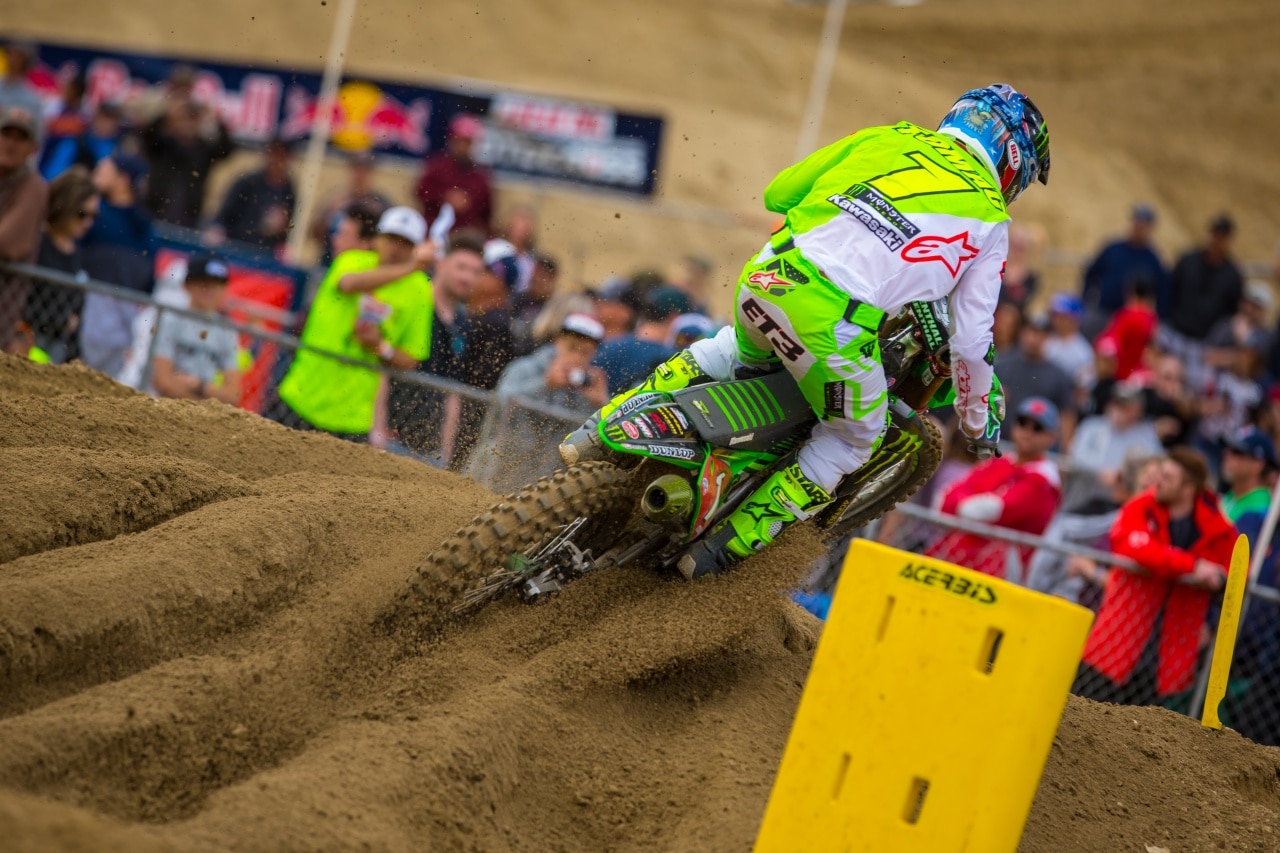 Eli Tomac: "It was good to see Ken [Roczen] back up there and we had a good battle in that first moto for what seemed like 20 minutes," said Tomac. "In the second moto I just kept going. I was feeling good and was relaxed. I found some good lines and was able to get going. I just had a good flow all day."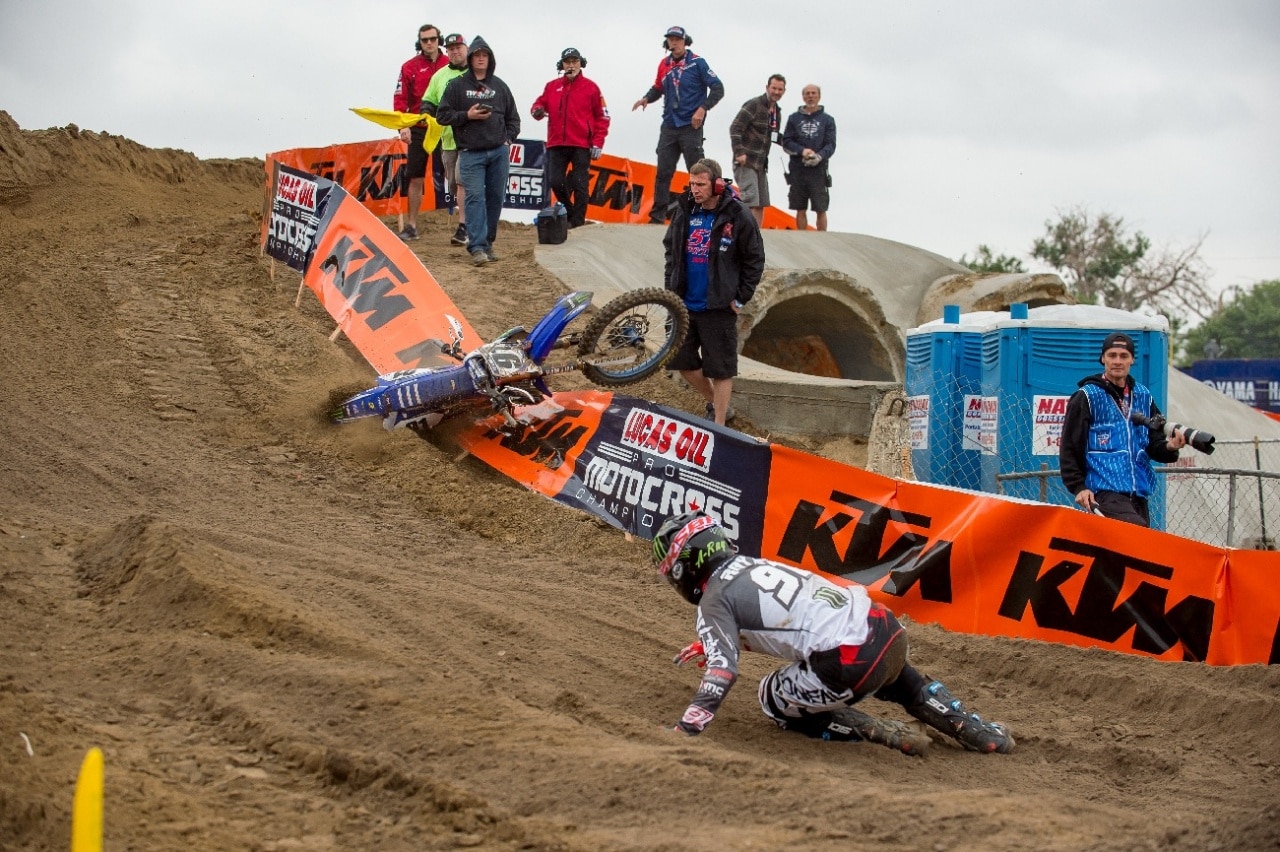 Alex Ray: "I was definitely nervous coming in. I had a rough morning but we turned it around after the first moto. We came pretty much from last place to score points, so that was a big confidence booster for me. Coming into the second moto I just knew I had to get a good start and make it through the first lap and put myself in a good position and that's what I did. I ran ninth until three minutes to go and a couple people got by me but I feel like 12th is solid for my first weekend." Photo Kyoshi Becker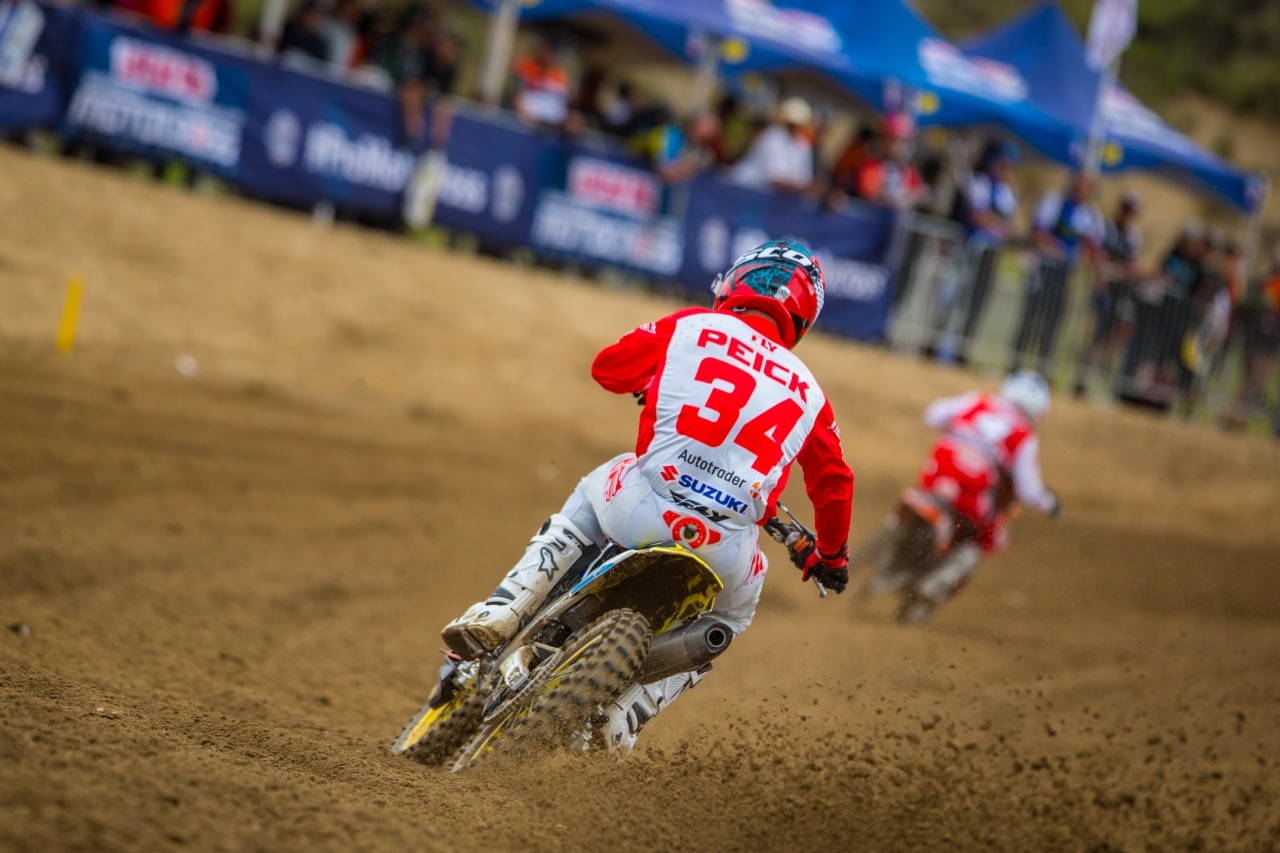 Weston Peick: "Glen Helen is my hometown track, and I would have liked to do better. The conditions were pretty tough on my hand, with all of the uphills and downhills. The track put a lot of stress on my hand, which took me out of my groove. The first moto went fairly well. It took me some time to find a good pace, and I ended up in seventh. We made some suspension changes between motos and found some new things that will help for this upcoming weekend at Lakewood. The second moto at Glen Helen went quite a bit better. I moved into third for a few laps and settled into a pace. I'm happy with the result, given the circumstances of my hand."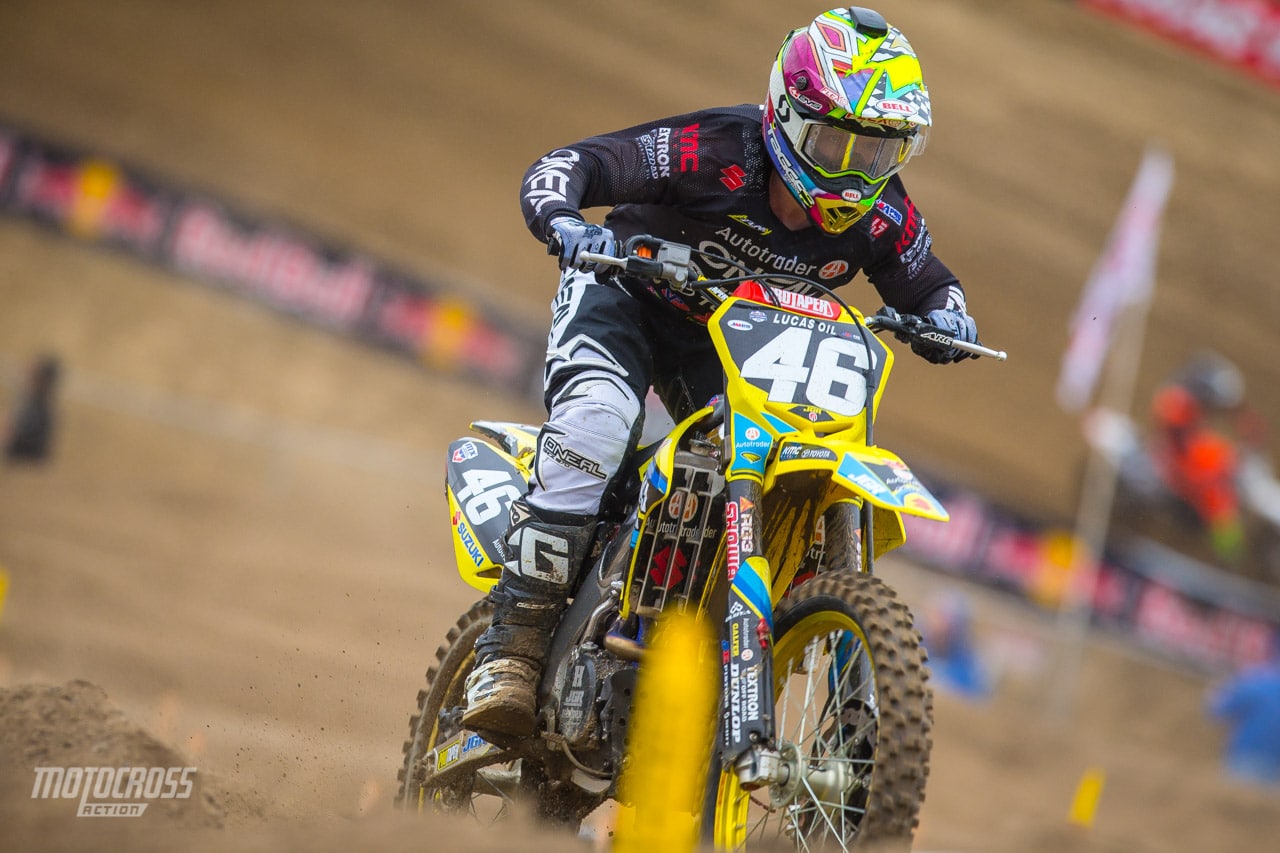 Justin Hill: "Glen Helen is always rough and challenging, and this year was no different. I struggled to find a flow in the first moto, but we made some positive changes to the bike in between motos. Those changes resulted in good improvements, which is all I can ask for. I'm hungry and willing to do more, and I'm looking forward to the next race."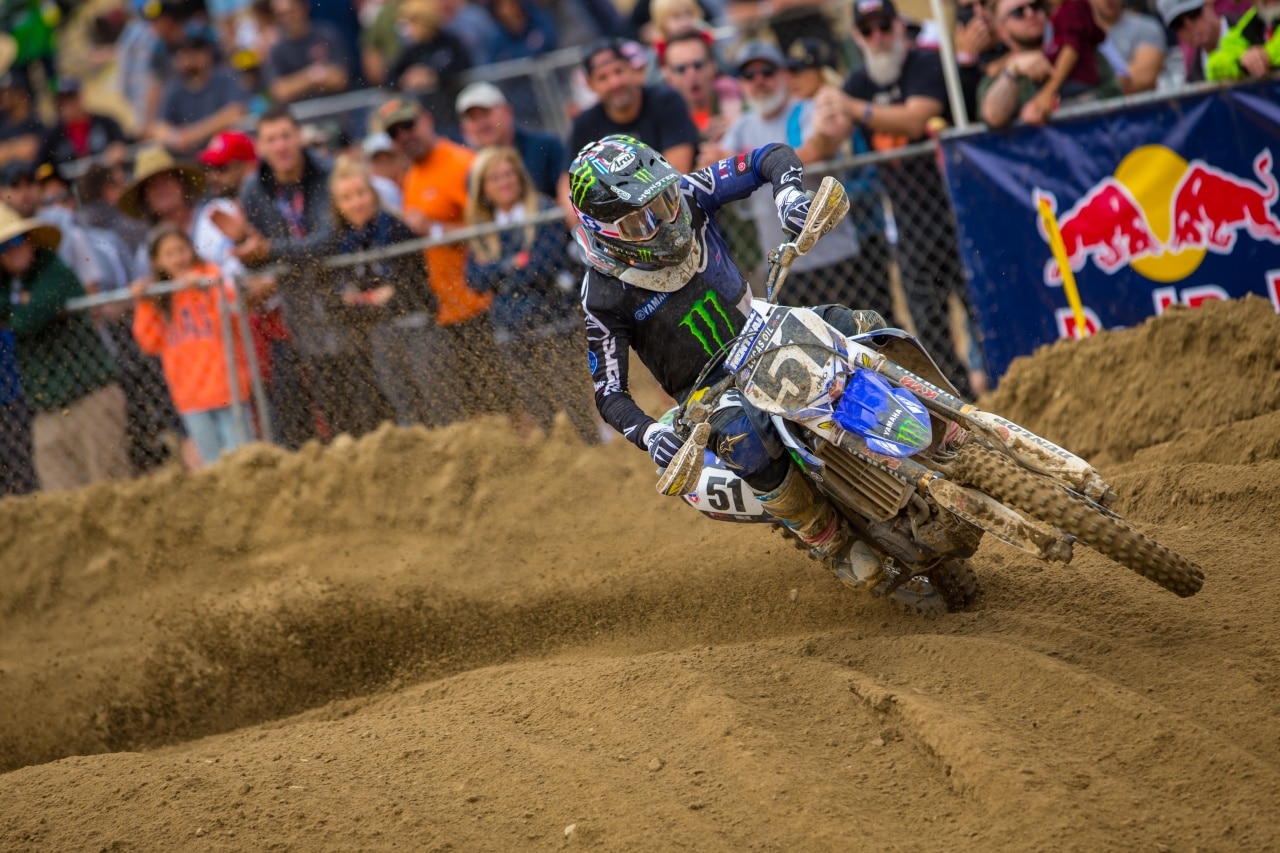 Justin Barcia: "Glen Helen was a challenging track, it was very difficult. I made it through the day and that's a positive for sure. The goal is to be on the podium every weekend but I came up a little short on that this weekend. I have a few little things I can work on at home and keep building but there were positives: I was fairly quick all day and the bike was good – we made some great changes because I struggled a little in the first moto and we went in the right direction with the changes for Moto 2, which is always nice. I felt comfortable on the bike and the track was a difficult Glen Helen, it's a gnarly one, so I'm glad I got out of here safe and healthy and didn't lose too many points."

Aaron Plessinger: "Glen Helen was pretty amazing for me. The second moto felt a little better than the first one, I actually got to pass some people and I won straight up. This is one of the few outdoor overall wins I've gotten and it feels great! Now we're tied for points and we're ready to go to Colorado and get a lead on them."
Garrett Marchbanks: "Other than being in the top 10, a goal of mine is to learn something every time I'm on the track. Everyone gets bad starts but it's how you come back that makes all the difference. With the bike we have, I am confident that we'll get a start here soon."
Austin Forkner: "It's good to get two motos in and run up front in the second moto. I was definitely sore, but glad to get through it with some positive things to take into next week. I know that if we can run up front when I am not feeling 100 percent, I should be able to do it when I get back to full health."
Jason Anderson: "This weekend was definitely better than last weekend. I qualified first, which was pretty cool. I started up front in the first moto but I got a little tight so I ended up fourth. I pulled a big holeshot in the second moto and led all the way up until two laps to go until I got passed by Tomac. All-in-all it was progress so it was a good day."
Zach Osborne: "Glen Helen was pretty good. I had a couple mistakes that cost me, and carried a bit of an injury in, but it was a decent weekend. I'm glad to get out of here unscathed and I'm ready to make my way to some good tracks."
Marvin Musquin: "It's a good result but I always want better and to win. I finally got a decent start in the second moto – I was fighting for the lead and Jason was riding really well. I was right there, but missing a little bit of speed and after halfway I lost the momentum, the feeling; and on that track if you're not on it, it will bite you. I had some sketchy moments and made some mistakes so I figured it was best to play it smart and safe toward the end. I'm a little disappointed finishing Moto 2 that way but I'm looking forward to the third round in the championship."
NITRO CIRCUS ATHLETE PHIL SMAGE NEEDS HELP AFTER SEVERE CRASH
Press Release: On Friday May 25th, Nitro Circus athlete Phil "Smagical" Smage was injured during a world-record UTV distance jump at the Brimstone White Knuckle Event in Huntsville, Tennessee. Thanks to the fast acting response from the Brimestone Recreations Medical Team and the Nitro Circus crew, Phil was safely aboard a life flight helicopter and on his way to University of Tennessee Knoxville Medical Center for further evaluation and treatment.
Road 2 Recovery has set up an R2R Cause for Phil that will help cover the cost of his medical bills and all other medical necessities that might occur. All donations made in Phil's name will be tax deductible. We would really appreciate you sharing this press release and help get the word out on Phil's Cause page. Thank you for your support.
#SmagicalStrong
Direct Link to Phil's R2R Cause page–www.road2recovery.com/cause-view/philsmage/
MOTOCROSS ACTION READER SURVEY: LET US KNOW WHO YOUR ARE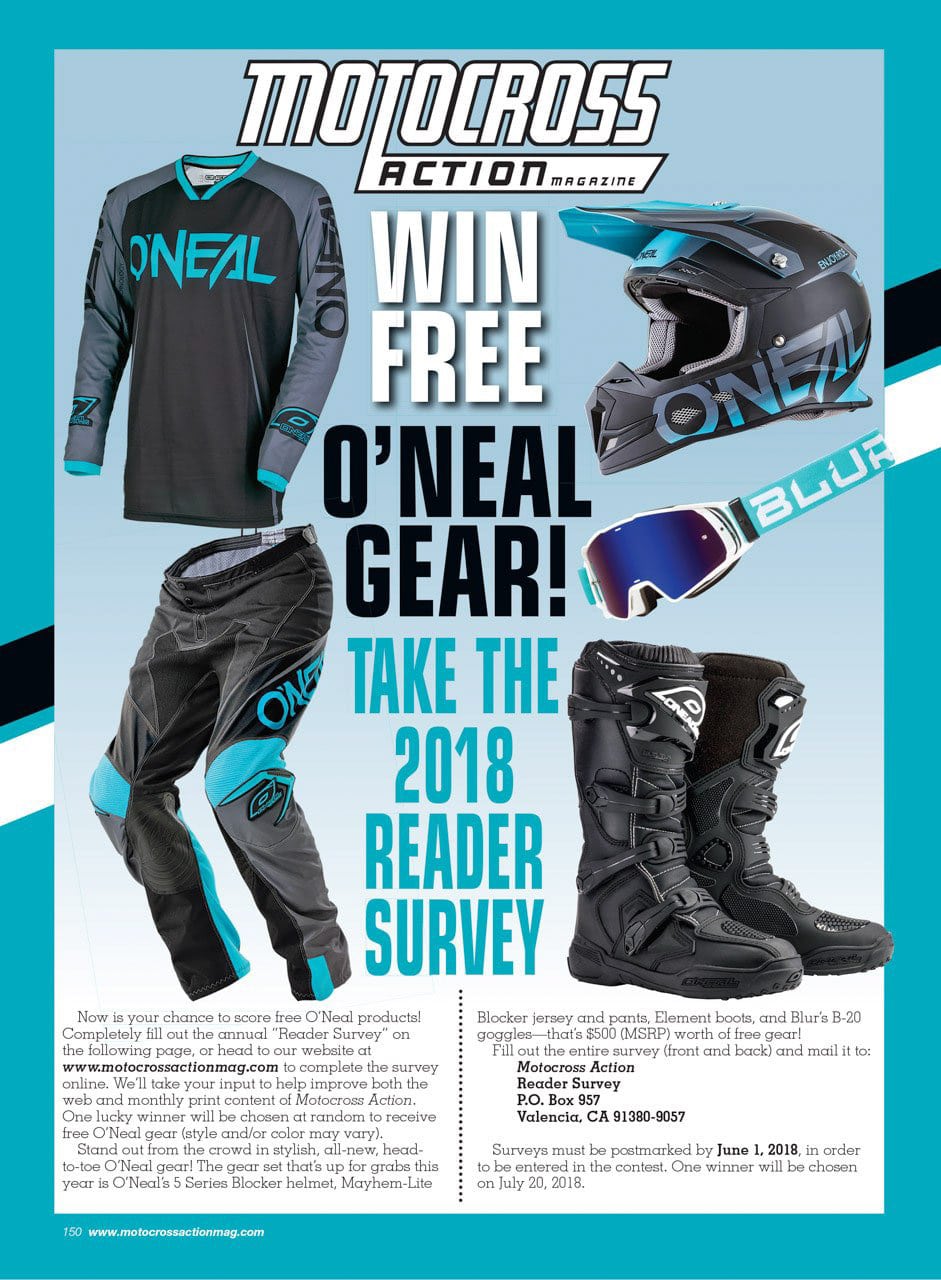 Make sure to take our detailed MXA Reader Survey so we can accommodate to you better.
POLISPORT PRO OCTANE UTILITY CAN
The Polisport Pro Octane utility can.
Polisport Pro Octane is much more than a regular utility can. This high-quality heavy-duty can is homologated to comply with ADR standards (valid for Europe), which makes it safe and legal to transport fuel on roads and not only for Off-Road use. The can is produced with highly durable and resistant walls and includes a leak-proof cap for transport. The cap has also an oil/fuel mix gauge so you can identify the fuel mix and, with the utility can, comes an oil mixer included.
The two-handle design was developed to make the filling process easy and effortless if you're using the Hose filling system or the Quick Fill Spout.
There are also some accessories available to use with Polisport's ProOctane: The Filling Hose + Cap, that will make the filling process easy, with a fluid stream of fuel. This system has an auto-stop device to avoid the spillage of fuel; Also available separately, the Filling Hose (without cap); and very soon; the quick Fill system for those who need an even faster pour rate.
CLASSIC PHOTO
Michael Brandes in 1999 racing the Glen Helen National on a Primal Impulse Suzuki RM125.
Moto Trivia answer: This photos is of the start of an Arenacross back in 2004. Number 16 in John Dowd and number 1 is Josh Demuth.