MOTOCROSS ACTION MID-WEEK REPORT
#WHIPITWEDNESDAY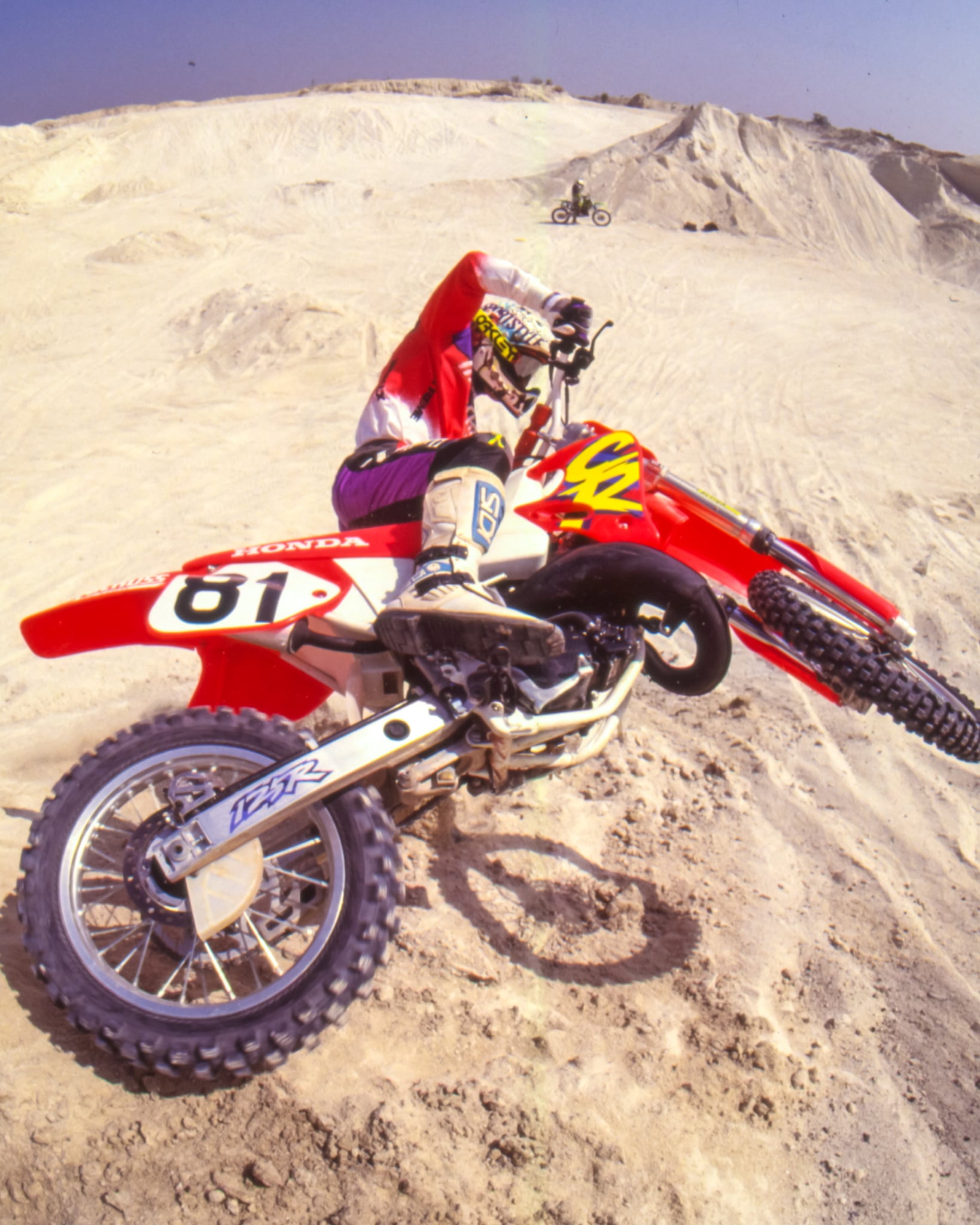 MXA test rider getting loose on the 1994 Honda CR125 at the White Sands riding area south of Corona, California. 
TWO-STROKE SPOTLIGHT: JAMES BENDER 2015 YAMAHA YZ125
Hey MXA,
This is my 2015 YZ125. I have the same condition as you guys, a YZ125 addiction. I have a KTM 350SXF as my main race bike, but this thing is for when I want to just hang it out and have fun. I bought her brand new and built it up before I even rode it. I didn't go over the top and do any engine mods. I just kept it simple and reliable. Here is a list of parts I used for the build:
–Pro Circuit pipe and carbon Shorty combo
-V-Force reed block
-Kite/Talon Wheel set
-Braking Rotors
-Michelin Starcross tyres
-Renthal Kevlar grips
-Custom Topline Seat cover
-Collective Family Graphics
-Hinson Clutch Cover
YZ125 PHOTO BLAST

TREY CANARD'S TEDX TALK
MXA | MOTO | TRIVIA 
Name the riders, event and year. Answer at the bottom of the page.
MXA'S FIRST RIDE OF THE HUSKY TC125 & TC250
QUOTE OF THE WEEK: TONY CAIROLI ON RACING THE PALA NATIONAL 
 
It was a nice ride, very, very fast and very, very sketchy, with hard bumps everywhere. I knew the nicest tracks of the season would come later, but I had the chance to ride the first ones, and I said, "Okay KTM." For the moment, we will stick with the plan of KTM. I would test for them which I really enjoy doing. I would consider doing more races if the results get better, but for the moment, my goal is just to enjoy this time with my family here.
WIN CODY WEBB'S 2023 SHERCO 2-STROKE // click the photo
MXPERTS // ARE YOUR WHEEL BEARINGS GOING OUT?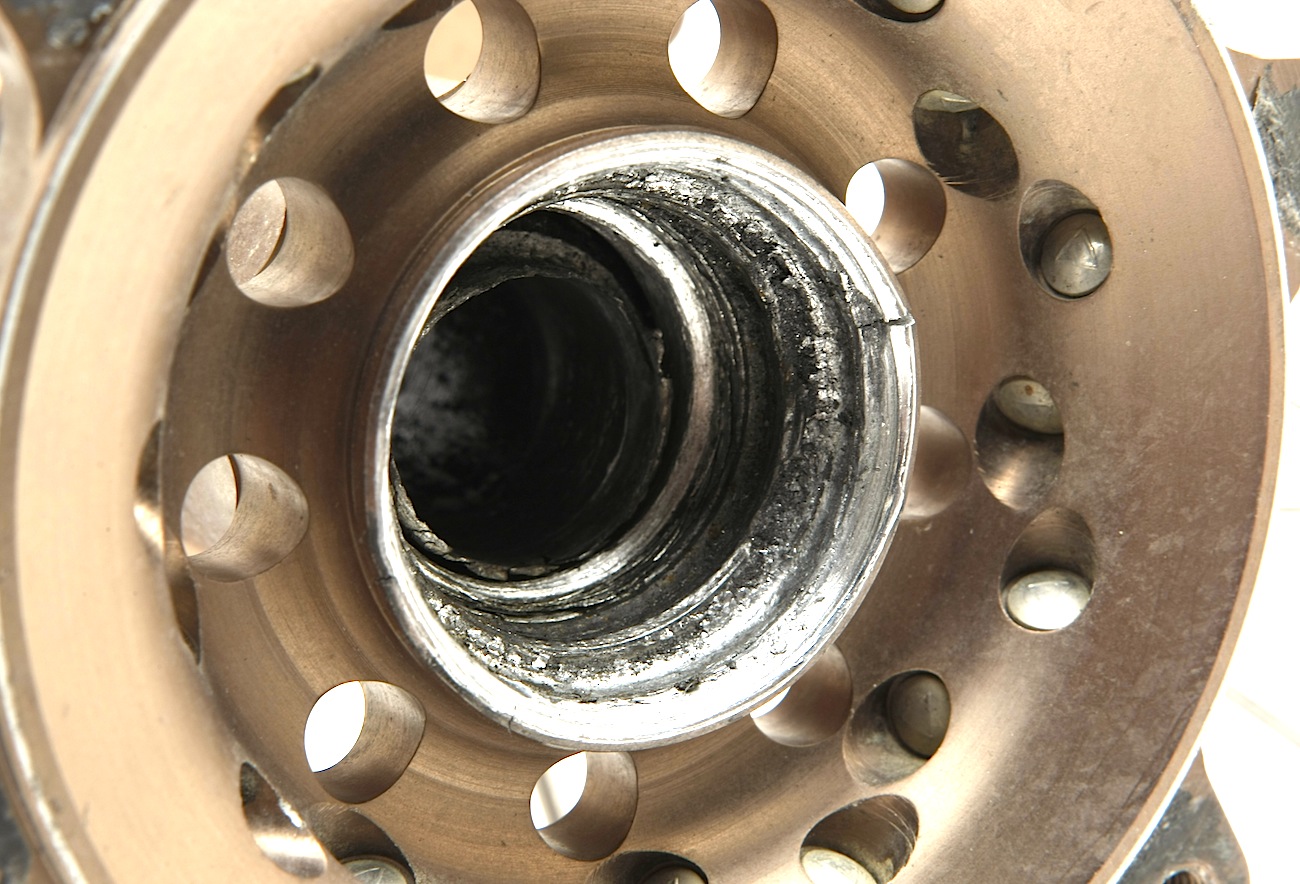 Dear MXA,
The other day as I was wiping down the rims on my RM-Z450 after washing my bike, I put my other hand against my fork to support myself when I spun the wheel. To my surprise, my forks were humming. It felt like a thousand little vibrations thrumming through the fork legs. I never felt this before, but I guess no one ever would. What causes it?
Beware! Your front wheel bearings are wearing out. They are creating the vibration you feel in the fork's legs. Sadly, checking bearing play is not high on the list of maintenance duties for most riders. Riders usually discover a bad bearing when the front wheel starts to wiggle from side to side or make scrunchy sounds when it spins. You are lucky that you caught it before it caused a problem. In the future, you can check for bearing looseness by grabbing the wheel's rim while stabilizing the bike and applying side-to-side (axial) force to check for play. There should be less than 1/16th of an inch of side-to-side movement. An additional telltale sign is roughness when spinning' which is what you are feeling as feedback through your fork legs.
Believe it or not, there is a very low demand placed on the wheel bearings of a motocross bike. A typical wheel bearing is rated for 19,000 rpm. At its maximum rpm and maximum load, a wheel bearing should rotate for one million revolutions, which is over a thousand miles. At 60 mph, a 21-inch wheel (including the tire) is only spinning at 960 rpm. That same bearing is rated for a 30,000-pound load. Suffice it to say that it would require a large rider and a very big jump to reach the load limit of the bearing. High school physics leads to one important conclusion: the bearings in a wheel don't wear out due to the forces imposed by motocross conditions; they wear out from the intrusion of grit and grime. In many ways, the quality of the seals is more important than the quality of the bearings. Change your front wheel bearings and check them regularly.
LOST BUT NOT FORGOTTEN: THE INFAMOUS 1998 HODNDA CR125
TEAM TESTED // O'NEAL HARDWEAR GEAR
For years O'Neal Hardwear gear had a reputation as the most durable motocross gear on the market, but it wasn't as lightweight or flexible as test riders would have liked. The all-new 2022 Hardwear gear has a great balance of performance, light weight and durability.
VERDICT: The new 2022 O'Neal Hardwear gear is the most comfortable Hardwear gear ever. It's lighter and more flexible while still maintaining the strong and durable chassis that it has been known for. Its best feature is its 360-degree Velcro belt that wraps around the waistband to ensure a snug fit.
DIGITS: $54.99 (jersey), $189.99 (pant)— www.oneal.com or (800) 426-3300.
PRODUCT SPOTLIGHT: ACERBIS METALLIC TEAL FULL PLASTIC KIT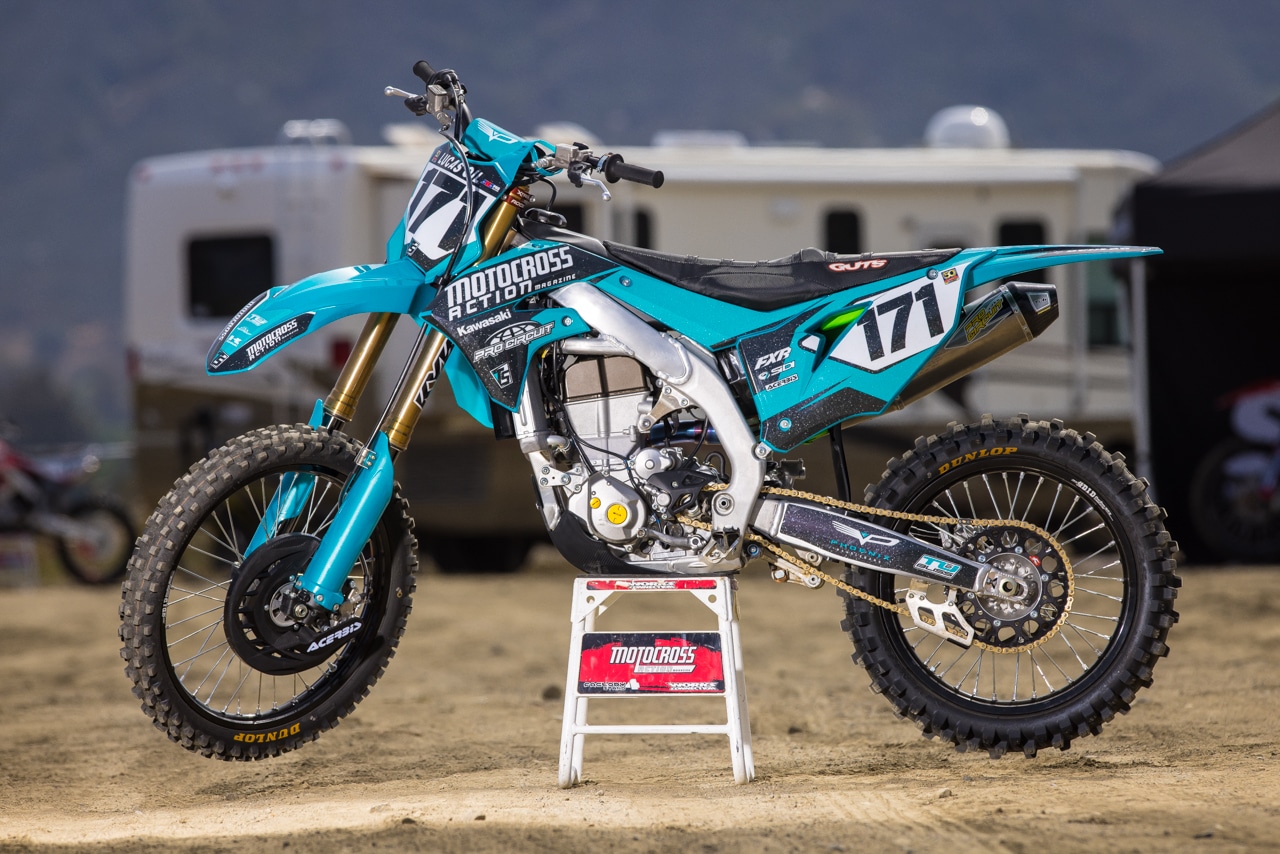 MXA's 2022 KX450 with the Acerbis Metallic teal full plastic kit. 
MXA's Josh Mosiman set out to race the Pala 450 National on a Honda CRF450WE Works Edition and the Hangtown 450 National on a Kawasaki KX450SR Special Racer. Last year at the final 450 National the 2021 series Josh raced a box-stock KTM 450SXF—just to prove that a rider could race a stock bike and qualify in the "Fast 40." This year, he wanted to race the two Japanese-built Limited-Edition machines, the WE and the SR, as part of the test to see how they would perform. Instead of being on a stock bike, like last year, he had the suspension beefed-up and Pro Circuit exhaust systems added to make him a little more comfortable.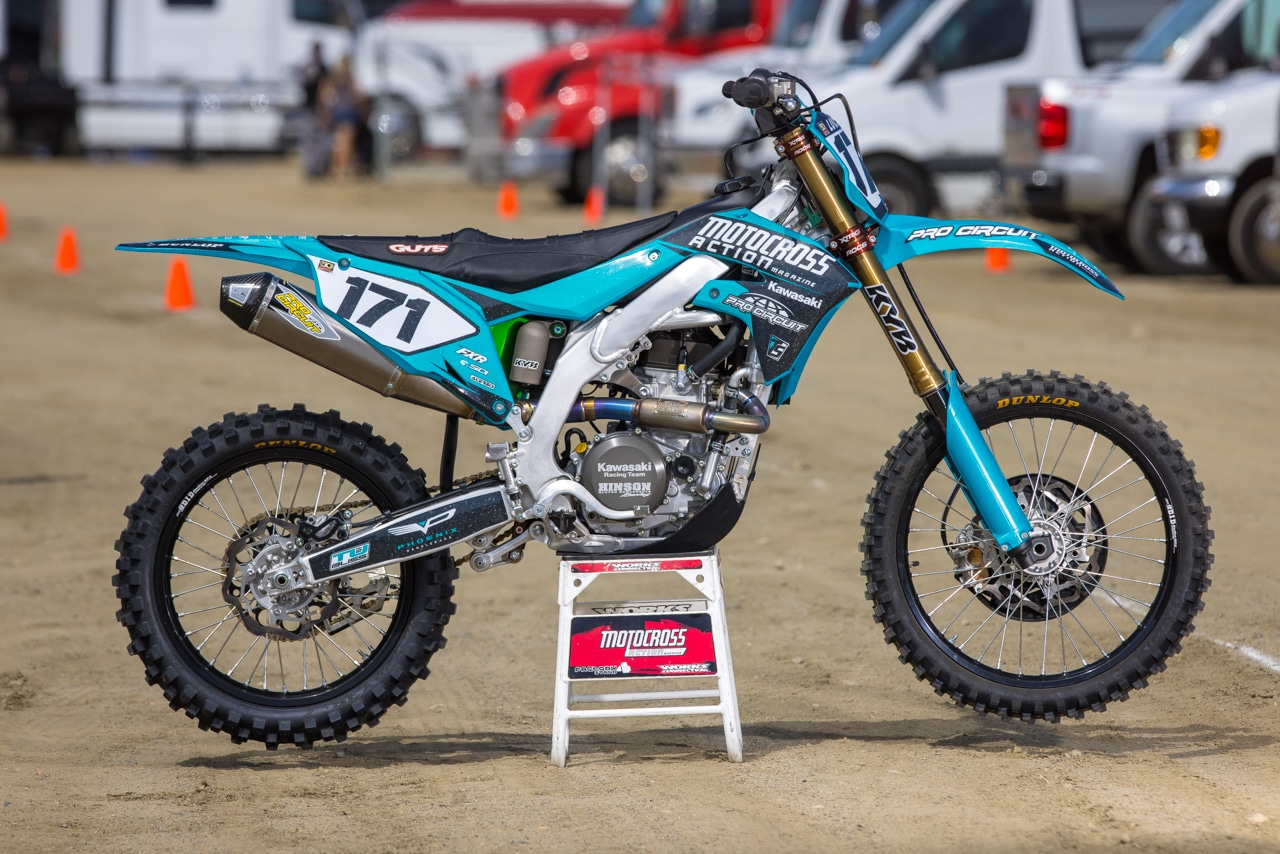 Here is the other side of Josh's back-up KTM 450SR. The photos don't do the plastic justice. The metallic sparkles in the plastic person are eye-catching. 
MXA also gave Josh back-up bikes, mainly to steal parts off, if needed. At Pala, the CRF450WE engine suffered a terminal problem in qualifying and Josh had to use the back-up bike, not for parts, but for both motos. The back-up KX450SR sat unused, but it did attract a lot of attention with its metallic teal Acerbis plastic kit gleaming in the sun. MXA added Throttle Syndicate graphics in the same shade of metallic teal. For those that don't know, teal is a blue-green color that changes color whether in the sun or shade. You can order it from Acerbis at www.acerbisusa.com or your local dealer. The retail price is $175.00 for the full kit (fenders, radiator wings, side panels, front number plate and fork guards).
CLASSIC MXA PHOTO
Travis Preston in 2000 racing at the Glen Helen National on the DeMarini Suzuki team jumping next to the Italian factory Husky rider Alessio Chiodi.
MXA TRIVIA ANSWER: Riders from left to right: David Pingree (46), Casey Lytle (57), Shae Bentley (1), Matthieu Lalloz (989), Greg Schnell (30) and Ernesto Fonseca (25) at the season opener at Anaheim in 2001.