MOTOCROSS ACTION MID-WEEK REPORT
#WHIPITWEDNESDAY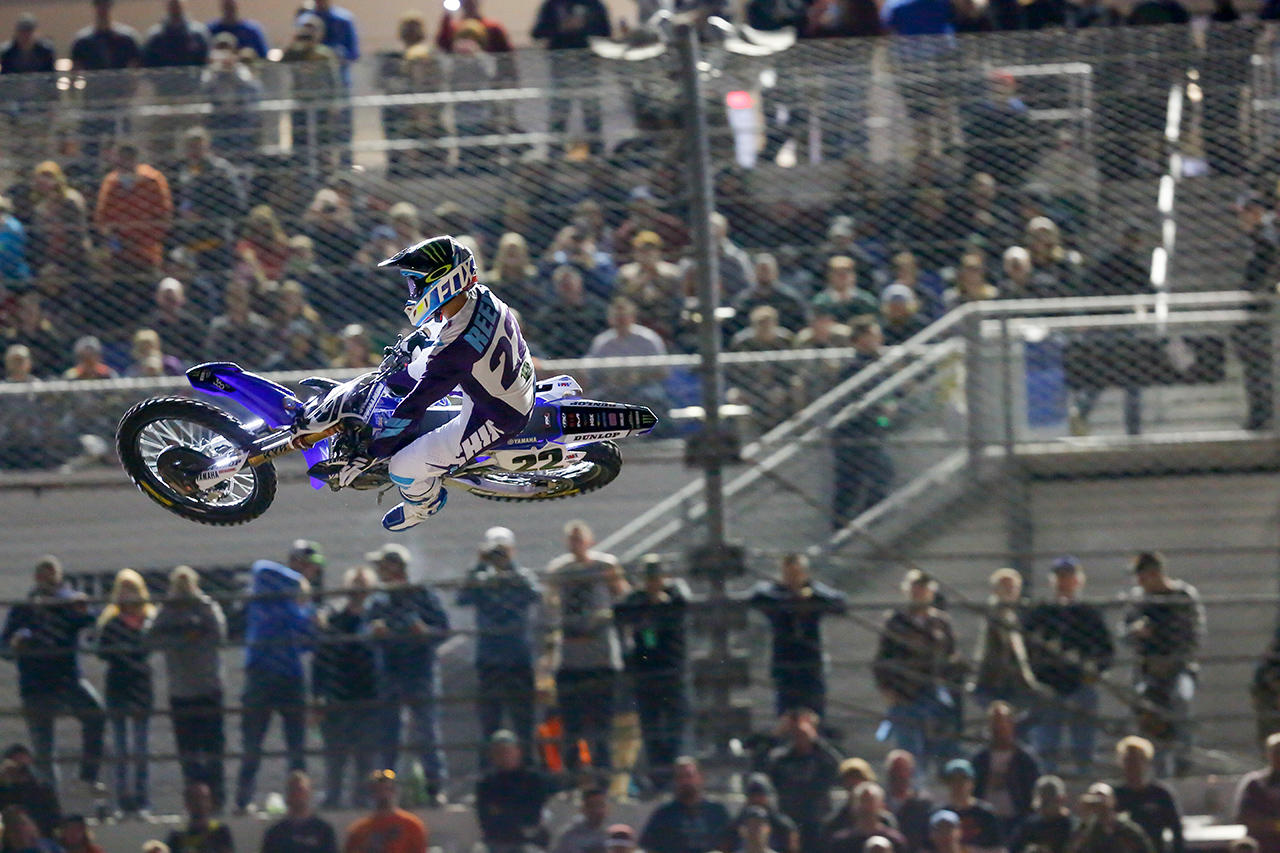 Chad Reed at the 2016 Daytona Supercross. 
MXA TWO-STROKE SPOTLIGHT | DOUG STOUT'S 2001 SUZUKI RM125 RETRO MOD
"This is my 2001 Suzuki RM 125. It has 1992 retro graphics on modern Polisport plastics.  I call her the "RETRO MOD".   Suzuki RM = "R"etro "M"od. Get it.  The bike was torn completely down.  Frame, sub frame and swing arm was powder coated.  I went on to powder coat the brake calipers, spring, swingarm linkage, and brake slave and masters.  This bike has "ALL NEW" everything except the bottom end.  All new bearings everywhere, new brake master and slave kits ect. The suspension is all rebuilt and fresh, front and rear.
"I worked with Made graphics in Sweden to do the custom touches on the graphics.  I designed the "Retro Mod" logo and had them put them on the graphics. Notice how the "R" and the "M" in the retro mod logo matches the RM on the shroud decals.  Sweet! Like I said, my design.  I also designed the radiator louver decals and had them custom made by Made graphics.  Tone of gold aluminum aftermarket parts round off this beauty.  I even put "AN" fittings on the water hoses. Nobody does that!!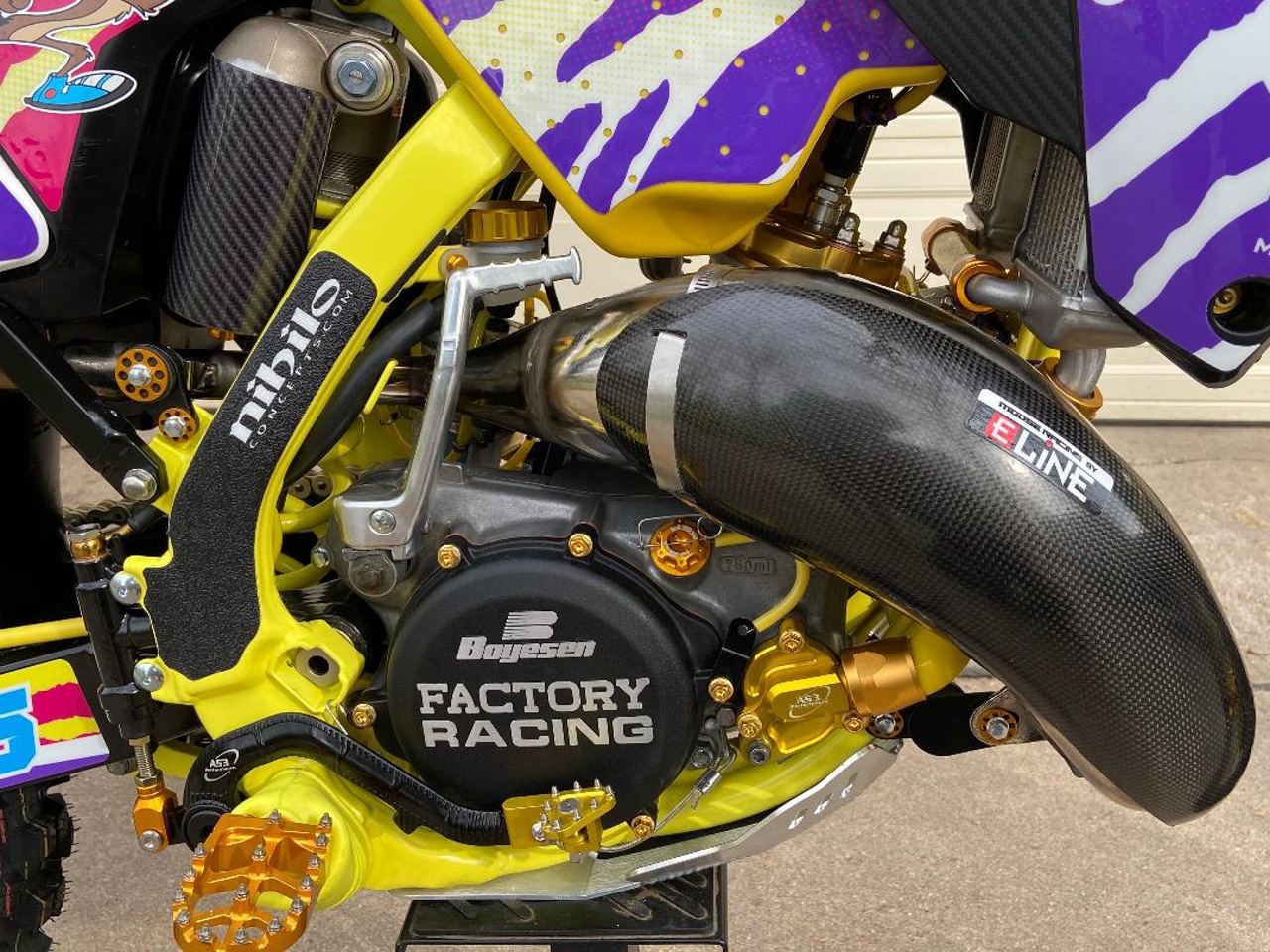 If you reference the poster board I sent, it says the major components that went into this build.  I held back nothing, down to the yellow hoses with purple wire ties. I even put the wiring in yellow wire loom. Nobody does that!  Dumped a ton of cash into this build. I started it at the beginning of the Covid quarantine for something to do while trapped at home. It kind of got away from me. It turned into "dirt bike enters art form".  Well enjoy the pics. I know you will.
EDITORS NOTE: Please keep those submissions coming. If you would like your bike to be featured in the "Two-Stroke Spotlight," please email me at [email protected]. All I ask is that you give a breakdown of your bike and a detailed description of the build. Please also send a few photos of your steed. By submitting your bike for the "Two-Stroke Spotlight," you agree to release all ownership rights to the images and copy to MXA.
MXA | MOTO | TRIVIA 
What past MX/SX champion is lauching a trophy truck over a Supercross finish line. Also can you name the location? Answer at the bottom of the page.
MAX ANSTIE SIGNS WITH FIRE POWER HONDA
Max Anstie.
Max Anstie said: "Being competitive is always my priority and I know that Fire Power Honda can give me what I need to chase my goals in the USA. The first month with the team has been great and I cannot wait to get behind the gate at Red Bud. It will be a great opportunity to show just how much work we have done!"
Fire Power team manager Martin Davalos said: "Max was on our radar from the very start – his success in Europe speaks for itself. Winning his class at the Motocross of Nations speaks to his talent and potential. Providing a platform for him to succeed in the United States is our priority now. We are entering the next three rounds of Pro Motocross with realistic goals, yet we know that he has already got the speed to be comfortably inside of the top ten."
MXA'S RIDES A NEW-AGE 1994 HONDA CR500

QUOTE OF THE WEEK: SHANE MCELRATH ON HIS UP'S AND DOWN'S 

I feel like everything happens for a reason, but obviously it is hard to lean on that when you are going through rough time. Looking back now, I would not change a thing because I love to learn, grow, and with where I am at now, everything I have been through is necessary. I don't really see it as "oh that should not happen, or I should not have gotten hurt."  All that stuff comes with that territory.
MXA MINI TEST: LUXON MX GEN2 SPLIT TRIPLE CLAMPS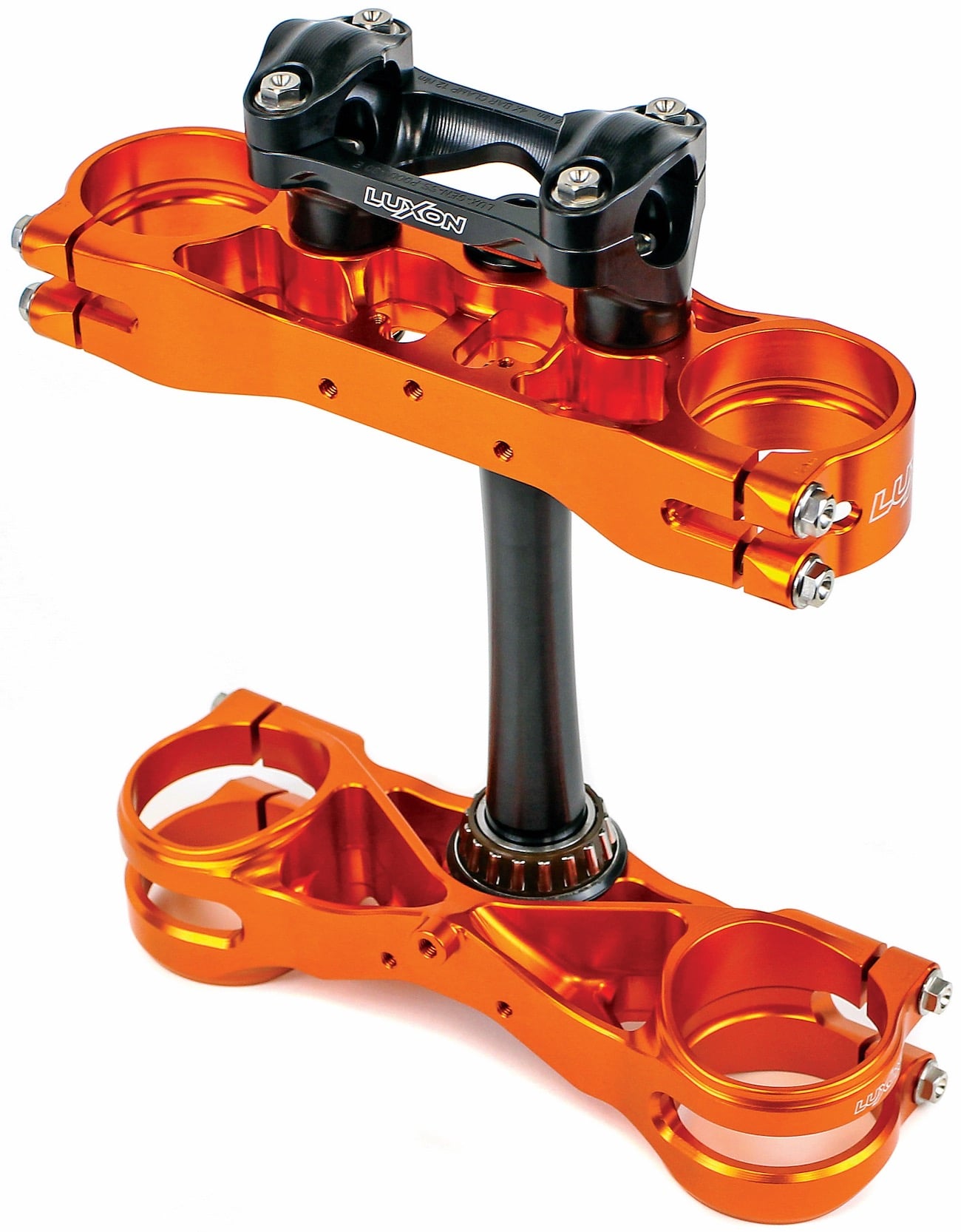 Luxon MX clamps come with the stock 22mm offset and are compatible with the stock bar mounts; however, we used the Luxon MX anti-twist bar mounts for this test. Luxon claims that its Gen2 clamps are stiffer in torsion, stiffer vertically and more flexible longitudinally.
VERDICT: On the track, the CNC-machined Luxon clamps feel precise and predictable. The MXA test riders didn't feel that the KTM clamps were harsh at any point until we tested them back to back with the GasGas clamps, which are much more flexible. Overall, the Luxon MX clamps improved comfort when hitting braking bumps without sacrificing precision in corners as the stock clamps do.
DIGITS: $699.95 (triple clamps), $879.95 (with Luxon bar mounts)—www.luxonmx.com or (858) 586-1100.
MXA TESTED // 2022 KAWASAKI KX112 
RACING TIP OF THE WEEK // CONCRETE STARTS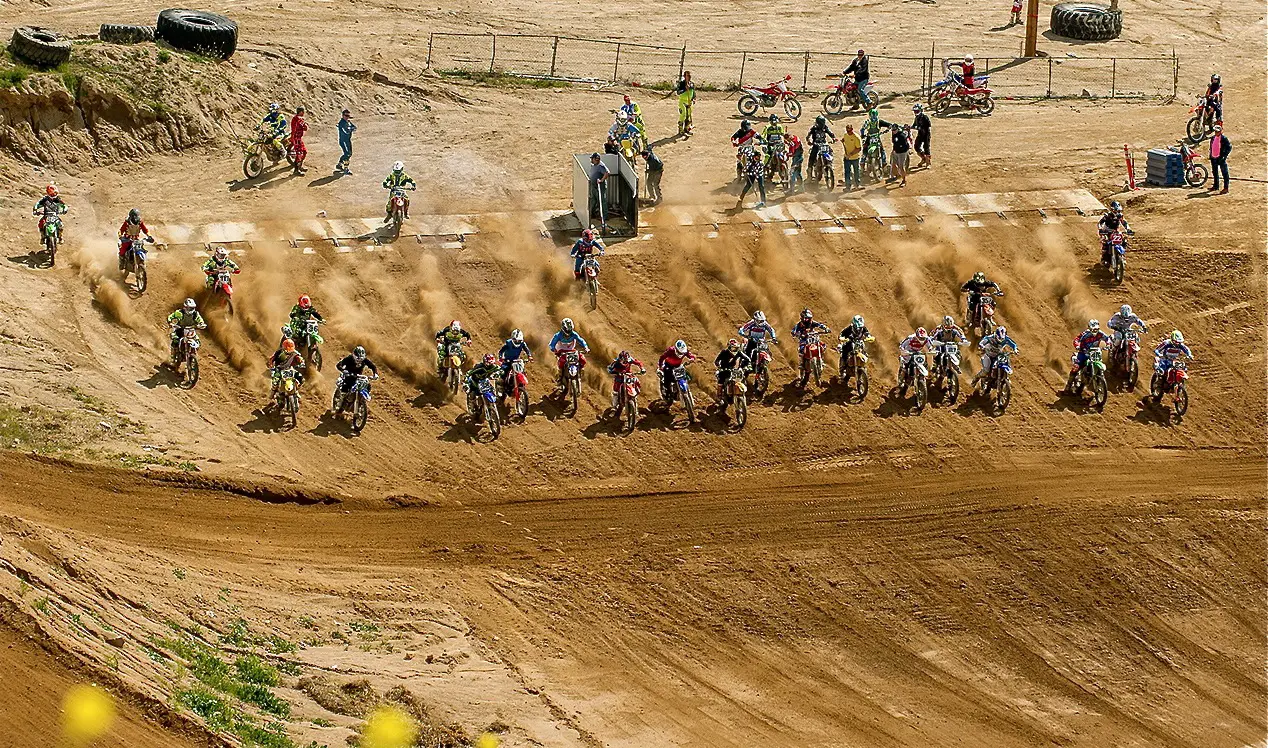 RACER TIP: The amount of traction you get can depend on the rear tire you're using. Different rubber compounds, tread patterns and tire widths make a difference in how much traction you get. The greater the rear tire's contact patch (120 versus 110), the more likely you are to get a solid launch (an example would be a street bike tire versus a dirt bike tire); however, the rubber compound has as much to do with getting bite on concrete as the tire width. Sand and Intermediate-compound tires have harder rubber than hardpack tires. Harder rubber compounds are more likely to spin than tackier, softer rubber. Most inexpensive tires on the market use harder compound rubber to increase durability. If you make specific choices for a concrete start, they may not be optimum on the actual racetrack. You wouldn't want to use a softer-compound hardpack tire for the start and then have to hunt for traction in loamy dirt. You also wouldn't want to use a wider 120 rear tire for the start and then struggle in ruts because of the tire's squarish profile.
WIN CODY WEBB'S 2023 SHERCO 2-STROKE // click the photo
MXA INSTA CLIP // MARVIN MUSQUIN TALKS ABOUT WHY HE IS RIDING A HUSKY 
COOPER WEBB EXTENDS KTM DEAL THROUGH 2023
Two-time 450 Supercross Champion Cooper Webb has put pen to paper, inking a deal with the Red Bull KTM Factory Racing team that extends through the 2023 race season. Webb's extended contract also includes the option to head outdoors for the AMA Pro Motocross Championship. Cooper Webb said, "I am excited to continue my relationship with the Red Bull KTM Factory Racing team and I'm really looking forward to going after a third AMA 450 Supercross Championship together next season!"
Entering his fifth season with the Red Bull KTM Factory Racing team in 2023, the North Carolina native has achieved great success aboard the KTM 450SXFand the team looks forward to building on that success in future seasons.
CLASSIC MXA PHOTO
Mike Brown in 1995 on a Honda of Troy CR125. 
MXA TRIVIA ANSWER: Ricky Johnson when he launched his trophy truck at half-time at the San Diego Supercross. Photo by Frank Thomason