MOTOCROSS ACTION MID-WEEK REPORT

#WHIPITWEDNESDAY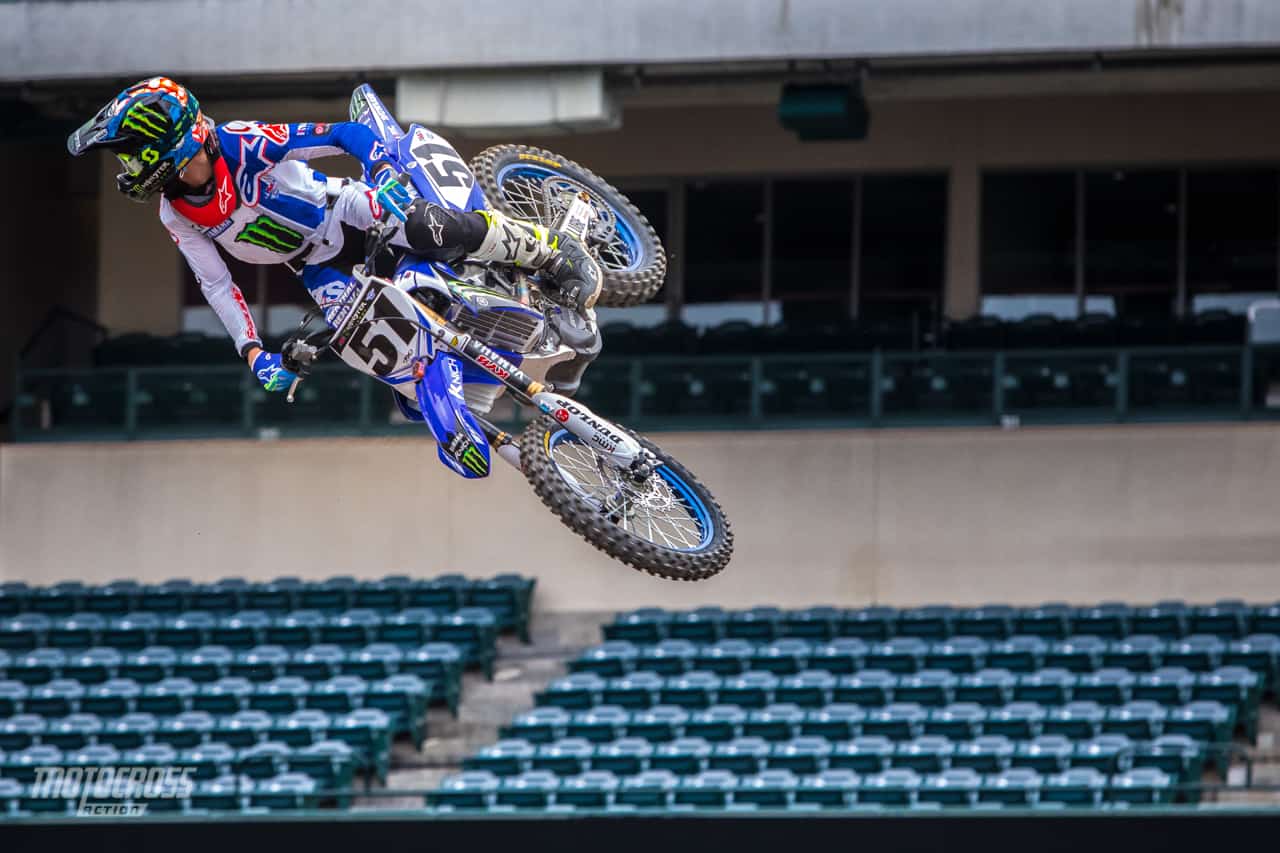 Rider: Justin Barcia
Date: January 19, 2018
Event: 2018 Anaheim 2 Supercross Press Day
Photographer: Daryl Ecklund
Lens: 70-200mm f/2.8
Focal length: 200mm
Exposure: 1/1250sec
F-stop: f/4.5
ISO: 1600
TWO-STROKE SPOTLIGHT: DAVID FRANCIS' HONDA CRF250 MADE INTO A CR250
This is a 2007 Honda CRF-X chassis with a 2004 CR250 two-stroke engine shoehorned in.

"I built the bike purely for off-road Hare Scrambles where I compete in the FTR series in Florida in the "Silver Master A" class. It started out as a 2007 Honda CRF-X roller chassis picked up locally, but now with a 2004 CR250 two-stroke engine carefully fitted after cutting away and replacing the lower frame tubes and re-welding in the Y frame section.
This was one of the most difficult builds I have done, the hardest part was relocating the electronic power valve servo underneath the seat/tank (using a split-in-2 throttle cable to connect it to the RC valve) all this to clear the larger X gas tank!
The electronic power valve servo had to be relocated to make enough room for the bigger X tank.
The bike was built to very high standards. Everything was either replaced or refurbished and nearly all of the fabrication was done by myself. With the 18" rear wheel and softer suspension the bike handles just how I wanted it to on our choppy, sand, whooped out trails.
The complete build cost around $5000 to build.
With over $5K invested, this was a "bargain" compared to similar new bikes, plus wherever it gets parked, it drawers a crowd and some nice comments.
Thanks! I have been a reader of Motocross Action since 1974!'– David Francis Fort Lauderdale Florida
Editors Note: Please keep those submissions coming. If you would like your bike to be featured in the "Two-Stroke Spotlight," please email me at [email protected]. All I ask is that you give a breakdown of your bike and a detailed description of the build. Please also send a few photos of your steed. By submitting your bike for the "Two-Stroke Spotlight," you agree to release all ownership rights to the images and copy to MXA. Please don't email me spam or try selling me Taylor Swift concert tickets or email me spam. Happy submitting your smoker.
THEY SAID IT | ANAHEIM 2

 & THE TRIPLE CROWN FORMAT


Weston Peick:
"The new Triple Crown format was definitely interesting. The pace was crazy fast in the first main of the night, with everyone basically sprinting to the finish. The night came down to getting good starts, and my Suzuki RM-Z450 was awesome. I wouldn't want the Triple Crown to be an every weekend deal, but it's something cool to throw into the mix every once in a while. In my opinion, the track was way too easy for everyone. So many guys were doing the same rhythms, and the track was really fast. They could have done a better job with the design in order to separate the riders out."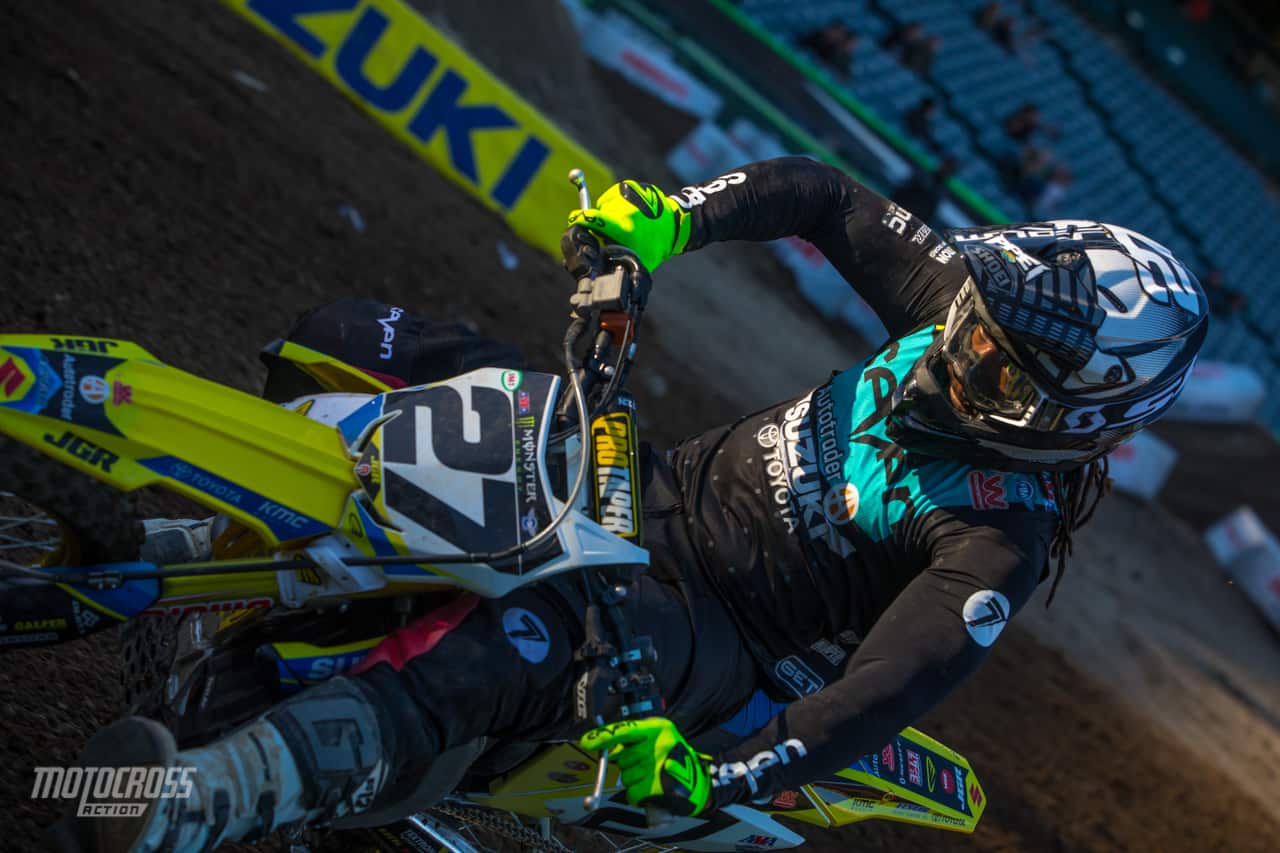 Malcolm Stewart: "Overall, the day was great! I had a lot of fun. The Triple Crown was very interesting. I knew that it would provide good racing, because nobody had done it before. I got 11 th overall after the night was over. It was good for me to have more gate drops, so I could get used to the Suzuki RM-Z450 and raise my intensity level. I couldn't be happier with how I'm riding, given that Saturday night was only my fifth time riding the RM-Z450. We will keep moving forward and focus on making more improvements next week."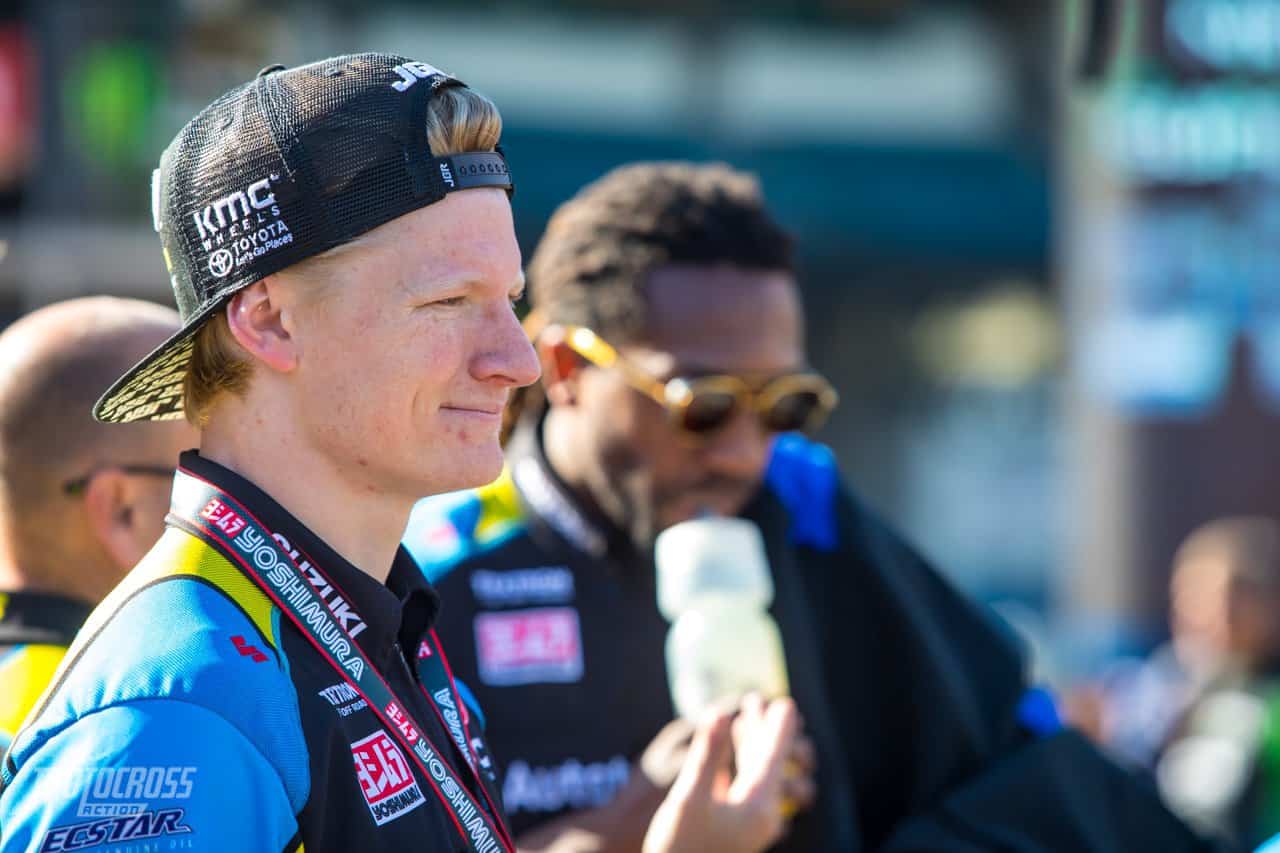 Justin Hill: "Truth be told, I actually felt really good in comparison to Houston last weekend. I think I could have put in a really fast lap if I would have gotten a lap in qualifying where the track wasn't so hectic. The Triple Crown format made starts all the more crucial, but I was awful off the gate. This week I'm going to work on bringing more intensity, so that when I'm racing I feel better out of my comfort zone. I'm the type of rider who likes to feel dialed, which can be good or bad. The tracks haven't been very tricky so far this series, so I need to bring some raw heat to the races. I was better this weekend and things are beginning to click.
I don't feel like I belong where I have been finishing, so I'm going to work on raw speed to get up in the mix. We'll get it figured out.
Marvin Musquin: "Tonight was tough. The plan was to take it session by session today and that's what we did. We qualified 2nd fastest and made it through the first and second races so that was good. Starts were everything on this track but I didn't make the most of them or put myself in a place that made it easier, especially considering I'm battling a shoulder issue. And battling mid-pack only made things harder. By the third race I just didn't have it to hang in there for the entire race. Not going to lie, my shoulder is very sore but given Thursday I didn't even know if I would be able to race, I'm happy salvaging 10 points and will keep working on helping my shoulder heal this week to see where it's at by Phoenix."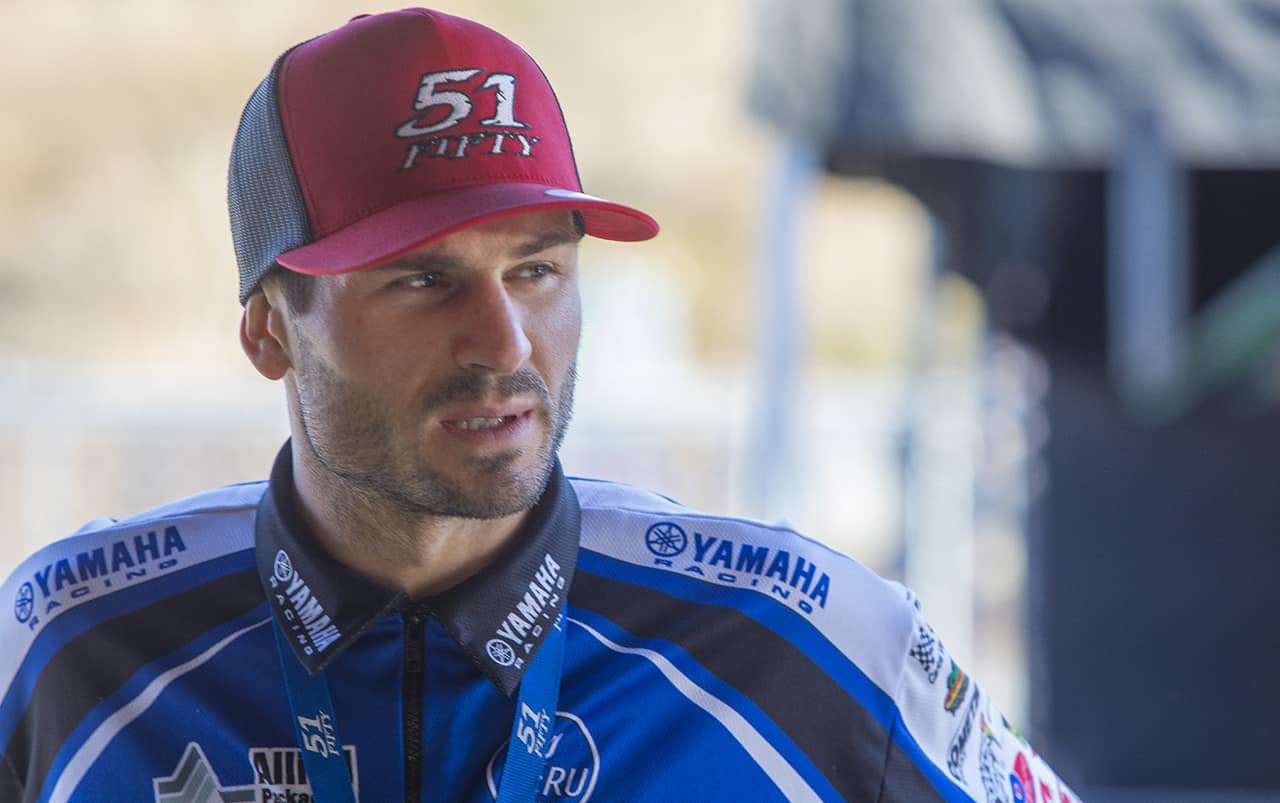 Hayden Mellross: "I had a great week of training leading into Anaheim 2 and was feeling awesome on the bike all day. I felt with 3 solid starts I could run up front with the top guys. I'm extremely happy with 7th but I know I have more to offer."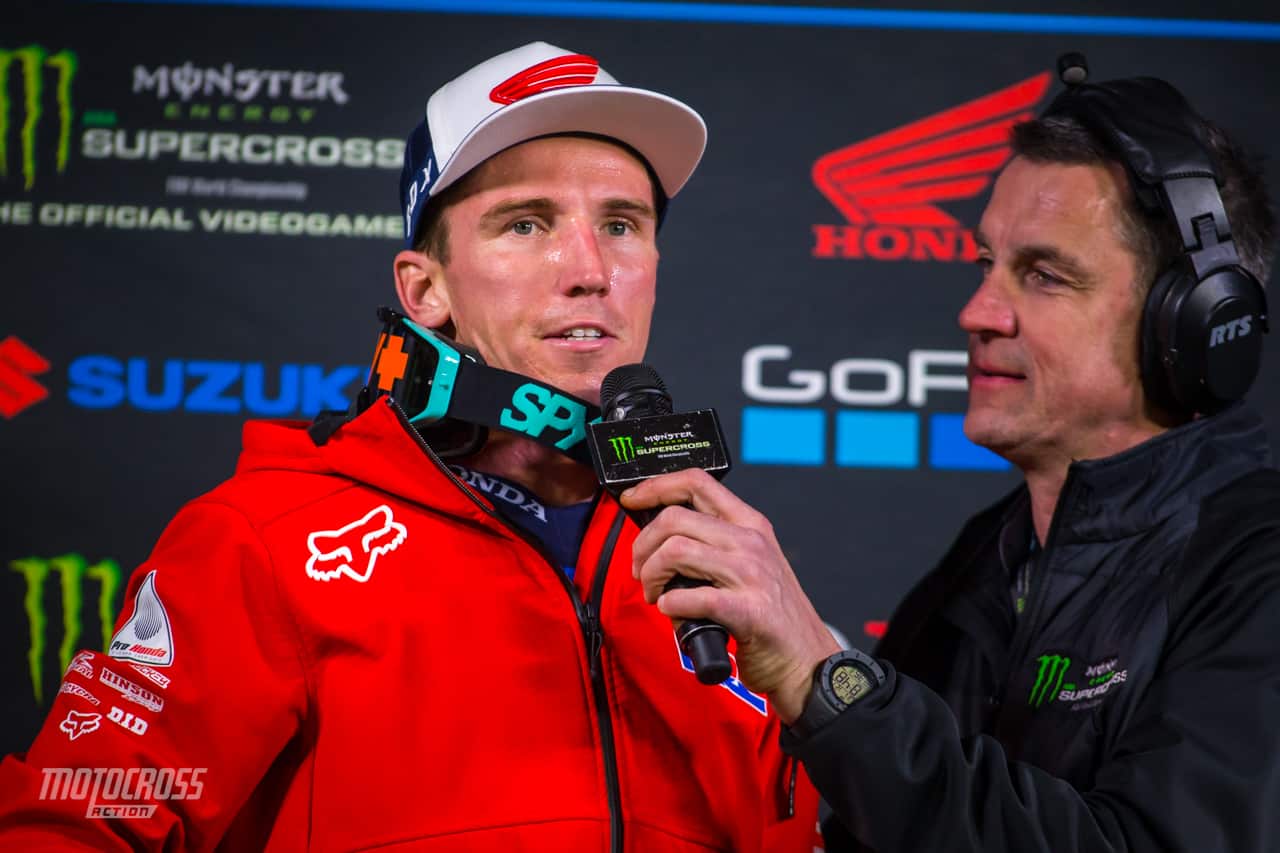 Cole Seely: "It feels great to be back on the podium. Leading some laps in the first race definitely helped boost my confidence, but I was happier with the way I rode in the second main event. Eli Tomac was going fast so to be able stick with him and almost challenge for the lead before making that mistake was huge. I was definitely feeling a little pressure on the gate of the last race because I just needed that last bit to close the deal. I knew I was riding really well in the first two mains, but sadly my start in the third race got me. Weston Peick kind of came over on me down the start-straight, so I got shuffled back and came around the first turn in around 14th. It was hectic coming through the pack. I ran out of steam in the end and wish I could've pushed forward a little more and made a few more passes. It had the win in my grasp and was so close."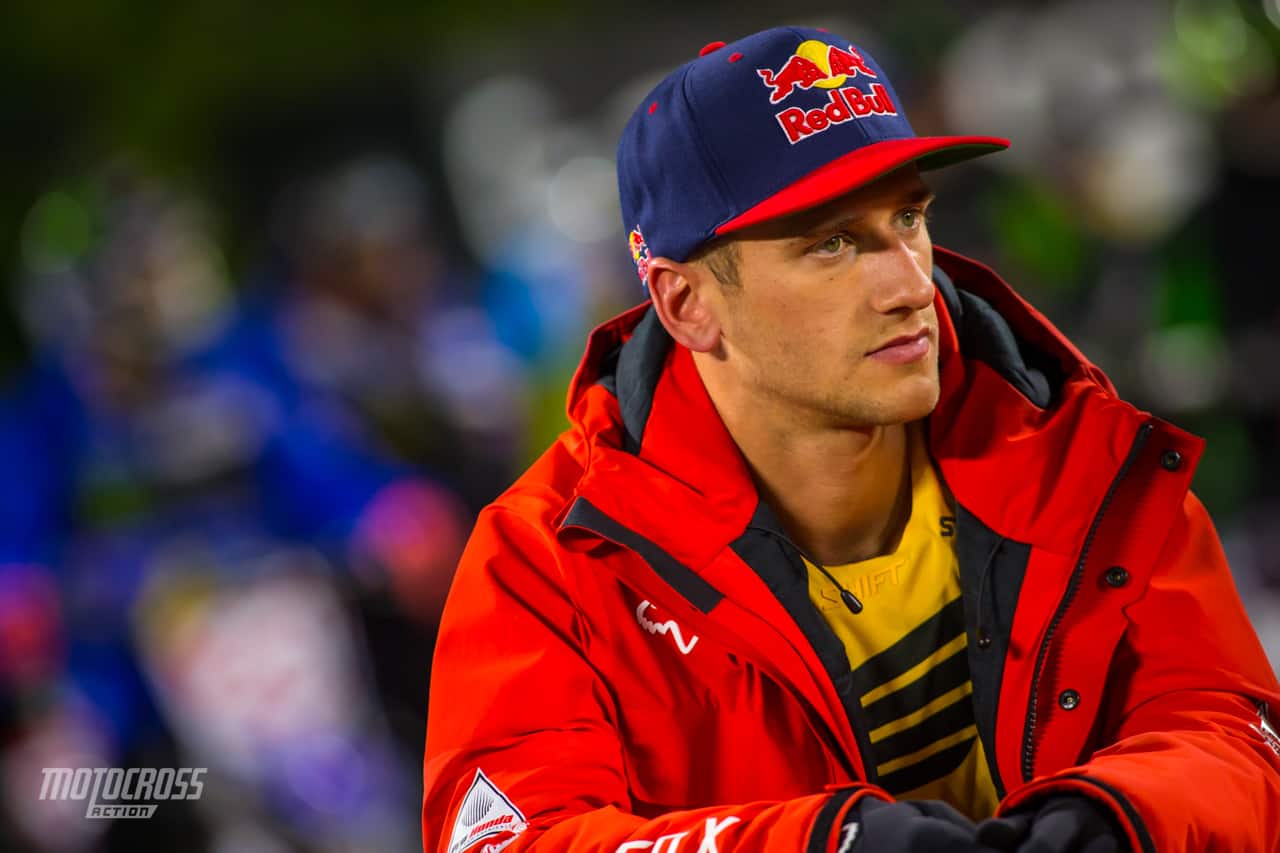 Ken Roczen: "Tonight was very interesting. It's Anaheim 2, which is obviously where I crashed and even though I tried not to think about it at all, it lingered subconsciously in the back of my mind. I didn't feel like myself at all out there. I was riding bad and couldn't seem to do anything about it. I went into the first main, got a bad start, felt terrible on the track and basically went backwards. That definitely wasn't the plan but the worst part was, I had two more to go [laughs]. Even though I didn't feel good, it was great to just finish it and get this one off the checklist. It was big night and obviously, it could've gone worse—as we saw here last year. We're walking away from here super healthy and looking forward to next weekend's race. All in all, it's a tough pill to swallow as a rider because I want to win or at least battle for the win. It for sure wasn't there today though. I want to move on, forget about tonight and start looking forward to the next one."
Joey Savatgy: "Starts were pretty critical with this format and we were able to get three really good ones. The win feels really good. It's been a long road to get back here and we've put in a lot of work. I've been in this position before (holding the red plate) and I just need to find a flow and focus on staying consistent."
Adam Cianciarulo: "It was a rollercoaster day, but I'm glad I was able to put in three solid motos. I finally started feeling really good in that third moto and chipped away at the lead. I was so close to getting on the podium, which is great after having a rough practice session with the crash."

Shane McElrath: "I had a lot of fun out there. It was crazy with the different format and I had to fight for that last one (main event finish). This season has had a lot of injuries and I'm just thankful to be here and healthy. I didn't realize right away that we got the red plate back, but I will do my best to hold on to that next weekend."
RETIRED FACTORY MECHANIC JON MITCHEFF'S TRICK 2013 YAMAHA YZ250 FOR SALE–$7000
This YZ250 is race ready. Mitch Payton ported head and cylinder, PC pipe and carbon fiber silencer, Pro Circuit revalved suspension carbon fiber tank, black powder coated frame and swingarm along with much, much, more.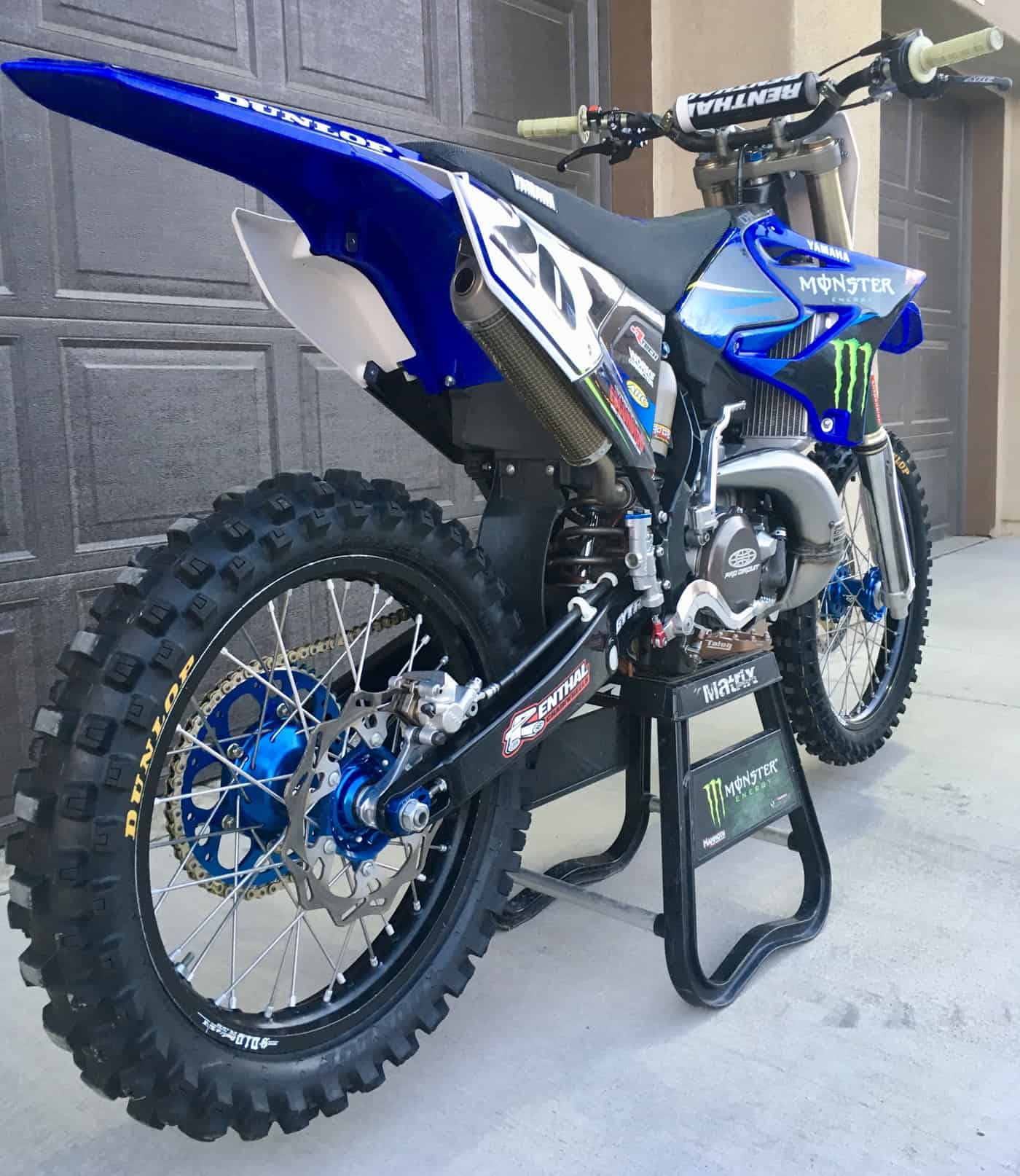 Contact Jon by email ([email protected]) or by phone (949) 244-2753.
NITRO CIRCUS GOES NEXT LEVEL WITH ALL-NEW MOTO SHOW
The Most Action-Packed Event on the planet is back, bigger and crazier than ever before.
Nitro Circus, the global youth entertainment phenomenon, returns to North America this year with the epic Next Level Tour. This spectacular brand new production, an all-moto adrenaline-rush, will have death-defying tricks, jaw-dropping world firsts and absurd stunts. It all adds up to a thrilling show simply too big to fit indoors. The Next Level Tour launches in mid-May, just in time for summer, and will visit over 10 cities across the continent through June.
Tickets for Nitro Circus: the Next Level Tour go on sale starting Friday, January 26 and are available at nitrocircus.live. A full list of tour dates is below.

Brainchild of Travis Pastrana – global superstar, action sports icon and Nitro Circus ringleader – the Next Level Tour features the best athletes in action sports taking on the biggest ramps in the world. The Nitro Circus design team has put it all on the line with this show, doubling down on the risk factor. The FMX Next Level takeoff ramp alone, towering 15-feet above the show floor (five feet taller than anything toured before) launches riders more than 60-feet into the sky. The lander also looms large, standing 23-feet high.
This innovative setup, the result of years of research and development, was first dreamed up at Travis' "Pastranaland" compound and then perfected at Nitro World Games. These breakthrough designs were never supposed to tour, as they were considered far too large and complex to be set up more than once. But Nitro Circus was determined to showcase them, and the future of action sports, to its diehard fans around the world. Now, after months of hard work, these ramps are now hitting the road.
Progression is truly in this monster's DNA: the FMX Next Level ramps feature elements from the jaw-dropping setup used by Josh Sheehan in 2015 to stomp the previously unthinkable triple backflip on a motorbike as well as the extremely sketchy FMX frontflip ramp used at Nitro World Games. It was off this same ramp that Gregg Duffy made global headlines in 2016 when he landed the world's first double frontflip while last summer Harry Bink scored a huge world's first of his own: the frontflip rock solid.
Dov Ribnick, Nitro Circus' Vice President – Creative, said: "I'm so stoked to be taking this set on the road. This really is a breakthrough in FMX and the team we have assembled can't wait to throw down the biggest new tricks in FMX on this tour."
As if they needed more motivation, every night Nitro's athletes will battle in a full throttle Next Level Series FMX competition. For the first time, Nitro Circus will host an in-show competition to find out just who is the gnarliest rider on the planet. At each tour stop a panel of judges will determine a winner with the overall champion crowned at the end of the tour. While cash prizes are on the line, bragging rights are truly the top prize for this crew.
In addition to pushing FMX to its limits, one Nitro Circus' daredevil will go airborne on a 450-pound snowmobile while a new cast of hilarious characters will take stupid to an entirely different level, flipping motorized contraptions too ridiculous to be believed.
Also new for 2018, fans can also get up close and personal with the Nitro crew thanks to the Nitro VIP Club package. In addition to having premiere seats, VIP Club pass holders will now have the chance to take a behind the scenes look at the show with an exclusive pre-show track walk. VIP Club pass holders also have the opportunity to meet some of the riders during an autograph signing session, receive a souvenir poster and get a chance to win cool Nitro Circus swag.

FMF RIDING WITH WLF'S SPRING APPAREL
REMEMBER HRP SPORTS? THEY ARE BACK WITH VENGEANCE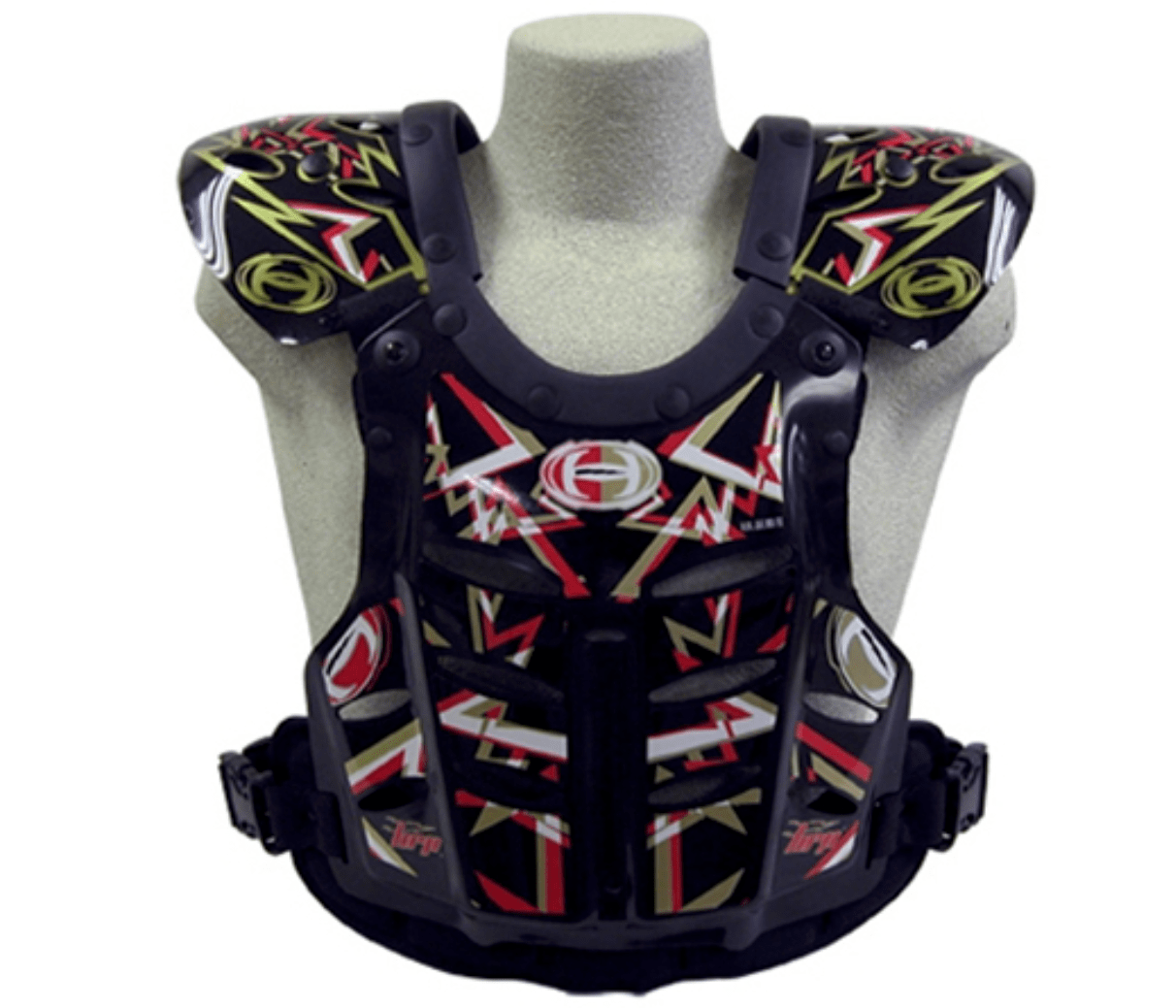 With Marvin Musquin, Dean Wilson and Eli Tomac all suffering shoulder injuries at the beginning of the season something like the HRP Flak Jak chest protector could has minimized the riders injuries. www.hrpsports.com
JOIN MXA'S SNAP CHAT FEED
If you are a Snap Chat user then add us to your stories. Get sneak peaks of everything moto. Our Snap Chat name is motocrossaction. Or just take a Snap of the picture above and it will add MXA automatically to your feed.
TALK MOTO WITH MOTO MINDED PEOPLE. JOIN MXA'S FACEBOOK GROUP CHAT
We love everything moto and want to bring all moto junkies together into one place to share their two cents, ideas, photos, bike fixes, bike problems and much more. To check it out first you must need to or already have a Facebook account. If you don't, it isn't much work and you could even have an alias so nobody knows it is you. To join click HERE. After you request to join we will accept your request shortly after.
CLASSIC MXA PHOTO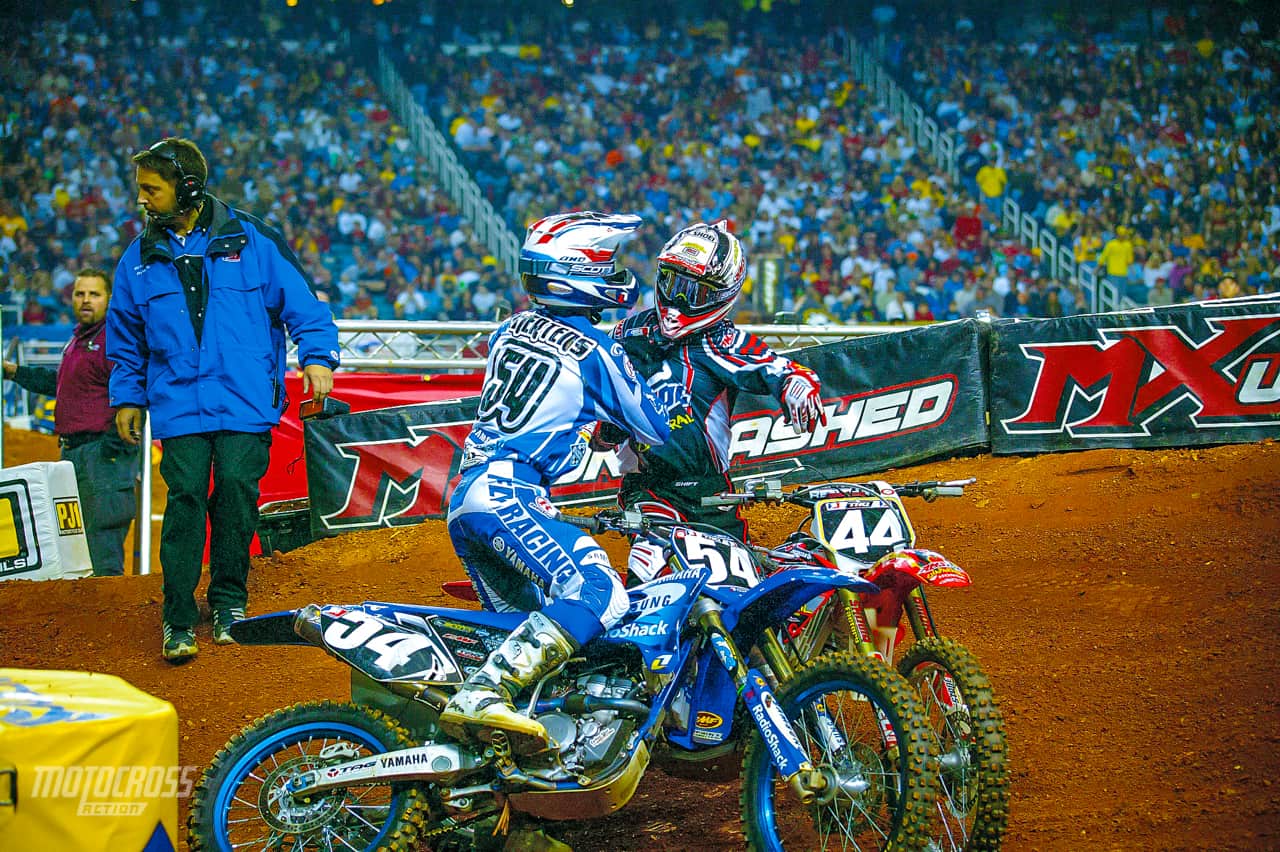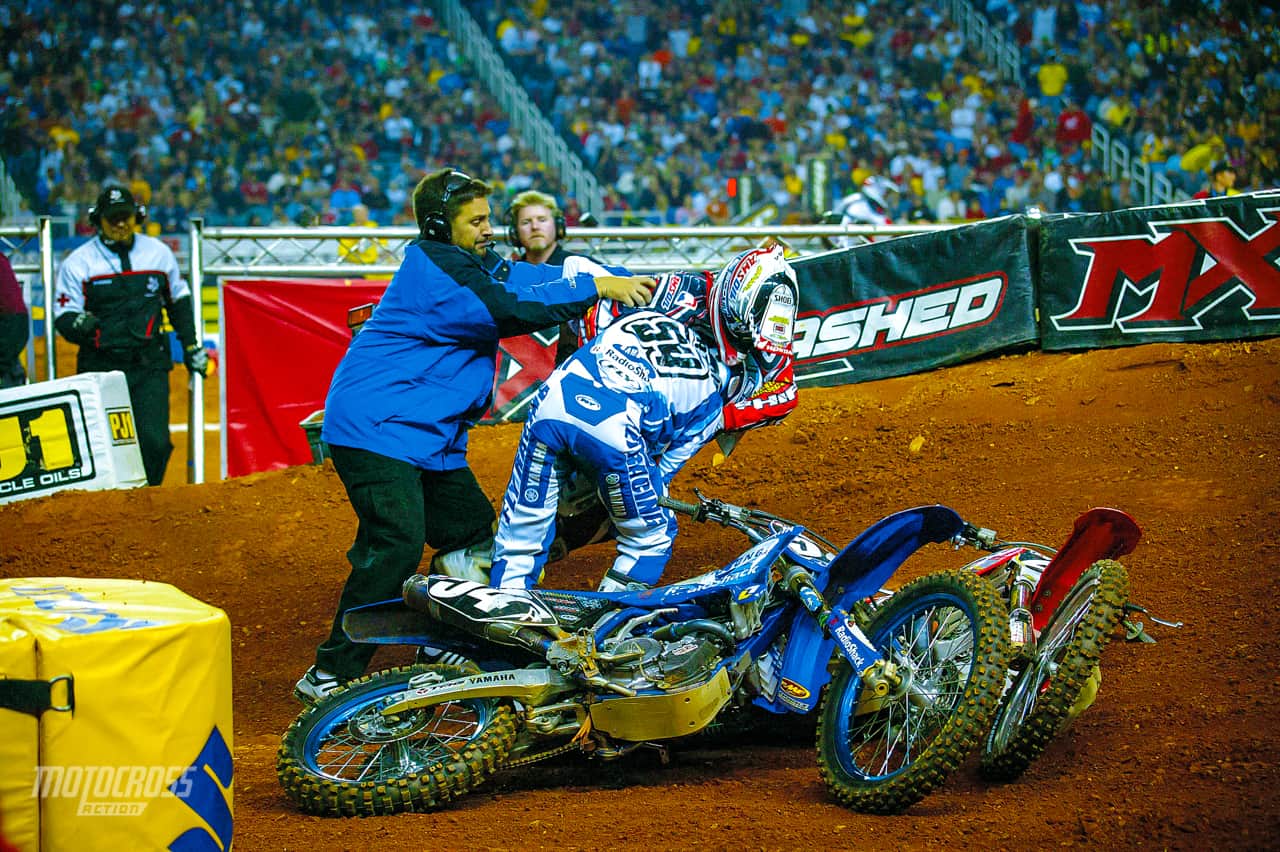 Steve Mertens and Ryan Mills get into during the 2004 St.Louis Supercross.