MOTOCROSS ACTION MID-WEEK REPORT

#WHIPITWEDNESDAY
Rider: Jordan Smith
Bike: 2018 KTM 250SXF
Lens: 300mm f/2.8
Focal length: 300mm
Exposure: 1/2000sec
F-stop: f/4
ISO: 200
Photographer: Brian Converse
TWO-STROKE SPOTLIGHT: STEVEN BEATTIE'S 1988 KTM 500
1988 KTM 500.
"This is my 1988 KTM 500 that I found in a shed in Ireland. It needed brake calipers and a master cylinder rebuild. I put on a DEP silencer, new plastics and custom made Chesterfield graphics and seat cover. I modified late 1990's footpegs that were slightly wider. I also made the shifter longer to avoid false neutrals. I got the forks and shock serviced, put a new linkage on and got new head tube bearings. The parts for this bike were hard to find. I had to source them from all over the world." –Steven Beattie from Ireland.
The KTM 500 engine. 
EDITOR'S NOTE: Please keep those submissions coming. If you would like your bike to be featured in the "Two-Stroke Spotlight," please email me at [email protected]. All I ask is that you give a breakdown of your bike and a detailed description of the build. Please also send a few photos of your steed. By submitting your bike for the "Two-Stroke Spotlight," you agree to release all ownership rights to the images and copy to MXA. Please don't email me spam or try selling me Taylor Swift concert tickets or email me spam. I already celebrate T-Swizzle's entire collective, and there will be "bad blood" if you send me junk mail. See what I did there? Happy submitting your smoker.
SUPERCROSS REWIND TRIPLE CROWN
FMF FALL CLOTHING LINE | FINISH FROM THE START
Press Release: For the launch of the new FMF Fall 2018 Apparel line we followed Aaron Plessinger through his 2018 championship Supercross season to carrying the red plate into the outdoors.
No racer in the 250 class epitomizes the tenacity and hard work that Plessinger has put in throughout the 2018 season. He makes every single point count, taking a win when he can, or coming back from a fall to salvage everything possible. For him it is a it is a long season, and he truly does have to take it race by race, focusing on the end goal of winning his first 250 Motocross Championship.
As we followed the Ohio native through all of the Supercross rounds and watched him win his first championship, to now carrying that momentum into the Pro Motocross Series carrying the red plate after going 1-1 at High Point, this apparel line was developed with AP Speed and Style.
The new FMF fall line was designed with racing in mind. With brand new designs and colorways there is something for everyone. Our apparel can outfit the entire family at the motocross track as we carry men, women, and kid's sizes.

MOTO | TRIVIA
Name the rider and year. Answer at bottom of page.
THEY SAID IT | MUDDY CREEK NATIONAL
Weston Peick: "I had two good starts and was running at the front in both motos. Overall, I rode well. My hand is still a problem, though. I have about 15 minutes in me before I lose the feeling in it. When that happens, I get whiskey throttle and my hand blows off the handlebars. Other than that, the series has been going well. I have good speed. My plan is to grind it out every weekend and put in solid finishes. People expect me to finish motos, and that's what I have been doing. Sixth overall isn't where I want to finish, but I'm collecting points."
Justin Hill: "My day wasn't terrible, but it could have been better. I had a practice crash that took the wind out of my sails for the motos. I'm bummed, because I was hoping to make a big improvement from High Point last weekend. I felt better at Muddy Creek and a lot closer to the front guys in practice. Seventh place isn't the worst finish in the world, though. I'm building, and we made a couple of good changes to the RM-Z450 with the chassis. I'm just a bit upset about the racing, because I wanted to make a jump in my progress."
Jimmy Decotis: "It was great to be at the races. I'm thankful that I was able to return at Muddy Creek. Honestly, after breaking my back I wasn't sure whether I'd even be able to race this summer. It was a long road to get here. I'm so thankful to be with the Autotrader/Yoshimura/Suzuki Factory program and have access to the therapy at JGRMX. To come away with points in both motos is a good start, but the finishes aren't where I want to be. Taking the positives away, I was really fit and strong in both motos. Now I just need to get the speed. I figured that would happen, because I was off the bike for 3-1/2 months, and I was in a lot of pain during those first few weeks on the bike. Only lately have I started to get that aggression back. It will take time, but Southwick should boost my confidence. The goal is to put on a show for my New England fans. I'm blessed that Suzuki has given me the opportunity to race the Nationals, and that they understand that it's going to take some time to get where I need to be."
Justin Barcia: "I was fairly happy with Moto 1 and I think Moto 2 was a little better – leading laps is always a good thing. I felt really comfortable on the bike, we're making great progress and second overall is a step in the right direction to taking a win, that's obviously the goal. I had a lot of fun at Muddy Creek, the track was very difficult. It's really challenging, it's slick and choppy, tight and one-lined a little bit, so you have to be kind of crafty. I'll take the second and move on to one of my favorite tracks of the year at Southwick."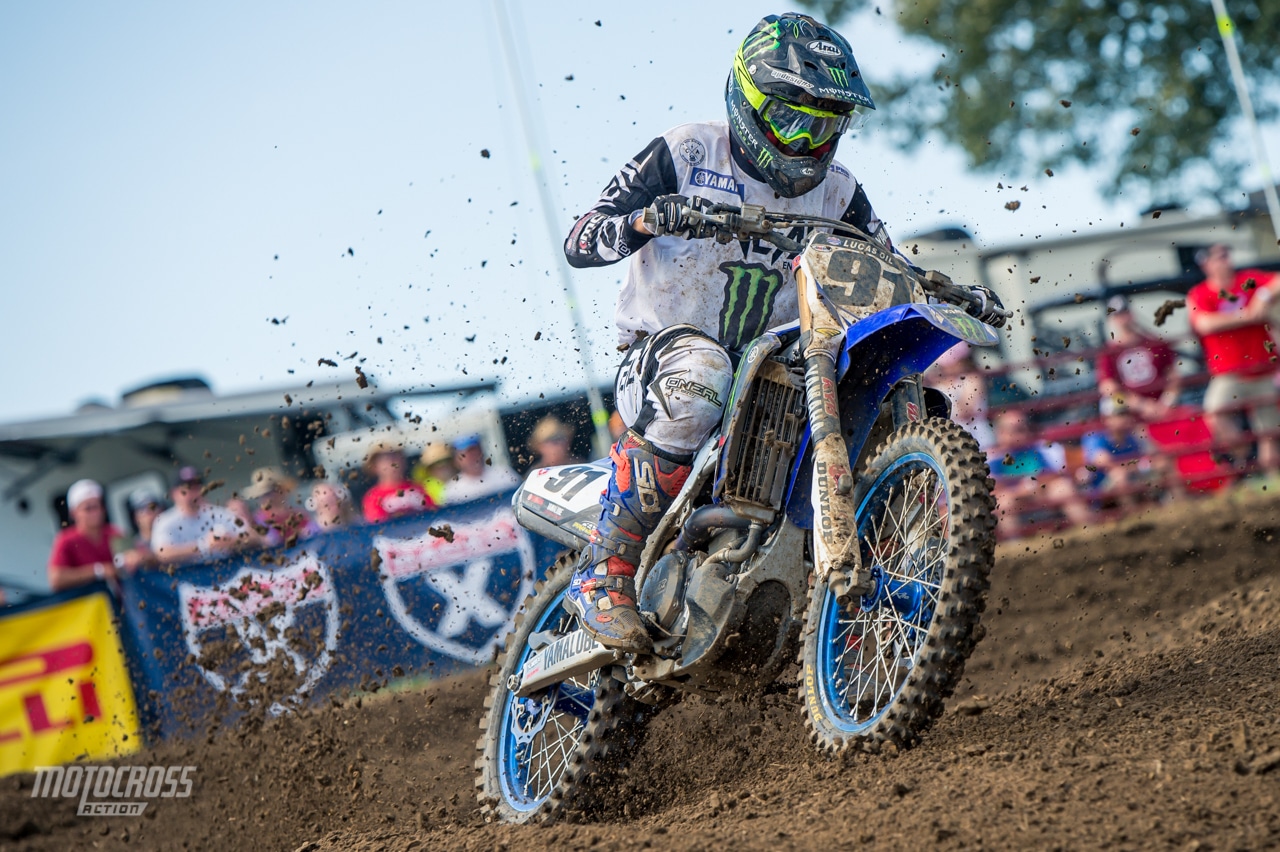 Alex Ray: "It wasn't the weekend we had hoped for, coming up short of a top-ten overall. In the first moto, I lost my rear brake but the second moto was better with a 13th. I just want to thank the team for this great experience – I've learned so much. It's a dream come true."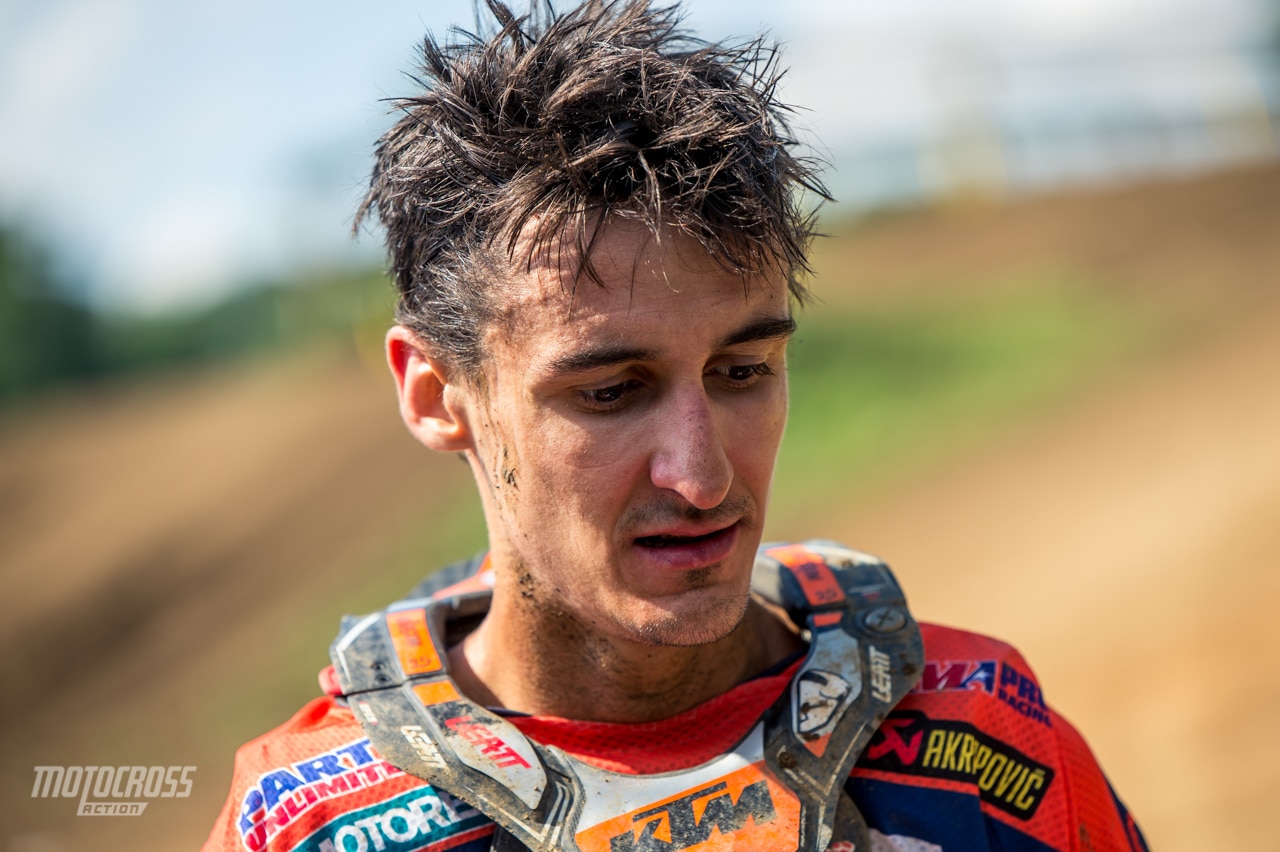 Marvin Musquin: "It was a big bummer to go down in the first lap of Moto 1. I clipped someone's rear wheel and couldn't avoid it and crashed – it's frustrating. I've been feeling really good, training really hard and working really hard with the team and it's been paying off. I fight hard in the second moto and I knew that all I needed to do is get a good start, fight for it and not go down, so that's what I did and I was able to control the race until the end. [It's] one more moto win, still not what I want but that's all I had today. I'm really happy, it's not too bad for the championship even if we lose some points, it's still a podium and we keep on working hard."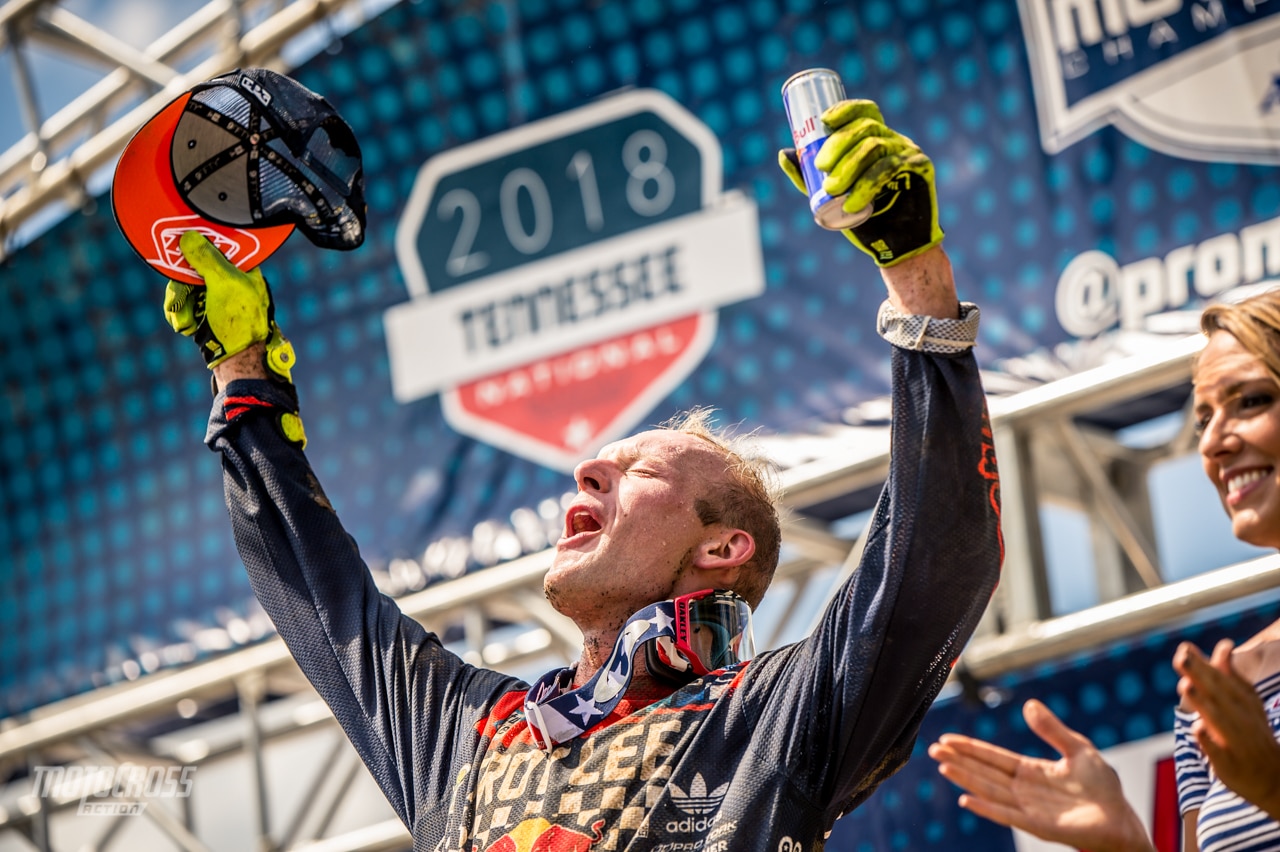 Shane McElrath: "I don't know what to say, that was my best ride ever. It was nice to start out with a podium this morning and keep it going. We've been working so hard to get the bike dialed in and it's crazy the difference it makes when everything is working well."
Phil Nicoletti: "My second race was a lot better than my first," said Nicoletti. "I had a lot of tip overs. I was trying to push it and lost my cool in the second moto. It's ok. I'm going in the right direction and I'm looking forward to getting in the sand next weekend."
Ken Roczen: "I'm happy with how today went. I got fourth, but I feel a lot better and am more satisfied with it this weekend than last because I think we made some good steps forward. I'm a lot happier with my second moto. We definitely made some great improvements on the bike between races. I was kind of fighting it a little in the first moto, but the changes we made were a lot better. I was having fun and not feeling beat up. I ripped two holeshots, which is great. I was up there in the first moto, finishing third, but I just wasn't gelling. I don't think the results show how happy I was with the second moto—not on the podium, but all in all I'm satisfied and we can just keep working forward from here on out."
Joey Savatgy: "This track is pretty easy to fall in line with the rider in front of you, making it hard to make clean passes. That first moto it was tough to get by guys, but I'm glad I learned a few places to pass because I needed it after that tough start in Moto 2. Overall, I felt good and know we can pick it back up at Southwick."
Austin Forkner: "I'm bummed that I couldn't get the starts that would have put me in contention at the front," said Forkner. "I seemed to ride a little bit better in the second moto even after going down. It's a learning week. We know we have the speed so we'll see if we can put it together next weekend."
Eli Tomac: "I pushed to see if I could catch Justin [Barcia, at the end of Moto 2], but he was going fast enough that I didn't need to force the issue. We knew we had the overall so there wasn't a need to risk it," said Tomac. "It was good to get another win and keep this momentum rolling. I knew Musquin, Barcia, and Roczen all got good starts and were up front, so my goal was to make enough passes to get the win, and that's what we did." 
SUPPORT CANCER WITH THE TRACK-CREW CLOTHING BRAND
Donnie Durrer is a cancer fighter who is the founder of the Track-Crew clothing brand. 
The Track-Crew clothing brand was founded upon deep roots in both the MX and streetwear industry. Their ambition is to bring to the market limited edition product offerings with great attention to detail featuring design work that blurs the line between MX and streetwear culture. The brands founder is currently fighting a rare sarcoma cancer. In an effort to give back while fighting the disease a portion of every item sold will be donated to sarcoma cancer research. www.track-crew.com
PRODUCT SPOTLIGHT | FIVE GLOVES
Five Gloves Premium glove is the MXF PRO RIDER "S" model. Latest gereration of motocross gloves developed by MX GP rider Valentin GUILLOD in MX World Championship.
• 4-way stretch spandex topside
• Finger protection and FIVE logo made of sonic TPR
• Mesh fabric finger tips for optimum ventilation
• Comfort gel pad at thumb grip contact point to reduce blistering
• Gel pad protection at palm to dampen shock and impact in a fall
• Palm made of Nanofront™ Offering an unrivalled level of control feel and grip
• Lycra gusset for comfort under the TPR and Velcro adjustment tab,to prevent dirt from getting inside the glove
• Heavy-duty Lycra finger contours
MSRP $49.99
Sizes: Small – 2 XL
ATLAS CYCLES AUTOGRAPH SIGNING 
The autograph signing before the Muddy Creek National was held at Atlas Motorsports.  Clarissa Parlier photo


To the right is motocross facts guru Ben Bridges. Clarissa Parlier photo
Ken Roczen with one of his fans. Clarissa Parlier photo
The Geico Honda team. Clarissa Parlier photo
Colt Nichols signing an Atlas t-shirt. Clarissa Parlier photo
The Autotrader Suzuki team.  Clarissa Parlier photo
Justin Barcia making a few kid's day. Clarissa Parlier photo
Eli Tomac giving away a signed jersey. Clarissa Parlier photo

MOTOCROSS ACTION READER SURVEY: LET US KNOW WHO YOUR ARE

Make sure to take our detailed MXA Reader Survey so we can accommodate to you better.
TALK MOTO WITH MOTO MINDED PEOPLE. JOIN MXA'S FACEBOOK GROUP CHAT

We love everything moto and want to bring all moto junkies together into one place to share their two cents, ideas, photos, bike fixes, bike problems and much more. To check it out first you must need to or already have a Facebook account. If you don't, it isn't much work and you could even have an alias so nobody knows it is you. To join click HERE. After you request to join we will accept your request shortly after.
2019 HUSQVARNA FC450 & FC250 UP CLOSE AND PERSONAL
We have all seen the studio photos of the new 2019 Huskys, but there is nothing like seeing them for yourself out in the open. This is the 2019 FC450 in Florida at the Bakers Factory. 
The 2019 Husqvarna FC250 in the flesh. 
JOIN MXA'S SNAP CHAT FEED
If you are a Snap Chat user then add us to your stories. Get sneak peaks of everything moto. Our Snap Chat name is motocrossaction. Or just take a Snap of the picture above and it will add MXA automatically to your feed.
CLASSIC PHOTO
Jeremy McGrath doing his signature NacNac on his factory 1994 Honda CR250.
Moto Trivia answer: The year was 1999 and the rider was Michael Brandes.