MOTOCROSS ACTION MID-WEEK REPORT
#WHIPITWEDNESDAY
Rider: James Stewart
Bike: 2014 Kawasaki KX450F
Location: Angels Stadium
TWO-STROKE SPOTLIGHT: PAUL HOLLYWOOD'S 1997 SUZUKI RM250 McGRATH REPLICA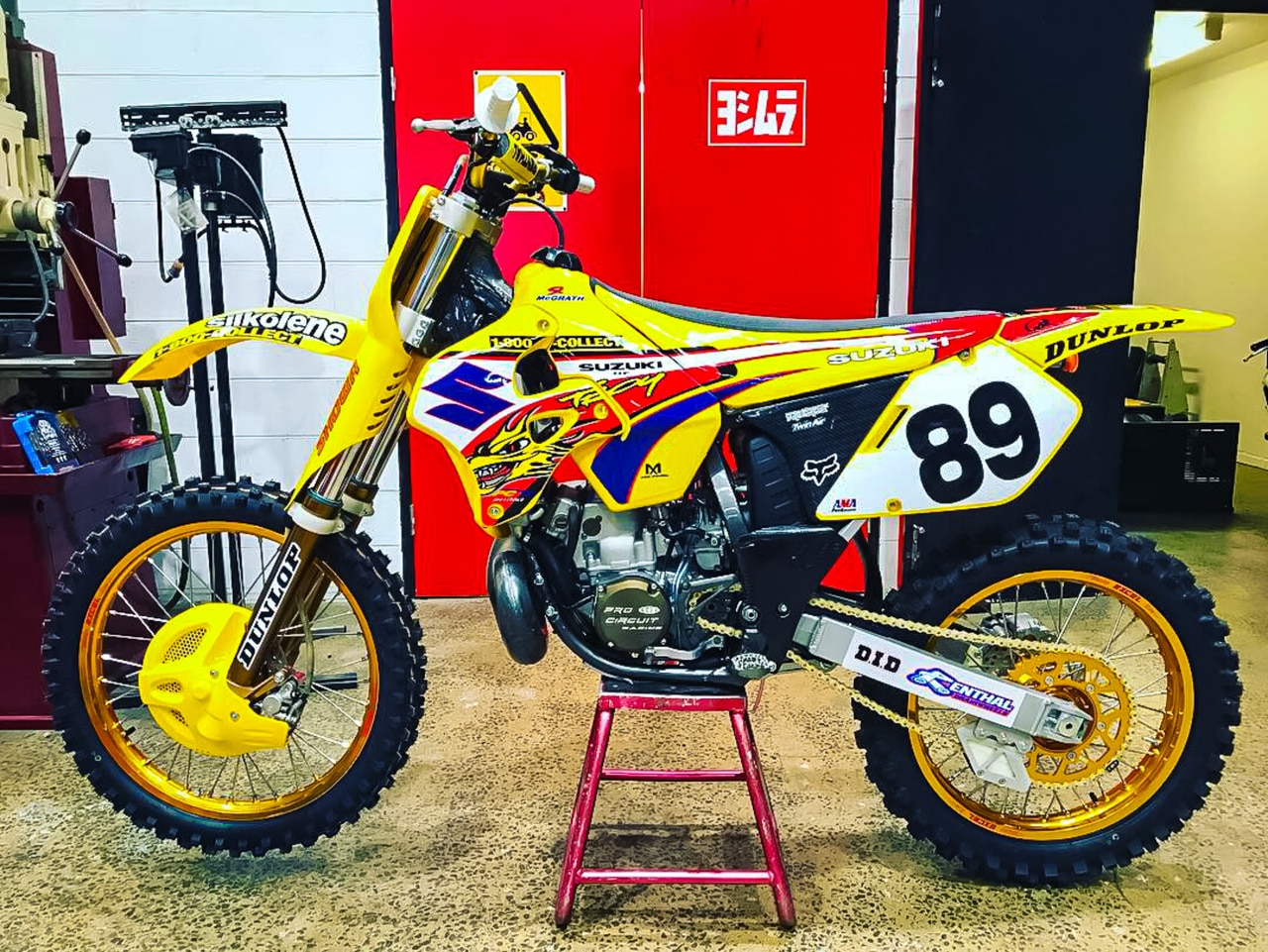 This is Paul Hollywood's 1997 Suzuki RM250 McGrath replica.
Hey MXA,
I finished my RM250 Suzuki of Troy Jeremy McGrath replica. I out number 89 on it and a lot of works parts that are different from what McGrath ran back in 1997, but I'm very happy with the finished bike build. It has a few special parts on it from back in the day when MC was the King of Supercross. The parts list includes:
-Applied Racing triple clamps with triple bolt bottom clamp the same as MC ran
-Kashima coated fork legs
-DSP carbon fibre head stays
-Noleen works pipe
-Answer CF2 carbon fibre muffler
-Pro Circuit magnesium clutch and ignition covers cerakoted by LA Designs Australia
-Krooztune Suspension
-Ohlins rear shock
-Dynoverks engine rebuilds
-Power Flow Engineering porting and polishing
-Throttle Jockey graphics kit and seat cover
-Excel gold rims and Talon gold hubs
-Braking carbon fibre carrier 260mm front disc
-Works alloy fuel tank
-Carbon fiber frame guards
Thanks,
Paul Hollywood
McGraths's original 1997 RM250 top and the replica on the bottom.
Jeremy racing the factory 1997 RM250.
EDITORS NOTE: Please keep those submissions coming. If you would like your bike to be featured in the "Two-Stroke Spotlight," please email me at [email protected]. All I ask is that you give a breakdown of your bike and a detailed description of the build. Please also send a few photos of your steed. By submitting your bike for the "Two-Stroke Spotlight," you agree to release all ownership rights to the images and copy to MXA.
QUOTE OF THE WEEK: ROGER DECOSTER ON WHO'S RACING MXDN FOR TEAM USA
"Well on the big bikes it has been easy. Eli (Tomac) is riding and Chase (Sexton). It is obvious. You don't have to be Einstein to figure that out. It has been a little more difficult for the 250. Basically, we think we should bring a 450 guy down to the 250 because we don't have anybody that really stands out and is consistent on the 250. Somedays, there may be someone speed-wise, but not results. We feel that the third rider is a condition that the guy is willing to go down and ride a 250 would be Jason (Anderson). He is the most consistent, but he needs some back surgery before next season, and he does not want to wait another two or three weeks to do it after the MXON for next season."
THE AUGUST 2022 ISSUE OF MXA IS OUT! JAM-PACKED! SUBSCRIBE AND YOU WON'T MISS ANYTHING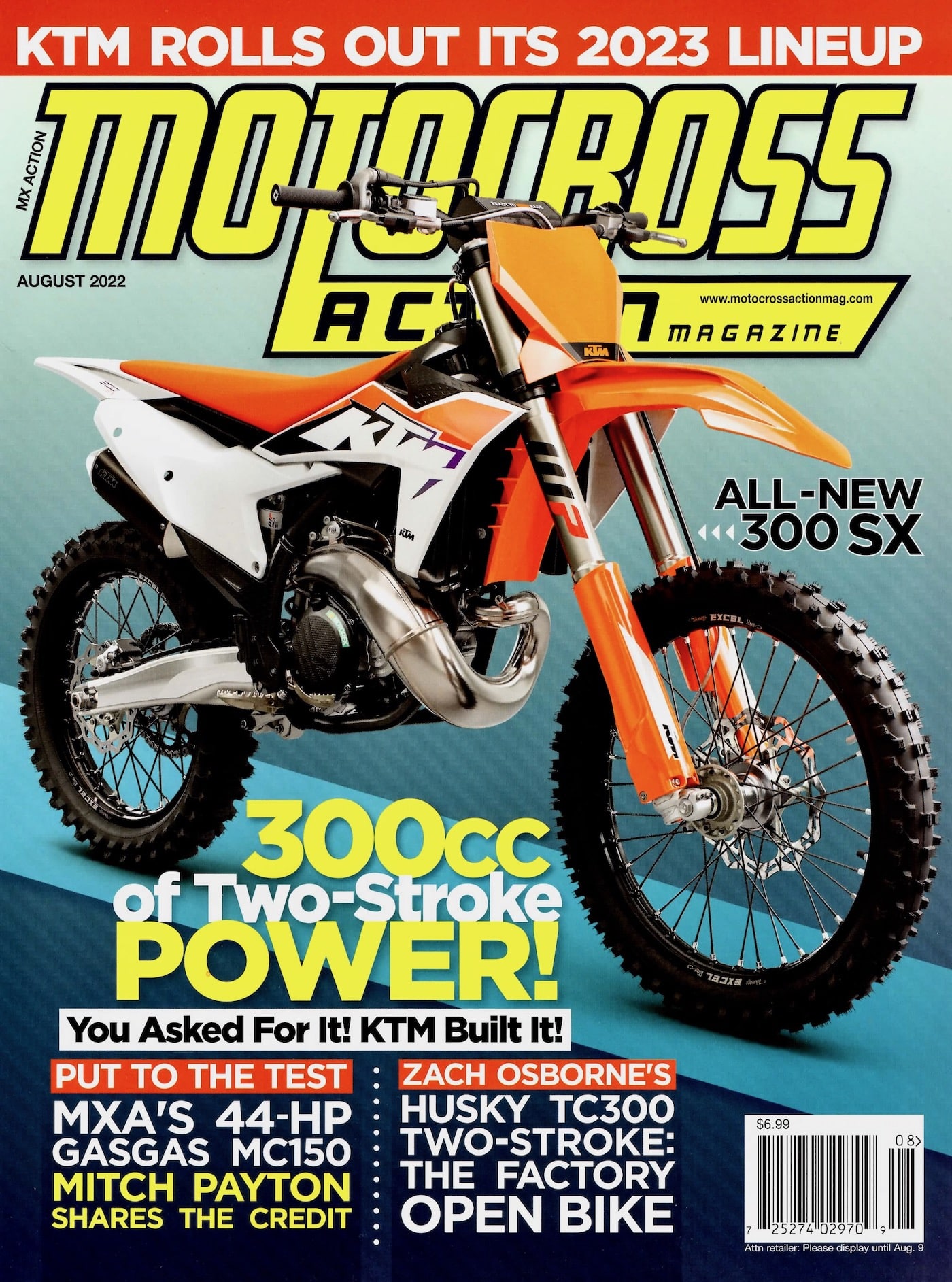 Did you know that you can subscribe to MXA at virtually no cost to you—because when you subscribe you receive a Rocky Mountain ATV/MC credit for $25 towards anything in their massive inventory? Plus, all the content in 12 monthly issues of Motocross Action magazine—from four-stroke tests, two-stroke tests, retro tests, race coverage, new tech to product tests (most of which never appear on the internet).
The August 2022 issues have full tests on the 2022 Yamaha YZ85 and YZ85 Big Wheel, 2022 Suzuki RM-Z250, a full test of the ultra-cool retro-mod Husqvarna TC300 that Zach Osborne raced at the 2022 World Two-Stroke Championship, Josh Mosiman gives the full break-down on how his GasGas MC250 two-stroke got to 44-horsepower and a retro test on James Stewart's  2005 Kawasaki SR 250. If that's not enough for you, we sat down with Larry Brook to learn how he went from minicycle star to MXA test rider to AMA racer to team owner for Chad Reed and James Stewart to his rejuvenation from running an amateur team to becoming the team manager of Suzuki's official 250 Supercross and National effort.
If that's not enough, go with us as we trace the 2022 Supercross season's trail of broken dreams and broken bodies. And, don't forget, you can will also get a $25 credit from Rocky Mountain ATV/MC  that will more than cover the cost of your subscription. To subscribe call (800) 767-0345 or Click Here
MILLVILLE // ROUND 7 OF THE 2022 PRO MOTOCROSS SERIES // by Ben Bridges
450MX-Blue Bike Takes Red-Plate From Red Bike
Eli Tomac went 1-1 for his fourth consecutive victory. ET also now has seven consecutive moto wins to steal the red plate from Chase Sexton by five points.
ET Now has 31 450MX wins which is good for third all-time. He has five 250MX/450MX combined wins at Millville.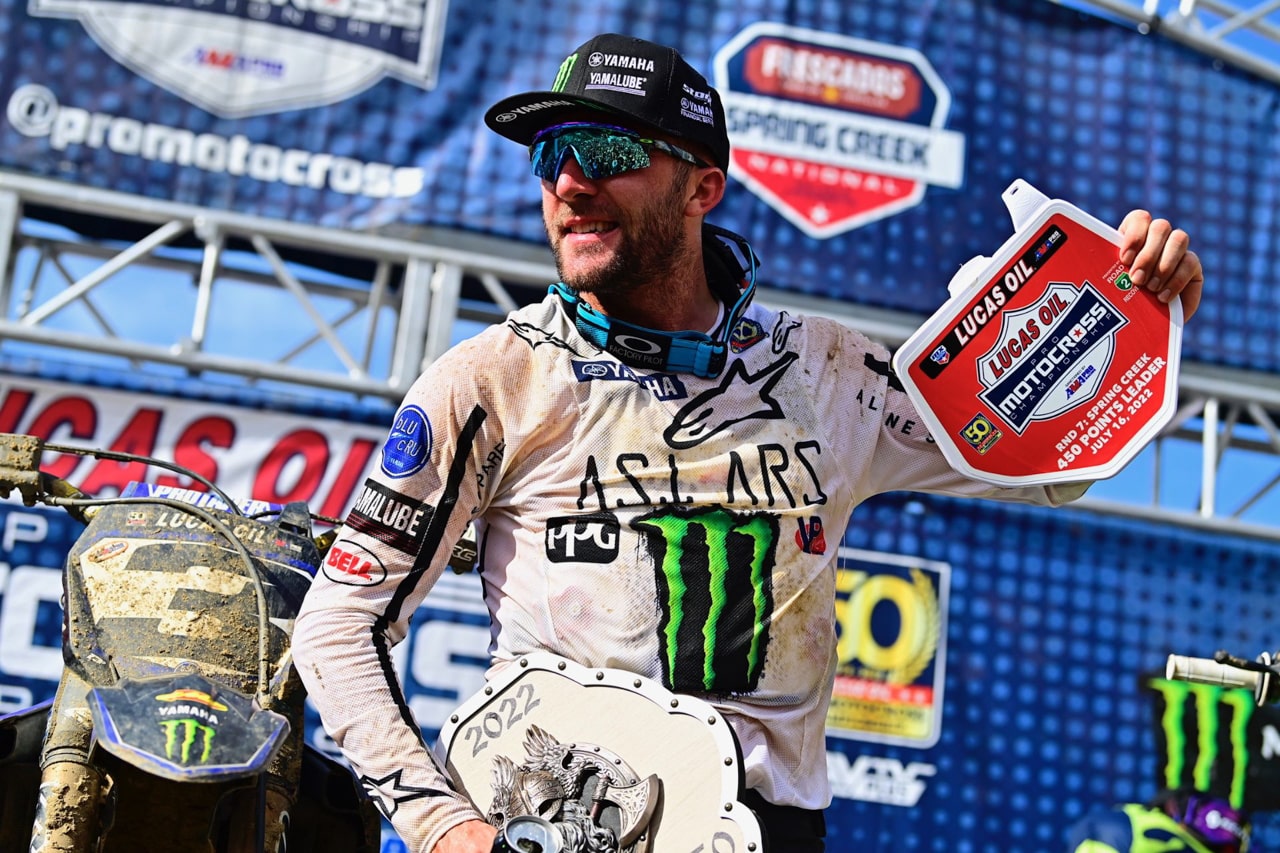 Bob Hannah in 1979 is the last time a Yamaha rider won four overalls in a row. ET now has 87 career wins.
Chase Sexton went 2-2 for second overall. He has a four-race runner-up streak that has resulted in the loss of his red-plate.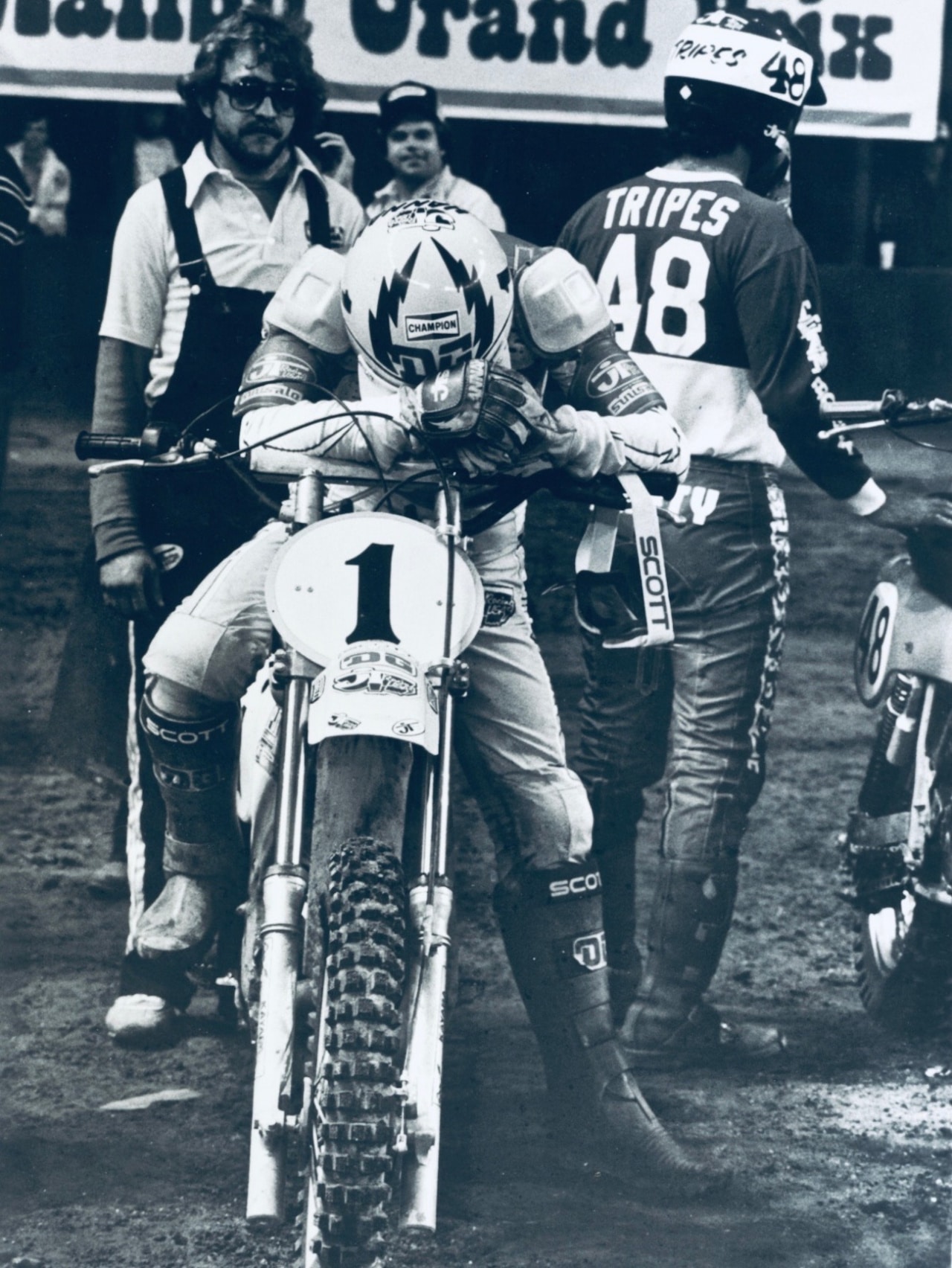 Also seven straight moto runner-up finishes.
Jason Anderson went 3-4 for third overall. It was his first podium since round 4.
Christian Craig went 5-3 for fourth.
Ryan Dungey went 4-6 for fifth overall and is only two points out of the top five in the point standings. His fourth place in moto one was the sixth top-five moto finish of the season for the unretired RD.
ET has 4 overalls, 9 moto wins, 2.1 avg., 7th is worst moto finish
Sexton has 1 overall, 3 moto wins, 1.9 avg., 4th is worst moto finish
250MX-ALL SEVEN BRANDS FINISHED INSIDE THE TOP-10 OVERALL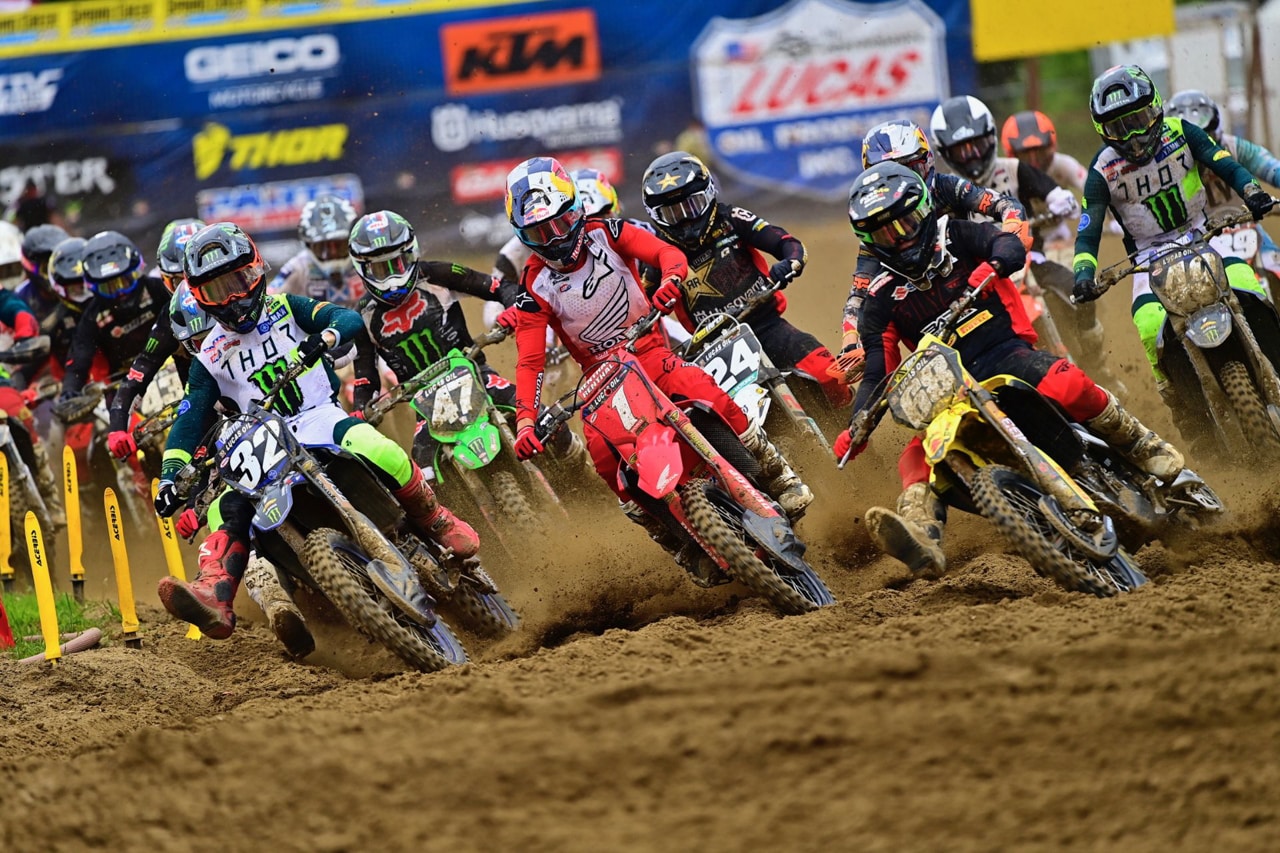 Jett Lawrence went 1-1 for his sixth win of the season. 11th overall 250MX victory of career.
Jo Shimoda had a 3-2 for second overall.
Hunter Lawrence went 2-5 for third overall.
Carson Mumford went 16-10, the first top-10 finish for Suzuki this season.
For the third time this season USA did not have a podium finisher.
Jett Lawrence: 6 Overalls, 9 moto wins, 3.8 avg.
Hunter Lawrence: 0 Overalls, 2 moto wins, 3.1 avg.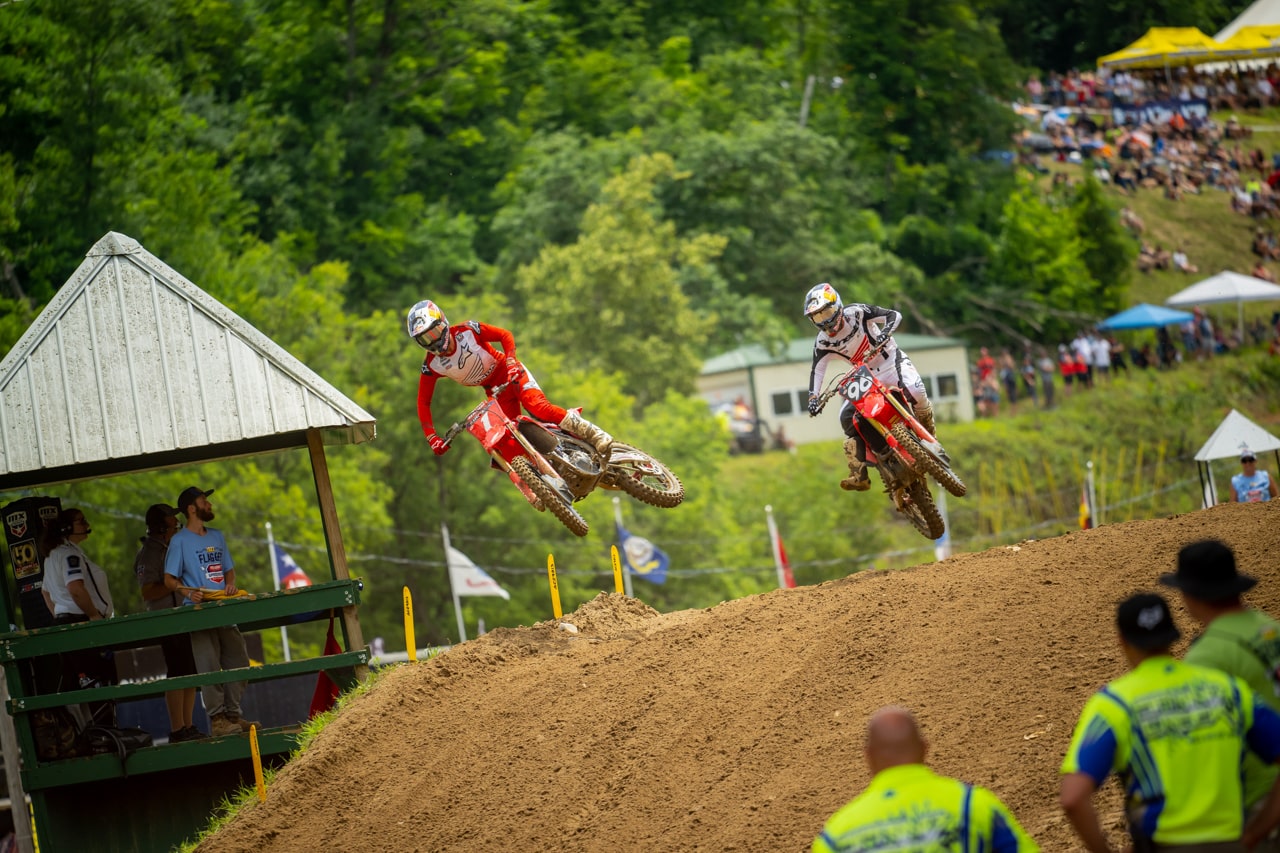 FREE DIRT BIKE! FILL OUT MXA'S SURVEY FOR A CHANCE TO WIN THIS SSR BIKE

This is your chance to win this SSR SR140TR. It is loaded with premium components including disc brakes, upside-down forks, an adjustable shock and more. The MSRP of this bike is over $2000. But you can win it for free! All you have to do to be entered in the drawing is fill out the MXA Reader Survey.
MXA MOTO TRIVIA
Who is this rider, and what is he riding? Answer at the bottom of the page.
WIN CODY WEBB'S 2023 SHERCO 2-STROKE // click the photo
TEAM TESTED // 
SHIP YOUR BIKE TO THE 2022 WORLD VET MOTOCROSS CHAMPION AND HAVE IT SAFELY STORED UNTIL YOU ARRIVE


The 38th Annual Dubya World Vet MX Championship is quickly approaching on November 4-6, 2022. With over a thousand riders traveling from many different cities, states, and countries to compete for a prestigious World Vet Championship title, many riders require a place to ship and store their bike. Although you will have to arrange sipping from your country or state, you can ship your bike to Malcolm Smith Motorsports and pick it up there once you arrive in SoCal! Malcolm Smith can receive your bike from the shipper of your choice and store it for a $150 storage charge—and it will be safe until you come to pick it up before your race. For the $150 you get seven days of storage. After the seven days, you will be billed at $20 per day. Included in this service is holding the bike after the race for return shipping for a maximum of 7 days (billed at $20 per day). This service does not include any transportation of your motorcycle to the track, uncrating or mechanical work. For more info or to order this service Click Here
MOTOCROSS TIP // THE IMPORTANCE OF SETTING SAG THE RIGHT WAY
MOTO TIP: Setting sag is the one thing that every rider thinks he can do, but normally does wrong. Here are some tips: First, do not measure the sag with the rider standing up. Sit down. Second, bounce on the suspension before measuring. Third, sit where you actually ride, not some dream position that you think looks impressive. Fourth, measure from the exact same place every time.It doesn't matter where you measure from as long as you measure from the same spot—and can discern the difference in the sag. KTM, Husqvarna, Kawasaki and GasGas want their race sag measure almost straight up, other manufacturers (Honda, Yamaha and Suzuki) suggest measuring in line with the arc of the wheel.
MXA YOUTUBE CHANNEL | HIT THAT SUBSCRIBE BUTTON
The MXA wrecking crew is everything moto related. Check out our MXA YouTube channel for bike reviews, Supercross coverage, rider interviews and much more. And don't forget to hit that subscribe button.
LOST BUT NOT FORGOTTEN // DOUG HENRY'S 1998 YAMAHA YZ400F
ASK THE MXPERTS
: 
THE BOLTS ON MY BIKE COME LOOSE CONSTANTLY, HOW CAN I STOP THIS?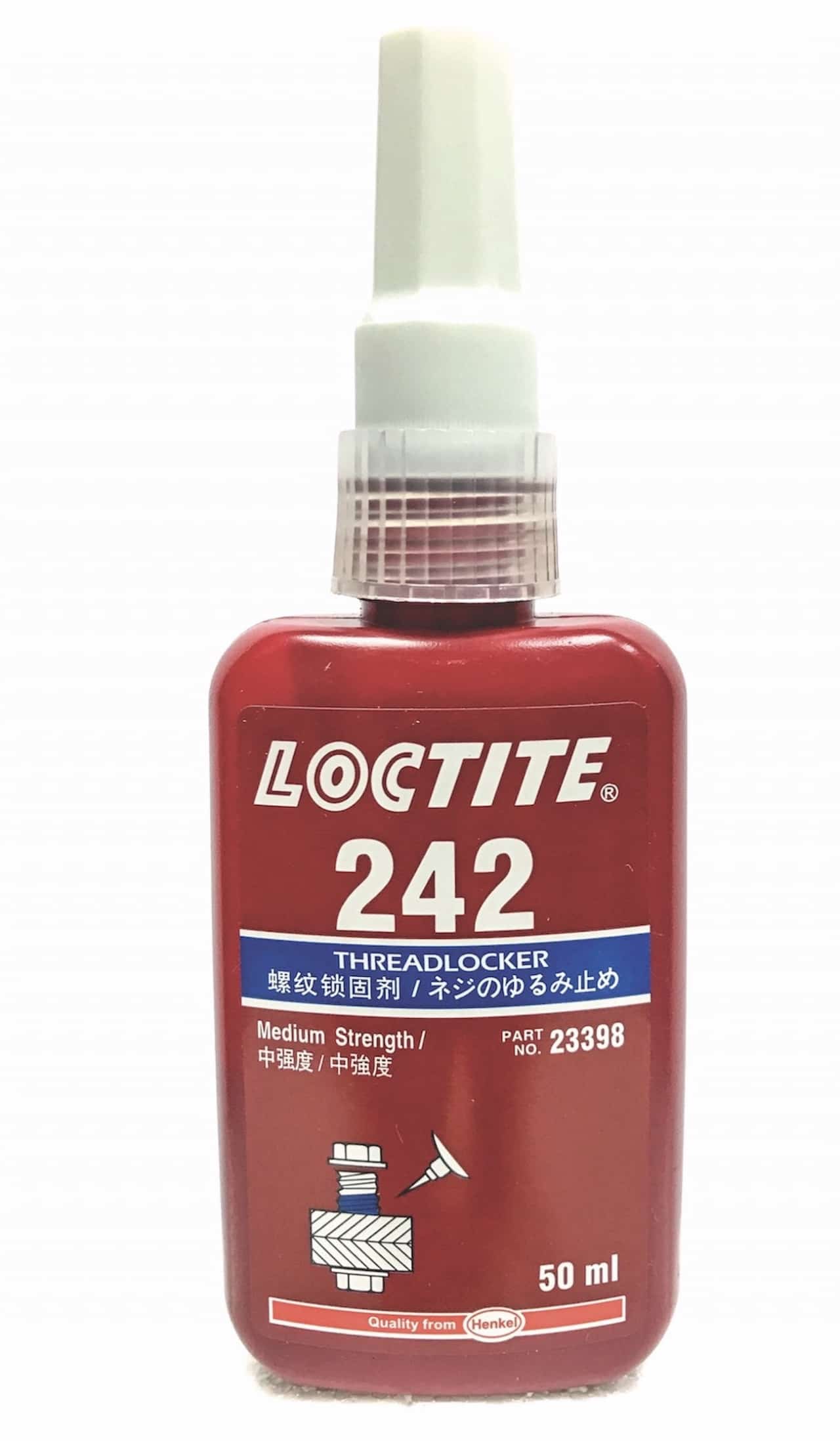 There are 16 different types of Loctite. Make sure to use the right one.
Dear MXA,
I put Loctite on all the bolts on my bike, but many of them come loose after a few rides. What am I doing wrong?
First, stop putting Loctite (or any other threadlock product) on every bolt on your bike. That is a recipe for disaster. Not every bolt needs to have its hatches battened down. Avoid using threadlock on frequently removed small nuts and bolts, especially on light-duty bolts, such as those used to hold on side panels. Loctite should never be used on radiator shroud bolts. Why not? The radiator shroud bolts thread into nuts that are embedded into the plastic gas tank. If the Loctite seizes the bolts in place, the nut will spin inside the plastic gas tank if you use too much force. Once the nut spins loose from its plastic cavity, it will be a problem forever.
You must remove residue from a bolt before applying Loctite, especially on bolts that were previously Loctited. Old Loctite under new Loctite will give a false torque reading, which will make that bolt come loose. You need to clean the threads every time the bolt is removed. While it's possible to remove the old threadlock, there isn't always enough time between motos. That's why it's better not to use threadlock; instead, use assembly lube and the proper torque specs—at regular intervals.
FOR MORE MXPERTS TIPS CLICK HERE
CLASSIC MXA PHOTO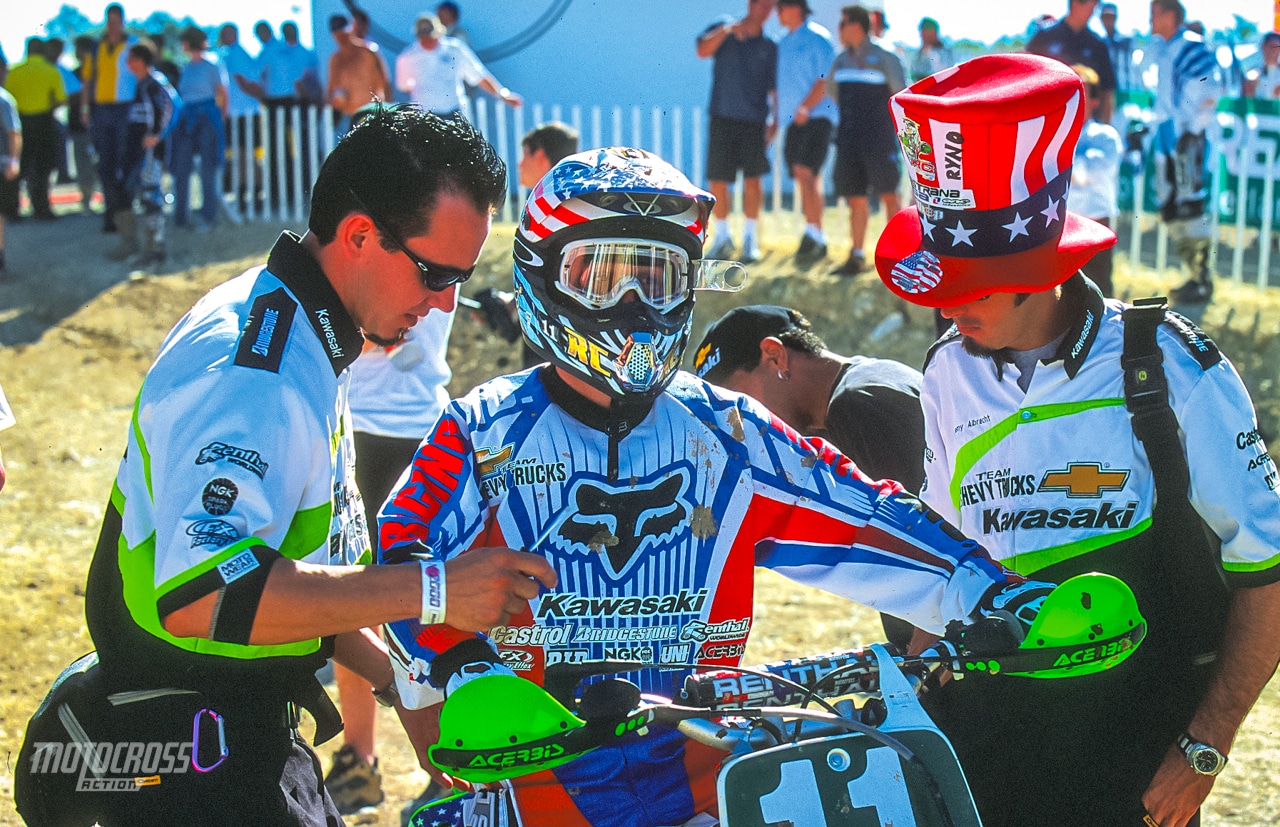 Ricky Carmichael at the MXDN with Jeremy Albrecht (right) showing his patriotism.
---
MXA MOTO TRIVIA ANSWER: Gary Jones racing an Ammex 250 in Supercross. Gary is the only AMA National Champion to ever invest in building his own motocross brand.