MOTOCROSS ACTION MID-WEEK REPORT
#WHIPITWEDNESDAY
Rider: Justin Barcia
Bike: 2022 GasGas MC450F
Location: Washougal MX
TWO-STROKE SPOTLIGHT: ANDREA RAPACCIOLI'S HONDA CR500AF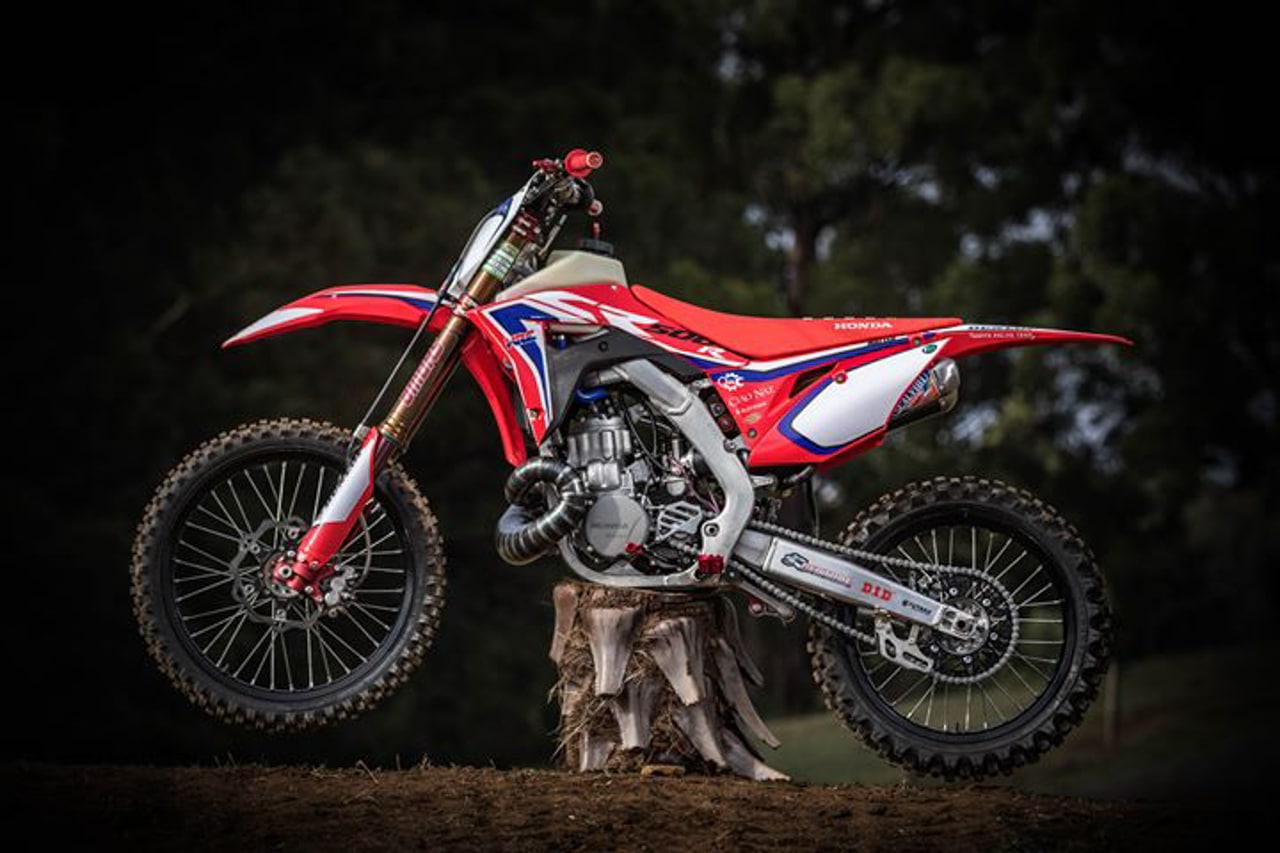 This is a great-looking Honda CR500AF. Photo by @knossy
We didn't get any copy from the builder, but you can tell by the photos of the craftsmanship put into this Honda CR500AF is awesome.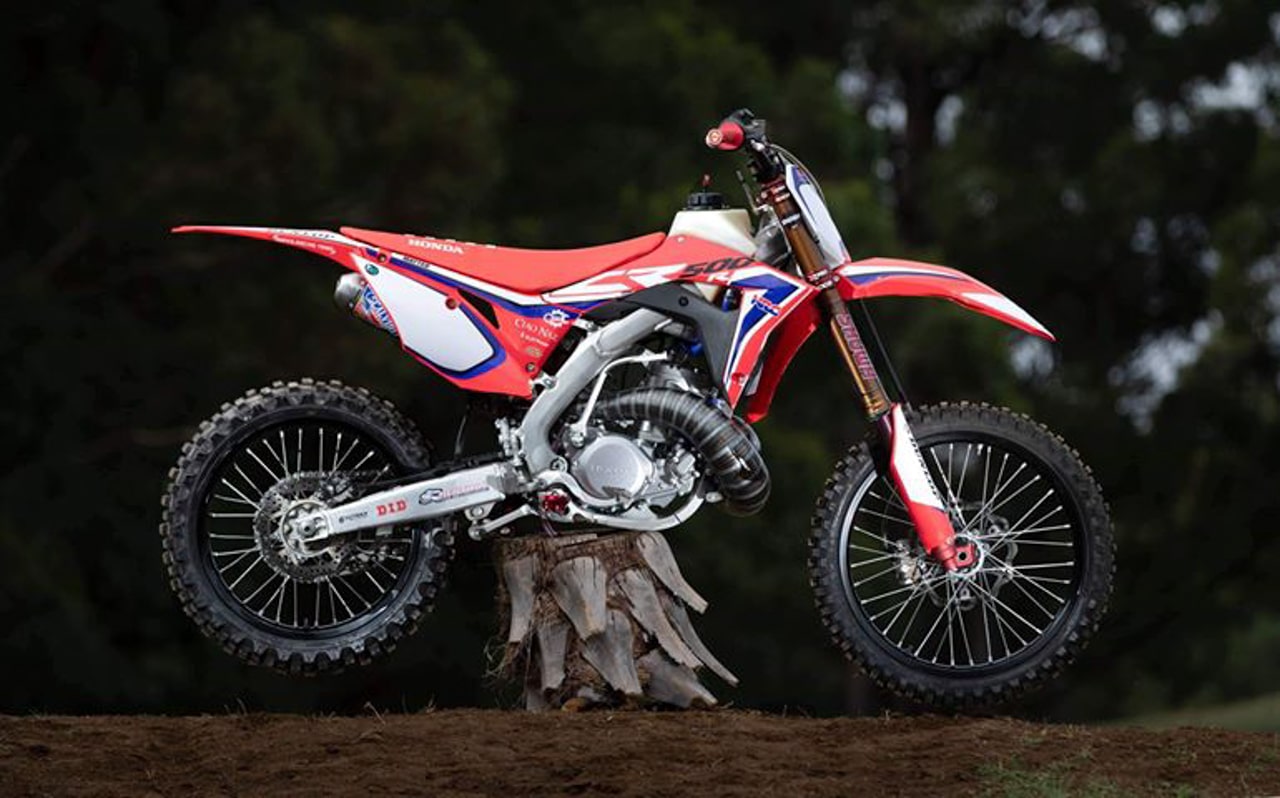 EDITORS NOTE: Please keep those submissions coming. If you would like your bike to be featured in the "Two-Stroke or Four-Stroke Spotlight," please email me at [email protected]. All I ask is that you give a breakdown of your bike and a detailed description of the build. Please also send a few photos of your steed. By submitting your bike, you agree to release all ownership rights to the images and copy to MXA.
QUOTE OF THE WEEK: KEN ROCZEN ON RACING SICK AT WASHOUGAL
"I was ready to give it my all. Unfortunately, it seems like my immune system kind of let me down a little bit. I started feeling iffy on Thursday and especially Friday; I came down with a fever and massive headache through Friday night. I probably picked up some kind of illness, so that made my day a lot tougher. I got lucky that the weather wasn't super-hot, and I guess I have to be happy with a 4-6 for fourth overall.
THE AUGUST 2022 ISSUE OF MXA IS OUT! JAM-PACKED! SUBSCRIBE AND YOU WON'T MISS ANYTHING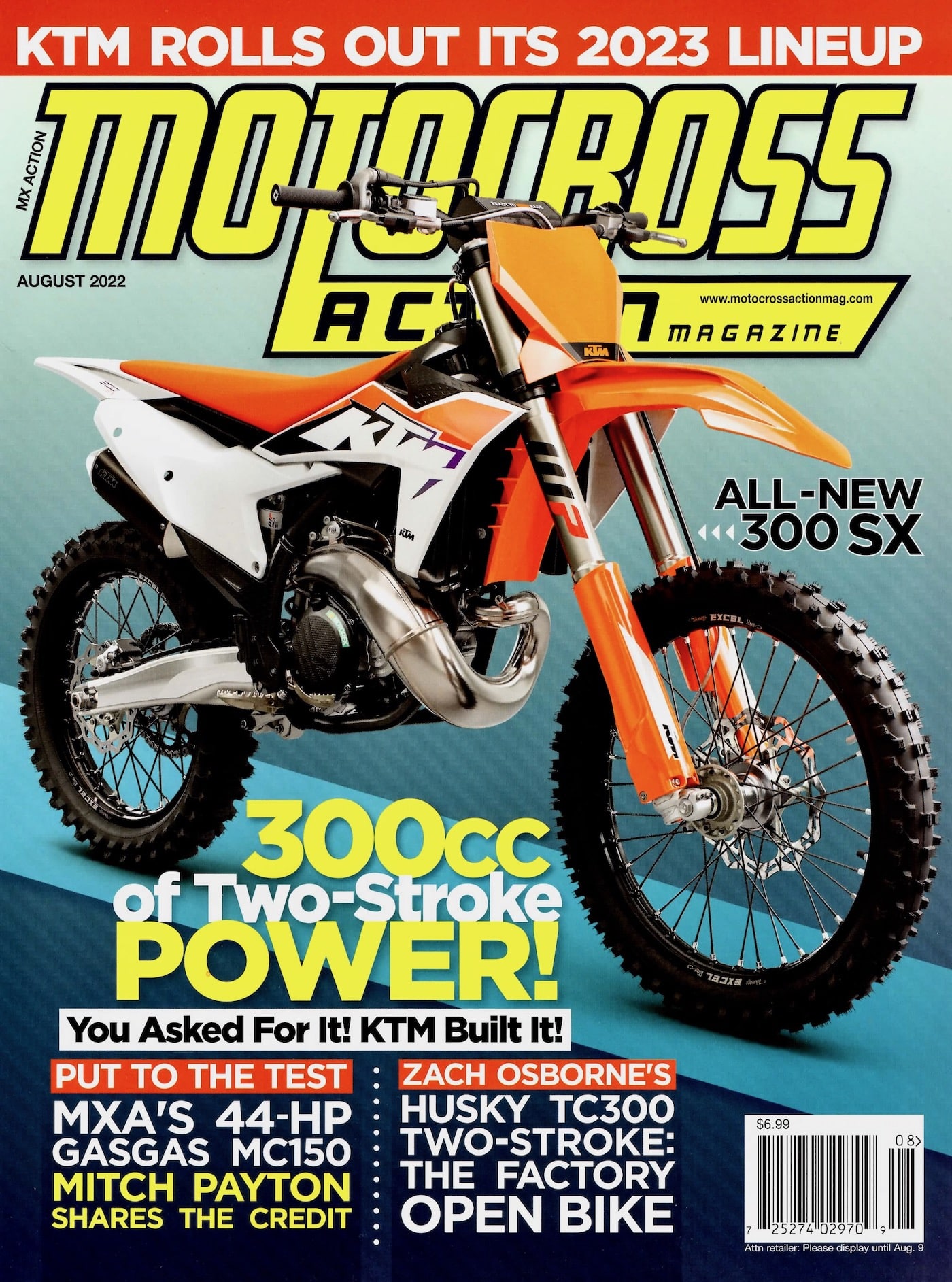 Did you know that you can subscribe to MXA at virtually no cost to you—because when you subscribe you receive a Rocky Mountain ATV/MC credit for $25 towards anything in their massive inventory? Plus, all the content in 12 monthly issues of Motocross Action magazine—from four-stroke tests, two-stroke tests, retro tests, race coverage, new tech to product tests (most of which never appear on the internet).
The August 2022 issues have full tests on the 2022 Yamaha YZ85 and YZ85 Big Wheel, 2022 Suzuki RM-Z250, a full test of the ultra-cool retro-mod Husqvarna TC300 that Zach Osborne raced at the 2022 World Two-Stroke Championship, Josh Mosiman gives the full break-down on how his GasGas MC250 two-stroke got to 44-horsepower and a retro test on James Stewart's  2005 Kawasaki SR 250. If that's not enough for you, we sat down with Larry Brook to learn how he went from minicycle star to MXA test rider to AMA racer to team owner for Chad Reed and James Stewart to his rejuvenation from running an amateur team to becoming the team manager of Suzuki's official 250 Supercross and National effort.
If that's not enough, go with us as we trace the 2022 Supercross season's trail of broken dreams and broken bodies. And, don't forget, you can will also get a $25 credit from Rocky Mountain ATV/MC  that will more than cover the cost of your subscription. To subscribe call (800) 767-0345 or Click Here
WASHOUGAL // ROUND 8 OF THE 2022 PRO MOTOCROSS SERIES // by Ben Bridges
Chase Sexton goes 2-1 for his 1st win since Round 1.
Chase Sexton is still the only rider to be on the podium all 8 rounds.
Sexton has 2 wins this year and 4 total 450MX wins.
Sexton also won Washougal last year.
Chase Sexton becomes the first Honda rider to win back-to-back races at Washougal.
Eli Tomac goes 1-2 for 2nd overall and keeps the red plate with a 5-point lead.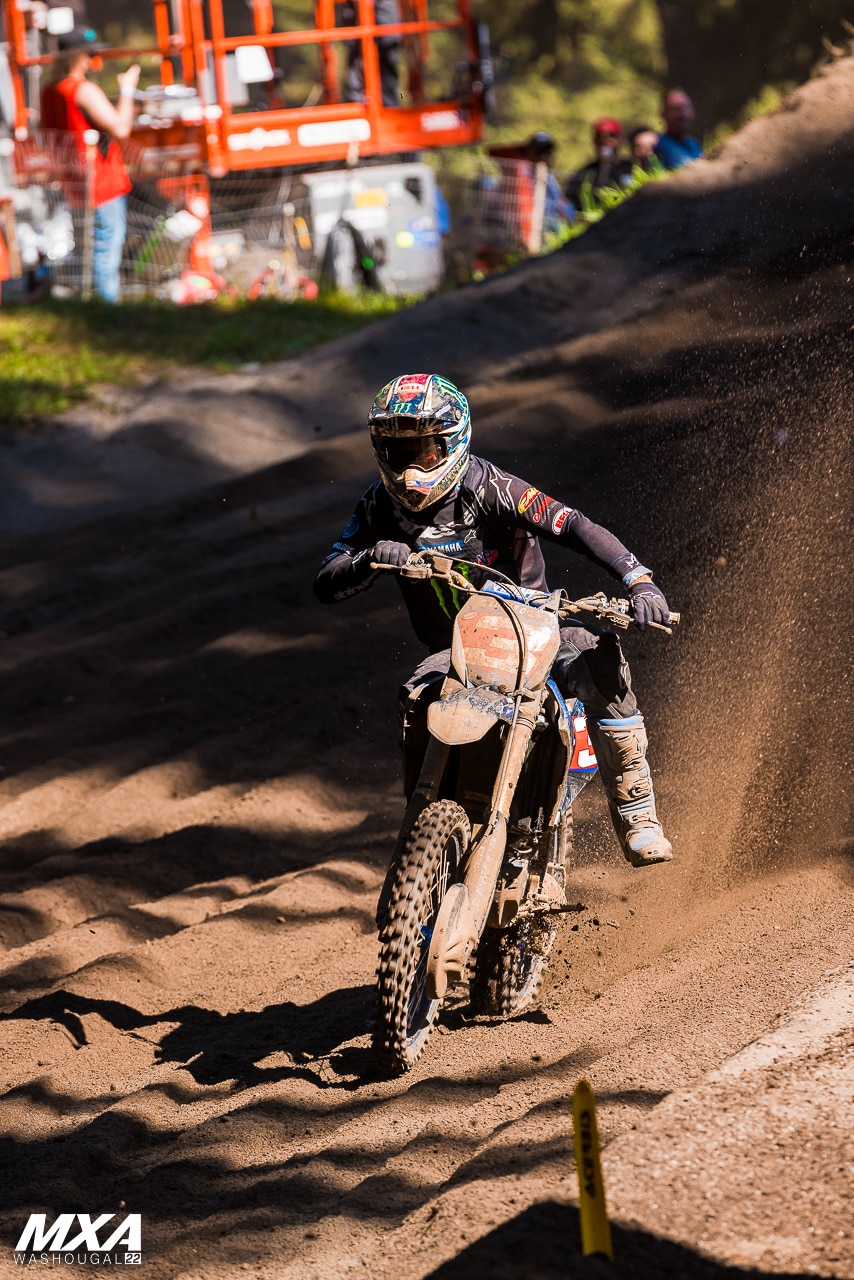 Yamaha last won Washougal in 1999 with Jimmy Button.
The last time Yamaha won the premier class was in 1999 with Jimmy Button. 
Jason Anderson goes 3-3 with 3rd overall, 4th podium this year, and he's 3rd in the points.
Ken Roczen goes 4-6 for 5th overall. It was his 7th top 5 this year and he sits 4th in the points.
Ryan Dungey pulled the holeshot in the 1st moto, and then pulled over with a mechanical problem. Dungey's last DNF was at Redbud in 2013, where he went 34-3 for 10th overall.
Dungey was 2 points out of 5th place when the day started, now he's 15th points out of 5th place.
With 4 rounds to go there's a 5-point gap between 1st and 2nd.  In 2011 there was a 1-point gap with 4 rounds to go, and in 2018 and 2007 there was a 7-point gap with 4 rounds to go.  This 450MX season, with 4 rounds to go, could go down to the wire.
Honda sweeps Washougal, it was their 2nd sweep of the season.
250 MX Recap: Jett Lawrence doesn't win and still wins the overall.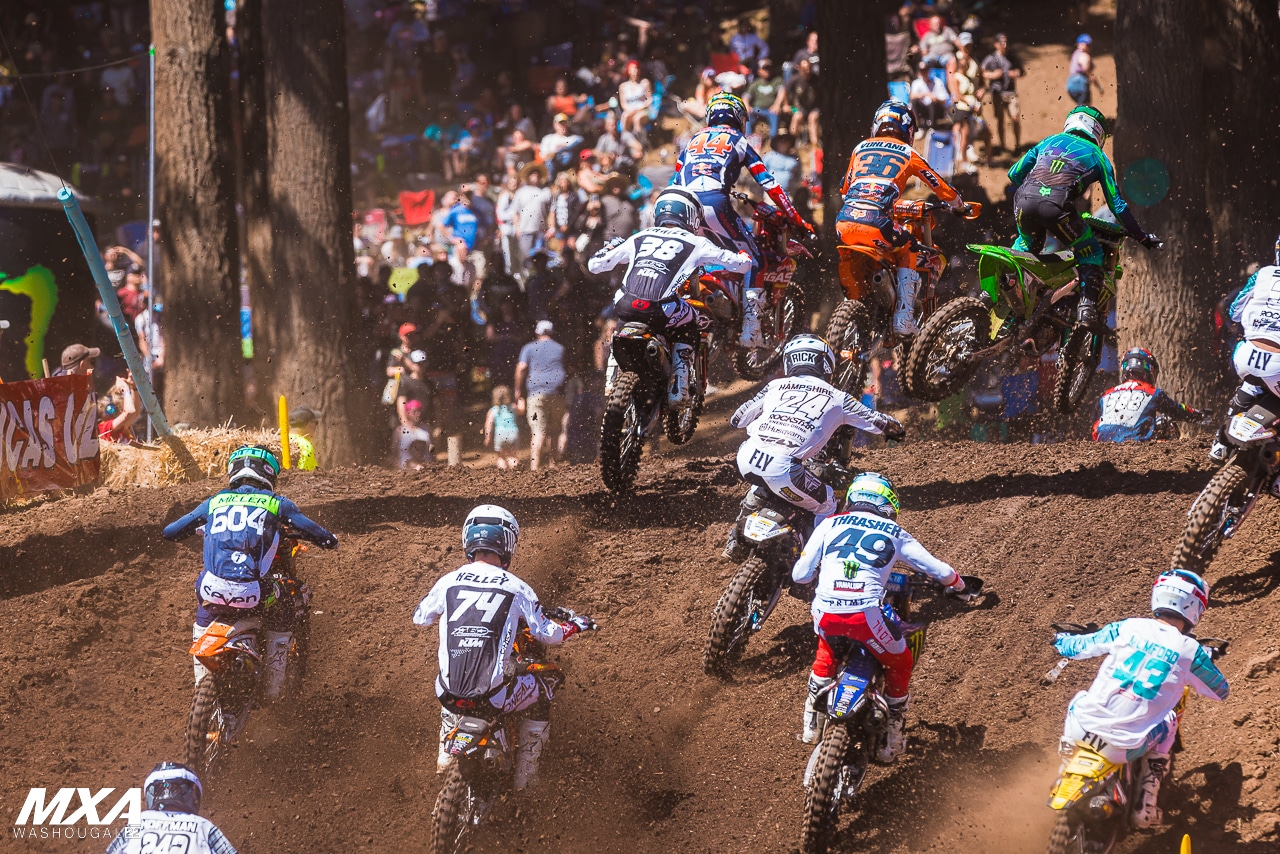 Jett Lawrence goes 2-2 and takes the overall win, it was his 7th win of the season.
It was the 2nd time Jett Lawrence went 2-2 and won the overall.
Jett Lawrence now has 12 250MX wins and ties Tomac for 9th place on the all-time 250 MX win list.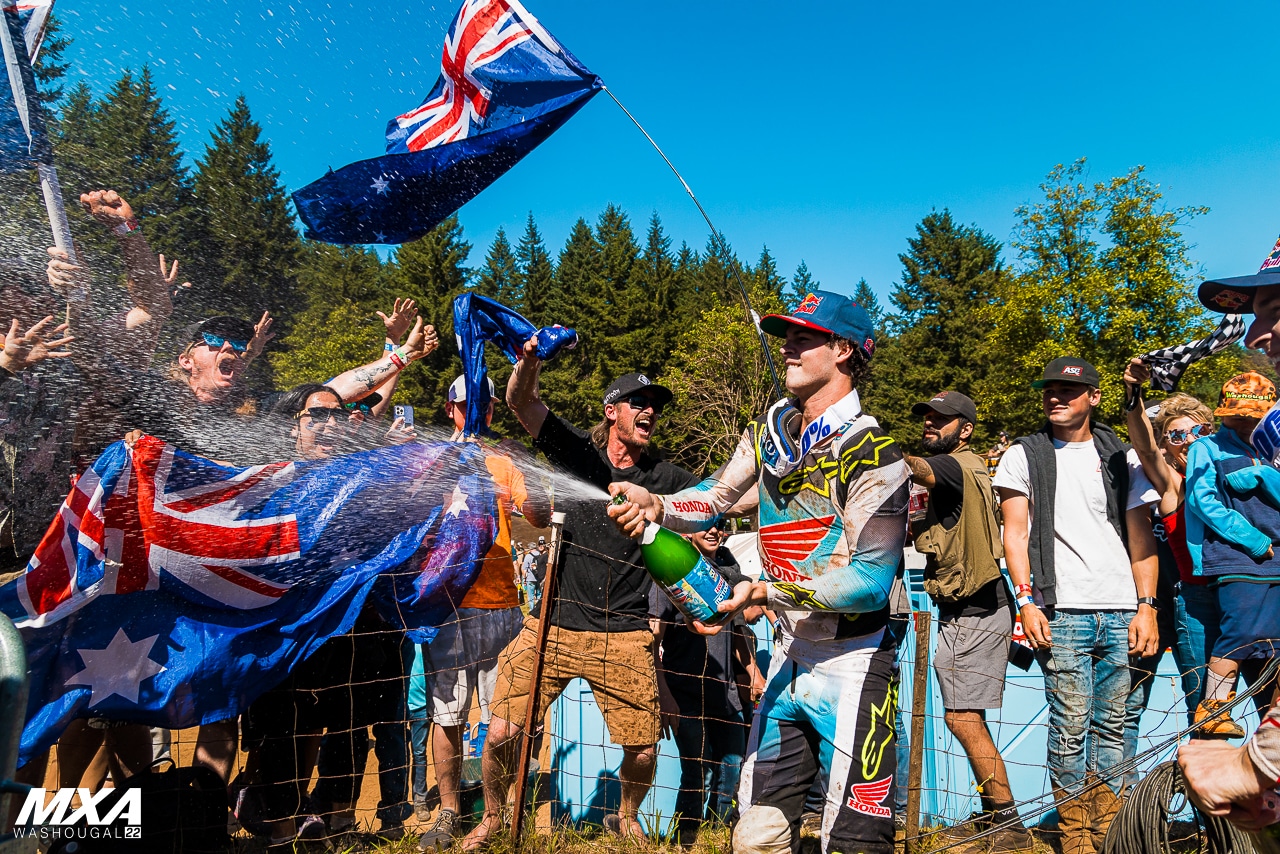 A Lawrence has won at least one moto all 8 rounds.
It was Honda's 7th win this season. In 1996 Honda had 9 wins in a season. Can this be matched or broken?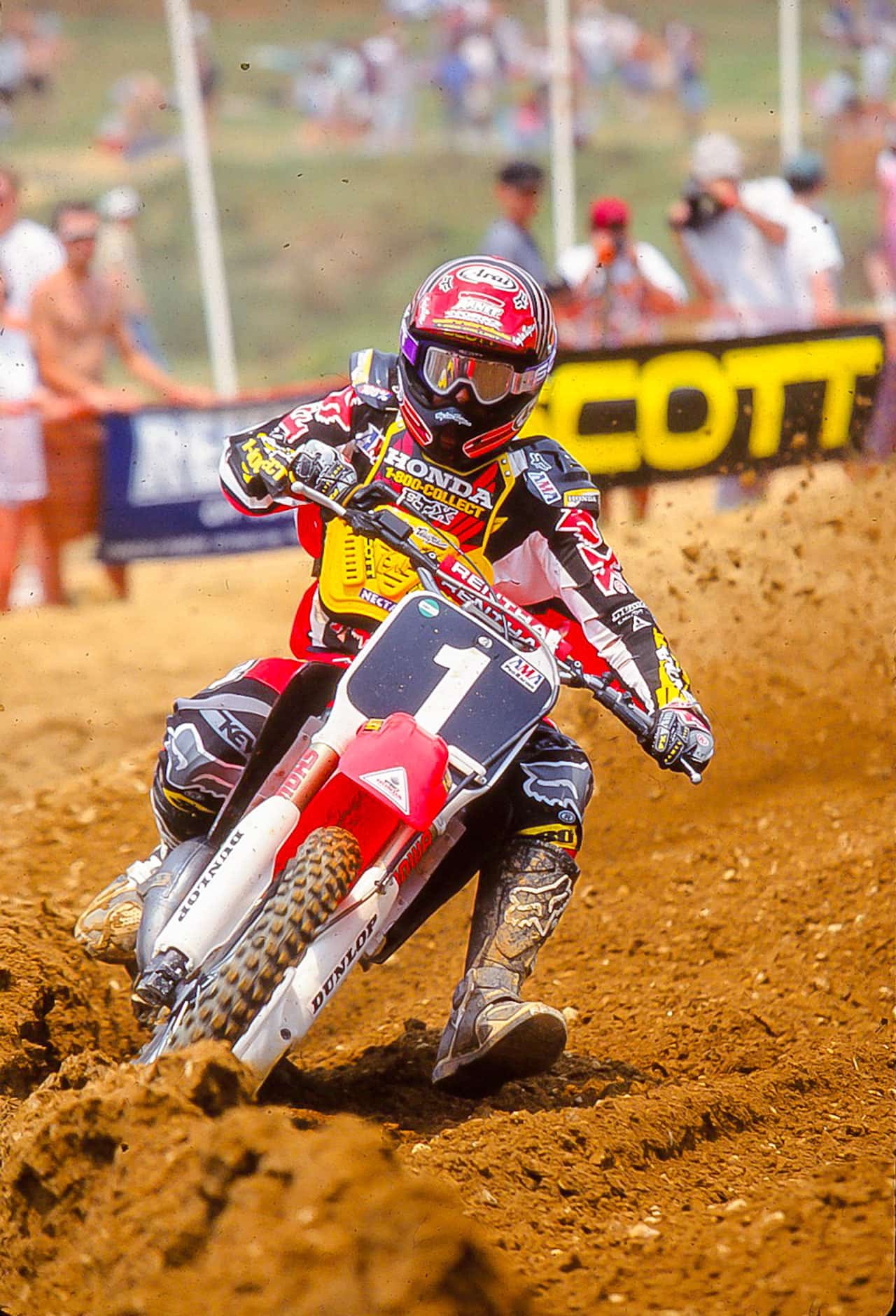 The record for Honda wins in the 125/250F class was 9 in 1996 when Steve Lamson had the number 1 plate. The Lawrence brothers have a chance of breaking that record.  
Justin Cooper goes 4-1 for 2nd place.  It was his 1st moto win of the season.
Hunter Lawrence goes 1-4 for 3rd overall.
It was the 6th time this season the Lawrence Brothers shared the podium.
Jo Shimoda went 3-3 for 4th overall and he still sits 3rd in the points.
Max Vohland goes 7-5 for 5th overall, his 2nd Top 5 of the season.  He sits 7th in the points.  15 points out of 5th place.
*The next race will be at Unadilla on August 13th as the racers take some time off.
FREE DIRT BIKE! FILL OUT MXA'S SURVEY FOR A CHANCE TO WIN THIS SSR BIKE

This is your chance to win this SSR SR140TR. It is loaded with premium components including disc brakes, upside-down forks, an adjustable shock and more. The MSRP of this bike is over $2000. But you can win it for free! All you have to do to be entered in the drawing is fill out the MXA Reader Survey.
Click here to take MXA's survey. 
MXA VIDEO: KX500 VERSUS KX450F
MXA | MOTO | TRIVIA
Who is this rider and what year? Answer at the bottom of the page.
WIN CODY WEBB'S 2023 SHERCO 2-STROKE // click the photo
TEAM TESTED //PRO CIRCUIT KTM 450SXF SUSPENSION MODS

We love the stock suspension on the 2021–2022 KTMs, but it was on the soft side for our fastest test riders. The stock KTM 450SXF settings work great on smooth to moderately rough tracks, but the rougher the track, the more important it is for the forks to stay up in their stroke. Pro Circuit's valving held both the forks and shock up higher in their stroke, which made more suspension travel available for the big hits.
VERDICT: The Pro Circuit suspension valving and linkage were plug-and-play upgrades for Pro riders, but not so much for Novices, Vets or play riders.
DIGITS: $164.95 (forks), $164.95 (shock), $445.00 (linkage)—(951) 738-8050 or www.procircuit.com.
MXA VIDEO // CHASE SEXTON TELL US THEY CAN WIN THE MXDN
MOTOCROSS TIP // BEING MENTALLY TOUGH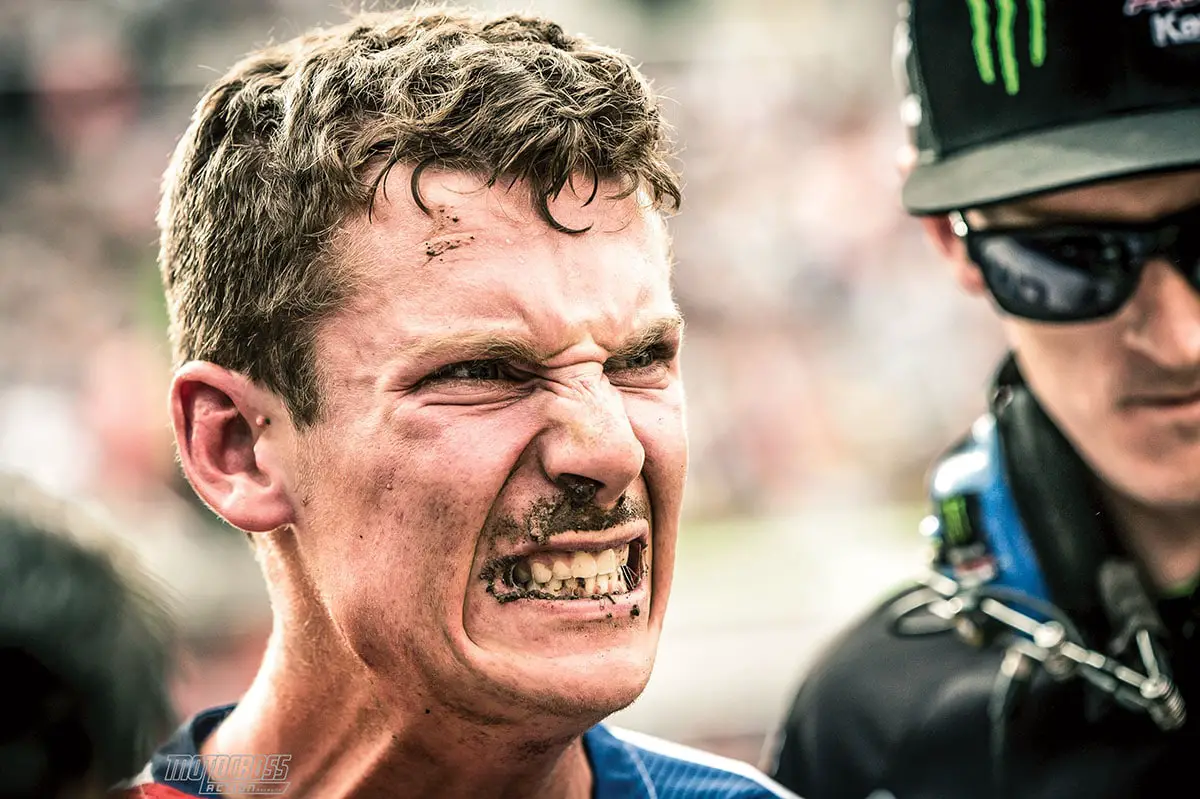 MOTO TIP: Mentally tough riders tend to have very positive attitudes. They encounter challenges like everyone else, but when the trials come, they push through. The strongest riders enjoy the challenges because they know they'll gain mental strength conquering them. The first key to becoming mentally tough is realizing that challenges will come. The second step is tackling them head-on.
MXA YOUTUBE CHANNEL | HIT THAT SUBSCRIBE BUTTON
The MXA wrecking crew is everything moto related. Check out our MXA YouTube channel for bike reviews, Supercross coverage, rider interviews and much more. And don't forget to hit that subscribe button.
LOST BUT NOT FORGOTTEN //1998 HONDA CR125 FMF 25TH YEAR ANNIVERSARY BIKE
ASK THE MXPERTS

: 

LAST-MINUTE GRIP FIXES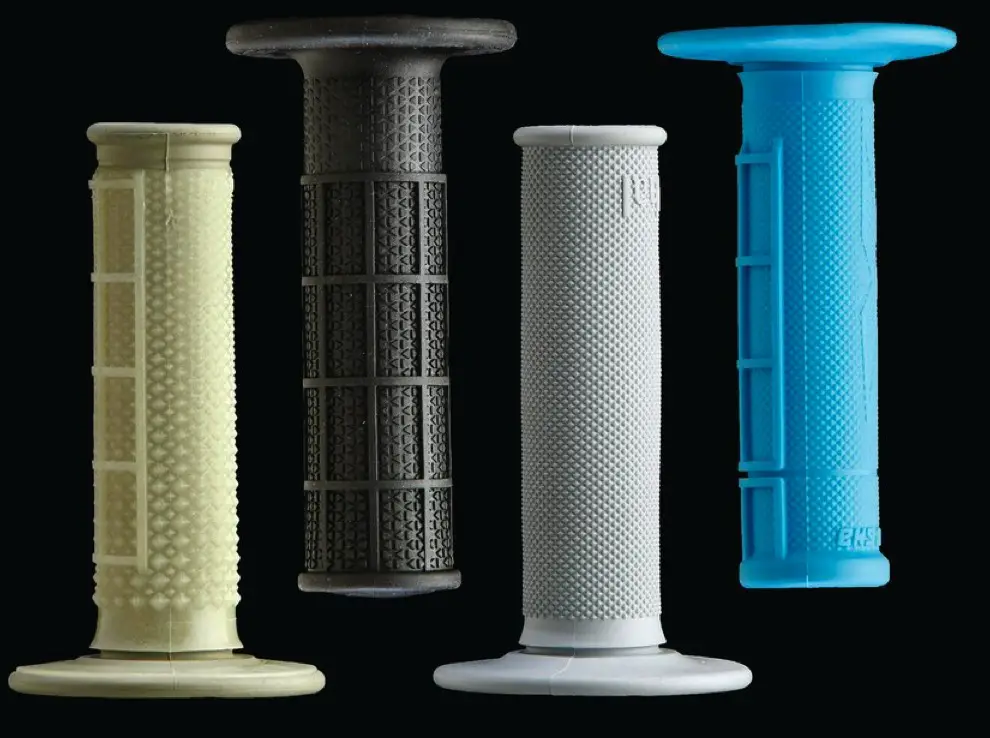 It doesn't matter what brand of grip you choose if it doesn't stay on tight.
LAST-MINUTE GRIP FIXES
Dear MXA,
At the track last week I tore my left grip. I had spare grips in my toolbox but no grip glue. The guy parked next to me was a contractor, and he said that he had spray paint and that would work. I didn't believe him, so I safety-wired my torn grip up like a mummy and raced my second moto. My hands now look like a Guy Fieri hamburger. My question is, does spray paint work?
Yes. This is an old-school trick—but not the oldest. Of all the chemically dependent measures used to install grips, paint is the only method we would trust to use 30 minutes later. The best paint to use is clear Krylon. The enamel in Krylon dries instantly and is the least harsh on Kraton Polymer (the material that most grips are made of). Kraton Polymer is a faux rubber developed by the Shell Chemical Corporation. Kraton is the most commonly used thermal plastic rubber (TPR). A tacky Kraton rubber grip will never become hard and slick because it dries out with age as if it were made of real rubber. You must use enamel paint. Lightly spray the inside of the grip and the bar. Immediately slide the grip into position. The grip glues to the bar instantly as the paint dries. Using clear paint means no ugly over-spray.
MXA carries a set of clamp-on grips to every race and test session. That way we don't have to wait for the glue to dry.
In a pinch, you can mount grips on your bars by taking strips of cloth electrical tape and wrapping them around the bar in a spiral. Then, moisten your finger with mineral spirits, paint thinner or straight gas and wipe the inside of the grip. Slide the grip over the tape. The gasoline activates the glue embedded in the cloth tape, and the tolerance fit of sliding the grip over the cloth makes for a secure fit. Always use safety wire for security.
The smartest move is to carry a set of bolt-on grips, such as ODI, Torc1 or A'ME grips, in your toolbox. This eliminates the need to wait for the glue to dry.
FOR MORE MXPERTS TIPS CLICK HERE
CLASSIC PHOTO


The 1993 MXA 125cc two-stroke shootout.

---
Moto Trivia answer: Shawn Kalos back in 1993.