MOTOCROSS ACTION MID-WEEK REPORT
#WHIPITWEDNESDAY
Rider: Ken Roczen and Blake Baggett
Location: Fox Raceway 2019 National
Photographer: Daryl Ecklund
Lens: 300mm
F Stop: f/6.3
ISO: 1000
Shutter speed: 1/1600
TWO-STROKE SPOTLIGHT: BRADY HAGLER'S 2001 KAWASAKI KX500
"This is my rebuilt Tom Morgan Racing built engine and a Lectron carb and Pro Action took care of the suspension. I used a Guts seat cover and utilized all new bearings and seals with a Pro Circuit exhaust. This thing is like new only better."–Brady Hagler
Editors Note: Please keep those submissions coming. If you would like your bike to be featured in the "Two-Stroke Spotlight," please email me at [email protected]. All I ask is that you give a breakdown of your bike and a detailed description of the build. Please also send a few photos of your steed. By submitting your bike for the "Two-Stroke Spotlight," you agree to release all ownership rights to the images and copy to MXA. Please don't email me spam or try selling me Taylor Swift concert tickets or email me spam. Happy submitting your smoker.
WIN CODY WEBB'S 2023 SHERCO 2-STROKE // click the photo for a chance to win
MXA VIDEO: WE TEST THE 2023 HONDA CRF450
MXA | MOTO | TRIVIA
Who is this rider? Answer at the bottom of the page.
MXPERTS // DIFFERENCE BETWEEN RACE SAG & FREE SAG
Dear MXA,
       I know very little about setting up the suspension. I tend to just ride my bike and live with whatever happens. But, as of late I've started to read MXA and realize that stupidity is not a positive attribute. I want to start with the basics and learn more about making my bike better. What do I need to know about setting the sag? And what is the difference between race sag and free sag?
Setting sag is the one thing that every rider thinks he can do but normally does wrong. You would think that making two measurements and subtracting one from the other would be simple. Not so! Here are some tips.
(1) Do not measure the sag with the rider standing up. (2) Bounce on the suspension before measuring. (3) Sit where you actually ride, not some dream position. (4) Measure from the exact same location every time.

How do you measure sag? Put your bike on a stand with the rear wheel off the ground, and measure from the rear fender to the rear axle. Write that number on your buddy's forehead. Next, remove the bike from the stand and climb on board. Once you are positioned on the bike, have your buddy make the same measurement again. Subtract the new number from the one written on his forehead. The result should be 4 inches or 100mm, whichever comes first. Some bikes, most notably KTM work best with 105mm, but you can choose your own race number number by experimenting.

What should you do if it isn't 100mm? Loosen the shock's preload ring and turn the collar in the proper direction to make the spring stiffer or softer. Then, measure again and again until you get the desired number.
When to check sag? We know this sounds like a broken record, but that is better than a broken bone, check your sag before each race! It changes. One caveat: do not check the sag when the shock is hot — and it gets hot very quickly. If you've just ridden your bike in the first practice and think that you should check the sag before the second practice, save yourself the trouble. The hot shock will not give you an accurate measurement. Wait until the shock cools down. You can use sag as a tuning tool. Jeremy McGrath liked to set his sag at more than 100mm. Why? He wanted the rear shock to feel dead in the whoops. On the other hand, setting the sag at less than 100mm can make your bike handle quicker in the turns, because it raises the rear of the bike, which steepens the head angle. As a rule of thumb, every MXA test rider stays between 100mm and 105mm.
What is free sag? Free sag is a measurement of how much the bike sags under its own weight (without you on it). Free sag can only be checked after race sag is set.
How do you check free sag? Once you have the preload set at 100mm, or your favorite number, for your weight, position the bike on level ground, grab the bike under the rear fender and lift up—like you are going to pick the bike up off the ground. Did you feel the shock move? How far could you lift the rear fender up before the rear wheel tried to leave the ground? Was it 25mm? Was it 3mm? The amount of slop in the rear end is called "free sag."

How much free sag should there be? Free sag should be between 30mm and 40mm. If you have more than 40mm of free sag, your shock spring is too stiff. Less than 30mm and your spring is too soft. This is so important and so basic that you need to repeat after us: if you have excess free sag, your shock spring is too stiff. Now ask yourself, why? That's simple; you haven't been eating enough. Gain weight and you will have to preload the shock spring more, which will take up the excess free sag. If you don't want to pork up, you should consider a lighter shock spring. If you have very little free sag (less than 30mm), your shock spring is too soft. Why? Because to hold your body up, the shock spring has to be preloaded way down into its stroke. It is overstressed, so overstressed that it is working overtime to hold up the bike; thus it has no jangle left in the rear end. The solution? Buy a stiffer shock spring (or go on a diet).
What if you have less than 30mm of free sag? Many times a rider will set the race sag at 100mm and find out that he has no static sag at all, but he wants to race the bike anyway. What should he do? Back the race sag off until there is at least 10mm of static sag. Free sag trumps race sag in this extreme condition.
MXA YOUTUBE CHANNEL | HIT THAT SUBSCRIBE BUTTON
The MXA wrecking crew is everything moto related. Check out our MXA YouTube channel for bike reviews, Supercross coverage, rider interviews and much more. And don't forget to hit that subscribe button.
TEAM TESTED // NACSTAR WORKS COMPLETE WHEELS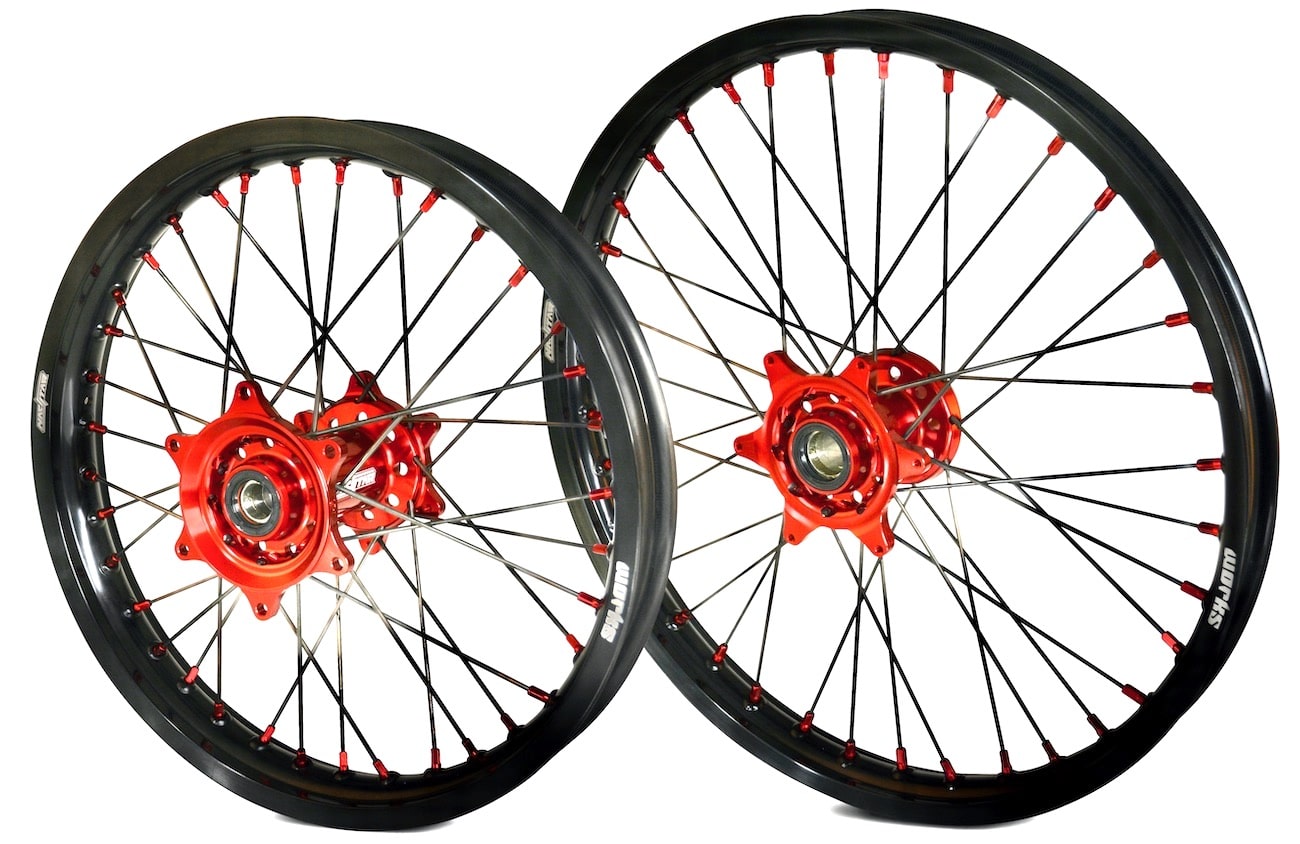 The Nacstar Works wheels feature 6061-T6 forged aluminum hubs, black-anodized 7050-T6 aluminum rims, stainless steel 304T spokes, 7075 aluminum nipples, high-quality bearings, excellent seals, hard-anodized wheel spacers and three bearings on the sprocket side.
VERDICT: At $599.99 for a complete set of front and rear Nacstar wheels, MXAhad its doubts until we put them through months of racing at Glen Helen, Pala, Elsinore and Cahuilla Creek without any issues.
DIGITS: $599 per set (18-inch & 19-inch), $529 (85cc), $479 (65cc) and $429 (50cc)—www.nacstarusa.com or (951) 219-9675.
NIHILO CONCEPTS 2023 BIG BIKE GRIP TAPE 

MXA QUOTE OF THE WEEK: HAIDEN DEEGAN ON SWITCHING FROM KTM TO YAMAHA
"There were a few teams that were looking at me, but Star was the one that started winning at the time, and winning championships. They really do have one of the gnarliest training programs with all the guys riding together. Though we have seen that with KTM, Kawasaki, and even Honda. Jett Lawrence and Hunter Lawrence, I know they train together. We wanted the best training program because that would lead me to the best route. Star was the one where all the guys train together. We all ride together and push each other, so that was why we chose Star. It was a better training program for me, and they obviously have a good bike and a bunch of fast riders." 
FORGOTTEN BIKES: RICKY CARMICHAEL'S 1997 KX125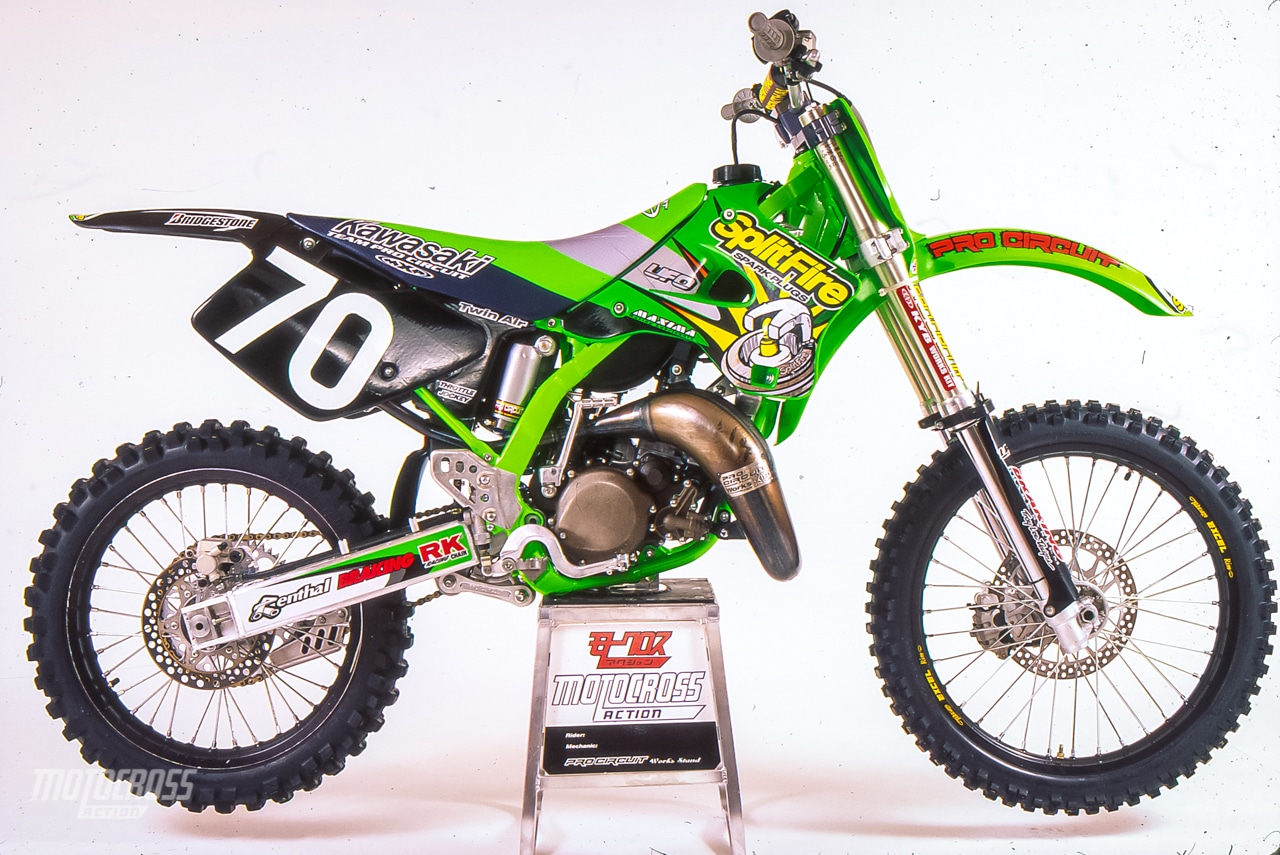 THE AUGUST 2022 ISSUE OF MXA IS OUT! JAM-PACKED! SUBSCRIBE AND YOU WON'T MISS ANYTHING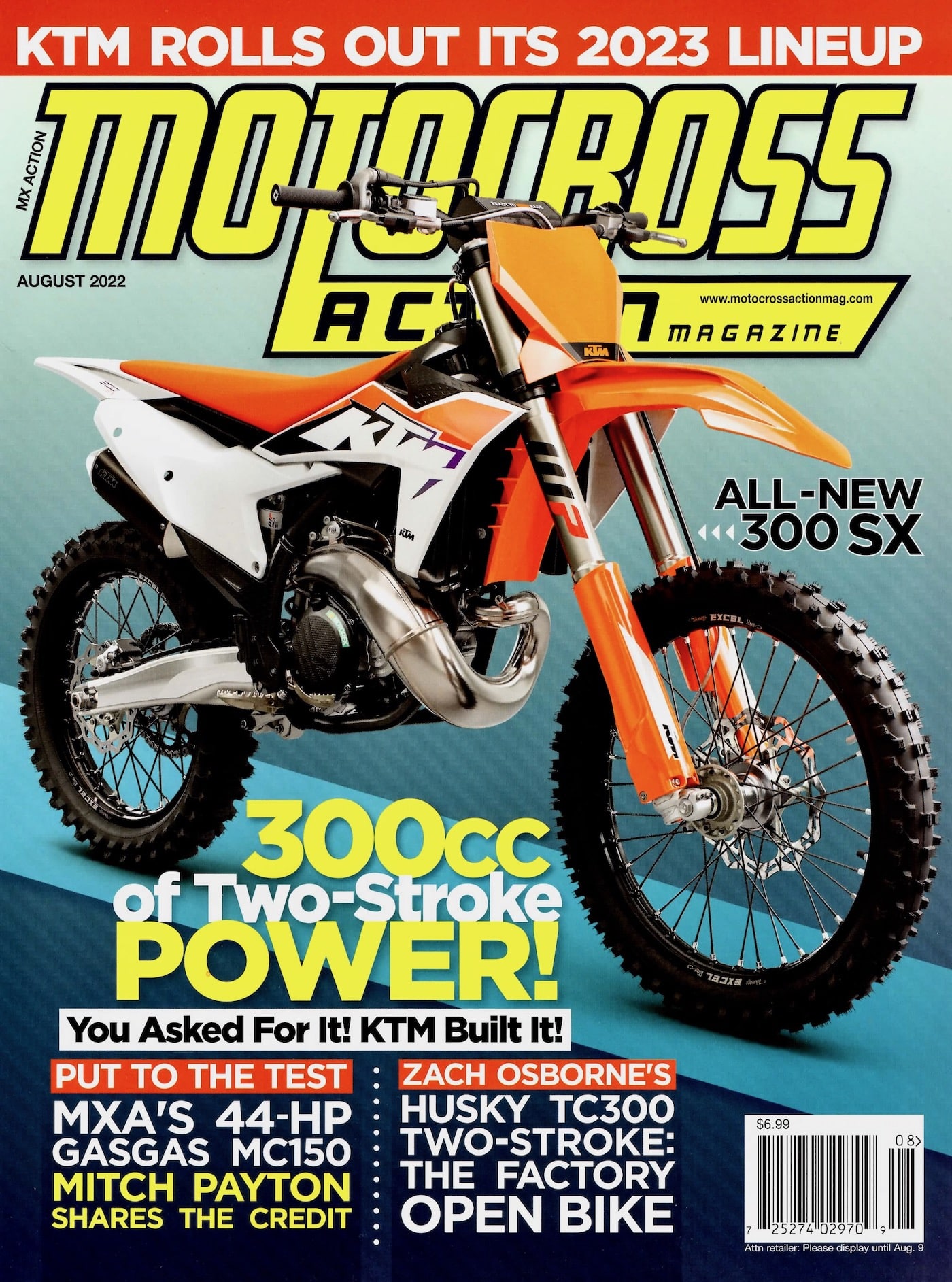 Did you know that you can subscribe to MXA at virtually no cost to you—because when you subscribe you receive a Rocky Mountain ATV/MC credit for $25 towards anything in their massive inventory? Plus, all the content in 12 monthly issues of Motocross Action magazine—from four-stroke tests, two-stroke tests, retro tests, race coverage, new tech to product tests (most of which never appear on the internet).
The August 2022 issues have full tests on the 2022 Yamaha YZ85 and YZ85 Big Wheel, 2022 Suzuki RM-Z250, a full test of the ultra-cool retro-mod Husqvarna TC300 that Zach Osborne raced at the 2022 World Two-Stroke Championship, Josh Mosiman gives the full break-down on how his GasGas MC250 two-stroke got to 44-horsepower and a retro test on James Stewart's  2005 Kawasaki SR 250. If that's not enough for you, we sat down with Larry Brook to learn how he went from minicycle star to MXA test rider to AMA racer to team owner for Chad Reed and James Stewart to his rejuvenation from running an amateur team to becoming the team manager of Suzuki's official 250 Supercross and National effort.
If that's not enough, go with us as we trace the 2022 Supercross season's trail of broken dreams and broken bodies. And, don't forget, you can will also get a $25 credit from Rocky Mountain ATV/MC  that will more than cover the cost of your subscription. To subscribe call (800) 767-0345 or Click Here
MOTO TIP OF THE WEEK // BRAKES! WHAT BRAKES?
MOTO TIP: No brakes may sound like a recipe for disaster, but brakes are the enemy of momentum. Think about it. There is no difference in the speed that a Vet Intermediate and Ryan Villopoto can generate down a long straight. They can both go wide open. So, where does Ryan pull away. He doesn't brake as much for the corner. He rolls the throttle on sooner on the exit. He brakes less, and thus he slows down less. You can easily practice not using the brakes by taking baby steps. Then, as you find places to use the brakes less, you can start to speed up the pace. Progress slowly.
FREE DIRT BIKE! FILL OUT MXA'S SURVEY FOR A CHANCE TO WIN THIS SSR BIKE

This is your chance to win this SSR SR140TR. It is loaded with premium components including disc brakes, upside-down forks, an adjustable shock and more. The MSRP of this bike is over $2000. But you can win it for free! All you have to do to be entered in the drawing is fill out the MXA Reader Survey.
Click here to take MXA's survey. 
CLASSIC PHOTO
Jeff Matiasevich back in 1987.
---
Moto Trivia answer: Brock Sellards.