MOTOCROSS ACTION MID-WEEK REPORT
#WHIPITWEDNESDAY
Rider: Jordan Smith & Josh Grant
Location: 2018 Red Bull Straight Rhythm
Focal length: 300mm
Exposure: 1/1600sec
F-stop: f/6.3
ISO: 250
Photographer: Daryl Ecklund
MXA | MOTO | TRIVIA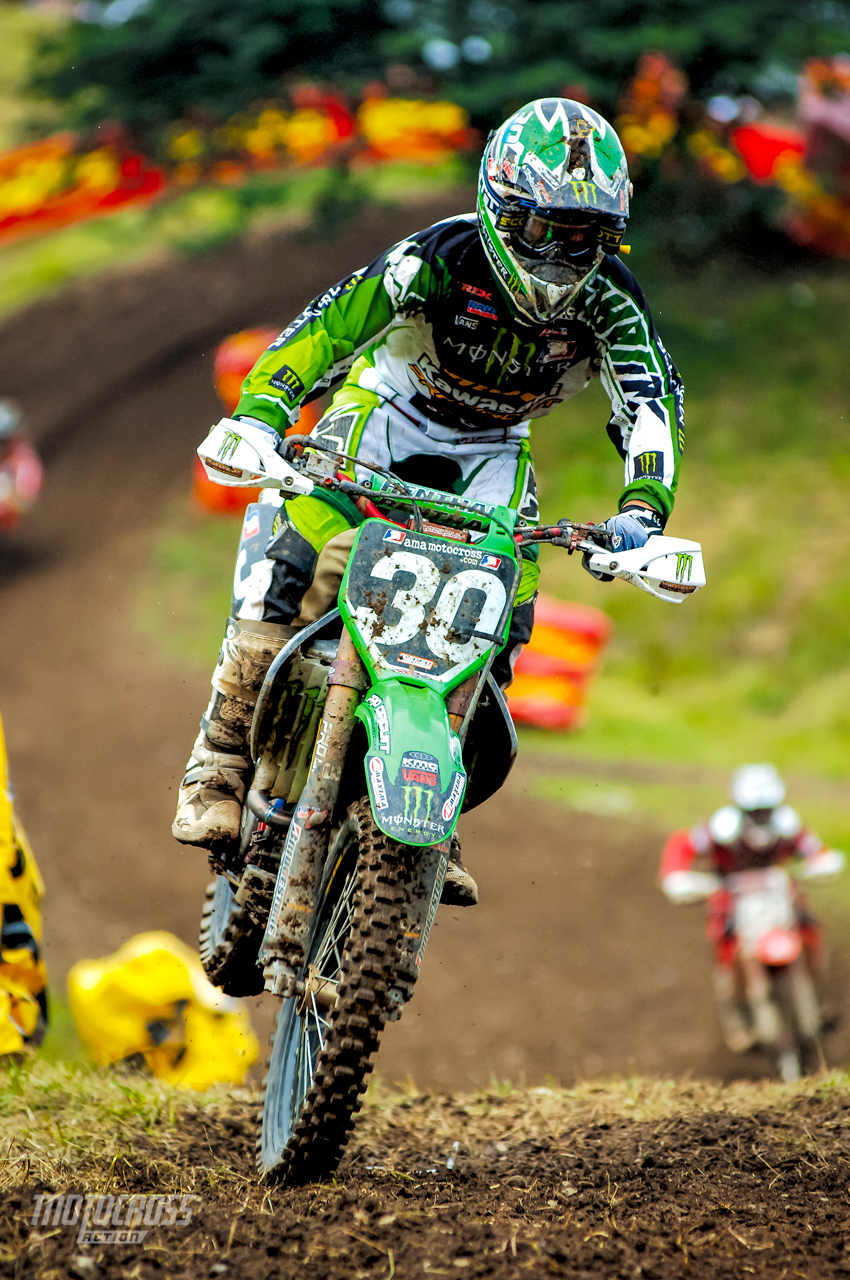 Name the rider and year. Answer at the bottom of the page.
WE SHAKE DOWN ALEX MARTIN'S CLUB MX YAMAHA YZ450F 
WIN CODY WEBB'S 2023 SHERCO 2-STROKE // click the photo for a chance to win
MXA PRODUCT SPOTLIGHT: ODI GRIPS EMIG PRO V2 LOCK-ON GRIPSODI Grip's new black and yellow grips were made to match the Rockstar Edition Husqvarna perfectly.
ODI Grips recently introduced new color options for their Emig Pro V2 Lock-On grips. Now you can get black and yellow grips to match your Rockstar Edition Husky FC450 or Grey, Orange and Blue grips to match your KTM Factory Edition as seen below. They also released new black and green grips to match the signature Kawasaki colors. Click here to learn more about the grips and get MXA's opinion on them.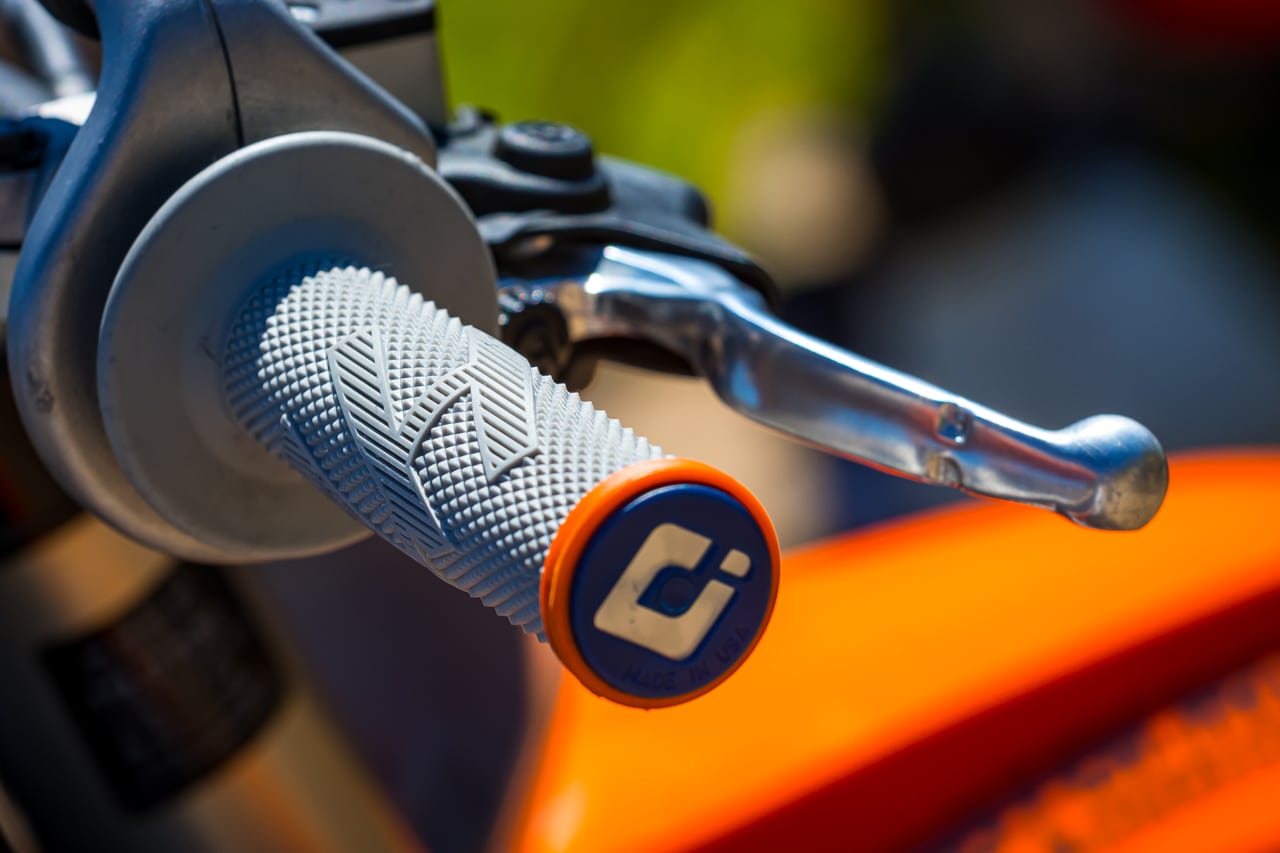 The new Grey/Orange/Blue color way matched our KTM 250SX great. But it looks even better on factory edition models.
We really like the extra-soft, undercut, independent ribs on the Emig Pro V2 grips. They extend across the outer two-thirds of the grip and they're designed to deliver lateral and rotational traction. The ribs are angled downward towards the inside of the grip to encourage better hand positioning and to remind you to raise your elbows.
BUDDS CREEK // ROUND 10 OF THE 2022 PRO MOTOCROSS SERIES // by Ben Bridges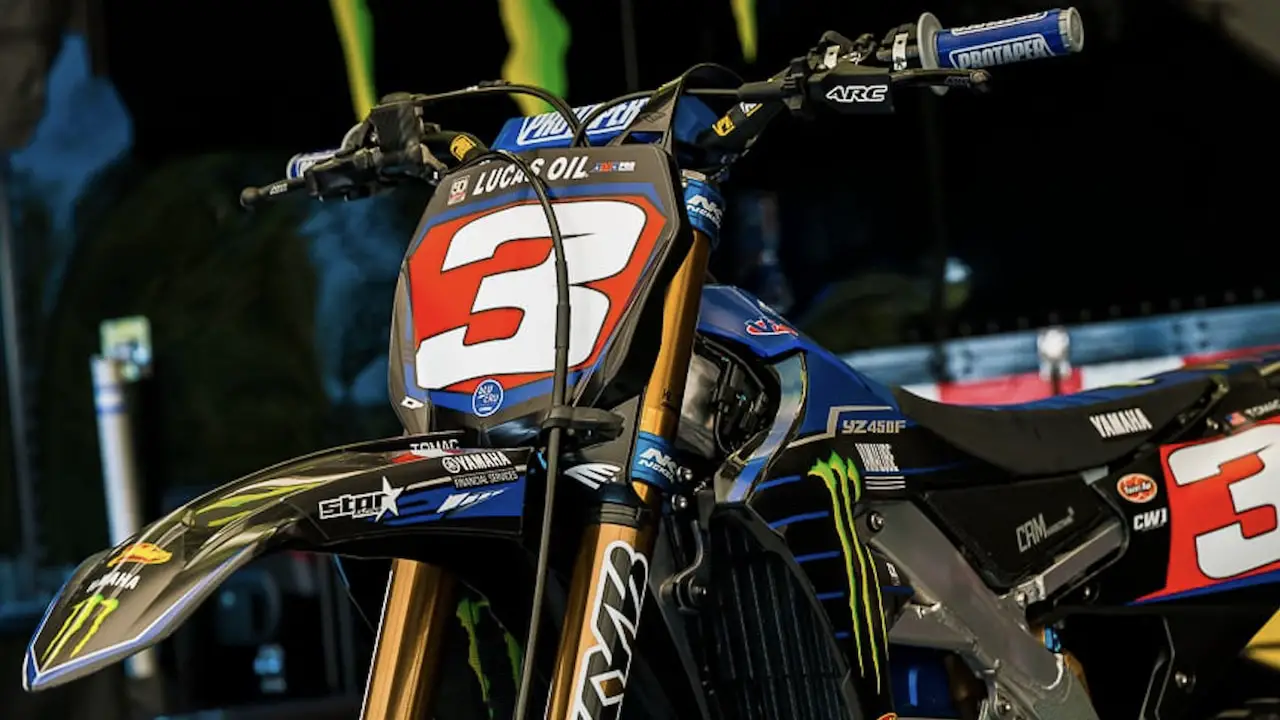 450MX Budds Creek Recap-Tomac takes Red Plate back from a red bike
Jason Anderson went 2-2 for his 2nd win of the season.
Anderson won Round 2 at Hangtown.  This was his 6th podium of the season.
Anderson gives Kawasaki their 7th win at Budds Creek.
Eli Tomac went 1-5 for 2nd overall.  It was his 9th podium of the season.
Tomac now has a 1-point lead with 2 rounds to go.
Ken Roczen gets back on the podium with a 3-3 for 3rd overall.  It was Roczen's first podium since he won Round 3.
Roczen sits 4th in the points.
Roczen got his 9th Top 5 of the season, and has a 5.0 average finish.
Chase Sexton goes 7-1 for 4th overall.  This was the first time this season he did not finish on the podium, and he sits 2nd in the points, one behind Tomac.
Ryan Dungey goes 4-4 for 5th overall. The former champion has been very consistent all season, currently sitting 6th in the points, 3 points back of Craig, who is in 5th.
Defending Champion Dylan Ferrandis and Justin Barcia got tangled up in Moto two, which led to a DQ for Barcia.
Two rounds to go.  Get ready for an exciting finish!
250MX Budds Creek Recap-First American to win this season
Since the series started in 1974, American riders have pretty much dominated the 250 MX series.  However, this season, they have been shut out thanks to Jett Lawrence of Australia and Joe Shimoda of Japan.
R.J. Hampshire went 1-2 for 1st overall, becoming the 1st American rider to win an overall this season.
It was Hampshire's 4th career win, and now Husqvarna has won a 250MX overall in six of the last seven years.
Hampshire joins Zach Osborne as one of two Husky riders to win at Budds Creek.
Joe Shimoda went 3-1 for 2nd overall. Shimoda is now 2nd in the points.
Shimoda has the best average finish of anybody this season with a 3.3.
Points leader, Jett Lawrence, went 2-3 for 3rd overall after two tough motos.
JUSTIN BARCIA VERSUS DYLAN FERANDIS
LOST BUT NOT FORGOTTEN | 1998 Kawasaki KX250
TALK MOTO WITH MOTO MINDED PEOPLE. JOIN MXA'S FACEBOOK GROUP CHAT

We love everything moto and want to bring all moto junkies together into one place to share their two cents, ideas, photos, bike fixes, bike problems and much more. To check it out first you must need to or already have a Facebook account. If you don't, it isn't much work and you could even have an alias so nobody knows it is you. To join click HERE. After you request to join we will accept your request shortly after.
WANT TO KNOW HOW A DYNO WORKS?
There is no more effective tool to tune and compare race engines than a dynamometer. Dynos measure the force of an engine and give the results in corrected "perfect condition" figures. This allows the engine builder to compare uniform results on a day-to-day basis under fluctuating temperature, air humidity and barometric pressure (these conditions have a correlating effect on the amount of power an engine can produce). Performance shops use dynos to immediately test just-released bikes or new, untried mods and compare the results directly against the best and worst power curves from the past and present. Dynamometers take much of the guesswork out of engine tuning before ever setting a wheel on the track. Top tuners spend an equal amount of time on the dyno as they do testing on the track.
WAYS POWER IS MEASURED
Conceptually, nothing could be simpler than a dynamometer. It measures the force of an engine and factors that information into given units of measurement. The knowns are that one horsepower is equal to the force required to raise a 550-pound weight at the velocity of one foot in one second. Torque is a foot-pounds measurement of the effectiveness (leverage) of the force that creates rotation. By applying a rotating resistance to an engine and reading how quick and how fast the constraint is turned in comparison to how fast and quick the engine is turning, power and torque output can be accurately recorded.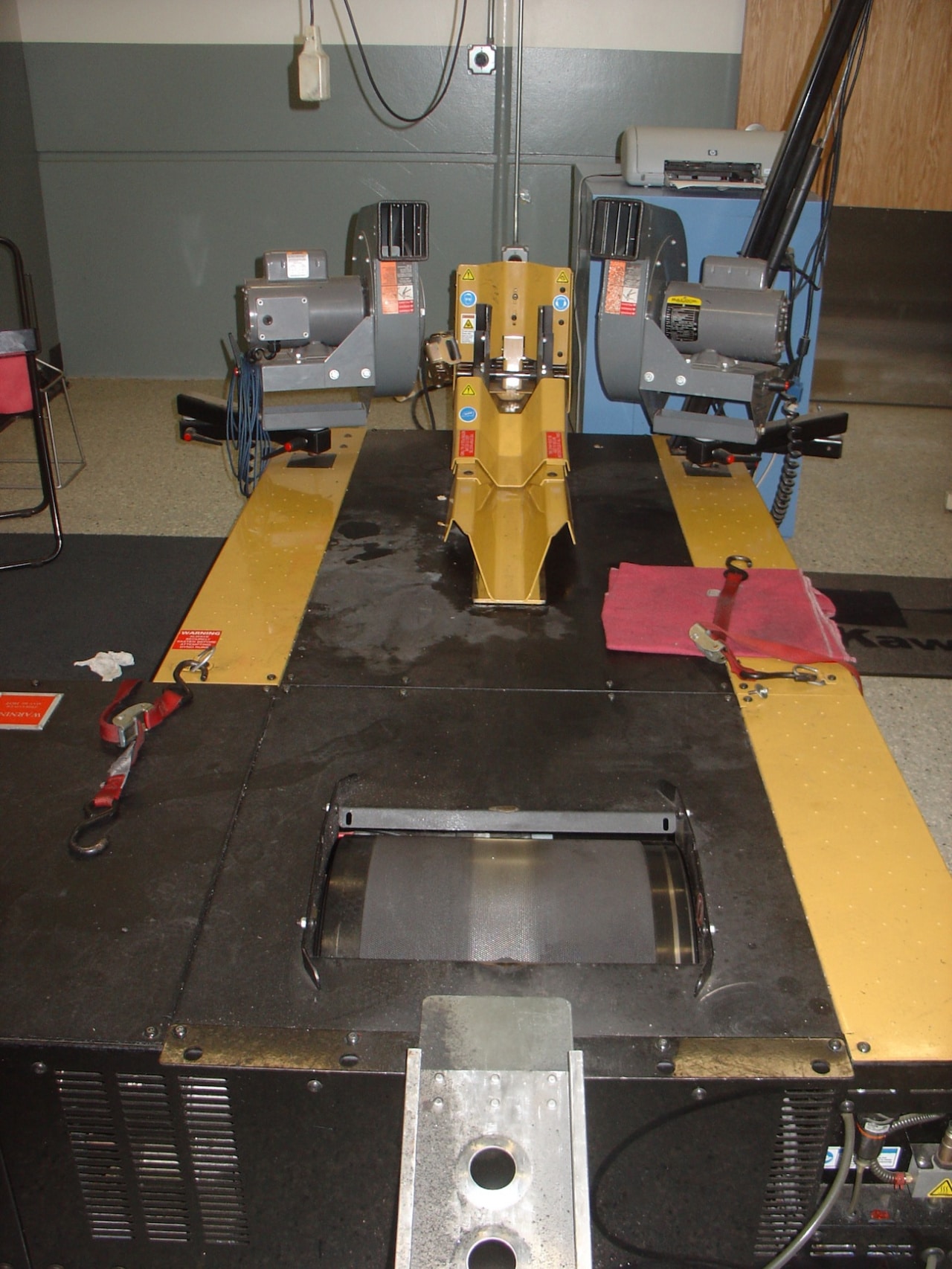 A dyno without the bike on it. 
FROM THE REAR WHEEL
Inertia dynamometers, like a Dynojet, are easy to use and very popular. The front wheel of the motorcycle fits into an adjustable chalk and the rear wheel powers a 900-pound, inertia drum. Horsepower is calculated by deriving force by multiplying drum acceleration by drum mass and velocity by the time it takes to rotate the inertia drum one turn. Torque is figured by multiplying the measured force at any given moment by the drum radius, proportioned by the ratio of the engine to drum speed. The Dynojet takes horsepower and torque readings every 200 rpm. Inertia dynamometers necessitate that the tuner sits on the motorcycle during operation. Results are most consistent if the bike is measured by performing a roll-on test in the upper gears.
One advantage of the Dynojet is that the bike can be taken straight off the dyno, and if surroundings permit, run through the gears out in the parking lot and then propped right back atop the dyno again.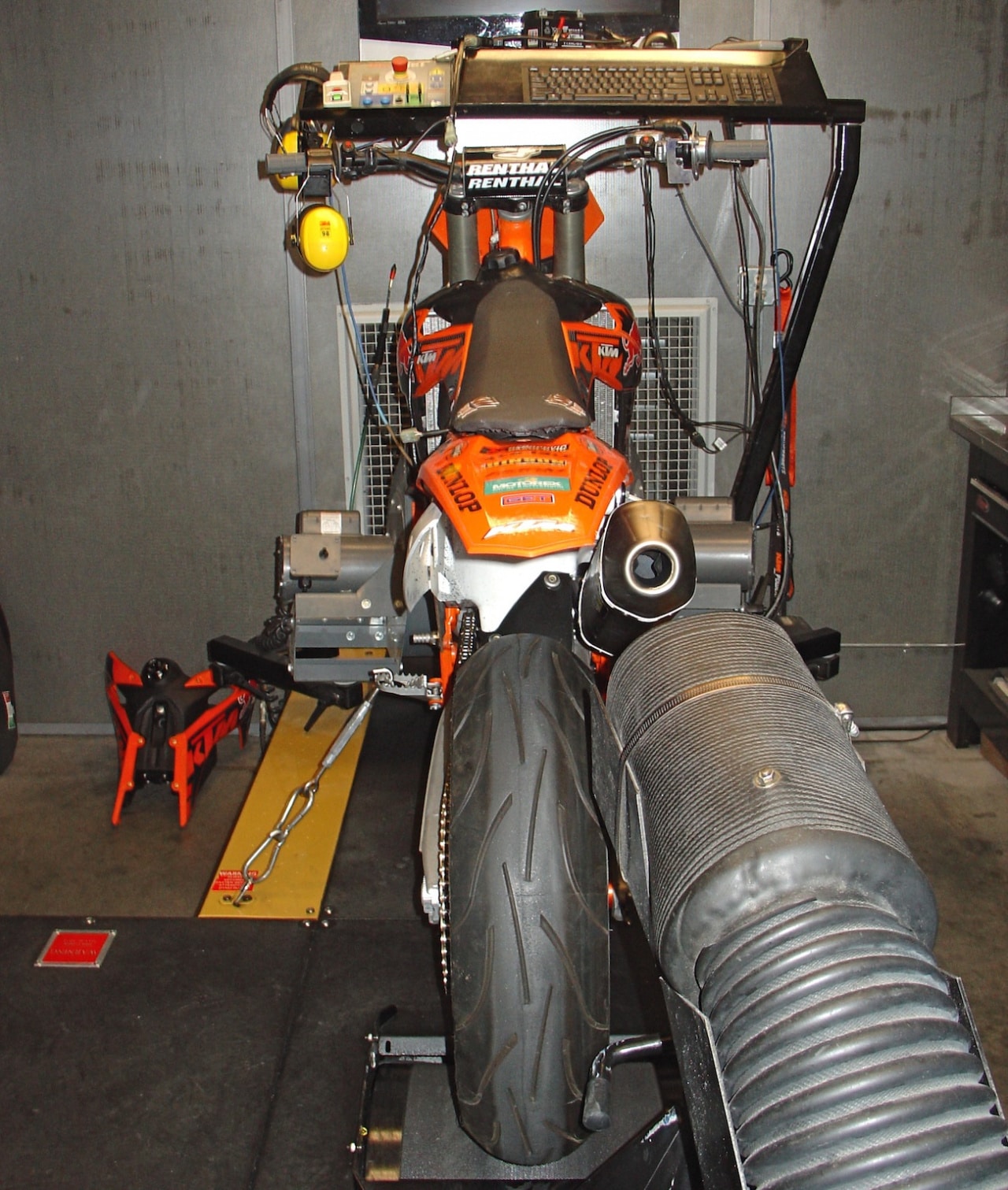 FROM THE COUNTERSHAFT
Waterbrake dynamometers, like the SuperFlow, are highly automated. The motorcycle clamps to an engine cradle stand and drives the waterbrake through the countershaft. The waterbrake uses a concealed impeller and a controlled volume of water to correlate resistance directly against engine rpm. The waterbrake pivots on the driven impeller shaft and is secured against rotation with a wire-like, strain-gauge bridge. Foot pounds of torque are calculated directly by how far the strain-gauge bridge is displaced; factoring both rpm and waterbrake resistance into the equation. Horsepower is mathematically derived by converting torque to kilowatts to horsepower. The SuperFlow takes horsepower and torque readings every 100 rpm.
Since waterbrake dynamometers read horsepower and force by applying an increased resistance against the engine, the engine is worked harder during a complete reading than on an inertia dyno. It is thus necessary to richen the needle circuit to offset the heavy load.
Jody looking at the results of a dyno run of a KTM 450SXF.

THE DYNO ROOM
Dynamometers reside in well-ventilated, soundproof rooms with a plume to supply a generous quantity of fresh air. Since the bike is standing still it is necessary to use shop fans to blow air through the radiators. The tail end of the motorcycle is hooked to either a fan-controlled exhaust tube or backed up against a filtered and fan-controlled exhaust vent; both sucking fumes out of the room and out the top of the roof.
The most important thing to remember about a dyno is that it is only comparable to itself. And, only on days with the same temperature, humidity, and barometric pressure. Just cause one dyno claims 45 horsepower and another claims 43 doesn't mean that one is right and the other is wrong. Dyno numbers are greater on cold days than warm days. And unless the two dynos are going to race, it doesn't matter what the horsepower is, only what difference a given dyno can measure between different pipes, port jobs, jetting, carbs or ignitions. Dynos are for comparison—and nothing more.
KTM'S FIRST ELECTRIC BIKE COMES TO THE STATES
2023 FXR REVO COMP


At FXR Moto, progression is the name of the game with every new piece we create. As we launch the 2023 gear line the development team went through arduous hours of testing and finding ways of improving performance and design. The bar has been raised with our 2023 Revo Comp Moto line and its 4-way stretch fabrics that provide a precise fit, durable construction to ensure each piece a long lasting lifespan, all while using lightweight vented materials to optimize maximum airflow. The Revo Comp will simply allow you to place 100% of your focus on riding while allowing your body to remain in utmost comfort.
FXR Moto, no restrictions, no distraction, pure focus.
 Jersey:
Lightweight polyester-spandex mesh
Slim fit design
Bonded sleeve cuffs for reduced friction
Shaped front collar for improved comfort
Drop-tail hem and long length protect midriff exposure
Fade-free sublimation prints
Pant:
M-2 chassis design to give the rider class leading fit & mobility
Main shell constructed of lightweight 4-way stretch fabric to offer high levels of flexibility, strength and durability
Updated rear seat construction for more durability
Metal ratchet waist closure system offers a precise and secure fit
Slim fit knee design with added pre-curve provides less restriction and positive contact area
Dual layer knee fabric with full grain leather and abrasion resistant inner fabric
Lightweight breathable mesh inserts on back of leg for added ventilation
Triple topstitching in critical areas for extra strength and durability
Adjustable hook and loop side waist system for personalized fit
Silicone printed inner elastic waist for extra grip and security
Polyester mesh lining for breathability and comfort
Internal key pocket
Fade-free sublimation prints
CLASSIC MXA PHOTO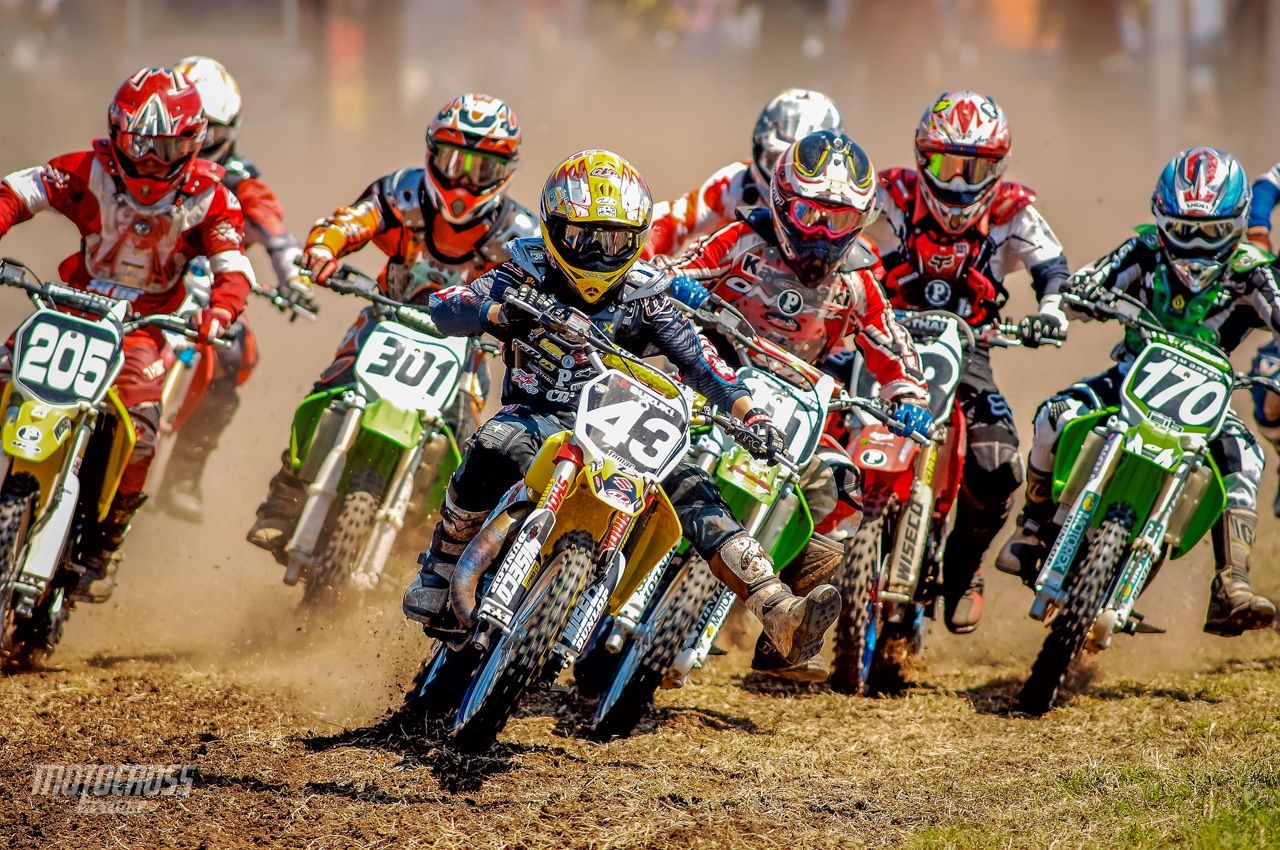 Eli Tomac capturing the holeshot back in 2005 at the NMA Ponca City Nationals.
That is Mountain Bike Hall of Famer John Tomac holding Eli's RM85 in staging. 
---
Moto Trivia answer: Ivan Tedesco back in 2005.