MOTOCROSS ACTION MID-WEEK REPORT

#WHIPITWEDNESDAY
Rider: Tony Cairoli
Bike: 2019 KTM 450SXF
Location: Lombardia, Italy
Lens: 300mm f/2.8
Focal length: 300mm
Exposure: 1/2000sec
F-stop: f/5
ISO: 250
Photographer: Ray Archer
TWO-STROKE SPOTLIGHT: CHRISTER NILSSON'S 2004 KAWASAKI KX250
To find a 2004 KX250 in 2018 with only 18 hours on it is like finding a piston circlip in a haystack.
"Hello from Sweden. My name is Christer Nilsson and I am 46 years old. I have been riding for most of my life. I am a two-stroke guy at heart. I am sending you my 2004 Kawasaki KX250 that I bought last winter. It had been sitting since late 2004 with only 18 hours on it. I took it apart, changed the things that needed to be fixed, such as the suspension and shock. Put a Doma pipe and silencer on it with a V-Force reed cage. A new Prox piston was also installed. The plastic and the graphics are original. So far I put about three hours on it and it runs fantastic. Hope you would put this up on MXA's Two-Stroke Spotlight. It would be so cool to see my bike on the site. Thanks for a fantastic magazine." –Best regards Christer from Sweden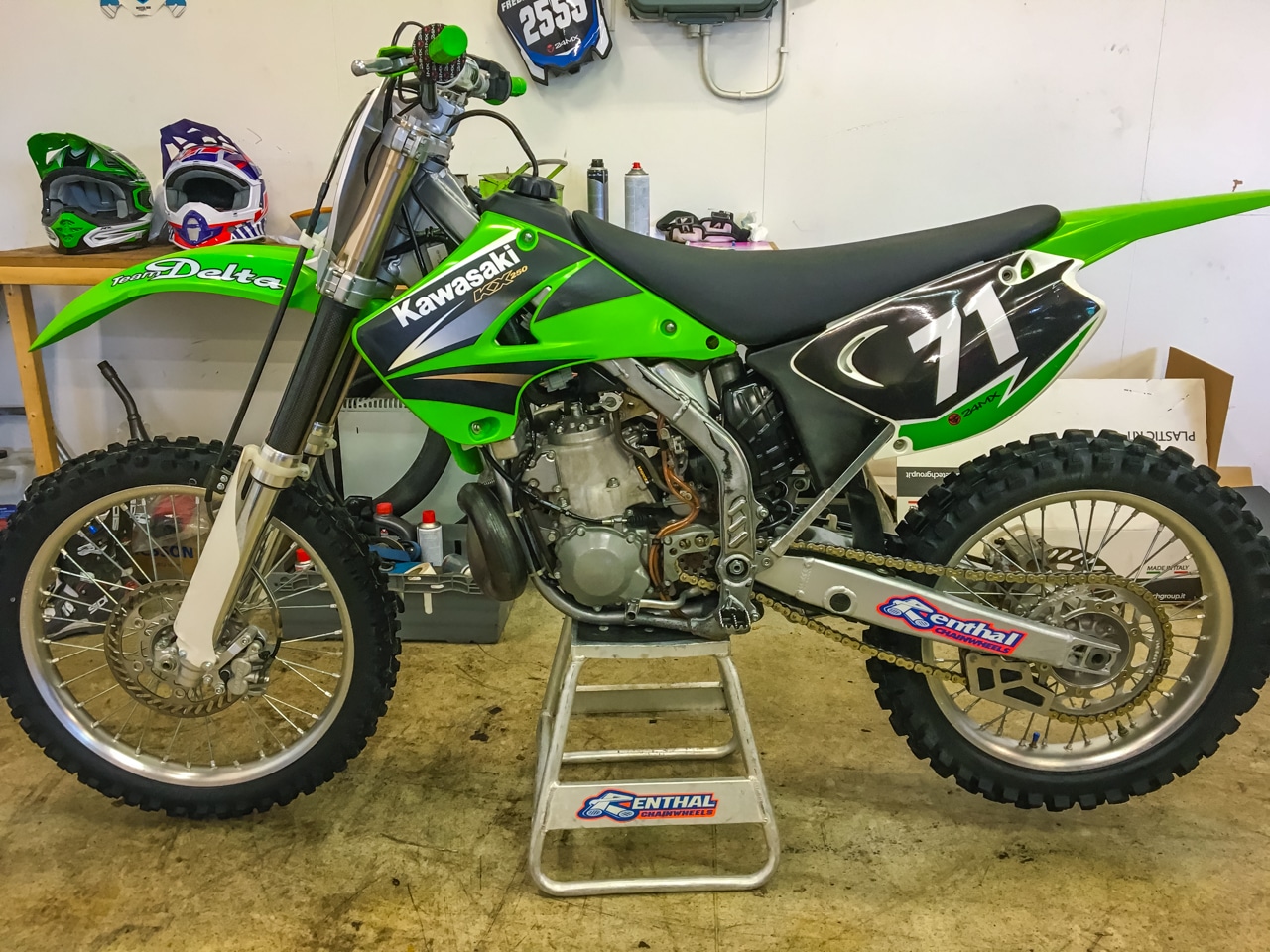 Editors Note: Please keep those submissions coming. If you would like your bike to be featured in the "Two-Stroke Spotlight," please email me at [email protected] All I ask is that you give a breakdown of your bike and a detailed description of the build. Please also send a few photos of your steed. By submitting your bike for the "Two-Stroke Spotlight," you agree to release all ownership rights to the images and copy to MXA. Please don't email me spam or try selling me Taylor Swift concert tickets or email me spam. Happy submitting your smoker.
MOTO | TRIVIA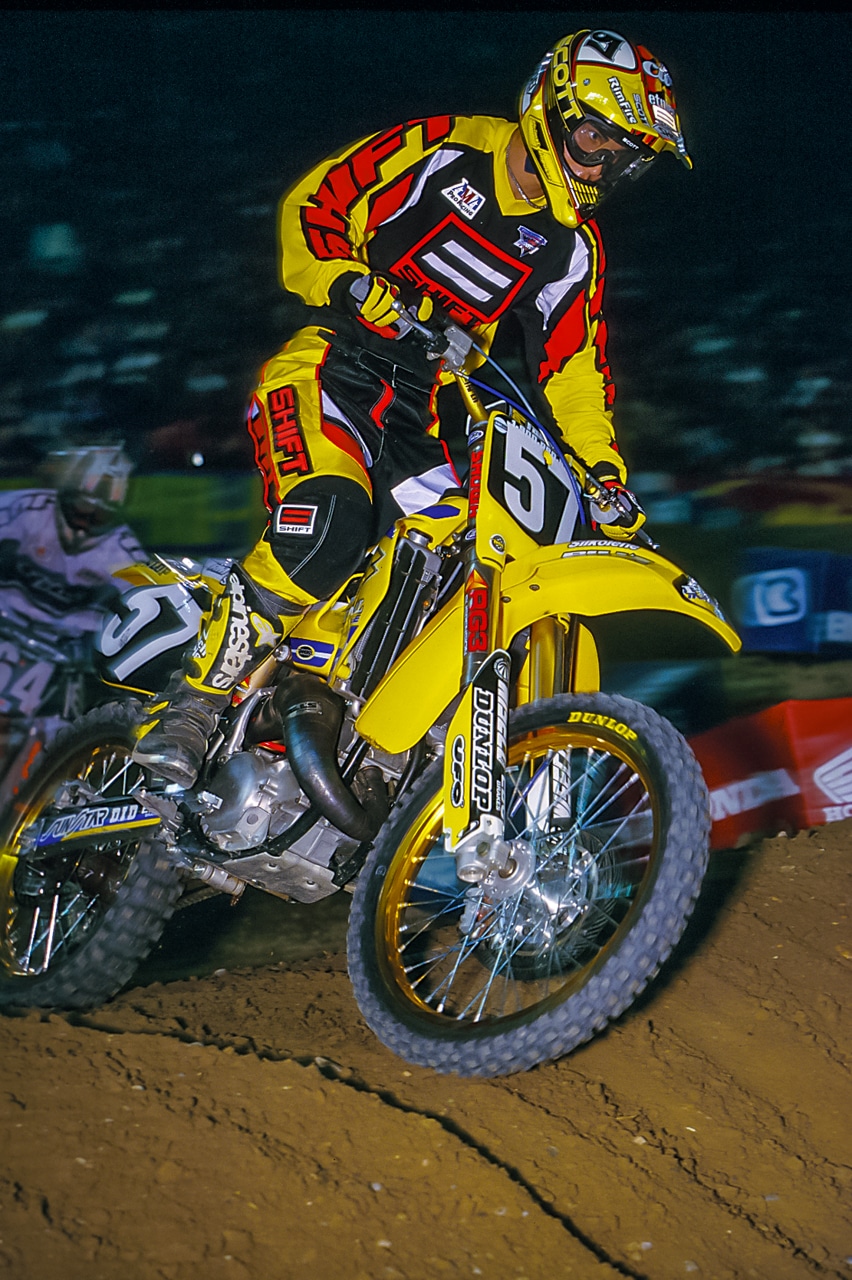 Name the rider and year. Answer at bottom of page.

THEY SAID IT | 2018 SOUTHWICK NATIONAL
Dylan Ferrandis: "I'm so happy to finally get my first overall win today. I've been working really hard to come back from injury, and it's always a battle, but I think that we're finally getting back to where we belong. It's really cool to see Marvin [Musquin] win today as well. I think that it's something that's very good for France and gives the fans something to cheer for."
Marvin Musquin: "It's not always the fastest guy that wins the race and we saw it today. It was really demanding and tough out there, and physically it was rough and hot. In the first moto, I was leading a few laps and it was awesome but when you know Eli is behind you it's not easy, but I kept pushing. He finally got me at the end and I was going to give a fight back but unfortunately, I went down. Second moto, I got a good start but it was hard for me to push super hard in the first few laps, my intensity wasn't quite there and Eli was gone. But then, at the end of the day, he made mistakes and I was able to capitalize on that and stay consistent, stay on two wheels and ride to the finish."
Ken Roczen: "It was a little bit of a struggle. We made some changes to the bike to help me out a little bit, but you don't want to make too many changes on race day. It's still a learning curve after so much time off the bike. I'm trying everything at home to get back, but I feel like race shape is just going to take a little time. Today was brutal—super-hot and the track was pretty beat—plus I haven't been here in a couple years. I fought it out, and I'm just going to continue working with the team and working on myself to get better. I'm healthy and got good starts again, so I'm pretty happy from that side. I've been going quite hard throughout the week, trying to put in more and more work, but I think sometimes it's good to take it a notch down and fully recover. RedBud could be another hot one, so we'll recover and hopefully have a good race next weekend."
Weston Peick: "Southwick was tough. I got off to a rough start. On Friday, I crashed hard during press day and hurt my shoulder. I was going into Saturday banged up. In the first practice, we made some changes in order to find a good setup for the sand. We went one direction, but I struggled with it in the first moto. I got tangled in the first turn, but made some passes and settled into a groove. We made some suspension changes for the second moto, and that was better. I went down in the first turn and came through the pack pretty quickly, but then I collided with a rider while passing for 10th. I had to dig deep, and I came back to 11th. Overall, it was a bad weekend, but I played it safe and salvaged some points."
Justin Bogle: "My starts were awesome. Pretty much everything else beside that was far off. Fortunately, I got the first race out of the way. I felt good in the first half of the motos, but Southwick was hot and gnarly. I'm adjusting to racing again, because it has been so long since I've seen a gate drop. It was a shock to the system. Southwick wasn't one of my best days, but I do know that there's a lot more, so I'm not too worried about it. Things will come here soon."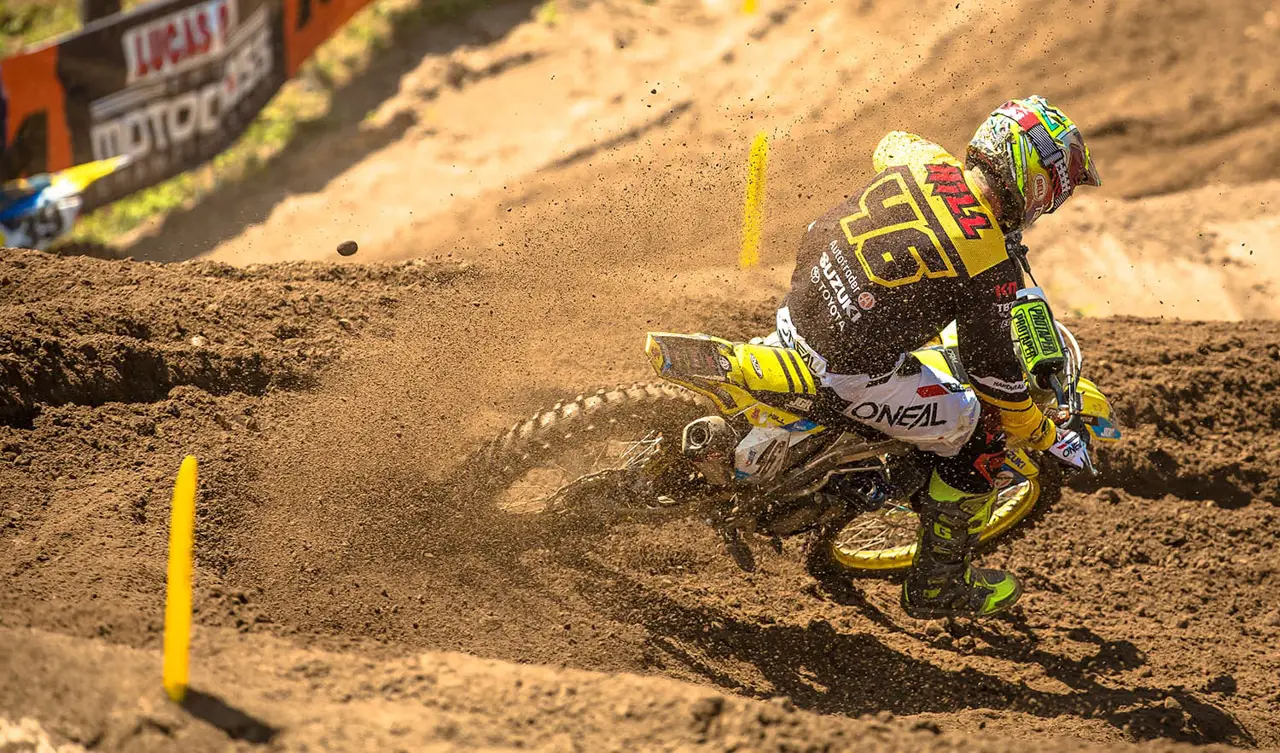 Justin Hill: "I felt like a fish out of water in the sand. I could have pulled it together and had a really good start in the first moto. I'm fairly certain someone ran me over. That's why I fell over. I was third when that happened. A foot peg caught me. I really couldn't feel my arm immediately after the impact. I got on the bike and pushed, but my arm was still numb. It was determined that I should seek additional medical advice after I pulled off the track, so I went to the emergency room and had bad lacerations. The doctors did some nerve tests. That's why I sat out the second moto. I'm not sure how I pushed through the first moto! It must have been adrenaline. It's one of those things. If there's anything I can take from the weekend, it's crazy what can be accomplished without understanding what's really going on. I got a few stitches, and those will come out this week."
Justin Barcia: "It was great to be on the podium again. The track was difficult, it wasn't how I expected it to be. I always hope it's going to be kind of whooped-out and really sandy but it was actually pretty high-speed, choppy and slick under the sand. I kind of struggled all day and wasn't able to push to the next limit to catch the first and second-place guys. It was a bit frustrating for me because I felt like I should have been closer to the front but I just didn't have that edge at Southwick this year. It was definitely the hardest race of the year – it was really hot and then that high speed chop for 35 minutes is definitely challenging, but all-in-all, for a bad day to be on the podium is definitely a positive."

Austin Forkner: "I'm happy with the way I'm riding and I really expected to at least be on the podium today," said Forkner, who ultimately finished the moto in 20th. "We've put in a lot of work, particularly for Southwick, and I couldn't have been more prepared for the sand. It's disappointing for things to end the way they did because I was doing everything I could to run clean and just put two solid motos together. We had a really good shot at the win, so it's hard to swallow having that taken away from us like that."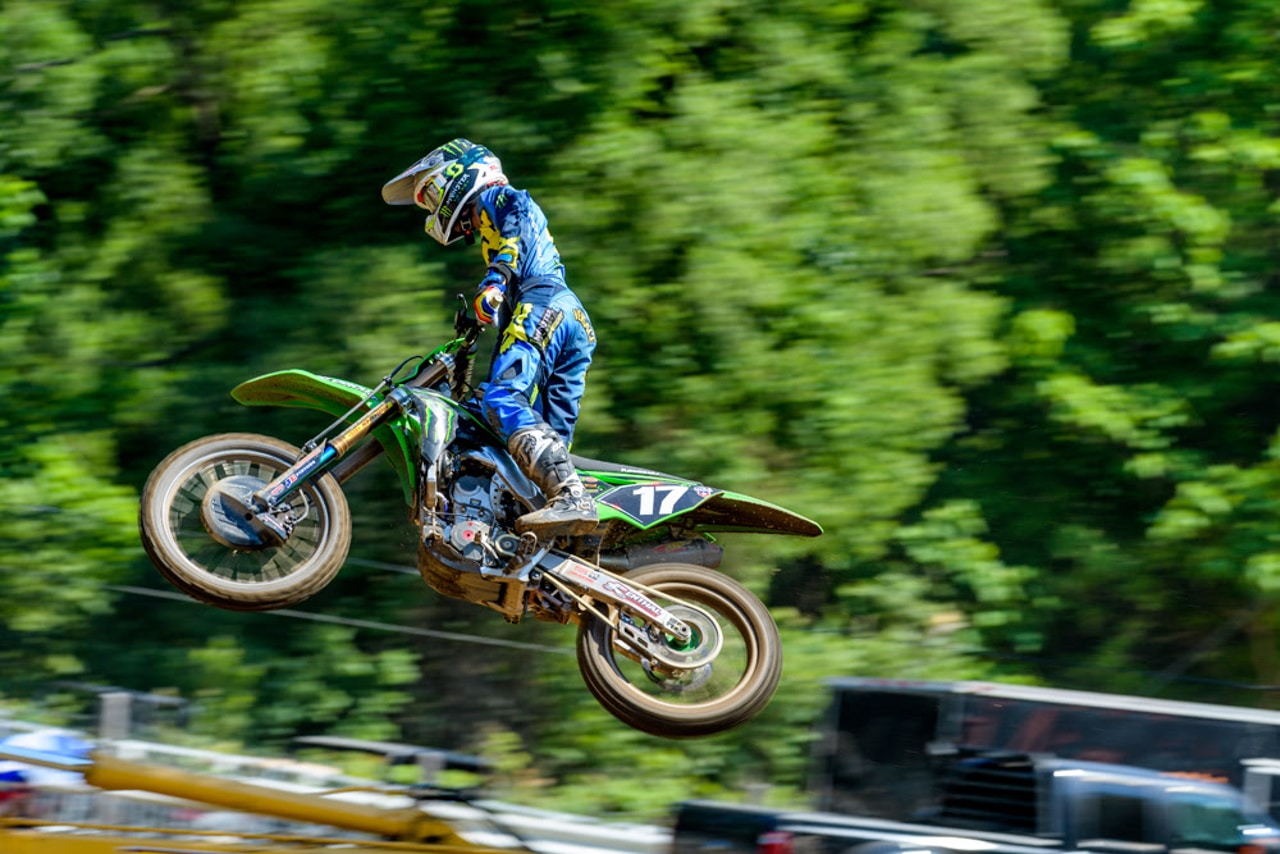 Joey Savatgy: "The track was really tough today and it ate a lot of guys up," said Savatgy. "I felt good after qualifying so it's a bummer to have the trouble I did in Moto 1. The whole Pro Circuit team did an awesome job of getting me ready for Moto 2 and I'm happy to pay them back with a solid result. I need to focus on getting better starts to put us up front, and I think then we'll be where we expect to run."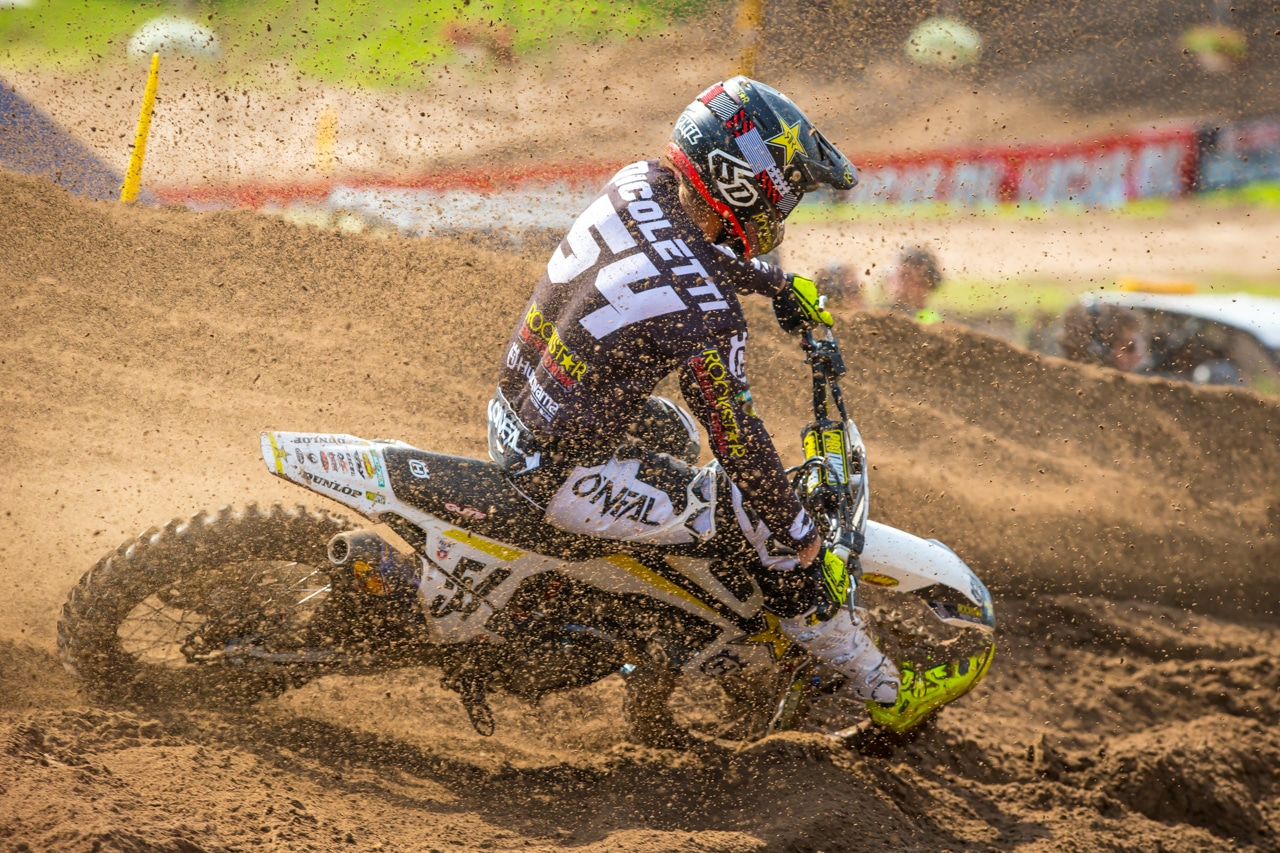 Phil Nicoletti: "Southwick was good. I rode really well but I went down twice, and it took a little wind out of my sails. It was brutally hot today. I think everyone struggled a bit. I'm still making progress and I'm feeling better. I'm going to keep working to get ready for RedBud next week."
TRAVIS PASTRANA TO HONOR THE LEGEND OF EVEL KNIEVEL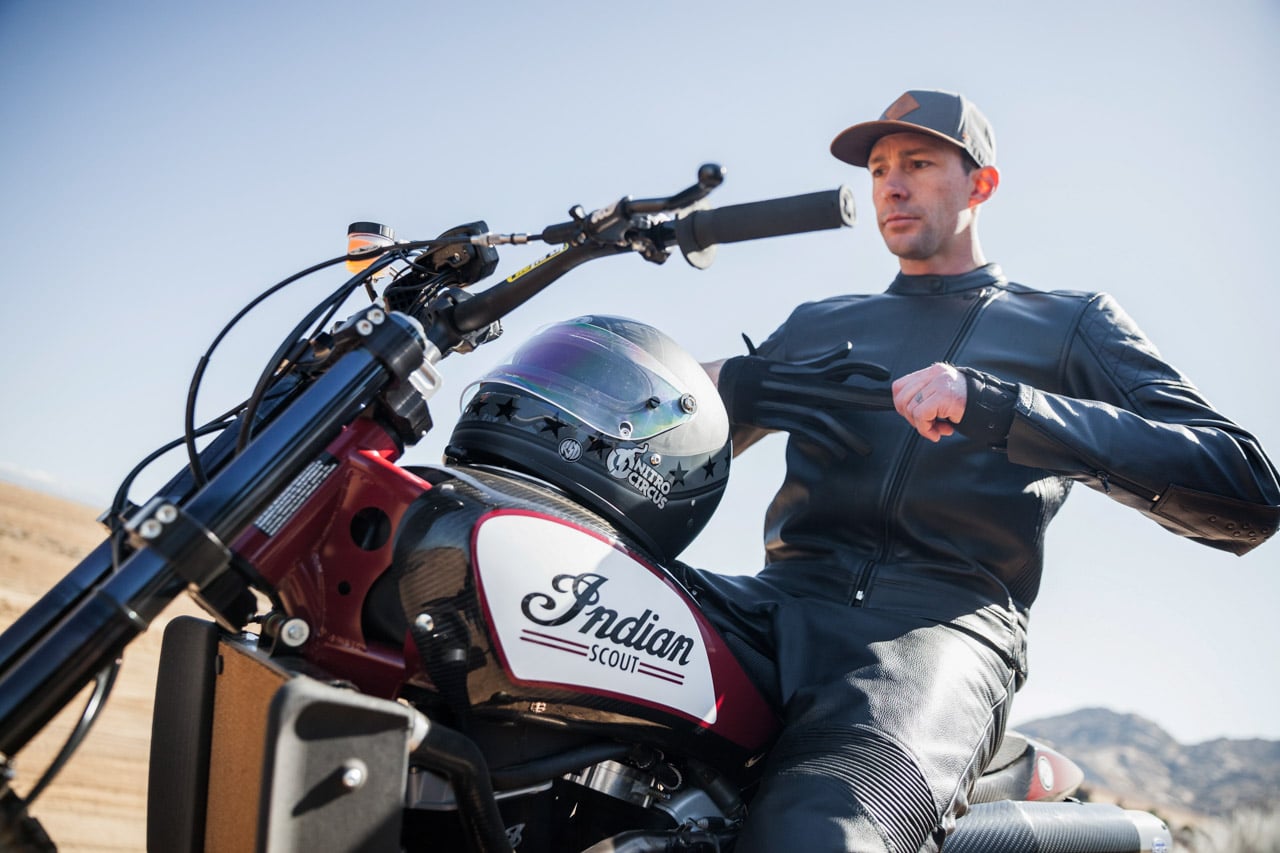 Press Release: The History channel, in partnership with Nitro Circus, will rev up the excitement this weekend with "Evel Live," an unprecedented three hour live event airing on Sunday, July 8 at 8 p.m. ET / 5 p.m. PT on History. "Evel Live" will see action sports superstar Travis Pastrana pay tribute to Evel Knievel as he aims to the push the limits even farther than the American icon with three spectacular stunts in just three hours, all live from Las Vegas.
During "Evel Live," Travis Pastrana will attempt to exceed three of Knievel's most iconic jumps. Pastrana will first look to surpass Knievel's 50 crushed car record as well as his 14 bus record by jumping 16 Greyhound buses (located directly behind Planet Hollywood Resort & Casino, Paris Las Vegas and Bally's Las Vegas). Then Pastrana will cap the night off by attempting to complete the famous Caesars Palace fountain jump that 50 years ago left Knievel grasping for his life. Raising the stakes even higher, Pastrana will attempt these jumps on a v-twin motorcycle similar to what Evel used. He will be jumping a modern day evolution of the flat track motorcycles of the past, the Indian Scout FTR750. If successful, Pastrana will be the first person to complete all three jumps in one night.
Hosting this exhilarating event is Matt Iseman ("America Ninja Warrior") along with journalist and Emmy nominated producer Sal Masekela ("Red Bull Signature Series," "Explorer") as roundtable host. Joining them are former Miss USA and ESPN reporter Kimberly Pressler as the event's sideline reporter and ABC Chief Meteorologist Ginger Zee as the weather analyst. She will break down how the wind and Vegas heat may affect Pastrana over the three hour broadcast. "Evel Live" will also feature a roundtable of celebrity and expert panelists comprised of athletes, analysts and more. Led by freestyle motorsports competitor Carey Hart and Johnny Knoxville (The "Jackass" series, "Action Point," "Being Evel"), the panelists will provide insight and commentary throughout the evening from their set overlooking the Caesars Palace fountains.
Throughout the three-hour event Kelly Knievel (elder son of the late Evel Knievel), along with Pastrana family members, will discuss the persona and legend that Evel created; the impact he has had on America; what it is like to watch these nerve-wracking moments as a family member and why Pastrana is the perfect person to pay tribute to Evel. Archival footage of the history behind Knievel's many daring jumps will also be woven throughout the three hours.

SOUTHWICK | HALFWAY POINT OF THE 2018 NATIONALS–By Ben Bridges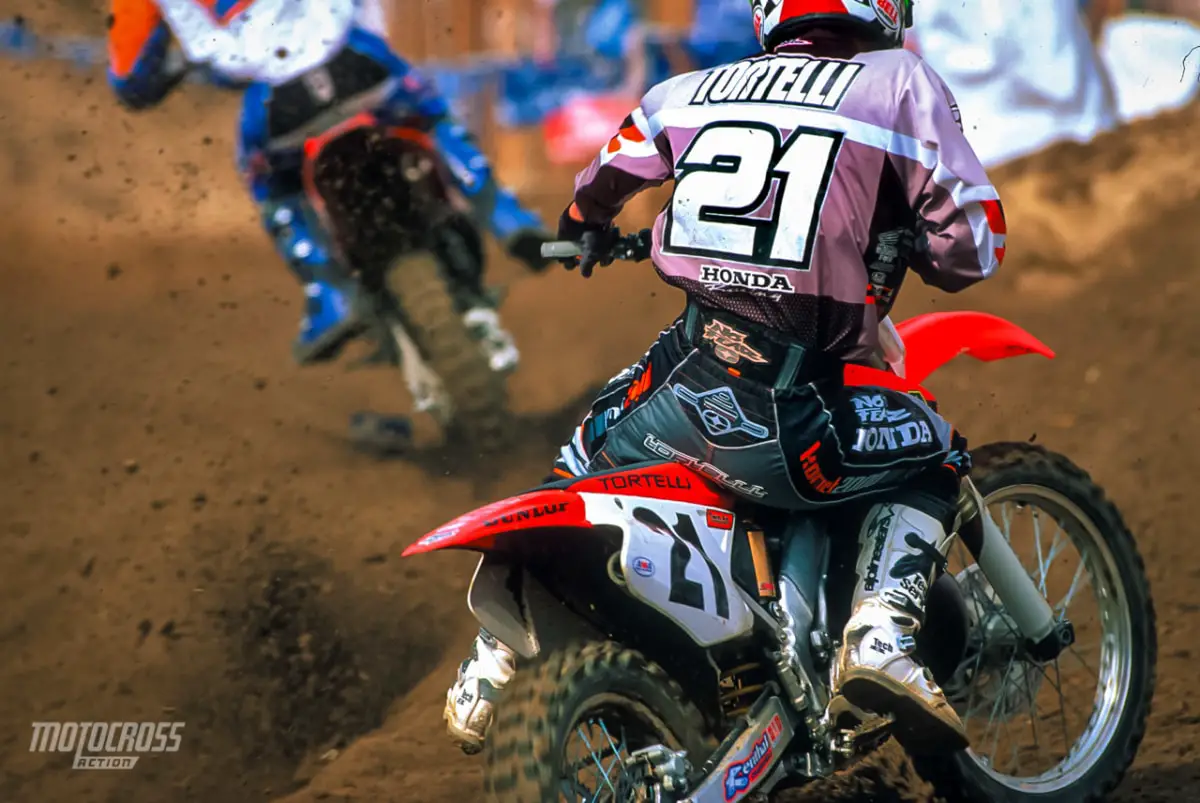 For only the second time since 1974, USA was kept off of the top spot of the podium in both classes. In 2001 at Hangtown, Sebastian Tortelli (France) and Grant Langston (South Africa) would win the overalls.
Marvin Musquin from France and Dylan Ferrandis from France, won the overalls. It was the first time France had swept a MX event.

Marvin Musquin won the 450 Class over Eli Tomac to stop Tomac's win streak at five. With this win, Musquin will have won at least one event 6 out of the 7 seasons he's been Pro. Musquin gives KTM their 38th 450MX win. In 18 seasons, 16 times the leader at the halfway point won the title. The 450 Class has produced two winners and 6 different riders have made the podium, and 2 brands have won.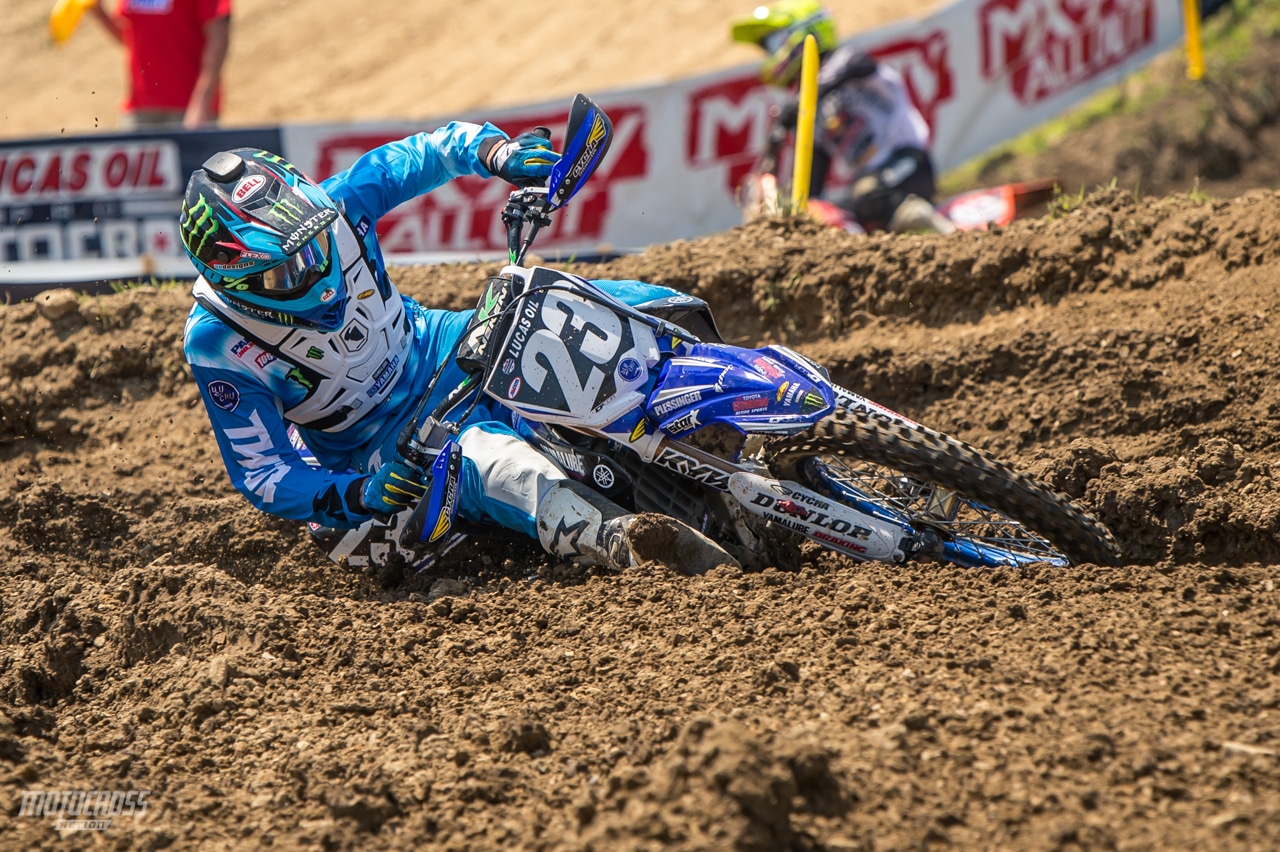 Dylan Ferrandis gets his first MX career win with a 4-1 moto-score. He is the 8th Frenchman to win an AMA National in either class. Ferrandis gives Yamaha their 90th 250MX win. In 6 rounds of the 250 Class there have been 5 different winners. This is only the 2nd time this has happened. 2010 was the only other year. The 250 class has produced 5 winners, 6 different Moto winners, 9 different riders have made the podium and 4 brands have won overall, and we're halfway through. In 18 seasons, only 10 times has the points leader at the halfway mark went onto win the championship. Can Plessinger hang on to his points lead?
TALK MOTO WITH MOTO MINDED PEOPLE. JOIN MXA'S FACEBOOK GROUP CHAT

We love everything moto and want to bring all moto junkies together into one place to share their two cents, ideas, photos, bike fixes, bike problems and much more. To check it out first you must need to or already have a Facebook account. If you don't, it isn't much work and you could even have an alias so nobody knows it is you. To join click HERE. After you request to join we will accept your request shortly after.
MOTOCROSS ACTION READER SURVEY: LET US KNOW WHO YOUR ARE

Make sure to take our detailed MXA Reader Survey so we can accommodate to you better.
JOIN MXA'S SNAP CHAT FEED
If you are a Snap Chat user then add us to your stories. Get sneak peaks of everything moto. Our Snap Chat name is motocrossaction. Or just take a Snap of the picture above and it will add MXA automatically to your feed.
CLASSIC PHOTO
Before the gate drops for the 250 Supercross ridesr in 1999 at the Pontiac Silverdome. Riders pictured are Ryan Terlecki (40), Tyler Evans (66), Takeshi Koikeda (30), Sebastien Tortelli (44), Mike LaRocco (5), Ricky Carmichael (9), Ezra Lusk (4)
Moto Trivia answer: Jiri Dostal in 1999 on a Impulse Suzuki RM125