MOTOCROSS ACTION MID-WEEK REPORT
#WHIPITWEDNESDAY
Rider: Martin Davalos
Bike: 2019 Pro Circuit Kawasaki KX250
Location: Nashville, Tennessee
Photographer: Brian Converse
TWO-STROKE SPOTLIGHT: JASON STEFFINS 2001 YAMAHA YZ125
The Craiglist photo. 
"These things are all over. Definitely, a fun bike to ride and build. I took this one from the brink of death, back to almost new. Stripped it down to nothing. Repainted the frame original YZ Blue. My son Langston helped on this build which made it pretty special. The engine was stripped, and new bearings, seals, and gaskets. The cylinder was shot, so we sent it over to USA Chrome to make it new. Fresh suspension by 4th Dimension Suspension, and lots of polishing and cleaning. The Doma pipe looked dead, but we got it back to almost new! Miscellaneous Tusk parts are scattered around to give it a fresh look. The bike sounds beautiful now." –Jason Steffins.
Breaking the bike down.
Really broke down. 
The finished product. 
EDITORS NOTE: Please keep those submissions coming. If you would like your bike to be featured in the "Two-Stroke or Four-Stroke Spotlight," please email me at [email protected]. All I ask is that you give a breakdown of your bike and a detailed description of the build. Please also send a few photos of your steed. By submitting your bike, you agree to release all ownership rights to the images and copy to MXA.

HUSQVARNA RELEASES HERITAGE MODELS
Press Release: Building on the proven technical platforms of Husqvarna Motorcycles' 2023 motocross and enduro ranges, the exciting Heritage models are competition-focused machines designed for racing at the highest level. Enhancing these world-renowned offroad machinery, a distinctive new look inspired by the Swedish heritage of the brand, together with black anodised EXCEL rims, create an understated and exclusive appearance.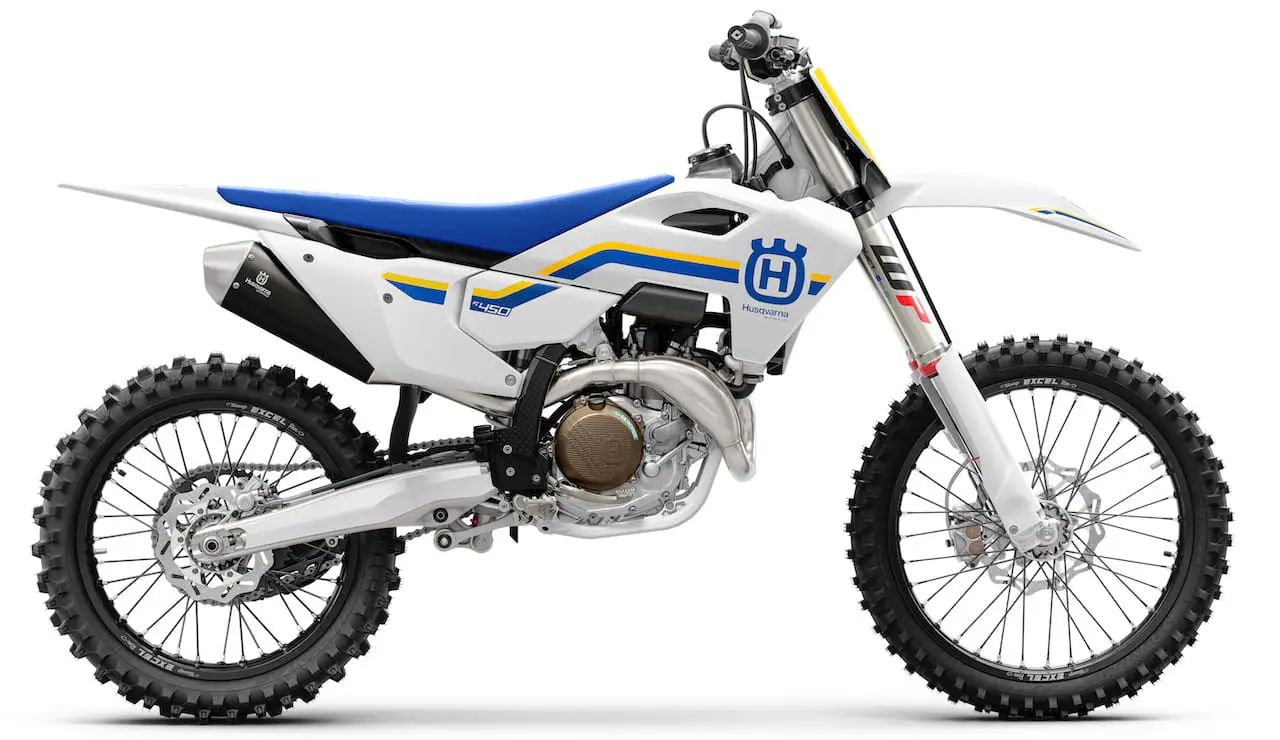 The Husky FC450 Heritage Edition
.
Delivering true motocross and enduro performance, the Heritage models are capable of competing on a global stage as standard. Both comprehensive ranges include 2-stroke and 4-stroke models with each one equipped with the latest technological advancements and premium components to give all modern racers a decisive advantage.
The Husky TC250. 
Remaining competitive in top-flight motocross and enduro, Husqvarna Motorcycles has secured 15 FIM Motocross World Championship titles since Swedish racer Bill Nillson claimed the brand's first in 1960. Honoring the racing achievements of Bill and those who followed in his successful footsteps, a limited run of motocross and enduro machines has been created with a special livery. Inspired by the racing machines of the past, the unique look celebrates and pays tribute to the rich, competitive history of Husqvarna Motorcycles.
THE OCTOBER 2022 ISSUE OF MXA IS OUT! SUBSCRIBE AND YOU WON'T MISS ANYTHING

Did you know that you can subscribe to MXA at virtually no cost to you—because when you subscribe you receive a Rocky Mountain ATV/MC credit for $25 towards anything in their massive inventory. Plus, you will get all the content in the 12 monthly issues of Motocross Action magazine—from four-stroke tests, two-stroke tests, retro tests, race coverage, new tech to product tests….most of which never appear on the internet. And, don't forget, that $25 credit from Rocky Mountain ATV/MC  that will more than cover the cost of your subscription. To subscribe call (800) 767-0345 or Click Here
MXA | MOTO | TRIVIA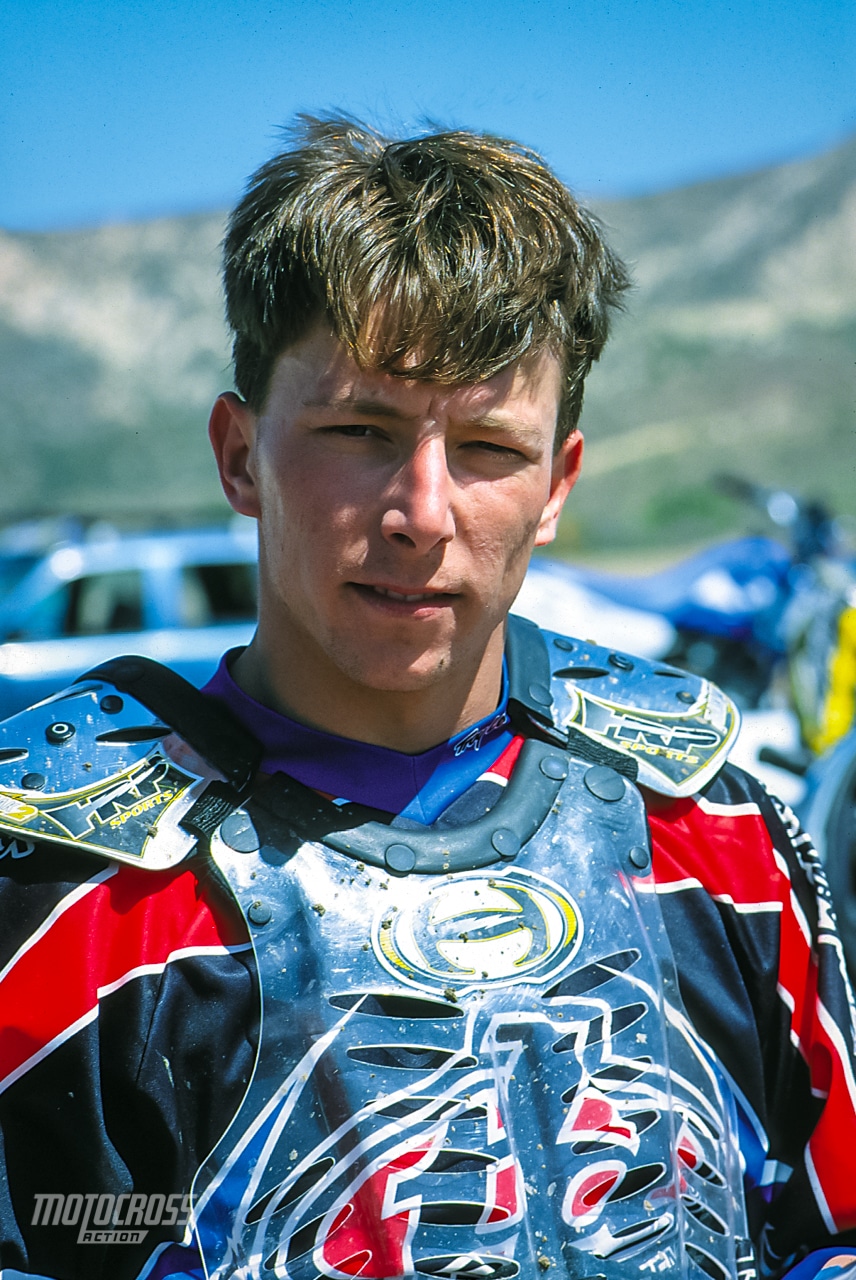 Name the rider. Answer at bottom of the page.
SIDI RIDER AUTOGRAPH SIGNING AT THE MXDN AT RED BUD!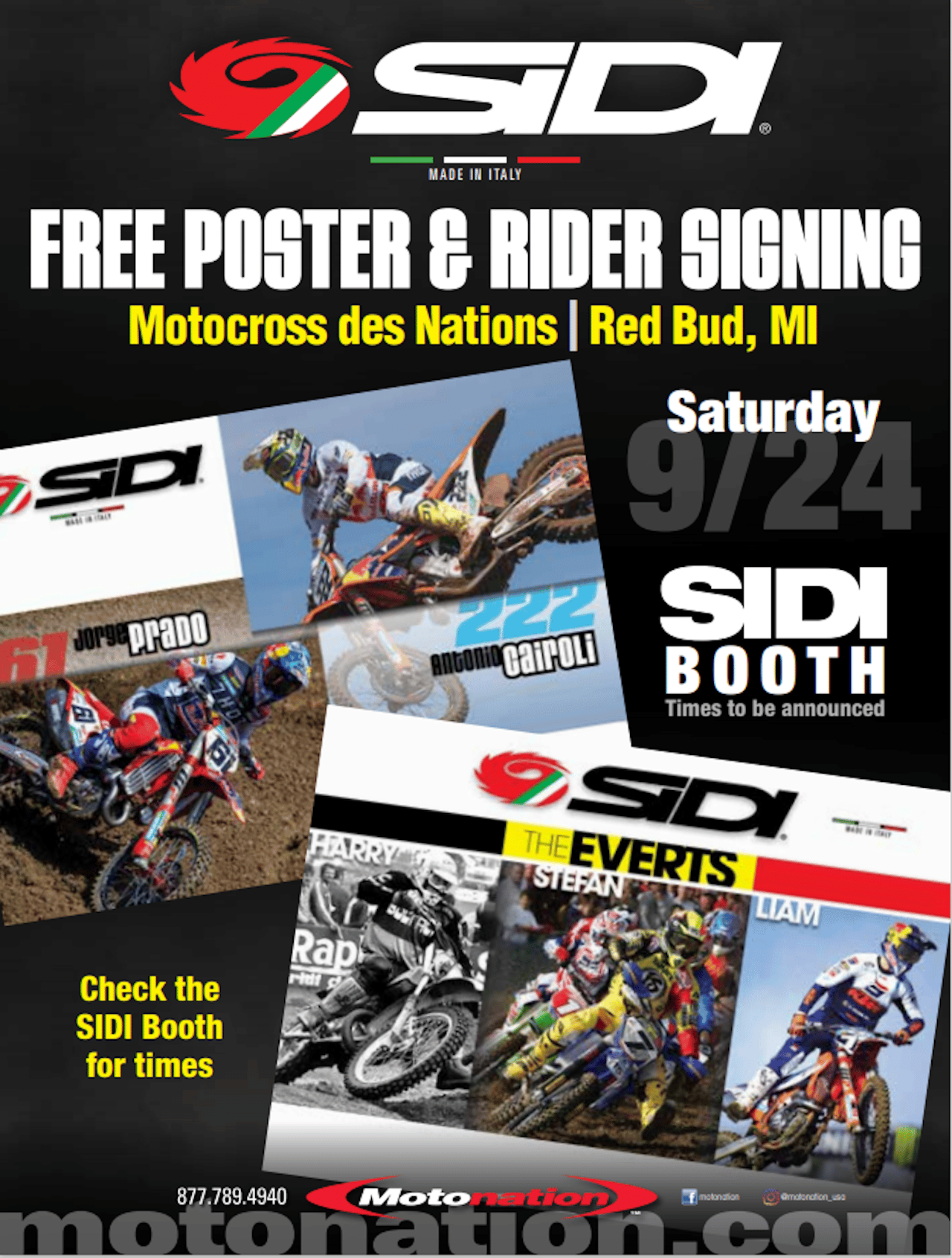 Press Release: Motonation is very excited to host five past and present motocross legends for autograph signings at this year's MXDN at Red Bud! We will be hosting 9-time World Champion and 6-time MXDN race winner Antonio Cairoli. We will also be hosting two-time 250 World Champion Jorge Prado. Plus, three generations of the Everts family (four-time World Champion and 3-time MXDN winner Harry Everts, 10-Time World Champion Stefan Everts, and the upcoming third generation of legendary racing family, Liam Everts).
Please visit the Sidi tent at this year's MXDN at Red Bud on September 23 to September 25.
THE TOP TEAMS RACING MXDN & CLIPS FROM THE RED BULL IMAGINATION EVENT 
MXA MINI TEST // N2DIRT 2022 YAMAHA YZ250 FORK/SHOCK MODS
For 2022, the YZ250 got stiffer valving, a leaf-spring-enhanced mid-valve, and stiffer springs front and rear. The stock setup works great for most riders, save for those on the fringes. We asked N2Dirt to help our heavier and faster test riders (195 pounds) keep the forks from diving and get the shock to hold up higher in the rear. N2Dirt increased the fork springs to 5.0 N/mm and the shock spring to 54 N/mm and custom-valved the shim stacks for greater speeds.
VERDICT: N2Dirt isn't the biggest name in suspension mods, but they have enough confidence to say that if you're not satisfied with their re-valve, they will do another re-valve for free.
DIGITS: $649.00 (fork), $909.00 (shock revalve with springs)—(661) 252-0269 or www.n2dirt.com
MXA YOUTUBE CHANNEL | HIT THAT SUBSCRIBE BUTTON
The MXA wrecking crew is everything moto related. Check out our MXA YouTube channel for bike reviews, Supercross coverage, rider interviews and much more. And don't forget to hit that subscribe button.
LOST BUT NOT FORGOTTEN | 2000 YAMAHA YZ400F
TALK MOTO WITH MOTO MINDED PEOPLE. JOIN MXA'S FACEBOOK GROUP CHAT

We love everything moto and want to bring all moto junkies together into one place to share their two cents, ideas, photos, bike fixes, bike problems and much more. To check it out first you must need to or already have a Facebook account. If you don't, it isn't much work and you could even have an alias so nobody knows it is you. To join click HERE. After you request to join we will accept your request shortly after.
MXA PRODUCT SPOTLIGHT: SKF DUAL COMPOUND FORK SEALS-$39.95
We had MXA test rider tuner Brian Medeiros throw some of the new SKF Dual Compound fork seals on our 2022 Suzuki RM-Z250 after the stock seals wore out. We have SKF seals on a majority of our test bikes.
InnTeck USA just released the motocross industry's first-ever dual compound fork seal kit. The SKF fork seals have all new rubber compounds and SKF's patent pending innovative new co-molding production technology. The seals have an extended sealing capability, which increases durability and improves riding comfort and compliance by minimizing the friction between the seals and the fork tube. The new open wound spring that comes on the seal is dedicated to applying constant force to the seal which keeps debris out of the coils and won't dislodge during pressure washing. Learn more online at innteck-usa.com or by calling (866) 252-8772.
ASK THE MXPERTS: BLOWN OUT IN THREADSVILLE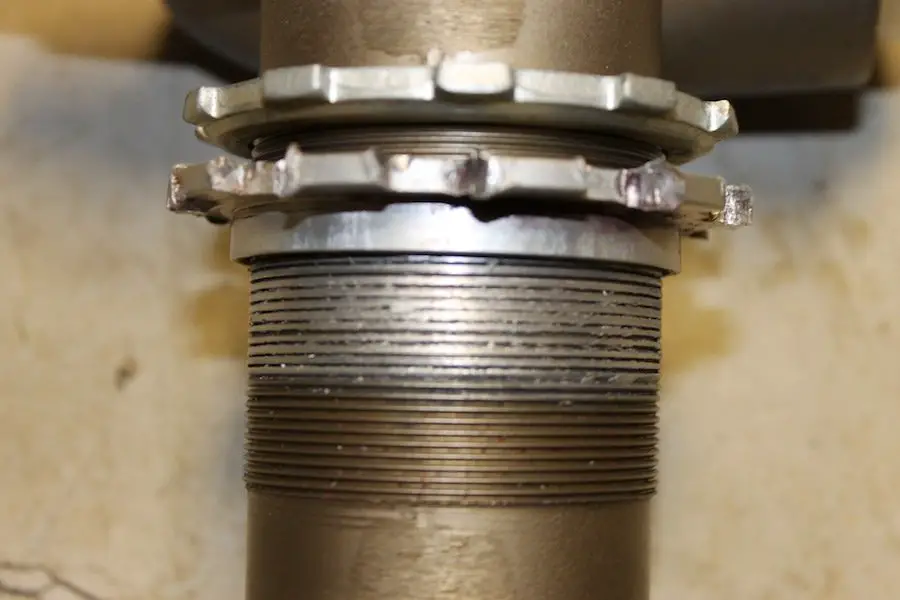 Dear MXA,
    Please find the attached photo of the shock body from my 2011 Yamaha YZ450F. As you can see, the preload ring threads have been ruined. I'm at a loss to know exactly what happened. My local shop couldn't give me an answer, and it cost me $1000 to buy a new shock. Obviously, I don't want this to happen again. Would I be able to install a machined spacer over the damaged threads on the shock body, get a new preload and locking ring and salvage the old unit?
It is obvious to us that the preload ring's threads seized on the aluminum shock body because you hit the aluminum preload ring adjuster too hard with a hammer and a punch. When you try to spin a seized preload ring by hitting it harder and harder, you run the risk of deforming the ring' which makes it seize even more. In the future, if the preload ring doesn't want to spin, clean it, lube it and be gentle with it. Move it back and forth in small increments in the same way you get a truck out of mud.
Yes, you could use a spacer over the damaged threads and install a new preload ring, but there must be enough threads left to have 10mm of preload on the spring for the desired sag setting.
MXA TESTS THE 2023 KAWASAKI KX450
FIND MXA ON TIKTOK: ALL THE KIDS ARE DOING IT

MOTO TIP OF THE WEEK // ARE YOUR CALLUSES TOO BIG?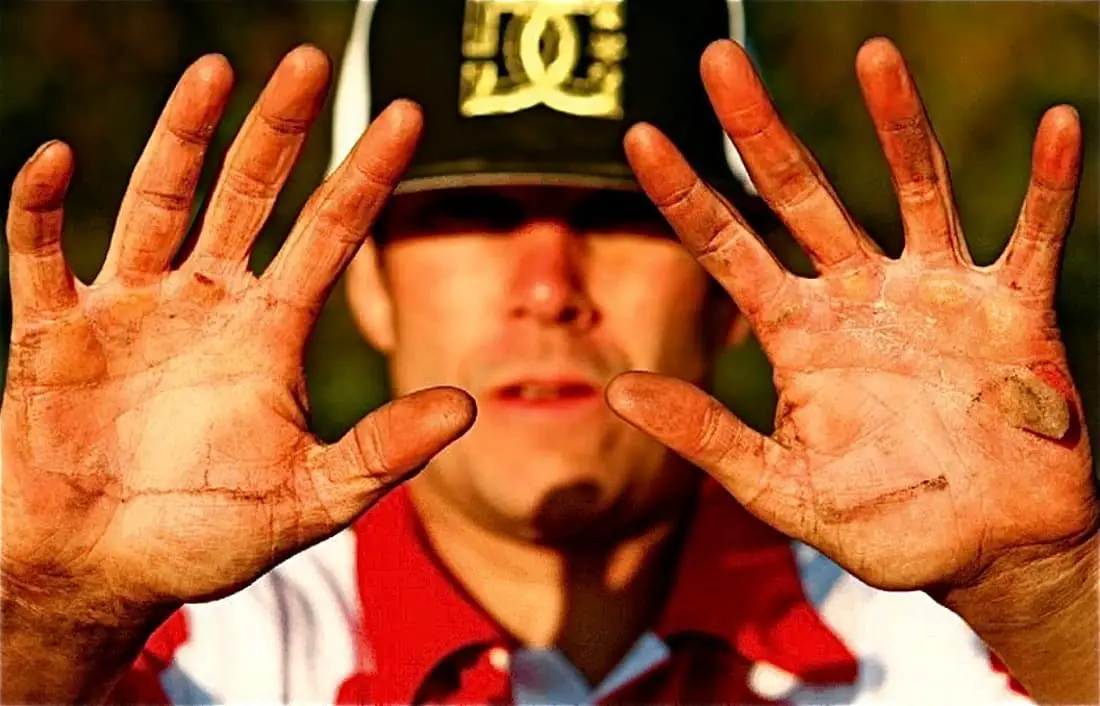 MOTO TIP: Maybe you already have the manly, callused hands of a serious rider but still have issues with blisters. Chances are you're just not taking proper care of your calluses. Calluses can get too big. When this happens, the edge of the callus forms a hot spot that creates a new blister next to the old callus. This can lead to the callus being ripped off. Not good. Use a pumice stone or callus shaver to remove excess layers of dead skin to minimize hot spots. Moisturizing rough hands at night will minimize cracking and potential hot spots.
CLASSIC PHOTO
The flawless style of Ricky Johnson. 
---
Moto Trivia answer: Nathan Woods.