MOTOCROSS ACTION MID-WEEK REPORT
#WHIPITWEDNESDAY
Rider: Davi Millsaps
Bike: 2008 Factory Honda CRF450
TWO-STROKE SPOTLIGHT: DAMON JONES 2003 HONDA CR250
We miss the Honda smokers. And to buy one for $800 and then dump a few grand into it your still saving boat loads of money from buying a new thumper. Heck, you can build yourself three project CR250's for the price of one new KTM SXF model. 
Dear MXA,
I've got a 2003 Honda CR250 that I rescued 4 years ago for $800 and recently decided to bring it up to speed. A rundown of the goods are as follows:
-Keihin 38mm PWK Airstryker carb
–V-Force 3 reeds
–Pro Circuit Platinum pipe and R-304 silencer
–Galfer 270mm front rotor
–Galfer braided front brake line
–Excel takasago rims, Excel spokes
–Michelin starcross tires (getting the new 5s soon)
–Renthal Twinwall bars
–ASV levers
–Hammerhead shifter
–GPI radiators
-All new linkage and head tube bearings
–Applied triple clamps 22mm offset (24 stock)
–IMS Bigfoot footpegs
–Renthal chain and sprockets
–Roost mx supplied graphics
The engine was ported by Eric Gorr with his "mo-power" package, as well as correcting the squish clearance, while still being able to run pump gas (however some days it does ping so I've been running race/pump gas mix). The piston is a Wiseco. The crank is the rebuilt OEM crank by Millenium Technologies.
We can't help but love the old Road Runner graphics. Reminds us of Carmichael's Honda days. 
The clutch consists of a Wiseco inner and outer hub, as well as their springs and friction plates. I also prefer the OEM clutch cables over aftermarkets. I would like to add when I bought the bike the seat was bent up at a weird angle on the side, turns out the exhaust had bent somewhere along its life and the previous owner had cut and welded the aluminum subframe up on an angle on the exhaust side so the mounts would line up! I ended up getting a like new subframe off ebay for $40! Overall this bike has become a very ergonomic and rider friendly bike that is capable of blistering speed, yet could still be ridden by a first timer confidently. —Damon.
Editor Note: Please keep those submissions coming. If you would like your bike to be featured in the "Two-Stroke Spotlight," please email me at [email protected]. All I ask is that you give a breakdown of your bike and a detailed description of the build. Please also send a few photos of your steed. By submitting your bike for the "Two-Stroke Spotlight," you agree to release all ownership rights to the images and copy to MXA.
FULL-TILT // KTM 150SX BUILD 
MXA YOUTUBE CHANNEL | HIT THAT SUBSCRIBE BUTTON

The MXA wrecking crew is everything moto related. Check out our MXA YouTube channel for bike reviews, Supercross coverage, rider interviews and much more. And don't forget to hit that subscribe button.
MXA | MOTO | TRIVIA

Who is this MXA test rider and what bike is he riding? Here it is hint. It was one of the first electric dirt bikes. Answer at the bottom of the page.
ALDON BAKER LAUNCHES NEW BICYCLE COMPANY
In the sport of motocross, Aldon Baker is known for being the most popular and the most successful trainer. Riders like Ricky Carmichael, James Stewart, Ryan Villopoto, Ken Roczen, Ryan Dungey, Cooper Webb, Adam Cianciarulo, Jason Anderson and Zach Osborne have all worked under the tutelage of Aldon. Now, he has just introduced his newest business venture, Alcavi Bicycles, a brand formulated between Aldon and one of his athletes, Alfredo Campo. Read the full article HERE.
FLY RACING'S JERSEY'S OF THE STARS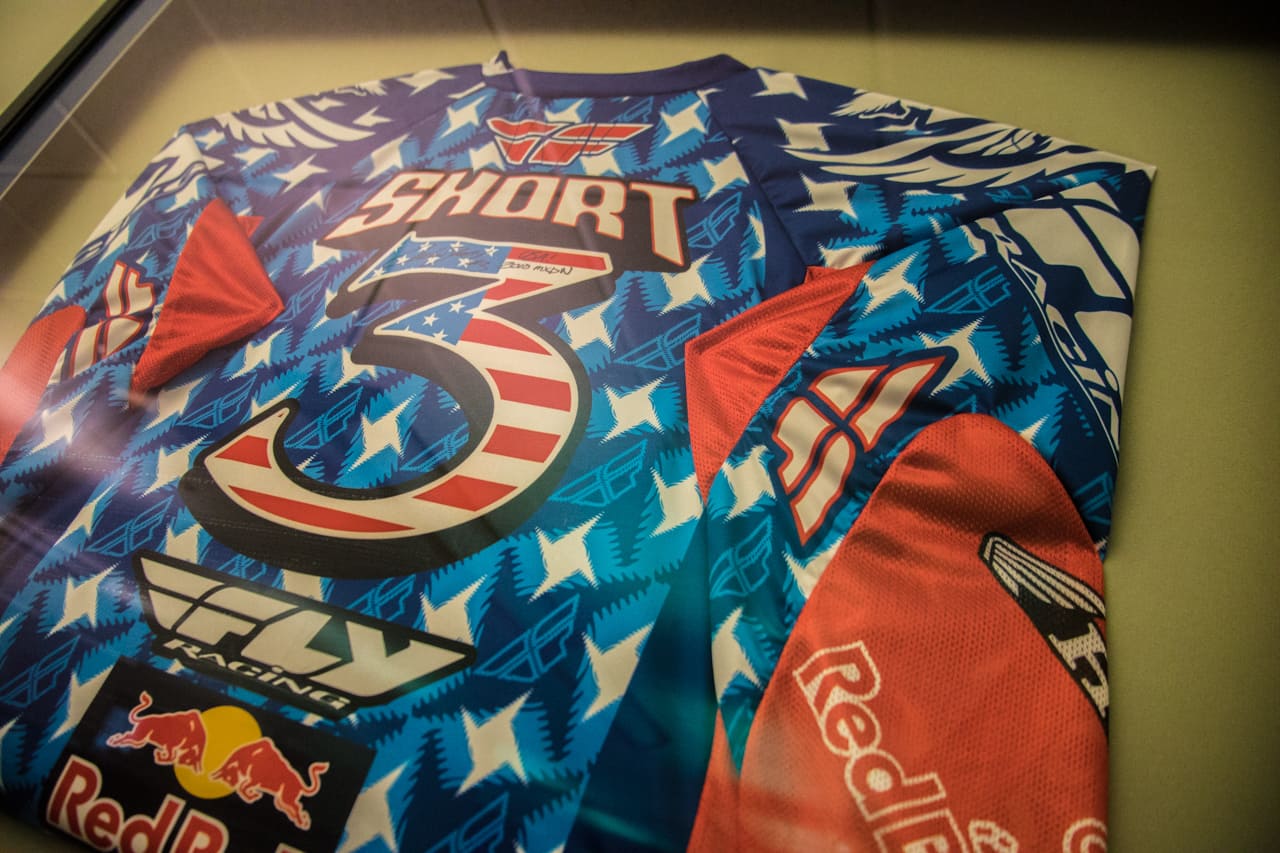 This is one of the jerseys worn be Andrew Short for the 2010 Motocross des Nations held in Colorado. The USA team consisted of Ryan Dungey, Trey Canard and Andrew. And yes, they won.


In 2008,  Jason Lawrence won the 250 West Supercross title for Fly Racing. He went on to beat out Ryan Dungey that year by 3 points.  
Brandon Jesseman won the 250 East title for Fly Racing in 2003 over Mike Brown.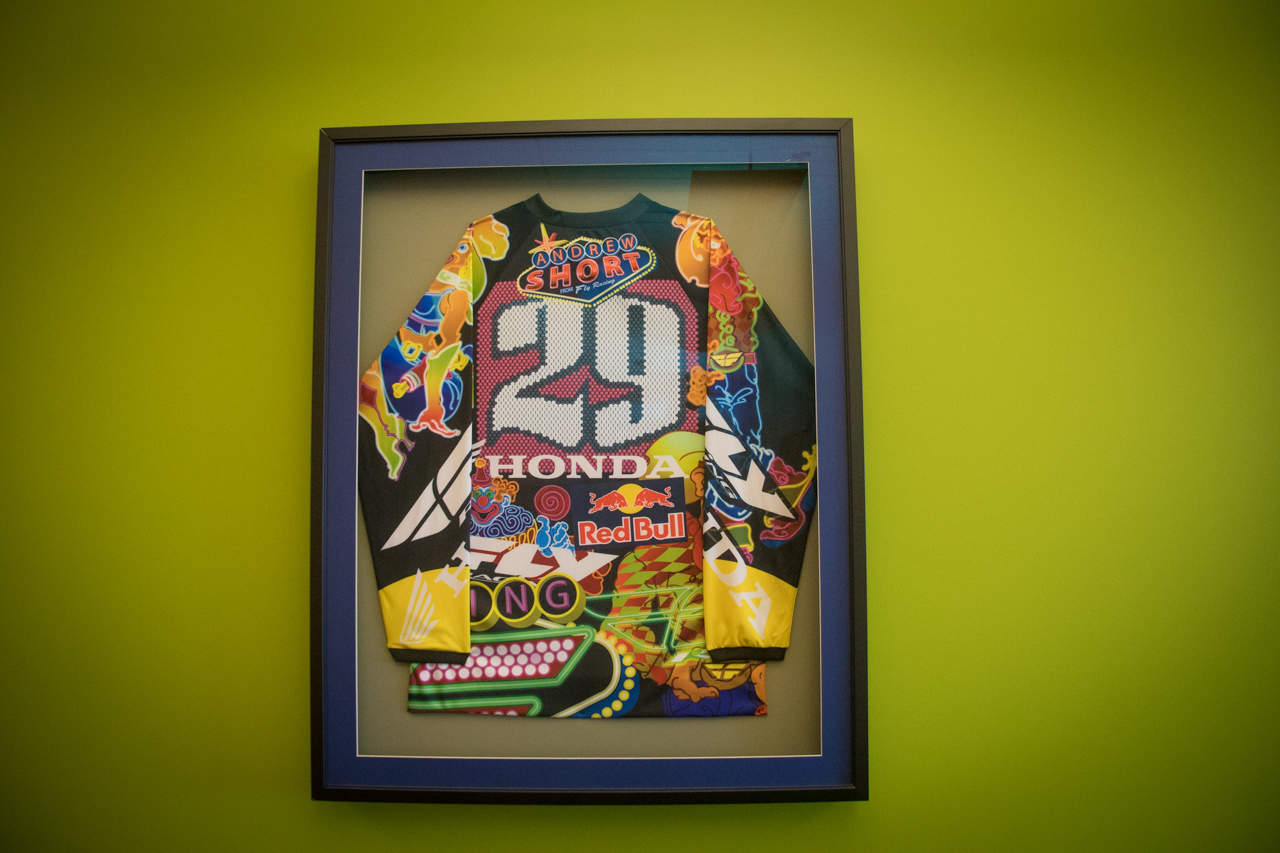 One of Andrew Short's Vegas Supercross jerseys.  
Jason Anderson back in his amateur days.


The freshest championship jersey on Fly Racing's wall is Zach Osborne's 2017 East Supercross jersey.
FACTORY 2-STROKE DOMINATES FINAL ROUND OF OFF-ROAD CHAMPIONSHIP SERIES IN HAVASU
FORGOTTEN BIKES // DUCATI DESMO R/T 450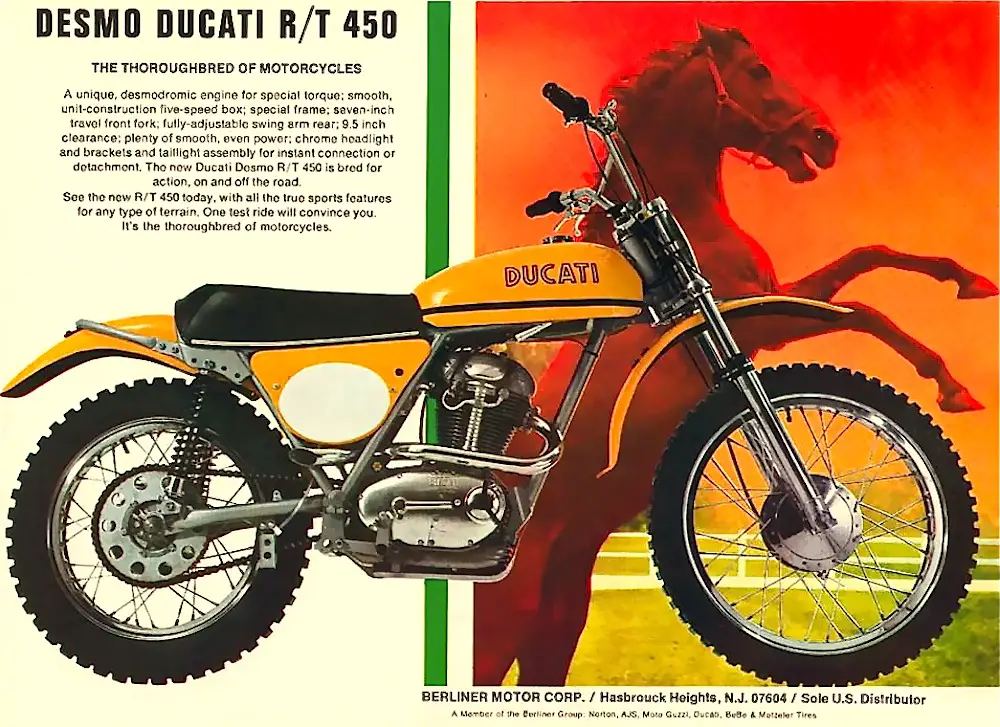 10TH ANNUAL KURT CASELLI RIDE DAY ON DEC. 3 AT PALA
The Kurt Caselli Foundation will host its 10th Annual Kurt Caselli Ride Day presented by Rocky Mountain ATV/MC, FMF and KTM on Saturday, December 3d, 2022 at Fox Raceway in Pala, California.
MXA QUOTE OF THE WEEK // TOMMY CROFT ON HOW BEING ON FACTORY HONDA WAS THE BEST OF THE BEST IN THE '70s
All the factories and all the factory riders were in SoCal. I had been competing against them locally, but I had never gone to an AMA National. Guys like Gaylon Mosier, Rex Staten, Marty Smith and Marty Tripes were all there if it was a big race. Kawasaki, Yamaha, Suzuki and Honda were all there. I was riding the Kelvin Franks bike, and I got the holeshot. Marty got second on his factory Honda, and we went at it. I won the moto, but in the second moto something happened, and I got second or third overall, but I had beat everybody else. When I got home from school on Monday, my mom said Yamaha, Suzuki and Honda had called. I went to Yamaha first. They wanted to hire me but said, "You have to cut your long hair first." I said, "That is not a problem." But, I was good friends with Marty Smith, and I really wanted to ride for Honda. So, after I got home from Yamaha, I had my mom put my hair in a ponytail and cut it off. I went to Honda the next day, and I ended up signing with Honda. I had never even flown on an airplane before I signed with Honda. It was a lot easier traveling with Marty because he had done it the year before. We traveled everywhere together. They hired me as a 125 rider, and I had quite a bit of success on it. But, I only stayed on the 125 for one season, and then moved to the big bikes. I got my photo on the cover of Motocross Action riding a Honda CR250 coming over a ledge at Carlsbad all crossed up in 1975. I hadn't even gotten my Honda gear yet.
TALK MOTO WITH ON MXA'S FACEBOOK GROUP CHAT

We love everything moto and want to bring all moto junkies together into one place to share their two cents, ideas, photos, bike fixes, bike problems and much more. To check it out first you must need to or already have a Facebook account. If you don't, it isn't much work and you could even have an alias so nobody knows it is you. To join click HERE. After you request to join we will accept your request shortly after.
EXPLORING THE STAR RACING GOAT FARM
MOTO TIP OF THE WEEK // DON'T DRIVE YOURSELF TO INSANITY
MOTO TIP: Albert Einstein is credited with saying, "The definition of insanity is doing the same thing over and over again and expecting different results." This holds true for doing the same routine over and over again at the gym. When you perform the same routine for six weeks or more, your results will start to diminish. To stimulate change in your body, you have to throw it a curveball every six weeks or sooner.
THE DECEMBER ISSUE OF MXA IS NOW AVAILABLE! SUBSCRIBE AND MAKE MONEY ON THE DEAL!
The 2023 Husky FC450 and the Honda Greenger grace the December cover of MXA.
Did you know that you can subscribe to MXA at virtually no cost to you—because when you subscribe you receive a Rocky Mountain ATV/MC credit for $25 towards anything in their massive inventory. Plus, you will get all the content in the 12 monthly issues of Motocross Action magazine—from four-stroke tests, two-stroke tests, retro tests, race coverage, new tech to product tests….most of which never appear on the internet. And, don't forget, that $25 credit from Rocky Mountain ATV/MC that will more than cover the cost of your subscription. To subscribe call (800) 767-0345 or Click Here
CLASSIC PHOTO: 2007 RED BUD STEWART VS. CARMICHAEL
The good old Stewart vs. Carmichael battles. We don't think RC was ever worried about Stewart outdoors though. 
---
MXA MOTO TRIVIA ANSWER: The photo is of Doug Dubach riding a 2001 Denali electric dirt bike. Doug has been an MXA test rider on and off for many years. He has ridden all kinds of bikes, big and small for the wrecking crew. This Denali has to be one of the first attempts of an electric dirt bike. Doug probably taco'ed the puny mountain bike rims and broke the frame in no time.