MOTOCROSS ACTION MID-WEEK REPORT
#WHIPITWEDNESDAY

Rider: Nick Wey
Location: KTM test track
Date: October 29, 2007
Photographer: John Basher
Camera: Canon 30D
Lens: 70-200mm f/2.8
Focal length: 200mm
Exposure: 1/1600 sec.
F-stop: 3.2
ISO: 320
TWO-STROKE SPOTLIGHT: LINZ LEARD'S 2003 YAMAHA YZ250
"This is my 2003 Yamaha YZ250. Here are some things to know about the bike. I bought it in 2016 for $500 from a guy who didn't know how to maintain a dirt bike (or wash one after a ride).  It was running, so that was a plus.  I stuffed it in the garage for a few years before the total restoration took place. Restoration started by sandblasting the frame and then having my brother, Chris, paint it that funky factory Yamaha blue/purple that was used at the time.  After that, I kept an eye on keeping the bike as close to 2003 clean and uncluttered look and spec as possible, at least to this point, but with upgrades that make it a bit more stout for racing vintage motocross with the TVRC in Texas." —Linz Leard
The list of mods includes:
* 21/18 wheels (built by Dubya) with Talon hubs and DID Dirt Star / STX rims
* Galfer rotors (front oversize)
* Forks outfitted with heavier Race Tech springs and Gold Valves
* Shock outfitted with heavier Race Tech spring and Ron Sussman valving
* Freshened engine with new seals, clutch and top end, minor porting work by Kerry Rea
* Pro Circuit Platinum 2 pipe and R-304 stainless silencer
* Moto Tassinari VForce3 reed system
* Hammerhead Design shift lever
* IMS stainless steel footpegs
* Polisport plastics
MXA YOUTUBE CHANNEL | HIT THAT SUBSCRIBE BUTTON
The MXA wrecking crew is everything moto related. Check out our MXA YouTube channel for bike reviews, Supercross coverage, rider interviews and much more. And don't forget to hit that subscribe button.
MXA INTERVIEW QUOTE OF THE WEEK // JEFF EMIG ON BECOMING THE SPORT FIRST ROCKSTAR
"It is interesting that you use that terminology. I did not have long hair, smoke cigarettes or walk around with a bottle of Jack Daniels in my hand, but, in a way, that is what I wanted to do. I never really wanted to be a professional athlete; I always wanted to be a rock star. Later on in my career, when I got the tour bus and all that, it was my way of manifesting my desire to have that rock-star lifestyle. It was certainly fun, and I had a great time. Fans loved it. It created the image that I wanted, and I felt like it was pretty authentic to me. Ultimately, it was probably not the best career choice when you are trying to be a professional motocross rider." 
RIDE ENGINEERING HOLIDAY SALE!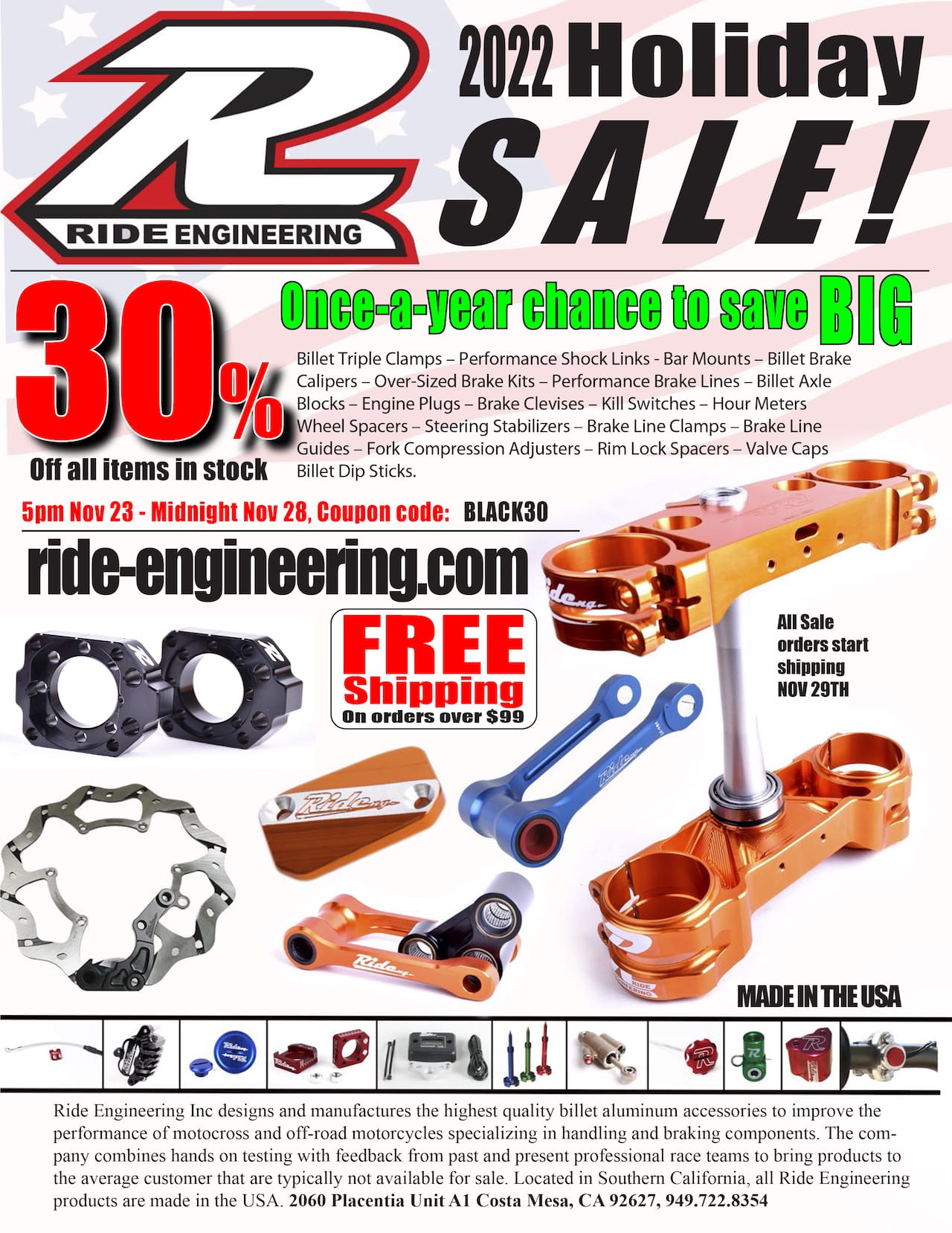 LOST BUT NOT FORGOTTEN | 1987 HONDA CR250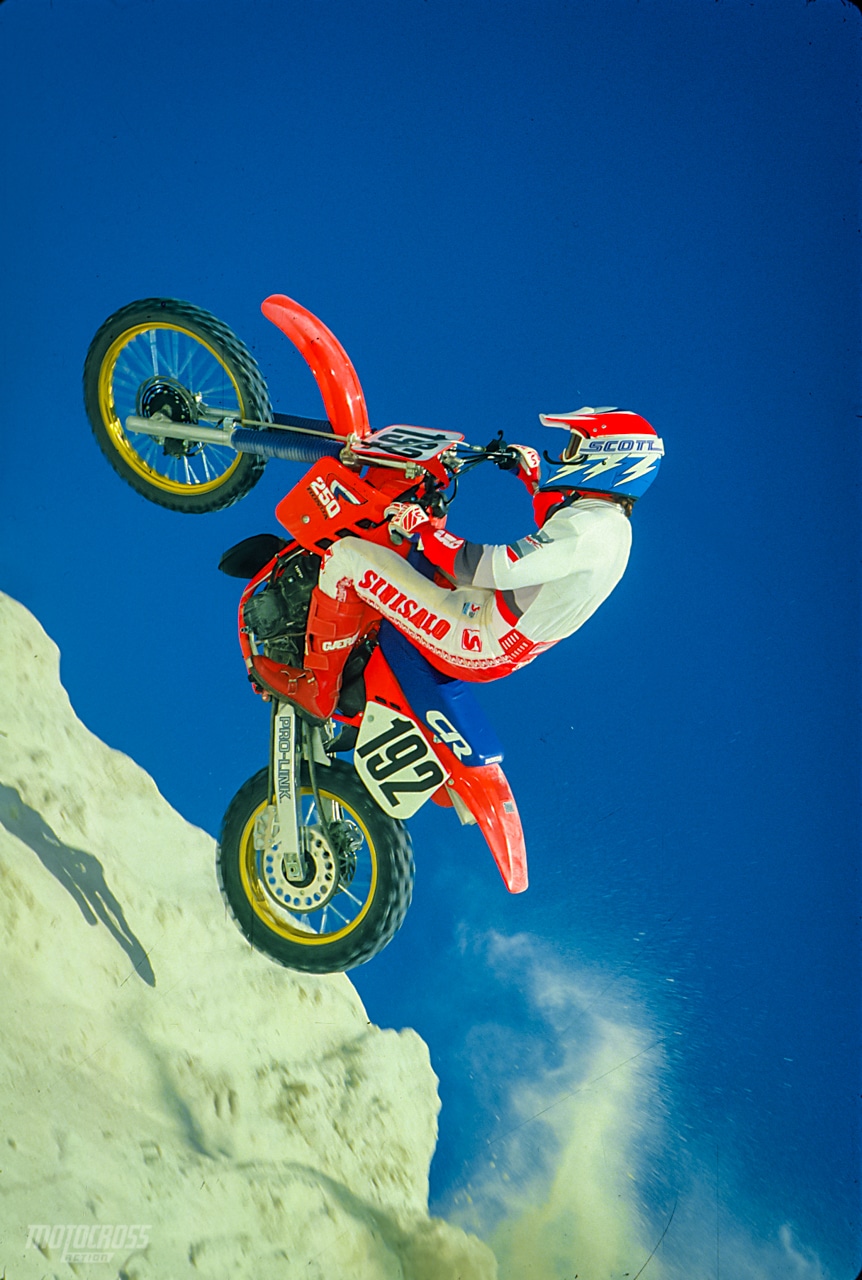 MXA'S Lance Moorewood launches a 1987 Honda CR250 straight up at the long-gone White Sands riding area for the cover of the December 1986 issue.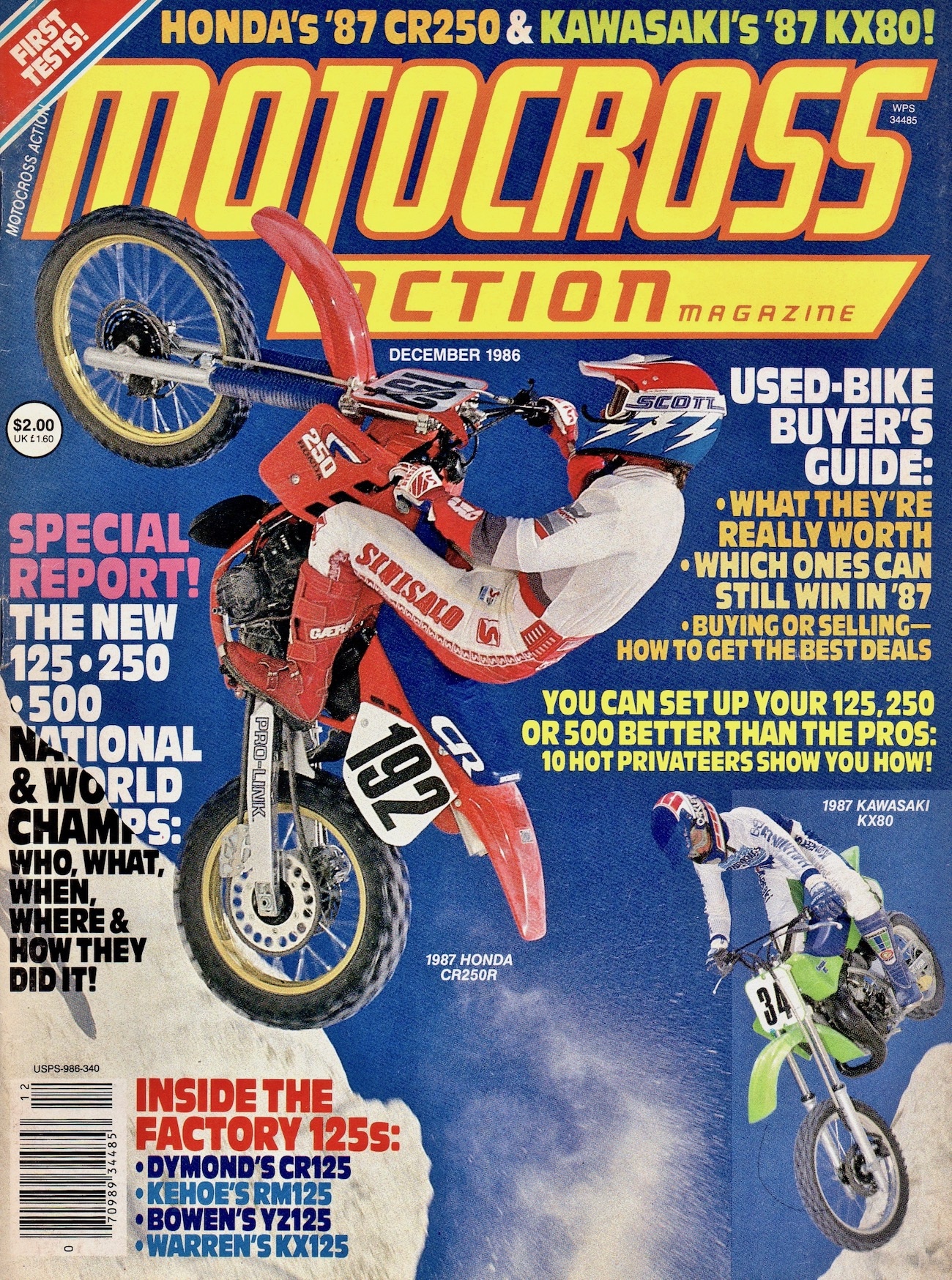 The actual December 1986 cover photo was shot by Ed Arnet.
MXA MOTO TIP OF THE WEEK // WHAT IS ARM PUMP?
MOTO TIP: Arm pump is caused by restricted blood vessels in the forearms. The restriction backs up the blood coming from the heart. While the blood is backing up, more blood continues to be pumped into the forearms. The result is a blood traffic jam. If not for a thin fibrous sheath around the muscles called fascia, the blood would keep pouring in until your forearms looked like Popeye's. The reason they don't blow up like a balloon is that the fascia's sheath is inelastic. The forearms can only expand so far before the limits of the fascia are reached resulting in forearms that feel rock hard. FOR THE FULL ARTICLE CLICK HERE
LUXON MX BLACK FRIDAY SALE!
10TH ANNUAL KURT CASELLI RIDE DAY ON DEC. 3 AT PALA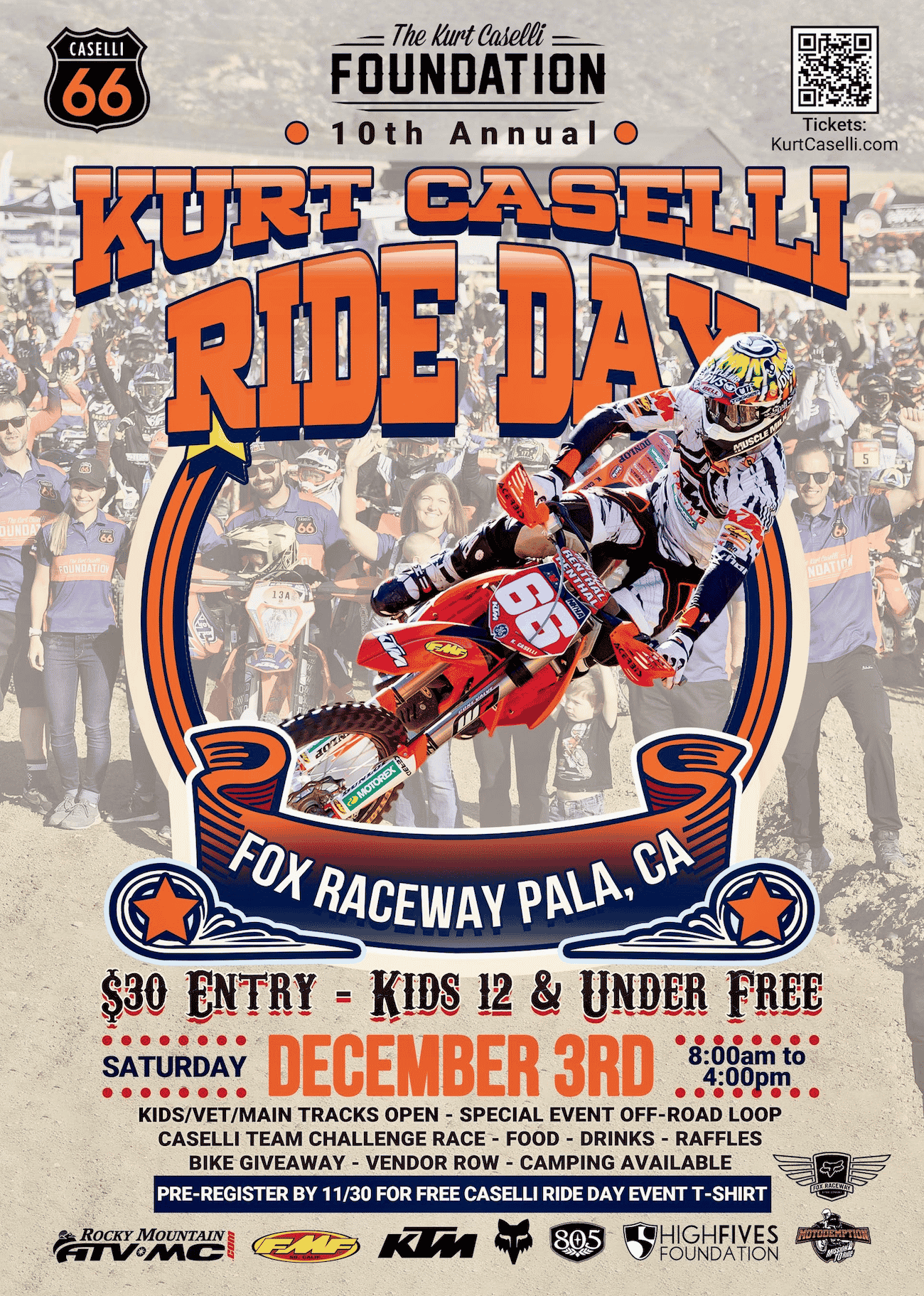 The Kurt Caselli Foundation will host its 10th Annual Kurt Caselli Ride Day presented by Rocky Mountain ATV/MC, FMF and KTM on Saturday, December 3d, 2022 at Fox Raceway in Pala, California.
HONDA WINS THE BAJA 1000 FOR THE 32ND TIME
Press Release: Honda added to its rich off-road racing legacy on Friday night, when SLR Honda crossed the finish line of the Baja 1000 with the Pro Moto Unlimited win. The success marked a record 32 victories for Honda in the legendary event, including the last eight in a row, and 25 of the last 26. It also represented a record 16 wins for the CRF450X, and five consecutive victories for the SLR Honda squad, which this year comprised owner-rider Mark Samuels and co-riders Justin Morgan and Kendall Norman. This is six Baja 1000 wins for Morgan, seven for Samuels and eight for Norman.
Night-specialist Morgan was the seventh rider to leave the Ensenada start in the very early hours of Friday morning, and he handed off to Samuels approximately 275 miles later, near Puertecitos, on the Gulf Coast. Samuels, who assumed the physical lead around 65 miles into his stint, turned the bike over to Norman around the midway point, on the road to Mike's Sky Ranch. Approximately 250 miles later, Morgan took over again at El Alamo, for the final, 100-mile sprint back to the finish in Ensenada. The squad covered the 830.9-mile course in an official time of 18 hours, 51 minutes, 30.152 seconds, which was 1 hour, 17 minutes quicker than the second-place team.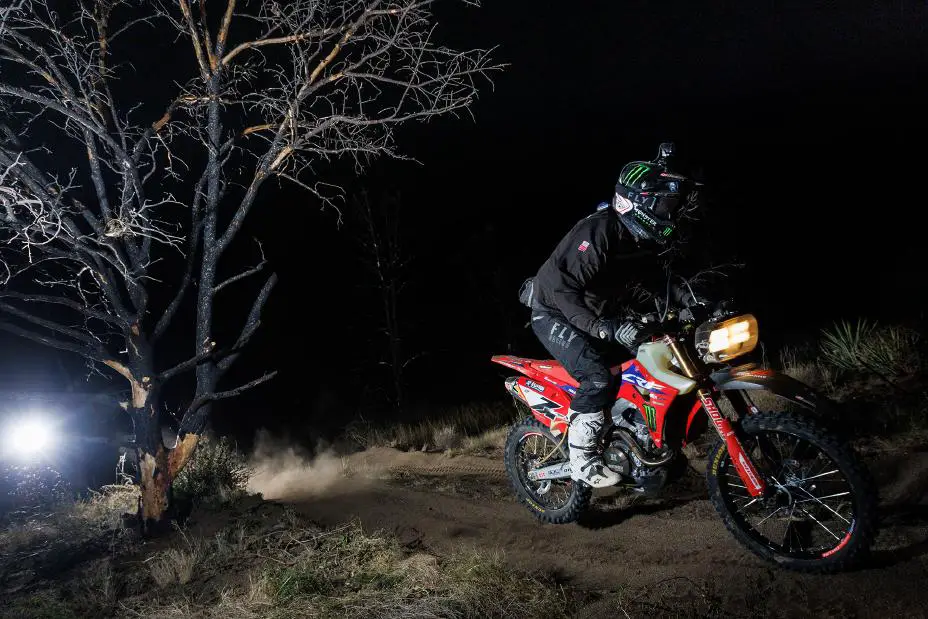 "Man, it was a tough course," Samuels told SCORE at the finish. "It was really rough and actually kind of slower than what we anticipated. We had our hands full at the beginning, but it was a really good race, and by race-mile 340 we were into the lead. From there we just had to bring it home, and we had a great, solid effort the whole way."
On top of its motorcycle success, Honda tasted victory with the Ridgeline truck, as the Class 7 win went to the Honda Factory Off-Road team (comprising owner-driver Jeff Proctor and codrivers Gatlan Haddon, Sachin Joshi, Richard Glaszczak and Chip Prescott). Honda also won other classes, with a Fernando Beltran-led effort topping Pro Moto Limited, a Guy Laycraft-led team winning Pro Moto 60, a Hector Chavez-led effort victorious in Pro Quads, a Rabago Dario-led team winning Sportsman Quads, and Tanner Janesky claiming victory in Pro Moto Ironman. In addition, a pair of Honda Talon 1000R side-by-sides finished second and third in the Pro UTV Normally Aspirated class.
CHECK OUT HIS COMPREHENSIVE TWO-STROKE BUYERS GUIDE VIDEO

MXA | MOTO | TRIVIA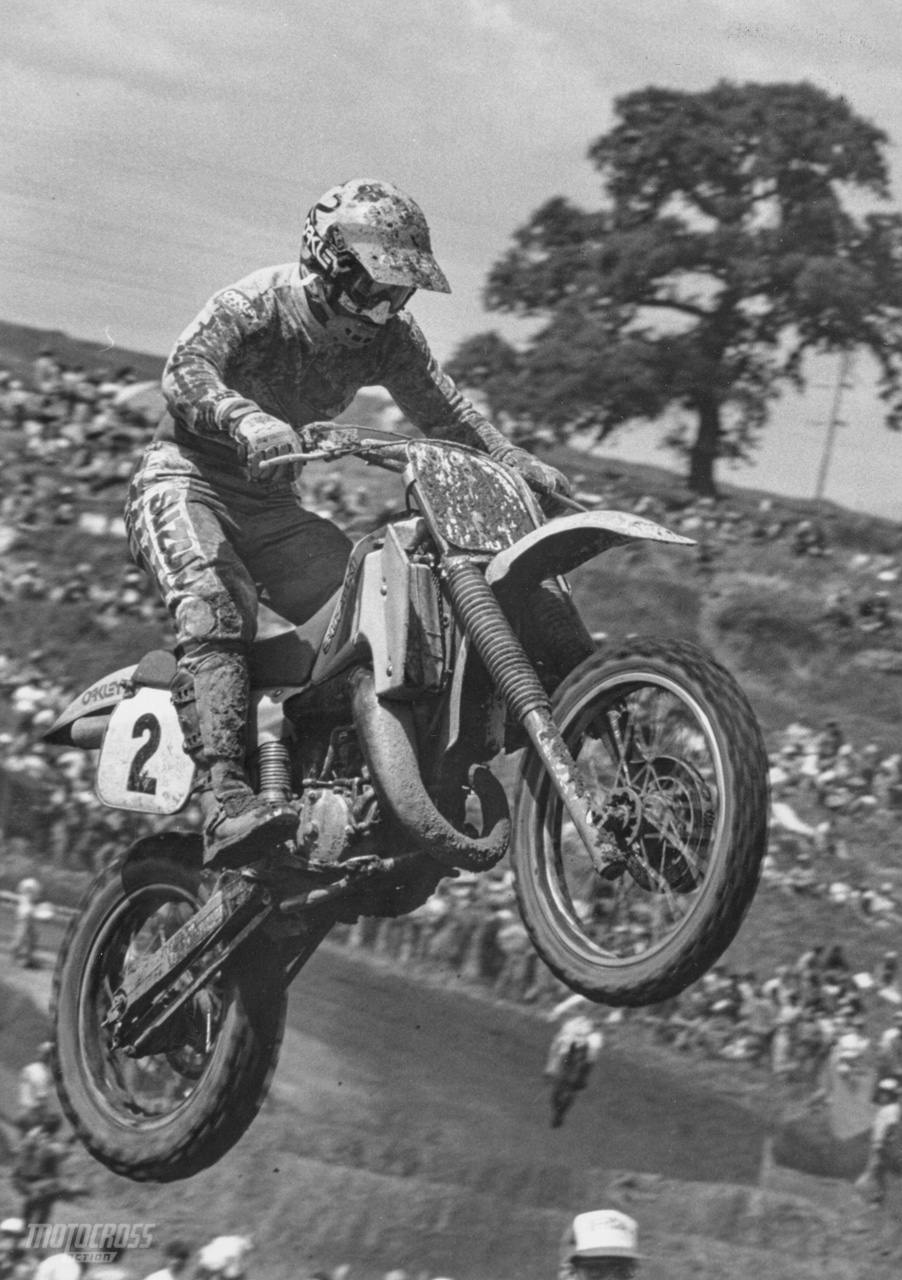 Who is the rider, what year and what track is the photo above from? Answer at the bottom of the page.
MXA TEAM TESTED // FCP MOTO MOUNTS FOR KX450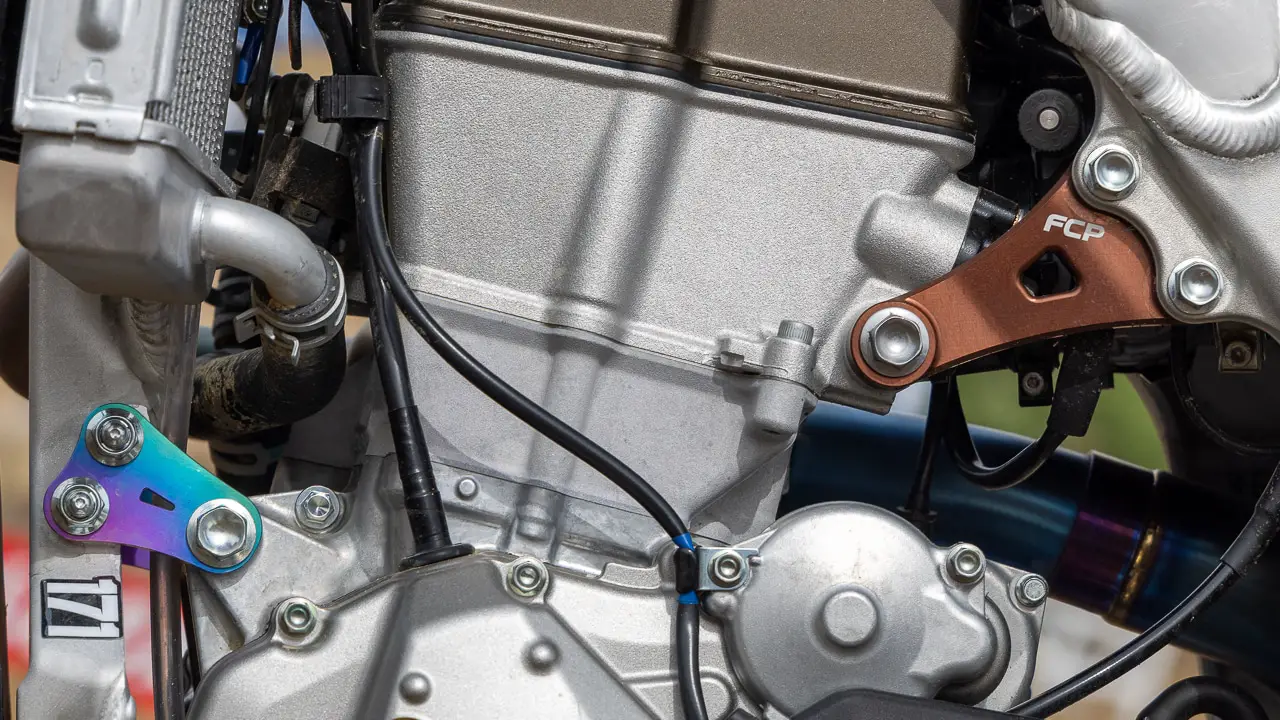 If you know your 2019–2022 Kawasaki KX450 like the back of your hand, you'll appreciate the benefits of FCP's engine mounts and head stays. Most MXA test riders felt a positive benefit from the engine mounts on our KX450 test bike. They improved corner consistency and made it easier to be accurate through deep ruts.
VERDICT: The stiffer front mounts increased traction and made the front end feel more predictable, but these benefits were noticed more by Pro test riders than Vet test riders—most of whom couldn't feel the difference or didn't think it was worth the expense and trouble.
DIGITS: $399.00 (head stays and lower engine mounts)—www.fcpracing.com.
KTM 150 PROJECT BUILD EPISODES 1 & 2
TALK MOTO WITH ON MXA'S FACEBOOK GROUP CHAT

We love everything moto and want to bring all moto junkies together into one place to share their two cents, ideas, photos, bike fixes, bike problems and much more. To check it out first you must need to or already have a Facebook account. If you don't, it isn't much work and you could even have an alias so nobody knows it is you. To join click HERE. After you request to join we will accept your request shortly after.
THE DECEMBER ISSUE OF MXA IS NOW AVAILABLE! SUBSCRIBE AND MAKE MONEY ON THE DEAL!
The 2023 Husky FC450 and the Honda Greenger grace the December cover of MXA.
Did you know that you can subscribe to MXA at virtually no cost to you—because when you subscribe you receive a Rocky Mountain ATV/MC credit for $25 towards anything in their massive inventory. Plus, you will get all the content in the 12 monthly issues of Motocross Action magazine—from four-stroke tests, two-stroke tests, retro tests, race coverage, new tech to product tests….most of which never appear on the internet. And, don't forget, that $25 credit from Rocky Mountain ATV/MC that will more than cover the cost of your subscription. To subscribe call (800) 767-0345 or Click Here
CLASSIC PHOTO
The 2003 outdoor Nationals season with John Dowd (16), Larry Ward (10), Ezra Lusk (11), Ricky Carmichael (4), Kevin Windham (14), Clark Stiles (47), Ernesto Fonseca (24), David Vuillemin (12) and Nathan Ramsey (25). 
---
Moto Trivia answer: Mark Barnett from Hangtown back in 1984.