MOTOCROSS ACTION MID-WEEK REPORT
#WHIPITWEDNESDAY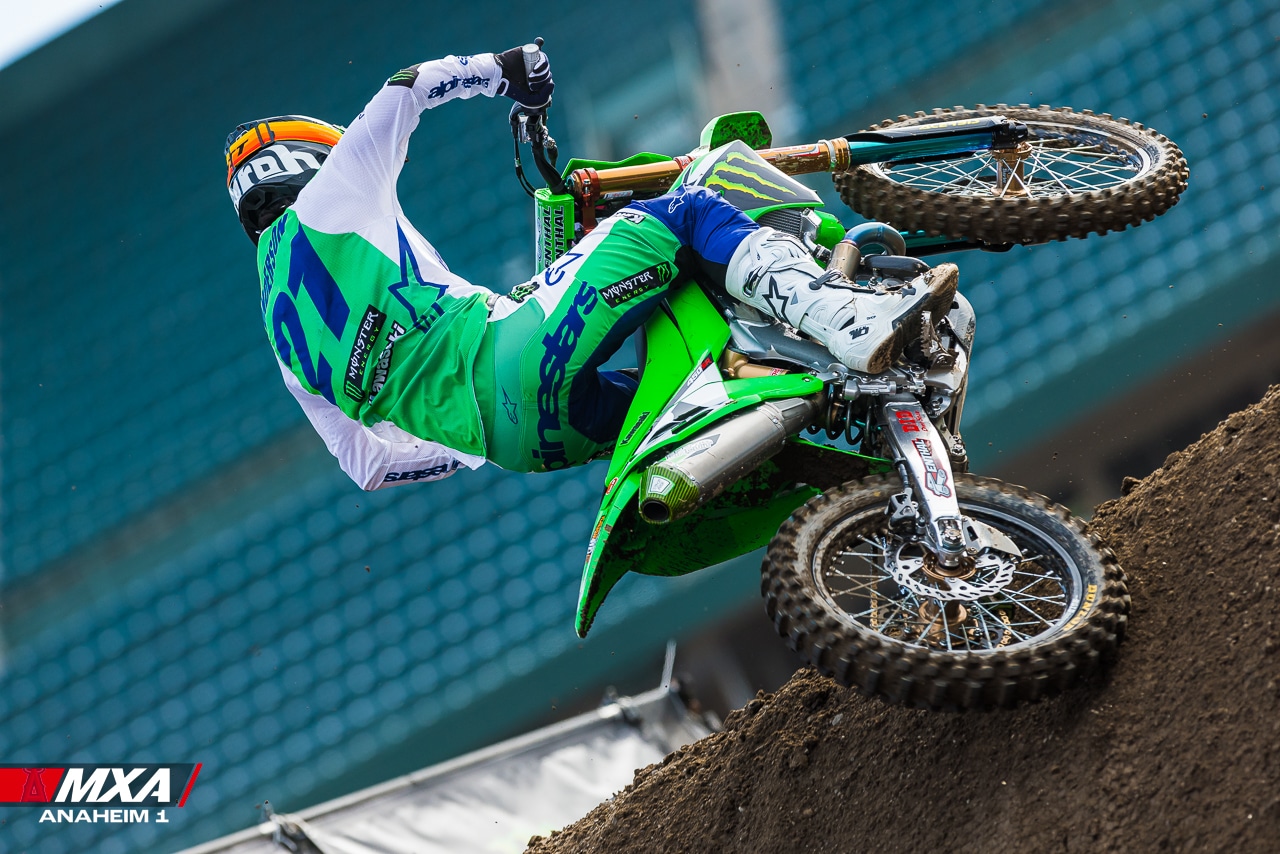 Rider: Jason Anderson
Bike: 2023 factory Kawasaki KX450
Place: 2023 Anaheim 1 Supercross
Photographer: Trevor Nelson
TWO-STROKE SPOTLIGHT: JAKE BACH'S 2002 SUZUKI RM125
"My name is Jake Bach and this is my 2002 Suzuki RM125 that I rebuilt. The bike was well maintained by the owner before me. The frame and subframe were sent out to be powder coated black. The bottom end had low hours so the top end was rebuilt with a Wiseco top end kit and the cylinder was in great condition. The pipe and silencer were replaced with an FMF Fatty and a Shorty silencer. The OEM hubs were laced up to Excel gold rims and the spokes were replaced with OEM. The plastics are UFO and the seat is SDG and I went with the 2007 OEM graphics. The bars, clutch and grips are Pro Taper."
Editors Note: Please keep those submissions coming. If you would like your bike to be featured in the "Two-Stroke Spotlight," please email me at [email protected]. All I ask is that you give a breakdown of your bike and a detailed description of the build. Please also send a few photos of your steed. By submitting your bike for the "Two-Stroke Spotlight," you agree to release all ownership rights to the images and copy to MXA.
BIKES YOU'VE NEVER SEEN BEFORE: CZ TYPE 860 V4 350

The Type 860 was a 350cc V4 four-stroke road racer that was started in 1965, but not raced until 1969 because of limited communist funding. It was a 350 for several years and was then bumped up to 418cc in 1971. The original eight-speed transmission was dumped when the FIM banned anything with more than six speeds. It never won a race but finished second once. The Czech government ordered them destroyed after their racing days were over, but the ever-enterprising Czech mechanics saved most of them.
THE MISSING TWO SUPERMOTOCROSS PLAYOFF DATES & LOCATIONS REVEALED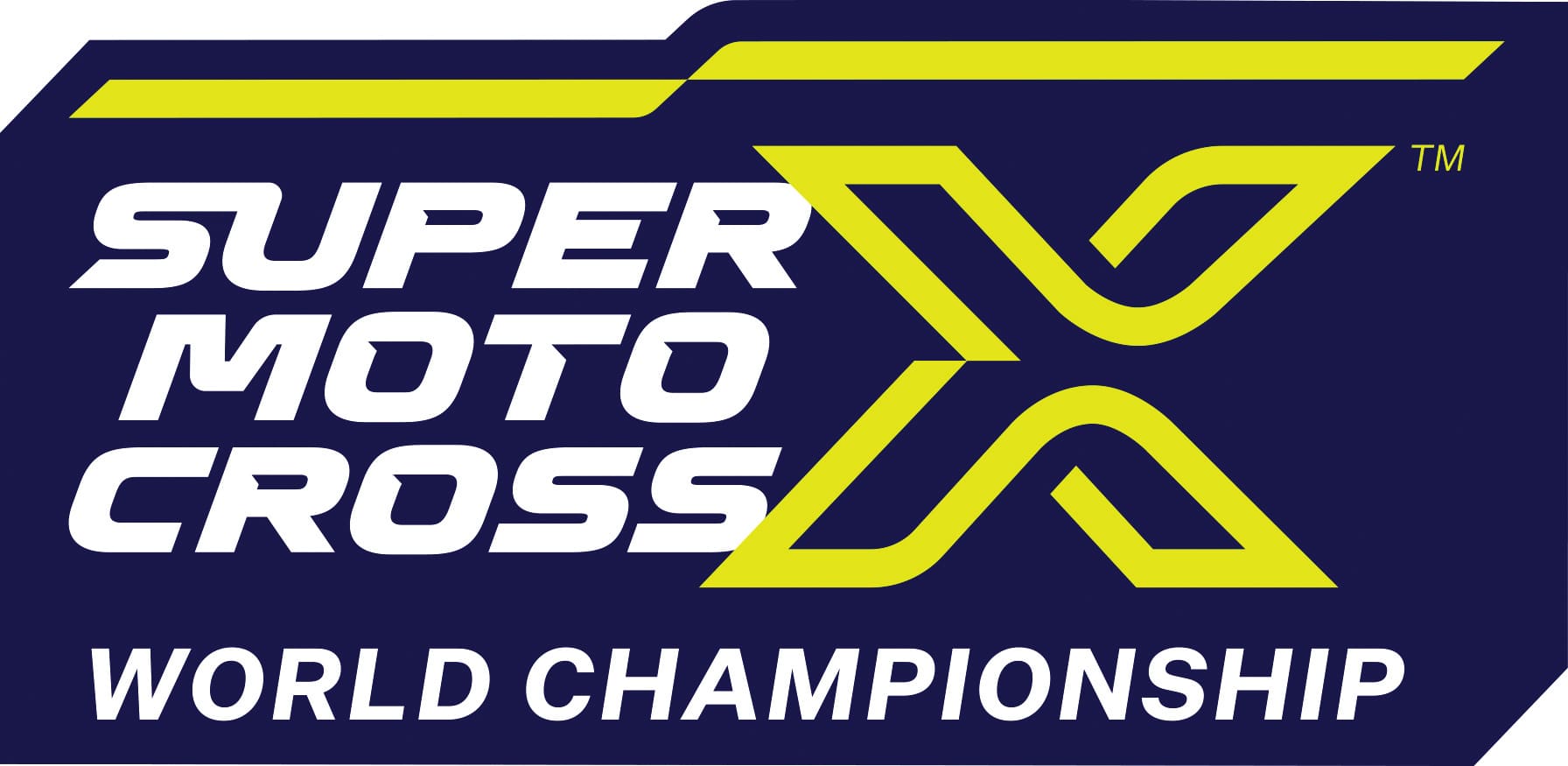 It's not that anyone really needs to know much about the first two of the three SMX playoff rounds for the 2023 three-race SuperMotocross Playoff system, given that the finale is at the Los Angeles Coliseum on October 14, 2023. That is ten long months from now, but curiosity does have a way of making unimportant things suddenly important. But for those who can't wait until the 17-rounds of the actual AMA Supercross Championship are over, which will be on May 13, 2023, the SuperMotocross World Championship Playoff round #1 will take place on Saturday, September 9, at zMAX Dragway in Concord, North Carolina (Maz Dragway is located right next to Charlotte Motor Speedway), while Playoff round #2 will take place on Saturday, September 23, at Chicagoland Speedway in Joliet, Illinois (it has a 1.5 Mile D-shaped tri-oval and sits on 900 acres of land near the car track).  Now you know.
2023 SUPERMOTOCROSS PLAYOFF SCHEDULE
Sept. 9…Concord, NC
Sept. 23…Joliet, Il
Oct. 14…Los Angeles, CA
MXA INTERVIEWS A1 WINNERS JETT LAWRENCE & ELI TOMAC POST RACE
THEY SAID IT // ANAHEIM 1 SUPERCROSS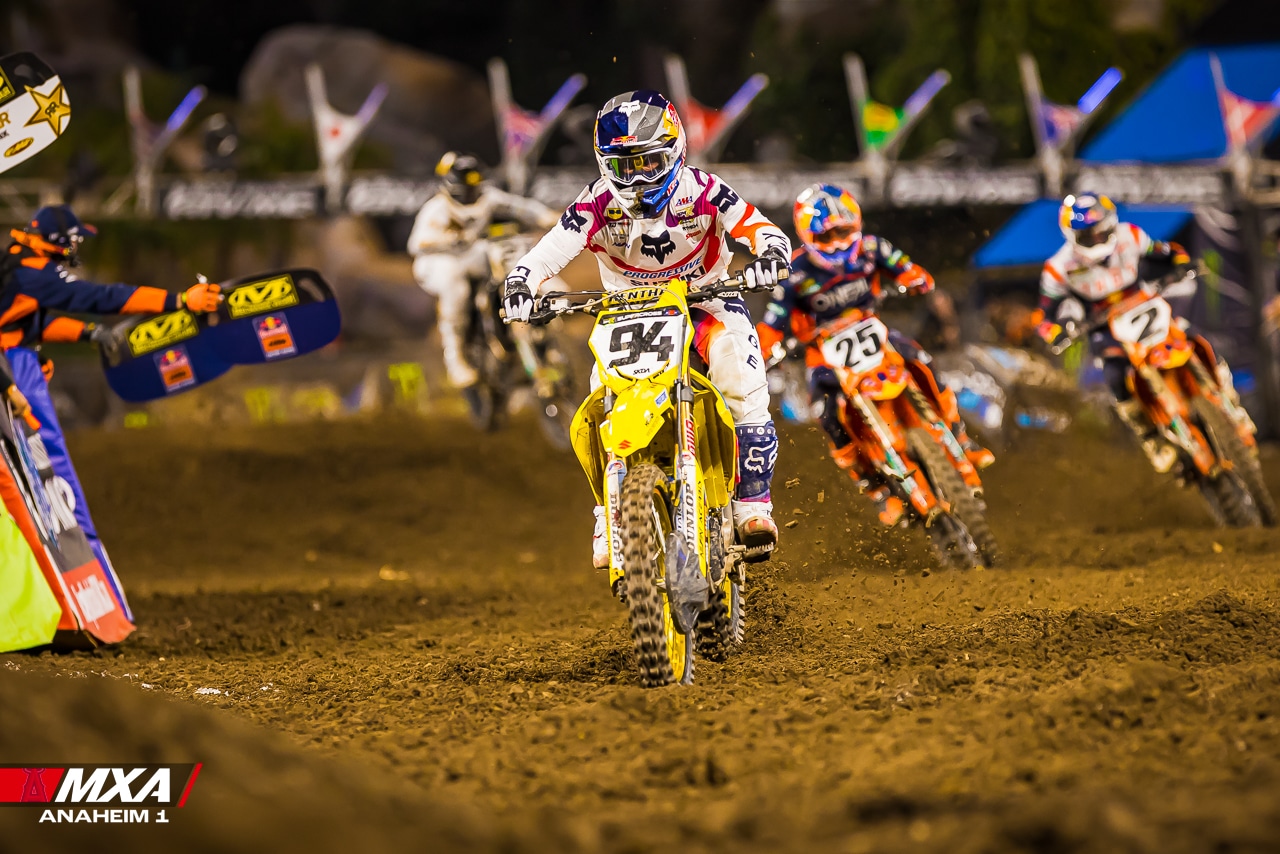 Ken Roczen: "Our weekend at Anaheim was a fun one, but a very gnarly one. We've had a lot of rain here lately on the west coast so the track for the first race was very unique, very difficult, and quite possibly one of the gnarliest supercross tracks that I've ever ridden. Overall, I'm stoked to get away with a top-five. We didn't blow anything out of the water, and we didn't do the absolute greatest, but at the same time we have something strong to build on and I'm super stoked about it. Most importantly, we didn't crash all day and we got out of here healthy; we saw a lot of real bad crashes and we were able to keep it rubber side down and that was very important to us to keep building."
Colt Nichols: "It was a little chaotic throughout the day, but things came around. I started out making it through the heat race unscathed. I went into the main and got a really good start and kind of fumbled the first little straightaway and went from first to like sixth. [laughs] I didn't quite have the intensity the first maybe 10 minutes, and the front group got away a little bit–I was riding in no-man's land. Overall though, I'm really happy. We got through it, which is all I really wanted to do, and I've got something to build on now. I'm excited for next weekend."

Cooper Webb: "I'm stoked to start this season so well! Honestly, I was really hoping to get a top five, maybe a top three tonight. I didn't get a great start and I actually stalled the bike, and that put me back in the mid-pack. It's tough because at the first round everyone's feisty and excited, so it's about being smart getting around guys, and moving forward without wasting too much time. The track was very rough, but I found some good lines and I was able to get start clicking off laps and making passes. A lot of riders made mistakes tonight and it worked out well for me."
Cameron McAdoo: "I'm not completely satisfied with my ride. All-in-all, I'm looking at the big picture, so it's definitely a solid way to start the season. I had a little mishap that hurt my hand halfway through the race, so that made it more difficult to hit all my lines. I'm going to keep working to be better and in the grand scheme of things, it was a good day. It's been a while since I've raced Anaheim and it's been fun."
Eli Tomac: "It was an amazing Anaheim 1! It's pretty special for us to do this at round one with a new platform, and for me, it's been 10 years that I've been in the 450 class, so it feels good to get this win. It was an unbelievable day for us as a whole. I was P2 in practice and was very close to first place there, and then in the heat race, I got the holeshot and ran away with that one. That was awesome. In the main event, there was so much that happened there. I was really close to the holeshot again. I was right there and battled with Justin (Barcia). I made a pass for the lead and then made a mistake. I had a crash on the tunnel jump and ended up washing out. At that point in time, I thought the chance at the lead again was maybe over, but thankfully my bike was still straight, and everything was good. I somehow made it to the front of the pack again, so it was a wild turn of events, but overall the bike worked so well today. We're off to the right start."
Robbie Wageman: "It was a rough start to the main event, but we made our way through the pack. I'm happy to make it out of the first round safe. Onwards and upwards from here. My Suzuki was working great all day and I can't wait for next weekend!"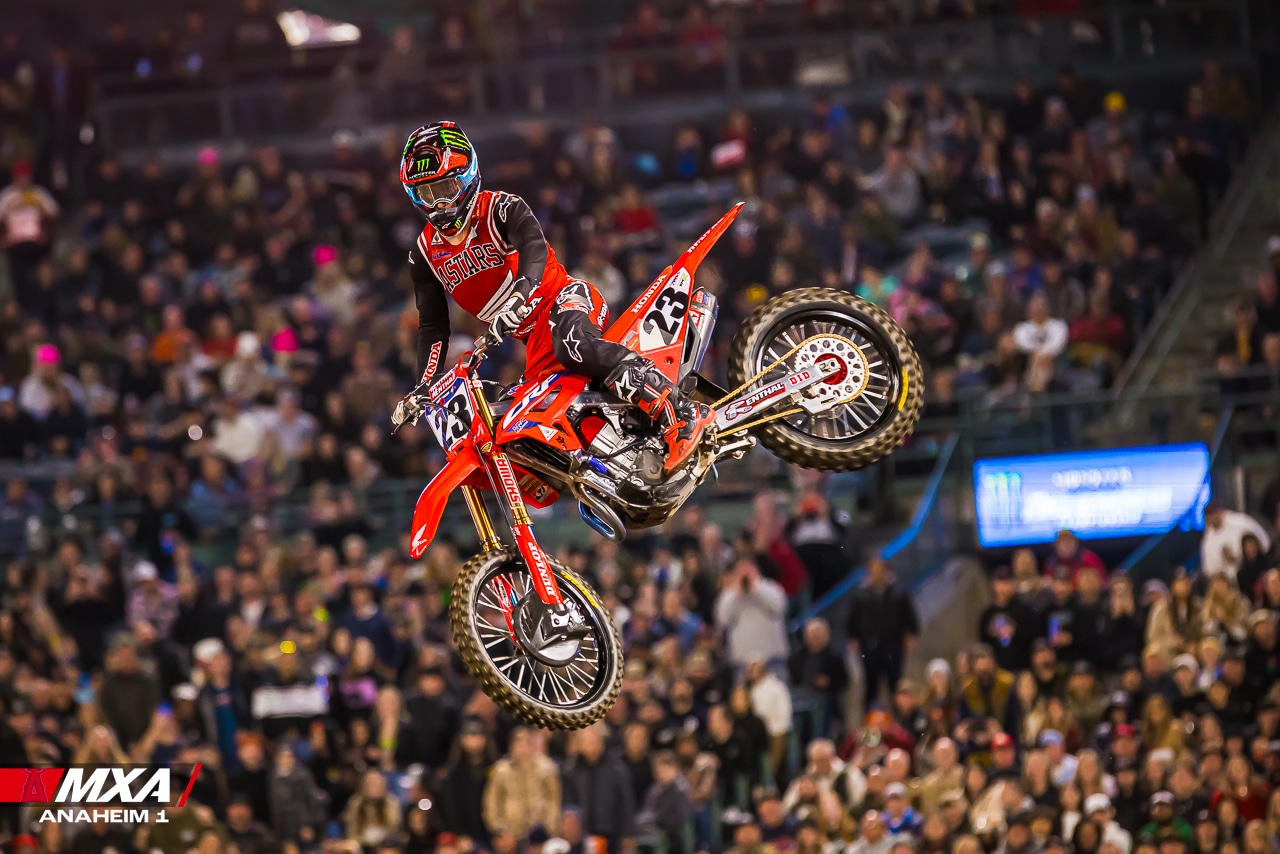 Chase Sexton: "Anaheim 1 was one of the gnarliest tracks I've been on. It was really hard to jump into and be consistent and perfect throughout the whole main event. Being back in a race setting was good. I'm pretty comfortable on my bike; I think we made some good steps in the right direction, and I felt safe and stable in the whoops all night."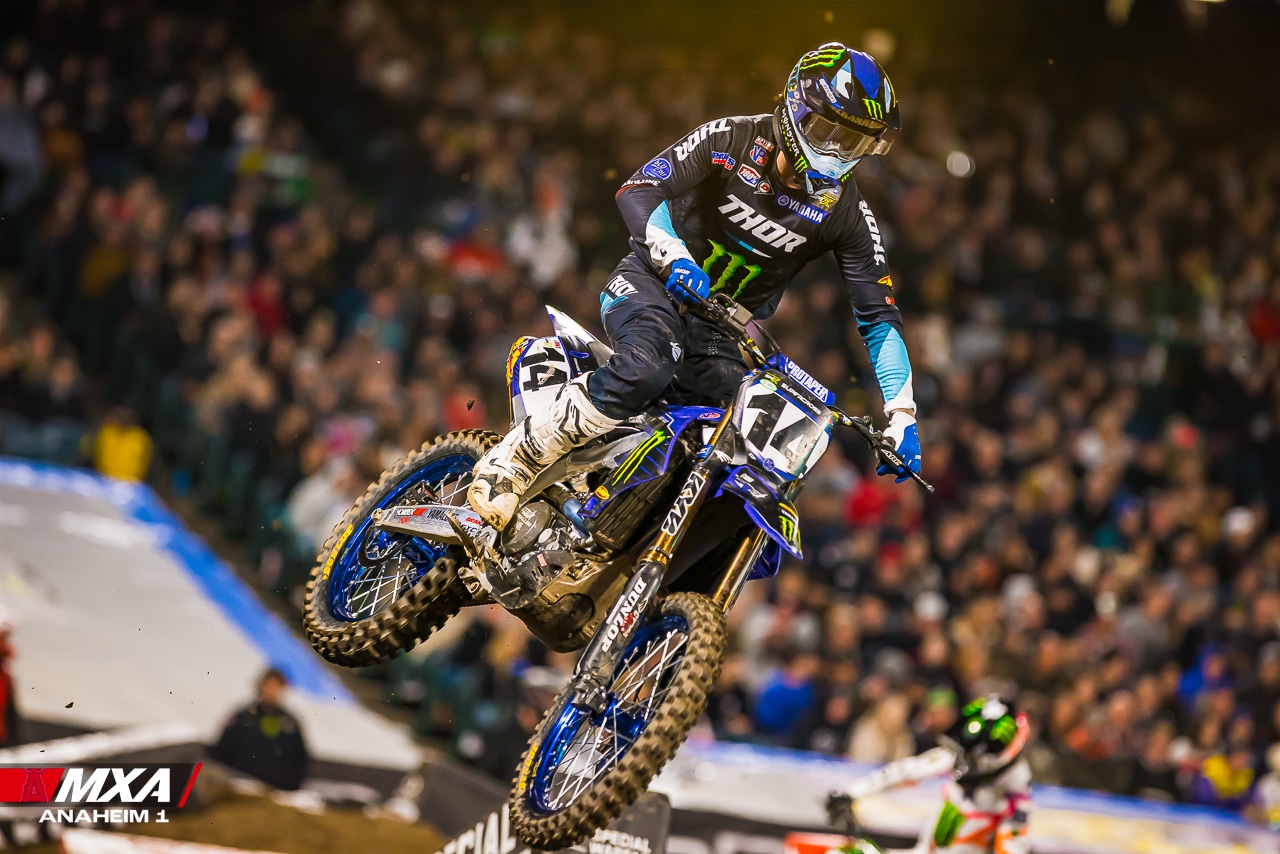 Dylan Ferrandis: "It was a good day. Honestly, it was the best opening round for me in the 450 class. I had a chance to be on the box tonight. I was third at some point in the main event, but a small mistake cost me the podium. In the end, I finished fourth and was right on the wheel of the third guy, so it's a good result, and I'm really happy with that first race. Honestly, after two very bad seasons in supercross, it's good to be back in the mix and back to fighting for podiums. I know what I'm capable of, and I think tonight, I didn't race to my full potential. I know I have a small margin to improve, and I'm ready for next week. The new bike is just so much better for me in supercross. I think we proved it tonight with Eli. He won, and I finished fourth. It's a good start to the season for us."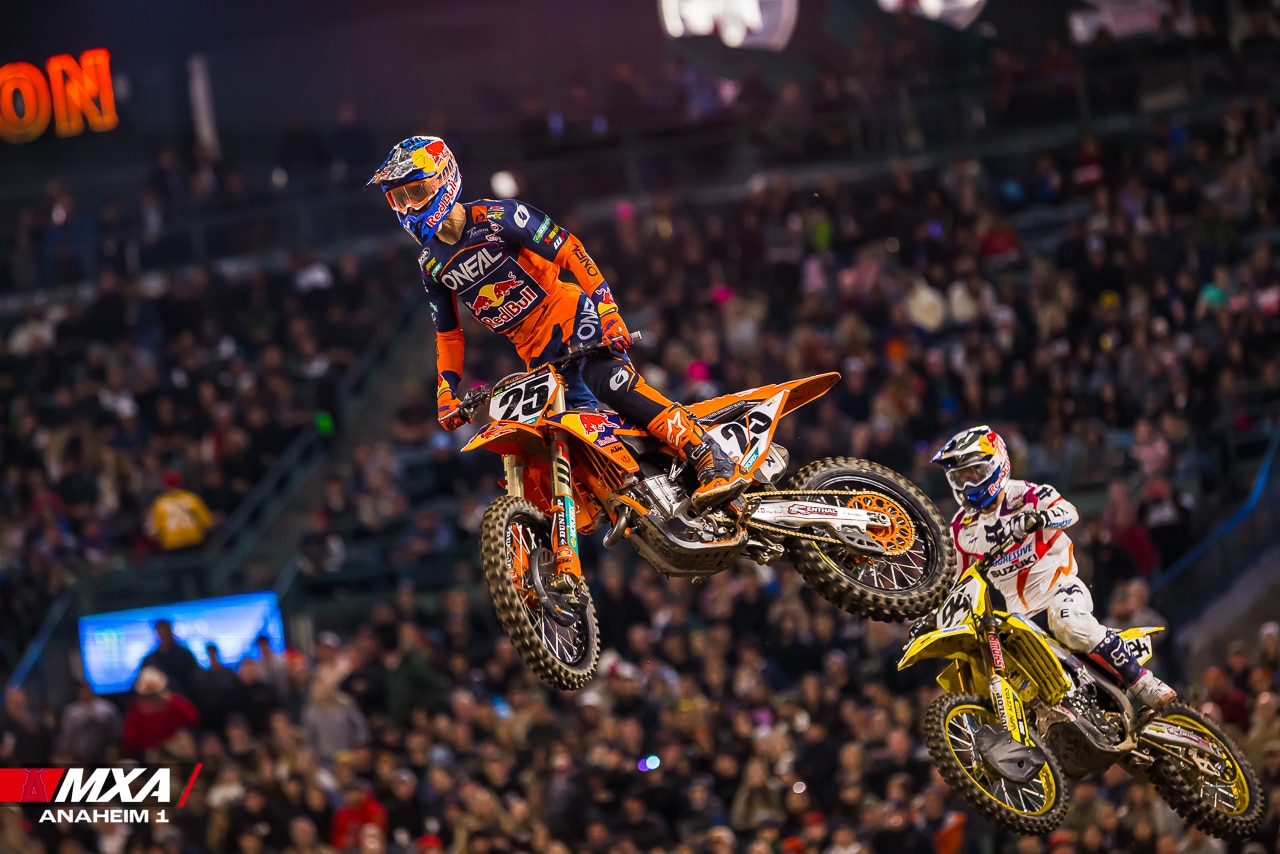 Marvin Musquin: "I'm very disappointed with my end result and I know I can do a lot better. Track conditions were very tough and I wasn't able to put it all together tonight. I had a bad start and got pinched badly in the first turn, and from that point on I struggled to find a rhythm. I could've got a good result as a lot of riders crashed, but I wasn't able to make it happen. I got into a better rhythm in the middle part of the race, but then I dropped it. It was a really tough night and this isn't what I want, so we'll keep working and do better next weekend."
Justin Barcia: "A1 is a wrap. The day started off pretty well. I felt good in the first practice but I struggled a little bit in the next two, just with feeling comfortable with the track, because it was very tricky with a lot of square edges and things like that. I made a big change before the heat race and unfortunately went in the wrong direction. So I went back to my base setting for the main event. Pretty much ripped the holeshot, led a few laps, made a huge mistake, and had a crash. I worked my way back up to like seventh and had another crash. So it was a difficult main event. We'll take a few positives from the day. We had a good start, and we had speed, we just need to keep it on two wheels and keep it simple and we'll be good. But the speed is there, the fitness is there, and the bike's there, so I'm happy with that and definitely put this result behind us and move forward."
Shane McElrath: "Honestly, for me, I just mentally didn't show up ready to race. It took me too long throughout the day to get to that point. I'm a little banged up but it'll be all good. We'll just keep moving forward and I'm going to be fully prepared next weekend."
Jett Lawrence: "It's always nervous coming into the first one because you don't know where everyone's at. The big thing was how the track was going to form up for the main, and after practice, the joke was, 'I just want to see Sunday!' [laughs] I had a bit of a rough one in the heat race, so I just focused on the main and making sure I did what I needed to do. I'm thankful I came out of here in one piece."
Aaron Plessinger: "For the first round of the season and my first race back since February, my day went pretty well. I qualified in 10th, and while I didn't get a good start in my Heat race, I made it work and came back to fourth. In the Main Event I was in a good position, but had a little spill. If I hadn't done that, I feel like I would have ended up in the top five or just outside of it, so we'll clean some stuff up this week and be back ready for Oakland."
MOTO | TRIVIA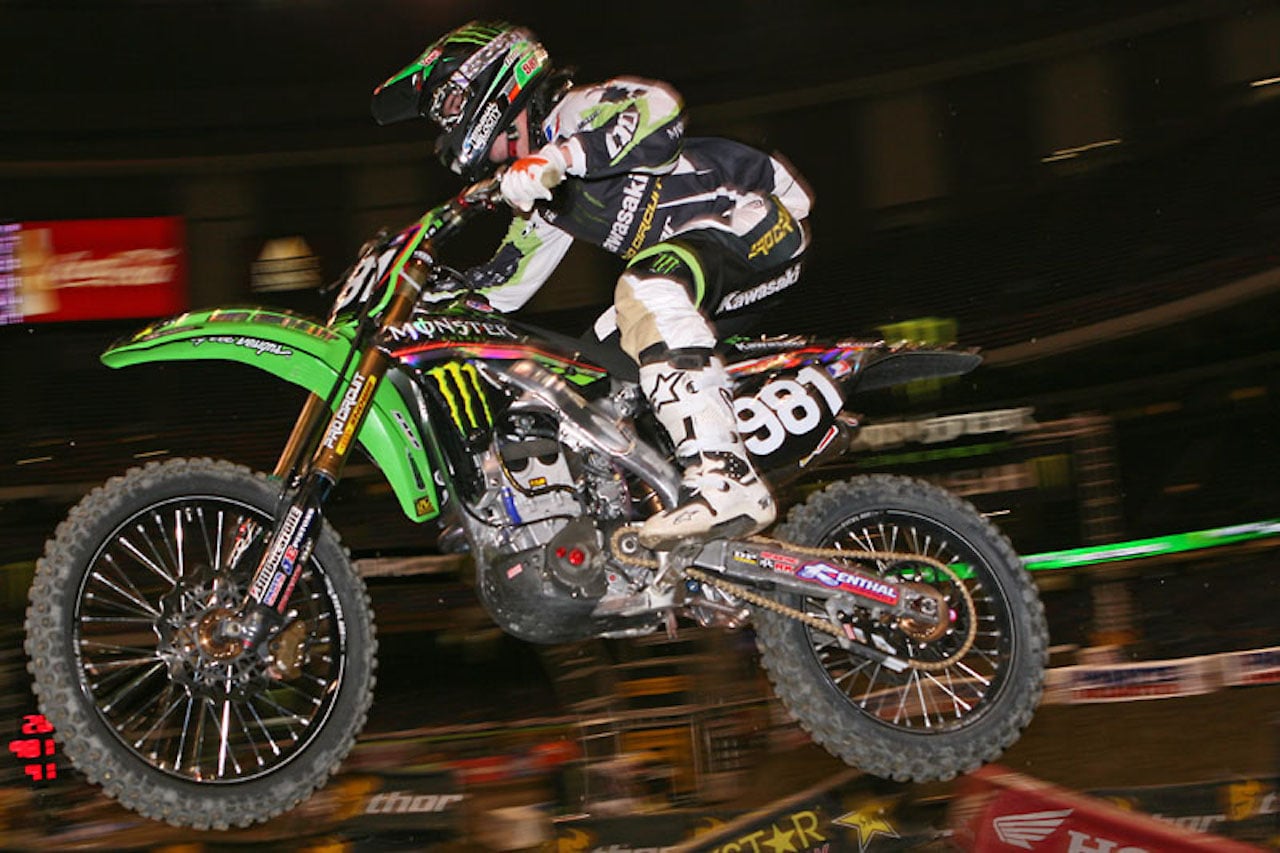 Who is this rider that and what year was it taken? Answer at the bottom of the page.

1987 FACTORY KX250 TEST RIDE T-SHIRT // LIMITED QUANTITY
Front of the Test Ride shirt.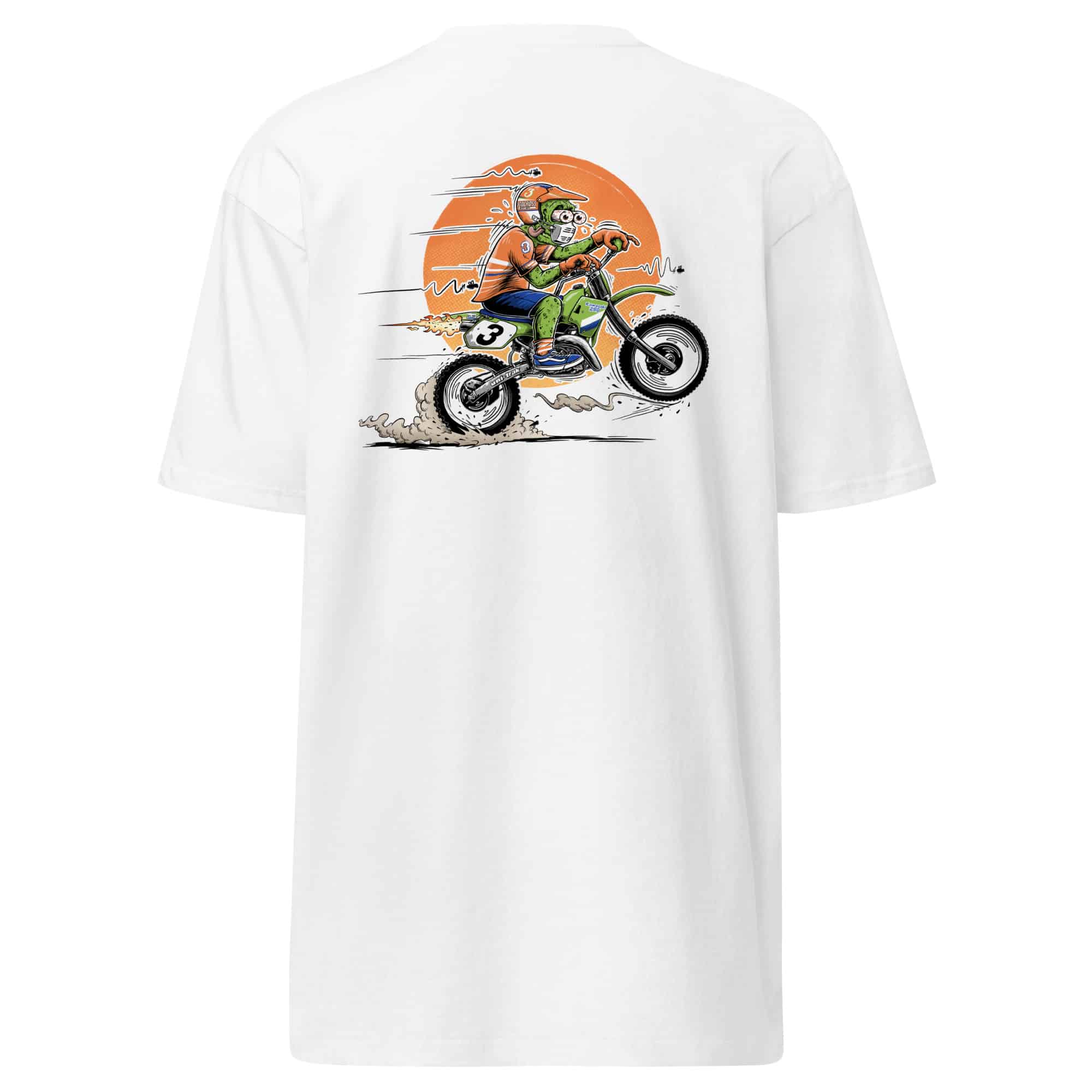 The back of the Test Ride shirt. Click HERE to get your hands on one of the limited few! 
PRO CIRCUIT 2023 KTM PIPE AND SILENCER ARE NOW IN STOCK
Press Release: KTM riders know there is a next level when it comes to riding once you've added a Pro Circuit pipe and silencer to your machine. In stock NOW is the 2023 KTM 125 SX Works pipe and Pro Circuit 304 Silencer. These items tend to get scooped up fast, so don't delay!
MXA MINI TEST // FASTHOUSE AIR COOLED VENTED GEAR
The Fasthouse Air Cooled jersey is a one-off jersey that is meant to be mixed and matched with any color of Fasthouse pants. The A/C vented pants are made with a perforated polyester construction that fits snugly around your legs and knee braces.
VERDICT: If you prefer a relaxed fit over an athletic fit, order this gear one size up. We compare all vented gear to the ultra-breathable Moose Racing Sahara gear, and this jersey is certainly on par. The pants are well ventilated, but not as much as the jersey.
MOTO TIP OF THE WEEK // THE IMPORTANCE OF DOING MOTO DRILLS
WHY DO DRILLS? In every top-tier sport, such as baseball, football or basketball, drills are an essential part of honing the craft. Drills help refine one's technique. They take a conscious movement and, with repetition, make it a subconscious movement. If you are just practicing the game or spinning laps, it is hard to focus on the small changes necessary to refine your technique. That's why it is best to put some time aside for focusing on repetitive drills. This way, what you're working on will automatically be in your subconscious mind when you get back on the track. Drills are a great way to be a better—and safer—rider.
For a full article about drills and which ones to do CLICK HERE
CHECK OUT THE NEW FEBRUARY ISSUE OF MXA
On The Cover: This all-orange KTM 150SX project bike is one of three two-strokes that MXA tested. The three engines were sent out to different tuners to see which one could build the best 150cc two-stroke engine.
Did you know that you can subscribe to MXA at virtually no cost to you—because when you subscribe you receive a Rocky Mountain ATV/MC credit for $25 towards anything in their massive inventory. Plus, you will get all the content in the 12 monthly issues of Motocross Action magazine—from four-stroke tests, two-stroke tests, retro tests, race coverage, new tech to product tests….most of which never appear on the internet. And, don't forget, that $25 credit from Rocky Mountain ATV/MC that will more than cover the cost of your subscription. To subscribe call (800) 767-0345 or Click Here
CHECK OUT THE 2023 FXR CATALOG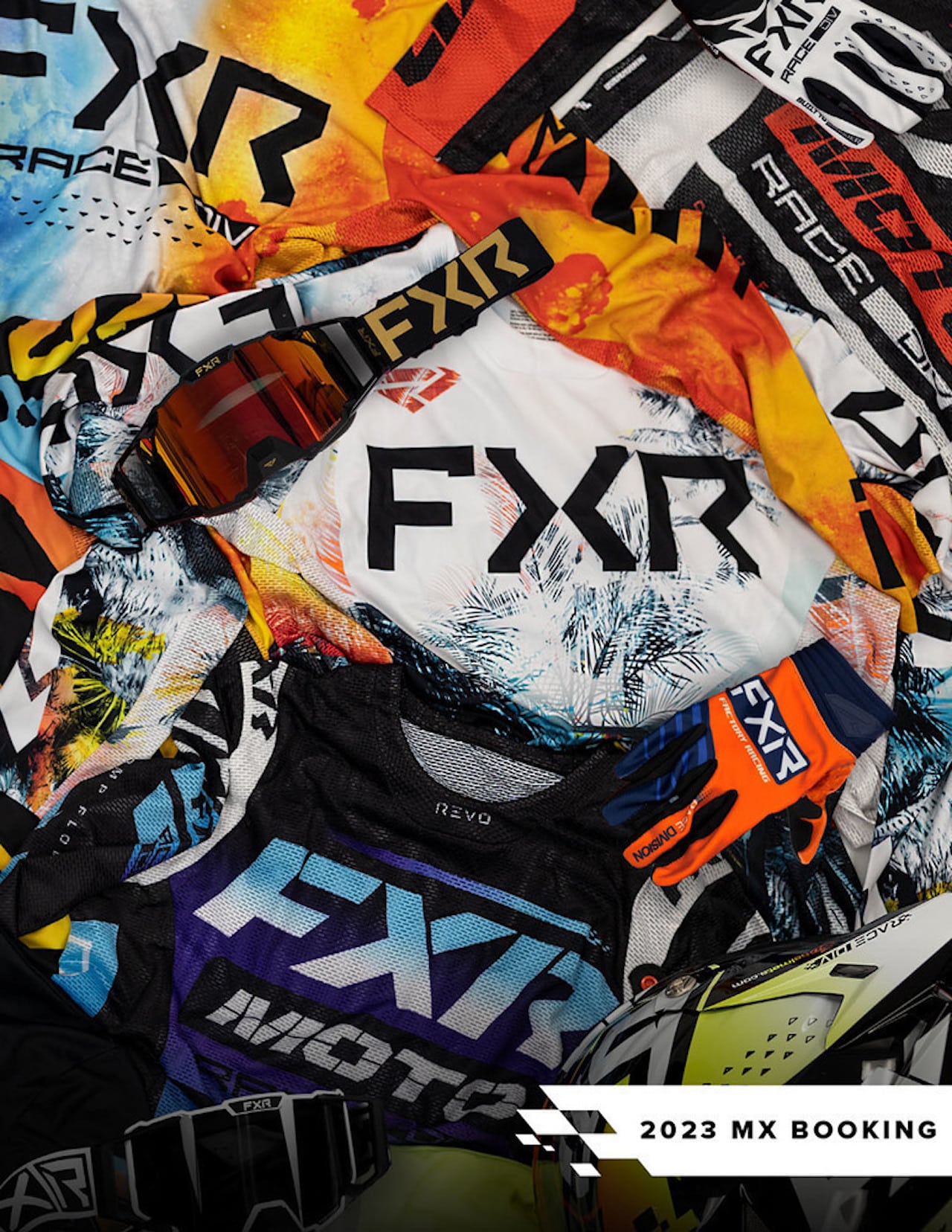 To check out the 2023 FXR line CLICK HERE.
CLASSIC PHOTO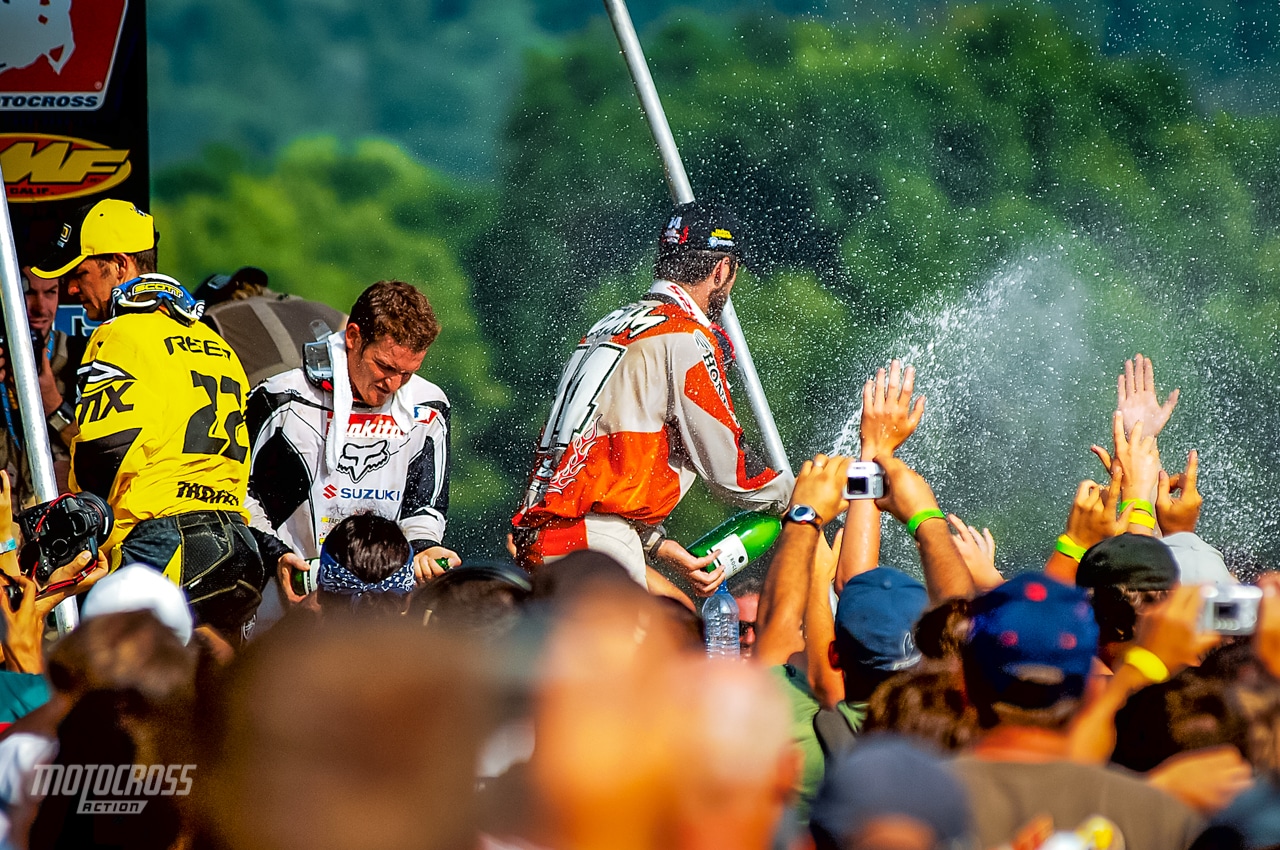 An outdoor National podium back in 2005 with Ricky Carmichael, Kevin Windham and Chad Reed.
---
Moto Trivia answer: Austin Stroupe at the 2009 New Orleans Supercrsos.