MOTOCROSS ACTION MID-WEEK REPORT
#WHIPITWEDNESDAY
Rider: Josh Grant
Year: 2015
Bike: TwoTwo Motorsports KX450F
Lens: 300mm
Focal length: 300mm
Exposure: 1/1600th
F-stop: 8
ISO: 400
TWO-STROKE SPOTLIGHT: MATT WELLER'S 1994 SUZUKI RM250
1992 Suzuki RM250 after its transformation. 
"Here is my 1992 RM250 build. The bike started out as a rusty rolling frame with no engine that I found in a field. Pretty much everything needed replacement. It was stripped down to the frame, repainted and built ground up with mostly new hardware along with all bearings. Most of my parts were purchased on eBay. Went a little over budget and the total project cost me $3500, parts add up quickly!" –Ben Kowalski
The before photo. 
Here are the basics:
-Currently running an RMX250 bottom end/transmission. Went this route for the wide ratio transmission and heavier factory flywheel for smoother power delivery.
-Stock RM250 cylinder with RB Designs head setup for 100 octane fuel
–Boyesen Rad Valve
–Pro Circuit pipe
-Gold Pro Wheel Rims and spokes
–Pivot Works Suspension bearings
–Pro Taper bars and controls
Editors Note: Please keep those submissions coming. If you would like your bike to be featured in the "Two-Stroke Spotlight," please email me at [email protected]. All I ask is that you give a breakdown of your bike and a detailed description of the build. Please also send a few photos of your steed. By submitting your bike for the "Two-Stroke Spotlight," you agree to release all ownership rights to the images and copy to MXA.
MXA | MOTO | TRIVIA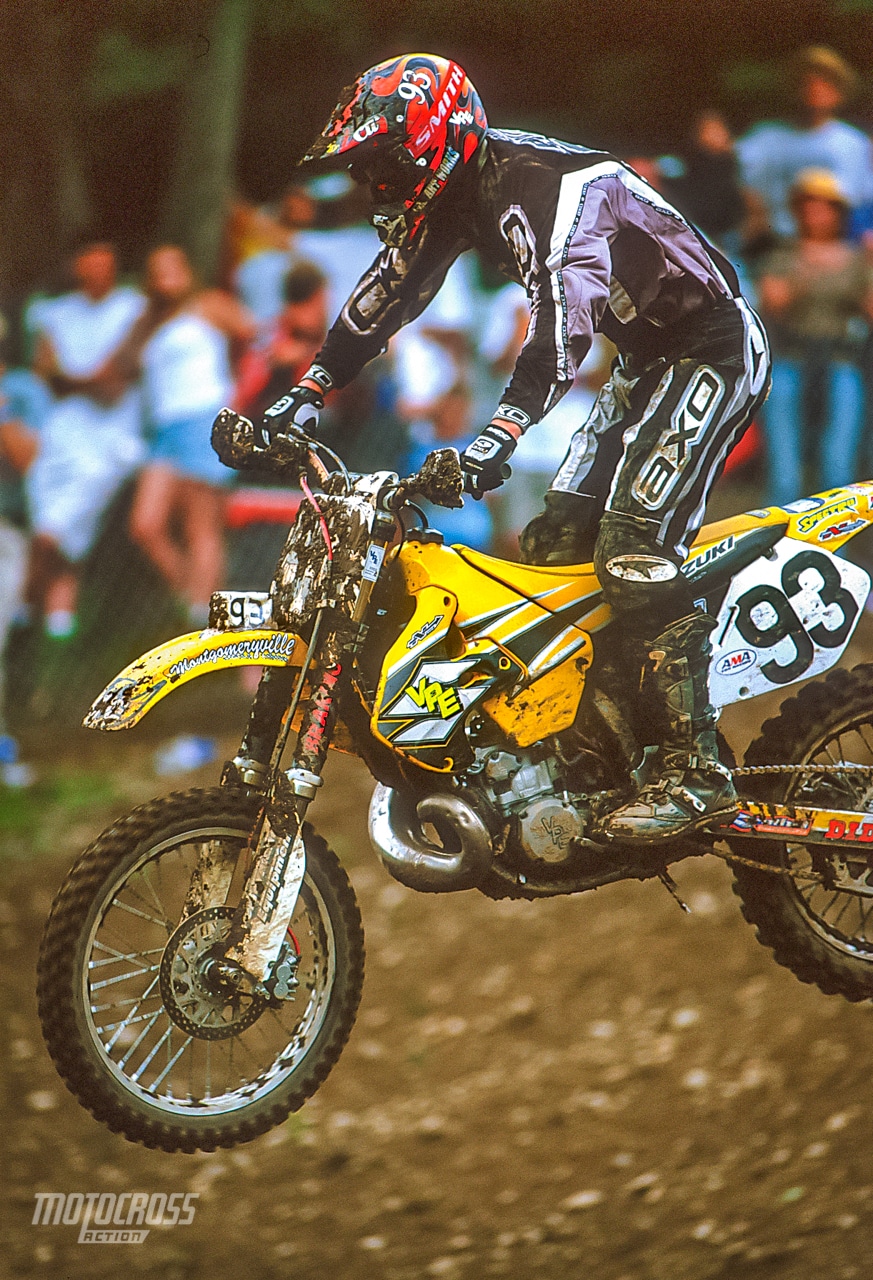 Who is this rider and year?
MXA MX FANTASY LEAGUE// WIN A BETA 300RX SMOKER & OTHER PRIZES
MXA is doing an 11-round Pro Motocross Fantasy League where the fan with the most points at the end of the season will win a 2023 Beta 300 two-stroke! To add to that, we will be giving out prizes each round to the fan who scores the most points! We have prizes from Nue Tech, O'Neal, Maxxis, Wiseco, MotoMuck, Boxo Tools, Ride Engineering, Acerbis, Viral Goggles, FMF, Guts, Blud, Phoenix Handlebars and Funnel Web Filter. As an added bonus for creating a team, we will send you a 25% discount code to BLUD lubricants. Click HERE to sign up now.
Our week two sponsor for Hangotwn is O'Neal Racing. They are giving away a set of their Hardwear Air V.23 gear to the points winner in round 2. Again we have MXA's Josh Mosiman at a steal for $1. Make sure to create your team for a chance to win. And remember, the player with the most points at season end will win the 2024 Beta 300RX!
QUOTE OF THE WEEK // JETT LAWRENCE ON WINNING AT FOX RACEWAY


"I definitely didn't expect a day like this. I felt like I knew where I was coming in, but jumping up to this class, everyone is fast and fit. That second moto, I kept looking over my shoulder, thinking I gave myself a gap, just to see the 23 even closer than before! I find battles like these fun, though; they make me a better rider and they test how well I can handle the pressure. I knew Chase wasn't going anywhere and it would be a long 35 minutes, but it was great having a clean battle. I expect this whole season to be a chess match, and it's nice to take the first round."
PHOTO OF THE PAST: THE KX450F'S OF TWOTWO MOTORSPORTS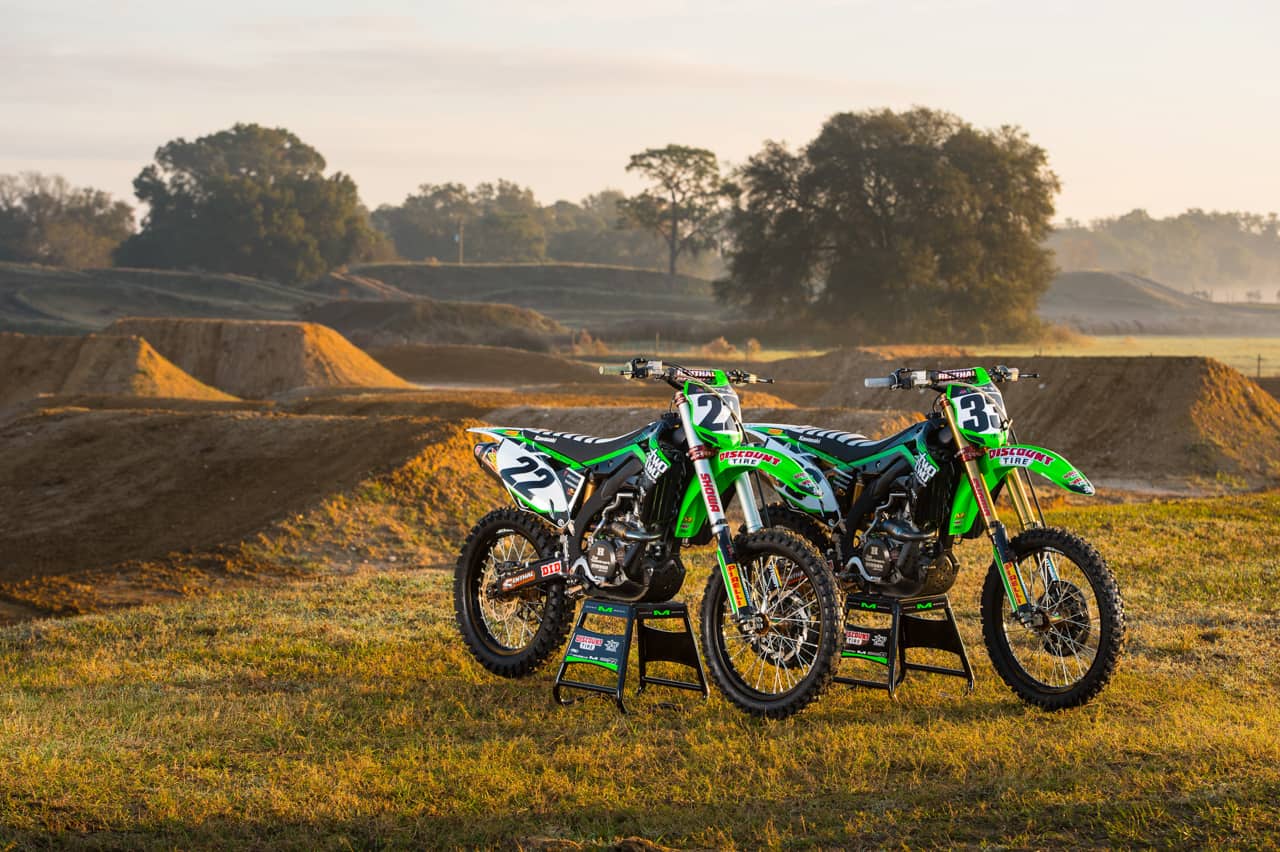 Back in 2015 the Chad Reed TwoTwo Motorsports team of Reedy and Josh Grant had the best looking bikes in the pits. Chad also had one Supercross win and two podium finishes that year. At the midway point of the 2018 outdoor Nationals, the TwoTwo team ran out of resources and withdraw from the series with Chad folding the team.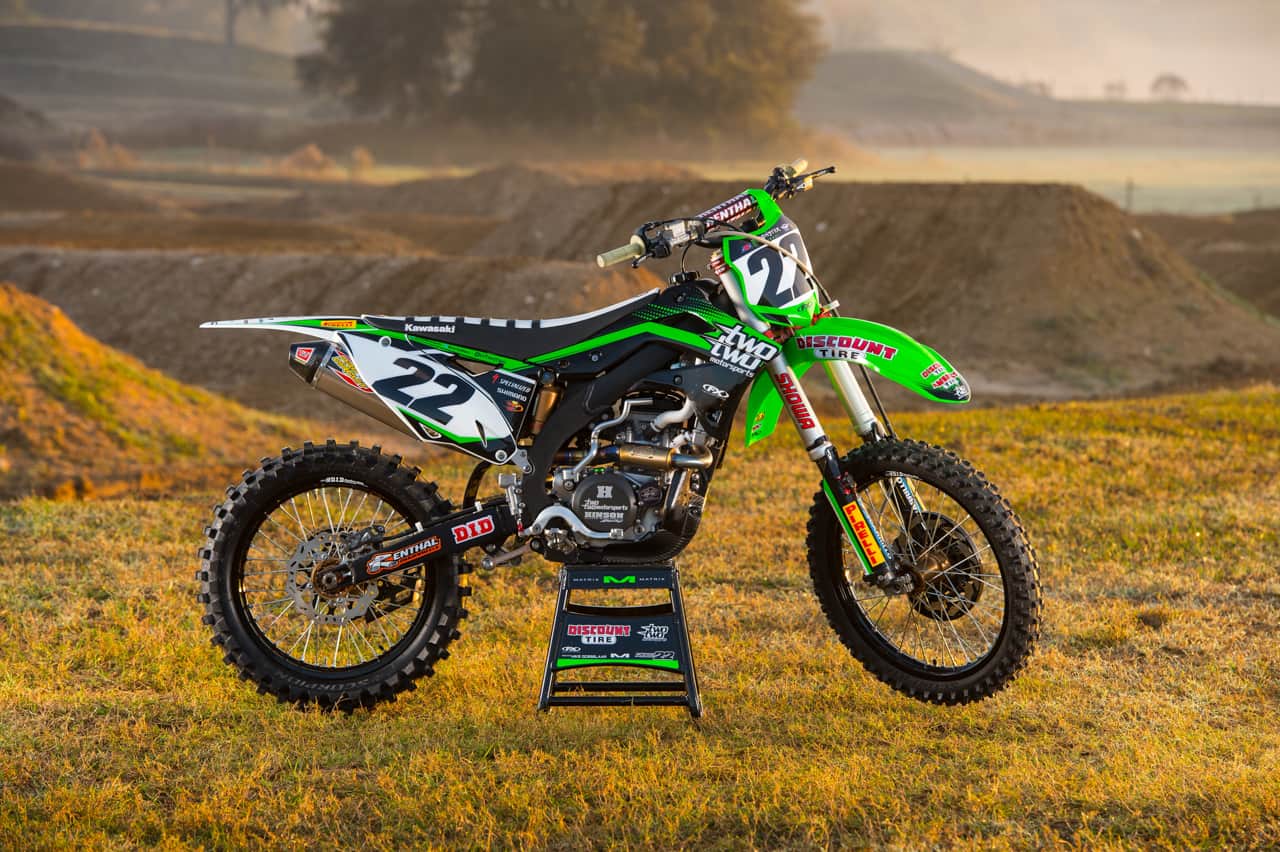 Close-up of the 22. 
Josh Grant finished 11th in the 2015 Supercross series on the TwoTwo KX450F.
THE GREATEST DEAL IN MOTOCROSS! SUBSCRIBE TO MXA & GET A $25 ROCKY MOUNTAIN CREDIT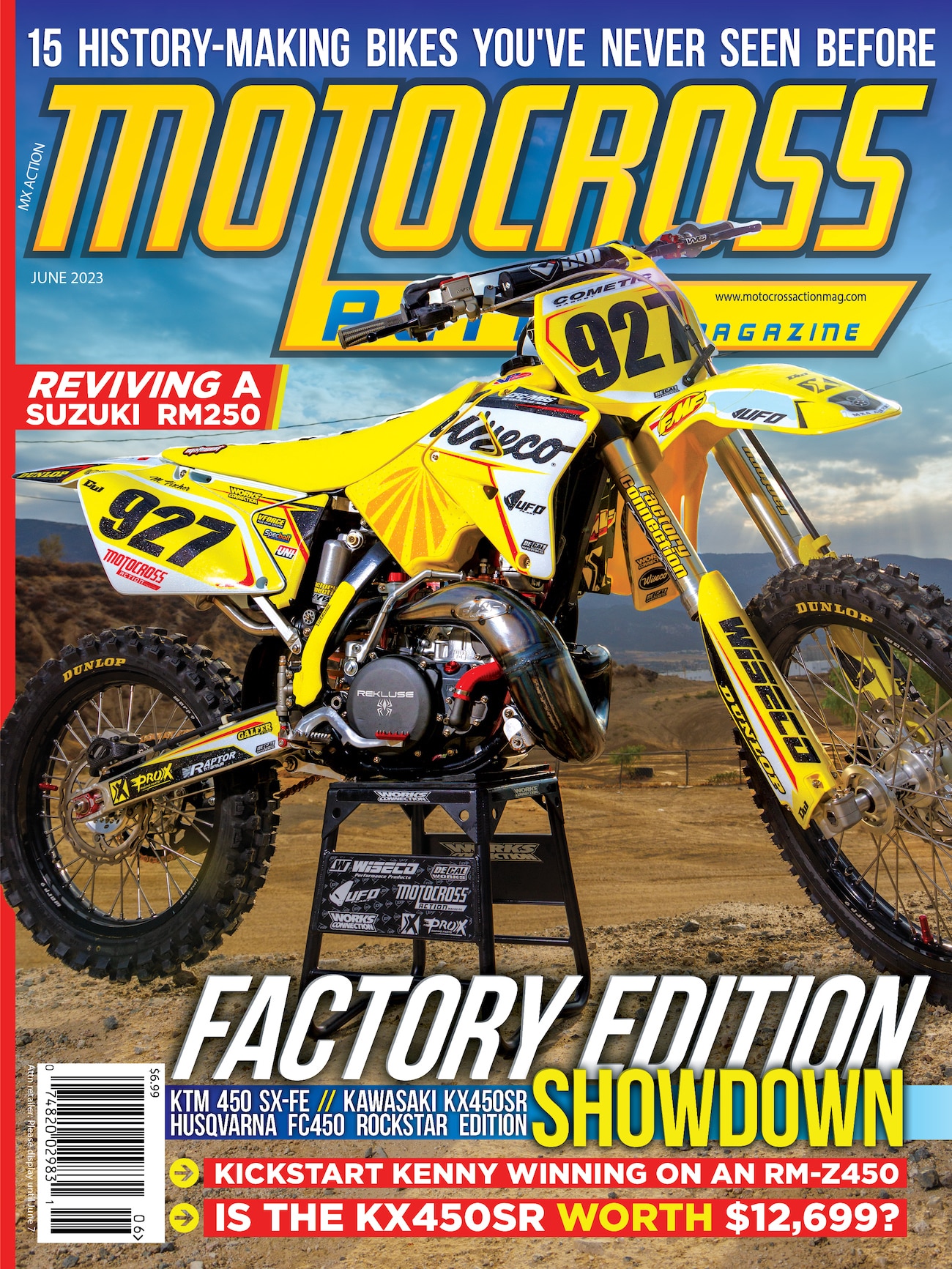 This is the cover of the June 2023 issue of  MXA. Inside are full-length tests of the  2023 Kawasaki KX450SR Special Racer, 2023-1/2 KTM 450SXF Factory Edition, 2023-1/2 Husqvarna FC450 Rockstar Edition, plus a retro test of the 2007 Honda CR125 and a total remake of a 20-year-old 2003 Suzuki RM250 two-stroke . You'll also find an interview with Harry Everts, where he explains why he signed a factory contract that said if he won a World Championship the brand would pull out of racing., plus a look back at a night that will be talked about for years to come when "Kickstart Kenny" won an AMA Supercross on a Suzuki RM-Z450 (and brought his bike's kickstarter to the podium with him). Also inside, Alex Martin explains the relationship between lifting weights and getting arm pump, Twisted Development's Jamie Ellis explains what it's like to build Ken Rozen's engines, and a close-up look at Bob Hannah's 1976 Yamaha OW27 (the one with the radiator on the triple clamps). There is so much more inside. You'll never know how much you have missed if you don't subscribe. Plus, you can subscribe without costing you anything!
Did you know that you can subscribe to MXA at absolutely no cost to you—because when you subscribe you receive a Rocky Mountain ATV/MC credit for $25 towards anything in their massive inventory. Plus, you will get all the content in the 12 monthly issues of Motocross Action magazine delivered to you home by a uniformed U.S. government employee. Don't miss any more four-stroke tests, two-stroke tests, retro tests, race coverage, new tech or product tests….most of which never appear on the internet. And, don't forget, the $25 credit from Rocky Mountain ATV/MC that will more than cover the cost of your subscription. To subscribe call (800) 767-0345 or Click Here
KURT CASELLI FOUNDATION FUNDRAISER AT MOTO DOFFO WINERY ON JUNE 10
For more info go to  www.kurtcaselli.com
MXA'S JOSH MOSIMAN SURVIVES THE PALA NATIONAL AND LIVES TO FIGHT NEXT WEEK AT HANGTOWN
MXA PRODUCT SPOTLIGHT: MOTOCROSS ACTION METALLICA T-SHIRT

Charcoal MXA Metallica T-Shirt.
MXA'S Metallica type-face T-shirt is available in Agave, Gold, Charcoal and Black (although we suspect that any self respecting Metallic fan would only order the back one).  The retail price is $30 in sizes small to 4 XL. To order or look at more options start by Clicking Here.
MXA YOUTUBE CHANNEL | HIT THAT SUBSCRIBE BUTTON
The MXA wrecking crew is everything moto related. Check out our MXA YouTube channel for bike reviews, Supercross coverage, rider interviews and much more. And don't forget to hit that subscribe button.
TY MASTERPOOL GETS SPORTCLIPS AS THE TITLE SPONSOR FOR THE NATIONALS
Press Release: Ty Masterpool is pleased to announce SportClips Haircuts as his primary sponsor to compete in the AMA 250 Motocross Championship. The former AMA Pro Motocross Rookie of The Year has been training for the championship series for several months at His 956 Facility, which is a premier motocross training facility owned by the Masterpool family in Paradise Texas.  In addition to SportsClips Haircuts, Ty has support from the following companies including Beachview Treatment, Airline Vacuum, Twisted Performance, AHM Factory Suspension, Dunlop, Works Connection, ODI, Scott Goggles, Team Green, Progressive Powersports, Mobius, FMF, Works Connection, Rekluse, Acerbis, No Toil, Moto Seat, Moto Cutz, Works Chassis Lab, Dirt Tricks and Canvas MX.
"I have been training solid for the AMA Pro Motocross 250 Championship Series for several months now. I feel like I'm riding the best I ever have, my Kawasaki KX250 is dialed in and I'm in the best shape of my career." – Ty Masterpool
LOST BUT NOT FORGOTTEN | JAMES STEWART'S 2016 FACTORY SUZUKI RM-Z450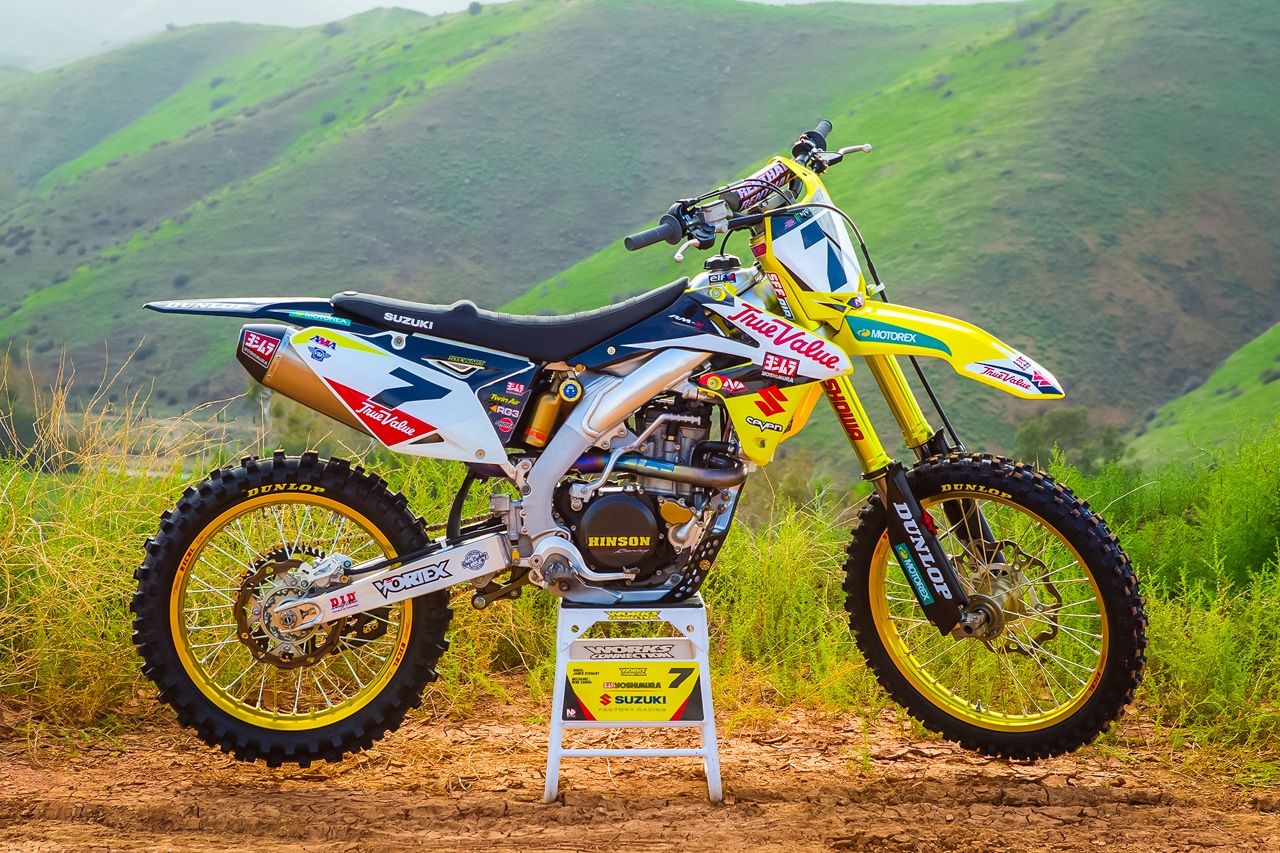 2023 INSIDE THE PRO BIKES 
CLASSIC PHOTO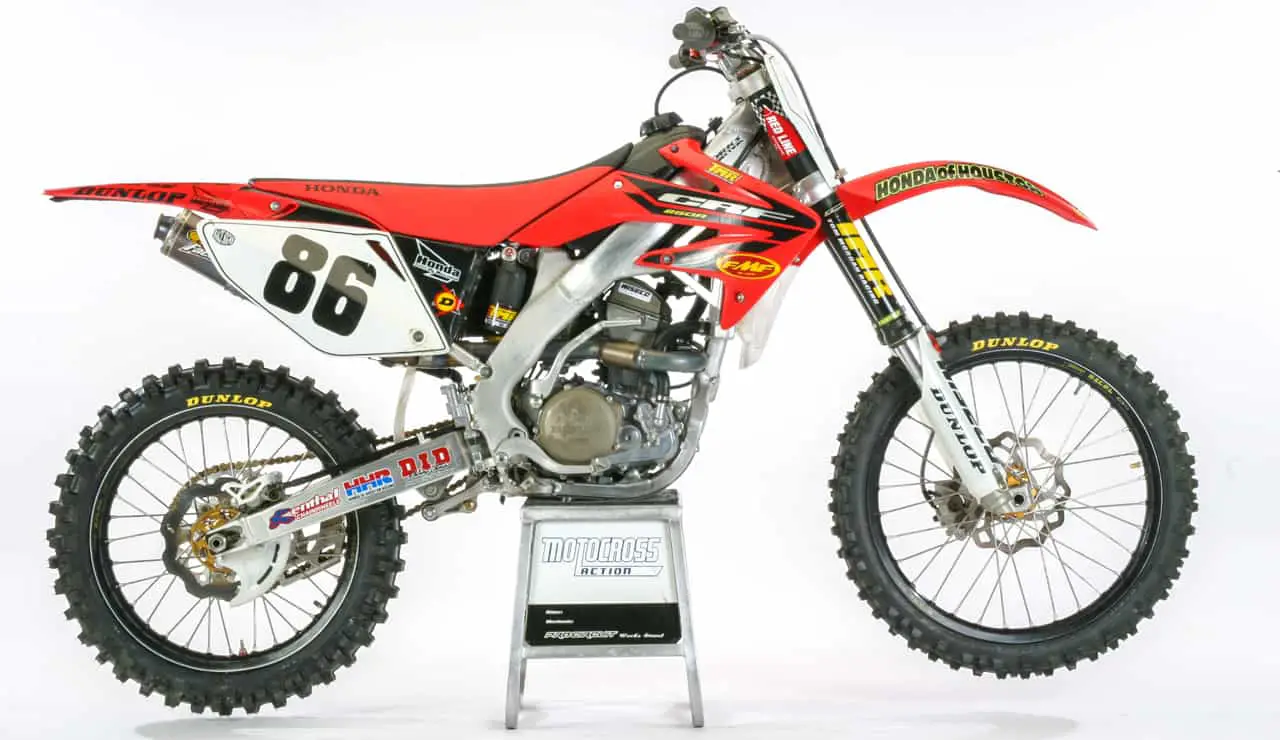 Josh Grant's amateur 2004 Honda CFR250 that we were able to get in the MXA studio and test. 
---
MXA Trivia answer: It is Damien Plotts from the 2000 National season.