MOTOCROSS ACTION MID-WEEK REPORT

#WHIPITWEDNESDAY
Rider: Ken Roczen
Bike: 2013 KTM 250SXF
TWO-STROKE SPOTLIGHT: BILL SCHANE'S UNRIDDEN 2006 HONDA CR125
Buying an unridden 2006 Honda CR125 is like stepping in a time machine. 
"Tom White was a friend and our paths crossed regarding motocross and cancer. He and I became pen-pals for the last year of his life. I too have the disease, but have had the grace of still living. I wanted to buy and build one more CR and Tom encouraged/told me to do so. I found a brand new 2006 unridden CR125 and purchased it. For a while I have been amassing aftermarket stuff and will begin mods soon.
If MXA wants to be part of this I'd be happy to include you guys. My thought is I do the build and MXA makes some inputs along the way. Since I cannot ride it, the MXA wrecking crew can come and be the first to do so and then maybe write a two stroke piece around it.
If this is of interest, please let me know. I will completely fund the project.
Thanks for making a great magazine all these years." –Bill Schane.
EDITORS NOTE: Please keep those submissions coming. If you would like your bike to be featured in the "Two-Stroke Spotlight," please email me at [email protected]. All I ask is that you give a breakdown of your bike and a detailed description of the build. Please also send a few photos of your steed. By submitting your bike for the "Two-Stroke Spotlight," you agree to release all ownership rights to the images and copy to MXA. Please don't email me spam or try selling me Taylor Swift concert tickets or email me spam. I already celebrate T-Swizzle's entire collective, and there will be "bad blood" if you send me junk mail. See what I did there? Happy submitting your smoker.
UNCLE DONNIE'S FLYING MACHINE STORIES | SAM JONES | EPISODE 005
MXA | MOTO | TRIVIA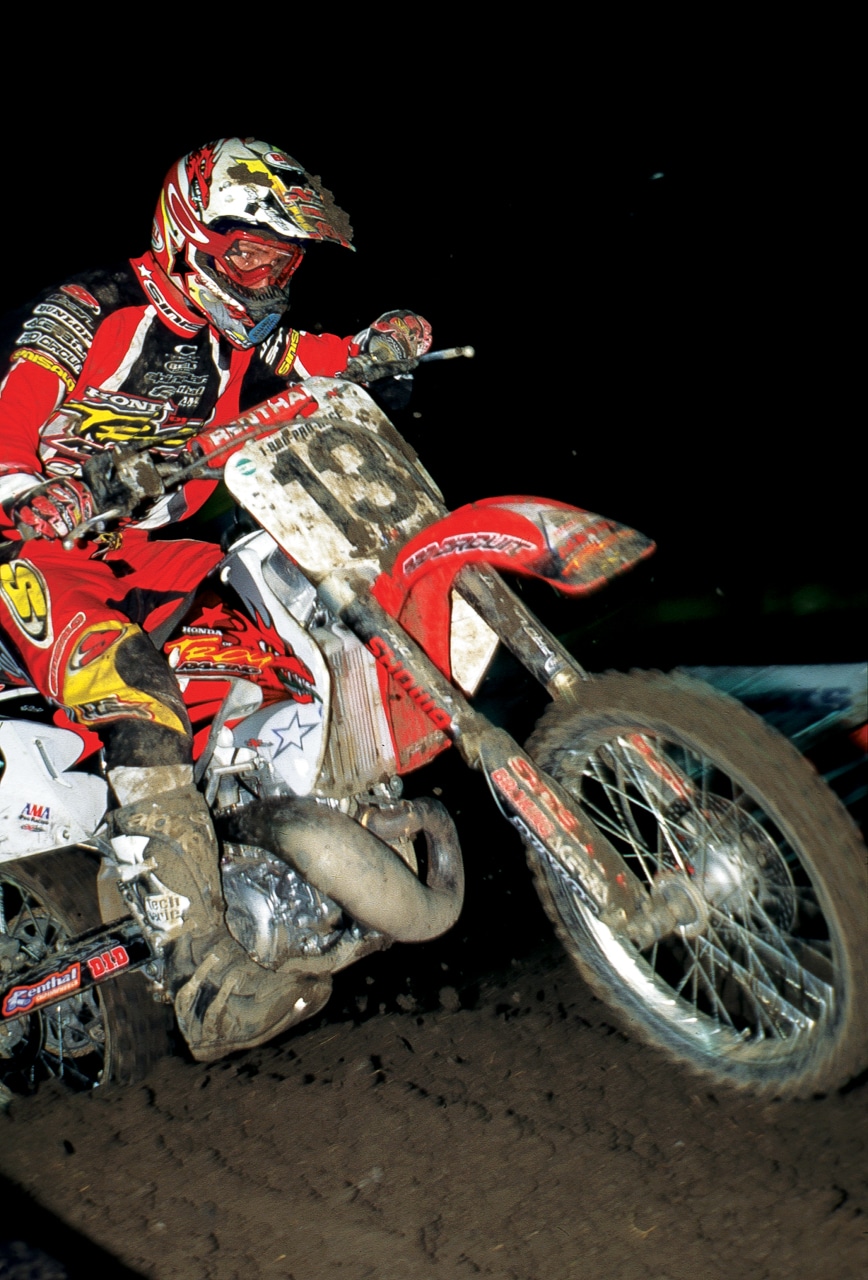 Name the rider and year. Answer at the bottom of page.

THEY SAID IT | BUDDS CREEK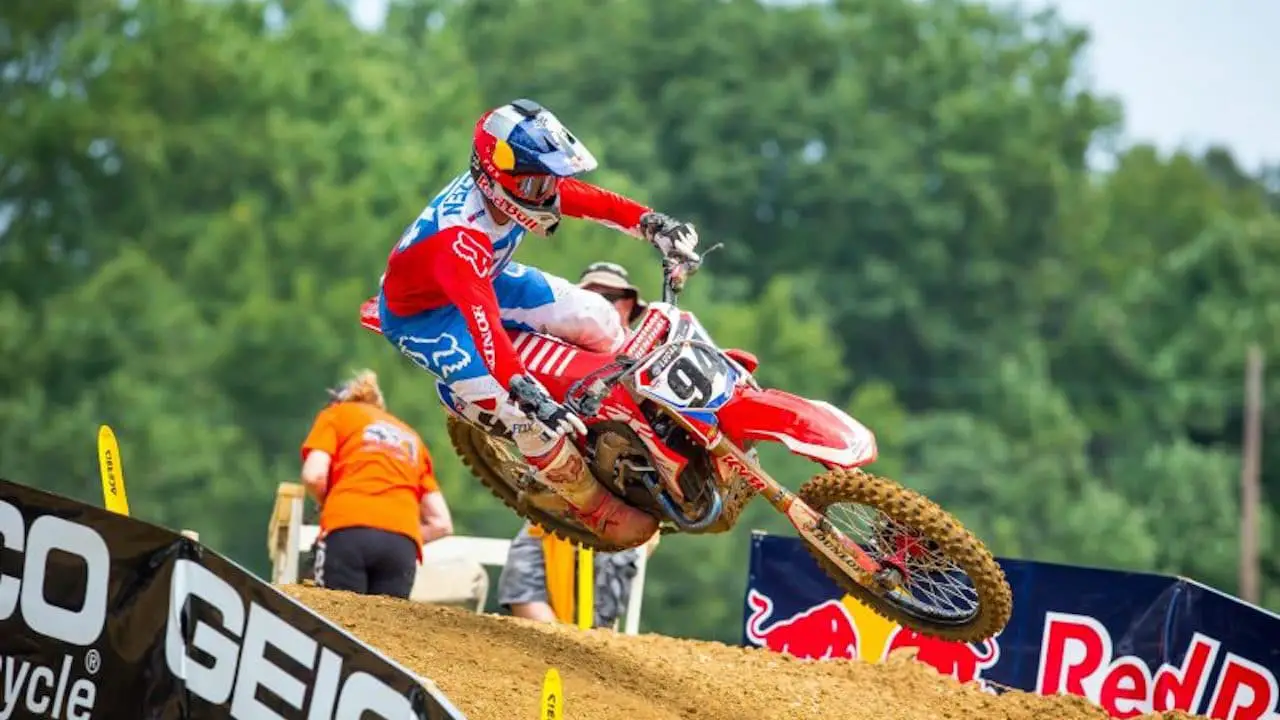 Ken Roczen: "The first moto was great. I had a good battle with Marvin [Musquin] going through most the race and once there were only five laps left, I just told myself that I better pull this off and get the win. I was trying to just keep it steady, but if Marvin was still close behind me, I was going to try and put on a charge the last couple laps; luckily I didn't really have to. It was my shot at the overall today, but unfortunately I got sick halfway through the week and definitely wasn't feeling it this morning and it caught up with me in the second moto. I just ran out of steam at the end and let those guys get by me. I gave it my all out there and unfortunately it wasn't enough for the overall again, but I just want to get this season over with healthy and giving each race all that I have—today, that was it. We're going to take what we've learned to regroup for this off-season, and come back to crush it next year. I'm happy with where I'm at this season, but at the same time, I'm a winner and I want to win. I try to put it into perspective because I was here last year hurt and I would've taken a day of racing sick and in the heat over anything, so to be back a year later fighting for wins and getting second overall is pretty dang good."
Justin Barcia: "Budds Creek was okay, not the best of weekends for sure. I qualified fourth, so I had pretty good practice sessions but I was struggling in the motos. I definitely made a few improvements this weekend – my starts were a lot better – I just wasn't able to capitalize on the good starts. Overall it was a very difficult day for me, definitely not what I wanted but we'll just keep moving forward. I'm excited for next weekend, it's the last one and I'm definitely going to give it my all and rebound from this weekend."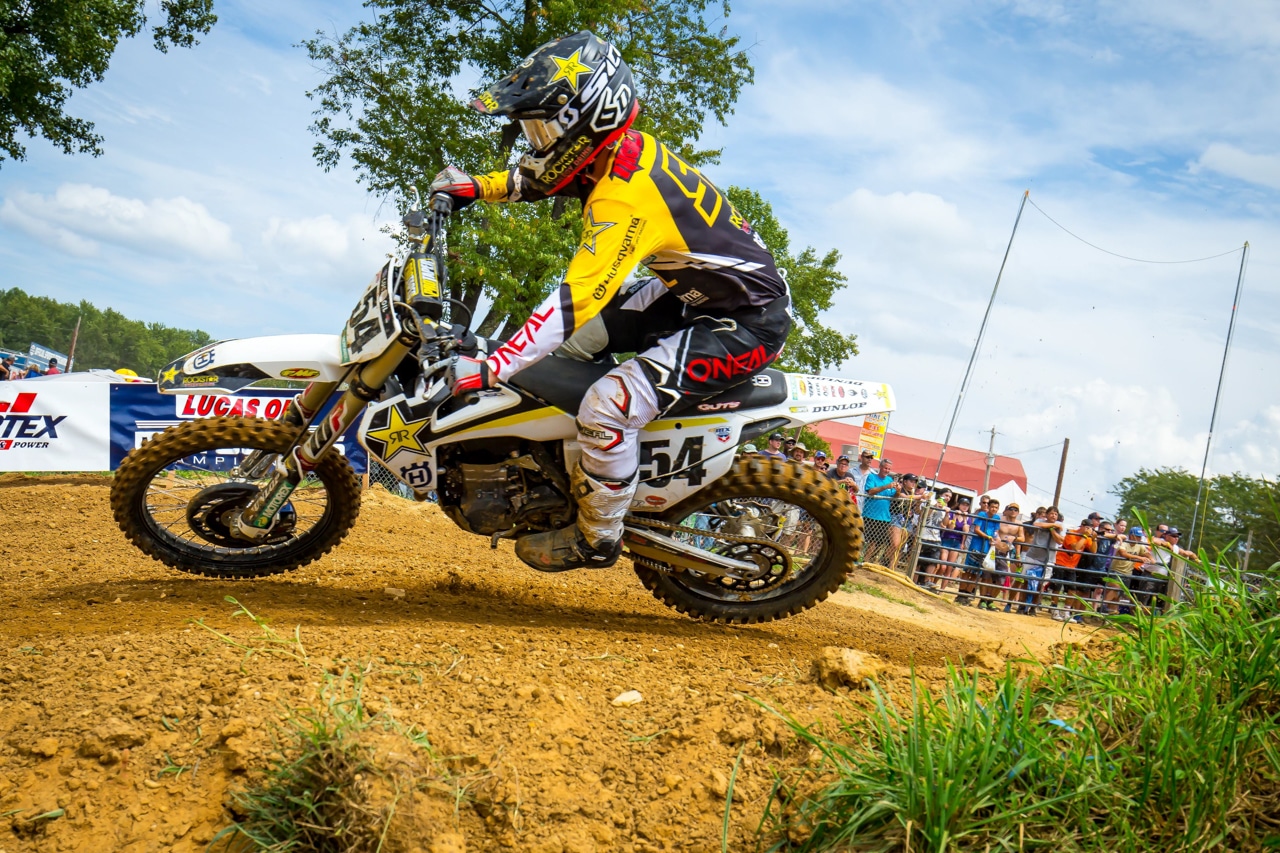 Phil Nicoletti: "Today was good. I qualified good, and the first moto was good. I put in some decent laps. I ripped a nice holeshot in the second moto then ran fifth for awhile. I had a little mishap in the last lap and ended up sixth. I'll get 'em in Indy."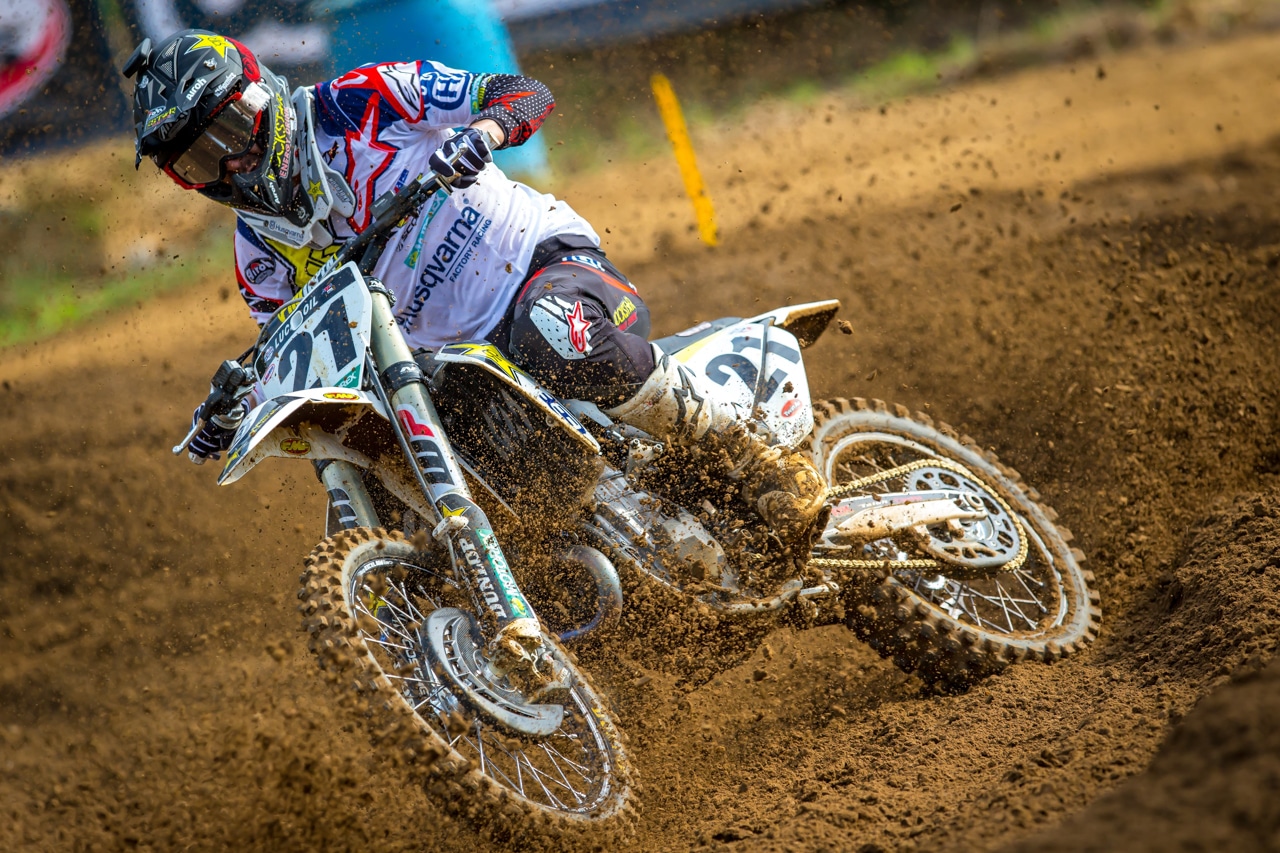 Jason Anderson: "I had a decent weekend. I was able to qualify third and get fourth in the first moto. I didn't want to get super winded or take too many chances for the second moto, and just wanted to ease myself into it. I'll get back out there next weekend and will see if I can do two solid motos."
Marvin Musquin: "Today I had great starts – the first moto I got into the lead on the first lap and I just couldn't get it back. I was fighting for it all the way until the last two laps. It was close but I couldn't get it. In the second moto, I was up there and it was good, but unfortunately towards the end, physically, it was really tough and I could only get fourth in that moto and third overall for the day. One more round to go, I am looking forward to fighting hard."
Eli Tomac: "It was a different Budds Creek track today. The track was kind of a combo of hard pack and soft dirt, but overall it was decent and made for some good racing lines. I was eating a lot of roost early on in Moto 2, but held my composure and waited for the right time to attack. It was nice to rebound in the second moto and get the job done. I'm feeling good heading into the final round at Ironman next week."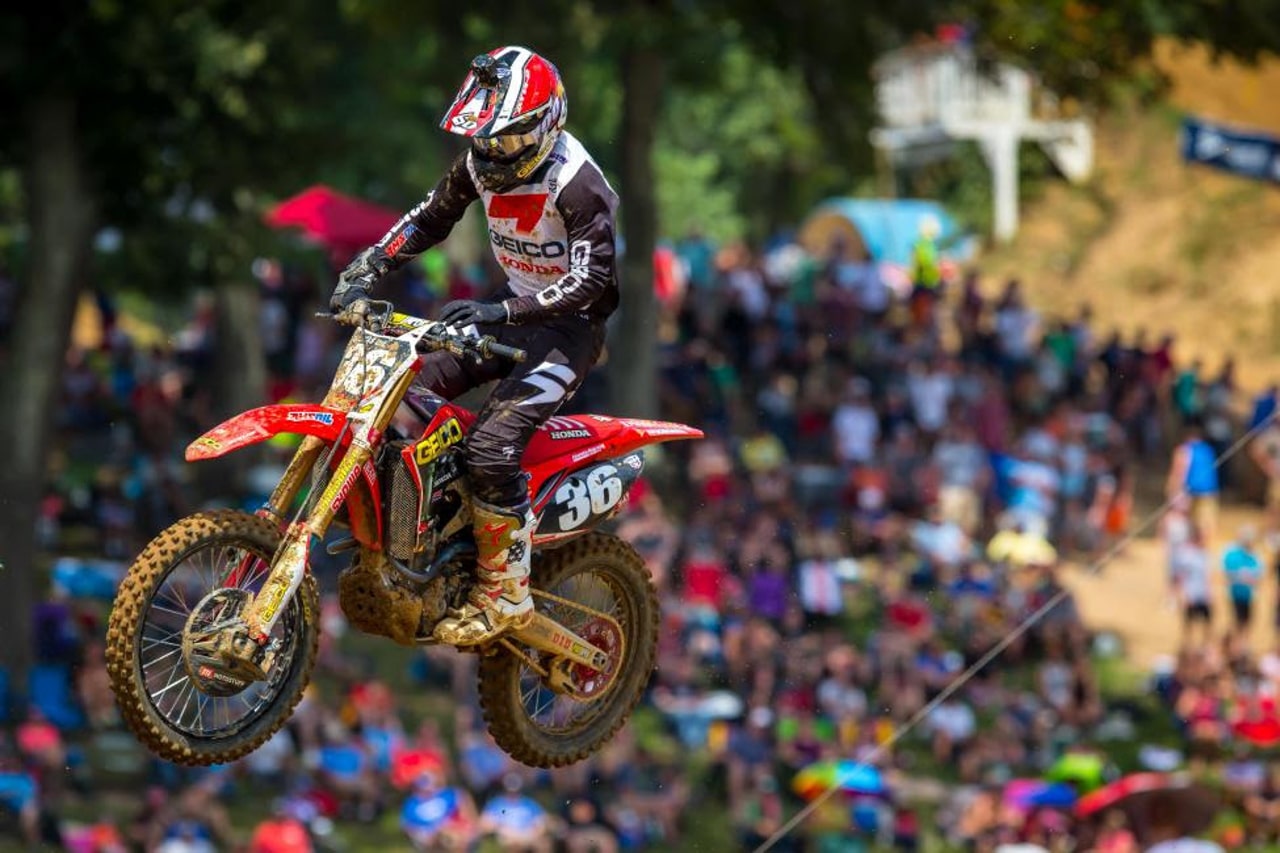 RJ Hampshire: "Today felt great and it was a big boost for the team with Chase [Sexton] and I finishing first and second. Its seemed like whenever I have been able to get a good moto result, the other moto something freak has happened, whether my fault or not. The team has been busting their butt this season to keep making the bike better and I think that shows with the results. It's such a relief to finally get the job done."
Aaron Plessinger: "I tried my best to not think about the championship and just focus on the race, but it's tough because the thought is definitely there. I had so much excitement and emotions after the first moto that it was just really hard to focus for the second race. It's been such an incredible year and I don't think its really sunk in yet."
2019 MXA 450 SHOOTOUT IS JUST AROUND THE CORNER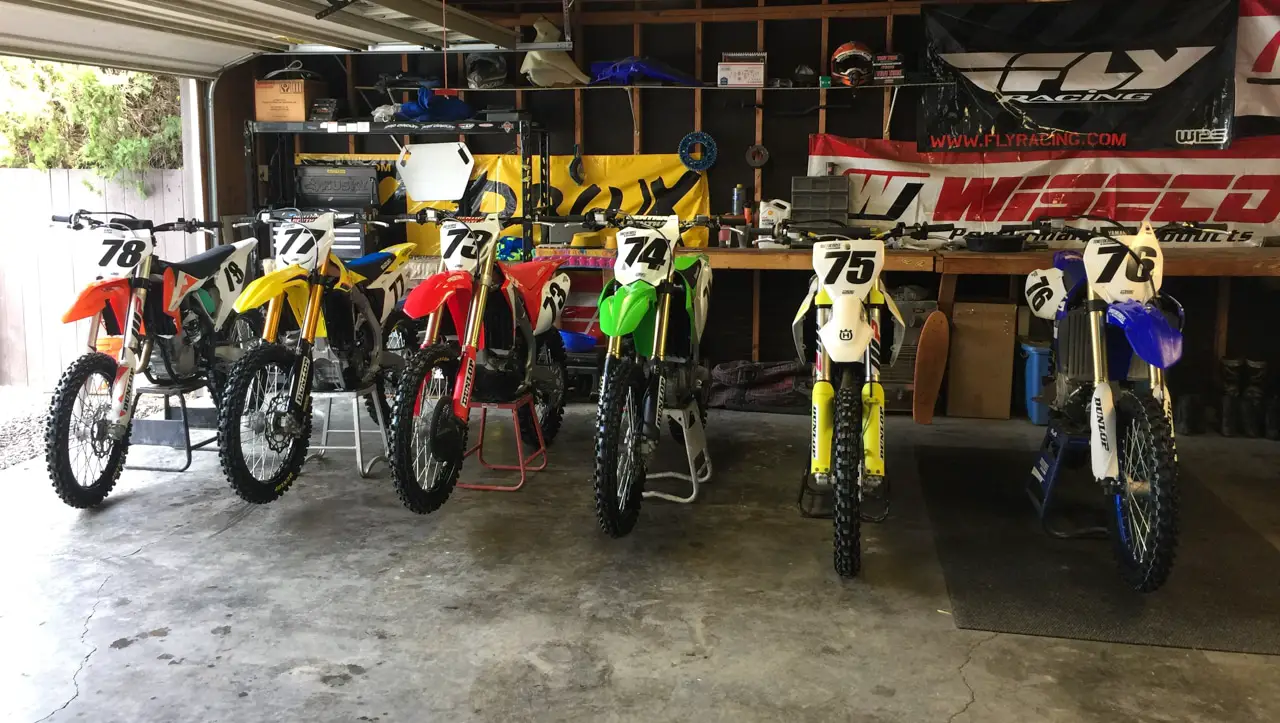 All the 2019 450s are at Dennis Stapleton's house getting shod with new treads to start our shootout—although we have been racing the bikes for quite awhile already.
RONNIE MAC OUT FOR MXDN
Ronnie Mac will not be racing his number 69 Honda CR250 for team Puerto Rico at the MXDN.
According to Travis Pastrana's Instagram page, Ronnie Mac will not be racing the MXDN at Red Budd for Puerto Rico. Travis said that himself and Ryan Sipes are still racing, and racing two-stroke, they have a fill-in rider in mind, but we will wait for the official announcement from Travis.
Travis Pastrana– "To put it mildly, this past week has been nothing shy of a catastrophe. We had a clear goal to add (not take away from) the #MXON. Build up the #MXON to people outside the industry through what I still believe could have been one of the greatest documentary ever filmed. All while raising funds to help hurricane relief in Puerto Rico. We had approval from the top but it all came crumbling down. The chances of us making the A-Main at the MXON on 2 strokes was slim to none and our plan was never to effect the outcome of the event.. but rather to show how tough this sport truly is and to be a part of what will surely be the most incredible mx event ever held in the USA. Thanks to the people trying to protect the sport, this now looks like a joke and we have taken attention away from the event I hold most dear to my heart. @nitrocircus has pulled out of the film project and Ronnie Mac has been pulled from the team. Having said that, I am a man of my word and I promised you guys I would race and the people of Puerto Rico that we would help. Ryan Sipes is not afraid to spend his own money, race his heart out or swing a hammer.. and that's what we are going to do. More announcements to come on the third rider but for now, I leave you with one more quote."
"Things won't get better dwelling on the past. Accept what has happened. Then move forward."
–Jocko Willink
LOST BUT NOT FORGOTTEN | VERTEMATI V495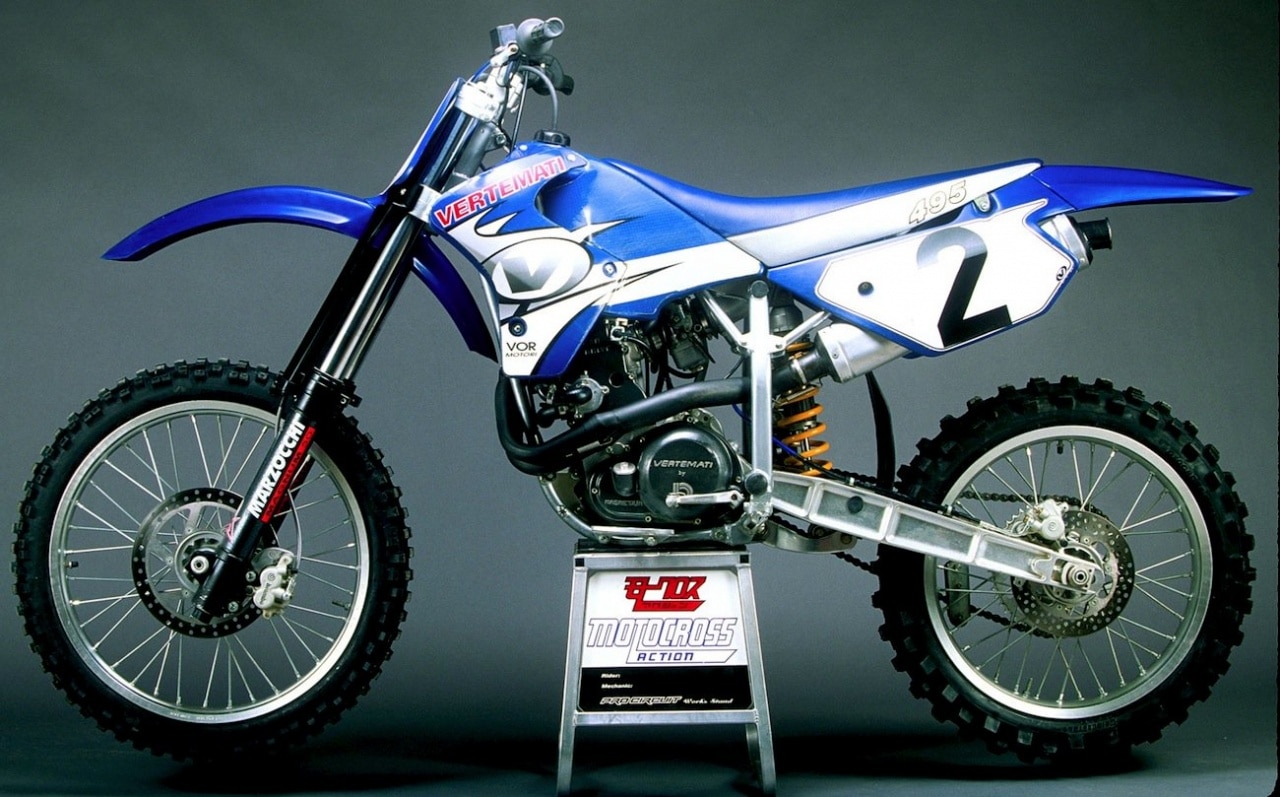 1999 V495 Vertemati, also imported to the U.S. as a VOR, it had a great reputation with everyone who never had to race one.

BOYESEN BUDDY BOOGIE SPEED FESTIVAL AT PAGODA MC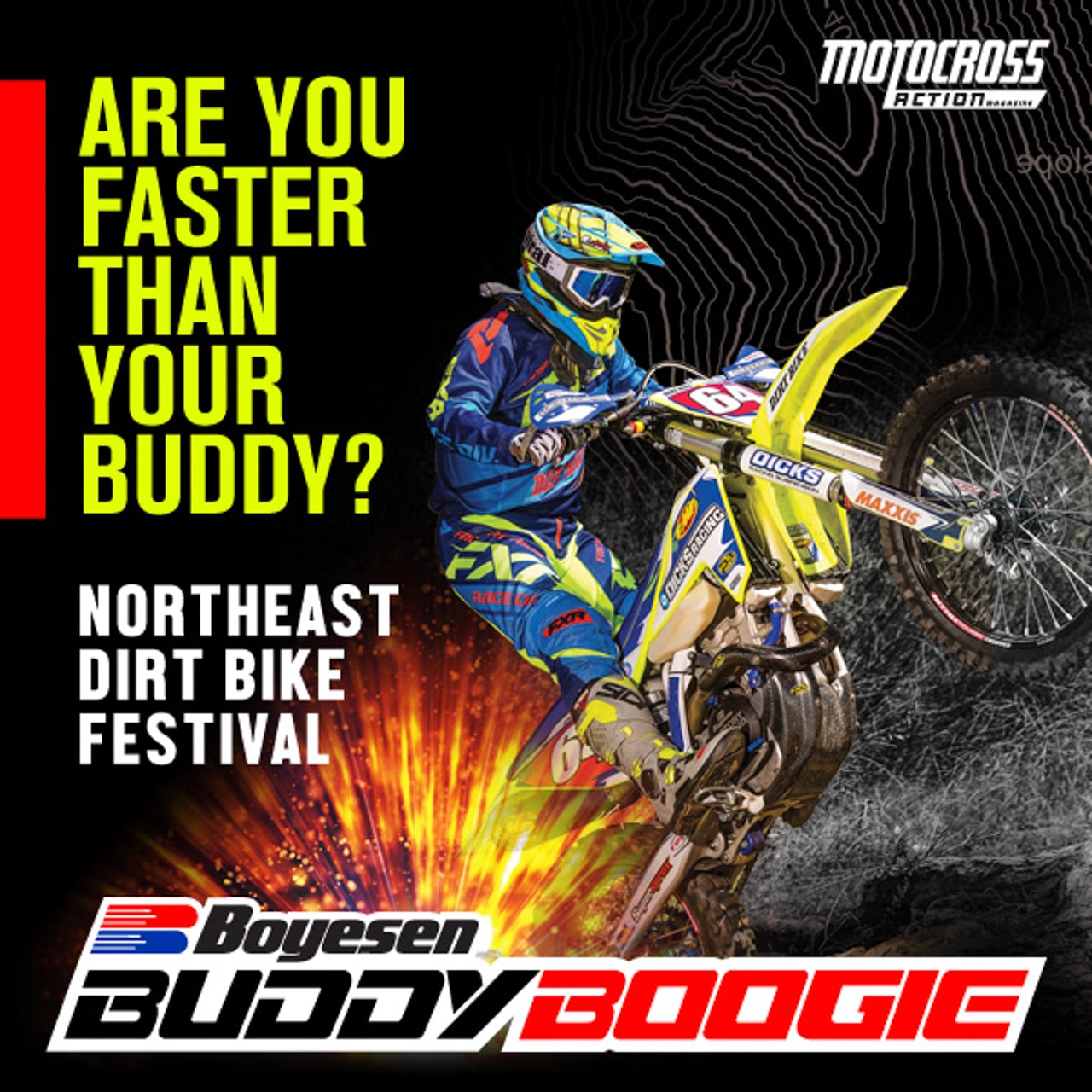 Press Release: The Mortheast and mid-Atlantic's premier dirt bike festival. "The most seat-time you will get all year" – Randy Kastle, Pagoda MC President.
Calling all Motocross, Enduro, GNCC, Cross Country, casual riders… young and old, fast and slow. This is YOUR CALLING. The Boyesen Buddy Boogie is a unique Dirt Bike Festival designed to offer the best collective Riding and Racing experience available in the Northeastern and Mid-Atlantic regions.
Boyesen Engineering, Motocross Action Magazine, Dirt Bike Magazine, and ThumperTalk.com are proud to showcase the 1st Annual Boyesen Buddy Boogie Speed Festival held at Pagoda MC in Birdsboro, PA. The Boyesen Buddy Boogie has been created to include the full spectrum of Motocross and Offroad and has been designed to be a weekend-long celebration of the best that each discipline has to offer. From beginner youth riders and casual riding enthusiasts, to some of the fastest and most accomplished regional Moto and Offroad pilots, the Buddy Boogie Speed Festival promises to be a fun and approachable event that offers a weekend packed with family fun, riding and racing! The Boyesen Buddy Boogie is slated to be a can't miss event with opportunities to gather as friends, as competitors, and most importantly as FAMILY to celebrate all things Moto and Offroad in one single destination event. The Buddy Boogie offers riders the most available riding time throughout the weekend. Call your Buddies and come out and Boogie!
SOCIAL HASHTAGS
#buddyboogie, #doyouboogie, #pagodamc, #ridepagoda
Event Date:
October 5th – 7th 2018 (Weekend Festival: Friday, Saturday, Sunday)
Event Location:
Pagoda Motorcycle Club
441 Redlane Rd
Birdsboro, PA 19508
TEL: (610) 582-3717
www.pagodamc.org
[email protected]
MXA'S SNAP CHAT FEED
If you are a Snap Chat user then add us to your stories. Get sneak peaks of everything moto. Our Snap Chat name is motocrossaction. Or just take a Snap of the picture above and it will add MXA automatically to your feed.
TALK MOTO WITH MOTO MINDED PEOPLE. JOIN MXA'S FACEBOOK GROUP CHAT


We love everything moto and want to bring all moto junkies together into one place to share their two cents, ideas, photos, bike fixes, bike problems and much more. To check it out first you must need to or already have a Facebook account. If you don't, it isn't much work and you could even have an alias so nobody knows it is you. To join click HERE. After you request to join we will accept your request shortly after.
JOIN MXA'S FLIPBOARD PAGE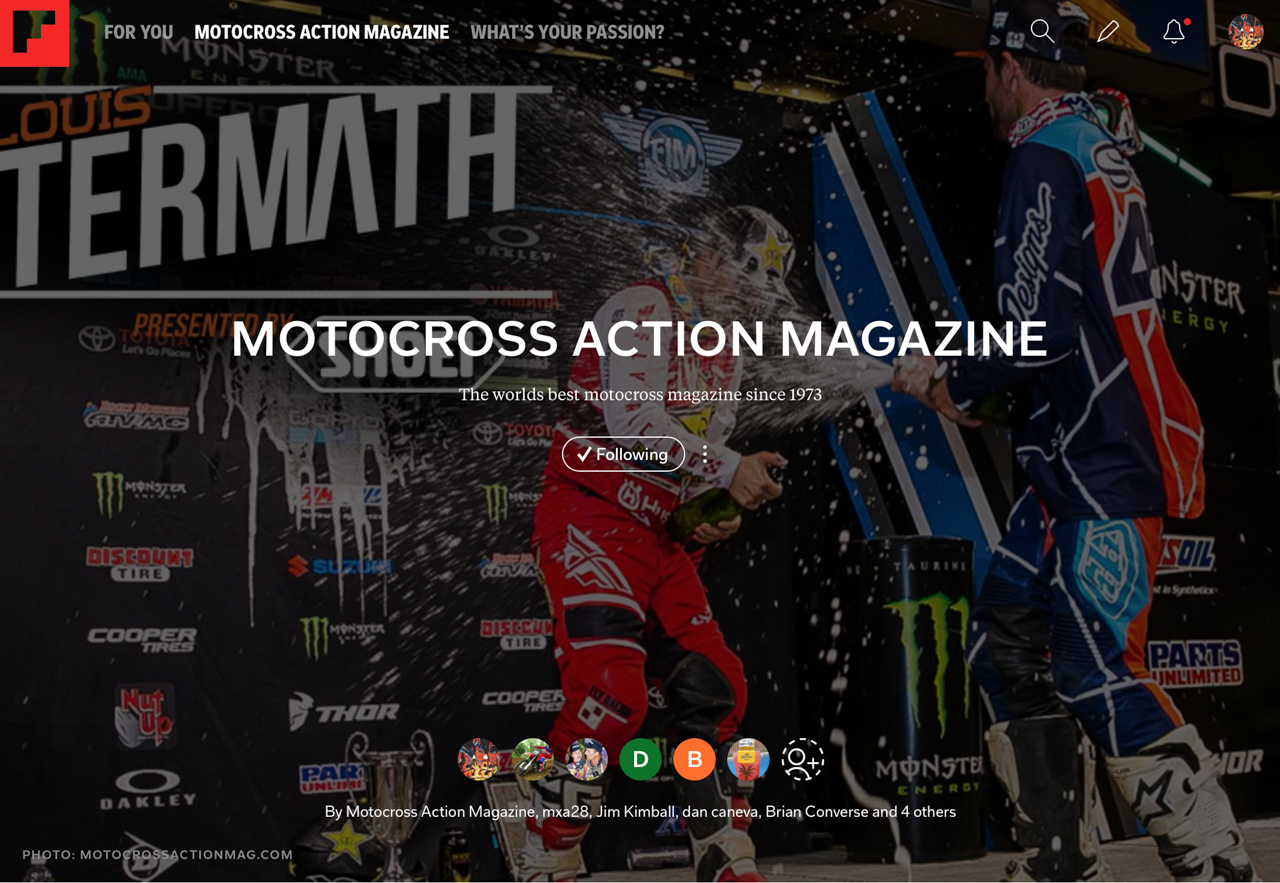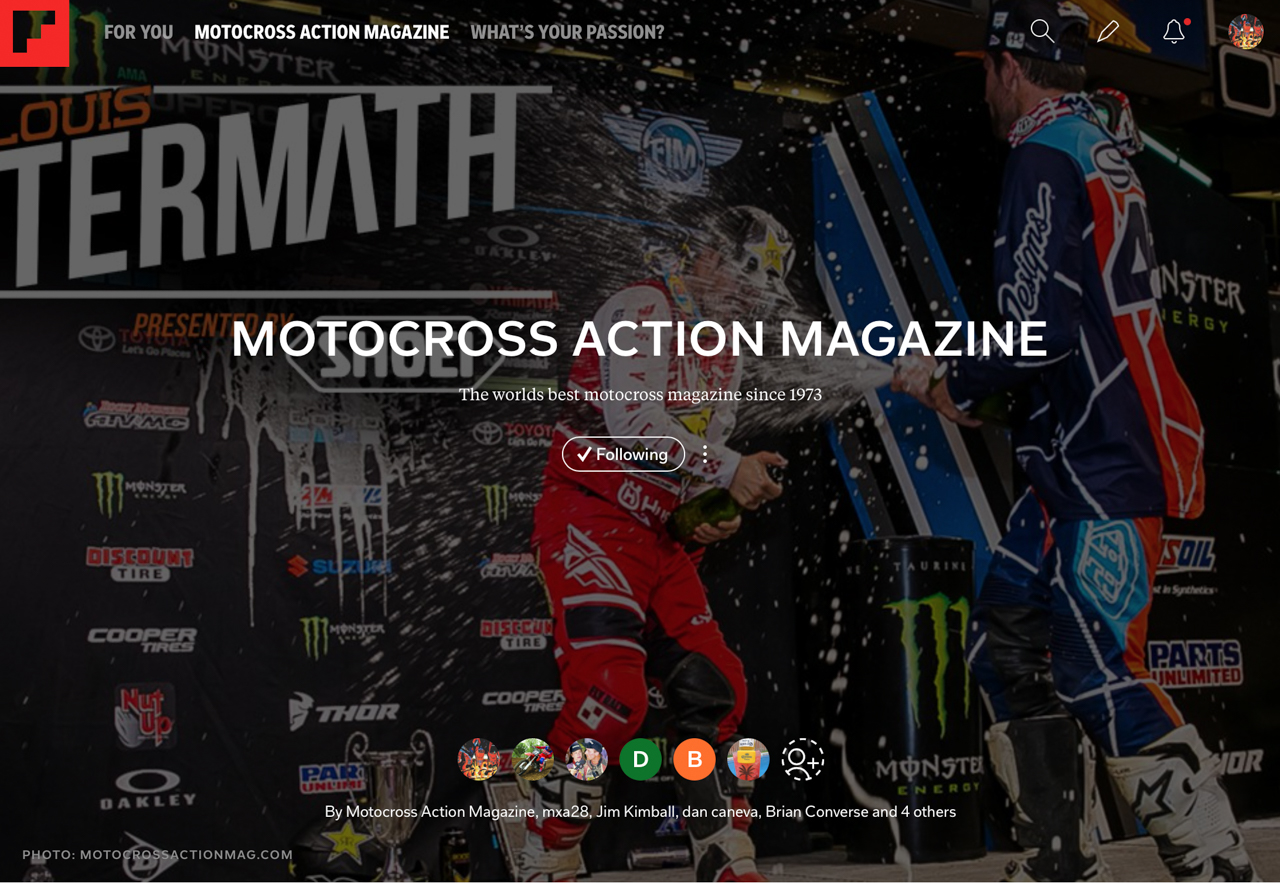 If you use Flipboard make sure to subscribe to the Motocross Action page for all the updates on our website. Click HERE to check out the page.
RISK RACING PALM PROTECTORS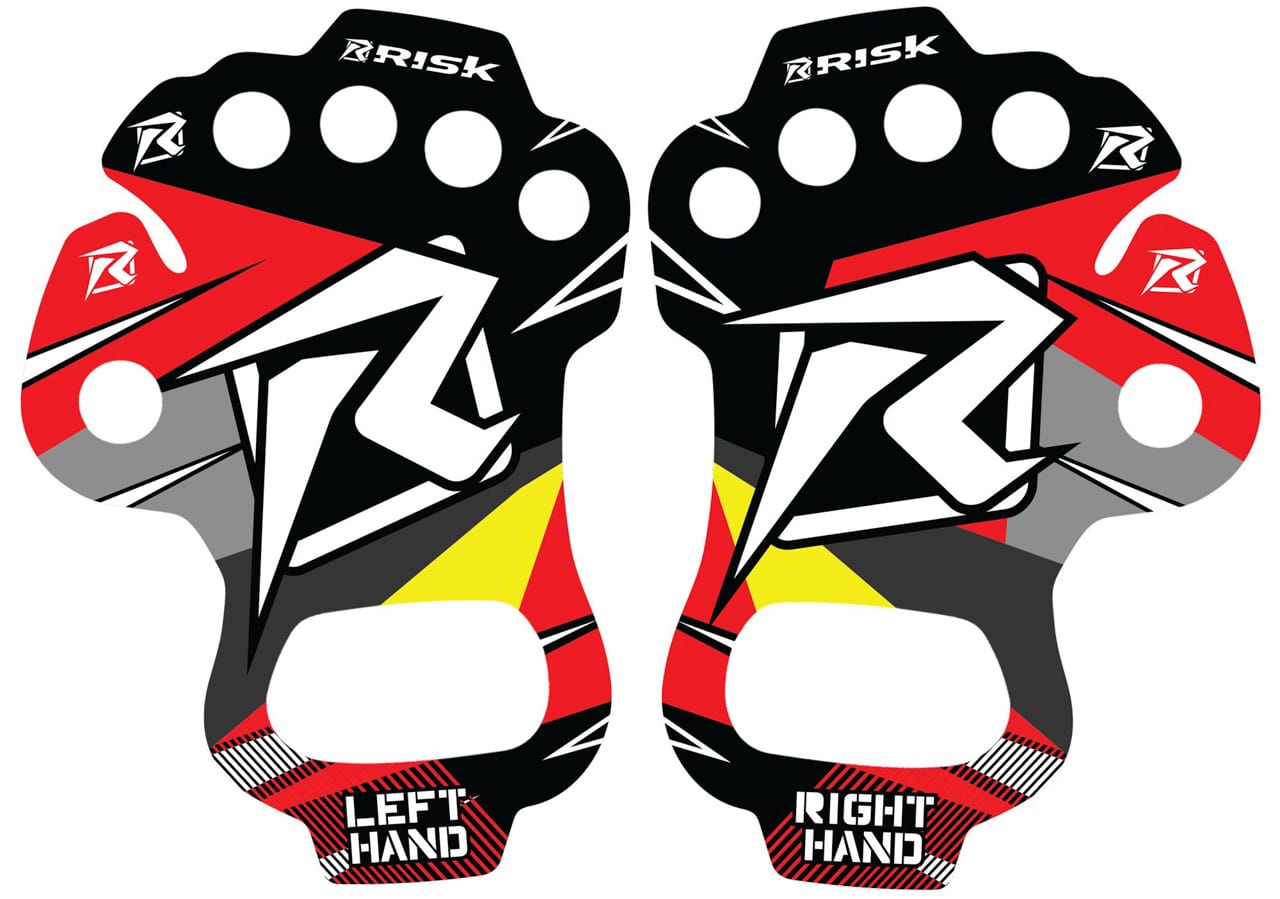 Press Release: Risk Racing is proud to announce an update to their best-selling Palm Protector Gloves. RISK has gone back to the drawing board to not only improve the function and increase size options, but to bring consumers a bold new design as well. The new Palm Protectors feature a thinner, "pressed neoprene" fabric in order to create an even slimmer fit under users riding gloves. The new material thickness will still offer full coverage protection to the area of the hand which is affected by blisters and irritation and will continue to hold up against blister causing factors such as; friction, rubbing, heat and moisture.
Along with the improved material, the Palm Protectors are now offered in three "stretch to fit" sizes and a brand new eye-catching digital design. The digital design boasts a vibrant, multi-color cross pattern that looks so fast it may just crank the throttle for you! Worn by pros in all aspects of racing from Supercross, to GNCC, and Moto GP, Palm Protectors are proven to protect the fastest hands in the world. Whether riding on the track, trails or roads, all motorcycle riders can defend their hands with the new and improved RISK Racing Palm Protectors.
The RISK Racing Palm Protectors retail for $7.99 a pair and the new design in now available in three sizes. Ask for them at your local dealer. For more information call 704-508-1031 or visit www.riskracing.com.
CLASSIC PHOTO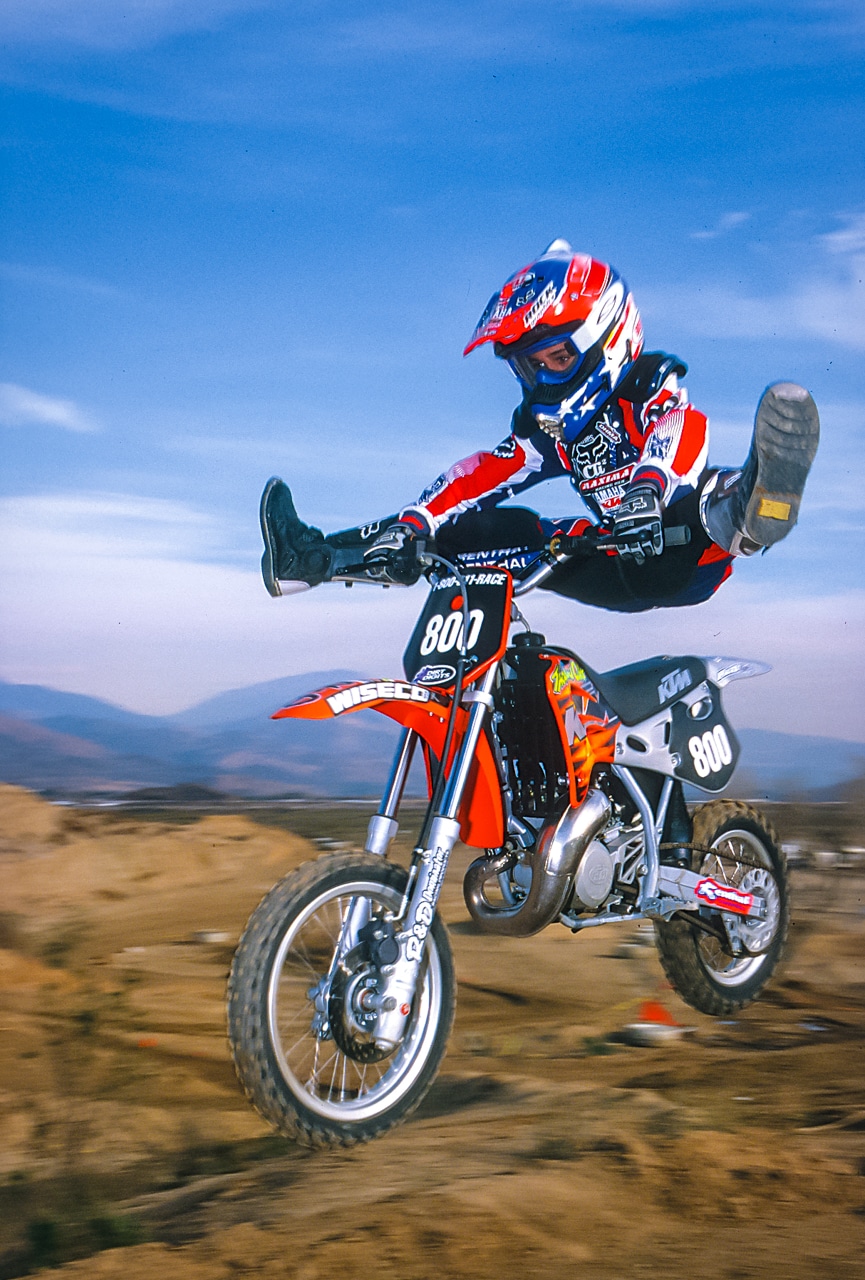 We bet you can guess who this is by the number. Mike Alessi back in the year 2000 showing off for the the camera aboard a KTM 60SX.
Moto Trivia answer: The year was 1998 and the rider is Mike Craig on a Honda of Troy Honda CR250.