MOTOCROSS ACTION MID-WEEK REPORT

#WHIPITWEDNESDAY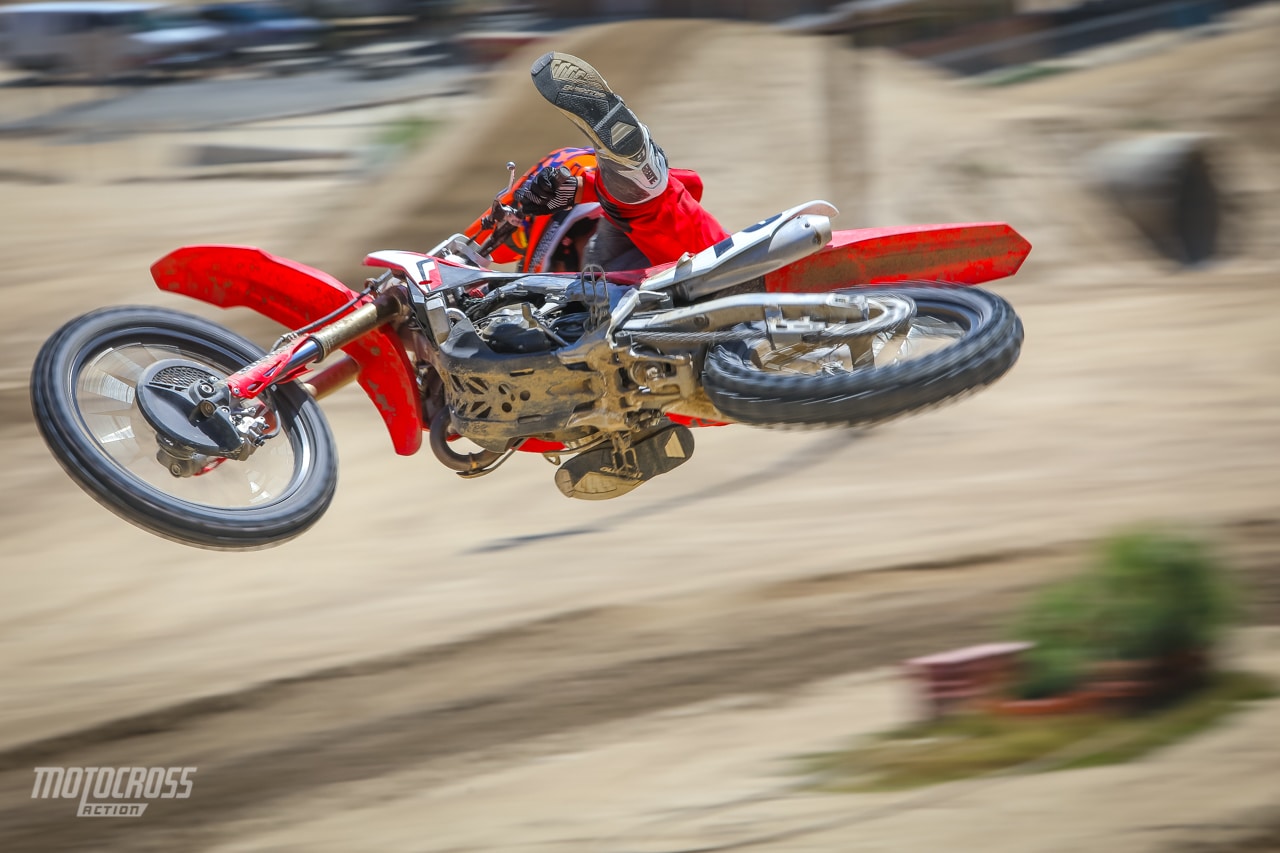 Rider: Tanner Sawyer
Bike: 2019 Honda CRF450
Location: Glen Helen
Event: 2019 MXA 450 Shootout
Photographer: Daryl Ecklund
ISO: 125
Shutter speed: 1/200
Lens: 70-200mm
Focal length: 95mm
F-stop: 13
TWO-STROKE SPOTLIGHT: THOMAS EGGER'S 1989 HONDA CR250 PROJECT
Restored 1989 Honda CR250.
Hello MXA!
Here are some pictures of one of my many project bikes. This is my 1989 Honda CR250R. –Thomas Egger.
EDITORS NOTE: Please keep those submissions coming. If you would like your bike to be featured in the "Two-Stroke Spotlight," please email me at [email protected]. All I ask is that you give a breakdown of your bike and a detailed description of the build. Please also send a few photos of your steed. By submitting your bike for the "Two-Stroke Spotlight," you agree to release all ownership rights to the images and copy to MXA. Please don't email me spam or try selling me Taylor Swift concert tickets or email me spam. I already celebrate T-Swizzle's entire collective, and there will be "bad blood" if you send me junk mail. See what I did there? Happy submitting your smoker.

MXA | MOTO | TRIVIA
Name the rider and year. Answer at the bottom of page.
2019 450 SHOOTOUT BLOOPERS 

SIERRA OTHG "RUN WHAT YOU BRUNG" TWO STROKE EXHIBITION RACE
10 STEPS TO WASHING YOUR BIKE | By Brian Medeiros
Step 1: To make your job easier, before you leave the track you want to scrape off any packed up dirt and mud off your engine cases and under your fenders (doing this will help speed up the process).
Step 2: Once you get home and get unloaded you want to remove your seat and air filter. Carefully wipe away any dirt out of your air box and insert your air box wash cover. The reason for removing your seat is to not only to wash your air box but to prevent getting your seat wet and breaking down your seat foam.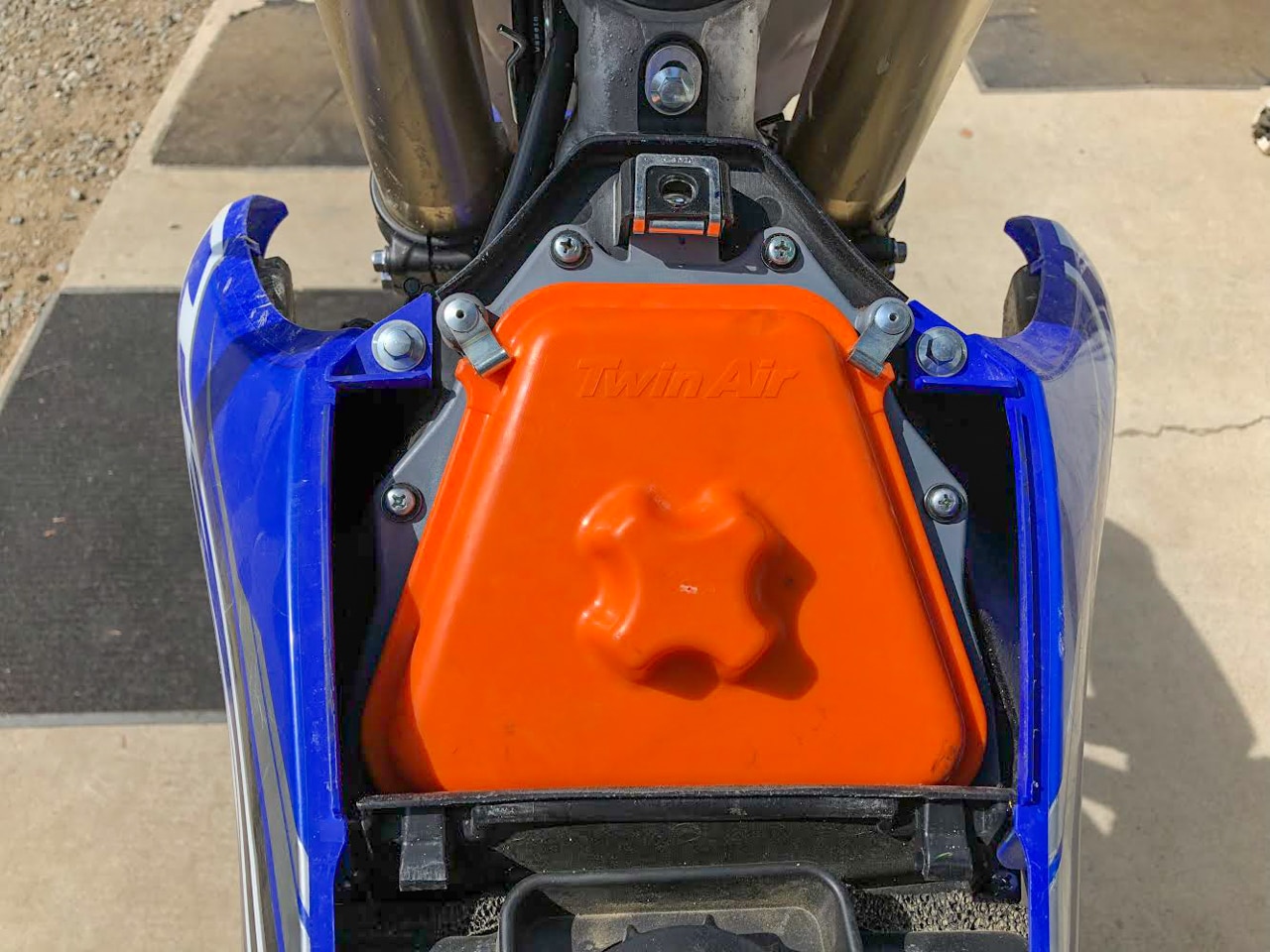 Step 3: Wheel your bike over to your wash area and use your stand to prop it up on its side. Using your pressure washer spray off any dirt and grim that is on the under side of your motorcycle. Avoid any direct contact with your pressure washer to any electrical connection's and pivot point's of your motorcycle
Step 4: Once you have the underneath of your motorcycle clean proceed to putting it up on your stand, continue to spray off all the loose dirt.
Step 5: At this point you want to get your spray bottle filled with the soap of your choice (in this case Mr. Clean) and soak your bike in soap.
Step 6: Once you have your bike all soaped up, take your green scotch brite pad and scrub your frame, always remember to scrub parallel to your frame to avoid leaving scratch marks. (KTM & Husky owners skip this step).
Step 7: Spray off all soap and remaining dirt that is on your motorcycle continuing to avoid direct contact with electrical connection's and pivot point's.
Step 8: Now that you have your motorcycle all clean, wipe it down with a clean towel or if you have a compressor blow of any access water, again avoiding direct contact with your electrical connection's and pivot point's.
Step 9: Remove your air box wash cover and wipe away any water that may still be in your air box and install your new air filter. Install your seat and spray it with Windex and wipe it down with a clean towel
Step 10: Start your motorcycle and let it run for a few minutes, this will help evaporate any water that may still be sitting on your motorcycle. If it is time for an oil change this will be a good time to do it since the engine oil will be nice and warm. Also take some chain lube and make sure your chain is properly lubricated to prevent corrosion.
Notes: Washing your motorcycle is never as fun as riding it, but it is an important role in making sure your bike is clean and ready for another day of riding with your buddies. When washing your bike always remember to inspect all wear parts to see if it's time for them to be replaced (chain, sprockets, chain guide, sliders, brake pads, etc.) We hope that this information will help you keep your motorcycle in tip-top shape.

IDAHO FREECROSS
LOST BUT NOT FORGOTTEN | 1983 HONDA CR250
OVER THE HILL GANG/MOTO PODCAST PRO RACE | HOLLISTER HILLS
The top three Pro's from left to right: Austin Walton, Dare Demartile and Carlen Gardener. 
By Dennis Stapleton
Over the last decade, motocross has changed a significant amount. More big races, more money and less factory contingency. Growing up in California, we used to have tons of money races and factory contingency events which would keep the youth interested in racing. Now-a-days, with the cost so high in the sport and not every kid or person able to race the Pro Nationals or Supercross series, fewer and fewer kids are showing up to race. The Over the Hill Gang and Moto Podcast put together a $5000 Pro purse advertising it for a couple months with free entries.
Dennis Stapleton race the young bucks and finished 9th overall.
As I am no spring chicken and tend to race only Vet Pro races these days, I decided to sign up to race with the young bucks in the 450 Pro class. I feel events like this will help bring people back to local racing. Local kids have a reason to move up the ranks, local racers have some entertainment and the tracks draw more people in to watch at the local level.
Local Arik Swan finished 6th overall. 
BOYESEN BUDDY BOOGIE SPEED FESTIVAL AT PAGODA MC
Press Release: The Mortheast and mid-Atlantic's premier dirt bike festival. "The most seat-time you will get all year" – Randy Kastle, Pagoda MC President.
Calling all Motocross, Enduro, GNCC, Cross Country, casual riders… young and old, fast and slow. This is YOUR CALLING. The Boyesen Buddy Boogie is a unique Dirt Bike Festival designed to offer the best collective Riding and Racing experience available in the Northeastern and Mid-Atlantic regions.
Boyesen Engineering, Motocross Action Magazine, Dirt Bike Magazine, and ThumperTalk.com are proud to showcase the 1st Annual Boyesen Buddy Boogie Speed Festival held at Pagoda MC in Birdsboro, PA. The Boyesen Buddy Boogie has been created to include the full spectrum of Motocross and Offroad and has been designed to be a weekend-long celebration of the best that each discipline has to offer. From beginner youth riders and casual riding enthusiasts, to some of the fastest and most accomplished regional Moto and Offroad pilots, the Buddy Boogie Speed Festival promises to be a fun and approachable event that offers a weekend packed with family fun, riding and racing! The Boyesen Buddy Boogie is slated to be a can't miss event with opportunities to gather as friends, as competitors, and most importantly as FAMILY to celebrate all things Moto and Offroad in one single destination event. The Buddy Boogie offers riders the most available riding time throughout the weekend. Call your Buddies and come out and Boogie!
SOCIAL HASHTAGS
#buddyboogie, #doyouboogie, #pagodamc, #ridepagoda
Event Date:
October 5th – 7th 2018 (Weekend Festival: Friday, Saturday, Sunday)
Event Location:
Pagoda Motorcycle Club
441 Redlane Rd
Birdsboro, PA 19508
TEL: (610) 582-3717
www.pagodamc.org
[email protected]
MXA'S SNAP CHAT FEED
If you are a Snap Chat user then add us to your stories. Get sneak peaks of everything moto. Our Snap Chat name is motocrossaction. Or just take a Snap of the picture above and it will add MXA automatically to your feed.
TALK MOTO WITH MOTO MINDED PEOPLE. JOIN MXA'S FACEBOOK GROUP CHAT

We love everything moto and want to bring all moto junkies together into one place to share their two cents, ideas, photos, bike fixes, bike problems and much more. To check it out first you must need to or already have a Facebook account. If you don't, it isn't much work and you could even have an alias so nobody knows it is you. To join click HERE. After you request to join we will accept your request shortly after.
JOIN MXA'S FLIPBOARD PAGE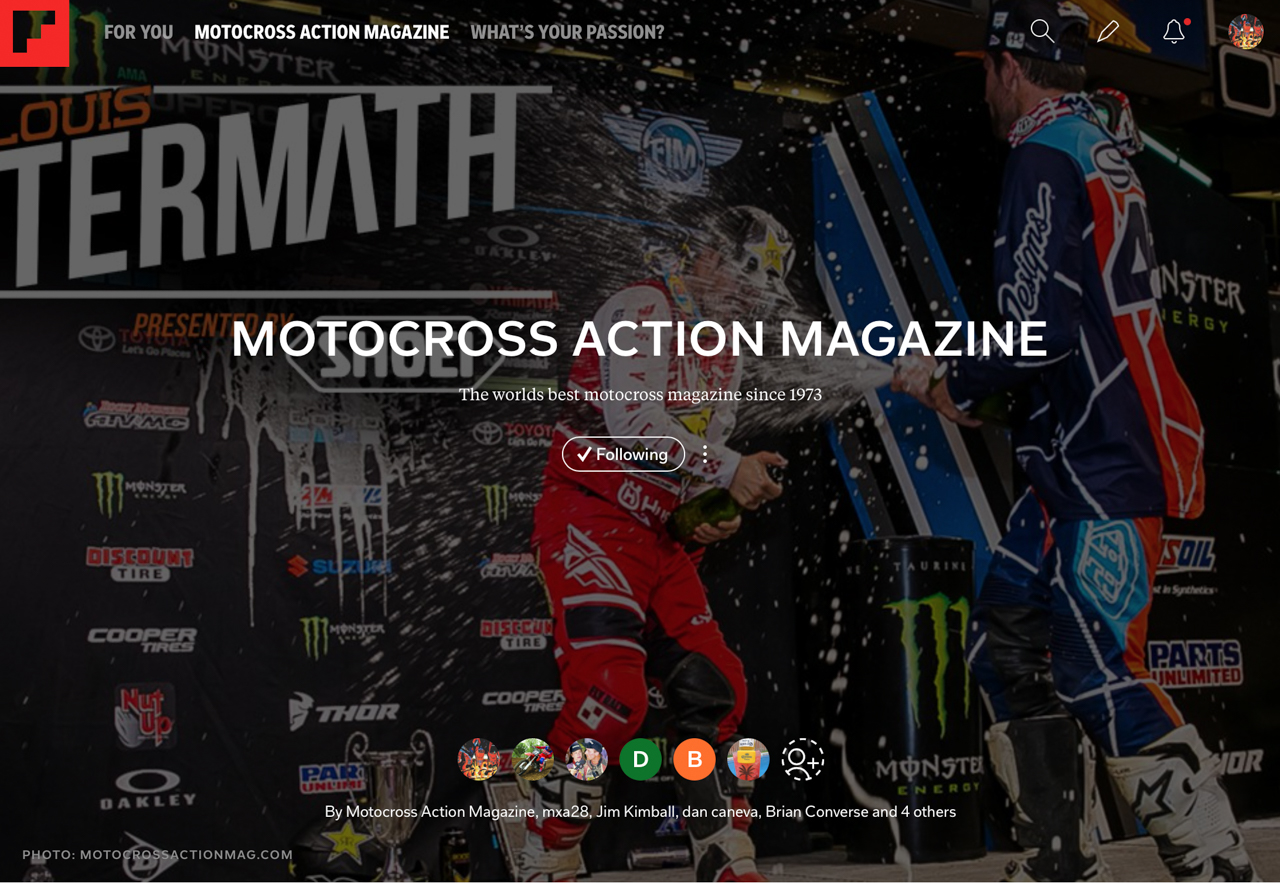 If you use Flipboard make sure to subscribe to the Motocross Action page for all the updates on our website. Click HERE to check out the page.
CLASSIC PHOTO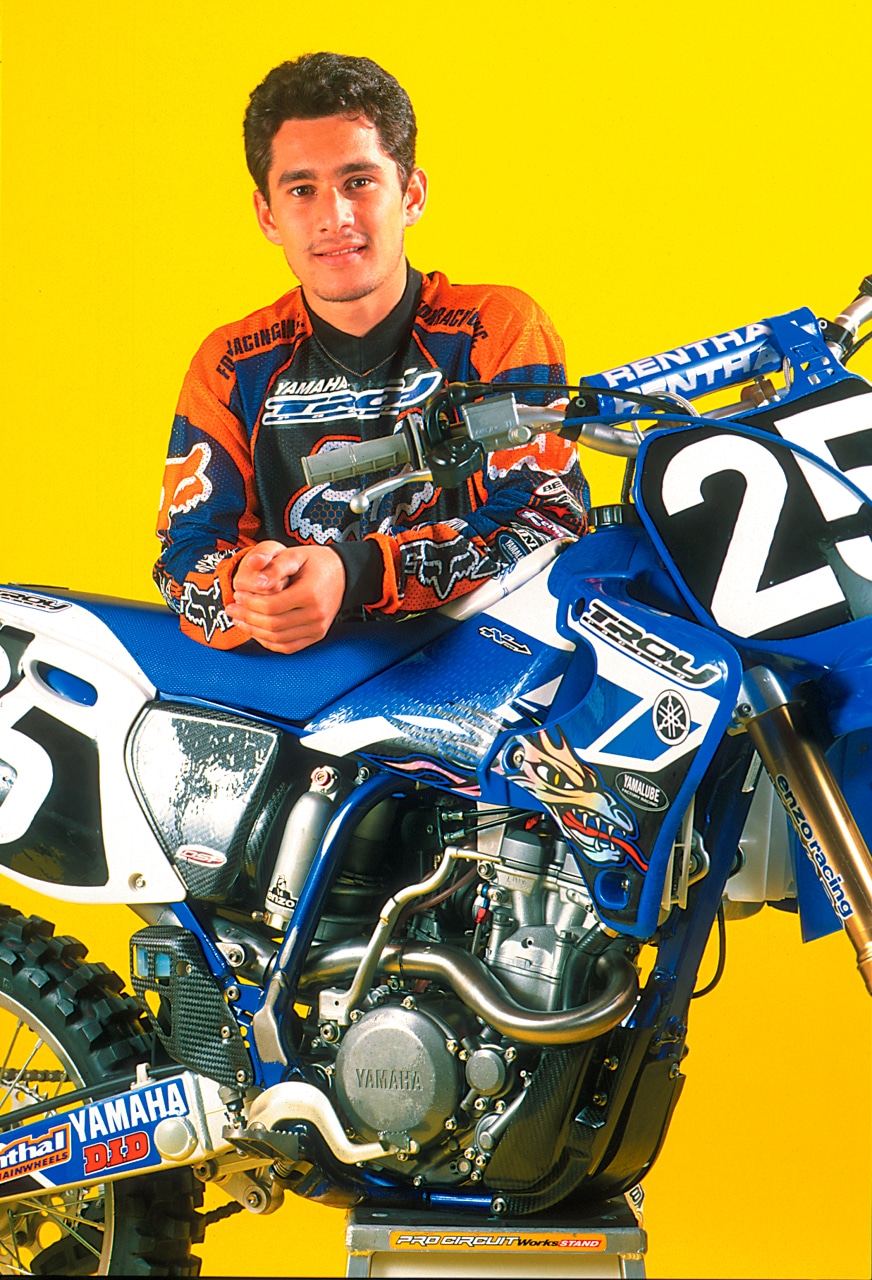 Costa Rica's Ernesto Fonseca back in 2001 on the Yamaha of Troy team. He went on to win the 125 West Coast title that year.
MXA QUESTION OF THE WEEK ANSWER
The answer from yesterdays MXA Question of the Week was David Bailey and the year is 1981 at Southwick. The contest winner is Eric Muffley from Plymouth, Indiana. 

---
Moto Trivia answer:  Travis Pastrana racing a Suzuki RM125 at the 2000 MXDN with teammates Ricky Carmichael and Ryan Hughes in Saint-Jean-d'Angély where they went on to win.