MOTOCROSS ACTION MID-WEEK REPORT
#WHIPITWEDNESDAY
Rider: Justin Bogle
Bike: 2019 KTM 450SXF
Location: AT&T Stadium Arlington, TX
Photographer: Brian Converse
TWO-STROKE SPOTLIGHT: JESPER KLINK'S SEA OF HONDA TWO-STROKES
Editors Note: Please keep those submissions coming. If you would like your bike to be featured in the "Two-Stroke Spotlight," please email me at [email protected]. All I ask is that you give a breakdown of your bike and a detailed description of the build. Please also send a few photos of your steed. By submitting your bike for the "Two-Stroke Spotlight," you agree to release all ownership rights to the images and copy to MXA. Please don't email me spam or try selling me Taylor Swift concert tickets or email me spam. Happy submitting your smoker.
MOTO | TRIVIA
Who is this mini-rider that raced the U.S. Open of Supercross?
MXA BUILD | 2005 YAMAHA YZ250
BIG HITTERS RIDING OUTDOORS AT FOX RACEWAY
Broc Tickle was out riding aboard his Alpinestars KTM 450SXF.  Feld says that something should be announced soon about Tickle's suspension. 
Nate Adams was out riding with a helicopter on his head. 
A better look at his GoPro contraption. 
Dylan Ferrandis was out putting in motos with the Star Racing Yamaha team.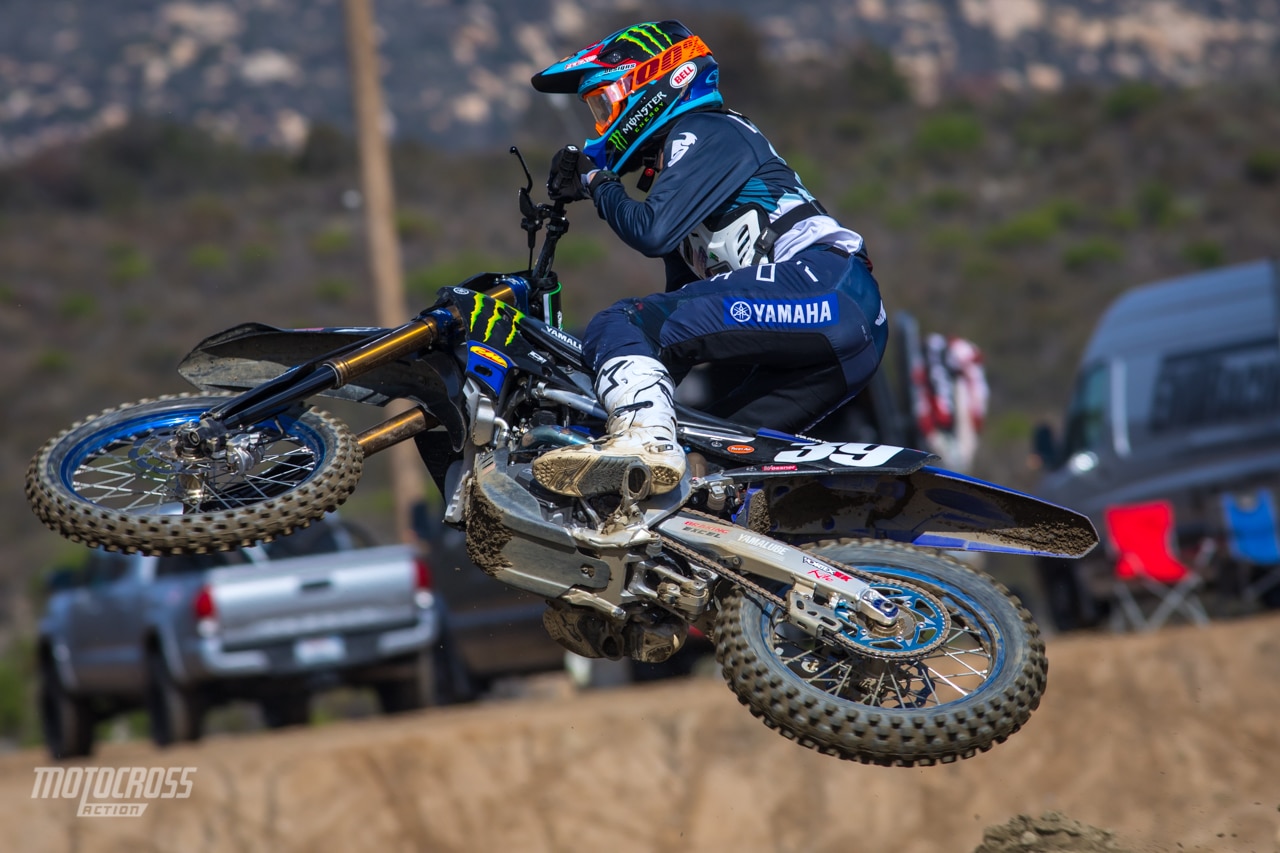 Colt Nichols was in a train with Ferrandis and Tickle. 
Adam Cianciarulo looked good.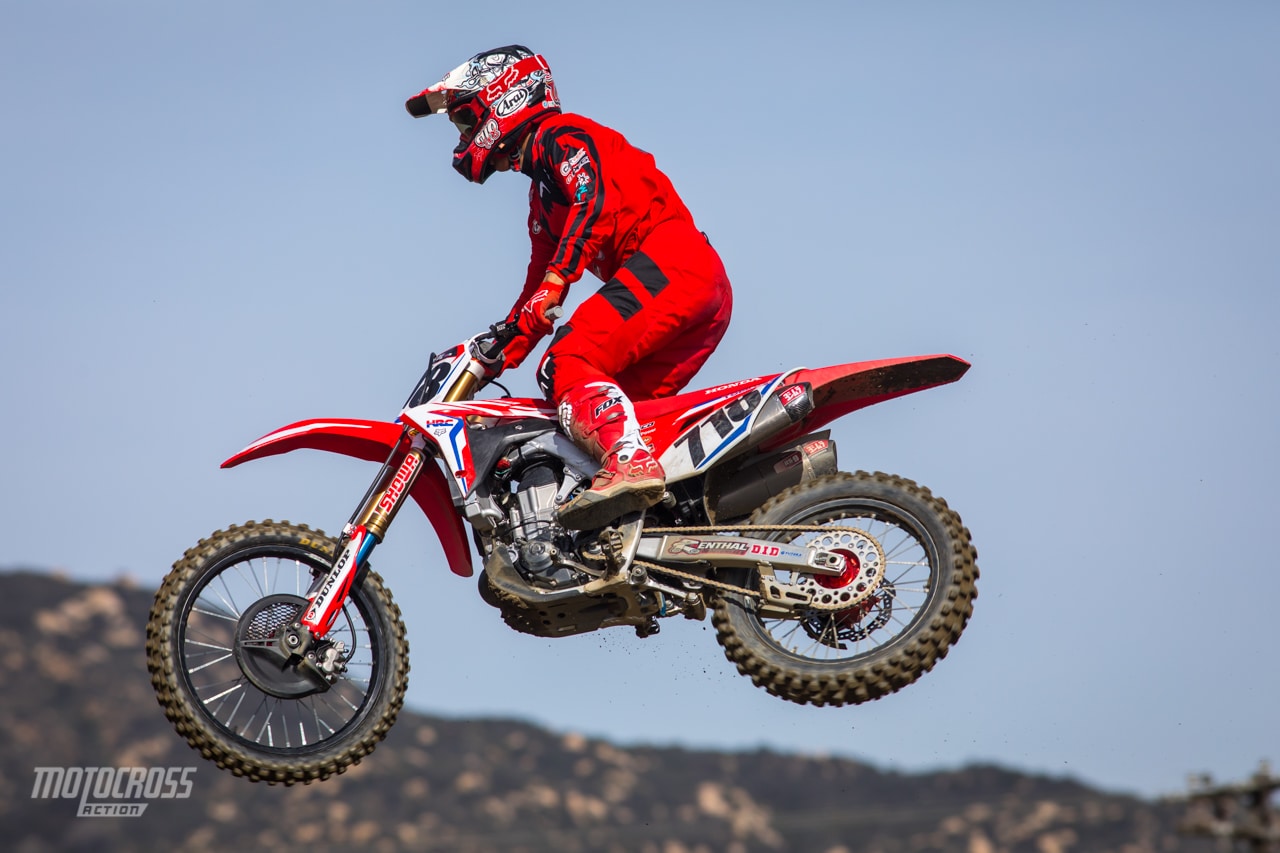 Toshiki Tomita getting ready for the 2019 National season. 
YOU DO THE MATH! SUBSCRIBE TO MXA & GET A $25 CHAPARRAL GIFT CARD

If you subscribed to Motocross Action, the March 2019 issue of MXA would be in your mailbox, computer or iPhone now.
The March issue of MXA is jam-packed with bike tests, product reviews and moto-info. Not only do we have the 2019 MXA 250 Four-Stroke Shootout in this issue, but a 2019 Husqvarna FC350 test, 2019 Yamaha YZ250 two-stroke test,  a retro-test of Chad Reed's 2002 L&M Yamaha YZ450F and a 2019 Honda CRF250 test. Plus, a test of Carson Brown's Straight Rhythm winning Husky TC125 two-stroke and Austin Forkner's 2019 AMA 250 East Supercross KX250 four-stroke. Not to mention an revealing interview with Eli Tomac.
Do you subscribe to MXA? You should. We know that you think that print magazines are dead and that the internet will fill the void, but most of the stuff in the current issue of MXA won't appear on the web for several months, if at all. Luckily, you can get all of MXA on your iPhone, iPad, Kindle or Android by going to the Apple Store, Amazon or Google Play or in a digital version. Even better you can subscribe to Motocross Action and get a $25 Chaparral gift card to spend on whatever motorcycle parts or products you need. You can call (800) 767-0345 or CLICK HERE or click on the box at the bottom of this page.
THEY SAID IT | 2019 ARLINGTON SUPERCROSS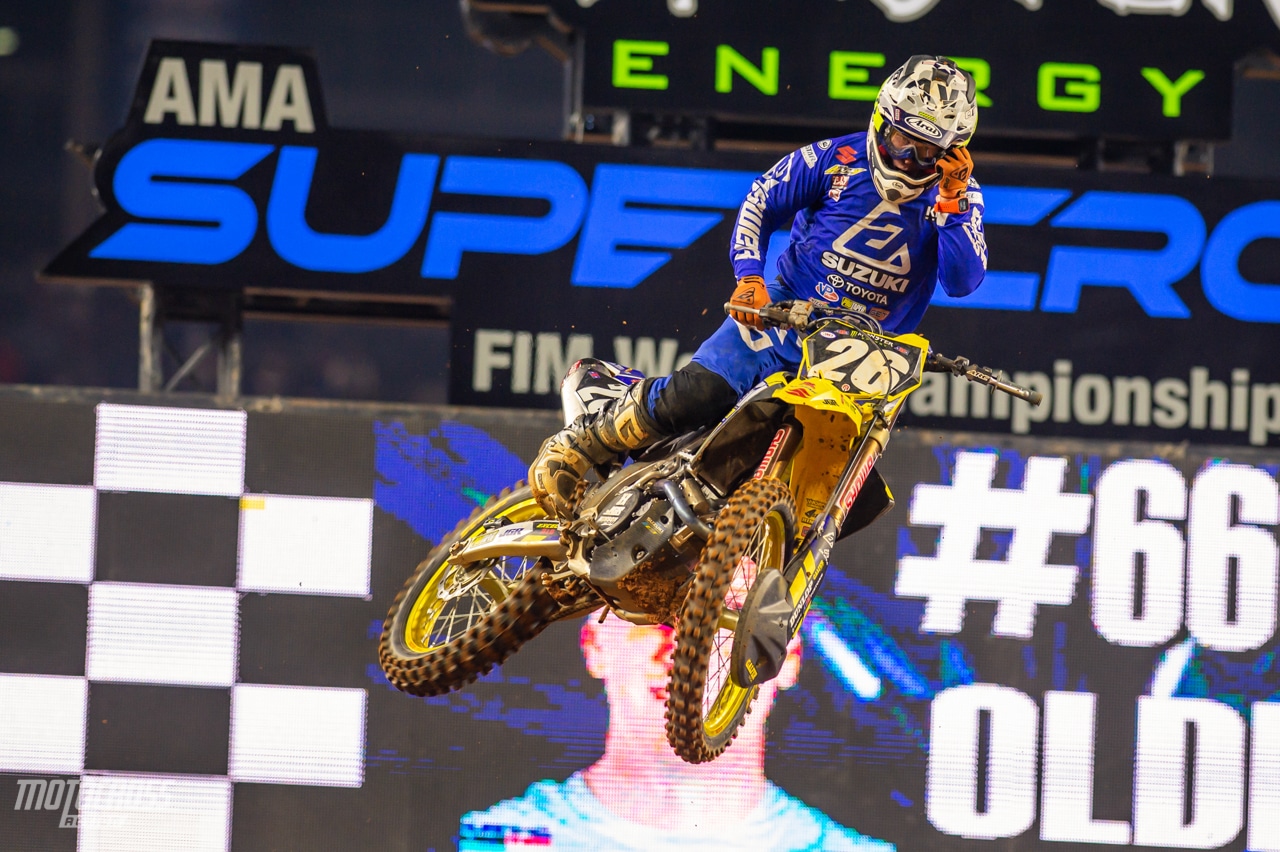 Alex Martin: "It was nice to be back racing in Texas for the first time in three years. Practice went well. I qualified sixth again, like last weekend. I was really happy with my riding and passed into third place in my heat race. I double-clutched the RM-Z250 off the start and came out just inside the top-ten. I was up to eighth on the second lap when [Mitchell] Oldenburg cleaned me out in a left-handed bowl turn. I struggled to get going again and salvaged an eighth-place finish. I'm not happy with the end result, but I'm feeling really great on the bike. I can't wait for Detroit!"
Chad Reed: "It was a tough weekend. The speed wasn't there for some reason. I'm disappointed in my performance. I know that I'm better than 11th place. We will work on some things this week and then hopefully come out swinging in Detroit."
Justin Hill: "I'm fired up. I have the speed, and I feel like I'm making major improvements with my starts, as well as my intensity in the opening laps. It's time to get it done. I'm sick of looking at these dudes talk on the podium. It needs to be me now."
Austin Forkner: "The tough thing for me is to try and ride own my lines. I found my focus about five minutes in, but I have plenty of stuff I can work on this week heading into Round 3. I felt like I struggled a little bit and still won so I'm ecstatic. It's nice to know what we can go into the week and work on. I can't wait to get back next week even better."
Martin Davalos: "This race was one I wanted to get through healthy and I was able to do that. It was great to show that I'm capable of being up with the front runners and bounce back. I would love to get a better start next weekend and really contend for a podium spot."
Justin Barcia: "In the main event, I was on the far outside and got a really good jump off the gate. I was right in it, but I was just so far outside I got pushed out and went into the hay bales and started last. I went from last to seventh. I was riding well, but again wasn't able to make things happen that I needed to happen. I need to get a better start and put myself in front of the pack where I belong. We're moving on from this weekend and will get ready for Detroit."
Aaron Plessinger: "We made big steps in the right direction at Dallas. The bike worked pretty good all day, I just need to get my starts dialed in. We're going to go off to Florida and ride with Justin for a little bit and hopefully can build some intensity. All in all, I'm pretty happy with tonight and taking steps in the right direction. We'll move forward from here, and on to Detroit."
Justin Cooper: "It feels great to get two podiums in a row. Compared to last year we were sitting out the second round, so to start the season out like this is pretty cool. The track was pretty tough today, we just had to take what we could get out there. Still, big improvements, and we're not going to stop here. The bike was great all day again. We'll just keep searching for new things and keep trying to better our self each time we get out on the track."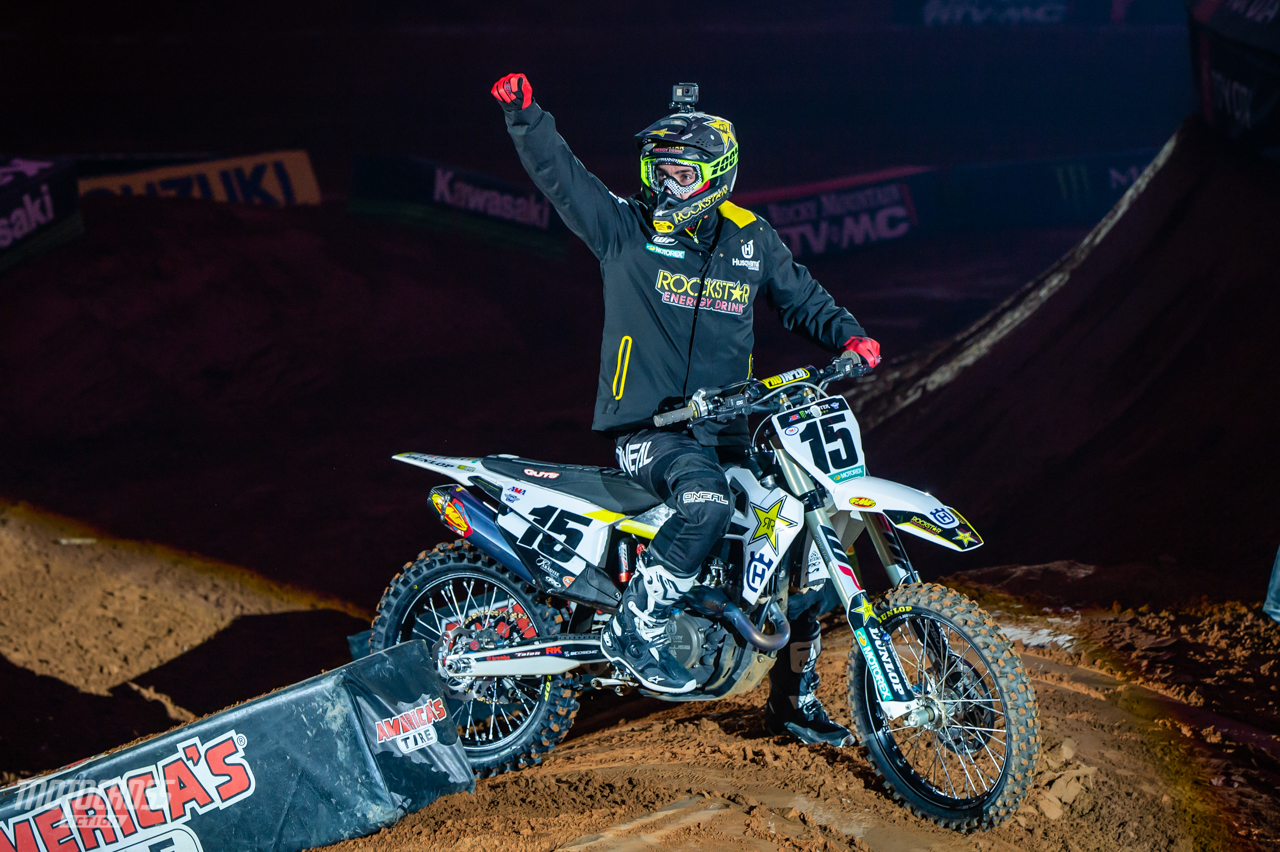 Dean Wilson: "My night was not amazing but not too bad either," Wilson said. "I think the best part of my race was that I came through the pack really well and I passed a lot of good riders. By the time I got to the position I was in, there was really no one in front of me that I could catch so I ended up with an eighth. It's not what I want but the beginning was promising with the speed I had. I just need to get a better start and get up there and we'll be good. I'll take it but we want to get on the podium for sure."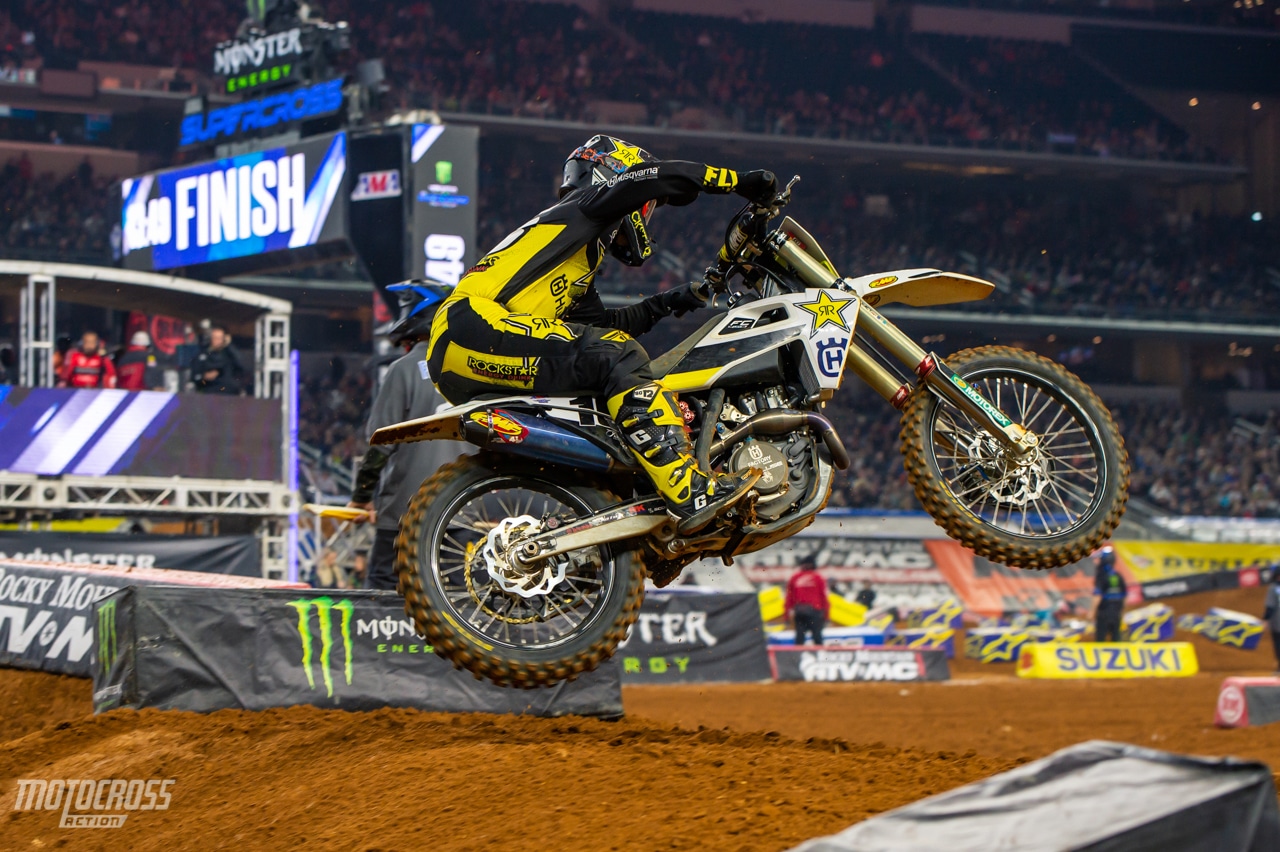 Zach Osborne: "All-in-all, it was a decent day for my 450SX debut and there are some positives I can take from it. The result is obviously not what I wanted – I'd like to be top-10 or top-five coming back – but right now I think if I can get a good three or four weeks under my belt and really grind some motos in, I think it would be good. I've been riding for eight days after six weeks of injury and I feel like I've got a lot left in the tank as far as me being comfortable and being able to go out there and just hammer laps. I think prior to today, the most laps I've done in a day was something like 35, so it's a big jump to today's 55 or so. We'll come back next week and just keep building."
Cooper Webb: "Tonight was incredible! I just never gave up out there. It was incredible for it to come to the last lap – the last turn even – and to be able to win with such a close finish was absolutely insane. That's probably the best race ever for me."
Marvin Musquin: "I had a good pace and I felt comfortable but then I started tightening up a little bit and that's when Cooper caught me. It was too much playing defense for me and he was right there, and then he got me. From there, I had nothing left so I salvaged a third place. It's good, but I was in a good position for better, so I am a little bit disappointed with that but I'm also happy that we were able to turn it around after the heat race."
Ken Roczen: "From the first few races this year to now, I've made some good steps forward. I've changed up some things in my program and put in some solid effort during the week, and I feel like it's showing on the weekends. Of course it's disappointing to put in that effort the entire moto and then give it away in the last turn. The turn before the whoops and in the whoops themselves is where I lost the most time during the main event. If I could've done that better or worked better with the bike, I feel like I could've kept my flow a bit better and had more of a gap between first and second. Honestly though, I'm just having a lot of fun; I haven't been in a championship chase in a long time, and it's really good racing. There's always room to improve, and I don't have a win yet, but we've been super-consistent. I'll just use this as fuel, think about the feelings I had on the track, and then make a plan for the next race. I think we're in a good spot."
MICHAEL MOSIMAN'S SAN DIEGO MUDFEST GOGGLES
Josh Mosiman's brother and factory Husky rider Michael Mosiman shared his lime infested goggles with us after they dried out. Here are a few pics of them.
Michael still had a few tear offs left on his Scott goggles. 
The top of them are packed up with dirt. Would you reuse these?
CASELLI FOUNDATION | MOTODOFFO WINERY FUNDRAISER | SAVE THE DATE
Saturday, June 8th, 2019 6th Annual MotoDoffo Caselli fundraising event at Doffo Winery in Temecula, California!
WHAT THE MXA WRECKING CREW IS UP TO
We got our hands on the 2019 KTM 450SXF Factory Edition last week. For a complete list of changes check out the link First Look! 2019 KTM 450SXF FE link. 
MXA's assistant editor, Josh Mosiman got to shake it down.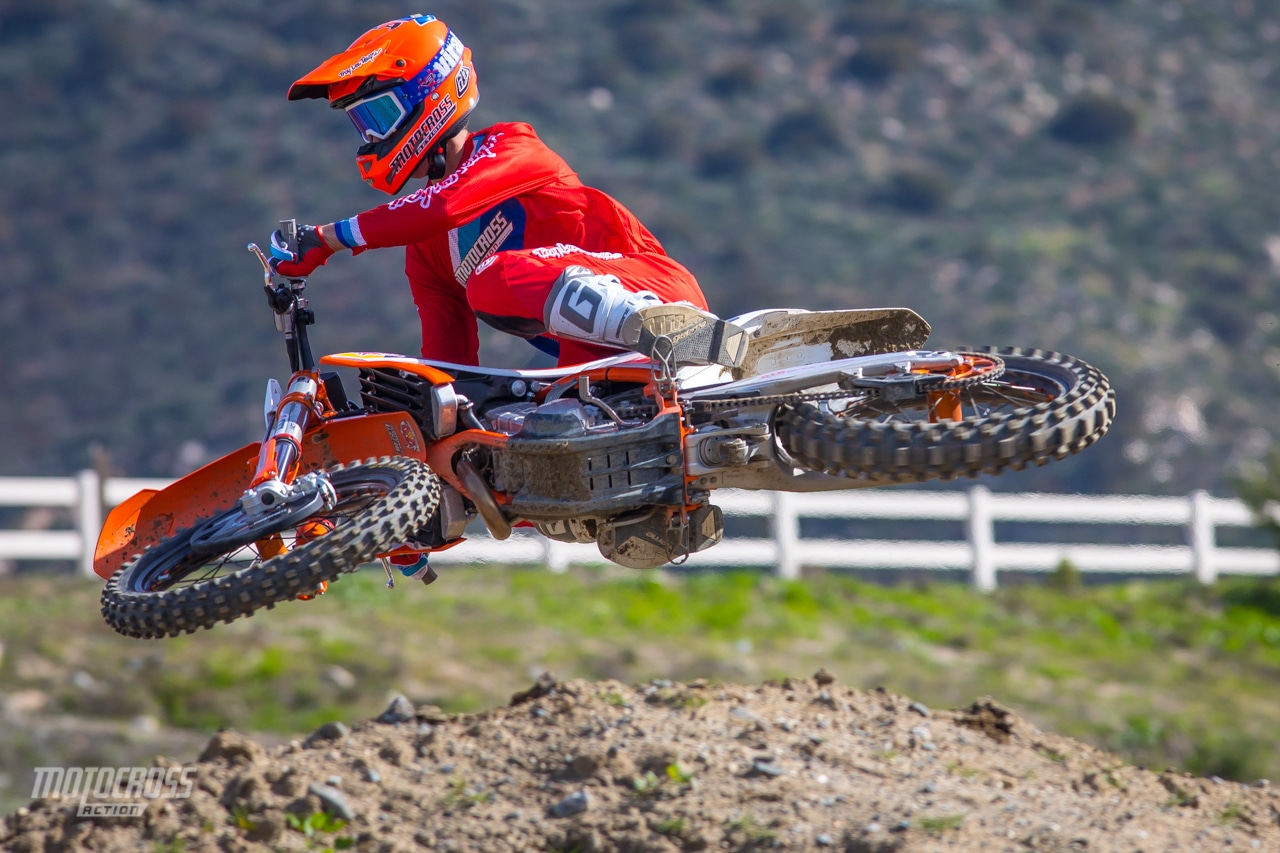 For the $11.099 price tag and the limited changes to the chassis and engine we think is it a bit on the pricey side. 
Early in the week we got to shake down KTM's twin brother the 2019 Husqvarna FC450 Rockstar Edition. Josh Mosiman got to ride the KTM and Husky back to back to find similarities and differences between the two. 
Jay Clack built us a 2005 Yamaha YZ250 project bike. Sure does look like a 2019 model, doesn't it?
Our chief test rider, Dennis Stapleton hard on the brakes on the old dog. 
FMF fire power and Hinson complete clutch. 
Dennis making it look easy on the smoker. 
Dennis and Josh talking about the which bike is better. What would you pick? Two or four?
Josh doesn't fit the MXA test rider mold with size 9 boots. Sidi equipped him with some size 11 boots as he is racing the WORCS race in Havasu in a few weeks for the Husky offroad team. 
POLISPORT FORTRESS SKID PLATES
Press Release: Polisport releases the Fortress Skid Plates. These highly durable and resistant injection molded skid plates will provide full coverage to the engine and frame rails; being made of plastic the Fortress Skid Plates are quitter than metallic protections and have a slim fit to prevent mud, dirt or rocks to build up between the protector and the frame. Fortress is also available with and without linkage protection.
The mounting system is also a highlight, especially for the four-stroke models where the installation is easy, using a quick install lever clamp (check diagram below).
This new range will be released for selected models of KTM and Husqvarna, will be available in orange, black and white.
TALK MOTO WITH ON MXA'S FACEBOOK GROUP CHAT

We love everything moto and want to bring all moto junkies together into one place to share their two cents, ideas, photos, bike fixes, bike problems and much more. To check it out first you must need to or already have a Facebook account. If you don't, it isn't much work and you could even have an alias so nobody knows it is you. To join click HERE. After you request to join we will accept your request shortly after.
MXA'S SNAP CHAT FEED
If you are a Snap Chat user then add us to your stories. Get sneak peaks of everything moto. Our Snap Chat name is motocrossaction. Or just take a Snap of the picture above and it will add MXA automatically to your feed.
FIRST RIDE | 2019 HUSQVARNA FC450 ROCKSTAR EDITION 
CLASSIC PHOTO
2004 250 AMA National start.
---
Moto Trivia answer: Nico Izzi.