MOTOCROSS ACTION MID-WEEK REPORT
TWO-STROKE SPOTLIGHT: ERIK EBERSOLE'S 2001 KAWASAKI KX500 
Hello MXA,
This was a barn find KX500. The bike was bought new, the owner almost immediately whisky throttled it and flipped the bike. It has sat in a barn since 2001. A friend got it, and owed me a favor and I became the proud owner. It was pretty crusty to start, but was a good base to start with. I had all Al parts vapor blasted by Premier Vapor Blasting of Georgia. The engine, carb, master cylinders, calipers, levers, brake lever, shock and linkage, all were blasted and came out better than new. I had Warp 9 gold hubs laced to Excel A60 rims. Lots of NOS nuts/bolts and plastics were readily available. Much hardware was re-zinc'd.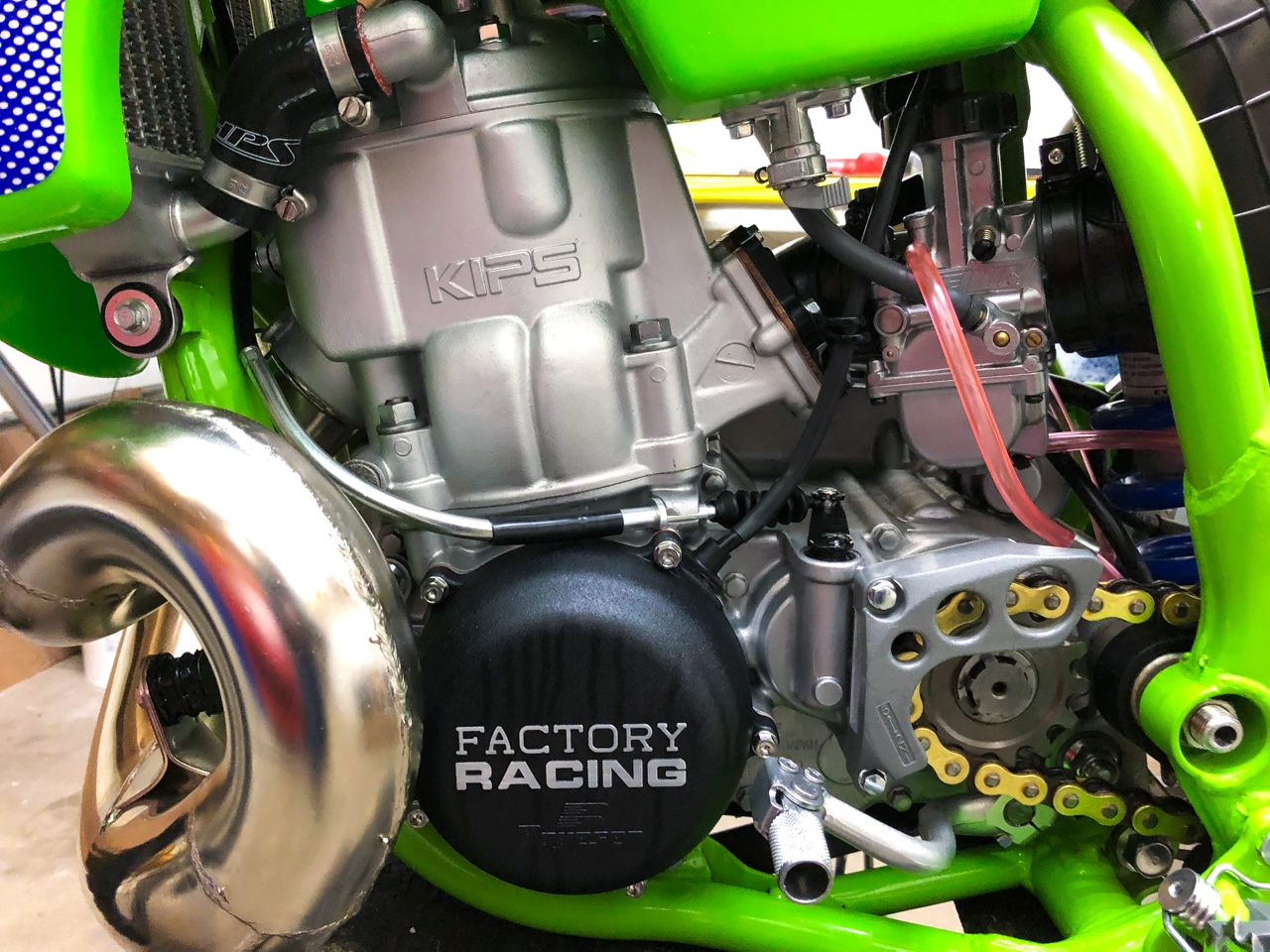 Frame was powder coated.
Full FMF exhaust.
Works Connection Clutch Perch and Lever, and chain rollers.
Race Tech springs.
Guts seat cover and foam.
Twin air filter.
EBC brake pads.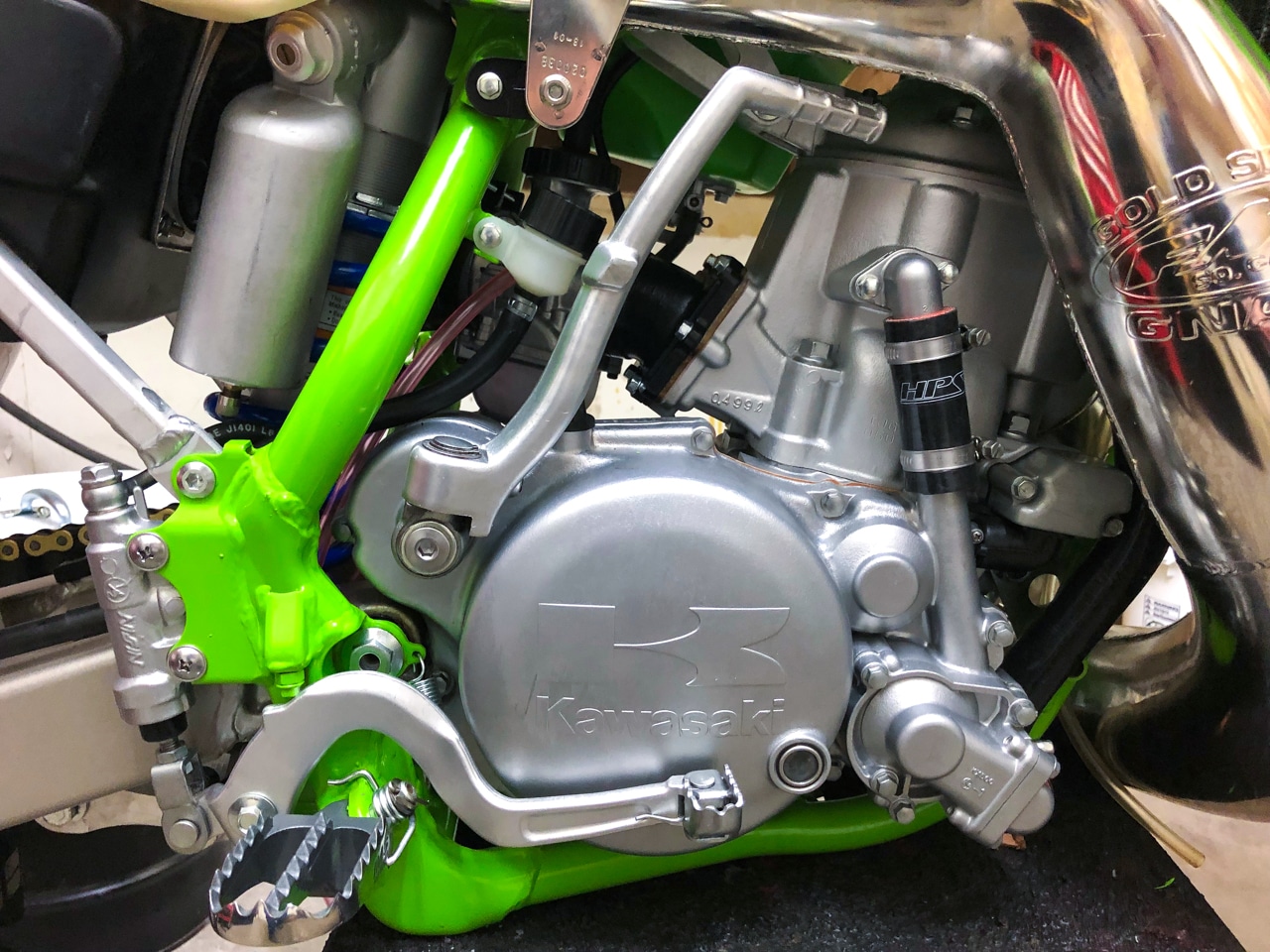 Tag Metals bars and race chain.
Pro taper sprockets.
Hand made rear subframe from the UK.
New Graphics package.
I showed the bike with the Legends and Heroes at Atlanta Supercross.
The bike is pretty sweet….I may race it…..,may….
Thanks,
Erik Ebersole.
The KX500 engine before restoration. 
Editors Note: Please keep those submissions coming. If you would like your bike to be featured in the "Two-Stroke Spotlight," please email me at [email protected]. All I ask is that you give a breakdown of your bike and a detailed description of the build. Please also send a few photos of your steed. By submitting your bike for the "Two-Stroke Spotlight," you agree to release all ownership rights to the images and copy to MXA. Please don't email me spam or try selling me Taylor Swift concert tickets or email me spam. Happy submitting your smoker.
#WHIPITWEDNESDAY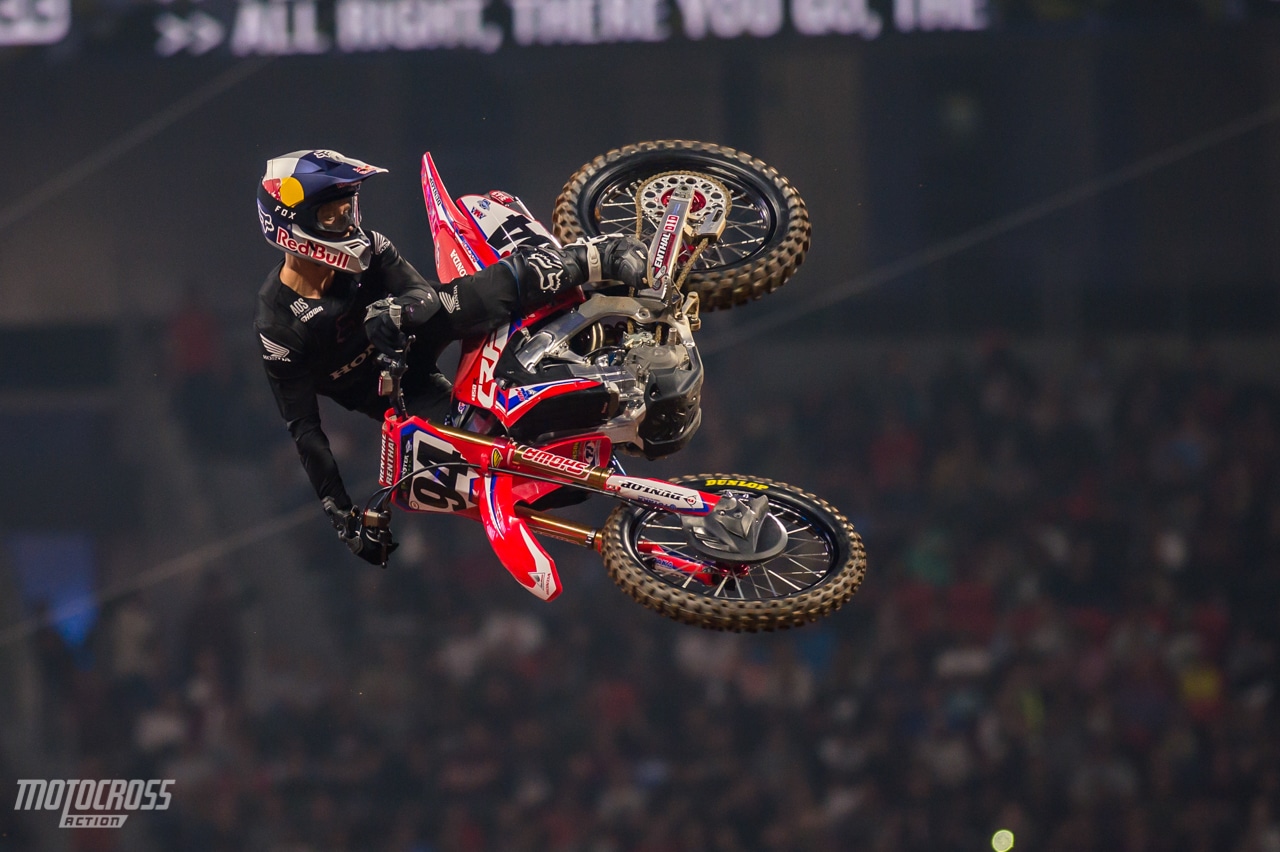 Rider: Ken Roczen
Bike: 2019 Honda CRF450
Location: Atlanta, Geogia Supercross
Photographer: Brian Converse
AARON PLESSINGER TALKS ABOUT TRAINING WITH JUSTIN BARCIA
MOTO | TRIVIA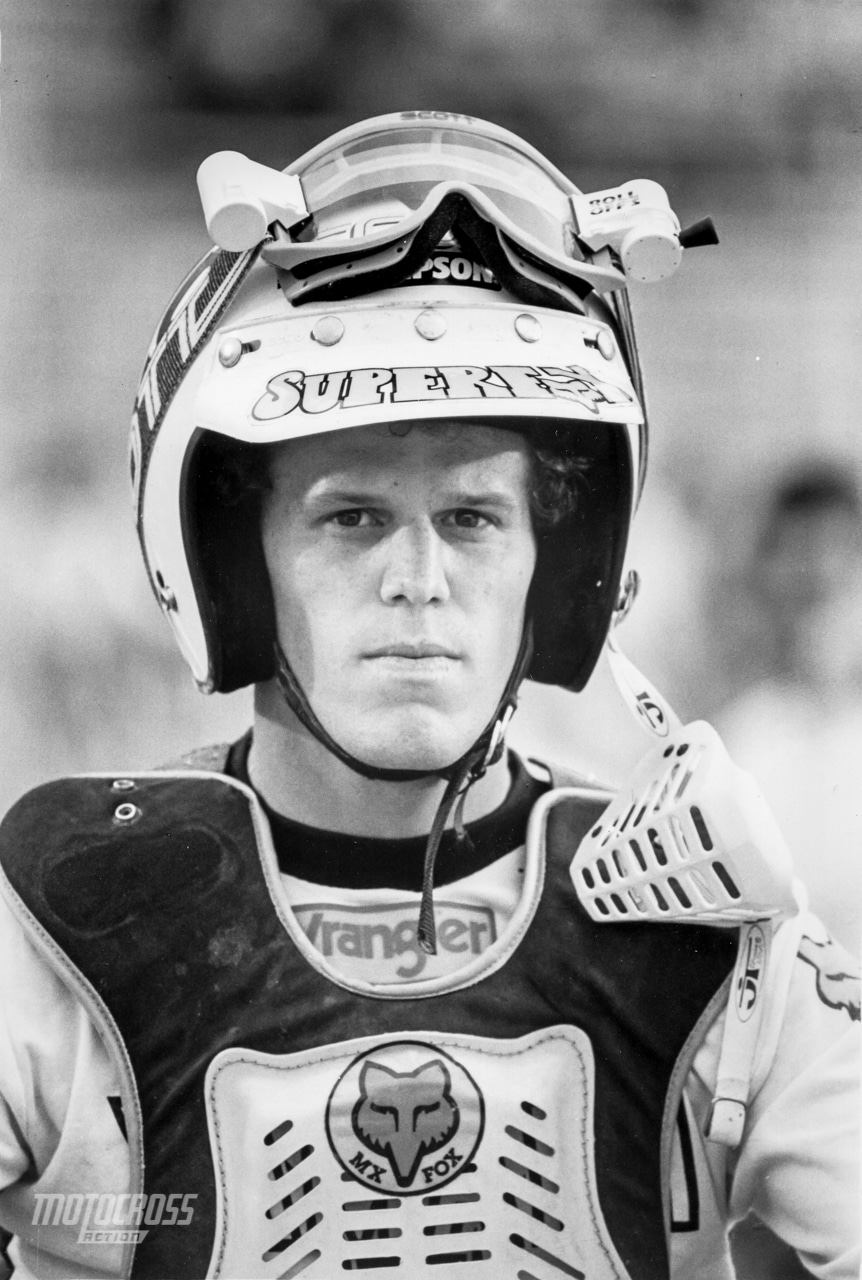 What is this rider? Hint: ********. Answer at bottom of page.
FORGOTTEN BIKES: 2004 HUSQVARNA CR125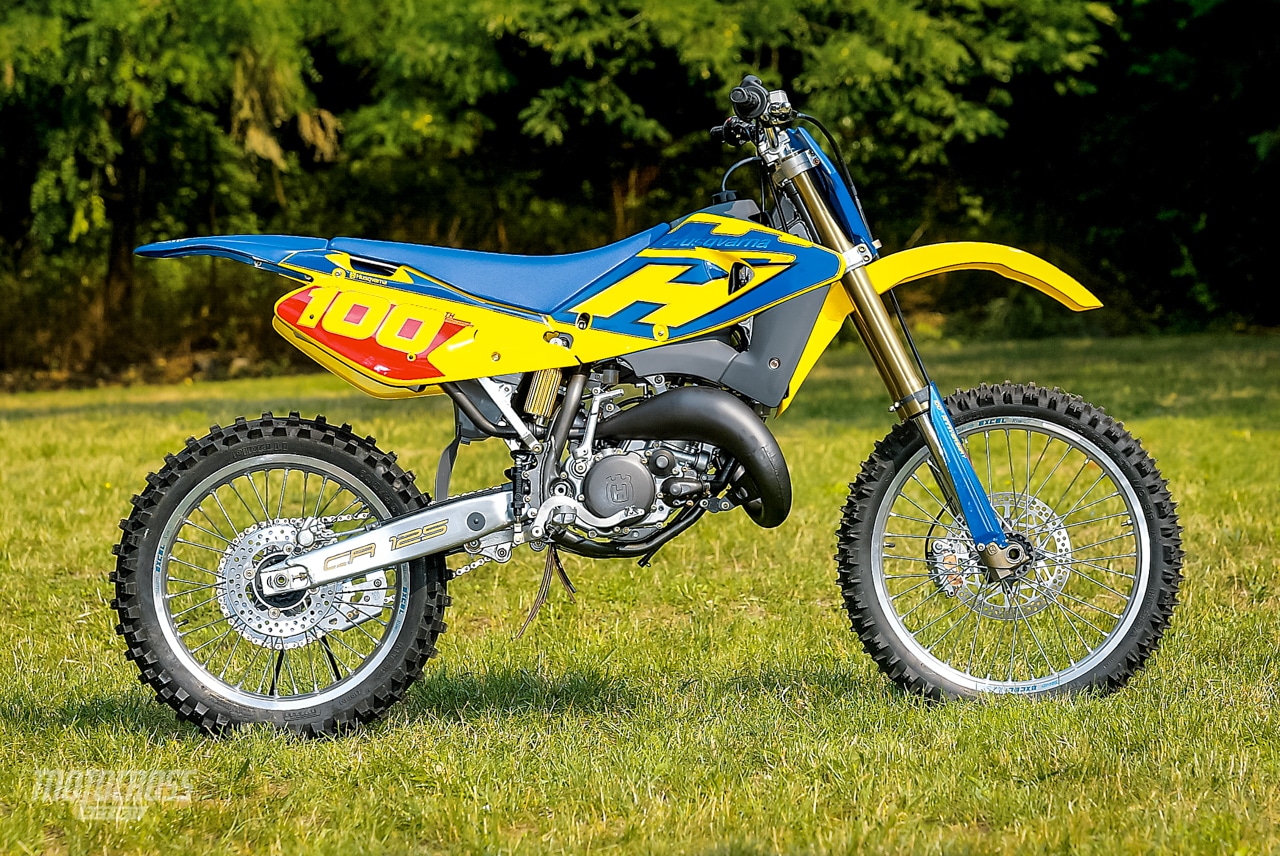 THEY SAID IT | 2019 ATLANTA SUPERCROSS
Ken Roczen: "Going into Atlanta, I was feeling a lot better than I have the past two weeks from the flu. We came into the race with a little different suspension setting, so I was excited to try that but the track was one of the toughest. It was really soft and rutted so it was risky trying something new in those conditions, when you don't know 100% what the bike is going to do. In the heat race, I got an okay start but was fully pinched off in the first turn, so that messed me up a bit and I was only able to finish seventh. In the main event, I was on the far outside and grabbed a good start. I had to jump a different rhythm than most the other guys in the first lane and got passed, so I went straight back to sixth. I moved into fifth then got stuck behind [Aaron] Plessinger for a while. I spent way too much time trying to get around him, then when I did after he went down, I couldn't really do anything from there so I just rode a solid race and got fourth. I'm really looking forward to Daytona. It's obviously the first time I've raced there in a long time, so it should be good."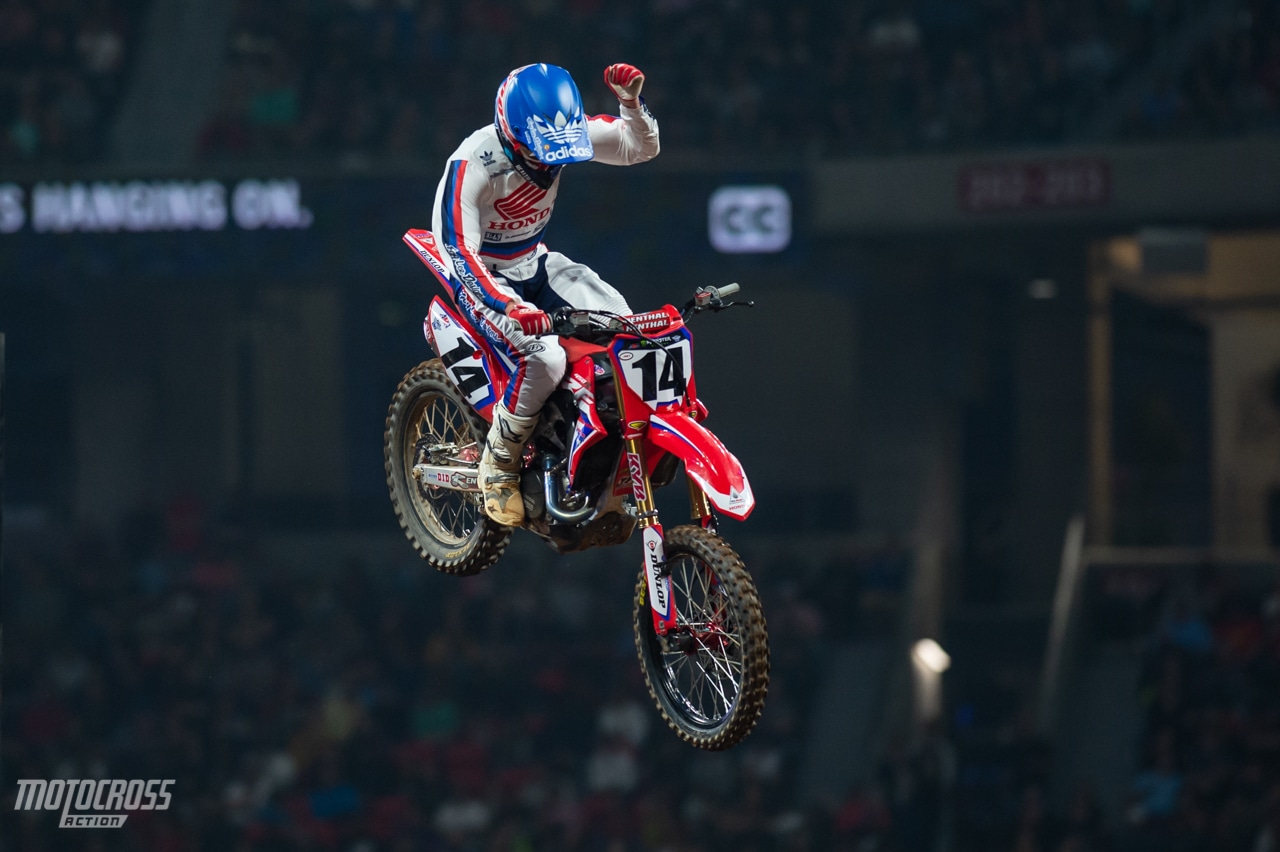 Cole Seely: "There are a lot of positives to take away from today. The heat race went really well. I got off to a good start and was able to make some quick moves to get by everyone early. I really tried to focus on hitting my marks because the track was tricky and I felt that it was really going to come down to who made the least mistakes. I tried to take some mental notes for the main event. Lining up for the main event, I was having a hard time getting amped up to race. I don't know if it was nerves because this weekend marked a year since my injury, but normally I can channel that and feed off it. Tonight though, I just felt flat in the beginning of the race. I didn't get the best start after coming together with Dean [Wilson] and then my first two laps were just terrible. I made a ton of mistakes and was almost fighting myself. When I came around and saw P-19 on the pit board, I knew I had to make something happen and really set the top 10 as my goal. I started to put together solid laps and was matching times for a lot of the guys toward the front, so I just focused forward and kept making as many passes as I could. I just ran out of time and guys to pass when I got into 10th, but I was happy because normally I run out of steam toward the end and I think tonight I really maintained until the end. I need to just figure out the first part and once I'm able to put all the pieces together, I know I'm going to have a really solid weekend."
Aaron Plessinger: "Atlanta supercross was pretty awesome! I was struggling in the first practices a little bit, but we made a little shock change and it was definitely for the better. I qualified thirteenth and went into the heat race with a pretty good gate pick. I came out pretty bad on the start, but I made it work and was able to come back to fifth. Then the main event, I lined up in a pretty good spot and yanked a really good start. I was running fourth for a while and crashed right in the sand, then got up in fifth and stayed there. We made a lot of steps in the right direction. I'm really, really excited about tonight and looking forward to Daytona next weekend!"
Dylan Ferrandis: "It feels very good to be on the podium this weekend especially after a tough race last year in Atlanta. So I'm definitely happy about this race. I think I rode kind of tight because last year's bad memories were a bit on my mind the whole day. But I made it through healthy this year and was patient during the main event, and was able to make it to the second position. This is a really good feeling!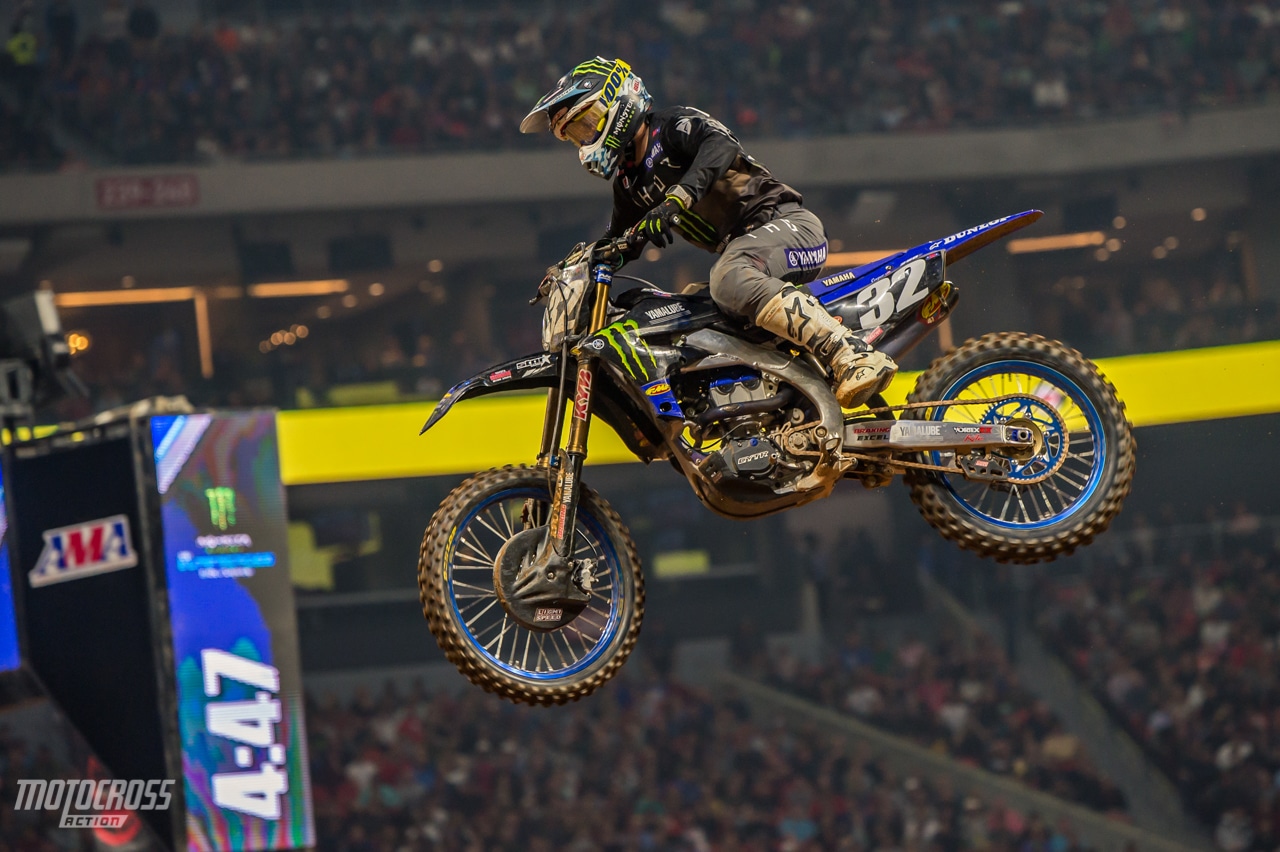 Justin Cooper: "The bike was awesome all day. We didn't play around with the settings much, I felt pretty comfortable all day with the bike. The track conditions were deteriorating every lap out there so it was pretty tough to hit your marks every lap, but all in all I'm very happy with both of my starts tonight, I just didn't get aggressive enough through the first turn. I'm still making little steps forward each weekend and am happy with the progress. It was another solid night with positives to take away. It's time to turn up the heat because we are hungry for more!"
Blake Baggett: "I think it's the track conditions and the sand. It's tough when they put sand in a Supercross event, I'm definitely not for it. You can get a run up to him but then you're going through tear offs so fast you needed to hang back. And then once you've got dirty goggles it was tough to see, you know; you have to pull a tear off and you've got clear vision and you can make another run at it. But [I'm] a little disappointed that I came up that short to be feeling that good at the end of the night."
Adam Cianciarulo: "I learned a lot throughout the day, kept a positive attitude to not let the bad moments of the day get to me. This is the best Pro Circuit bike I've ridden and I think it shows with both Austin and I leading laps. My team never stops pushing for the best and I'm very grateful to give them another win. It's crazy because I never even had two wins in a row and now I have three. It feels great."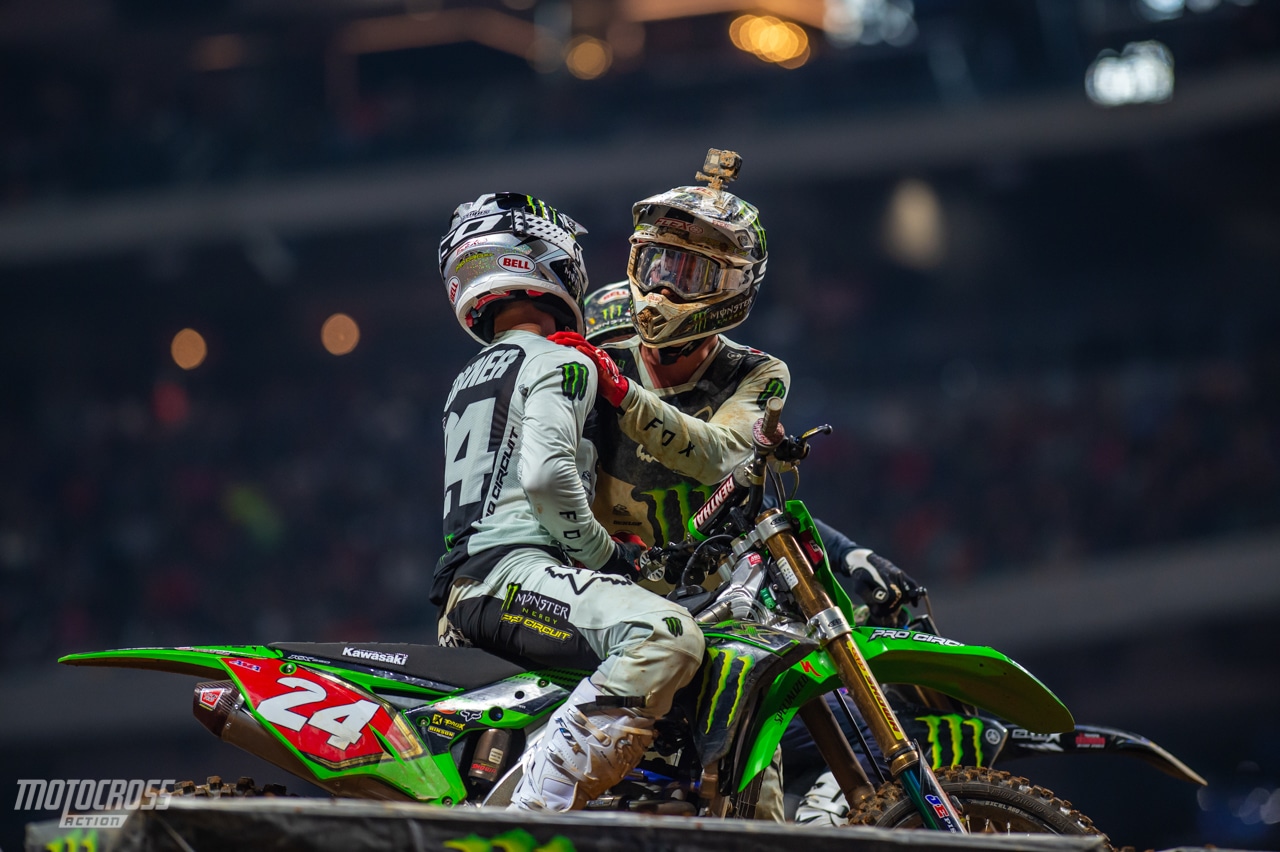 Austin Forkner: "The pace was definitely elevated this race and the track was tough, especially in the main event. I'd struggled with the whoops throughout the day so I wanted to make sure I didn't have a big moment in the main event and made sure I got through there safe each time. The track was pretty soft and broke down a lot so once I got into third, I settled in and – in my mind – won the east coast race."
Dean Wilson: "I think it was a pretty positive day. I qualified third and was riding really well in my heat race. In the Main Event, I kind of didn't get a great start and just pushed all the way through the checkers. Unfortunately, I only ended up with an eighth and that's not where I want to be but I'm just going to keep pushing every week and aim for that podium because I know that's where I can be. I've been through a lot, so I'm happy to just be at every race but the big goal for me is the podium because that's where I really want to be."
Zach Osborne: "Overall, it was a positive day. The result was terrible again but it doesn't really show how well I rode and especially not how I felt. So, we'll just keep fighting and try to make some results here soon. It definitely stinks to have an issue tonight because I felt really good, but it is what it is."
Michael Mosiman: "This is my first repeat venue because this was my first race last year [Atlanta] and now here we are at the East/West Showdown at the same place and man, Atlanta really showed up! The ruts were gnarly and the track broke down quick. I felt okay all day, I had a really big crash this week and it's really just a miracle that I'm here, so I'm just really thankful that I'm here and to be able to race. I hurt some ribs and banged up everything but I ended the night with a ninth-place. I'm not content with ninth-place but all things considered, I am content with that this weekend. We have a lot to build on – I had a good heat and my starts were good."
Cooper Webb: "Atlanta was a great night for me. The Main Event was awesome! I got a holeshot and led from start to finish. I had a lot of pressure from Marvin and also a lot of pressure from Baggett, so it was cool to stay comfortable, stay loose and get another win. The fifth win of the year is incredible and I'm just blessed to be in this position at the halfway point, it's exciting."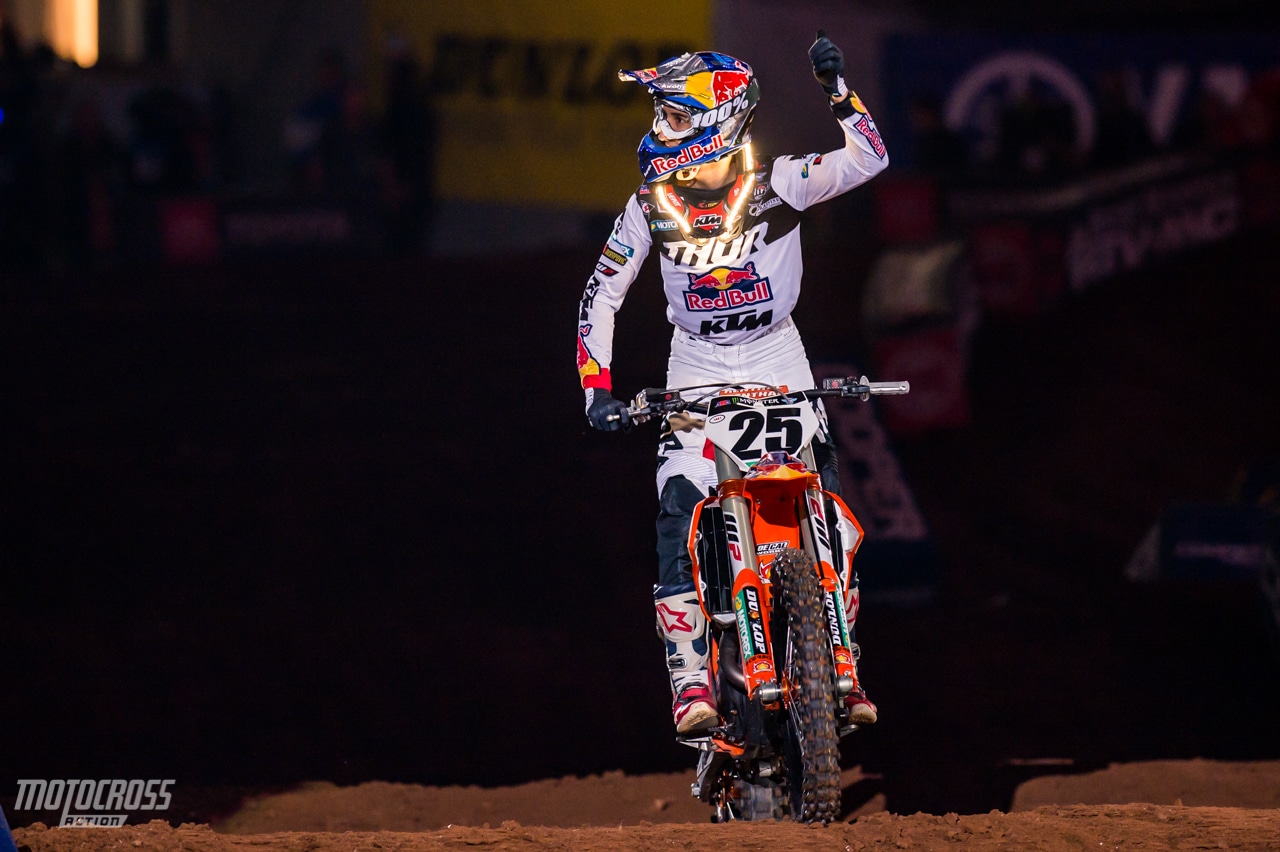 Marvin Musquin: "It felt like it was going to be a better race for me – I had a great start so I was running second, which was good but I was eating a lot of sand in the sand section it was definitely tough. I was pushing really hard – I was better than Cooper in some areas of the track, so I was able to really put pressure on him in some areas but then I would go through the sand and I had to go in the main line because it was the safest and the quickest line but you kind of had to follow. I made a mistake and went off the main line and then Baggett got me. At this point, I just could not make the pass on Blake, even though I showed some really good speed. It's only a third place tonight and I'm not very happy with the result."
DAYTONA SUPERCROSS TRACK LAYOUT
CAN CHAD REED RACE COMPETITIVELY TILL 40?
YOU DO THE MATH! SUBSCRIBE TO MXA & GET A $25 CHAPARRAL GIFT CARD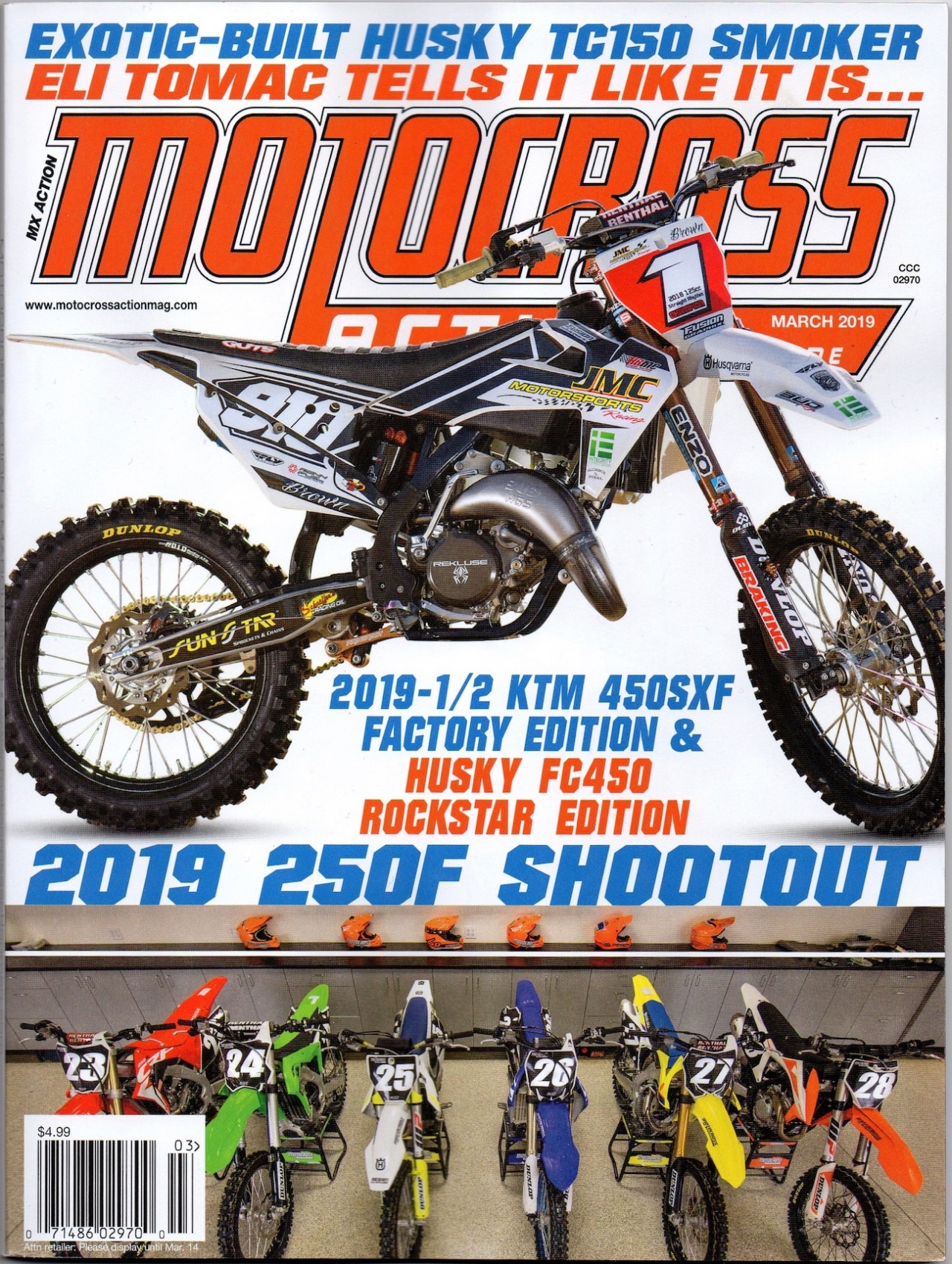 If you subscribed to Motocross Action, you would have already got the March 2019 issue of MXA  in your mailbox, computer or iPhone  by now.
The March issue of MXA is jam-packed with bike tests, product reviews and moto-info. Not only do we have the 2019 MXA 250 Four-Stroke Shootout in this issue, but a 2019 Husqvarna FC350 test, 2019 Yamaha YZ250 two-stroke test,  a retro-test of Chad Reed's 2002 L&M Yamaha YZ450F and a 2019 Honda CRF250 test. Plus, a test of Carson Brown's Straight Rhythm winning Husky TC125 two-stroke and Austin Forkner's 2019 AMA 250 East Supercross KX250 four-stroke. Not to mention an revealing interview with Eli Tomac.
Do you subscribe to MXA? You should. We know that you think that print magazines are dead and that the internet will fill the void, but most of the stuff in the current issue of MXA won't appear on the web for several months, if at all. Luckily, you can get all of MXA on your iPhone, iPad, Kindle or Android by going to the Apple Store, Amazon or Google Play or in a digital version. Even better you can subscribe to Motocross Action and get a $25 Chaparral gift card to spend on whatever motorcycle parts or products you need. You can call (800) 767-0345 or CLICK HERE or click on the box at the bottom of this page.
MXA'S SNAP CHAT FEED
If you are a Snap Chat user then add us to your stories. Get sneak peaks of everything moto. Our Snap Chat name is motocrossaction. Or just take a Snap of the picture above and it will add MXA automatically to your feed.
TALK MOTO WITH MOTO MINDED PEOPLE. JOIN MXA'S FACEBOOK GROUP CHAT

We love everything moto and want to bring all moto junkies together into one place to share their two cents, ideas, photos, bike fixes, bike problems and much more. To check it out first you must need to or already have a Facebook account. If you don't, it isn't much work and you could even have an alias so nobody knows it is you. To join click HERE. After you request to join we will accept your request shortly after.
WHAT THE MXA WRECKING CREW IS UP TO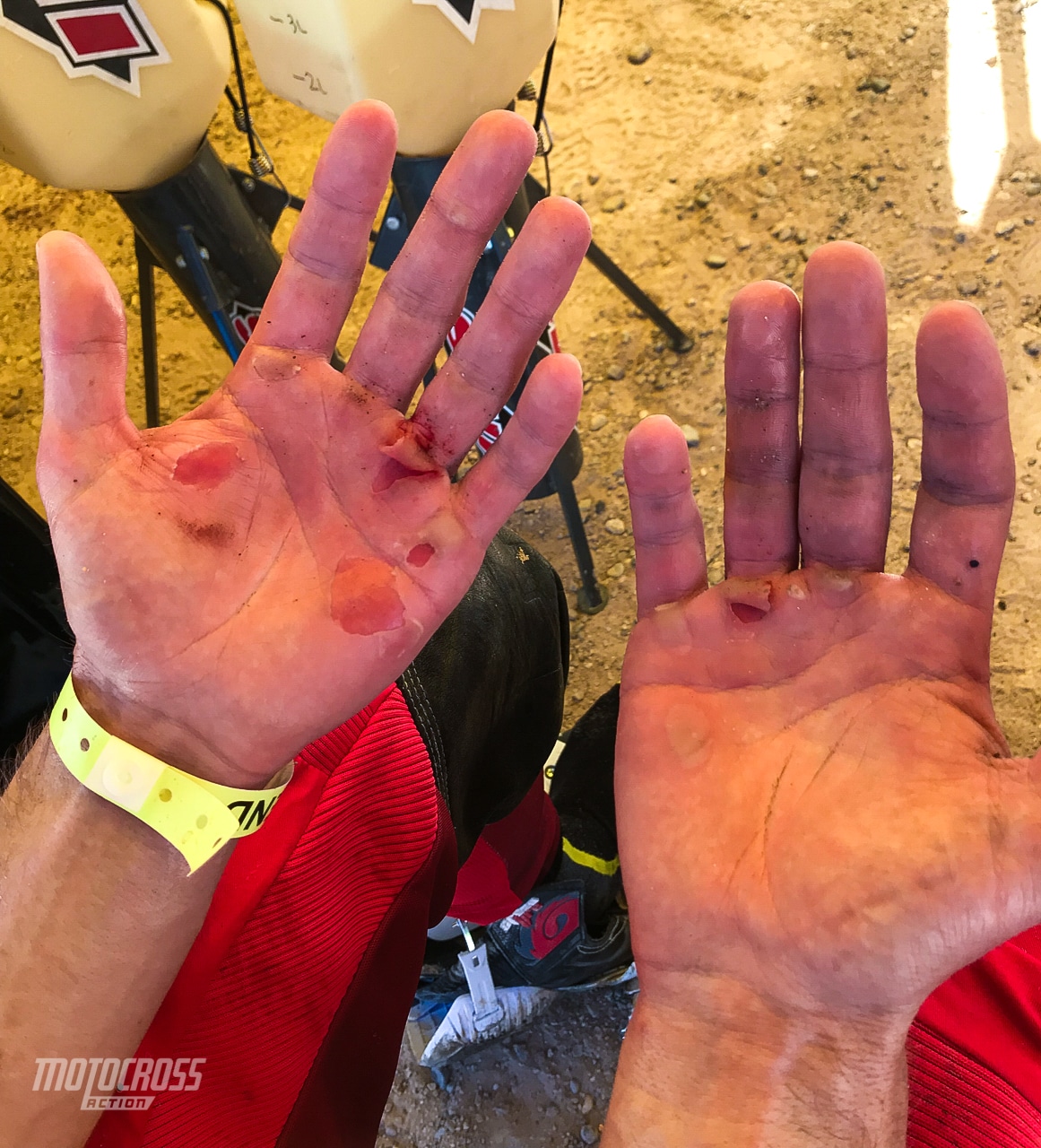 MXA's assistant editor, Josh Mosiman was a factory Husqvarna off-road rider for a day up in Lake Havasu, Arizona, for the WORCS race. He raced the 450 Pro class and finished a respectable 8th place. He is one tough dude as some as his fastest lap times were at the end of the race with hands looking like this.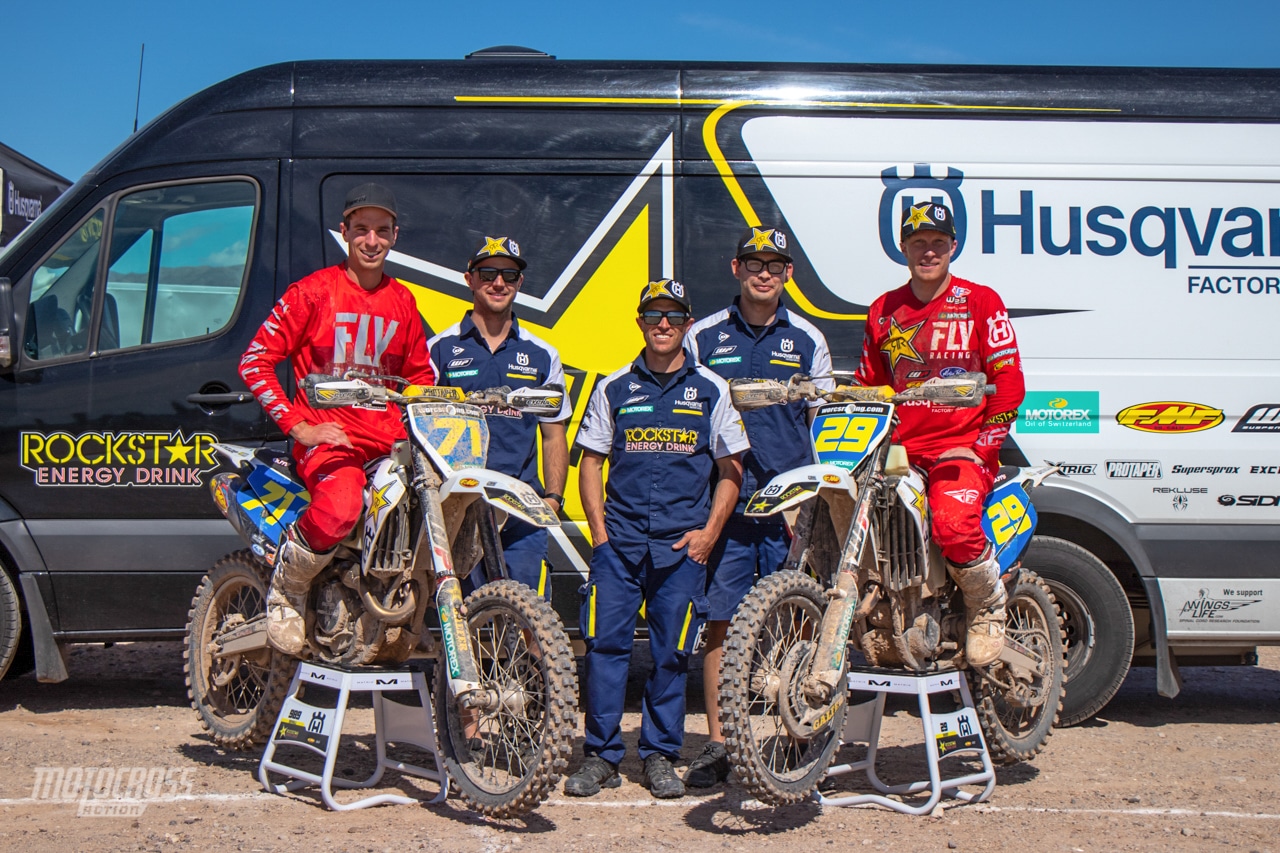 Husky team manager, Timmy Weigand got Josh the bike to race. Josh was teammates for a day with Andrew Short who finished third overall in the race.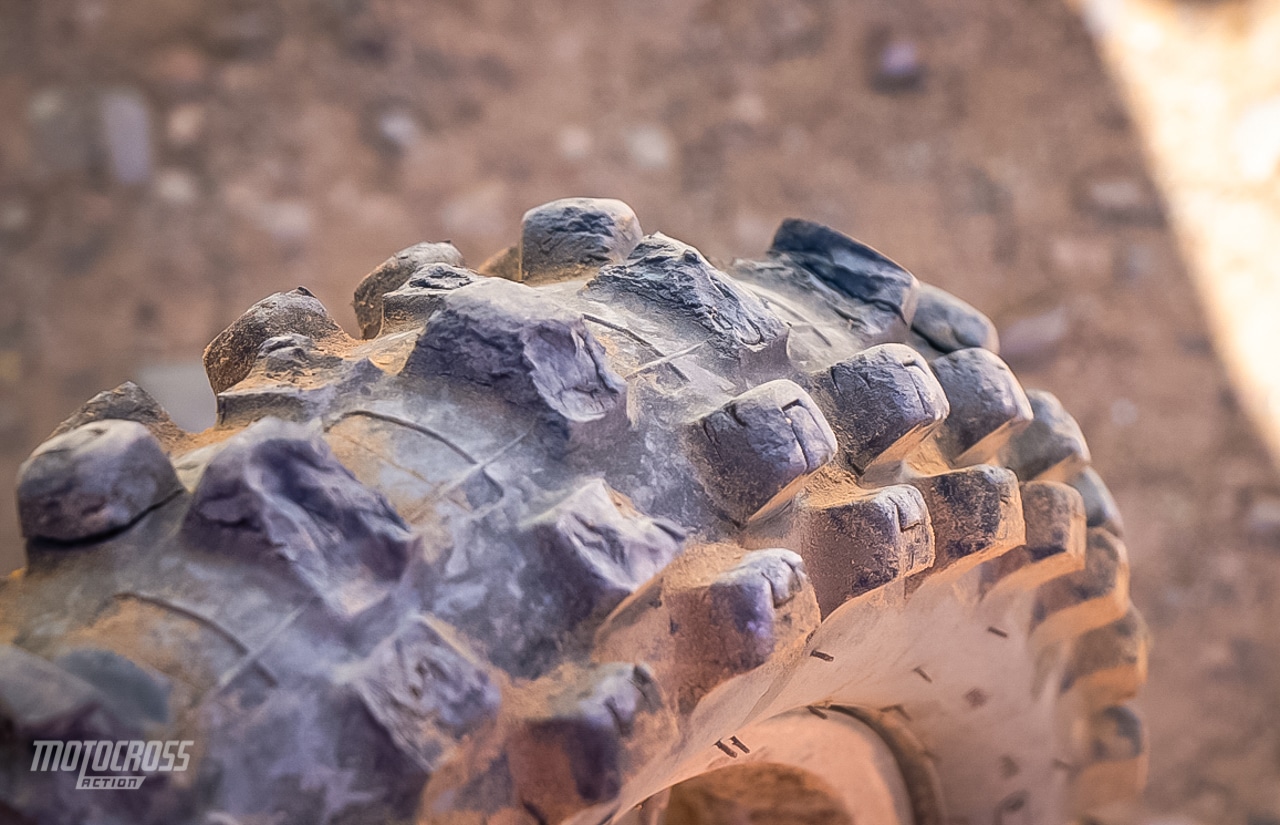 For all those motocrossers out there that think motocross is easier than off-road racing. Think again. Here is Josh's rear Dunlop MX33 tire after the race.
LAKE HAVASU WORCS RESULTS: 450 PRO
1. Taylor Robert (KTM)…1:59:13
2. Dante Oliveira (KTM)…2:00:44
3. Andrew Short (Hus)…2:01:46
4. Gary Sutherlin (KTM)…2:02:10
5. Ricky Dietrich (Hon)…1:59:59
6. Cole Shondeck (Hon)…2:01:15
7. Michael Del Fante (Kaw)…2:01:32.7
8. Josh Mosiman (Hus)…2:03:32.9
9. Travis Damon (Hon)…2:03:38
10. Dalton Shirey (Hus)…2:03:49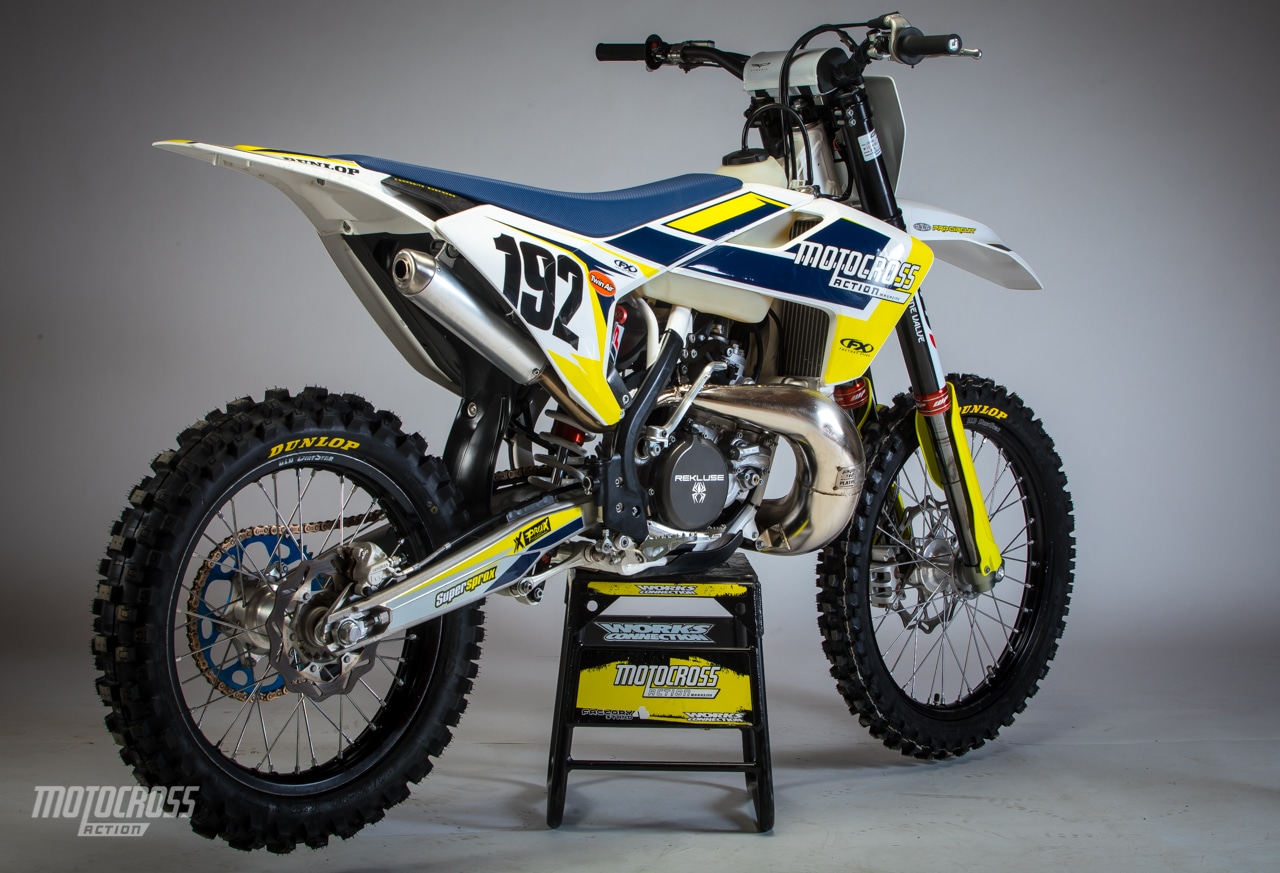 Meanwhile, the MXA wrecking crew took advantage of a small break in the consistent SoCal rains to take Jody's recently finished 2019 Husqvarna fuel-injected TE300i to Milestone Raceway for its break-in ride. It was reconfigured as a motocross bike — and nice guy that he is, Jody promised AMA Hall of Famer and factory Husqvarna racer Lars Larsson that he would get to be the first person to race it.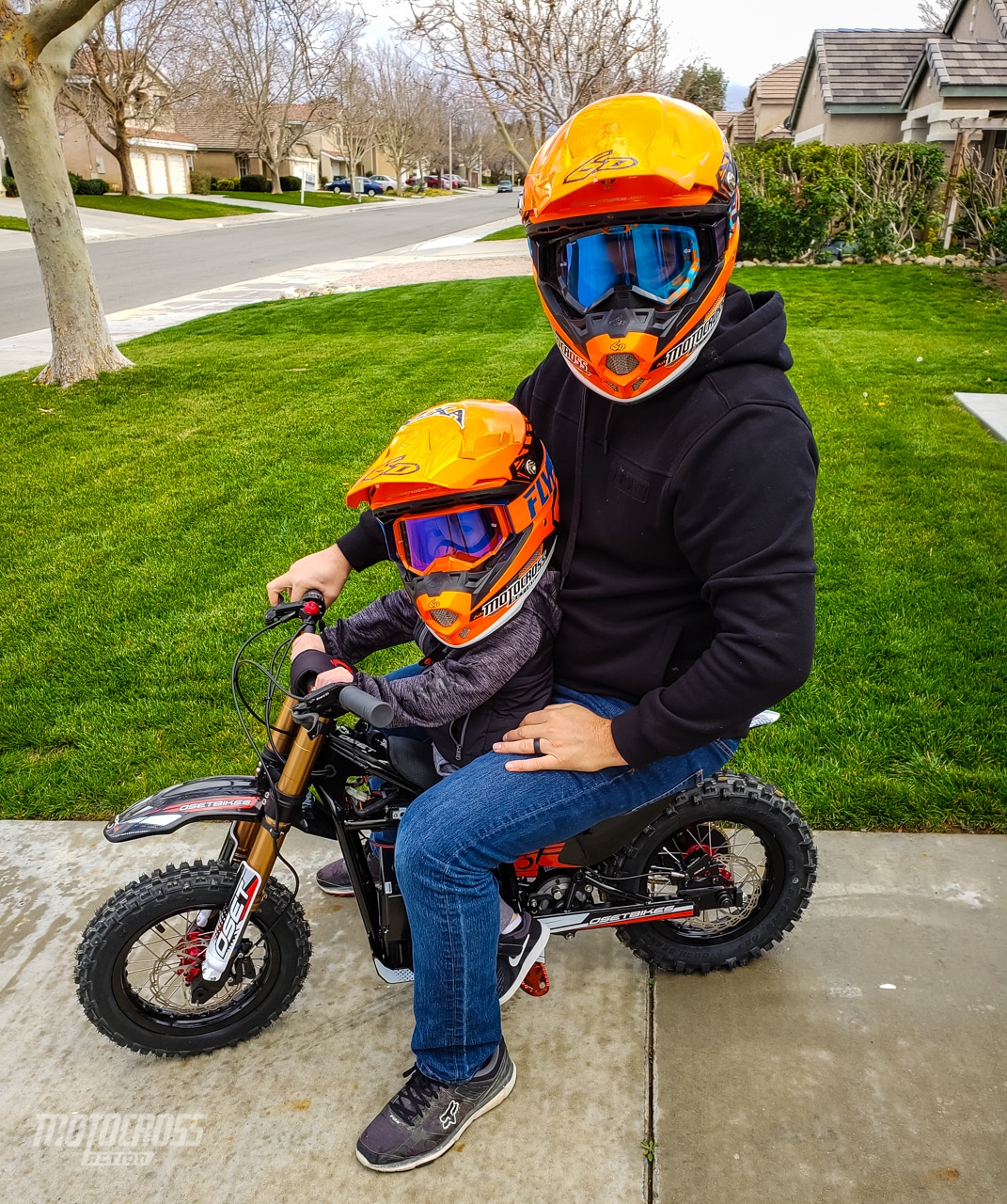 MXA's Managing Editor, Daryl Ecklund and his son Caselli are testing the new Oset MX10 electric dirt bike. This thing rips! The best thing about it is that you can adjust the power and tailor the seat height for the user.  It is quiet enough for backyard use—assuming that Daryl ever lets Caselli get a turn.

FIRST IMPRESSION HUSQVARNA FC450 ROCKSTAR EDITION
CLASSIC PHOTO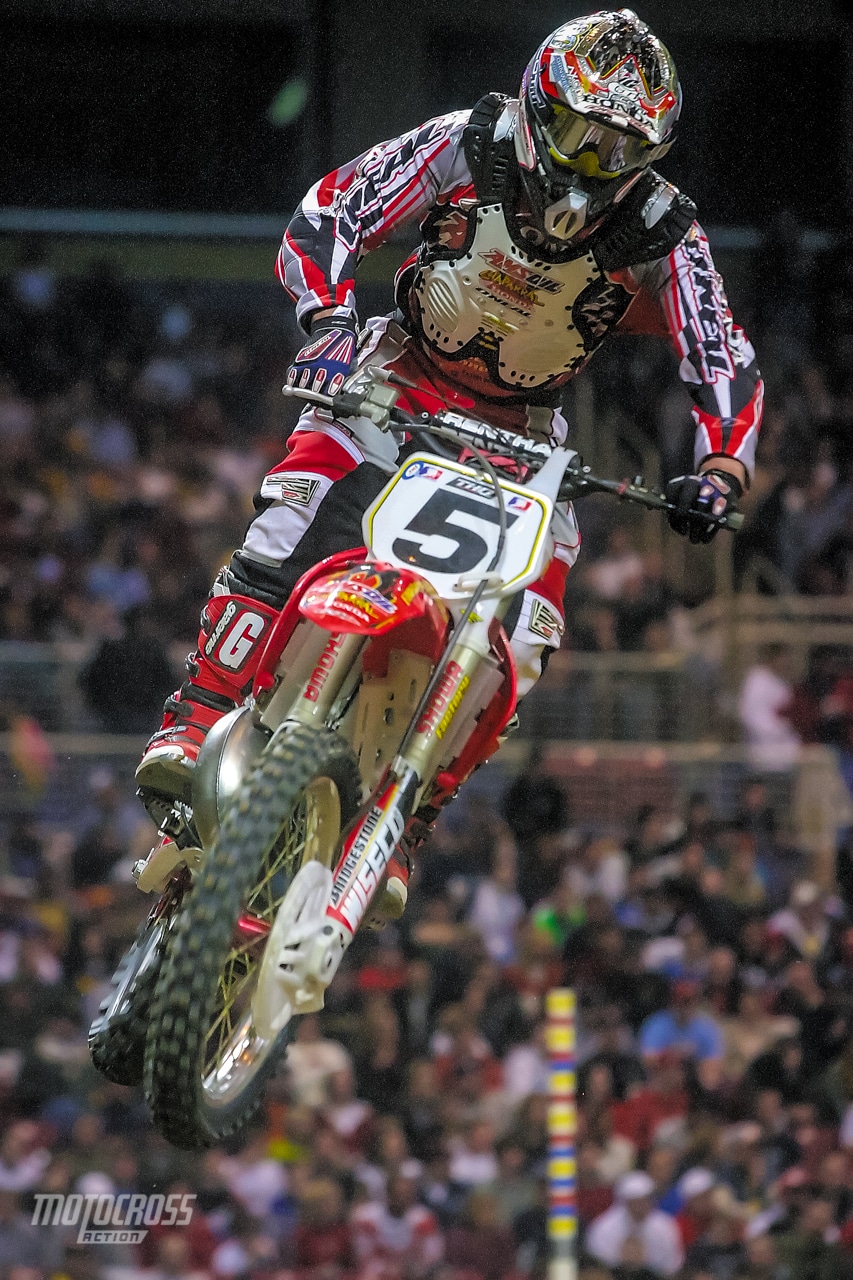 Mike LaRocco from back in 2005. 
---
Moto Trivia answer: Mike Beier who now owns Asterisk knee braces.