MOTOCROSS ACTION MID-WEEK REPORT
#WHIPITWEDNESDAY
Rider: Chad Reed
Bike: 2019 JGR Factory Suzuki RM-Z450
Location: Indianpolis, Indiana Supercross
Photographer: Brian Converse
TWO-STROKE SPOTLIGHT: MATT WELLER'S 1997 HONDA CR125 PROJECT BIKE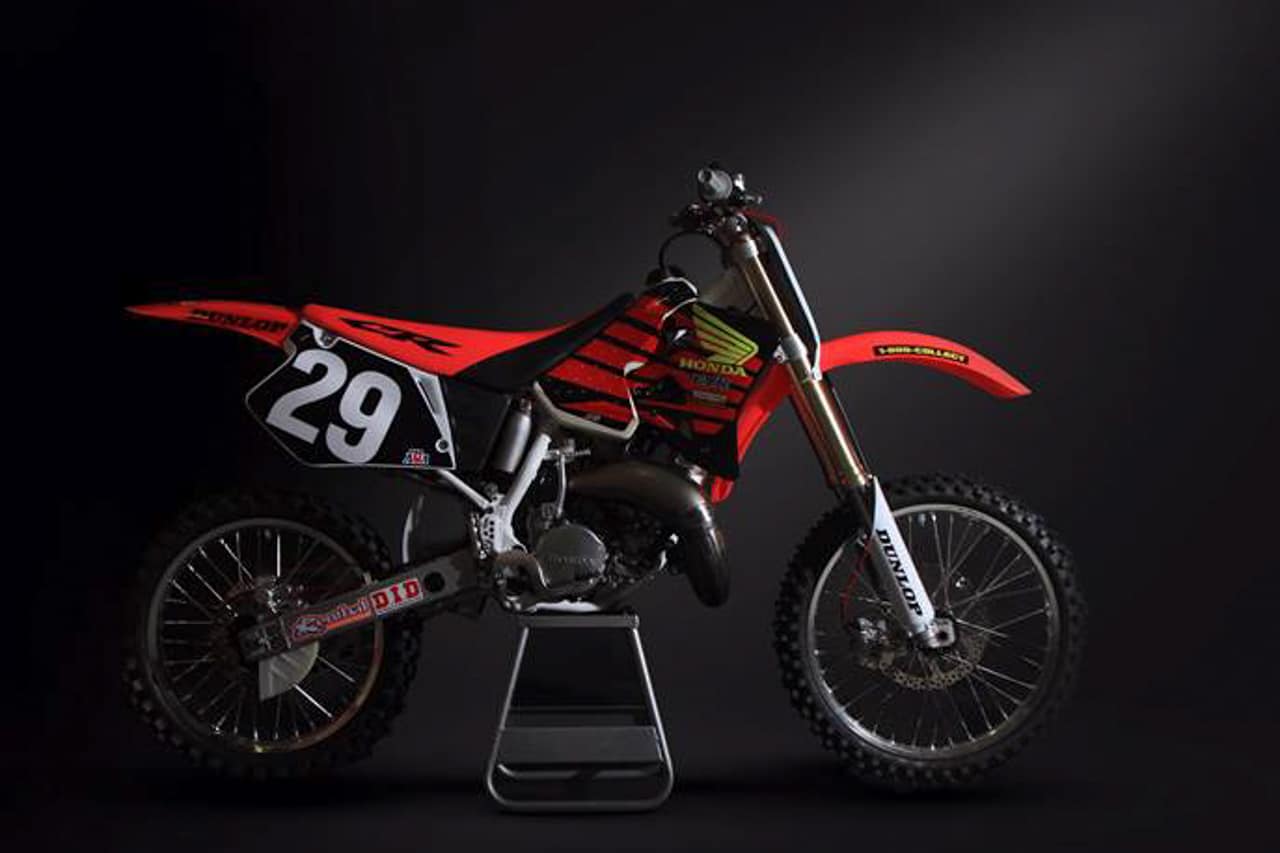 I wanted to pass along another one of my project bikes. (he also has a 1994 RM250 and a 1992 Bradshaw replica YZ250) This one is a 1997 Honda CR125 modeled after Scott Sheak's factory Honda. When I purchased the bike it had been completely disassembled and was also missing the engine. A few phone calls later I had an engine ordered and the build was on. The frame and hubs were sent to Curry Custom Coatings to be sandblasted and powder coated, and all other metal components were sent to KE3 Restoration to be Vapor Blasted before being assembled. Unbounded Designs was able to create the custom graphics from a couple of pictures I found out of an old MXA mag. I think the before and after pictures speak for themselves.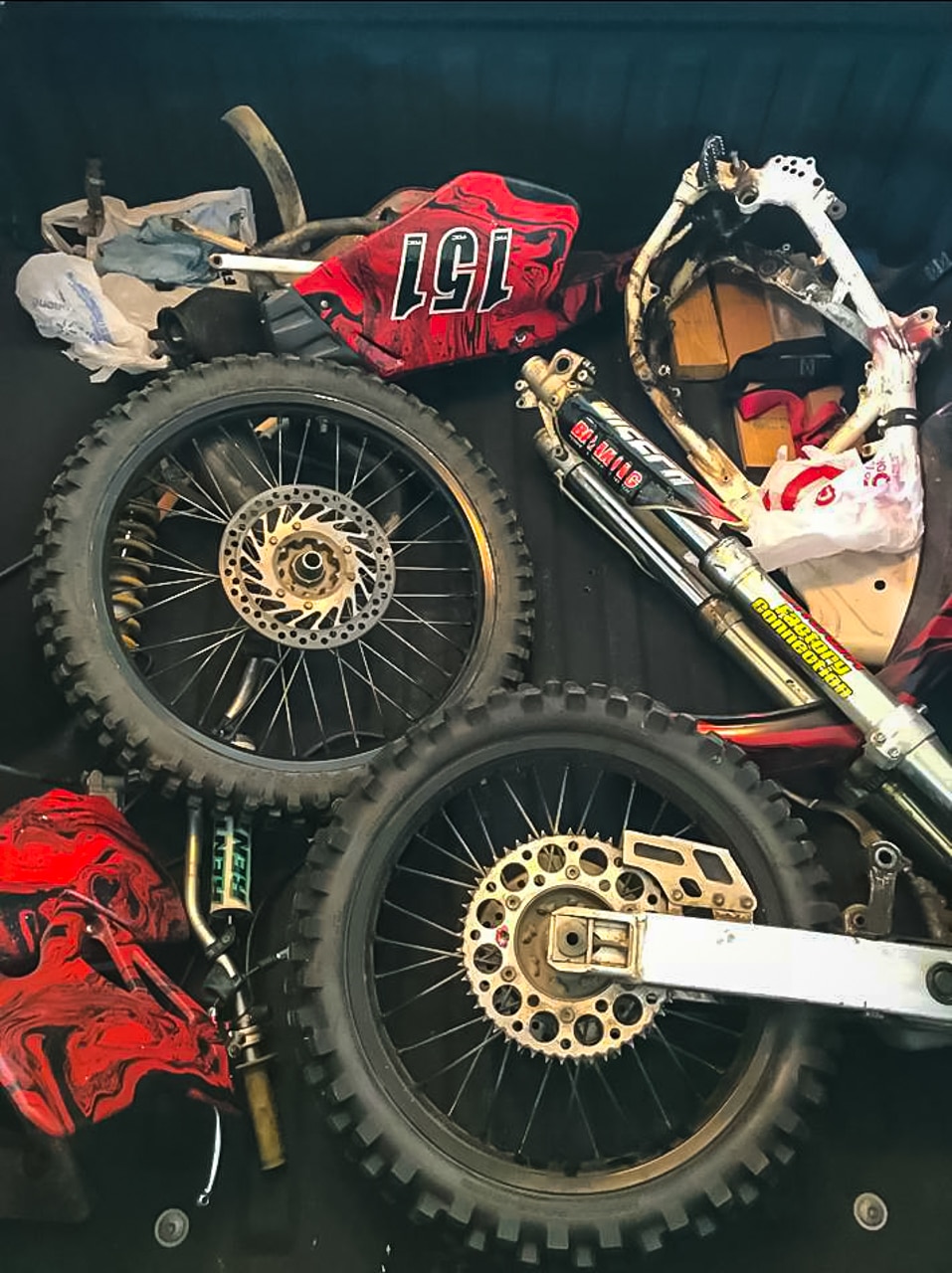 Before the restoration. 
This build can be seen from start to finish on Instagram @mweller572 using #projectironsheak
Photo Credit- Micah Thompson @gr82kr8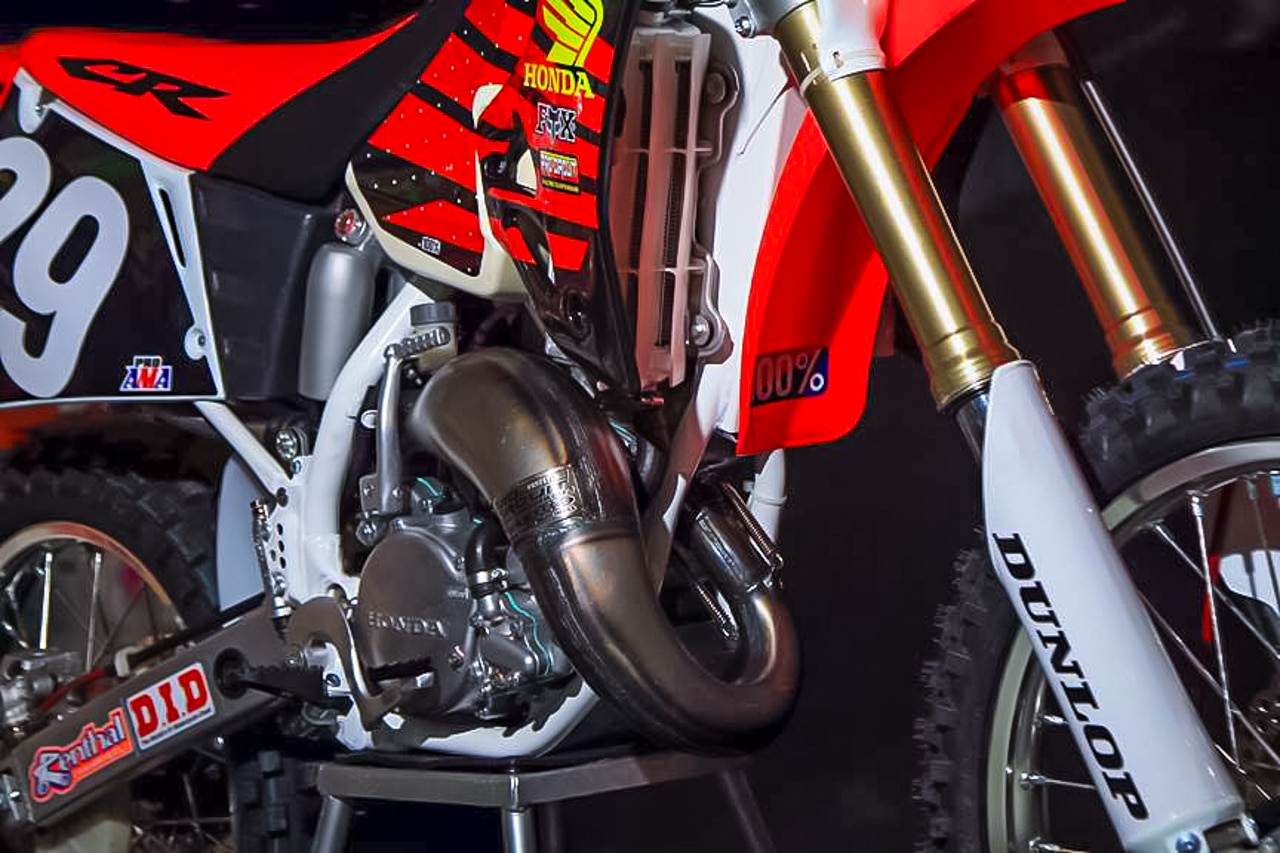 This build would not have been possible without the help from some amazing companies.
All Balls Racing
All chassis bearings, seals & cables
Curry Custom Coatings
Powder Coating and Cerakoting
KE3 Restoration
Vapor Blasting
Garvis Honda
OEM Parts
Moto Tassinari
V Force Reed Cage
Pro Circuit
Pipe and Silencer
Pro Wheel Racing
Rims/Spokes
Race Pace Performance
Fork and shock service
Rocky Mountain MC
Misc hardparts,
Renthal
Chain, Bars, Grips
UFO Plastic USA
Plastic
Unbounded Designs
Graphics
Vertex Pistons
Piston
Thanks,
Matt Weller
Editors Note: Please keep those submissions coming. If you would like your bike to be featured in the "Two-Stroke Spotlight," please email me at [email protected]. All I ask is that you give a breakdown of your bike and a detailed description of the build. Please also send a few photos of your steed. By submitting your bike for the "Two-Stroke Spotlight," you agree to release all ownership rights to the images and copy to MXA. Please don't email me spam or try selling me Taylor Swift concert tickets or email me spam. Happy submitting your smoker.
MOTO | TRIVIA
Who is this rider?
EMIG PRO RIDE DAY | PALA RACEWAY
ODI Grips invited us out to Fox Raceway last Saturday for their Emig Pro Ride Day to celebrate the release of their new Emig Pro V2 Lock-On Grips. It was a normal public ride day with benefits. Because 47 is Jeff's number, ODI gave a free pair of the new grips to the first 47 riders that showed up to the track. They also gave $10 off coupons to the first 247 riders who pulled in the gate. We sent our Assistant Editor Josh Mosiman out to Fox Raceway to spin some laps with the ODI crew and try out the new grips. They fed him lunch and put some fresh grips on our 2019 YZ250F. So far Josh likes them.  We're going to continue to put some time in on the new Emig Pro V2 lock-on grips. Look for a full test of the new grips in an upcoming issue of the magazine.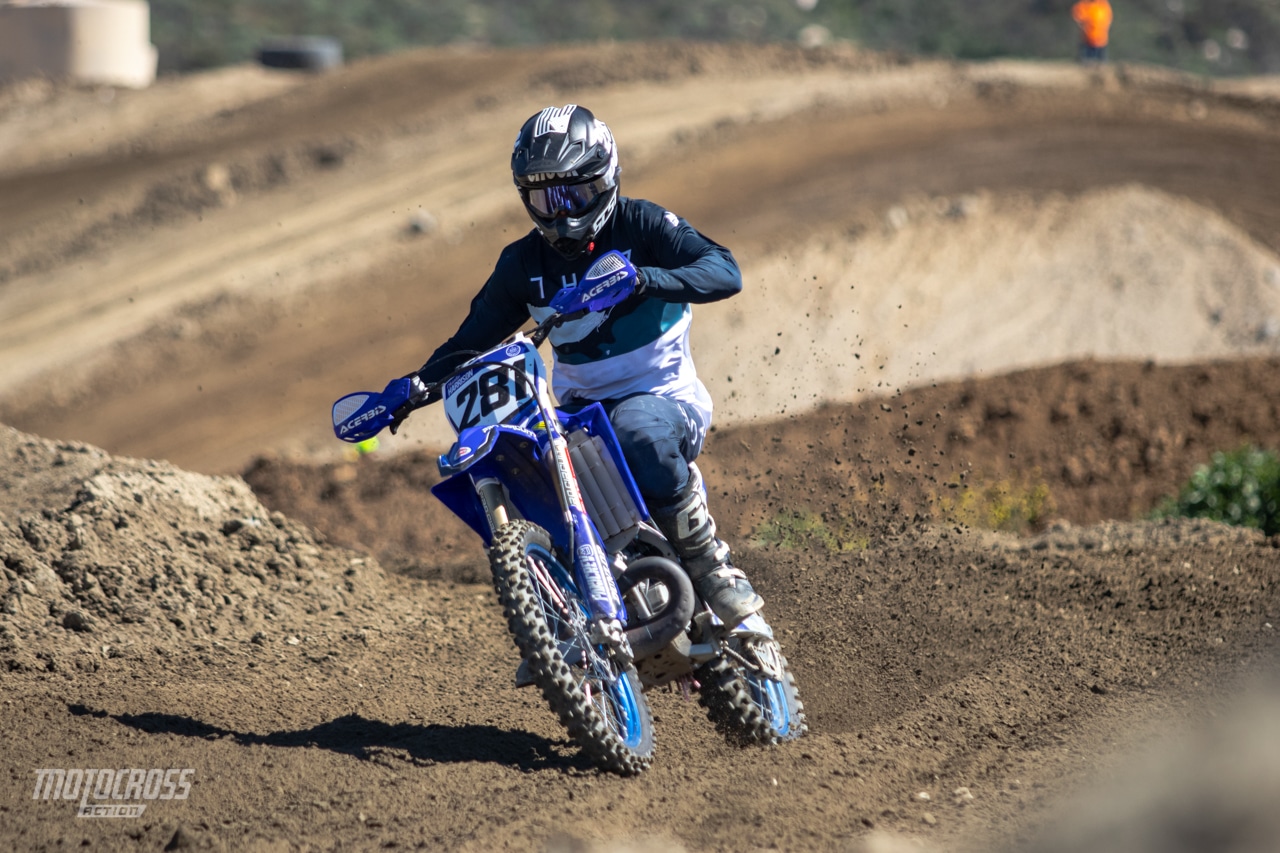 Charlie Harrison #281 is a professional World Cup Downhill Mountain bike racer and he rides for the Trek Factory Racing team. Like many top mountain bike racers, Charlie is also fast on his Yamaha YZ250.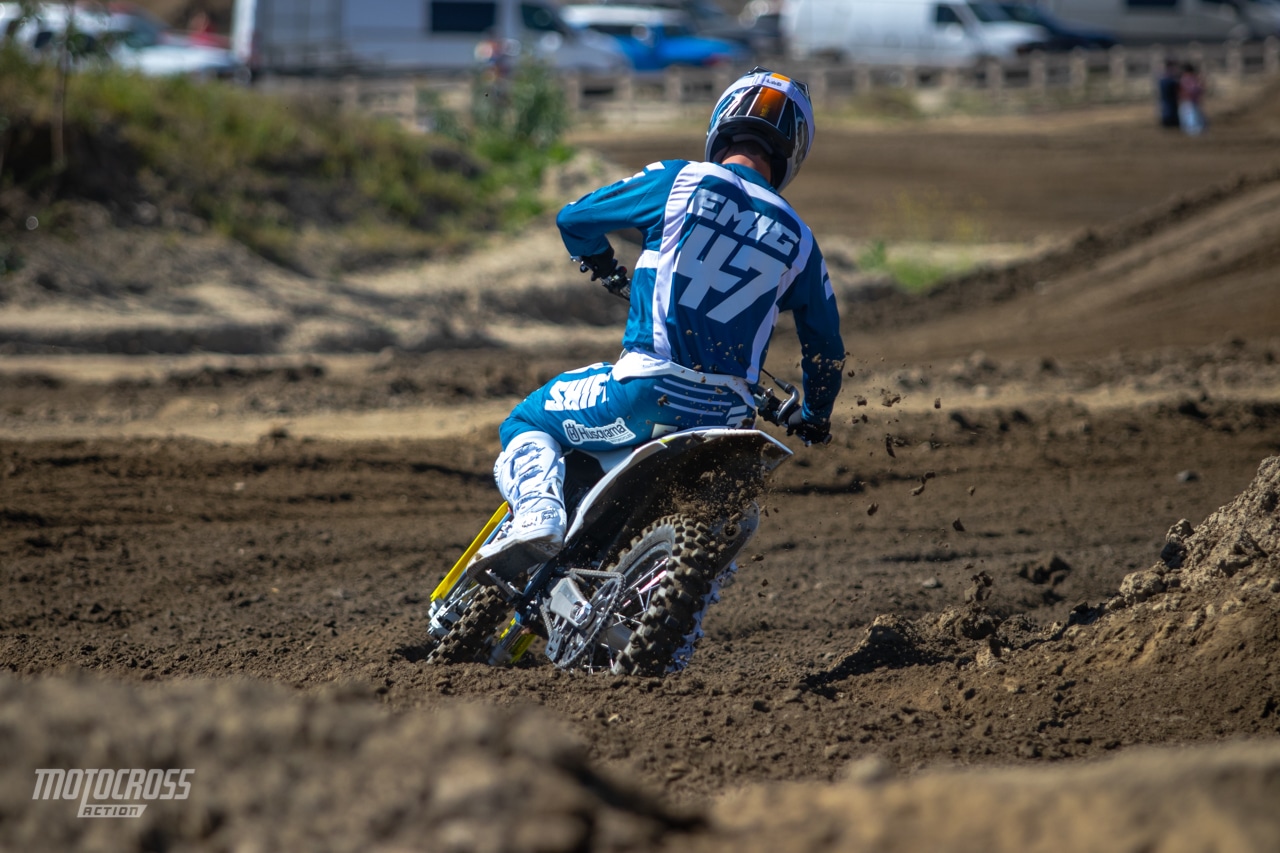 Jeff Emig was at the track all day and he put some laps in on his Husqvarna TC125. After watching his friend Jeff Northrop send it off of the big single over table-top, Emig went for it too.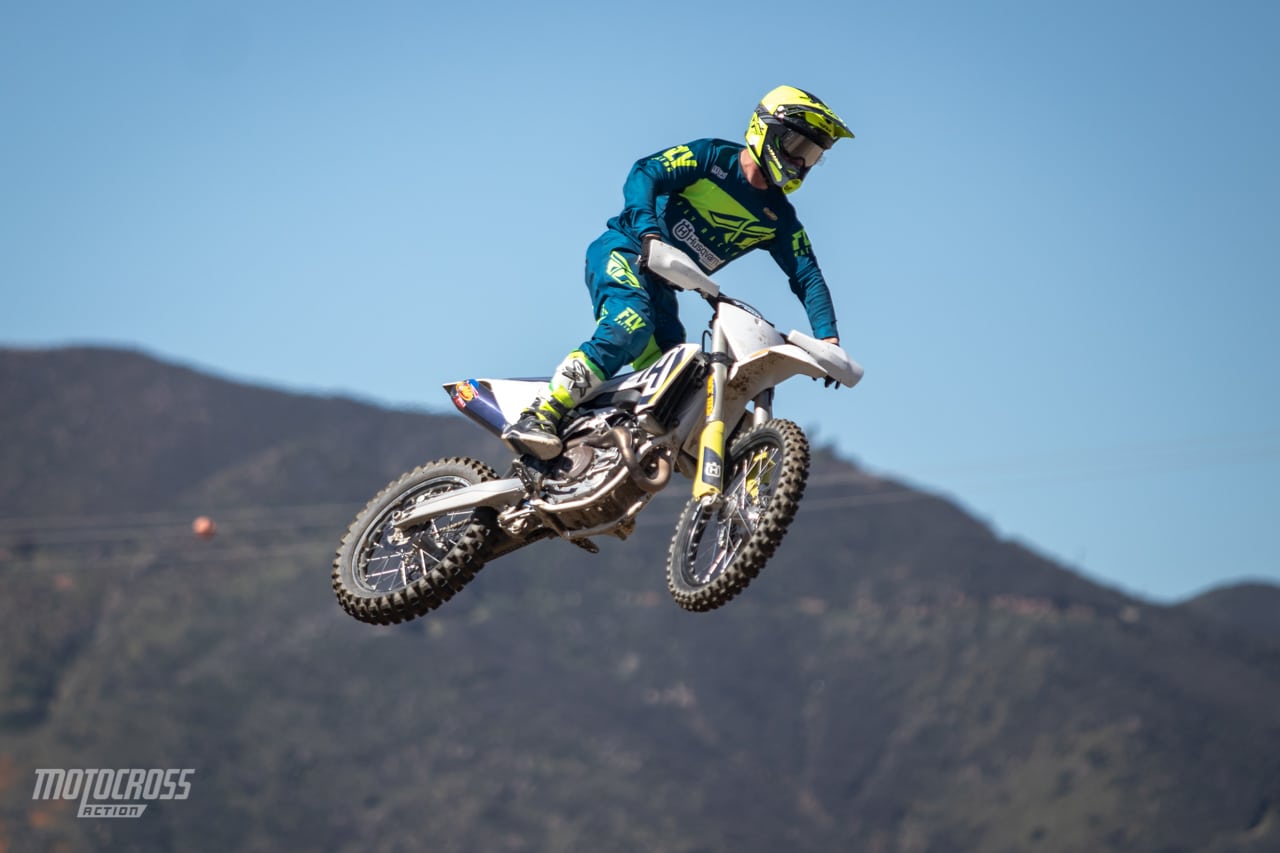 Former Supercross and motocross racer Jeff Northrop, nicknamed "Norcal" was enjoying the big jumps that the new track at Fox raceway has to offer. Jeff now works for WPS as their Fly Sales manager.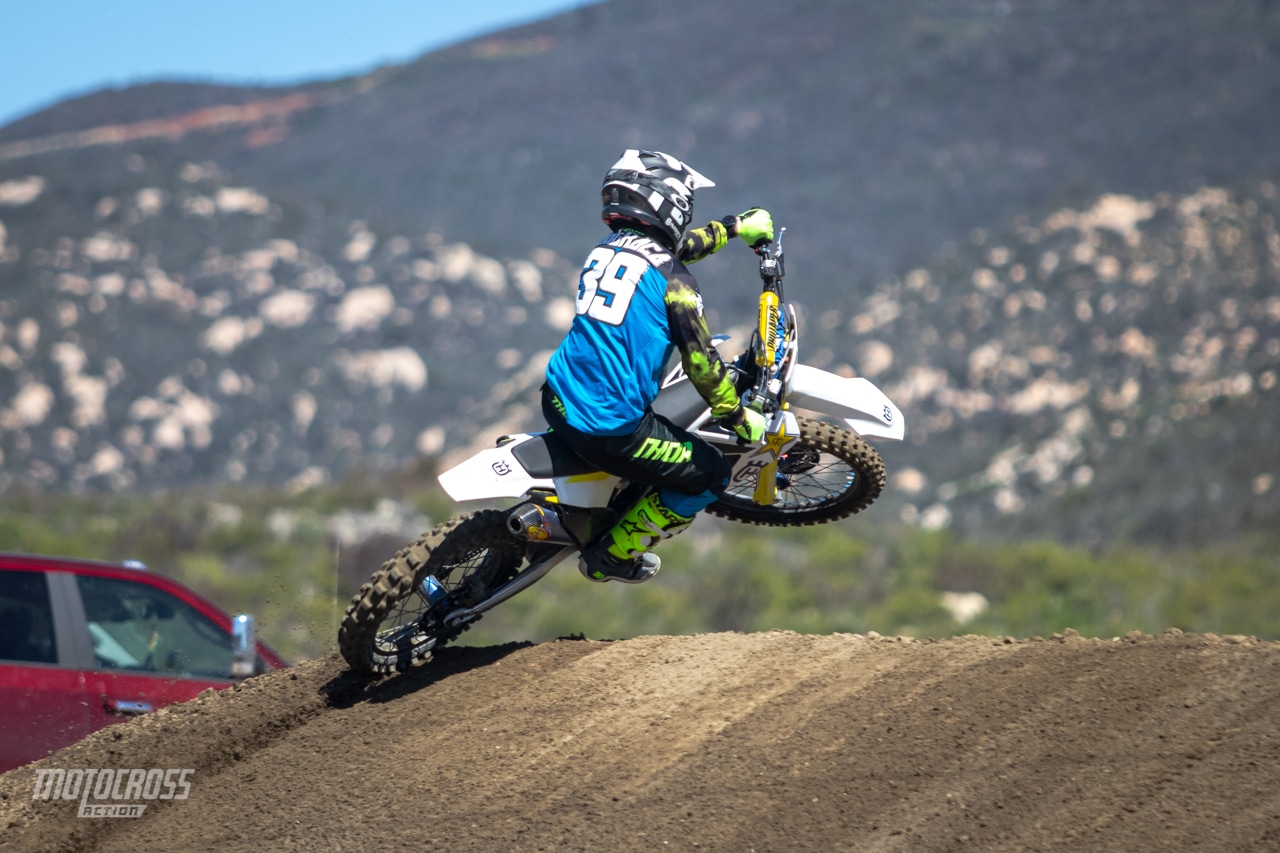 Husqvarna's media specialist Anthony Da Graca was throwing down some scrubs on Saturday, proving that media guys can have style on the track too.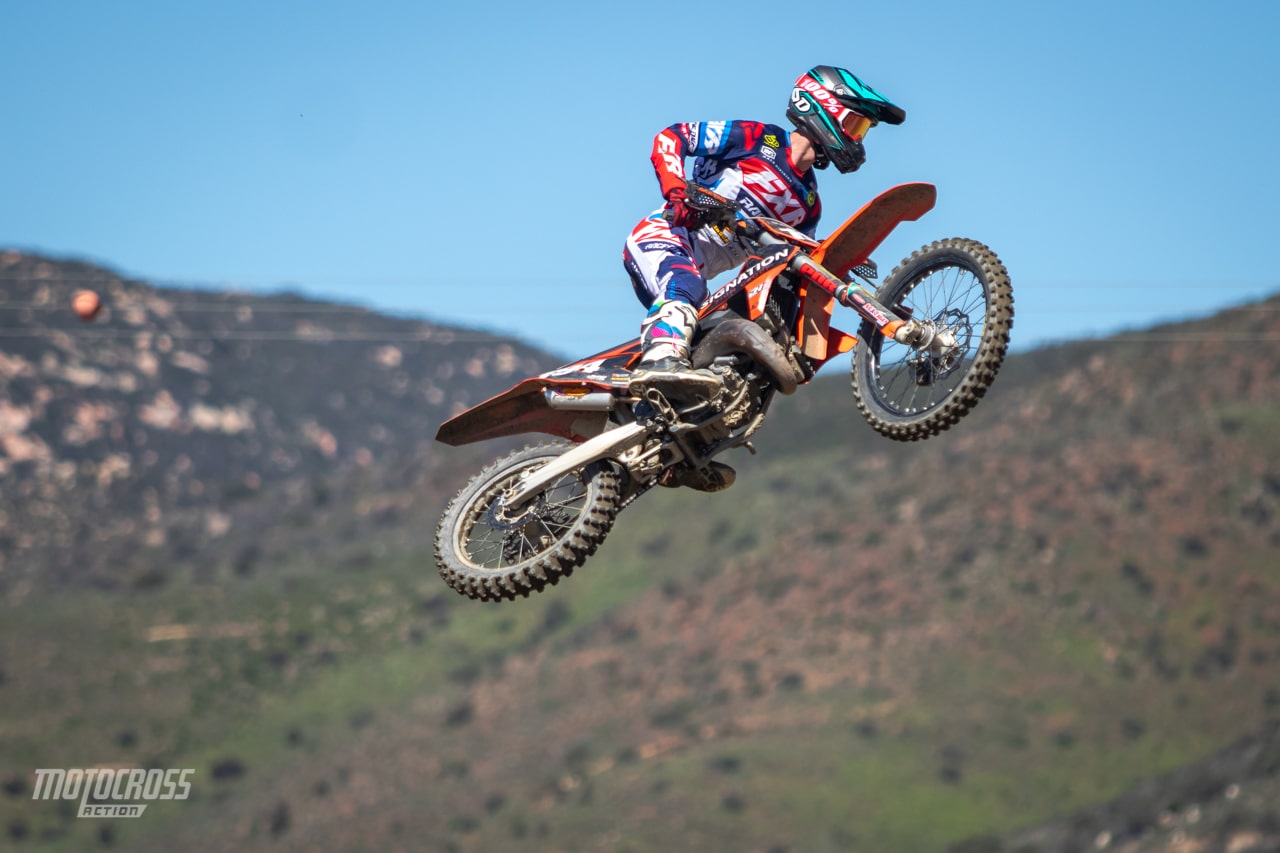 Current Supercross racer and MXA test rider, Jerry Robin was sending it on his KTM 125. He looked like he was having a blast.
MILLENNIUM TECH M-SPEC CYLINDERS & BIG BORE KITS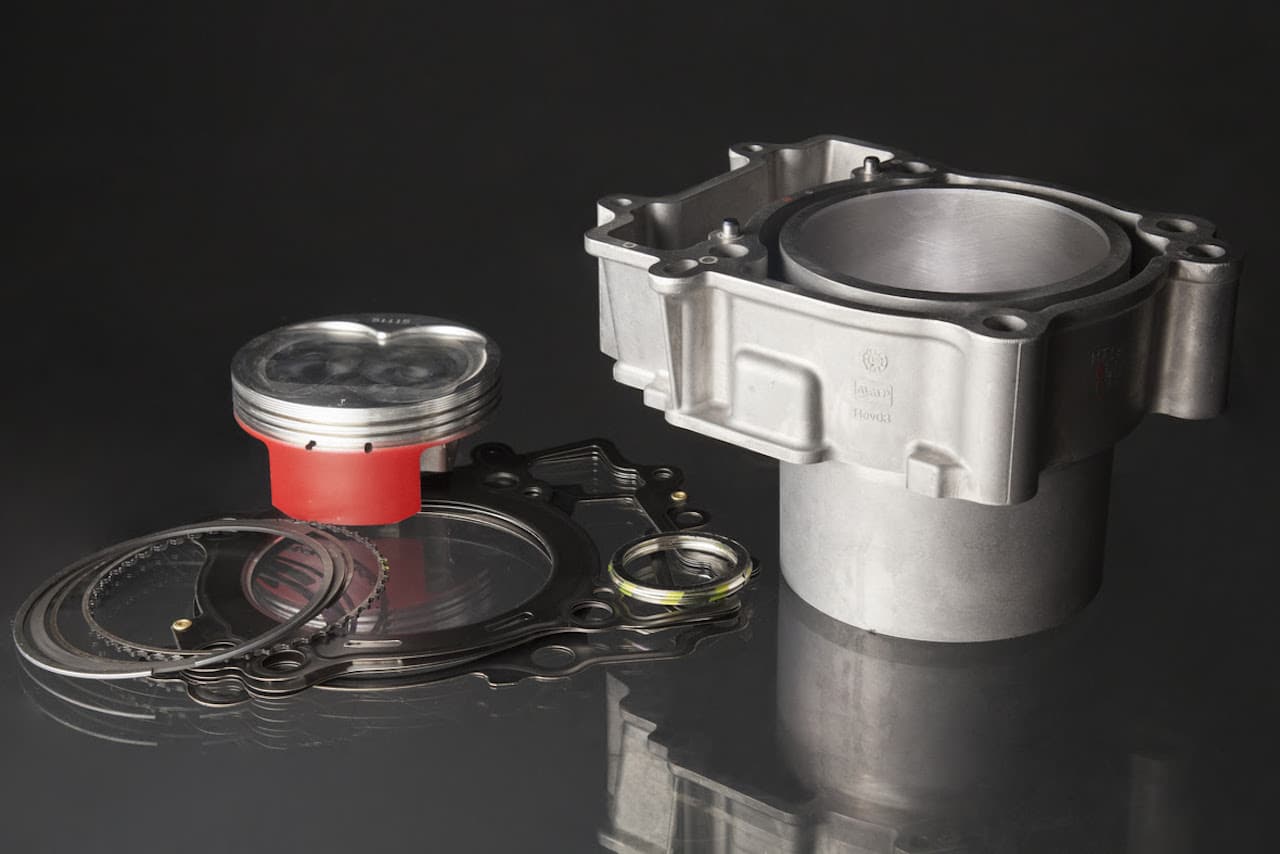 Press Release: Millennium Technologies has new M-Spec Cylinder and Cylinder Kits in stock! For over 20 years, Millennium Technologies has been the leader in servicing OEM cylinders with our proprietary Nickel Silicon Carbide Plating process and associated repair and overbore cylinder services. Now we can offer our customers and dealers a new cylinder option for most popular Off-Road, MX, ATV, and UTV applications.
The new M-Spec Cylinders are available as standard bore OEM replacement cylinder or as a cylinder kit. The cylinder kits are available in standard bore and big bore sizes. Each kit comes with a perfectly matched, high performance forged piston kit and gasket kit.
Custom kits, Service Kits based on your OEM Cylinder, Remanufactured Cylinders, and M-Spec CNC Head Porting and Cylinder Head Services are also available.
New Cylinders and Cylinder Kits are available for many models. Click here to see if they make one for your bike.
FORGOTTEN BIKES: VOR 503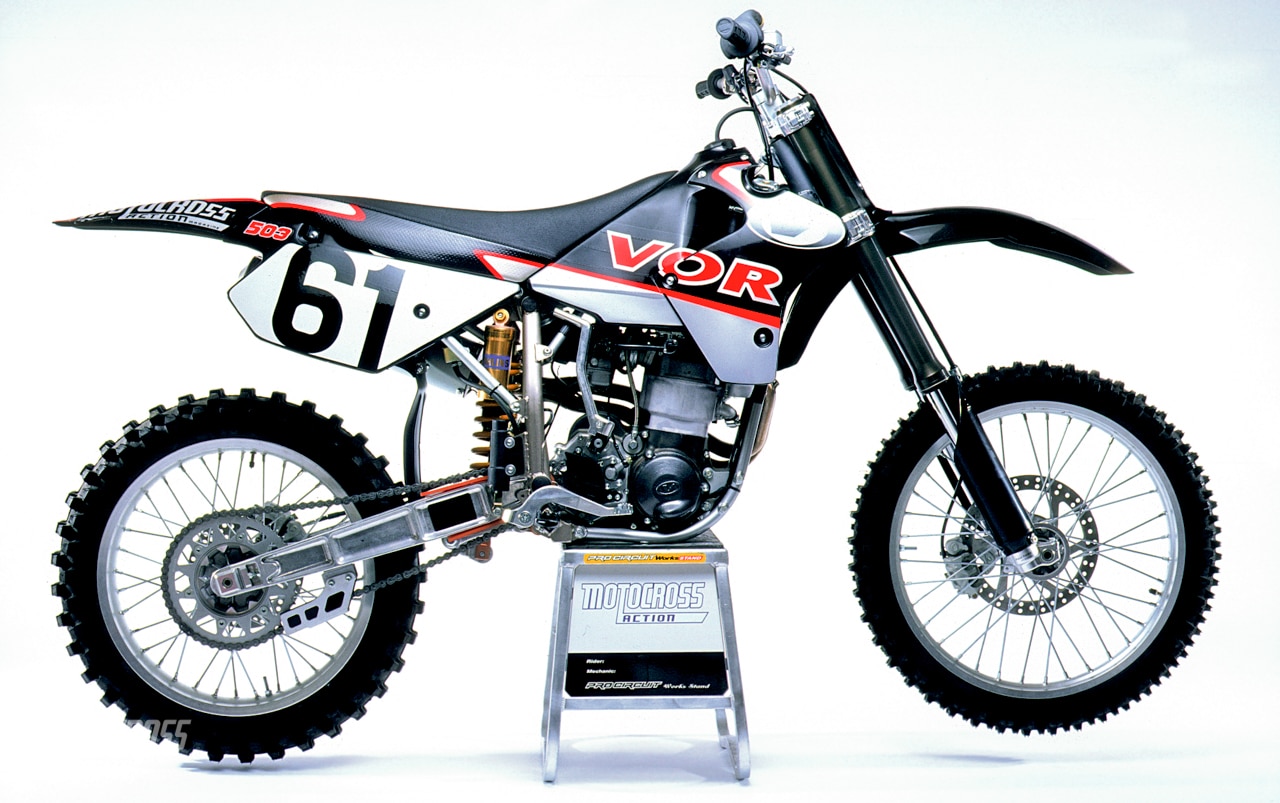 NEW PRODUCT: BOYESEN WORKS BILLET FACTORY RACING CLUTCH COVERS

Boyesen WORKS BILLET Factory Racing Clutch Covers
Retail Price: $189.95 USD.
Availability: www.boyesen.com
THE BOYESEN ADVANTAGE
» Gives your bike the modern Factory Racing Works look.
» Precision machined from billet T-6 aircraft quality aluminum to aerospace tolerances.
» Super-tough, proprietary hard coat for extreme boot-wear resistance and scratch proof surface durability.
» Seals perfectly to keep out dirt and moisture.
RETAIL PRICE:
The manufacturer's suggested retail price of Boyesen's new WORKS BILLET Factory Racing Clutch Covers starts at $189.95 (USD).
RAW INDY SUPERCROSS FOOTAGE
MXA YOUTUBE CHANNEL | HIT THAT SUBSCRIBE BUTTON


The MXA wrecking crew is everything moto related. Check out our MXA YouTube channel for bike reviews, Supercross coverage, rider interviews and much more. And don't forgot to hit that subscribe button. 
THEY SAID IT | 2019 INDIANAPOLIS SUPERCROSS
Chad Reed: "The goal was to put together a more complete weekend. I was competitive in qualifying practice and possibly rode my best main of the season. As a team we made great progress throughout the weekend. Unfortunately, I had a crash on the opening lap of the main event and I was charging back from 22nd place. Still, I was happy with my pace for the race. Starts are frustrating. I feel like a golfer going through a bad swing cycle. I was awesome all off-season with my starts, and now find myself frustrated with my starts. I will continue working on this area."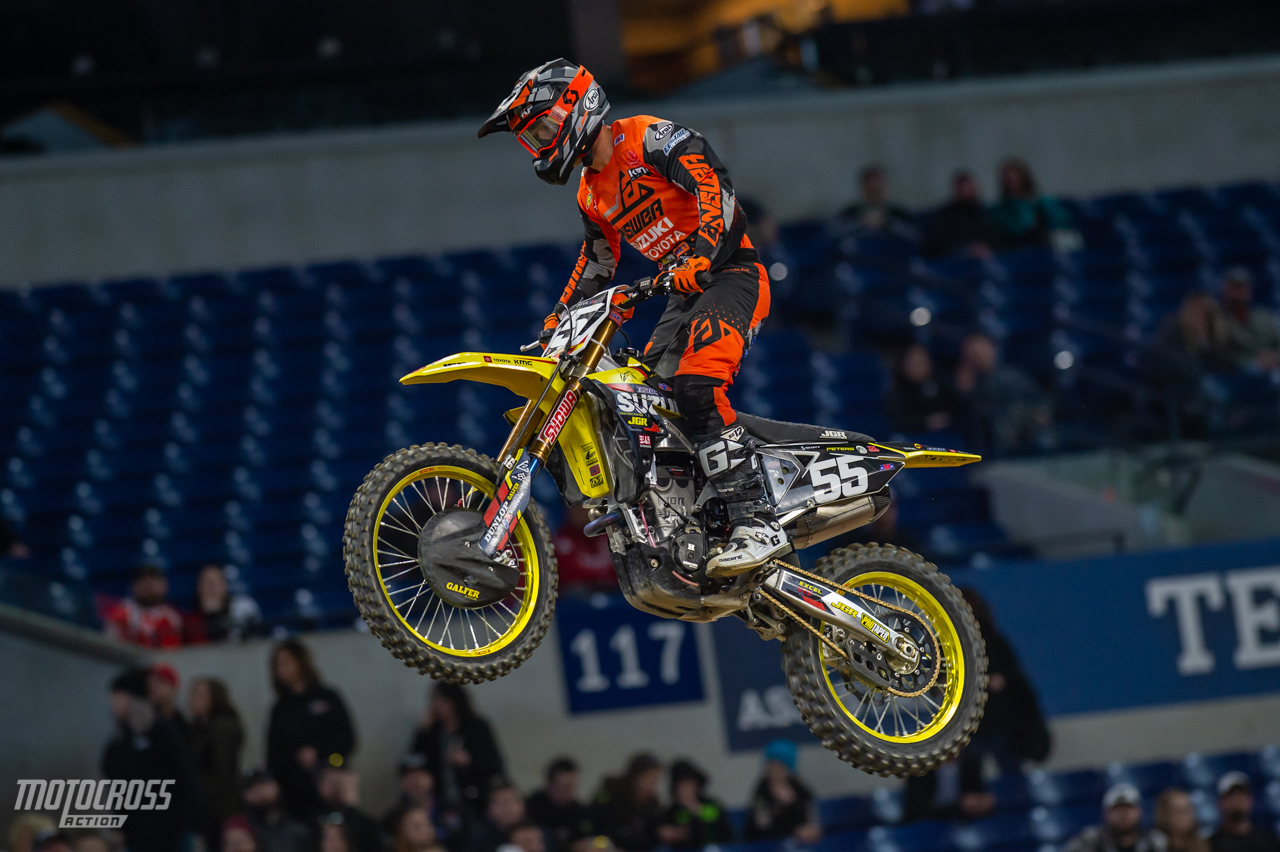 Kyle Peters: "It was a good day. We are still progressing, and the speed is coming up. I'm able to run the lead pace for longer and getting more comfortable at that pace. I still have a few areas to work on with Buddy Antunez, mainly in the 90-degree turns. I always want to improve, and I felt that I could have finished fifth this weekend. Unfortunately, I was dealing with some stomach cramps at the end of the race. However, the team made it happen for me and I earned my best result of the season. That's something to build on."
Ken Roczen: "There isn't much to say about Indianapolis. It just wasn't a good weekend for us. I had some struggles during the week and over the past couple of weeks that have really held me back and have made it so I can't ride and train to my full potential. I'm trying to figure out what's going on and hopefully get some answers soon. I've just been getting tired and I'm not sure why. Right now I'm just trying to focus on getting my body and everything aligned so that I can fight back and ride like I was during the beginning of the season. I'm obviously not where I want to be at eighth, but if there's a good thing to take away it's that we're physically healthy and heading to Seattle."
Austin Forkner: "I have been really confident with my starts that it didn't matter my gate pick," said Forkner. "No matter where I was, I was going to get to the first turn first. I was side by side with someone and made the pass stick right away. It helped me ride really smooth laps, which I wasn't able to do in my heat races. I'm thankful I was able to ride my own race and not have to get too crazy. I'm thankful that I get some time to not have to travel and get better to close out the season."
Martin Davalos: "The track broke apart a lot in the main event and you had to try new lines throughout the race," said Davalos. "I felt good at the start and just wasn't able to keep the speed when it started to break down. I am happy to get back to where I feel like I at least should be at, but I'm still gunning for my first podium when we get back from our break."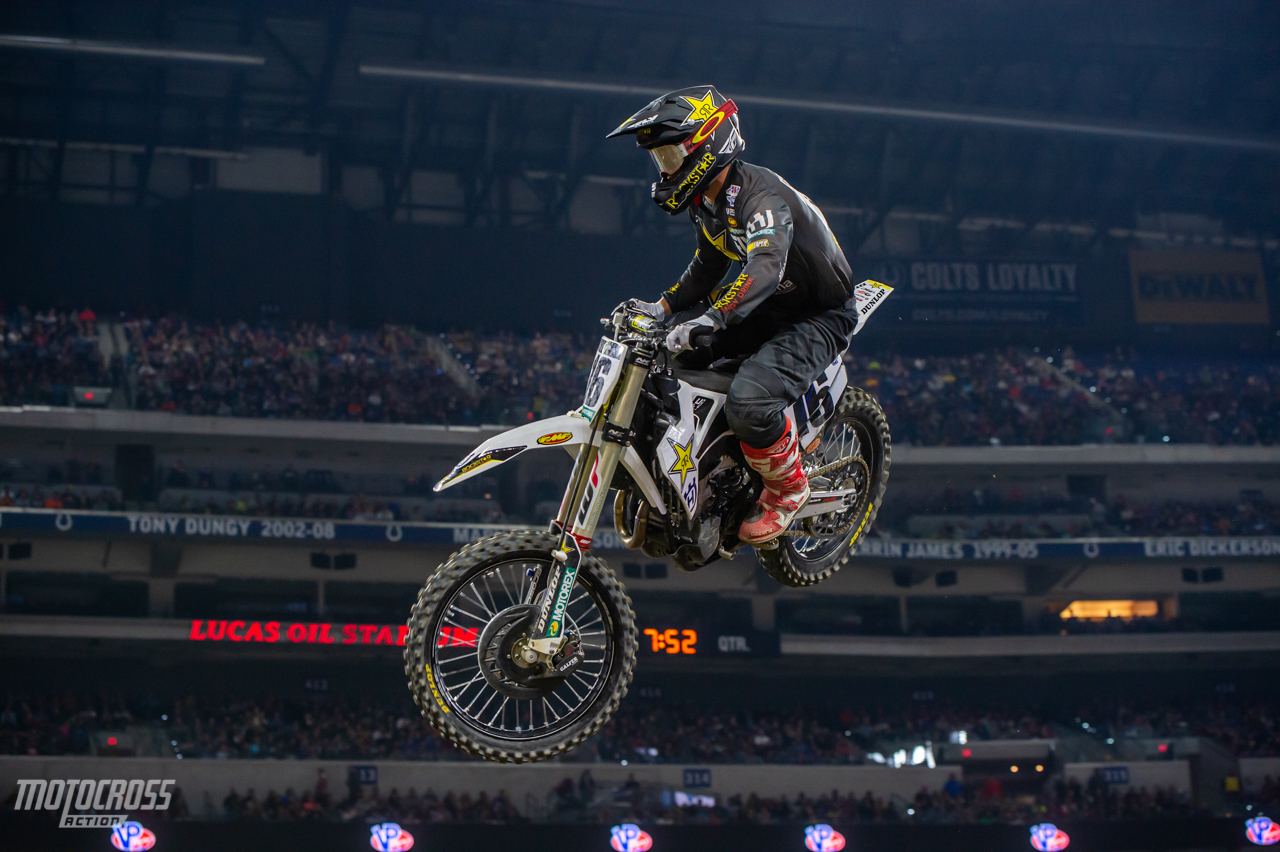 Zach Osborne: "In the Main Event, I had a really bad gate and made a really good start of it to put myself in a good position to hang in there. I made some mistakes but I have to take the positive of turning a bad day into a good day and a decent result and move forward."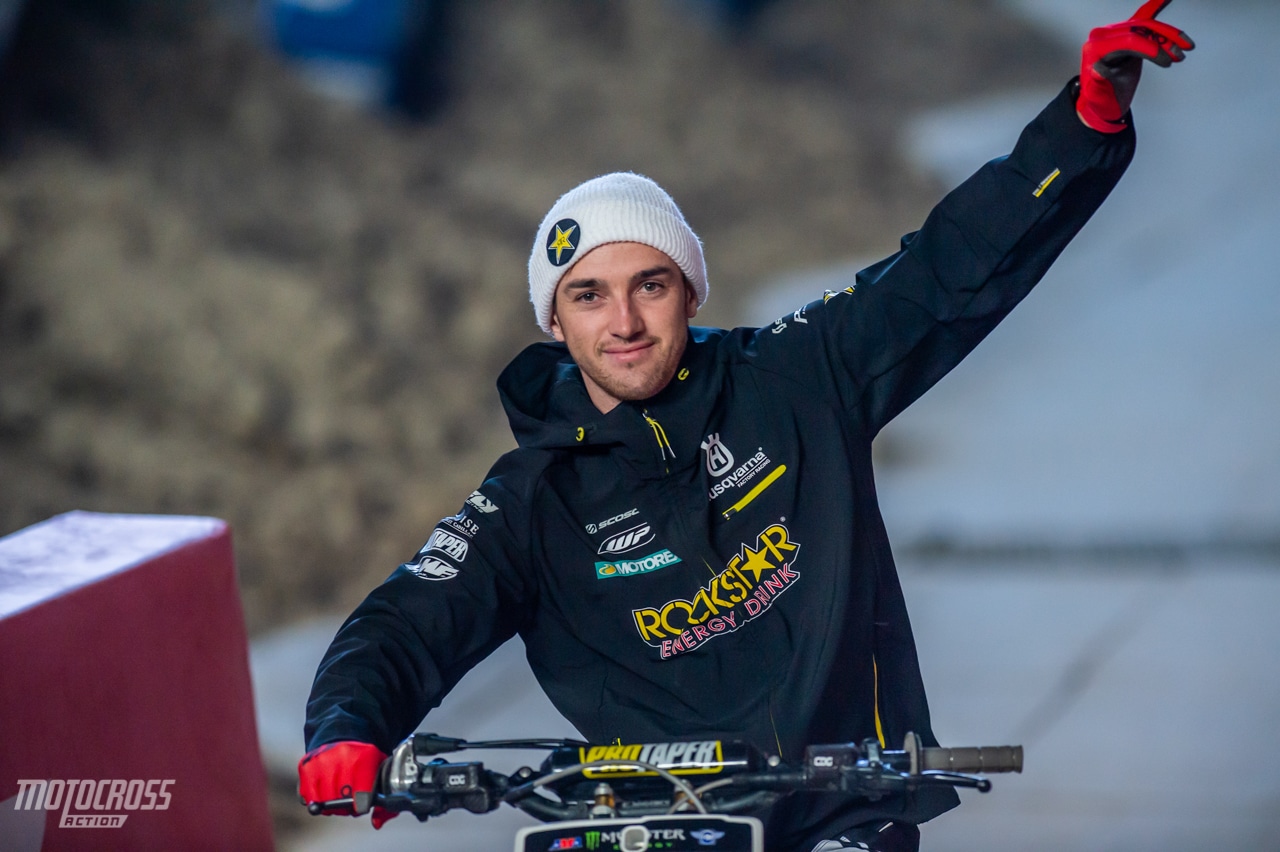 Dean Wilson: "The heat race was awesome! It was really stacked, so it was good for me to win. It was good for my mental side of things to know that I can still be up there. In the Main Event, I didn't get the best start but I was able to wrestle my way out of it and into ninth. I would say it's an improvement for sure but I know that getting a good start makes a big difference in staying out of trouble and I'm going to keep working."
Justin Cooper: "It was a hard fight all night, honestly. I had to work for the heat win and then main event time, I got a really good start and was just leaning in to the inside and everyone came in and kind of pushed me wide. I had to go off the track and it put me way back. Honestly, it was a pretty crappy feeling going around the first lap in 19th; looking over and seeing those guys already two straightaways ahead. I knew I had a lot of work ahead of me, so I just put my head down and made some quick passes.
"I think I was up to seventh or eighth… I had raced with so much energy getting to that point and trying to make quick passes that I kind of hit a wall. I kind of got a second wind towards the end and felt really good. I felt like I was back on pace and just making up a lot of time. I was keeping an eye on third. I didn't even know if it was going to happen, but was I able to get in position to make a pass last lap for third. It was a good night for me. Good learning, good building, good progress. So I can't complain. It just would have been nice to get away clean in that firs turn in that top three to see what we could have done towards the end of the race when those guys were getting a little tired."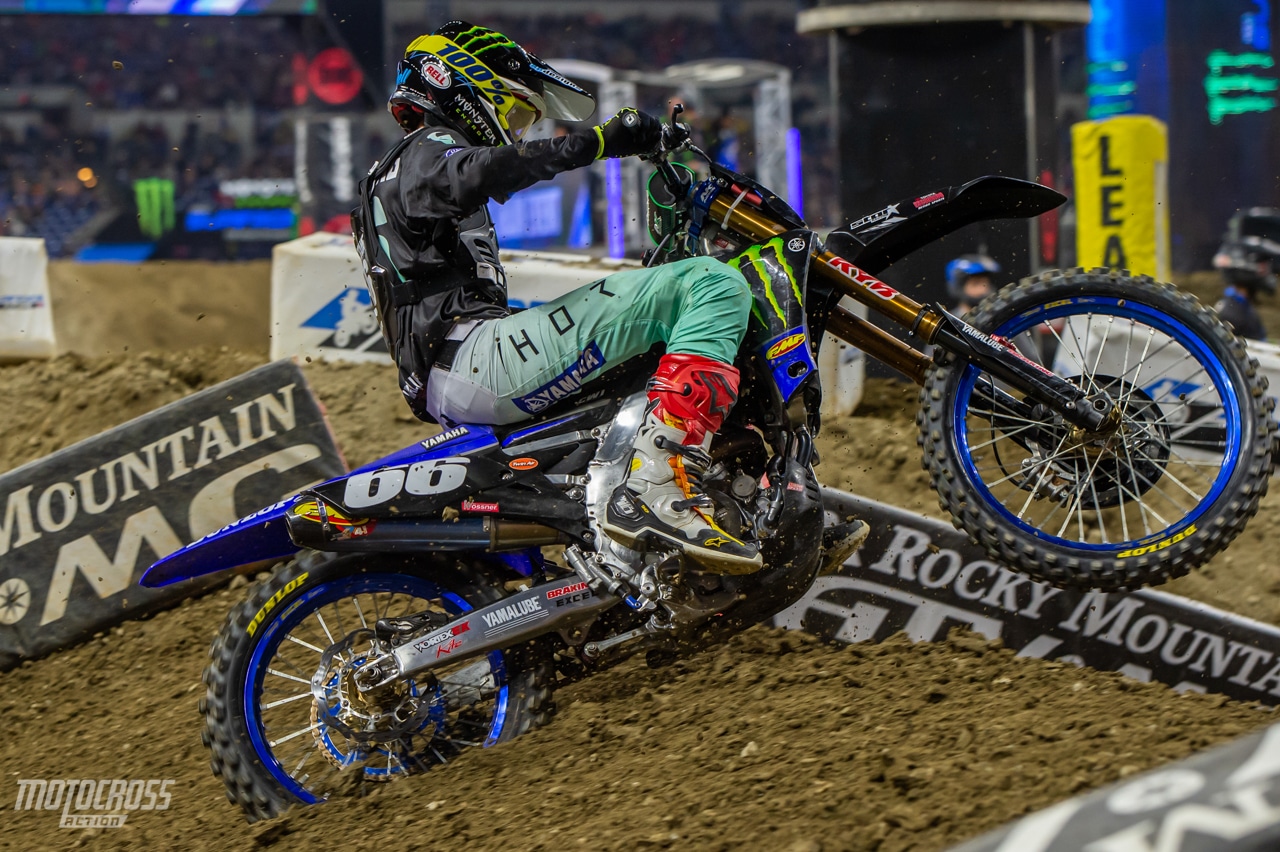 Mitchell Oldenburg: "It was a crazy week for me. My wife went into labor Thursday morning at 1:00 a.m. a month early, so it has been a pretty stressful and a scary last couple days, but baby and mama are healthy and doing good. It was pretty hard to leave them to come to race this week. It was hard to get my head straight and to get back in race mode and ride my dirt bike. "We had a decent day overall. The main event was good until the last four laps. I had no idea Justin was coming and kind of just checked out mentally and let it go. We live and we learn. I'm not going to let that happen again. We'll keep working on our progress in the next couple weeks and come into Nashville swinging."
Justin Barcia: "After having a tough couple of weeks, months really, since winning Anaheim, it's been difficult. Then my injury was pretty huge to me, actually, so for me I thought it was going to be difficult to come back from it. The basic thing for me was just to get comfortable and get back in the zone and I progressed all day. I don't like saying I surprised myself, but I kind of surprised myself tonight. I stayed pretty calm all day, patient. I didn't really let being off the pace a little bit in practice frustrate me, I just stayed focused, used my positive thinking and good mentality and it was a good race. It was a solid race for the first race back. We definitely want to keep progressing from here and get back on the podium. We'll take a fifth and move on to next weekend."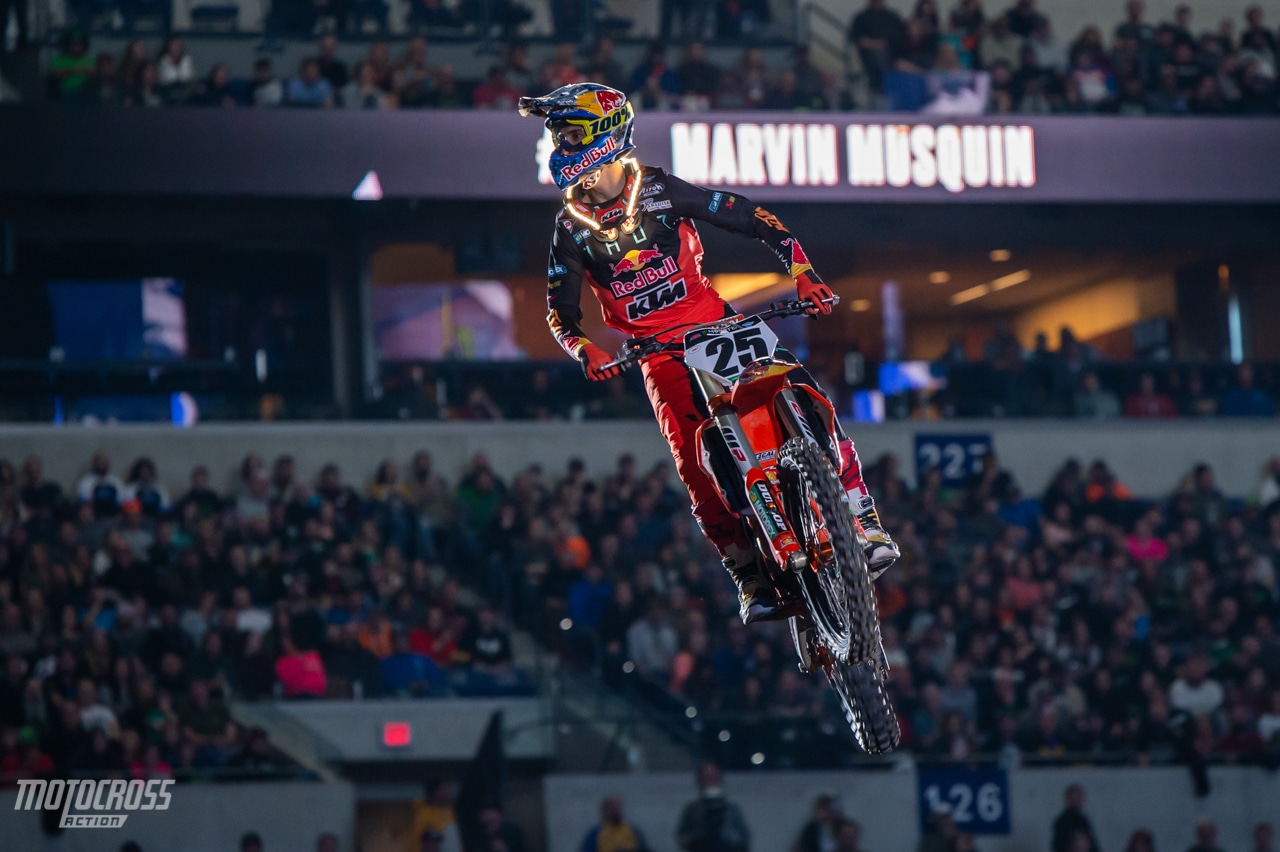 Marvin Musquin: "It's always a tough track here in Indy, but it's always been good to me. I won twice on the 250 and now twice on the 450, so obviously I love coming here. I thought about it coming into the weekend and, you know, I won here last year so I was excited for the racing and I think it showed tonight."
Cooper Webb: "A podium sweep for KTM once again is nice, I'll take it! For me, it was a tough race. I didn't get the best start so I had to make some passes and then I stalled the bike and lost a couple positions. I was pretty bummed on that because I felt like I was in a good position to win. It wasn't my best Main Event, so I was pumped to still get third with it."
Blake Baggett: "The track just started coming to me and I was pushing, trying to get toward the front. Then we got into lappers, and they want to race you. It's tough, you know, they're in their own race but sometimes they just get in the middle of your race and mess things up."
DO THE MATH! SUBSCRIBE TO MXA & GET A $25 CHAPARRAL GIFT CARD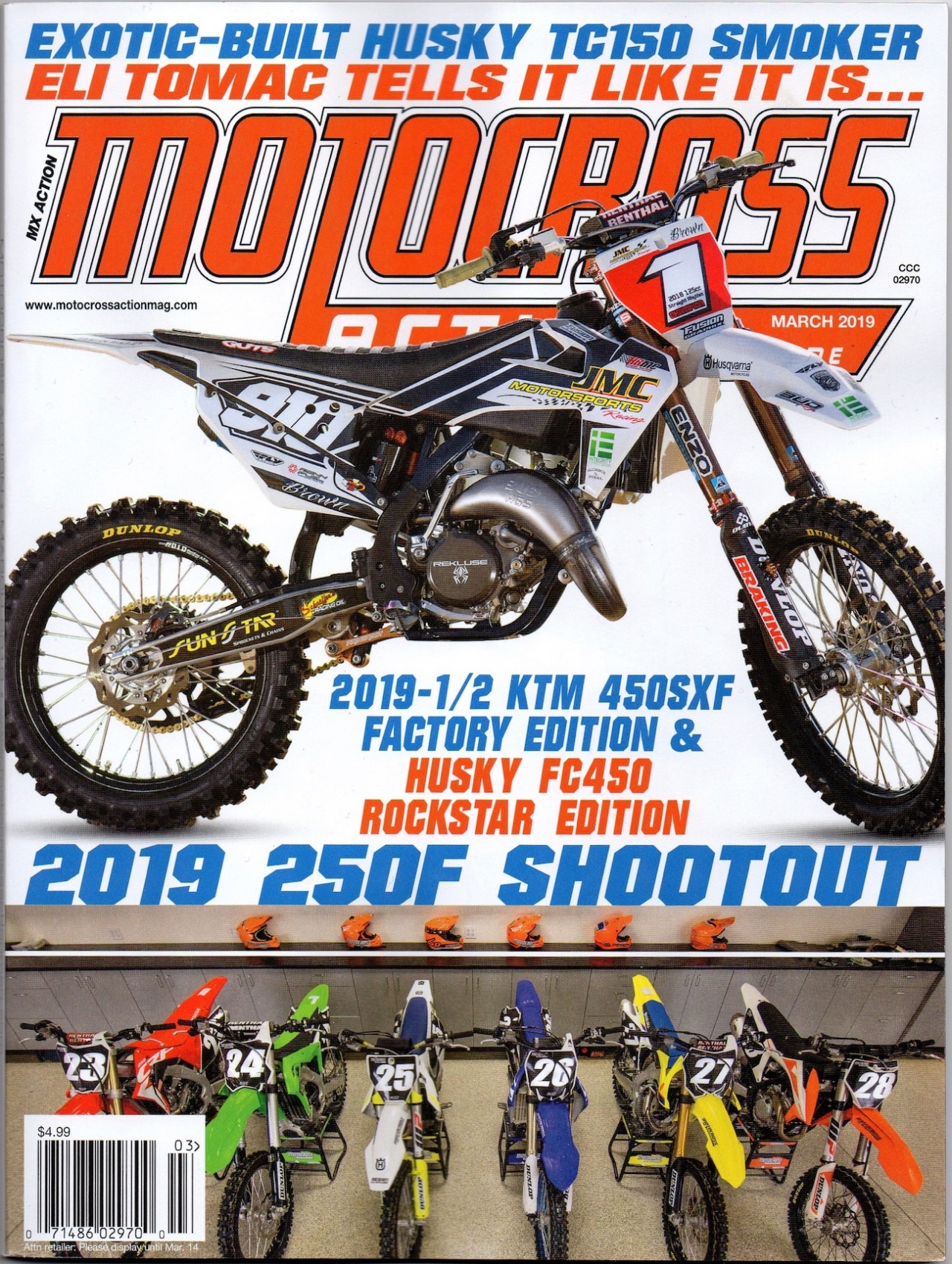 If you subscribed to Motocross Action, you would have already got the March 2019 issue of MXA  in your mailbox, computer or iPhone  by now.
The March issue of MXA is jam-packed with bike tests, product reviews and moto-info. Not only do we have the 2019 MXA 250 Four-Stroke Shootout in this issue, but a 2019 Husqvarna FC350 test, 2019 Yamaha YZ250 two-stroke test,  a retro-test of Chad Reed's 2002 L&M Yamaha YZ450F and a 2019 Honda CRF250 test. Plus, a test of Carson Brown's Straight Rhythm winning Husky TC125 two-stroke and Austin Forkner's 2019 AMA 250 East Supercross KX250 four-stroke. Not to mention an revealing interview with Eli Tomac.
Do you subscribe to MXA? You should. We know that you think that print magazines are dead and that the internet will fill the void, but most of the stuff in the current issue of MXA won't appear on the web for several months, if at all. Luckily, you can get all of MXA on your iPhone, iPad, Kindle or Android by going to the Apple Store, Amazon or Google Play or in a digital version. Even better you can subscribe to Motocross Action and get a $25 Chaparral gift card to spend on whatever motorcycle parts or products you need. You can call (800) 767-0345 or CLICK HERE or click on the box at the bottom of this page.
130 LBS PERSPECTIVE: 2019 RMZ450
Brian putting some time in on the 2019 RM-Z450
By Brian Medeiros
There is no doubt that the stock suspension set-up on the 2019 Suzuki RM-Z450 is way to stiff for the typical 250 riacer. It comes stock with 0.49 kg/mm fork springs and a 5.5 kg/mm shock spring. We set the clickers to a neutral setting and started from there. We set the fork compression at 12 clicks out and the rebound at 12 clicks out. As we expected on the first ride out the forks felt harsh. We backed out the compress to 14 clicks and that helped. With the compression set at 14 we got a plusher feel while still getting the hold up that we were looking for on the big jumps.
On the next session out there was a lot more ruts on the entrance all the way to the exit of the corners. On the entrance the forks felt busy and we couldn't get the comfort we were looking for to properly set up for the corner, so we went slower (clockwise) on the rebound 2 clicks which put us at 10 clicks out. That helped a lot and settled the front end down, we went one more click for good measure and that was our sweet spot for the way the track was at Pala Raceway. 14 clicks out on the compression and 9 clicks out on rebound.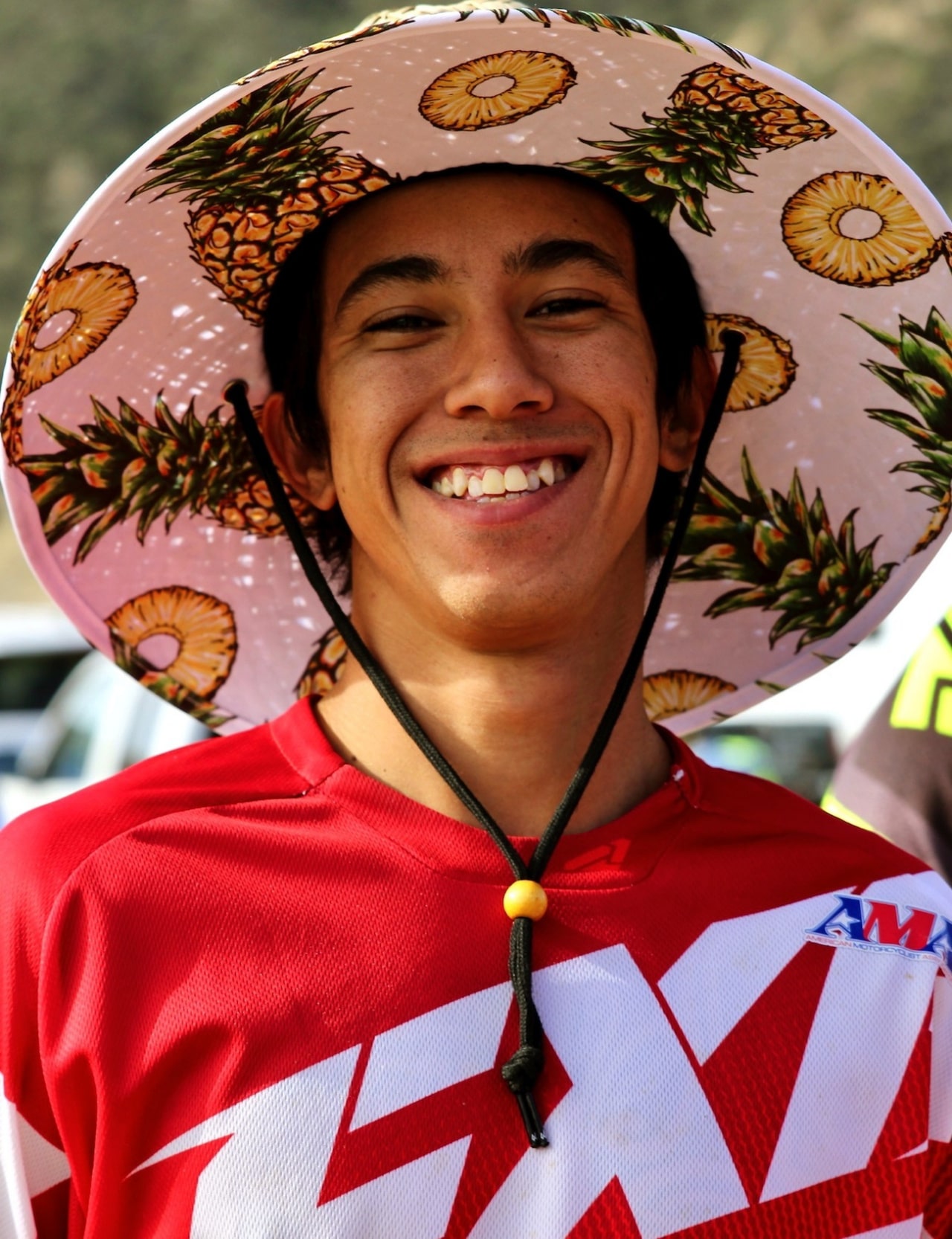 Brian Medeiros griming from ear to ear. 
In 2018 Suzuki introduced the BFRC shock. In 2019 they updated the setting on the BFRC shock which made it a lot more rideable 

than

 the previous year. We were able to get 102mm of sag out of the shock with the stock shock spring without it being completely loose. The compression adjusters, both high speed and low speed, are counted by turns as they don't click, and there is no rebound adjuster on this shock. The stock setting on the adjusters are 1 turn out on both. We ended up at 4 turns out on both to compensate for the heavy shock spring (for my 135 weight) at 4 turns out it settled the rear end down and made it easier to enter the corners sitting and leaned over sooner. We are excited to spend more time on the 2019 RM-Z450 and see what we can do to make this bike better for lighter riders. 
For the full MXA 2019 Suzuki RM-Z450 test click here. 
WE SCREAM RYAN VILLOPOTO'S YZ125 TWO-STROKE
TALK MOTO WITH MOTO MINDED PEOPLE. JOIN MXA'S FACEBOOK GROUP CHAT


We love everything moto and want to bring all moto junkies together into one place to share their two cents, ideas, photos, bike fixes, bike problems and much more. To check it out first you must need to or already have a Facebook account. If you don't, it isn't much work and you could even have an alias so nobody knows it is you. To join click HERE. After you request to join we will accept your request shortly after.
CLASSIC PHOTO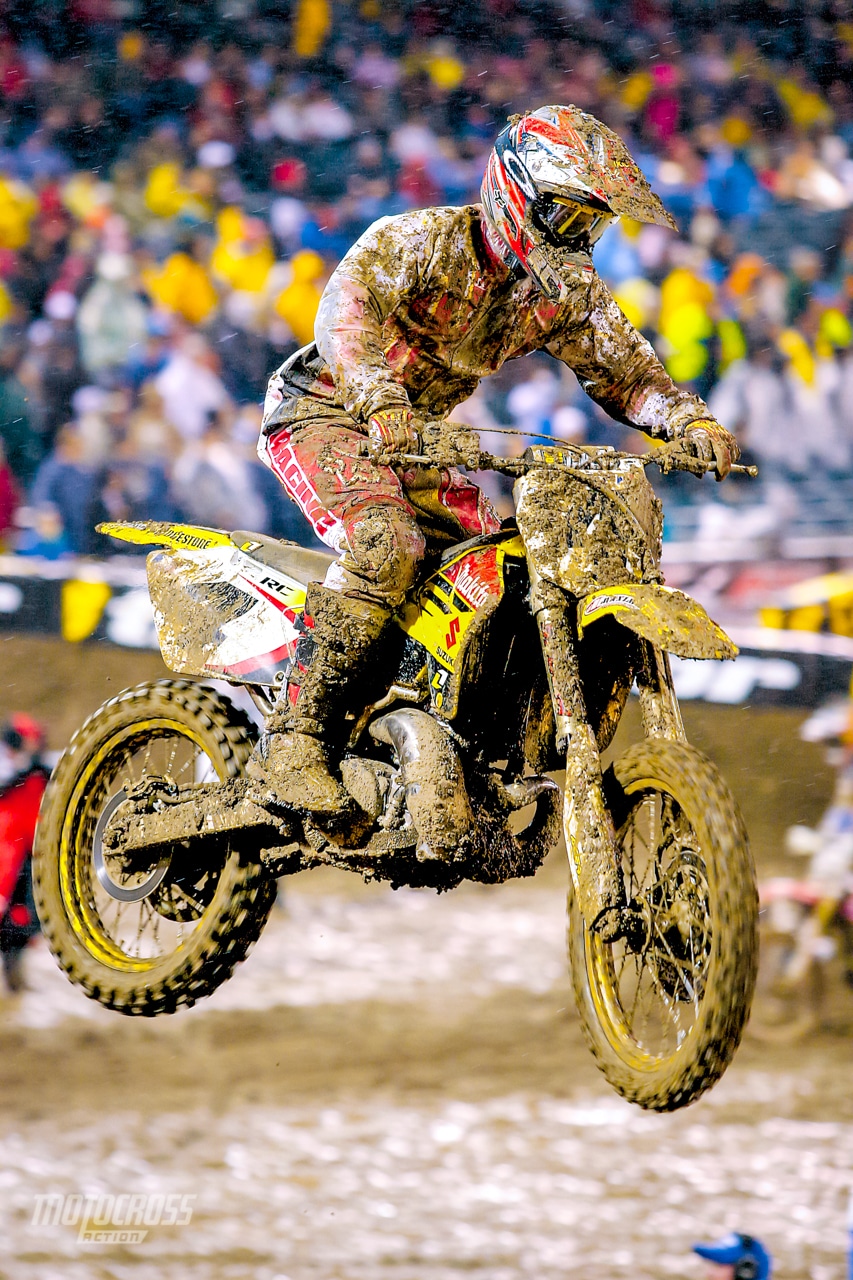 Ricky Carmichael back in 2005 during the Anaheim 1 Supercross mud race. Ricky finished 3rd and Kevin Windham won.
---
Moto Trivia answer: Sean Hamblin .