MOTOCROSS ACTION MID-WEEK REPORT
#WHIPITWEDNESDAY
Rider: James Stewart
Bike: 2006 factory Kawasaki KX450F
TWO-STROKE SPOTLIGHT: TYLER SMITH 2006 YAMAHA YZ315 STROKER
The before picture of the beat up old dog. 
"I am a life-time MXA guy, 33 years old and reading since the 90's. I read MXA as a kid and memorized a lot of issues growing up.
Was out of riding MX for 10 years, mostly was doing superbike racing. Found some new friends that wanted to ride, so picked myself up a beat up 2006 YZ250 with a ton of hours.
Took it down to the frame and completely rebuilt it from the ground up. Talked to Tom Morgan about doing a YZ295 (top end only) and did that. Found out the bottom is a bit toasted, so he recommended doing a 315 stroker. It's a 450 killer now, runs on 50/50 race gas and has a decomp lever. Tom has a dyno and this bike should put out 57-60HP to the dirt (44 stock on his dyno). I'm also in SoCal if you guys want to try it. "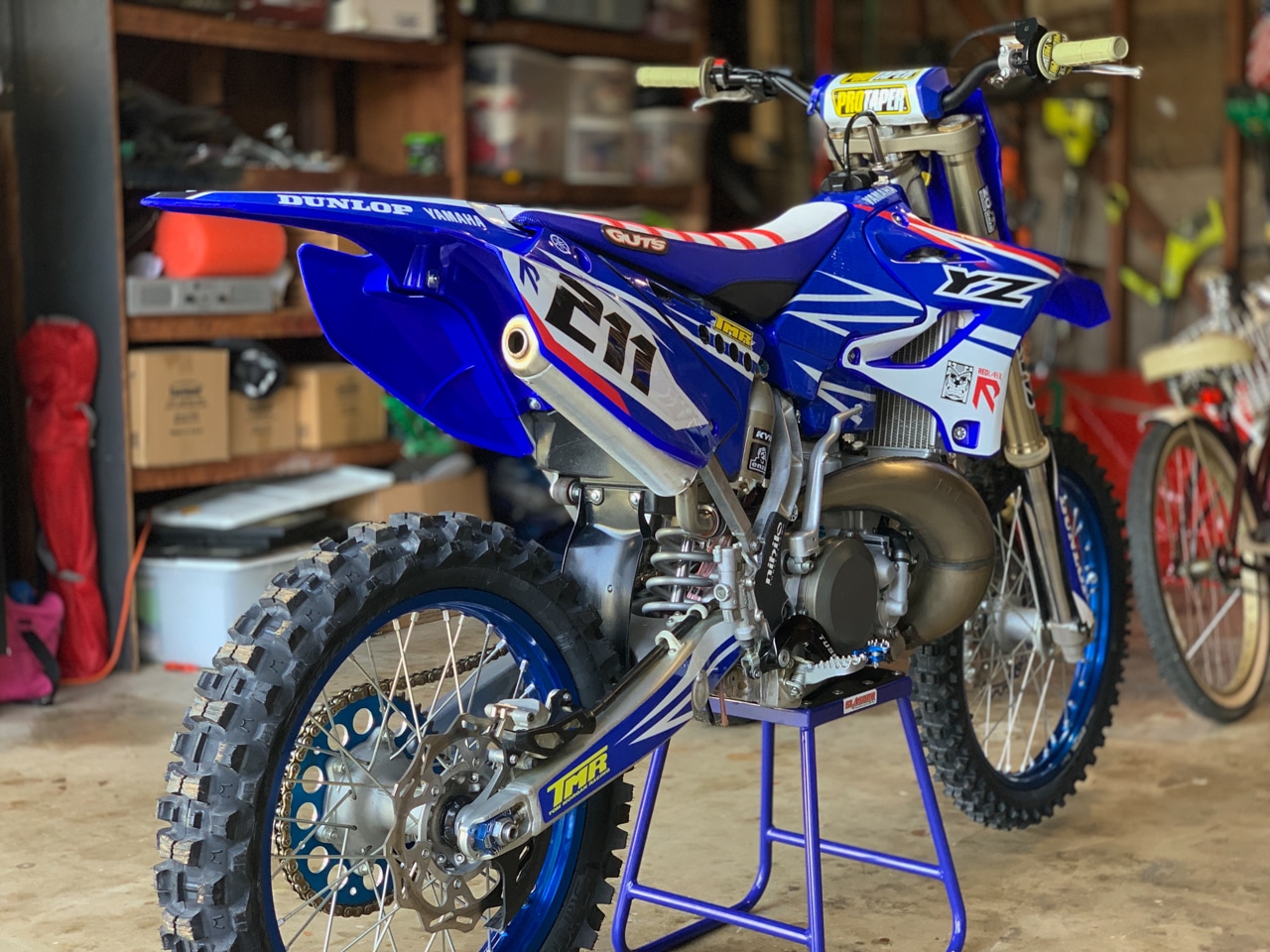 The after photo. 
Full list of parts:
-Tom Morgan YZ315 Stroker, balanced and lightened crank, blue printed and hand ported
-Tom Morgan Carb tapered 41mm and bench flowed and hand ported
-Tom Morgan Vforce 3 bench flowed and hand ported
-Tom Morgan modified clutch for easier pull
-Enzo suspension
-DEP pipe
-PC 304 silencer
-11oz FWW (pretty needed with YZ315)
-Magura Hydro clutch
-2018 Yamaha wheels
-Starcross 5 Soft tires
-Cycra restyle
-Redlabel Graphics
-YZ450F footpegs
-Primary drive chain/sprockets
-Hammerhead +20mm shifter
-Tusk brake lever
-2008 CRF450R front master cylinder and caliper, Honda pads
-Stock 270mm front rotor
-Galfer SS front brake line
-Luxon clutch cover
-Topar Ignition cover
-Nihilo frame grip
-Guts seat and seat cover
-ProTaper Contour SX bend
-Drilled airbox (315 stroker needs air)
Editors Note: Please keep those submissions coming. If you would like your bike to be featured in the "Two-Stroke Spotlight," please email me at [email protected]. All I ask is that you give a breakdown of your bike and a detailed description of the build. Please also send a few photos of your steed. By submitting your bike for the "Two-Stroke Spotlight," you agree to release all ownership rights to the images and copy to MXA. Please don't email me spam or try selling me Taylor Swift concert tickets or email me spam. Happy submitting your smoker.
ALL BALLS NEW FUEL PUMP REBUILD KITS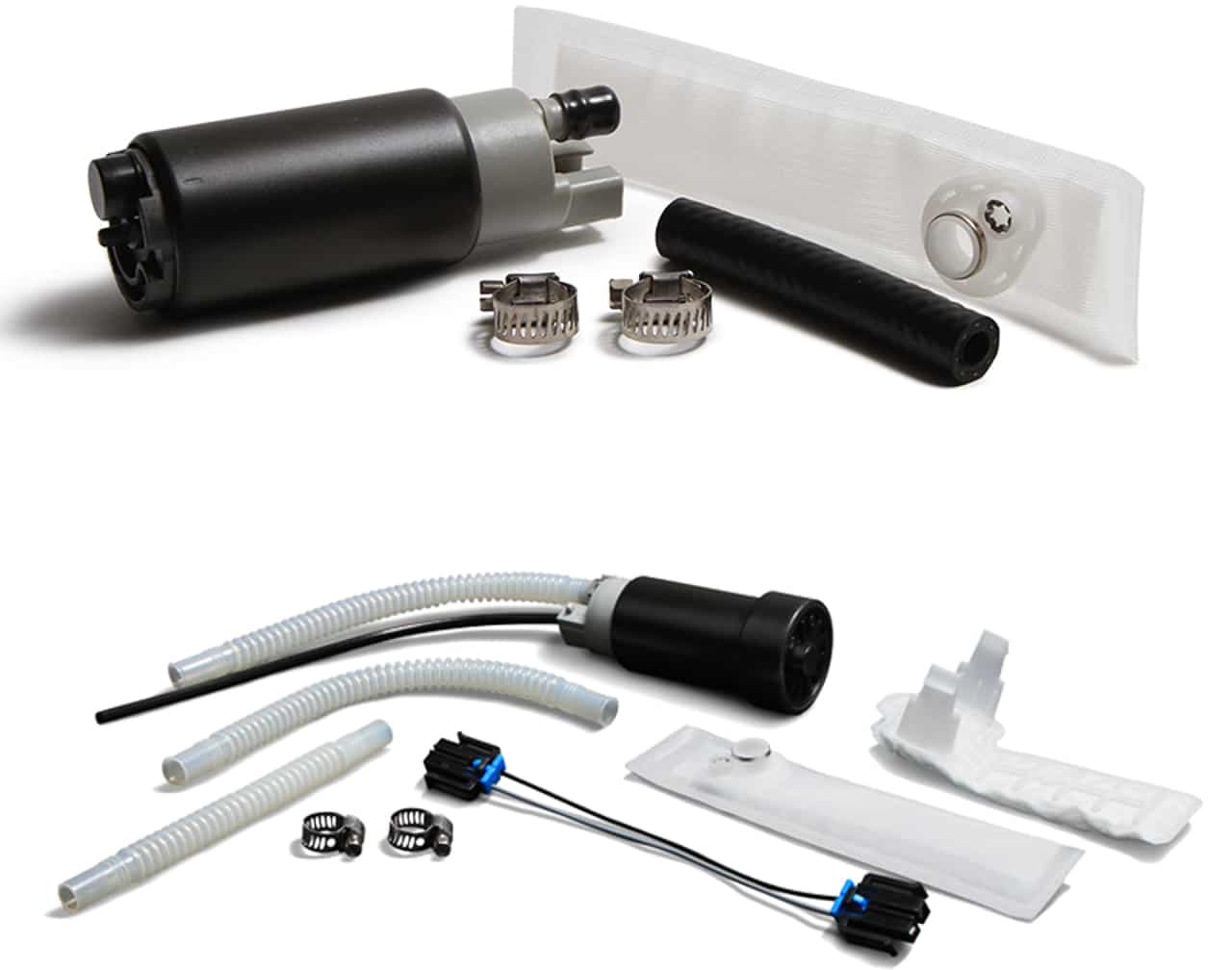 -Kit includes all necessary parts to rebuild the OEM fuel pump module.
-Kit includes necessary pump, filter, hoses, clamps, wiring harness & filter as necessary.
-Restore lost performance or non-functioning fuel pump with this economical solution.
-Kits come ready for plug-and-play installation.
-Competitively priced versus the competition.
-Limited lifetime warranty.
Starting at $69.95
BRIAN MEDEIROS | DAY IN THE LIFE OF AN MXA TEST RIDER 
MOTO | TRIVIA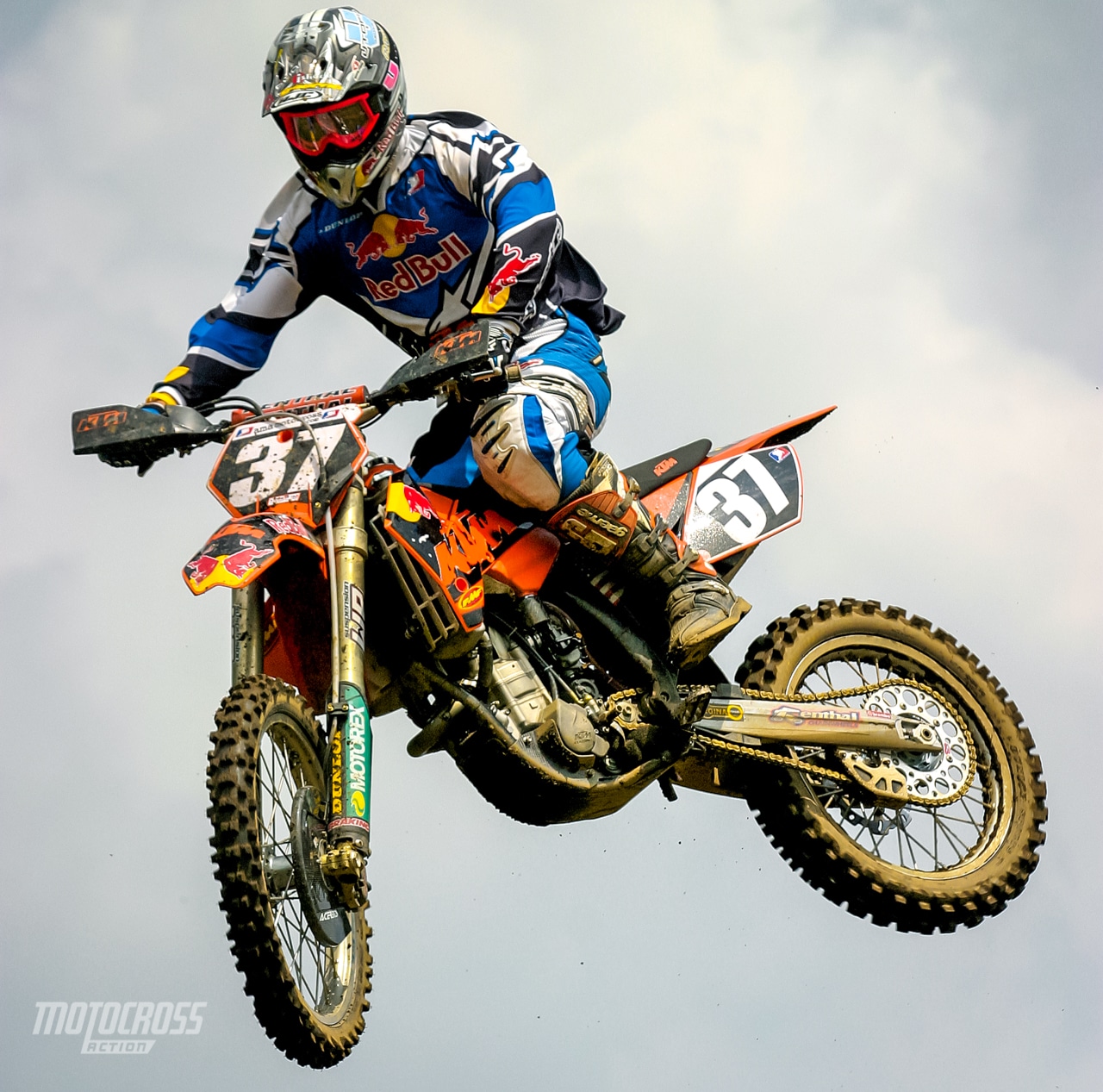 Who is this rider? Answer at the bottom of the page. 
FORGOTTEN BIKES: 2000 HUSQVARNA TE410



WHAT THE MXA WRECKING CREW IS UP TO
While the MXA crew was at Glen Helen, we saw lots of pros doing their own testing for the Nationals. Here, Australian Hunter Lawrence (196) was getting seat time in.
Hunter was supposed to race Supercross but after breaking his collarbone in the off-season, and then breaking it again right before Anaheim 1, Hunter would miss the entire Supercross season. Now the former MXGP rider is preparing for his American Pro debut at Hangtown in May.
MXA test rider, Brian Medeiros working with the Pro Circuit crew to dial in the Suzuki RM-Z250 suspension.
Star Racing Yamaha Pro rider Mitchell Oldenburg chases down Matthew LeBlanc, a young Star Racing amateur prodigy. This is great practice for an amateur like LeBlanc to be part of a Professional team and be able to train with some of the top 250 Pro riders.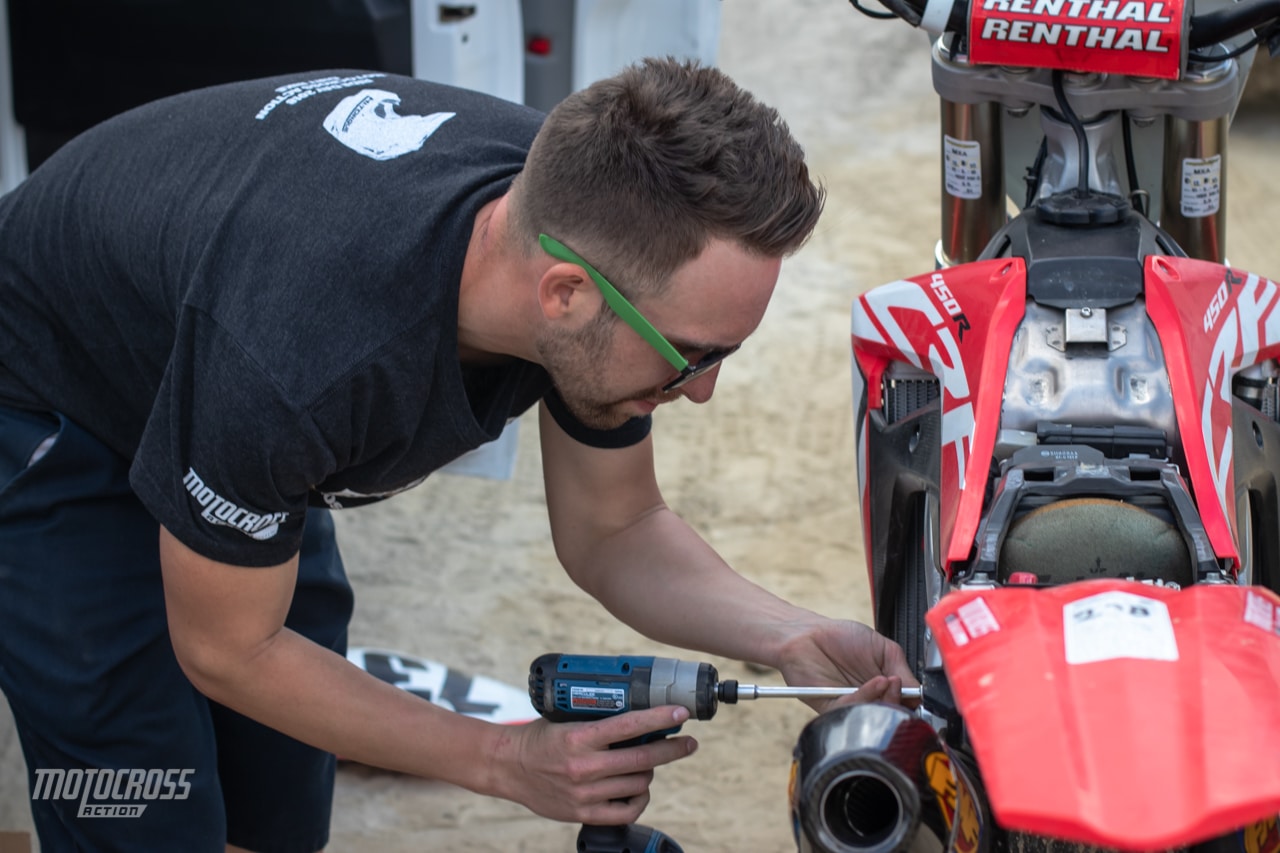 Kris Palm from FCP Engine Mounts with our chief test rider, Dennis Stapleton. Dennis was trying some of his new Titanium engine mounts on our 2019 Honda CRF450. 
Here's a close up of the FCP mounts.
Dean Wilson was also getting some testing in for Outdoors.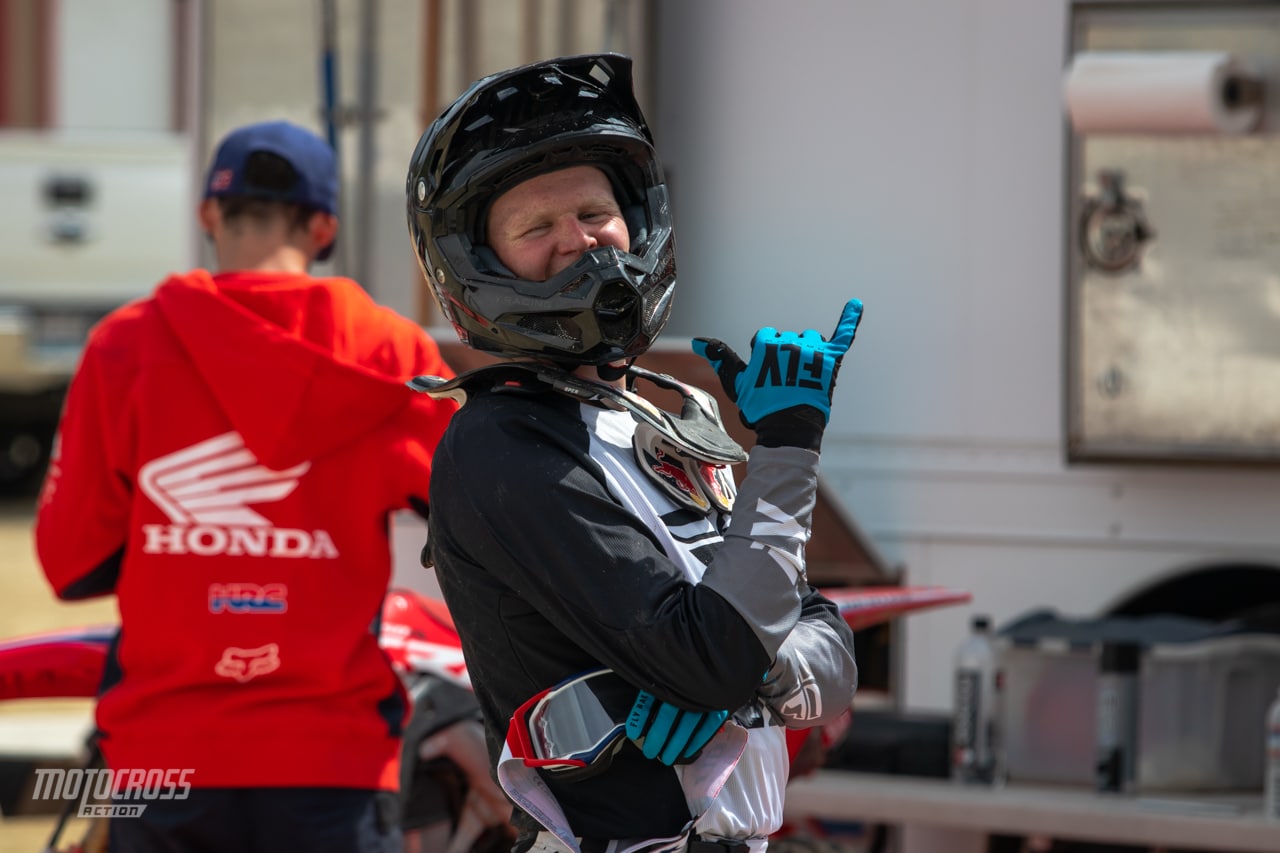 Trey Canard was out testing with the HRC Honda team. We talked to Trey and he explained that he was helping the team find some good base settings for Ken Roczen and Cole Seely to try.
Trey Canard has still got it! He looked good at Glen Helen.
DAREDEVILS SET OUT TO SMASH WORLD RECORDS INCLUDING THE LONGEST MOTORCYCLE JUMP IN HISTORY
Press Release: History Channel and Nitro Circus announce the return of the unprecedented live television event "Evel Live 2" premiering Sunday, July 7 at 8:00 p.m. (ET). As part of the network's third annual Car Week, the live broadcast produced in partnership with Nitro Circus will follow athletes, including champion freestyle motocross athlete Axell Hodges and female freestyle motocross athlete Vicki Golden as they set out to break world records with three jaw-dropping motorcycle stunts. Professional motorsports icon, Travis Pastrana, will return to co-host the special.
In "Evel Live 2", viewers will watch as Golden aims to shatter the motorcycle firewall record where she will speed through a series of flaming wooden boards. Golden will be the first female to attempt to break the current record which was set back in 2006. Next fans will witness as Hodges attempts to soar over more than 24 beverage trucks to break Evel Knievel's 1971 attempt and Evel's son Robbie's 2003 record. The television event will culminate with a stunt so daring few would even think of trying: Hodges will put his life on the line by attempting to jump farther than anyone ever has on a motorcycle, a distance that was set in 2011 at 379'9" feet.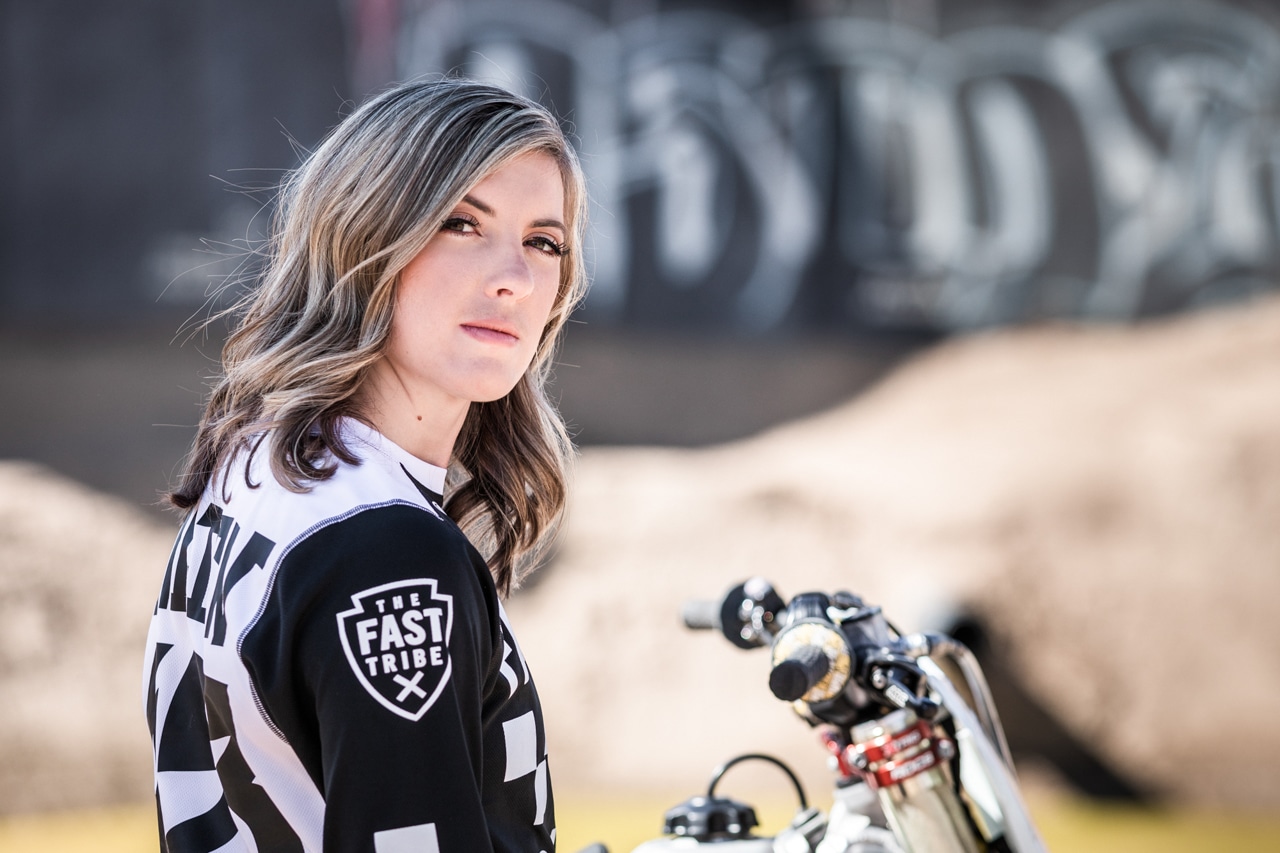 Vikki Golden. 
"This second iteration of 'Evel Live' will feature a motorcycle stunt that is longer, higher and more dangerous than any before," said Eli Lehrer, Executive Vice President and Head of Programming, History Channel. "Hodges and Golden will attempt to break records as they honor the history and tradition of American daredevils, including a jump that even Evel Knievel himself couldn't have dreamed possible."
"I'm stoked to be a part of this History Channel special and to attempt two motorcycles jumps that could cement my name in history," said Axell Hodges on his upcoming jump attempts in "Evel Live 2." "Evel and daredevils of the past have helped pave the way for guys like me. What Travis, Nitro Circus, and History Channel did last year in 'Evel Live' inspired a lot of freestyle athletes and a new generation of motorcyclists. I'm ready to make my mark."
Axell Hodges.
"I've been racing and jumping dirt bikes for as long as I can remember, but it's not often you hear about women breaking records on motorcycles," said Vicki Golden on her upcoming record attempt. "This is right in my wheelhouse. I'm looking forward to holding it down for women alike and to make my own history on History Channel."
"Last year was about honoring Evel's iconic legacy," Nitro Cirus Senior Vice President of Media Trip Taylor explained. "Travis stepped into Evel's boots that night, paying homage to his hero and creating a historic moment of his own. Now we are teaming up with HISTORY to take it to the next level and celebrate Evel's passion for pushing the limits by attempting these record-breaking feats. Evel never let anyone tell him something was impossible, and with that same spirit we look forward to creating historic moments of our own."
In July 2018, 3.5 million Total Viewers witnessed history in the making as Pastrana honored legendary daredevil Evel Knievel in History Channel's "Evel Live." Pastrana broke records by completing three of Knievel's most dangerous feats live from Las Vegas, Nevada, all while riding a motorcycle inspired by the ones Knievel used. The stunts included: breaking Knievel's record jump over 50 crushed cars by clearing 52 cars, another record-breaking jump over 16 full-size buses, and making history as the first person to successfully jump the Caesars Palace fountain on a bike similar to the one Knievel used 50 years ago. Pastrana holds the record as the only person to successfully beat two of Knievel's distance records and land a jump over the fountain on a v-twin motorcycle in one night. He will return to the live event as a co-host of "Evel Live 2."
"Evel Live 2" is produced by Nitro Circus. Trip Taylor, Dave Mateus, and Andy Edwards are executive producers for Nitro Circus Media Productions. Zachary Behr, Mary E. Donahue and Eli Lehrer are executive producers for History Channel.
RAW HOUSTON SUPERCROSS FOOTAGE
MXA YOUTUBE CHANNEL | HIT THAT SUBSCRIBE BUTTON


The MXA wrecking crew is everything moto related. Check out our MXA YouTube channel for bike reviews, Supercross coverage, rider interviews and much more. And don't forgot to hit that subscribe button. 
THROTTLE SYNDICATE TEAMS UP WITH TRAVIS PASTRANA
Throttle Syndicate teamed up with Suzuki and Travis Pastrana to give away a brand new 2019 DR-Z 50 with 199 MXON Replica Graphics. To enter follow us on Facebook then go to www.throttlesyndicate.com and click on the image with Travis Pastrana to sign up. Want more chances to win? Purchase any item from the www.throttlesyndicate.com website and receive 10 Bonus Entries! Every purchase will also receive a Free TP199 commemorative decal. Get on over to throttlesyndicate.com today and enter to win. 1 Winner will be chosen at random on April 15th. Contest is open to U.S. residents only.
The 2019 DR-Z50 that will be given away on April 15th.
THEY SAID IT | 2019 HOUSTON SUPERCROSS
Jimmy Decotis: "I liked the track. It was technical and super tricky with big whoops. I enjoy the Triple Crown format, because it gives you three chances of getting a good start and running up front. We made small changes to the bike, but they made a big difference. We didn't change anything for the night program. I was running second and closing the gap on first, but then I tightened up. It's good to know that I have the speed to win races. I want to end the series on a strong note and win one of these things."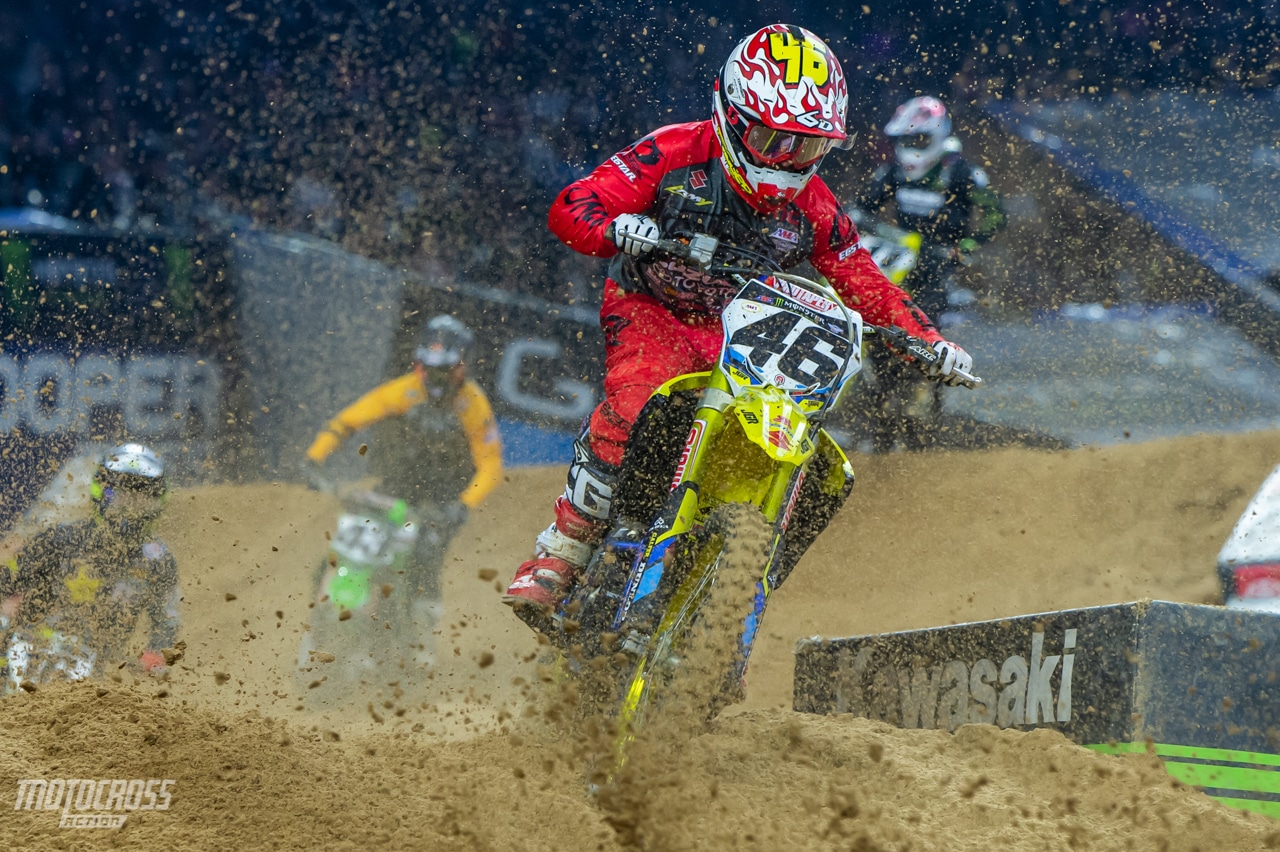 Justin Hill: "I really felt good all day. I had awesome energy and rode smoothly. Then I horsed around with another rider in the first main, which put me in a bad situation. I got drilled by another rider. I got through the rest of the mains as best as I could. All in all, I'm bummed. It should have been my day to get going and turn the corner. On to Nashville."
RJ Hampshire: "It's been a long road. In my rookie year I got my first podium and four years later jI ust got another one. I'm just stoked on my team. We've been working hard, trying to find the right setting, and changed clutches this week, tested a lot on my starts, and you could tell my starts were better all night; I think that helped quite a bit. I was pretty strong in the whoops until that last moto, it was ugly… I'm just so stoked to be up here and really looking forward to Denver now. I'm kind of an outdoor guy but I really want to prove myself in Supercross, so I've got two more chances at it, and [I'm] just stoked to be up here tonight."
Zach Osborne: "Overall, it was a decent day. I feel like I'm building every weekend and that last Main Event I took fourth with a decent start, so I feel like there's more to come and I'm finally finding my place."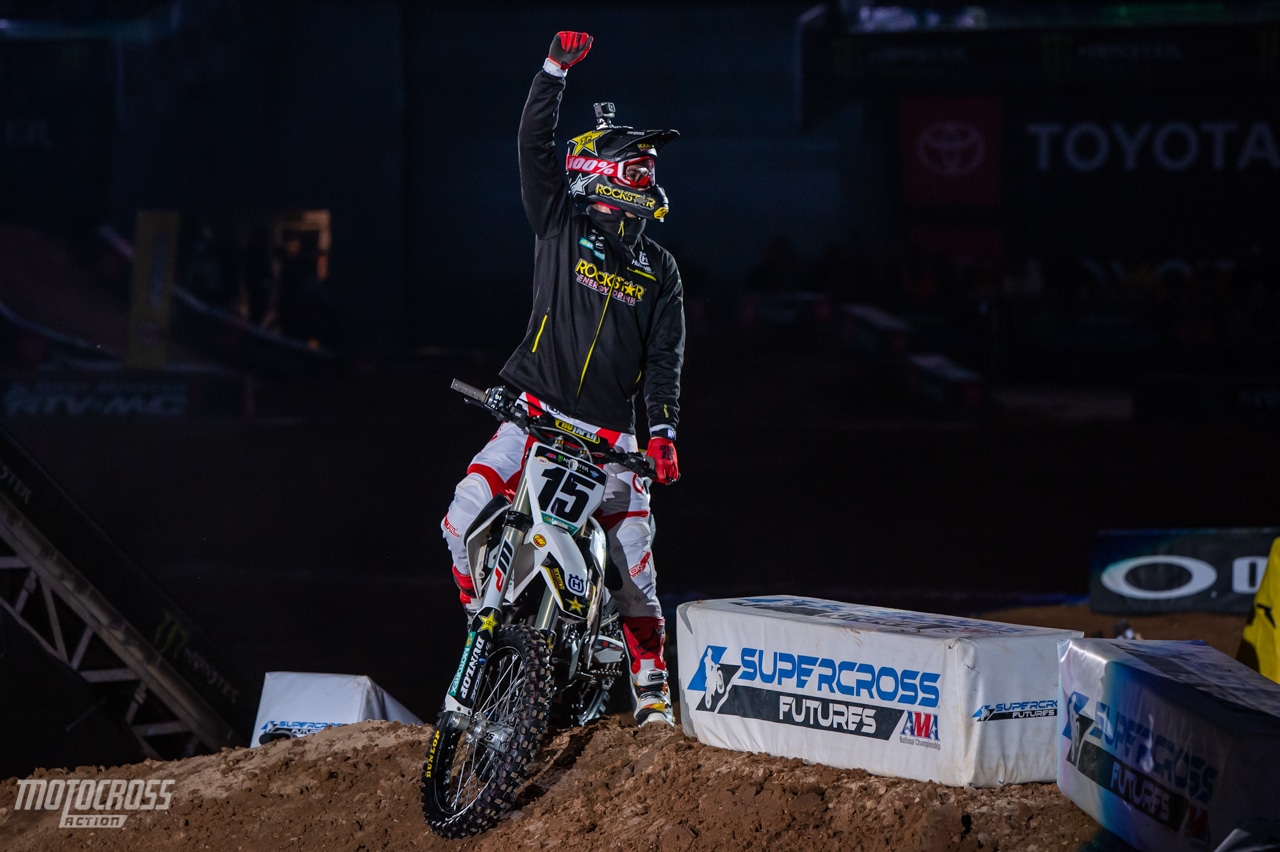 Dean Wilson: "It's good to be on the podium. It shows that I've been working endlessly to get up here and I've just kept believing and plugging away. I'm always close in qualifying and heat races and it shows I have it, but doing it in Main Events is another story and I'm working hard in that department."
Michael Mosiman: "I got off to a pretty good start in the first Main – I was in the mix for fourth and had good speed and was excited for the next races. With a couple of big crashes in the second and third Main Events, it was a rough night and I'm in a lot of pain but I'm trying to keep my head up and look at the positives."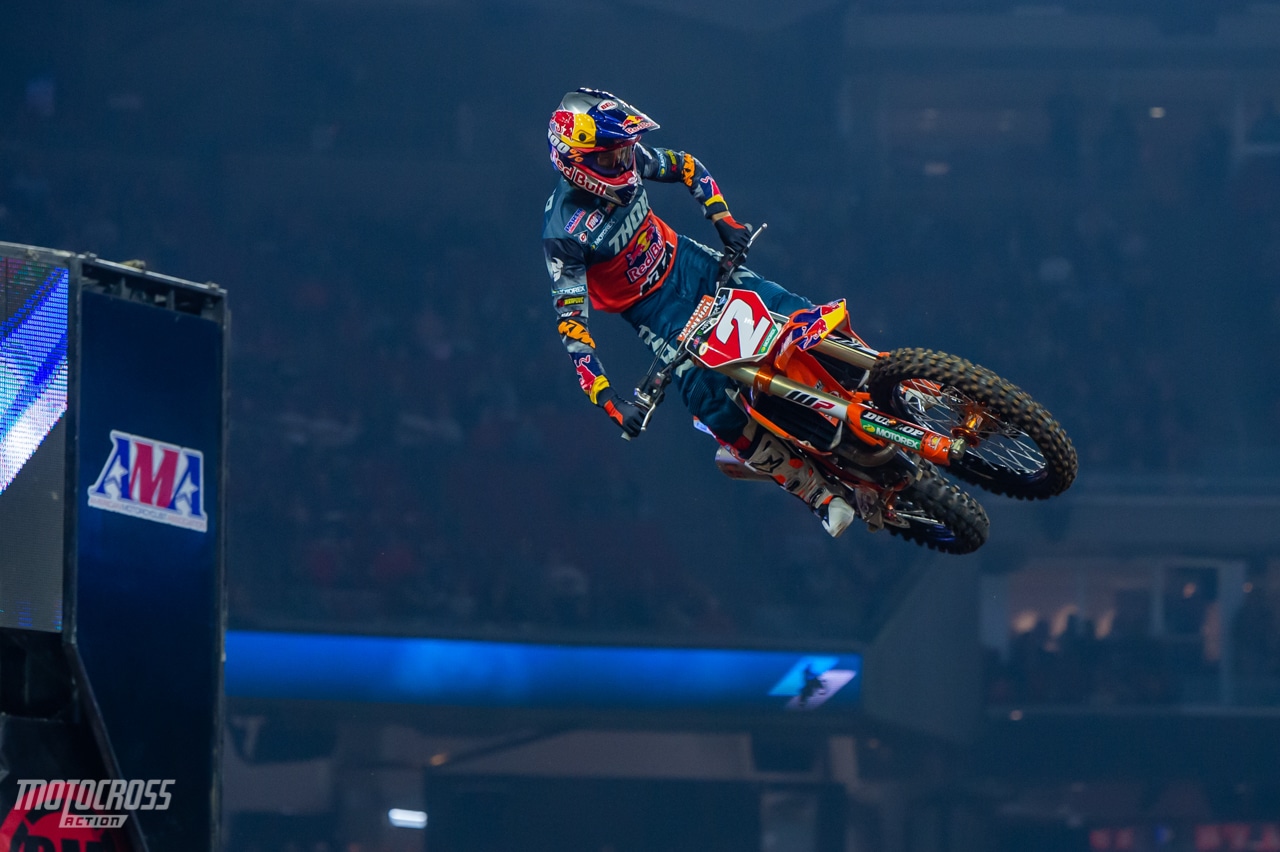 Cooper Webb: "It was a great night overall with a 2-1-3, and I got a Main Event win, which was cool. Consistency was key to this race – it's tough to line up for three Main Events and go to battle with the best-of-the-best, so it's a good night to get the win, I'm stoked on it!"
Marvin Musquin: "Coming off two wins and going into Triple Crown format, you know it's going to be intense. I showed great riding in all three Main Events but unfortunately, I had issues in the first two that kept me from taking the overall win tonight. The last race, I put it all together with a great start and rode like myself. I was so happy to have a clear track ahead of me and it was super enjoyable to ride in the lead."
Dylan Ferrandis: "It feels good to get two wins in a row. It gave me even more confidence in myself and my riding. Like I said last time, I really like the Triple Crown format. I just needed to be consistent tonight to get a good result. It's what I did and I finally took the win. I'm now five points from the leader, which gives me a chance for the championship. We have the weekend off next week, but once again I will train hard to be ready for the final two rounds."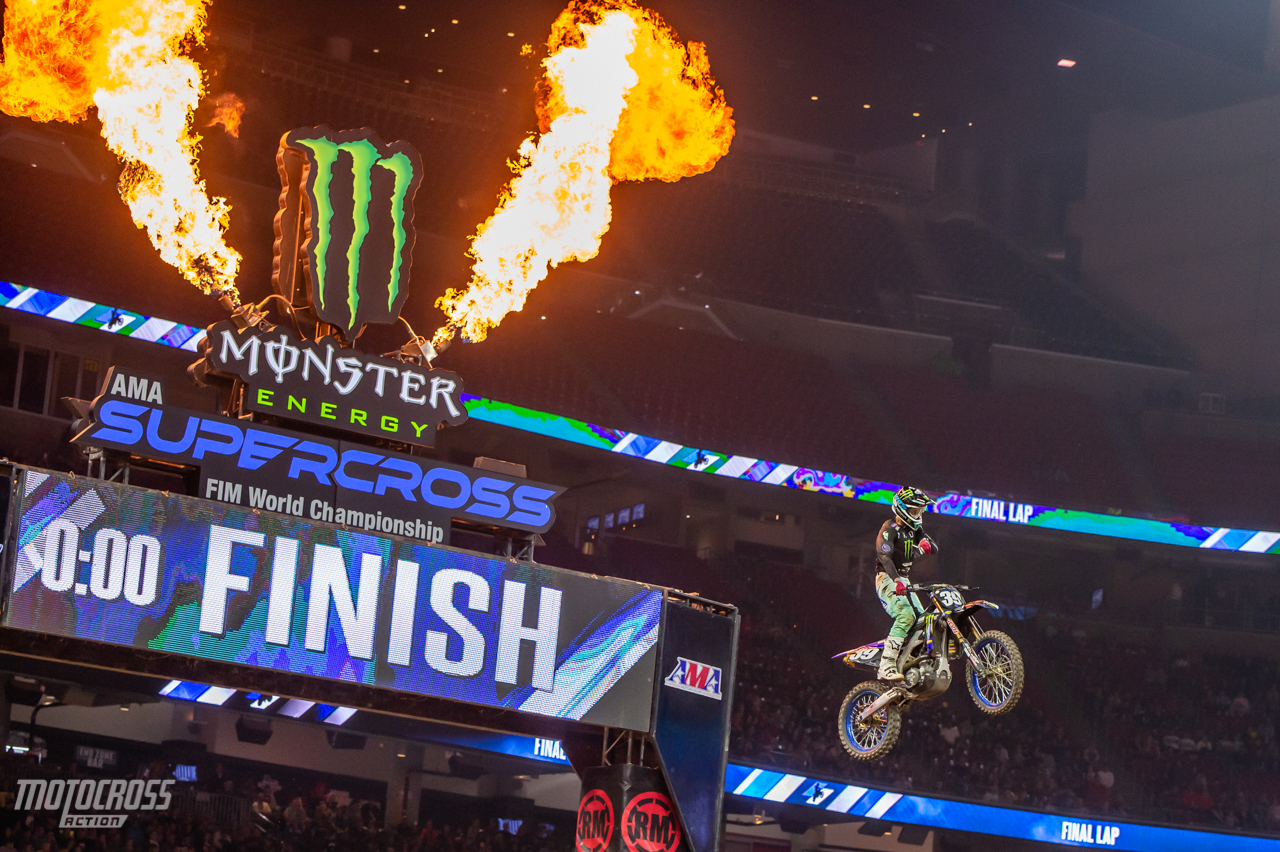 Colt Nichols: "The bike was great. Made a change to the suspension after the first main and it was great, so huge thank you to the team for suggesting and making the change to the bike. The track conditions were awesome, and the dirt here in Texas is great. Quick turnaround between the mains, so fitness was key and I was happy with how I felt all night. The main thing that hurt me in the first two mains was my starts. I finally got off to a good start in that last one with the holeshot. I almost rode a little tight in the lead… It just felt so good to win again. Overall, it was an awesome night in Houston."
Cole Seely: "Tonight was pretty good. I finally finished in the top five, which is where I feel like I should've been all year. The way things have been going so far have been frustrating, and it's hard to explain; the toll the injury took on me last year was a lot more intense and in-depth than I thought it was. It's been a long road to get back to here but I feel like I've had speed all year, I just haven't been able to put it all together. The results haven't been translating into how well I think I really have ridden most of the year. It feels good to finally break into that top five and run up front with those guys in the first two mains, relatively easy, too. I know it's not a traditional 20-minute main but it felt like it was coming to me pretty easy, so that's definitely a confidence booster heading into the final rounds. It's a bummer it's taken this long to come around, but I'm happy it did and we're going to keep working forward."
Ken Roczen: "The first main event tonight was seriously so good! We grabbed a great start and got out front right away, pulling a 10-second gap on the rest of the field. It was amazing to see the checkered flag before anyone else; unfortunately, it was only in one main. In the second one, I got tangled up with Dean's [Wilson] rear wheel and went down pretty hard. I smashed my toe and originally thought I had an ankle injury but luckily that wasn't the case. My bike was also so bent up after the crash. I got checked out and it actually started to feel better, instead of worse, after 15 to 20 minutes. That was good but my toe was still in a lot of pain. Luckily I was able to just jump back on the bike and do what I could in the third main, salvaging an eighth-place and getting 10th overall. It's not really how we wanted to end tonight, especially with how well the day and first race went, but again we're healthy and moving on to the next one. At one point, it will come."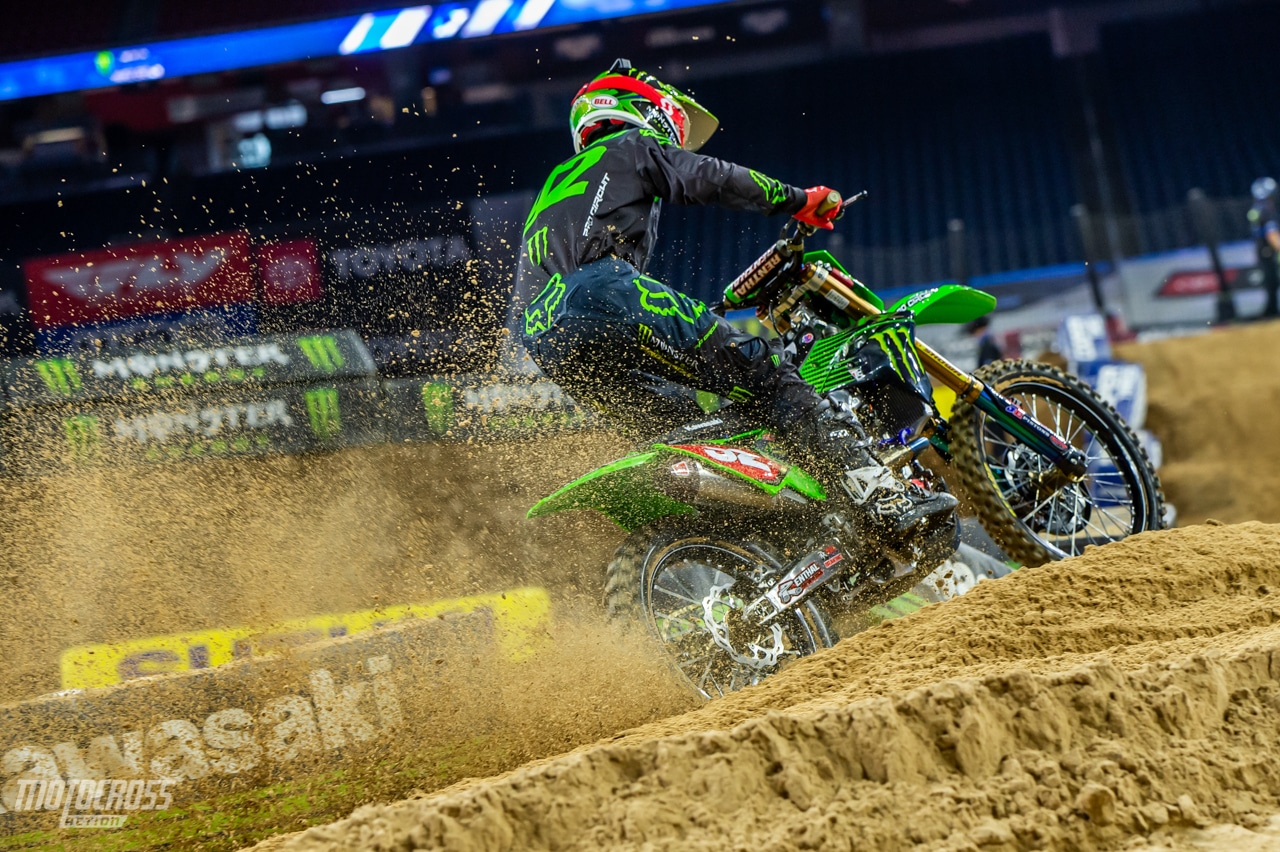 Adam Cianciarulo: "Tonight was a big test for me. Yes I lost points and I am not happy about that, but I think I did my best to keep my composure to not make a bad situation worse. It kills me that I made the mistake in the second main, and the third main event wasn't my fault, but I can't dwell on this. I have to learn from it and move on. We get a week off to think about it – not sure if it's good or bad – but we'll be ready when we come to Denver in two weeks."
Garrett Marchbanks: "These triple crowns haven't been very kind to me overall, but it was really great getting on the podium in the second race. I felt so good in that second race and really wish I could have been out there for the final one. I'm definitely glad to get a weekend off and come back strong in Denver."
INSIDE CHASE SEXTON'S FACTORY GEICO HONDA CRF250
2019 SUZUKI RM-Z450 PRO CIRCUIT T-6 EXHAUST SYSTEM


By Brian Medeiros
What's up Motocross Action! It is no secret that the 2019 RM-Z 450 lacks that "get up and go" feel on the low end of the powerband. This is really noticeable on tight corners and "S" turn sections where you would really have to be on the clutch to get the bike up and out of the corner to either set up for the next jump or corner. We gave the guys at Pro Circuit a call to see if they had a solution and we were able to get our hands on there stainless steel T-6 Exhaust System. On the track it gave this bike the excitement that we where looking for. We where able to take advantage of the great turning characteristics of the RM-Z 450 knowing that we now had the power to pull out of corners without having to rely on the clutch.
Is it rip your arms off power? No but it is definitely a noticeable difference over the stock system. We also noticed a difference in the over- rev of this bike. With the stock system we felt that once you got up in the rpm, just before the rev limiter, this bike would fall flat. With this Pro Circuit T-6 System we where able to pull third gear far enough to get to the end of long straight always without having to upshift to the next gear and then downshift right away for the corner ahead.
So if you are looking to give your RM-Z 450 a little pep in its step give the guys at Pro Circuit a call at 951-738-8050 or visit their website www.procircuit.com to get yourself dialed in. We will have a full test of the Pro Circuit RM-Z450 exhaust in a future issue of MXA.
CLASSIC PHOTO
Jeremy McGrath racing the 1999 Summercross at the L.A Coliseum which he lost to his Yamaha teammate Tim Ferry.
---
Moto Trivia answer: Ryan Mills.