MOTOCROSS ACTION MID-WEEK REPORT
TWO-STROKE SPOTLIGHT: SCOTT DENISON 1983 CR480 MAGOO REPLICA 
"I bought this one nearly finished, but added a few things to get that factory look.  The suspension was done by Pro Circuit, and has been updated with cartridge internals from a KX80. The biggest score for this project was an actual HRC Double-strap screen door front number plate."
HRC Double-strap screen door front number plate.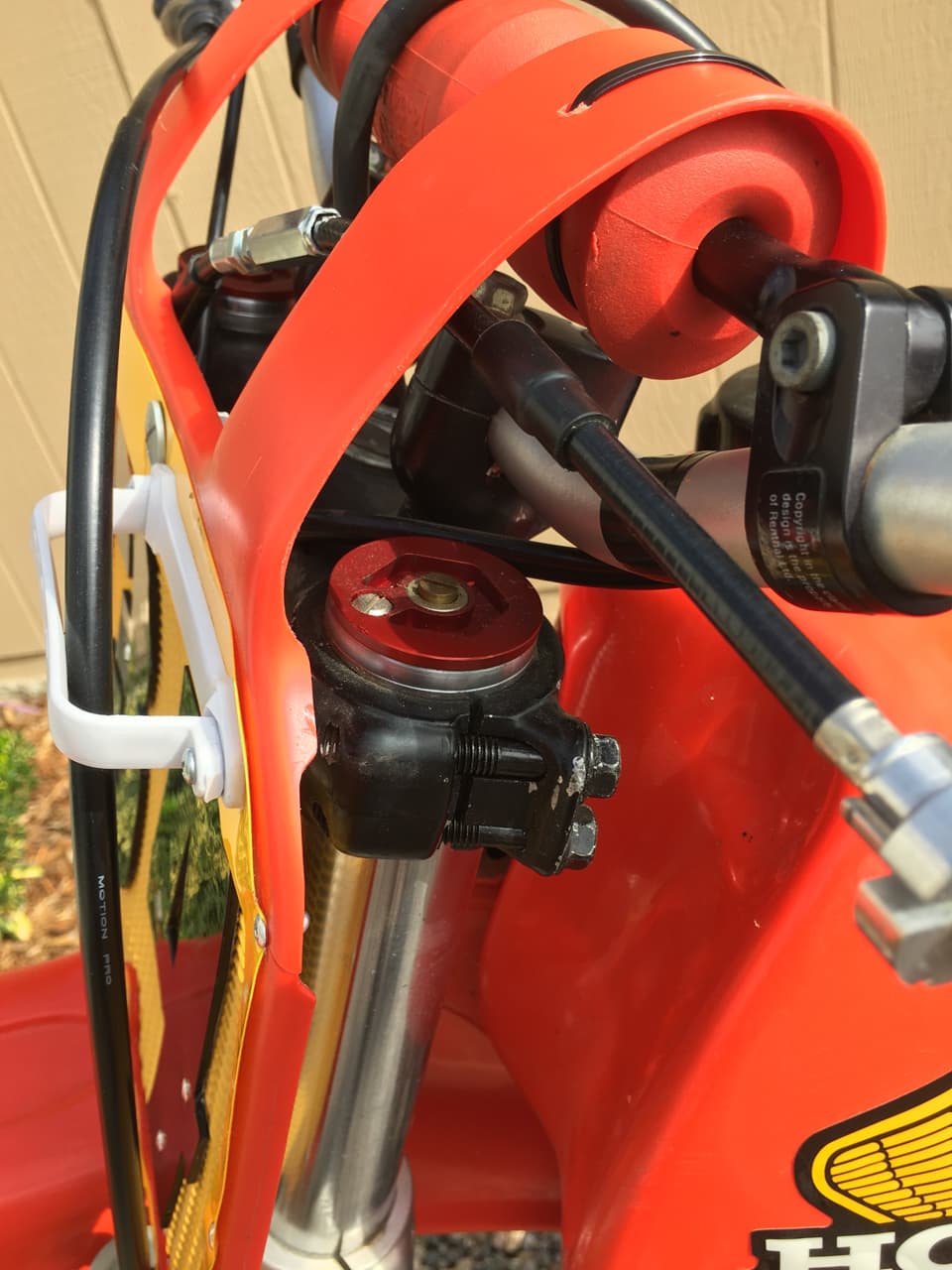 This CR480 has an old set of KX80 forks on it that were worked on by Pro Circuit. 
Editors Note: Please keep those submissions coming. If you would like your bike to be featured in the "Two-Stroke Spotlight," please email me at [email protected] All I ask is that you give a breakdown of your bike and a detailed description of the build. Please also send a few photos of your steed. By submitting your bike for the "Two-Stroke Spotlight," you agree to release all ownership rights to the images and copy to MXA. Please don't email me spam or try selling me Taylor Swift concert tickets or email me spam. Happy submitting your smoker.
#WHIPITWEDNESDAY
Rider: Martin Davalos
Bike: 2019 Pro Circuit Kawasaki KX250
Location: Nashville, Tennessee
Photographer: Brian Converse
WIN FREE THOR GEAR JUST TAKE OUR SURVEY

Click here to take the MXA survey. 
MOTO | TRIVIA
Who is this wheelie master? Answer at bottom of the page.
FORGOTTEN BIKES: 2000 GAS GAS MC250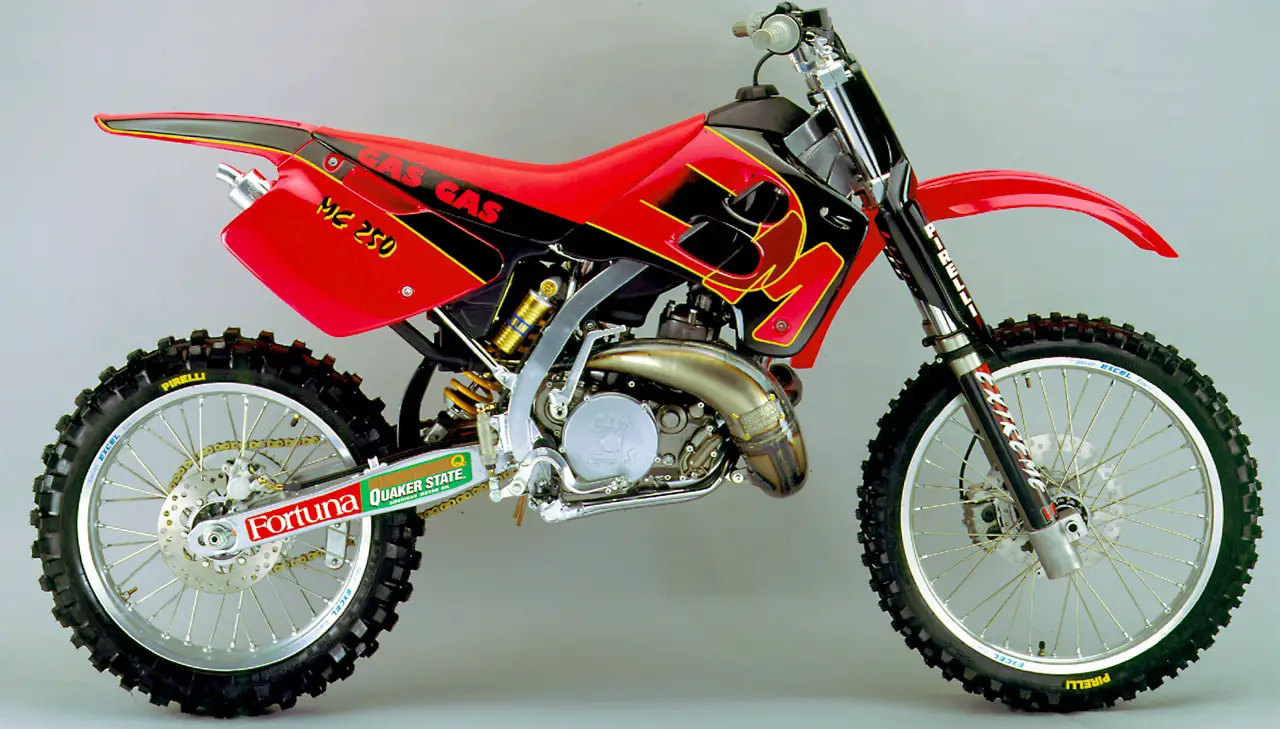 LIMITED EDITION ALPINESTARS X CACTUS PLANT FLEA MARKET COLLECTION
WHAT THE MXA WRECKING CREW IS UP TO
What do you think of the American look on the Italian TM300MX project bike?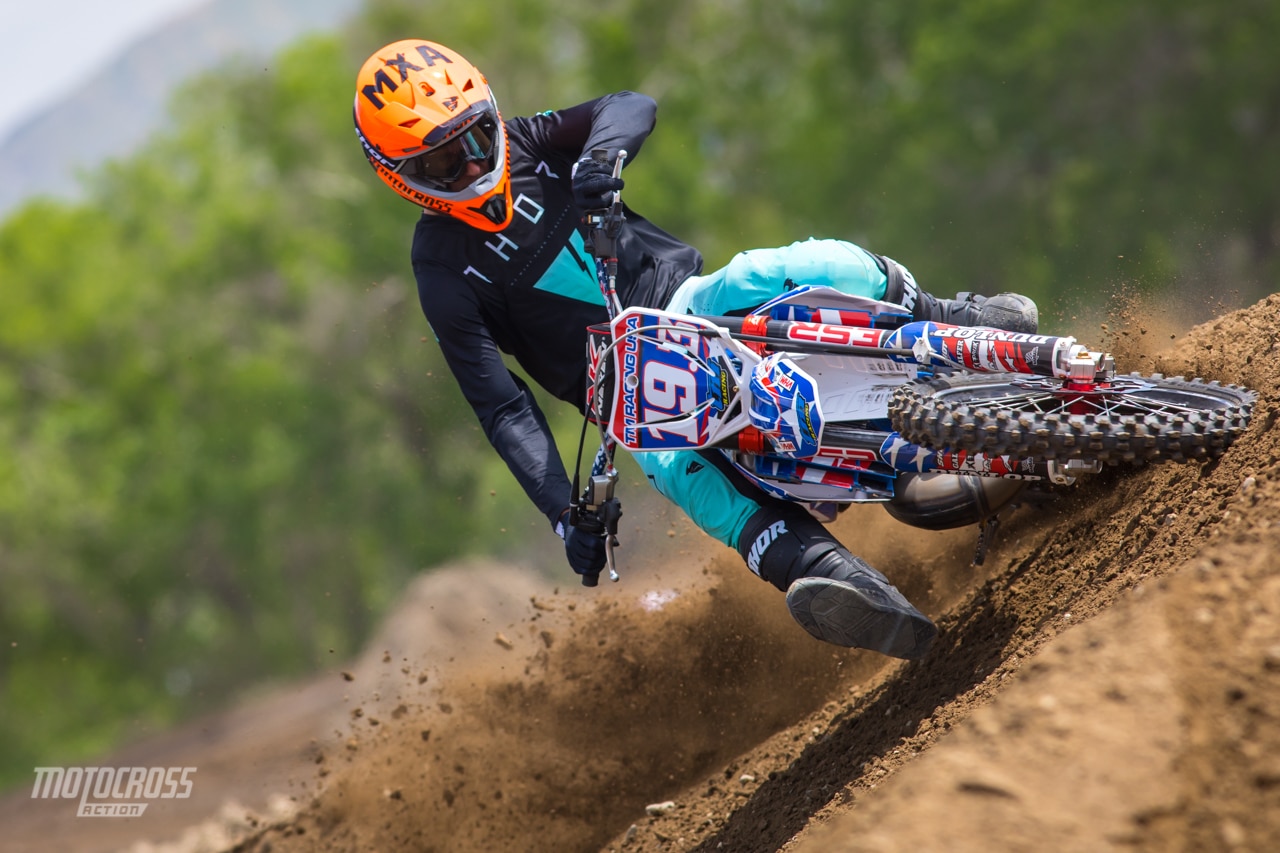 We had our MXA assistant editor, Josh Mosiman shake it down. 
We know what you are saying. What is MXA doing testing an off-road bike? Well, for starters this 2019 KTM 250XC-F is virtually identical to the SXF version save for the six speed tranny, softer valving, oversize tank, 18-inch rear wheel and kick stand. The engine, mapping and even the suspension internals are the same. The softer valving intrigues us as most KTM forks are too stiff for our liking. 

If you don't know who his handsome fellow is, it is KTM media relations go to guy, David O'Connor. He is the guy that has to put up with us all the time.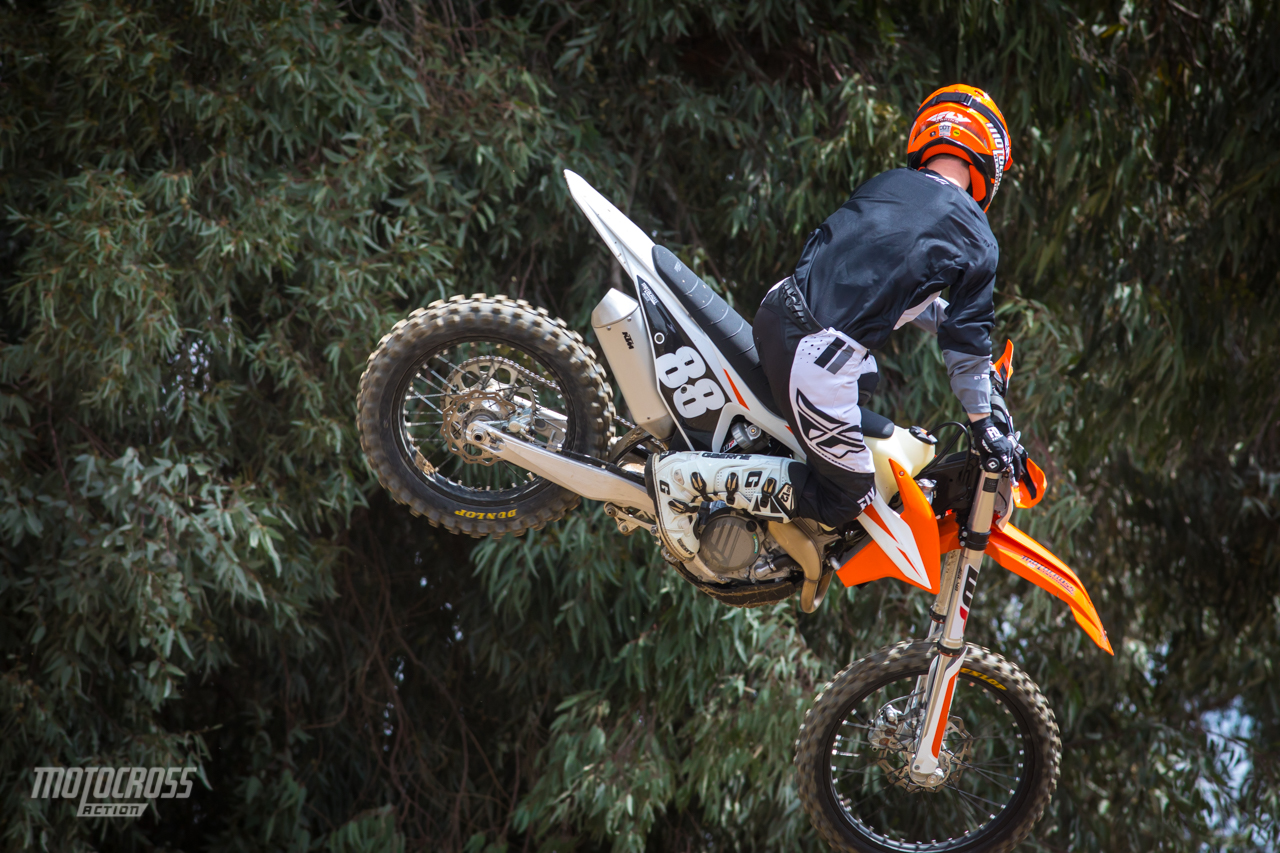 Off-road bike? Justin Muscutt couldn't tell the difference. 
The MXA wrecking crew got our hands of the Oset MX10 and have been having a blast. This electric bike can take a beating, is fast and the battery lasts longer than most kids will. 
This little guy got comfortable really quick on the MX10. 
Josh Mosiman was practicing his form on the MX10. 
The 2019 Honda CRF250F is an all-new bike with fuel injection. This is a great bike for the family to learn and play on. 
We were told not to jump the bike, but we couldn't help ourselves. 
A committed Canadian.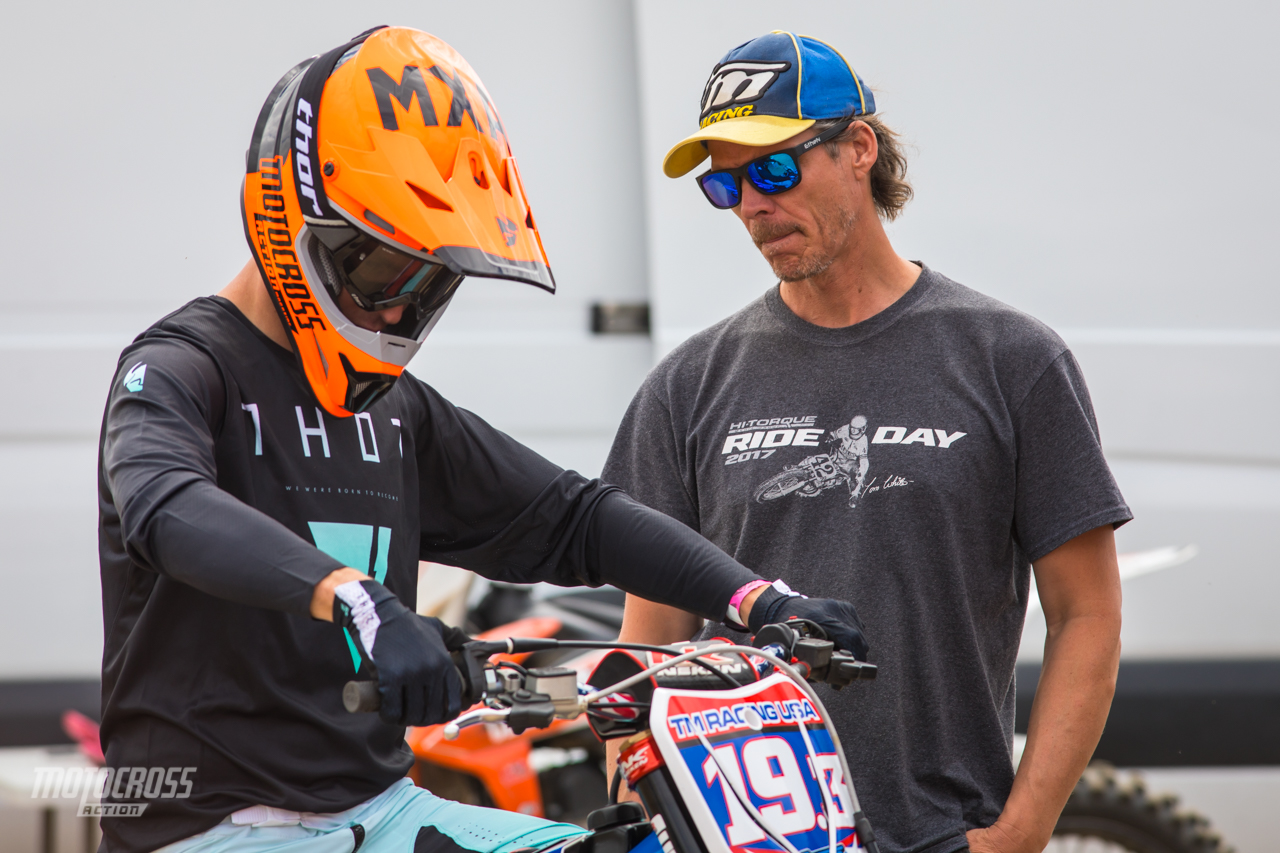 Ralf Schmidt and Josh going over the bike. 
MXA's Jody Weisel dusting off an orange lid. 
Our video guy, Travis Fant calling the shots to Josh on the TM 300MX. 
MXA YOUTUBE CHANNEL | HIT THAT SUBSCRIBE BUTTON


The MXA wrecking crew is everything moto related. Check out our MXA YouTube channel for bike reviews, Supercross coverage, rider interviews and much more. And don't forgot to hit that subscribe button. 
THEY SAID IT | 2019 NASHVILLE SUPERCROSS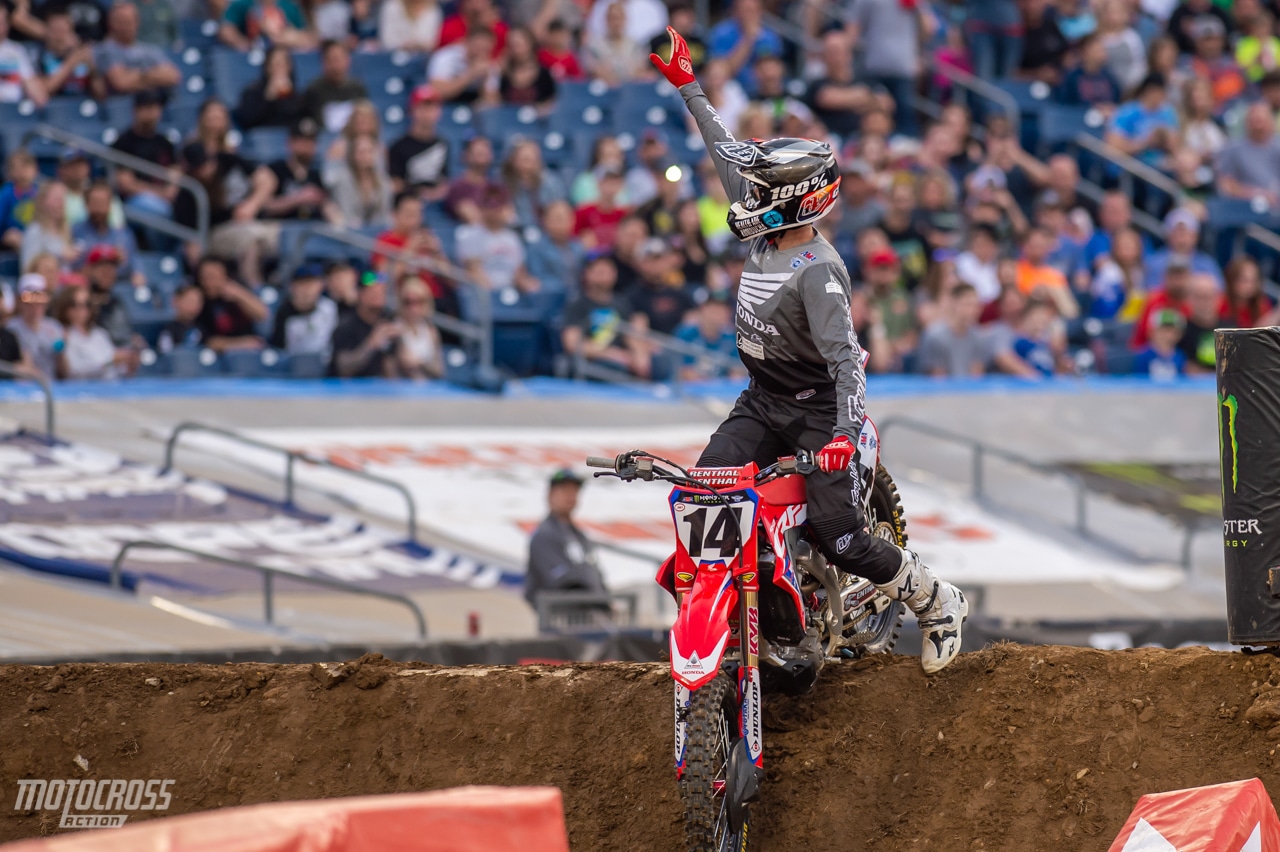 Cole Seely: "Tonight was good but still not great. I'm still happy though. I was running really good for the first 14 minutes of the main event and then just got tired there toward the end. It's kind of been the story of my season, unfortunately. I've been struggling with my fitness—more strength-wise than cardio. I've been working on it, but it's hard to build during the season because you can't work yourself so hard during the week then be flat on the weekends. It's a fine line but I think I'm doing a good job in my routine. We're just taking the positives away from tonight. I feel like I rode really well and rode with more confidence than I normally do when I line up."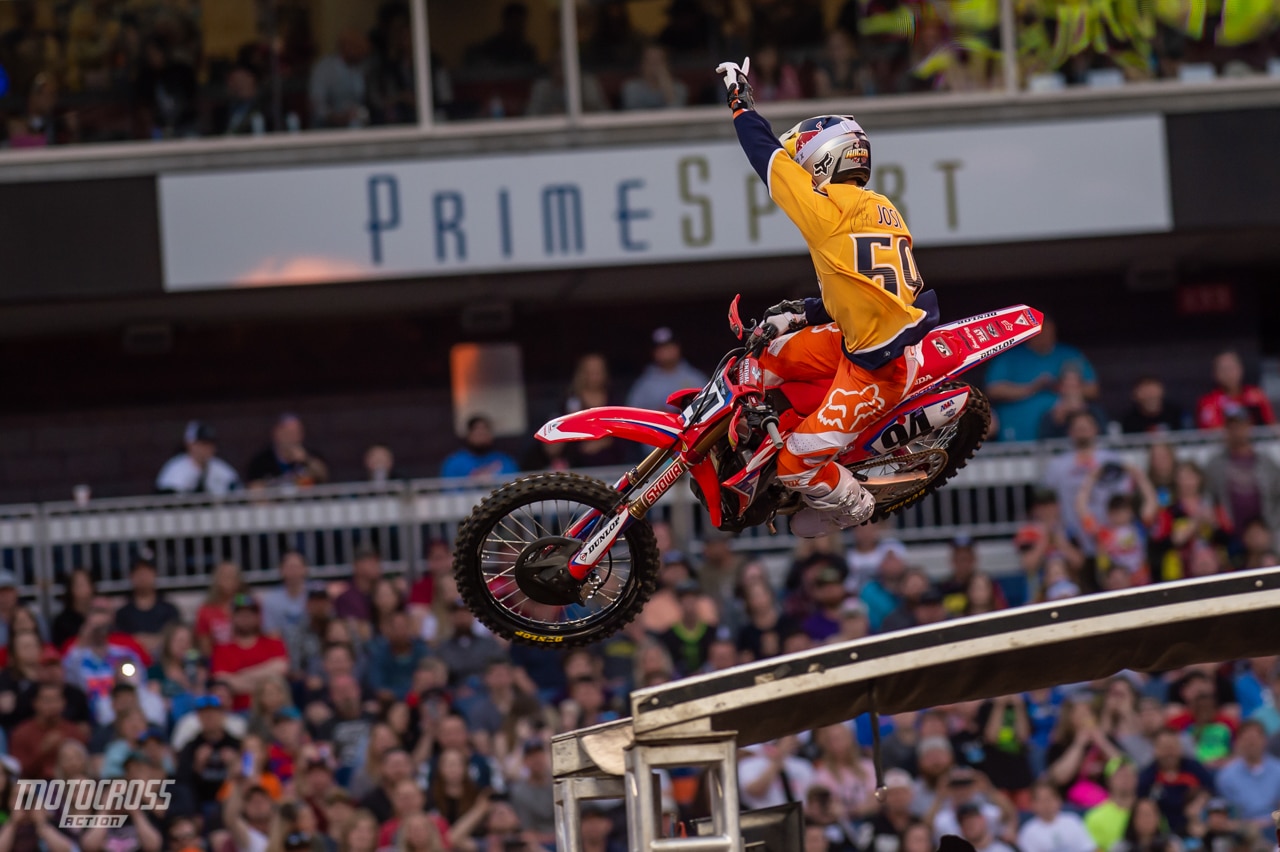 Ken Roczen: "I don't even know what to say because nothing surprises me at this point. I feel like I just can't catch a break. Things started out so great and I really felt like tonight could have been my night. Everything was flowing well in qualifying and I got another heat-race win. My bike was working great and I was having fun. I didn't get the start that I wanted in the main event but was making passes quickly. Unfortunately, [Joey] Savatgy went down while I was right behind him and I hit his bike. There was nothing I could do; I had nowhere to go. By the time I got going again I was last, so I just tried to dig deep and do whatever I could to make up as many positions as possible. I'm not happy with eighth but it's okay considering what happened. We've got a few more opportunities to make it happen, so on to Denver."
Martin Davaolos: "I've been going through a lot these past few weeks trying to get some answers on why I've still been in pain in my neck and we were able to make some progress since Indy. Even though I still have a ways to go, it helped just enough to keep me competitive and get the win. I am really happy to be back on top, especially after a tough day for the team. I'm looking forward to a few more weeks off before finishing out the season."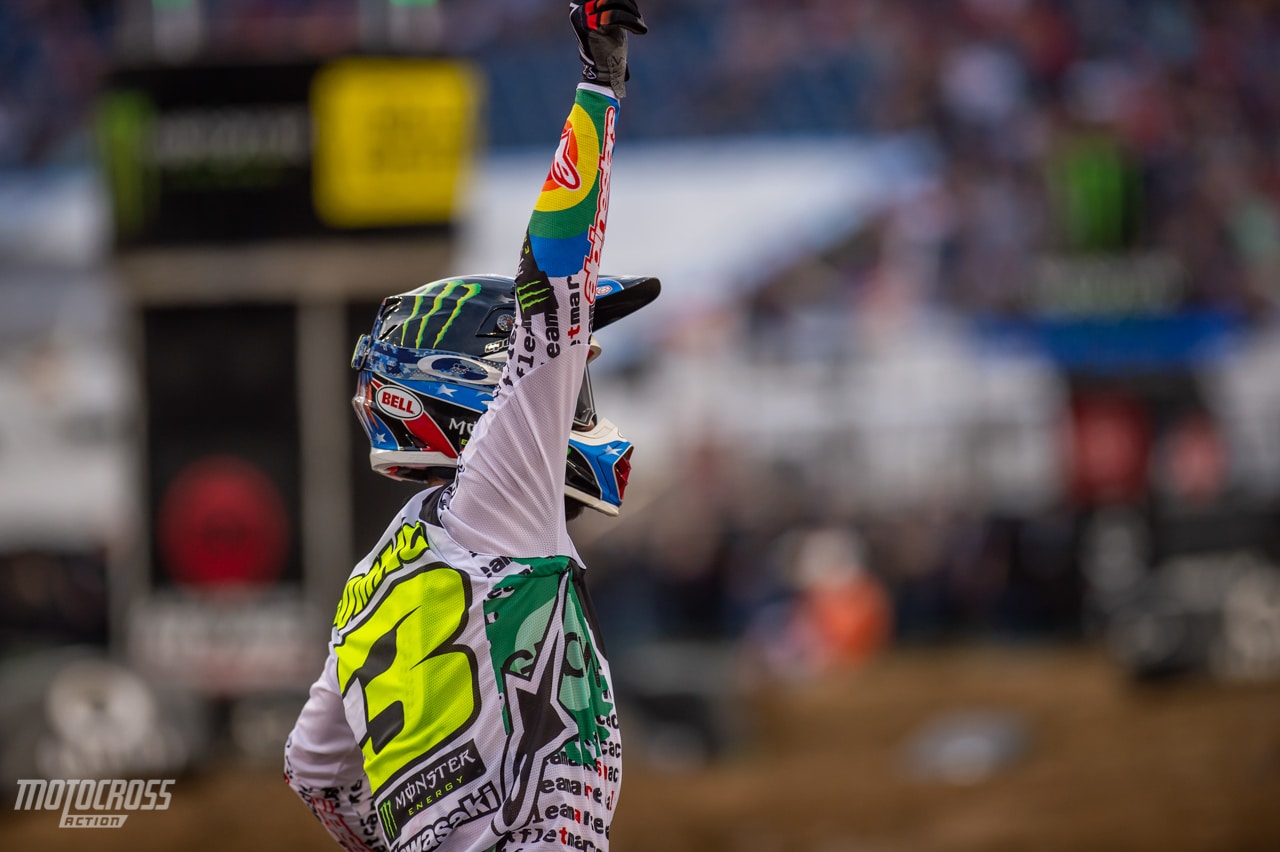 Eli Tomac: "I'm kind of at a loss for words right now, really. Qualifying was not so good today. I was a little behind and not my normal self. Then, was leading the Heat Race and don't know what happened and went to the LCQ and got through that. I had some fortune with those crashes [Musquin and Roczen], but overall felt good through the whole Main and that's the most important thing. Thanks to everyone for sticking together".
Justin Cooper: "I struggled to find my flow throughout the day, but was able to put it together for the main, pull the holeshot and get out front. I had a battle on my hands quickly and had some first lap adrenaline pumping, went to make a pass and ended up going down with Chase [Sexton]. It definitely wasn't my intention, but hey, you live and learn, that's racing and not everything goes right all the time. It was frustrating that I had to come through the pack again after two falls, but I'm happy to be on the podium and leaving safely. Thanks to my team for all the help this weekend and making sure I was comfortable out there when it mattered."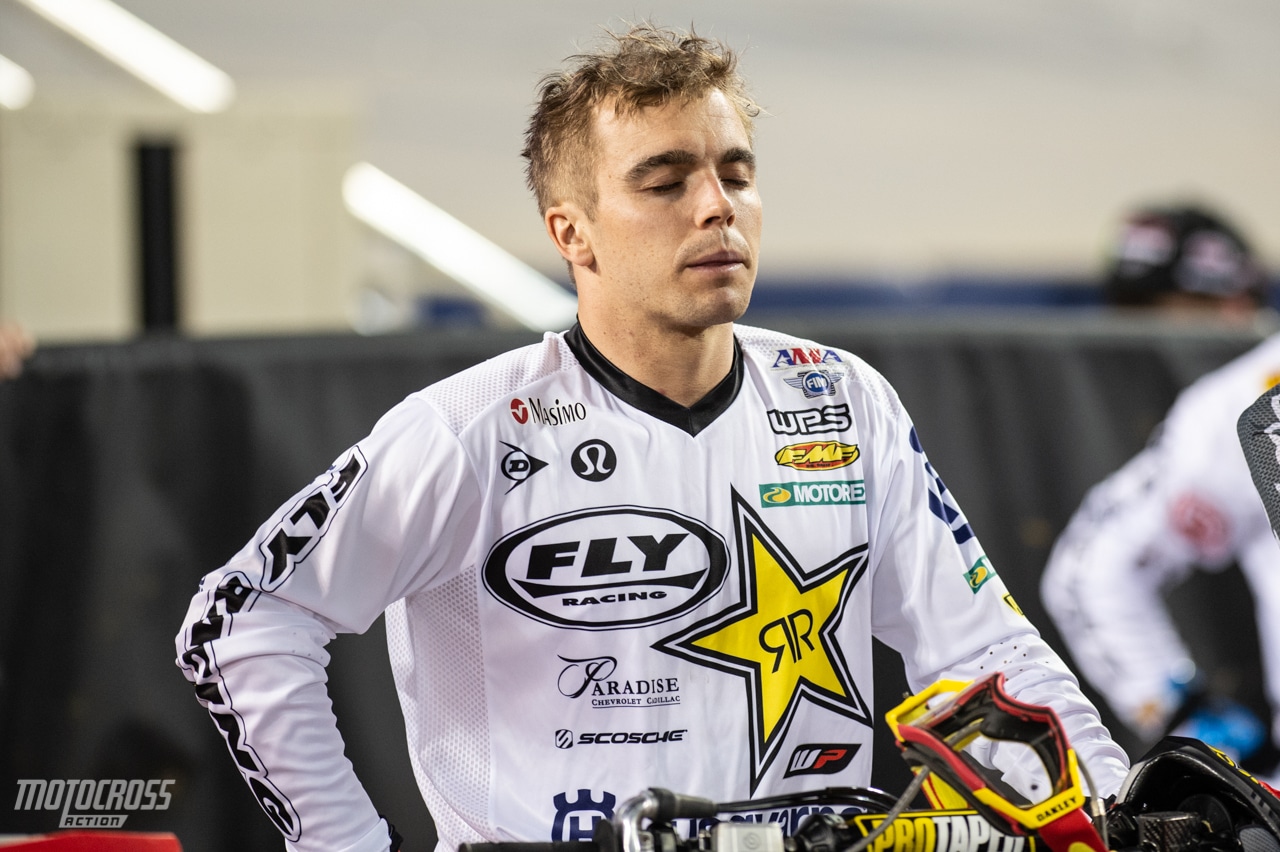 Zach Osborne: "Progress is progress, even if it's slow or small. I started off a little slow on the day but a third in the heat race and fifth in the Main Event definitely feels like we're going in the right direction. I'll keep plugging away and looking forward to outdoors."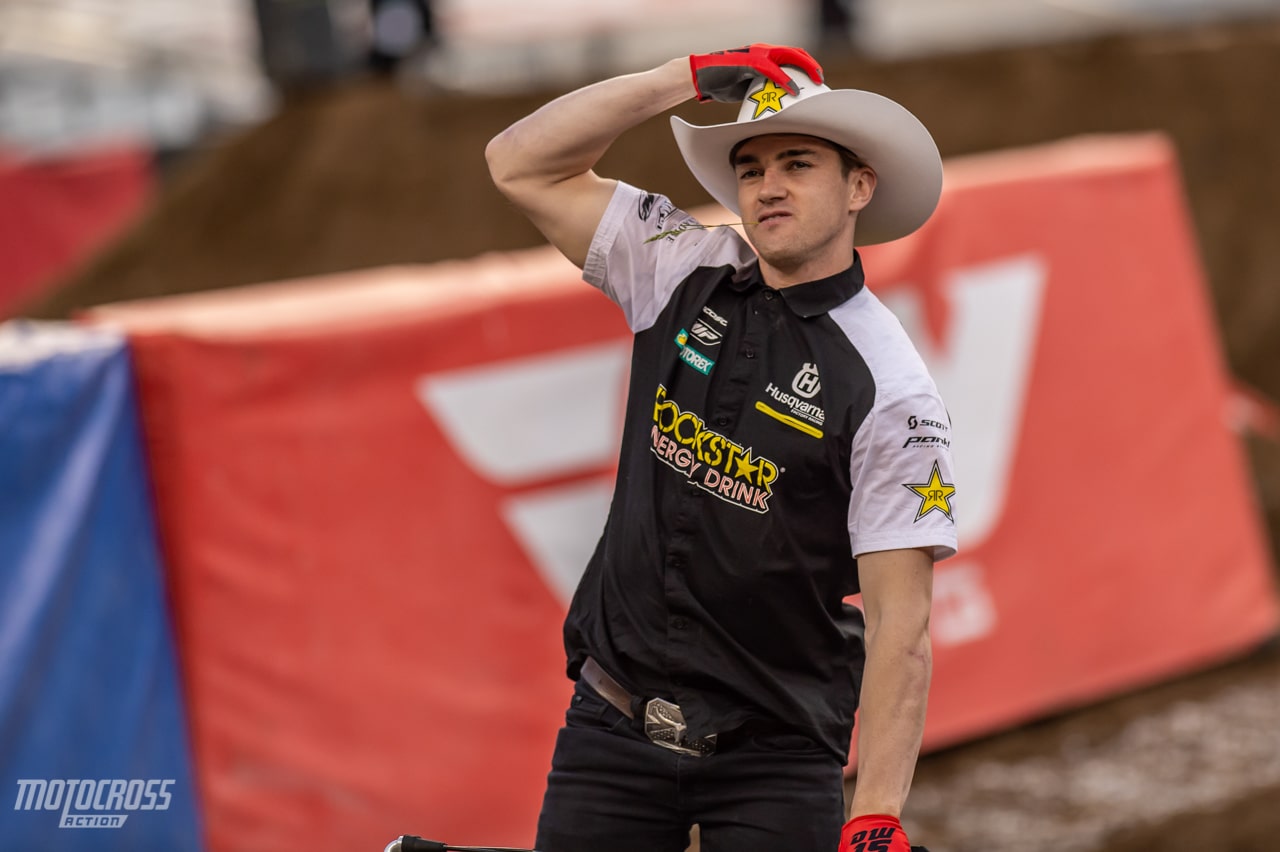 Dean Wilson: "I qualified third, so the speed was good today. In the heat race, I rode a bit tight and ended up fourth. In the Main Event, I got a good start and avoided some carnage early on and got into second. I got passed by a couple guys and from there I rode in a pretty solid fourth the whole race. Fourth is a good finish but the podium was so close, so I just have to keep pushing for that."
Cooper Webb: "It was nice to get the holeshot and lead some laps in the Main Event. I made some mistakes and got passed by Eli and Blake – they were both riding really good tonight. I'm keeping the bigger picture in mind and a podium finish isn't too bad, we were able to take away some points and extend the lead a little bit heading into the last three rounds."
Marvin Musquin: "Qualifying eighth in the heat race kind of put me in a bad position for the Main Event but I was able to get a decent start in second. Unfortunately, I made another mistake in the first set of whoops and I went down. From last, I came all the way back to sixth-place, which is okay but the end result is not good so we'll keep on fighting."
Kyle Peters: "The whole day was a lot better than previous rounds. I felt good in practice and qualifying. I was loose and comfortable right away and looked forward to a good night. The heat race came around, and where they prepped the track it was hard pack underneath and marbles on top. I washed the front end out and came back up to seventh. Once I saw Sexton and Cooper down, I knew it was time to go. I rushed it a bit and made some mistakes. I didn't ride the race like I should have. I wasn't hitting my breathing spots and tried too hard. Overall, it was a good night. It was awesome to have my family there, and the team was on it all day. We're making progress, and we'll get up there in New Jersey."
Alex Martin: "It was one of those days. The heat race was the highlight of my weekend. Nashville is a pretty cool city, but the racing was rough. We made some changes going into the night show and they didn't work out like we had hoped. It was frustrating, but we're going to rebound."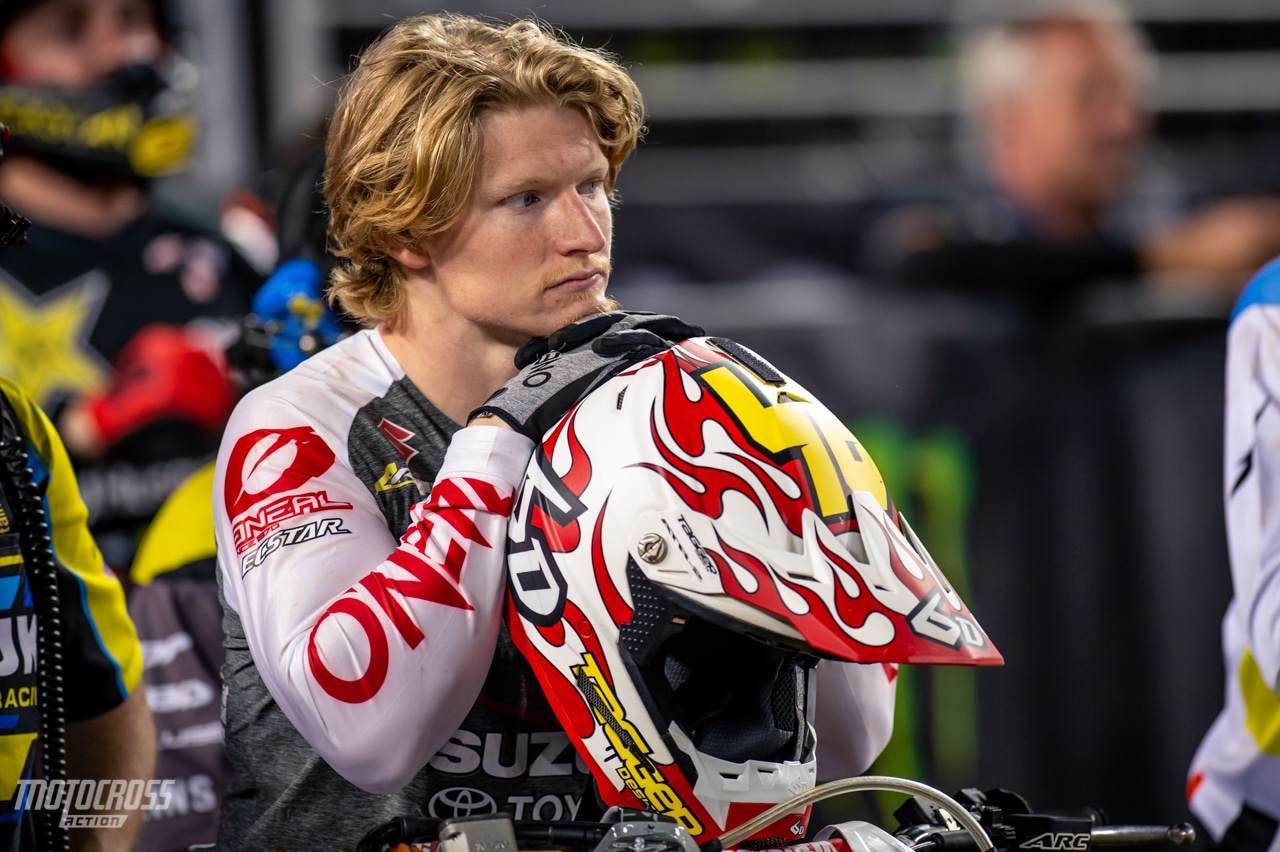 Justin Hill: "I was really vibing with the track this weekend, but I made a small miscalculation in a rhythm section and damaged my L5 vertebra and a few other things I can't pronounce. I rode the remainder of the night as best as I could, but I was in a lot of pain. Ultimately, I couldn't finish the race, because my back was giving out on big jumps after ten minutes of the main. It's very disappointing, because I liked the track a lot. The bike is working really well right now. I'm going to get my body checked out and take it from there. I hope to make it to Denver."
DAVID O'CONNOR KTM 250SXF PROJECT BIKE
TALK MOTO WITH MOTO MINDED PEOPLE. JOIN MXA'S FACEBOOK GROUP CHAT
We love everything moto and want to bring all moto junkies together into one place to share their two cents, ideas, photos, bike fixes, bike problems and much more. To check it out first you must need to or already have a Facebook account. If you don't, it isn't much work and you could even have an alias so nobody knows it is you. To join CLICK HERE. After you request to join we will accept your request shortly after.
EVS SPRING SALE
CLASSIC MXA PHOTO
Steve Lamson back in 2005.
---
Moto Trivia answer: Doug Domokos.