MOTOCROSS ACTION MID-WEEK REPORT
#WHIPITWEDNESDAY
Rider: Adam Cianciarulo
Bike: 2019 Pro Circuit Kawasaki KX250
Location: Denver, Colorado Supercross
Photographer: Brian Converse
TWO-STROKE SPOTLIGHT: DOUG DUBACH'S 1983 YAMAHA YZ100
 This week two-stroke spotlight belongs to Doug Dubach's 1983 Yamaha YZ100. Read below to find out why.
Back in the day, racetracks were filled with 100cc bikes, with everything from Novice to Pro classes. That time has long since passed, but 100cc two-strokes still have a place in racing, thanks to the Marty Tripes 100cc Works Revenge Series. The rules are rather basic: the engine must be 100cc (bored no more than 2mm over); no water cooling; the frame must be from 1983 or earlier. However, the frame can be modified or made from hand. Other than those few mini moto laws it's fair game for anything under the sun. Doug Dubach, with the help from his friends, crafted a ridiculously cool 1983 Yamaha YZ100.
The engine is stuffed with a Wiseco piston, REM-coated gearbox, Barnett clutch, Moto Tassinari reeds and 34mm Keihin PWK carburetor. A gusseted frame, CRF450 footpeg mounts, IMS pegs and an aluminum Yamaha IT175 swingarm are also on the YZ100 conversion. In my eyes the coolest parts on the bike are the hand molded carbon fiber gas tank, number plates, chain guide and airbox cover. What can I say, I'm a sucker for carbon fiber.
Dubach's 1983 Yamaha YZ100 was a blast to ride. You had to fight the urge of hitting the brakes for fear of slowing momentum, because the engine isn't a modern pony pusher. It was no surprise that Doug Dubach could fly around the track on his YZ100, just as long as the hills weren't too steep. Watching "The Doctor" tear around on 36 year old bike was like traveling back in time.
Editors Note: Please keep those submissions coming. If you would like your bike to be featured in the "Two-Stroke Spotlight," please email me at [email protected]. All I ask is that you give a breakdown of your bike and a detailed description of the build. Please also send a few photos of your steed. By submitting your bike for the "Two-Stroke Spotlight," you agree to release all ownership rights to the images and copy to MXA. Please don't email me spam or try selling me Taylor Swift concert tickets or email me spam. Happy submitting your smoker.
MOTO | TRIVIA
Who is this rider? Answer at the bottom of the page.
FORGOTTEN BIKES: KELLY SMITH'S 2004 YAMAHA OF TROY YZ250F
POLISPORT ARMADILLO PIPE GUARD

Press Release: The Polisport Armadillo pipe guard  is a new generation of pipe guard that blends stainless steel and silicone to provide the best protection to the 2 stroke pipes. The use of elastomer reduces vibration noises and it is resistant to high temperatures. The mounting system makes it easy to install and disassemble the protection when cleaning, using only 3 brackets to assemble the part on the pipe and, after that, you only need to tight and loose 3 bolts.
The protection is flexible in order to adapt to your pipe's shape. ARMADILLO is an universal protection for the 2 stroke bikes is abrasion and impact resistant, includes all the hardware and is available in brand colors.
HONDA CR-E PROTOTYPE CLOSE UP SHOTS



THEY SAID IT | 2019 DENVER SUPERCROSS
Cole Seely: "I'm bummed with how tonight ended, considering how well it started. We've been making steady progress and I've had some good rides the past couple weeks, so I was hoping to build on that. My heat race was great but the main event was a different story. My start wasn't good and then I just had multiple incidents, going down once and then coming together with Alex Ray and getting his foot peg in my front wheel. I could hear and kind of see the broken spokes but I didn't know how many were actually broken, so I didn't want to risk it. I pulled in and they changed it so I could at least go out and finish—not how I wanted to end the night but we're moving forward."
Ken Roczen: "Today was a struggle. I felt off all day. Qualifying didn't go great, then I got bad starts in both races, and I just ran out of steam in the main event. I'm trying to get my body back to 100% but it's been a challenge so I'm really looking forward to a weekend off. I've been fighting fatigue and trying to figure out what's going on for a while now, so it's been hard to come to the races feeling the way I have been. The elevation today definitely didn't help either. I know once I'm able to get this fixed and get some consistency in my program, I'll be in a good position to start winning. Hopefully I can come back and finish the last two races strong."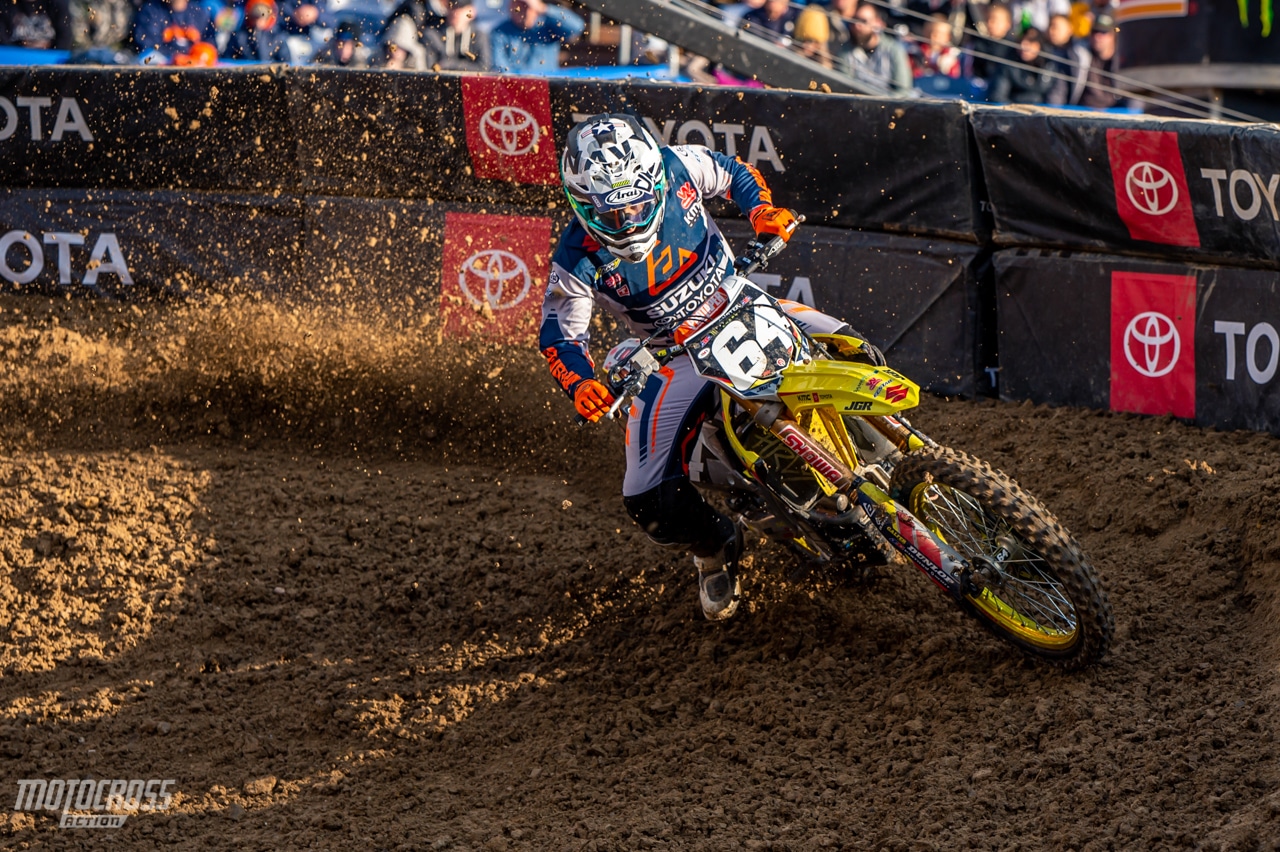 Jimmy Decotis: "Denver was a fun weekend! We had some snow during the practice sessions, which was actually pretty cool and different to be riding in those conditions. I felt like I was back home in New England. When the night show came around, the weather was awesome. I started with a second in my heat race and rode well. I had a good start in the main event, but I struggled to keep the lead pace. The track was very hard pack and challenging. Thanks to Buddy Antunez and Jeremy Albrecht for keeping my spirits high. I'm really hard on myself, so it's nice to have a support team to keep me positive. I'm looking to end the season strong at Las Vegas."
Justin Hill: "I'm ultimately proud of my effort coming into Denver. I put in a lot of work to get my lower back moving. I'm definitely riding in a lot of pain, but I'm getting through it. I feel like I will be better for that, as soon as I'm back to 100 percent health!"
Adam Cianciarulo: "At altitude, we have to start in first and get up to second pretty quick so the start was tougher than normal for a taller guy like me. It was hard to find a clean place to pass and I didn't want to do anything stupid. I feel like I'm always at my best when my back is against the wall. We have one more to go and I've had a good record in Vegas. After two weeks thinking about those races, it's a great feeling to get this one off my chest."
Garrett Marchbanks: "It was such an up-and-down day. I felt great in practice and then had to go to the LCQ. Then I won the LCQ and almost got the holeshot from the outside. And then I got sideways and went down pretty hard. I think the biggest bummer is that I was finally starting to feel good and confident there in the LCQ and it came out when the gate dropped. We have one more shot in Vegas to put it back in the top 10, but hopefully better than that."
Eli Tomac: "I mean, that's like what I dreamed of and that was by far the coolest crowd, best atmosphere. And they were so loud. It was like it was, just loud, like coming over the triple there, battling for the lead, it was the loudest thing I've ever even heard. It's so special. [So very] cool."
Dylan Ferrandis: "The track was difficult to pass on tonight and that really cost me after starting around eighth. I didn't struggle with the altitude so much as I did with the cold. I never felt like I could get warm and it was tough. But it is how it is. It's not the scenario we were hoping for after two very good weekends. We have a weekend off and will use that time to keep working. We will give it everything we've got in Las Vegas and make sure it goes down to the final lap for the championship."
Colt Nichols: "It was a good night at the Mile High Stadium overall. I felt I had the speed to contest for the win but just didn't execute the start. I ended up messing it up and got pushed out, so I had to come through the pack. The team really did our homework coming into this race so the bike felt awesome and I could really push through the pack. After the start I really had to work for it, but I rode like myself and I'm leaving this race happy knowing that I left it all out there on the track, which is about all I can do. It's all good though, I've got a few weeks to clean it up and to come out swinging at Vegas."
Michael Mosiman: "I was able to get off to good starts tonight and I think that's what has really changed for me this second half of the season. To be able to get out front and lead some laps felt really good and was a huge confidence booster. It was a big-time learning experience and I was able to cherish the moment and stay relaxed throughout the race."
Zach Osborne: "The heat race was really positive for me, I was able to get second and I felt like I had the speed to win but just wasn't really executing. In the Main Event, I got off to a decent start and was in position to really charge for a podium but the second half of my Main I had a hard time getting back into the flow after the red cross flag came out."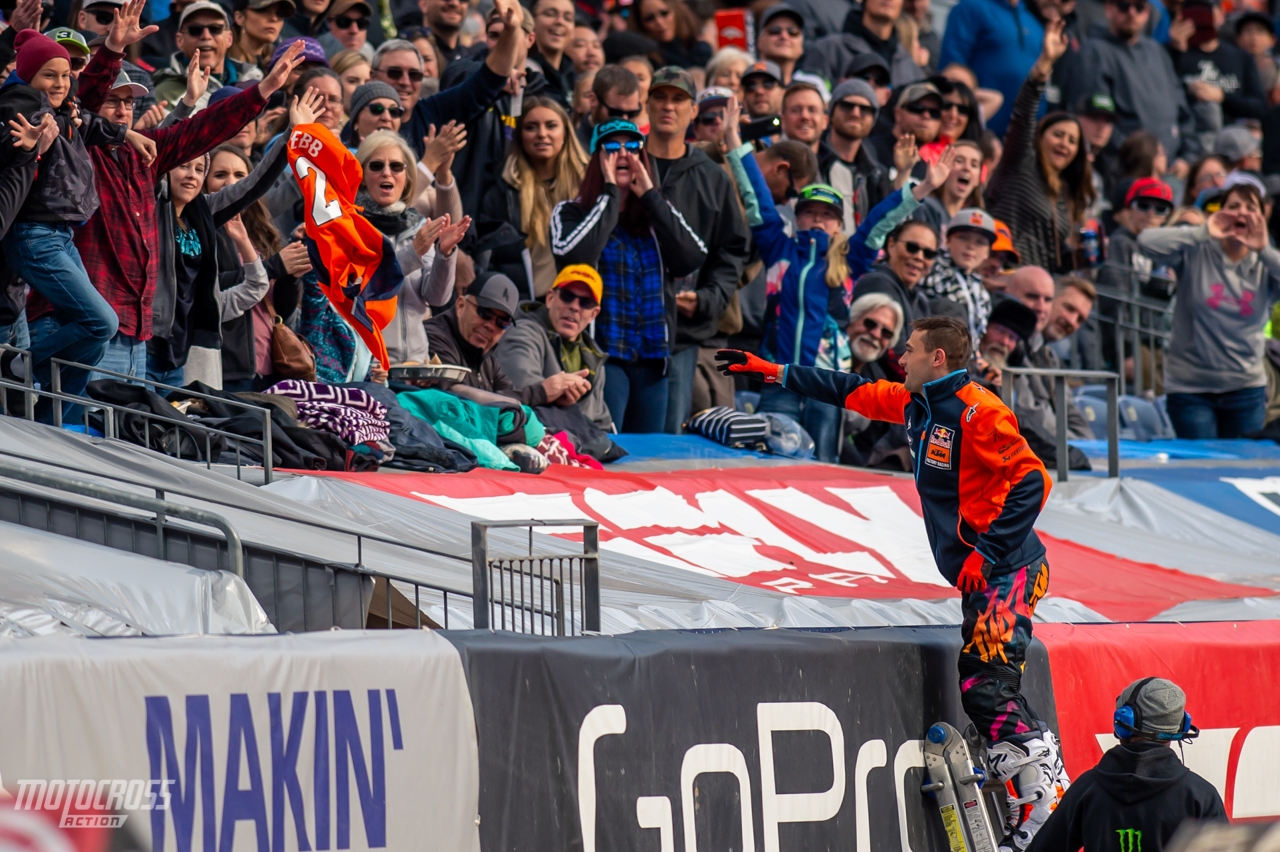 Cooper Webb: "I rode really well once I got around Joey [Savatgy], I was really good in the whoops, good on the whole track and I was able to catch Marvin and actually pass him put a little gap. I felt like I caught Eli a little bit but he was kind of riding his own race. Overall, it was a good weekend. Obviously, I want to win but it's still good points and we'll enjoy this off-weekend."
Marvin Musquin: "I was not very confident going into the Main after a difficult heat race but good thing we made some changes and they helped me pull off a good start – that was the key to getting on the podium tonight. The track was very difficult with the hard surface and ground but no excuses I gave my best."
WORLD TWO-STROKE CHAMPIONSHIPS ARE THIS WEEKEND AT GLEN HELEN
Dust off your two-stroke, 'cuz there's a class for everyone. For more info go to www.glenhelen.com 
KTM POWERWEAR OFFROAD COLLECTION MY2020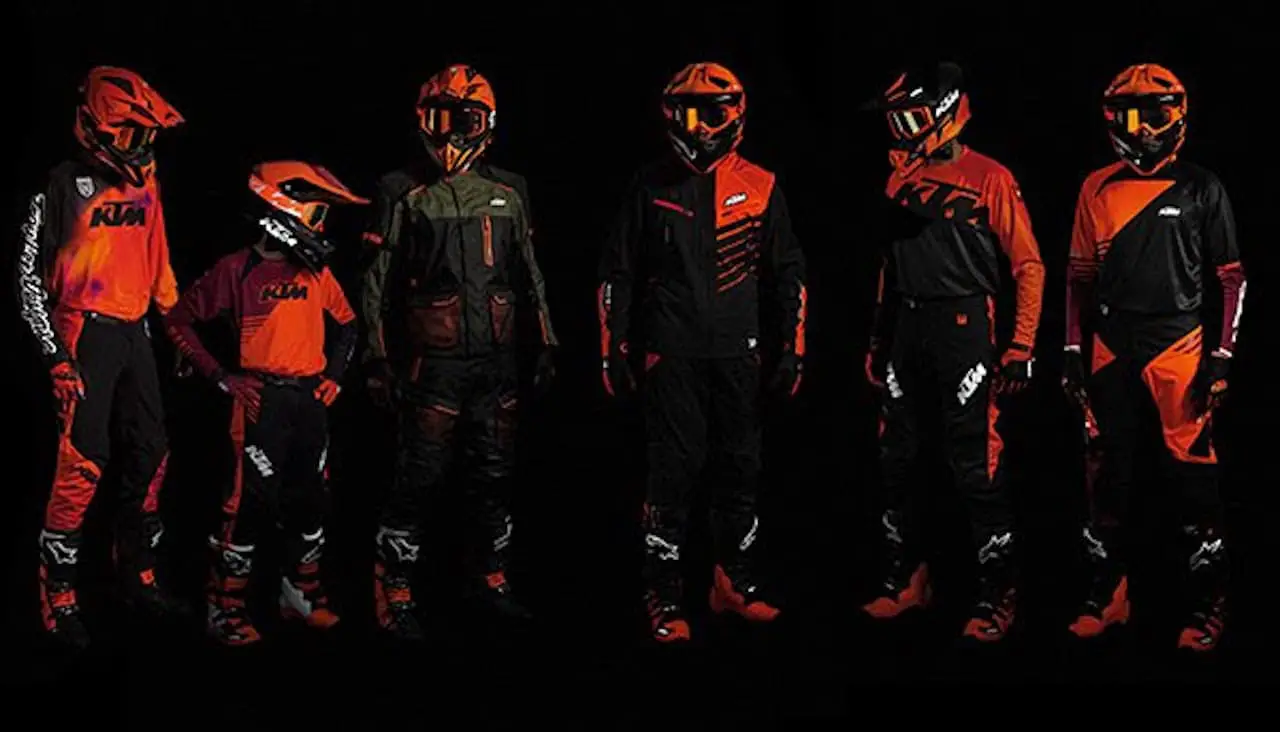 Press Release: Riding dirtbikes is hard, brutal, physically and mentally exhausting, which is why riders need the very best clothing to enhance their performance. With that in mind, KTM is excited to introduce its KTM PowerWear Offroad Collection MY2020, offering a wide range of high-quality riding gear for the aspiring youngster to the adult pro – Undeniably made to be worn with intent!
With options suiting all rider requirements, the collection includes the highly sought-after SE Pro Slash gear, exclusively made for KTM by Troy Lee Designs with the quality features expected from premium riding gear and a stand-out design. This setup can be complimented with products such as the KTM PowerWear Prospect goggles, which provide maximum vision with NoFog™ Technology lenses by Scott, while the Prospect WFS goggle is also offered with a roll-off system for those extra dirty days.
Within the MY2020 KTM PowerWear Offroad lineup are the Tech 10 boots – high-quality racing boots to protect riders with the very latest technology, whilst standing out on the start gate. Created with KTM by premium brand Alpinestars, the Tech 10 boot is a world class boot with a huge pedigree of racing history and development behind it. In addition, the race-proven Bell Moto9 -Flex has a new design to complement its high-end features, so you can give total commitment on every ride.
For the enduro rider there's a specific range of premium products specially designed for those heading for the woods, rocks or hills on an adventure or to race a trail. The Defender Jacket and pants offer a practical, READY TO RACE solution with durable and water-resistant properties for rider comfort and functionality. The Tech 7 EXC boots have been developed to feature an enduro-specific profile for offroad riding and comfort whatever the terrain.
The KTM PowerWear Offroad Collection MY2020 offers a wide range of helmets, riding gear and accessories for the orange dirtbiker, including a variety of products for junior riders. Further information can be found HERE.
INSIDE SEAN CANTRELL'S FACTORY TLD KTM 250SXF
WIN FREE THOR GEAR! TAKE THE 2019 MXA READER SURVEY
Now is your chance to score free Thor products! Completely fill out the annual "MXA Reader Survey" in the form below.  We'll take your input to help improve both the web, digital and print content of Motocross Action. One lucky winner will be chosen at random to receive a free gear ensemble from Thor (style and/or color may vary). This year's giveaway gear includes the following from Thor: Pulse race wear, Sector Bomber helmet, Sniper Chase goggle, Blitz XP boots and Draft gloves. Retail value for this gear collection is over $500, so don't miss this opportunity to win all this stylish gear for free! Fill out the entire survey! One winner will be chosen on July 19, 2019.
YOU DO THE MATH! SUBSCRIBE TO MXA & GET A $25 CHAPARRAL GIFT CARD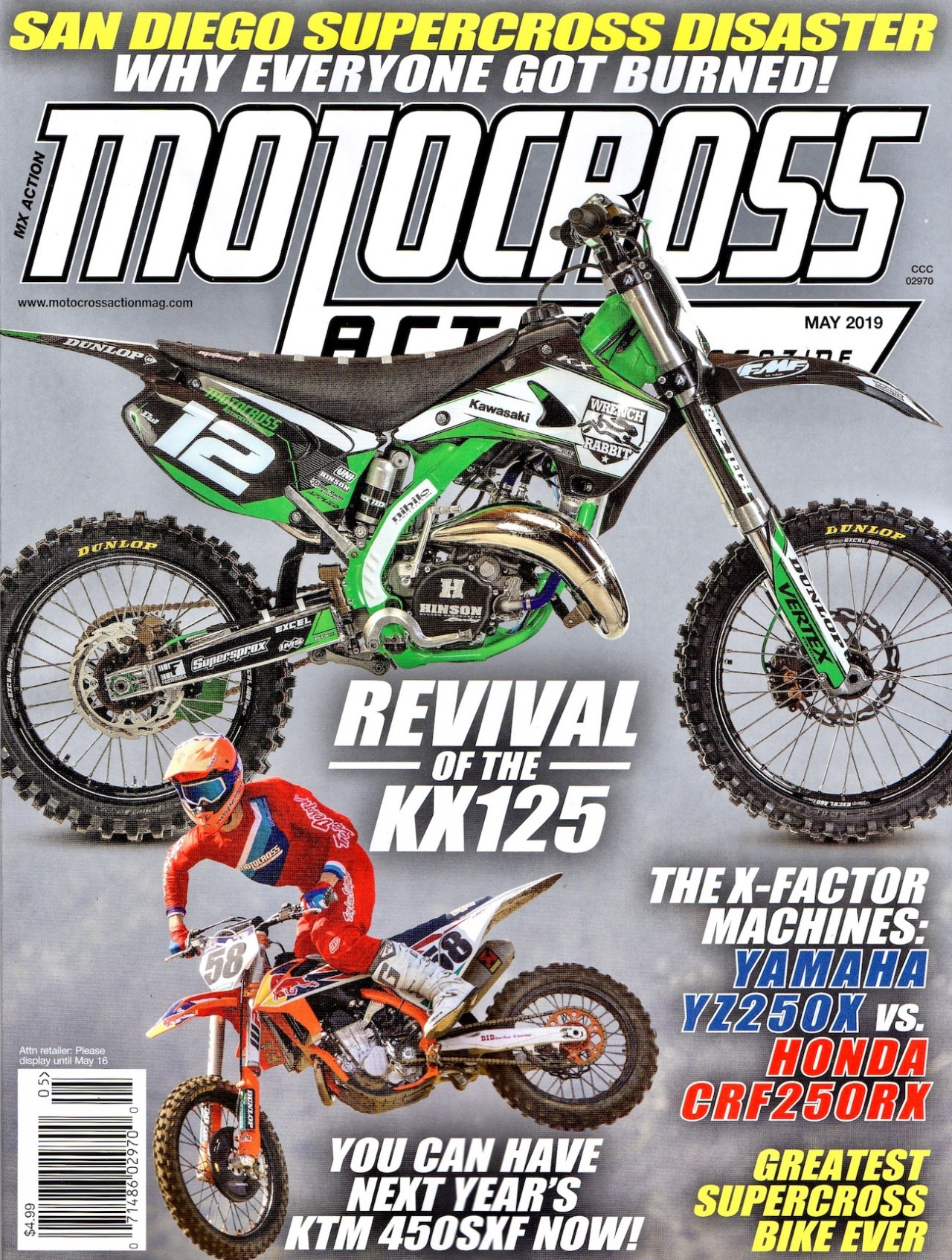 If you subscribed to Motocross Action,  the MAY 2019 issue of MXA would be in the throne room right now.
The May issue of MXA  is filled with bike tests—including the 2019-1/2 KTM 450SXF Factory Edition, 2019 Yamaha YZ250X cross-country bike, 2019 TM 300MX two-stroke, Daryl Ecklund's 2003 Kawasaki KX125 project bike,  2019 Honda CRF250RX (a motocross CRF250 with a big tank and 18-inch rear wheel) and a retro test of Travis Pastran's  2003 Suzuki RM250.  Plus, a revealing interview with Johnny O'Mara, a Moto-Physics  article on how to be a rim-scrub detective and a detailed look at the Supercross Lime-gate disaster.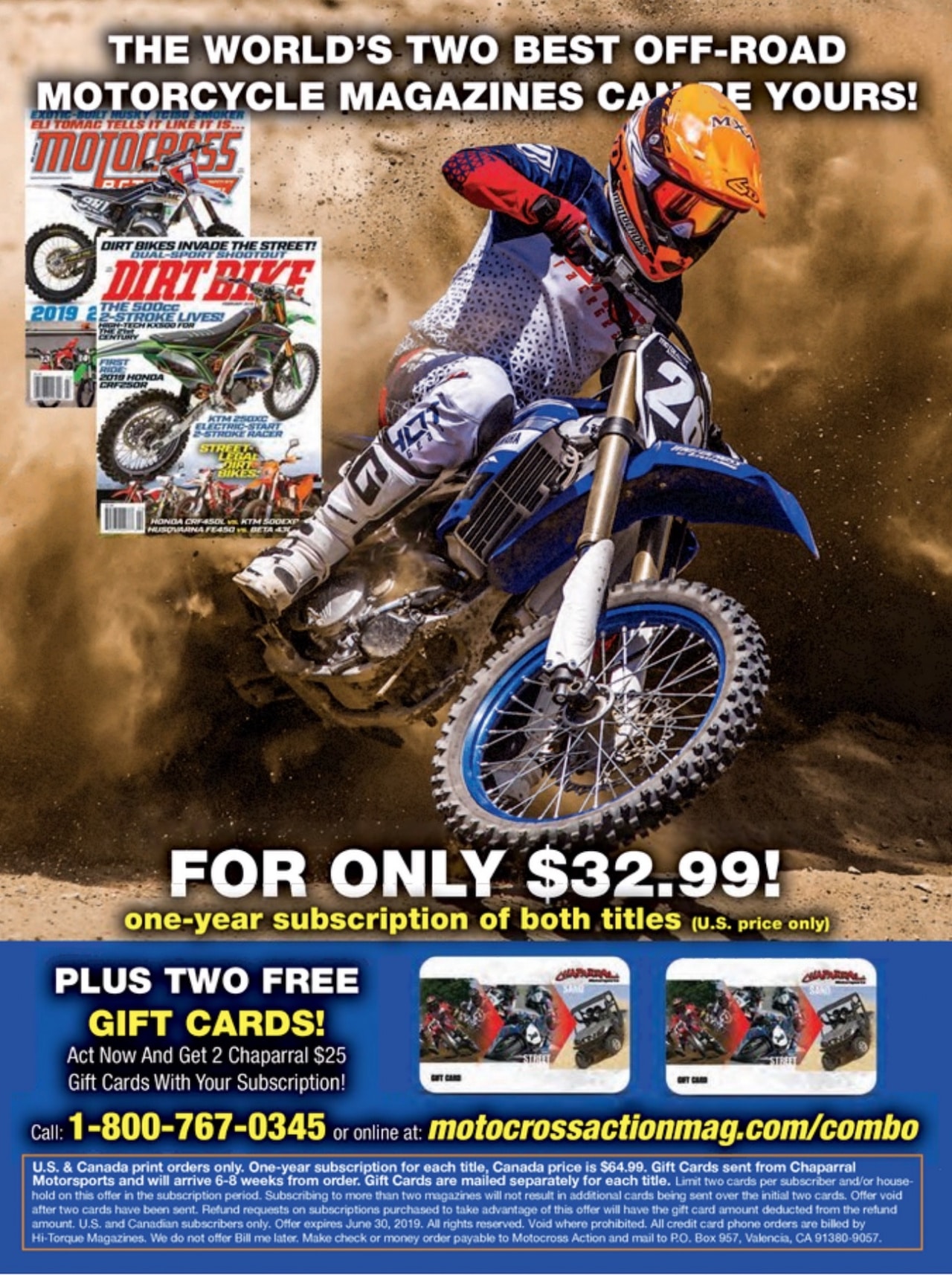 Or you could subscribe to MXA and Dirt Bike Magazine for only $32.99 for both and get $50 in Chaparral Gift Cards in the process.
If you subscribe to MXA you can get the mag on your iPhone, iPad, Kindle or Android by going to the Apple Store, Amazon or Google Play or in a digital version. Even better you can subscribe to Motocross Action and get a $25 Chaparral gift card to spend on whatever motorcycle parts or products you need. You can call (800) 767-0345 or CLICK HERE or click on the box at the bottom of this page.
MXA YOUTUBE CHANNEL | HIT THAT SUBSCRIBE BUTTON

The MXA wrecking crew is everything moto related. Check out our MXA YouTube channel for bike reviews, Supercross coverage, rider interviews and much more. And don't forgot to hit that subscribe button.
CLASSIC PHOTO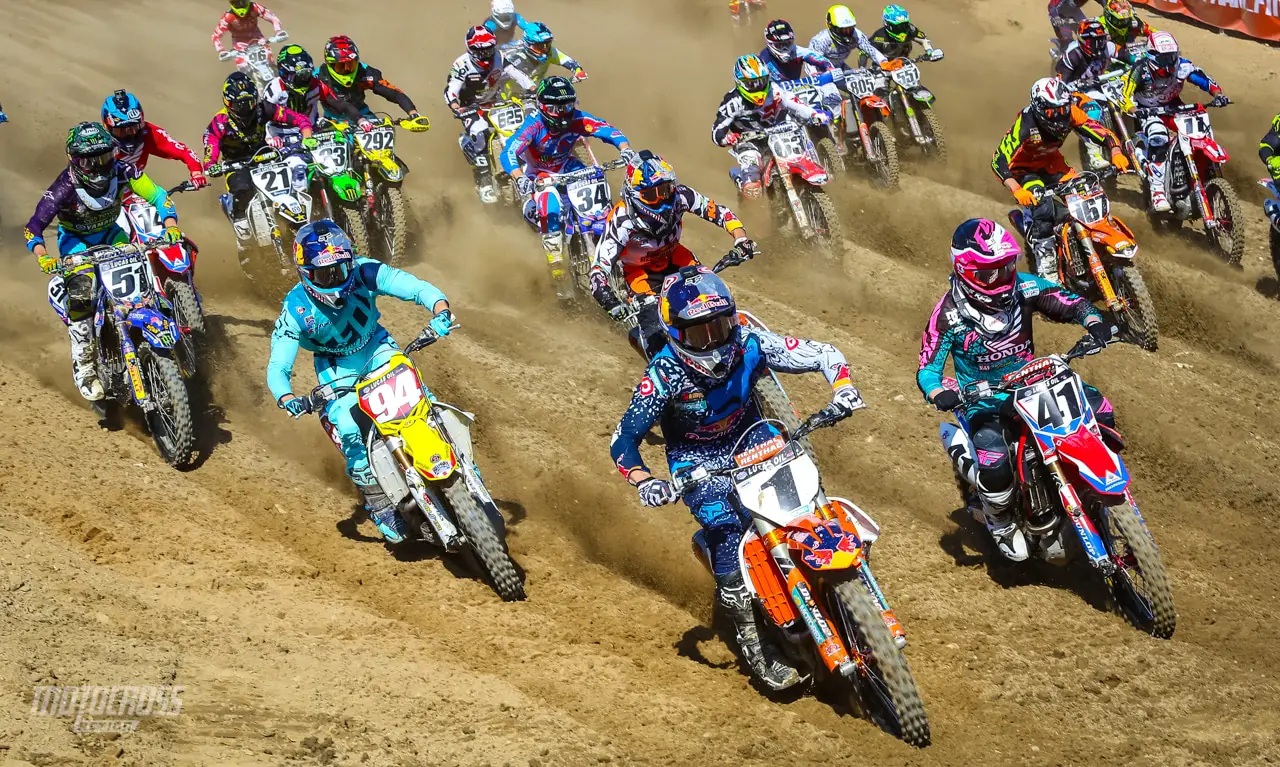 Ryan Dungey taking the holeshot at the 2016 Glen Helen national.
---
Moto Trivia answer: Mark Barnett at the Binghamton, New York 250cc national back in 1984.