MOTOCROSS ACTION MID-WEEK REPORT
#WHIPITWEDNESDAY
Rider: Ken Roczen
Bike: 2019 factory Honda CRF450
Location: East Rutherford, New Jersey Supercross
Photographer: Brian Converse
Lens: 300mm
F Stop: 4
ISO: 560
Sutter speed: 1/2000
TWO-STROKE SPOTLIGHT: CURT WINTER'S JAPANESE BLEND

I was initially worried about featuring the "Two-Stroke Spotlight," because I was unsure whether Mid-Week Report readers would submit photos and descriptions of their bikes. Fortunately, my inbox has been flooded with awesome two-strokes. Thanks for taking the time to send over info on your prized iron. I have to give a special nod to Curt Winter, who deservingly earned this week's honor with his Yamaha/Suzuki/Honda amalgamation. Take it away, Curt.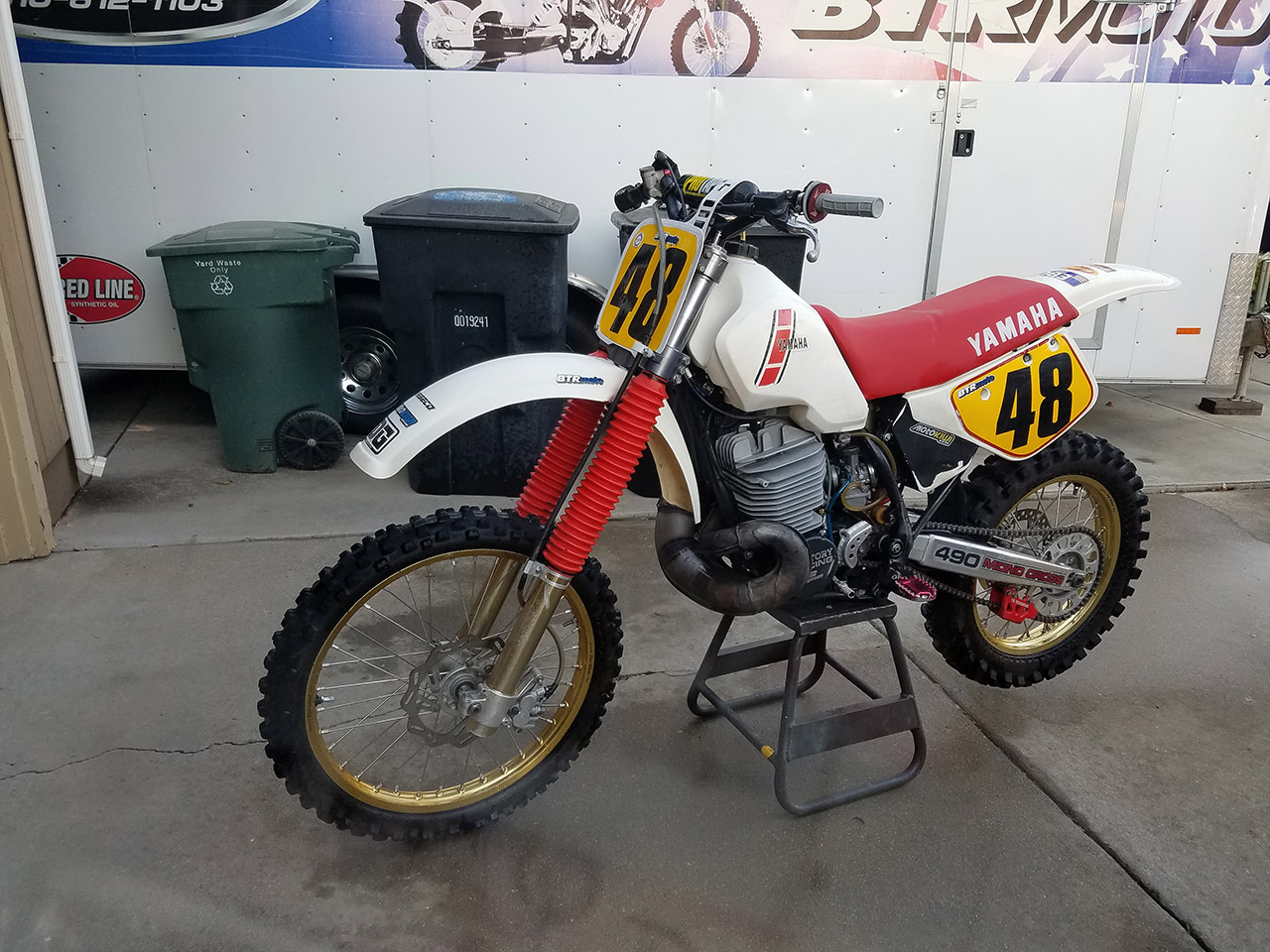 "Hey MXA, I saw your article on a Honda CR500 AF. I've built and owned several of those and have always been a Honda guy, but I wanted something different. 500 AFs are everywhere, so I built something different. I bought a well used 1987 Yamaha YZ490, stripped it down to the frame and started the build. I graphed on rear suspension from a 2007 Honda CRF250, including the rear disc brake. In an effort to retain the old school look I opted for a set of 1997 Suzuki RM250 forks. I rode and raced it for a while, but never really liked the shortcomings of the Yamaha motor. For that reason I installed the complete top end from a 1984 Honda CR500 (air-cooled) on a 1990 CR500 lower end and slapped that motor in the YZ chassis. Now it's got a motor worthy of the better suspension. I currently race it against modern bikes and have a blast. Truth be told, I was surprised how well it worked."
2019 SUPERCROSS POINTS HEADING INTO LAST ROUND IN LAS VEGAS
450 SX CLASS (TOP 10)
Cooper Webb–358
Eli Tomac–335
Marvin Musquin–327
Ken Roczen–300
Blake Baggett–274
Dean Wilson–223
Joey Savatgy–208
Cole Seely–194
Justin Bogle–158
Justin Barcia–154
250 SX EAST (TOP TEN)
Chase Sexton–174
Justin Cooper–165
Austin Forkner–152
Martin Davalos–134
Mitchell Oldenburg–128
Alex Martin–121
Brandon Hartranft–118
Kyle Peters–115
Kyle Cunningham–108
Jordan Bailey–91
250 SX WEST (TOP TEN)
Adam Cianciarulo–208
Dylan Ferrandis–200
Colt Nichols–163
Rj Hampshire–145
Jimmy Decotis–128
Michael Mosiman–128
Cameron Mcadoo–128
Shane Mcelrath–123
Chris Blose–119
Garrett Marchbanks–100
2020 KTM SX MODELS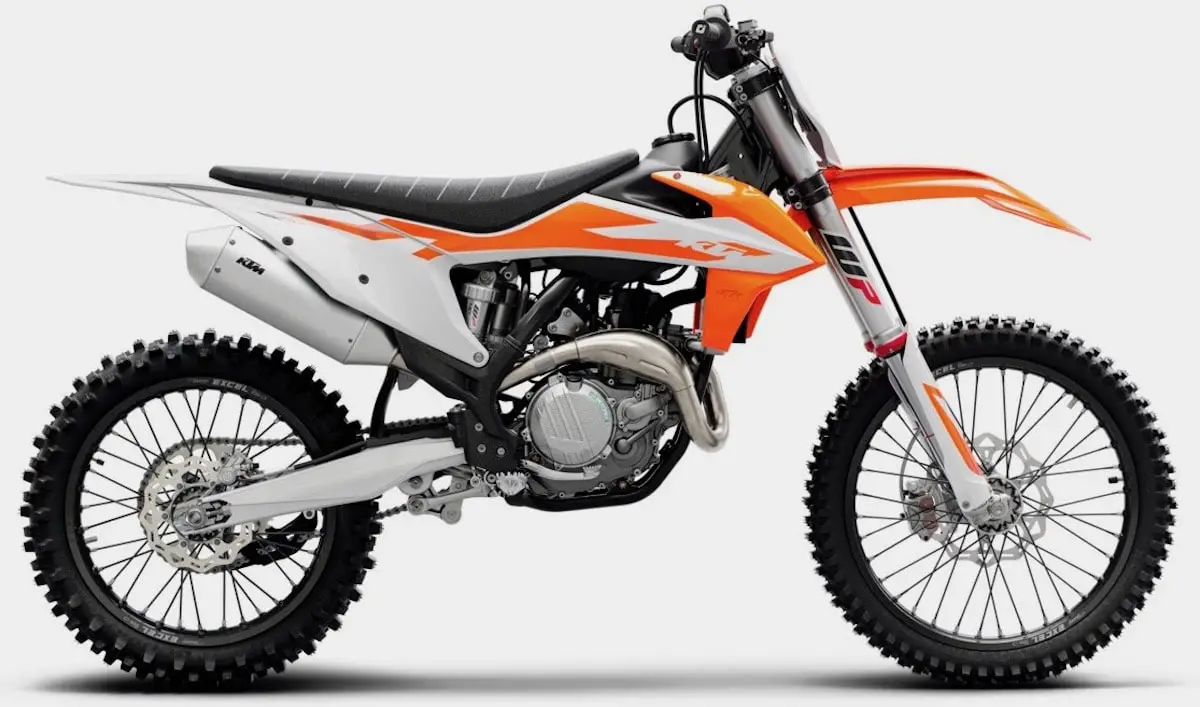 The 2020 KTM 450SXF is very similar to the 2019-/2 KTM 450SXF Factory Edition. It comes with an extra airbox cover that is ventilated so the engine can breathe. 
The 2020 KTM 250TPI off-road bike does not have a kickstarter this year and has a trick heavy-duty pipe. 
The KTM mini bikes get the orange frame for 2020 while the big bikes get the black frame. 
Full the full details and photos of the complete line of 2020 KTMs click here.
2019 HONDA CRF250F FIRST IMPRESSION VIDEO

MOTO | TRIVIA
Name the venue and year. Answer at the bottom of the page.
WIN FREE THOR GEAR! TAKE THE 2019 MXA READER SURVEY
Now is your chance to score free Thor products! Completely fill out the annual "MXA Reader Survey" in the form below.  We'll take your input to help improve both the web, digital and print content of Motocross Action. One lucky winner will be chosen at random to receive a free gear ensemble from Thor (style and/or color may vary). This year's giveaway gear includes the following from Thor: Pulse race wear, Sector Bomber helmet, Sniper Chase goggle, Blitz XP boots and Draft gloves. Retail value for this gear collection is over $500, so don't miss this opportunity to win all this stylish gear for free! Fill out the entire survey! One winner will be chosen on July 19, 2019.
TROLLS THE EXPERIENCE IN NEW YORK CITY
Our photog Brain Converse captured some photos at "Trolls the Experience" in New York City during his down time at the East Rutherford Supercross.  JGR's  Alex Martin took advantage of the experience as did members of his "train,",plus kids that race for the Suzuki RM Army as well as Team Manager Jeremy Albrecht and his family.
Alex Martin getting his face painted like one of the trolls. 
"Trolls The Experience" is one of Feld Entertainment's newest partnerships and is the first location-based entertainment property in their company's portfolio. Feld is the owner of the Supercross series as well as things like Monster Jam, Disney on Ice, Marvel Universe Live! and the Jurassic World Live Tour.
Jeremy Albrecht and family. 
About Dreamworks Troll the Experience:
DreamWorks Trolls The Experience is inspired by the DreamWorks Trolls franchise, which has grown to become one of the largest global family entertainment brands.
Dreamworks Trolls The Experience is a live, location-based adventure only in New York City for a limited engagement.
DreamWorks Trolls The Experience brings to life the glittery world of the DreamWorks Trolls with a location-based, social-worthy adventure in the heart of New York City.
DreamWorks Trolls The Experience is a hands-on experience that takes guests through a multi-sensory adventure full of color, music and shareable, picture-perfect moments.
Due to continued demand, tickets are now extended for DreamWorks Trolls The Experience through Labor Day, September 2, 2019.

This is the second extension of the attraction's run since opening to enthusiastic crowds late last year.
Visitors begin their journey at the Hair We Go Salon and will make their way to Branch's Musical Mashup, visiting the Caterbus and Critter Creek along the way, as they make their way to the 3D dance party for Poppy's Best Day Ever! Celebration. Guests will end their adventure in Memory Mile where they can snap pictures with Poppy and create a scrapbook celebrating their Best Day Ever

Gigantic 12,000-square-foot multi-story venue

A historic, landmark building in Midtown NYC
This is Sean Brennen, the public relations manager for Supercross. A great guy to be around. 
Getting some dance moves in. 
Alex all trolled up.
Alex hanging with Poppy. 
THEY SAID IT | 2019 EAST RUTHERFORD SUPERCROSS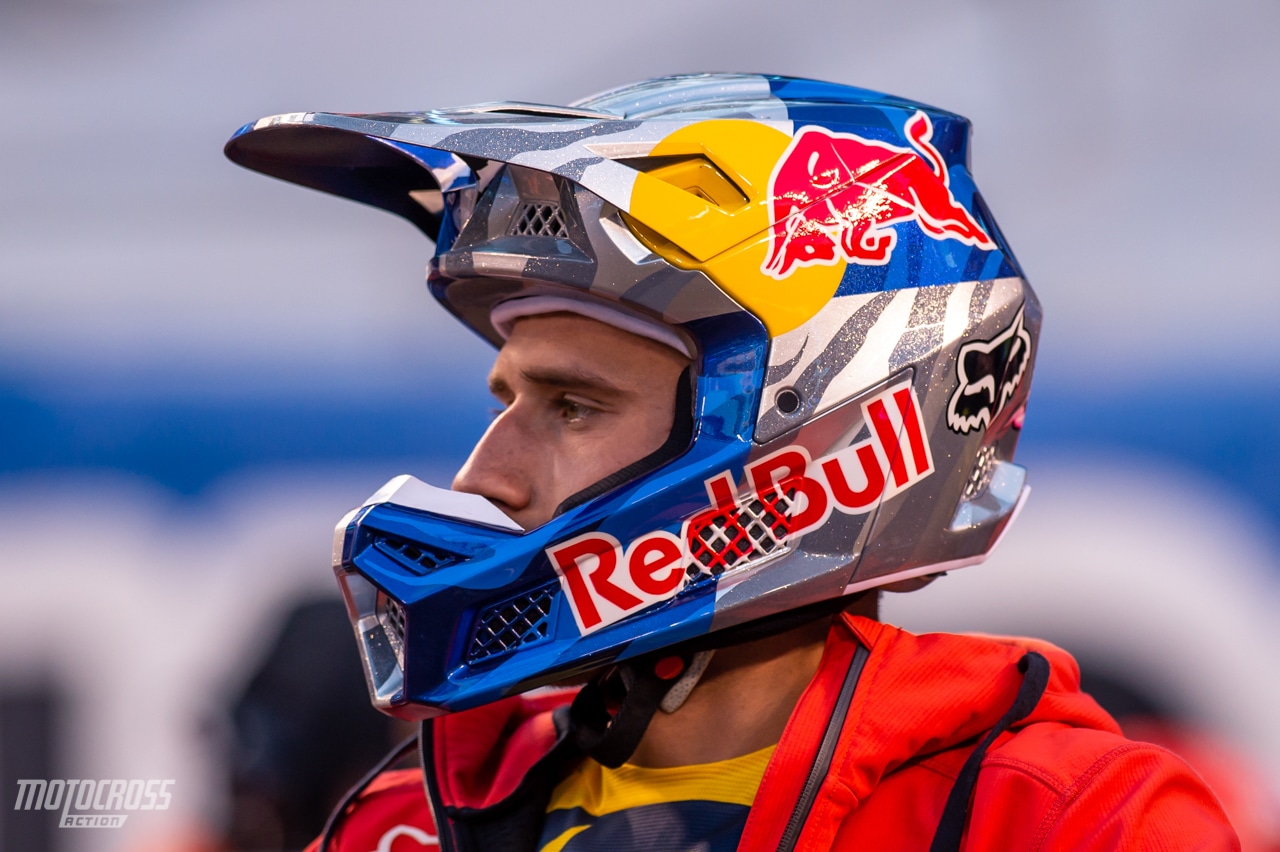 Ken Roczen: "Today started out a bit rough. I haven't ridden [a] supercross [track] since Denver—so two weeks ago—just because we did some outdoor testing and then because of what I've been dealing with, I wanted to give myself a little break. It's taking a long time to figure out what's going on with me, but the good thing is I felt better tonight than I have in the last few weeks. Unfortunately, we had a little mishap at the start with my holeshot button popping out, so that's why I got that bad of a start, which obviously makes life a lot harder. I also rode pretty tight toward the end of the main event. The track was super gnarly. Overall, I'm happy that I felt better most the day and didn't get as tired in the main as I have been. I'm going to see a few more specialists in the next couple weeks to get some legit answers. It's been tough because I feel like I haven't been able to show my full potential in quite a while. In the beginning of the season you could see how well I was doing, and then it went downhill from there. We've had a few other good runs, but it's been a challenge for sure. It's tough because there's nothing more that I want than to go out there, feel good, and do good for the team. I think we've been making the best of it and we're doing everything we can to get things figured out."
Cole Seely: "In my mind, things were pretty mediocre today. It didn't go great, but it also didn't go terrible. The track was really tough. It had a bit of a weird flow and I thought the obstacles seemed a little rushed because they had to finish building the track and get it covered before the rain on Friday. I didn't qualify great and my heat race was just alright. I felt like I rode pretty good in the heat race, just didn't get off to a good start, which limited me from placing well. The main event was going pretty well and I felt like I was making some good passes in the beginning. I had a good amount of aggression that I thought I could hold for the whole race, but around the halfway point I fell over and lost a few positions, then rode around by myself for a while. I got pretty bad arm pump trying to make my way forward. Everything was good with the bike, so we're looking good heading into Vegas. I just need to put together better starts and minimize my mistakes in the main."
Kyle Peters: "I was feeling really good when I woke up Saturday morning. However, I kind of struggled throughout the day. I don't know if it was the dirt or the track layout. I should have been more willing to hang it out and not be so calculated. I crashed twice in the same turn. In the heat race I started riding better, but then I fell and knocked my front brake down and couldn't use it. I had a decent start in the main and got stuck. It was tough to pass, and guys were riding well. I'm disappointed in sixth, because I have a lot more in me."
Alex Martin: "I enjoyed racing at MetLife Stadium. Practice went well, but we had less track time than usual due to the revised schedule. I was able to get a nice gate pick for the main with a second-place finish in my heat race. I was really pumped to get the holeshot in the main! Of course, I'm bummed that I made a few mistakes, which put me back to tenth at one point. I came up to salvage a seventh."
Justin Hill: "After the weekend off and having some time to do therapy on my back, I was looking forward to MetLife Stadium. Things were clicking, as I was inside the top ten in overall qualifying times. I finished fourth in my heat race and was ready to get a great result in the main. I had a pretty good start, despite some carnage around me off the start, and was just outside the top five. Then my back tightened up, and I brought it home in tenth. I'm not happy with my result, but I'm looking forward for what's to come."
Mitchell Oldenburg: "It's unbelievable. With all the injuries… I just didn't know if this was for me anymore. My wife has always been behind me and this feels amazing. Everyone in my corner have been so awesome and the people around me have never stopped believing in me. It feels good to finally get this done. It feels like we finally got this monkey off our back."
Justin Cooper: "I just struggled to find my flow. I didn't feel good the whole race so to I can't really complain about a podium finish. It would have been nice to get second, but I'm pumped for Mitchell. We'll see what we can do in Las Vegas."
Zach Osborne: "It's pretty incredible to take my first podium today in the 450 class after some trials and tribulations to start the season. To finally be up here feels pretty incredible and gives me a lot of motivation to continue working on going on the path that I'm on."
Jordan Bailey: "Wrapping up the final east coast round before the East/West Shootout, it was a pretty good weekend. I think we got a little better and looking forward to Vegas."
Josh Grant: "I'm really stoked on how my night went. The track conditions were really difficult and made for some tough passing. All in all, I am happy with an eighth-place finish and looking forward to finishing off strong in Las Vegas."
Cooper Webb: "Overall, I felt like it was a good race. I felt like I rode in a nice pace that was consistent and I'm not saying that the other guys weren't, but the mistakes they made were definitely the difference. I'm happy, another win is incredible and we're inching a little closer to the final goal."
Marvin Musquin: "It was a huge bummer to have that crash in the first turn, considering I was feeling great all day today. From dead last I came back to fifth-place, it's a good race but it didn't bring me what I wanted points-wise and I wanted to win tonight. But is what it is, it's racing and things like that obviously happen."
Chase Sexton: "It's unbelievable. It couldn't happen at a better time. The track is super gnarly, so it was probably the longest fifteen minutes plus one lap of my life. It was super good, I mean I got off to a pretty good start and honestly Austin was trying to take me out, and I mean, you can't win a race like that. I know it's for a championship but trying to saw a front end off is not cool. So, I'm just glad that I got into the lead and took this one. It feels really good and I'm pumped. This feels so good. I've been wanting to do this for two years now, so I'm pumped on it."
Eli Tomac: "That was something else, you know. I somehow managed to do that exact same move twice during that race. Just jumped in the rut there, as I was watching on the replay, my weight was too far right both times when I landed in the rut and then the notches got me, and I go into the same exact Tuff Blox. So disappointing… I could maybe get away with one of those, but both wasn't gonna do it tonight. So, just giving everything I had. I mean, that's all I could do, right? Trying to stay in the front but a couple of mistakes got me… that was tough… That was my whole goal to keep this [title fight going] to the next race and we did that. I still would've liked to have been in front of Cooper but all we can do is take it to Vegas again. He's got a sizeable lead now, so take it to Vegas and learn from our mistakes."
Austin Forkner: "We worked really hard to make it to this point and it's disappointing to see all that hard work not end up becoming a championship. It's probably hardest because we were so close. The whole team has been amazing with their support and now I'm ready to start the recovery process and get back out there at 100 percent."
Martin Davalos: "It was a tough day with the track conditions being a bit tricky. We got out front early but I made a few mistakes and had some guys go by. After that happened I tried to make sure I was hitting my marks so I wouldn't let anyone else come close and was able to keep a good gap over fifth. I'm looking forward to coming back together with the west coast guys next week and put in a great race for the team in Las Vegas."
YOU DO THE MATH! SUBSCRIBE TO MXA & GET A $25 CHAPARRAL GIFT CARD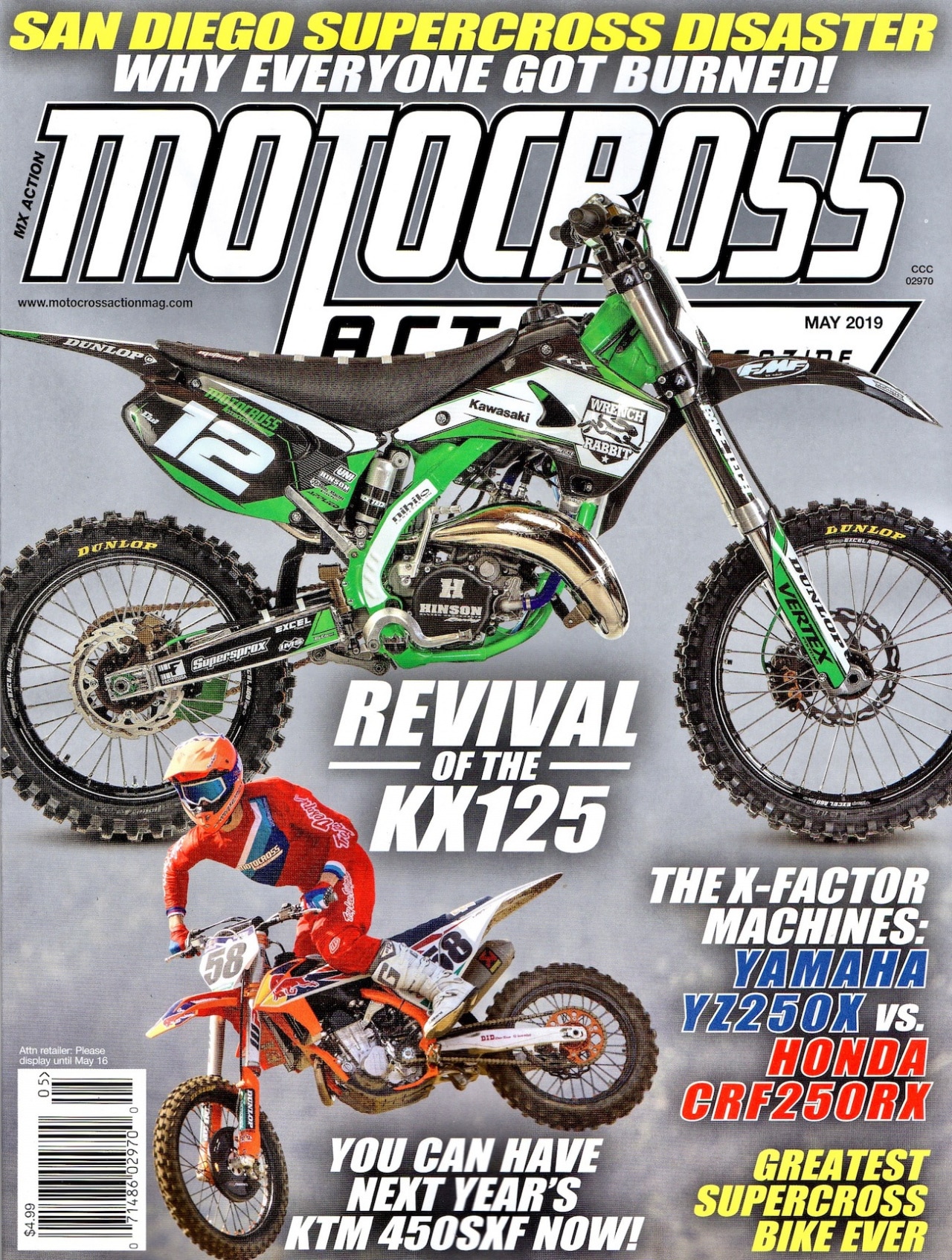 If you subscribed to Motocross Action,  the MAY 2019 issue of MXA would be in the throne room right now.
The May issue of MXA  is filled with bike tests—including the 2019-1/2 KTM 450SXF Factory Edition, 2019 Yamaha YZ250X cross-country bike, 2019 TM 300MX two-stroke, Daryl Ecklund's 2003 Kawasaki KX125 project bike,  2019 Honda CRF250RX (a motocross CRF250 with a big tank and 18-inch rear wheel) and a retro test of Travis Pastran's  2003 Suzuki RM250.  Plus, a revealing interview with Johnny O'Mara, a Moto-Physics  article on how to be a rim-scrub detective and a detailed look at the Supercross Lime-gate disaster. Click here to subscribe.
FORGOTTEN BIKES: 1998 HONDA CR125
2020 HUSQVARNA FC & TC MODEL LINE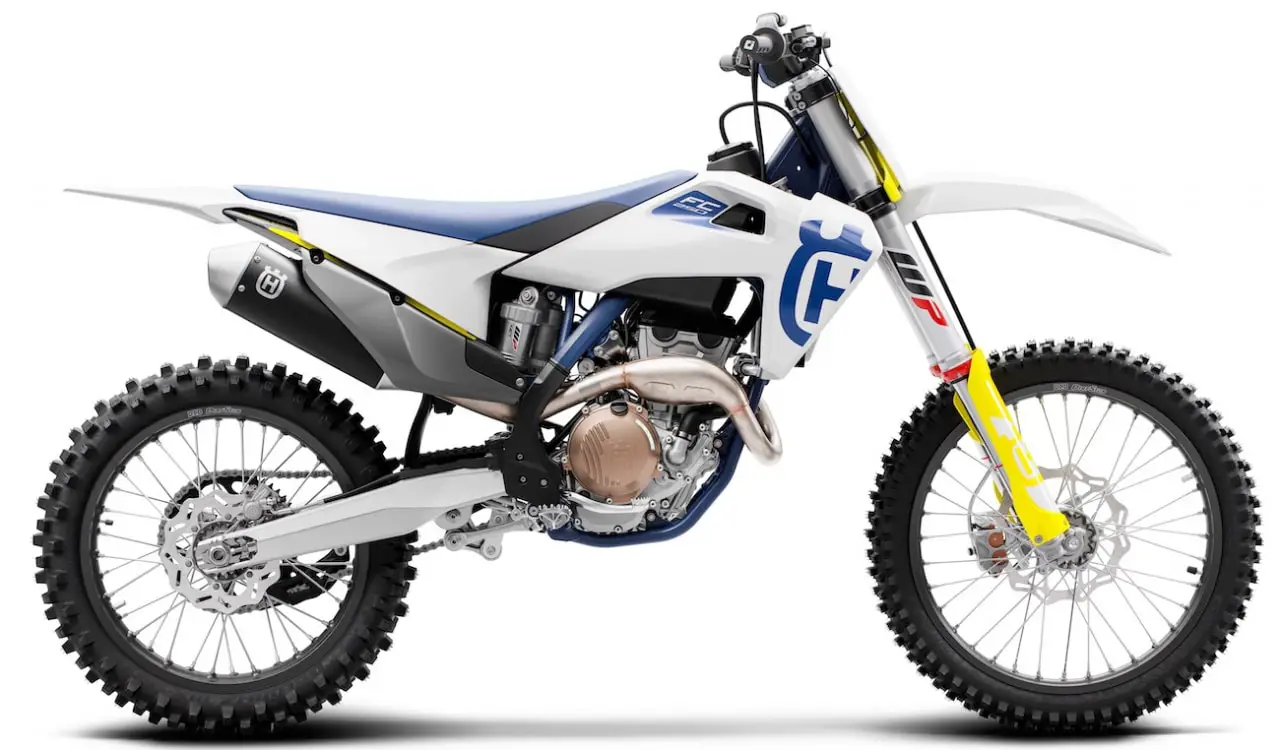 2020 Husky FC250.
2020 Husky TX300i. 
For the complete 2020 Husky line and updates click here.
INSIDE DYLAN FERRANDIS' MONSTER/STAR RACING YAMAHA YZ250F
CLASSIC PHOTO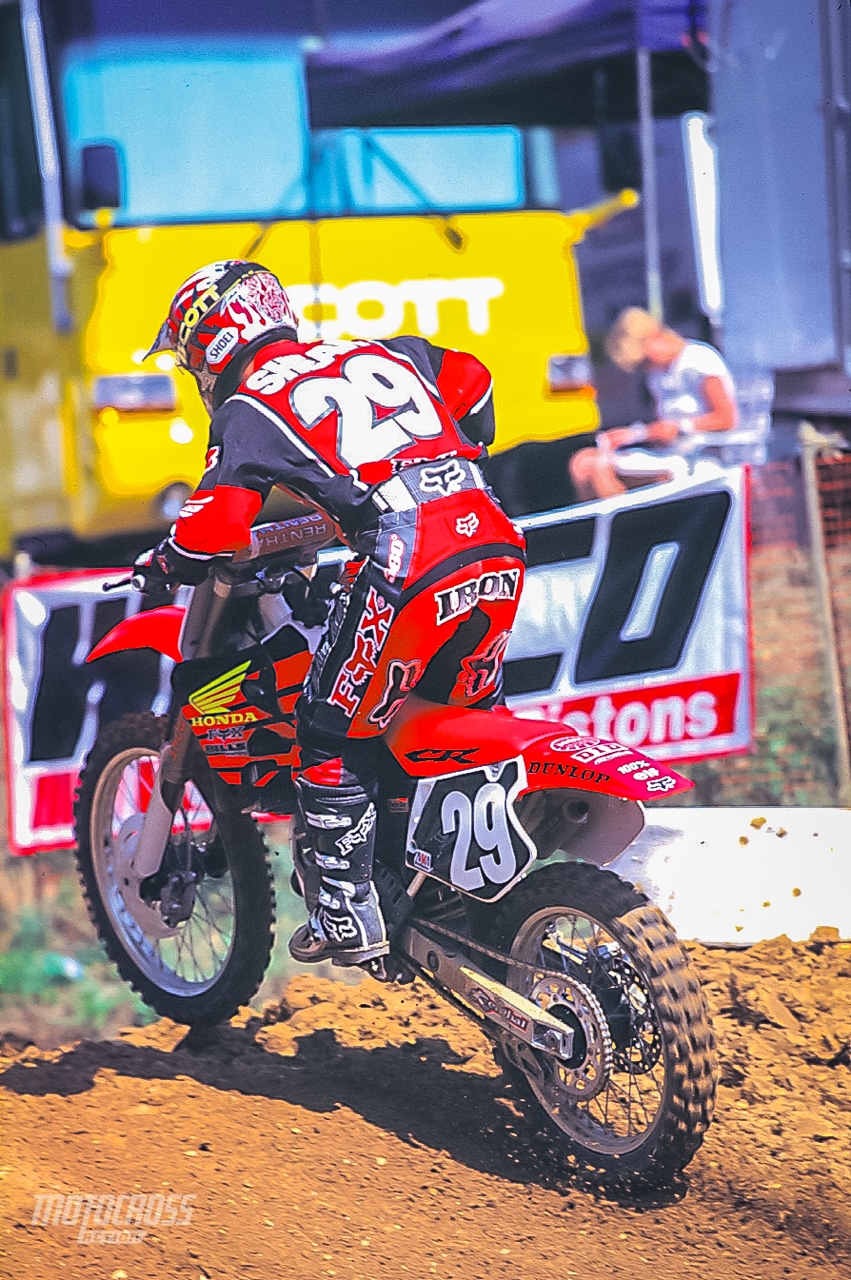 Scott Sheak back in 1997.
---
Moto Trivia answer: Budds Creek back in 1997.