MOTOCROSS ACTION MID-WEEK REPORT
#WHIPITWEDNESDAY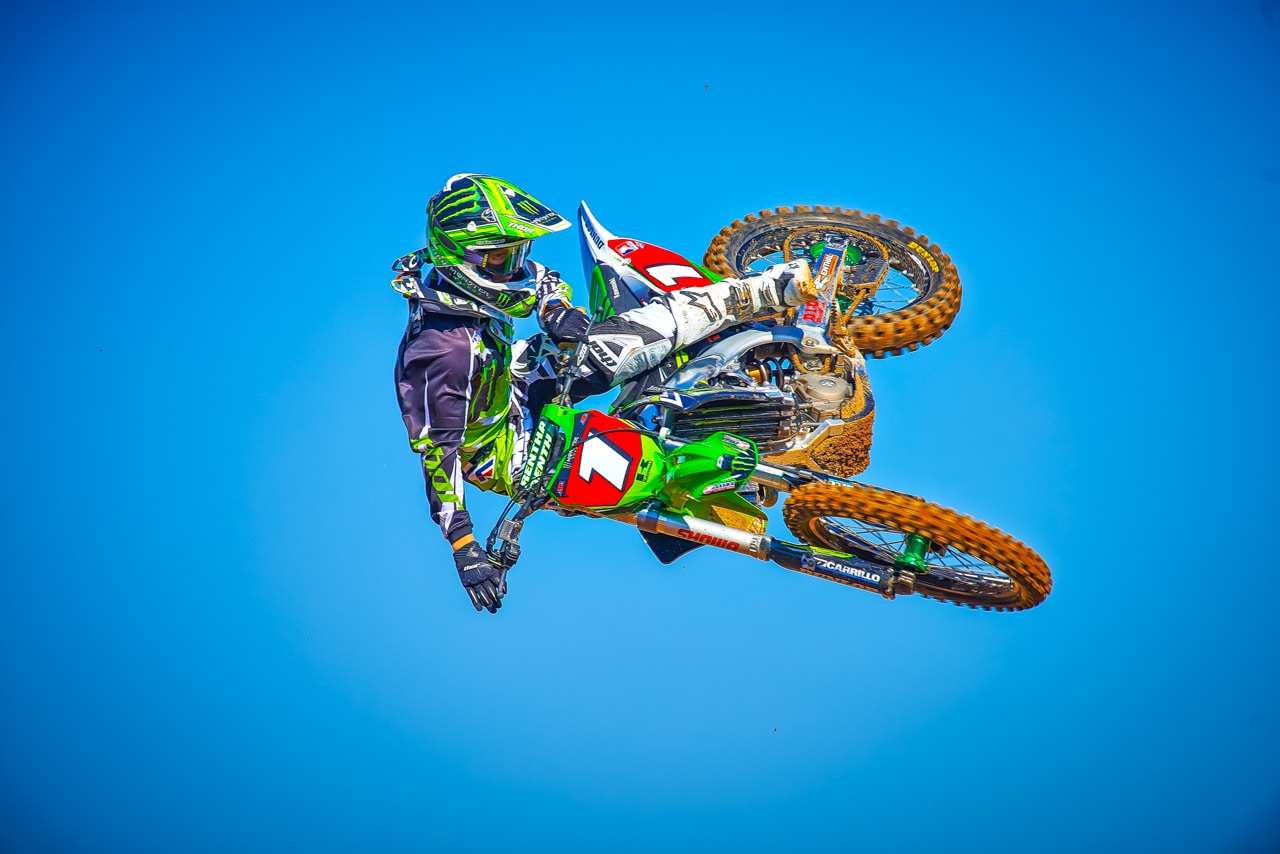 Rider: Ryan Villopoto
Bike: 2016 Factory Kawasaki KX450F
Lens: 200-400mm
F Stop: 5.6
ISO: 200
Sutter speed: 640
TWO-STROKE SPOTLIGHT: JAMIE CHAPMAN'S HONDA CR125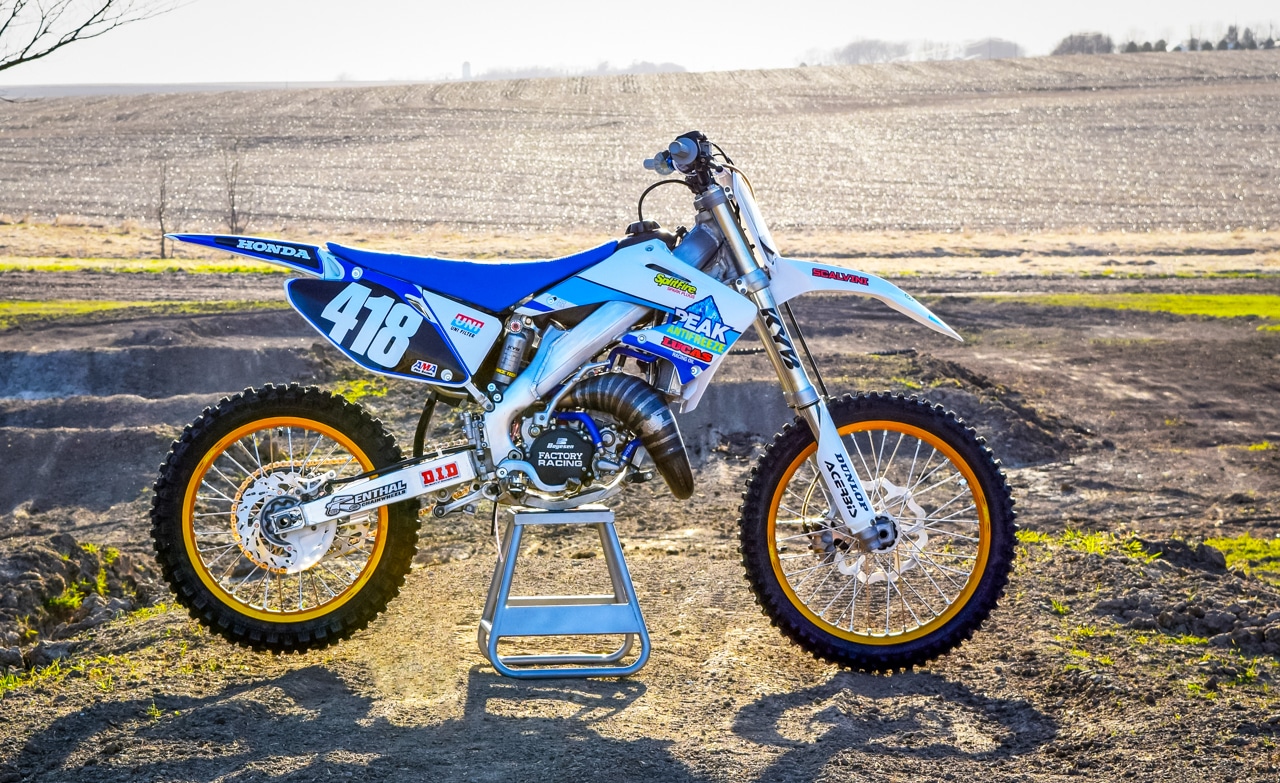 We didn't get any information from Jamie about his trick looking Honda CR125, but it is too cool not to post.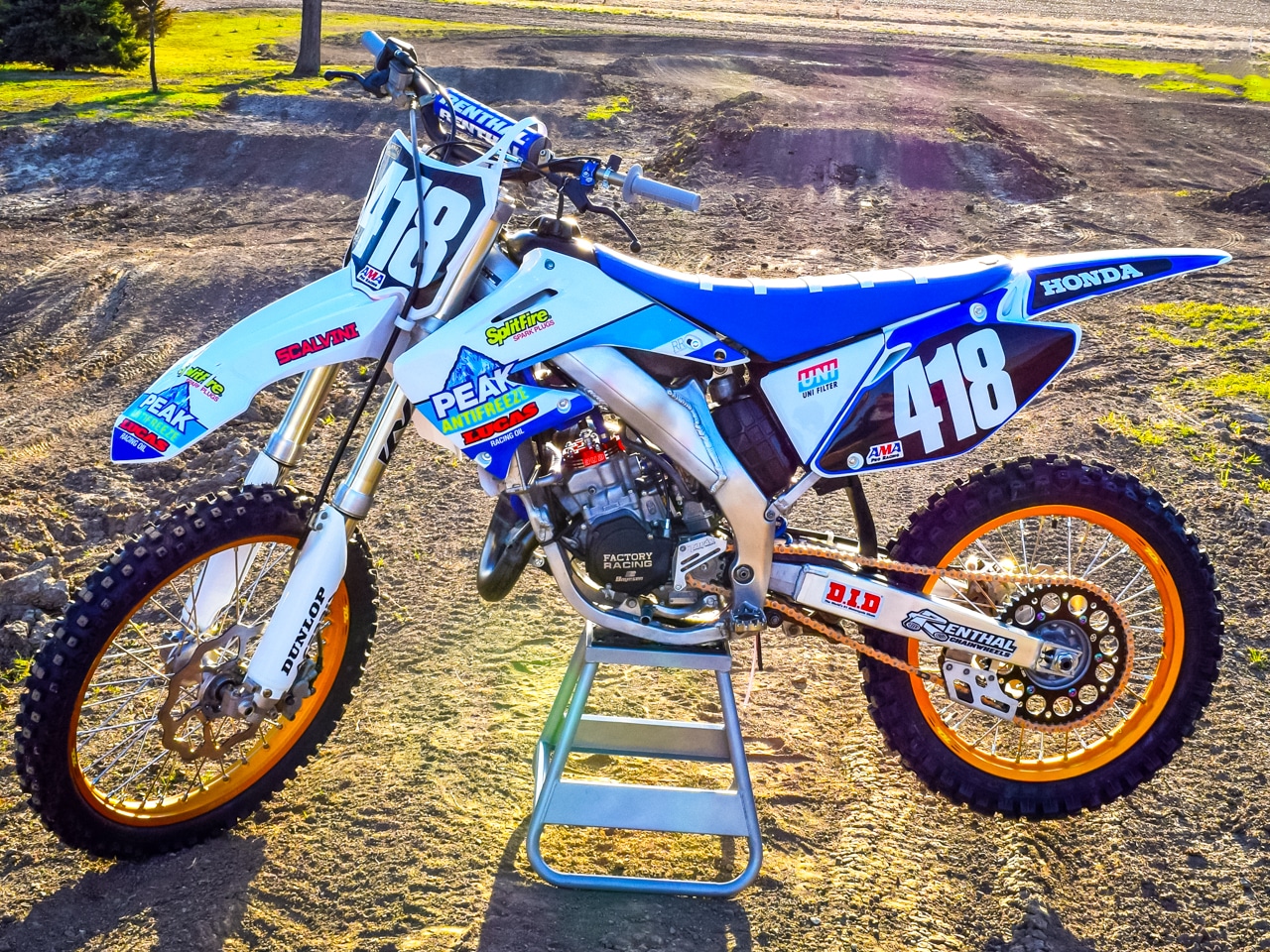 Here is the other side. 
Editors Note: Please keep those submissions coming. If you would like your bike to be featured in the "Two-Stroke Spotlight," please email me at [email protected]. All I ask is that you give a breakdown of your bike and a detailed description of the build. Please also send a few photos of your steed. By submitting your bike for the "Two-Stroke Spotlight," you agree to release all ownership rights to the images and copy to MXA. Please don't email me spam or try selling me Taylor Swift concert tickets or email me spam. Happy submitting your smoker.
WATCH THE FACTORY RIDERS PRACTICE AT FOX RACEWAY
OSET BIKES LAUNCHES THEIR NEW LITHIUM POWERED 20.0 RACING MKII MOTORCYCLE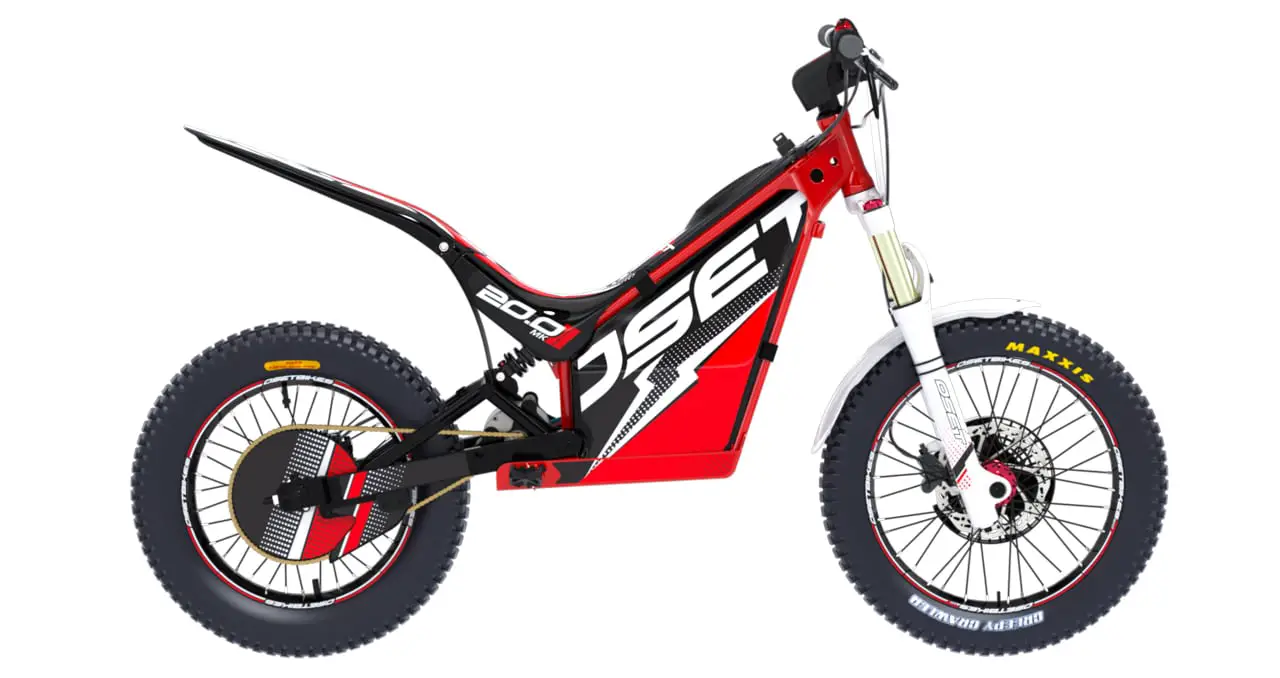 Press Release: Oset Electric Bikes, the world leading producer of electric dirt and trials bikes for kids is delighted to launch the New Lithium powered OSET 20.0 Racing MKII
The new lithium powered 20.0 Racing MKII is a true innovation and the machine of choice for riders interested in maximum run time, reduced bike weight & ultimate performance and will be the bike that riders and parents choose to enter the world of competitive riding.
As with all OSET Bikes, the power and response can be adjusted for any riding style, while the fully adjustable suspension can be set up to suit rider weights and preferences and being electric, its virtually salient meaning it can go where other bikes cannot – offering both kids and adults alike unmatched fun and versatility.
With our OSET 20Ah, 48V Lithium battery this incredible bike gives a dramatically improved run time and substantial reduction in bike weight against lead acid battery bikes for the ultimate riding experience. It is also the first of the OSET MKII range and has the new 'Electric Bolt' graphics kit.
James Robertson, Head of Marketing for OSET Bikes said, "We are thrilled to launch our newest bike onto the global market. We have listened to what our customers say and its quite clear that increased run time and reducing weight are crucial as they are across the whole electric vehicle landscape, and our new lithium powered bike delivers that.
He continued, 'We want our young riders to get as much enjoyment and time on bike as possible all the while improving their core skills and the new 20.0R MKII now offer's this as we continue to inspire the next generation of riders.
Available now from authorized OSET dealers and importers worldwide!
All info on the bike: https://osetbikes.com/gb/bikes/20r-mk2-lithium/
To find your nearest dealer or importer: www.osetbikes.com
MXA'S TWO-STROKE PROJECT

We have all the engines out of our 125cc tiddlers for something special.
MOTO | TRIVIA
Who is this rider and what year is the photo taken? Answer at the bottom of the page. 
JGRMX/YOSHIMURA/SUZUKI FACTORY RACING PREVIEWS 2019 MOTOCROSS SEASON
Justin Hill. 
Press Release: The JGRMX/Yoshimura/Suzuki Factory Racing team is excited to head outdoors this weekend for the 2019 Lucas Oil Pro Motocross Championship season. Justin Hill will gear up and return on his Suzuki RM-Z450, alongside teammates Alex Martin and Kyle Peters who will compete on the all-new Suzuki RM-Z250. 450 rider Weston Peick continues to rehab from serious injuries suffered last November. With Suzuki's strong history of motocross success, including its status of being one of the winningest brands in AMA Motocross history, its 2019 National lineup is poised to build on that legacy.
Coming off a hard-fought Supercross season as a 450 rookie, Justin Hill is beginning the outdoor season stronger and healthier. Joining the 450 National ranks mid-season last year, Hill is no stranger to motocross and is working to bring a competitive edge heading into his first full-time 450 outdoor campaign.

Alex Martin. 
Two-time 250 National series runner-up Alex Martin is ready to dominate on his RM-Z250. "A-Mart" just finished a solid Supercross season with the JGR/Yoshimura/Suzuki team, carding a respectable fifth place in the championship points standings. With three Supercross podiums and 18 outdoor podiums under his belt, the Minnesota native has all the intentions of continuing that streak on his Suzuki.
Kyle Peters will join the team on his RM-Z250 with more determination than ever. After an unfortunate knee injury in the 2018 Supercross season, Peters was unable to compete in last year's Nationals. The Greensboro, North Carolina native is seeking redemption and excited to kick-off his first 250 Nationals race in Hangtown.
Although the timing is unknown on when RM-Z450 rider Weston Peick will return to racing, his commitment to Suzuki has been an inspiration to the team and he is hoping to get back on the track. Extremely popular, Weston's gritty, never-surrender attitude earns him major respect among fans and fellow racers alike.
"We're proud to have each of these riders represent Suzuki," said Chris Wheeler, Motocross Support Manager for Suzuki Motor of America, Inc. "Suzuki has a rich history in professional motocross with multiple championships, a reinvigorated amateur program, and comprehensive racer support. The JGR/Yoshimura/Suzuki Team represents the pinnacle of our MX racing efforts."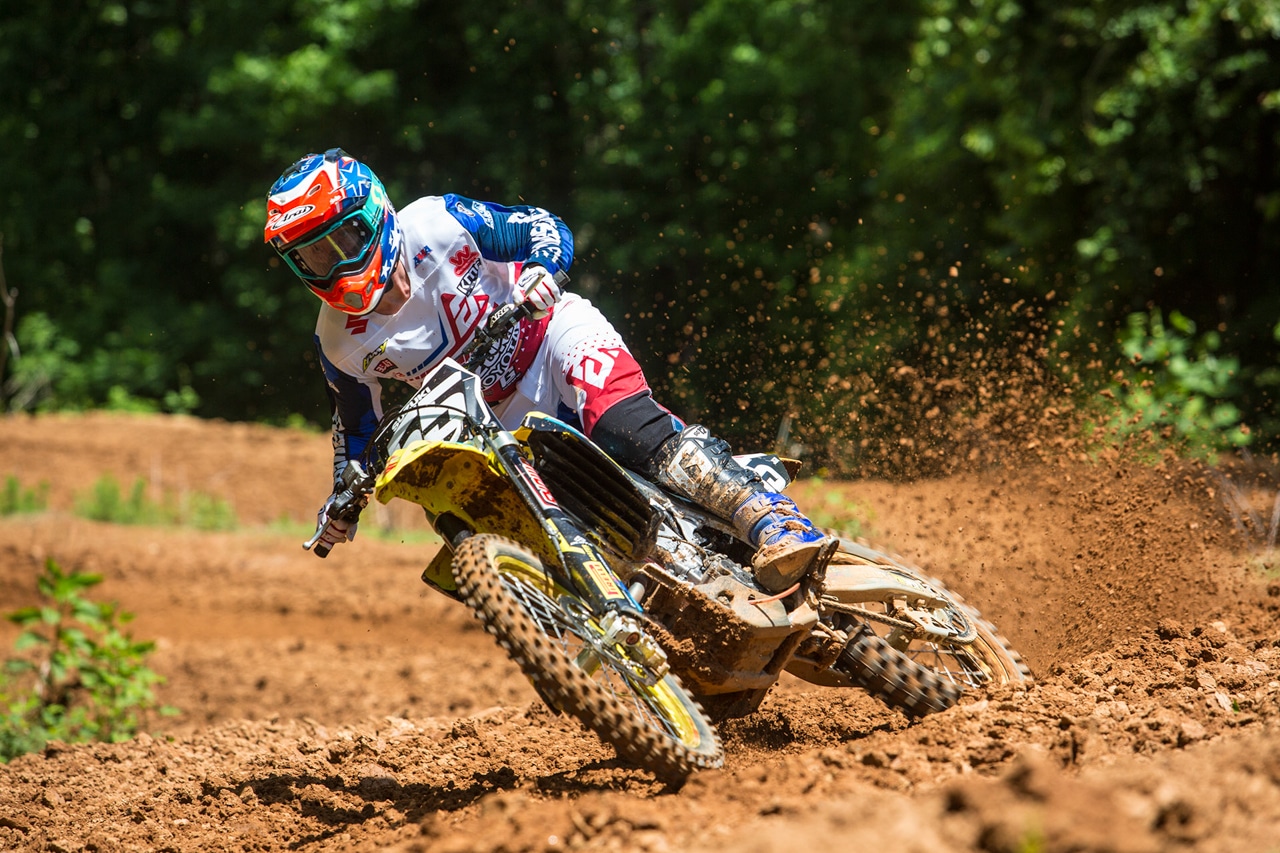 Kyle Peters.

"Watching A-Mart ride at the Nationals the past few years really impressed me, which is a big reason why we brought him to the team," added Jeremy Albrecht, JGRMX/Yoshimura/Suzuki Factory Racing team manager. "We think Alex can be up front on his Suzuki RM-Z250. It's great to give Kyle a shot at the outdoors. He is a hard worker and true professional. He improved through Supercross and is an excellent starter."
Albrecht continued, "Last year Justin had some good rides on a 450 outdoors. We're expecting him to build and improve on his rookie 450 Supercross series. Weston is optimistic that he can return to racing after recently having surgery, but when is unknown at this time. I hope he can return, as he has been great for our team."
The JGRMX/Yoshimura/Suzuki Factory Racing Team will kick off the 2019 Lucas Oil Pro Motocross Championship this Saturday, May 18th at the Hangtown Motocross Classic in Rancho Cordova, California.
FORGOTTEN BIKES: ANDREW SHORT'S 2003 MOTOWORLD SUZUKI RM125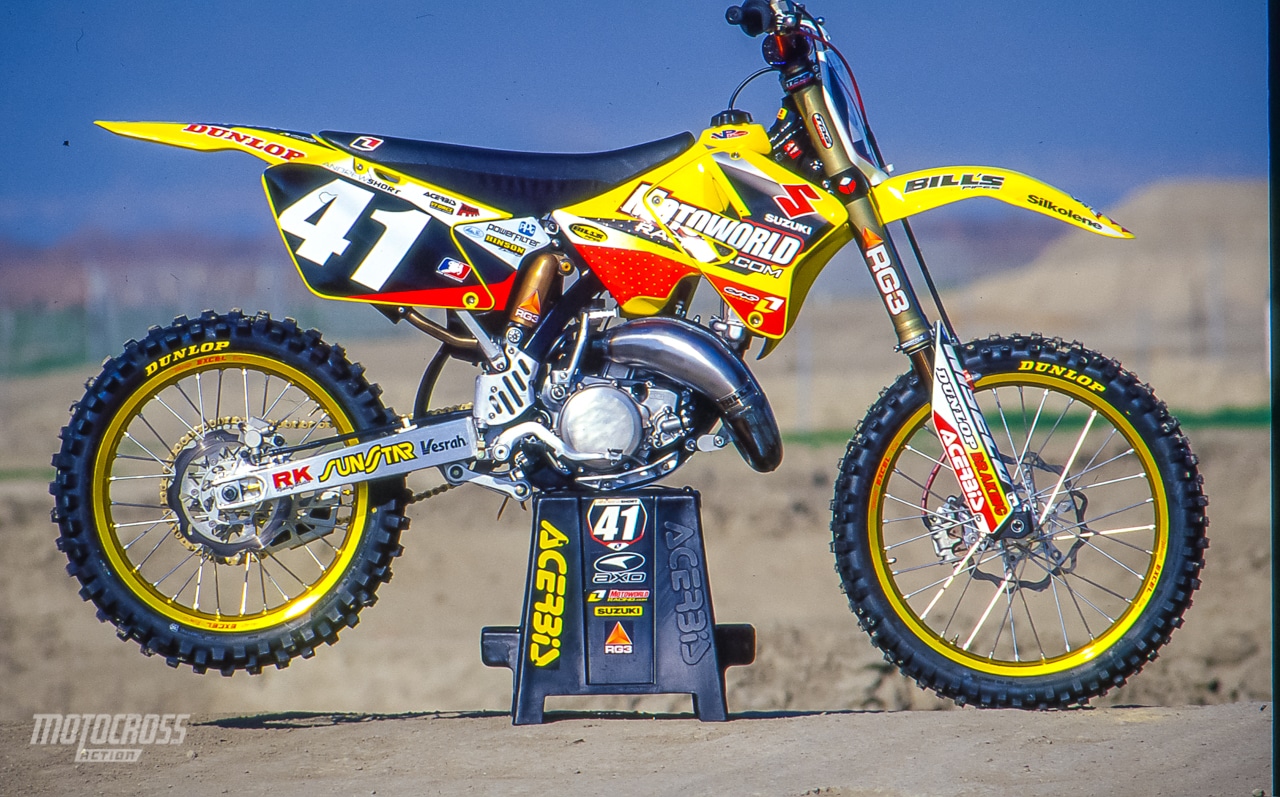 PARTS UNLIMITED ANNOUNCES SPONSORSHIP OF THE 2019 PRO MOTOCROSS SERIES
Press Release: Parts Unlimited, North America's largest distributor of powersports parts and accessories is proud to announce their official sponsorship of the 2019 Lucas Oil Pro Motocross Championship Series. For more than 50 years, Parts Unlimited has had a philosophy of "We Support the Sport"® that sees the company involved in and promoting the fun of powersports competition at the local, regional and national levels. Returning to the Pro Motocross Series maintains that commitment of support.
"We are very excited to once again sponsor the Lucas Oil Motocross Series. The series attracts thousands of the most dedicated motocross fans to each event. Therefore, we are very proud as we continue to support the sport" said Hylton Beattie, Global Motorsports Director for Parts Unlimited,
Along with Parts Unlimited being the official parts distributor, Thor has signed on as an official apparel partner of the series as well.
Round 1 of the 12 race season kicks off on May 18th with the Hangtown Motocross Classic in Sacramento, CA.
INSIDE ADAM CIANCIARULO'S PRO CIRCUIT KX250
MOTOOL SLACKER SCALE WORKS FOR MOUNTAIN BIKES AS WELL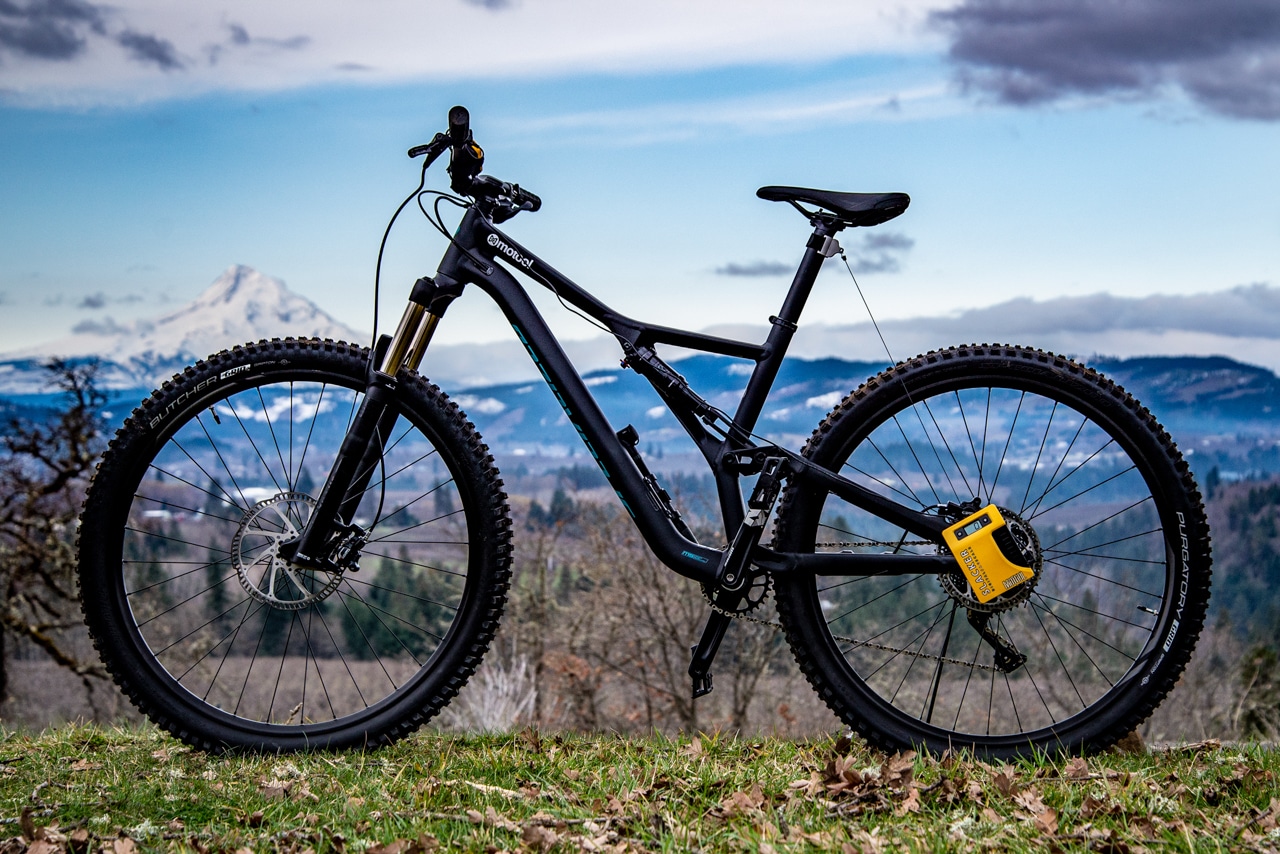 Press Release: Motool has released the Slacker MTB bundle and Hex Key Axle inserts to allow riders to use the Slacker digital suspension tuner on mountain bikes. Now you can use the most trusted suspension tool for off-road, dual-sport, adventure and street motorcycles on your full suspension or hard tail mountain bikes!
Slacker brings a whole new level of precision and adjustability to MTB suspension setup for both forks and shocks. No more screwing with those cheesy, inaccurate O-rings on the shock body and fork tubes. Now you can see measurements in real-time and, unlike the old O-ring method, you can actually bounce the bike to settle the suspension properly. By taking an initial measurement of the full travel of the rear axle, measurements directly reflect the percentage of travel used at the shock to match manufacturer recommended sag settings. It also offers riders a standard way to measure across all the different linkages and suspension types for all of their bikes.
The new Slacker MTB Bundle works for all your off-road motorcycles as well as your mountain bikes with 6mm thru axles right out of the box and can be used on Street and ADV bikes with the option Slacker Street Kit. For riders who already have Slacker, Motool offers Hex Key Insert Kits with a Hex Key Axle Insert as well as the universal fork/seat post adapter as well as individual axle inserts in 5mm, 6mm and 8mm sizes to accommodate different axles.
For more information on the company and the Slacker digital suspension tuner please visit http://motool.co
CLASSIC PHOTO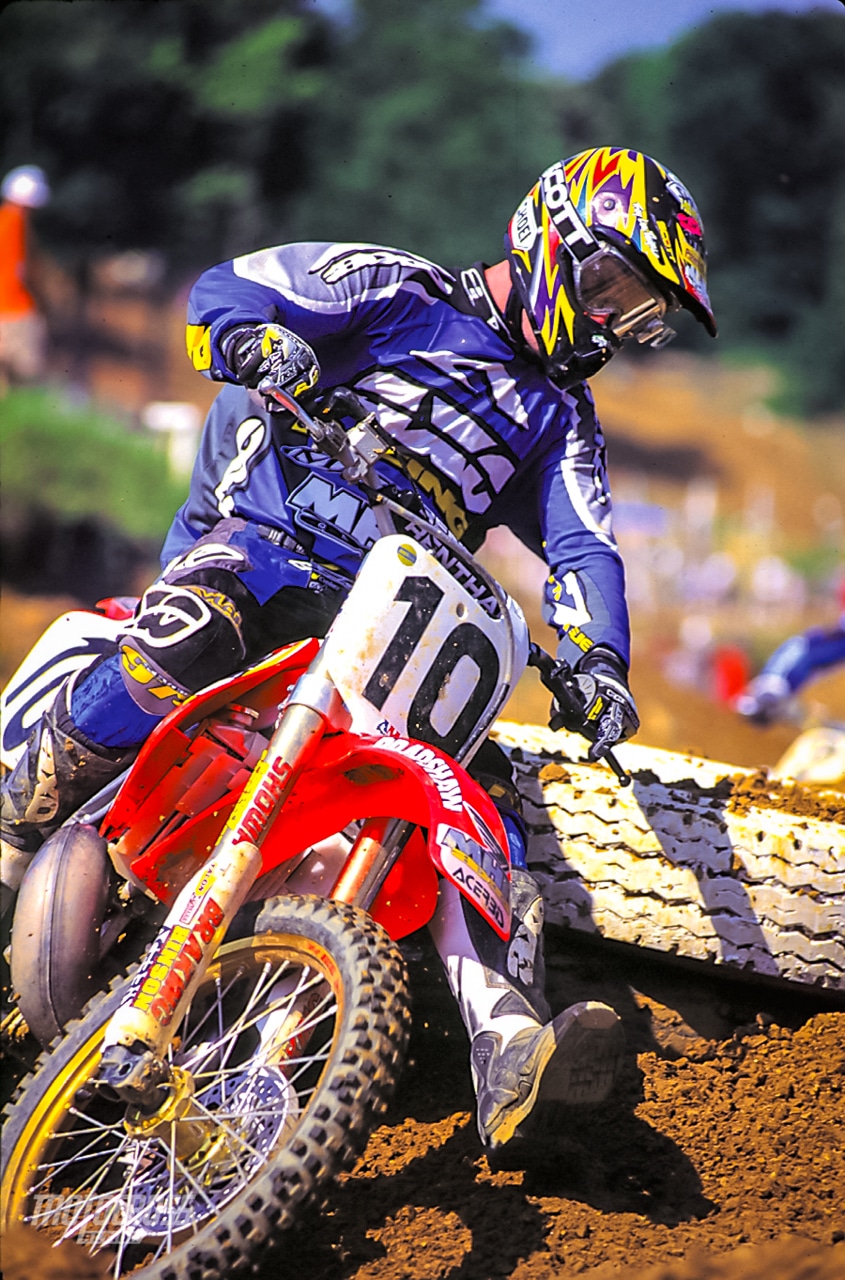 Damon Bradshaw back in 1997 aboard a Honda CR250.
---
Moto Trivia answer: Mike LaRocco back in 1992.