MOTOCROSS ACTION MID-WEEK REPORT
#WHIPITWEDNESDAY
Rider: Davi Millsaps
Bike: 2008 Factory Honda CRF450
TWO-STROKE SPOTLIGHT: STRATTON GRAVES 2002 YZ125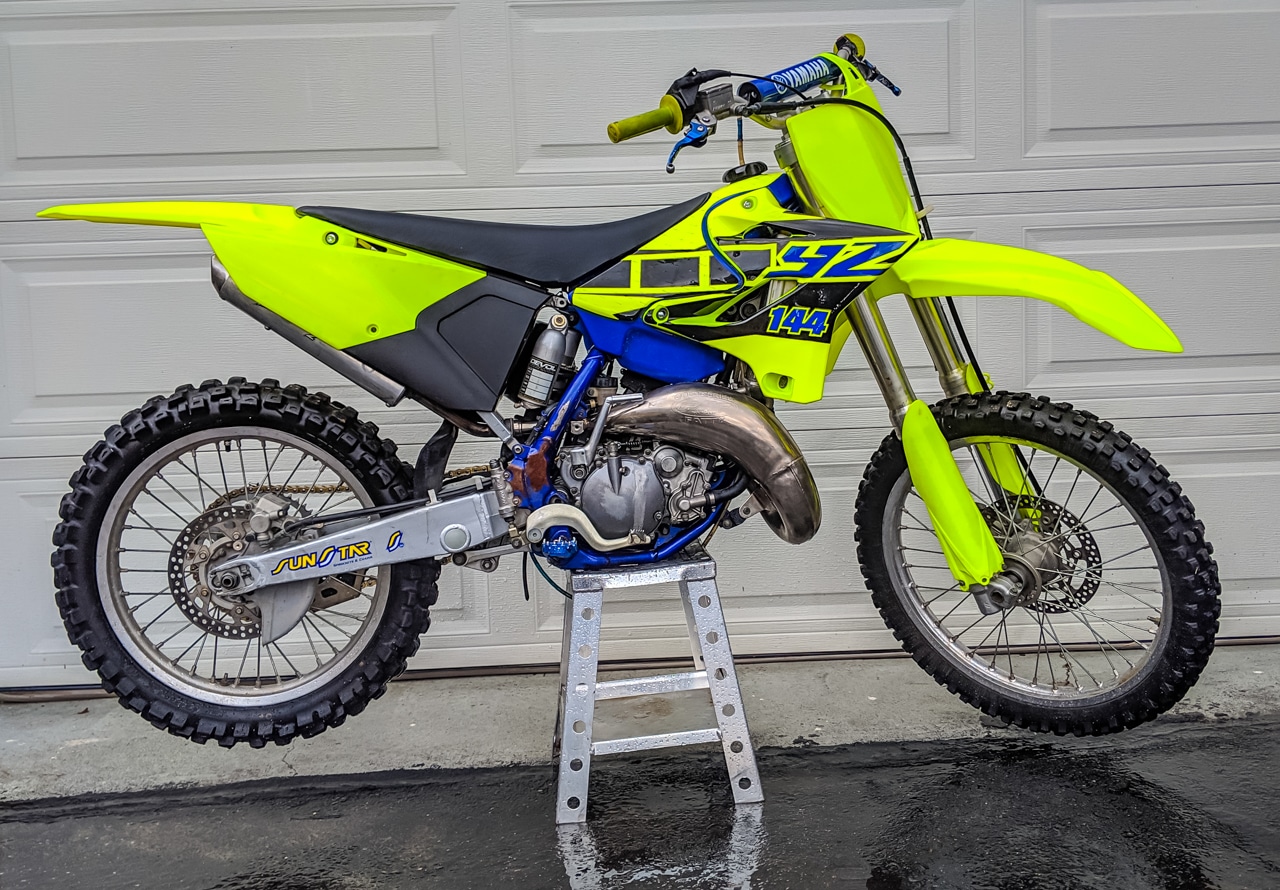 Hi MXA,
Stratton Graves here. I thought I'd share my build with you guys! I just finished my YZ144 budget dream bike I "Edited" to my idea of a perfect small cc ripper.
I started with a totally clapped out 2002 YZ125 off of Facebook Marketplace, zero compression when I bought it–this worked to my advantage because when I opened it up and found an absolutely ruined cylinder and piston I "had to" buy an Athena complete 144cc kit! The bottom end got a Wiseco crank for piece of mind. I swapped a new 2015+ Yamaha airbox so I could change the plastics to the day-glow-bright Polisport Flo yellow kit. Flo pegs replaced the cracked stockers. DeVol handled the suspension revalve. I popped all the dents out of the FMF Fatty exhaust with my blow out kit from England and repacked the FMF Turbine Core II silencer so I'd be OHV legal. A gripper seat cover in black fixed the stock cracked garbage and Local Hero MX did the custom "YZ144" graphics in perfect matched flo yellow in the iconic "Hurricane style" graphic. Renthal bars and ASV3 levers in blue- top off the build.
It was a little challenge to jet it perfect [it actually took a leaner main jet (I'm told because the increase bore pulls more vacuum)] , once I got it dialed though it has great bottom compared to a stock YZ125 and with the right squish and some mild porting it screams in the powerband–with nice overrev up top too.
All my friends love riding it! So much so that my 268lb 50+ year old buddy stole it for half the day and wouldn't give it back while we were marking course for the NHHA Off-road race in Jericho, Utah last weekend!
I hope you like it. The color melts your eyeballs in real life!
-Warmest regards
Editors Note: Please keep those submissions coming. If you would like your bike to be featured in the "Two-Stroke Spotlight," please email me at [email protected]. All I ask is that you give a breakdown of your bike and a detailed description of the build. Please also send a few photos of your steed. By submitting your bike for the "Two-Stroke Spotlight," you agree to release all ownership rights to the images and copy to MXA. Please don't email me spam or try selling me Taylor Swift concert tickets or email me spam. Happy submitting your smoker.
CHECK OUT THE FACTORY RIDERS GETTING IN PRACTICE AT FOX RACEWAY
FORGOTTEN BIKES: JEFF WARD'S 1984 125 NATIONAL MOTOCROSS TITLE WINNING KAWASAKI SR125
PRO CIRCUIT 2019 YZ250F CAMSHAFTS

Press Release: 2019 YZ250F racers can expect nothing but the best in performance parts at
Pro Circuit, and the new design of engine parts continues to follow that standard. Camshafts and a
Valve Spring Kit are two new items available for the 2019 YZ250F that provide superior performance over stock.
These are must-have items for serious racers looking for an advantage over the competition.

Camshaft
Used by many factory teams, the Pro Circuit Camshaft is designed to provide superior performance over stock
(HP/torque) by optimizing the valve lift profile. Used in conjunction with the Pro Circuit Valve Spring Kit should
ensure a valve train free of dynamic bounce.
Valve Spring Kit
The Pro Circuit Valve Spring Kit allows your motor to run at higher RPMs, and with more aggressive cam
profiles without the loss of valve control.
THEY SAID IT | 2019 HANGTOWN NATIONAL
Justin Cooper: "Great start to the season with the first moto win and a good day overall. I was able to salvage a decent amount of points in the second moto considering the conditions. It was gnarly out there, so I can't complain too much on the result, but we want more. I'm looking to take this momentum into next week!"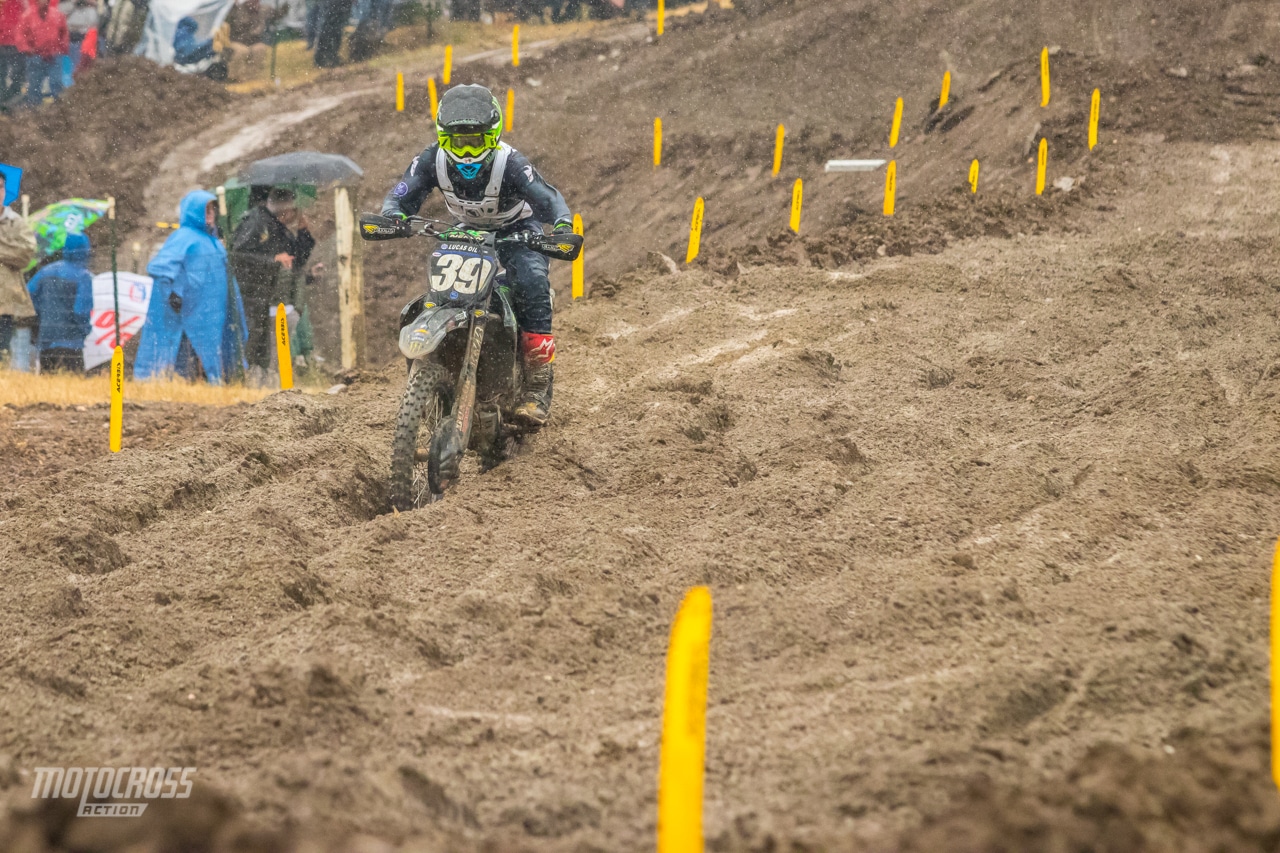 Colt Nichols: "Starting off the season is always a challenge to see how you stack up, so I just wanted to see where we were. I've felt like I've been good at outdoors but have been underprepared the last few seasons so this is a great start on the podium. The track was brutal and the Yamaha felt great today. Everyone who has been helping me out has been awesome and it feels great to get third overall."
Dylan Ferrandis: "The day started out well. I felt very comfortable physically and on the bike during practice. In the first moto I made a late charge to the front to finally finished third. In the second moto I was feeling good. The speed was really good too until I fried my clutch and had to slow down to save the bike to finish the moto. It was really frustrating for me and now I'm really disappointed but we're onto the next one in Pala next weekend and hoping to get back on top."
Alex Martin: "I was very happy with my second-place finish in the second moto at Hangtown. Qualifying and my first moto did not go well at all. I was struggling to find the comfort needed to hang it out on the bike. A couple of crashes didn't help things. Huge props to the team, as I feel we made great changes throughout the day. I'm really bummed to be in a points deficit to start the series, but I feel that we can be up front from here on out."
Justin Hill: "Hangtown did not go as planned. I was really looking forward to starting the outdoors off well. I qualified ninth fastest, but had two rough motos. It's all mental for me right now. I have to crack the code and learn what makes me tick again."
Ken Roczen: "I'm absolutely stoked. All day, we were on it; qualifying was great, got the first moto win and then the overall. I honestly didn't think it would go that well because I felt like I had more in the tank and it's hard to gauge where you'll be at the first round. What we did today was very important to me, the team and our journey. I didn't get the best start in the first moto but was able to make some moves early to get out front and have a clear track. We were all hoping we could get one moto in without the rain, so that was great. The second moto was tough and those types of conditions can backfire on you so quickly. Eli [Tomac] and I had a good battle in the beginning. We kind of yo-yoed back and forth. I had some sloppy parts out there though, so I just took it extra easy toward the end and didn't want to push the envelope to risk a mistake and miss the overall. This is such a great way to start the season, and I can't wait to keep the momentum going."
Cole Seely: "The opening round had its ups and downs for sure. I think I qualified pretty good for not having raced an outdoor in almost two years. I was a little nervous going into the day and anticipating the rain. I was happy we were able to get at least one moto in before the storm actually rolled in. I was also happy with how I rode. I felt like I managed the race well and had more energy at the end of the moto than I normally do. The second moto was tough; I fell way too many times and just didn't have very good luck. If there was a way to build some more skill for muddy races then I would but the only time we really get to practice that is in race situations. Moving forward I think I know what I need to work on and that will help set some additional goals to push through the season."
Jason Anderson: "My weekend went pretty well. In the first moto, I just tried to figure out my groove since I haven't been racing. At the beginning, I was a little tight and I ended up stalling the bike one time but all-in-all I was able to come back and make some good progress. Finishing 2-5 for third overall is not bad for the first round."
Zach Osborne: "Overall, it was a good start to my 450 outdoor career. I had a silly mistake in the first moto that cost me an overall podium but it was still a good weekend. I started off solid in the motos and I had an epic second moto from basically last to third, so I'm really happy with that and I'm pumped for next weekend and the rest of the series."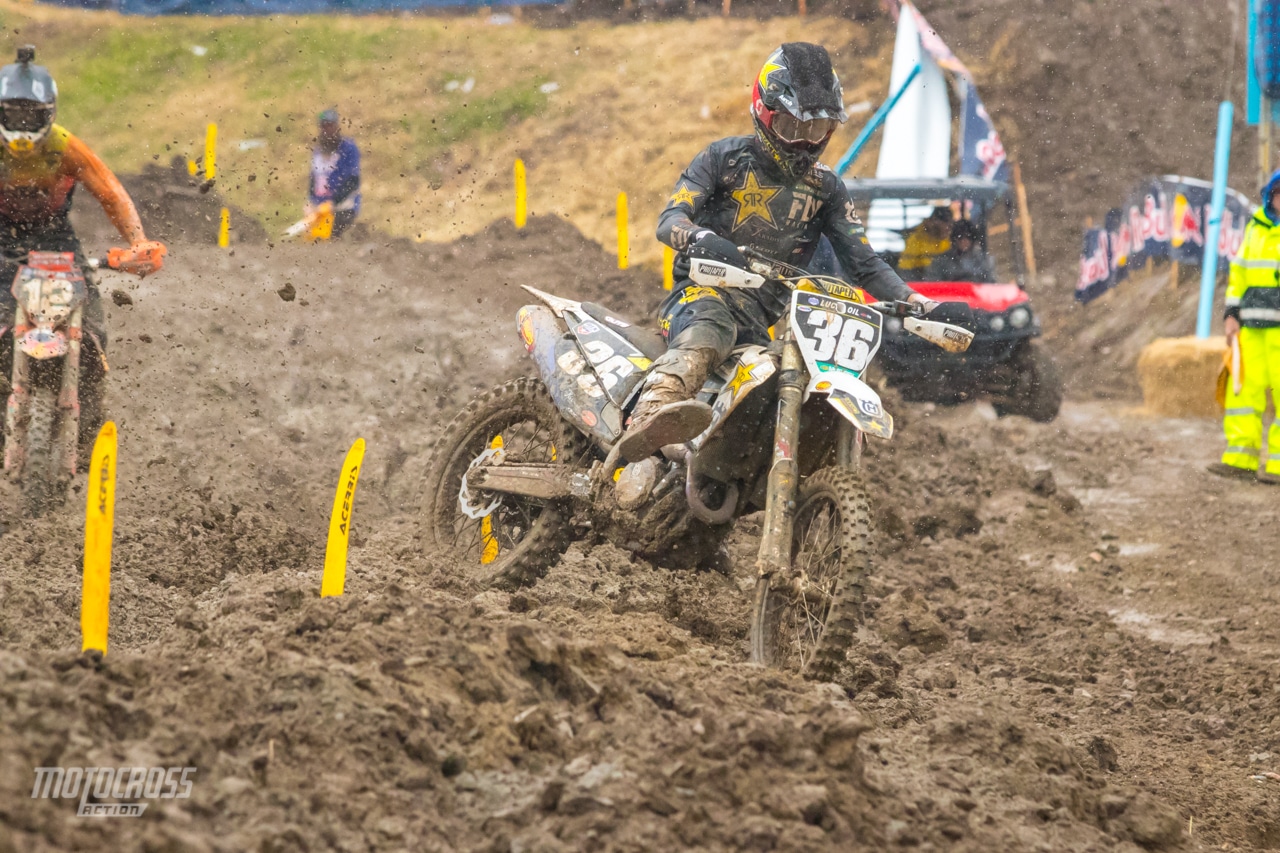 Michael Mosiman: "It was really gnarly conditions in Moto 2. I think I rode well aside from the mistakes and I look forward to round two."
Justin Barcia: "I haven't been able to ride too much and this was the first day doing a 30-minute moto so I think it was a good day. I just wanted to get through it, let alone be in the top 10 all day, so that was nice. In the first moto I got a good start but got shuffled back to eighth. The second moto it was really coming down. It was difficult on my wrists for sure. We have some work to do but I'm glad to get through the first one and wasn't even expecting a top 10. I obviously want to be up there, I just know it will take some time. We'll put in the work."
Dean Ferris: "I'd say the day started really slow but we reverted back a bit to what we knew. I messed up my start a little in the first moto and had to come through the pack. Toward the end I found my pace. I had a better start in the second moto but it was chaotic with the mud and rain. The track was treacherous with the rain, but I think eighth (from Moto 2) was where I should have been today. I'm sure round by round we'll keep improving."
MOTO | TRIVIA


Who is this flopped rider? Answer at the bottom of the page.
MXA YOUTUBE CHANNEL | HIT THAT SUBSCRIBE BUTTON

The MXA wrecking crew is everything moto related. Check out our MXA YouTube channel for bike reviews, Supercross coverage, rider interviews and much more. And don't forgot to hit that subscribe button.
INSIDE ADAM CINACIARULO'S PRO CIRCUIT KX250
THE JUNE ISSUE OF MXA  IS FULL OF GOOD STUFF
If you subscribe to MXA you can get the mag on your iPhone, iPad, Kindle or Android by going to the Apple Store, Amazon or Google Play or in a digital version. Even better you can subscribe to Motocross Action and get a $25 Chaparral gift card to spend on whatever motorcycle parts or products you need. You can call (800) 767-0345 or CLICK HERE or click on the box at the bottom of this page.
CLASSIC PHOTO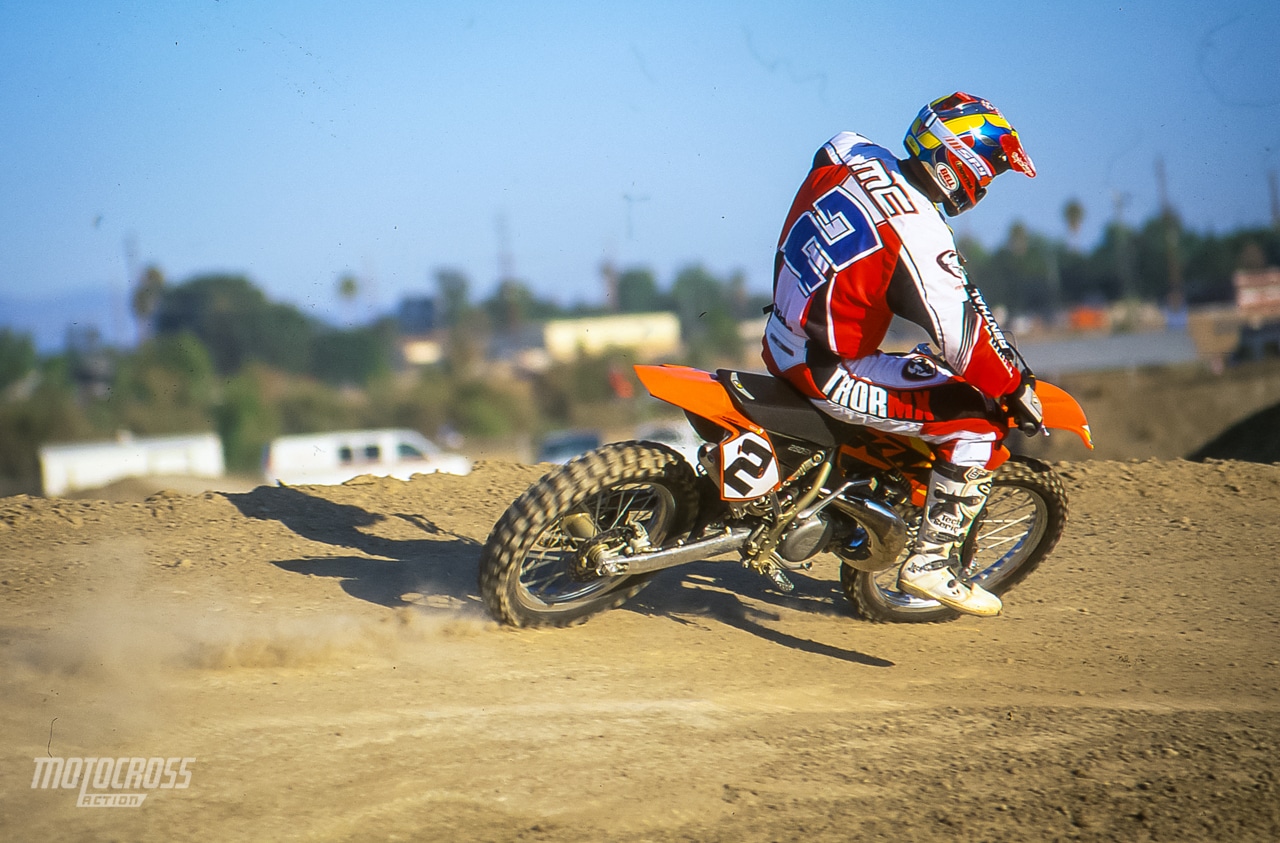 Jeremy McGrath back in 2003 on his short lived KTM adventure.
---
Moto Trivia answer: Jean-Michel Bayle.
.