MOTOCROSS ACTION MID-WEEK REPORT
#WHIPITWEDNESDAY
Rider:
Marvin Musquin
Bike:
2019 KTM 450SXF
Location:
Thunder Valley MX in Lakewood, Colorado
Event:
3rd round of the 2019 AMA Pro Motocross series
TWO-STROKE SPOTLIGHT: ERIC CASAS 1995 JEREMY MCGRATH REPLICA CR125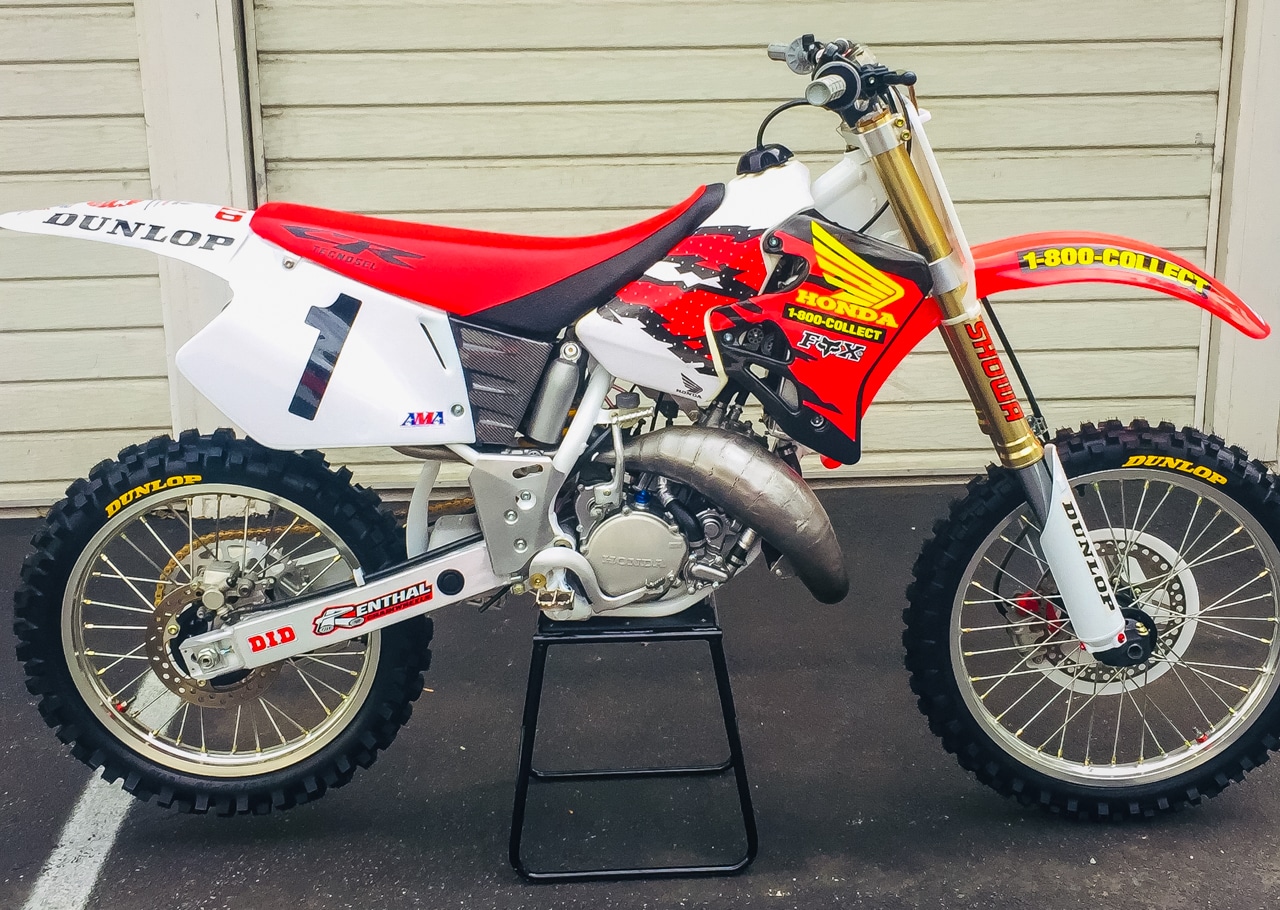 EDITORS NOTE: Please keep those submissions coming. If you would like your bike to be featured in the "Two-Stroke or Four-Stroke Spotlight," please email me at [email protected]. All I ask is that you give a breakdown of your bike and a detailed description of the build. Please also send a few photos of your steed. By submitting your bike, you agree to release all ownership rights to the images and copy to MXA. Please don't email me spam or try selling me Taylor Swift concert tickets or email me spam. I already celebrate T-Swizzle's entire collective, and there will be "bad blood" if you send me junk mail. See what I did there? Happy submitting your smoker.
SHOULD HAVE ADAM CIANCIARULO BEEN DOCKED FOR GOING OFF THE TRACK? JUSTIN COOPER THOUGHT SO
During the third round of the AMA Pro Motocross outdoor National series in Thunder Valley this last weekend during the second 250 moto Adam Cianciarulo went off the track when he was behind leader Justin Cooper. As you can see from the video above, Adam had no where to go back on the track until the next right hand corner due to banners. Yes, Adam pinned it up the fire road to find a place back onto the track, and some would say he initially got back on the track closer to Cooper than before he went off the track. From Justin's point of view it probably looked bad as Adam came on the track right next to him. What Justin didn't see was Adam chopping the throttle when he got back on and even taking a hand off as Adam realized he needed to gap himself from Cooper if he didn't want any trouble with the AMA.
ADAM'S POV OF GOING OFF THE TRACK AND JUSTIN'S CRASH | FORWARD TO 3:25 AND 4:30 FOR THE ACTION
The AMA rules are clear that if a rider goes off the track he needs to find a safe place to get back on without advancing himself in any way. Adam did just that, in a way. Maybe Adam shouldn't have raced down the fired road. But he did put a nice gap between Justin and himself by the time he got back on the gas.
Does AMA have a good rule in place for this? Should there be designated places to get back on it the rider goes off? Should riders get a penalty for going off the track? The AMA rule may be clear, but there may need to be other precautions put into place to minimize the grey area.
ERZBERG 2019 HIGHLIGHTS AS GRAHAM JARVIS WINS HIS FIFTH AT THE IRON GIANT
TORC 1 DEFY MX LOCK ON GRIPS
100% SLIP FREE PERFORMANCE GUARANTEED
SIMPLE INSTALLATION AND REMOVAL WITHOUT WAITING FOR GLUE TO DRY
OEM SPEC THROTTLE TUBE INCLUDED WITH 22 POINT ADJUSTMENT TO PUT THE WAFFLE PATTERN RIGHT WHERE YOU NEED IT
6 SNAP ON MULTI ADJUST THROTTLE CAMS INCLUDED IN EACH 4-STROKE OR 2-STROKE/MINI BIKE KIT
NO NEED TO PURCHASE ANY THROTTLE CAMS SERERATELY
CNC MACHINED ALUMINUM LOCKING COLLAR WITH TORX T15 STAINLESS BOLT HELPS RESIST STRIPPING AND CORROSION
RACE TESTED DIAMETER WITH A SOFT, TACKY COMPOUND PROVIDES THE ULTIMATE IN FEEL AND CONTROL
TAPERED WAFFLE PATTERN HELPS CONTOUR TO YOUR HAND AND PROVIDES THUMB RELIEF
GRIP DONUT GROOVE HELPS KEEP GRIP DONUT FLAT AND IN PLACE IF NEEDED KNOCKOUT ENDS
EASILY TO ACCOMIDATE WRAP AROUND HANDGUARDS
$24.99 www.torc1racing.com
6TH ANNUAL KURT CASELLI FOUNDATION BENEFIT AT THE DOFFO WINERY ON JUNE 8
For more info go to www.kurtcaselli.com
MXA | MOTO | TRIVIA
Who is this rider? Answer at the bottom of the page. 
MXA RAW VIDEO OF JOSH MOSIMAN RIPPING A 2019 YAMAHA YZ125
FCP RACING SIGNS TEAM ROCKY MOUNTAIN ATV/MC KTM-WPS
Blake Baggett's Rocky Mountain ATV/MC KTM 450SX-F. 
Factory Chassis Parts Racing (FCP) is proud to announce the signing of the Rocky Mountain ATV/MC KTM-WPS Team for the remainder of the 2019 season.
Riders Blake Baggett, Justin Bogle and Benny Bloss will use FCP Racing engine mount kits exclusively while competing in the Lucas Oil Pro Motocross Nationals this summer. The team will also have a hand in testing and developing new FCP Racing products that will be available to the public later this Summer.
FCP Racing CEO Kris Palm commented: "After working behind the scenes with many of the top professional teams for the last couple of months we are excited to announce our partnership with the Rocky Mountain team and look forward to working together for years to come."
ABOUT FACTORY CHASSIS PARTS: FCP Racing LLC manufactures high performance engine mount kits that improve handling, cornering, traction and overall rider feel. All products are CNC machined out of high grade titanium or aluminum for superior durability. For more information please visit www.fcpracing.com.
FCP's engine mount on Blake Baggett's KTM. 
LOST BUT NOT FORGOTTEN | 1998 HONDA CR125
The 1998 CR125 was a rough ride.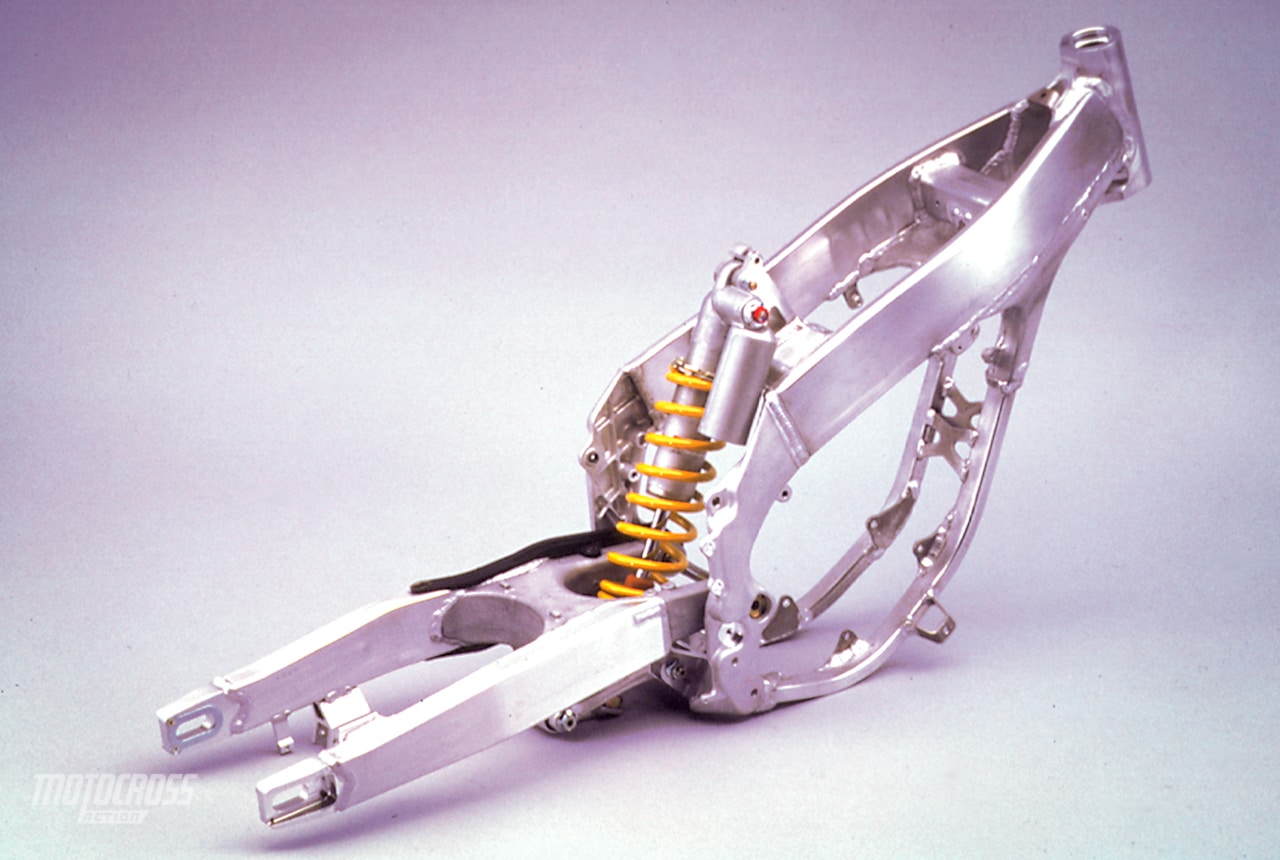 The chassis of the CR125.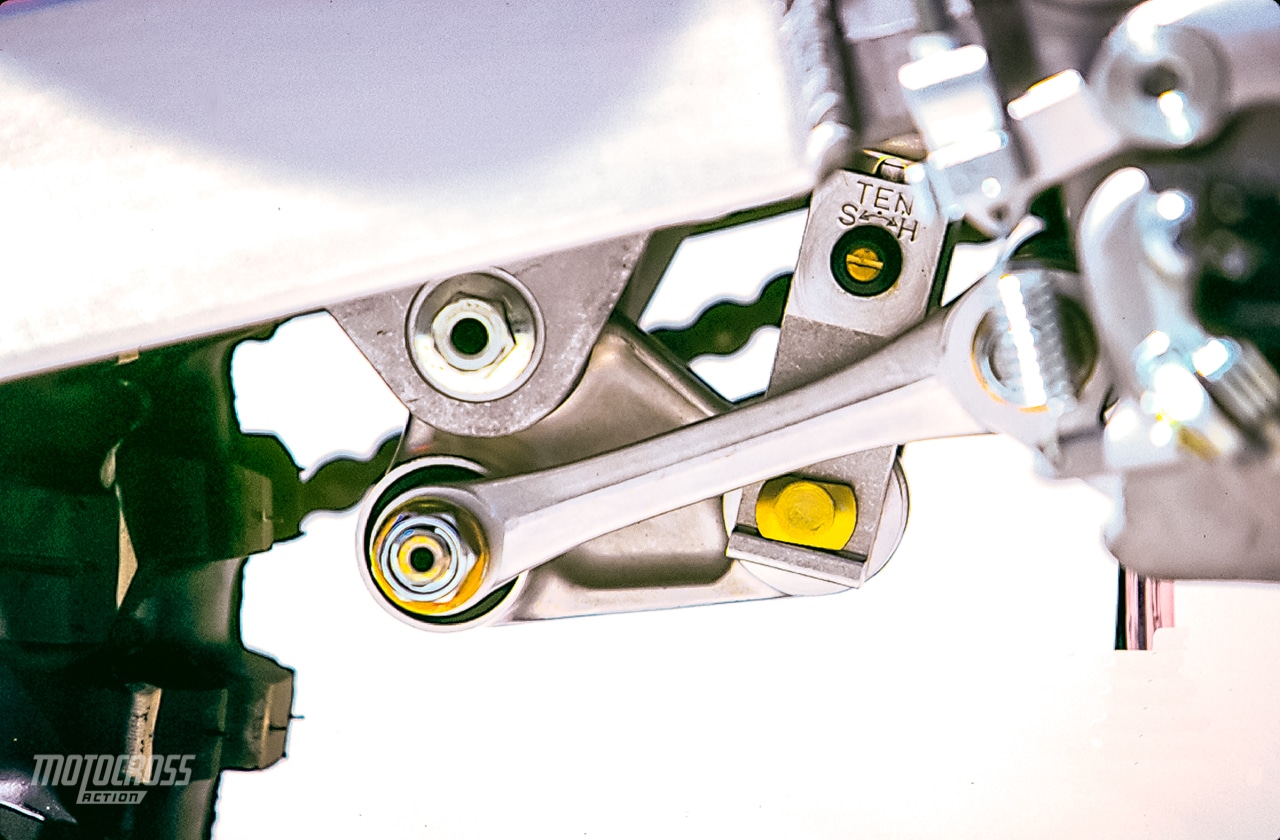 And the linkage. 
EVS F2 ROOST DEFLECTOR
All new for 2019, the F2 features an innovative modular design for personal customization to suit a variety of riding situations and styling preferences.
Lightweight ventilated high impact polypropylene construction.
Fully adjustable design, to comfortably fit a wide range of riders.
Front pivoting system eliminates darting for a snug, comfortable fit.
Wrap around body and rib coverage.
Meets CE 14021 standards for roost deflection.
Meets CE 1621-1 standards for back impact protection.
Neck brace compatible design. Works with most leading neck braces.
Elastic shoulder attachment loops for neck brace integration.
Plush bio foam molded liner.
Pivoting system eliminates darting for a snug, comfortable fit
$139.00 www.evs-sports.com
2019 X-GAMES MOTO X BEST TRICK FROM SHANGHAI, CHINA
CLASSIC PHOTO
France's Mickael Pichon after winning the 1996 125 East Coast Supercross championship.
---
Moto Trivia answer: Anthony Pocorobba Jr.