MOTOCROSS ACTION MID-WEEK REPORT
#WHIPITWEDNESDAY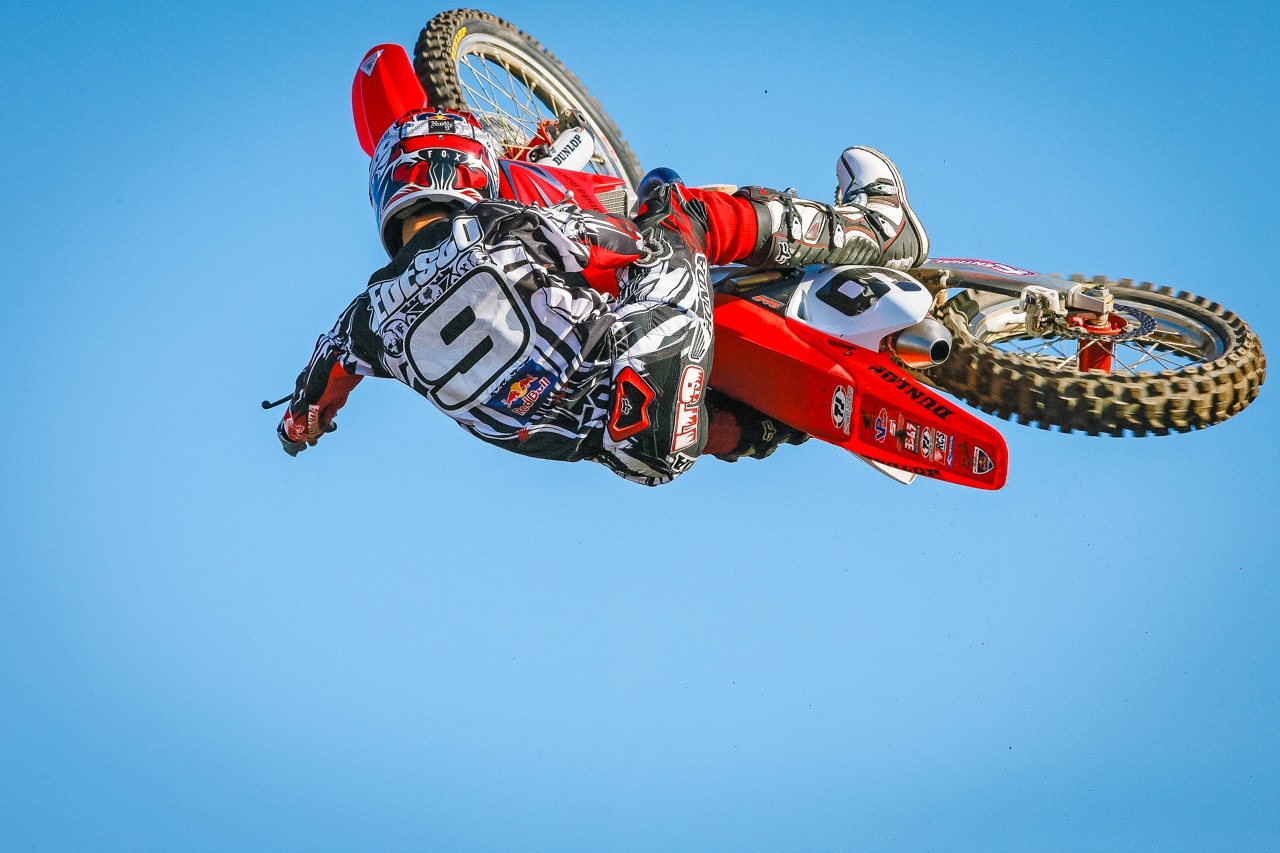 Rider: Ivan Tedesco
Bike: 2008 Factory Honda CRF450
FOUR-STROKE SPOTLIGHT: CHRISTIAN CHAMORRO'S 2018 CRF250 PROJECT BUILD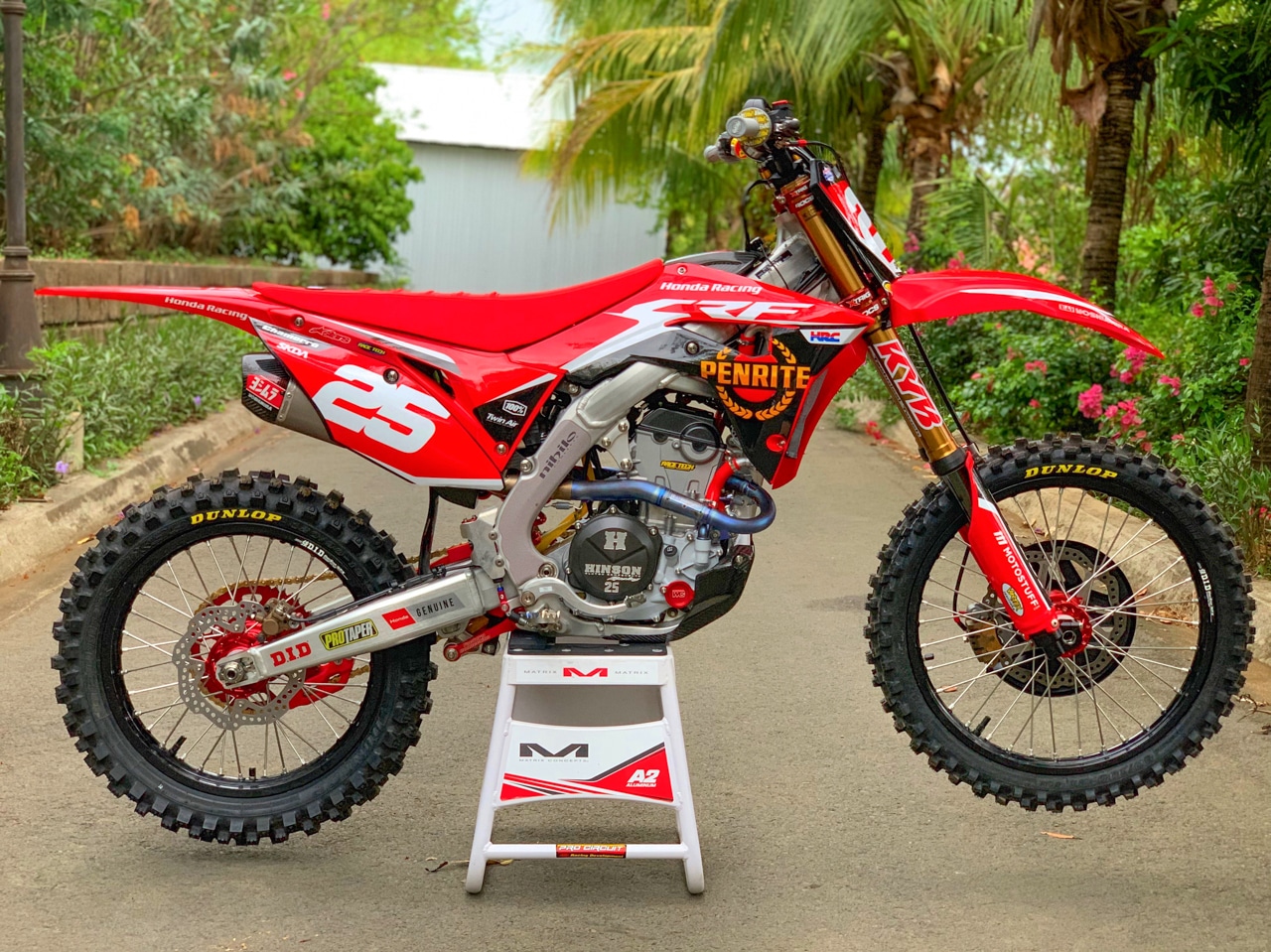 "Here's my 2018 Honda CRF250 Factory Build. The bike has a full ti-kit from Mettec Titanium, Motostuff Brakes Works Caliper, TM Designworks chain guide and slide parts, custom CRM carbon subframe, KYB A-Kit Suspension from Technical Touch USA, Evans coolant, ICW Custom welded radiators, Works Honda Martin Racing HRC carbon tank, Factory Connection linkage, Race Tech engine with tuned vortex ECU and some nice cerakote done to the cases! Last but not least and one of the sickest mods on my build are the FCP engine hangers (still waiting on upper ones) but lower ones help the bike flex a whole lot more. I live in Nicaragua and would love to see my bike on the website."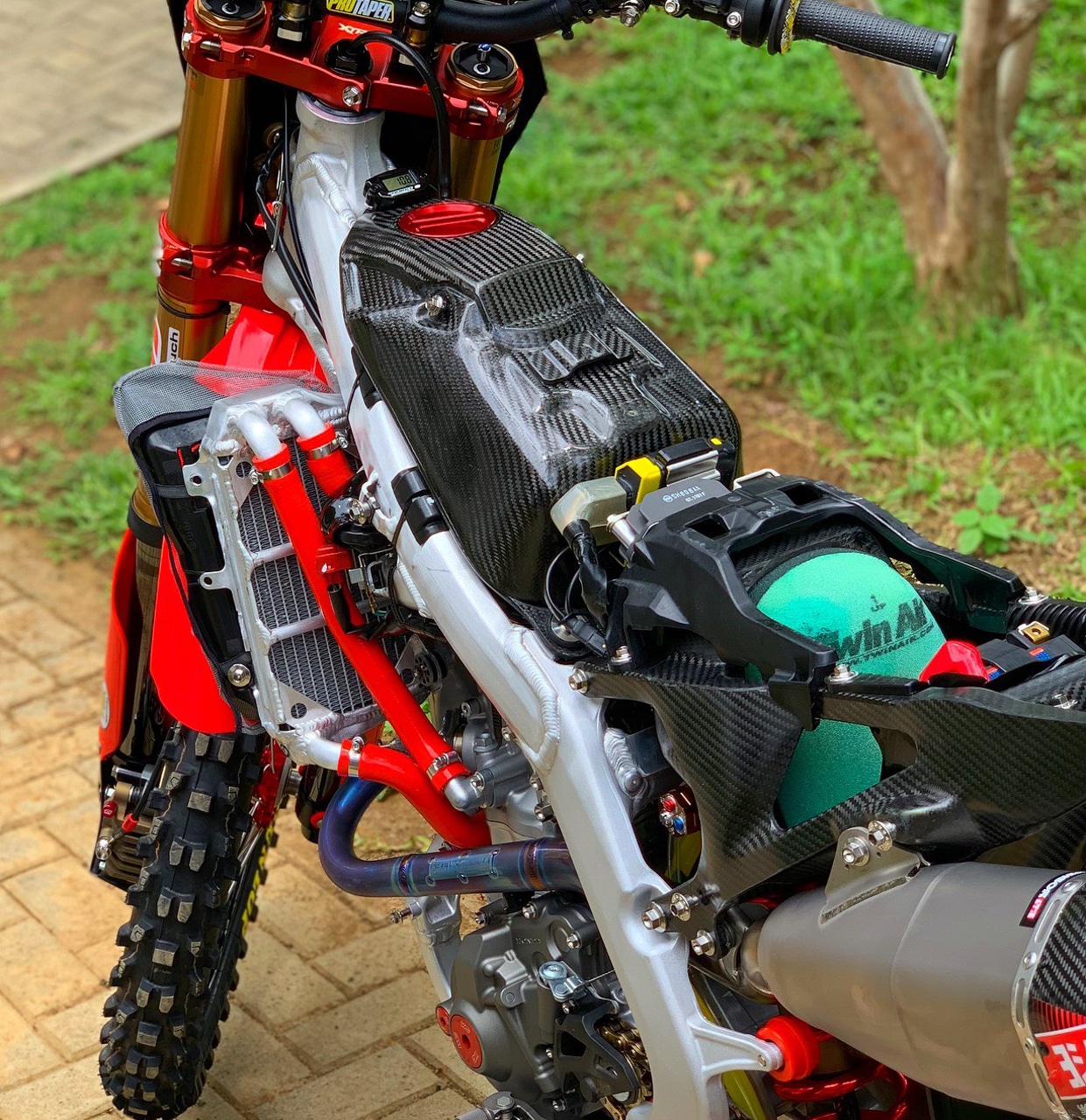 Carbon fiber gas tank and subframe. 
A view from the rear. 
EDITORS NOTE: Please keep those submissions coming. If you would like your bike to be featured in the "Two-Stroke or Four-Stroke Spotlight," please email me at [email protected]. All I ask is that you give a breakdown of your bike and a detailed description of the build. Please also send a few photos of your steed. By submitting your bike, you agree to release all ownership rights to the images and copy to MXA. Please don't email me spam or try selling me Taylor Swift concert tickets or email me spam. I already celebrate T-Swizzle's entire collective, and there will be "bad blood" if you send me junk mail. See what I did there? Happy submitting your smoker.
KREFT MOTO SHOP TOUR
MXA | MOTO | TRIVIA
Who is this rider? Answer at the bottom of the page.
MOOSE RACING SERIES 36 LOCK-ON GRIPS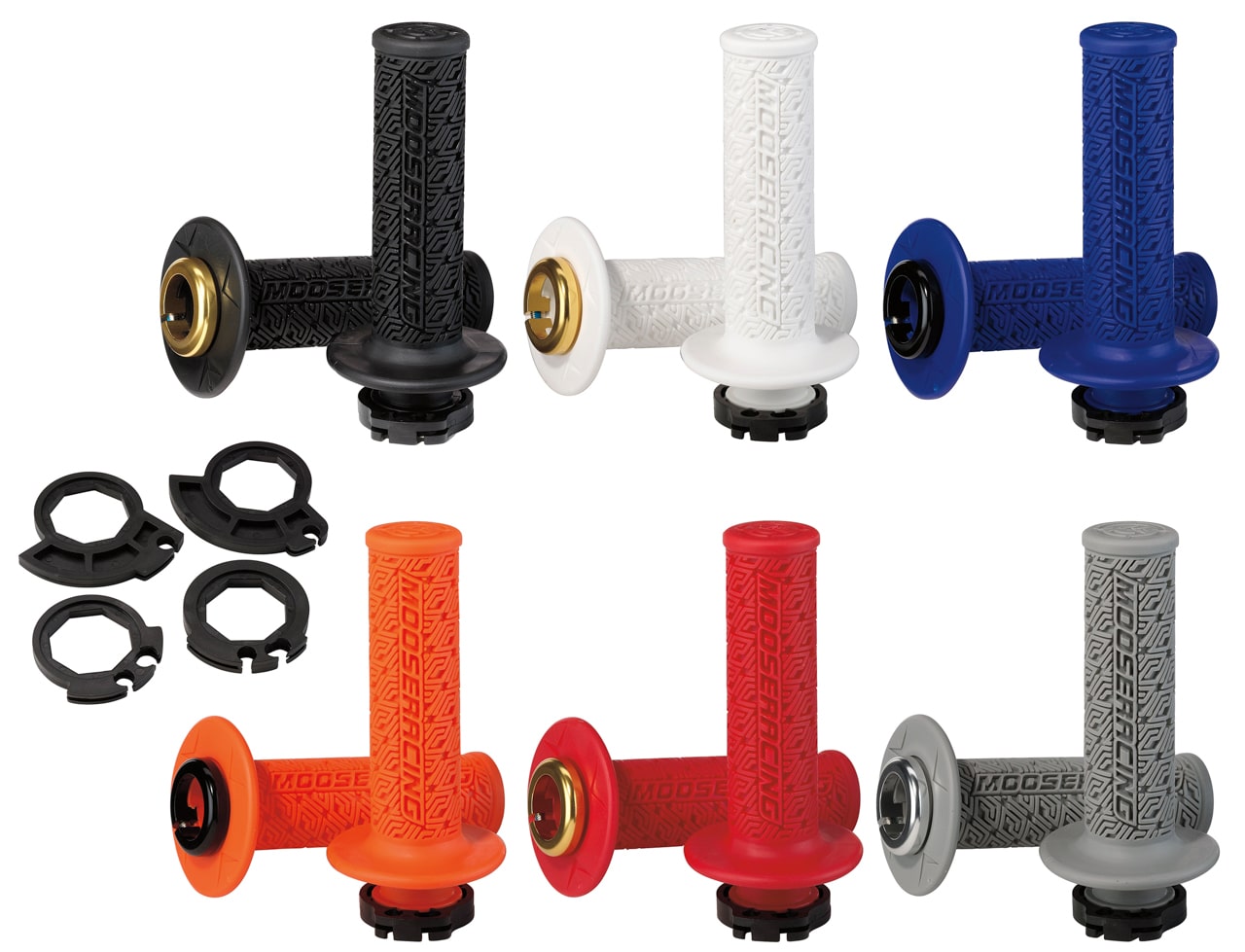 Press Release: No more grip glue, safety wire, and waiting around for glue to dry with the new Series 36 Lock-On grips by Moose Racing. The Series 36 Lock-On grips feature a 100% slip-free design that do not require grip glue or safety wire and include all throttle cams for most modern 2-stroke and 4-stroke bike applications. Available in six color combinations, the Series 36 Lock-On grips also feature a slim diameter profile for improved grip and knockout ends for wraparound handguard installation. Suggested retail $26.95. Visit www.Mooseracing.com for more information.
MXA RAW VIDEO: 2019 YAMAHA YZ125
TOP PROS PRACTICING AT FOX RACEWAY
Dean Wilson is back on the bike and he's working himself into shape. Dean said via Instagram: "What's up all. So I have started riding again which I'm happy about but my shoulder still feels a ways away from racing. This is the most frustrating injuries as I want to be back at the races but I can't come back until I have my strength back and feel confident in my riding. So just working at it day by day. Thanks all for being patient and I am doing all I can to be back. Cheers." 

Justin Cooper protested Adam Cianciarulo after Adam made an off-track excursion during 250 Moto 2 at the Thunder Valley National. AMA announced that the ruling made by MX Sports is final and that Adam will not be penalized. 
Cameron McAdoo has been putting in lots of time on his new Troy Lee Designs Red Bull KTM. He will compete in his first race of the 2019 Pro Motocross season this Saturday at the High Point National.
Like Dean Wilson, Aaron Plessinger is also coming off the injured list. Aaron was at Fox Raceway putting in some laps, but we still don't have an estimated timeline on when he will be ready to go racing.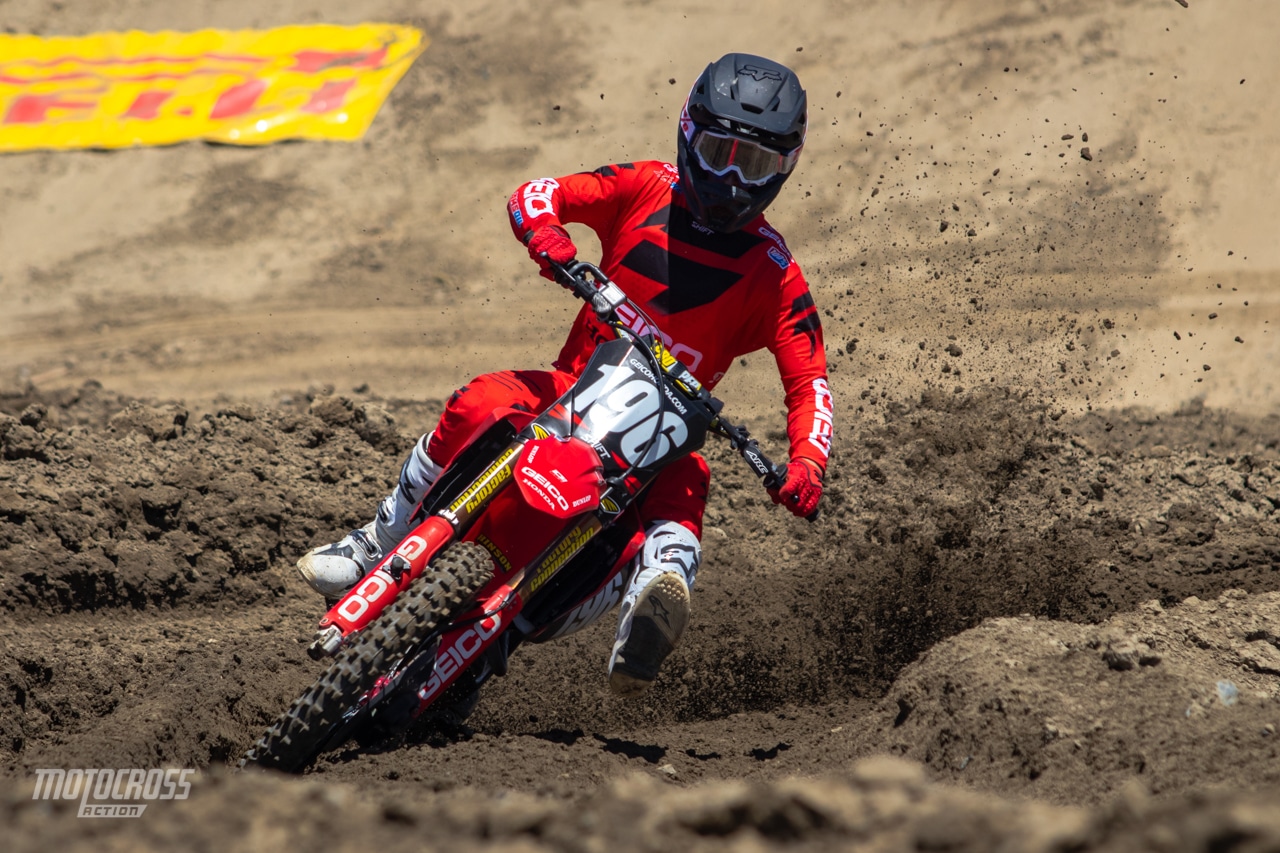 Australian Hunter Lawrence and his little brother Jett Lawrence put in more laps than anyone at Fox Raceway. They were still doing laps, long after the crowd had left.  
LOST BUT NOT FORGOTTEN | 1993 KAWASAKI KX125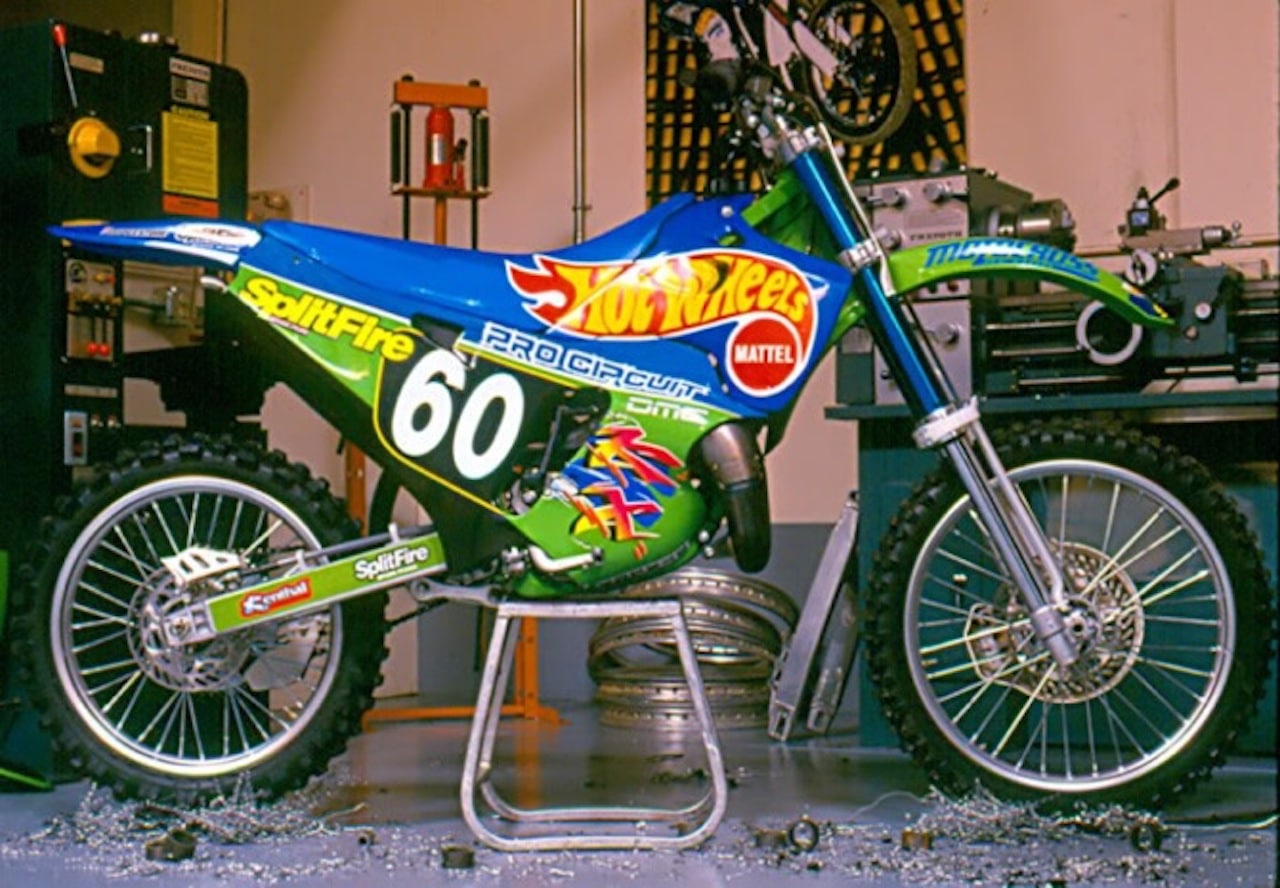 Dave Miller of DMC built this full bodywork Kawasaki for Mitch Payton's Hot Wheels team, but Kawasaki said no because it didn't look like a Kawasaki.
CYCLES OF JACKSONVILLE AUTOGRAPH SIGNING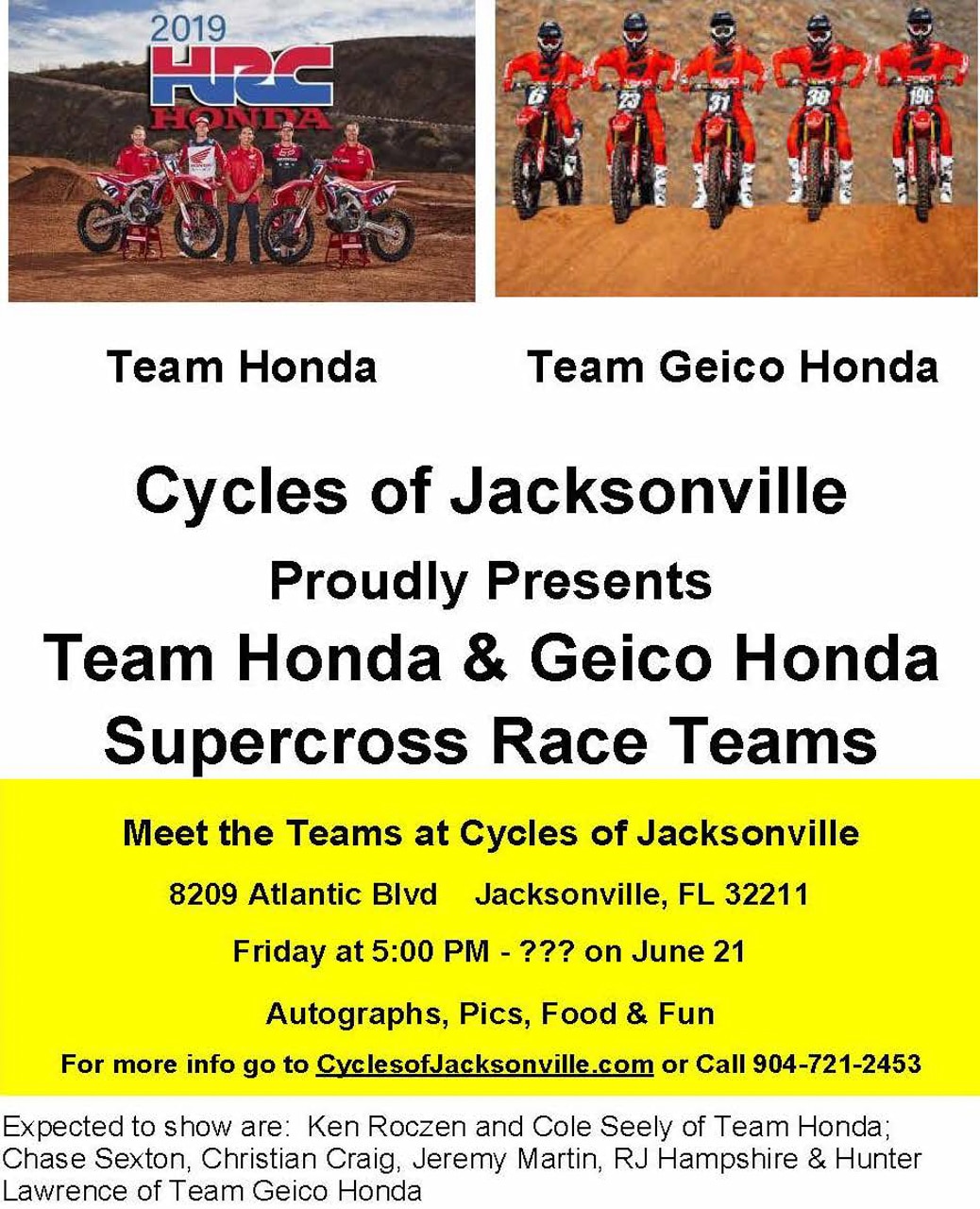 MXA YOUTUBE CHANNEL | HIT THAT SUBSCRIBE BUTTON


The MXA wrecking crew is everything moto related. Check out our MXA YouTube channel for bike reviews, Supercross coverage, rider interviews and much more. And don't forgot to hit that subscribe button.
130 LB. PERSPECTIVE: 2019 HONDA CRF250
Brian "The Flying Pineapple" Medeiros putting time on MXA's 2019 Honda CRF250.
By Brian Medeiros
What's up everyone, test rider Brian Medeiros here bringing you another edition of 130 lb. perspective. This time around my focus was on the 2019 Honda CRF250. In 2018, the CRF250 hit the market with 49mm Showa spring forks and a redesigned shock body to work with their new chassis. The 2019 comes with the same Showa spring forks and shock with updated settings. So how does it work for lighter riders? Let's break it down.
Forks. In stock trim these forks are equipped with 0.46 N/M fork springs, set at 5mm up in the clamps, compression at 9 clicks out, and rebound at 14 clicks out. Right out of the box the forks felt busy. With the rebound being set at 14 out I felt a lot of the bumps in my hands and I felt like the forks popped the front of the bike up on short, steep jumps faces at speed. By slowing down the rebound it balanced the bike out and allowed me to push through the jumps and keep my momentum moving forward instead of upward. As far as compression I ended up at 6 clicks out. The track that I was at was very high-speed with short and steep jump faces. Adding compression to the forks held them up in the stroke and gave them better bottoming resistance without losing front end traction. I also dropped the forks until the bottom of the top cap was flush with the triple clamp. This did not affect the turning characteristics of this bike, but took away the little bit of head shake I was getting on high speed down hills.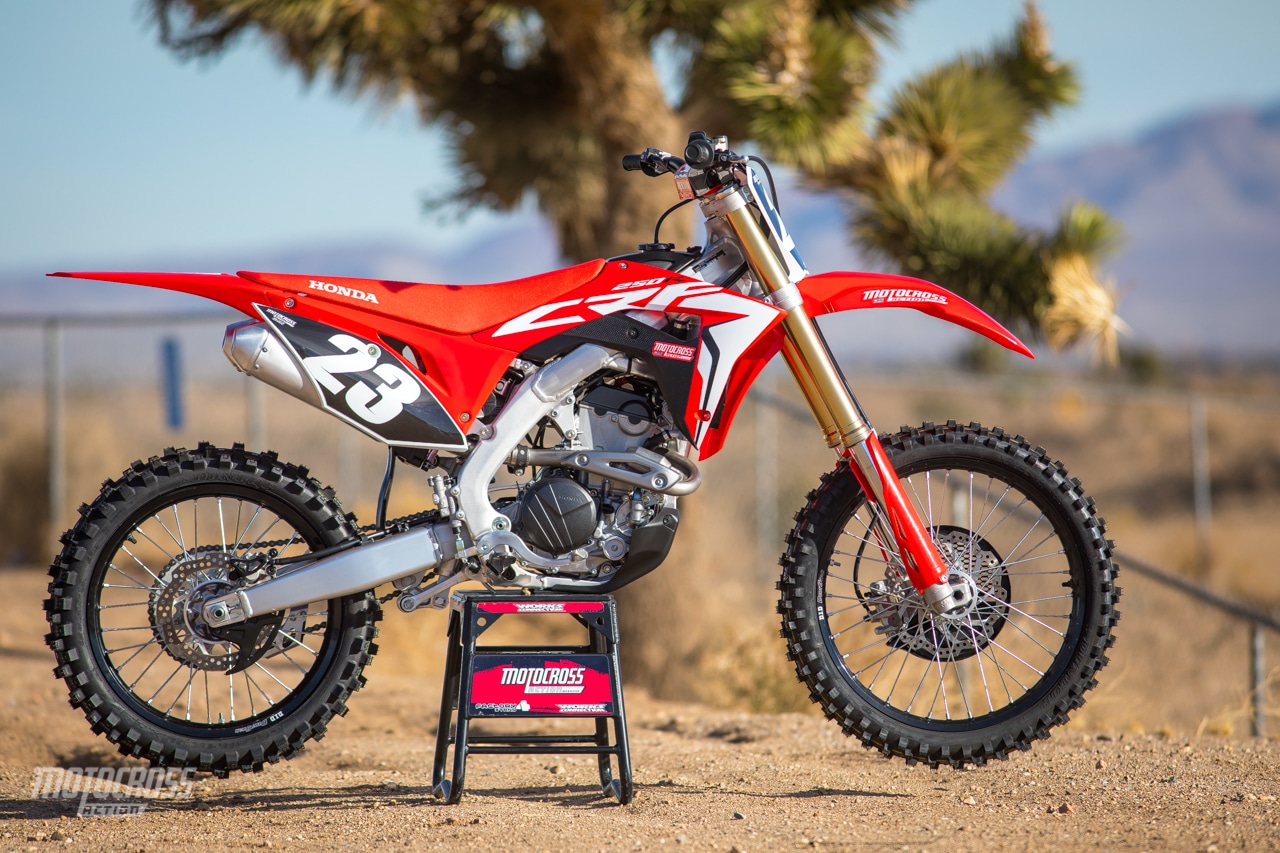 Shock. The shock comes stock with a 5.2 N/M spring, high speed compression at 3.5 turns out, low speed compression at 11 clicks out, and rebound at 8 clicks out. The recommended sag on this bike was 105mm and I was able to get that number with how light I am, but the spring was on the verge of being too loose. Even at 105 mm of sag and the forks flush in the triple clamps, I felt like I needed more. The bike felt high in the rear and no matter what I did to the clickers I couldn't get the bike to squat enough to where I would have liked it. Clicker-wise the stock settings where not far off. I stiffened the high-speed compression half a turn, bringing it to 3 clicks out, this helped keep the bike balanced while hitting high speed, short, and steep jump faces. As far as low speed compression goes, I softened it up 1 click bringing it to 12 clicks out. This gave me more rear end control while on the gas and sliding the rear end around on flat hard packed corners and bowl turns. Rebound was untouched. It didn't do anything that stood out to me, I didn't get any weird kicks and rear wheel traction through acceleration bumps was great.
In conclusion, the fork and shock combination in stock trim on the 2019 CRF250 is not far off if you are in the 130-140lb range. Could it be better? Yes, everything could be a little better. The plan is to fine tune these forks and shock with valving updates to get it to my liking. Be sure to stay tuned for information as we make modifications to the 2019 CRF250 to improve its weak points. As always be on the lookout for an upcoming issue of Motocross Action Magazine at your local news stand to read about more product test, features, and many more exclusive to the magazine.
HONDA RELEASED THEIR UTV TALON IN A FOUR-DOOR VERSION
Check out all the details of the four-door Honda Talon here. 
THE JULY 2019 ISSUE IS HERE | DON'T MISS OUT!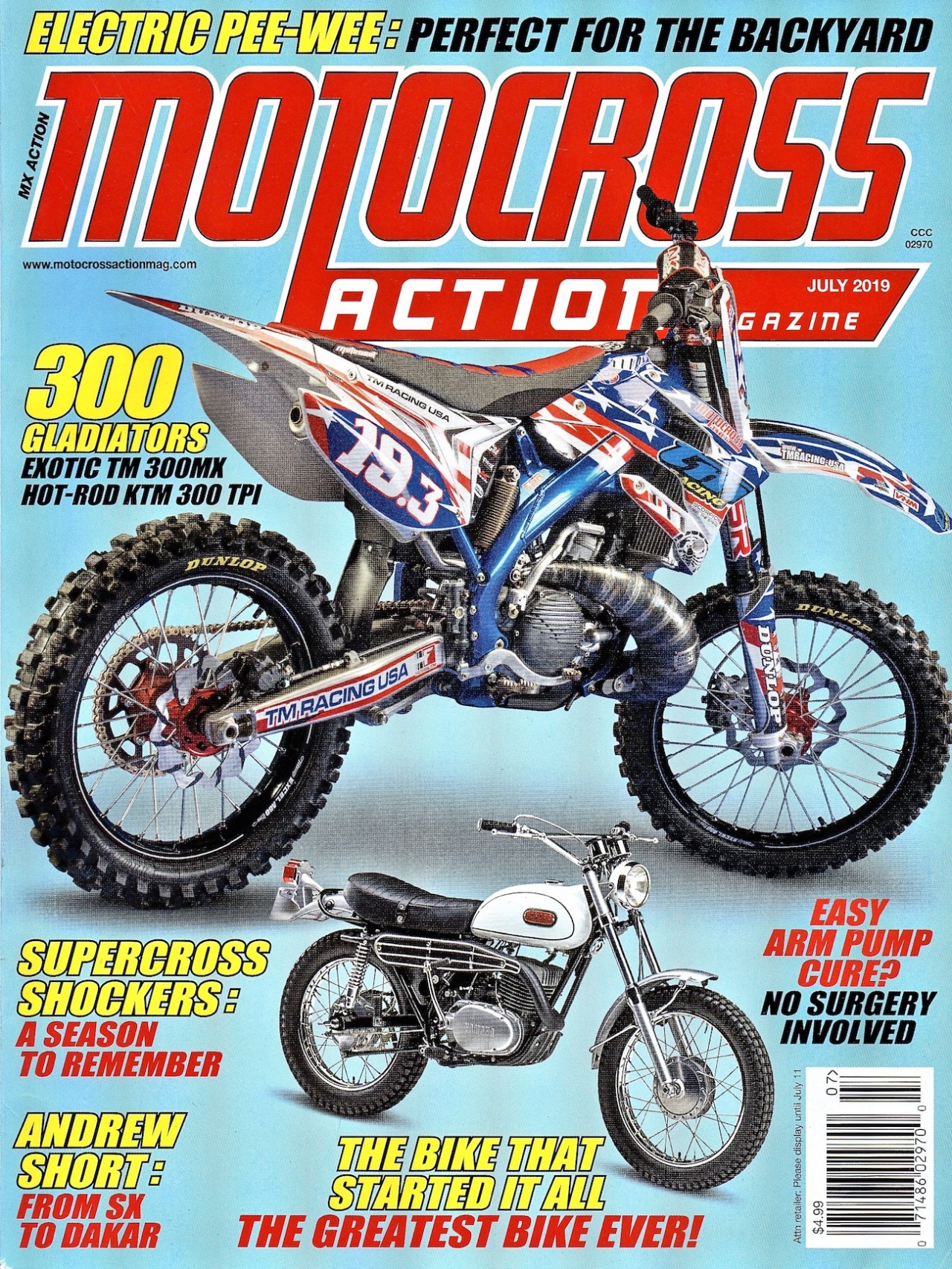 The July 2019 issue is on the newstands now and if you are a subscriber it should already be in your throne room.
If you subscribe to MXA you can get the mag on your iPhone, iPad, Kindle or Android by going to the Apple Store, Amazon or Google Play or in a digital version. Even better you can subscribe to Motocross Action and get a $25 Chaparral gift card to spend on whatever motorcycle parts or products you need. And the awesome print edition will be delivered to your house by a uniformed employee of the U.S. Government. You can call (800) 767-0345 or CLICK HERE or click on the box at the bottom of this page.
WHAT THE MXA WRECKING CREW IS UP TO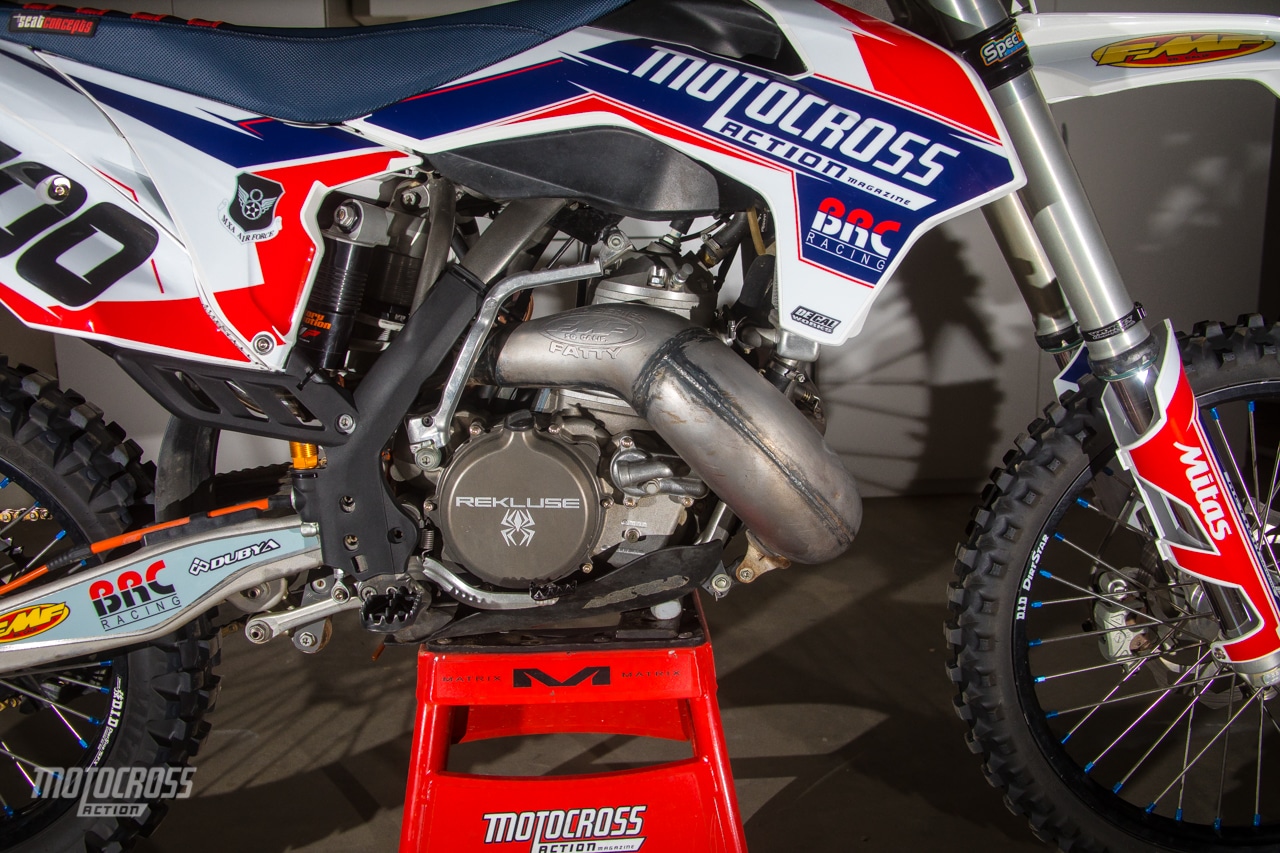 We are in the mist of testing a 2014 KTM 250SX chassis that has a BRC 500cc two-stroke engine shoehorned into it. BRC makes a complete kit for a donor KTM 250SX frame and uses only a few parts from your old KTM engine. It s a complete kit or 300 engine. For more information check out their website at www.brcracing.ca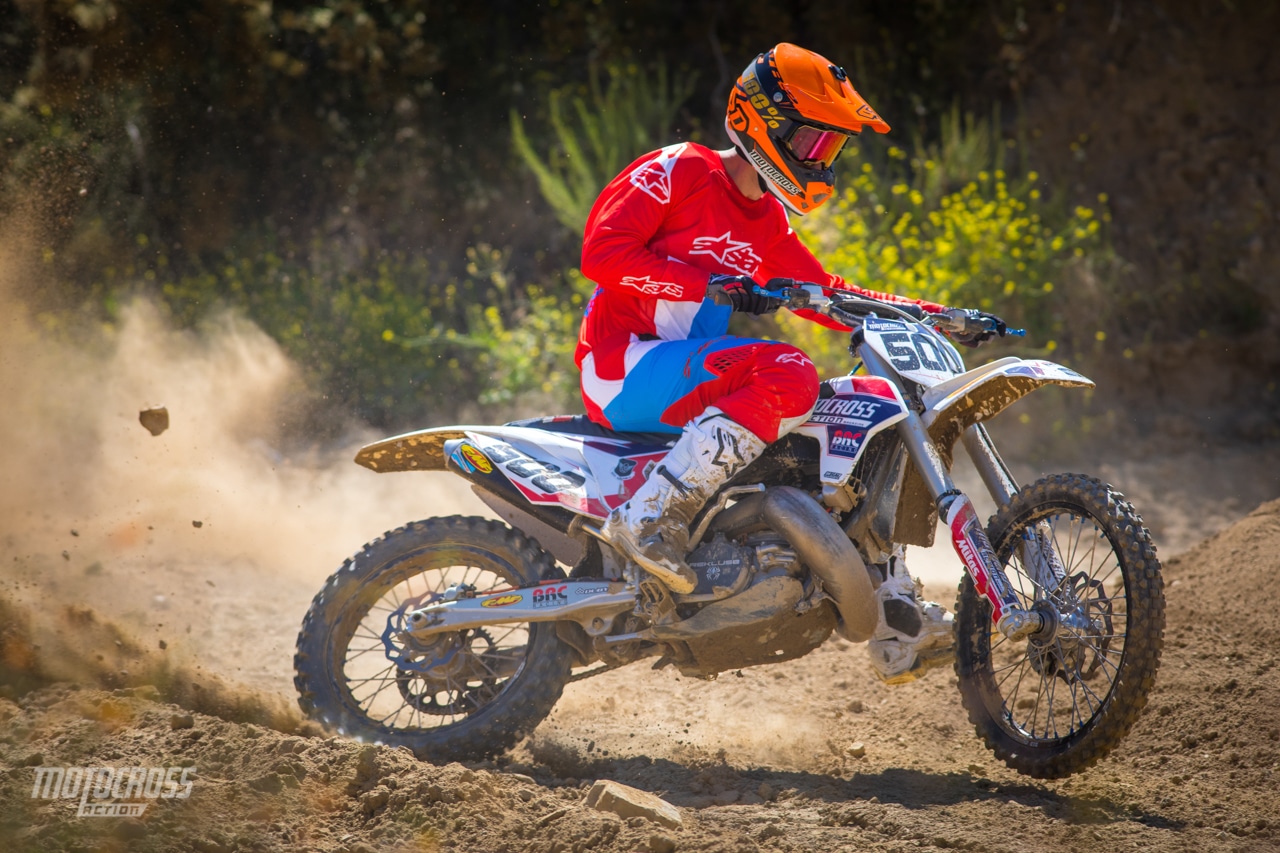 Our assistant editor Josh Mosiman getting his first taste of what 500cc two-stroke power feels like. 
Here is MXA's Daryl Ecklund taking the BRC 500 for a spin on the rough Glen Helen track. 
We went to Perris Raceway as JGR invited us out to test their Stage 2 engine kits on both the 2019 RM-Z250 and RM-Z450. 
This is the KTM X-Bow that the MXA wrecking crew will be driving up at Sonoma Raceway for their sports car driving experience. They have some cool driving schools and packages to drive some awesome cars. Check out the details of the school we are going to experience first hand. 
This is the X-Bow steering wheel.
We shot this CRF450 flat track bike that Honda's Jason Abbott built for the media to ride. The bike has no front brake and no engine hangers. Why? I guess we have to find out for ourselves. 
It is that time of year again! The first 2020 test of the year is next week and we are getting our hands of the 2020 Husqvarna FC450. 
CLASSIC PHOTO
Jeff Emig (1), John Dowd (14), Jeremy McGrath (2) and Damon Bradshaw (10) in a four way battle at the 1997 Budds Creek National. 
---
Moto Trivia answer: Kelly Smith