MOTOCROSS ACTION MID-WEEK REPORT
#WHIPITWEDNESDAY
Rider: James Stewart
Bike: 2016 Factory Suzuki RM-Z450
TWO-STROKE SPOTLIGHT: MATT PINTO'S 2017 YAMAHA YZ125 PROJECT
"I've seen a bunch of MXA two-stroke build articles and felt motivated to follow the trend I've noticed vet riders setting as of late, so I went out and got a YZ125.
"This was a used bike that the prior owner basically bought and kept in a storage unit. I'm not sure if it was even ridden or not. So, this is not a rebuild, but just a bit of tuning. The style I was going for was that clean looking Chad Reed era YZ two-stroke."–Matt Pinto
Here is the list of upgrades to my 2017 YZ 125:
–Custom Decalmx graphics
-Motoseat seat cover
–Pro circuit full exhaust
-Pro Taper EVO Carmichael bend
–Works Connection clutch lever
-Pro Taper sprockets and a DID good chain
–Twin air filter
EDITORS NOTE: Please keep those submissions coming. If you would like your bike to be featured in the "Two-Stroke or Four-Stroke Spotlight," please email me at [email protected]. All I ask is that you give a breakdown of your bike and a detailed description of the build. Please also send a few photos of your steed. By submitting your bike, you agree to release all ownership rights to the images and copy to MXA. Please don't email me spam or try selling me Taylor Swift concert tickets or email me spam. I already celebrate T-Swizzle's entire collective, and there will be "bad blood" if you send me junk mail. See what I did there? Happy submitting your smoker.
CHRISTY LACURELLE NAMED USMCA'S NEW EXECUTIVE DIRECTOR
Press Release: The USMCA Board is excited to announce that Board Member and Corporate Secretary Christy LaCurelle has been appointed as USMCA's next Executive Director, succeeding Scott Miller.
Miller, a (retired) long-time executive of Harley-Davidson Motor Company, graciously served as Executive Director during 2018, an important time in the growth and evolution of the organization. "We are grateful to Scott for his exceptional leadership at such a critical point," said Jon Erik Burleson, USMCA co-founder and current Chairman. "Scott's exceptional organizational skills helped as we laid the groundwork to become a more sustainable organization."
"Christy is well-known and trusted by our coaches and the motorcycle sport community" added Mark Blackwell, co-founder and acting President. "She is the perfect person to succeed Scott since she has been with the USMCA since its inception, was an early Board Member, and has amazing drive and determination to ensure the sustainability and success of this important initiative to Grow The Sport of motorcycling," added Blackwell.
"We are both fortunate and thrilled to have Christy step into this important role," remarked co-founder and Board Member Jeff Emig. "She has already had a huge impact as we accelerated the certification of our coaches to reach the critical milestone of our first 100."
LaCurelle, a resident of Temecula, served for many years as Motorsports Marketing Manager of KTM North America and has subsequently gained significant experience in software sales and strategic consulting.
MXA | MOTO | TRIVIA
Who is this rider and where was it taken? Answer at the bottom of the page.
MXA TESTS JGR'S SUZUKI RM-Z450 & RM-Z250 STAGE 2 ENGINE KITS
JGR now offers stage 1 and 2 engine kits for both the RM-Z450 and RM-Z250. For more information check out the MXA video below or head to the JGR website www.jgrmx.com.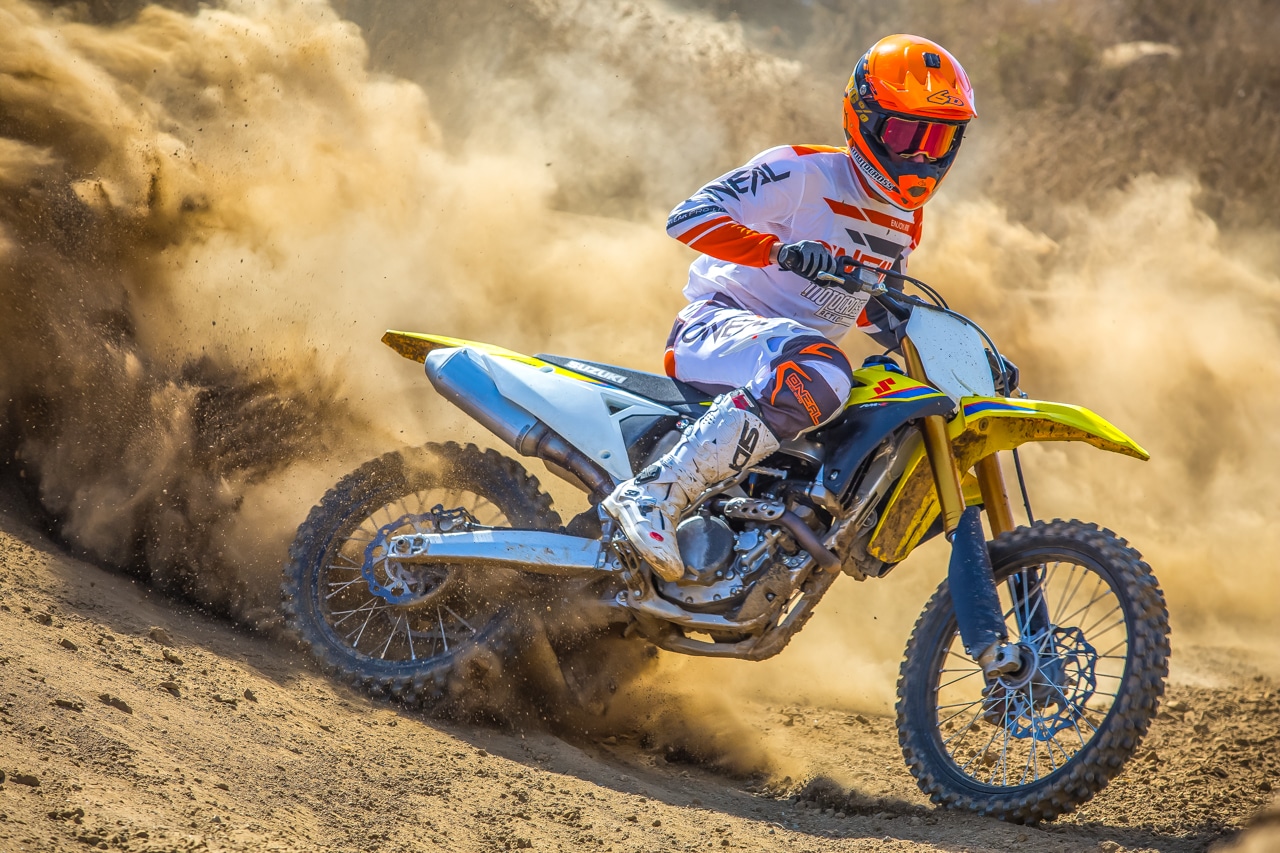 The Suzuki crew brought out both the RM-Z250 and RM-Z450 in stock trim to compare the JGR kits to. This is Josh Mosiman swinging the back end around on the stock RM-Z250. 
Here is Josh in the same corner on the RM-Z250 with JGR's stage 2 kit installed. 
Josh Mosiman (left) and Dennis Stapleton (right) putting in laps on the bikes. 
The JGR RM-Z450. 
CYCLES OF JACKSONVILLE AUTOGRAPH SIGNING 
MXA YOUTUBE CHANNEL | HIT THAT SUBSCRIBE BUTTON

The MXA wrecking crew is everything moto related. Check out our MXA YouTube channel for bike reviews, Supercross coverage, rider interviews and much more. And don't forgot to hit that subscribe button.
HOW TO OBTAIN YOUR AMA OUTDOOR NATIONAL PRO LICENSE
By Justin Muscutt 
You've put in the long hard days of racing earning sixty Pro-Am points or raced A class at Loretta Lynn's. Now comes the time to finally obtain your Pro license and with that comes some hurdles you'll need to jump through in case you haven't already. I have made these mistakes myself, so I'd like to save you some headache if possible.
First off, go to the MX Sports website which will have a list of the items needed to apply for your pro license:
• Current AMA membership card.
• Take a picture of your primary medical insurance card.
• Proof of completion of ImPACT Concussion Management Test.
• Copy of your birth certificate.
• Headshot picture of yourself.
All of these items can be emailed to MX Sports to save some time. The website does an okay job at explaining the process, but there are some key points it does not tell you and these can cause you issues or delays in your application process.
First, you will need the list of items above. Then you will need to log onto the AMA Pro Racing Member Network to create a profile. Once you've done this you can download and print the twelve-page application. Fill out the application, but do not sign and date until later on. This is a VERY important thing to avoid to save you time and money.
The license application needs to be notarized. Luckily, there are plenty of places you can notarize the documents you need. UPS, AAA, most post offices and any local notary will do just fine. You actually only need two pages notarized; pages seven and nine. They do indicate this on the two pages. When you have them notarized is when you will sign and date the documents. If the signed date and notarized date do not match, MX Sports cannot accept them and you'll have to redo this step which will cost you more money and time. After you've completed this go ahead and mail the application to MX Sports. The address is on the application to make it easy on you.
Another key point is the ImPACT Concussion Management Test. You can either take the test online at www.themedicrig.com or at an approved medical center. To take the test online is free and you will need a webcam and headphones. You have to be alone in a quiet room to perform the test and not have it denied. As for going to an approved medical center, it will cost you some money but they will have everything set up for you. For a list of the approved facilities in your area will require you to call or email Dr. Paul Reiman, (909) 732-5268 or [email protected]
The concussion test is good for two years and after those two years are up, it is required you repeat the process again.
After you've sent in your application and it's been approved, you will be sent an approval email from MX Sports. Next you will go to the entries tab on the AMA Pro Racing Network website. There will be a link at the bottom of the page taking you to another website where you'll create another profile. This is where you can fill out your sponsor info, race entries and mechanics wristbands.
In summary, the process is fairly straight forward, but there  are a couple issues I came across and was not aware of before I started. It'll save you time, money and a lot of headache in the end. Now, go train hard and put it in the fast 40!
CAMP MAKEUP 2 MUD
THE JULY 2019 ISSUE IS HERE | DON'T MISS OUT!
The July 2019 issue is on the newstands now and if you are a subscriber it should already be in your throne room.
If you subscribe to MXA you can get the mag on your iPhone, iPad, Kindle or Android by going to the Apple Store, Amazon or Google Play or in a digital version. Even better you can subscribe to Motocross Action and get a $25 Chaparral gift card to spend on whatever motorcycle parts or products you need. And the awesome print edition will be delivered to your house by a uniformed employee of the U.S. Government. You can call (800) 767-0345 or CLICK HERE or click on the box at the bottom of this page.
LOST BUT NOT FORGOTTEN | TIM FERRY'S 2000 CHAPARRAL YAMAHA YZ250
ASHLEY FIOLEK INTERVIEW | WHAT SHE IS UP TO
Ashley Fiolek is well known in the off-road racing world. She overcame the difficulties of her childhood deafness to become a multi-time Women's Motocross Champion before retiring from professional racing. Now Fiolek has joined the USMCA in a coaching capacity, so we sat down with her to get caught up.
WHERE WERE YOU BORN? WHERE DO YOU LIVE NOW? I was born in Dearborn, Michigan, and currently live in Florida.
WHEN DID YOU FIRST START RIDING MOTORCYCLES? DO YOU REMEMBER YOUR FIRST RIDE? My dad took me on my first dirt bike ride when he let me ride with him on his 250cc motorcycle. I was only two years old! I then began riding a Pee-Wee 50 when I was 3 with training wheels and all I remember is that I absolutely had the time of my life! From that moment on, I was hooked.
WHAT GOT YOU INTO RACING? HOW LONG DID YOU RACE PROFESSIONALLY? My dad used to race and my parents brought me to a Supercross stadium called the Silverdome to watch the races when I was little. I immediately fell in love at that moment and set my sights on racing. I continued to develop my skill and eventually turned pro. I raced at a professional level for five years.
Ashley on a Husky TC125.
WHEN DID YOU START COACHING? I began coaching after my retirement from professional racing. It has been four years now.
WHAT DO YOU LIKE ABOUT COACHING? I coach because I love to teach and help people develop their racing techniques the right way. I enjoy watching my students succeed and accomplish their goals at the end of the day. It is a very rewarding job.
HOW LONG HAVE YOU WORKED WITH HUSQVARNA MOTORCYCLES? WHAT IS YOUR OFFICIAL TITLE? One exciting thing that has come from my coaching is that I have become an ambassador for Husqvarna. I have been with the brand for three years now and enjoy how involved they are in growing the sport of motorcycling.
WHAT IS YOUR FAVORITE TYPE OF MOTORCYCLE RIDE THESE DAYS? My favorite type of riding these days is through the woods. I also enjoy mixing it up and riding at different types of tracks.
WHY DO YOU WANT TO HELP THE USMCA INITIATIVE BE SUCCESSFUL? I really believe that all coaches should become USMCA certified if they want to coach riders in our sport so that the students can feel safe at the track with us as their coaches. I believe the code of conduct and other standards outlined in the certification process are helpful in creating a standard motorcycle coaches should adhere to.
MXA EXCLUSIVE: WESTON PEICK INJURY UPDATE
CLASSIC PHOTO
Jeff "Chicken" Matiasevich back in 1993 sitting on his RM250 wearing Xtreme gear.
---
Moto Trivia answer: Zach Osborne as an amateur on a KTM 65SX at the Mosier Valley GNC National in Texas. And yes, that is Kyle Cunningham in the background on the KX65 number 622.